Trends come and go, and while we all like to think of ourselves as updated when it comes to the latest fashion trends, can we say the same about our homes?
The first thing anyone sees when passing down the street or when they come over to your place is the exterior of your house, the color scheme you used for it more precisely, not picking only at the interior and the conditions you create.
Thus, it's important to keep it updated with the latest trends and make it pop out if you want your house to be the envy of all neighbors.
To get to understand what you must choose for your latest home makeover project, before you round up everything you need, you first have to know how trends have evolved over the years.
This gives you the upper hand as not only will your horizons be expanded, but you might have a better idea on what style best suits your taste and personality as well.
Tips and tricks to apply when painting the house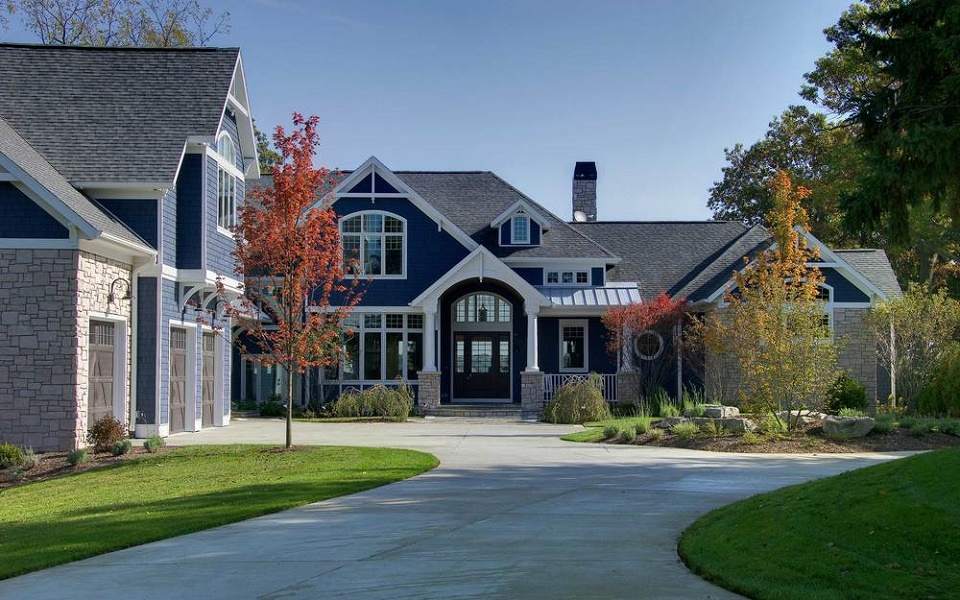 Before we jump to see how color trends have evolved in order to help you make up your mind about what you should opt for, let's first cover some simple and useful tips and tricks that will aid you when you are painting the exterior of your home:
Inevitably, dust and dirt have gathered up on your sweet home's exterior, and you must first wash everything off before you start painting. Otherwise, your project will be disastrous and the colors you want to achieve are likely going to be ruined.
Prioritize efficiency when painting large featureless areas and focus on getting the job done fast as the whole process is time consuming, being ideal to spare as much of it as possible when you can.
If you want to spare hassle and lay a single coat of painting, you should go a tone or two darker than the color it is already painted in.
Where there's flat siding, use a roller and a pole for the job, don't overcomplicate uselessly.
Don't overdo it with scraping as you will most likely get tired too fast. Scrape only until you reach a somewhat solid edge as this suffices.
How trends have evolved in the past century
1910s: This decade was one of discreteness, and that's visible in the muted colors used for house exteriors. The trending coloring was complimented by vertical sidings that gave the illusion of height, wide porches where residents would sit on sunny days, and triangular columns that added appeal.
1920s: In this era, it was trendy to mix stone and clapboard, cold colors being used to accentuate the grandeur of the estates. When it comes to accessorizing, those who had the money for them put statues in front of their homes to display their wealth.
1930s: This was a period of warmth both when it came to the interior and exterior of residences, rocking soft pinks, creamy yellows, and blued grays mostly. Vertical cladding was preferred to add the impression of height, while outdoor furniture was kept to a minimum.
1940s: Coziness was the main trait on which homeowners focused in this period, exterior details not being as prominent as World War II took a toll on everyone, making it less important for people to think about appearance in general. Brick-style exteriors combined with simple white shutters were common.
1950s: Looking back, this might have been one of the kitschiest eras for house exteriors, overly optimistic colors being used, which were accompanied by weird silhouettes and large windows. To accent the exterior, some homeowners even used flat, rectangular stone for detailing.
1960s: It was a time for love and peace, and this reflected in colors as well. The preferred choices for the exterior and interior of houses included daisy yellow, pure white, exuberant pink, and navel.
1970s: A combination of brick and earth tones was the popular pick in this decade, the earthy tones used providing a sense of peace and serenity. Popular color choices in the "earth movement" era included amber, avocado, and brown.
1980s: Pastels were the dominant colors of the decade, more precisely pastel versions of gray, blue, rose, white, and peach. Understandably, houses that preserve the look that was in fashion back then tend to pop out even in the modern era.
1990s: As opposed to the bold choices made in the 80's, the following decade was calmer. Beige dominated the scene, other colors that were vastly popular including sage, rustic gold, earthy reds, and terra cotta.
2000s: Beige, latte, and brown were the 3 most common nuances homeowners opted for, but pale blue, white, and aqua hues were almost equally preferred. The neutrality of these exteriors was quite calming, houses ironically enough popping out through their simplicity.
2010s: In the current decade, cold colors and simplicity rule, nuances of white, gray, and black being the go-to choice for homeowners who want to freshen up the way their houses look. This trend is kept even when it comes to the interior, stainless steel appliances being the most sought-after due to their sleek yet simple finish.