Over the past few years, the home decor industry has undergone a sea change – thanks to great advancement in technology. The technology has changed the way home decorators and interior designers conduct their businesses. With the help of online tools and services, they are pitching their entrepreneurial ideas and plans in a better way.
There are a few innovative startups that merged their home decor ideas with technological innovation. Even some of the startups are using 3D and virtual reality as well.
These examples show, if you have a passion for transforming homes via creative decorating and know how to present your ideas to your target audience, you can take your passion to the next level.
Let's have a look at a few ways how a good promotional video can help you showcase your home decor or DIY decor in a unique way.
Why Do You Need to Start Video Marketing Now?
In recent years, video marketing has turned into a crucial marketing tool and will continue trending for the next many years.
After all, it is what consumers want to see. According to HubSpot, more than 54% of consumers want to see videos over the other content types such as blog articles, emails, and social images.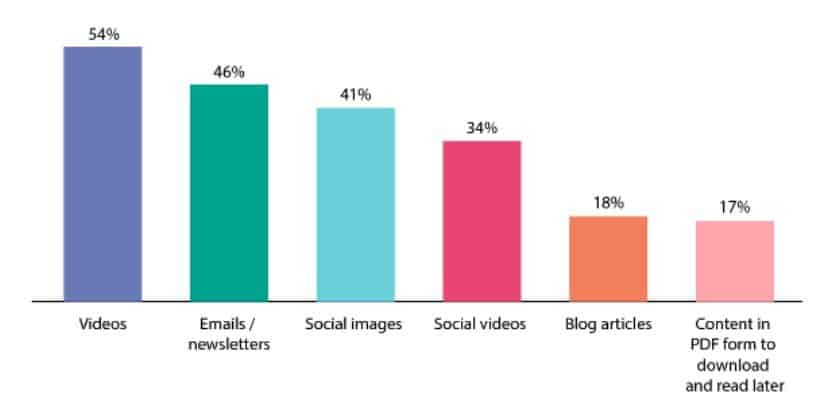 Video marketing helps in lead generation as well. 90% of customers say video helps them make buying decisions, according to Forbes. So whether you want to increase brand awareness or boost your income, a good promotional video can help you a lot.
In addition to this, video marketing also helps in building trust, which is really important to create a long term relationship with customers.
When you let your customers see your images and your voice, it assures them you are a real person. A well-edited video makes your brand more professional and established.
If you don't want to start with hardcore video marketing, in the beginning, you can start with a slideshow presentation. The slideshow can be a good option when it comes to present a home decor idea.
Not only it is easy and fast but also a low-cost solution. All you need some great looking pictures or engaging videos.
However, the success of your presentation depends on three main factors – your attention to the presentation process, your consistent style and your command of the slideshow design tool.
Below are a few tips to structure your slide show presentation and keep your audience wanting more.
Outline Your Slideshow Presentation
The very first step to a victorious presentation structure is to brainstorm your ideas and combine them into a rough draft.
Consider the message in advance you want to relay to your targeted audience. Make sure the idea is informative, entertaining and inspiring.
It shouldn't be hard for your audience to grasp your main message from the title on your first slide. Also, outline your presentation in the right hierarchy
Create an Effective Title
To create interest among viewers, create a title slide that makes your audience want to know more.
You can pull it with a statement which addresses the subject you're going to talk about in the coming slides. For example, "10 easy bedroom makeover ideas".
Stick to an Eye-pleasing Template
Template is the soul of your presentation. Any mistake when choosing it can lead to poor presentation. Always choose a reliable tool to create video slideshows. Prefer the one that lets you design professional slideshows, animations, and promo videos.
Relevancy is quite important when it comes to a template. If you are unable to find a proper template for your home decor project, you can check out Renderforest slideshow.
Their real estate slideshows template can be a better choice to promote any interior designing and home decoration project. Using this template is quite straightforward, you just need to write your text, select your pictures and hit render.
Below are some tips to create a slideshow with Renderforest.
Access renderforest.com and sign up.
Click on the menu "video templates" on the top.
Choose the slideshow category and then choose a relevant template.
Hit the "Create now" button.
That's all!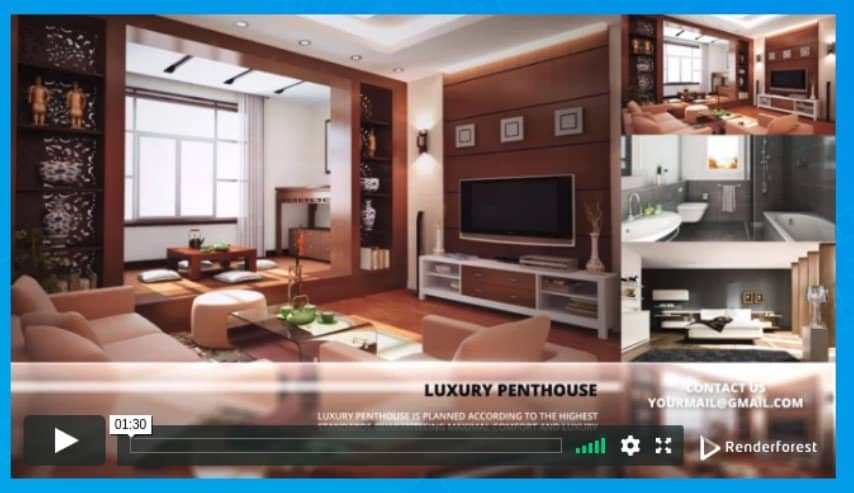 Check out Your Color Theme
You can use 2 to 3 colors throughout your entire presentation. It is advisable to use one color for the foreground, another for the background base, and 3rd one for accents.
Although there is no hard and fast rule yet this advice makes sense as no one wants a kaleidoscope of colors on their slides.
To make your slides stand out you can try lighter shades. Moreover, always choose the standard fonts for your presentation such as Calibri, Arial, etc. as they are easy to read and work on all computers.
Use Visually Striking and High-quality Images
Images play a big role in conveying your message across. As the saying goes, "A picture paints a thousand words".
If you use the right images on your slide, you won't need to do a lot of explaining. Just two or three-word description will be fine.
Use Vector Icons
Like images, icons also help you get your message across without using up too much space on your slides. If you are using them make sure they are matching with the theme of your slide.
Focus on One Point Per Slide
It is necessary that the information you're sharing is easy to absorb for your audience. Otherwise, your efforts will be good for nothing. Don't pile multiple points into one slide as it will risk of overwhelming people.
You should talk about a single topic per slide. For instance, you will talk about topic one. For slide 2, you will talk about Subtopic 1.
Similarly, for slide 3, you will cover subtopic 2. It will make easier for your audience to understand the topics easily.
Conclusion
A professional video marketing is no more reserved for big brands only. With the help of affordable tools like Renderforest, businesses of all sizes can create high-quality promo videos and promote their brands.
Remember, a video doesn't have to be complicated. As professions like home decoration and interior designing are associated with creativity and innovation, good video marketing can help you build your brand.