Isn't it nice to just stay outside a little bit and host a grilling party in your own backyard? With just a bit more effort, you can turn your background into your personal playground for your friends and family.
With a little landscaping, your backyard can look a million times better. Laying out the foundations for landscaping, the most crucial equipment a homeowner needs is the skid steer loader.
Skid steer loaders are one of the most versatile construction and agricultural machinery by the way the machine turns. The way the skid steer is engineered allows the machine to turn into a tighter circle essential to access tight areas in your garden or backyard.
A skid steer loader is a small, engine-powered machine with lifters where a variety of tools can be attached depending on the function needed.
Skid loaders are four-wheeled vehicles with rubber skid steer tracks that features wheels in sync on each side, which means left side wheels are driven independently of the right side wheels.
The skid steer loaders can also be converted to have low ground friction by using specialized Mecanum wheels in order to prevent a dragging motion.
Unlike a conventional front loader, skid steer loaders have fully enclosed cabs to protect the operator from any foreign object that might be thrown at them in the course of removing dirt.
The skid steer loader can push materials from one site to another, carry materials into buckets, and load materials into trucks from construction sites.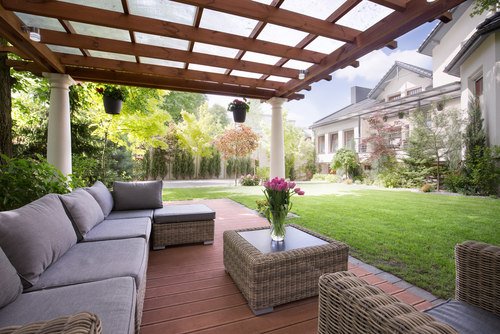 Not yet convinced? Well, here are some more advantages and benefits in using a skid steer loader when upgrading your backyard.
1. Versatility
The skid steer loader is a "jack-of-all-trades" that can do jobs from earthmoving to landscaping.
For skid steer loaders, it's very convenient to add or remove pallet forks, buckets, and other attachments you may need during construction. With these attachments, you can move between projects and different sections of the project efficiently.
Skid steerers can have a snow blower and trencher attachment as well, which goes to show that these skid steer loaders can function in every season.
Other attachments include dozer blades, mulchers, augers, levelers, and box rakes suitable for construction, landscaping, forestry, and agricultural needs.
Some newer models of skid steer loaders also include an automatic attachment changer function, which allows the operator to change between different kinds of shaping, terrain handling, and leveling tools without having to lift a finger.
2. Portability and Strength
With its relatively small size and lightweight design, a skid steer loader can be easily transported from one construction site to another.
A simple towing vehicle is suitable to carry a skid steer loader from one site to another.
Even though skid steer loaders are light, these types of machinery have high torque and power. The machine is capable of digging large and deep areas.
3. Maintenance
Upon following the manufacturer-recommended maintenance schedules, maintenance costs for the skid steer loader are kept low.
By adding quick couplers featuring de-greasing functions, maintenance time can also be reduced. Since skid steer loaders allow easiness in installing quick couplers, there are fewer part replacements.
4. Safety Features
Often, skid steer loaders are used for small spaces or crowded construction sites. Because of its nature, the skid steer loader comes with various safety features that keep it in check.
Examples of these are additional lights, emergency steering capabilities, rear view mirrors, and hydraulic locking differentials. The skid steer loader also has a rollover protection system to keep the operator safe.
Moreover, for the machine to start, operators must also engage a safety bar first. This keeps operators from falling into accidents.
5. Visibility and Control
One of the most significant benefits of a skid steer loader is its superior maneuverability on different kinds of ground conditions, where it may be muddy, rough, or covered with snow.
Because of the engineering, design, and size of the skid steer loader, it provides optimum control and ideal visibility for the one handling it. With a simple joystick, it's very convenient to control the machine.
Using a suspended undercarriage, skid steer loaders offer better traction especially in uneven terrain and keeps the ride as comfortable as possible for the operator.
Conclusion
Its agile and compact design puts skid steer loaders top of mind among excavators, traditional forklifts, or tractors.
With the flexibility of transport, versatile functions, safety measures, and low-cost maintenance, the skid steer loader is one of the best choices for backyard renovations.
Whether it may be slopes, muddy ground, snowy conditions, or uneven terrain, a skid steer loader can take this even though it has a smaller size and weight.
This is why many landscapers choose to use skid steer loaders compared to other machinery. The skid steer loader is every landscaper's dream.
Hope this article was able to change your mind and choose to use skid steer loaders when upgrading your backyard.