Don Pedro Brooklyn is reader-supported. When you buy through links on our site, we may earn an affiliate commission. Learn More
50+ Modern Fireplace Designs & Ideas for 2021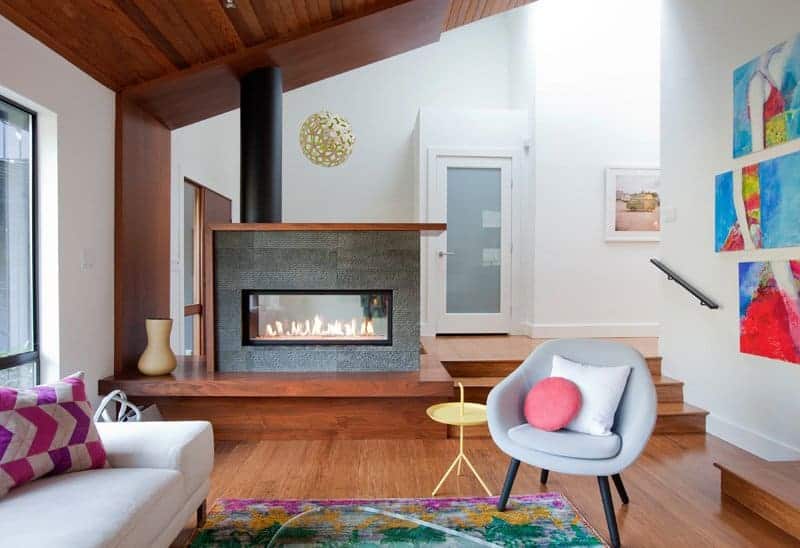 More than just a spot to get cozy, fireplaces give that inviting, almost enchanting air to a home. From ethereal designs to heartwarming earth-tones, fireplaces today have long gone from the traditional fireplaces that we've known.
Don't get me wrong, I love the traditional look of fireplaces, but today's modern fireplace has that upbeat vibe and yet, still, entrancing!
The heart of the home deserves a spotlight. And, we've carefully curated some of the cleverest and beautifully designed modern fireplaces that bring these already-gorgeous homes to a whole new level of domestic bliss.
Modern Two-Sided Fireplaces
The two-sided fireplace has many advantages; it looks modern, costs cheaper than installing two fireplaces, and heats a larger area more efficiently. Below are the best two-sided fireplace designs.
1. Vertical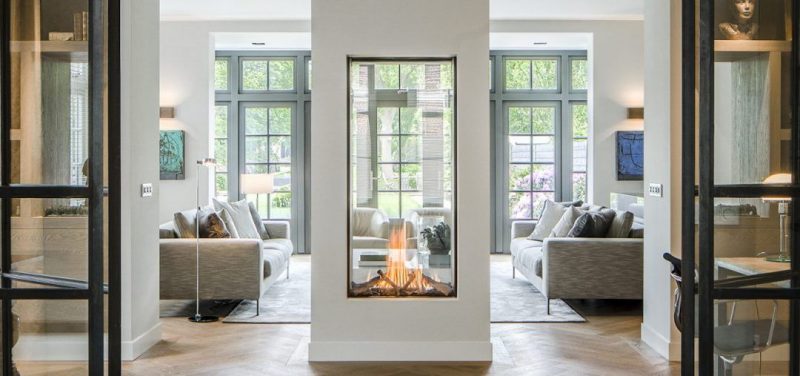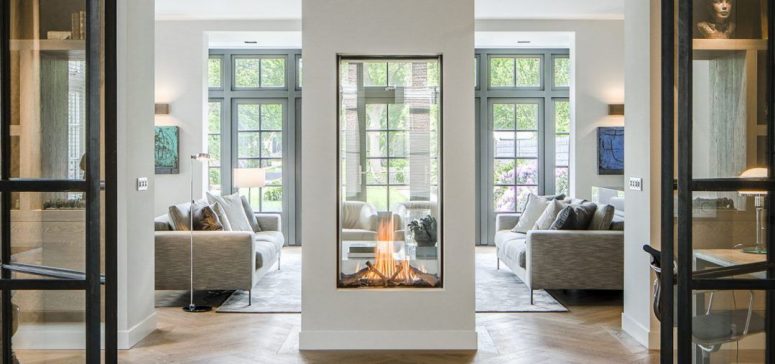 Open, sleek, and simple are hallmarks of the modern home, and this floor-to-ceiling fireplace allows light and views to flow through the spacious interior.
The challenge with large rooms is that it can look cold and stark, especially when it comes to ceilings. The vertical fireplace draws the eyes upward without obscuring the views or looks overbearing, creating visual interest from the top bottom.
2. Island Fireplace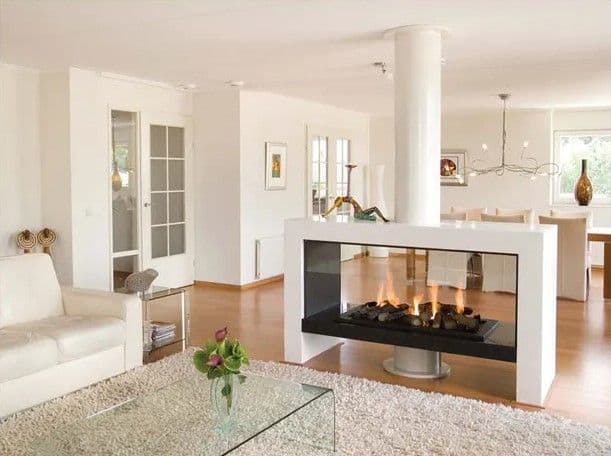 Though Santa Clause won't definitely fit in this modern chimney, we're sure he'll understand.
With two sides clear, both areas enjoy the warmth of this minimalistic chimney, and we love the black and white hues of this fireplace as it stands out amidst the beige-colored surround without dominating other elements.
The raised hearth does not cut the rich wood stained flooring flow, creating a flow of spaces.
3. Modern Makeover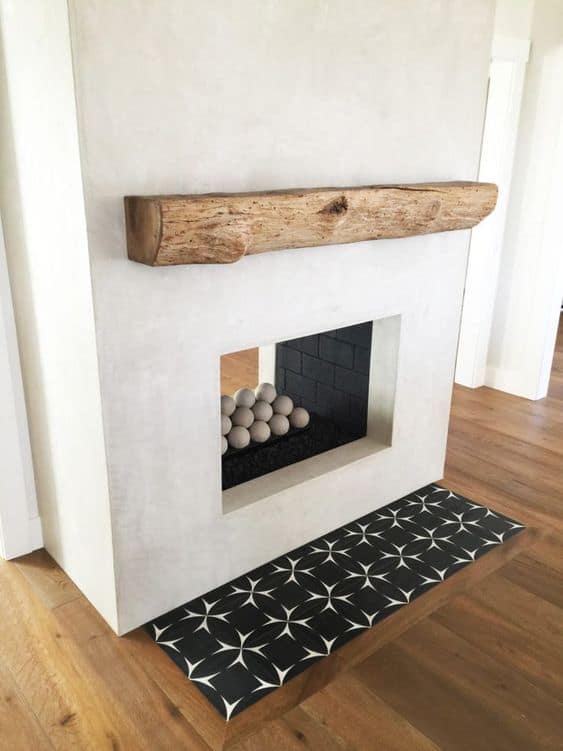 Chic and exciting, these lovely concrete balls are actually practical while creating a modern take in your firepit.
If you're wondering what these white spheres are, these are concrete balls bonded with a ceramic finish and stained.
There will be slight discoloration due to the heat in due time, but you can avail other colors such as brown, light gray, dark gray, black, and even adobe red.
Read the detailed makeover here.
4. Contemporary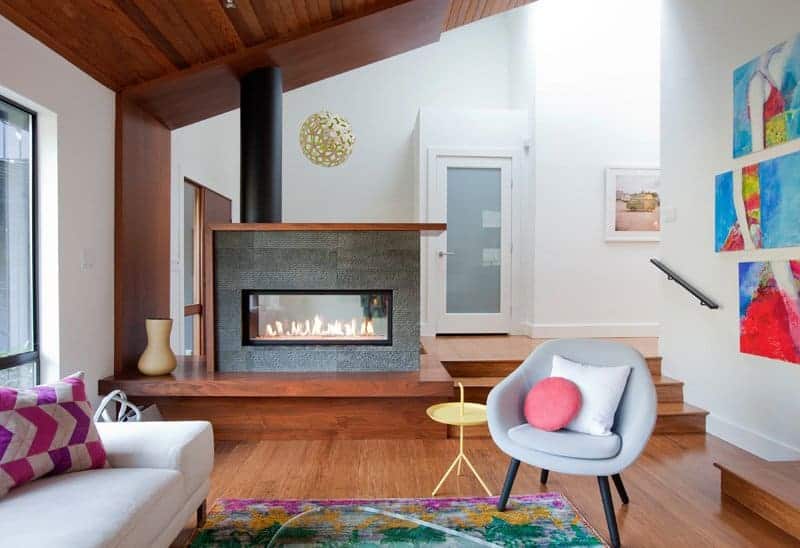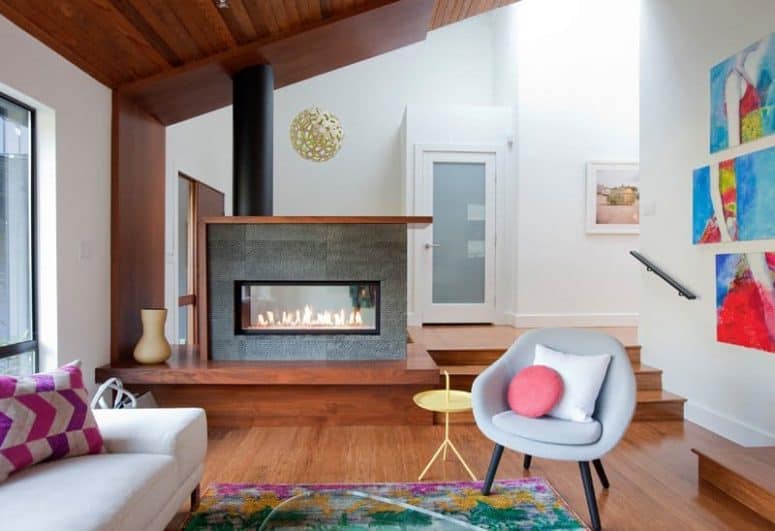 We love this sleek and simple forms of contemporary design because it allows us to appreciate the finer details such as the rich texture of materials.
This rectangular fireplace showcases the fine stucco-like finish and gray undertones of the natural concrete tile, while its neutral colors stand out perfectly among the rich maple-colored backdrop.
5. Kitchen Warm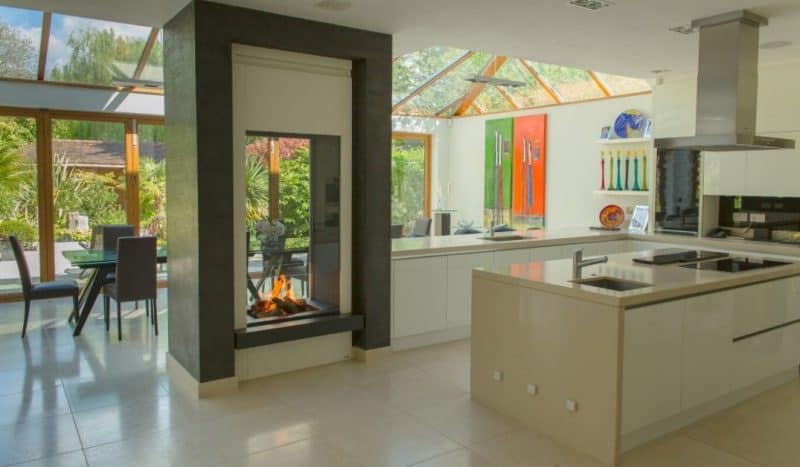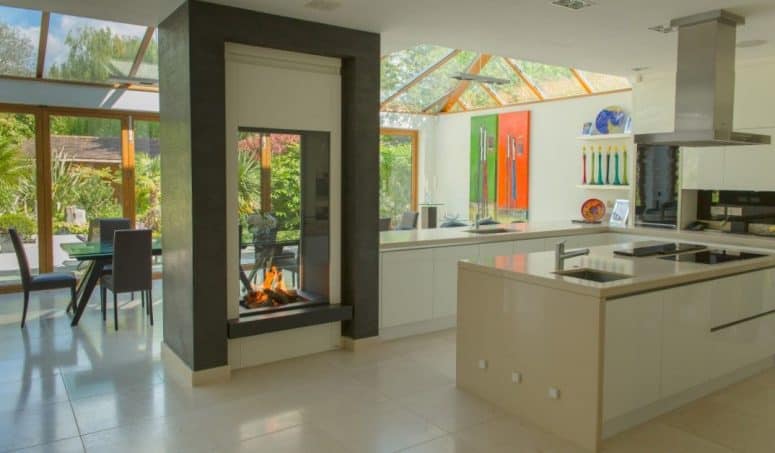 This stately fireplace creates a focal point amidst the beautiful tangy hues of the Savanah sunset while adding weight and dimension to the translucent surround.
The see-through glass also allows you to view the natural vistas surrounding the property.
6. Double-Sided Wood Burning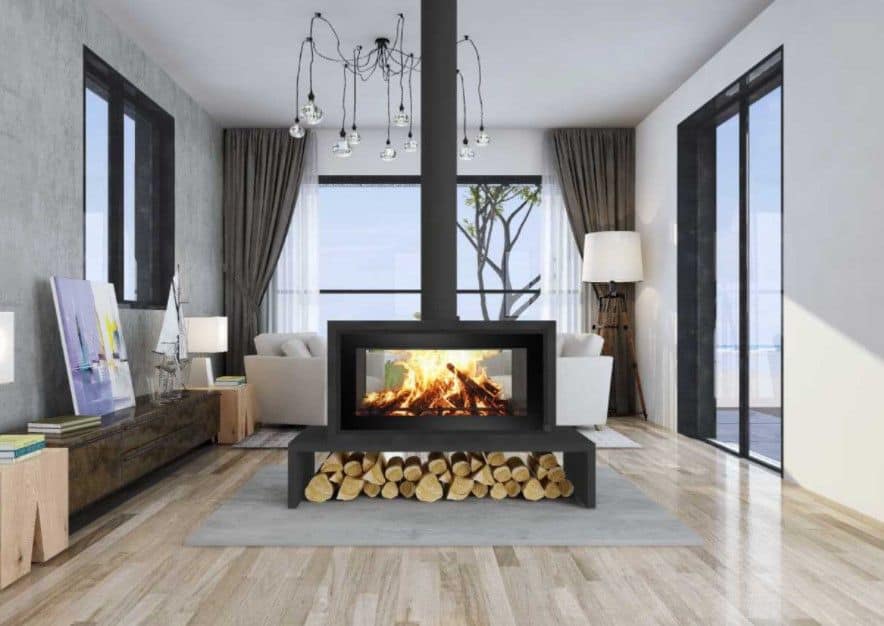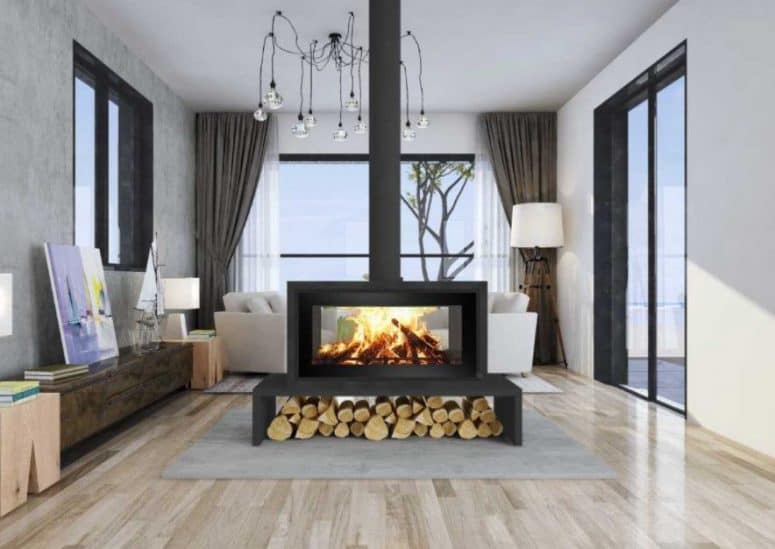 Talk about the center-of-attention; this black industrial-inspired fireplace undeniably adds a cozy atmosphere to the whole interior.
Choosing the dusky hue is actually a practical choice as it is timeless, elegant, and worry-free from obvious staining or dents that may accumulate through time.
Gray, black, and their undertones are enduring color trends, which means you'll enjoy your investment for a good number of years.
7. See-Through Glass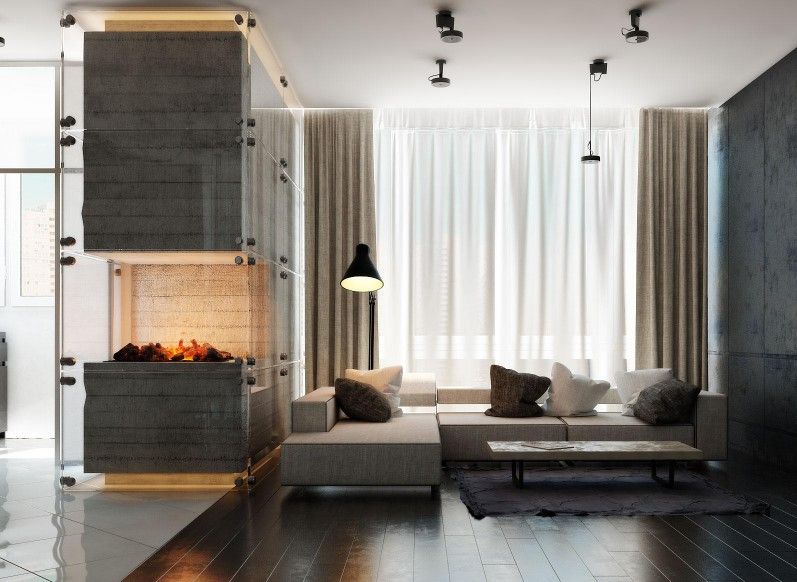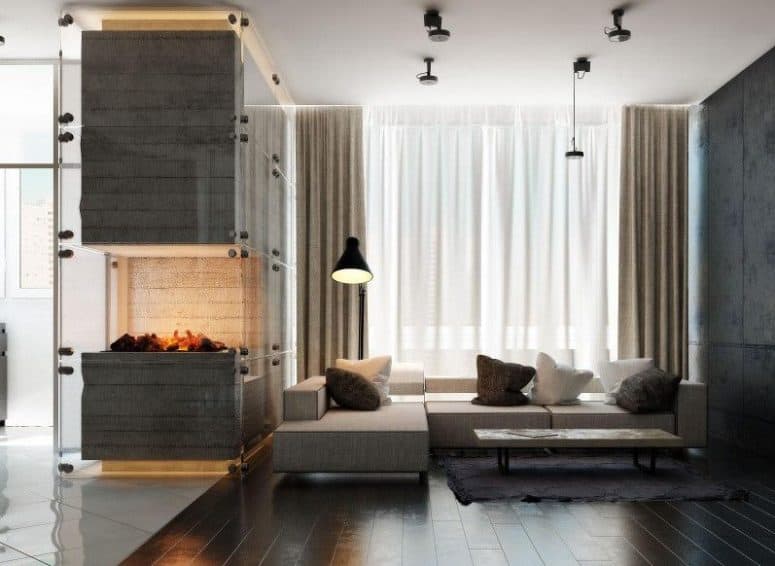 Cleverly placed in-between spaces, the glass-enclosed fireplace is an excellent idea if you want an added protection for your fireplace while allowing views on either side of your fireplace.
Tempered glass is typically used for fireplace doors, but ceramic glass is more commonly used for enclosed fireplaces as it can withstand continuous heat up to 1000° F.
8. Luxury Modern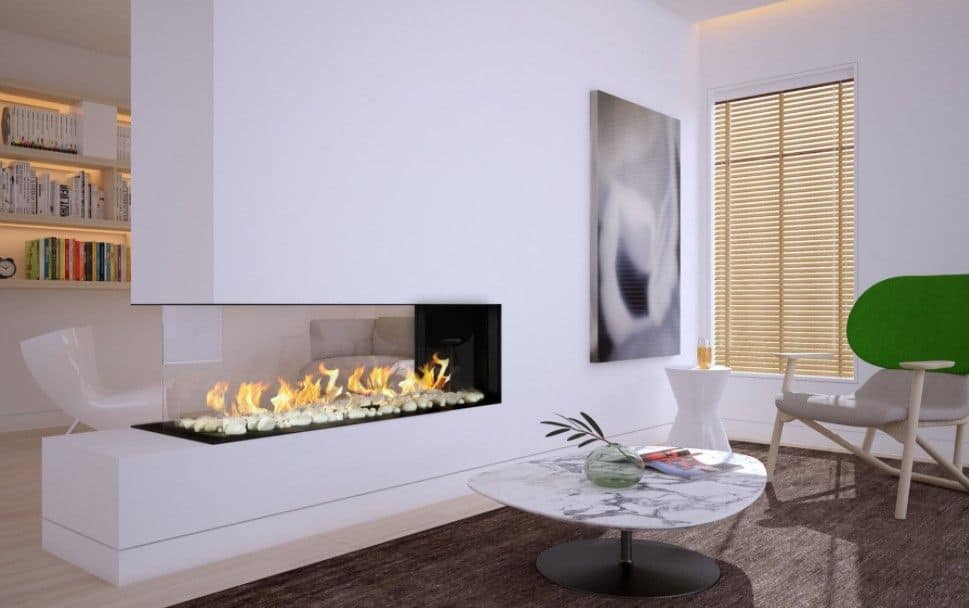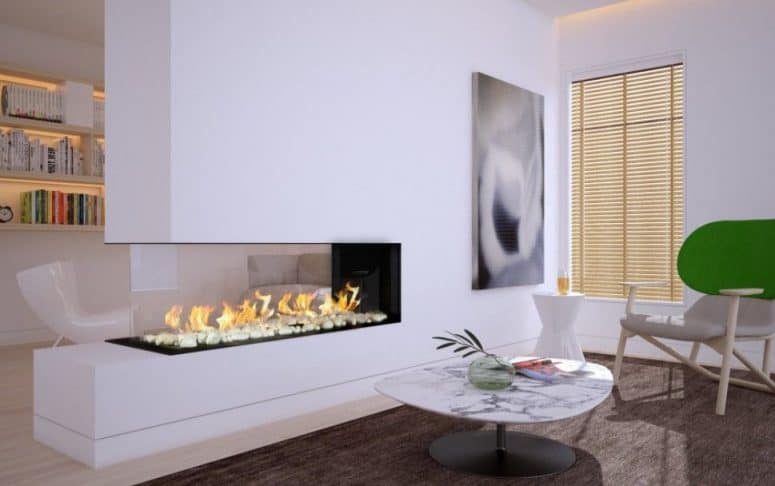 This peninsula fireplace serves two different spaces as well as acts as a privacy divider.
Enclosed with glass on the three sides, it draws the line of sight to continue beyond, allowing spaces to connect.
Keeping it simple and practical white ceramic fireballs are lined up to complete the clean and modern look.
Modern Ribbon Fireplaces
The ribbon fireplace creates wide but shallow flames that make a modern statement to the home. See the best ribbon fireplace designs below.
9. Modern Apartment Fireplace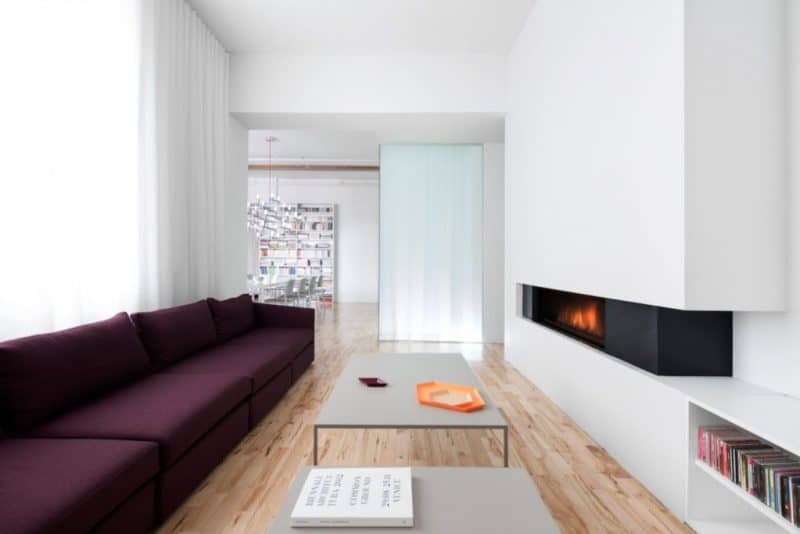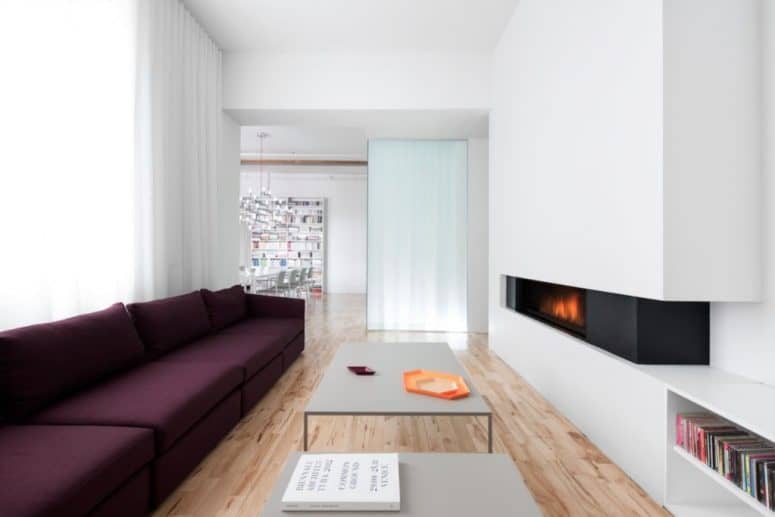 This clean cut-out fireplace makes most of the generous space, stretching its flames through the length of the wall, which gives spectators a full view of its charming soft flames.
Flushed neatly against the wall with neutral black and white, it creates a seamless eye-piece in the contemporary interior.
10. Minimalist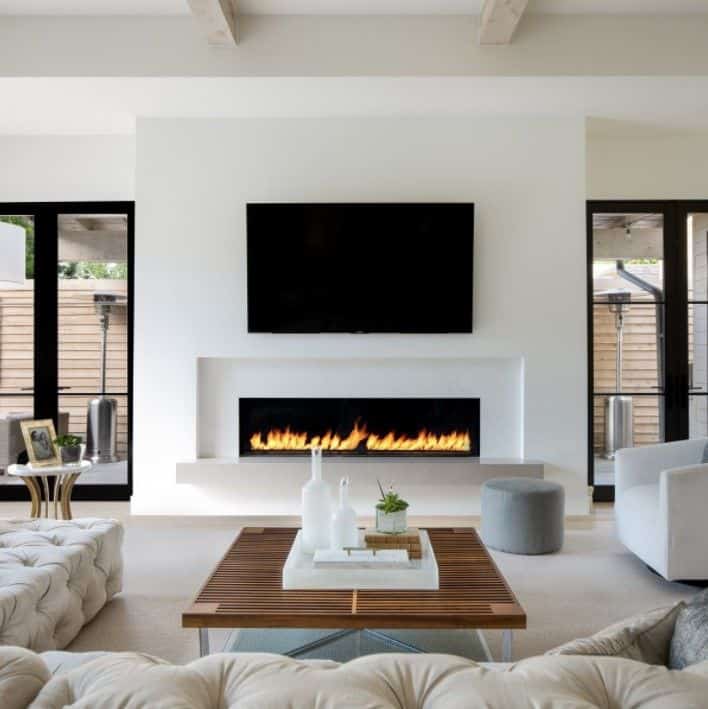 There's a certain calm and entrancing when looking at this modern mantle as its low horizontal profile stretches throughout the wall, along with the other interior elements' horizontal rhythm.
And, we love the contrast of the dancing amber flames against the dark palette that adds depth and visual interest, just the right hearth for a place of gathering.
11. Linear Bottom Fireplace
This jaw-dropping display of flames may not be for everyone, but it definitely gives a lasting impression.
In our books, though, having a whole stretch of wall for a firewall is absolutely marvelous. And if you have space and means, then why not?
Keeping it to the ground, the stretch of flames lights up the interior and further highlights the amber undertones of the stunning brickwork.
12. Luxurious Fireplace Design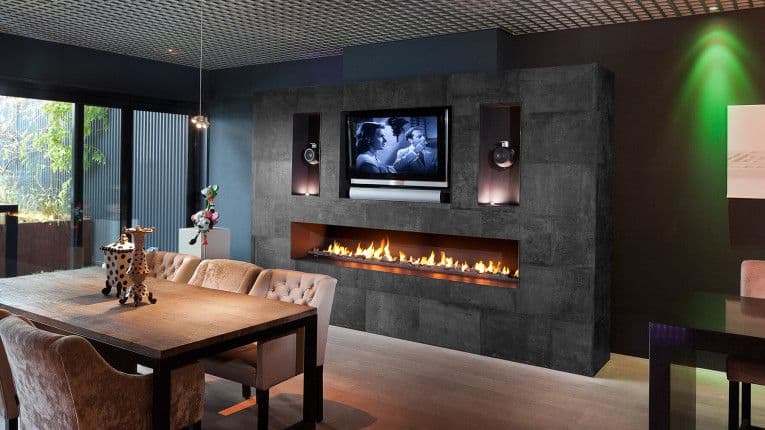 Fireplaces never fail to add drama and character to an interior. With a modern fireplace, you can integrate your home media with the hearth creating an ultimate visual experience right in the comforts of your home.
13. Inside The Wall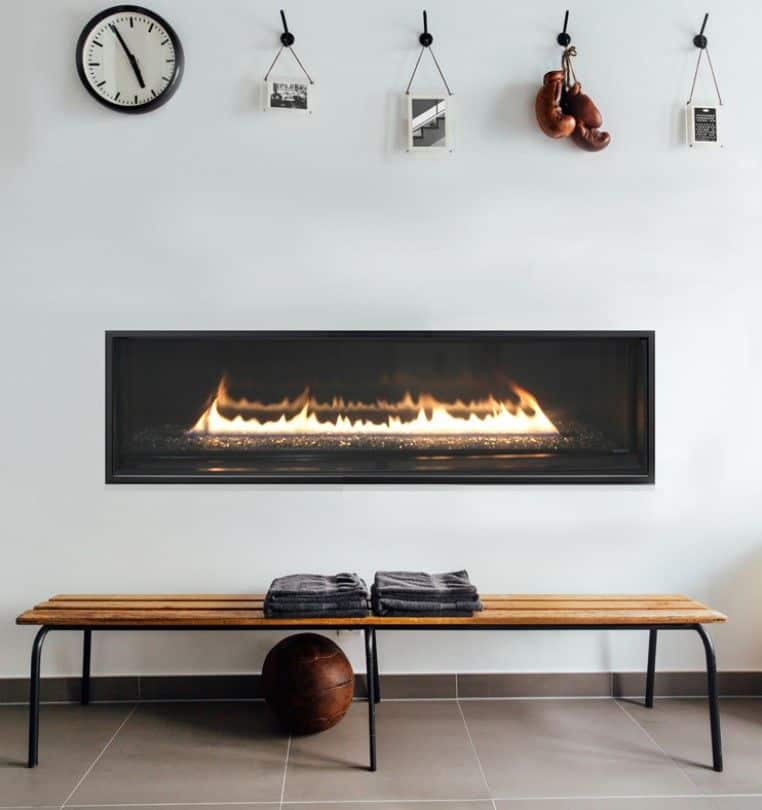 When your home is your personal gallery, then the framed dancing flame is a great focal point for your private collection.
14. Semi-Outdoor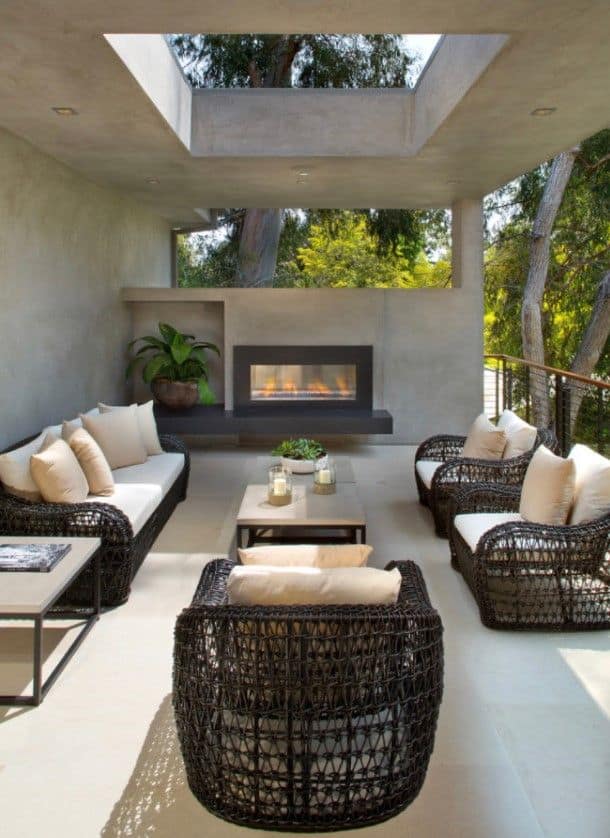 In history, fireplaces have always drawn people together, and hundreds of years fast forward, the ethereal magic of the hearth never wanes.
This beautifully designed outdoor fireplace is just the perfect focal point of this outdoor living as its simple geometricity and raised platform creates an elegant look.
Modern Corner Fireplaces
Rather than taking up space in your wall or living room, corner fireplaces can fit perfectly in the edges or unused space. And if you're looking for design ideas, we've got them for you.
15. Center of Attention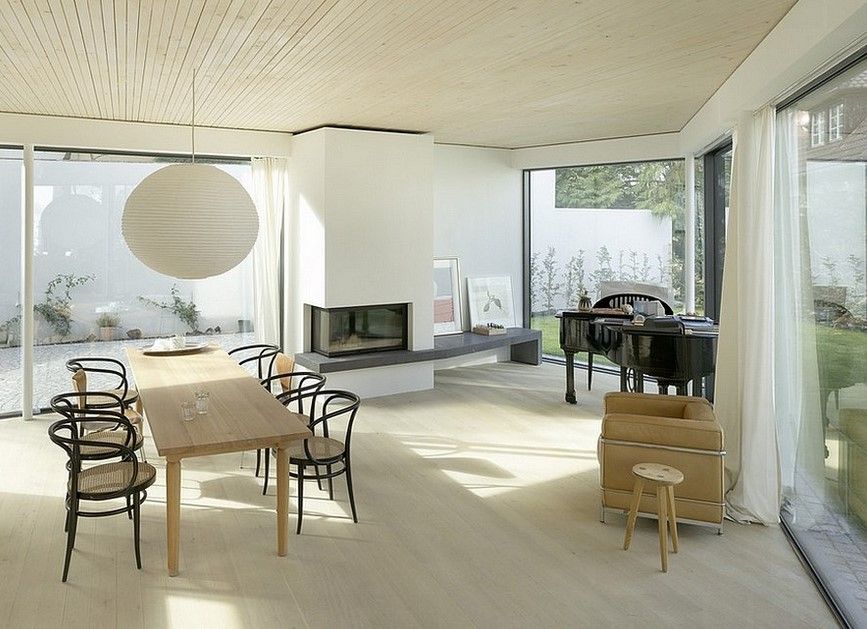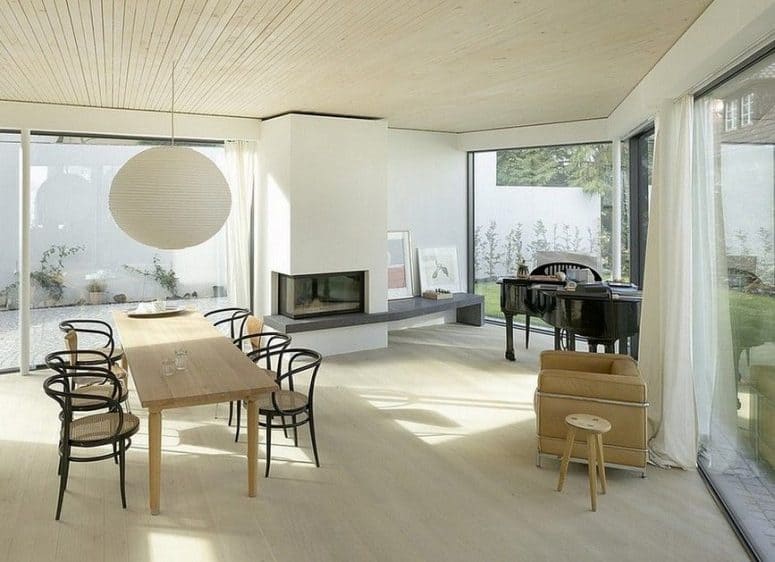 Drenched in natural light, this beautiful interior needs warmth and luminescence when the curtains are drawn as well.
The great thing about corner fireplaces is that it is neatly tucked in the room without taking too much space in an uninterrupted flow of elements.
16. Modern Corner Fireplace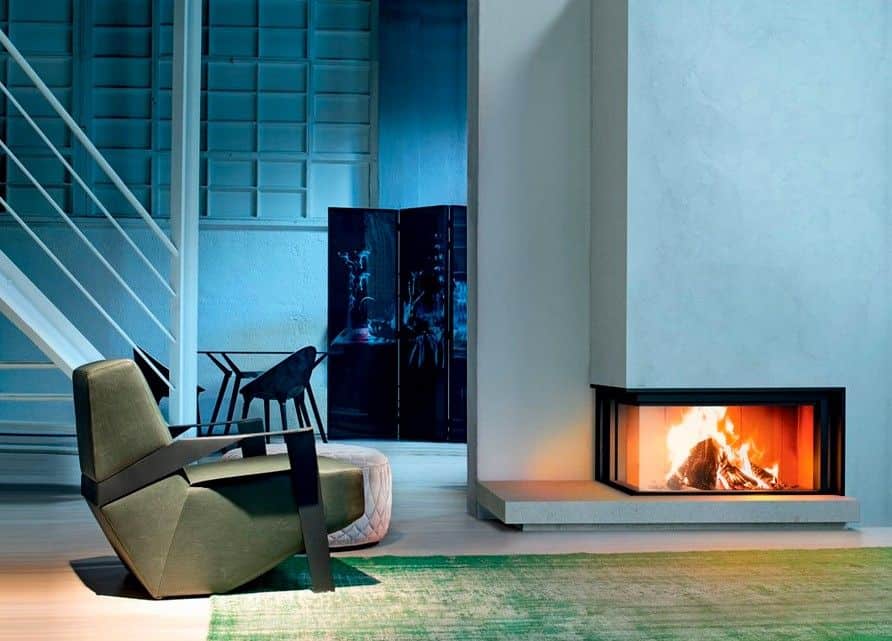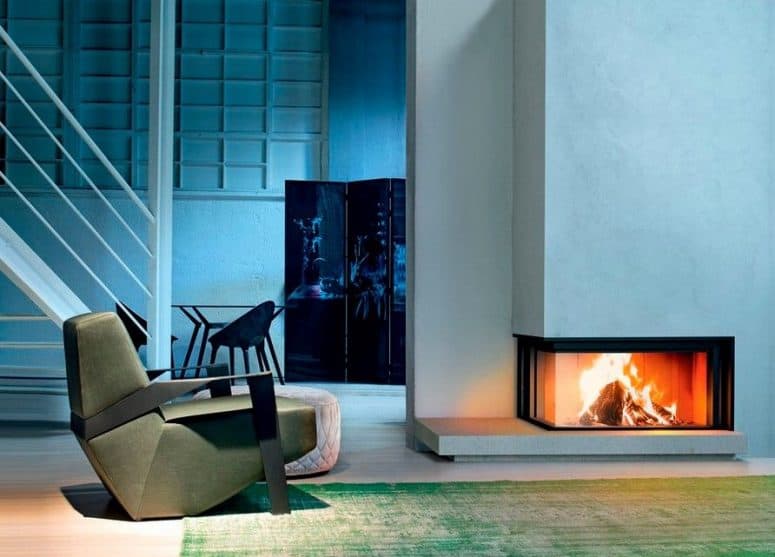 To indulge in an ethereal spectacle of amber-lit views after a hard day's work is something to look forward to, and this warm spot is just the perfect escape from the ballyhoos of everyday living.
The corner fireplace goes along with the Japanese-inspired interior with its anchored down profile and black outline of its firebox opening.
17. Brick Surround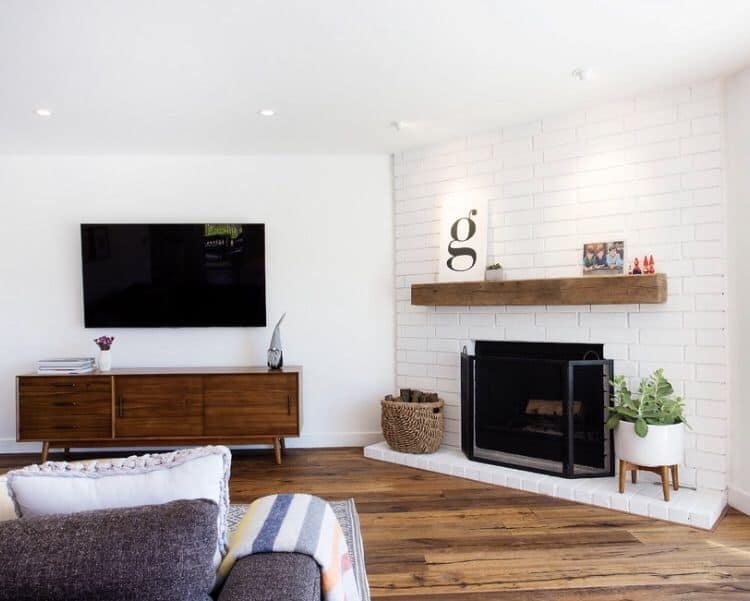 We've seen subway tiles as kitchen backsplashes, but as we can see, the fav architectural finish makes an excellent backdrop for your fireplace as well.
This is an excellent idea if you want to add depth and character to a white-washed interior.
18. Small Electric Fireplace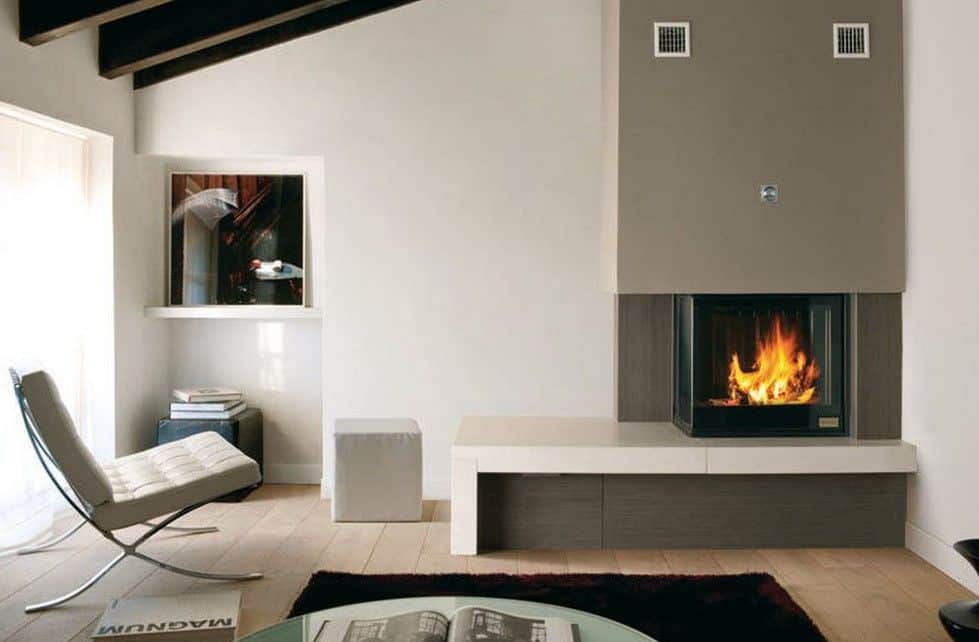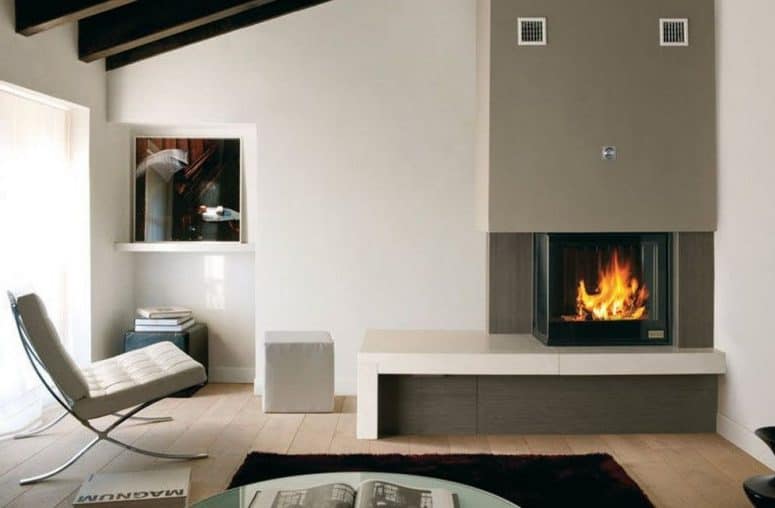 Fireplaces come in different sizes, and this compact modern fireplace shows us the possibilities of having a cozy spot just like this, whatever the room size.
Don't let the built-in chimney fool you; the light in the box runs without emitting fumes thus doesn't need a chimney. For the health-conscious or the apartment dweller, this is a great option to have.
19. Corner Renovation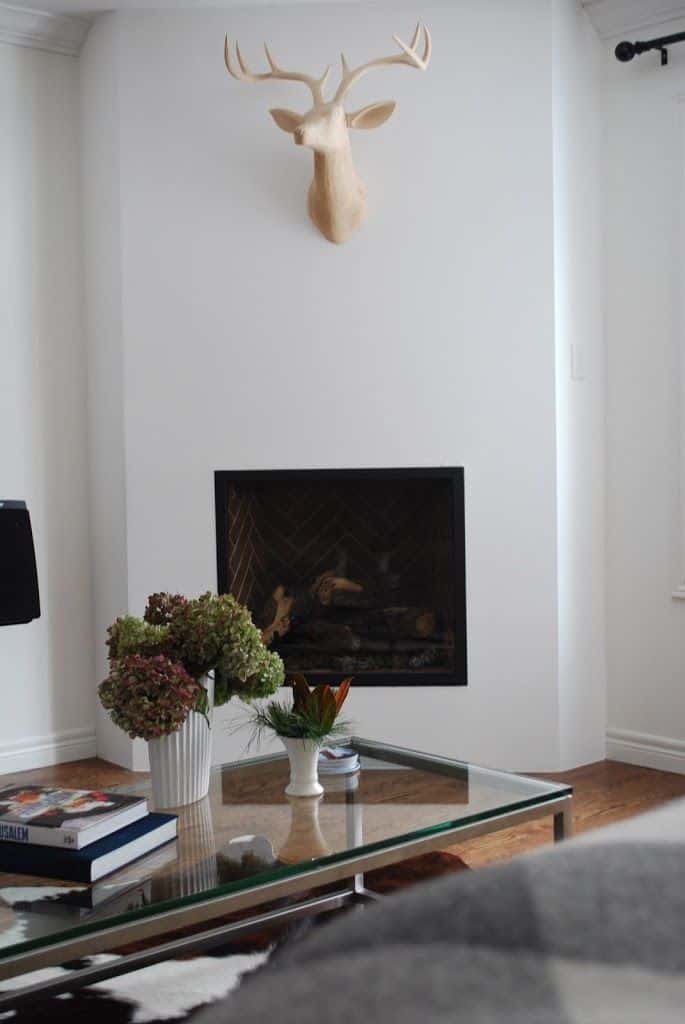 Fireplace openings provide an opportunity to add some pizzazz to a white-washed surround. This corner fireplace exactly does that, as it utilizes an earth-toned herringbone pattern to the opening.
The fireplace is a part of a renovation that updated most of the elements of the interior. The tile pattern is just perfect, retaining the home's country charm.
We think the moose on the hearth would agree, don't you think?
You can read the renovation story here.
20. Rock Fireplace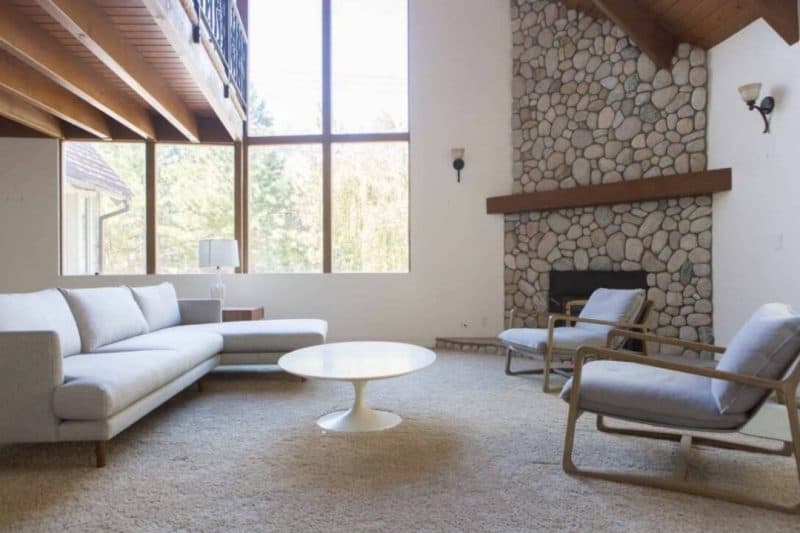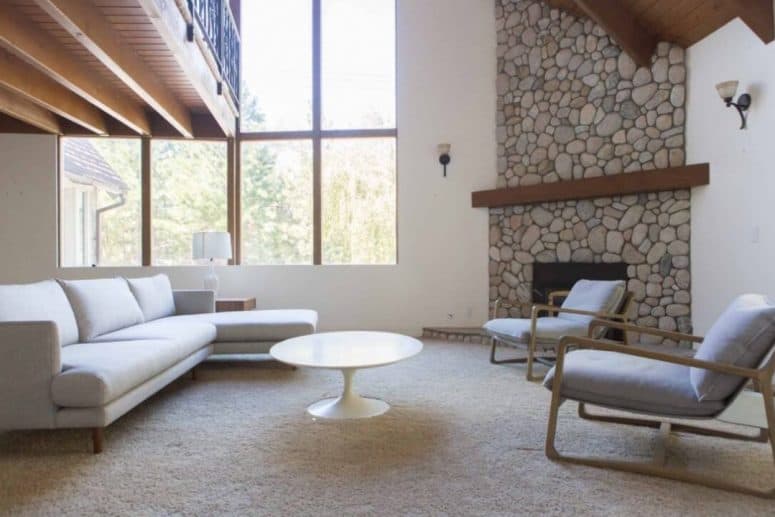 Rock fireplaces are classic, but with a simple design and flushed stonework unto the corner, the wall creates a more updated touch.
The rustic texture is a perfect focal point in the room, and it's something to stare at and enjoy during the wee hours.
Read the full story here.
Modern Fireplace Surrounds
Traditional fireplaces usually consist of a mantle, a hearth, and a surround. While modern fireplaces have more flexibility in design, having an incredible surround will make it even grander.
From granite to wood, here are the best modern fireplace surround design.
21. Granite Tile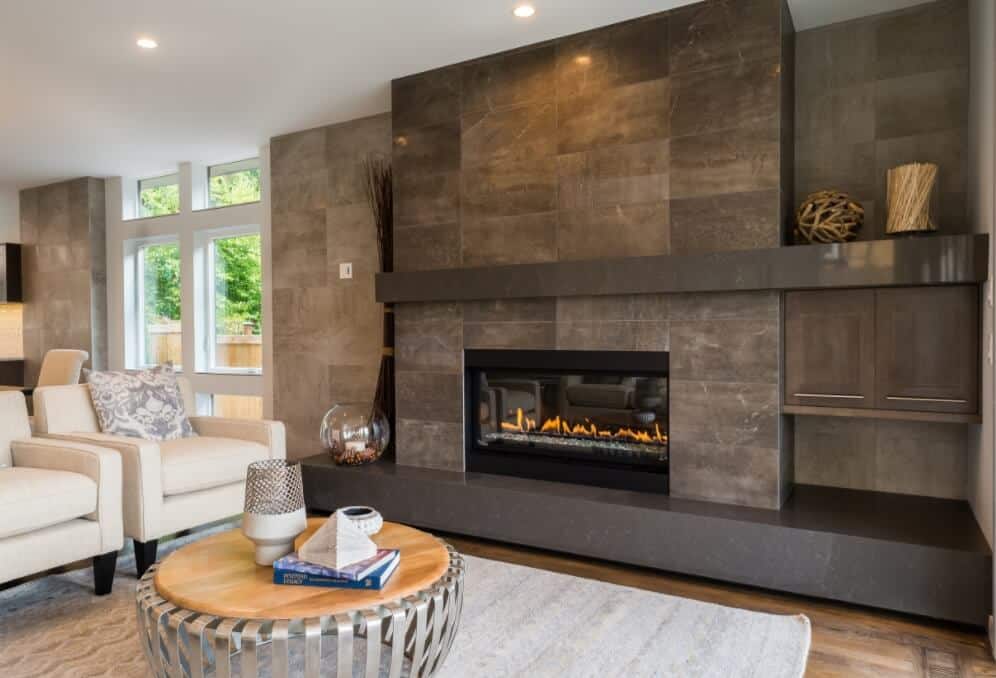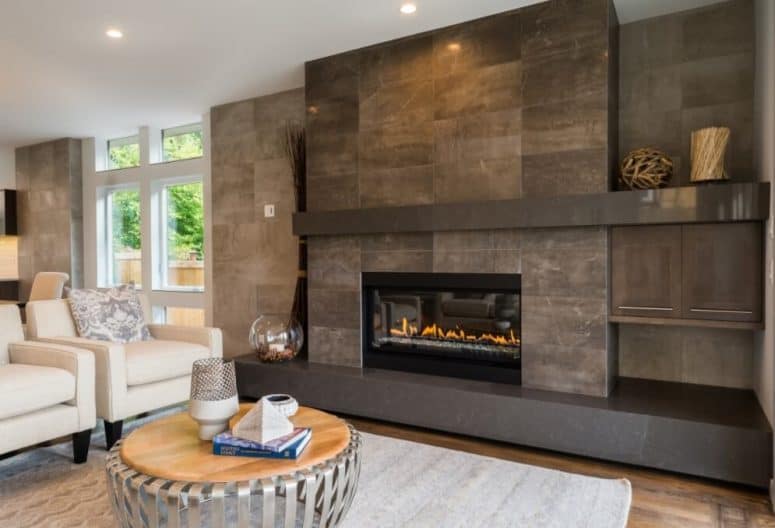 Earth-toned materials never go out of style, and the natural graining and hints of white and umber undertones make this fireplace undeniably the heart of the home.
The simple geometry, yet the massive scale, is a stronghold of the home that gives a sense of security and assurance.
22. Sculptural Fireplace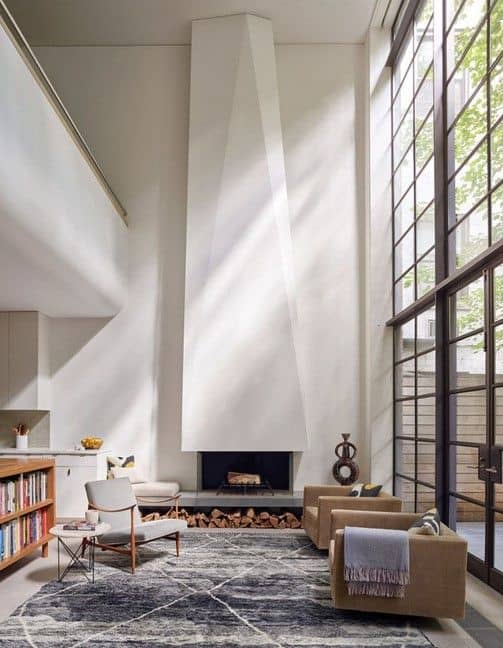 The ceiling is the limit when you have a marvelous idea of bringing your fireplace into a whole new level of height.
The sculptural element is an awe-inspiring design achievement that may rival even the oh-so-familiar wall painting.
We love how the angled geometry tapers away upward, letting the play of light and shadow take over the rest of the visual interest.
23. Black Shiplap Surround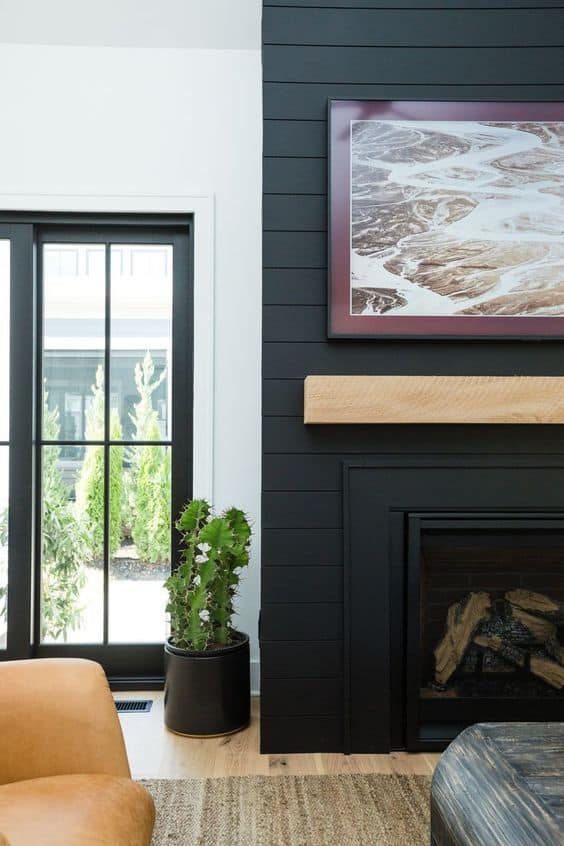 Shiplap surrounds are great alternatives for brickwork as it provides breadth and scale to a room without the complicated process and of bricklaying.
Opting for your shiplap in matt black meanwhile updates and creates a formal look in your interior.
See the room tour here.
24. Herringbone Pattern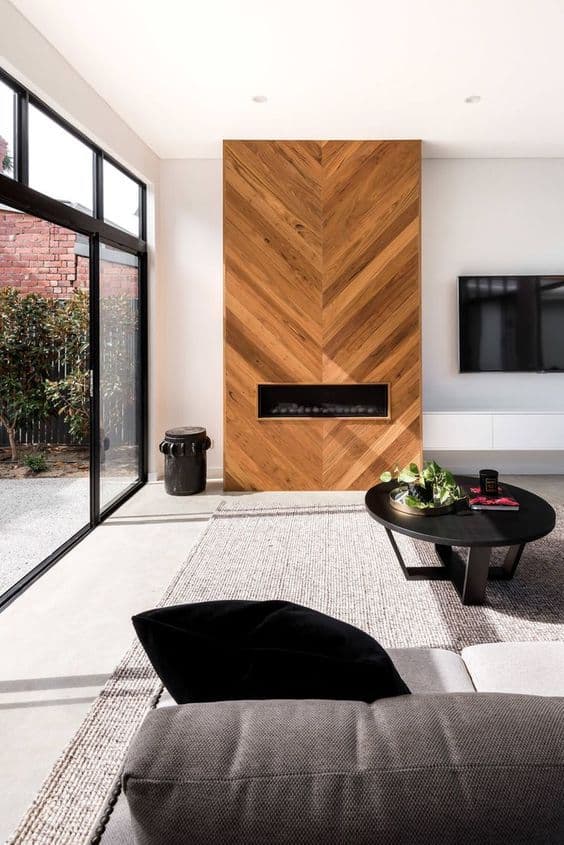 Instead of going along the architectural lines, this wood-textured modern fireplace goes diagonal with its slats creating movement into the minimalistic interior.
Cut through the wooden mantel is the firebox opening, which has just the right scale and color to match the interior's black design elements.
As no hearth extension is in place, it creates a seamless and neat look against the flooring.
25. Matte Black with Firewood Storage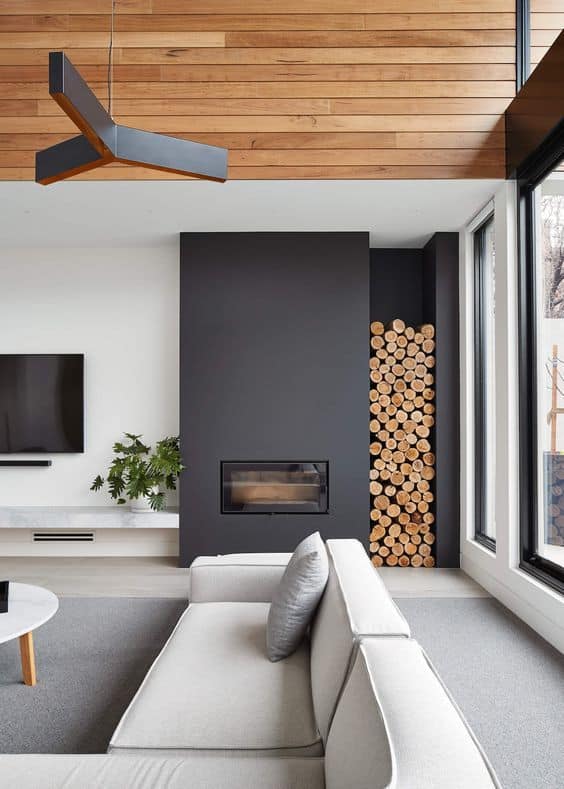 For the past years, matte black has become one of the most sought-after finishes, especially for kitchen cupboards and plumbing hardware. While looking at this gorgeous fireplace, it is worth considering using the dark hue for a fireplace color as well.
26. Clean and Simple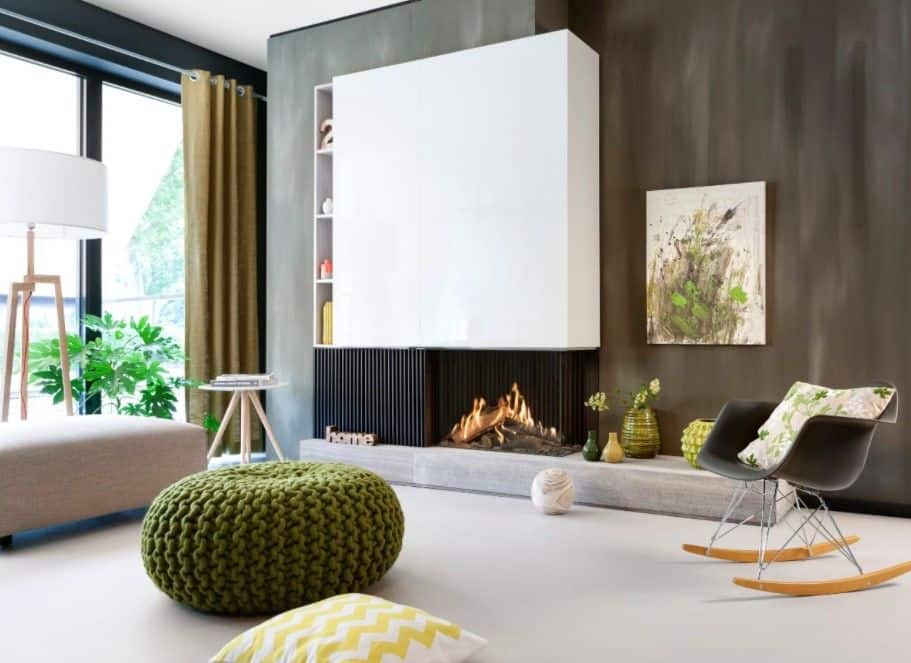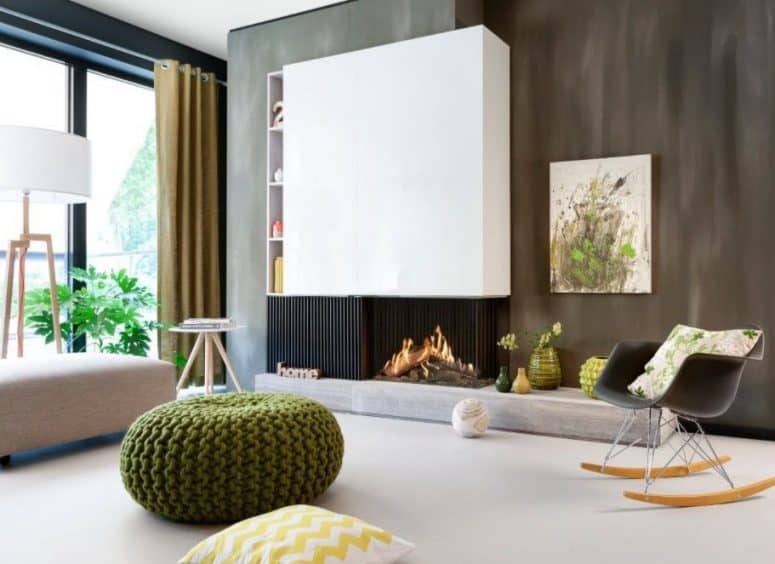 Like modern art on display, this lovely fireplace showcases everything we love about the minimalistic style. Clean, simple, and unpretentious, the hearth though asymmetrical in nature, balances off the whole look with its neutral hues and straight-edged geometry.
27. Metal Cladding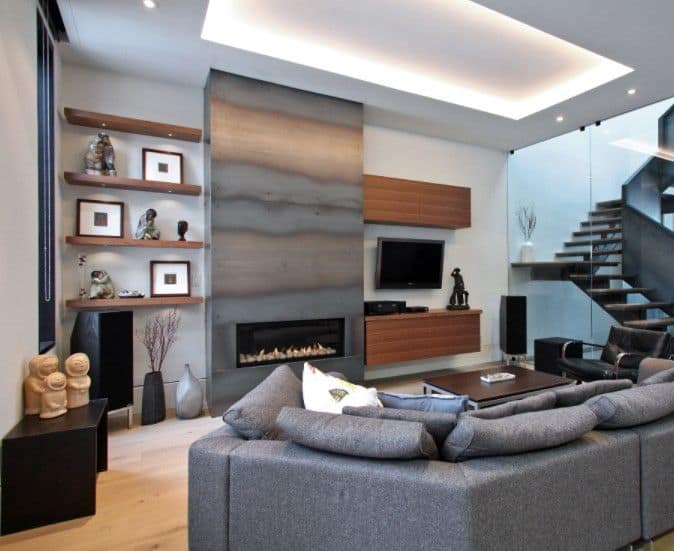 Tired of the usual fireplace materials? You might want to consider using metal cladding instead for your mantel as it provides a sleek and clean surface creating an ultimately modern look.
You can either choose aluminum or stainless steel, where the latter can fetch up as much as $2000 for a 48" standard surround.
28. Slatted Wood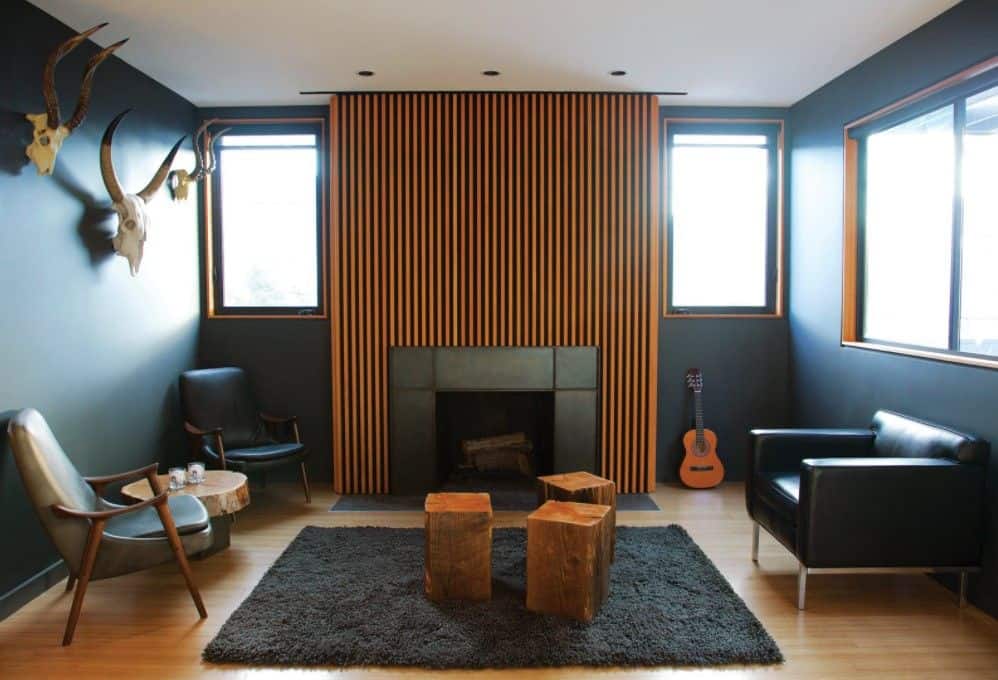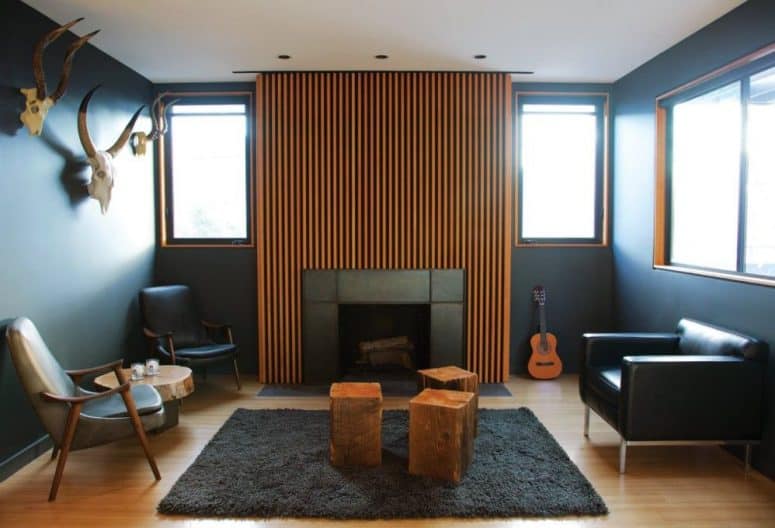 As repetition creates rhythm in an interior, this slatted wood chimney is perfect for the sedentary interior.
Aside from adding movement to the place, the wood slats add warmth to the room, and deciding on the direction of your slats, you can orient the slats to create an illusion of space.
The vertical slats add height to the room while creating a focal point for all the elements to converge.
29. Rusted Metal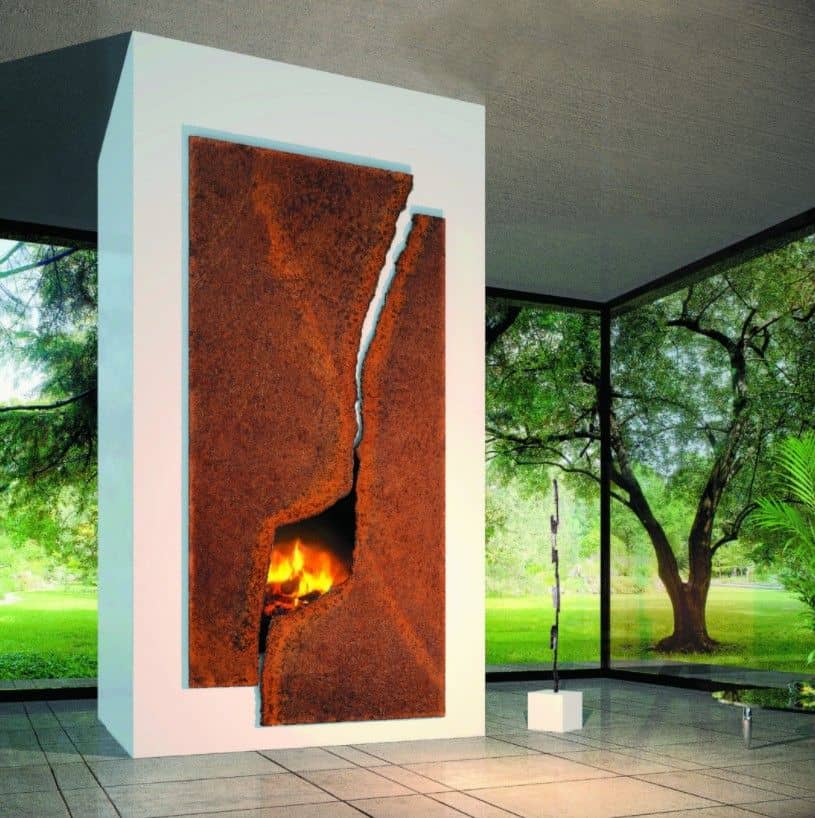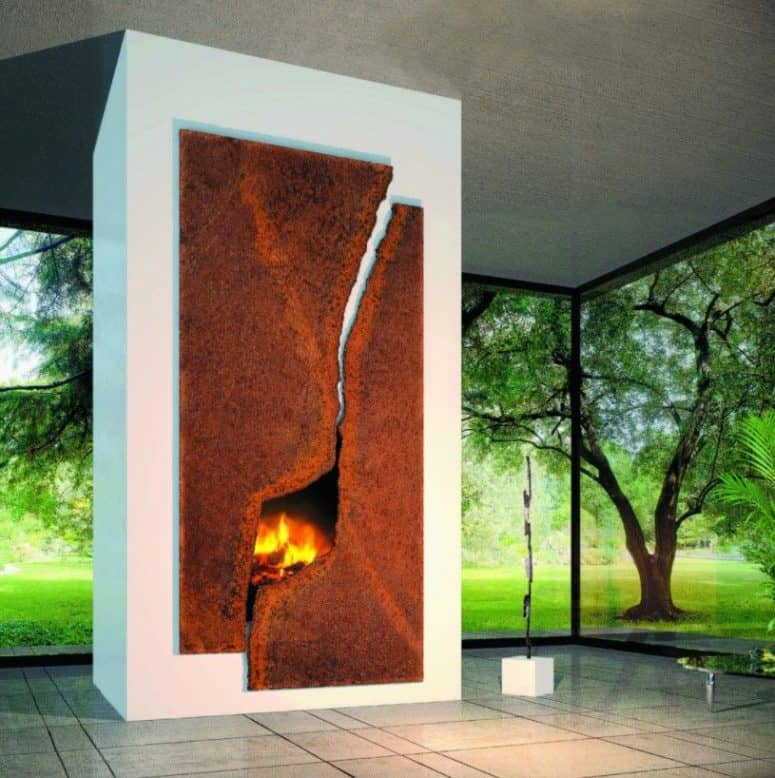 Highly imaginative, Dominique Imbert's built-in fireplace creatively used rusted steel for its front panels like magma and fire is just about to ooze from a crack on the earth. The overall effect is mesmerizing.
30. Brick Pattern Surround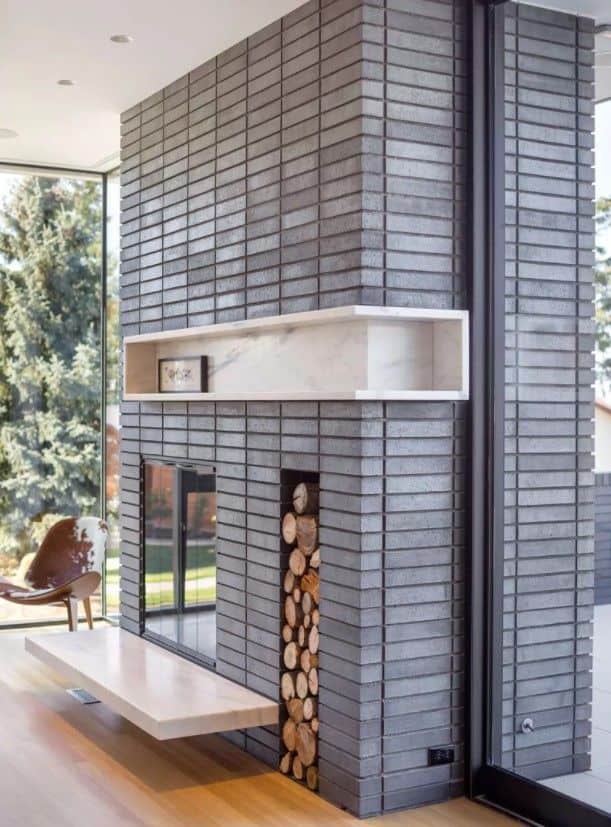 This massive fireplace is both a structural and architectural element that brings weight and presence to the transparent interior.
Laid with the classic stack bond layout, it projects order and simplicity in a modern sense. A raised hearth, cut-through shelf, and deep space to store wood neatly are provided to add dimension and functionality.
31. Farmhouse Style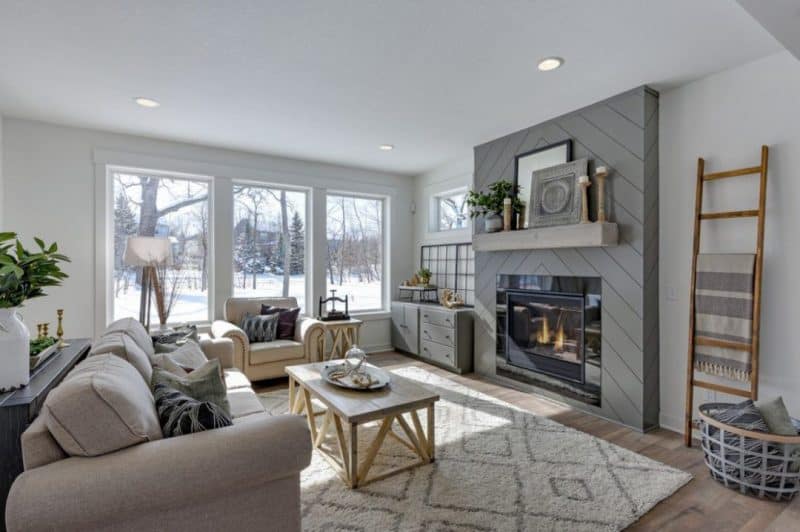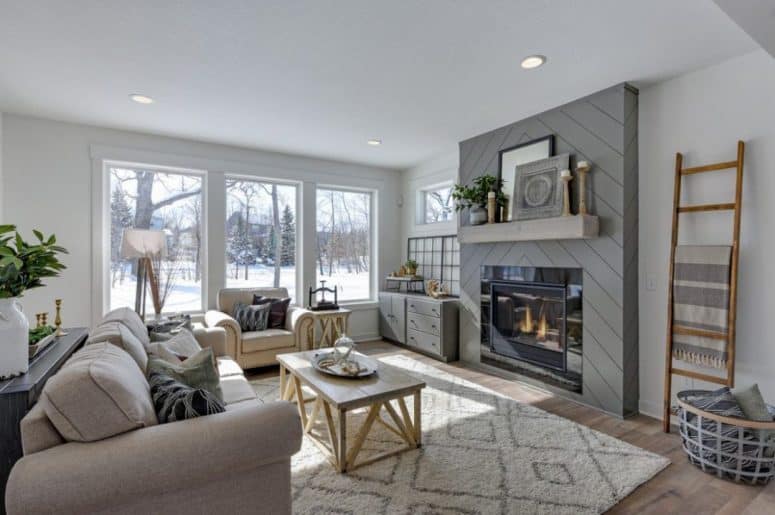 Contemporary homes are now switching to all shades of gray, and why not have the trendy color alleviate the focal point in a living space. This large fireplace chose to have diagonal grooves break up the massive face, so it doesn't look too overwhelming.
32. Blackened Steel Surround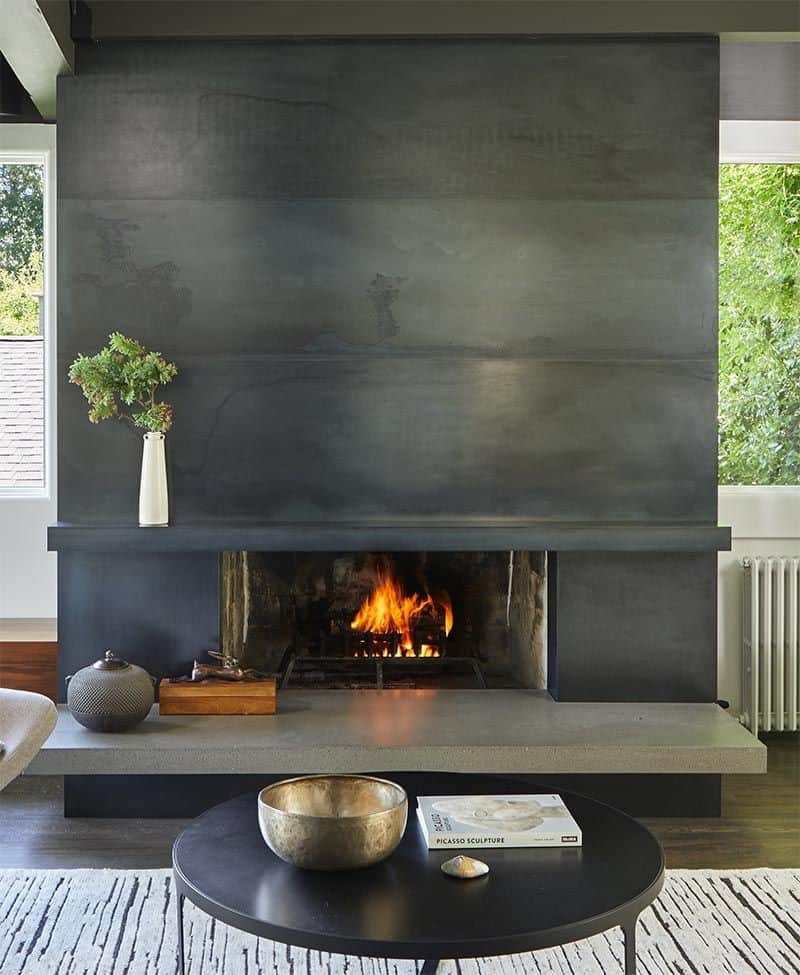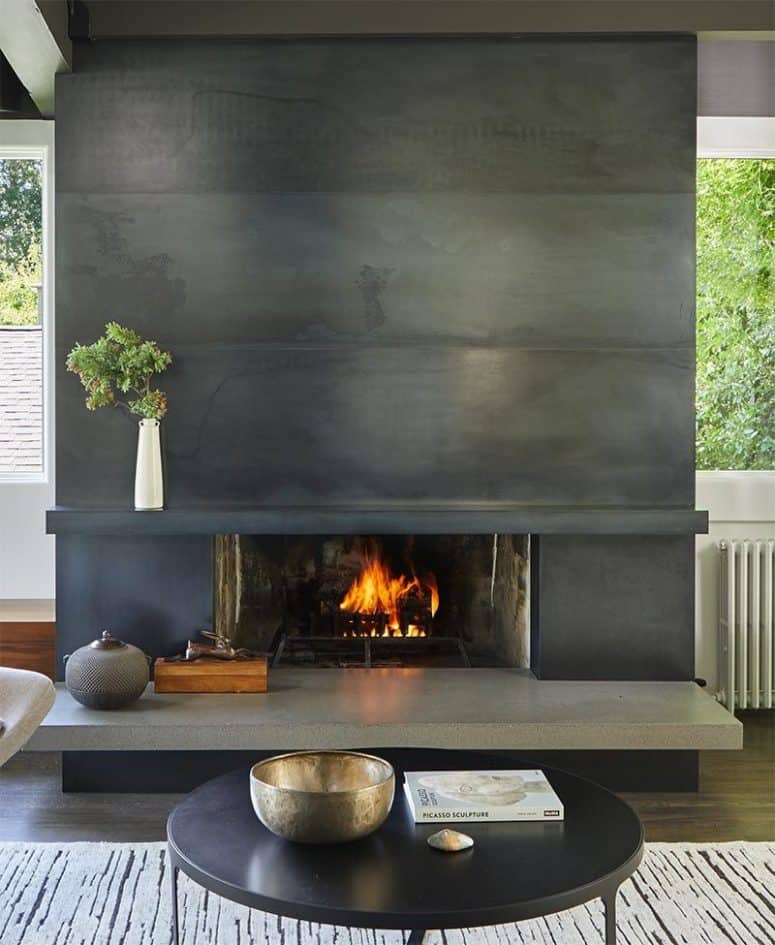 With the surge of optimistic homemakers shifting into the elegant midnight hue, they say black is the new gray for today's interior.
And, as modern interiors love the emphasis of simplistic elements, it's not too farfetched for black fireplaces to become a top choice for anyone's new-built or reno.
More on Da Vinci Lifestyle
33. Black Porcelain Tile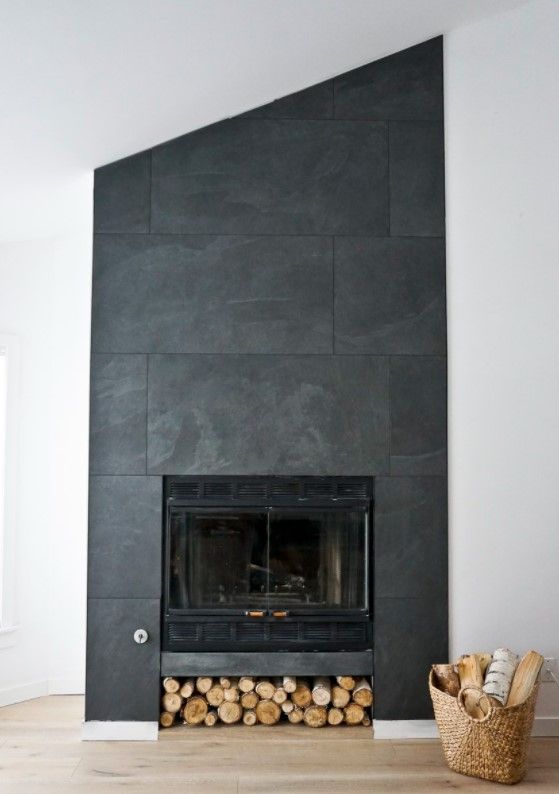 Unpretentious, this black fireplace is a perfect hearth for a humble abode. It's already heartwarming by the looks of it but wait until it's lit during the night.
The porcelain tile was installed using the smallest grout lines possible and used black grout to create a seamless look.
We chose a huge (2′ by 4′, to be exact) porcelain tile that looked almost black. Trust me when I say this tile was so big Ryan needed another pair of hands (not mine) to install them.
I wanted the smallest grout lines we could manage and black grout so that the fireplace looked seamless going from the floor up to the sloped ceiling.
I love that the dark tile contrasts so vividly against the white walls and really highlights the ceiling height and angled line.
34. Floor to Ceiling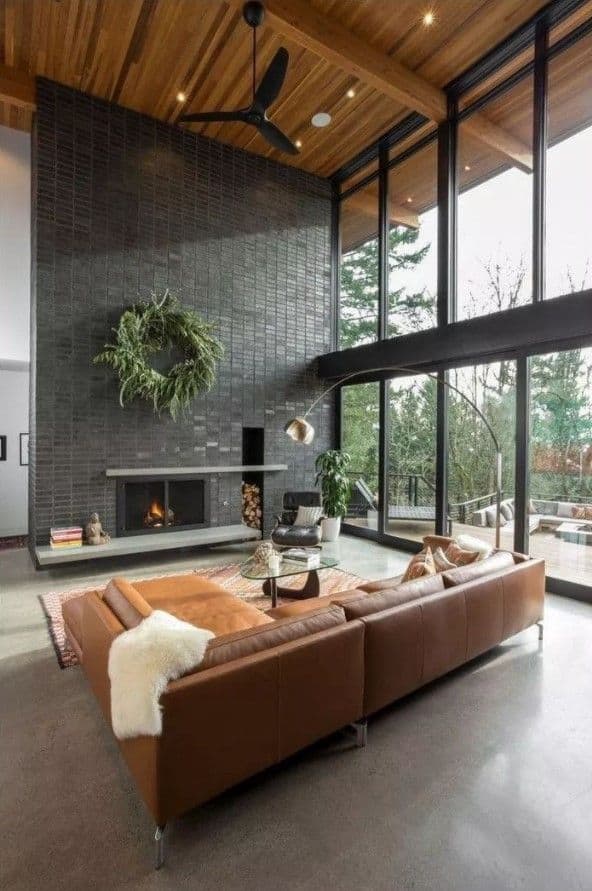 Scaling up the wall is this beautifully tiled hanging fireplace that is absolutely awe-inspiring. Made to impress, we're wondering how many tiles do you think to make up this majestic mantel?
Modern Hanging Fireplaces
When it comes to design choice and placement, hanging fireplaces have much more versatility than other fireplace types. Suspended or wall-mounted, here are the best modern hanging fireplace design.
35. Suspended Hood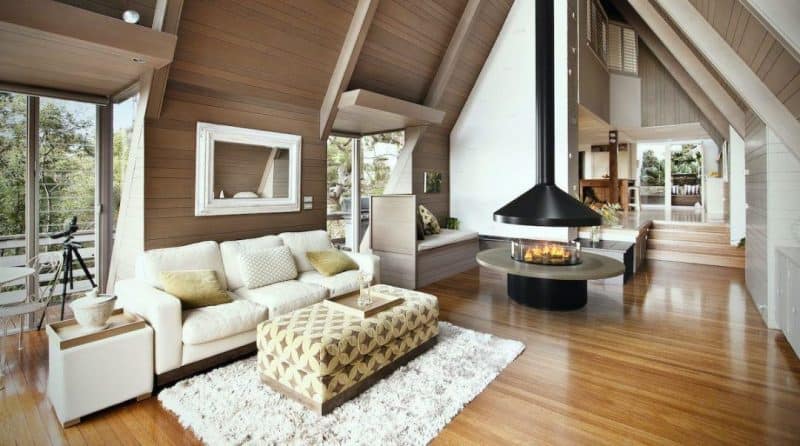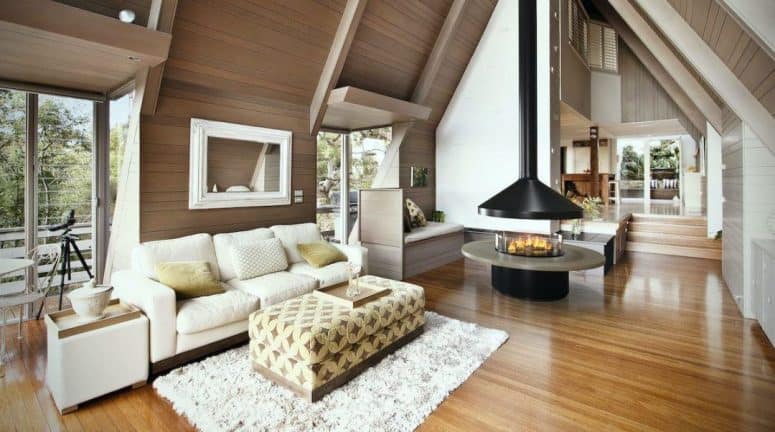 Looking for a bold fireplace for your home? This suspended hood and base fireplace is your perfect eye-catching centerpiece to be mounted on your home as it is a perfect option if you have angled walls.
36. Wall-Mounted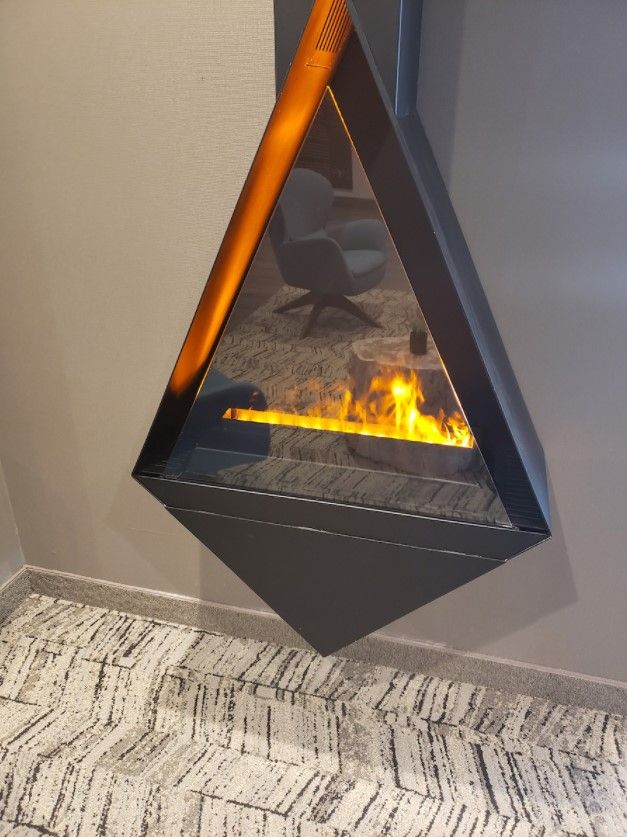 Like something that came out from a Star Wars movie, this customized wall-mounted fireplace makes the most out of your small spaces.
Moreover, it's a practical statement piece that can be placed anywhere in your home without breaking the bank.
37. Bio Ethanol Fireplace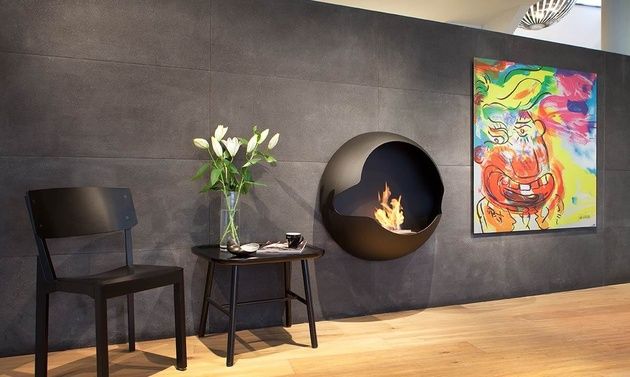 Looking for a fireplace that's friendly to you and the environment? Introducing the flueless fireplace that works without major renovations or expensive wiring.
It's a great option for small apartments who want a more compact and moveable firepit in their place.
A bioethanol fireplace is highly efficient, keeping the heat and energy costs low, while that striking design is just icing on the cake.
38. White Suspended Fireplace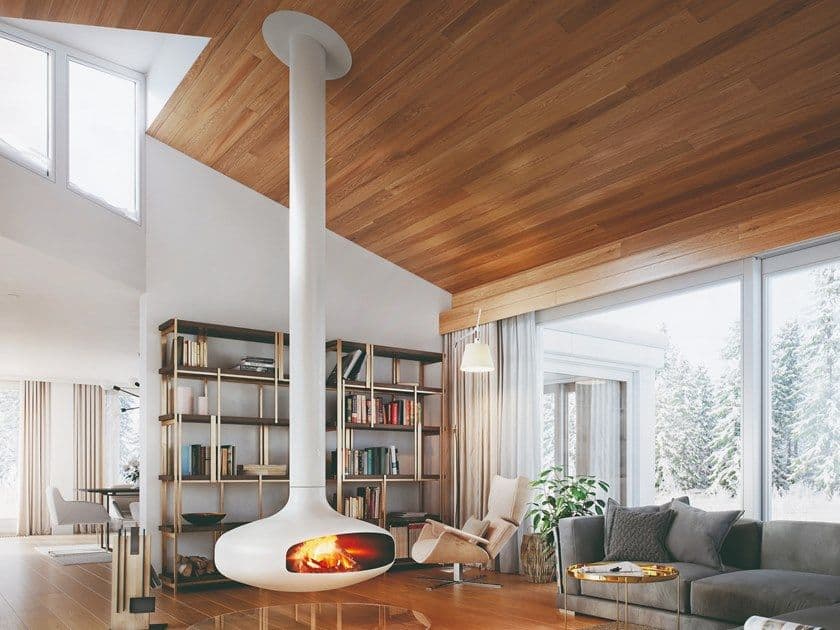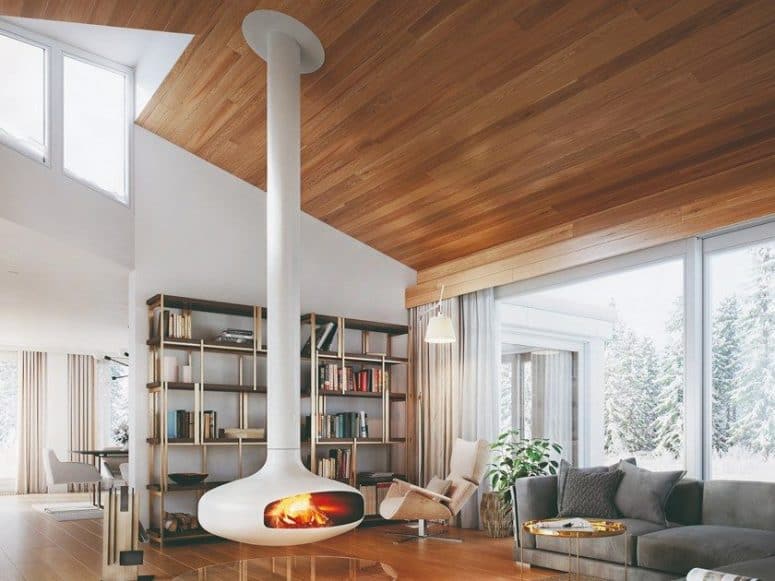 A younger and fresher looking version of the hard black suspended fireplace, this amazing firepit gives the whole interior a ramp up with its highly modern design.
Like a probing eye from an alien ship, it gives this room an exciting air amidst this solace. Though a striking piece, it blends perfectly with its surround, thanks to its gleaming white metallic finish.
Modern Bedroom Fireplaces
Winter is coming. Warm yourself while sleeping with these bedroom fireplaces.
39. Ribbon Bedroom Fireplace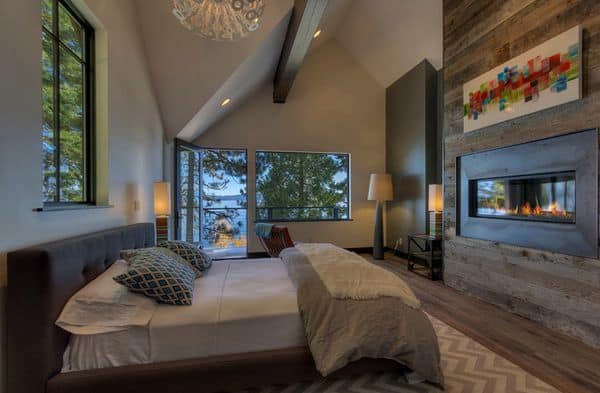 We can imagine ourselves snuggling away those winter nights as this fireplace warms up this bedroom effortlessly, even without the fire burning with its rich wooden texture.
Though this mantel is quite grand in scale, the horizontal slats keep the fireplace anchored down while extending its interesting display of knots and graining through the wide space.
40. Two-sided Bedroom Fireplace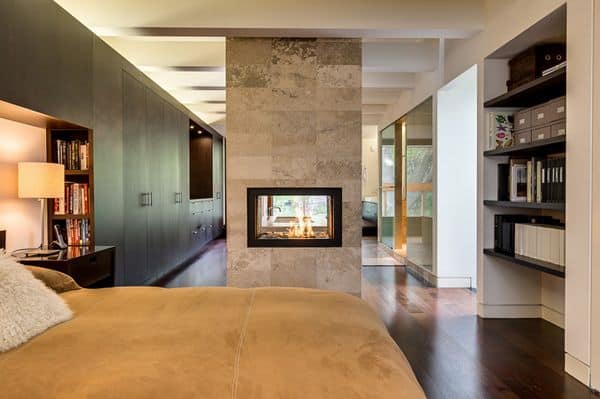 Blending harmoniously with its surrounding architecture, this two-sided fireplace gives a cozy touch to the modern interior. Such an exquisite tile finish! The great thing about modern concepts is that we appreciate the finer details.
41. Corner Bedroom Fireplace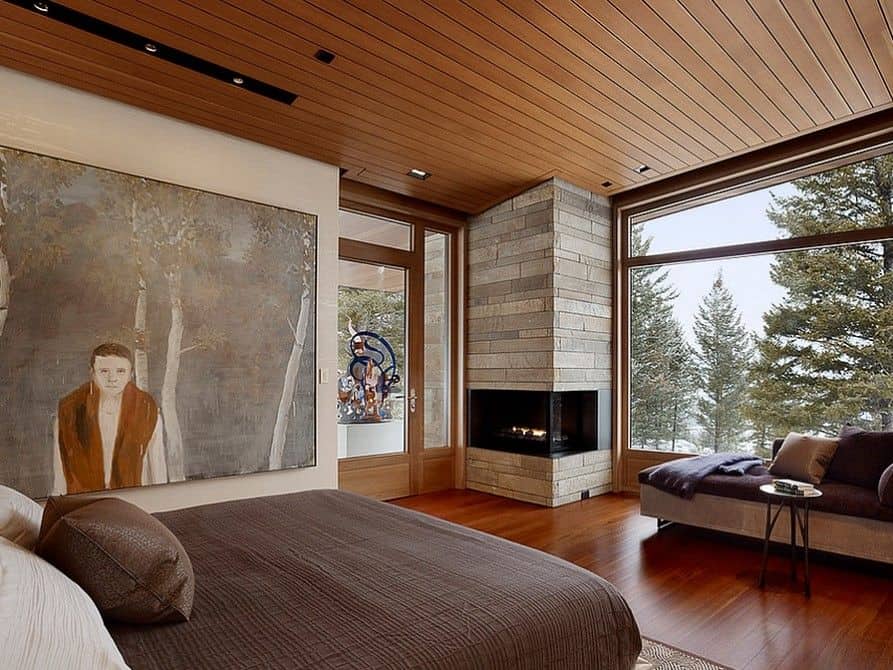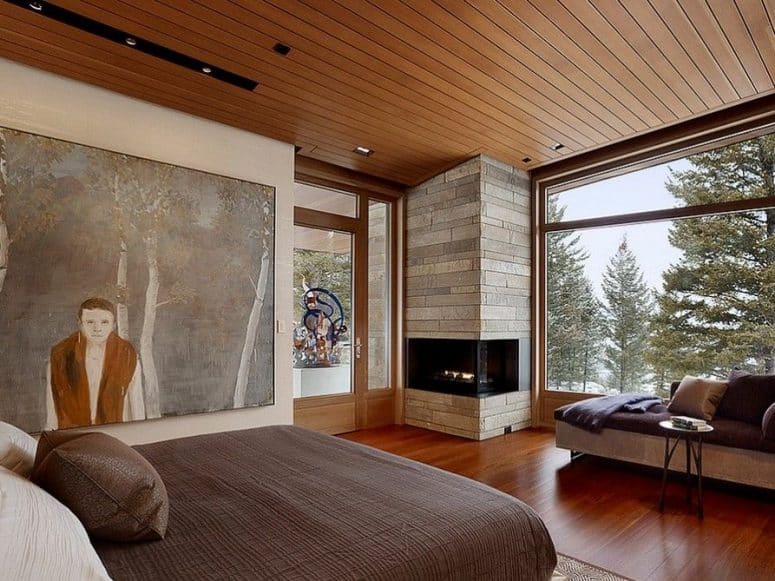 Brick and wood textures have always had a love affair, as the two natural materials always work perfectly whatever style it might be.
And, this bedroom interior with a corner brick-faced fireplace is a perfect testament to it.
42. Master Bedroom Fireplace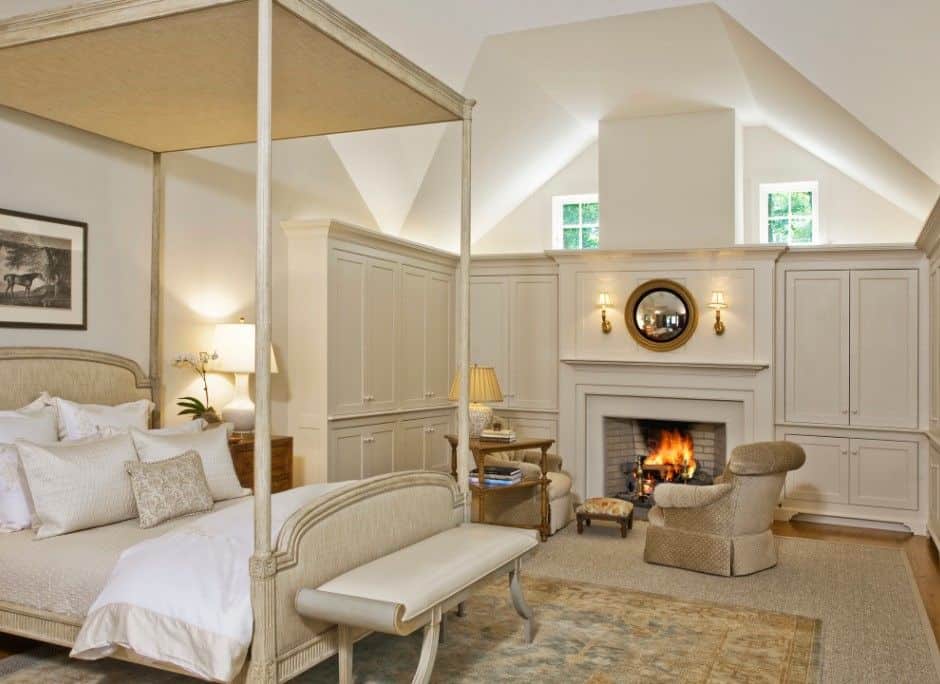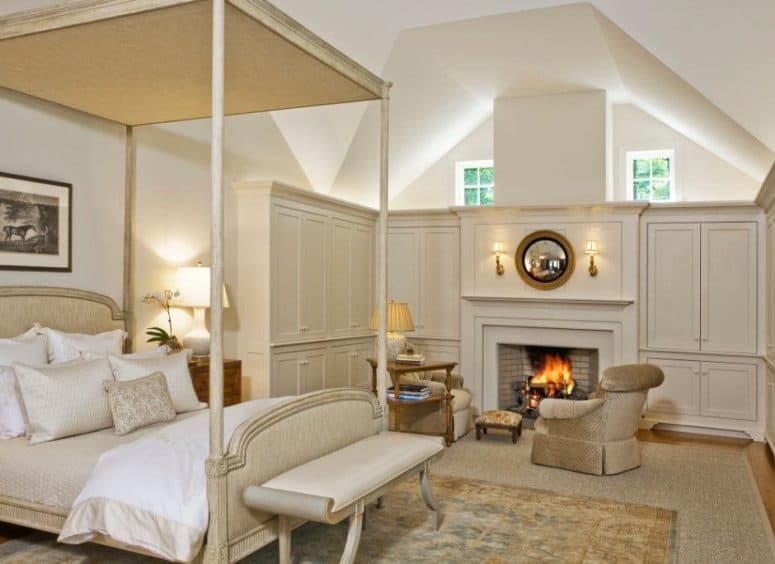 Nothing beats the old charm of traditional fireplaces, reminiscent of how life was, solemn and laid back. While the classic charmer showcases the careful craftsmanship and design put into every install.
Modern Fireplace Photos
Below are some photos and inspirations of modern fireplace design.
43. Small Fireplace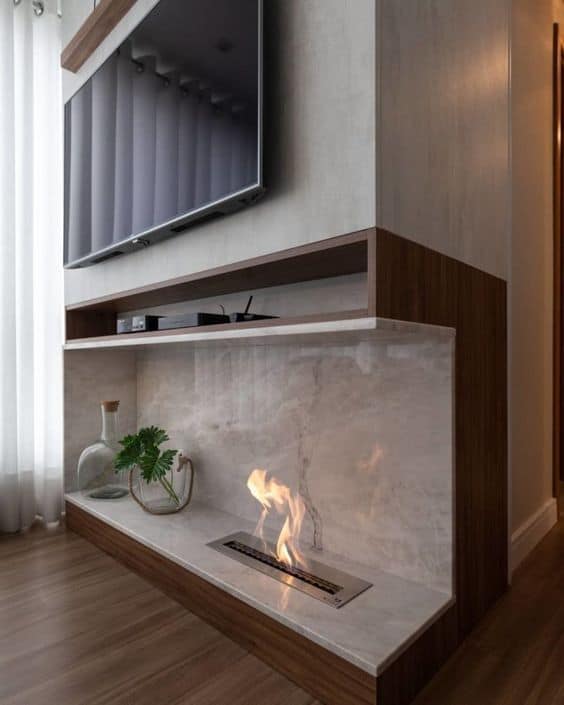 Letting go of embellishments is not easy, especially for the hearth of the home, but with this cleverly designed low profile fireplace, even the simplest of forms can create an impact on a room.
44. Electric Fireplace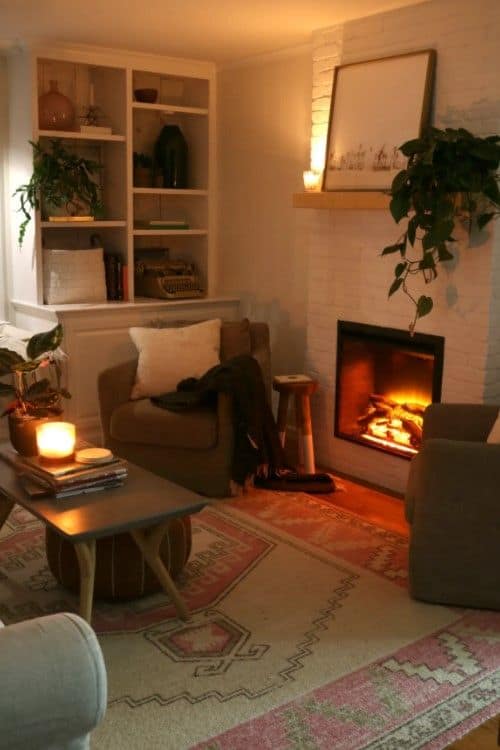 Electric fireplaces are trending these days, and we're not complaining as they're simple to install, little to no maintenance needed, and they're a healthier choice as they are vent-free and significantly less fire hazard.
Read the full story on Nesting with Grace.
45. Mid Century Modern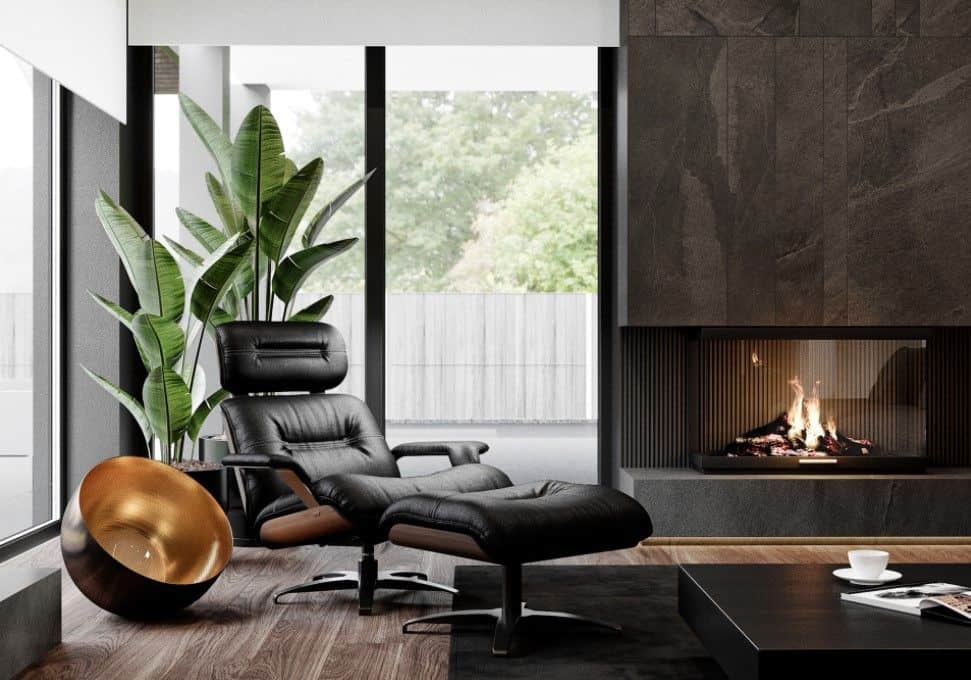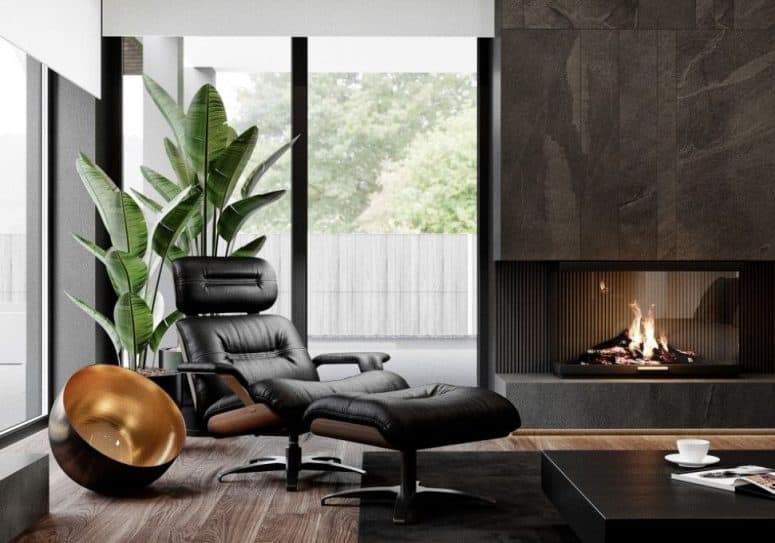 Taking hints with the old Hollywood glam, this manly interior living space is a striking design with its refined brutalist style. A perfect man's retreat, the undertones of charcoal gray and black hues of the fireplace give off a formal and sophisticated look to the interior.
46. Marble Mantel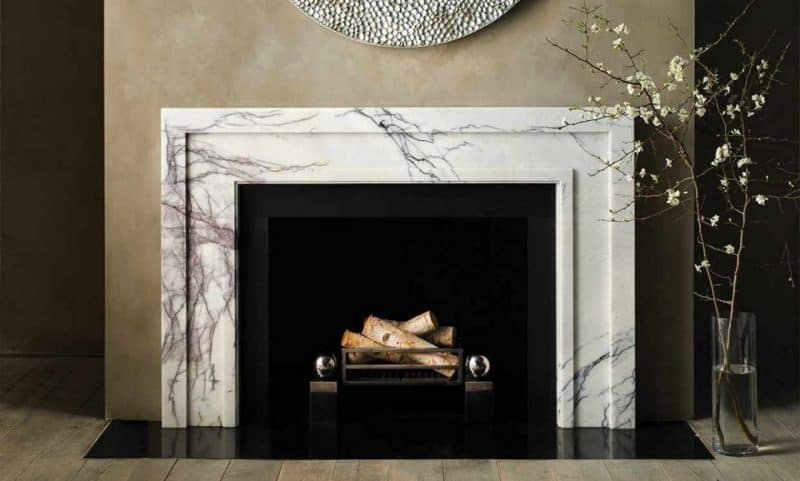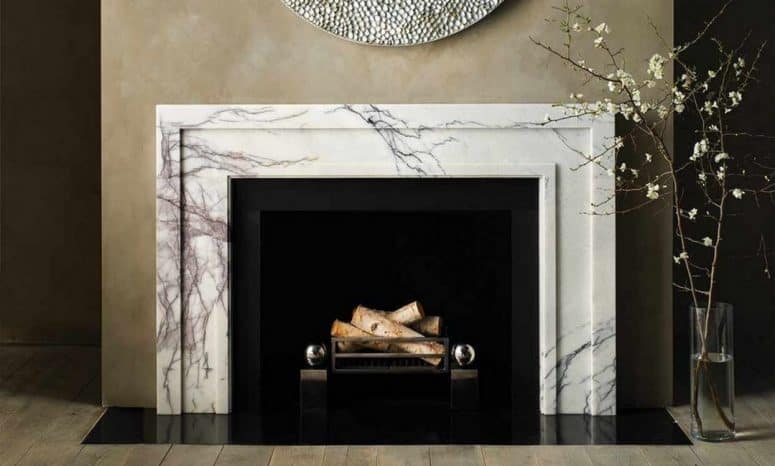 There's a certain sexiness to the Manhattan classic fireplace as it exudes that feminine air, yet elegantly put together.
The rich marble veining gives that delicate touch with a just-right balance of elements, a perfect mantel for the modern city home.
47. Scandinavian Style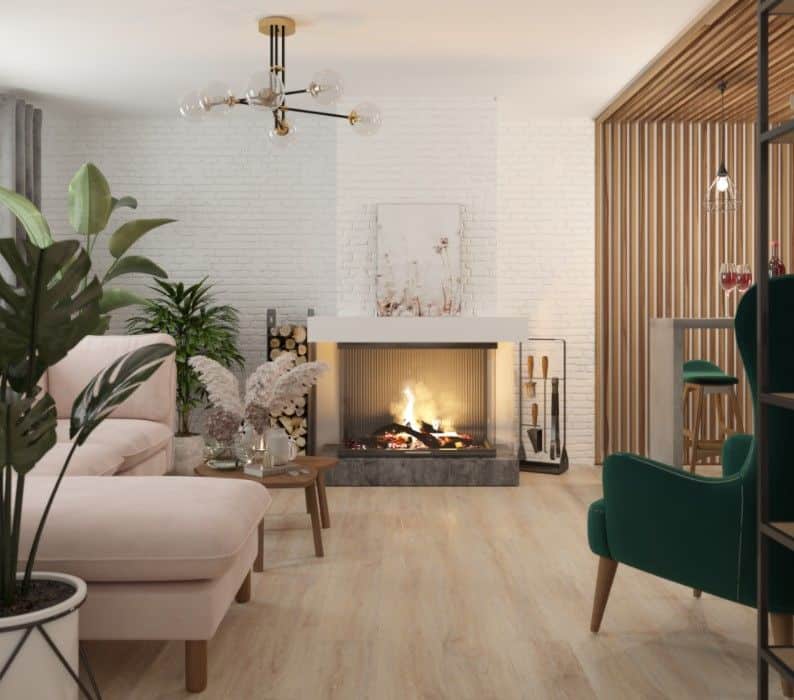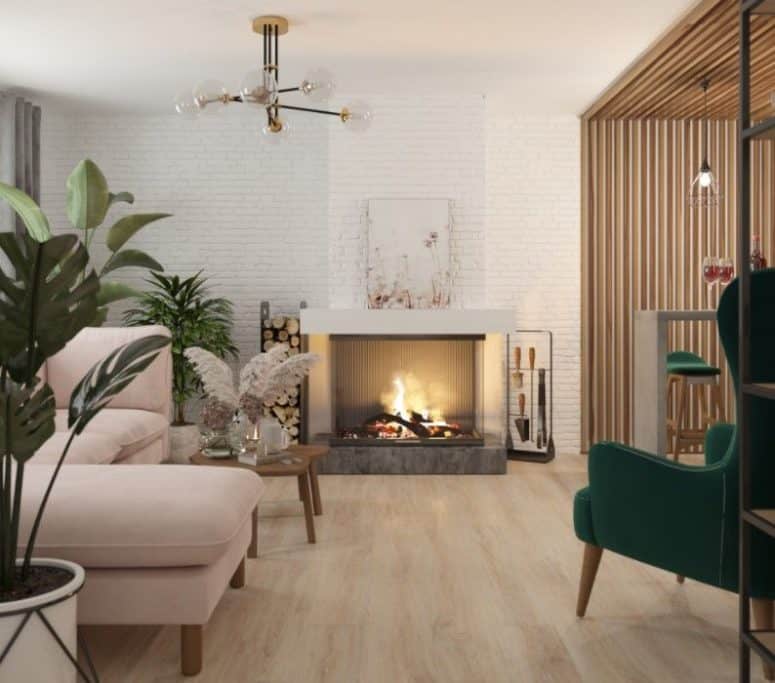 Scandi homes are on the rise, and there's a reason for it. The Nordic theme has the right balance design elements, and despite belonging to the minimalistic theme.
48. Trowel Finished Concrete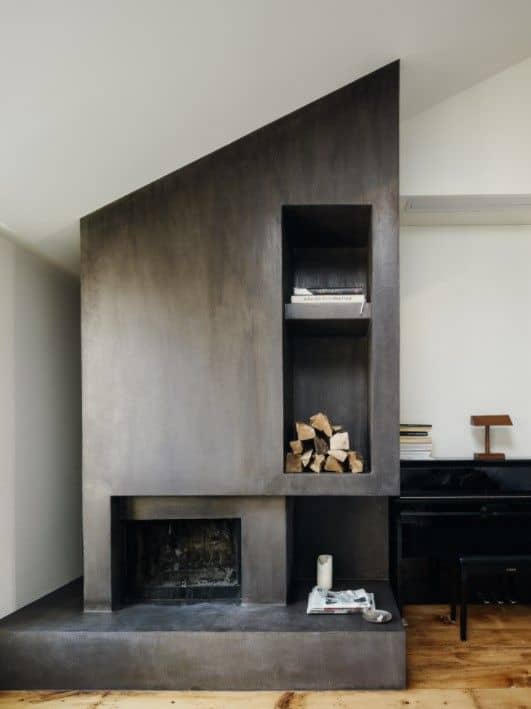 We love concrete fireplaces because they can be formed in all shapes and sizes, and they're a cheaper and more eco-friendly option. The troweled finish fireplace displays an abstract to it, making it an art piece by itself.
49. Hood Canopy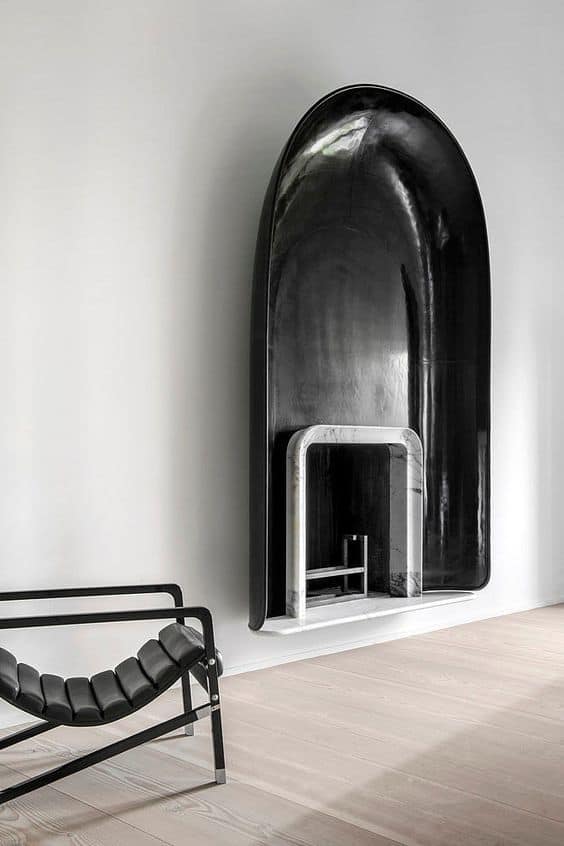 The French always has that elite sense of style as this one-of-a-kind metal fireplace engages the observer. The unique sculptural fireplace is by Francois Champsaur, one of the top interior designers of his time.
50. Brass Fireplace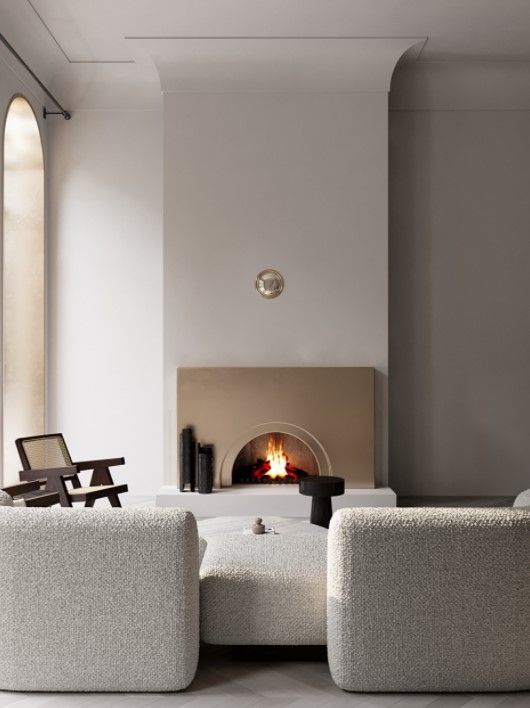 The magic of simplicity always stands out, and this minimalist fireplace cohesively exudes that sense of calm into this Hygge-inspired living area. The curved opening adds a homey feel to the place, creating a continuum of elements.
51. Modern Luxury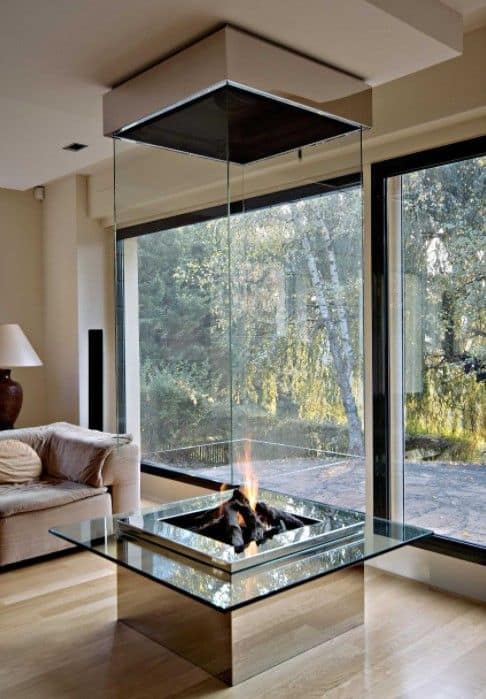 A gorgeous hearth in all angles, this modern glass-enclosed fireplace allows spectators to admire the natural vistas.
52. Modern Hotel Fireplace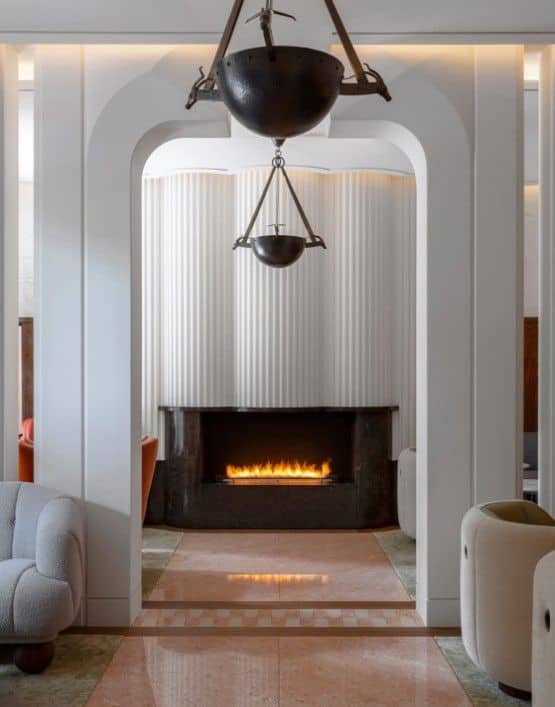 Chubby designs are gaining momentum in the interior world, and we love it that a stately mantel could match up the allure of the plump elements in this hotel interior.