Don Pedro Brooklyn is reader-supported. When you buy through links on our site, we may earn an affiliate commission. Learn More
21 Amazing Master Bedroom Sitting Area Ideas
When you think of a master bedroom, you probably just think of a grand-looking bed, right? Bed is in the name, after all. But if you think of master bedrooms this way, you'll miss out on one major element to make your room as stylish as it can be — a master bedroom sitting area.
Sitting areas are incredibly versatile, ranging from a single chair to multiple chairs and couches. One thing's for certain, though. Many master bedrooms simply wouldn't be what they are without them. That's why today we'll be exploring many different sitting area ideas for your master bedroom, no matter your bedroom's size, layout, or color palette.
Go For a Navy Blue Loveseat for Simplicity's Sake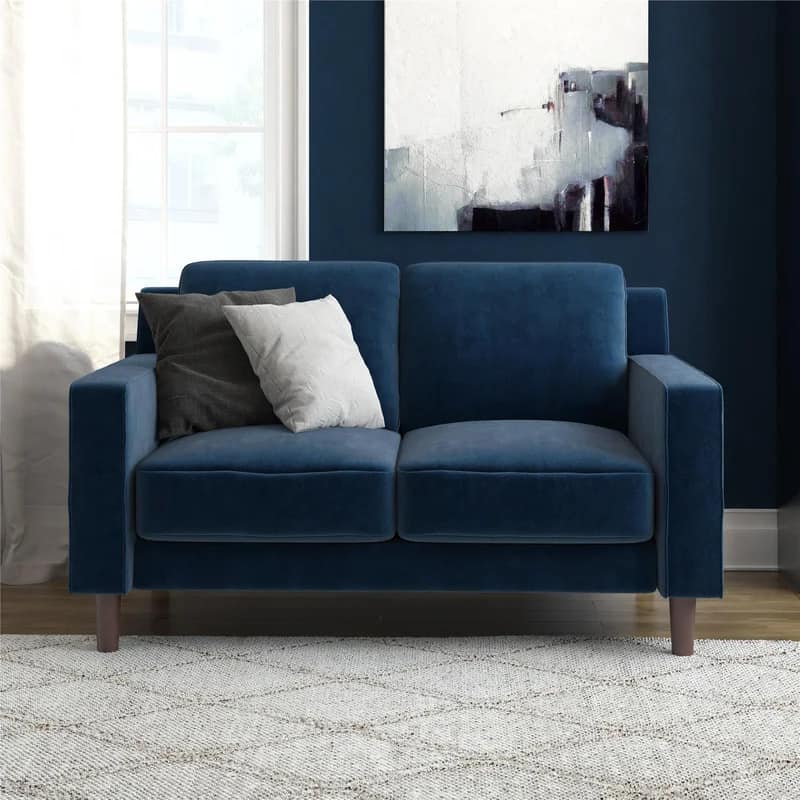 If you need a small sitting area in your bedroom, there are few better ways to do it than with a modern-looking loveseat.
Its small size makes it perfect for fitting in most master bedrooms. It can seat up to two people, or you could just lounge on it by yourself and wistfully gaze out the window. Plus, its velvet upholstery makes it look incredibly fancy for a relatively budget-friendly loveseat.
Make Your Sitting Area Chairs Match With the Room for a Seamless Design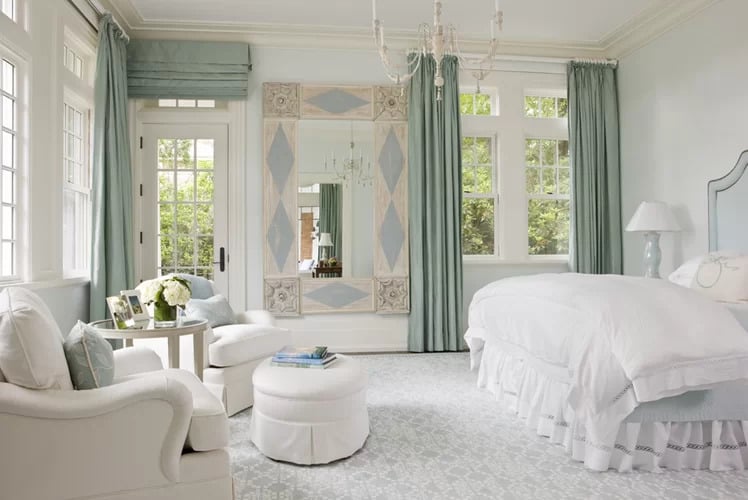 Sometimes it's better to take a simple route rather than adding bright colors and dramatic patterns. This master bedroom takes that no-frills approach. It still looks fancy and elegant, of course, but rather than having a sitting area that stands out, it fits in seamlessly.
The white tone of the chairs combined with the blue tone of the accent pillows makes it seem like all this furniture was literally made to match. The room feels cohesive, giving it a more relaxing feel overall.
Use Quatrefoil-patterned Seats for Some Visual Interest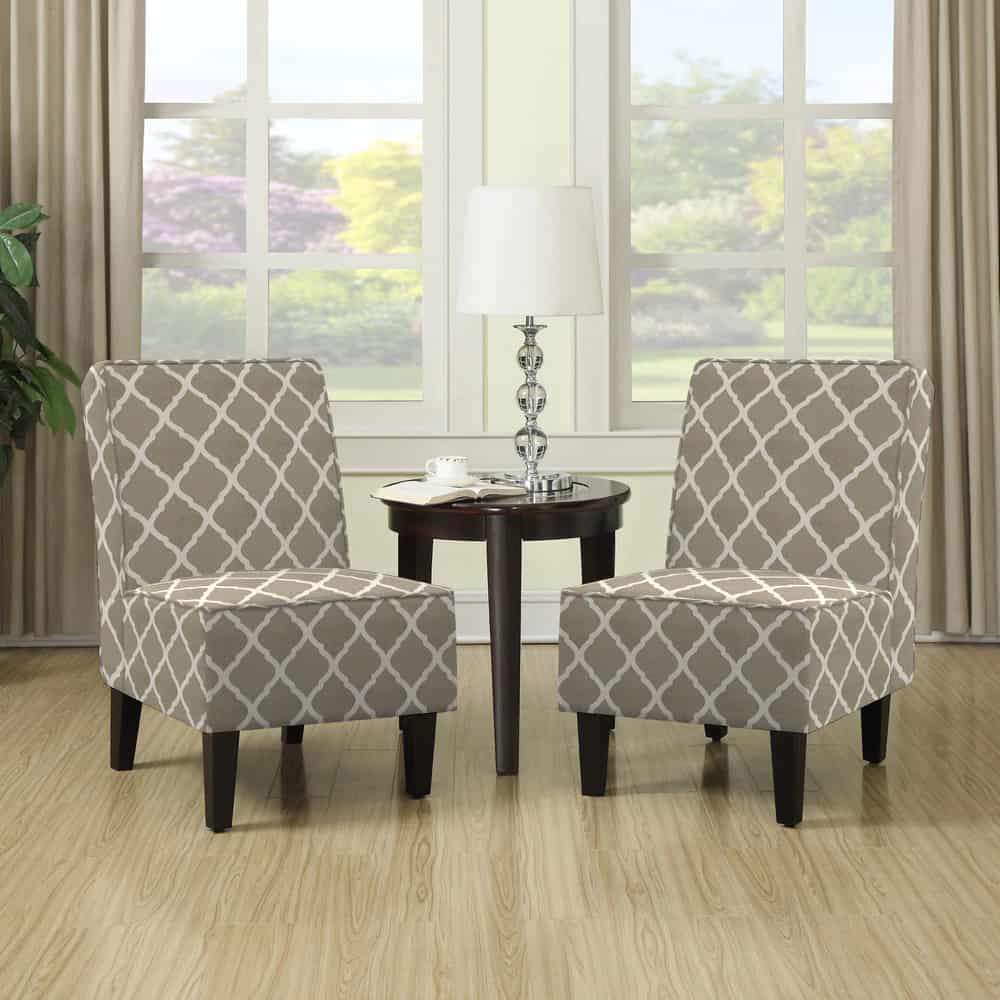 Quatrefoils are truly a timeless classic and can fit in a variety of spaces, from farmhouse to modern style. If you're in need of a sitting area for your master bedroom, you could always add in some quatrefoil patterned chairs to give your room some flair.
Better yet, if you go with a neutral color palette like gray and white, it's all but guaranteed to fit in with your existing decor.
Add in a Bright Red Couch for a Splash of Color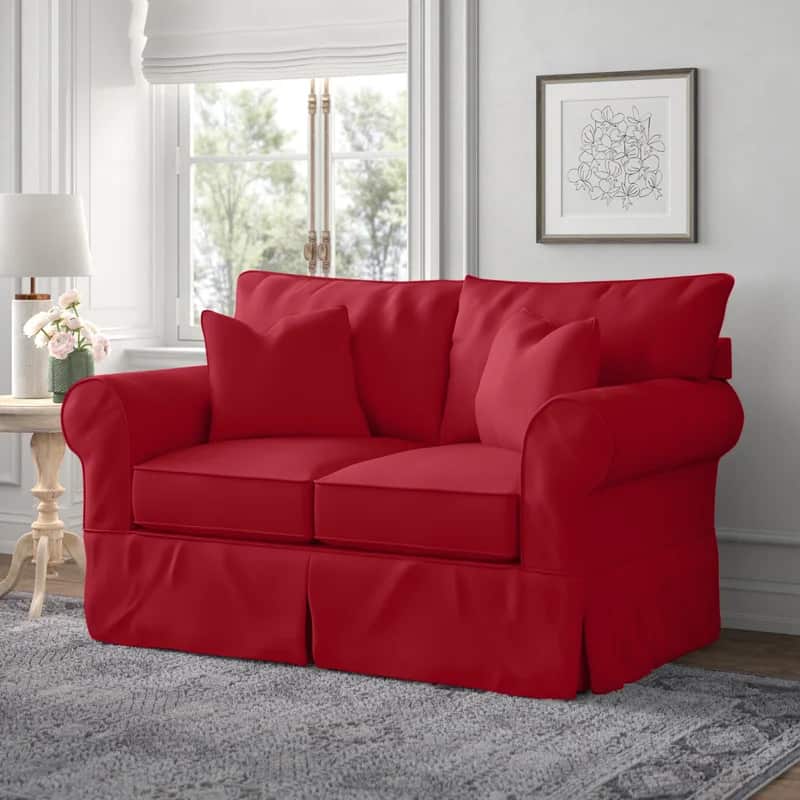 If your master bedroom has a lot of neutrals in it, it could be fine the way it is. Many neutral rooms look great on their own without any additions. But if yours is looking a little on the boring side, you probably want a bright color in there somewhere to shake things up.
And what better way than with a bright sitting area? This bright red loveseat is sure to make any neutral room pop thanks to the contrast.
Go For Practicality With a Storage Bench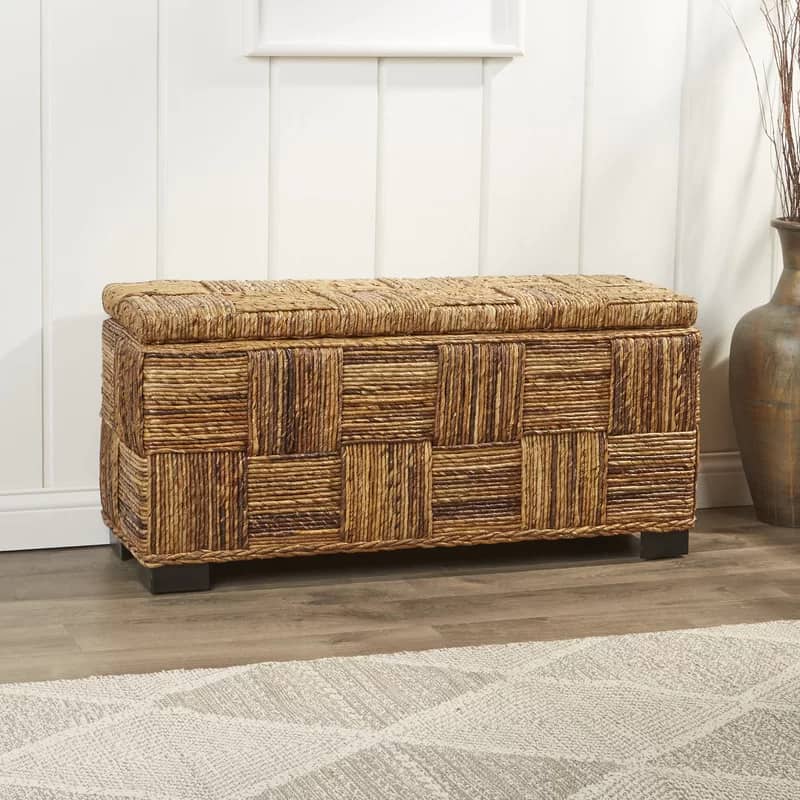 When it comes to interior design, one trend that will never go out of style is practicality. Items that have multiple functions save both space and money rather than having to buy multiple pieces of furniture. This is especially the case if you plan on using your sitting area more for aesthetics rather than comfort.
Whether you're a minimalist or just love a combination of fashion and function, storage benches might be the thing for you. This wicker storage bench is perfect for adding a bohemian, natural touch to your master bedroom.
Go All-gray With Your Sitting Area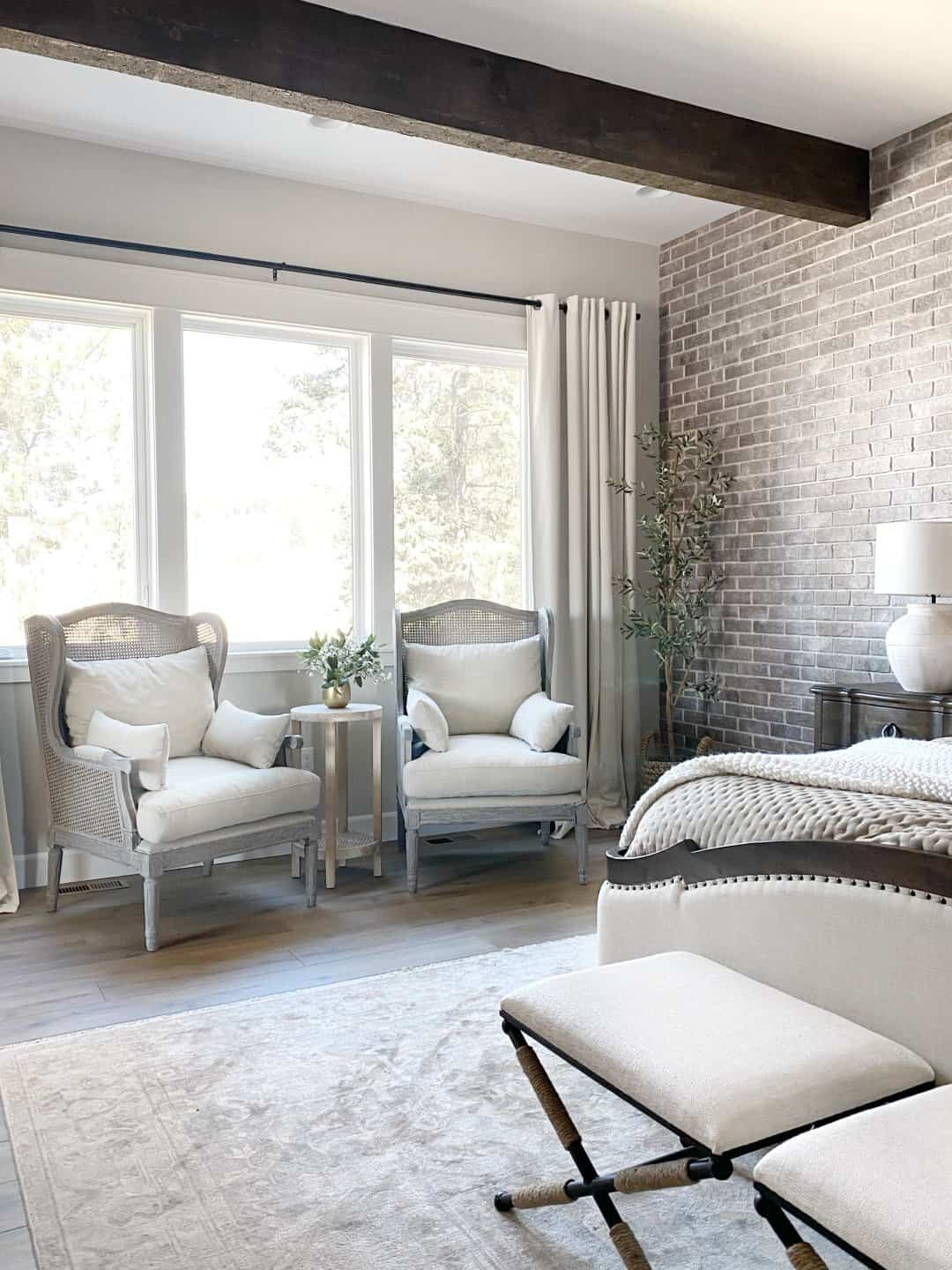 Gray has been trending color for a while now, and while some believe the trend is almost over, for others, it might as well still be in its heyday. Whether as an accent color or the main one, many modern rooms incorporate at least some hint of gray. Naturally, this is no different with master bedroom lounges.
This sitting area in particular uses dark gray chairs with some light gray accents for some added visual interest. Adding to this even more is the rattan backing of the chairs, which is perfect for adding some extra texture not just to the sitting area, but to the room as a whole. The addition of a sitting area makes the room perfectly fine staying neutral rather than needing bright accents.
Use a Different Color Shade for Your Sitting Area To Make It Stand Out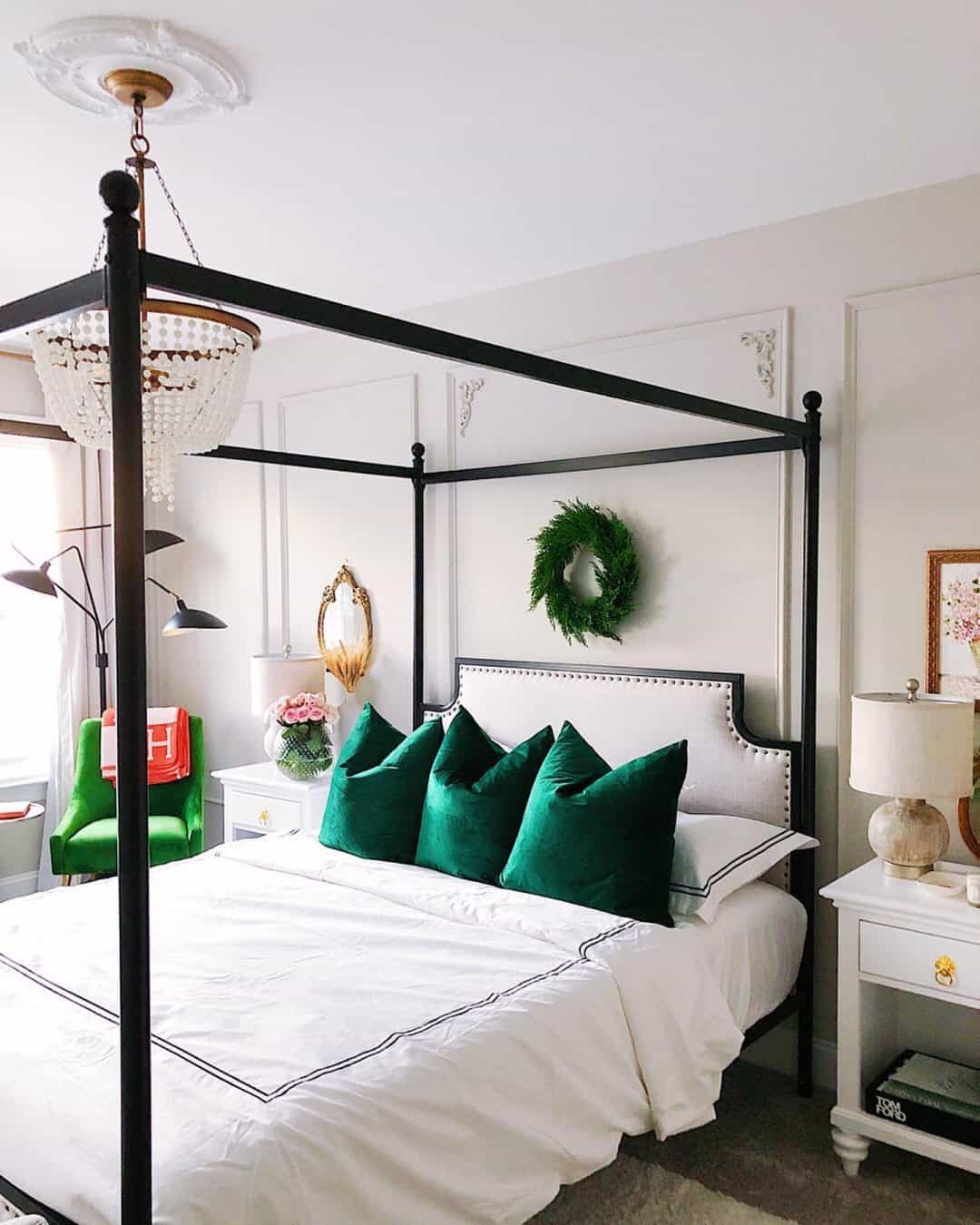 Alright, so we've covered adding textured chairs in an all-gray sitting area, and we've covered adding a bright red couch for a splash of color. What's next? Well, if your room already has an accent color, you can use the sitting area to switch things up in a different sense. This master bedroom primarily uses white with a distinctive dark green accent color found on the pillows and wreath.
In contrast, the small sitting area in the corner uses a brighter, more medium shade of green. Even if your master bedroom isn't green, adding a sitting area that's a slightly different shade from one of your main accent colors will instantly make it stand out.
Add a Couch in Front of Your Bed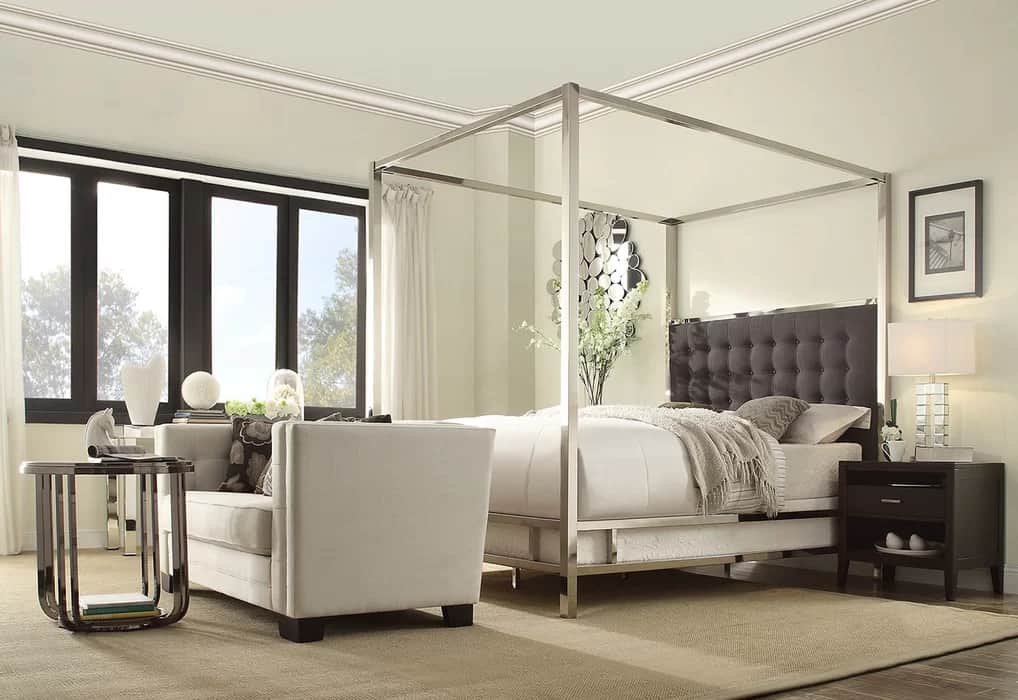 Most of the ideas we've talked about so far have sitting areas by the window, or multiple windows in some cases. That's one of the most common sitting area layouts. But if you want something a little different to maximize your specific space, then you can also add a sitting area in front of the bed instead.
Rather than two chairs, this one has a full loveseat in front of the bed, which works especially well since there isn't much room by the windows. In short, if you think a sitting area doesn't look right in a certain place, it's perfectly okay to "break the rules" and put it wherever it fits best. Often, the design will be much better because of it.
Add Some Comfortable Stools for a Simple Sitting Area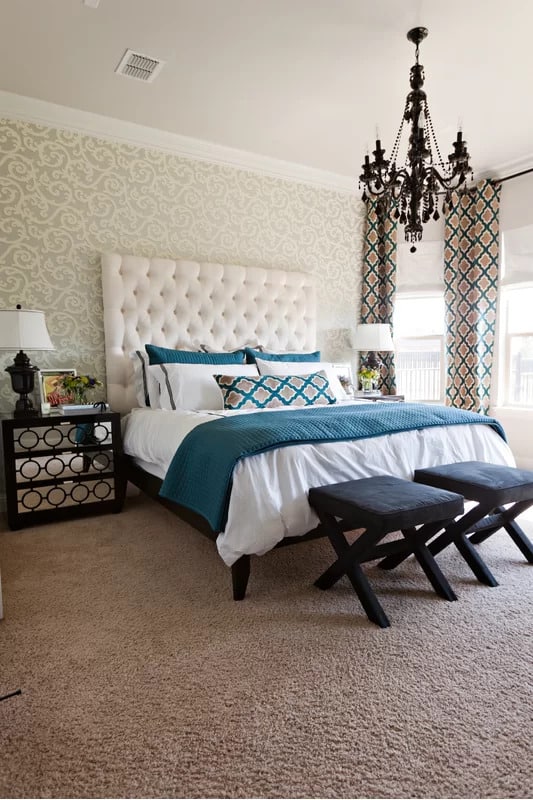 Normally beds have benches on the end of them, but most of the time, it's purely for decorative reasons. It doesn't serve the room functionally that much if you're actually using the bench, especially if it's hard and uncomfortable to sit on.
On the flip side, you have cozy front-of-bed sitting areas like some of the ones mentioned earlier, fit with a loveseat or two chairs and a table. This sitting area design combines these two approaches. Rather than having a bedroom bench, it uses two comfortable-looking velvet stools, perfect for seating two people.
Add a Spool-legged Chair To Make the Most of a Small Space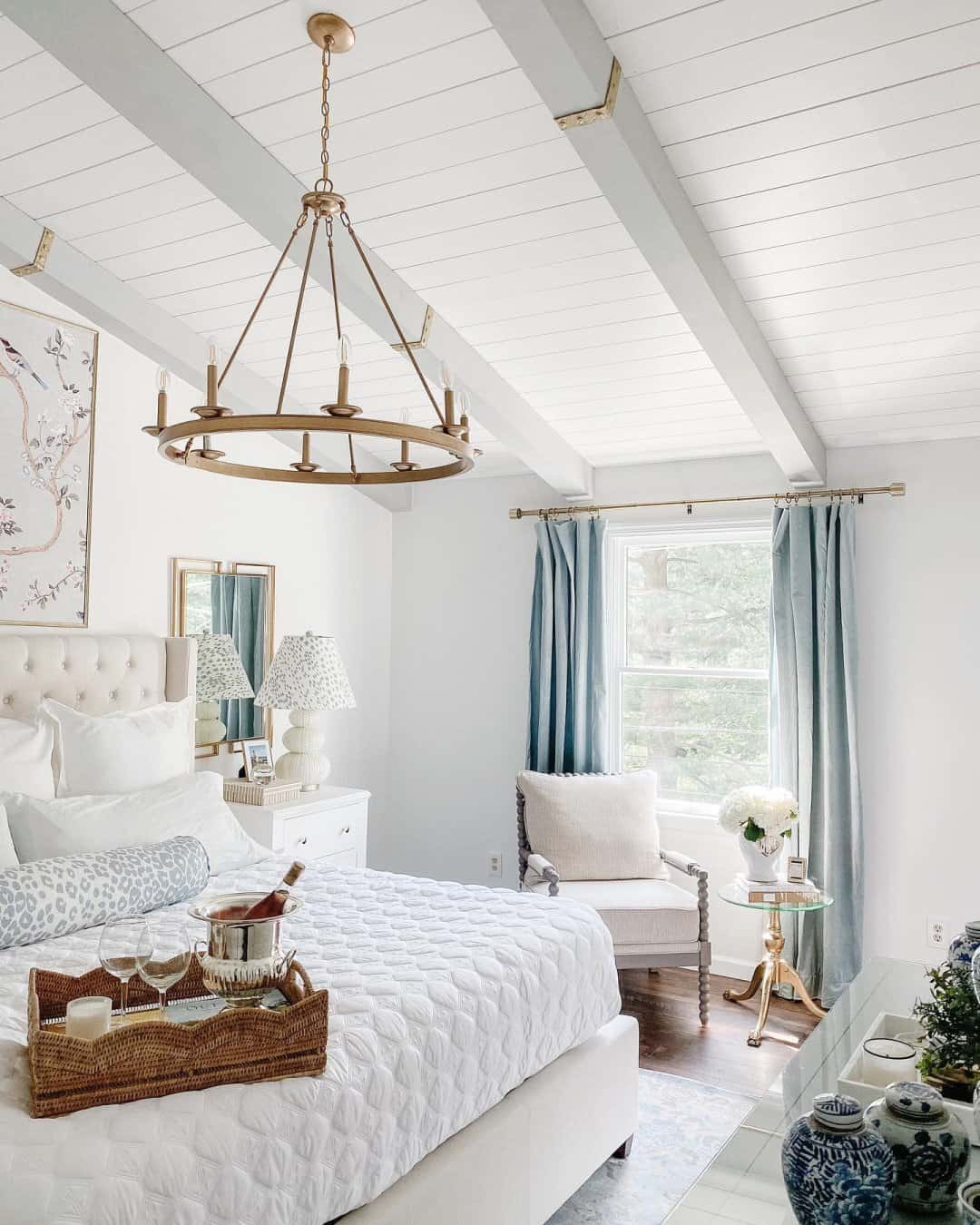 You can find endless ideas out there for sitting areas that fit in large master bedrooms. But sometimes smaller master bedrooms are a bit underrepresented in the home decor world.
That's where this sitting area comes in. Rather than having the small size be a weakness, this sitting area uses the specific chair chosen to its advantage. Since there isn't much room to add elaborate sitting area decor, the chair has spool legs that'd instantly draw you in if you walked into the room.
Combine Materials for a Standout Sitting Area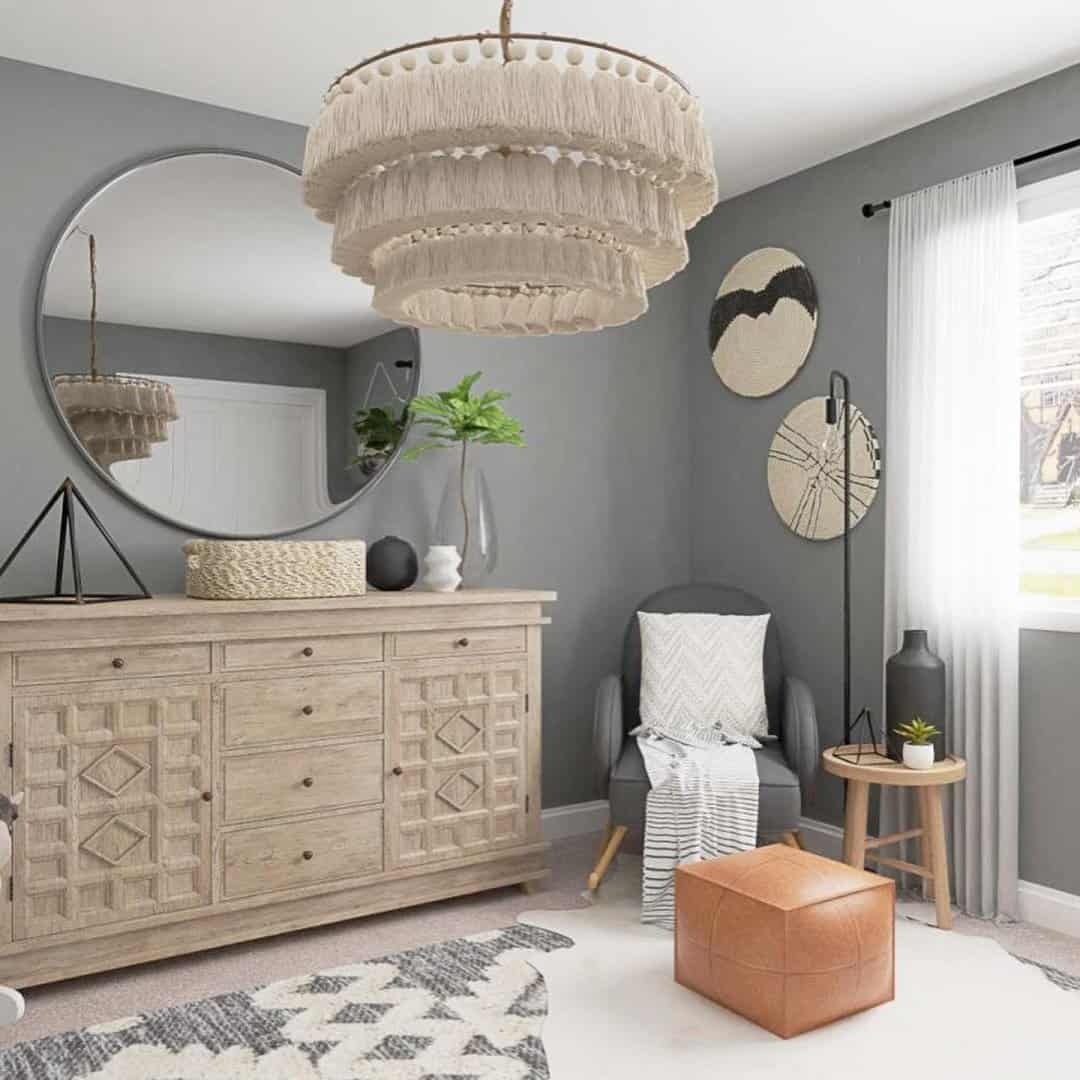 We're not done with the small sitting area ideas either. There are plenty more ways to maximize a small amount of space and make it stand out. In this case, much of the room is taken up by the gorgeous chest of drawers and large wall mirror.
Nevertheless, the sitting area certainly isn't just an afterthought. This one combines materials for a standout look, from the cloth chair to the wooden table to the leather pouf in front of it.
Use Patterns To Tie the Space Together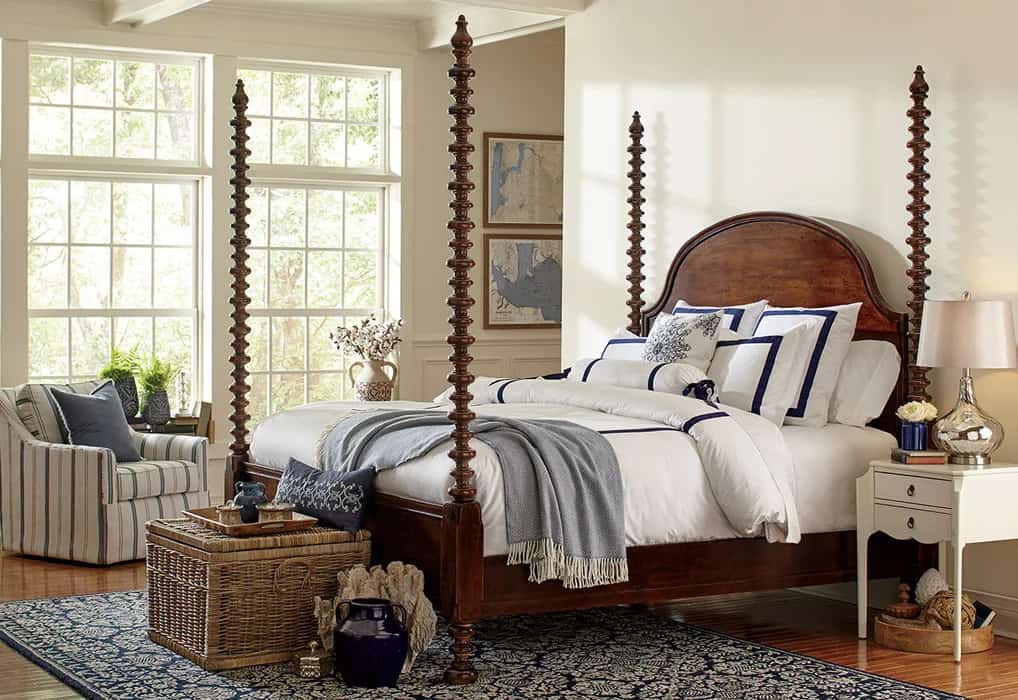 This is yet another small sitting area, but the specific chair chosen for it is interesting for one specific reason– the pattern ties some of the main colors of the room together. There are quite a few colors in this room, but blue and white definitely stand out thanks to the master bed, and the paintings in the background reinforce this color scheme.
That's why the chair feels right at home here since the stripes are alternating with white and different shades of blue. If you have a few colors that stand out, then, you can use a single patterned chair to tie the room together and make it feel complete. That's one powerful seat.
Add a Cozy Corner Sitting Area to a Larger Room To Fill the Space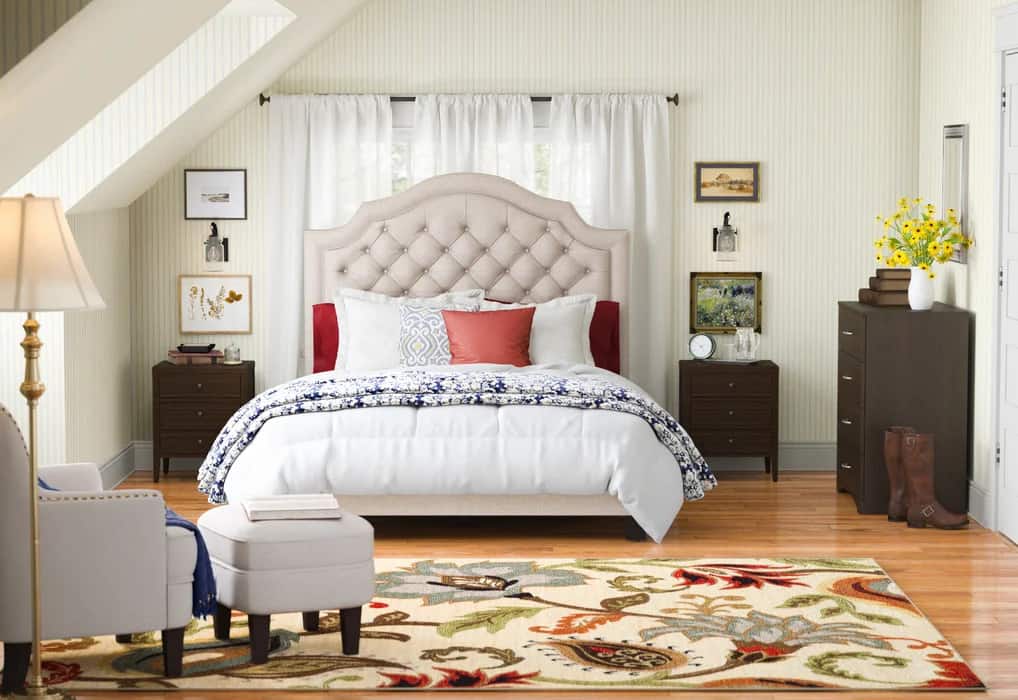 Alright, so now you know that you can put a sitting area by the window and even in front of the bed if it suits the room. But what if either of these approaches don't work for you? That brings us to the next sitting area layout– a corner sitting area.
This works best in this master bedroom since the window is too narrow to fit a sitting area in front of it, and putting a sitting area in front of the bed would mean all the furniture is concentrated at the back of the room. Putting it in the opposite corner fills that empty space while leaving plenty of room in front of the window.
Add an Upholstered Bench for a Front-of-Bed Seating Area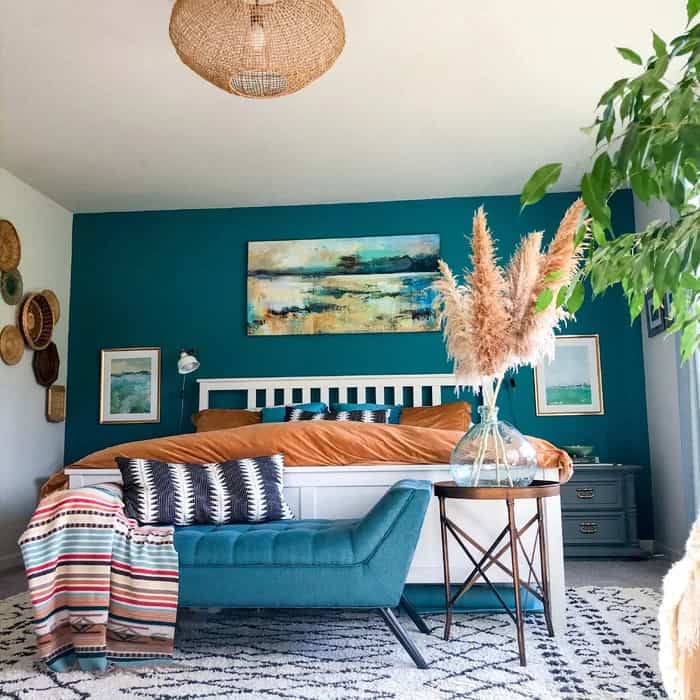 As mentioned earlier, end of bed benches are usually not that fun to sit on. Most of them aren't really designed to be sitting areas, they're just designed to look nice.
This master bedroom takes the common bedroom bench and spins it on its head, though. It's clearly designed to sit on, not just with the cozy upholstery, but with the pillows, blanket, and end table right next to it. Since the bedroom is smaller, this type of sitting area maximizes the available space.
Have Your Chairs Face Away From the Windows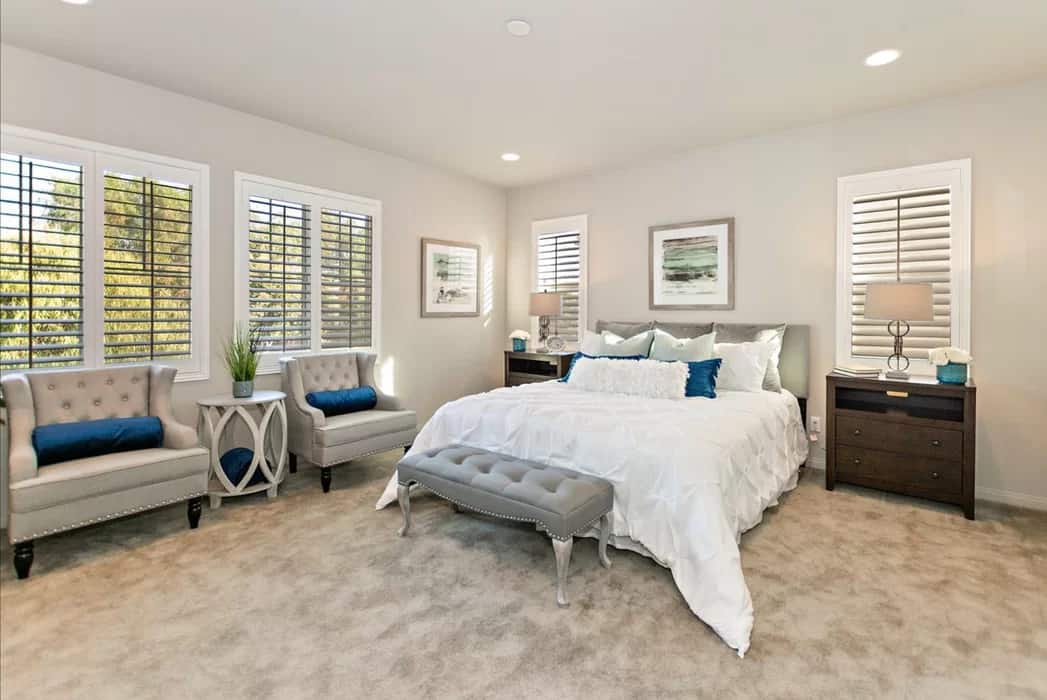 Many bedroom sitting areas opt to have chairs or loveseats that face the windows in some capacity, allowing for a nice window view.
But if you have smaller windows that are high off the ground, this approach doesn't make that much sense. That's why this master bedroom has a sitting area underneath the windows instead since the upholstered chairs only come up to the window frame.
Use a Front of Bed Sitting Area if You Have Patio Doors
Many master bedrooms add a cozy sitting area next to the window, but not all rooms are ideal for this layout. This is especially the case if your room has patio doors, as chairs would block the way. One alternative is to have a sitting area in front of your bed instead.
In this case, adding two comfortable armchairs in front of your bed can give you a cozy place to unwind with a good book, movie, or otherwise.
Even if You Have Space, You Don't Need To Use It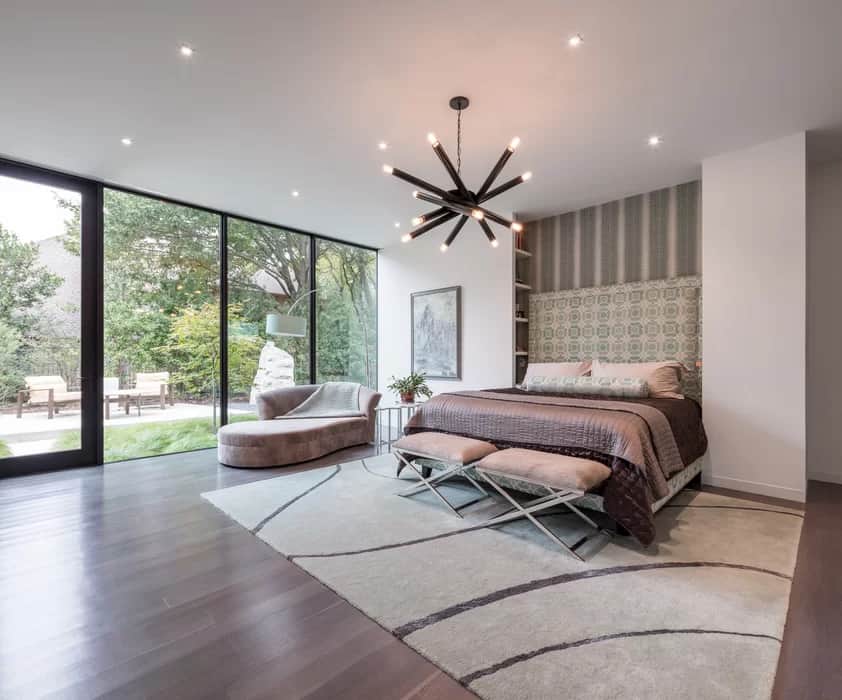 We've talked about small bedroom sitting areas for small bedrooms, but sometimes even if you have space, it's better not to use it.
This room embodies this concept. Even though it has plenty of room to have one sitting area or even multiple sitting areas, instead there's a single large chair next to the bed. Having all this space leaves ample room to show off the backyard patio area.
Combine Couches and Chairs for a Grand-looking Sitting Area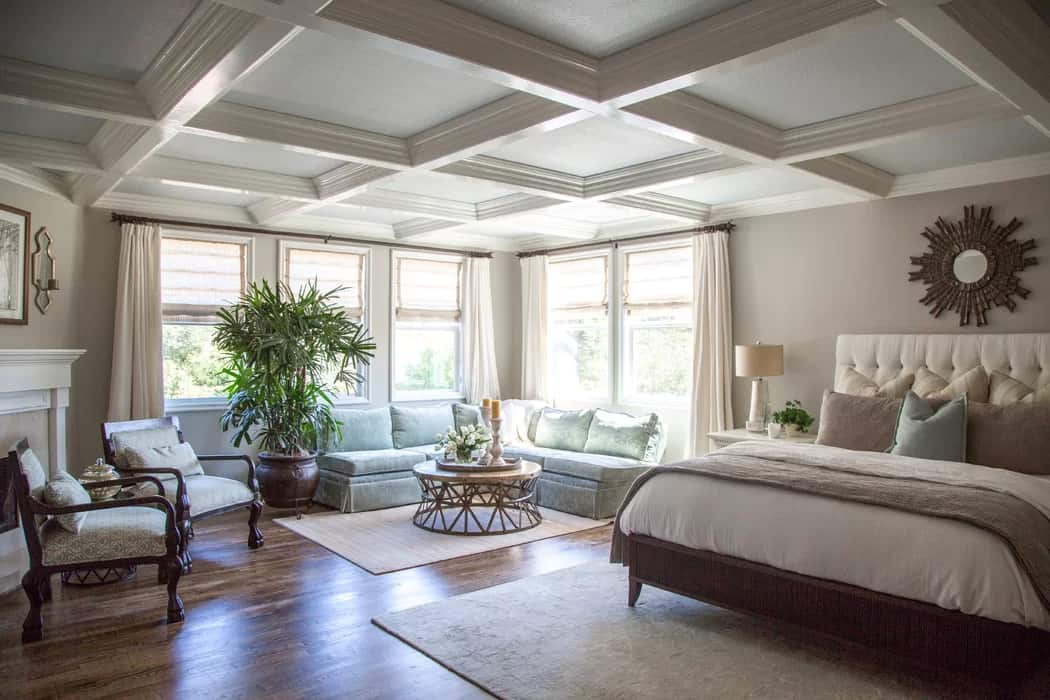 Most master bedroom sitting areas have either a chair or a couch, but if you have the space, why settle for just one option? You can combine couches and chairs together for a grand-looking sitting area.
If you mix and match color profiles and patterns, it could contribute well to your existing bedroom decor and fill in empty space.
Go for Ultimate Comfort With a Leather Recliner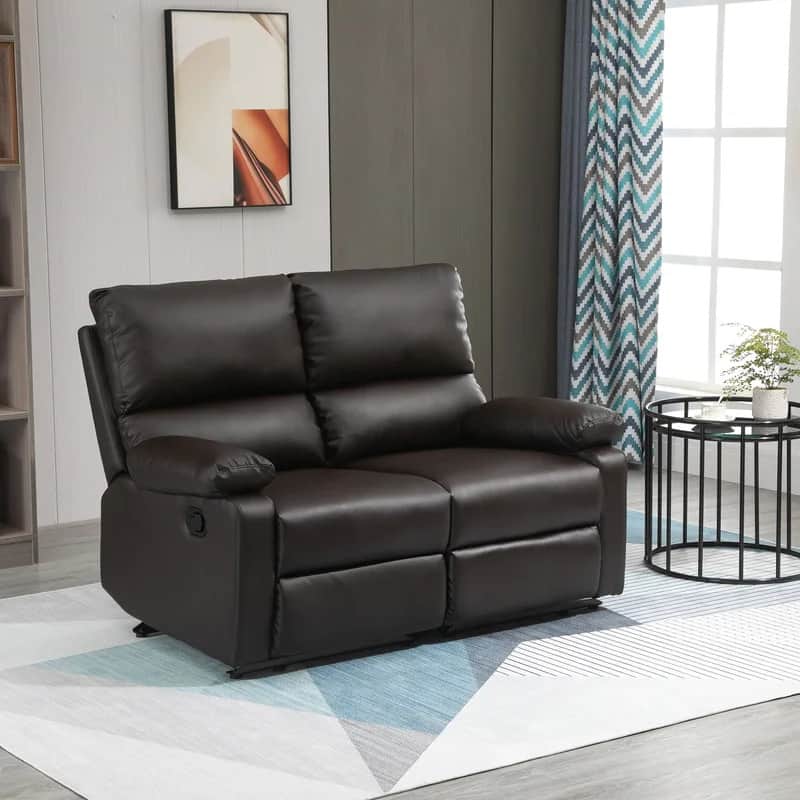 If you're looking to decorate a master bedroom sitting area that prioritizes comfort, leather recliners are perfect for that purpose. They're perfect for a cozy night by the fire or a relaxing movie night.
Whatever you want to use it for, this leather recliner is stylish as well thanks to its faux leather outside. It's an easy way to give your room an update.
Make Your Room More Modern With a Leather Bench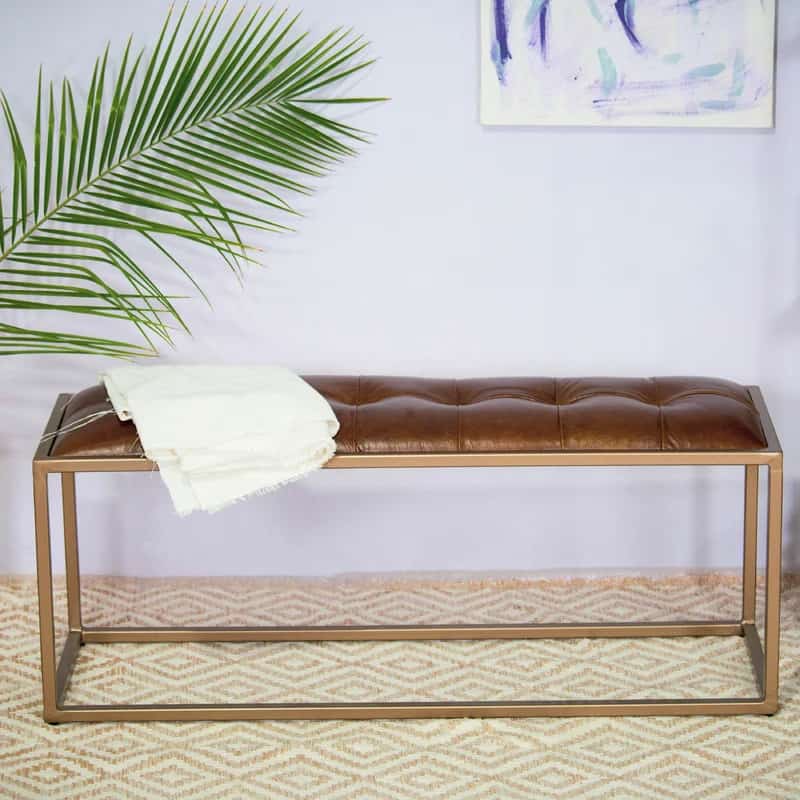 Speaking of leather, why limit it to recliners? If you want something more subdued while still being modern-looking, you could go with a leather bench.
Since it doesn't have a back like a recliner or a loveseat, you could easily place it under a window to have a small sitting area with an amazing view. As a plus, it looks like the height of luxury with its gold-colored metal construction.
Use a Chaise Lounge for a More Unique Approach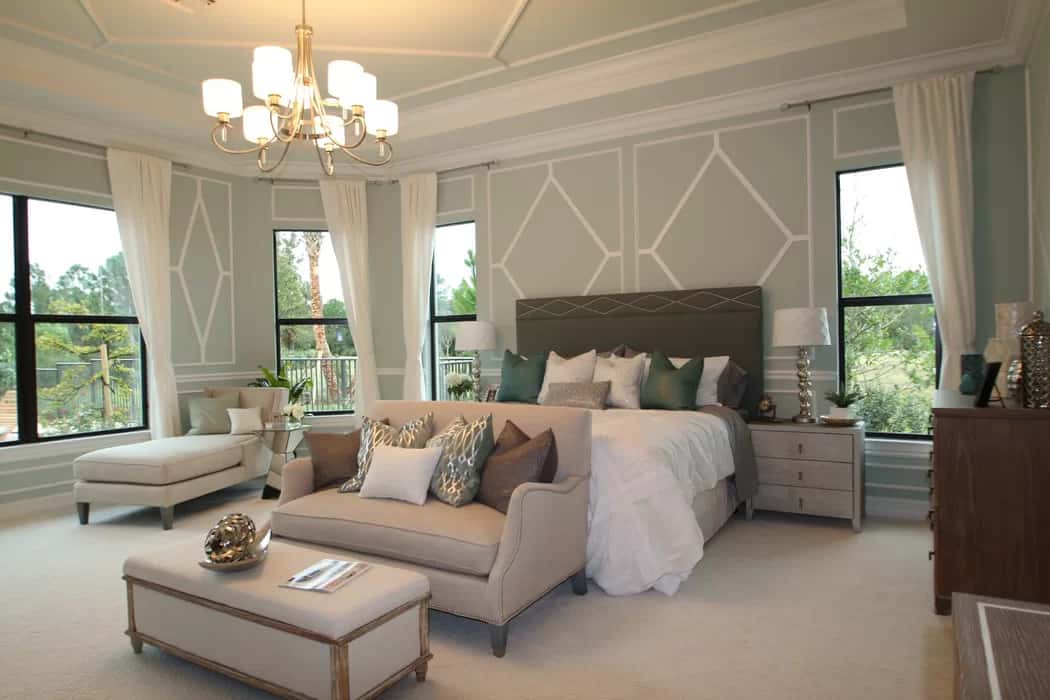 Chairs, benches, wide chairs… you've seen it all by this point. If you're looking for a more unique option, you could always go with a chaise lounge. Not only is it beautiful-looking with its light gray color palette, but it's also very practical for being so comfortable.
Plus, this room adds in a front-of-bed seating area with a wide armchair as well. If you can fit it in your room, why not add two sitting areas? It's just one more place you can relax and unwind for the evening or watch the sunrise.
Final Thoughts…
There's really no one-size-fits-all solution when it comes to putting a sitting room in your master bedroom. If you have a small space, you can put a sitting area in front of your bed or put a chair by the window. Or if you have a large space, you can add a corner sitting area or a full-fledged recliner by your fireplace.
That's not even mentioning all the color and pattern options you have for seats, from bright red couches in neutral rooms to white and gray quatrefoil seats. We hope this list gave you a place to start as you tread through the endless sea of sitting area options.