Don Pedro Brooklyn is reader-supported. When you buy through links on our site, we may earn an affiliate commission. Learn More
13 Bathroom Countertop Decor Ideas
Decorating your bathroom countertop is a great way to improve and spice up your overall bathroom ambiance. Functional spaces in your bathroom shouldn't be plain and empty but decorated in a way to make the space more attractive and welcoming.
There are many options when decorating your countertops; from minimal bathroom counter decor to chic and lavish, the choice is all yours. Here's a list of 13 bathroom countertop decor ideas to help you choose the best ornaments for you!
Opt-Out For Towel Holders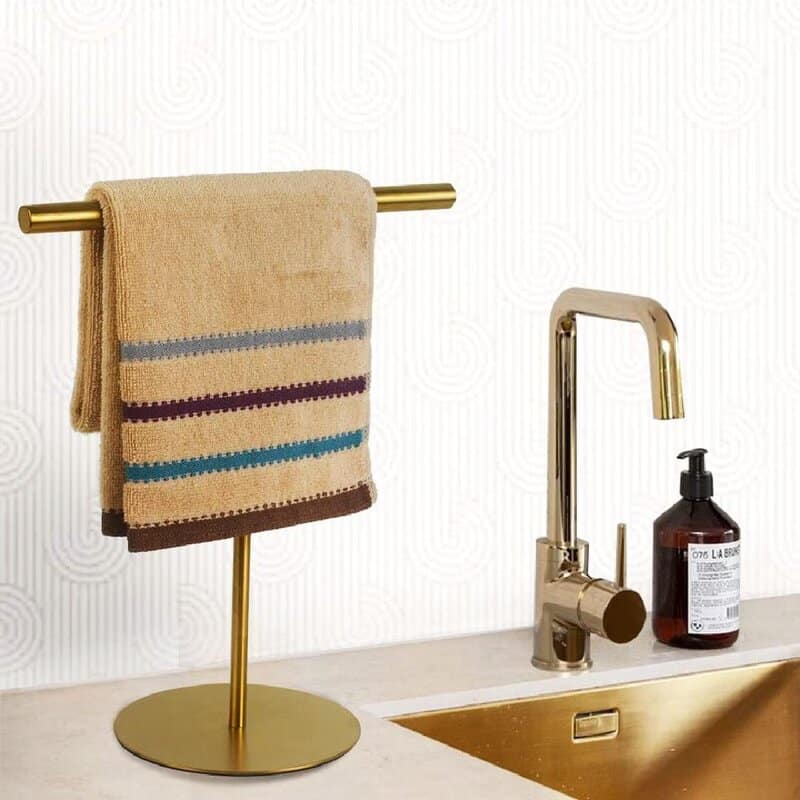 A neat and clean way to organize your hand towels, and yet to keep the countertop space spacious and commodious is by using one or two towel holders. Their adjustable height will allow you to place the towel any way you see fit, which is a great plus when dealing with a crowded space.
While the attention is brought to the towel itself, the towel holder can add to the decor style with its metallic black, gold, or brushed silver color. Another upside is their multi-functionality, where the stand can be used to hold jewelry and all other kinds of accessories.
Stick With Soap And Lotion Dispenser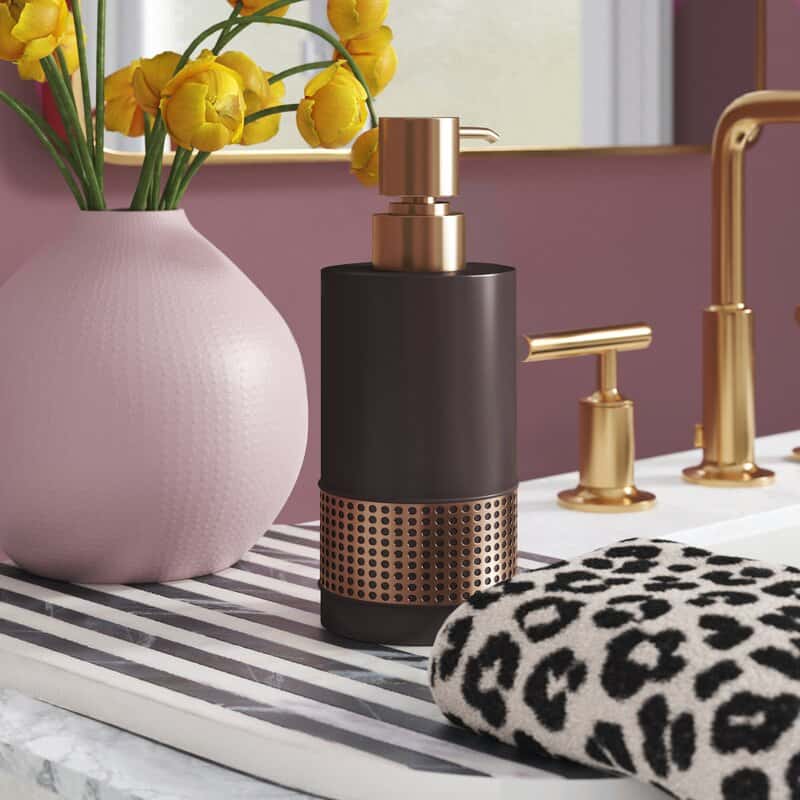 Nothing ruins the style of your bathroom countertop like having large and plastic store-bought soap bottles lying around. A great way to avoid this mess is by using stylistic soap and lotion dispensers.
Not only will it tie up your decor elements and make the space look tidier, but dispensers can also bring a lot to the table (or countertop in this case). From shiny metallic variants to chic ceramic ones, there is great freedom when choosing your perfect dispensers.
Soap Dishes Are a Must-Have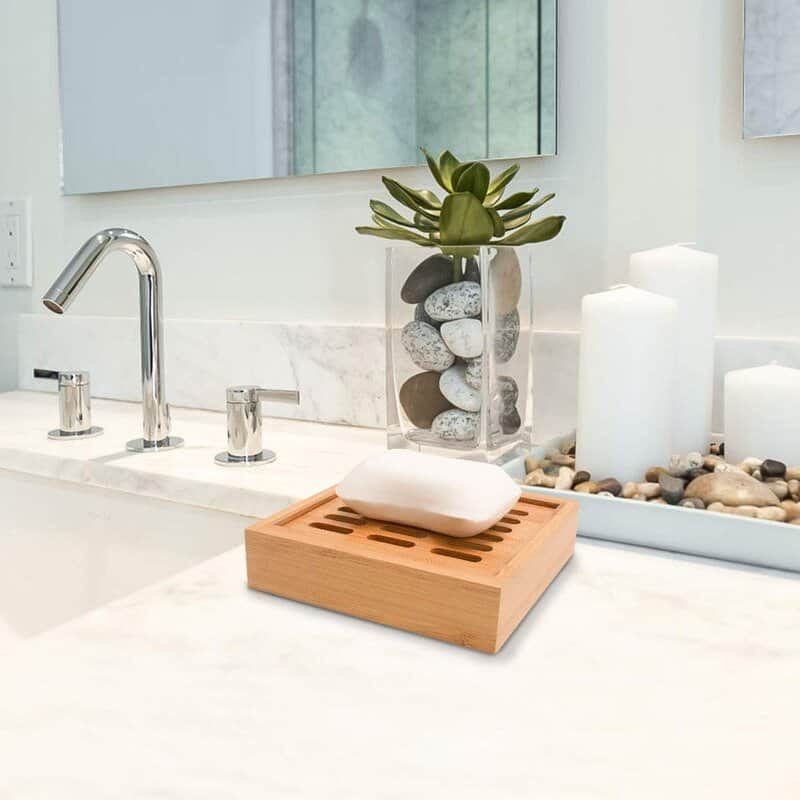 If you prefer to have a few fancy hard soaps lying around, and honestly, who doesn't, then having fitting soap dishes is a must-have. They are simple bathroom counter decor elements that will keep your soap and space clean and water-free.
Whether they are made from plastic, metal, or wood, soap dishes are usually small and light, but also very easy to fit into the overall bathroom esthetic. You can place them anywhere near the sink and they will create visual interest on the vanity.
Organize Your Toothbrushes With These Toothbrush Holder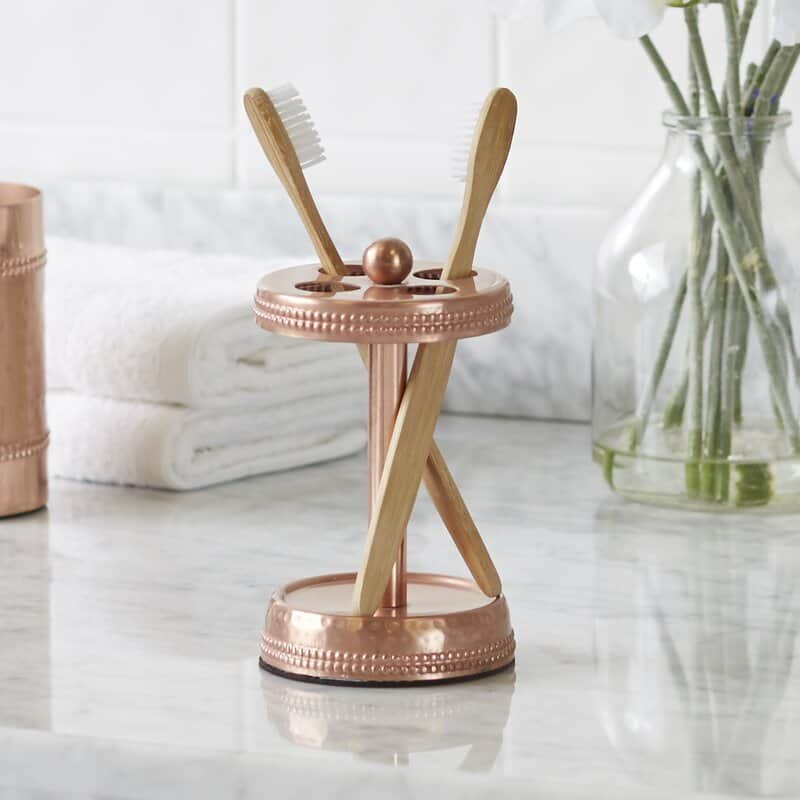 Everyone has a toothbrush or two lying around on the countertop but with these toothbrush holders, they won't make your space messier and cluttered. What's more, using toothbrush holders will make your countertop seem more organized and harmonious.
The metallic bronze finish of these toothbrush holders will easily connect with the other bathroom accessories you have, and all-in-all, it's a perfect way to have your hygiene products kept in a clean and unstained place.
Display Your Accessories On a Tray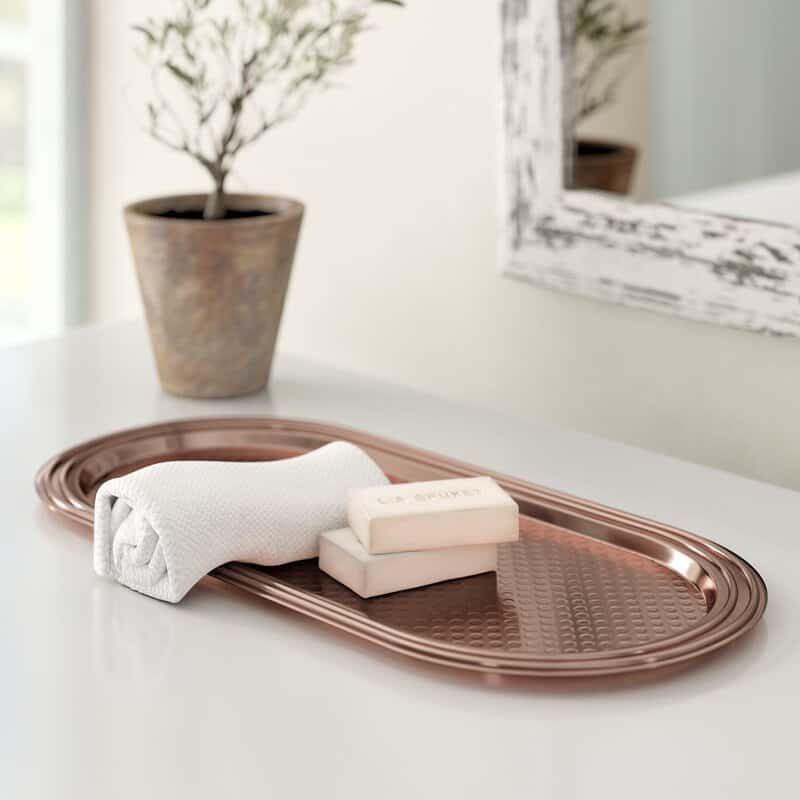 Another great way to cut the clutter and tidy up your countertop space is by using trays. Apart from being a clean and germ-free way to display and keep all your things in one place, trays can add to your style and keep your space connected and pretty.
From all of the bathroom countertop decor elements, one would doubt that a tray can have such an impact on the ambiance as it does. Whether they are made of bamboo or wood, plastic or metal, trays will keep your necessities organized and your place clean.
Usher In Chic Vibes With 2-Tier Serving Trays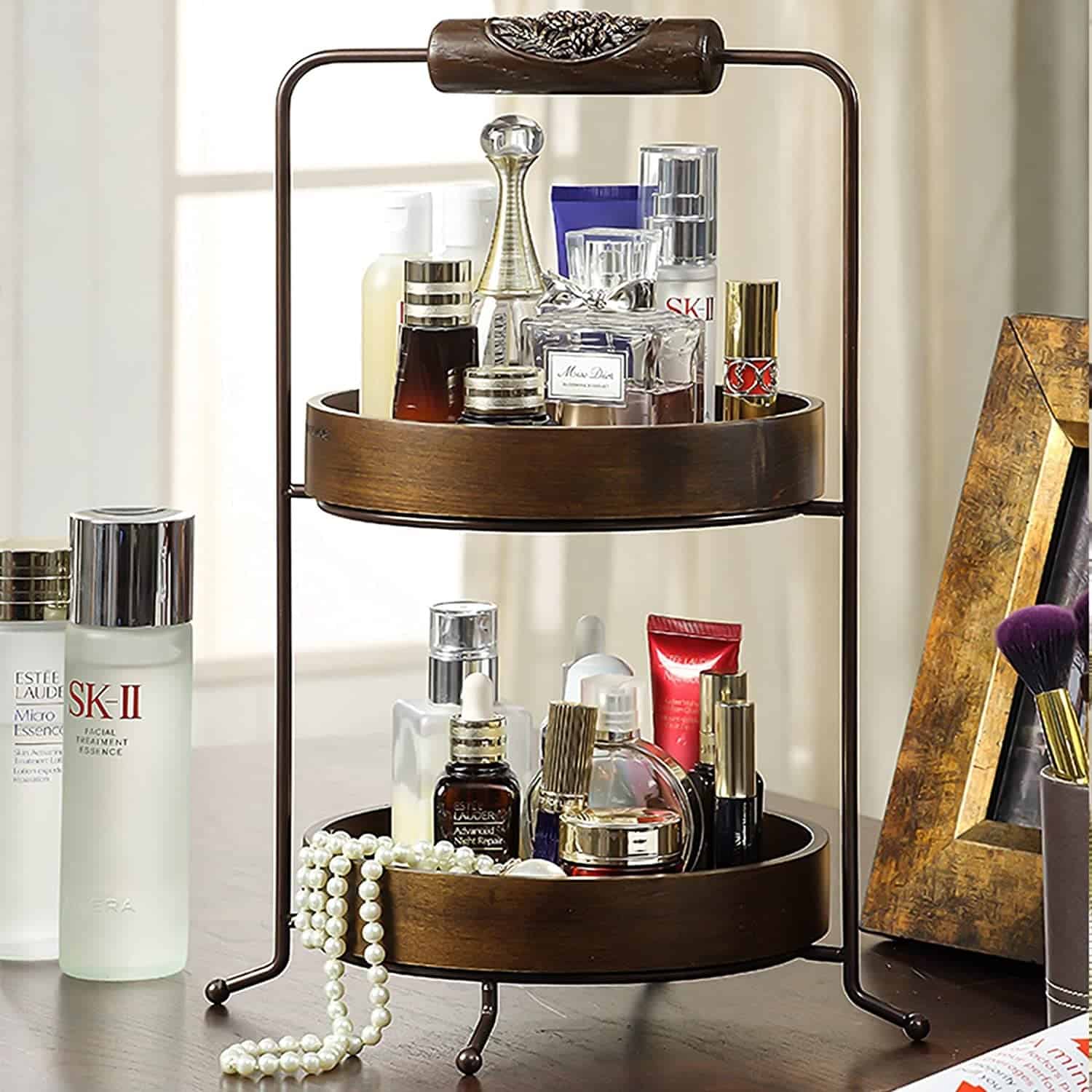 If you have a lot of accessories, but not enough space to place them, you should check out these vertical 2-tier serving trays. Perfect for organizing your bathroom accessories, these serving trays will spruce your space with chic and lush vibes.
Don't worry about placing them on delicate wooden surfaces; this 2-tier serving tray is scratch-free and will leave your countertop as good as new. Another great bonus is its practicality, where it can hold your perfumes, jewelry, candles, or all other types of cosmetics.
Mirrors – Beautiful And Practical Decor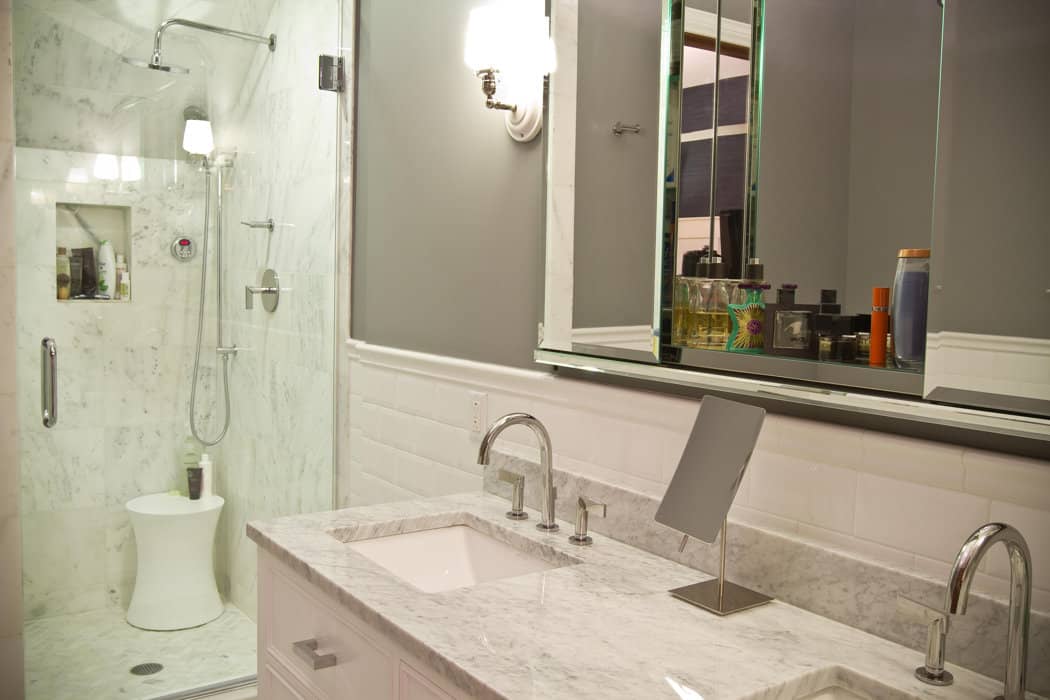 Another one of bathroom counter accessories ideas that a lot of people adore is countertop mirrors, and it's no wonder why. Not only is a countertop mirror great to have around when shaving or applying make-up, but it will also illuminate and revitalize your space.
You can find round and oval countertop mirrors or rectangular ones. Moreover, there are even curved mirrors, or variants edged in different materials. Whatever your preferred style is, you can find a type of mirror perfect for your countertop.
Turn Necessity Into an Accessory With These Tissue Boxes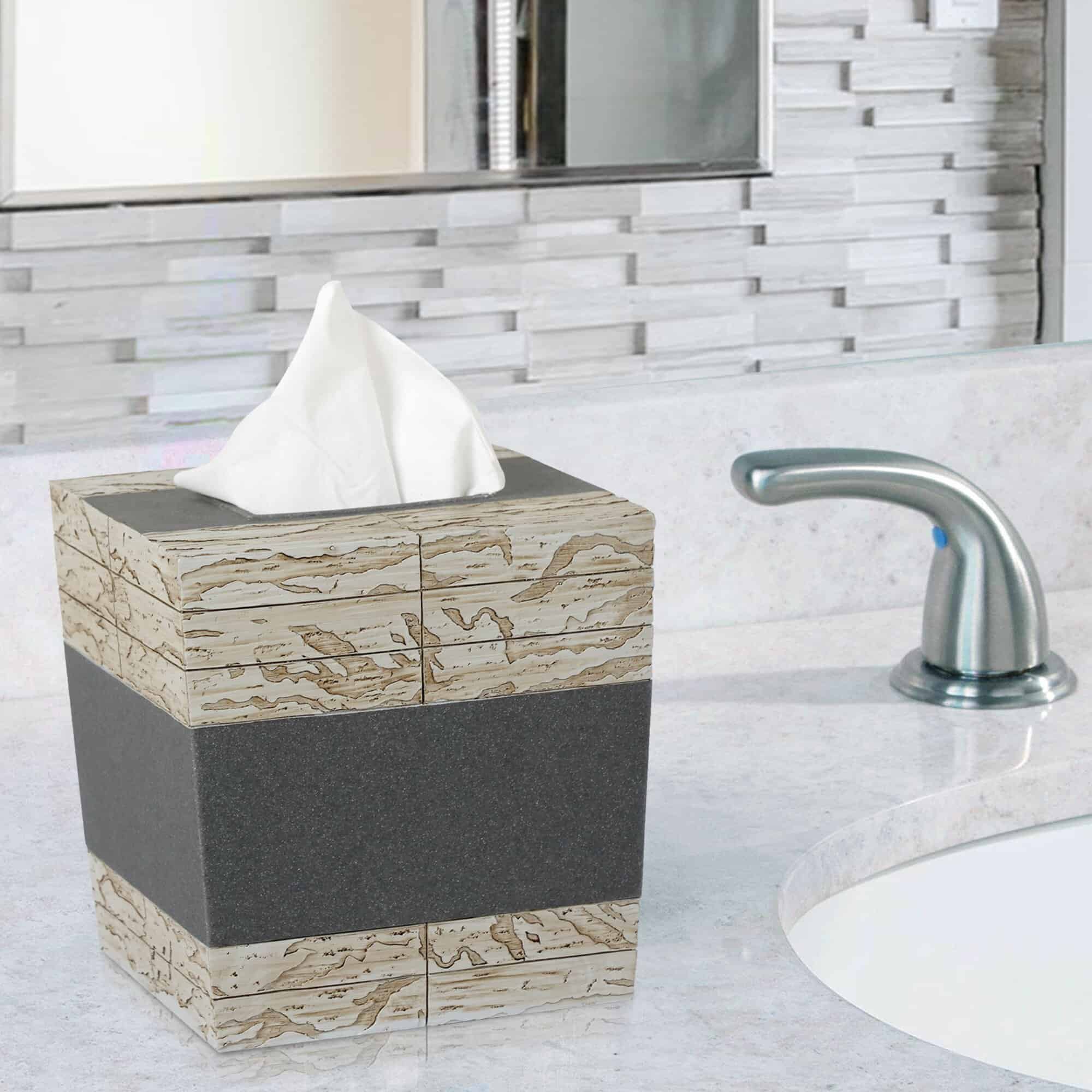 Another characteristic of any bathroom is having napkins and tissues lying around. But you can easily turn your tissue holder into an alluring bathroom decor element by placing your tissues or napkins in a fitting tissue box.
This marble tissue box is a simple bathroom counter decor, but also an elegant and harmonic one at that. It will easily fit with other marble elements and vanity surfaces, making it stand out among the clutter.
Store Everyday Essentials In Apothecary Jars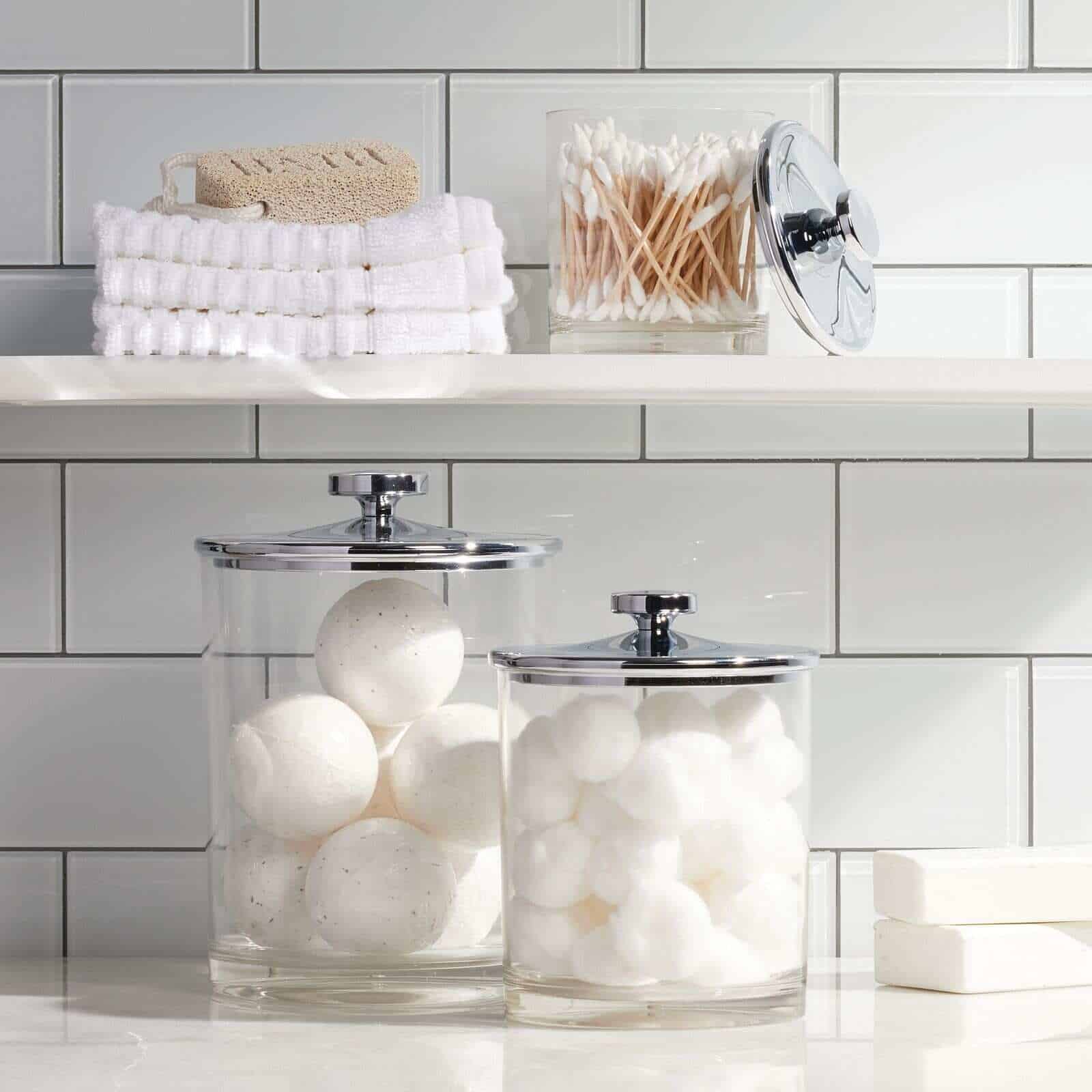 Another great way to make your countertop space organized and easy on the eyes is by storing everyday necessities into apothecary jars. Not only will this make your essentials arranged and within hand's reach, but apothecary jars will also bring fresh and chic vibes to your bathroom.
You can place anything in them, from cotton swabs, bath salts, and Q-tips to all kinds of cosmetic and make-up necessities. Apothecary jars will come in handy even when talking about the decor style, as they will reduce the visual clutter and keep things arranged and organized.
Illuminate Vanity Space With Sconces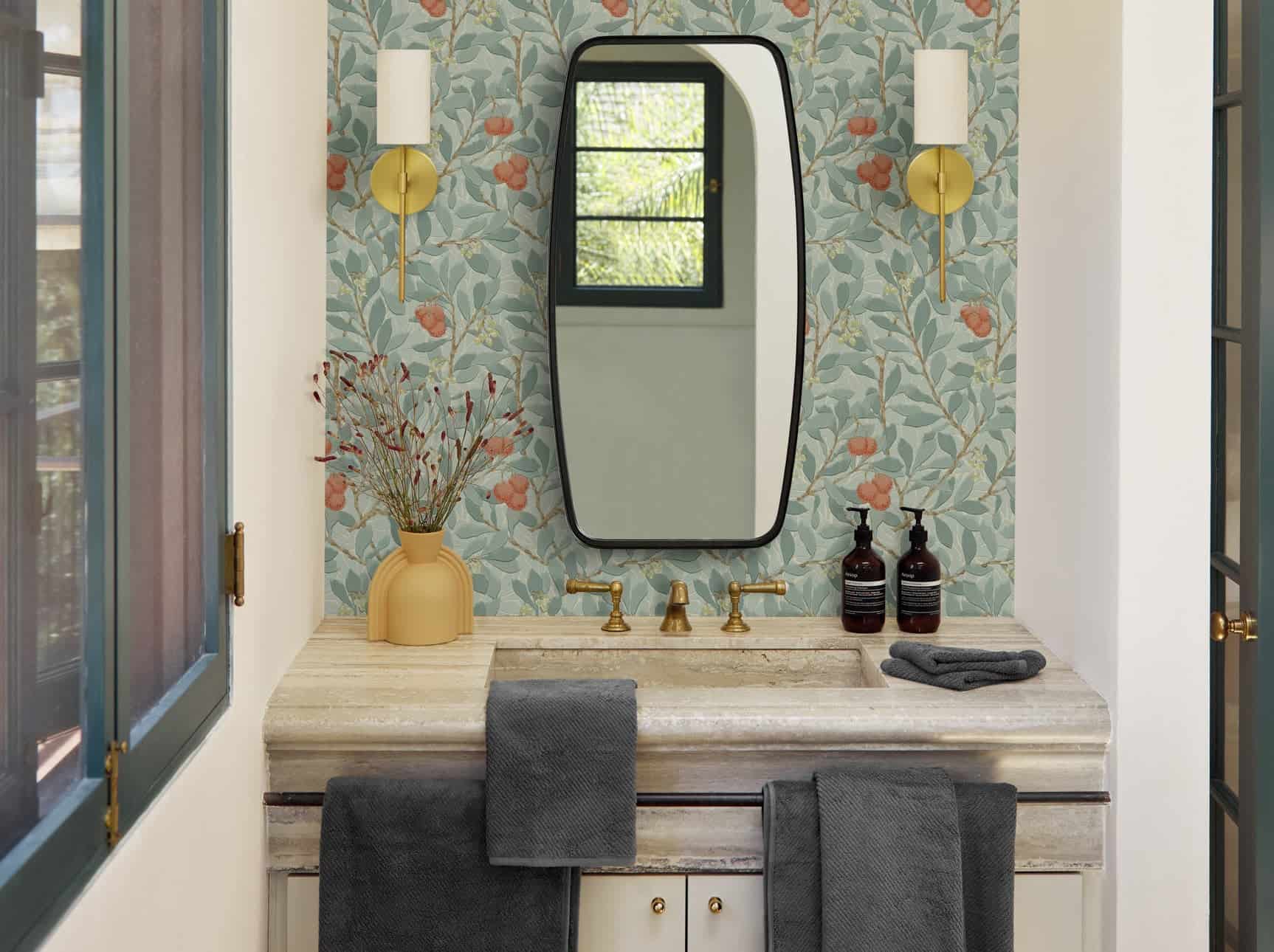 An unavoidable bathroom element everyone should have in their bathroom is fitting lighting. When it comes to vanities and countertops though, wall-mounted sconces are perfect to have as they illuminate your space and keep your belongings clean and tidy.
Having sconces set up at your eye level will clear the visual clutter and make your countertop clear. Apart from that, sconces themselves are a stylish addition to the aesthetic, as they offer rustic and metallic vibes.
Vases Are a Sophisticated Choice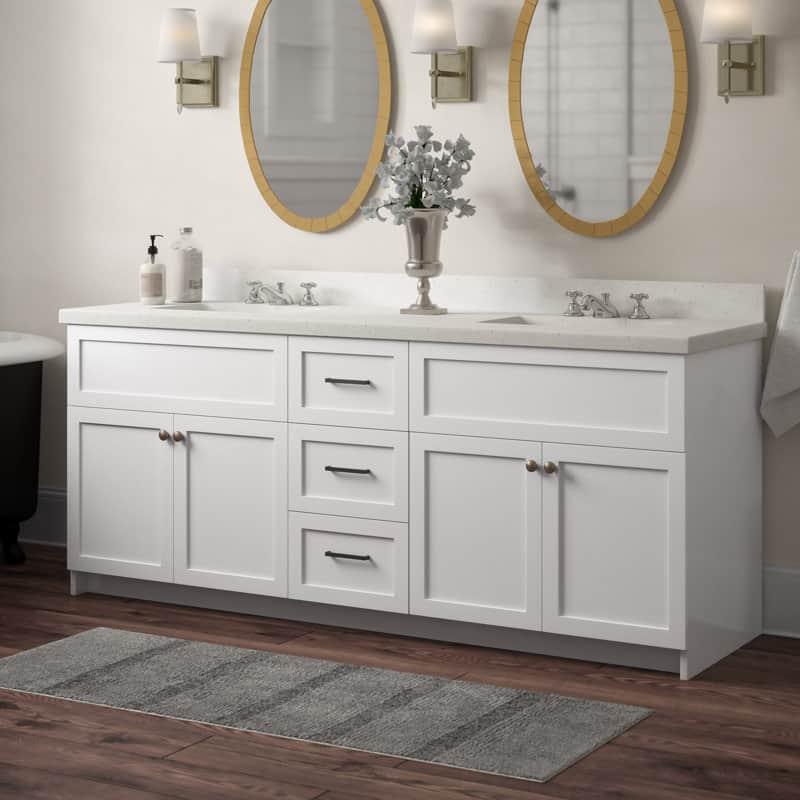 Don't be afraid to place a vase on your countertop. They will create some visual interest and draw the eyes of everyone around. Vases create a focal point, making your countertop visually appealing and captivating.
If you're asking yourself how to decorate a bathroom countertop, then you must have at least once considered vases. Whether they are used to holding flowers, or they're used as a piece of art, having a vase is a sophisticated and distinguished choice.
Enrich Your Space With Floral Elements
The bathroom, as much as other rooms, should have some elements of nature. A great way to bring freshness and a pop of color onto your countertop space is by placing a few plants and flowers.
It doesn't matter if flowers or plants are artificial or real, they will have an impact on your bathroom aesthetic. While vibrant artificial plants might seem like a safe and easy way to spruce things up a bit, having a few grateful succulents or cacti lying around will also bring a dose of freshness to your space.
Artworks Make Great Self-Expression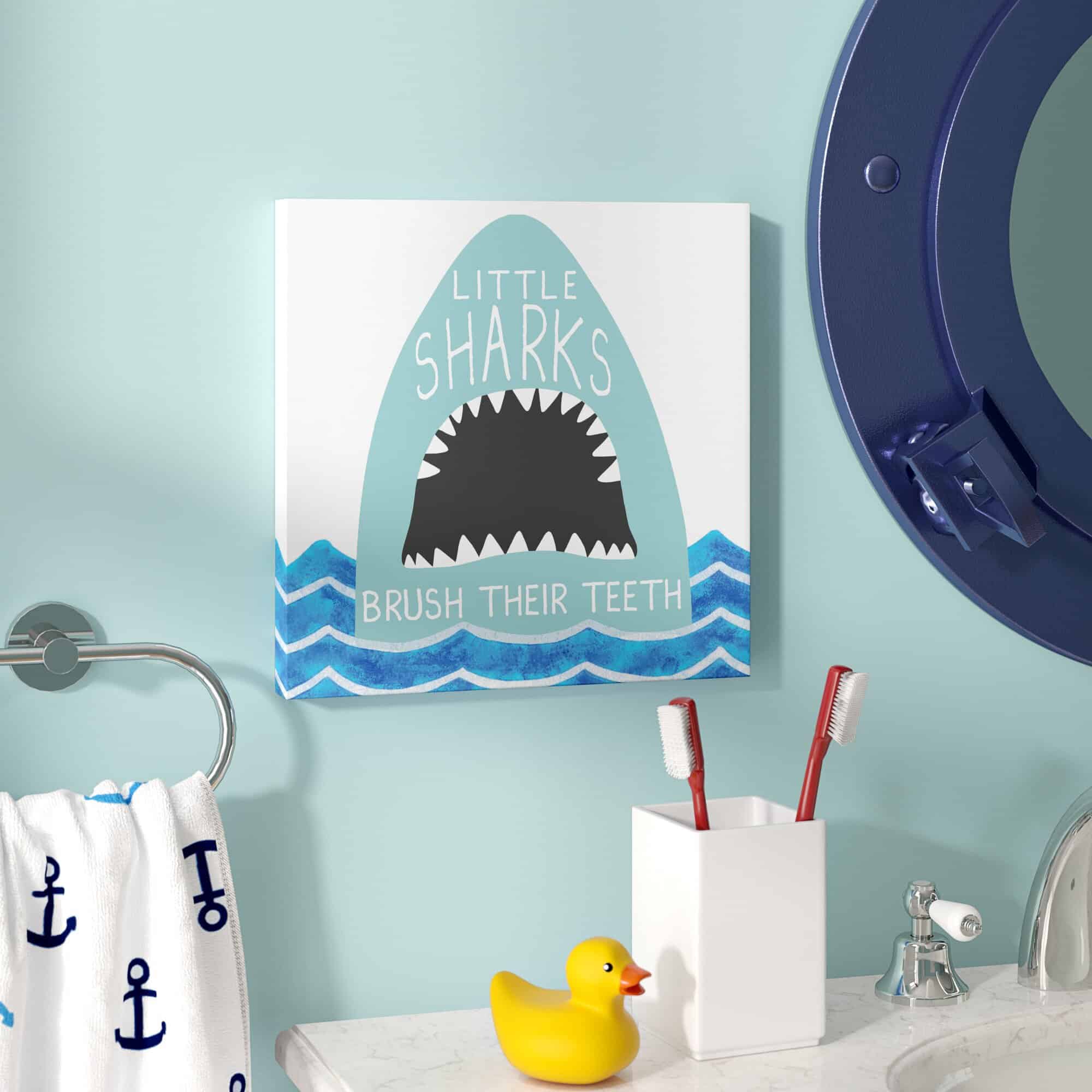 If you are looking for ways to make a statement or embellish your bathroom space, having a few artworks or photos is a great way to go. You can place them onto the wall behind the countertop, or directly on the surface.
Artworks and paintings can provoke serious and imaginative thoughts, or they can have a family-friendly message. Furthermore, having a photo of your friends and family can make your bathroom more cozy and warm.
Summary
A bathroom is a place where you can relax and unwind. A personal haven, so to say. It's only natural that you would want to decorate your place of rest where you spend a lot of your time.
However, we know the struggle and pressure of choosing ornaments and decorations perfect for your bathroom. We hope our list of bathroom countertop decor ideas has helped and inspired you. Happy shopping!