Don Pedro Brooklyn is reader-supported. When you buy through links on our site, we may earn an affiliate commission. Learn More
7 Most Durable Kitchen Flooring Options You Can Choose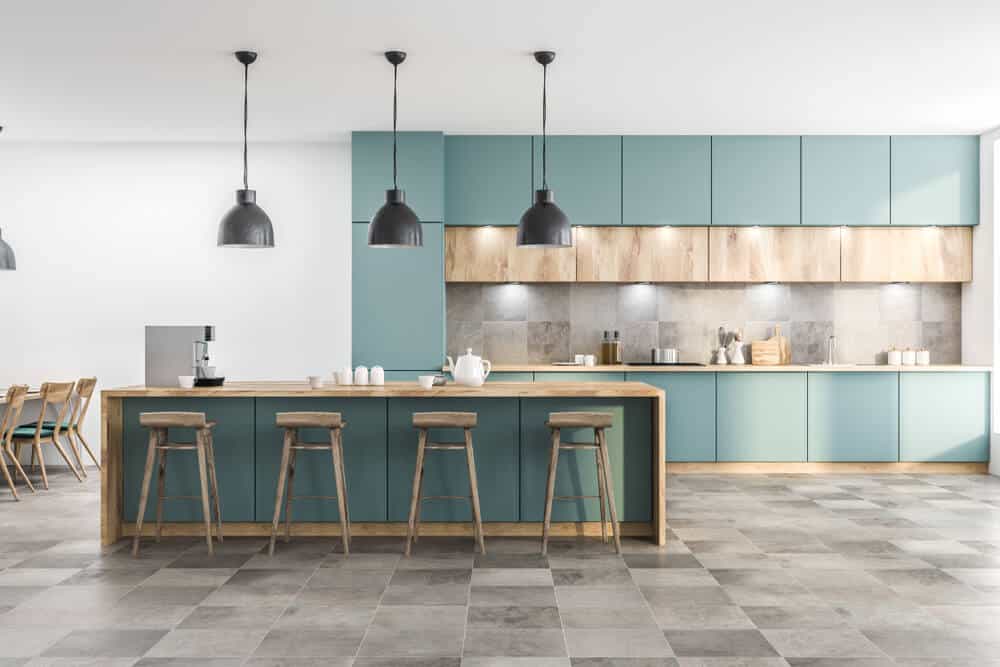 The kitchen is one of the essential rooms in the house. Having it floored correctly is homework for you. Kitchen flooring needs a lot of attention because many things could happen there.
Hot surfaces, oil spills, scattered foods, accidental scratches are some possibilities that could happen in the kitchen.
Well, which one of the available flooring options suits best for the kitchen?
Things to Consider when Choosing Kitchen Flooring
Many things could happen in a kitchen for just one day. For instance, cooking is one main activity in a kitchen that would usually involve many steps, ingredients, and pieces of equipment.
Those steps would possibly cause some water spills, heat surface, or any accidental crash from kitchen utensils.
Therefore, you need to be careful in choosing the flooring option for your kitchen. There are many kinds of flooring options that you can pick.
However, it would be best if you considered the pros and cons of those different options.
Notice that many things could happen in a busy room called the kitchen; below are some aspects you should measure in that regard.
The first one is whether or not your choice of flooring is water-resistant. The floor must withstand water and oil spill. It doesn't necessarily 100% waterproof, as long as it is not easily damaged by water.
The second is the texture. Texture stands for comfort. It is how your feet would feel when standing there for some time doing your activity, such as cooking or washing dishes.
The third aspect is durability. The possibility of things breaking in the kitchen or scratches by knife, not on purpose, happens in the kitchen. Durability on how strong and versatile the flooring type is must be your consideration.
The last aspect is the heat-resistance. It is possible to have your hot pan or anything that goes down on the surface of the floor in some cases. Usually, you also have natural sunlight coming to your kitchen. That is why whether or not your floor is okay with that should be one of the considerations.
Best Flooring Options for Kitchen
Based on the description on the aspect list about what to consider before choosing your kitchen flooring, here we have summed up the finest list, special for you down below.
1. Ceramic/Porcelain Tile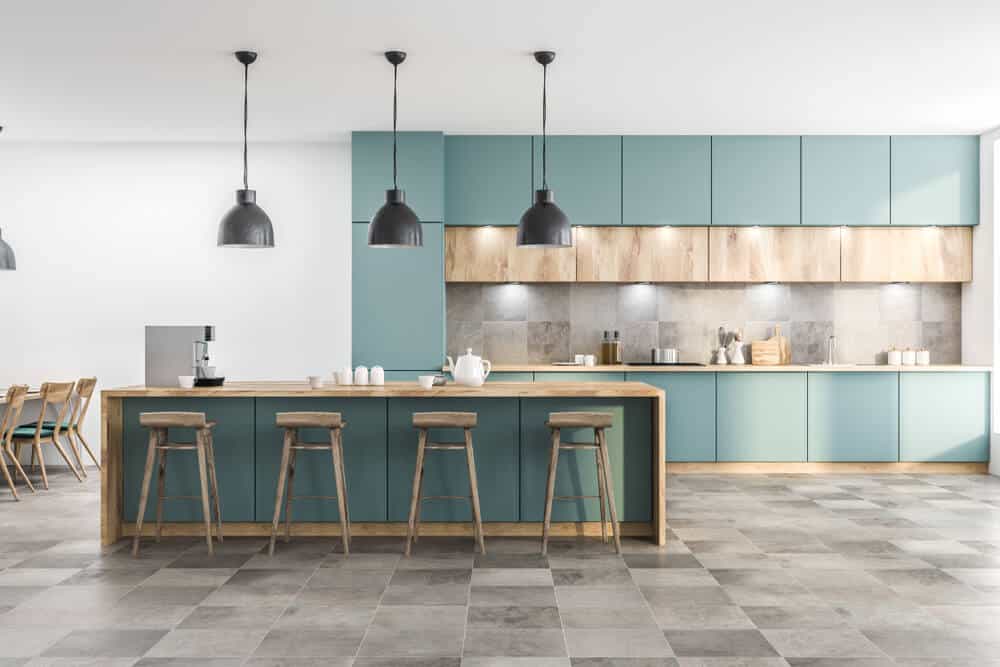 Ceramic or porcelain tile is one of the best choices for the kitchen. In terms of durability, I do not doubt this one. Ceramic tile comes either glazed or unglazed.
The glazed one looks very much shiny and glossy, and the unglazed one looks dope and very earthy.
Either way, ceramic/porcelain tile is 100% able to withstand water spill, or even water flooding like how it would happen in the bathroom.
Nevertheless, each tile side's grout needs to have good sealing to prevent any water from warping in.
Otherwise, the color of the tile could fade. Therefore it is recommended to install ceramic tile by professional.
Talking about resistance, I would inform you that ceramic tile is also resistant to heat. Yes, you're gonna feel hot on the surface, but it won't last long because it's rather cold.
This one comes in many variations of design as well. No matter what kind of kitchen you're styling, ceramic tile can be a suitable choice for that.
However, ceramic's glossy and hard surface would be very slippery once it has a liquid spill.
Besides, it sometimes feels not comfortable standing barefoot on the ceramic flooring for a long time. It is suggested to wear a cushioned slipper or rug on your common standing spots.
2. Hardwood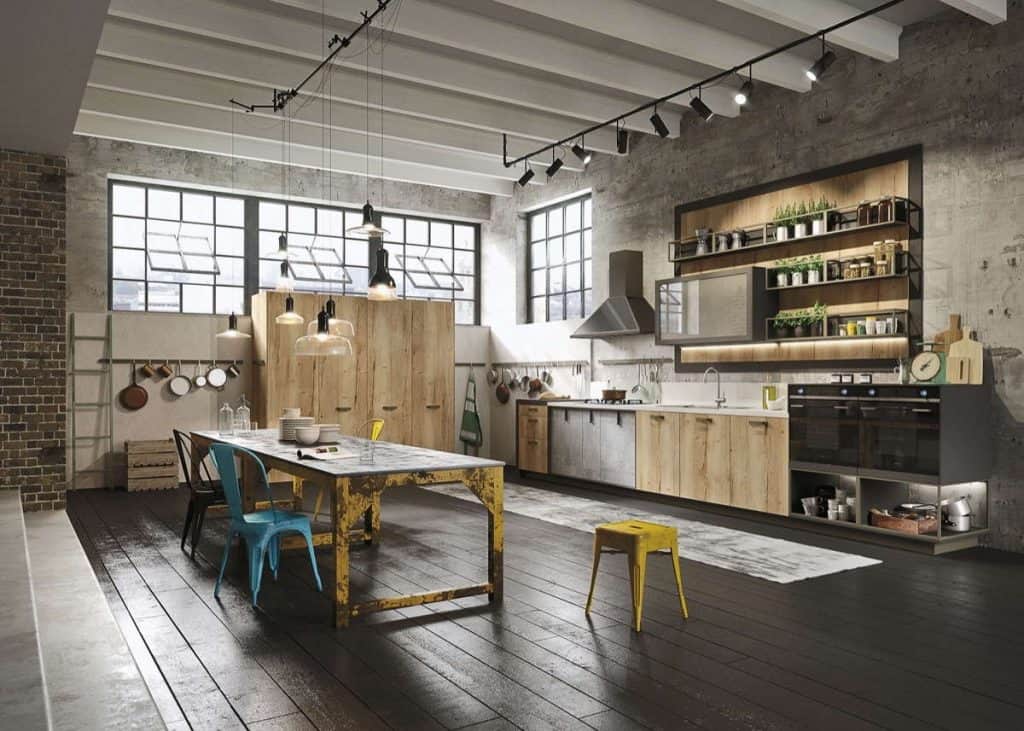 Although there are some alternatives to hardwood that people prefer today, the authenticity and the nature of real hardwood are different. Its warm color, as well as warm feeling once you're stepping or sitting on it, are its best value.
Therefore, people still like to choose hardwood as their flooring option for the kitchen. Your feet are not gonna feel cold or uncomfortable due to its warmth and natural material in planks.
Some of you might think that hardwood is vulnerable to moisture and water because that would endanger its durability.
But no worries! Thanks to the development of technology, polyurethane, and sealer or coating on the top of the surface are invented. Those can protect hardwood flooring from water spill or moisture, but you need to wipe out the spill right away.
They even invented the veneered top of hardwood with easier installation, though. It is called engineered hardwood flooring. Both are good for the kitchen because of the texture and enough resistance to moisture, water, and heat.
3. Cork
Besides ceramic/porcelain tile, cork is my favorite type of flooring for the kitchen. Cork is constructed with natural materials. It is made of the bark of a cork oak tree that is harvested without harming the tree.
The harvesting process allows the bark to regrow to be harvested again in nine years for commercial purposes. It is then compressed together with resins to be one perfect cork flooring surface. The texture is cushioned and soft.
It is very comfortable standing on the cork flooring for a long time. You don't have to worry about standing up cooking or washing dishes for a long time on cork flooring.
The good news is, cork flooring is both water-resistant and heat-resistant. The bad news is, it is not 100% waterproof and heat-resistant.
You need to wipe the water spill right away because cork flooring could not withstand water flooding.
At some level of time, water could warp into the core and decrease its durability. Also, high exposure to sunlight could fade the color of cork flooring.
That is why you need to do proper maintenance by refinishing or resealing it every five or seven years. This could prevent scratches, as well.
Although cork flooring is limited in design, it has various compressed cork patterns in a different shade of color. You're still able to see its warm color and natural texture.
4. Bamboo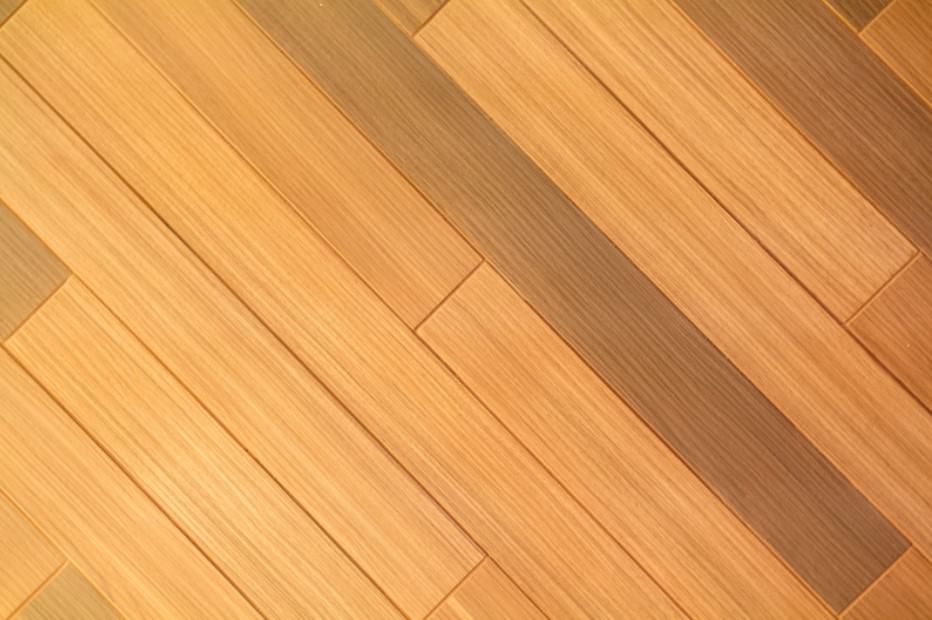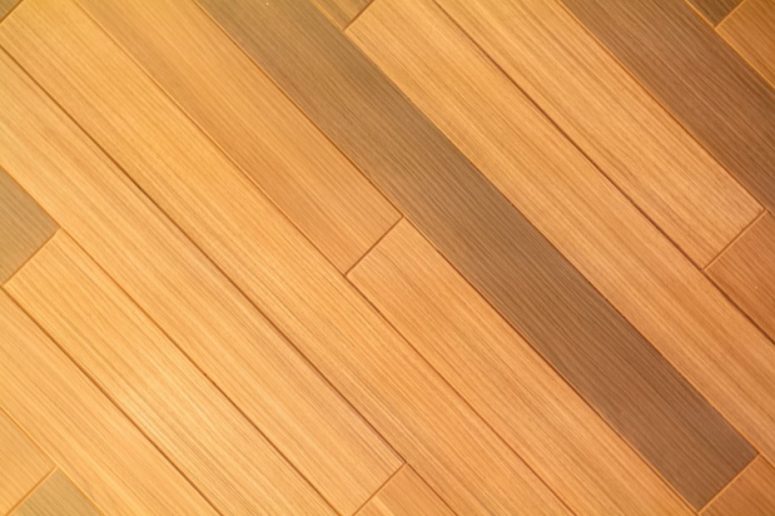 Bamboo flooring is similar to hardwood flooring. They both are a natural by-product. However, bamboo is harder than hardwood in texture, making it better for a close kitchen concept than an open kitchen.
What makes bamboo flooring different from hardwood and cork is that bamboo flooring is more water and heat-resistant than those two.
The bamboo surface is originally waterproof, and it is sold with a coating as its wear layer. That is why it is more waterproof than hardwood.
Despite some similarities between bamboo flooring and hardwood, bamboo flooring is considered suitable for the kitchen because it is quite simple to install. Its hard texture makes it not easy to get scratch or broken.
Also, the hard texture doesn't make it feel cold on your feet, just like ceramic tile. It is very warm and natural.
However, it would help if you did periodic refinishing to keep it durable. That is not easy and needs to be done by a professional.
Lastly, bamboo flooring is more expensive than hardwood flooring. I think it's gonna be fine if you have a minimalist kitchen flooring area.
5. Vinyl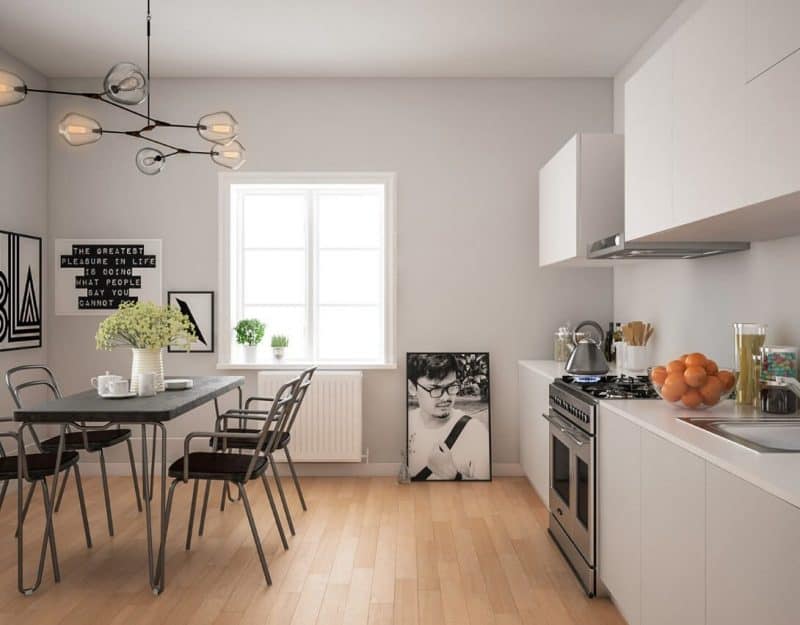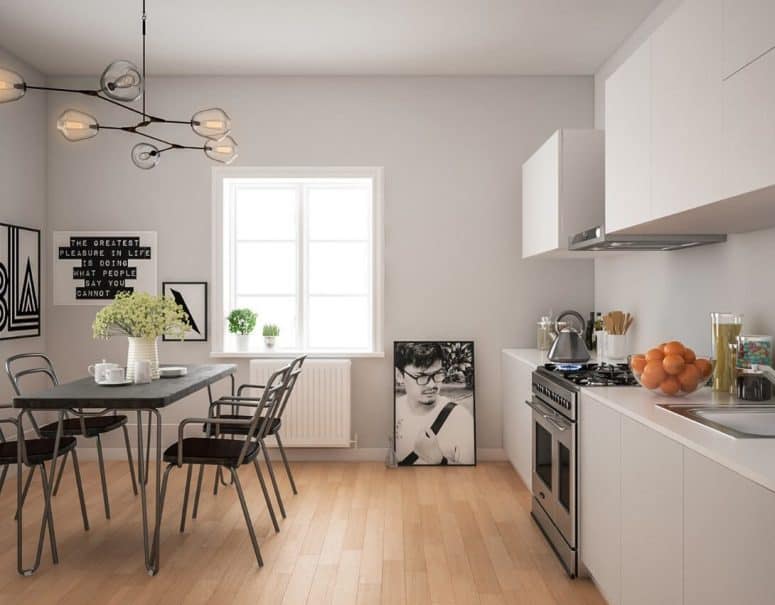 Haven't I mentioned that vinyl is also one of the best? Yes, it is. Vinyl is very modern and following the trend. It comes in sheets, planks, and tiles.
The newest form of vinyl is Luxury Vinyl Tile (LVT) and Luxury Vinyl Plank (LVP). Vinyl is the most versatile one since it is 100% water-resistant, heat-resistant, durable, and comes in the most various design compared to other types of flooring.
For your kitchen, I believe vinyl would be able to withstand high traffic, water spill, and heat surface. You have nothing to worry about when you install vinyl in your kitchen.
However, people still find it not very comfortable standing on vinyl flooring for a long time because of its hard texture. Vinyl is made of PVC, and that is why it feels like plastic.
Although LVT and LVP are quite simple to install and DIY-friendly, sheet vinyl is very tricky to install that you need a professional to do.
Last but not least, vinyl's durability is given a warranty for up to 20 years. That is a long time for you to invest a high-quality flooring in your fancy kitchen. After all, vinyl is suitable for your kitchen in every way possible.
6. Linoleum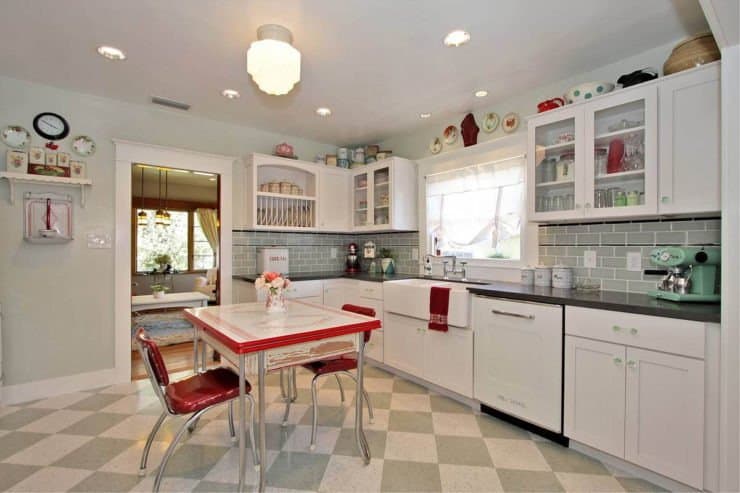 Most people know linoleum flooring as an old-fashioned flooring option. But, it is still very preferable for some people to install linoleum flooring in their kitchen. That is because linoleum flooring is one of the easiest flooring types to clean.
Although linoleum flooring is made of natural resources, it is okay for you to do even a damp mopping to linoleum flooring. Just remember not to make any liquid flooding for a long time.
Otherwise, the water could ruin the color, the texture, and the installation. As long as it is installed in your light-to-heavy traffic, I think everything is gonna be okay.
Linoleum flooring's maximum value is its naturality. It is made of linseed oil, cork dust, wood flour, and a mineral pigment where it is all compressed with a natural coating on top to create a perfectly shaped linoleum flooring.
This one is also very durable. Linoleum flooring could stand up to 40 years long!
7. Natural Stone Tile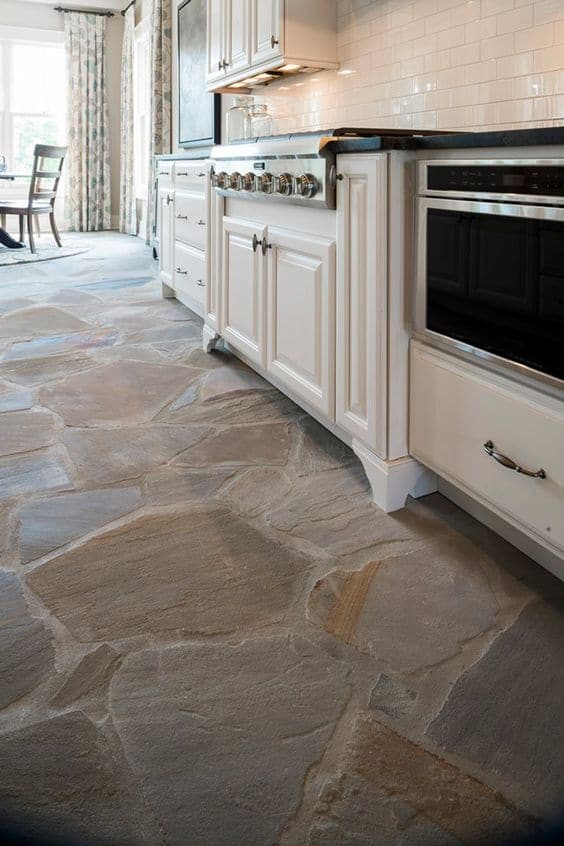 I'll say that natural stone tile could be one of the most luxurious flooring types for your kitchen. The natural stone comes in many forms, such as marbles, limestone, granite, and many others.
Unlike other tile floorings, natural stone flooring comes in the irregular shape of tiles, making it look unique yet exquisite.
You can use natural stone to be installed on your kitchen floor and your half wall on the side of the stove or kitchen utensils. That would look very astonishing!
For you who like it cold on the floor, natural stone is very comfortable for you. Natural stone is a real rock material. It produces that cold sensation somehow, very natural as it looks.
It is also very durable, and it has a natural texture. Your kitchen floor is gonna be okay even if one glass falls and broken on the floor. It is water-resistant, heat-resistant, and it is the hardest material to get scratched.
You do not worry about having your knife fallen and scratch the floor anymore. However, some types of natural stones like granite and marble need regular sealing to prevent stains.
Each kind of natural stone also has different types of treatment and maintenance. But, one good thing about installing it, even only on your kitchen floor, is that this type of flooring could increase the value of your house.
In the future, your house price could be so much higher with natural stone tile installation in your house. What a good investment for one kitchen, isn't it?
Which One Is The Best Flooring for Kitchen?
Summing up the discussion, I belie both of you have different preferences on which type of flooring suits your kitchen best.
However, both types of flooring that are offered above has its strength and weaknesses. What you should consider are four aspects that we discussed earlier.
It's about water and heat resistance, durability, and comfortability or texture. I believe the purpose of installing it in your kitchen is to make a beautiful visual for a kitchen and create such a worthy and suitable flooring option for a kitchen.
Therefore, It's best to consider those four aspects and compare it with the real condition in your kitchen. Whether or not which flooring option suits best is your decision. Happy floor decorating!