Don Pedro Brooklyn is reader-supported. When you buy through links on our site, we may earn an affiliate commission. Learn More
Best Flooring for Living Room You'd Love to Consider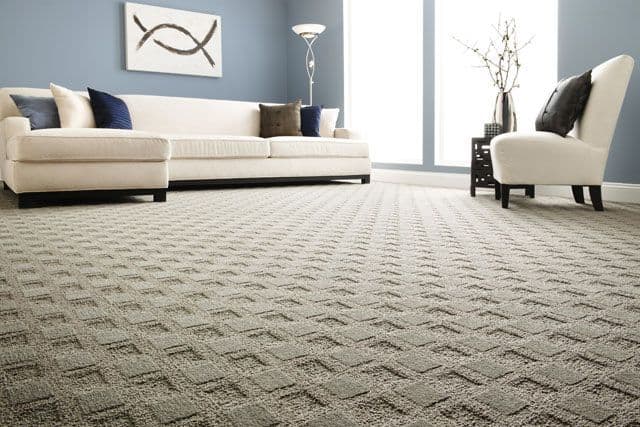 Other than your front porch, which space in the house gets the earlier impression from the guests? Yes, it is the living room! Your living room will be the first room where the guests get to take a seat and feel your house a little bit deeper.
Among all of the living room elements, flooring is one of the essential ones. Your living room style will be the first to attract the visual, but the flooring is the first one to attract your sense beneath your feet.
Therefore it is essential to choose the right flooring option for your living room.
What to Consider Before Choosing Living Room Flooring
The living room is the room where your family gathers, where you accept guests, and where you spend time when you're not in your bedroom.
Therefore, it is essential to have a living room flooring that could withstand heavy traffic. Things you have to consider are these:
Room style. Each flooring option suits best for different particular room style. Therefore, make sure the flooring option you choose complements your room style very well to bring up your desired atmosphere.
Maintenance.  Different flooring type has a different level of maintenance. Some may be quite tricky that you should give it certain periodic treatment. Choose the one you think you can handle.
Durability. When it comes to a big room like a living room, you don't want to change your flooring all over again, do you? Choosing the most durable one under your consideration would be a wise decision.
Best Flooring Options for Living Room
The good news is that the living room is quite versatile for any flooring. However, indeed there are harm and benefit measurements you should consider.
Below are the best choices of living room flooring you can consider.
1. Solid Hardwood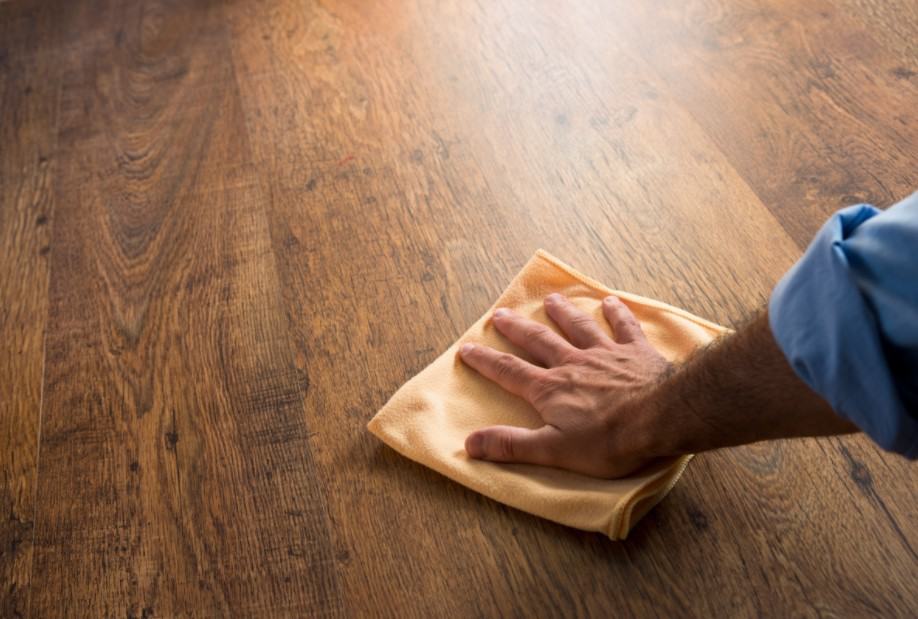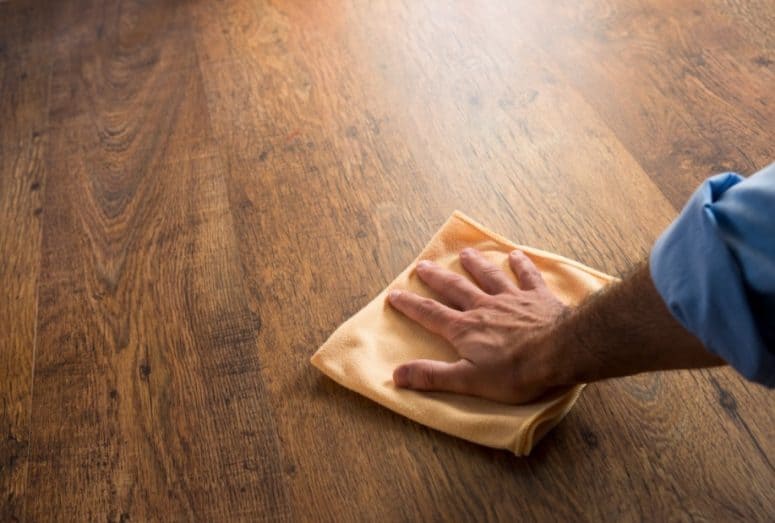 Let's go with the most popular one, solid hardwood! Well, solid hardwood has its natural and warm look that everybody loves.
Plus, it has that luxury impression when complemented with appropriate room decoration.
Solid hardwood comes in different shades of color, from light to dark hardwood. Both can be sanded all over again once the surface started to stain or get damaged. So your flooring can look as shiny as new forever.
Solid hardwood is harvested from different kinds of trees, such as cherry, walnut, and oak. Different tree quality has different costs as well. Oak happens to be the most expensive among all that it could be up to $12 per square foot.
Speaking of cost, this may ca you more in the installation. Solid hardwood comes in plank, strip, and parquet. Both have a quite tricky installation that makes you need help from professionals.
Notice that your living room has heavy traffic; you should be aware of the flooring's maintenance. You can easily clean solid hardwood, wipe it, sweep it, or vacuum it.
You can do the mopping as well, but remember not to make any flood unless you want your flooring to get damaged.
Yes, you can sand your floor every time in a certain interval of time. However, once the inside layer is damaged, you may have to change the flooring.
2. Engineered Wood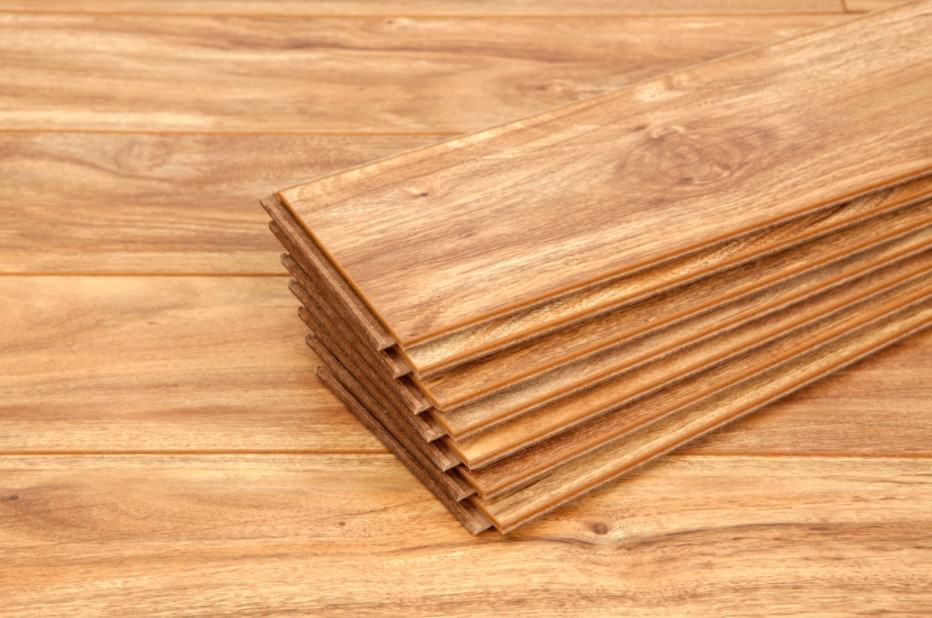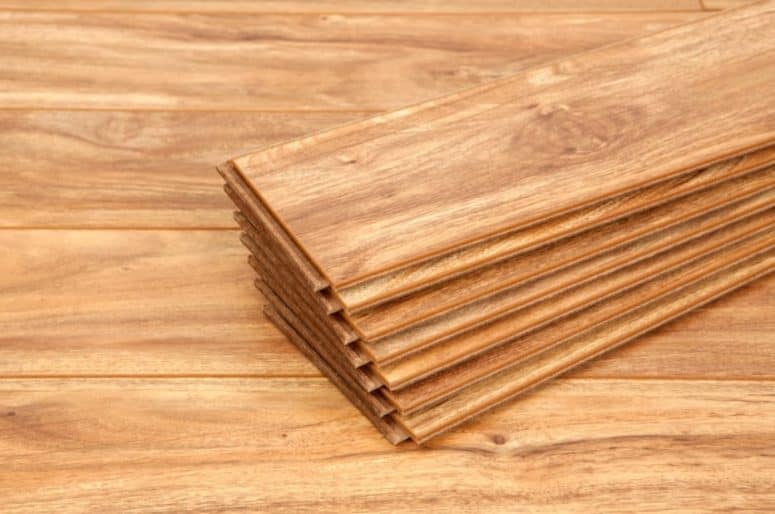 Some of you may have already known that solid hardwood has some alternatives. Engineered wood is one of them. Engineered wood is basically wood, too. However, it is plywood at the base layer of the plank.
Therefore, unlike solid hardwood, it is not a natural byproduct. But the smooth surface and the coated wear layer of an engineered hardwood makes it suitable to be in your living room. It could stand heavy traffic, and it has multiple designs and patterns.
Other than the material and the appearance, engineered wood is also water-resistant. It can handle water spill, but not waterflood, just like solid hardwood.
Therefore it has the same maintenance as well. What's different is that engineered wood can only be refinished once or twice, not forever.
But, in terms of durability, engineered wood has up to 40 years of life span. That sounds durable to me.
3. Laminate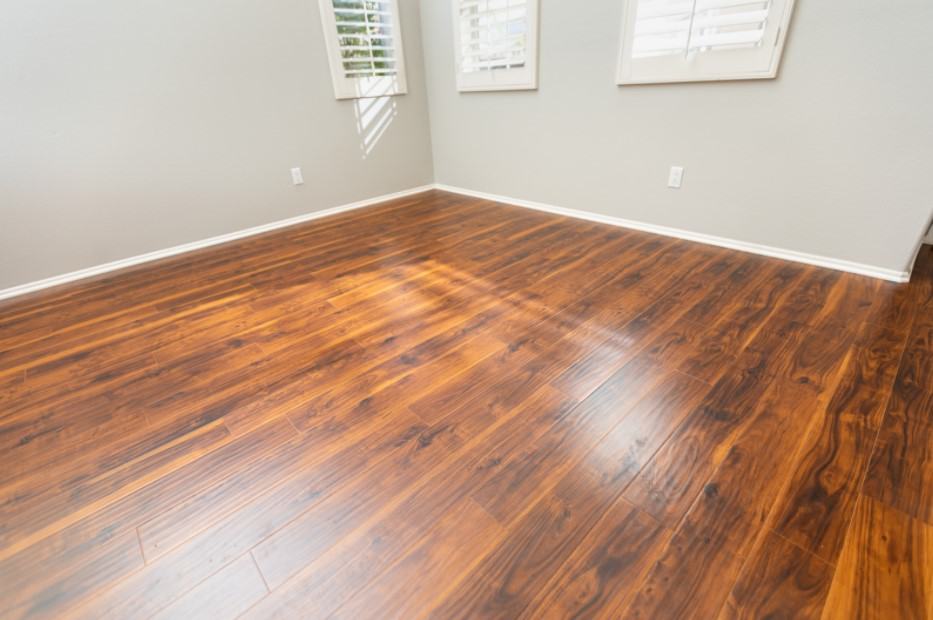 Here is another alternative to solid hardwood. Like engineered wood flooring, laminate flooring is also not a 100% natural byproduct.
It has some layers, and it is a veneered wood on the top of the surface, which makes laminate flooring water-resistant and heat resistant.
More or less, the specs of laminate flooring are similar to engineered wood and solid hardwood flooring.
However, laminate flooring is easier o install, and it is the cheapest among all wooden flooring.
Also, it is easily scratched. So you have to be careful about installing this in your living room. It is okay but cannot withstand sharp elements.
Besides, laminate flooring cannot be refinished like engineered wood or solid hardwood. Once it is torn or worn out, it needs to be entirely replaced.
4. Bamboo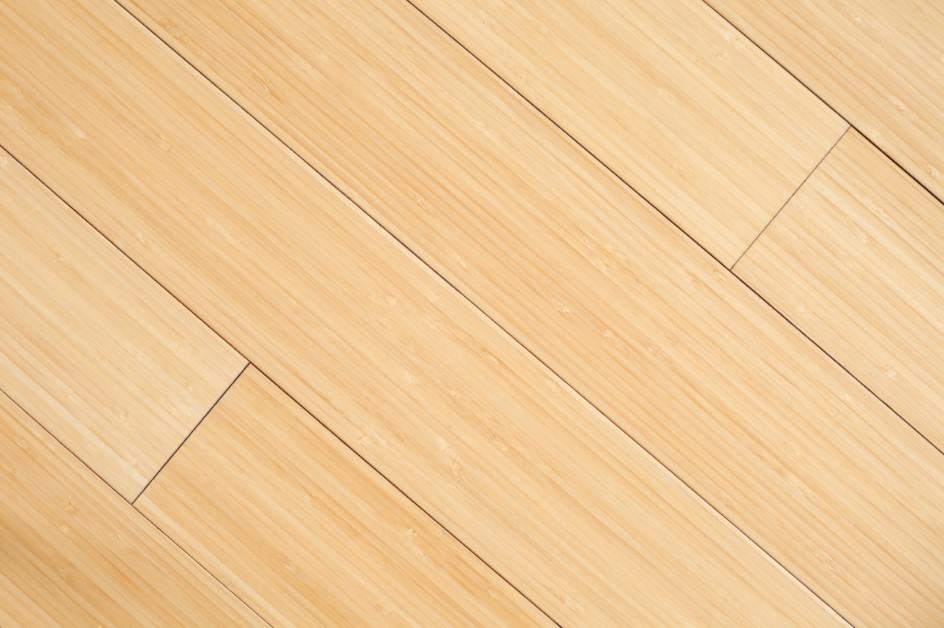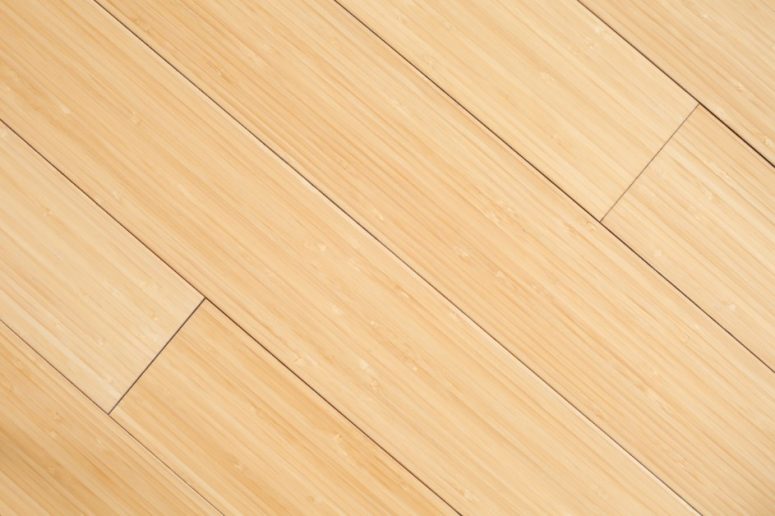 Bamboo flooring is another alternative for solid hardwood, but this one is also a natural byproduct. It has a harder surface in comparison to hardwood flooring.
Adding some artisan rugs on the floor will add some luxury and antique value to your living room flooring for sure.
The appearance of bamboo flooring also has that warm and natural look since it has that wooden texture.
Bamboo flooring is gotten from different kinds of bamboo grass. Different quality has different costs and specs.
For example, low quality bamboo flooring is less water-resistant in comparison to the high-quality ones.
However, either low or high quality, bamboo flooring gets scratched easily. It depends on whether you are ready to be very careful not to get your bamboo flooring scratched.
This kind of flooring, you see, cannot be refinished like solid hardwood.
5. Vinyl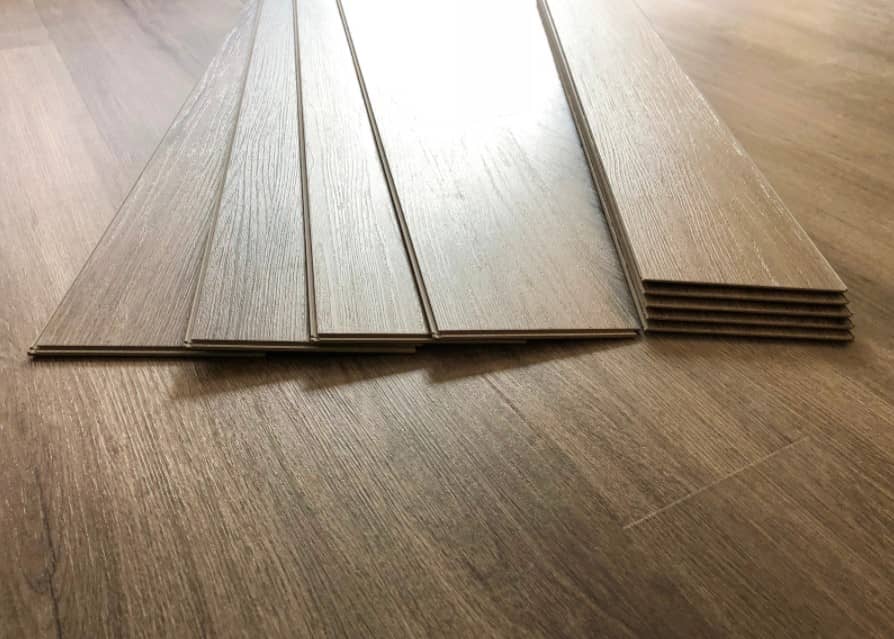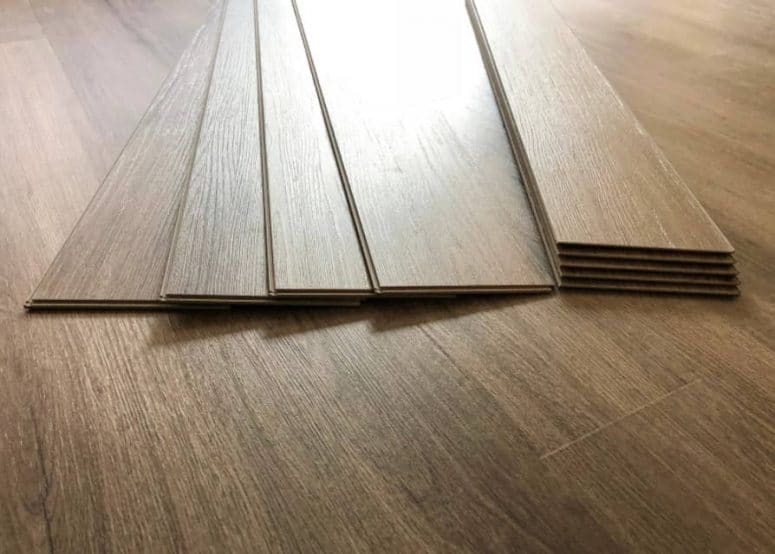 Mostly, people install vinyl flooring in their kitchen or bathroom. However, vinyl flooring has improved a lot that we could have LVT and LVP nowadays.
Those improvements make vinyl flooring suits almost every kind of room. Vinyl flooring has various designs, patterns, and colors. It can be customed as well.
Vinyl is constructed of synthetical material called PVC, and the look on the top is the printed photograph that is coated transparently.
Therefore, the design of vinyl flooring can complement the style or atmosphere of your living room.
The texture of vinyl flooring is hard, but the manufacturer has LVT and LVP, which are not as hard as the regular vinyl sold before. Vinyl comes in plank, tile, and sheet.
For your living room, it is recommended to use the plank or tile. That is because sheet vinyl doesn't suit the living room flooring very much.
It has that 'cheap' look, moreover if you install it yourself without professional.
Vinyl flooring is 100% waterproof. It can even handle waterflood as well. However, still, you need to give it very well maintained. You can do a daily sweeping or vacuuming, and also damp mopping to make it stay polished.
Notice those specs. Vinyl flooring is also one of the most durable ones. With heavy traffic and sharp elements, your living room is okay with vinyl flooring on the surface.
Further reading: Vinyl vs. Laminate Flooring (A Comparison Guide)
6. Ceramic or Porcelain Tile

Personally, I think ceramic, and porcelain tile is the best flooring of all, including the living room. Ceramic and porcelain are different in terms of the process.
Porcelain is burnt from clay for a longer time, and it has a more glazed surface. It is more scratch and heat-resistant as well.
Installing ceramic or porcelain tile in your living room is a good idea! It all depends on your preference, but I think ceramic, and porcelain tiles suit almost all kinds of room. I love the smooth surface of both ceramic and porcelain!
They are hard and can withstand sharp elements as well. You don't have to worry about heavy traffic; even waterflood is not gonna damage ceramic and porcelain tile flooring.
However, ceramic and porcelain tile flooring is rather cold beneath our bare feet. Therefore you can install heat radiant before the final installation. These floorings do crack if not installed on an even surface or if they get a hard crash.
In some conditions, the surface can get very slippery, too. But no worries! Ceramic and porcelain tiles are effortless to clean in any way possible.
7. Carpet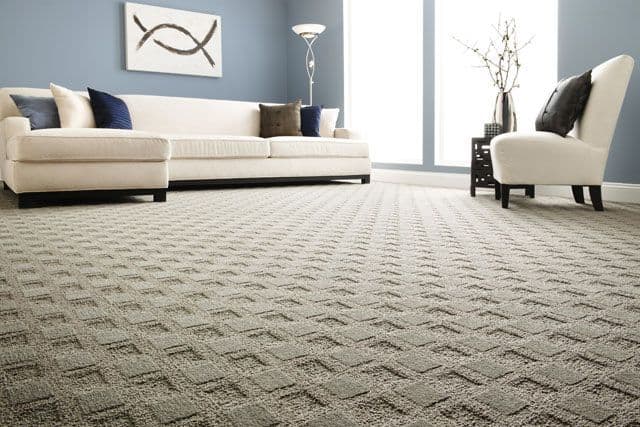 Carpet flooring has that warm and soft feeling that is very comfortable beneath our feet. You can stand on carpet flooring for a long time without feeling so much hurt, or you can sit and lay down on carpet flooring. That'll be comfy!
The texture of carpet flooring is smooth with some fur and fabric. You glue or nail it down to the floor.
Carpet comes in so many designs. Colors and patterns, too! For the texture and appearance, you have nothing to worry about.
However, you should be able to handle the maintenance. It is made of fabric, so it does stain and absorbs water.
So it is clearly not water-resistant in the first place. Be careful about water because your family, especially children, may cause a water spill someday. You can clean your carpet flooring by vacuuming or dry cleaning it. It is tough to take it off, like rubber flooring.
When you choose carpet flooring, consider that carpet flooring traps allergens and smells. Therefore daily treatment must be done if you have carpet flooring. Moreover, if the traffic is quite high, cleaning is a must.
The Verdict
Choosing flooring options for your living room may sound easy because the living room is usually built bigger than other rooms, excluding the recreational room or basement, perhaps.
Nevertheless, you still need to consider the three points I have given previously: the room style, maintenance, and durability.
First of all, consider the style f your living room. If the flooring suits or complements the style and atmosphere, then go ahead to the next consideration. Consideration number two is maintenance.
Make sure you are willing to give well maintenance to your flooring. Each flooring may require different treatment or repairment once it gets damaged. The last consideration is durability.
Measure on how strong your flooring option is. Also, please find out how they respond to water and heat. It would make you understand how easy your flooring option to get damaged.