Don Pedro Brooklyn is reader-supported. When you buy through links on our site, we may earn an affiliate commission. Learn More
5 Best Heavy Duty Flooring Options for Garage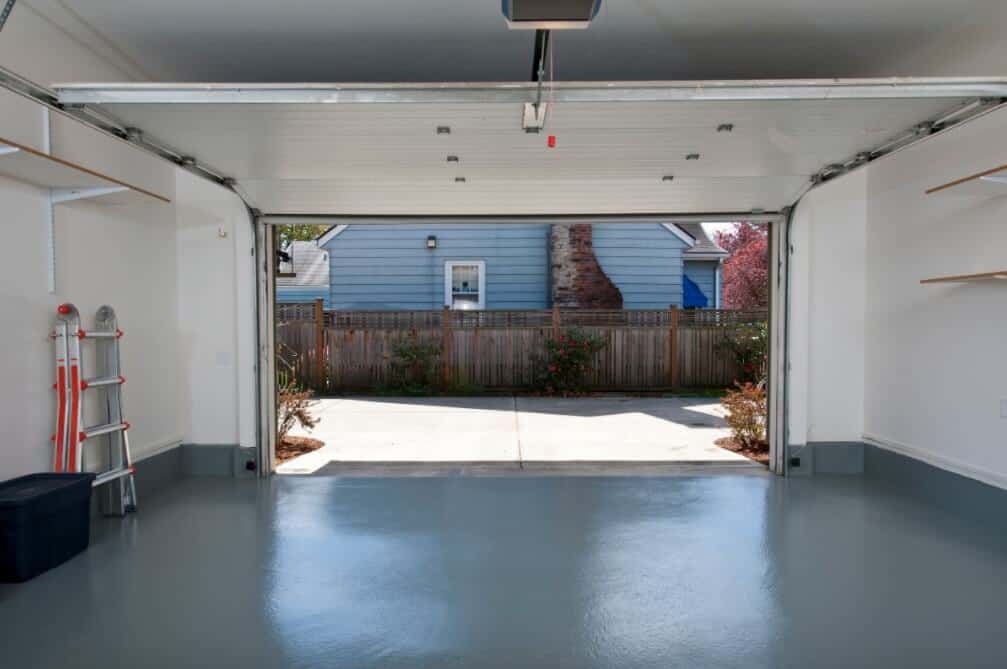 Garage floors need to be tough and durable. But it doesn't mean you have no other choices besides bare concrete.
There are five options for garage flooring that are tough and durable, yet still visually appealing.
It is understandable that some homeowners do not invest in an attractive garage floor as long as the old one still works.
But if you want to give your car house a nice home, installing the best flooring is the way to go. Moreover, it will also increase the resale value of your house too! That's two benefits!
Therefore, it's never wrong to do extra in the flooring for your 'car house.'
Things to Consider Before Choosing Your Garage Floor
The garage is gonna be loaded with many pieces of hand tools, oil spills, and automotive parts.
So the floor should be tough enough to hold extra pressure and easy to clean at the same time.
Durability. Stick in mind that you're gonna have so much weight in your garage. Your flooring type must be able to withstand heavy material that it would not crack or break once your car goes in.
Maintenance. Speaking of automotive, you'll never escape the dirt. It could come from car oil or any other stains. Therefore, make sure you can handle the maintenance to keep your floor durable and clean.
Best Flooring Options for Garage
Wait no longer! Here is the list of the top five best flooring options for your garage.
1. Concrete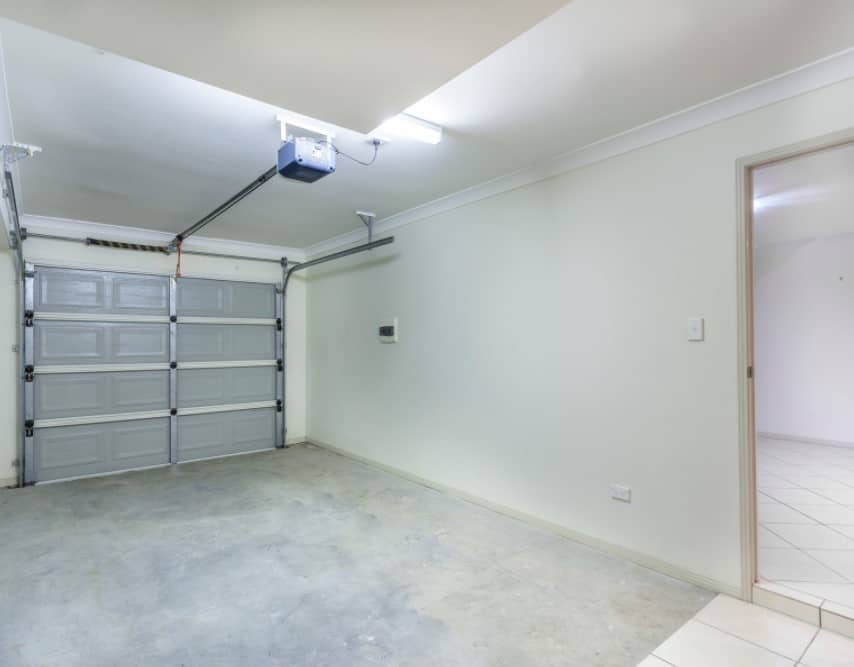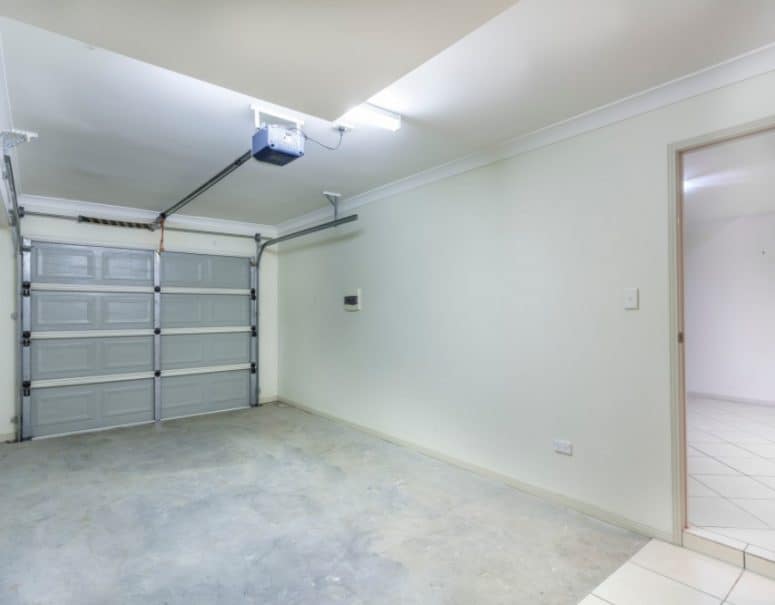 People say simplicity will never go wrong and simplicity in flooring is no exception. I think you'll say that concrete flooring suits the garage even without any extra touch.
A concrete slab as the flooring in a garage has already fulfilled what it takes to be a perfect garage floor, as it is anti-slip and highly-customizable.
What you need to do is to make the flooring in your garage even. Even concrete flooring doesn't look bad or cheap once you clean it well.
Also, there is much development on how people decorate their concrete flooring with some paints and coat to make it look better.
In terms of maintenance, concrete flooring is super easy to clean. You can do damp mopping because even a waterflood doesn't damage concrete flooring. That sounds durable.
2. Epoxy Floor Coating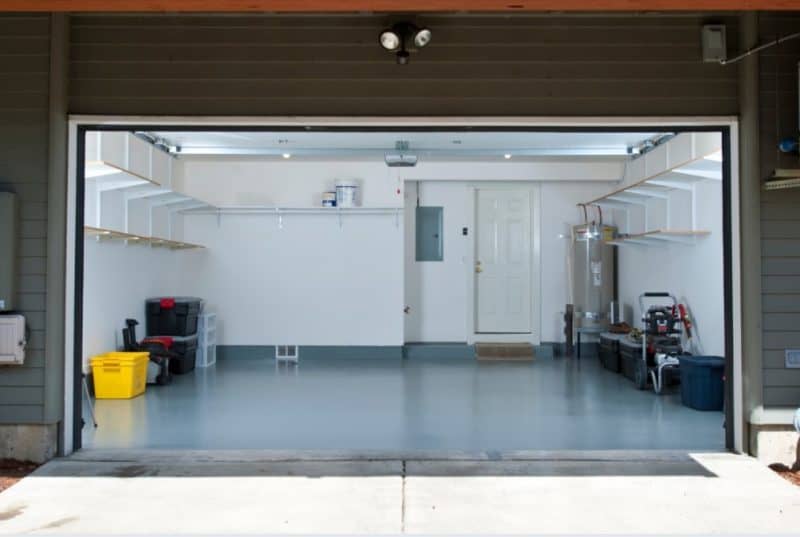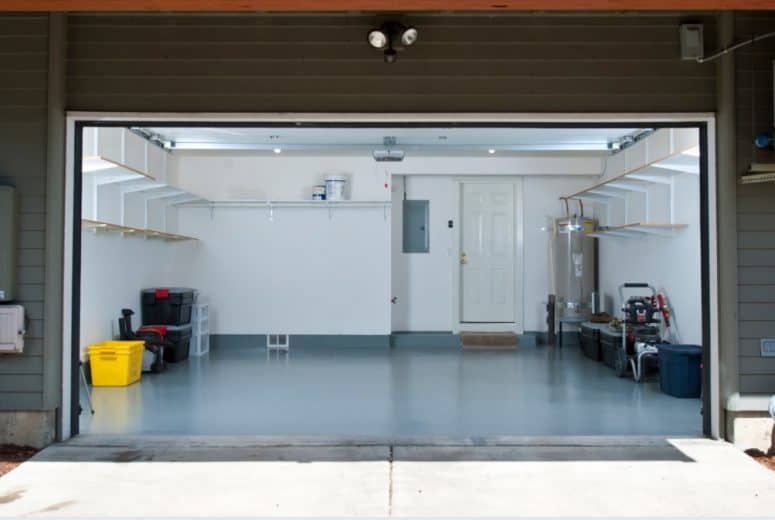 What is actually an epoxy floor coating? It is some kind of paint with different kinds of materials and different texture once it is installed.
Epoxy functions as a colored sealant for concrete or such a leveled substrate. This one contains acrylic latex with better protection.
Epoxy floor coating also has a stickier base once it is installed. Therefore it has better durability over standard acrylic paint as well.
What makes epoxy different from standard acrylic paint is that epoxy coating is able to withstand water, moisture, oil, chemical substance, even abrasion.
That is what people like about epoxy. It is very durable and promising for your garage. Having this installed right there, your garage is not gonna look dirty for a long time.
Nevertheless, when painting needs you to only clean the substrate beforehand, epoxy requires more. You're gonna have to set the primer until the finishing.
You have to do some steps or methods, such as shot blasting, scarifying, or grinding in order to create layers on the floor. That way, you can maximize the benefit of the epoxy floor coating in the garage.
3. Paint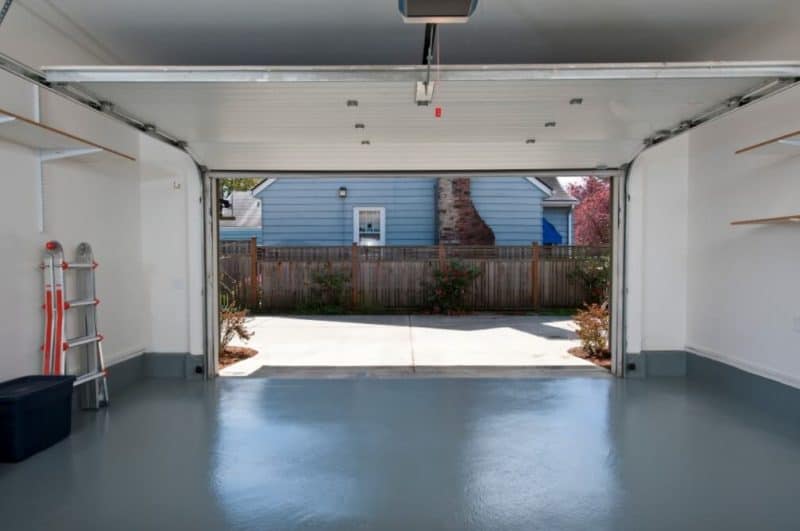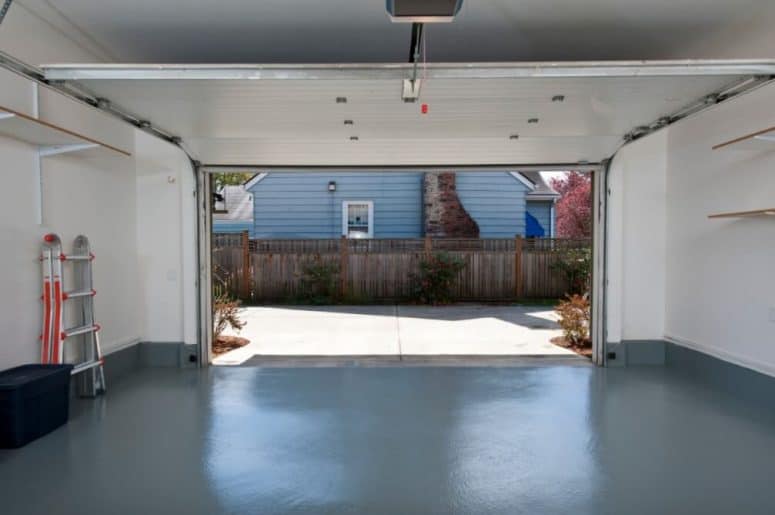 This one is the way how you beautify your concrete flooring. Well, make sure to choose the best quality of paint. Choose those which contain epoxy as well to have better finishings. You will have some grease, oil, or rust in your garage, right?
Those make stain for sure! Brushing the floor with paint helps you with that one. Once your floor gets dirty or stained, you just have to re-apply the paint on the floor again.
The installation of this type is also very simple that you just need to clean the surface of the concrete flooring.
After that, you wait until the surface is dried out. Once it's dried, you're gonna have a clean substrate and you can directly brush the paint.
However, unlike epoxy, paint is not very durable. Yes, it is waterproof and able to withstand heavy materials. But the color gets fade over years.
Your garage flooring is gonna look a bit pale with some stain. Make sure to have good maintenance once you pick this one.
4. Tiles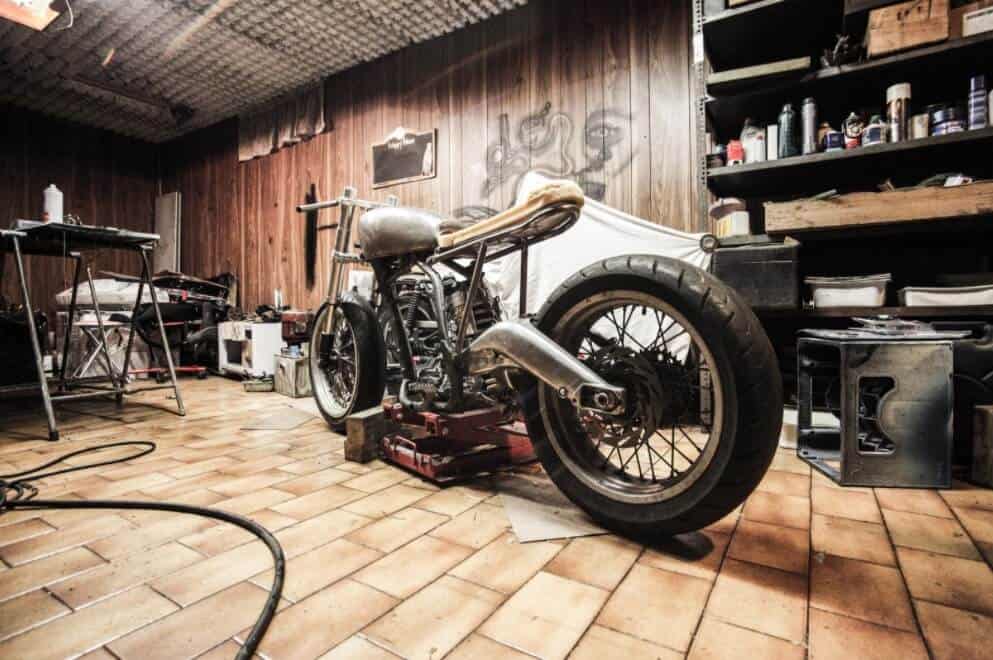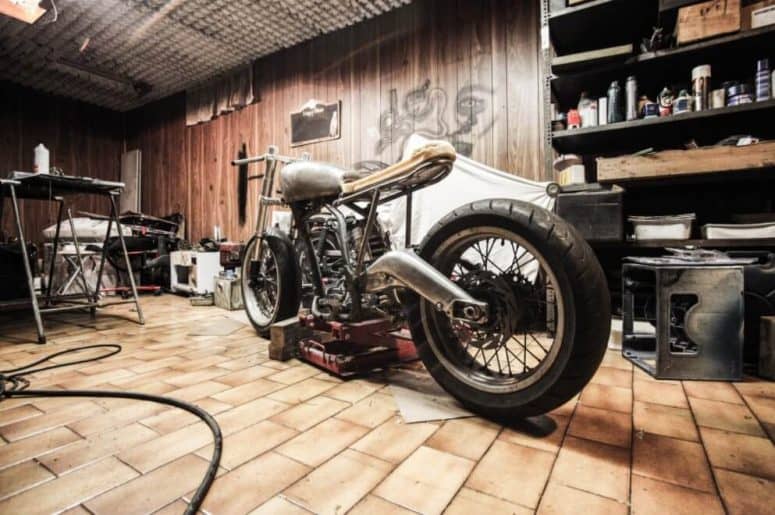 The good thing about tile flooring is that it has that grout at the edge of each tile which sticks each other even tighter and that would handle weight very well.
Even without the grout, like tiles from PVC or semi-plastic flooring, for example, tile flooring still help you in covering the uneven flooring previously.
Well, there are some tile flooring you could pick for your garage. For the professional room on a professional purpose, people usually install specific automotive tiles such as Nitro, Ribtrax, or Grid-loc. But here we give you the options for the home garage.
We have ceramic tiles as the first tile flooring for the garage. Usually, the unglazed ceramic tile is what's more preferable for a garage. That's because the unglazed is less slippery due to its textural surface. It's very durable as well, just be careful on a hard crash since ceramic tile might crack.
The next tile is rubber tile. This one is comfortable to step on and it has the interlock method on the edge. That makes rubber tile easy to install and easy to wash.
However, once it stains, it's hard to clean. Also, make sure to have the best quality. Otherwise, this would not withstand your car and get damaged.
There is also a natural stone tile. There are some kinds of natural stone flooring, such as marble, granite, limestone, and others.
Marble is one of the most preferable natural stones to be installed in a garage. The smooth and anti-slip texture of marble stone is suitable for the car and vehicle to be parked in such a room.
5. Vinyl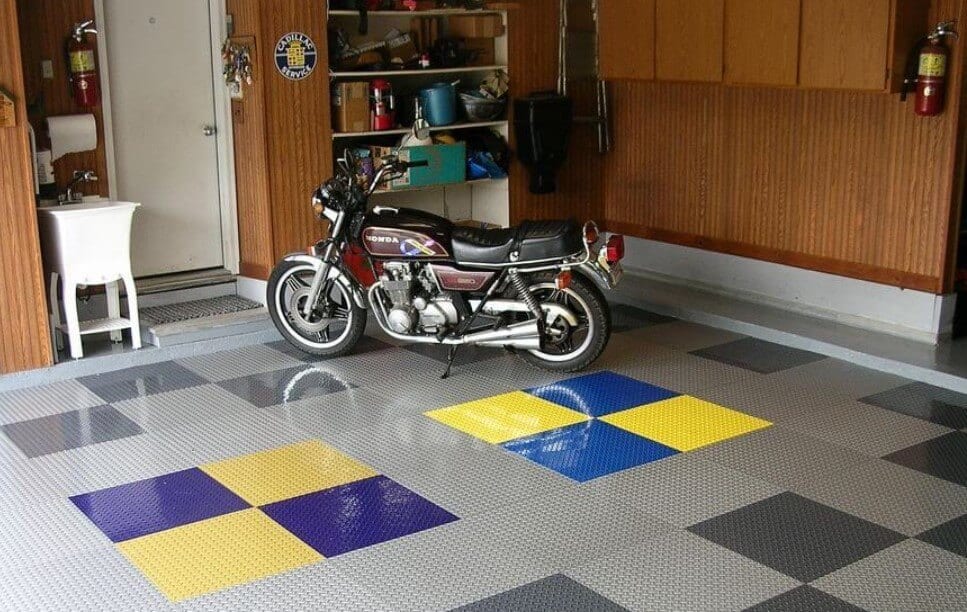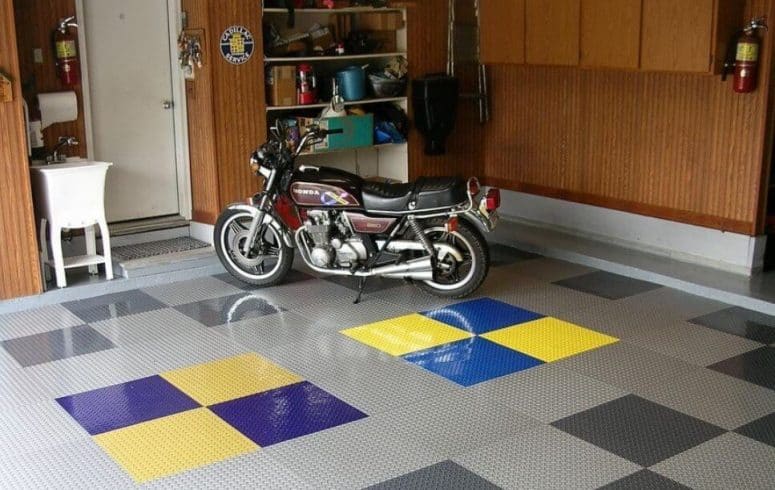 We both know already how versatile vinyl flooring is, and it suits a garage as well. There is a heavy-duty vinyl tile that has an anti-slip texture on the surface which is good for a garage.
That's because there would be vehicles with different sizes of the tire from different vehicles. Therefore, the anti-slip texture from vinyl helps you to prevent any accident to happen.
The different designs from vinyl could complement the color of the garage as well. Therefore, you can also enhance the visual attraction of your 'car-house' by modifying your flooring type.
Wrapping It Up
At the end of the day, the flooring for a garage requires durability, well-maintenance, and anti-slip texture.
That is because the garage is gonna be loaded with vehicles, grease, and all automotive equipment.
So it all depends on your preference and comfort in which flooring type you would like to install. The vehicle you have, whether or not it is big or small, might also affect your preference for flooring.