Don Pedro Brooklyn is reader-supported. When you buy through links on our site, we may earn an affiliate commission. Learn More
8 Blue and Gold Bedroom Ideas
Blue and gold make for a super exciting color combination. Blue is a serene color, it brings a certain calmness to a room. While gold on the other hand is eclectic and dramatic, making heads turn.
These two colors might seem like an unlikely pair, but it's a pair that's going to make you fall in love. And it works especially well for bedrooms! Here are some of our favorite picks for blue and gold bedroom ideas.
Navy Blue and Gold Make a Perfect Match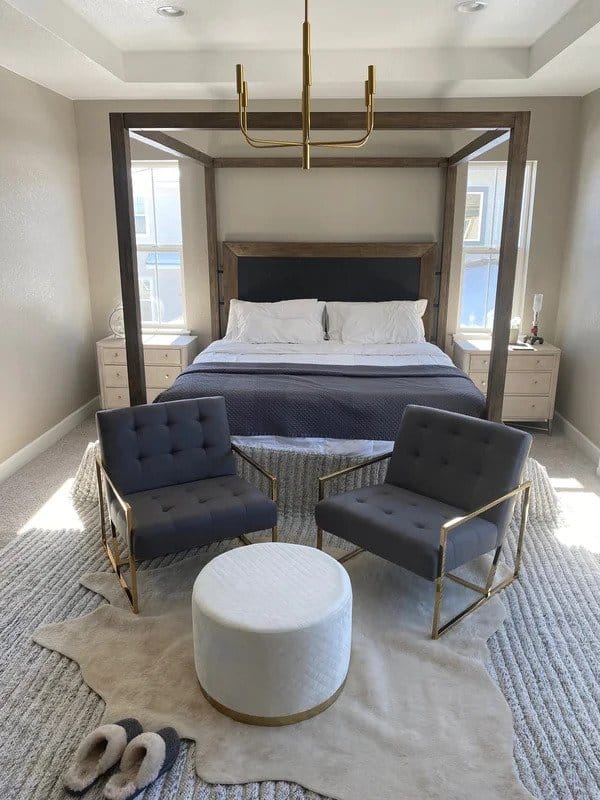 When talking about this gorgeous color combination and where it works the best, we can't help but mention a modern navy and gold bedroom first. Navy is a stunning shade of blue, that looks sophisticated and almost dramatic.
It has a flair of its own. And adding some dramatic golden details will make this room pop. Here, you can see a golden chandelier that has a pretty simple design but feels so grand in such a room, among the navy furniture. That's exactly the power of this color combination!
Find a Blue and Gold Wallpaper to Make Your Room Pop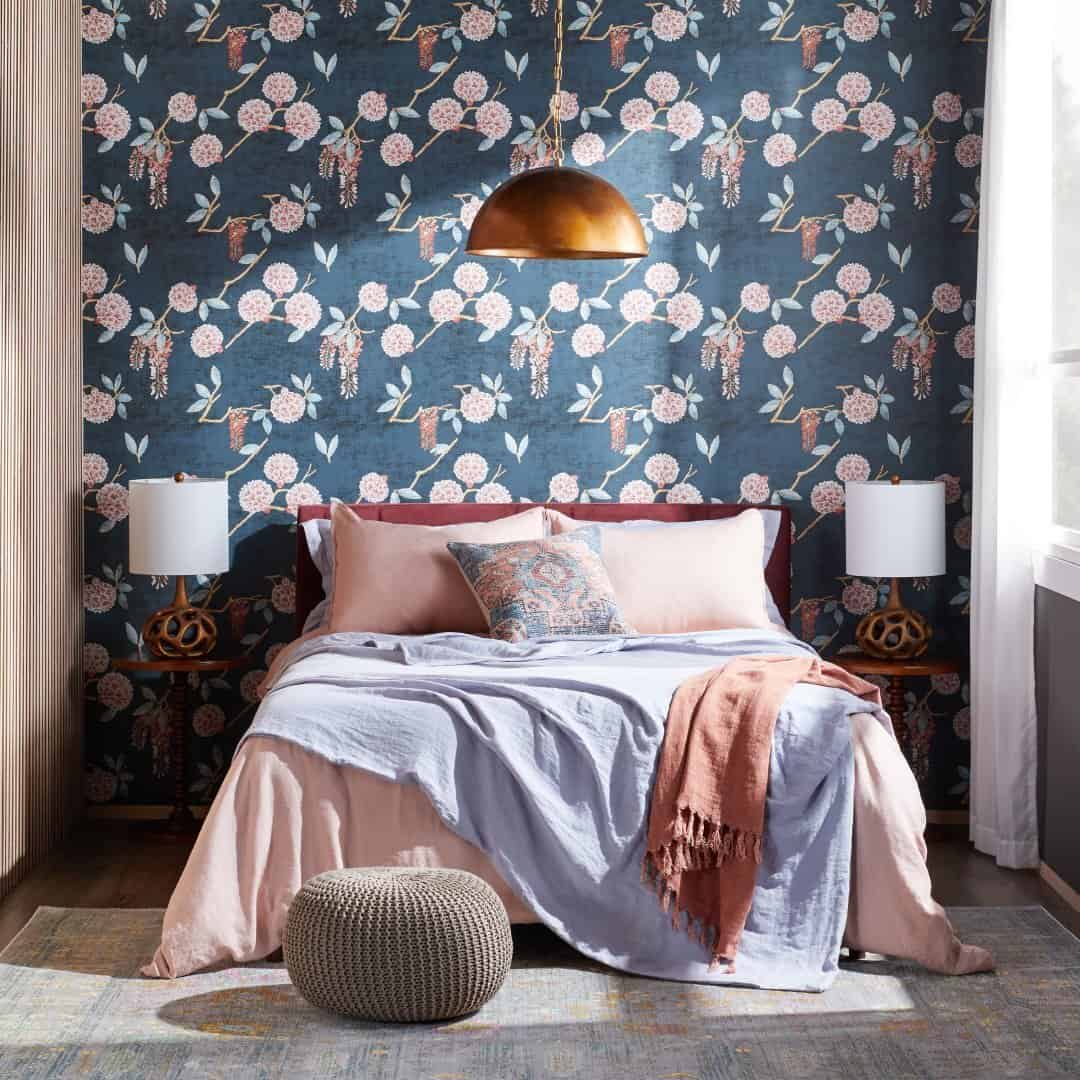 If you've been into this color combination for a while, but aren't sure how to incorporate it in your bedroom, we wholeheartedly suggest investing in a good wallpaper. It's the easiest and best way to start with that blue and gold combo. And it's quite an effective one!
A wallpaper such as this one has a stunning dark blue background, with rose gold and gold details. This wallpaper helps tie in the pinks and golds, with a touch of blue, creating a comfortable boho heaven anyone could easily fall in love with.
Blue and Gold Work Amazingly in a Modern Bedroom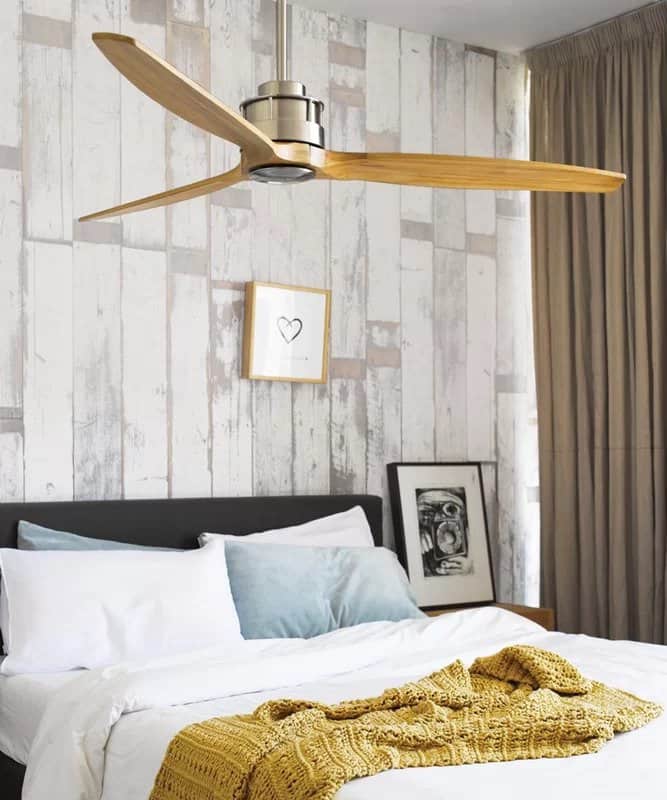 It feels as if modern bedrooms were simply made for this gorgeous color combination. It simply elevates the room to a whole nother level. Even if you want a lighter room. Here we have another great example of that.
Having white walls as the base makes the room feel brighter immediately. The bed is colored a deep midnight blue, that's almost black, creating a beautiful visual contrast, against the wall and the light blue pillowcases. But adding gold details on top of it, such as this throw and fan completely transforms the room. Stunning, tasteful decor!
Make Gold the Dominant Color in Your Bedroom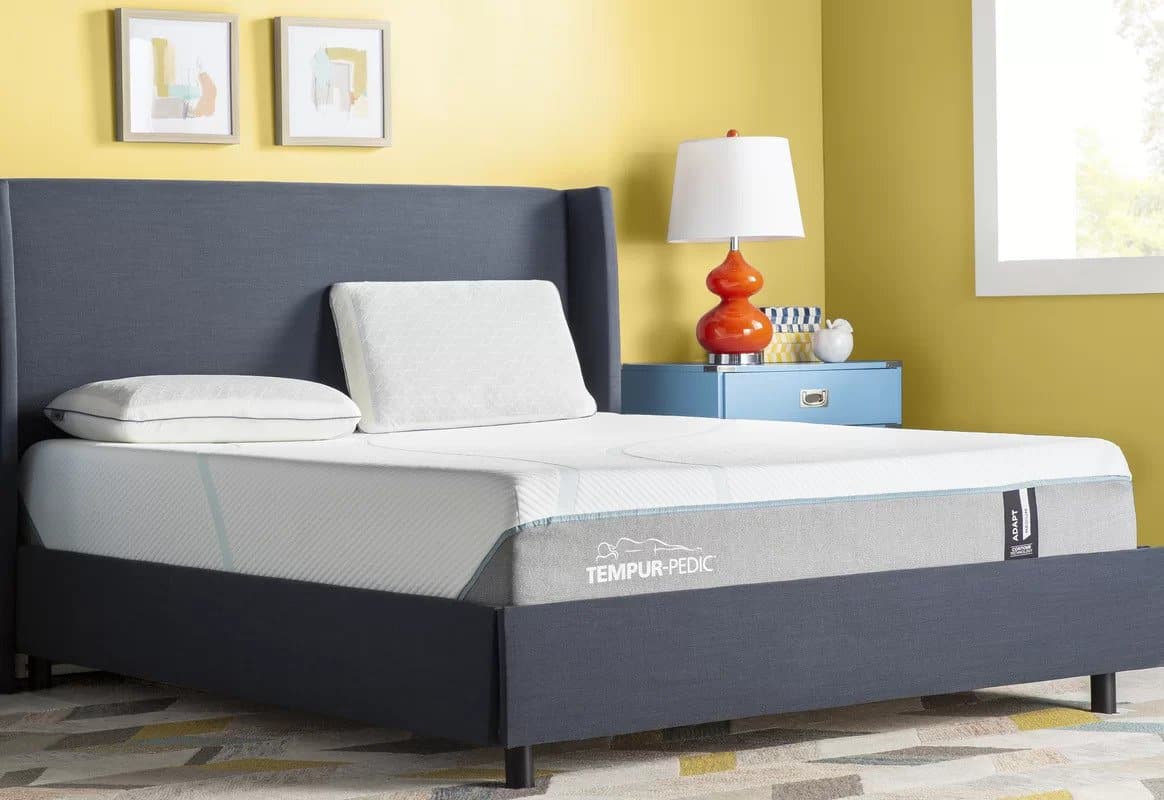 When it comes to this combination you can experiment as much as you please. You don't need to be conventional and make blue the main color while keeping the details gold. The inverse looks just as good.
Gold is the dominant color here, with the walls as well as some details. Putting up such a bright nightstand against these opulent walls gives the room a fun, eclectic look. It's a bright choice, but it doesn't feel overbearing. An exciting idea to think about!
A Blue and Gold Combination Looks Amazing With Almost Any Decor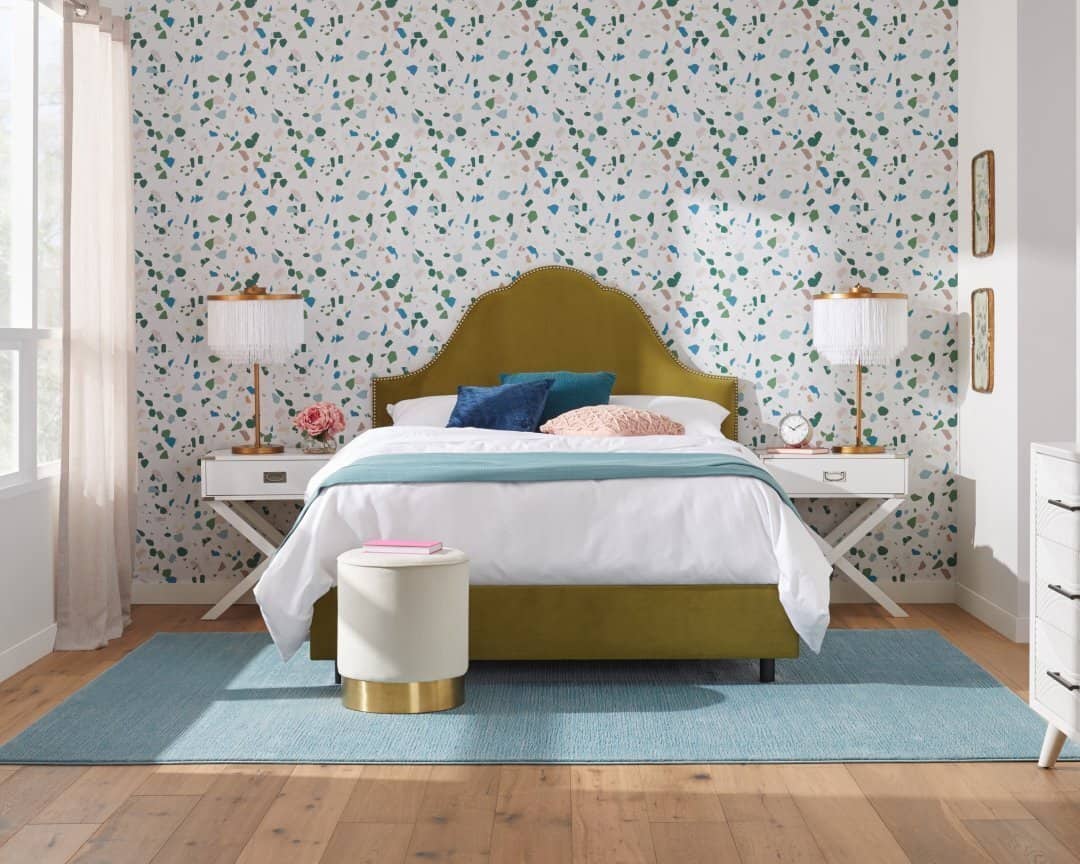 When you're considering blue and gold bedroom ideas, you might think you're "stuck" with a certain type of decor. Even though this color combo works wonders in a modern bedroom, you can do whatever you like! This color combination will still come in style.
Here's a great example of a transitional bedroom that's bright, beautiful, and very much blue and gold. Gold takes the wheel here, as the bed is made out of gorgeous golden velvet. But the details of the room look stunning in lighter hues of blue, showing that this color combo can work in many different ways.
A Golden Bedframe Always Looks Stunning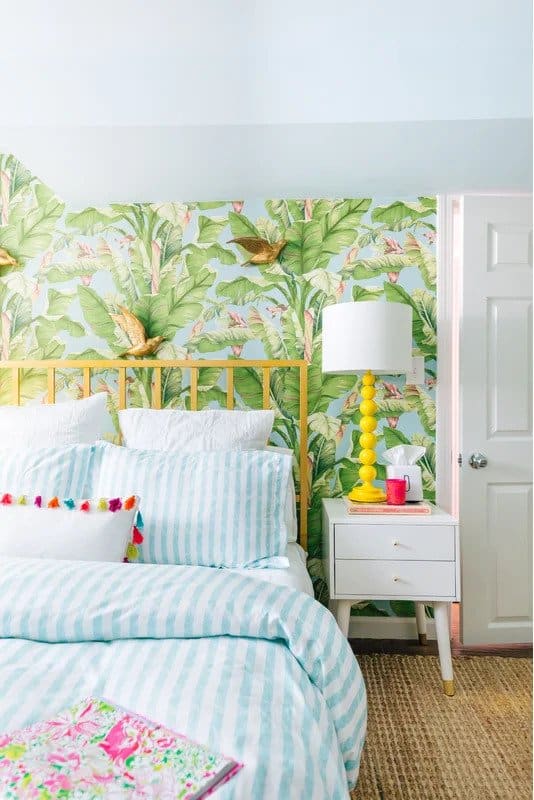 There's a simple rule when it comes to this color combination that works every time. You just can't go wrong with investing in a golden bedframe. It looks regal and gorgeous. But depending on the rest of the decor it can feel eclectic and even have a vintage tone.
In this joyful coastal room, a golden bedframe feels bright, exciting, and modern. The golden frame is paired beautifully with the greens and yellows in the room. But the sky blue bedding, as well as the base of the wallpaper makes blue and gold the main color combo in this bold bedroom. And it looks fabulous.
Blue and Gold Details Make the Room Look Regal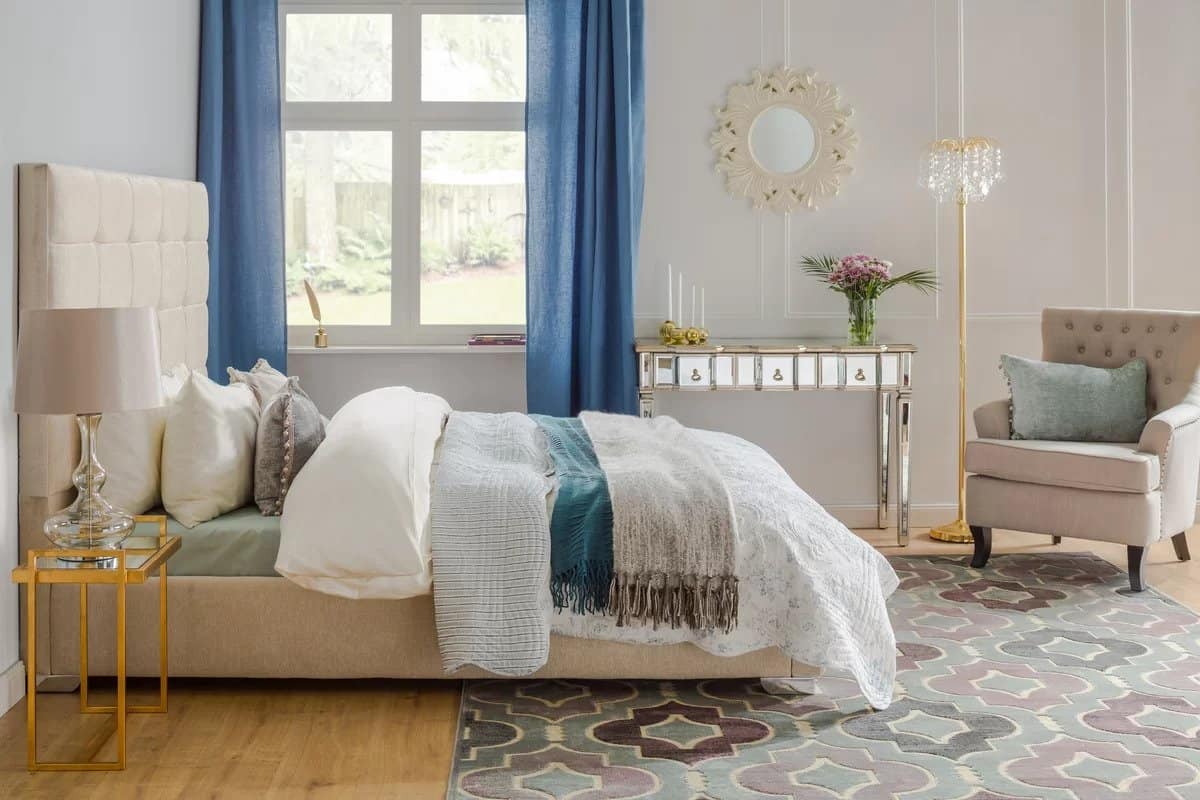 Perhaps you're interested in spicing up your bedroom decor, but don't want to fully commit to the blue and gold scheme. And that's completely okay! Blue and gold are gorgeous options when you want to add some regality to a room and elevate it, as you can do so with minimal blue and gold decor.
You can see here how easily a neutral bedroom feels immediately richer when you add just some simple blue and gold decor. You don't need to commit to it fully. You can see here that some curtains, a nightstand, and some miscellaneous decor here and there make the room look and feel regal.
Dark Blues With Golden Accents Look Stunning in Traditional Bedrooms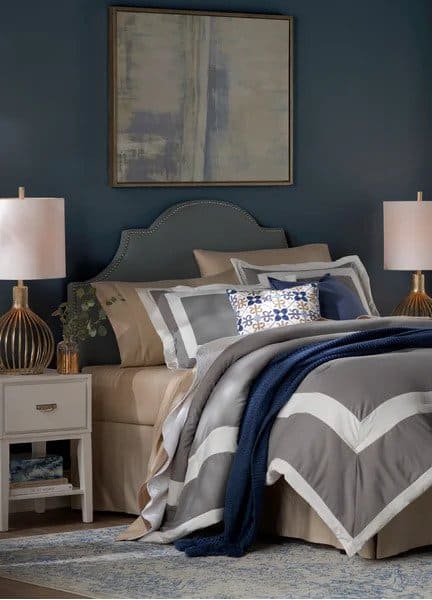 Traditional is a style that can never get old. It's a classic look. So when you're considering navy blue and gold bedroom ideas, you might not think they'd fit into a traditional bedroom. But that's where you'd be wrong.
Navy blue holds such power in a traditional bedroom. It feels rich, sophisticated, and compelling. It works perfectly with that classic tone that traditional bedrooms bring. Add some adequate golden decor, and it will manage to elevate the already gorgeous bedroom to a new level!
Summary
As we've shown in this article, you just can't go wrong with blue and gold. This color combination works with all shades of blue from the bright and exciting sky blue, to the sophisticated navy.
And it works just as well with different interior design styles. From coastal to traditional, you can make this color combo not just fit, but shine. And we gave you some of our favorite looks. So what are you waiting for? Venture into the blue and gold world, and go find your perfect combo! We wish you the best of luck.