Don Pedro Brooklyn is reader-supported. When you buy through links on our site, we may earn an affiliate commission. Learn More
20 Boho Accent Chair Ideas That Will Look Great in Any Room
Are you a carefree soul who admires beautiful traditional patterns, a life full of color and culture, and flamboyant textures? Well, if that's so, you are a free-spirited boho soul! Bohemian interior design is all about ethnicity, colorful vibe, eccentric materials, and chic patterns. And one of the best ways to inject a boho touch in your living room or bedroom is by incorporating an accent chair.
Yes, this focal piece of a chair will speak a thousand words. Generally, a bohemian accent chair is characterized by natural materials like rattan and wicker or upholstered in beautiful colorful patterns. And to help you pick that perfect piece of boho comfy chair, here are the 20 ideas to incorporate!
Peacock Rattan Chair
Inspired by the patterns of a peacock, this beautiful rattan chair mimics the perfect strands of the feathers beautifully interlocking each other. Boho has an affinity for an airy and vibrant feel – and this woven organic chair has the solution to it.
With a slim profile and a comfortable backrest, this chair will undoubtedly make a chic accent in your living room or bedroom. To further feel cozy and comfortable, you can even wrap around a faux or fur throw!
Mowbray Slipper Chair
Add this decorative chair to your space that showcases a vivid plethora of hues, patterns, and textures. This chair is beautifully upholstered to exhibit a cozy and comfortable vibe – keeping in mind the natural and neutral backdrop as well.
You can either pair it with your couch or place it solely to grab the attention of your guests. Lastly, don't forget to add a couple of cozy linen throw pillows to complete the palette.
Ulla Petite Boho Accent Chair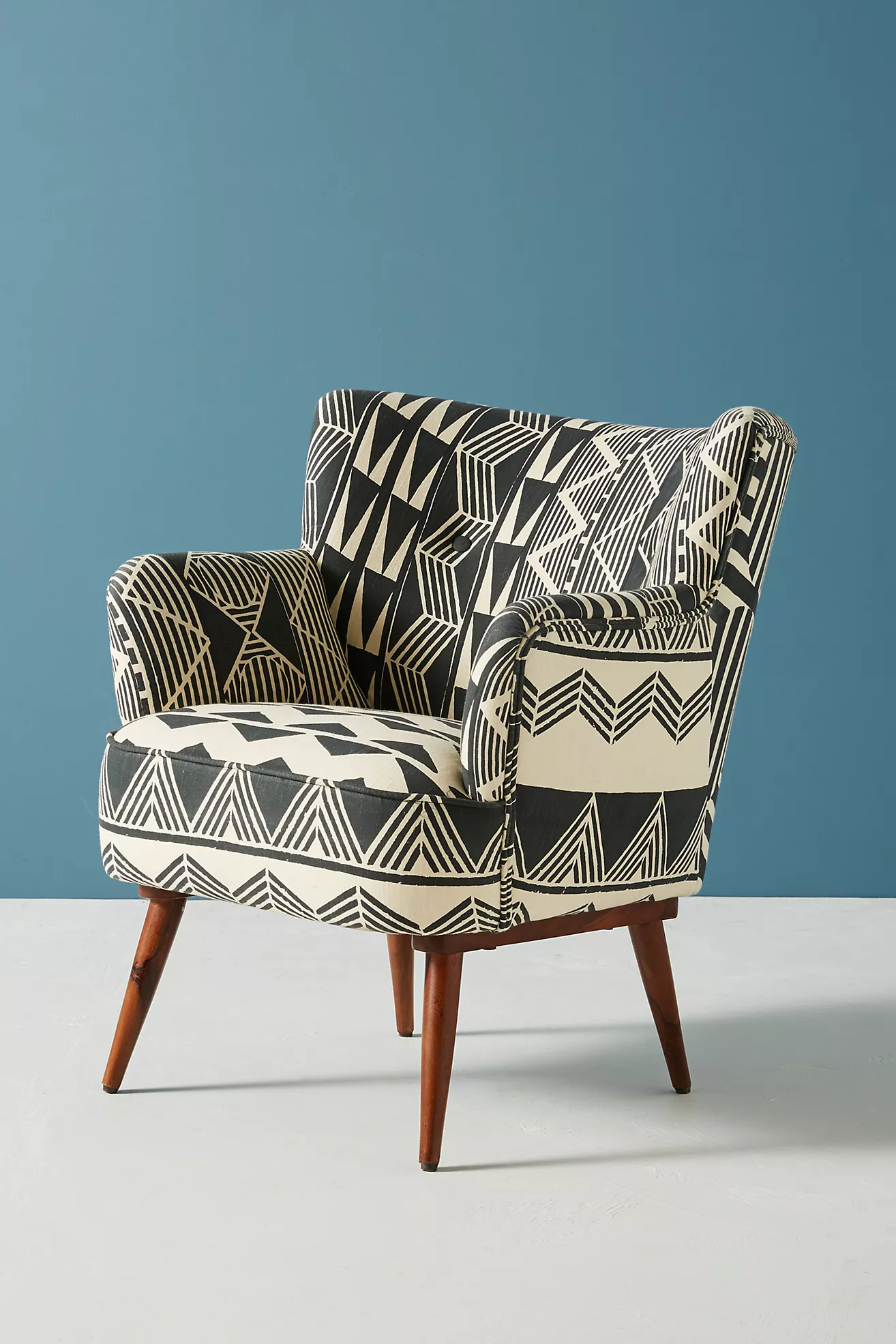 Do you want to keep your boho decor low-key and yet very interesting? Well, this antique piece from Uzbekistan has a creative twist your bohemian living room craves. This unique fabric has an African origin and is fermented using a dye to create several interesting forms and shapes.
Hence, this combination of black and white not only makes a bold and daring statement but also creates a cheerful and vibrant appearance.
Wicker Cotton Armchair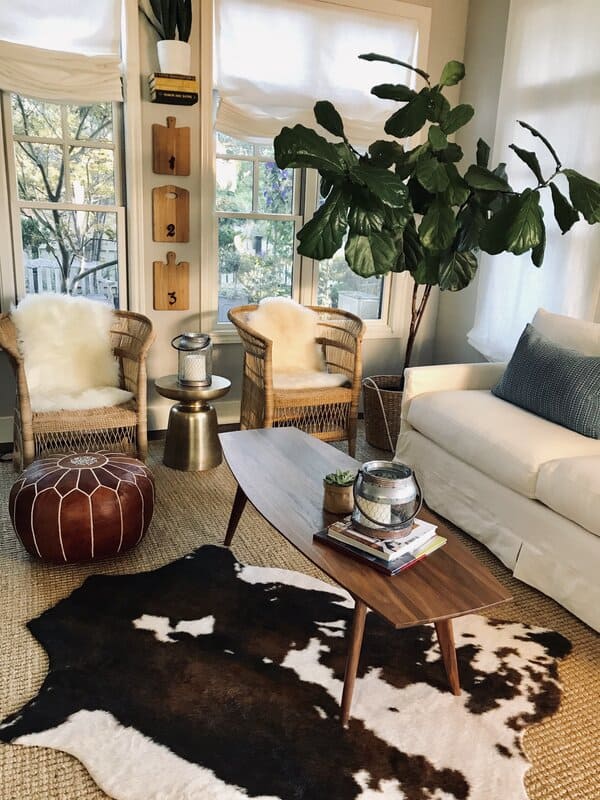 Boho and coastal style go hand in hand! And one such instance that proves the relationship is this beautiful wicker armchair that is a must-have in your bohemian living room. It offers an airy backdrop – and at the same time, showcases glimpses of a beach-style curvaceous silhouette.
To make it more boho-like and cozy, you must add a comfy seat and cushion to further embrace the comfort and practicality!
Finn Fur Armchair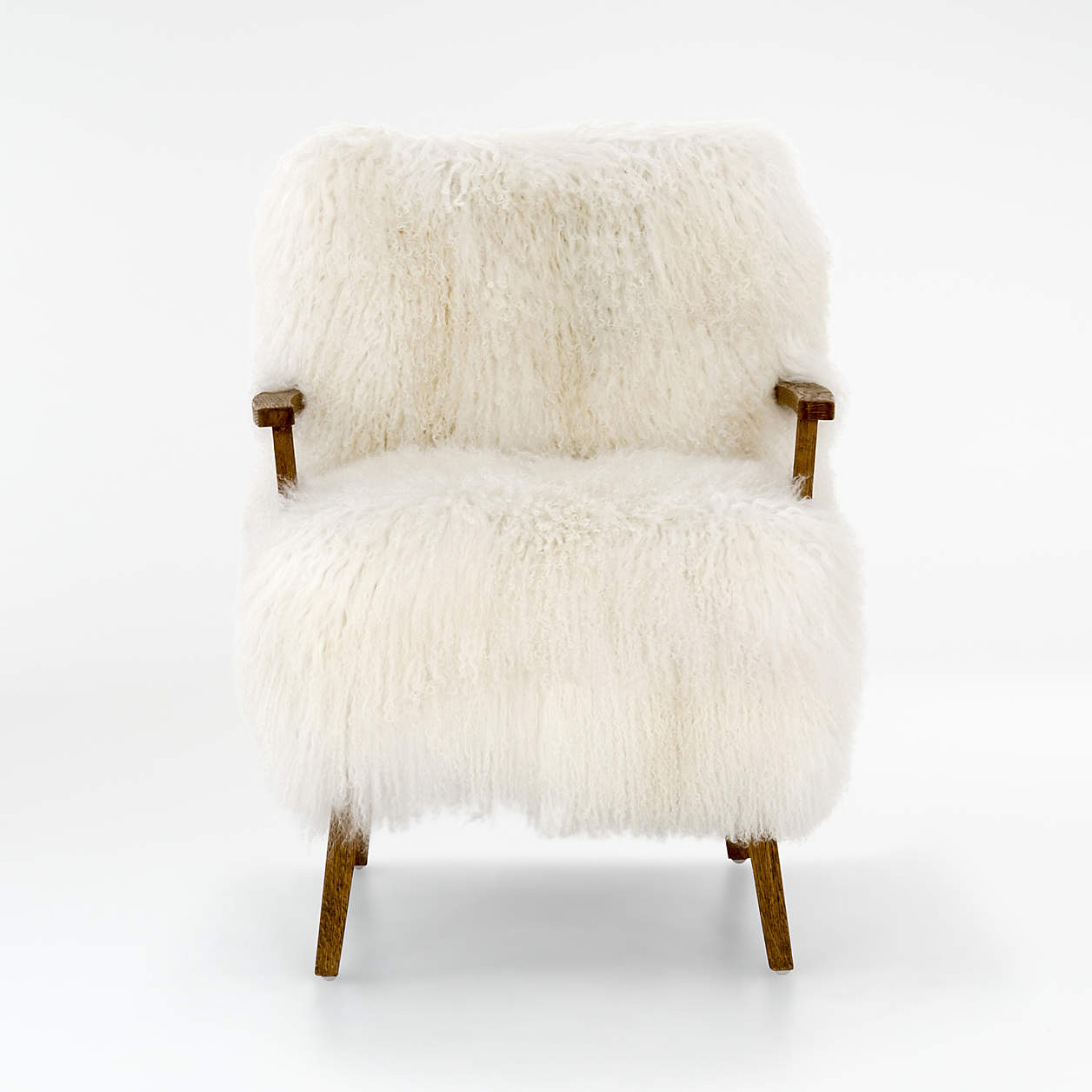 Thinking outside the box from florals, hues, and patterns to something ultra-cozy, ultra-comfy, and ultra-soft – yes, fur it is! This modern boho accent chair will undoubtedly take a major role in your bohemian living room to become the center of attraction.
Boho loves sheepskin upholstery and this soft and silky feel is what you must embrace. Moreover, you would absolutely love to sit on this cozy nook while reading your favorite novel on a Sunday morning!
Woven Indoor and Outdoor Patio Chair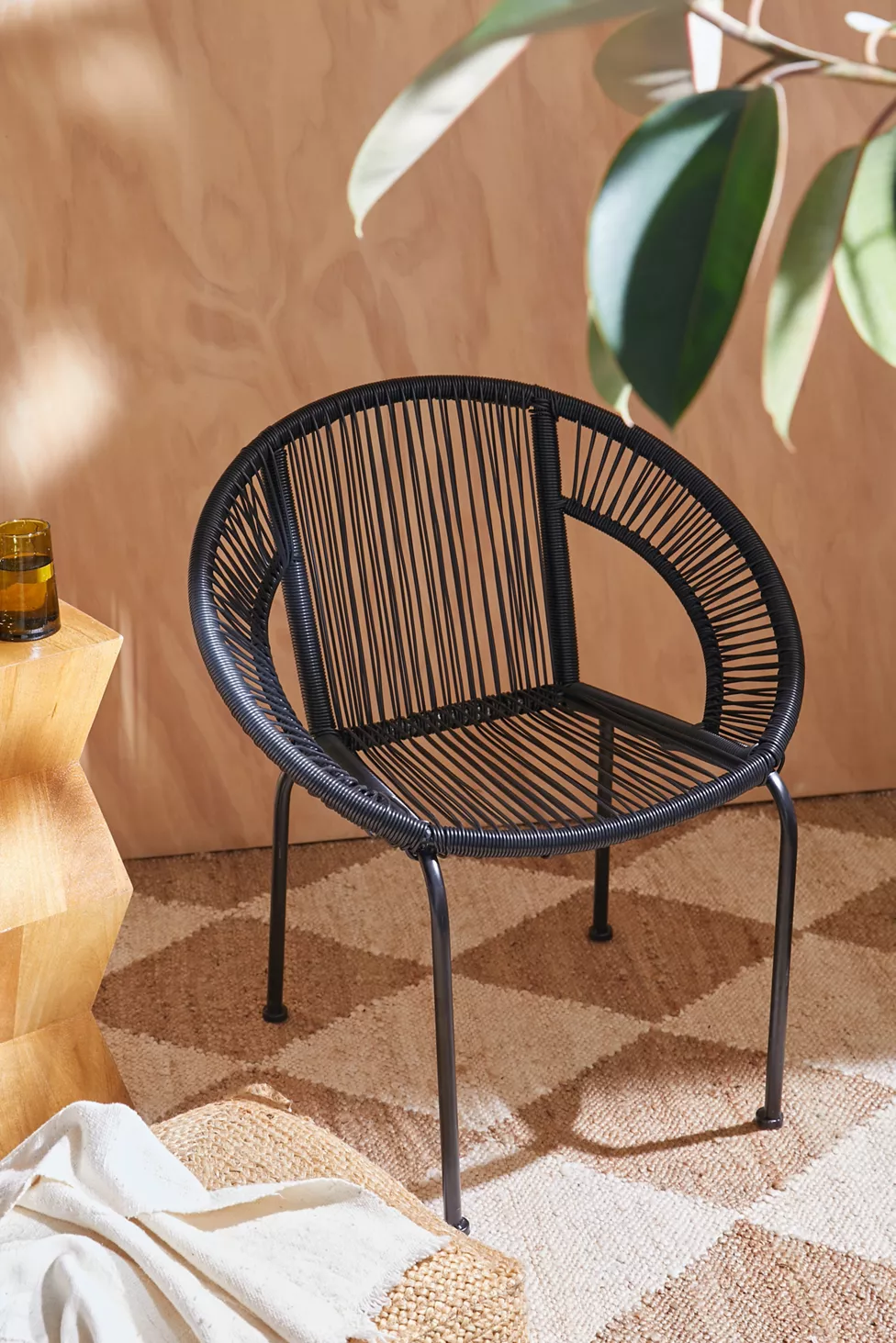 This woven finish indoor and outdoor small boho accent chair has the ultimate magic. It feels light, airy, and extremely homely – and moreover, can be placed in either your living room, patio, or even balcony.
This chair has a round silhouette with skinny metal legs to imbibe a sense of chic, luxe, and comfortable vibe. Moreover, this lounging chair can be equipped with a piece of fur throw and a blanket to go!
Unicorn Occasional Chair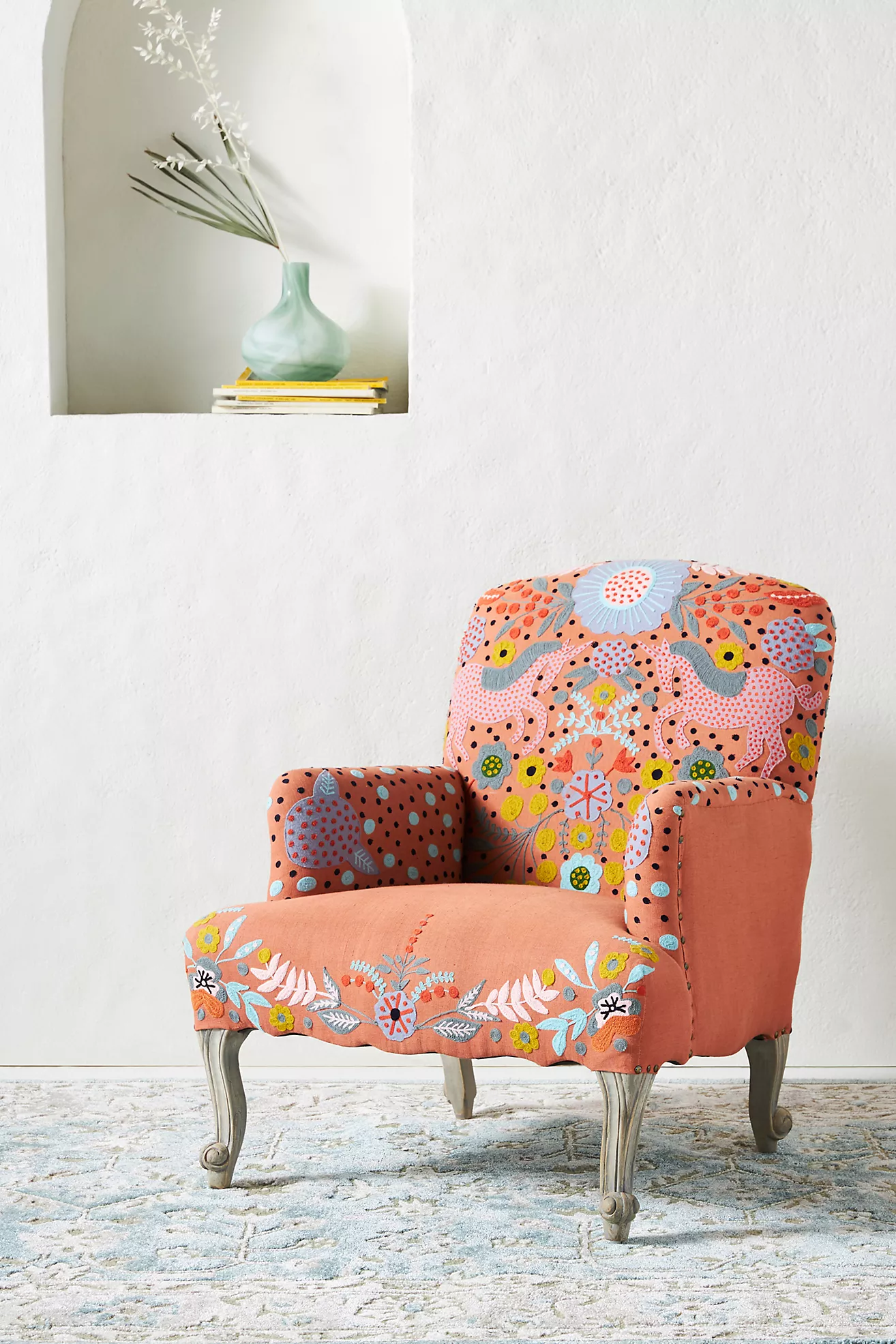 Quite distinctive and quirky, this pretty whimsical accent chair is upholstered in a unicorn theme to exhibit a statement-making touch. It has a twist of vibrant flora and fauna, to give a sense of character and theme to your living room.
It is best to add this vibrant chair as a piece of accent in amalgamation with your neutral-toned furniture. Furthermore, you can even add a couple of coral and blue throw pillows to create a cohesive background.
Tufted Papasan Boho Chair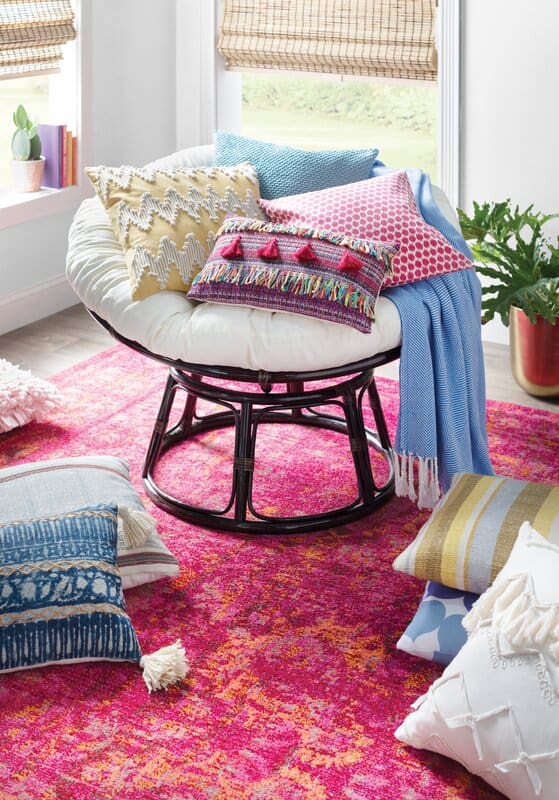 A Papasan chair is a perfect addition to your bohemian living rooms. And do you know why you must embrace it even more? Well, the fact that it's versatile, timeless, and extremely comfy and cozy. It exhibits a perfect boho touch since the wicker base with comfortable upholstery is what your free-spirited space wants!
Moreover, you can plan to place it in a cozy corner of your home or somewhere even outdoors for a well-rounded experience.
Shaina Accent Chair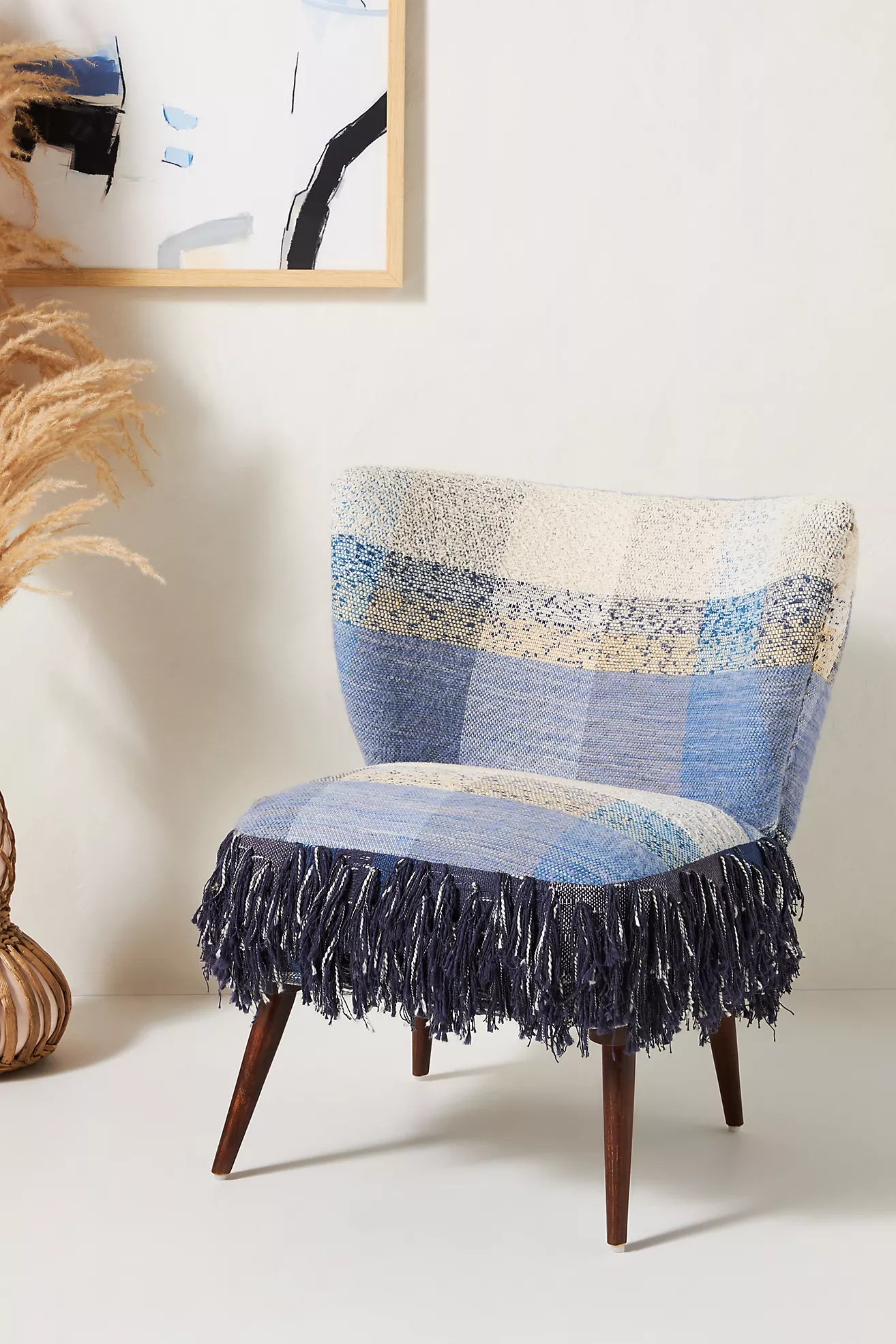 There is something unique about this chair! Did you guess it right? Unlike the other fabric upholstered chairs, this particular type displays textured embellishments and tasseled ends to further add a detailed dimension to your space.
This bohemian style chair proves to be a perfect example of eclectic style that blends the classical with modern. Not only in the living room, but you can incorporate it in your reading nooks, playrooms, and even nursery!
Woven Modular Armless Chair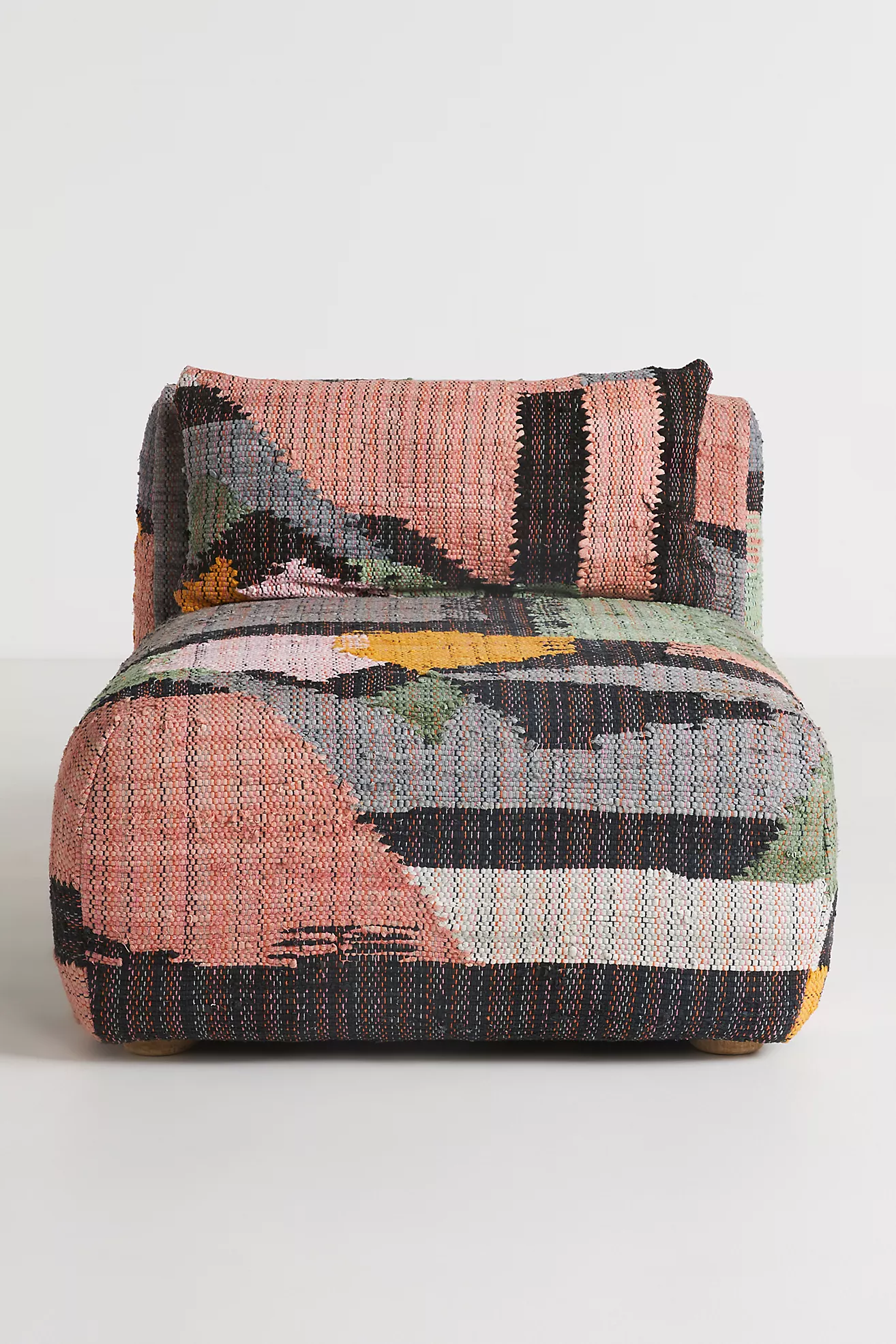 Build a one-of-a-kind boho and eclectic experience with this uniquely modeled armless chair. The interesting multicolored hues bond with the exquisite patterns and fabric to create an overall joyful and homely feel!
It's more comfortable than you can think! Yes, you can simply lounge on it in any corner of your home while sipping that hot cup of coffee.
Selene Paisley Upholstered Chair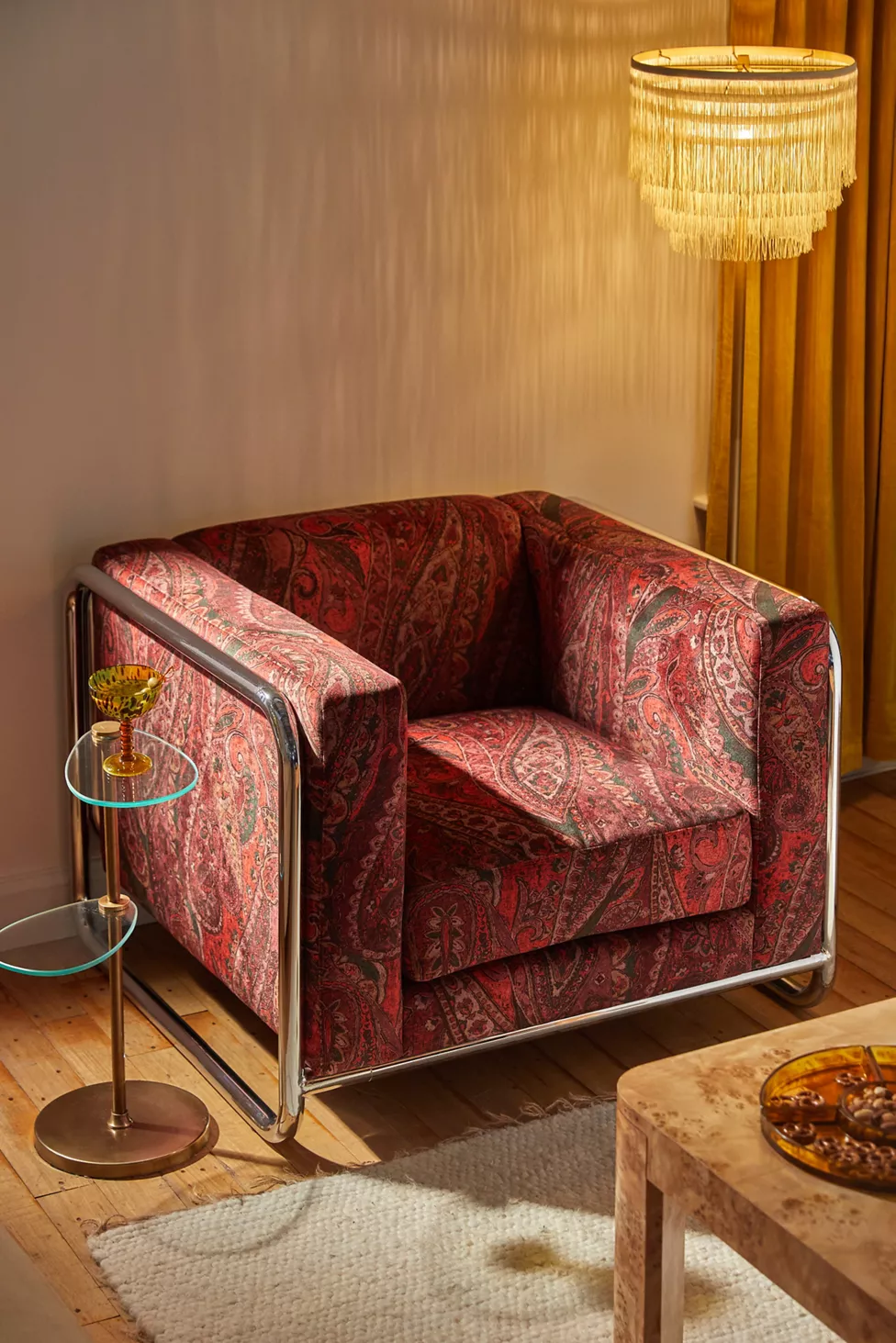 It's not necessary for your bohemian accent chair to always feel light and airy – well, sometimes it can be bold and rich in textures and hues. And one such notable instance is the Selene upholstered chair that takes a major role in your living room.
Symbolizing a cushy and retro touch, this chair is the ultimate decor element that your space needs. Moreover, it's bright red in color to exhibit a warmer and cozier appeal.
Ouen Rattan Accent Chair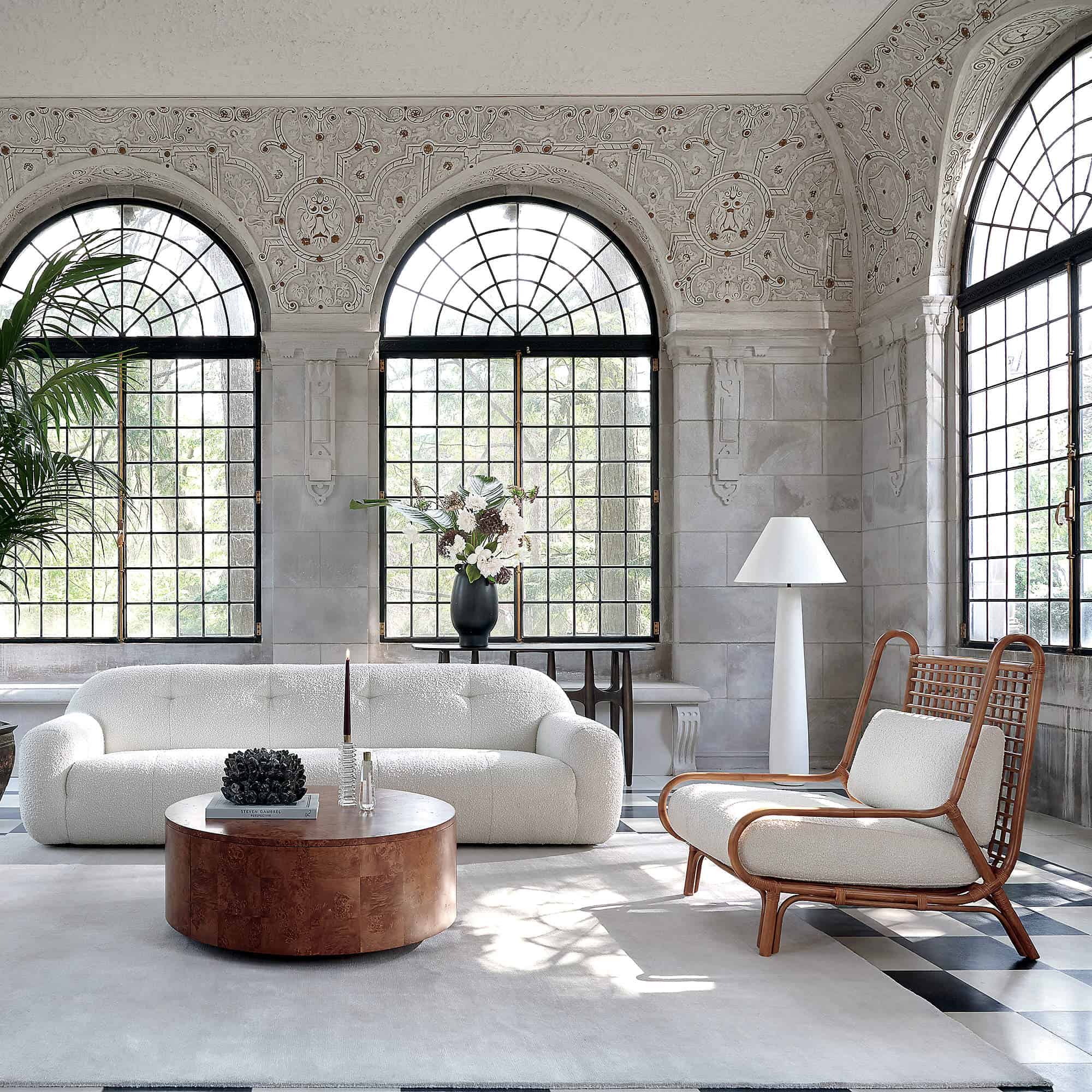 Inspired by a vintage flea market vibe, this ethnic and authentic rattan armchair bounces utmost luxury, comfort, and simplicity in your room. It makes a major statement piece without overpowering or stealing all the attention.
The exposed grid pattern, curvaceous arms, and open feel are what make this chair feel so boho. Lastly, don't ignore how soft the textured ivory fabric would feel!
Rochelle Swivel Chair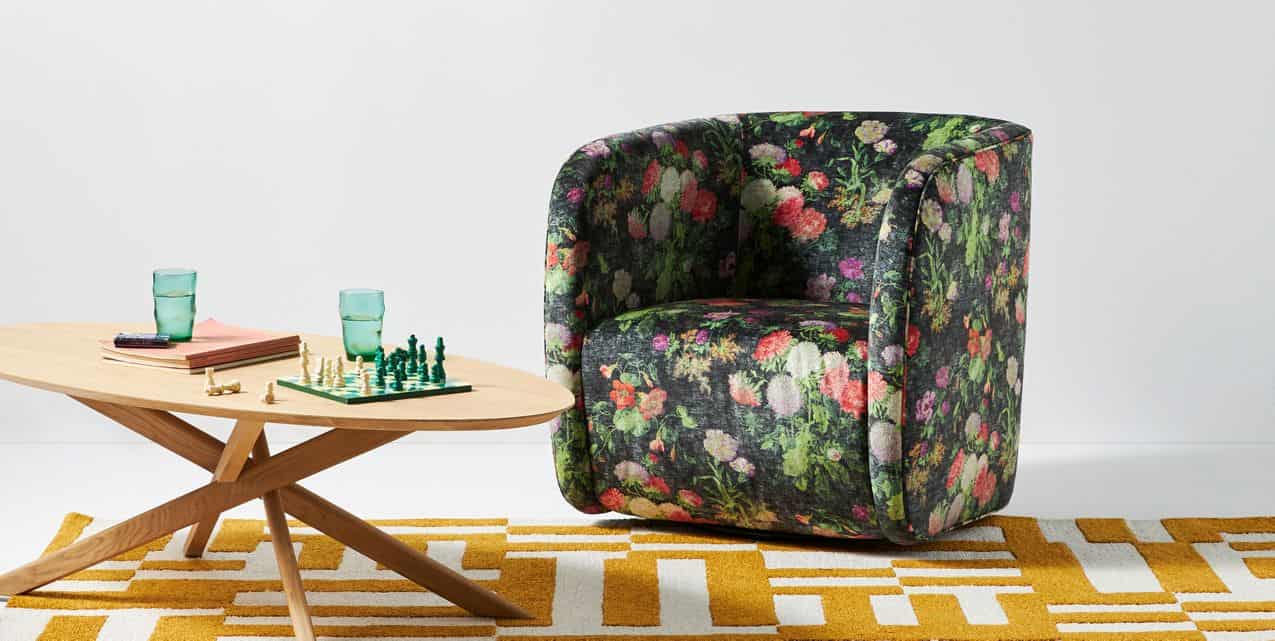 Let's take some floral imprints into account! Do you know the only bohemian rule to follow – well, there's no rule! Unlike other interior design styles, this particular one doesn't really restrict you from a particular pattern, hue, or texture. You're free to be as creative as you want!
And that's why this luxurious chair featuring a high back and sheltered look is something of an item. Also, this chair is equipped with a hidden swivel to give you a 360-degree view of your room.
Howard Beach Side Chair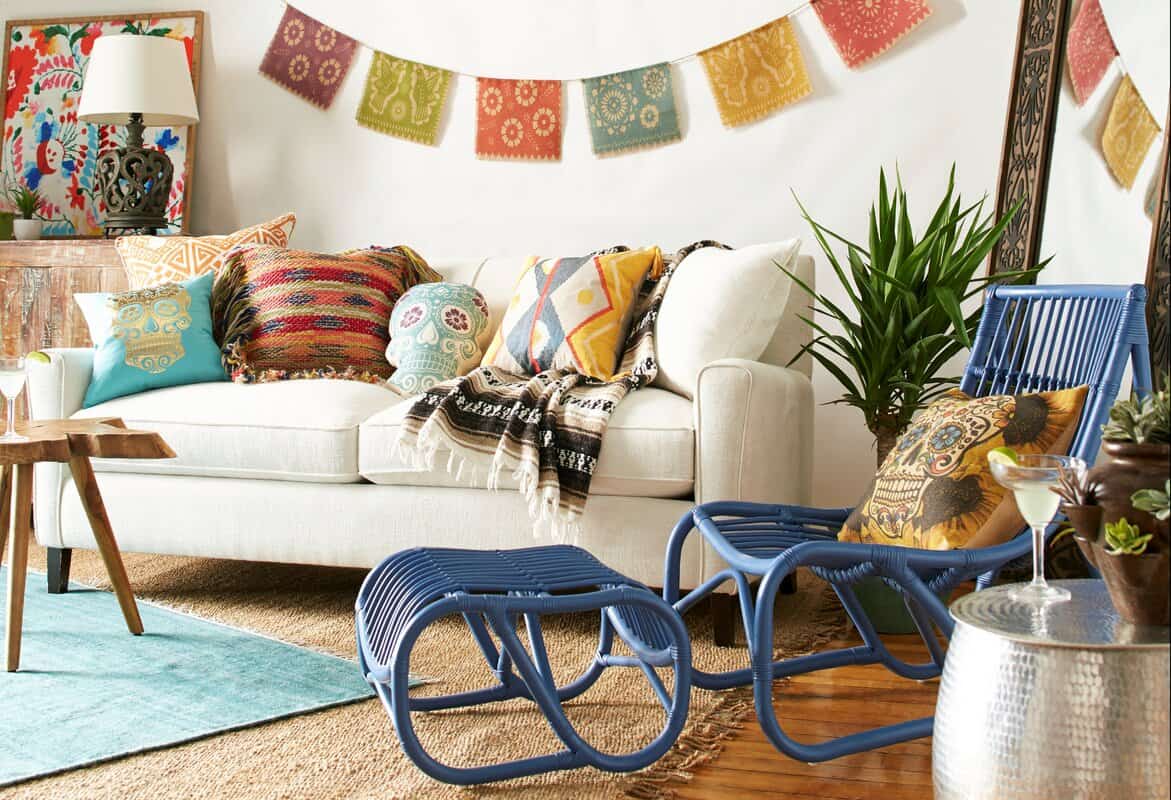 Infuse color and a boho beachy vibe with this stylish wicker emblem. It has a unique shape and form that will work with a wide variety of interior design styles and aesthetics. You can simply place a pillow or two for added comfort.
Secondly, this chair comes with a piece of an ottoman to truly stand out amongst the rest of the boho chairs.
Ashton Caned Accent Chair
This iconic chair features an eye-catchy sculptural silhouette, a strong caned back, and a natural grain pattern to exhibit a one-of-a-kind decor element. More than boho, this chair speaks a thousand words to truly convey your personality and design expression.
This chair is well suited for sunrooms, reading nooks, living rooms, conservatory, and bedrooms. Moreover, apart from the bohemian style, this chair also makes a wonderful statement in the Mid-Century Modern, Japandi, Minimalist, and Scandinavian-styled spaces.
Knotted Hanging Boho Accent Chair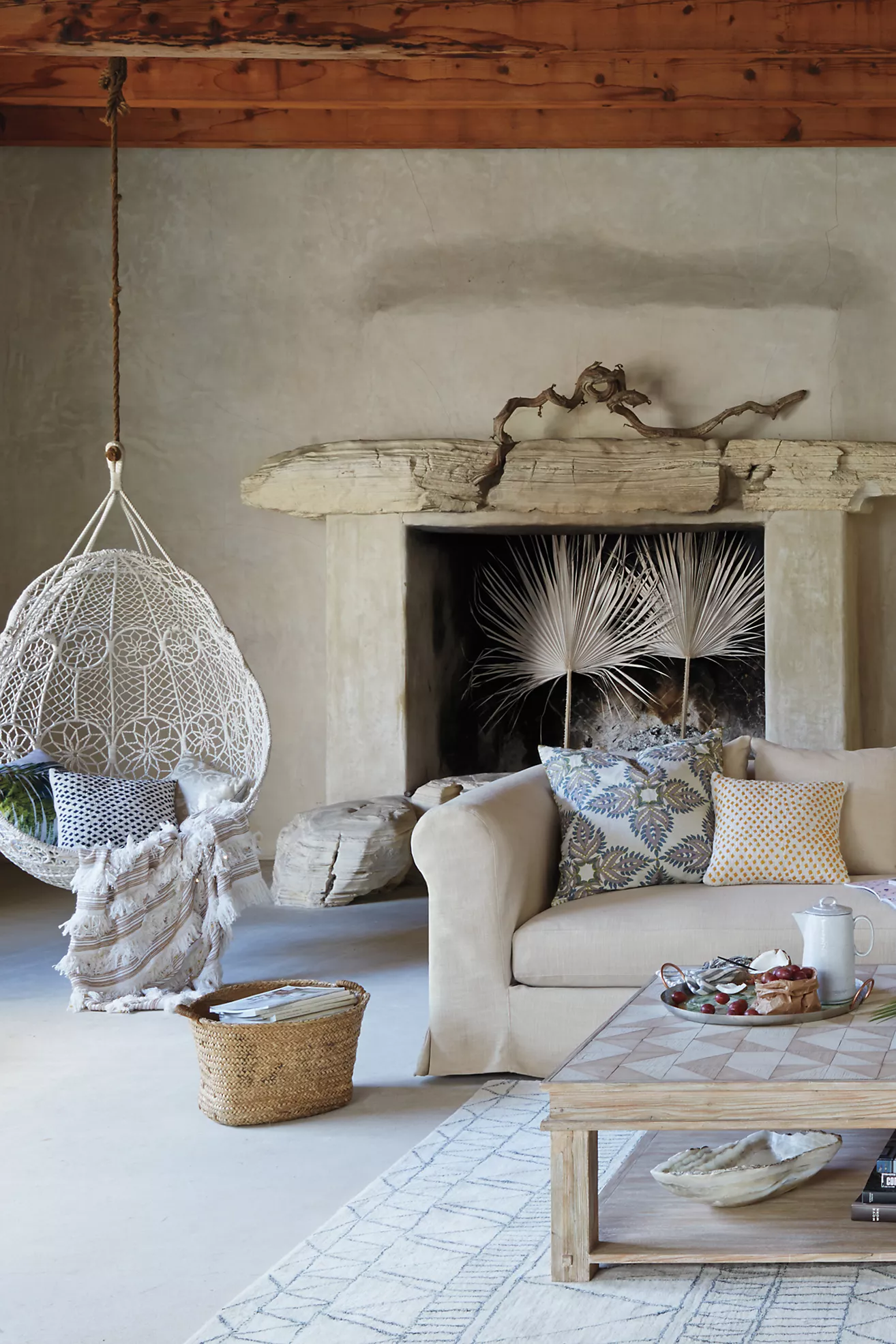 Your boho setup is incomplete without a knotted accent chair that hangs from the ceiling. Yes, and it's even a better idea if you have tinges of macrame incorporated in the panorama of your living room.
To induce creativity and a fun-loving cozy touch, this chair would play flawlessly in combination with rattan and bamboo baskets, a woolen-knitted blanket, and ample multi colored throw pillows.
Modern Boho Rocking Chair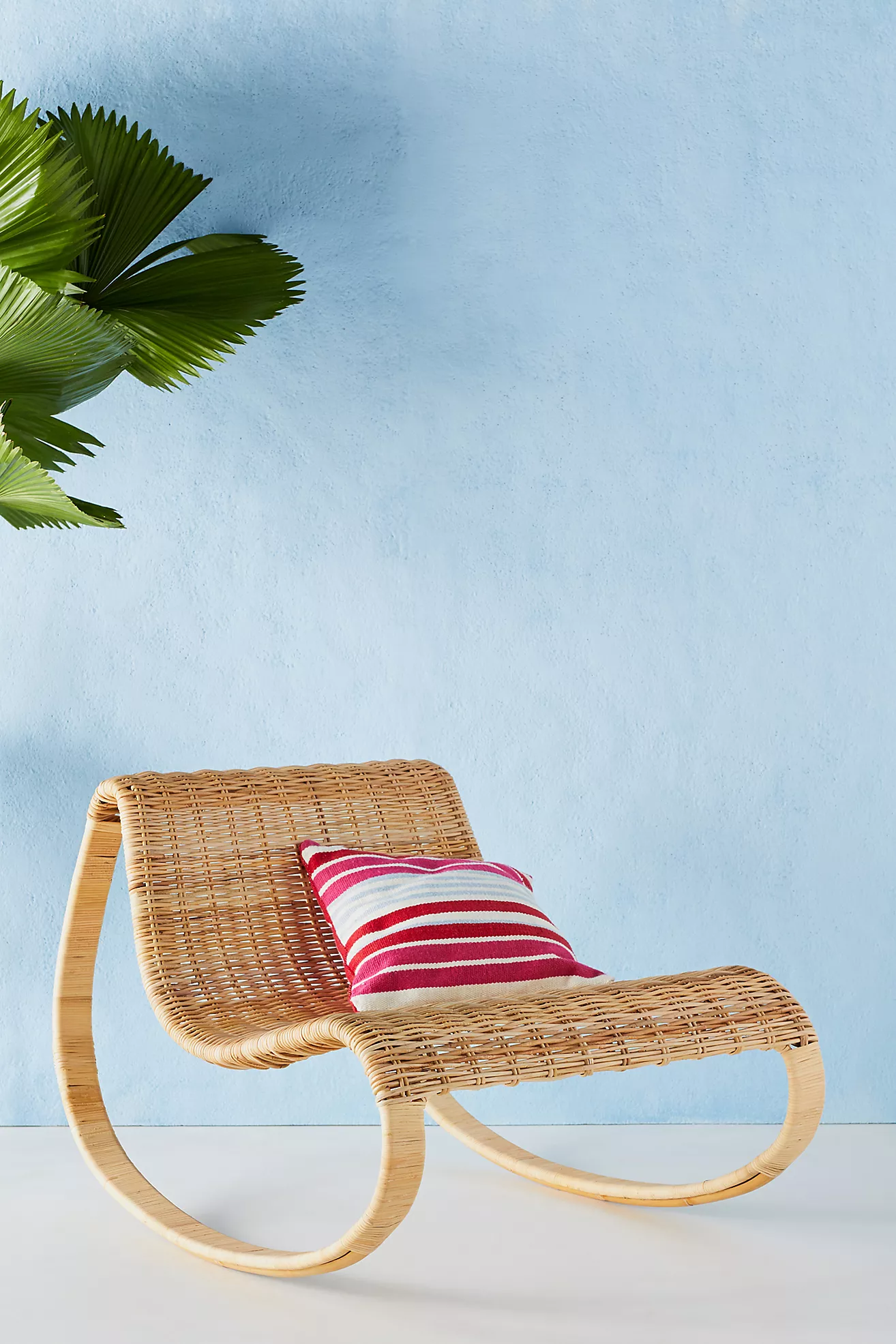 Boho decor admires natural materials, an airy vibe, and curved lines. And you can get them all into one picture – yes, this modern boho rocking chair is the ultimate solution to your bohemian home. The organic shape can comfortably support a natural recline to give you the utmost comfort and warmth.
You can style this rocking chair in the sun-soaked rooms, living room corners, and patios. Moreover, you can use them indoors as well as outdoors.
Havana Armless Chair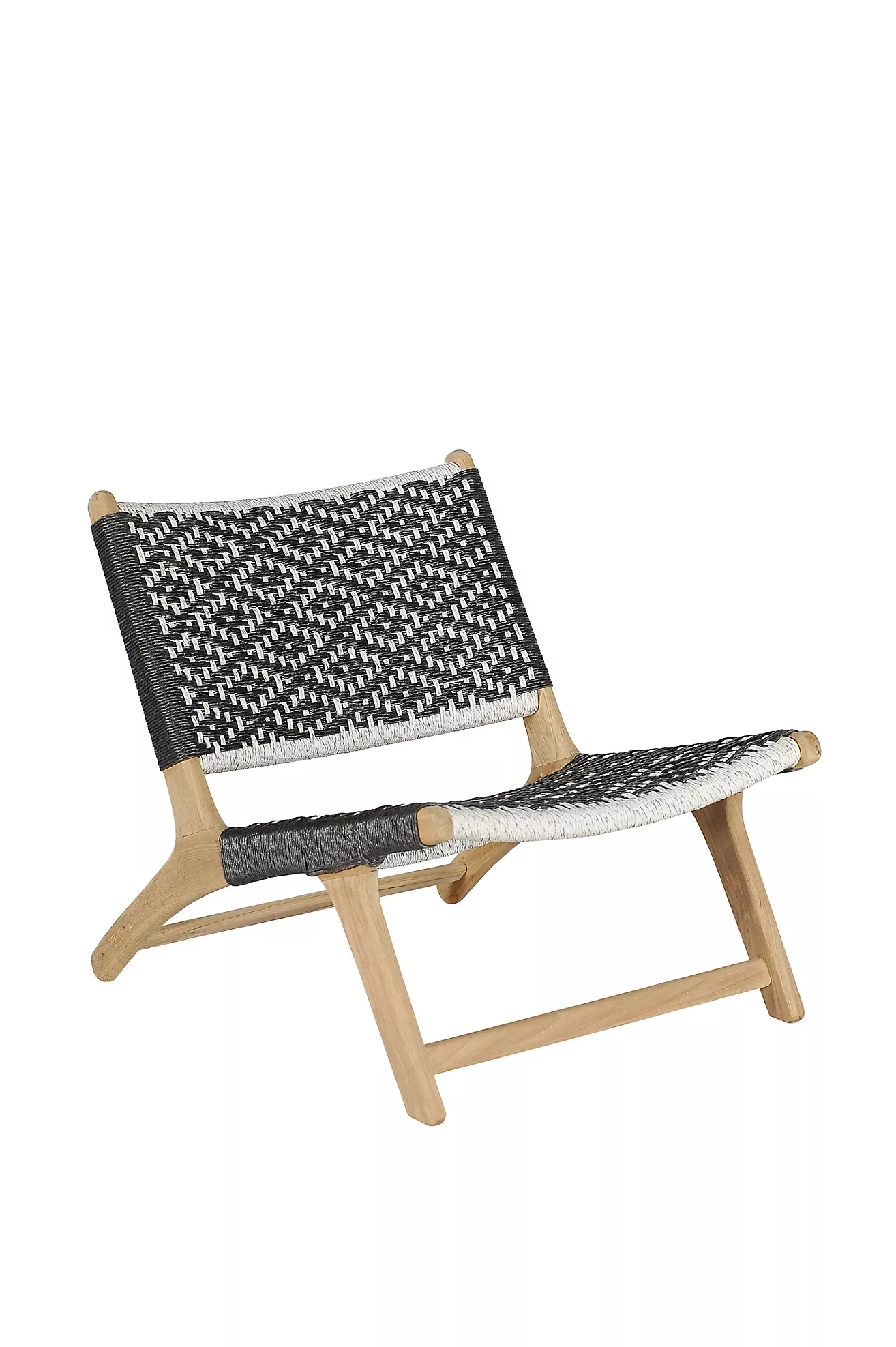 Lightweight and 100% recyclable synthetic rattan, this contemporary and bohemian lounge chair features a unique shape and form. It is highly durable and strong and can be placed outdoors as well.
It's low-heightened and feels quite comfortable. Moreover, it is a great piece of investment as it is also very easy to clean and maintain. A must-have in the boho and beachy backdrops!
Open Hands Bohemian Chair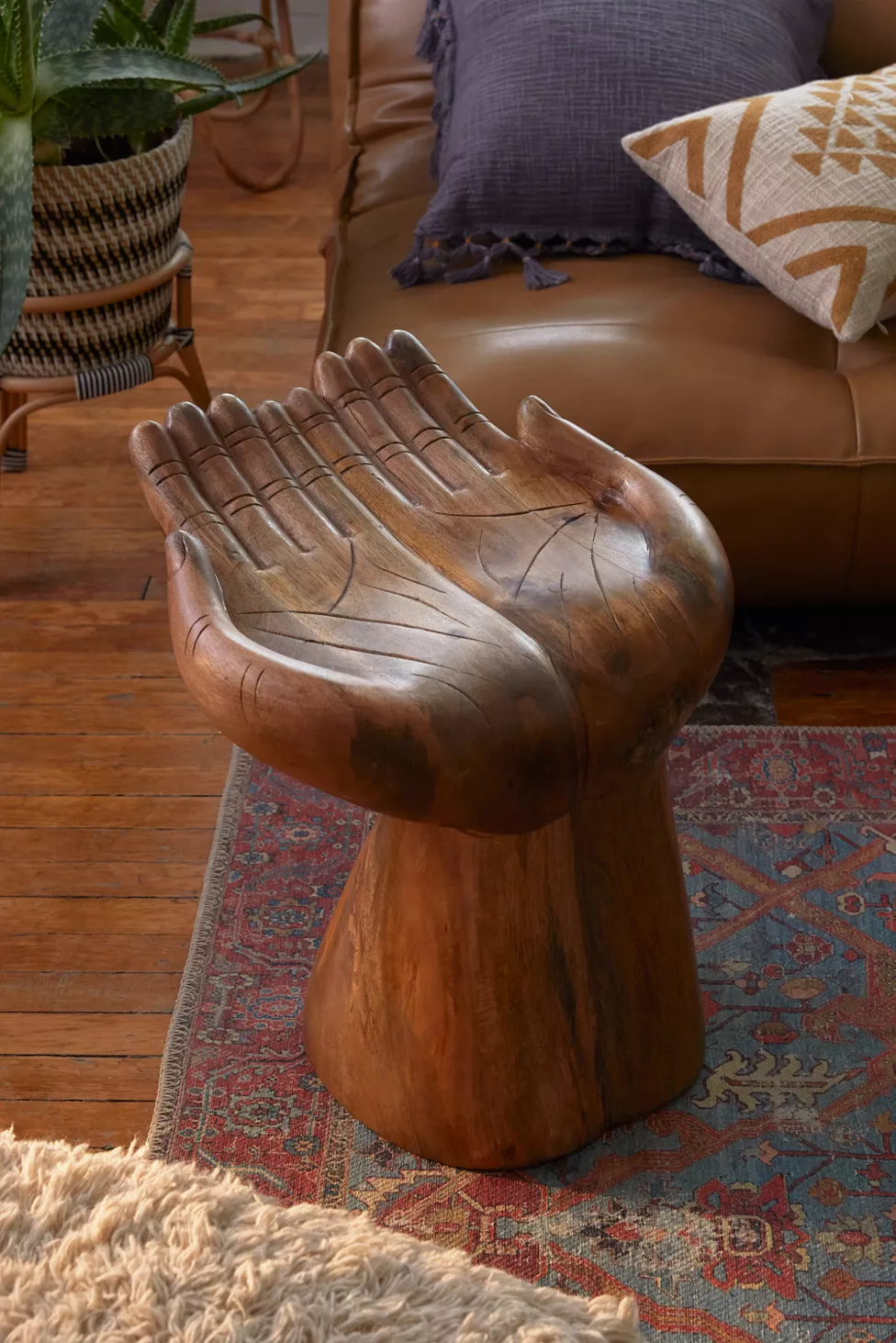 It's time to elevate the vibe with this artsy accent chair that creates a focal point in your living room. This hand-shaped stool can be placed by your couch or the accent chair to create a flabbergasting experience.
If you embrace ergonomic shapes, this stunning piece of art is something you must look forward to. Moreover, you can move it around easily and place it elsewhere!
Woven Wicker Butterfly Chair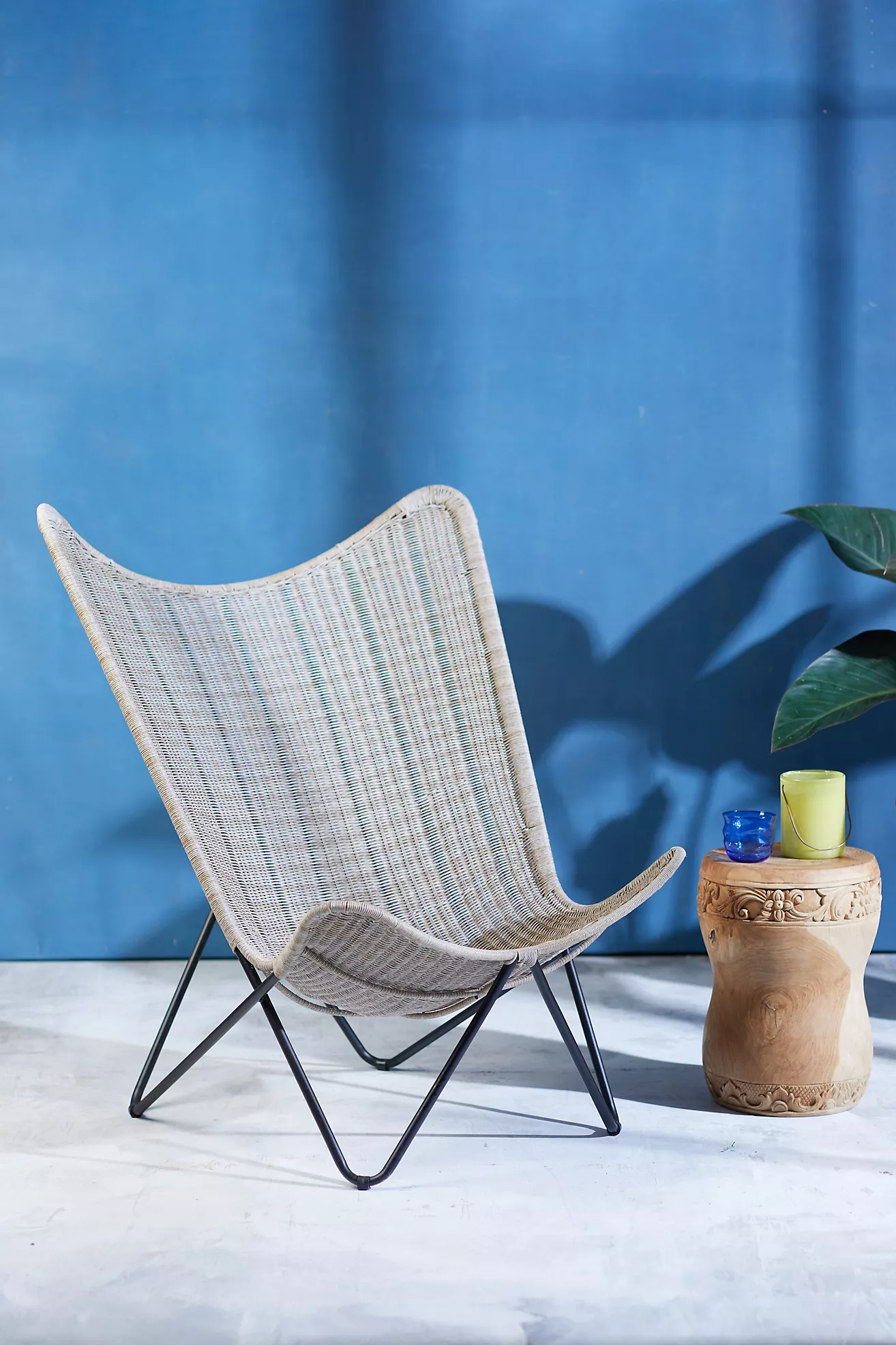 This is a quintessential boho-style chair that exhibits an airy and comfortable look. It can be easily transported around for any outdoor as well as an indoor activity. Moreover, these folding chairs have a metal base and canvas or leather on the surface for comfortable seating.
This chair is also great for long-term sitting and looks totally adorable when placed in any room. And since they don't require a lot of space, you can use them in smaller living rooms!
Summing It Up
Bohemian accent chairs are practical, functional, and aesthetical – and that's why they can be used beyond boho backdrops. So, all those cute instagrammable chairs that you see online are probably boho accent chairs that make you drool over and over again!
And since there's no rule when it comes to bohemian interior design – you have these flawless 20 chair ideas to incorporate from!