Don Pedro Brooklyn is reader-supported. When you buy through links on our site, we may earn an affiliate commission. Learn More
16 Boho Kitchen Decor Ideas
Boho style became popular more recently than other styles. While some have been mainstays for decades on end, boho style emerged in the early 2000s. Nevertheless, it's more than just a fad – you can find boho decor everywhere, from tables to wallpaper.
Of course, all those options mean it's very difficult to decorate a bohemian kitchen. Plus, it's intimidating enough to decorate a room that's often referred to as "the heart of the home." That's why we're here to break down some of the best boho kitchen decor to give you a place to start.
Add Woven Wall Decor To Fill Empty Space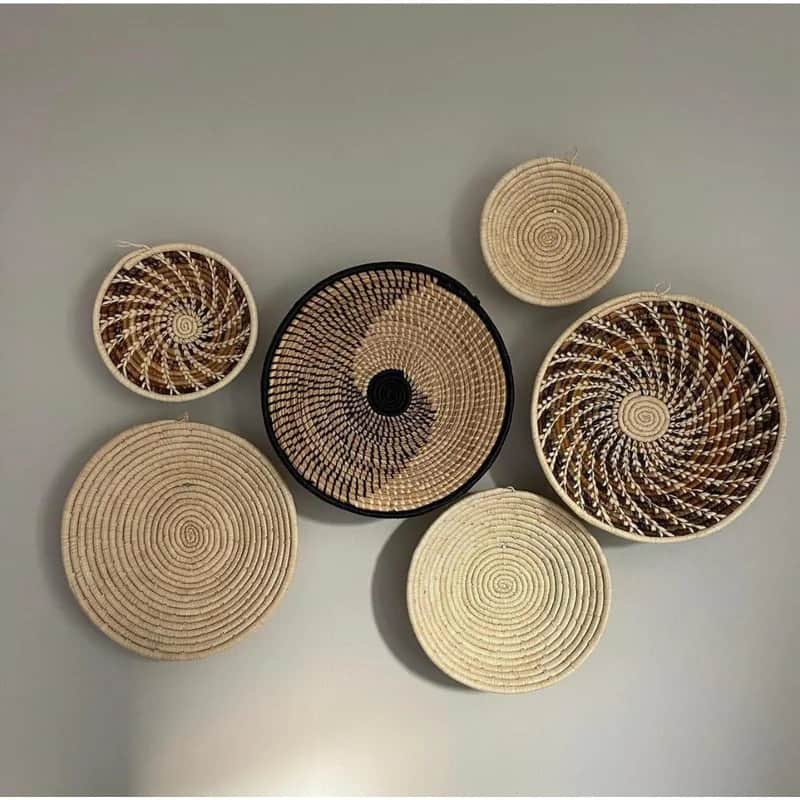 Wall decor is something any room in the house can benefit from, and the same goes for your kitchen. This is especially the case if you don't have a window above your kitchen sink, or if you currently have a lot of empty space on the walls. Adding some boho decor will fill in the empty space and make your kitchen feel more complete.
If you're unsure where to start with boho decor, though, woven items are a great choice. They're made of natural materials, and many of them keep a neutral color palette to continue that natural theme.
Use Macrame for Some Added Texture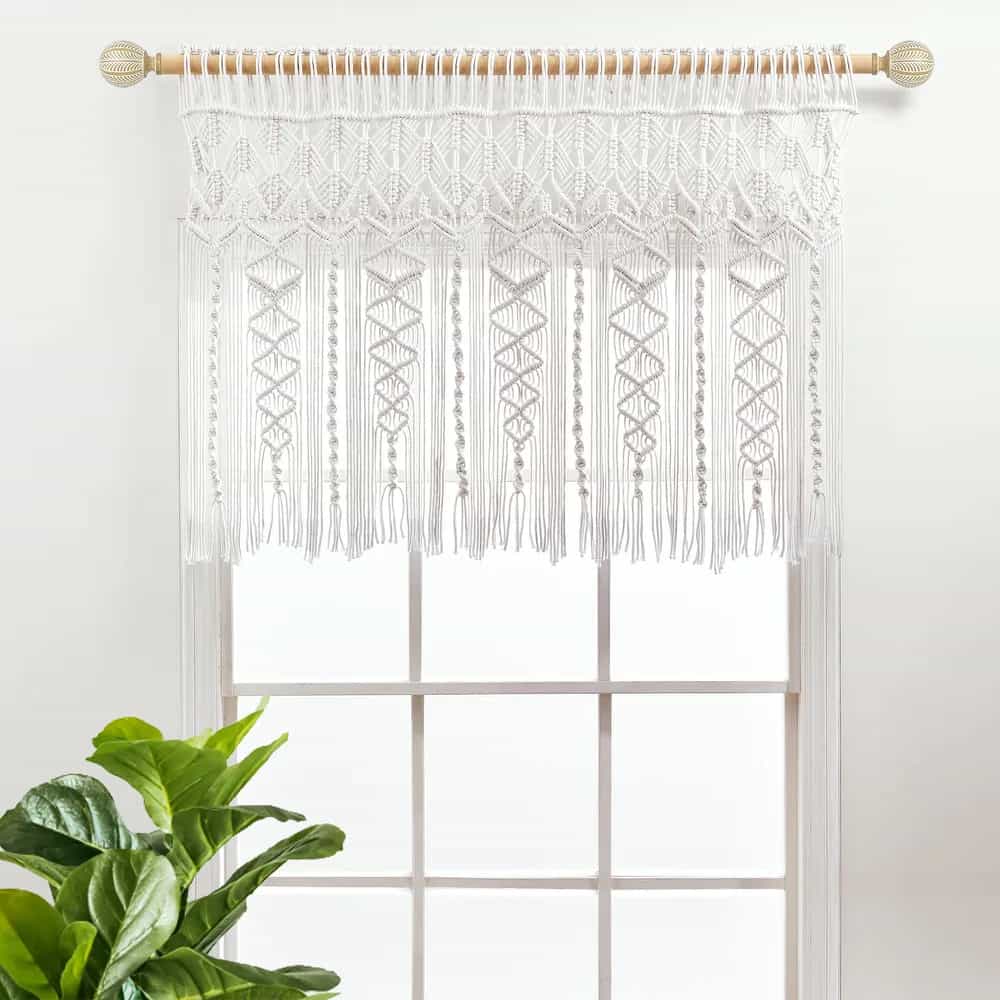 Like many other styles, boho has certain defining elements. There are many of them out there, but perhaps one of the most significant is texture. Mixing and matching rugged wood, woven patterns, and more adds a unique flair to boho style that few others can match.
Of course, there are far more textures out there than baskets and lumber. That's where this macrame piece comes in. The blend of knotting and geometric patterns offers plenty to look at whether you put it above a window or as a standalone piece.
Mix Modern and Boho Style With a Contrasting Backsplash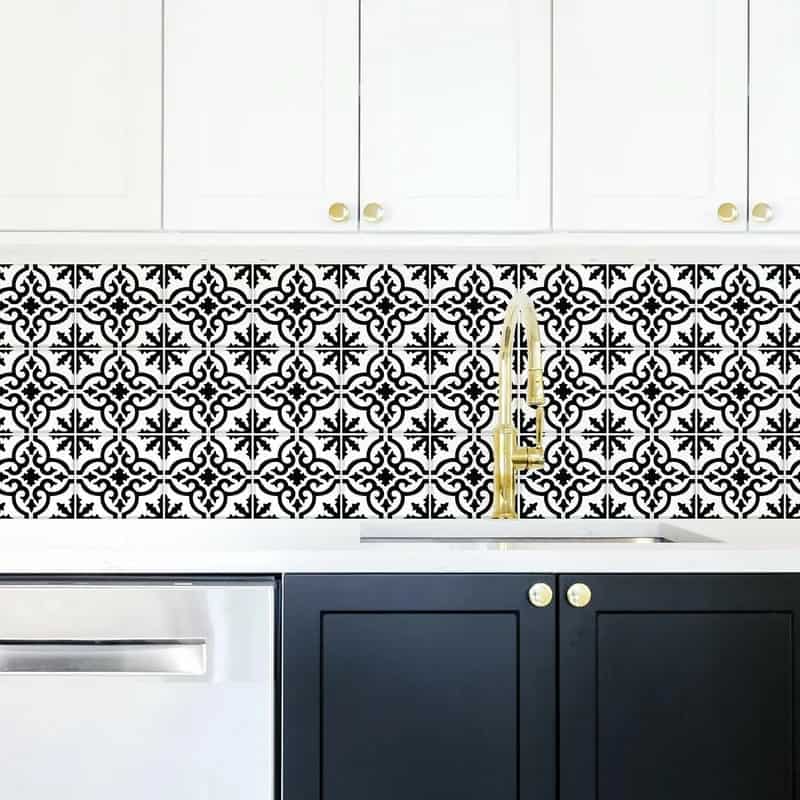 With all the wicker and wood, some boho designs can start to look a little rustic. That doesn't need to be the case, though. Boho style is highly versatile, meaning you can adapt it to fit your exact preferences.
One perfect example is this backsplash. It has beautiful floral patterns like you'd expect from boho, but with added modernity through contrast and repeating geometric patterns. You don't have to settle for exclusively modern or boho style – go for a modern boho kitchen to bring your vision to life.
Surround Nature With Nature Using a Wicker Vase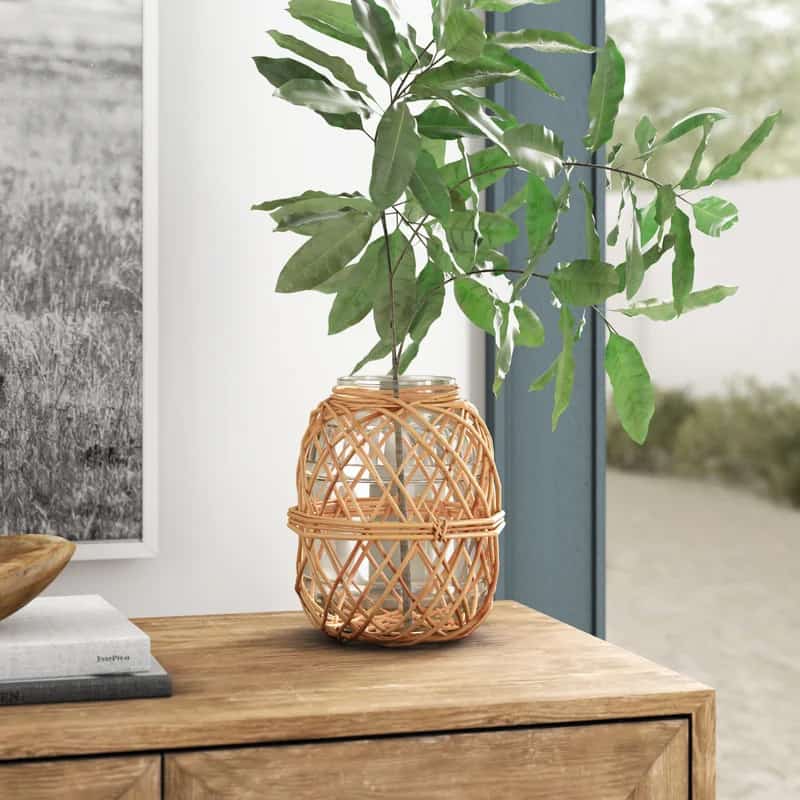 Of course there's no boho without nature, and you can take that to the max by surrounding nature with nature. Yes, you read that right. Boho vases allow you to surround your plants with even more natural elements, such as wicker.
While normal glass vases tend to fit better with other styles like glam, adding just a bit of wicker instantly makes it look boho and match with your other decor. It goes to show that sometimes simple fixes are the best ones.
Combine Multiple Natural Elements Together for a Unique Look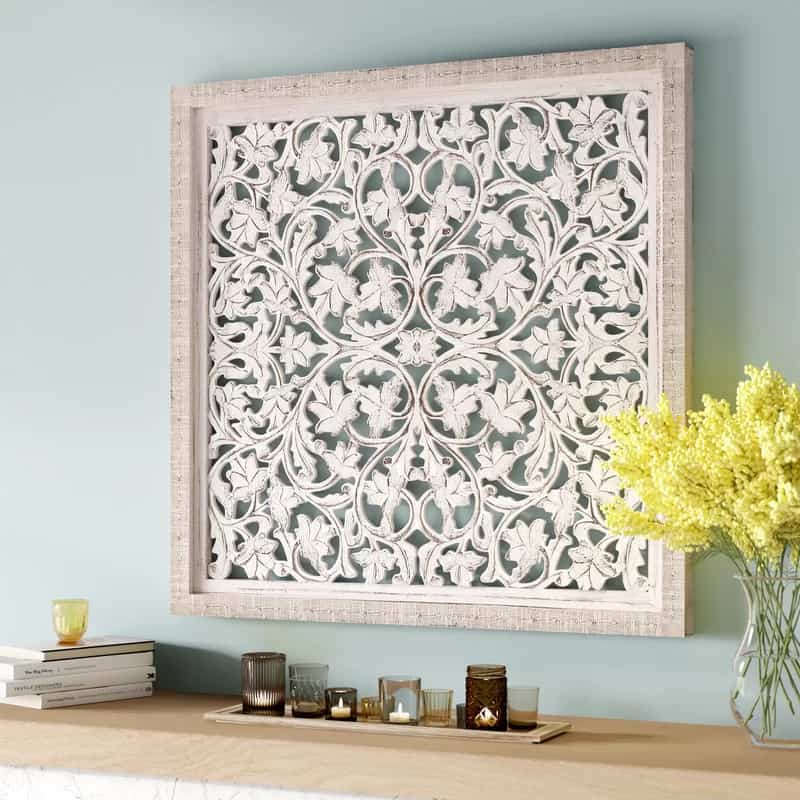 If you're trying to add natural elements, you should know that you don't have to stick to just one. You can add decor that combines multiple natural elements together, creating a unique look.
This piece, for example, features distressed wood and a floral scrollwork pattern. Distressed wood alone tends to look more rustic, while scrollwork patterns tend to exude elegance. Combining these elements turns two disparate styles into a cohesive, one-of-a-kind whole.
Go For Boho Chic With Some Artsy Floral Wall Decor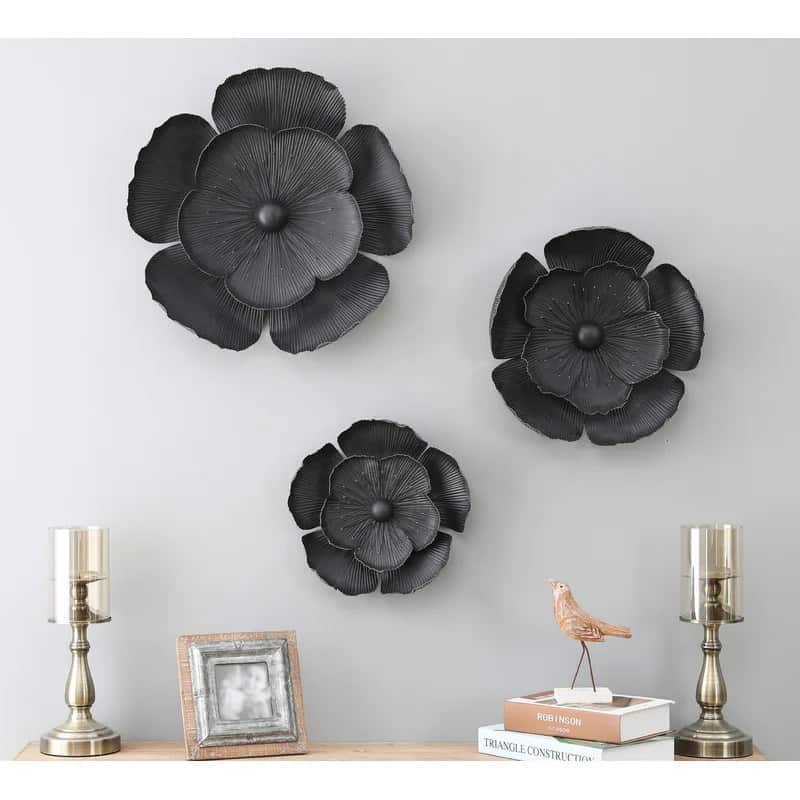 While you could achieve a boho style through an indoor garden, you don't have to have literal nature for the boho aesthetic. Instead, you could take a more artsy approach, incorporating artistic representations of common items in nature.
This artsy approach is particularly great if you love blending styles — these flowers, for example, would fit excellently with a modern kitchen while giving it an added boho flair. On that note, it's important to remember with boho that you don't have to go all-or-nothing — you can add boho elements to a different style room, or you can add other style elements to a predominantly boho room. It's all about creating a style that works best for you.
Create a Stylish and Space-saving Indoor Garden With Hanging Pots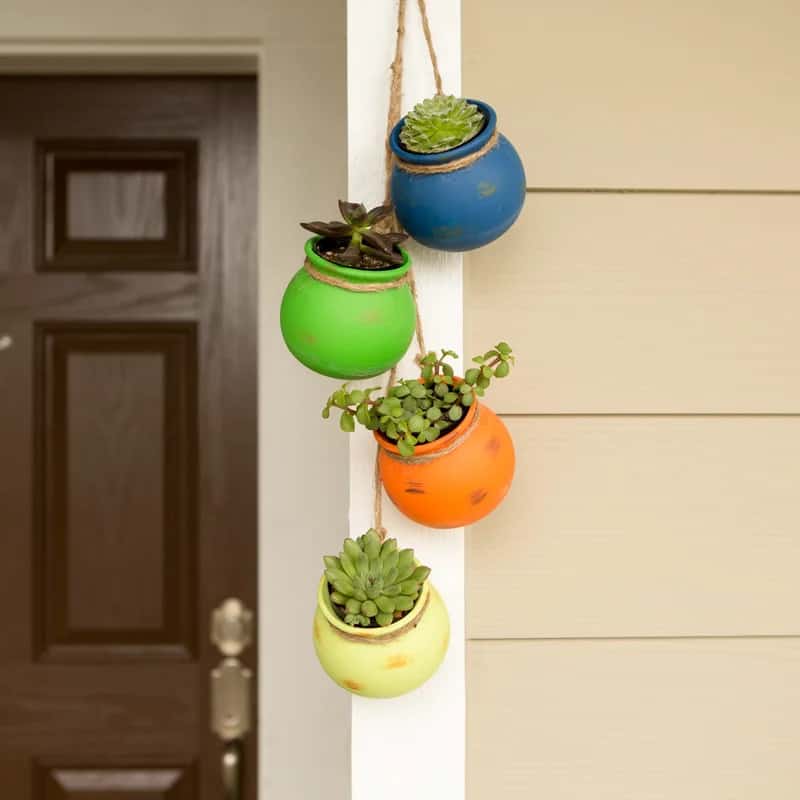 Since much of boho is concerned with bringing the outside in, you can take a more literal approach by creating your own indoor garden. There are many ways to do it, from having large pots on the floor to having tiny pots on a table and everything in between.
You don't have to limit your pots just to ones that sit on something, though. You can add something like these hanging pots. It's great for saving space if you don't have much room in your kitchen. Plus, if you have a lot of neutrals, you can add these in for a more colorful bohemian kitchen.
Add a Handwoven Fruit Basket for a Subtle Touch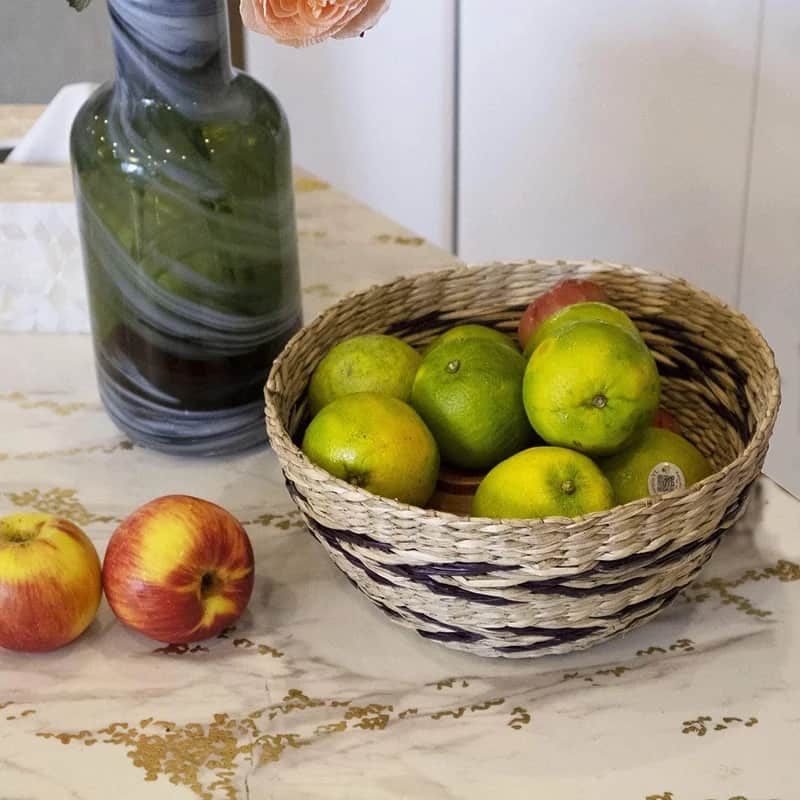 Ah, fruit. You know it, and chances are, you love it. But for display purposes, fruits baskets can often seem lacking or mismatched with your decor. Thankfully, there are still options out there to fit with your boho-style kitchen.
Enter this basket, completely handwoven with seagrass. It has a simple design with a neutral color palette that's sure to fit in with the rest of your kitchen, even if it's a minimalist boho kitchen. At the same time, it adds visual interest thanks to the woven texture. Keep one or two of these on your counters for a subtle flair.
Add a Bromeliad Pineapple for a Unique Decor Piece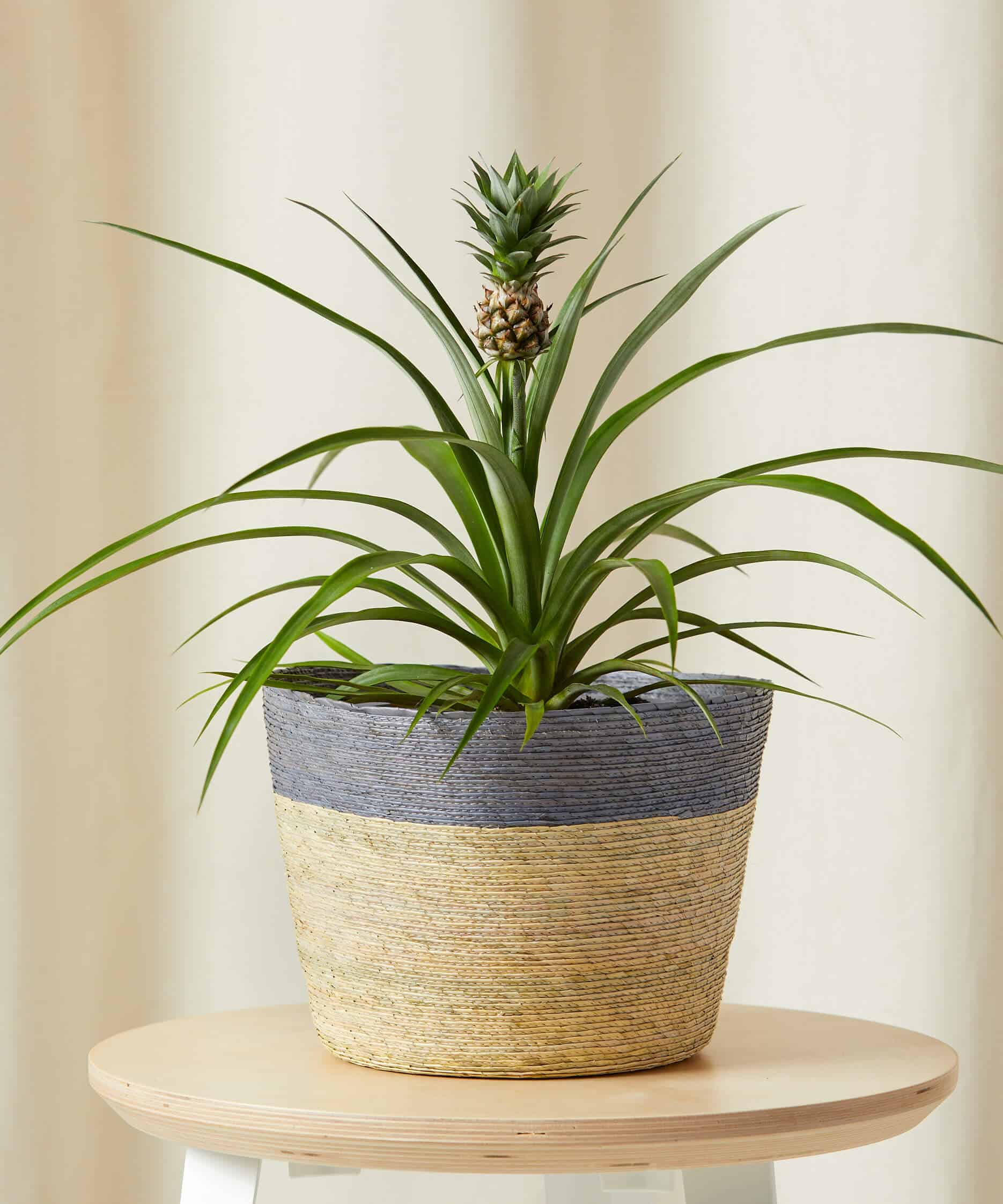 Since we're on the topic of fruit, did you know fruit itself can make excellent boho decor as well? Or, more accurately, a plant that grows fruit. While normally fruiting plants are large and meant for the outdoors, you can bring the outdoors in with this tiny bromeliad pineapple plant.
The unique texture of the pineapple and the leaves sprouting from the center allow this small plant to be a show-stopper in any boho kitchen. You can even continue the boho theme even more by repotting this one into a woven-textured planter like this one is.
Mix Function and Fashion With an Herb Drying Rack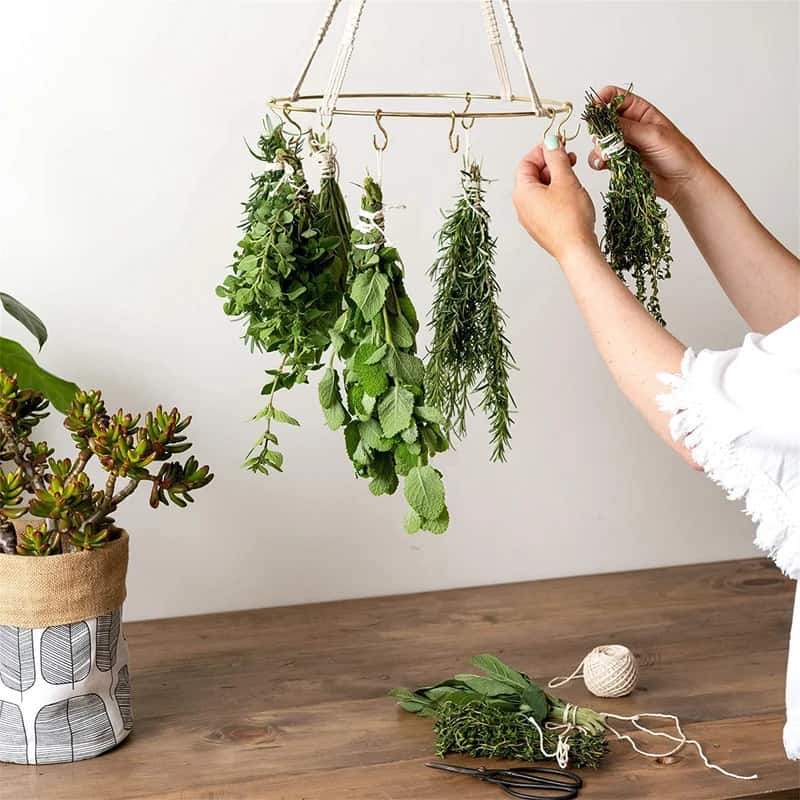 Who says decor can't be practical? Certainly not this herb drying rack. If you already have your mini hanging garden or other gardening solution in place, then you might want to grow some herbs and hang them. Drying herbs is great for storage purposes, and they're often much cheaper than what you'd find in stores.
For aesthetic purposes, this adds a touch of nature, which is perfect for rounding out your earthy boho kitchen. Along with that, the metal hooks and macrame make this piece look stunning in its own right, whether you're drying herbs or not.
Use Rattan Scribble Art for an Abstract Flair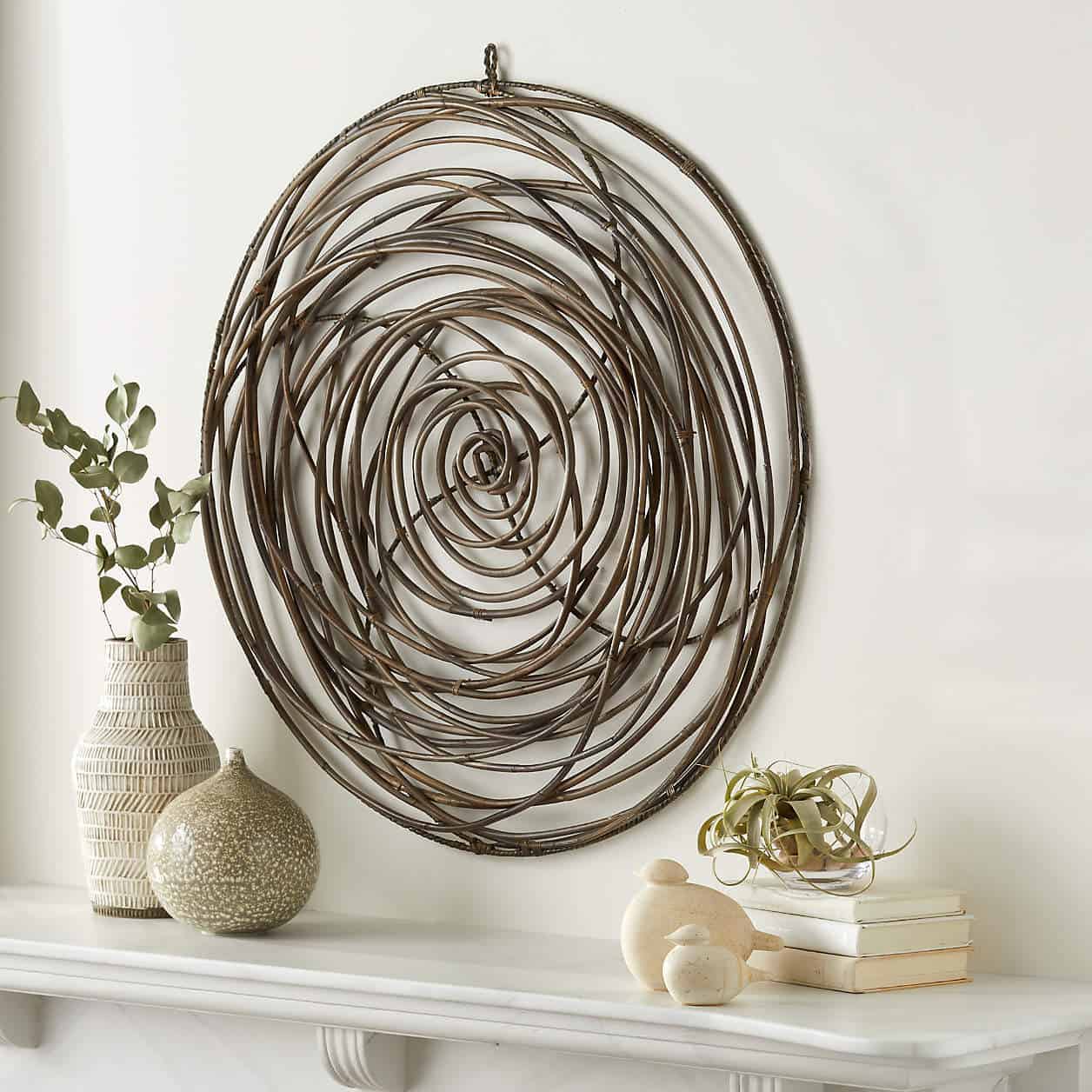 Often when we're kids, our definition of a masterpiece is a scribble on a page. It's cute for children, sure, but what if you were to turn that into a true work of art?
That's behind the logic of many abstract art pieces, including this one. This piece features rattan woven into elaborate spirals. Being abstract, it is what you make it… although the center is very rose-like, contributing further to the boho style.
Use Wicker Counter Stools for a Coastal Flair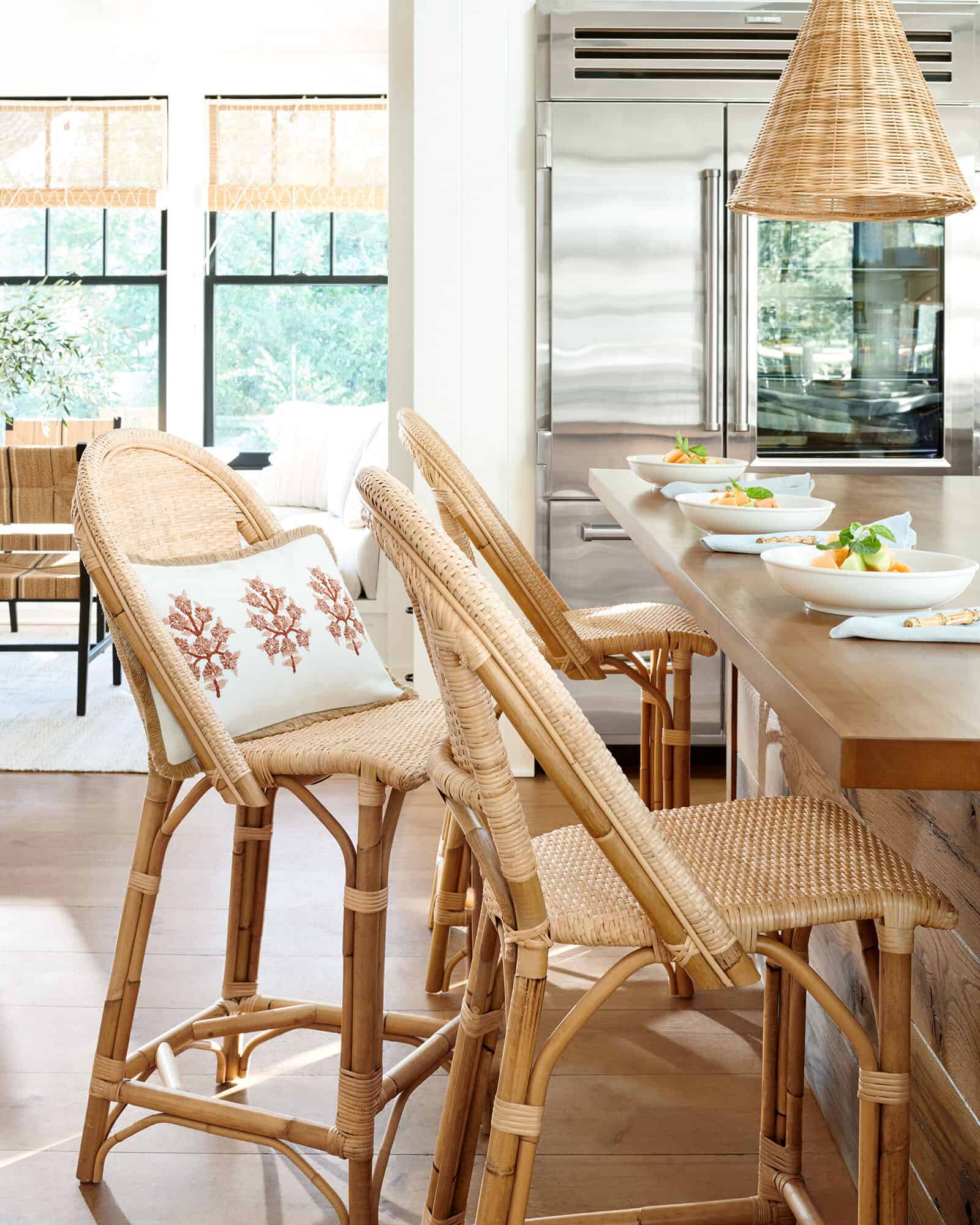 You've probably noticed by now that wicker is a common theme in this list, and that's for good reason. There are endless wicker decor options out there that continue to keep this stylistic element alive.
You may not have known, however, that wicker is a common element of boho chic style. Boho chic combines traditional bohemian elements with more modern and trending decor. That means you don't have to go with vintage furniture styles to still go boho – instead, you can have modern-looking pieces like these stools to go for a boho chic kitchen.
Add a Candle Holder for an Extra Boho Touch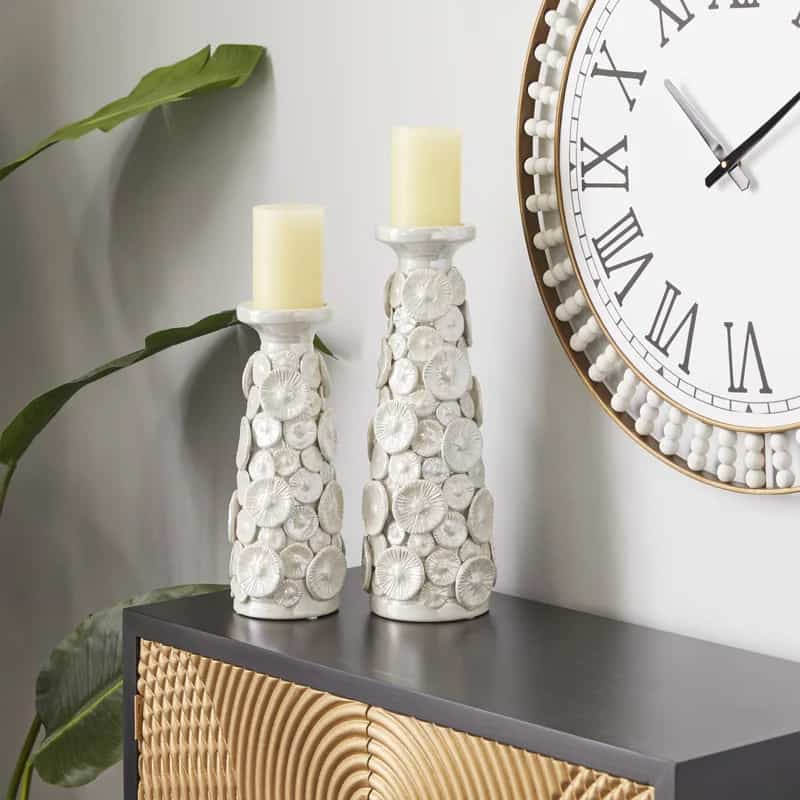 There's nothing immune to boho style, and these candle holders are proof. Along with decorating your countertops, walls, and everything else in your kitchen, you can finish off your design with some lovely candles.
While candles aren't super common in kitchens, they aren't completely unheard of. They make great centerpieces for kitchen dining areas or just for sprucing up your counter space. Or, if you have a white boho kitchen that's looking a little bleak, they can make the space feel a little more homey with their ambient lighting.
Turn Baskets and Bowls Into Decor With Woven Rattan Balls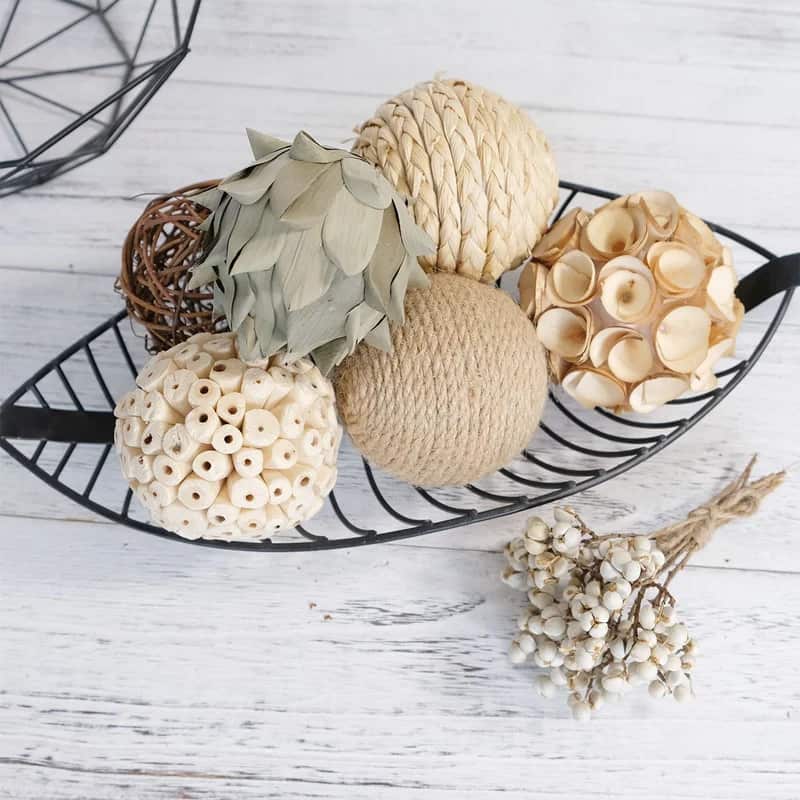 If you have empty bowls and baskets lying around, you can easily turn them into stylish boho decor by filling them with something, such as these woven rattan balls. Each one comes with a different natural-looking texture, adding some visual variety.
The main aesthetic value of bowl fillers are what container you use to fill them with, though. You could go with a more rustic boho kitchen with an aged wood bowl, just as one example.
Go For Elegance With a Wooden Bead Chandelier
Elaborate beaded designs are usually reserved for glam style kitchens, but you can change all that with a single material swap. Instead of having crystal beads, using wooden ones instantly bring things back to nature.
That's the case with this mango wood lighting fixture. It has all the elegance and charm of a chandelier with a distinctive natural flair.
Stand Out With a Nest Pendant Light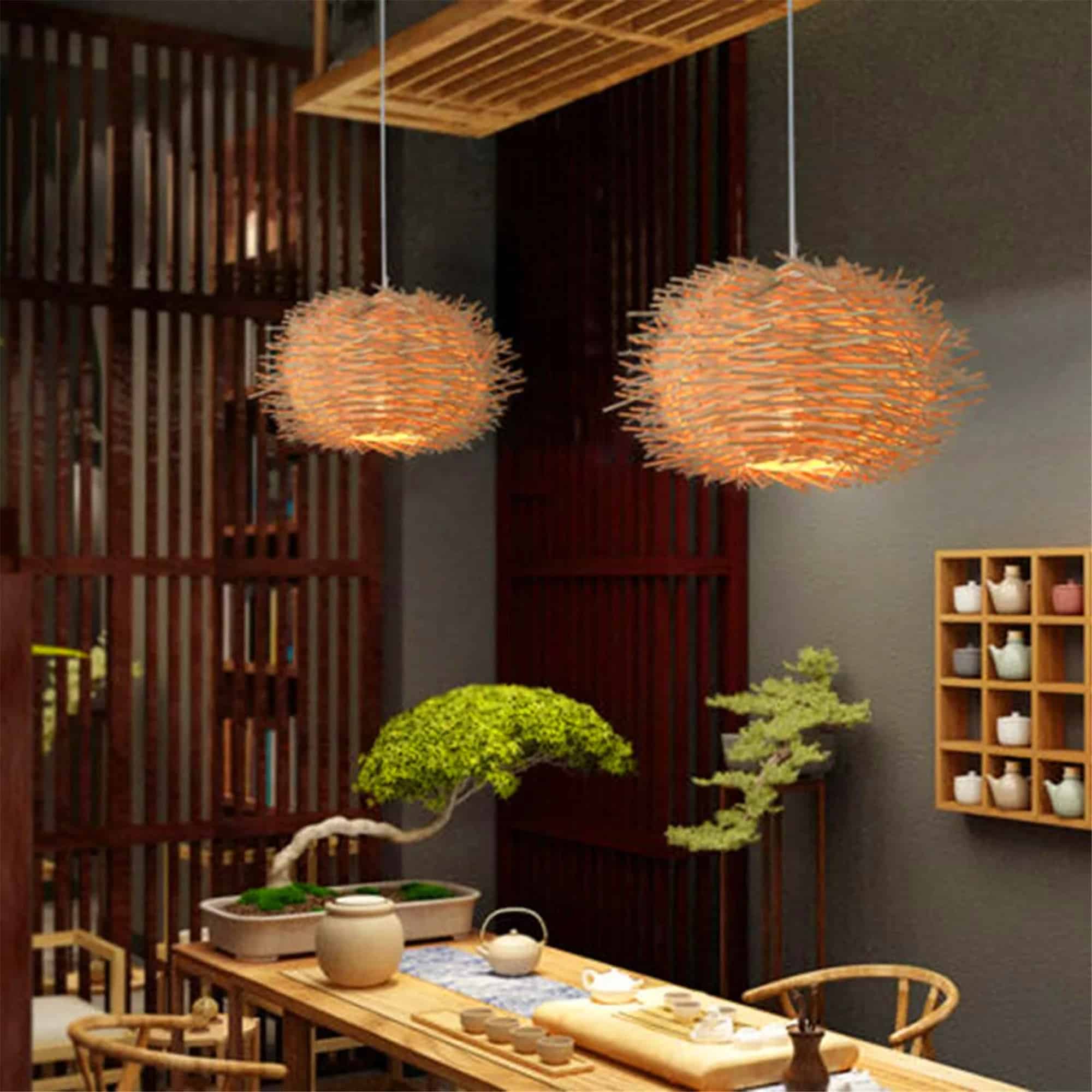 There are many natural elements you can choose to include in your boho kitchen, from elegant florals to rustic wood to intricate woven patterns. If you're looking for something a little more unconventional, though, all you have to do is look in the trees — yes, bird nest decor.
This one uses rattan weaving in a messy pattern. Along with resembling a bird's nest, it also goes beyond this association and is a highly textured work of art.
Final Thoughts…
Once you navigate the wide world of boho decor, you'll find that it boils down to a few core elements. If you figure out the one (or ones) you like most – whether it's woven patterns, textiles, or wood – you'll be well on your way to designing a functional and stylish kitchen.
From there, it's just a matter of choosing the pieces that match with your existing decor. Or, if you don't have any ideas for your brand-new kitchen yet, you can mix and match the ones that work best for you. All that being said, we hope that these ideas inspire you to decorate your dream kitchen.