Don Pedro Brooklyn is reader-supported. When you buy through links on our site, we may earn an affiliate commission. Learn More
14 Coastal Kitchen Backsplash Ideas
You might feel like something is missing in your kitchen. Like it just needs that little something, as if it's not cohesive enough, but you just aren't sure what's the missing piece. Don't worry, we got you!
One of the best ways to spruce up your kitchen, and create that desired look without changing it up completely is to add a new backsplash. You'll see how this small change can make such a huge difference. And here we compiled some of our favorite backsplash ideas that work wonders in a coastal home.
A Washed Out Sky Blue Backsplash Suits the Coastal Look Perfectly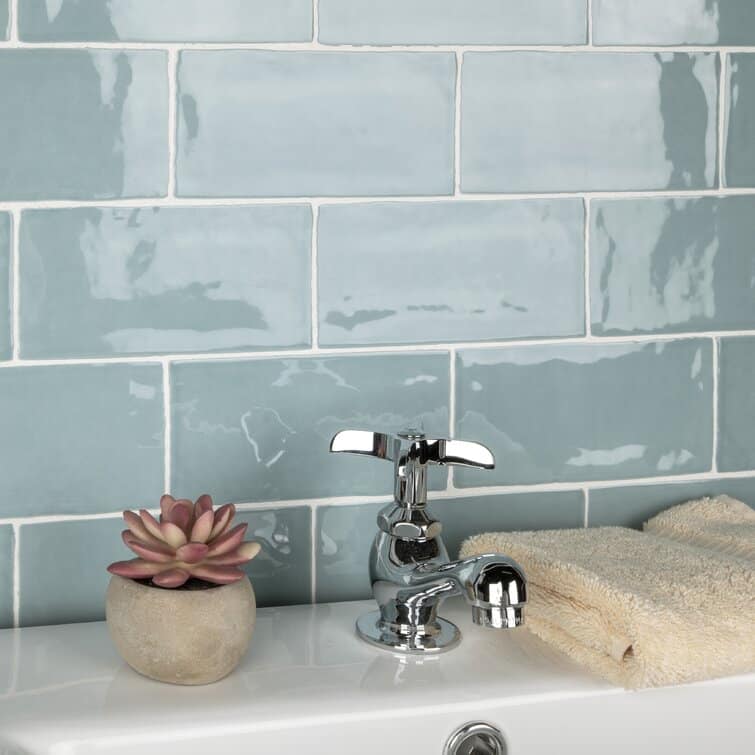 Is there anything more coastal than a gorgeous pastel blue? There's something about pastels that perfectly encapsulates that coastal vibe you strive for. So, naturally adding some of that blue to your kitchen will ensure it fits with the coastal style.
The easiest way to do so is to add a pastel backsplash. This washed-out backsplash is a perfect example of a glorious pastel look, as its softness reminds you of a warm beach morning.
You Can't Go Wrong With White Tiling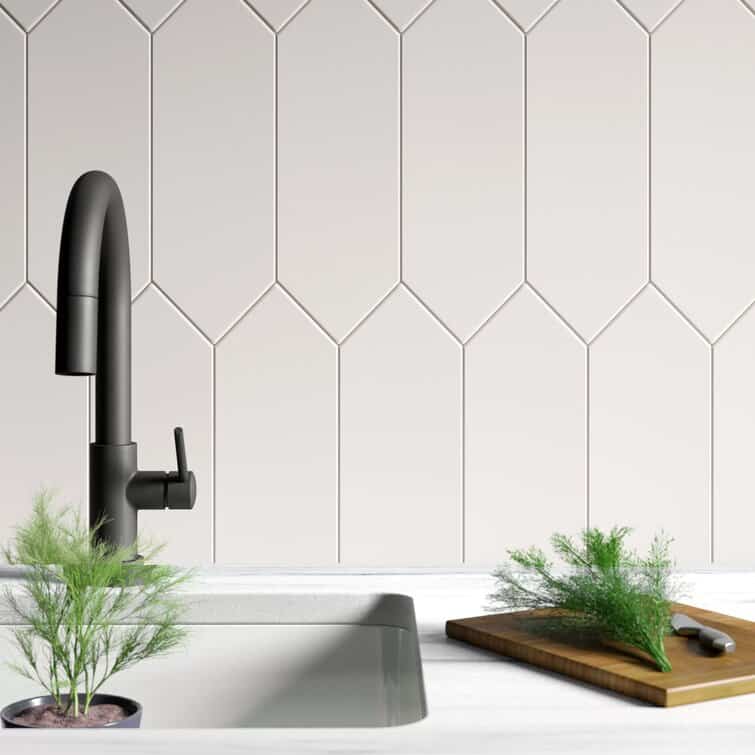 One of the most common backsplash choices is white tiling. Even though they're so common, white tiles don't necessarily need to be basic or boring. Depending on the shape, placement, and style, white tiles can fit in with many different design styles, coastal being one of them.
These elongated tiles have an unusual hexagonal shape that won't go unnoticed. Its shape fits so well with a coastal kitchen if you want more of a subtle beachy look. And as we said earlier, you simply can't go wrong with white tiles!
Choose an Ivory Backsplash for a Soft Beachy Look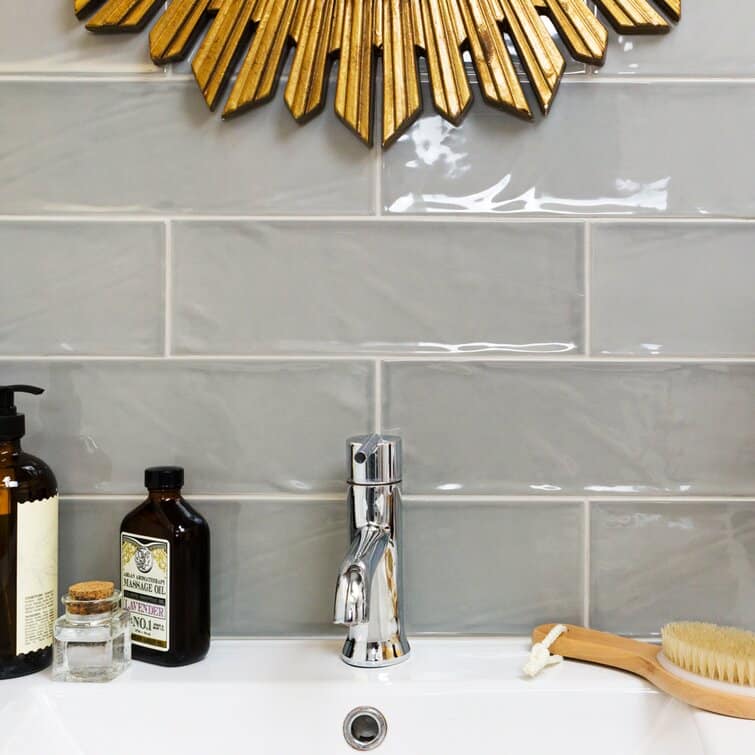 One of the first things that might come to mind when you're considering coastal backsplash ideas is the beach. How do you incorporate that dreamy beachy look into your kitchen but still keep it subdued? The answer is simple: go for sandy hues.
Choosing any warm sandy shade for your backsplash will create that desired coastal effect, without being overwhelming or too bold. It's a beautiful pick that works great with almost any kitchen, no matter the color scheme of the counters.
What's Better Than an Unexpected Splash of Color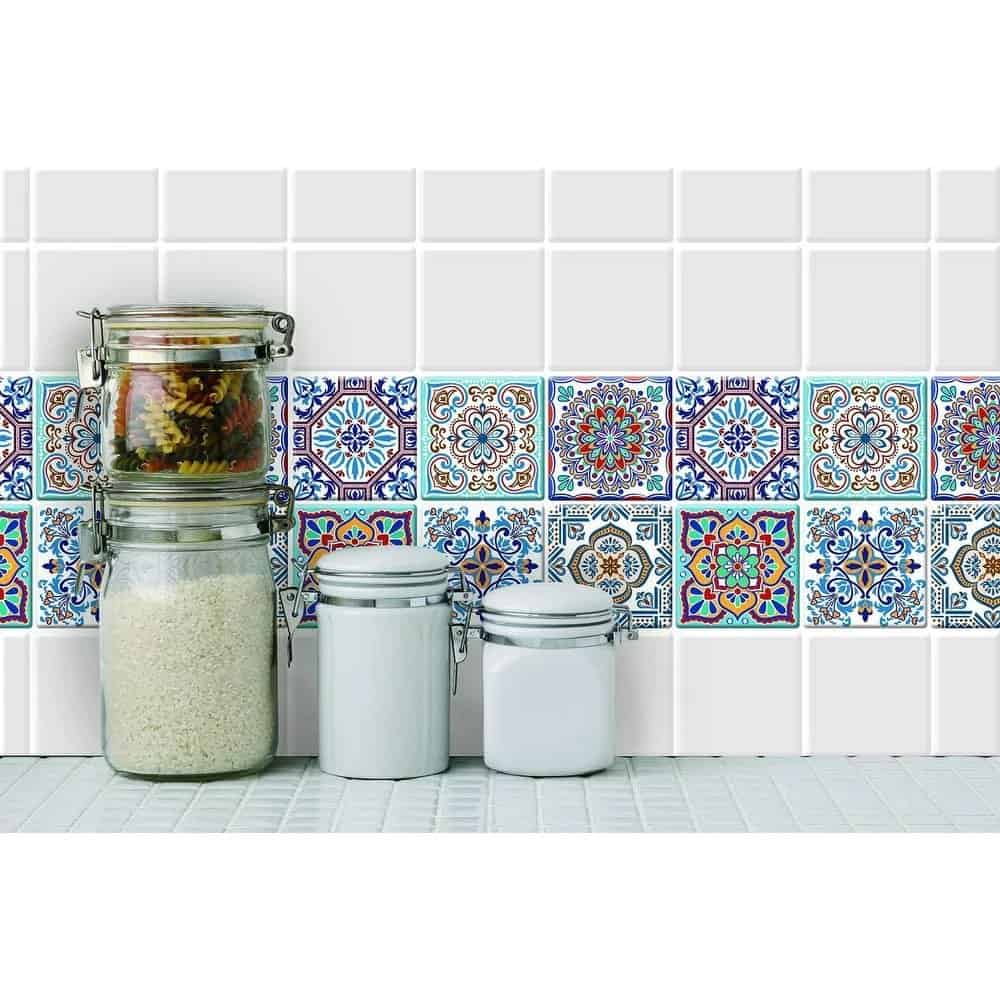 Even though the coastal look is often very pastel and calm, it doesn't mean that you have to play by those rules. Adding an unexpected pop of color can be a gamechanger and create a whole nother dimension in your kitchen, that will make you want to spend as much time there as possible.
One of the best ways to add some spice to your coastal kitchen is to play around with the backsplash. Adding some peel and stick Talavera tiles can create a point of visual interest in your kitchen. Combining it with some more coastal decor, you'll create a masterpiece.
A Wooden Backsplash Looks Amazing in Coastal Kitchens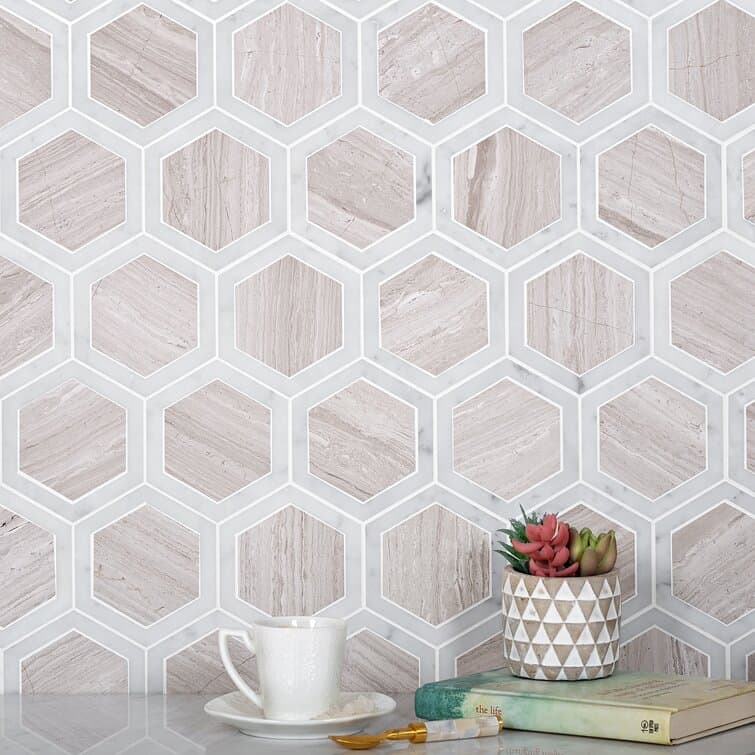 Light-colored wood is a coastal staple piece. It just looks marvelous in coastal rooms, instantly adding that beachy feel to your home. It's perfect for all kinds of coastal furniture around the house. But don't forget the walls!
Putting up a wooden backsplash can create a fantastically cohesive look in your kitchen, especially if you match it with your furniture. It's bright, airy and it will transform your home into coastal heaven in no time.
You Can't Go Wrong With Aqua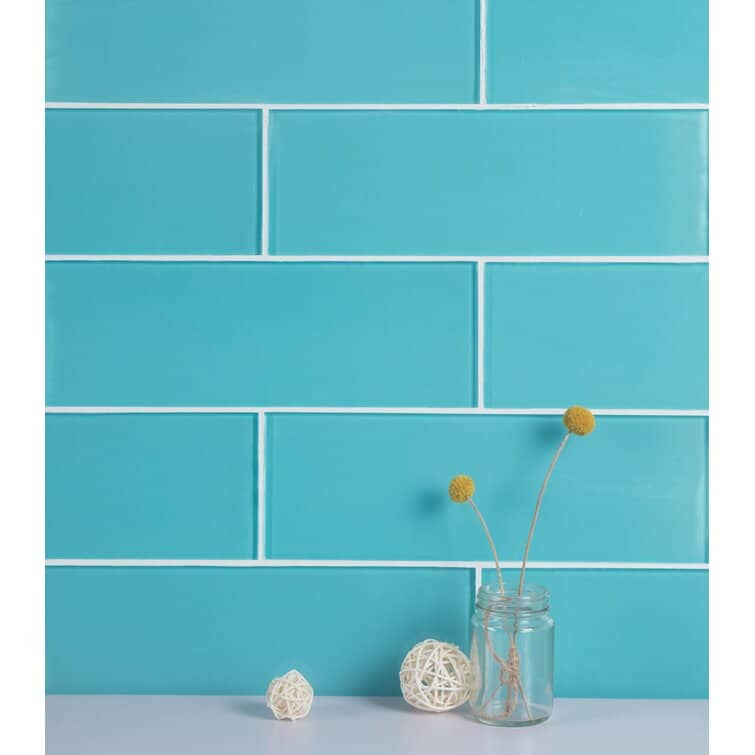 Aqua is as oceanic as it gets. This gorgeous color is the easiest way to achieve that desired coastal look you strive for. And by putting up an aqua backsplash, you'll add a gorgeous pop of color that's welcome in any coastal kitchen. All in all, a phenomenal choice!
Add a Glass Mosaic for the Ultimate Coastal Vibe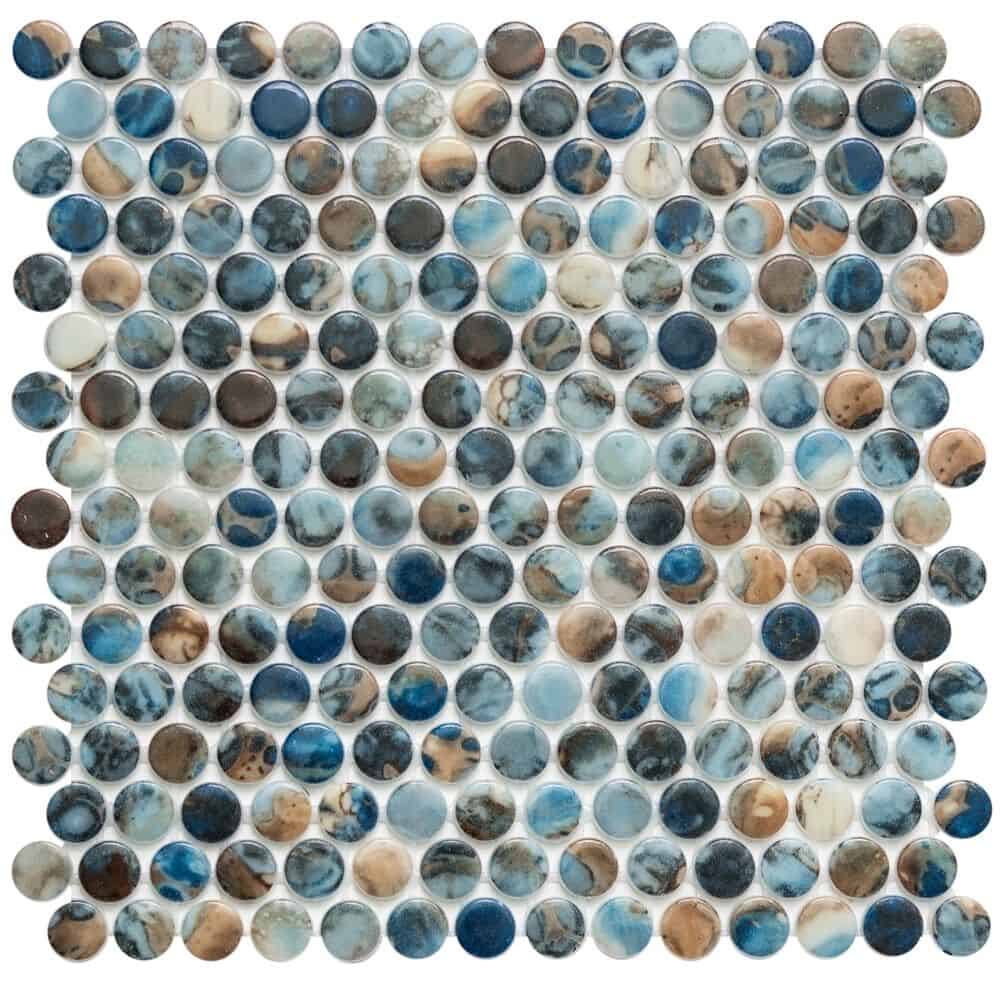 Painted glass has a certain dreaminess to it. It's breathtaking, especially when the sun hits it under that perfect angle. And when it's painted in the right colors it encapsulates that beachy summery magic.

Of course, it fits perfectly in a coastal kitchen. So why not be bold and create a painted glass backsplash? You'll have a unique, textured look that makes quite a statement. And not to mention it will leave everyone who enters your kitchen in awe.
Jade Backsplash Is a Stunning Pick
Jade is one of those impactful colors you can't tear your eyes from. It's bold, yet still somehow calming at the same time. And it works wonders in a kitchen that looks washed up and in desperate need of a pick me up.
A jade backsplash will refresh your coastal kitchen in no time. The vivid background will make you fall in love with your kitchen, and add a certain exciting edge to it. But don't worry, just because it's bold doesn't mean it won't help your kitchen look and feel cohesive! It's an amazing investment.
Periwinkle Backsplash Is Awesome for a Dreamy Nautical Look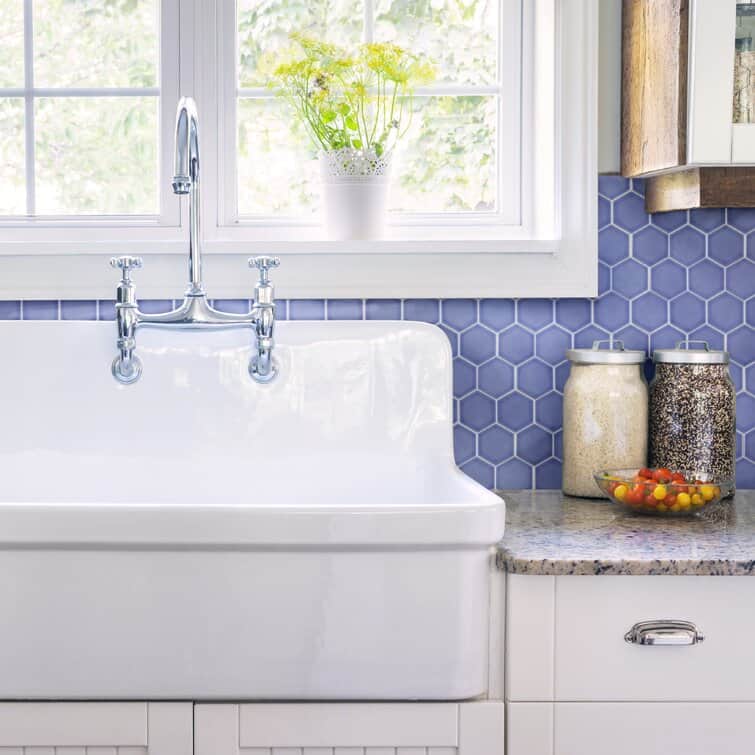 Periwinkle blue might not be the first color you think of when you consider a new backsplash for your coastal kitchen. But it shouldn't be overlooked. It's a fabulous color option that allows for a certain nautical yet nostalgic look.
Choosing honeycomb mosaic tiling in periwinkle blue creates that seamless intriguing pattern that simply looks stunning. If you crave a soft dreamy feel for your nautical kitchen, this one is the way to go.
Create a Gorgeous Natural Look by Adding a Pebbled Mosaic to Your Kitchen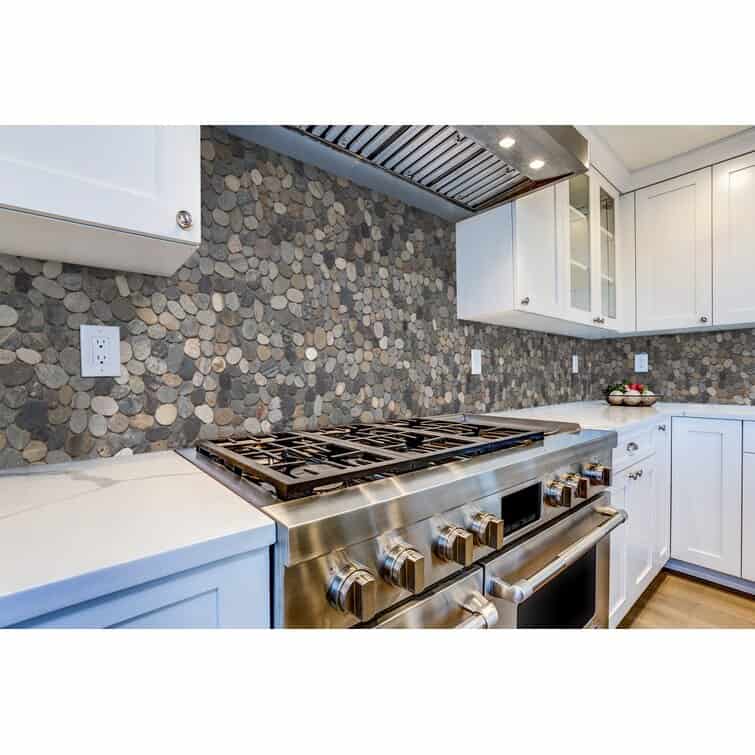 When you're thinking about the seaside, one of the first things that come to mind are pebbles. And what's a better way to add a piece of that seaside magic to your home than to add a pebbled mosaic to your kitchen?
This mosaic will transform your kitchen. It directly creates that organic vibe that thrives in coastal rooms. Combined with some light wood coastal furniture, you're going to feel like a part of the great outdoors! And of course, we have to mention that this pebbled wall won't just look unique, it will be!
A Blue and Beige Mosaic Can Make a Huge Difference in a Coastal Kitchen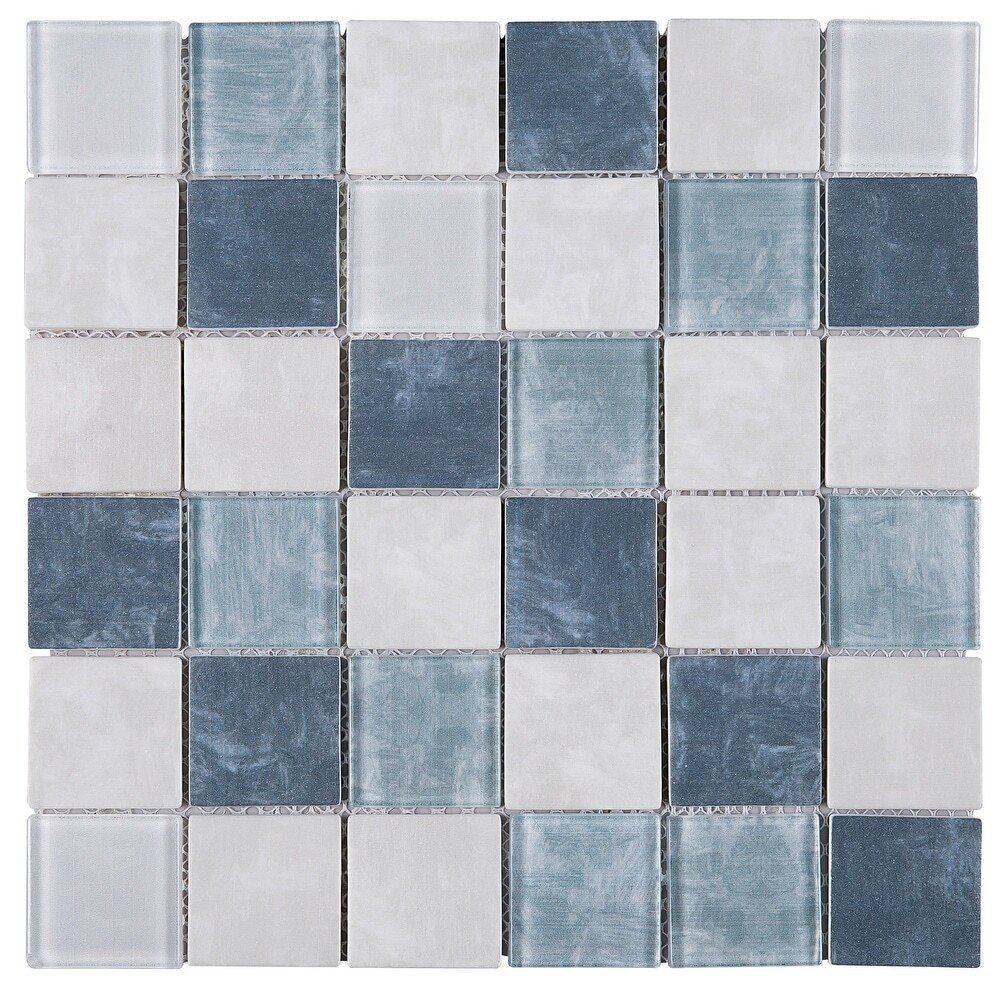 Certain materials can't help but remind you of the beach. So when you want to create a beach tile backsplash these materials are the ones you should focus on. Glass and concrete are the main contenders here.
Both of these materials are reminiscent of a beach on their own. But their true magic appears when they're combined. This tile mosaic is the proof. Combining the two extremely different materials, both in complementing colors, you create a phenomenal coastal vibe that will transform your kitchen in no time. And not to mention these tiles are low maintenance!
An Intensely Teal Backsplash Makes an Impact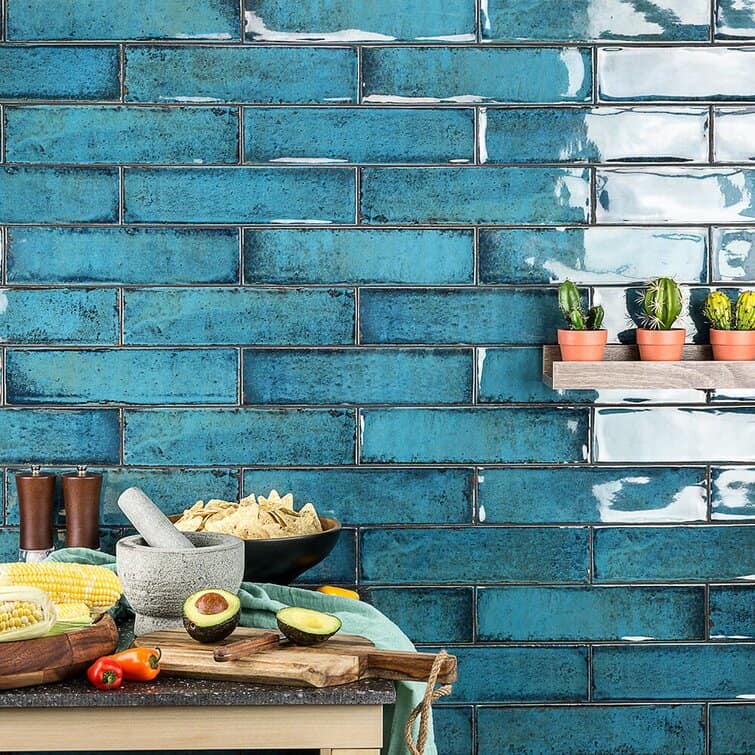 Perhaps you've been trying to achieve that gorgeous nautical look in your kitchen, but you weren't quite sure how to do so. Worry not, we're here to help! Intense colors such as bright teal are an easy and impactful way to do so.
Adding a nautical backsplash in the color teal will thoroughly transform your kitchen. No matter the color scheme of your counters, this backsplash will make everything pop. Combining a medieval and a modern design and with a splash of white here and there, it's a backsplash option you shouldn't miss out on.
Choose a Patterned Tile for an Exquisite Look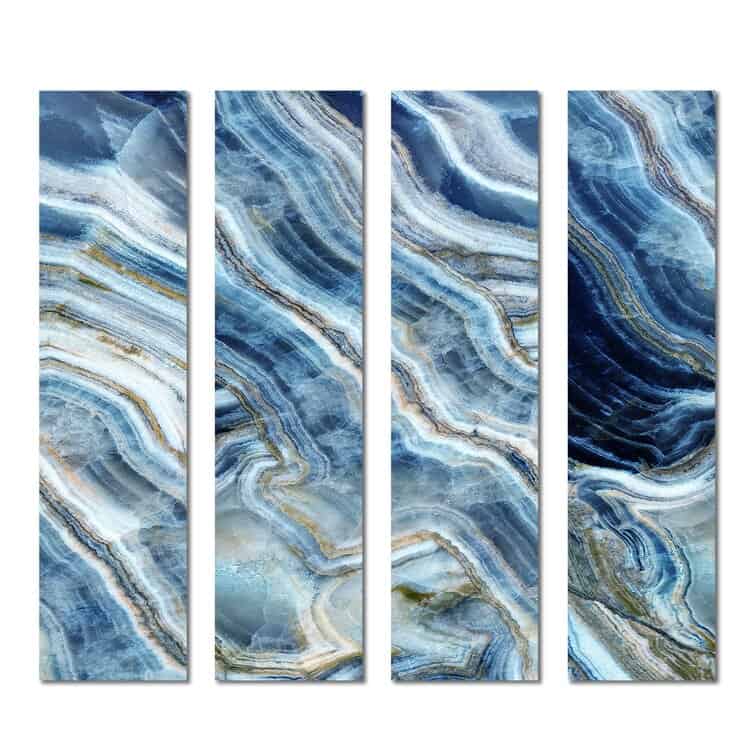 If you want your coastal kitchen to feel unique yet put together, don't be afraid to look outside of the usual, conventional picks. Patterned tiles might seem intimidating. Or as if they're a bit too much. But it doesn't need to be the case!

Combining patterned tiles with solid color ones, you can create intricate designs that will make everyone gasp in awe. And if you're feeling bold your entire backsplash can be made out of patterned tiles. In any case, they're a glorious choice for a backsplash
Gray and White Tiling Creates a Modern Yet Beachy Look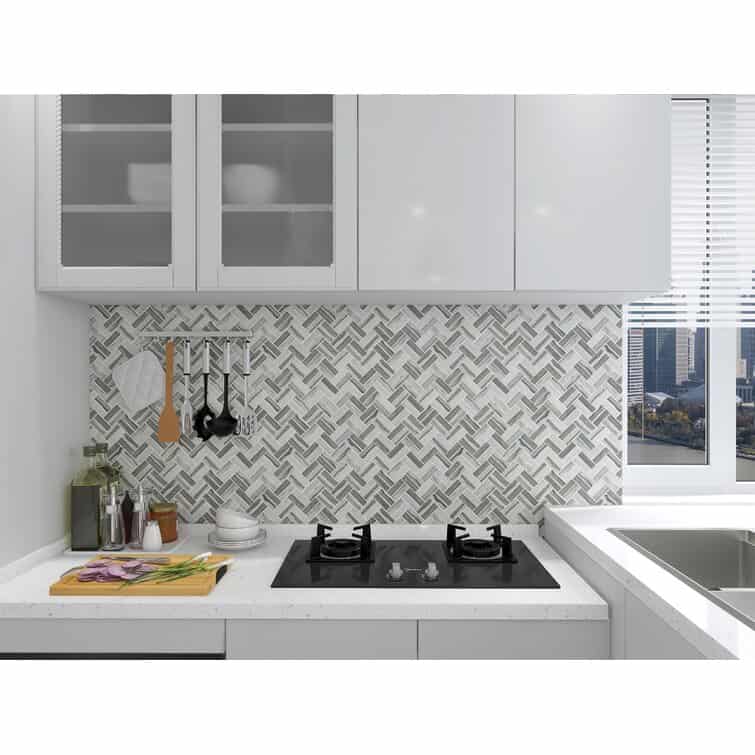 If you want something coastal with a modern touch, there are some chic options for your taste as well. Going with a gray and white color scheme, you can stay within that modern look. But that's where the glass comes in.
Tiling such as this one adds a beachy glass look to a classic pattern. The wood and glass combination creates that desired ocean vibe many want to achieve. And putting that as a backsplash will make your kitchen have that cozy coastal feel, while also having a modern subdued look. All in all, a great option!
In Conclusion
Finding the right backsplash isn't the easiest job. It's the best way to refresh your kitchen and add that little coastal something. But there are many options to pick from, and sometimes you don't even know where to start.
That's why we compiled this list. From natural pebbled walls to slick modern combinations, you'll surely find the right backsplash for your dream coastal home. Happy shopping!