Don Pedro Brooklyn is reader-supported. When you buy through links on our site, we may earn an affiliate commission. Learn More
20 Dining Tables Ideas for Small Spaces
Whether you live in an apartment or just don't have a lot of space for a full-fledged dining room, you're definitely going to want a small dining table. If you're dreading a lack of options, you'll be happy to know that there is an abundance of dining tables for small spaces out there.
These are just practical, either. They can add a small touch to your existing decor, or they can stand out on their own as a statement piece. In addition, these dining tables match with a variety of different aesthetics, from modern to rustic and everything in between. With that being said, let's go into 21 fabulous dining table ideas for small spaces.
Go For Versatility With an Expandable Dining Table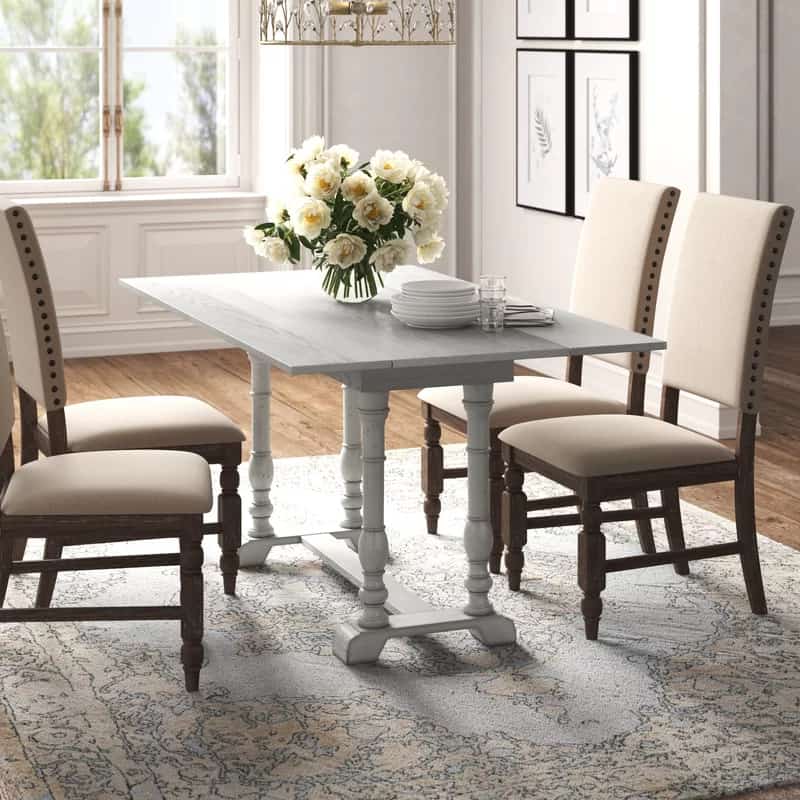 If you have a small space, you probably know the struggle of having guests over and having nowhere to seat them. Improvising last-minute seating solutions sure is a hassle. Thankfully, expandable tables were created for this exact scenario.
While expandable tables made for small spaces usually don't have a lot of seating room, they can be expanded as needed, leaving plenty of room for your guests.
Save Space With a Foldable Dining Table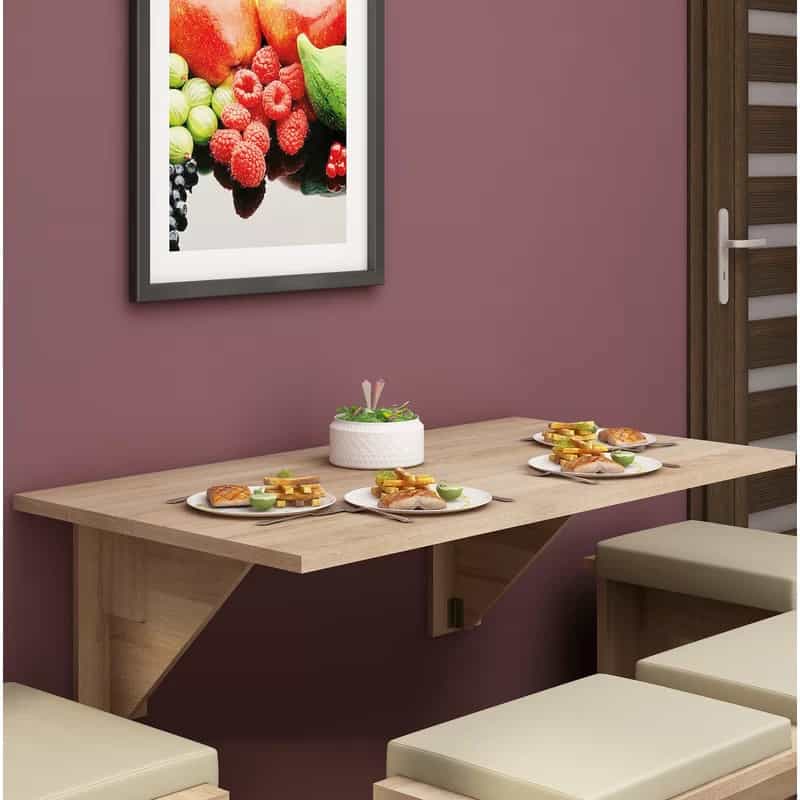 There are many tables out there, all of which sit on the floor… or so you thought. Did you know that there are actually dining tables that hang on the wall?
It's one of the best space-saving table solutions out there because when you're done using it, you can just fold it down. It only extends a few inches from the wall, meaning you have plenty of room when you aren't dining.
Tuck Your Table Away With a Drop Leaf Dining Table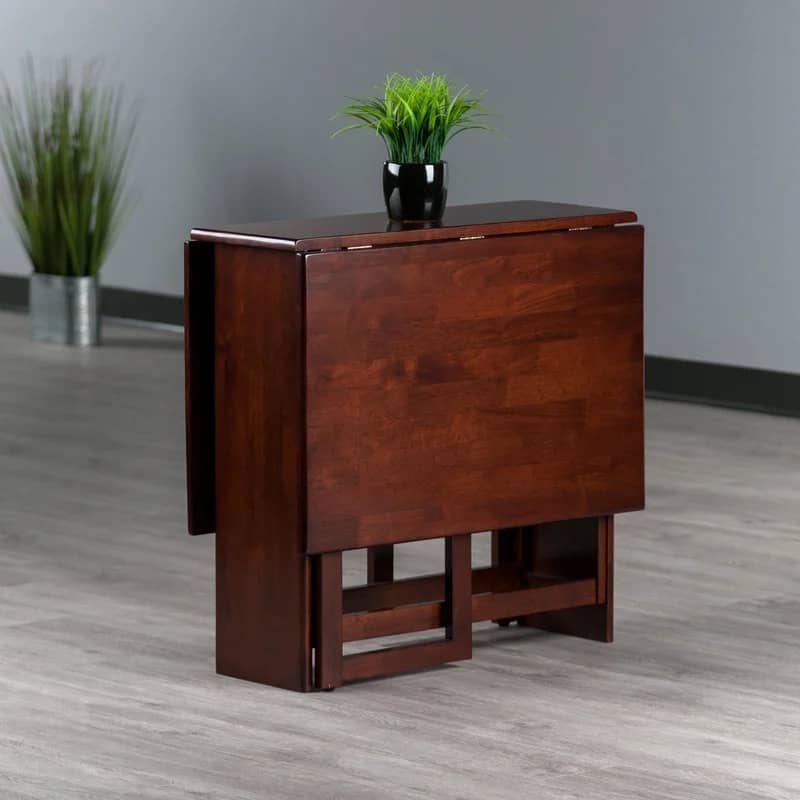 If you don't have guests over all the time, then you might be questioning what to do for a dining table. Do you get a dining table and have it constantly take up room in your tiny kitchen? Or do you go without it and be forced to find alternative seating options?
Many drop-leaf dining tables are made for this exact dilemma. You can pull out the table leaves when you have guests over and just drop them down to tuck away the table later.
Go For a Classic Look With a Simple Dark-colored Table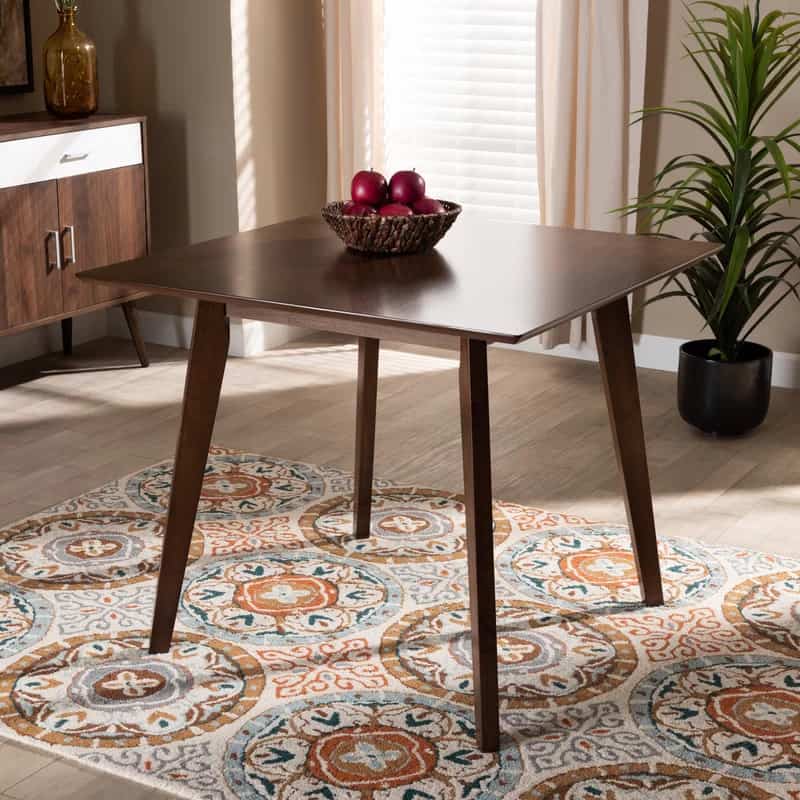 Sometimes when it comes to home decor, simplicity is best. Out with the bright colors and gaudy designs, in with the muted tones and ordinary shapes.
If you prefer that design philosophy over some of the others on this list, you'll definitely like this table. It's about as classic as classic can be with its gorgeous rubberwood construction and sleek design.
Use a Contrasting Table for a Modern Aesthetic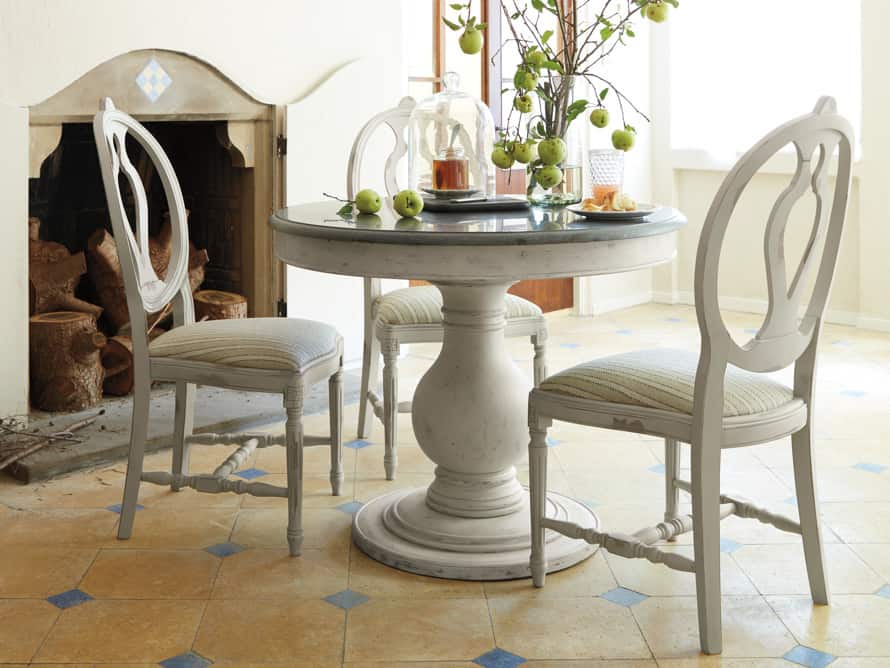 When you think modern, you probably think contrast. The two concepts really were a match made in heaven. Because of this, one of the best ways to showcase a modern look in your place is to go with a contrasting table.
This table in particular has a bluestone top that contrasts with a gorgeous white marble base. Along with the contrast, marble is known for its place in luxurious interiors. You might live in a small place, but this table will make you feel like you're living in a palace.
Use a Collapsible Dining Table To Save Space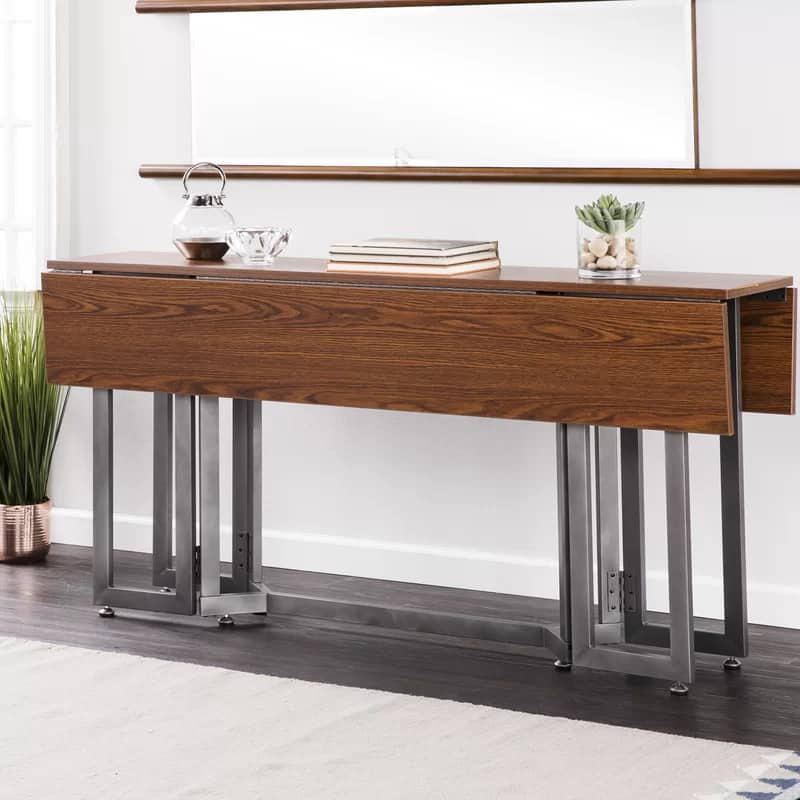 Collapsible tables are one of the best ways to save space in your dining room while the table is not in use. This table has drop leaves on the side, and the legs tuck in as well. If you have space near your wall, that's all you need to get it out of the way.
In spite of this space-saving capability, it's actually quite a large table and can seat up to six people when fully extended. If you hate having to decide between a compact table or a large one, you no longer have to.
Reach New Heights With a Counter Height Table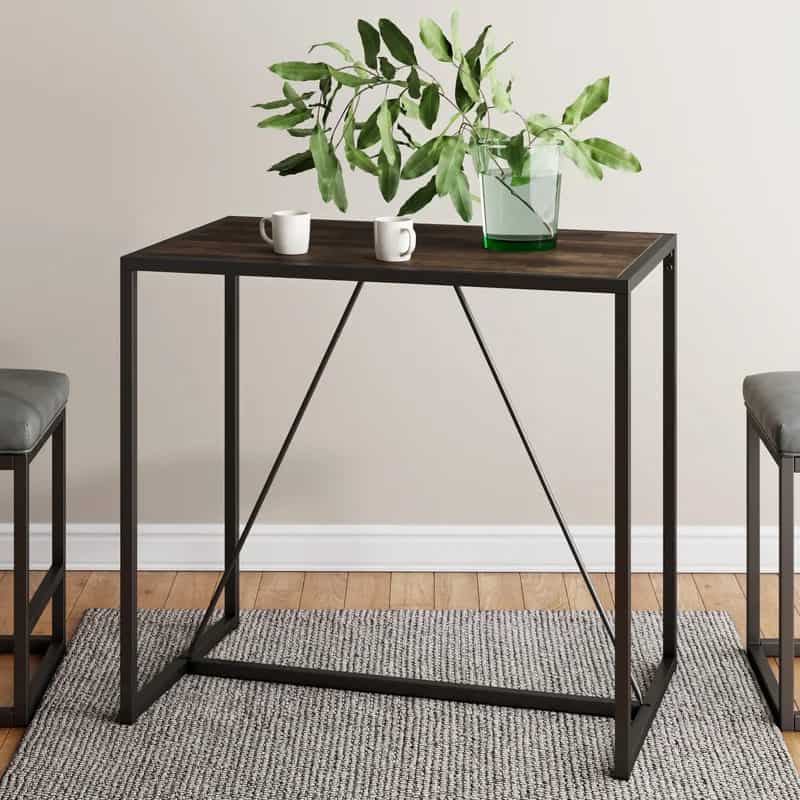 Most dining tables are standard height, but some spaces look better with some stylish bar stools and a counter-height table to match.
As an added bonus, counter height tables tend to be smaller, making them a perfect option for dining rooms without a lot of… well, room. They're also perfect for putting in the kitchen as well.
Use a Convertible Dining Table for a Wide Variety of Purposes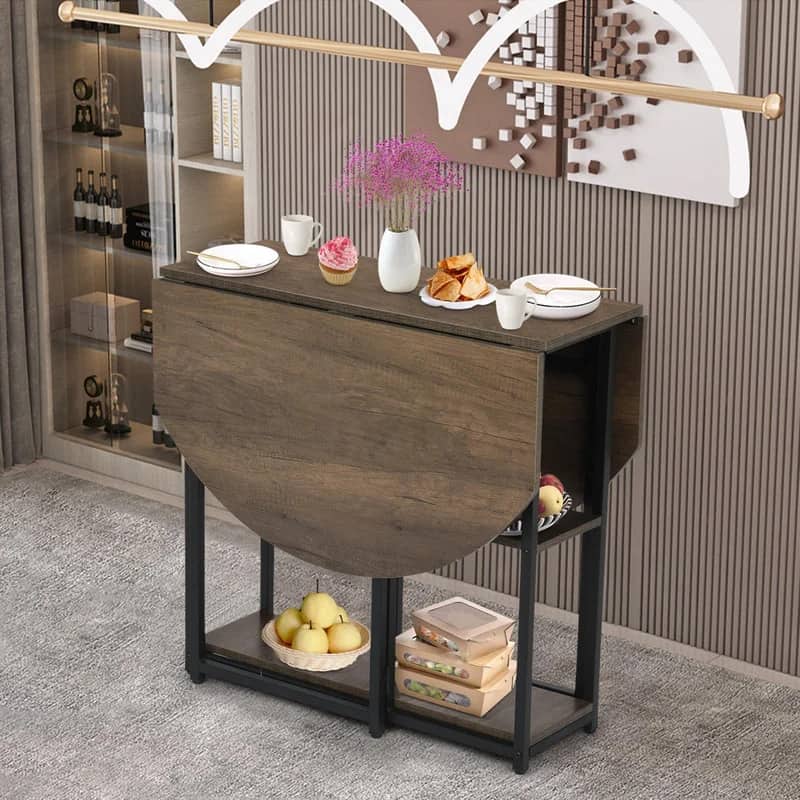 Many dining tables aren't super versatile. They're just large tables that sit in the dining room, which for most houses, is perfectly fine. But if you're trying to save space, you'll want a table that can go the extra mile.
That's where convertible dining tables for small spaces like this one come in. This one can be used for a wide variety of purposes, from a desk to a standard table to a shelf. If you need a small apartment dining table, the extra storage will help you save even more space.
Go Eco-friendly With a Recycled Metal Dining Table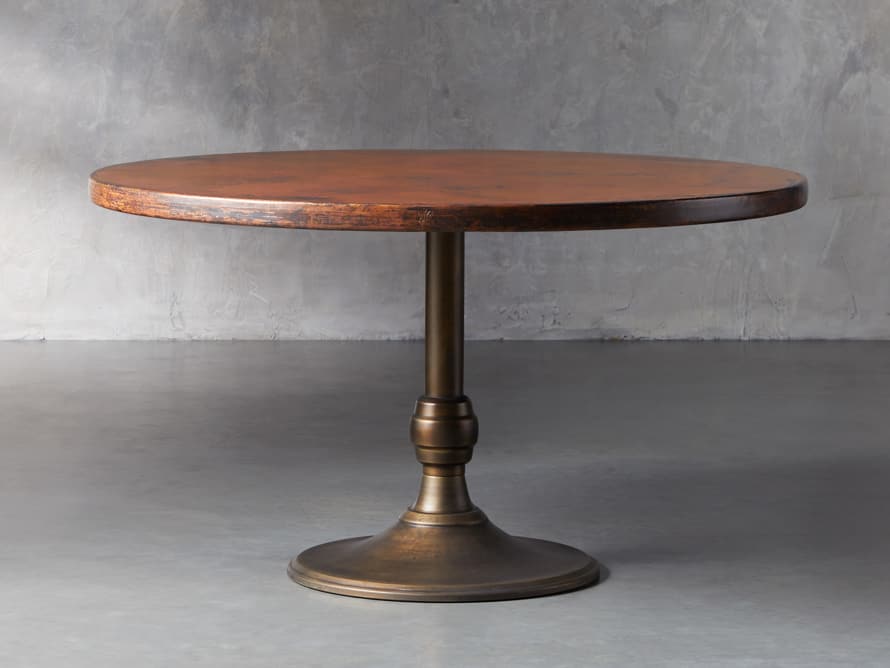 Sustainability has gained popularity, and more and more are reevaluating their impact on the environment, from the clothes they buy to the things they throw in the trash.
Home decor is no different. There are plenty of ways you can purchase home decor to reflect your values, and one of the best ways is purchasing a recycled piece of furniture– in this case, a recycled metal table. Metal that would ordinarily go to landfills gets a new lease on life in the form of a stunning table.
Stand Out With a Unique Carved Table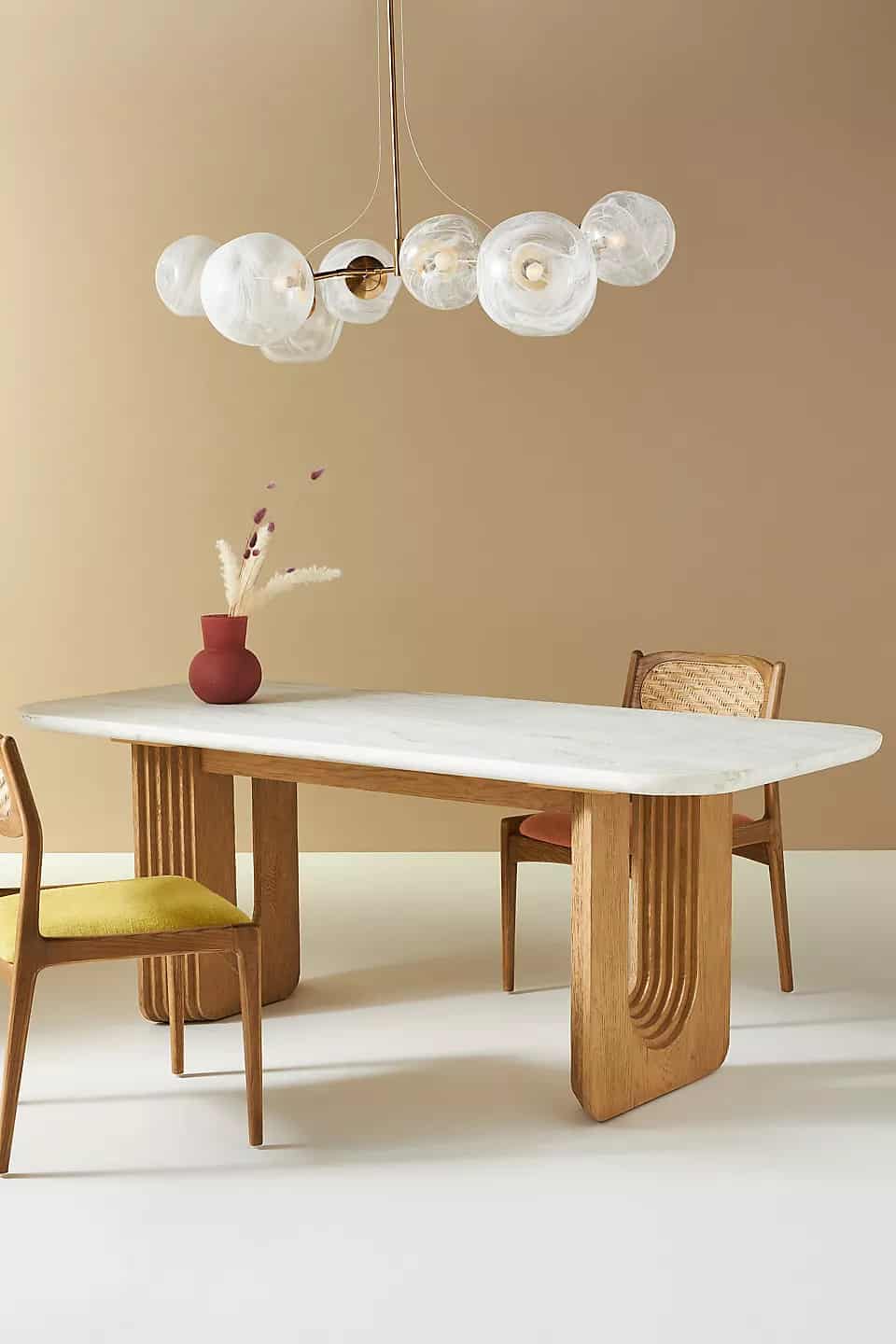 If you're at a place where you feel like your room just needs that extra bit of oomph, you're in luck. Plenty of table designs feature otherwise simple designs that have a single standout feature.
Such is the case with this unique carved table. At first glance, it might seem normal, but then your eyes are drawn to the unique resin legs. Plus, it's practically made for small spaces. The legs are removable, making for much easier storage for when you're not using it.
Add a Bit of Color With a Blue and Brown Table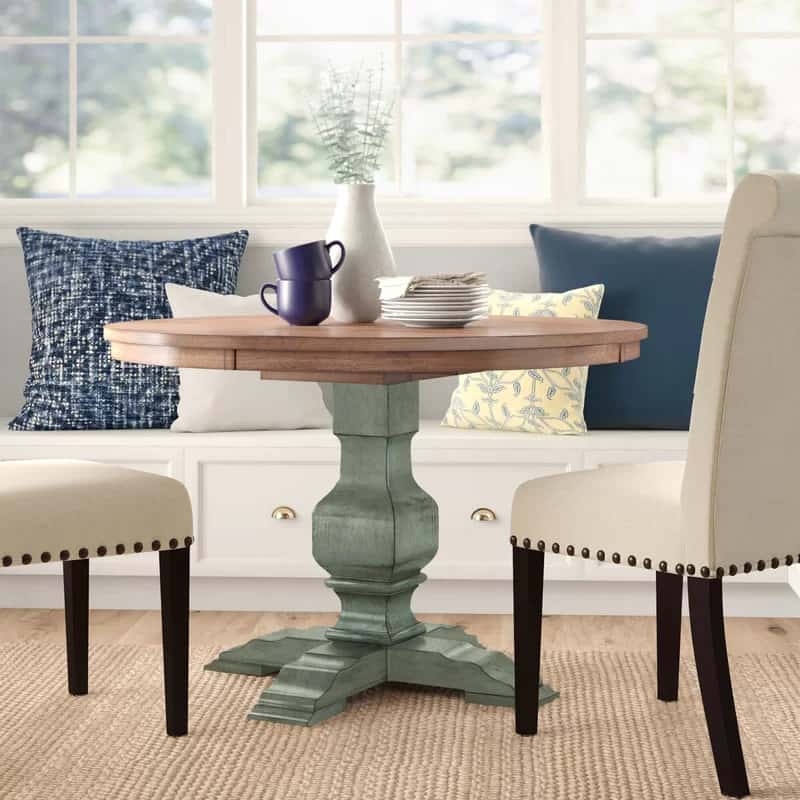 Perhaps it's a bit of a cliche at this point, but it's still true– some rooms could do with a splash of color. It's the perfect way to tie a space together and make it feel more like home. You can achieve a splash of color with your dining table by choosing one with a pleasant color palette.
Take this table, for example. The brown and blue tones would make it perfect for fitting into a coastal room or anywhere that could use a bit of blue-green.
Add a Natural Touch With a Reclaimed Wood Table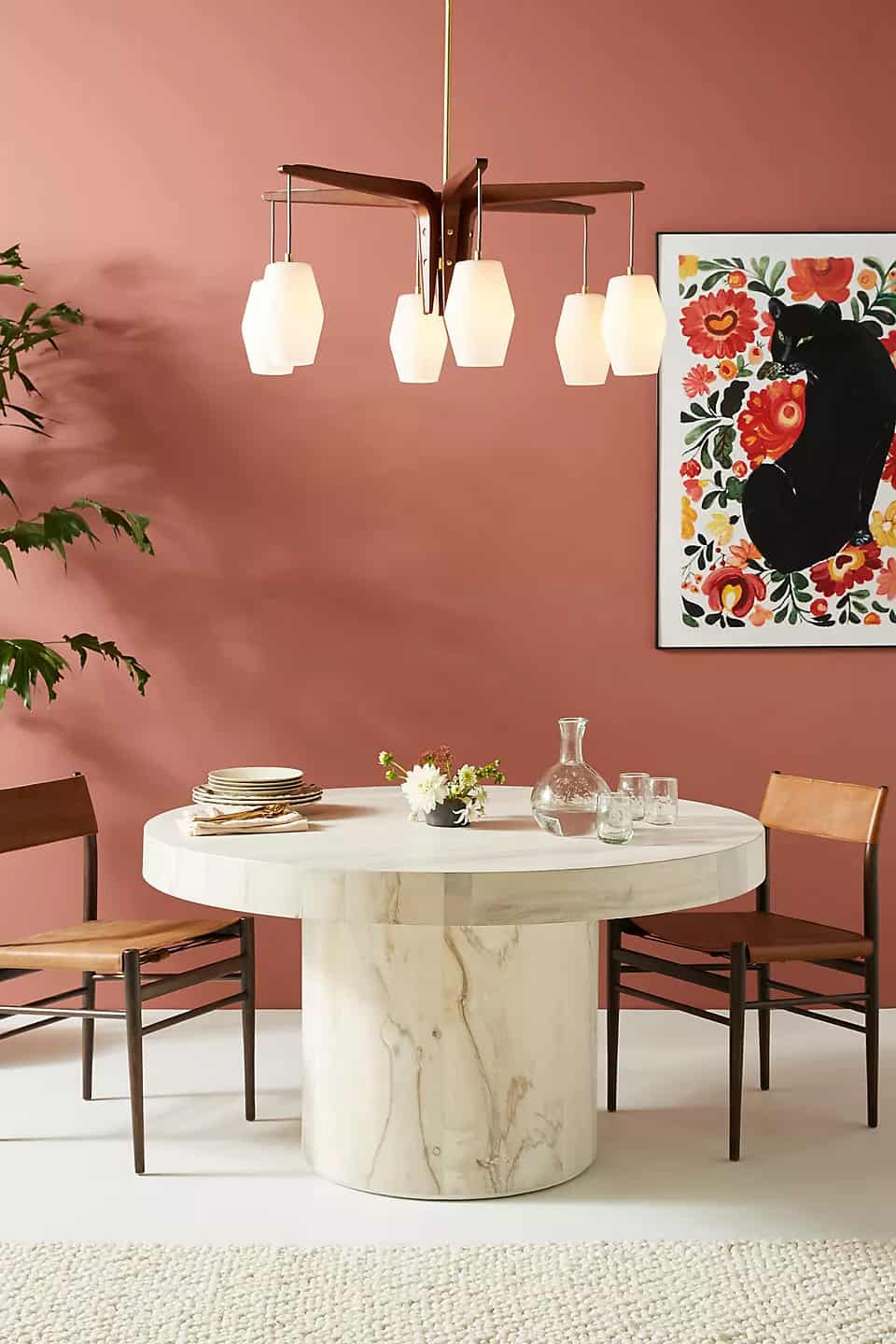 Many modern designs incorporate a touch of nature. It's one of the best ways to feel like you're connected to the outdoors, even inside.
There are many ways to do this, but since we're on the topic of dining room tables, you can add in a reclaimed wood dining table. More specifically is a table like this one, which has that unfinished, unpainted look for even more of a natural flair.
Beautify Your Room With a Glass Sculpture Table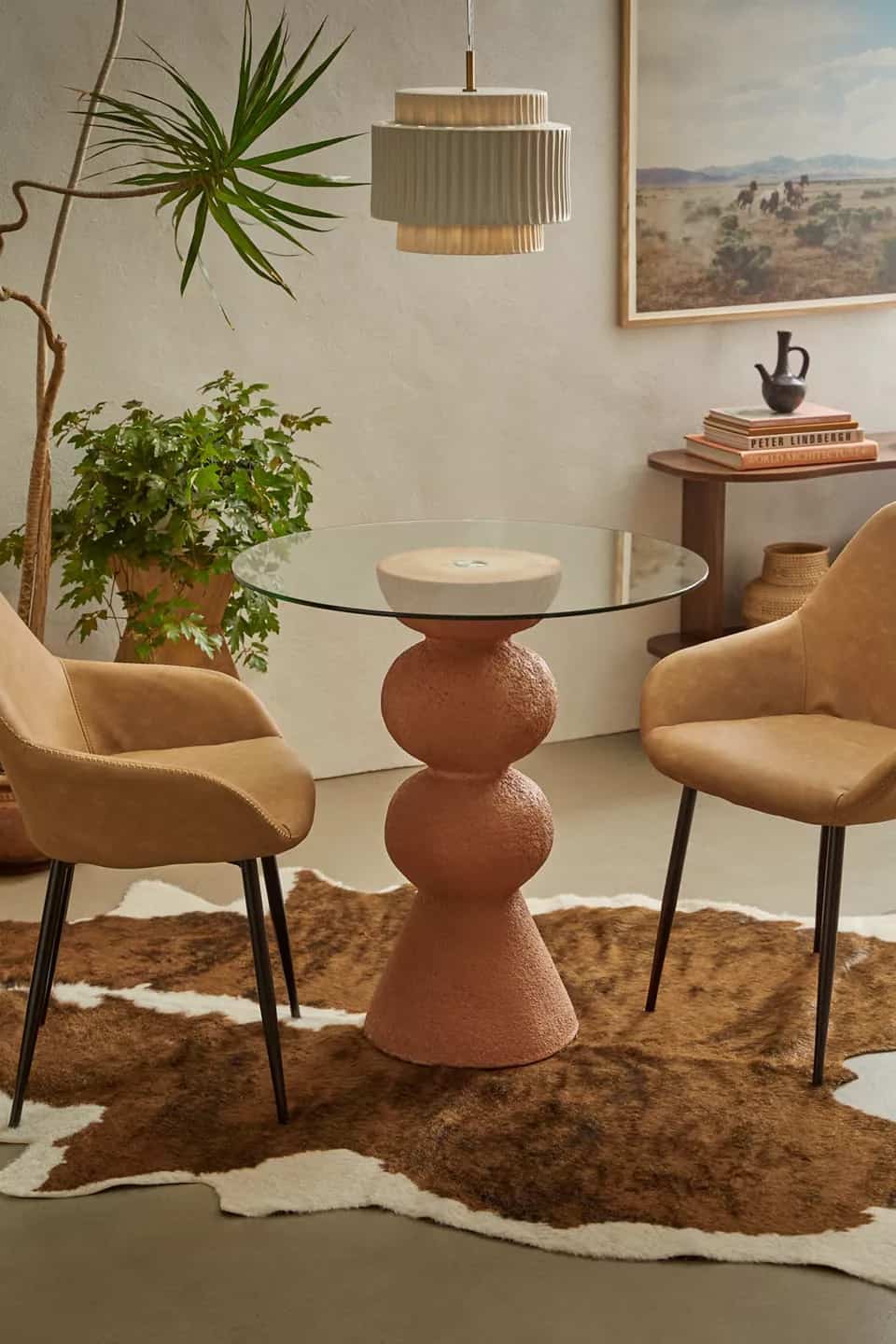 Trying to decide on whether you should buy that cool new piece of pottery or a dining table? Well, worry no longer– this table is both.
The base is a gorgeous glass sculpture, and yet with the glass top, it functions well as a dining table. That way, you can have an amazing statement piece without taking up too much room.
Add a Bit of Futurism With a Sleek White Table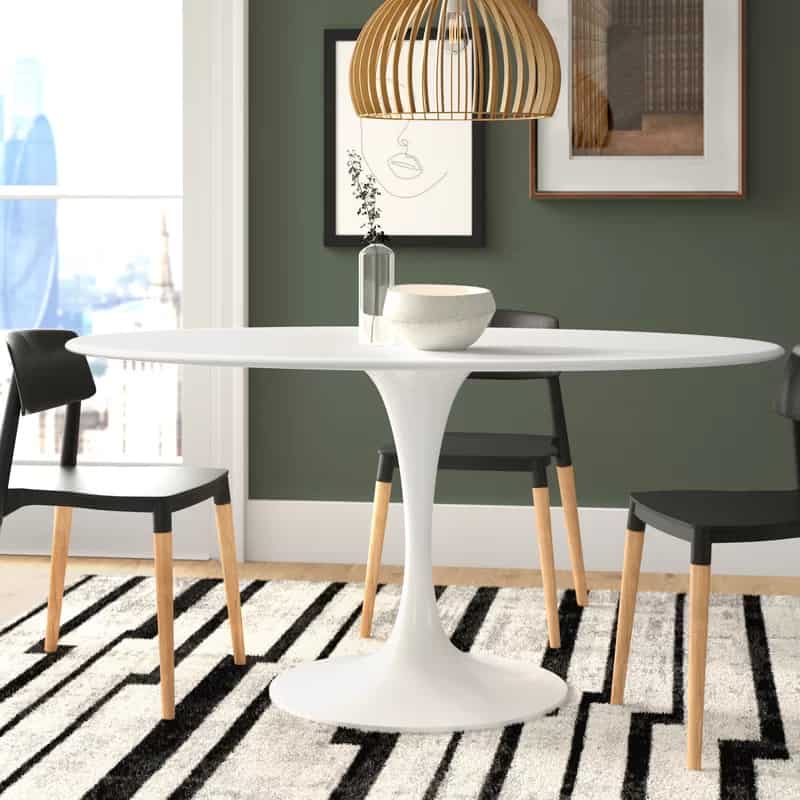 Futurism isn't the most common aesthetic out there, but that doesn't mean it's obsolete just yet. There are still plenty of stylish interiors that look like they came from the year 3026, and yours could be one of them with a futuristic-looking table.
Like modern-style decor, futurism emphasizes clean lines and sleek geometry. Unlike modern interiors, though, futurism largely emphasizes bright white and glossy interiors. This table fits the bill perfectly.
Go For Versatility With an Adjustable Height Table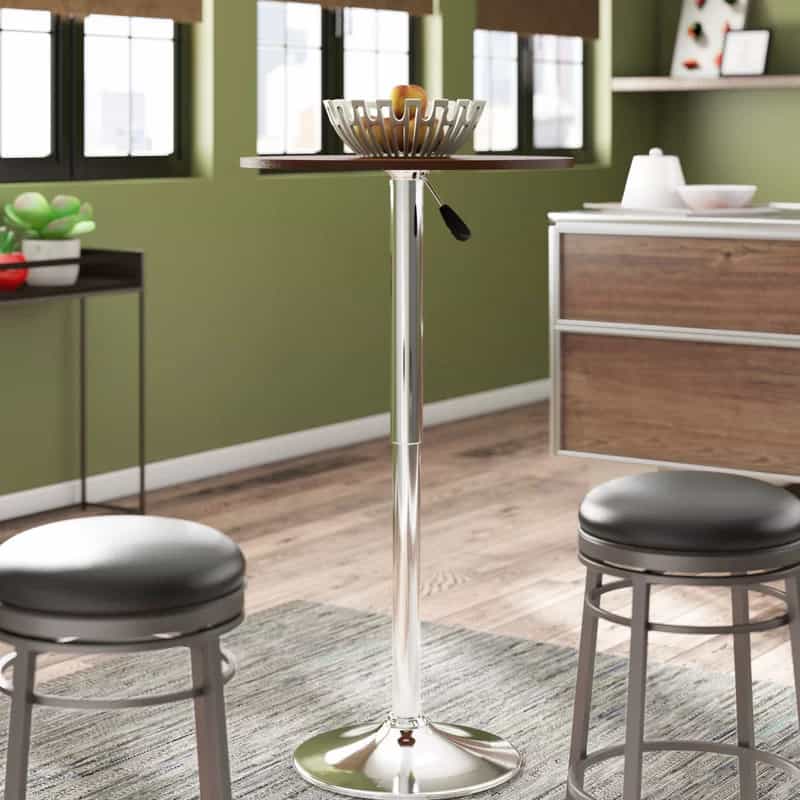 If you have bar stools and don't know what to do with them, you can easily pair them with an adjustable height table. Of course, if you don't fall into this highly specific category, it's not the only use case.
Tall tables are useful for pet owners since you won't have to worry that your furry friend Fido jumps up on the table looking to chow down. He'll have to stay down and eat his food instead. And, since the table's adjustable, you can put it back down to normal height when you're done.
Add a Rustic Touch With an Iron and Wood Table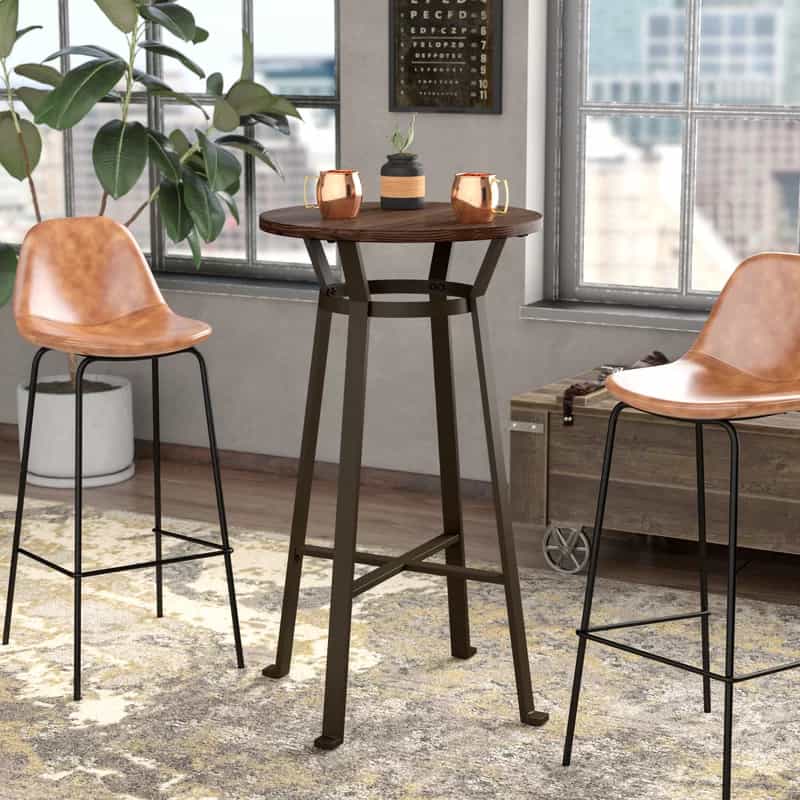 Iron and wood tend to evoke medieval tones, although, in the case of this table, it can work well in a standard rustic aesthetic as well. The brown and black color palette means it can match almost anything.
In addition, it isn't very wide, making it perfect for fitting in your kitchen or wherever else you'd like it to fit.
Go For Luxury on a Budget With a Faux Marble Table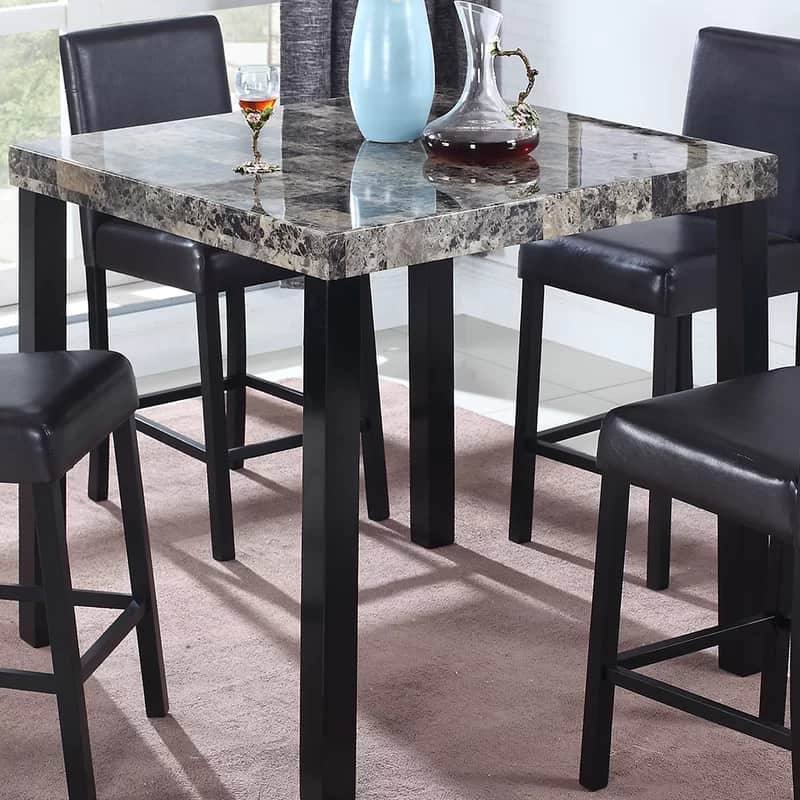 If you love luxury but don't have the wallet to match, you won't have to walk away from the furniture store disappointed any longer. Faux marble resembles the look of marble without the high price.
Plus, the natural stone is easy to pair with almost any style and color palette, making it incredibly versatile for whatever design you have planned.
Add a Touch of Elegance With a Pedestal Dining Table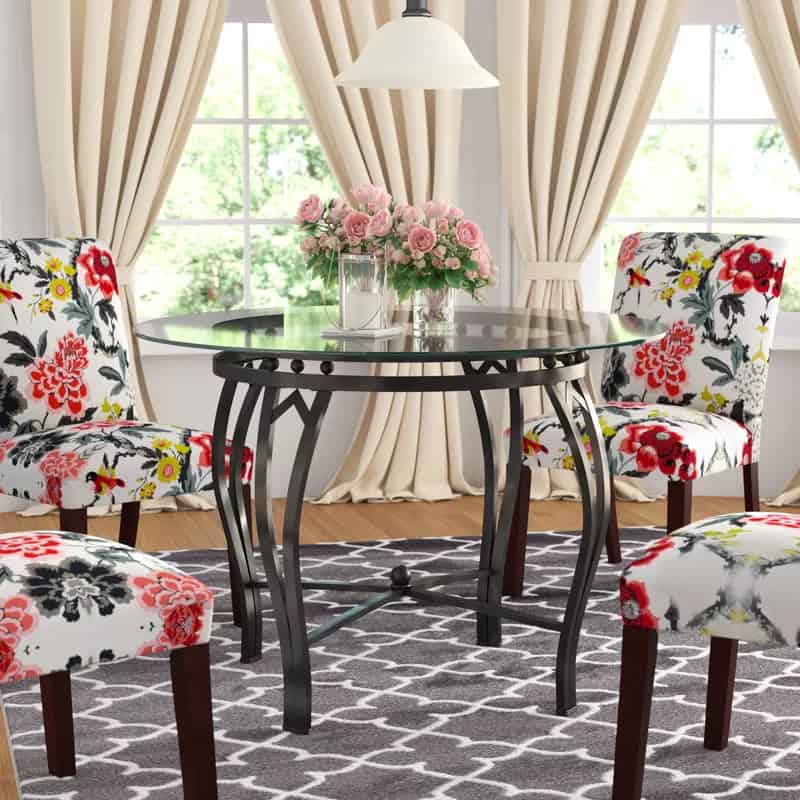 When glass and metal meet, you know it's modern-style time. The two materials have become synonymous with the look, really– take a look at any glass and metal table, and it's difficult not to say so. But what if we told you that there's another aesthetic it can go with as well? With the right design, a standard modern-looking table can evoke elegance.
Such is the case with this gorgeous pedestal table. Stylish curved legs and unique geometry make it perfect for matching your elegant interior.
Go For a Modern Look With a Glass and Metal Table
We said it before, and we'll say it again. Glass and metal? Modern. And having a sleek design to boot makes it even more so, as you can see with this table.
The silver metal legs meet in the middle to form a sturdy yet stylish base. Because it's so sleek and simple, it's perfect for giving your dining room or kitchen a much-needed upgrade.
Express Your Inner Artist With an Abstract Blue Table
If you have a very artistic sense of taste, then really, only artwork will do. What does artwork have to do with dining tables, you might ask? Well, independent artists sometimes put their artwork up on marketplaces that put it onto all kinds of items, tables included.
That's where this table came from. If you've always wanted your table to double as a work of art, with this one, you can! Even with its small size, the gorgeous abstract blue and gold design will stand out all its own.
Final Thoughts…
You might be limited on space, but with all the small dining tables out there, you certainly aren't limited on designs. From a sleek and simple rubberwood table to a curvy and artsy glass sculpture table, there are options out there to fit every taste.
Along with that, small dining tables have plenty of options for the sake of practicality. With a drop-leaf dining table, you can easily shove it into a corner or use a convertible dining table to fill multiple roles. If you don't have a dining room, there are even small space-optimized kitchen tables out there, as well. We hope this list gave you the perfect place to start in choosing a small dining table.