Don Pedro Brooklyn is reader-supported. When you buy through links on our site, we may earn an affiliate commission. Learn More
DIY Christmas Décor Ideas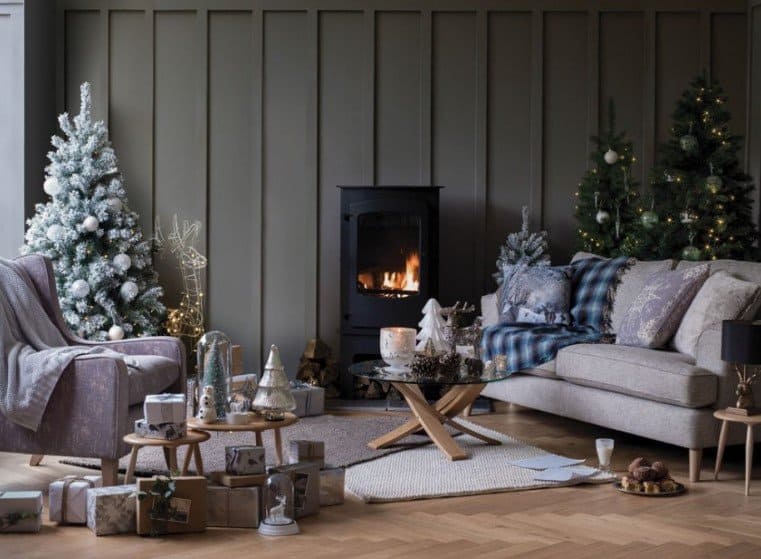 It's Christmas month and everyone is excited to decorate his home the way he wants.
But not all spaces allow us to decorate the way we like. And, then there are costs associated with designing.
But, there is no reason for you to wait or feel disappointed. Your house deserves the best and so do you!
The simplest and one of the most wonderful ways to beautify your house is the use of wall stickers. These can make your existing spaces look creative and beautiful without much expense of time and money.
Let us see the different ways in which you can use these stickers to design your home.
Convert the Doors into Paths to the Unexplored
Doors are some of the most boring areas of your well-designed house. But, you have a wonderful solution for the doors as well.
Closed doors often look gloomy and at times scary too. To make the doors look delightful, you can use stickers with natural themes that make it appear like a path to the unexplored.
The door mural self-adhesive paper will cover up the blankness of the door and add to the look of your room.
It can also make small room spaces look bigger if you choose a graphic which appears protruding deep.
How About Your Own In-House Garden?
Our hectic lifestyles stress us. And, many of us keep looking for solutions. We cannot enjoy nature with our urban style of living until we bring nature home!
If you need a beautiful place amid nature for your meditation, you don't need to move around searching for one; you can just decorate your house with the nature-inspired graphics.
And, if you are a nature lover, but restricted by your urban life, you can still get a feel of nature with these wall stickers.
Irrespective of the room, you can make one of your walls look like a garden or a natural surrounding by putting wall stickers of birds, animals, waterfall, and plants.
Kids' Room Must Have Fun Combined with Learning
We want the best for our children. But, the best décor for their room is the kind that they like! And, we don't want to force upon our choices for their room décor, do we?
This is the reason why, generally, it is desirable to include a white wall sticker on one of the walls of this room.
They can use this wall to write, draw, and paint as they like. Would you not want your kids to be more creative?
The kids' spaces can be made more conducive and lovely for them. Everything that you add to this room should not just contribute to the décor, but also help them learn and practice new skills.
On another wall, you can also put stickers of cartoon characters, birds, and animals. To teach your child the English alphabet and numbers, you can choose stickers with letters from A to Z and make learning fun for him.
You Can Be More Innovative with Living Room
A living room is a space for you and your family. And you would want it to be soothing, cozy, and yet beautiful. Too much decoration can spoil the purpose. And, when it is about the family, comfort comes first.
So, decorating minimum yet beautifully that too in not so high costs is possible with these living room wall stickers.
As you do not have to please anyone else, but your family, the choice of graphics and colors can be flexible.
You know the choices of your family the best; so why not surprise them with a nice wall sticker this time?
Bedroom Is Too Personal to Ignore
The bedroom also needs nice décor, especially if you don't like blank walls.
Bedrooms are extremely personal spaces. When trying to decorate your bedroom, put your best foot forward. Inspiring quotes and mesmerizing graphics are ideal for this room.
And, do not forget to use dim colors for inducing sleep and offering the perfect ambiance for relaxation.
Seasons and Festivals Need Thematic Decor
It is Christmas time! And you are almost through with your shopping list. Or, have you already placed orders for the festive season?
But wait! You also need a fresh home décor for Christmas.
Who doesn't want a makeover of the house on Christmas? But, do you have the time to change the decor of the house now?
Honestly, you do! Make your Christmas memorable by decorating your house with stickers;
Santa Claus and all the stuff that you and your family love to see around will be right there on your walls this Christmas.
So, pick up your Smartphone now, and; order some beautiful stickers to make your home Christmas ready for your friends and family.
Wouldn't it be wonderful to likewise have a different décor for each season? Your family will love it for sure.
Conclusion
There are numerous reasons why people love the wall décor stickers. First, it gives them an opportunity to design and redesign at their convenience. They can explore different designs on the internet and buy these online. There is a variety to choose from.
Secondly, the costs are too reasonable to ignore. Availability is not an issue as most shopping websites sell a variety of such wall décor murals. Social media has also made it easier for you to search for the products at one touch of your Smartphone screen.
e do not have to wait to buy that ideal house if we can try these simple things to make the existing spaces ideal for our living.
Do try it yourself, if you like the idea. It is usually a one person job and you will be proud of yourself when you see the outcome!
And, do not forget to share other simple yet beautiful ideas to decorate your home.