Don Pedro Brooklyn is reader-supported. When you buy through links on our site, we may earn an affiliate commission. Learn More
DIY Shoe Rack Ideas
If you have very large collections of shoes, having a shoe organizer is a must. Of course, you don't want them lying around and make your house look messy.
The good news is you can make your own custom shoe rack with these 23 DIY shoe rack plans.
From the simple, easy-to-build shoe rack plans to the more advanced ones, you can choose which idea that suits you.
DIY Smart Shoe Storage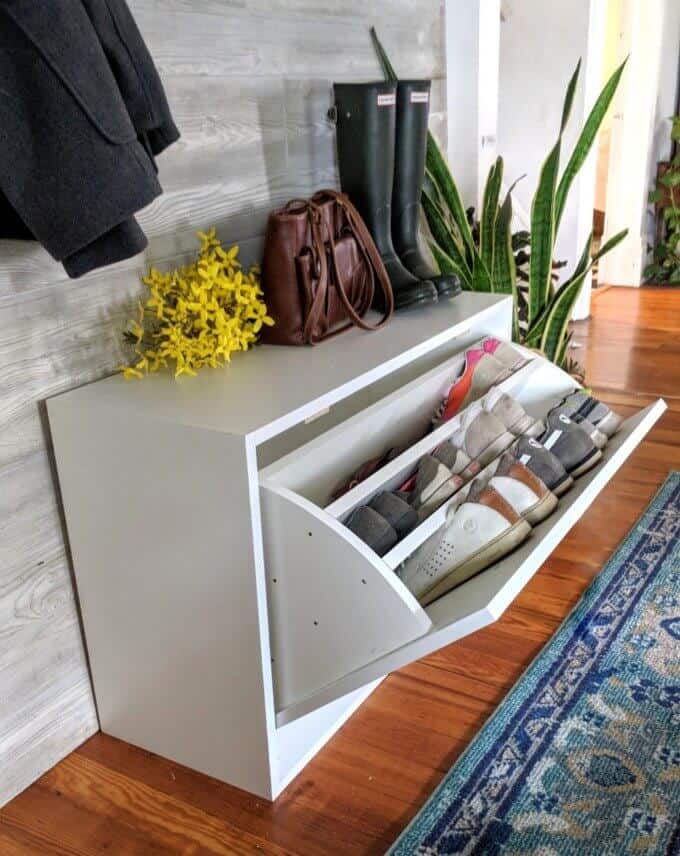 This is an aesthetically good looking DIY smart shoe storage. It could be one of the best DIY shoe rack ideas that could help in saving space.
It can tilt open and once the shoes have been removed or placed inside, it can be shut.
The rack can be made from wood planks or plywood, and you can use different colors to match it with the overall ambience of your home.
DIY Shoe Display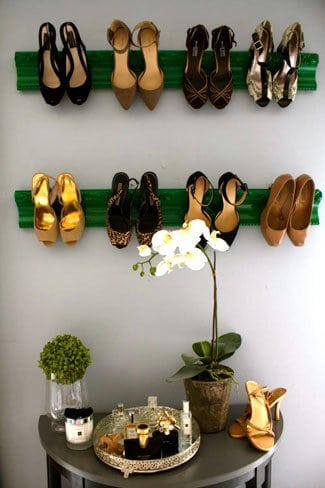 If you are looking for some good looking out of the box shoe self ideas, then this could be a wonderful choice.
This could be one of the best choices for small homes that lack storage space.
You can have horizontal planks constructed with the facility for hanging your shoes. It will not only look neat but the shoes will also have enough fresh air.
DIY Ladder Shoe Shelf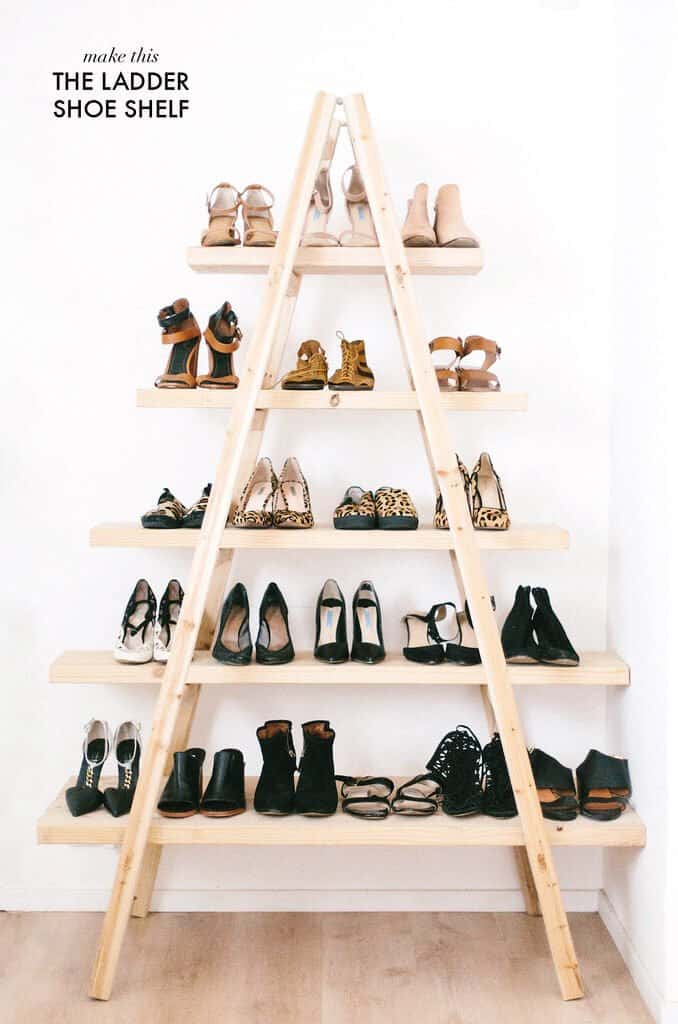 Who said ladders can be used only for climbing up and down?
Just place two ladders vertically like a pyramid and have some planks fixed from the bottom to the top.
These planks can be a wonderful and easy place to keep your shoes.
It will not only look good but also help you to store more pairs of shoes than conventional shoe stands can hold.
DIY Spinning Shoe Rack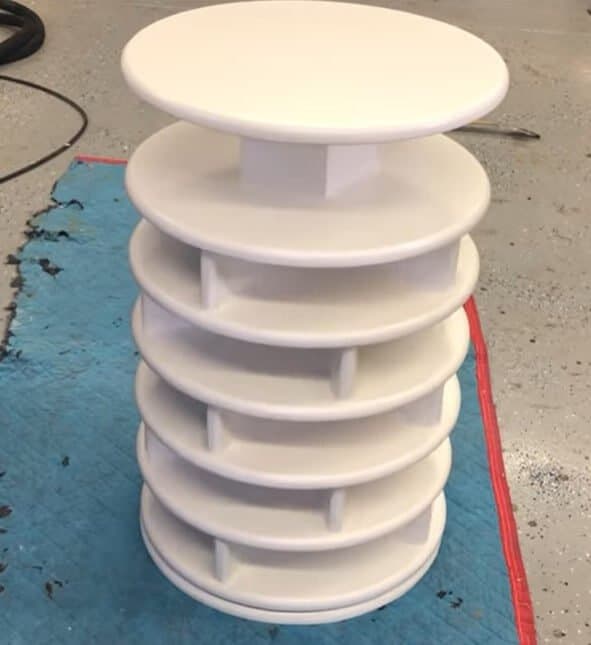 Spinning shoe racks could be considered one of the most unique and wonderful shoe shelf ideas.
Though it looks complicated, it is not too difficult to make.
It will add quite a bit of sophistication to your home and will allow you to store more pairs of shoes when you compare it with static and conventional shoe racks that we are aware of.
DIY Painted Wooden Shoe Rack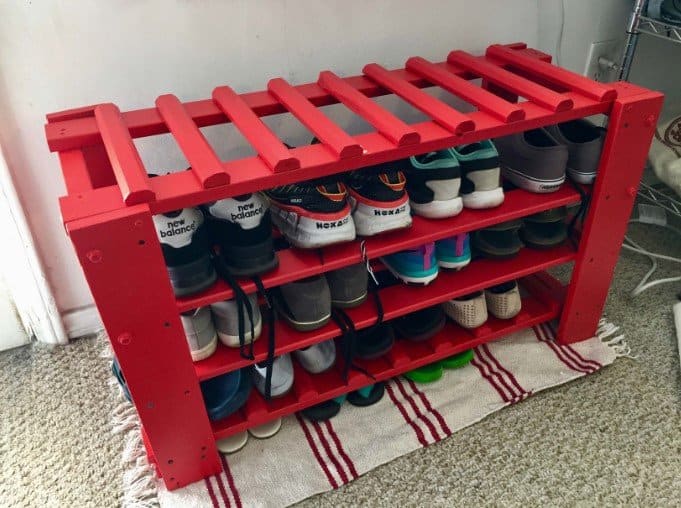 This is perhaps on the simplest and easiest ways of making shoe racks. They can be made from recycled old furniture.
They are suited for homes where there are budget constraints.
You will need planks of different sizes and shapes and they need to be fixed horizontally and vertically. It should not take too much time and effort.
DIY Entryway Bench with Shoe Rack
If you have a rectangular shelf or other such furniture, you can perhaps tweak it a bit and convert it into a wonderful shoe rack.
It works well as an entryway shoe rack that could help you save big money in buying new shoe racks.
It is easy to make and also look quite good. Moreover, it doesn't take too much time to make.
DIY Entryway Shoe Rack (without Bench)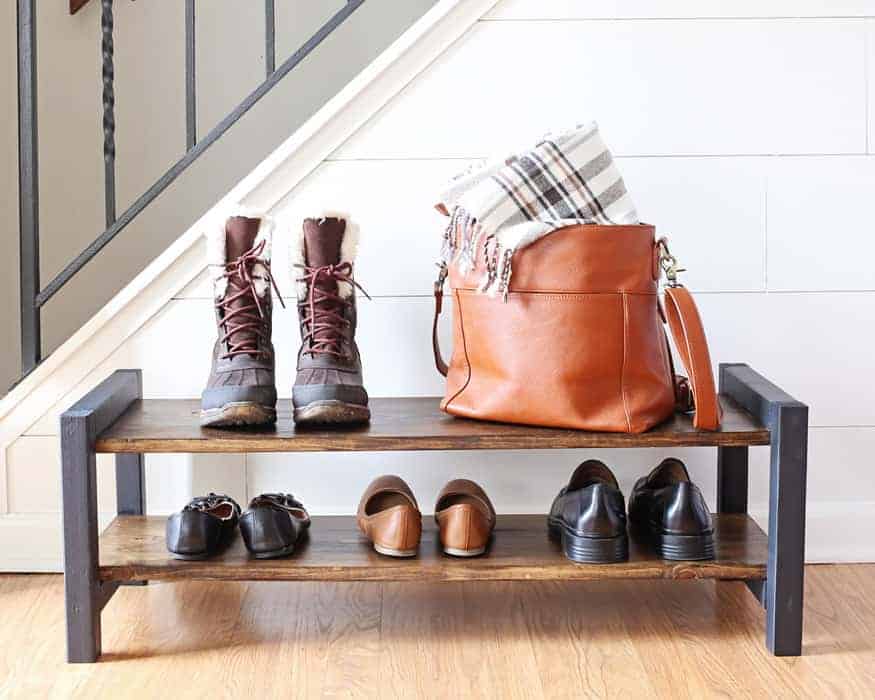 While we normally see shock rack in home entry points with shelves, this is a simple and conventional-looking shoe rack.
It is perhaps one of the easiest to make and can be completed in a few minutes.
All you need is two sturdy planks of wood with wooden frames on which the planks can be fixed. It does look neat and organized.
DIY Shoe Welly Rack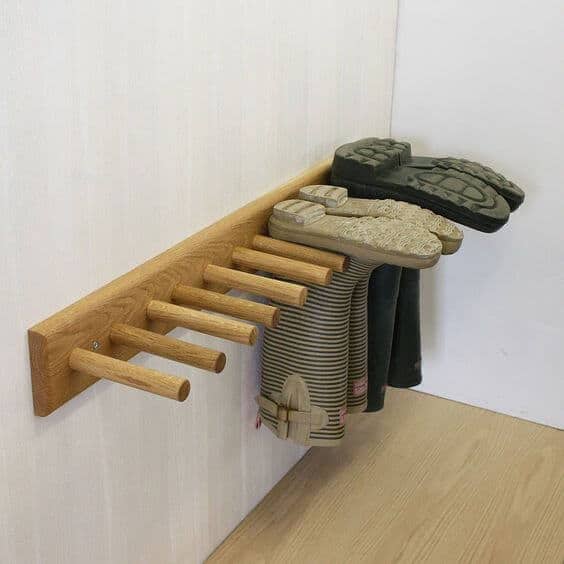 If you have snow boots and other big types of boots and shoes, it makes sense to go in for a shoe welly rack.
These are wall-mounted shoe racks, and you have cylindrical stands on which the shoes and boots are hung in the reverse order.
These racks help provide the much-needed ventilation for boots and shoes and they look good.
DIY Hexagon Shoe Rack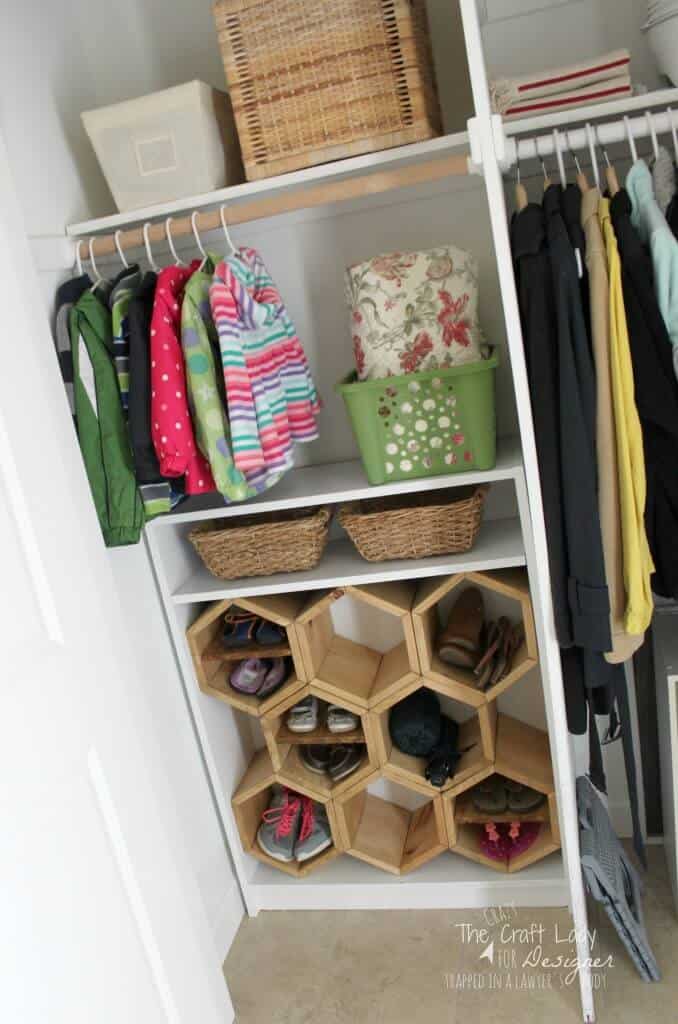 Do you want a shoe rack that is a part of your wardrobe?
Then you could try and go in for this shoe rack that comes in a hexagon shape.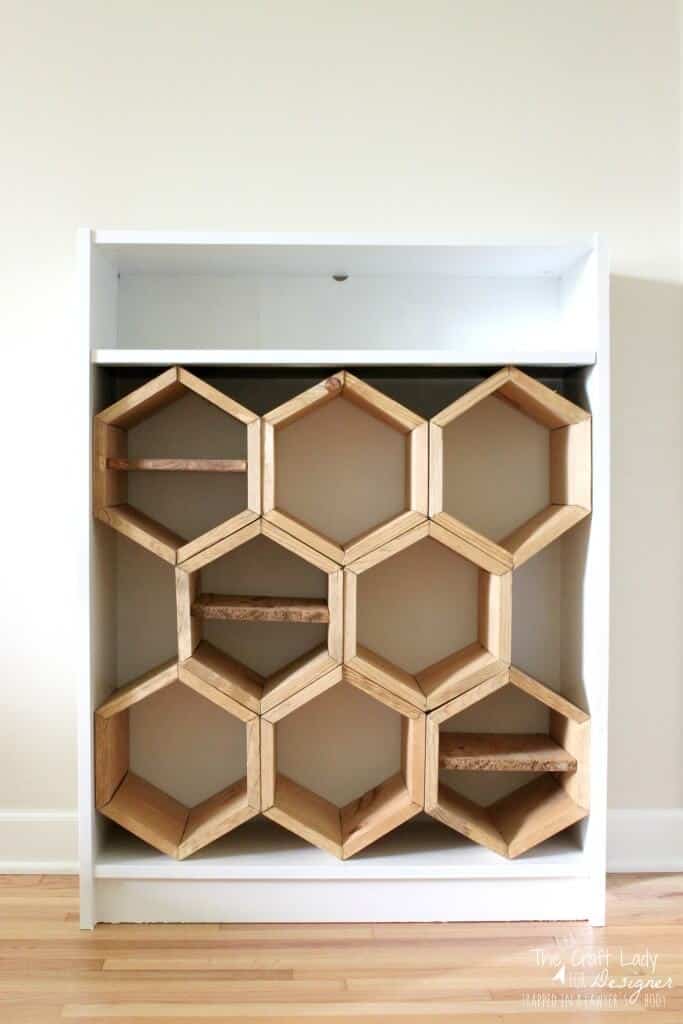 It looks bigger than a pigeon nest and is a compact shoe rack for a small family with a limited number of shoes and boots. It is indeed a space save in more ways than one.
DIY Shabby Chic Shoe Organizer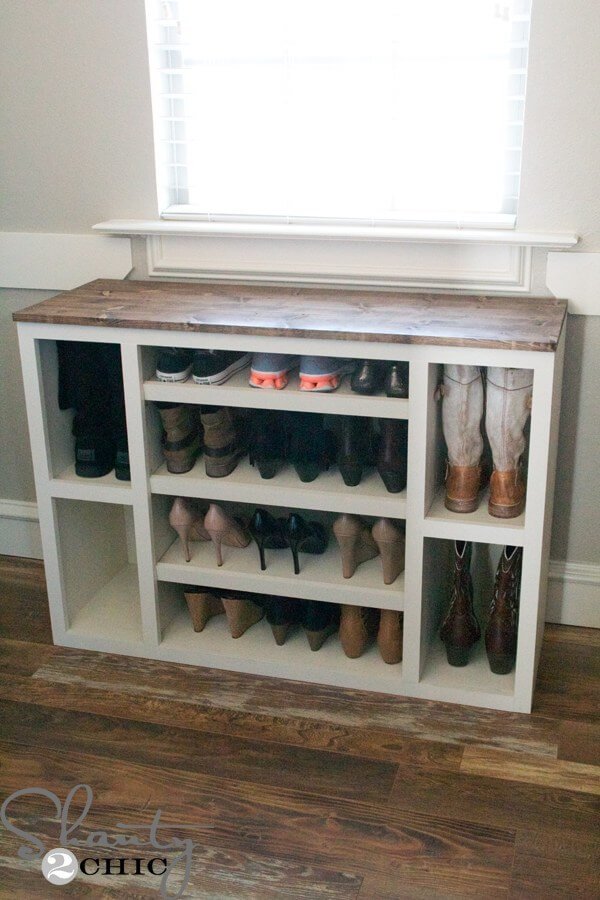 This is a shoe rack with different sizes for holding snow boots, and also conventional shoes and boots.
It could roughly be around 3 feet and could easily hold around 16 pairs of different sizes of shoes.
It does add quite a bit of sophistication and may help in enhancing the overall look and feel of your home by quite a few notches.
Simple and Functional DIY Shoe Rack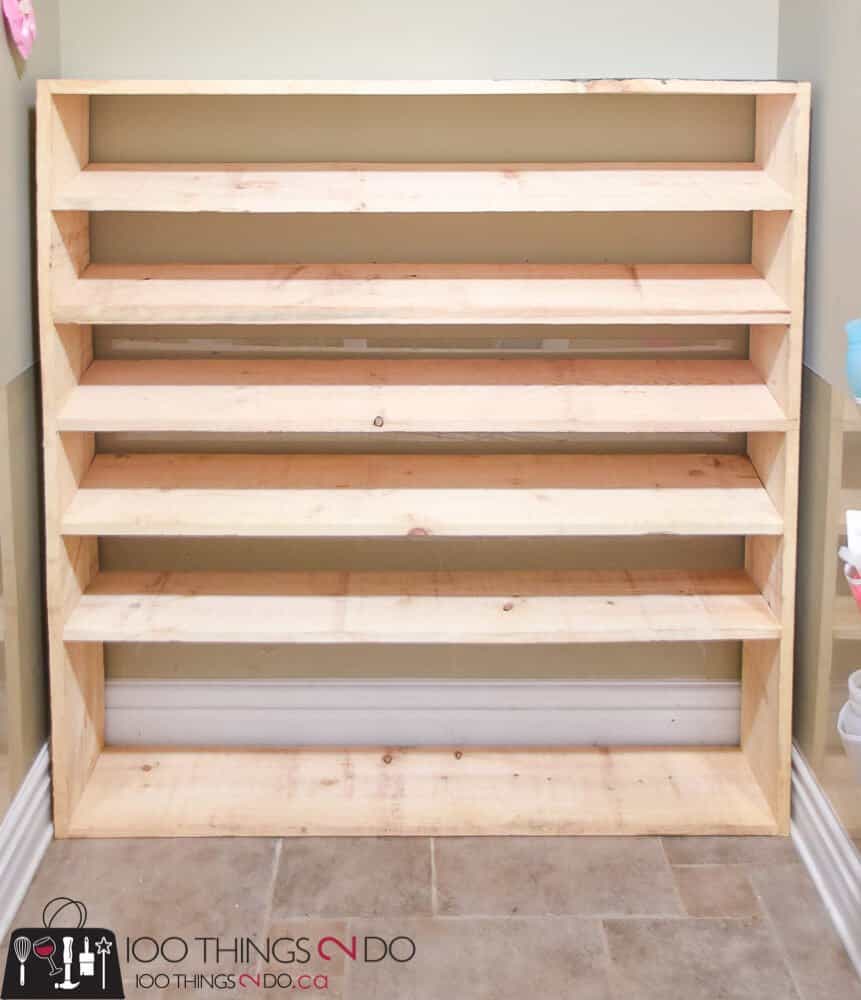 If you have a big family and have many collections of shoes, then this could be the right choice.
It can have as much as seven slots for keeping your shoes of different sizes and it does save money.
It also is quite cost-effective, to say the least. It can be placed in the entrance of your home or any other place depending on your convenience and keeping in mind your specific needs and requirements.
DIY Industrial Copper Pipe Shoe Rack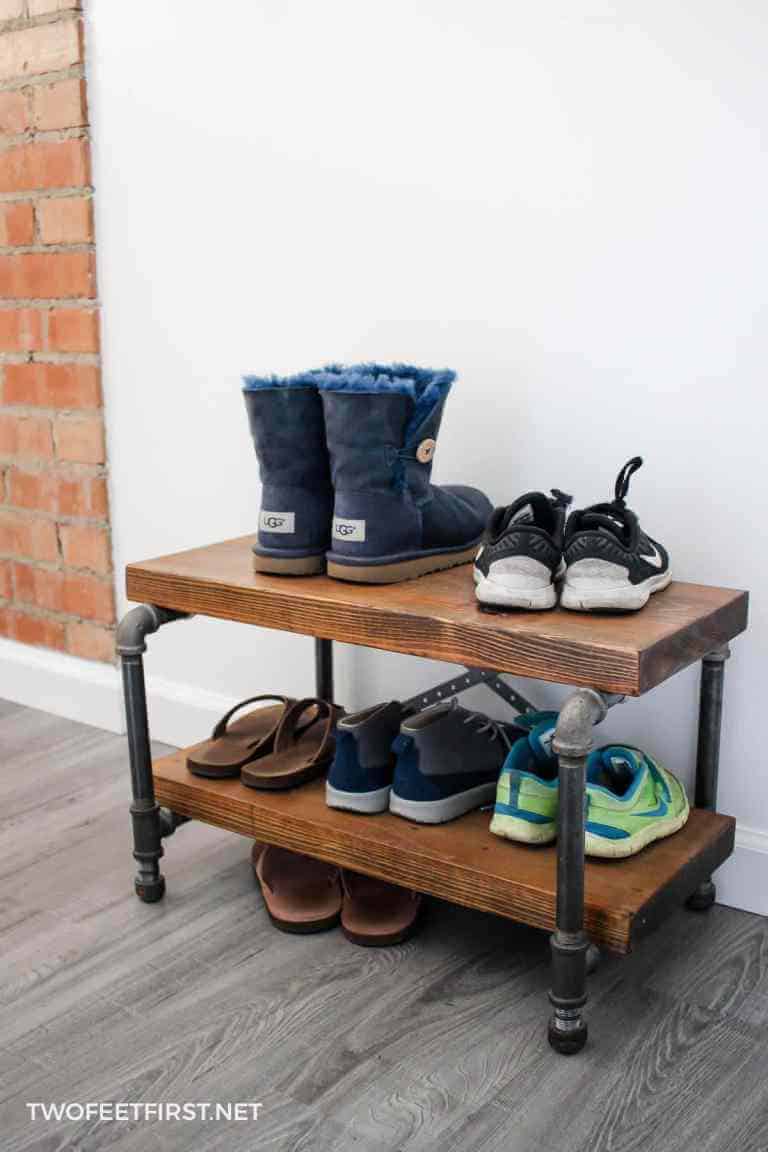 A suitable alternative for small families, this cut looking industrial copper pipe shoe rack uses industrial-grade copper pipes as the body over which the wooden planks are fixed.
It is versatile, tough, and durable. Other than that, it does not eat too much space.
DIY Shoe Rack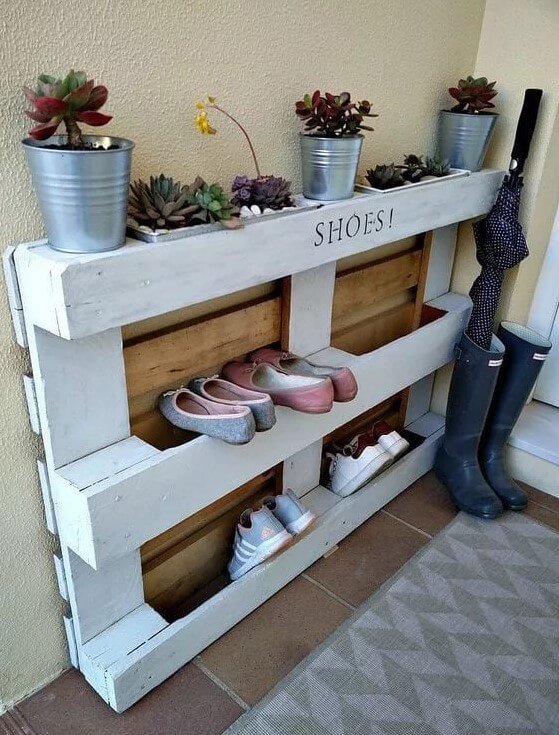 This shoe rack could be one of the best shoe shelf ideas and is attached to the wall. It offers a unique look and is a combination of utility and sophistication.
It can accommodate quite a few numbers of pairs and also makes the home look good.
DIY Bucket Shoe Organizer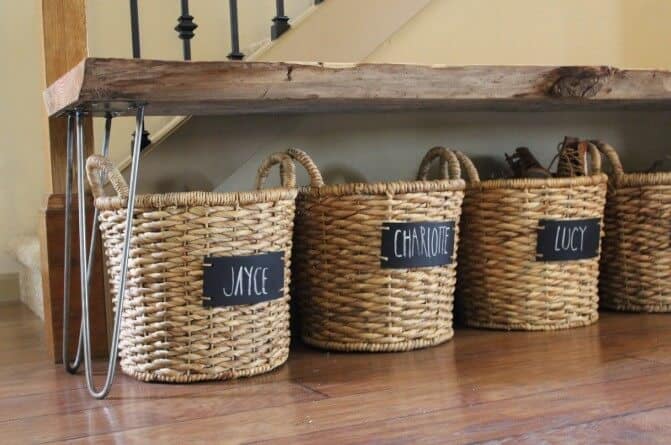 If you have children in home fighting for a shoe-parking space, then this bucket shoe organizer could be the right choice.
It is made from environment-friendly basket material and can be placed conveniently at a place of your choice. It is versatile and adds a new look to your home. It also is very cost-effective.
DIY Heels Hanger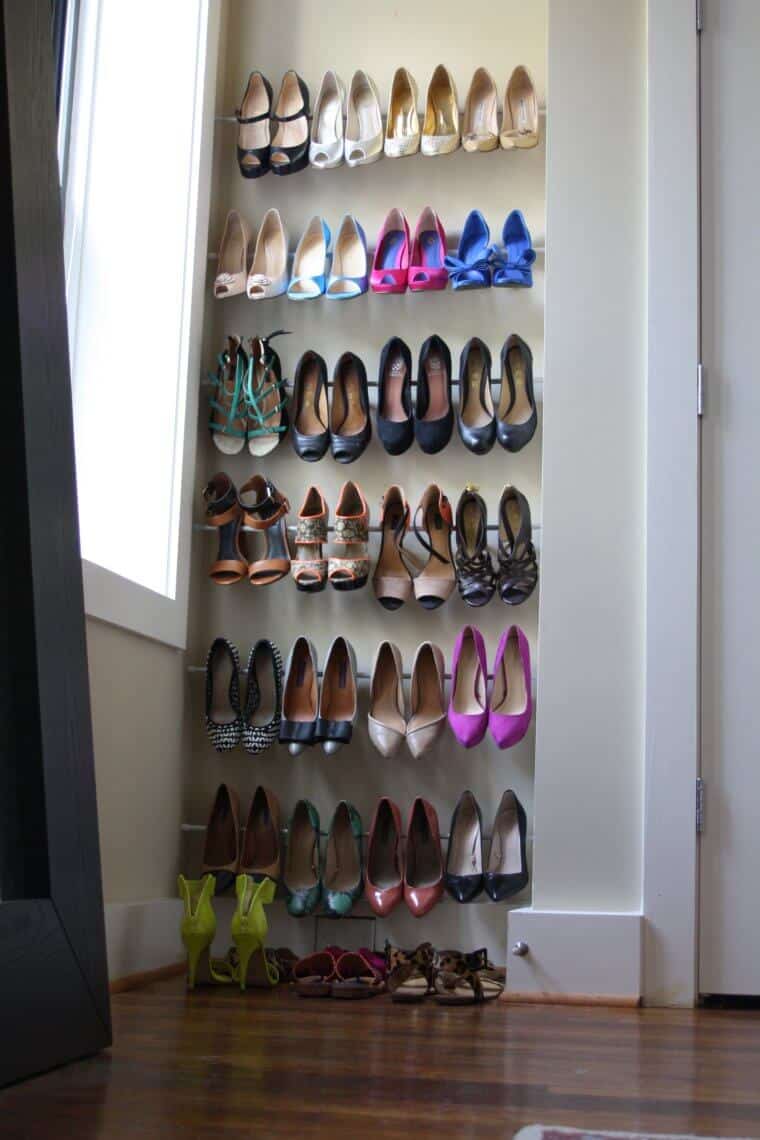 If you have a stylish and large collection of shoes and would like to display them without eating up too much space, then this could be the best solution.
It can hold dozens of shoe pairs and women, in particular, may find it quite interesting and worth having in their homes.
DIY Geometric Shoe Rack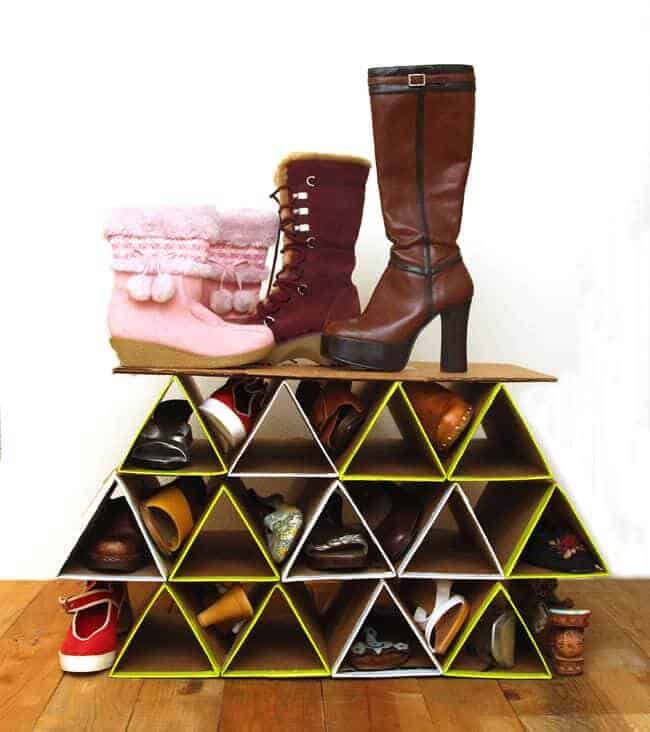 This looks like a combination and collection of triangles where shoes can be kept.
It can be made easily with some pieces of cardboard. And the good thing about this shoe rack is that it can hold more than a few dozens of shoes and boots.
After all, it still does its job very well which helps us to identify our shoes and boots more easily.
DIY Floating Copper Pipe Shoe Rack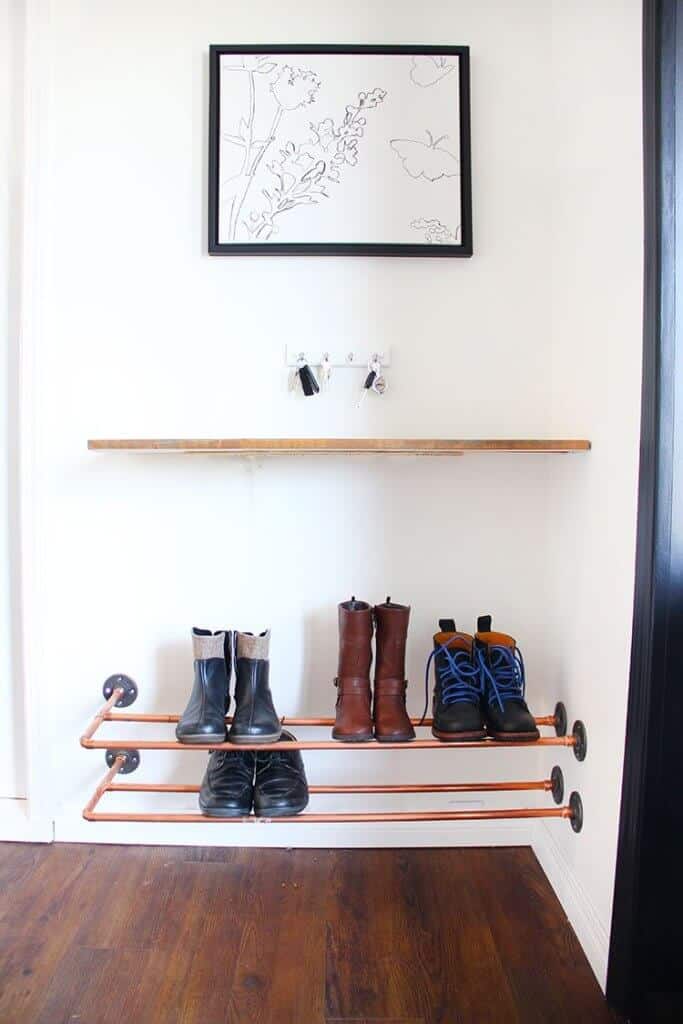 It is called a floating shoe rack because it consists of copper pipes that are fixed from one end of the wall to another using screws and holders.
It is versatile and you can add layers to it depending on the numbers of shoes you have.
DIY Bench Shoe Organizer from Crates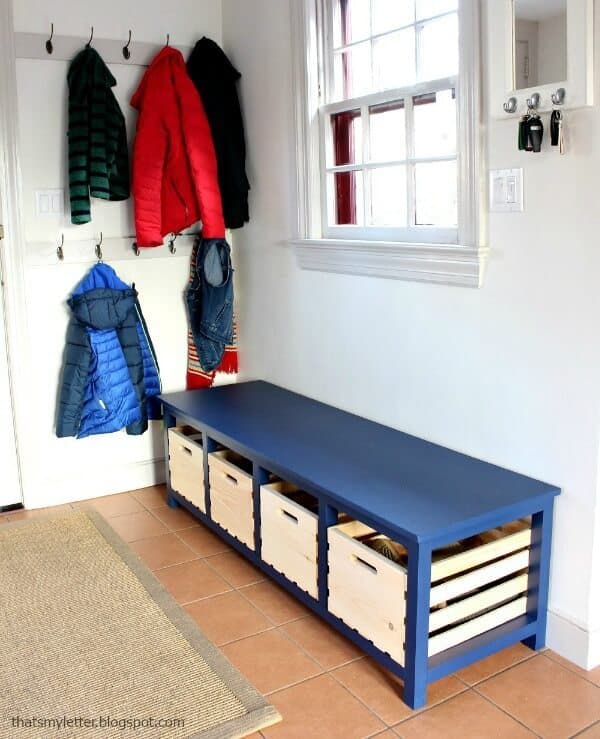 You can call this a cute looking, ingenious, and highly effective way to keep your shoes in an organized fashion.
The shoes are kept in crates that can be pulled in and out. It also leaves space on the top that could be used for sitting and tying shoelaces and so on.
DIY Skateboard Shoe Shelf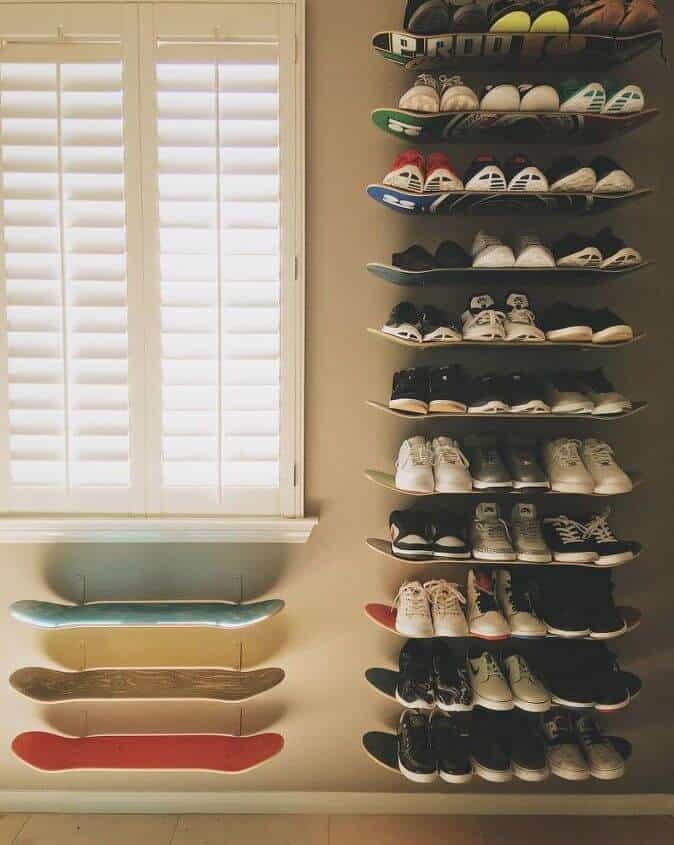 This is perhaps one of the most out of the box ideas when it comes to making use of skateboards and converting it into wonderful and utility filled shoe shelves.
Customization and the ability to add as many numbers of rows as you want is the biggest advantage of these skateboard shoe shelves.
If you have a collection of a used skateboard and would not like to waste it, then this could be the ideal choice.
DIY Shoe Rack from PVC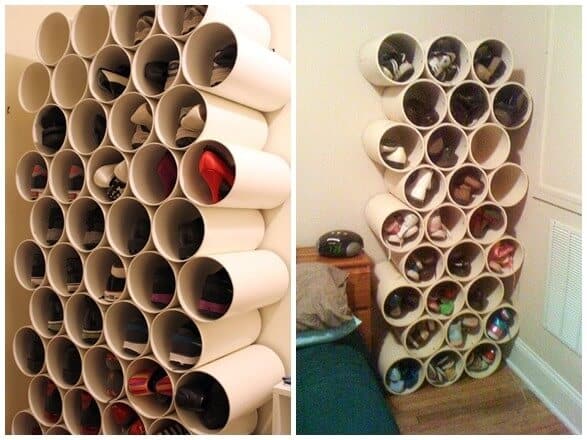 If you have used PVC pipes, instead of discarding them, you can convert them into high quality, versatile and useful shoe racks.
They can be installed in the corner of your home and therefore can help save space. They also look good and appealing to the eyes.
The good thing about these shoe racks is that you can add as many PVC fixtures as you want, depending on your specific needs and requirements.
DIY Wood Shelf Shoe Organizer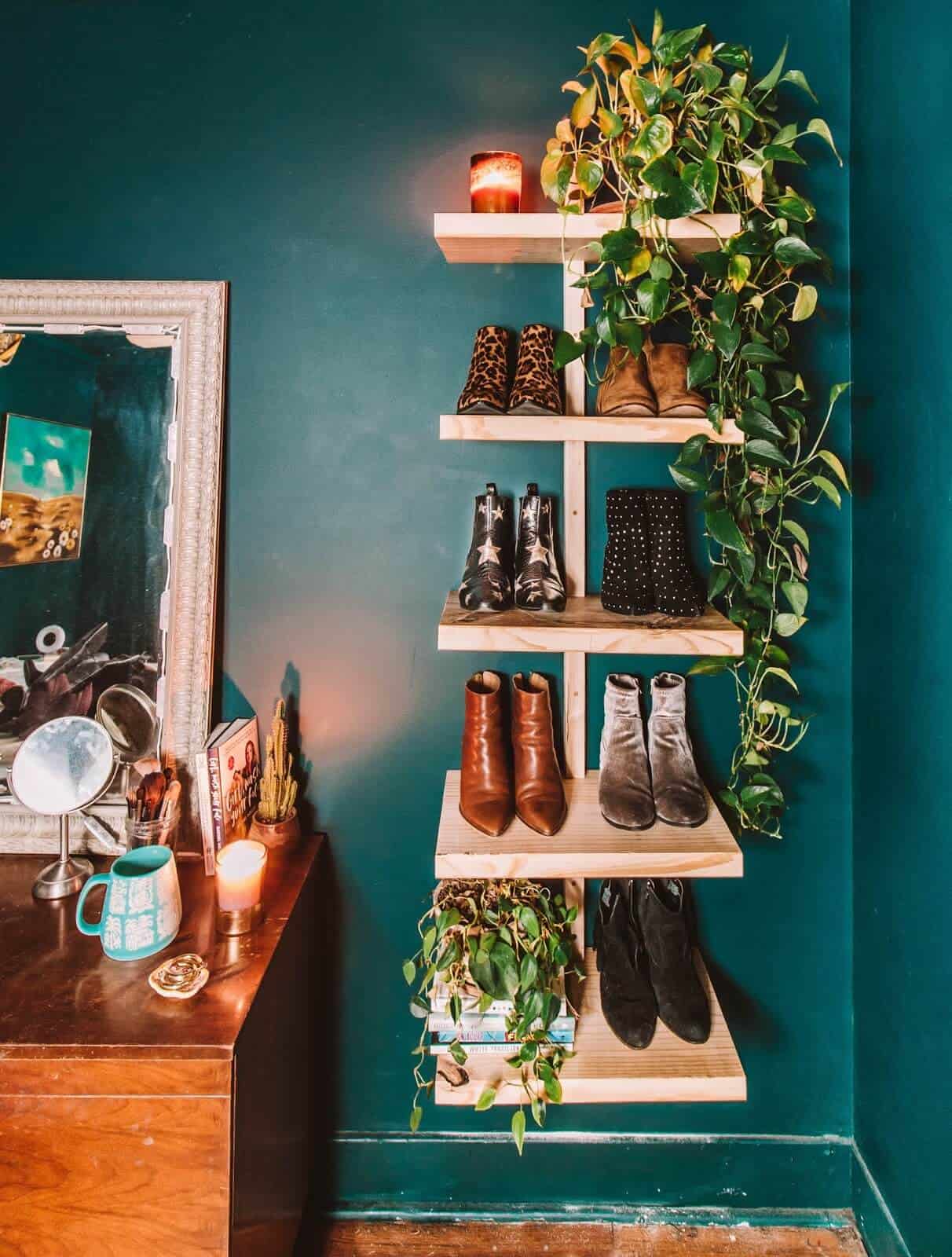 If you are looking for a decorative piece of shoe shelf that combines looked with utility, then you must have a closer look at these wood shelf shoe organizers.
You can split the shoe organizer vertically and use one rack for keeping shoes and the other racks can be used for decorative plants.
DIY Stackable Shoe Rack from Wood Crates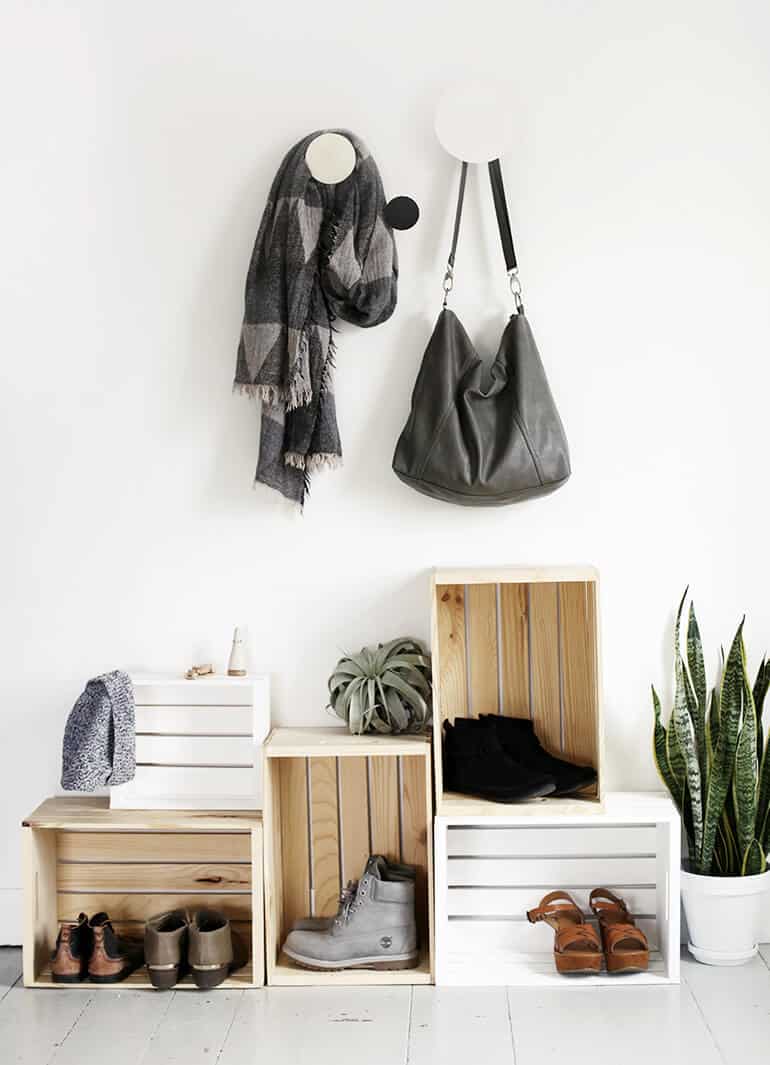 If you wish to make your living room look neat and clean and appealing, then this stackable shoe rack made from wood crates would be a great idea.
The racks can be arranged vertically and horizontally and can help create a symmetrical appearance.
It adds beauty, sophistication, and aesthetics to the entire rooms. And most importantly, it does help quite a bit in saving valuable space in a small home or apartment.
DIY Simple Shoe Rack with Stand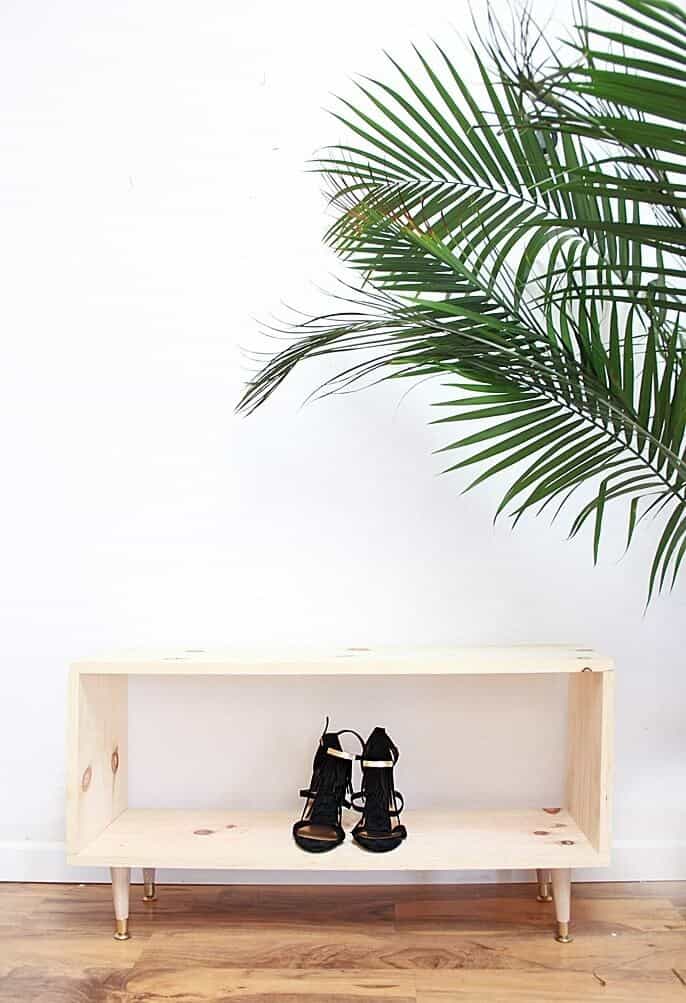 This might be a simple but majestic looking shoe rack that comes with a stand. It can be made of different sizes, orientations (vertical or horizontal).
It is versatile, highly customizable and can be made from used wooden furniture and other such fixtures and fittings.
You can choose the color combination you want and ensure that it matches with the overall ambience of your room.