Don Pedro Brooklyn is reader-supported. When you buy through links on our site, we may earn an affiliate commission. Learn More
Front Porch Ideas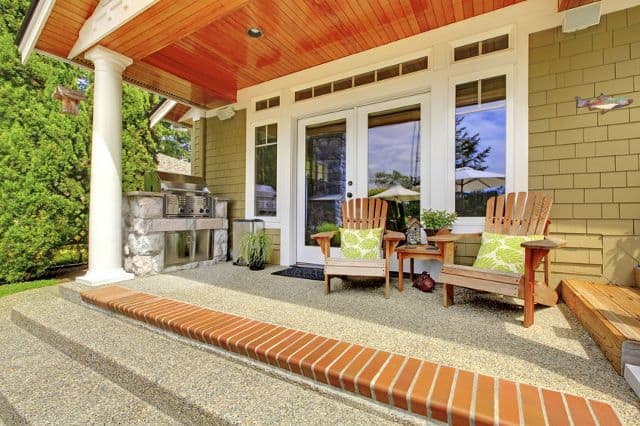 It's a fact that a house is a reflection of the homeowner's personality. So, it should have a unique character. A well-designed front porch can change your house's look completely.
However, it could be really hard to think of all those charming and creative front porch ideas.
Even, beverages may fail to fertilize your brain.
So, what are those killer facts that can give your front porch a fascinating look?
Well, there are lots of things that you should consider. These things are simple, yet striking.
You should choose unique furniture based on your front porch theme. For example – classic rocking chairs can provide a western look to your front porch.
Color is an important factor. Dull colors can give your porch an old and rustic look. But bright colors can provide your front porch a modern look.
An artificial tree or a good looking carpet can give your porch a great look. You have to use all these decorations based on your front porch theme.
Proper lights can give your front porch an attractive and interesting look.
Combining all these facts may demand a lot of time. Hence, you need some ideas to make your front porch look welcoming and impressive.
That's why, in this article, I have compiled more than 50 ideas on front porch design. Let's have a look!
Modern Comfort with a Scent of Delight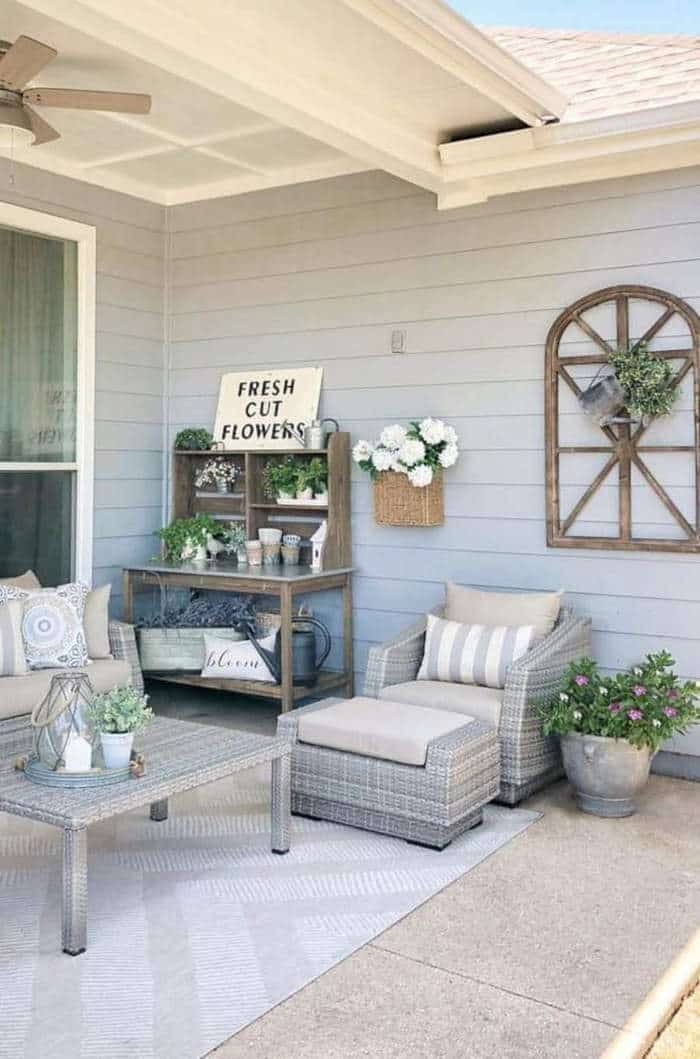 The lovely greenery of this neutral porch makes for a perfect environment to relax and enjoy a drink.
With cushioned seating and a sizable coffee table, this porch is also ideal for entertaining as well and definitely smells delightful with the array of surrounding fresh cut flowers.
Swing Seat Fun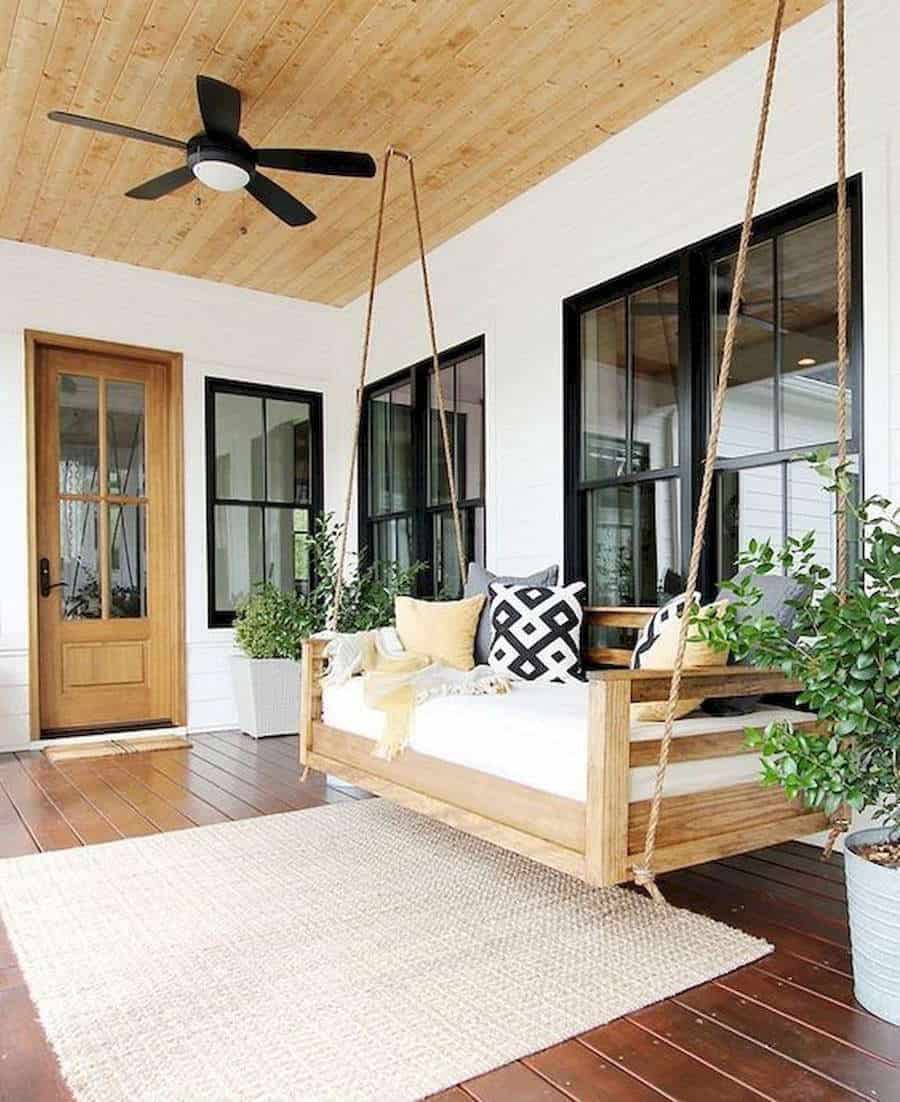 This swing seat front porch is perfect for couples or small families.
Roomy enough to fit several people on this lovely swing seat (or bed if you wish), you'll never be bored outside as you sway away!
Country Rockers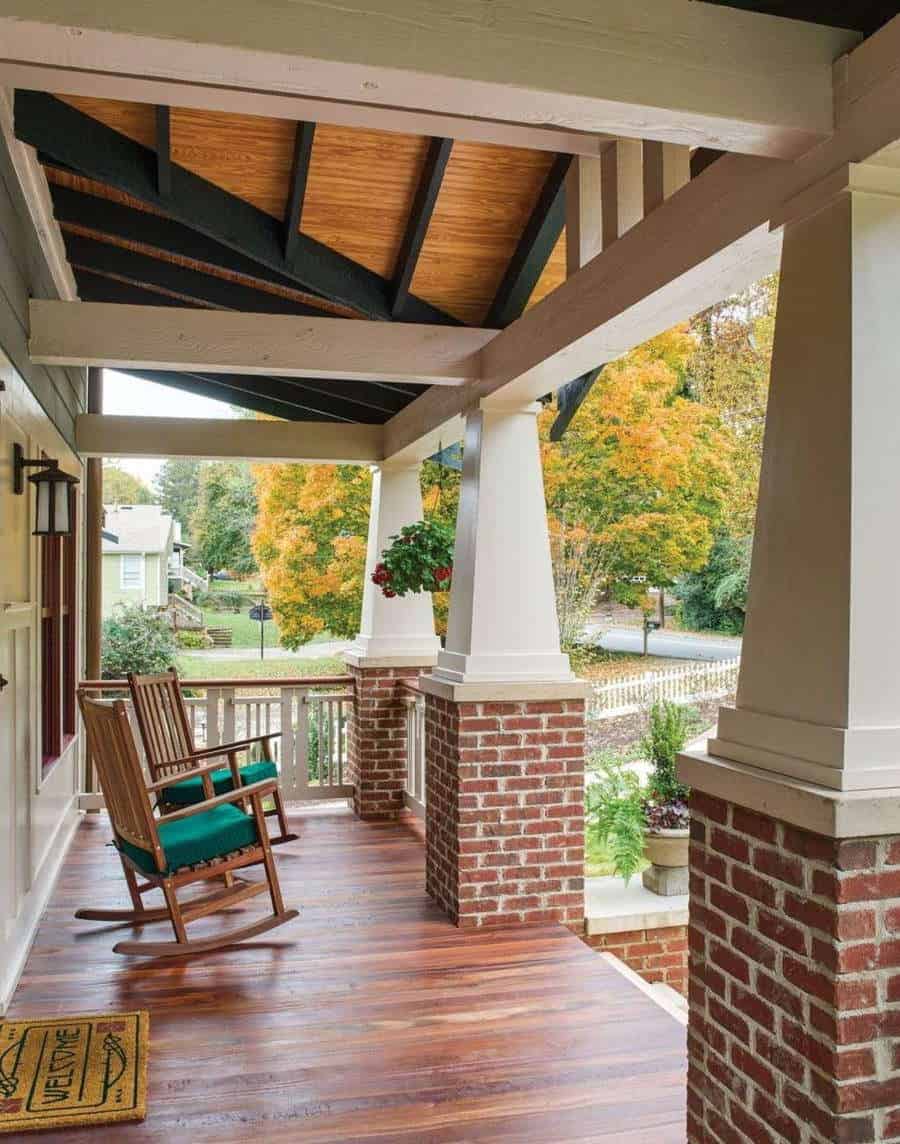 Rocking chairs on a front porch are always relaxing and look very western in style. A porch like this is reminiscent of an old-timey country home.
This is the perfect place to grab a book and coffee to sway while surrounded by nature in a country home.
Country Meets Modern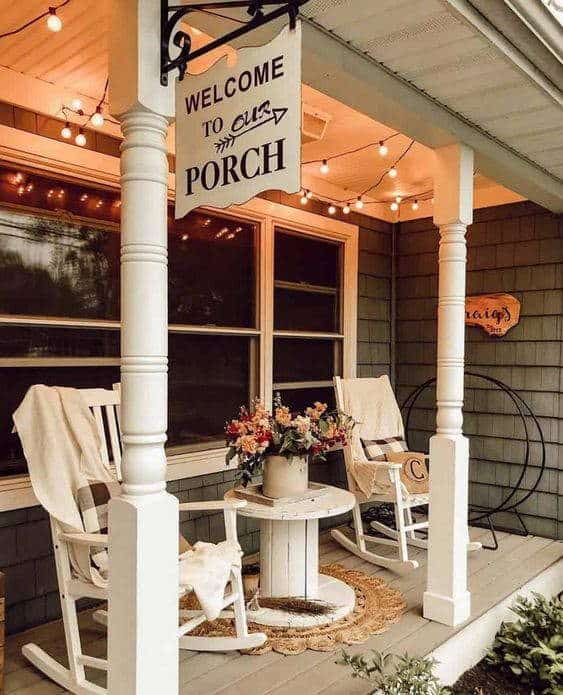 Another approach to a rocking chair porch is to modernize them with chic white paint, and welcoming flowers.
This porch design is like something out of a wedding magazine – just comfortable and appealing all around with some soft blankets to snuggle up into.
Retro Swing Bed
An alternative way to style a swing bed is to add some retro decor like the block carpet pillows shown here.
Nothing says modern and retro like a popping black and white pattern. This porch is perfect for a young couple.
Show Your Patriotism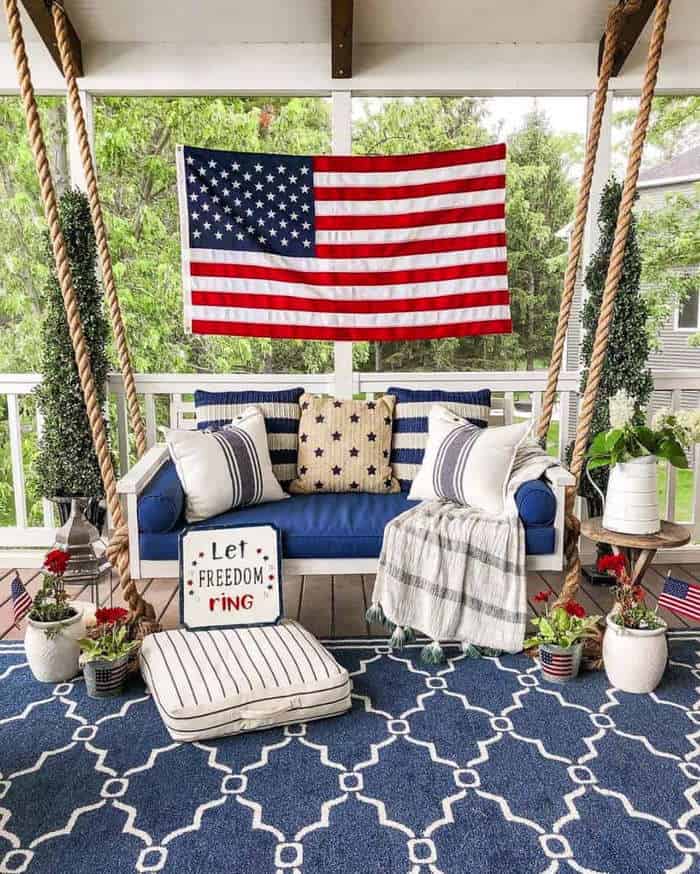 Nothing says American like this United States decked out porch.
The blue and red theme of this porch is both appealing and free like America with flags all around!
The Symmetry Appeal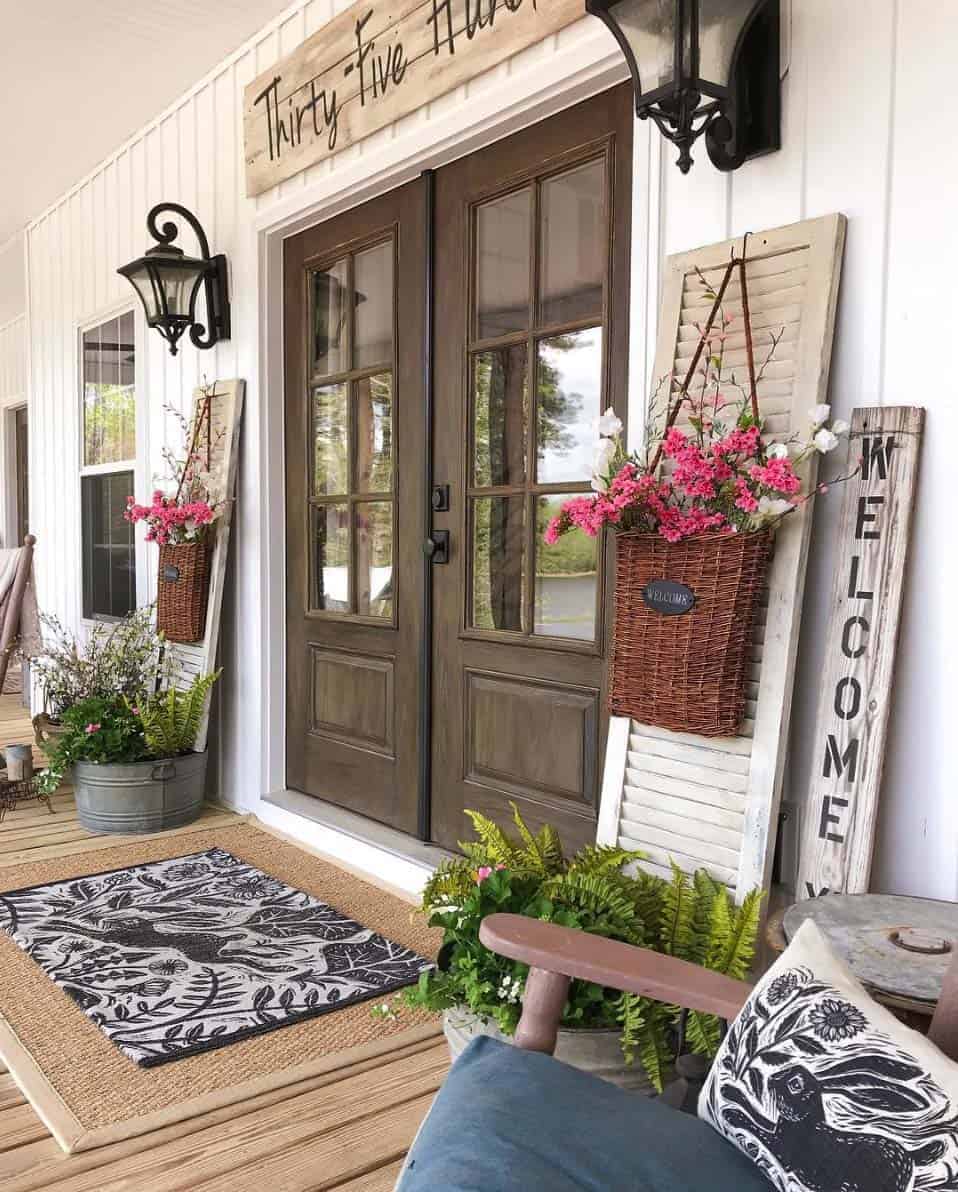 The symmetry and multi-leveled layers of this lovely porch design frames the space and is both eye-catching an welcoming.
With a matching decor and planters on each side of the double door is classic and homey.
Simple Front Porch Design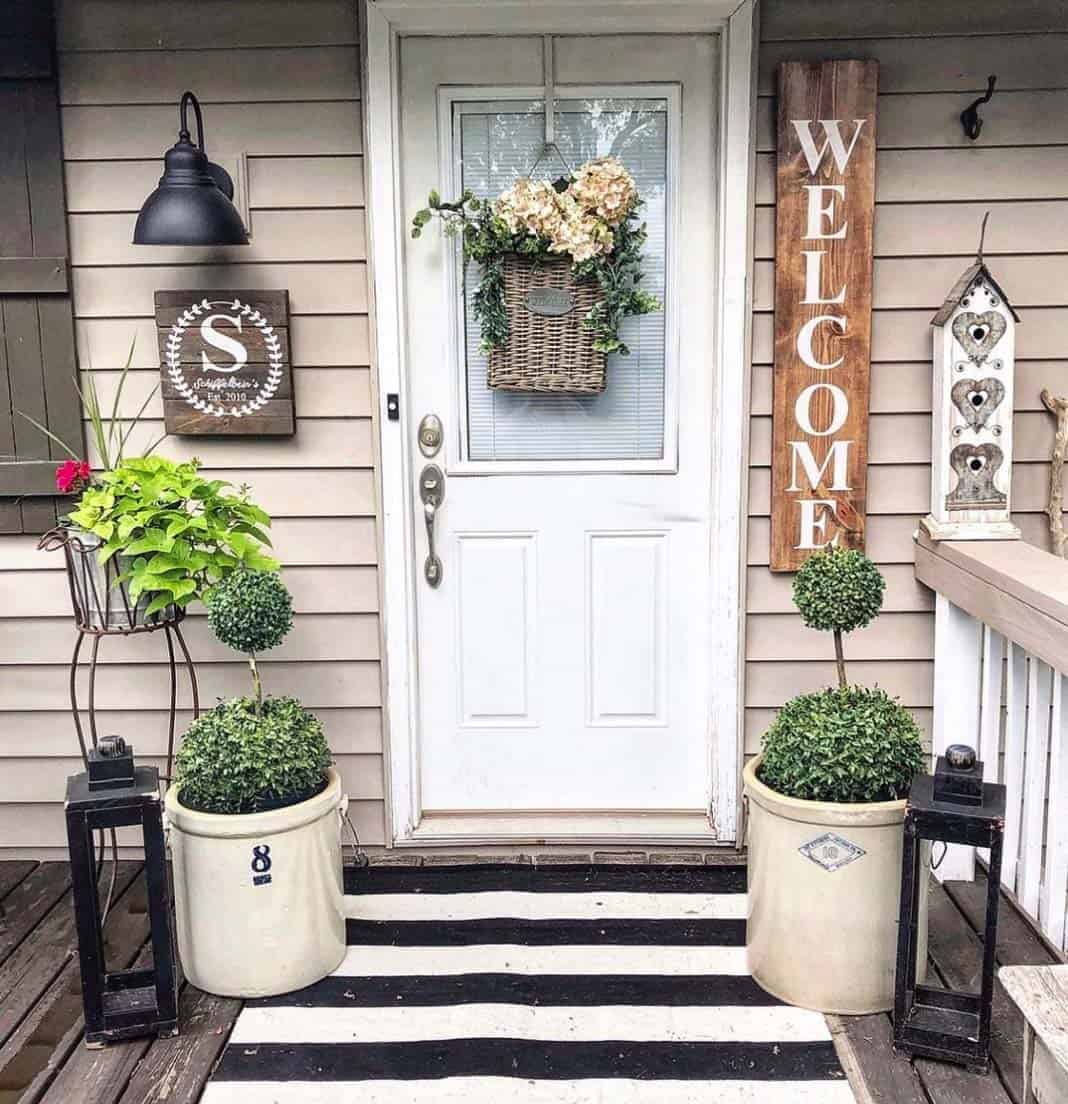 Something as simple as plants can make a small front porch much more lively.
If you don't have the space for seating, simply adding tall standing plants and hanging decor can brighten up the space and make you want to hang out outside more often!
Clean Cut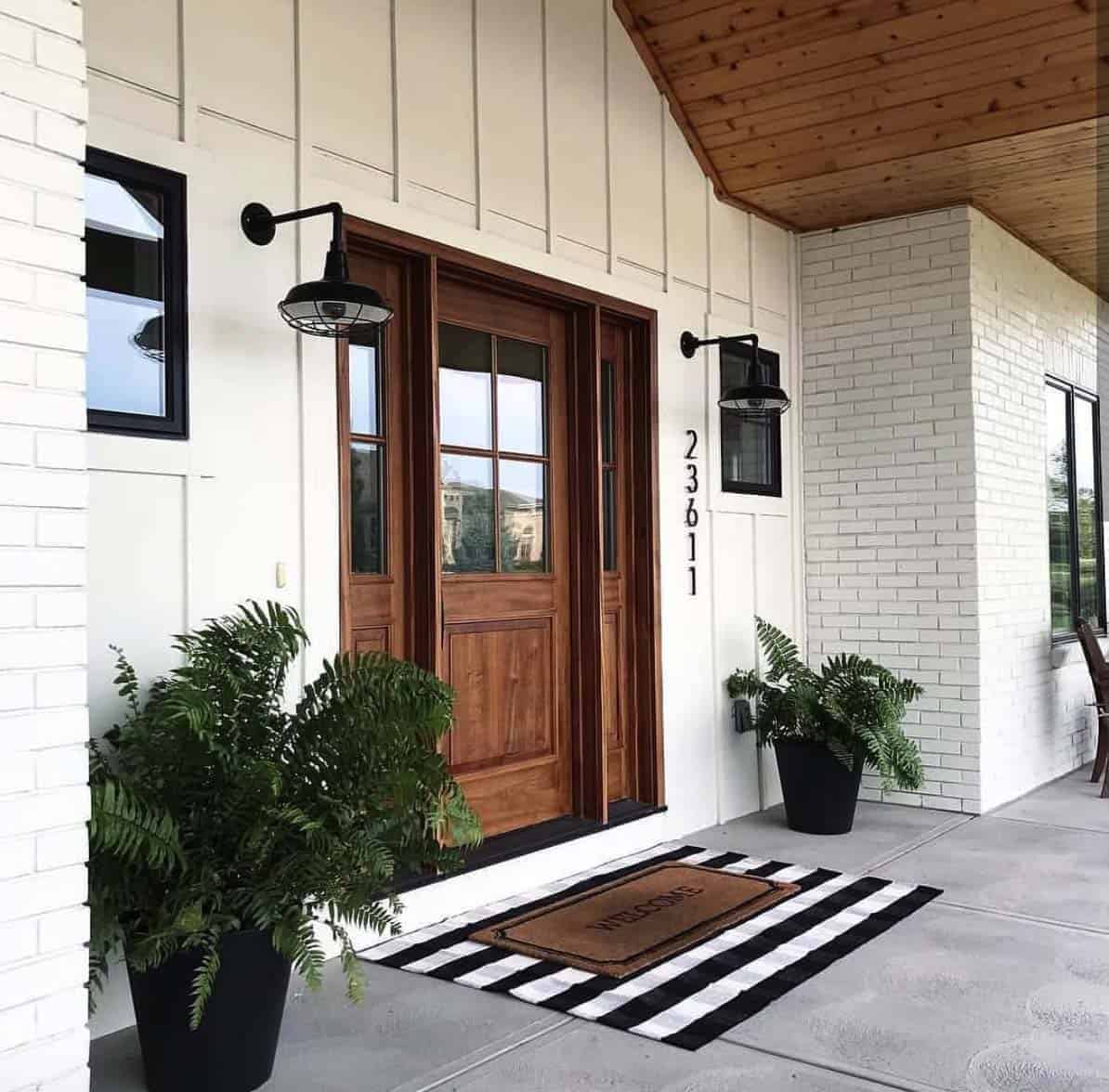 The clean yet appealing design of this front porch is just amazing.
Having matching plants on both sides of a door and a popping doormat can really change a space.
This is definitely one of my favorites as it looks simple yet expensive!
DIY Front Porch Furniture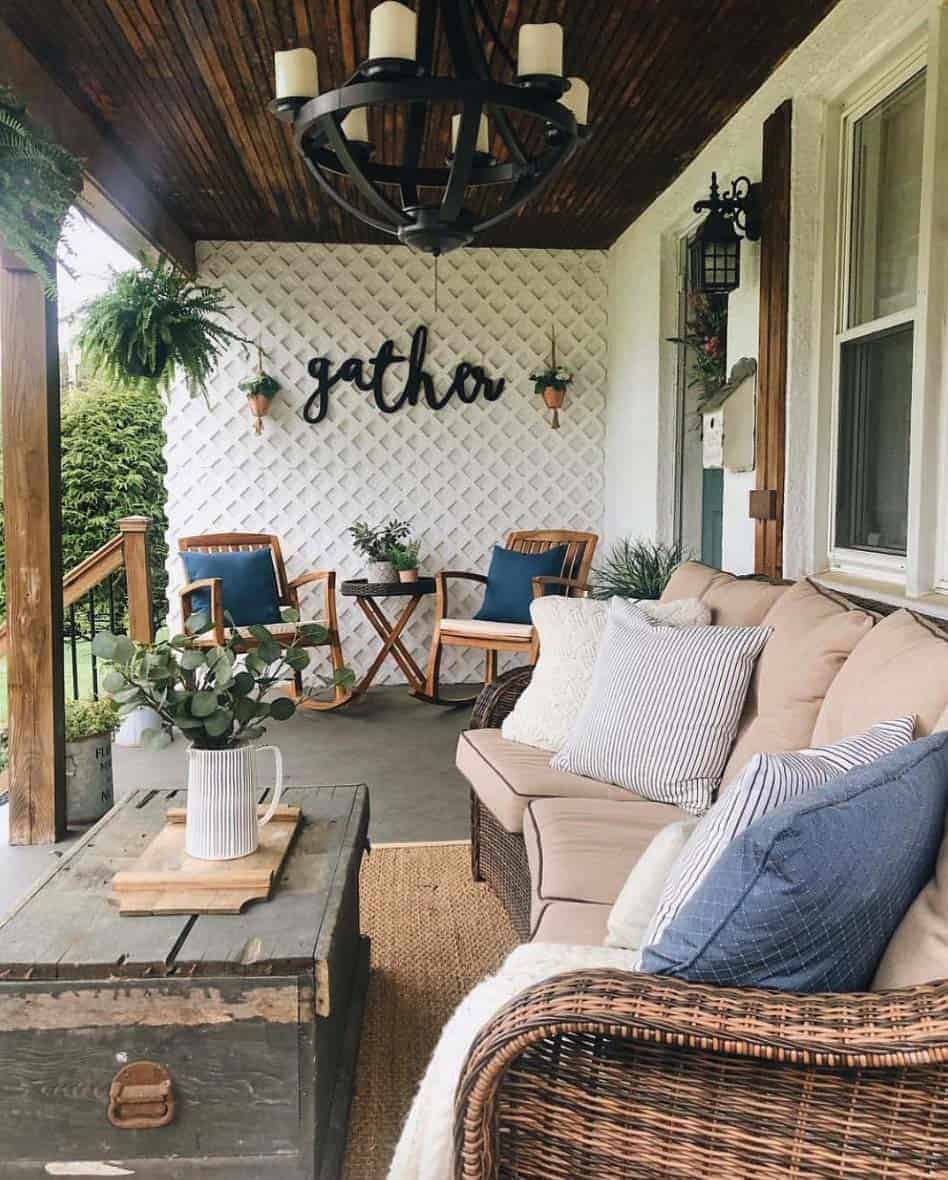 This porch design is all the more welcoming with a unique choice of furniture.
Recycling an old chest as a coffee table and using a pitcher as a vase for plants definitely shows the creative side of this homeowner who loves to entertain outdoors!
Fancy Front Porch Design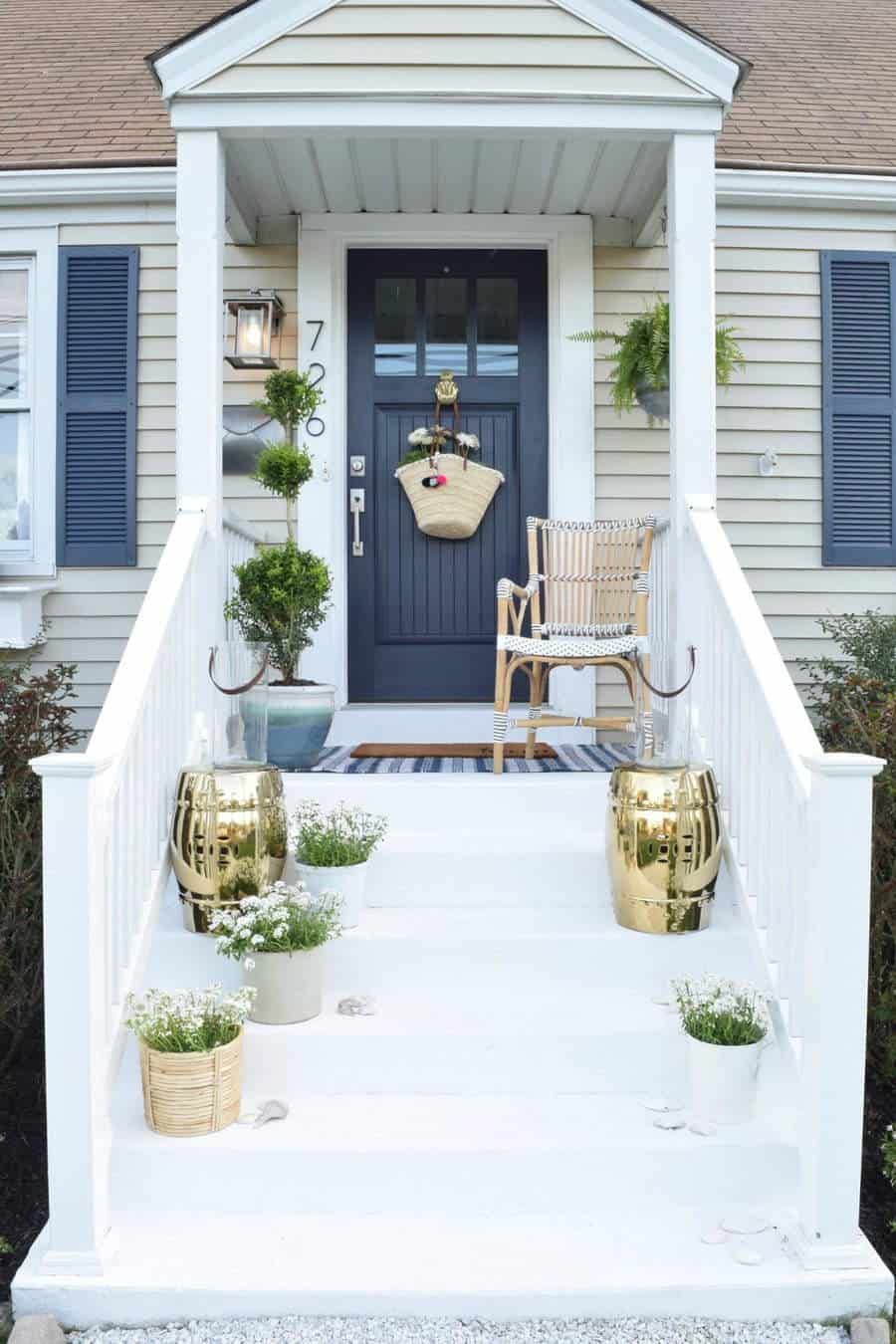 Simply adding gold stands to this clean and crisp white porch makes it seem like a fancy welcome for all your guests.
The clean white and green plants all around help keep the porch looking crisp as well. This is definitely an easy porch design for any size home, especially one with a small porch!
Sweet-Like-Summer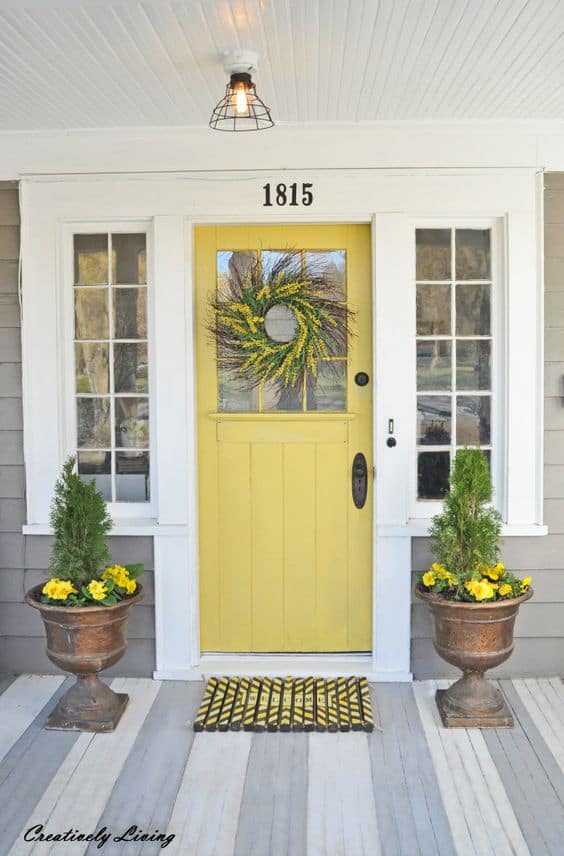 Something about the color yellow just keeps summery vibes flowing.
Having a yellow door makes it very easy to keep your porch bright and fun.
Why not add to the fun atmosphere by adding more yellow and green to your porch?
Certainly an eye-catching design for all those passing by, and a lovely pollen treat for the bees!
Front Porch with Greenery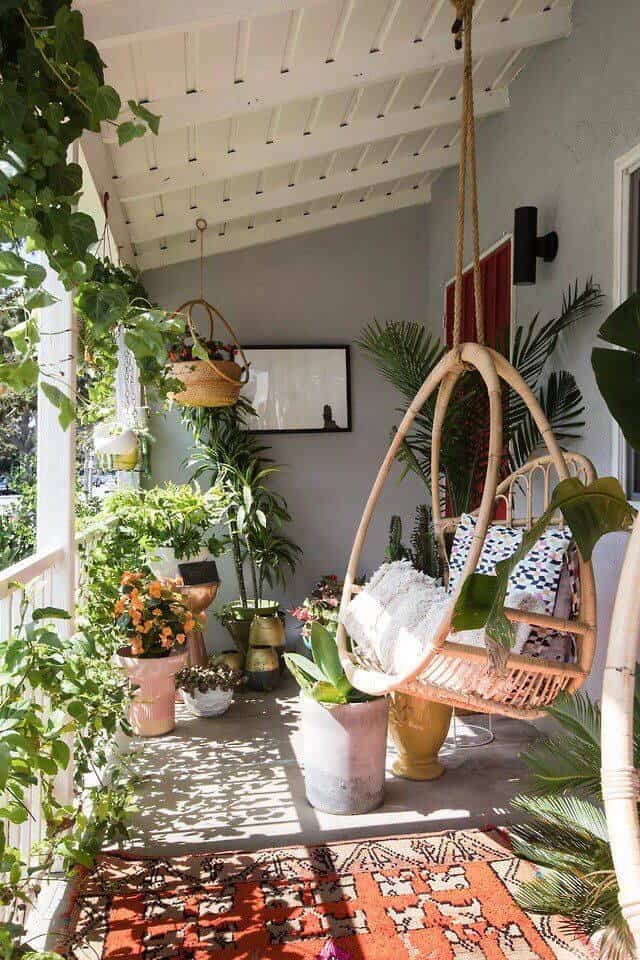 If you love plants, keeping your choice of plants to mostly green definitely creates a hippie type vibe here.
This porch looks like the perfect spot to snuggle in with a great book and enjoy the fresh smell of green plants and flowers
For the Entertainers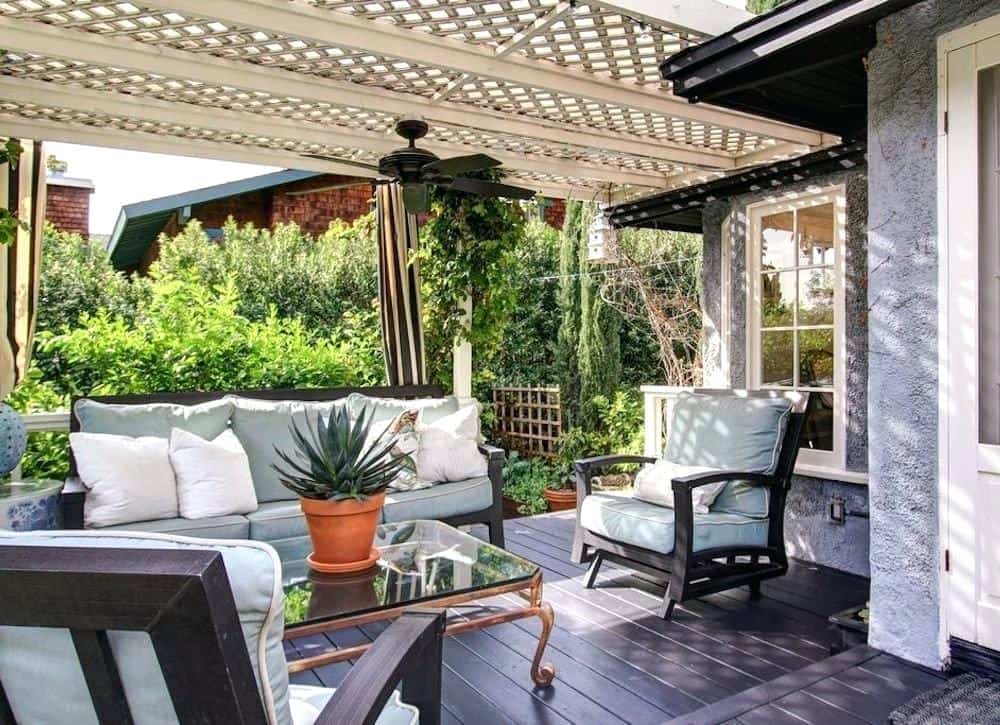 A great patio set with plenty of seating is perfect for those who love to entertain guests.
Sticking with a color theme here of white, blue, and black surrounded by greenery, this patio is very crisp.
The layout of the seating is also perfect for conversation and altogether looks clean and simple for the entertainer in you that loves to have friends over.
The Fun Porch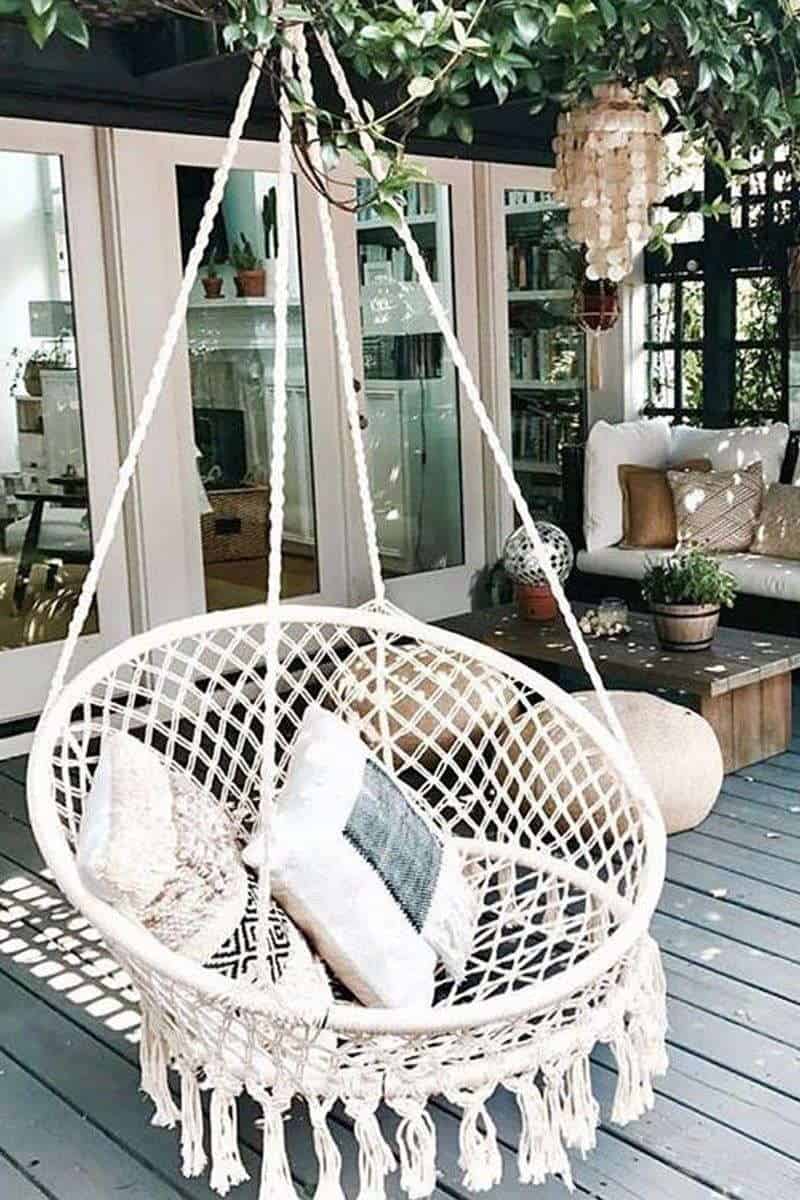 Hanging chairs just scream fun for all ages!
The rope design of this hanging chair just blends so nicely with the grey porch and rustic style coffee table.
Another personal favorite that looks so comfortable and fun to swing on and chat with friends while you're at it. The kids in the family will especially enjoy this porch!
Oh Baby-Blue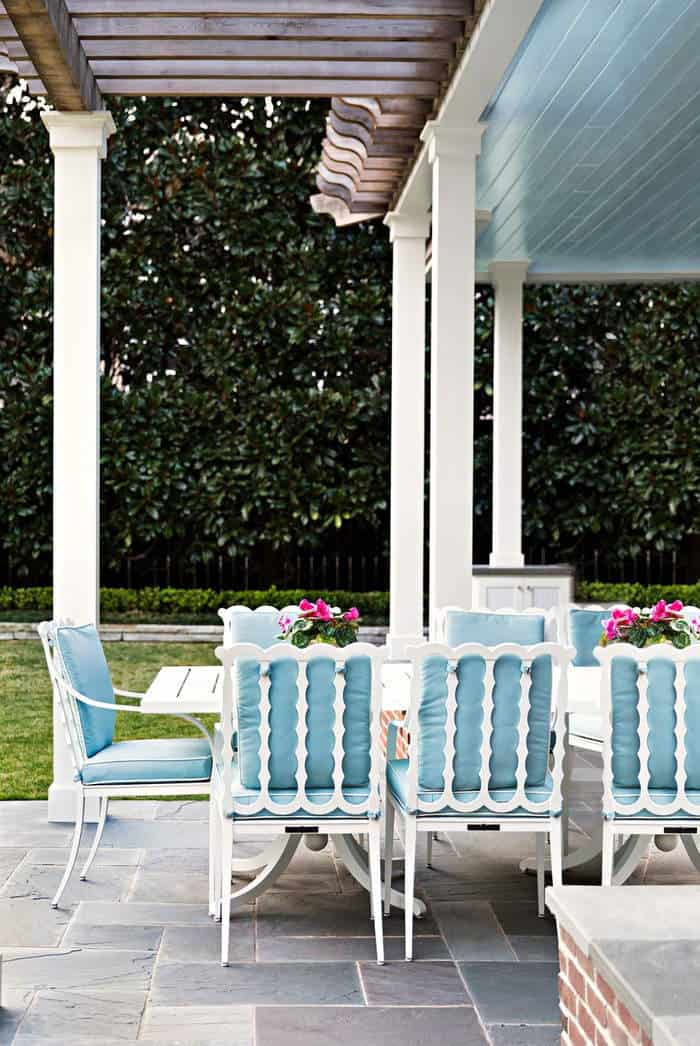 Baby blue patio furniture makes this design looks super bright and clean. Pairing baby blue with fun pink flowers is so appealing and just looks like the perfect place to relax and chat.
The extra-long table here is also ideal for entertaining a large group or having a meal outside with the family. The possibilities are endless with this outdoor set.
Baby It's Cold Outside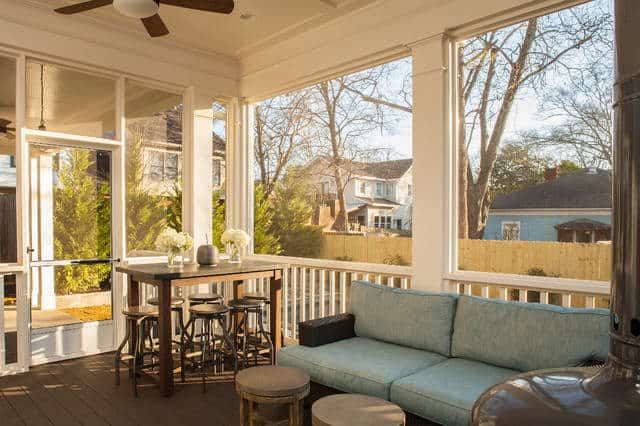 This sunroom is perfect for sitting "outside" when it's just getting a little too cold outside.
A comfortable couch and gas fireplace makes this design look so cozy and ready for a warm drink of hot chocolate as autumn arrives.
Gather 'Round the Fire Place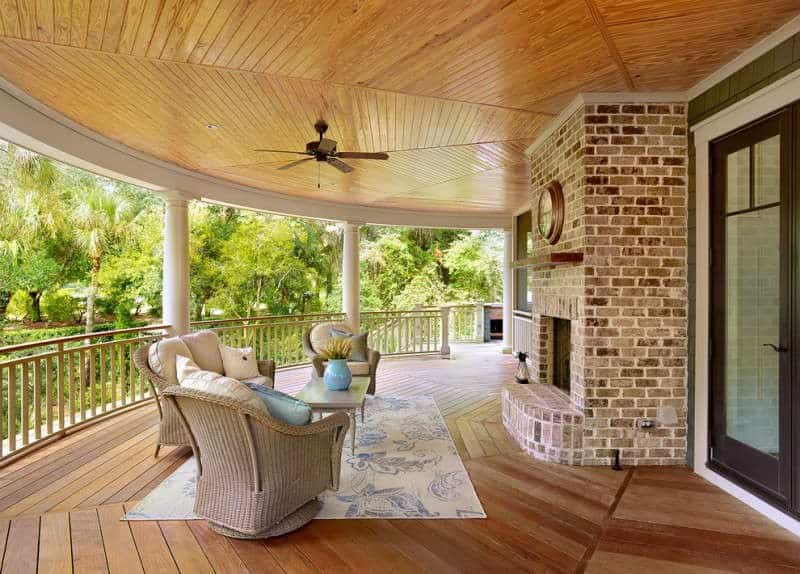 The interesting layout of this porch with seating directed for a fireplace with perfect for a colder day of the year or a summertime drink in the evening as it gets colder. The clean white and blue decor is fresh and fun for anyone!
Rustic Front Porch Design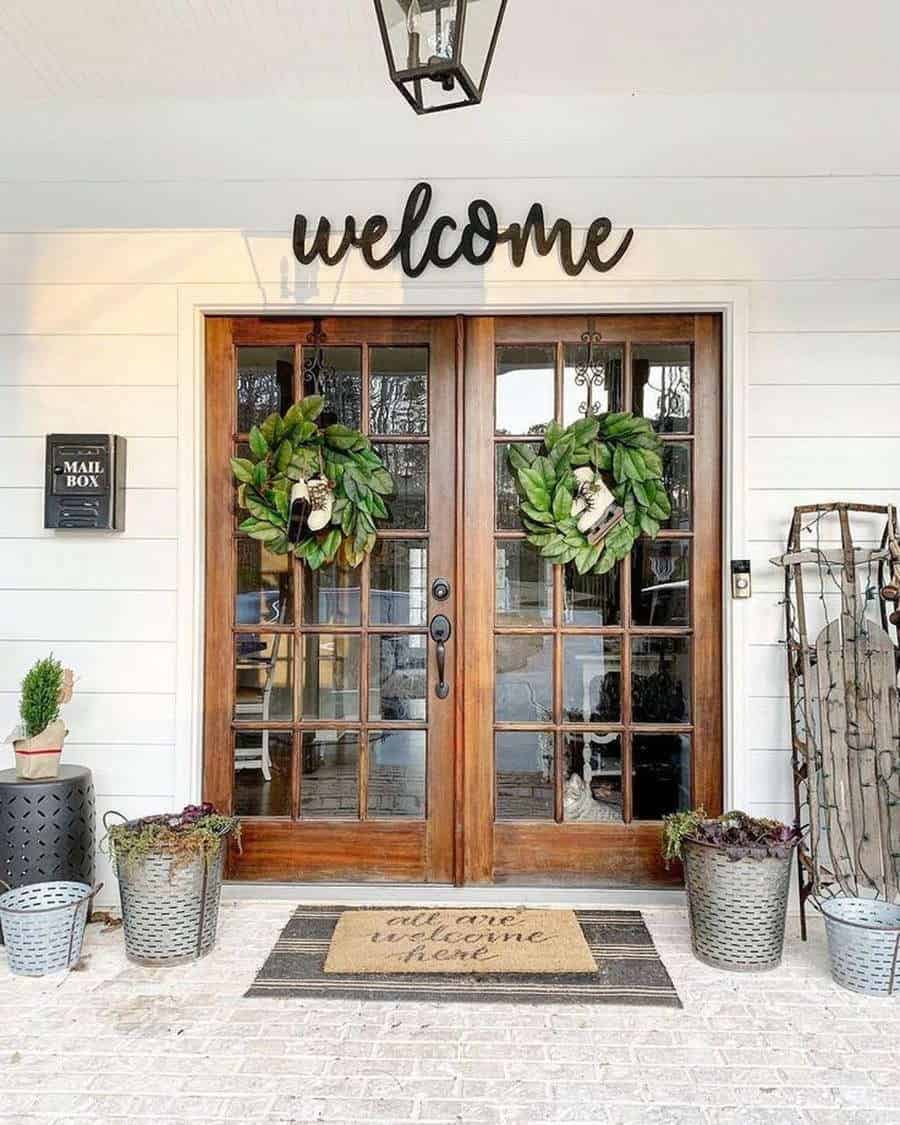 The wood and old metal used in this porch design adds a rustic yet welcoming feel for guests.
The welcome sign and doormat make it extra clear that guests are welcome!
The best part about this porch is that you can re-purpose old buckets to recreate this porch design yourself.
Small Front Porch in Striped Blue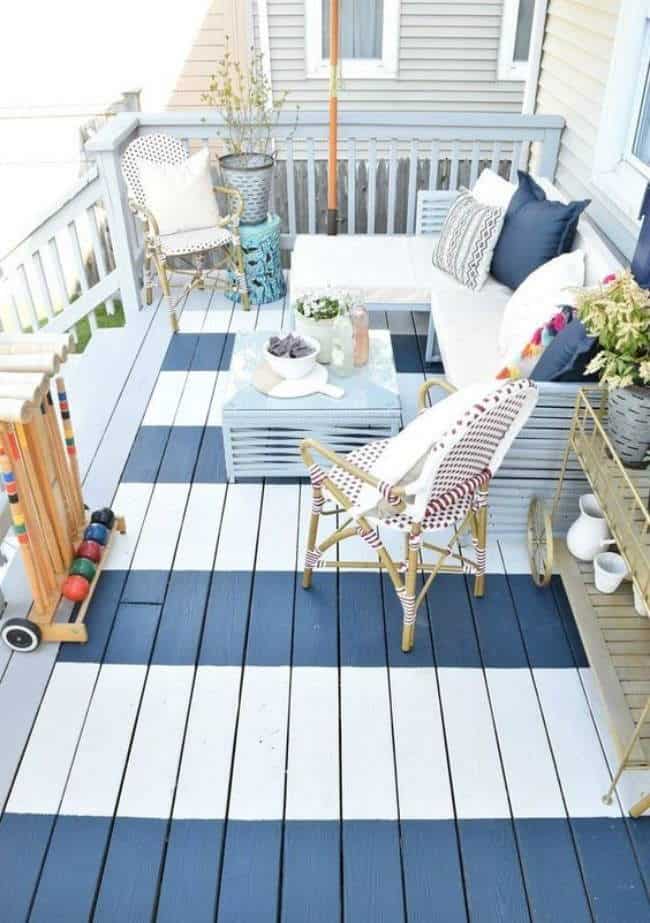 Navy blue for a porch paired with white is so modern.
Mixing different shades of blue just adds more texture and levels for the eye to explore and makes for a crisp, clean, yet fun looking porch to entertain!
People don't often think of painting the porch more than just one color, but this striped design does it beautifully.
Summer Madness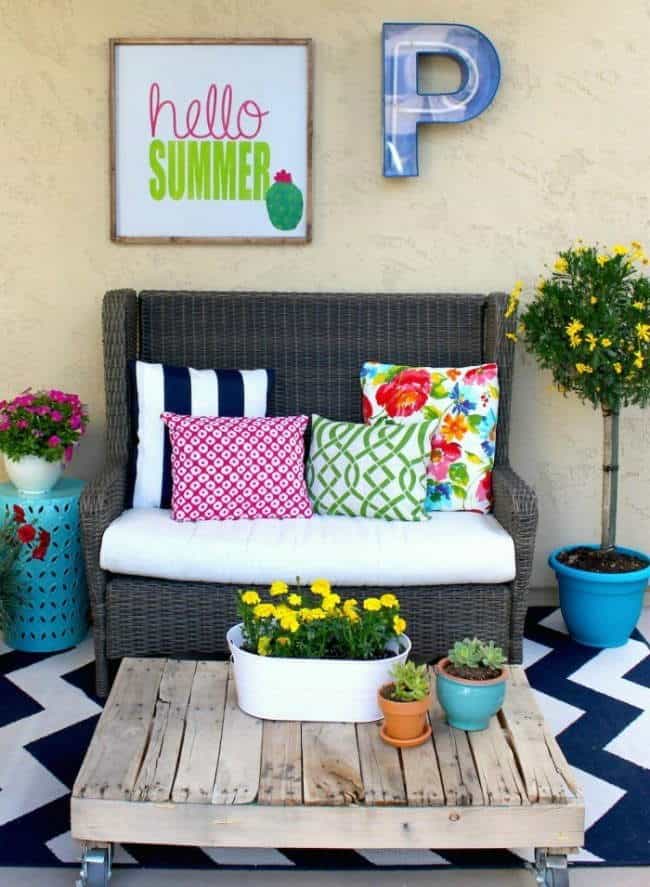 If you can't wait for summer, bring it on with your porch design!
The bright colors of this porch brought in with flowers and pillow designs just scream for summer and steaming hot weather to come!
Autumn Is Here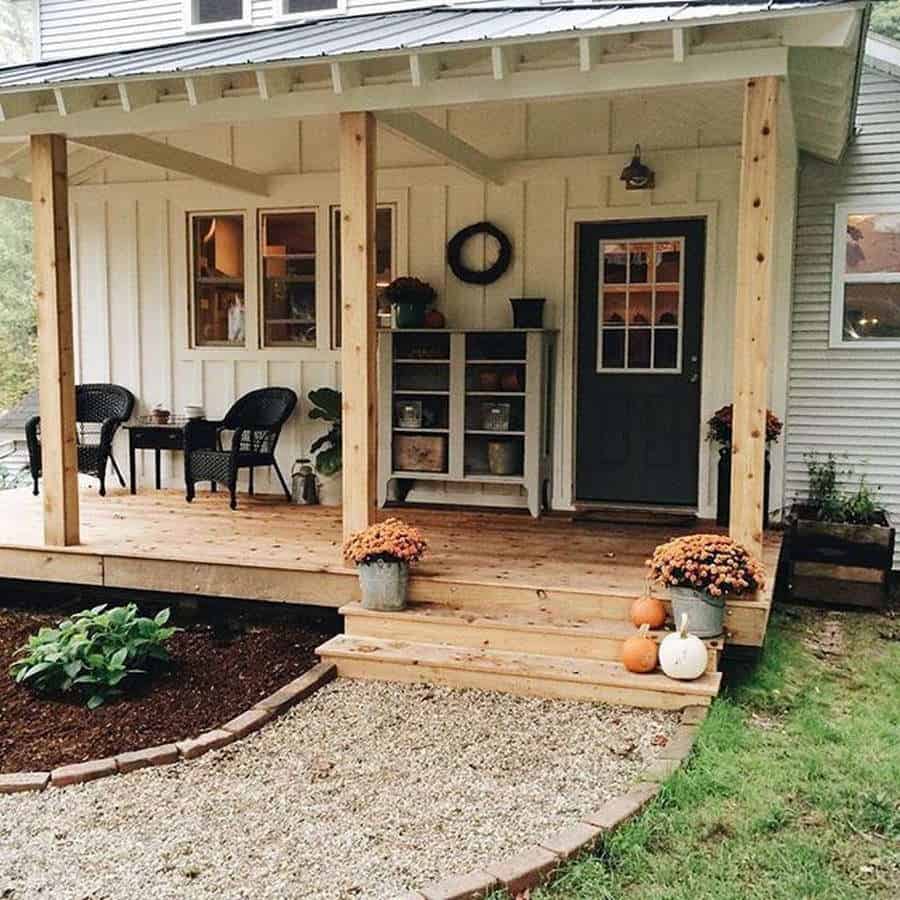 This wooden porch is perfectly paired with some autumn orange colors looking like the perfect place to sit outside in October and watch the leaves change color and fall to the ground.
Let The Feast Begin
This porch design is ready for a feast with a stunning dining table and comfortable cushioned chairs. Adding a table cloth makes it feels almost like you're indoors but surrounded by nature.
Tiny Does the Job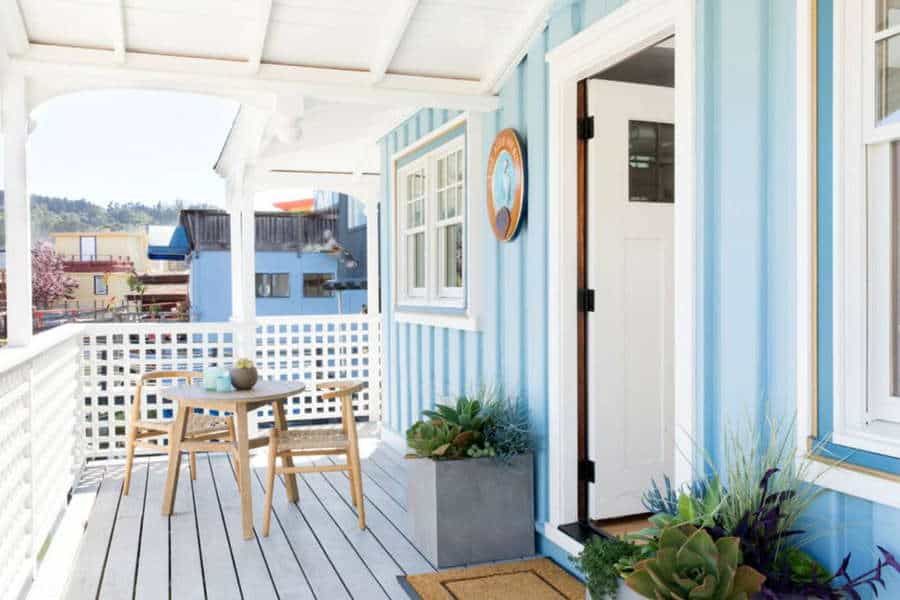 Limited porch space does not mean you can't have seating. Something as small as this 2 person seating set does the job while bringing together the porch and filling the empty space.
A Lakeside Front Porch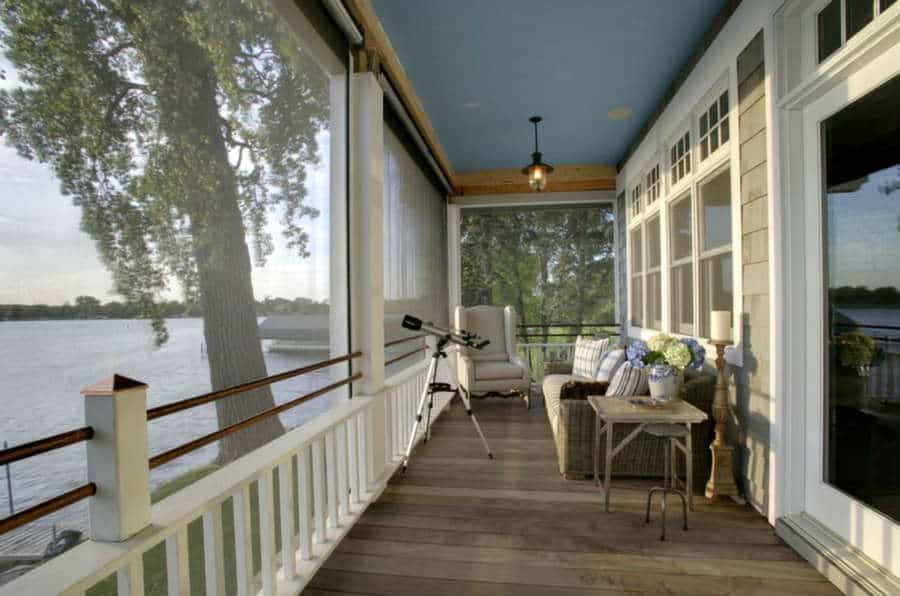 The stunning view from this porch should be utilized and enjoyed!
Having a forward-facing couch to take in the lake view pairs perfectly with a telescope to stargaze.
Let's Sit Outside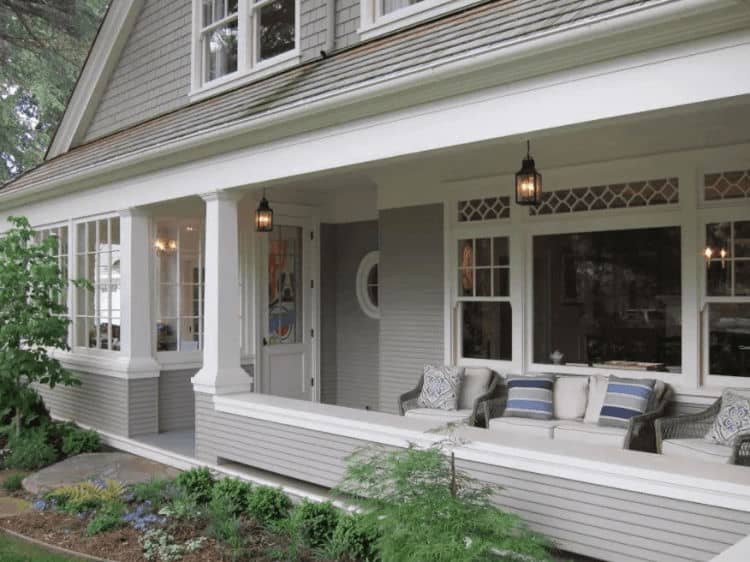 The open wall design of this porch makes it the perfect place to make all your gatherings outside.
This porch design has an open feel and is practically meant for a comfortable patio set to entertain guests.
Rock-a-bye-Modern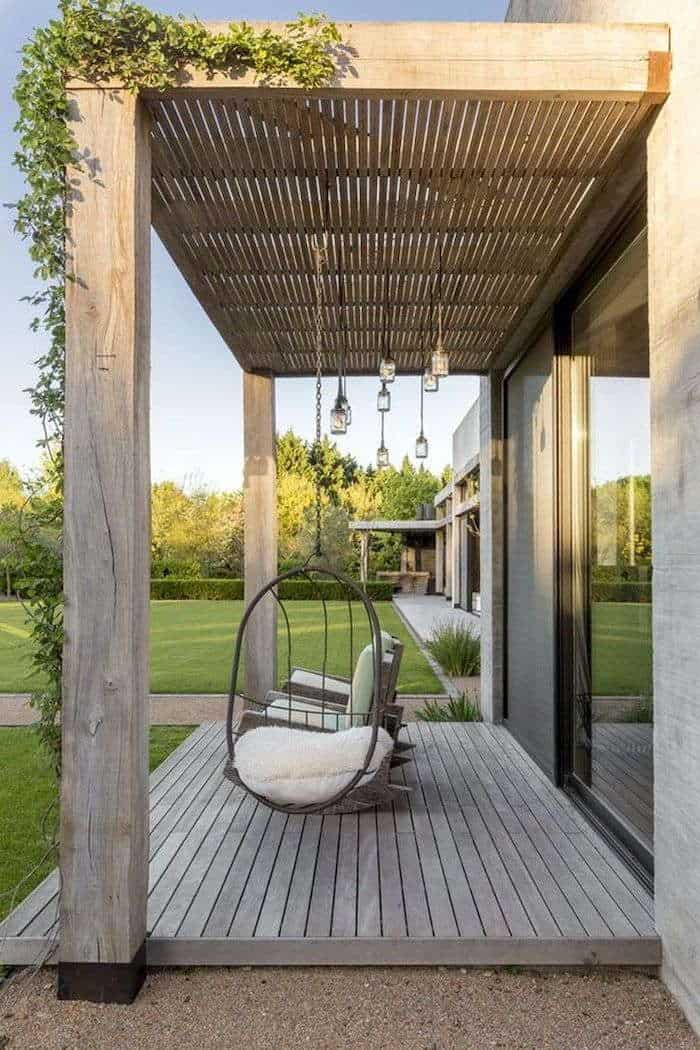 The empty and clean design of this porch looks so welcoming with rocking chairs and swing chair. This perfect seating could put anyone to sleep!
To Grandma's House We Go!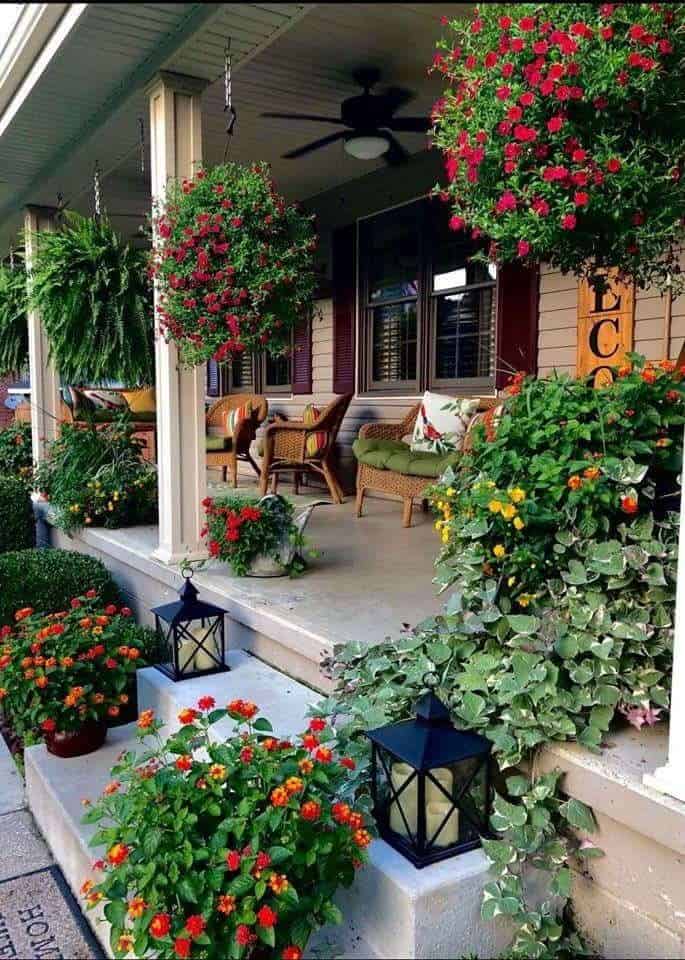 Nothing reminds me of my grandmother's house like a porch filled with flowers.
This is a great design for any plant lover of any age, with symmetrical lanterns to add some magic to the porch.
Front Porch with A Swing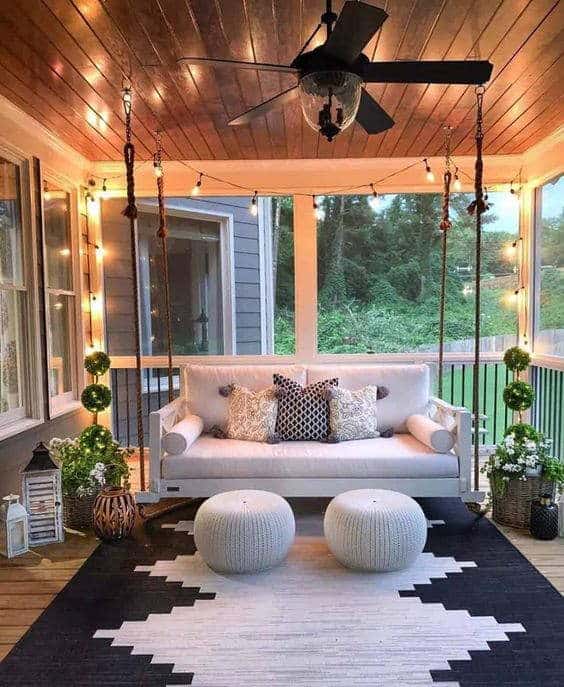 This swing couch almost looks like it's stationary – filling all your guests with excitement once they find out it's a swing!
The grey theme of this porch pairs perfectly with the green planters and round leg cushions. A very cozy design altogether that is fun for the young homeowner.
Modern Rock Front Porch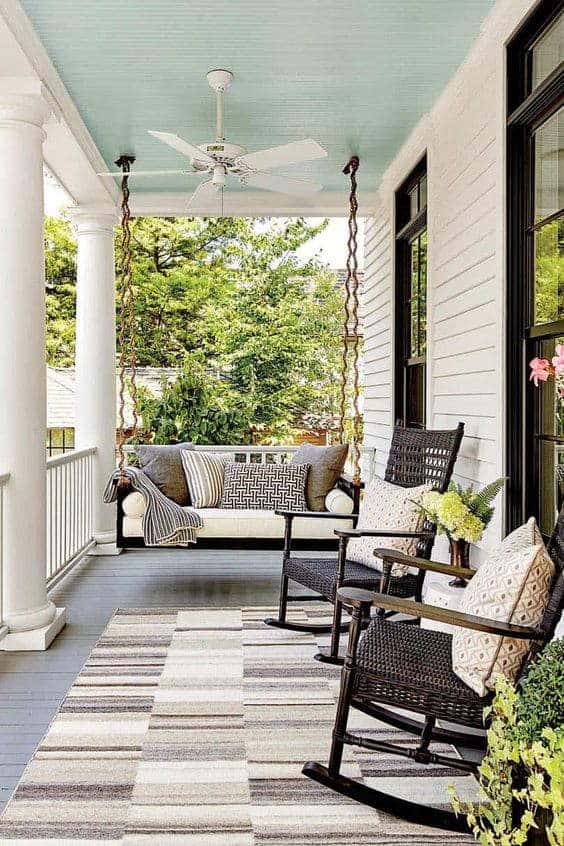 Rocking chairs these days are looking much more modern than the classic old wood design.
Simply picking up some modern rocking chairs with some matching pillows and a rug can really bring together a porch and make it look so welcoming.
Tropical Front Porch Design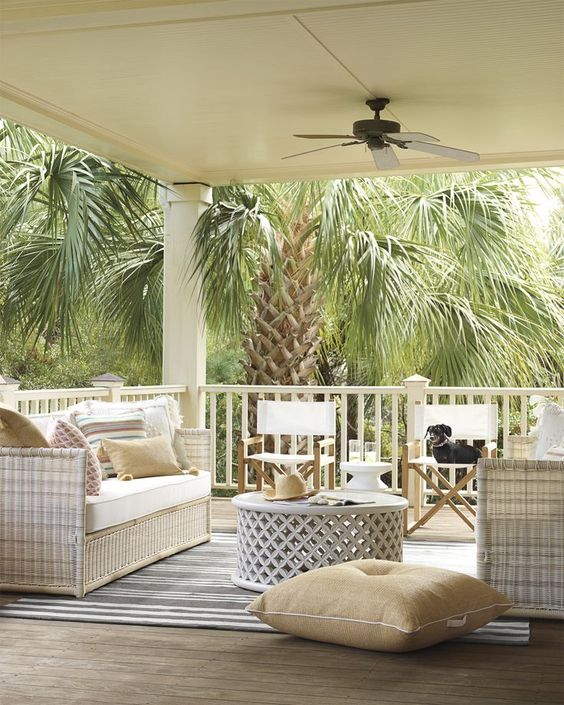 There's nothing more tropical than white/beige themed patio furniture.
This porch design looks like a vacation resort in the tropics and is just a lovely place to relax all around – making you feel like you're at a home away from home.
Cottage Front Porch Style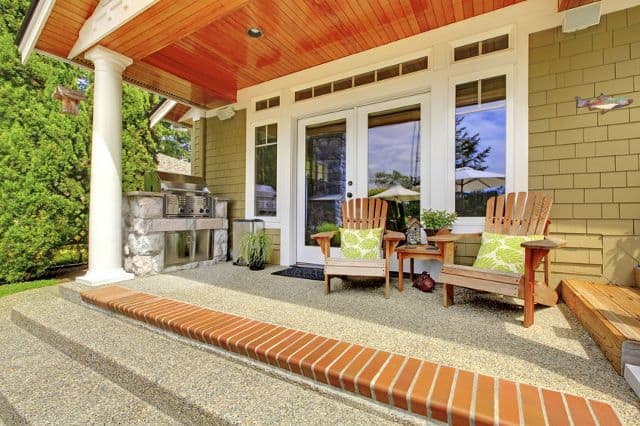 This patio is very reminiscent of a cottage with Muskoka chairs and BBQ close by! Just get the grill going and enjoy a meal outside here!
Oh, So Symmetrical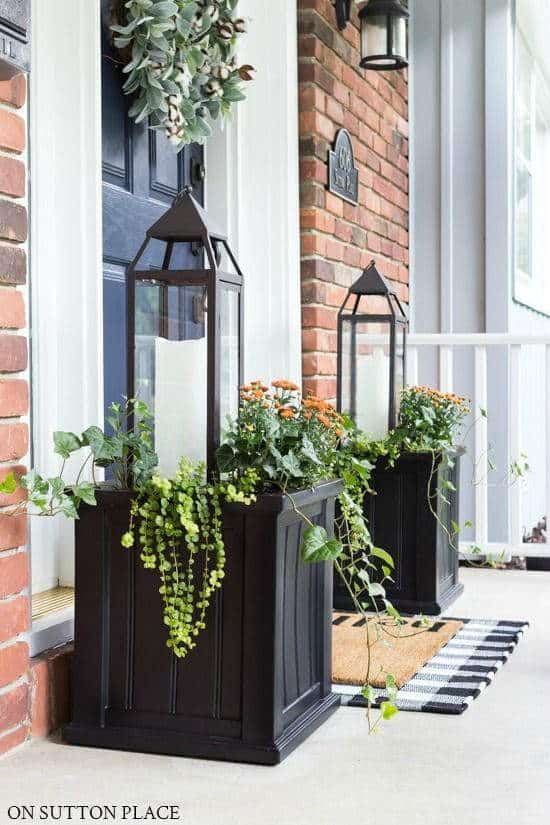 Black planters with greenery spilling out look so fresh and clean for this modern porch.
Something many people don't think to do is adding a wreath to their door when it's not the holidays!
We often see holiday wreaths on and once the season passes, just empty doors.
Something as easy as adding a wreath (either store-bought or homemade) really brings a place together to feel more welcoming.
I would definitely feel comfortable visiting this house!
A Castle?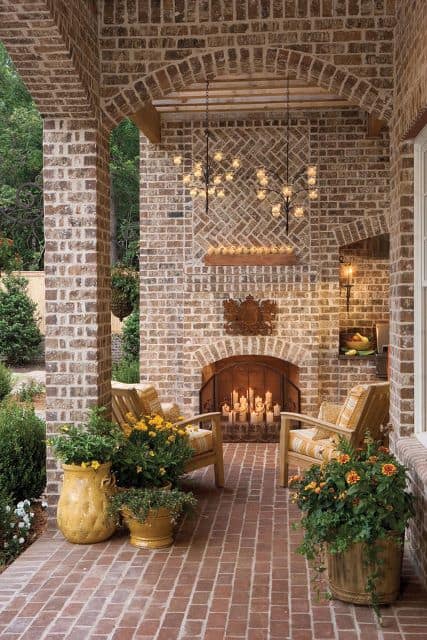 The old-timey brick surrounding this porch design adds a royal feel to the air.
Keeping the design simple with multi-leveling lighting fixtures just makes this porch warm and welcoming for all guests (royal or not).
A Stay-Cation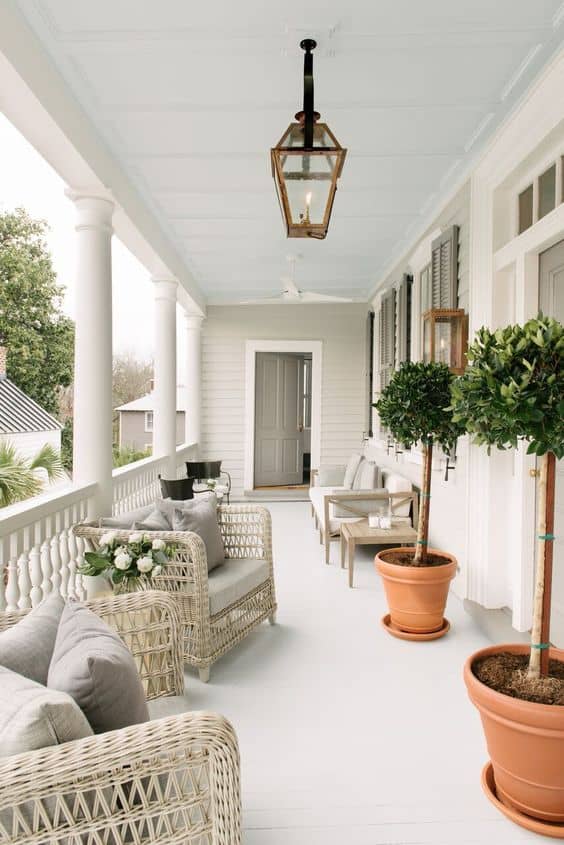 This porch design is so bright it almost feels like a vacation destination in your own home (a stay-vacation)!
This bright white and grey design will keep you wanting to sit outside all day long in the warmth.
Comfortable Front Porch Idea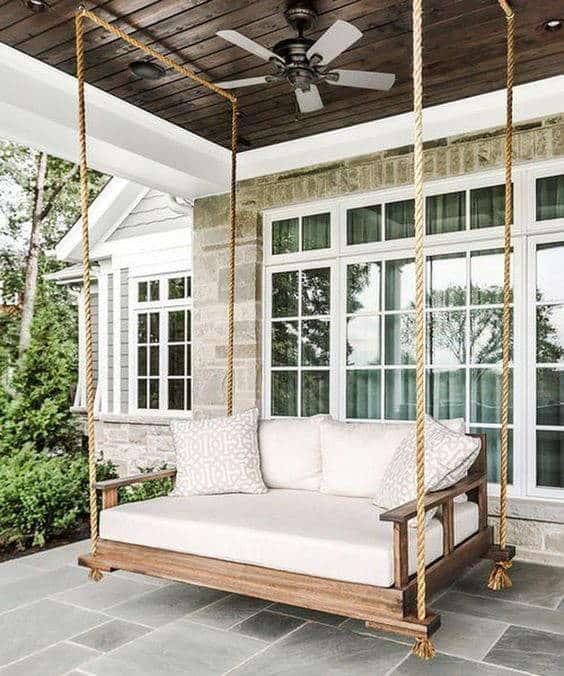 This comfortable swing bed makes this porch the perfect place to take a day time nap.
Those of all ages could find themselves spending all day in this comfortable spot watching the neighborhood live.
Shall We Tan?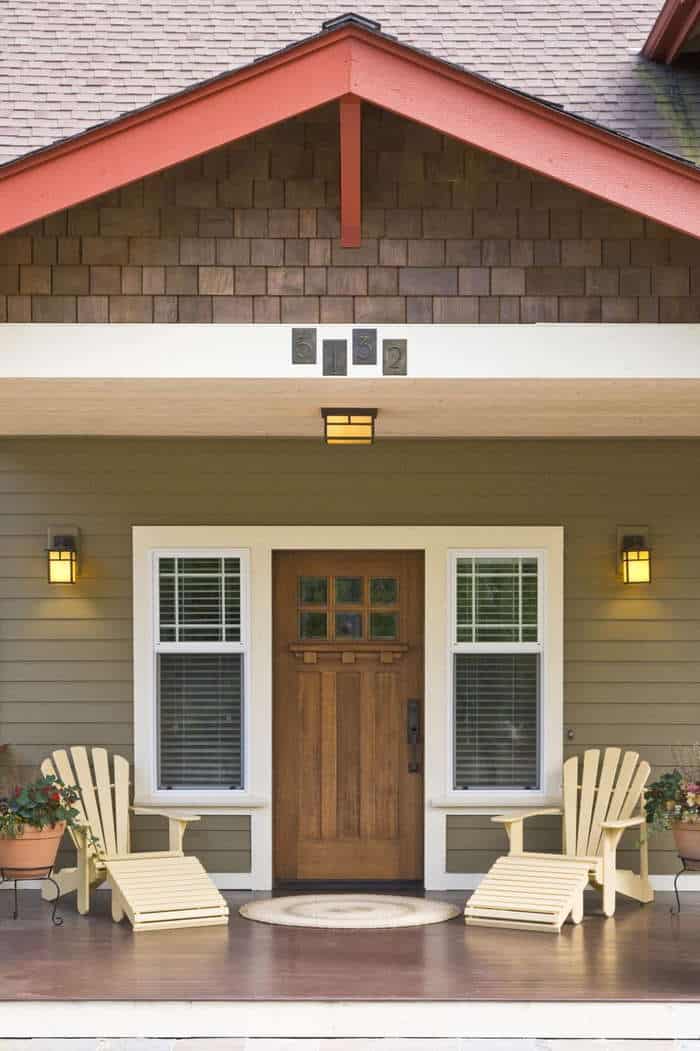 These Muskoka chairs with a footrest make for the perfect place to get your tan on!
A nice change to the front porch here is the add a round mat rather than the typical rectangle, just bringing the space together even more.
Let's Eat Outside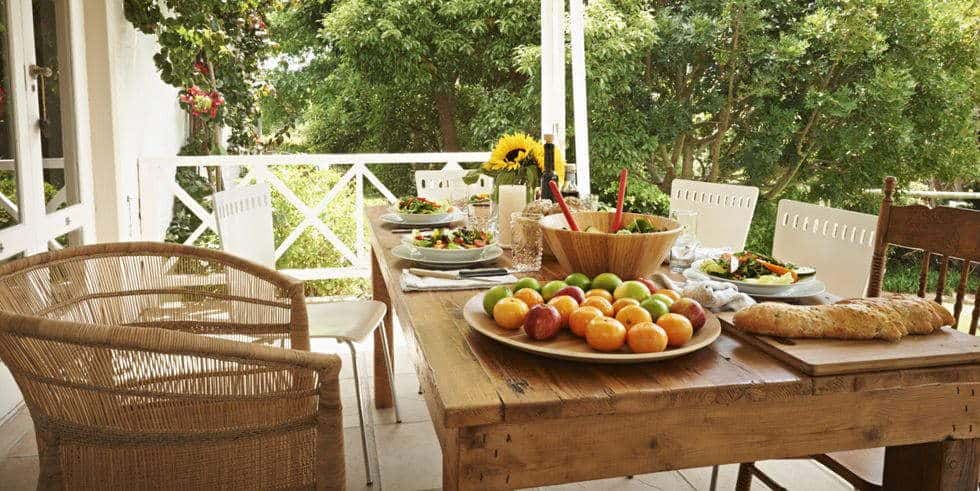 Having a lovely outdoor dining table like the one shown in this design is amazing for anyone who enjoys being outside.
A mix of different seating makes this porch less uniform and more relaxed than a structured outdoor dining set. Go ahead and try to mix and match your seating!
Girls Night Out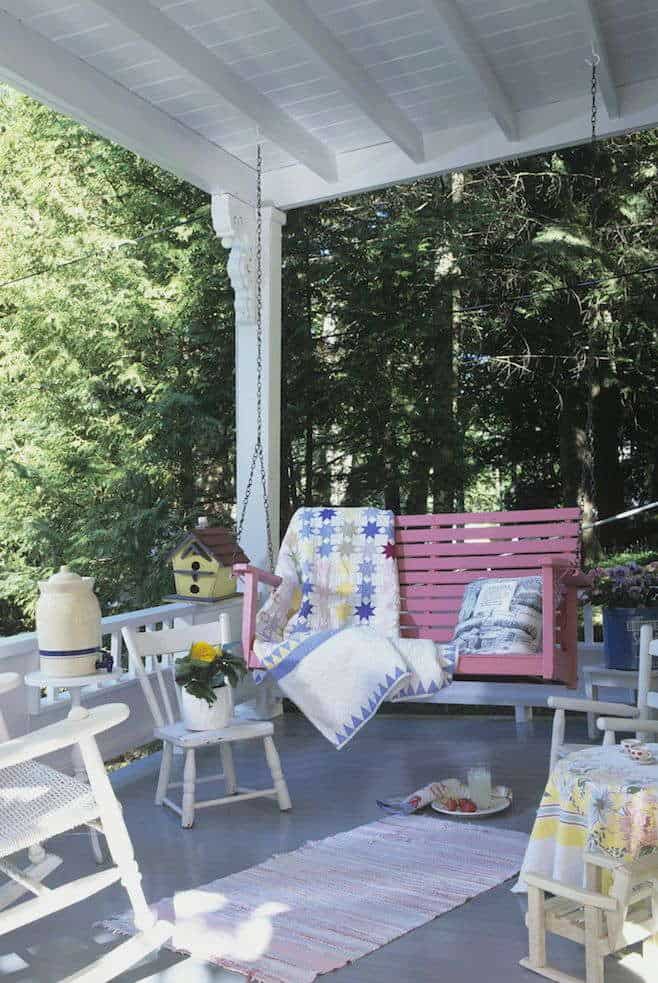 This fun porch circle is the perfect place to gather your girlfriends for a drink on the porch.
With mixed seating and a cozy blanket on the swing chair to go around, you could sit outside all night here.
Girly-Themed Front Porch Idea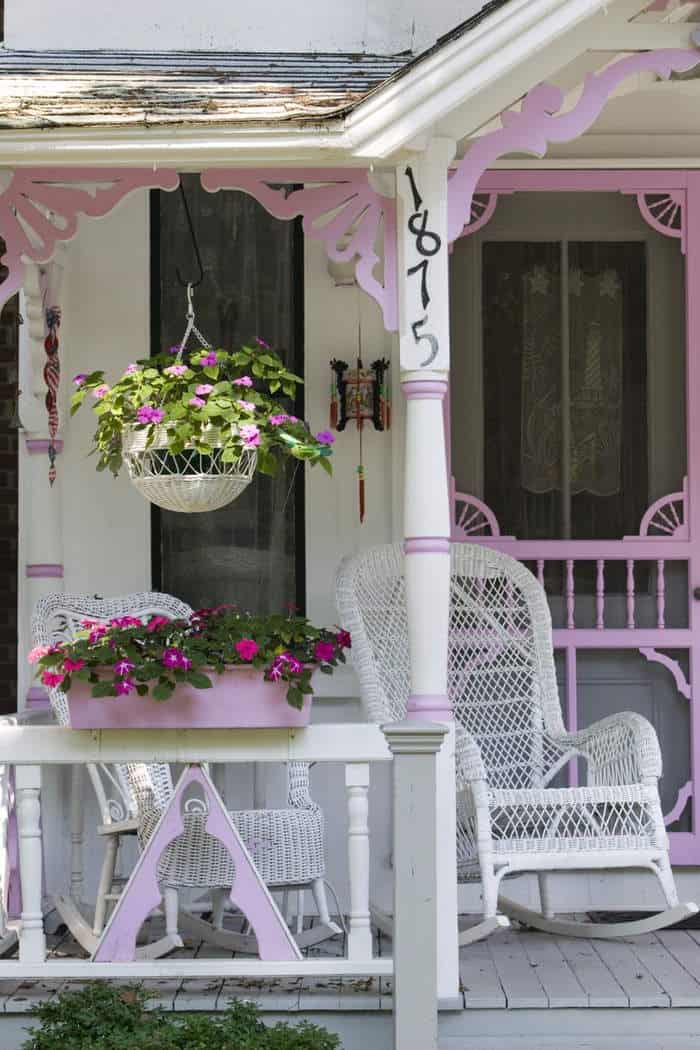 A white and pink porch certainly shows off the girly-girl in this home-owner.
This is another porch design that reminds me of a grandma's style with the white and pink color choices.
However, a design like this could be for anyone who is enthusiastic about any particular color!
While still looking welcoming, this porch has plenty of personalities and a homey feel.
Mix-It-Up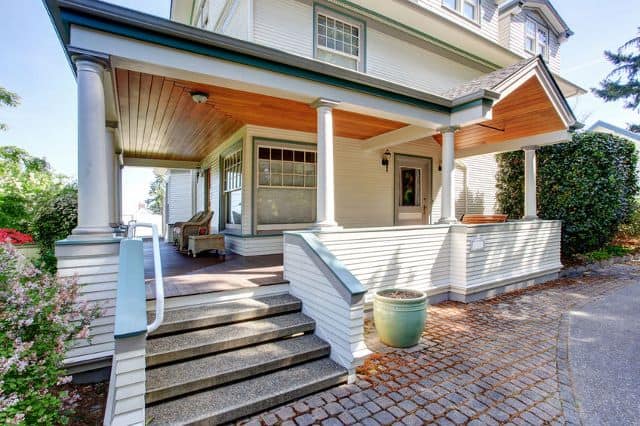 The mix of texture on this front porch is stunning.
From cobblestone to different color siding on the underside of the roof and cement stairs, this porch is so interesting and certainly not plain or boring.
With all the textures mixed, keeping the seating simple allows the porch design to speak for itself.
Smart Arrangement for Small Front Porch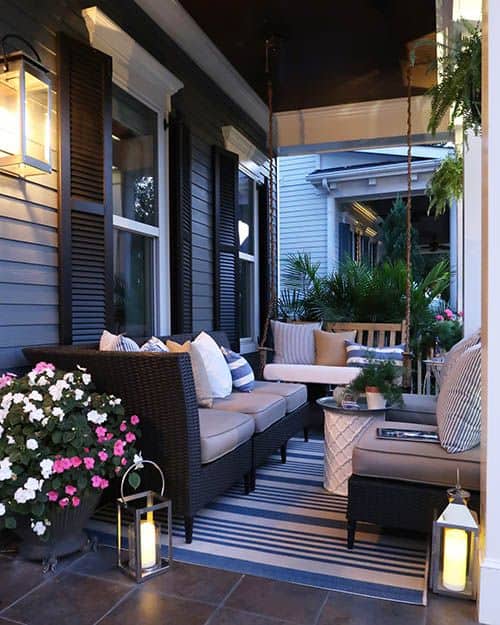 This close-quartered porch area gets you cozy with your friends and family.
The space is so well utilized with plenty of seating to entertain and a fresh black and grey design, with a pop of flower color!
The low-level lanterns make this space magical when the sun sets as you entertain into the night,
No Space? No Problem. Just Build Upwards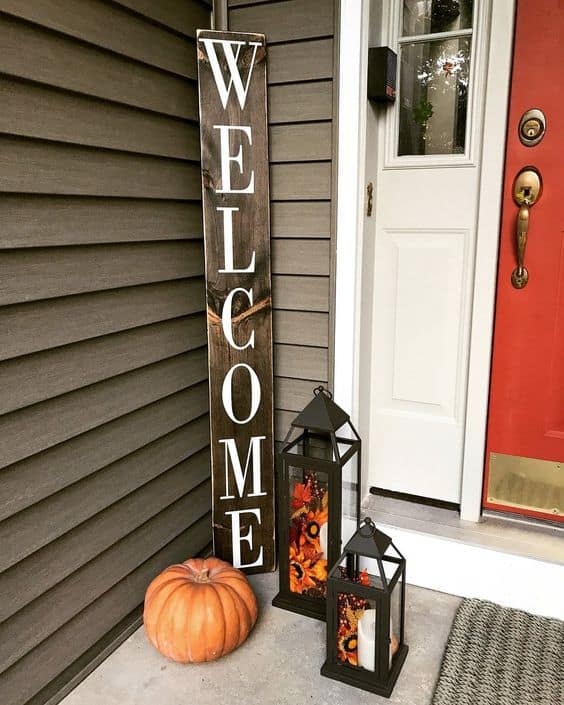 For a porch with little room, you can still add design by building layers upwards.
This porch is a perfect example of adding decor of different heights with multi-sized lanterns and a tall welcome sign that all go together to feel welcoming and cozy.
Front Porch Design with A Curtain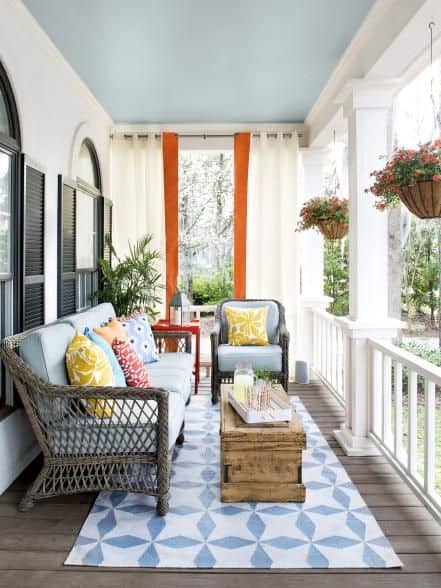 This porch somehow looks so put together even with a mix of patterns. The variety of pillows are fun and bright, while the rug matches the comfortable seating.
Something many people don't think of is to bring curtains outside, which adds a little more privacy to the lovely space.
This is another personal favorite for the privacy aspect here! No one ever thinks of bringing curtains outdoors and it works out to look so lovely!
Pots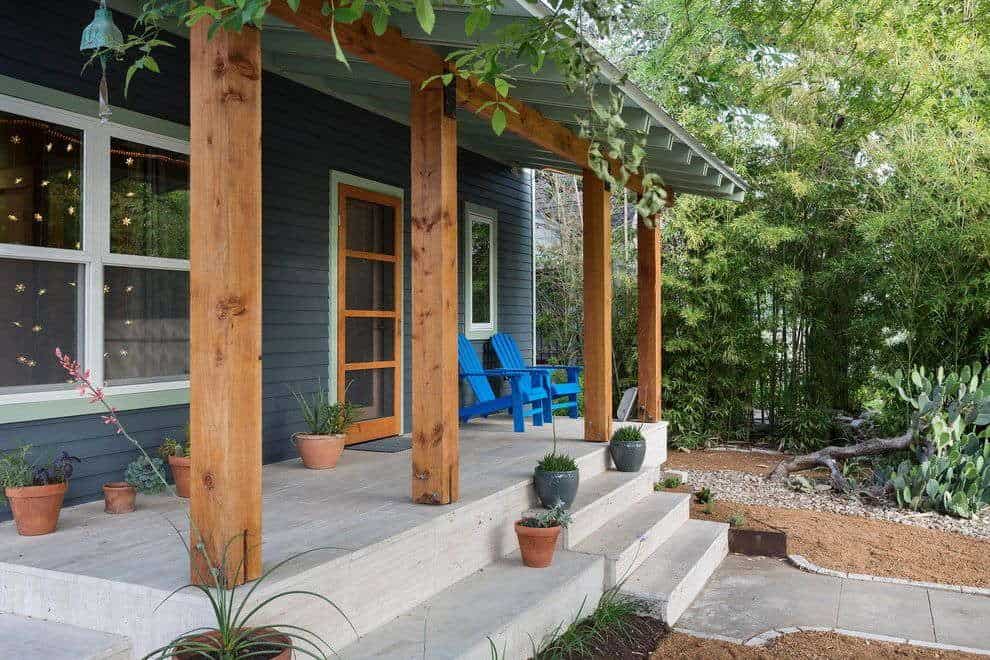 Something as simple as adding pot planters all-around a porch can make it feel more full.
This porch design looks pulled together as the clay planters match the wooden pillars while sticking with the theme of green plants.
Fresh-Looking Front Porch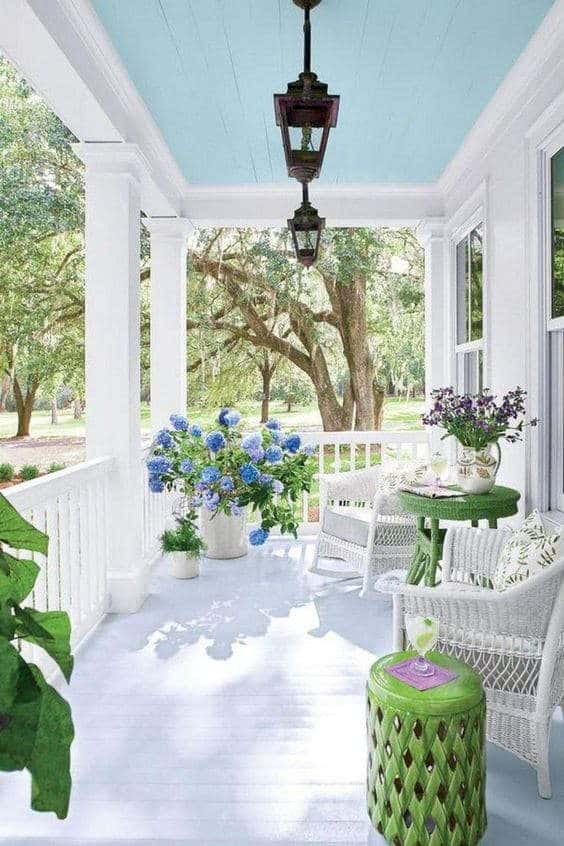 This cleanliness of this white porch pairs perfectly with some additional green and white furniture.
The pop of color from the flowers adds brightness to this space, with any flowers you have laying around!
Cozy 'Round the Fireplace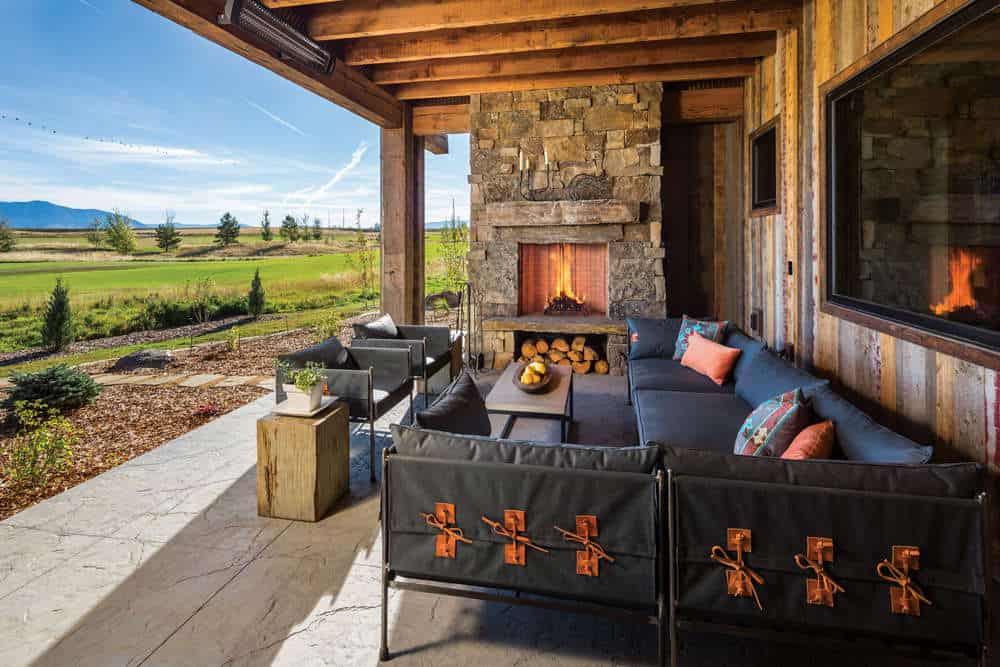 The linked seating in this design is definitely an entertainers spot for plenty of guest.
The beautiful view ahead makes this an amazing spot for mostly forward-facing seats to embrace nature.
With a real wooden fireplace, you can sit here all night long and roast marshmallows with the kids (or even just the adults).
A Pop of Color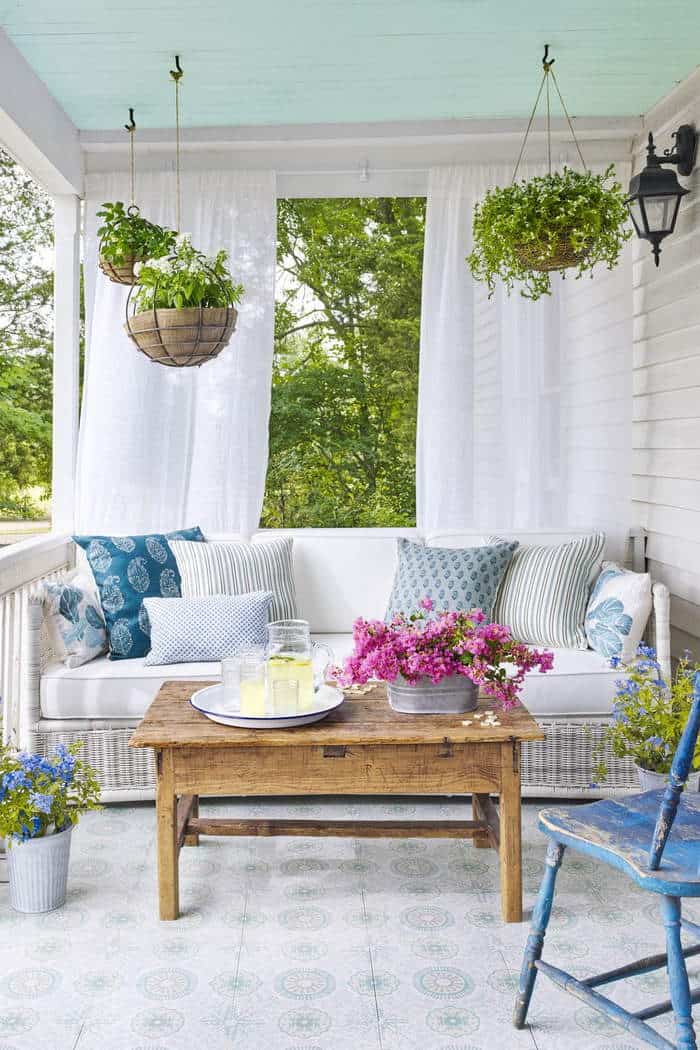 On this white-themed porch, the pop of blue and brown from the pillows, table, and chair just coordinate together so well.
The focal point of this porch is the rustic table that contradicts the white theme, bringing everything together to be more cozy and comfortable.
A Lovely View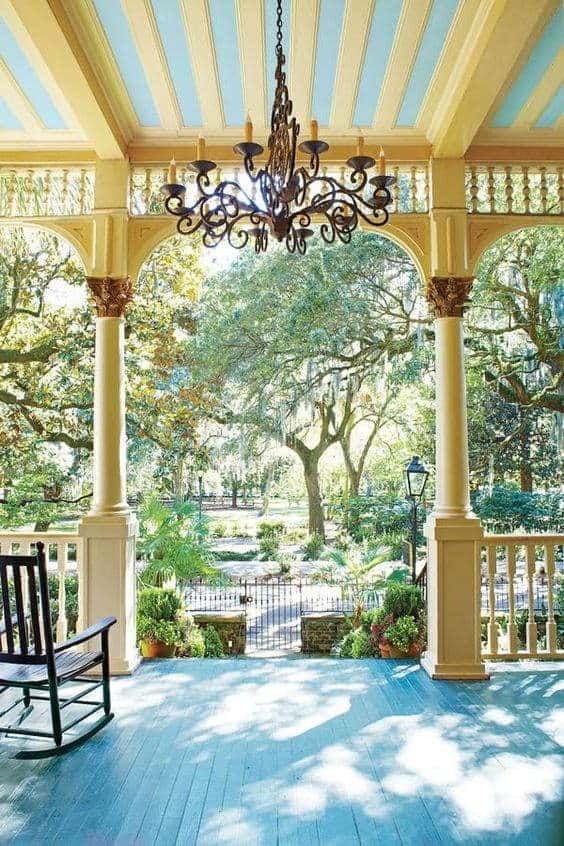 Not much needs to be done with this porch that has a lovely view. Just adding forward-facing seating like this rocking chair is enough to intake and enjoy the beautiful view.
Some Personality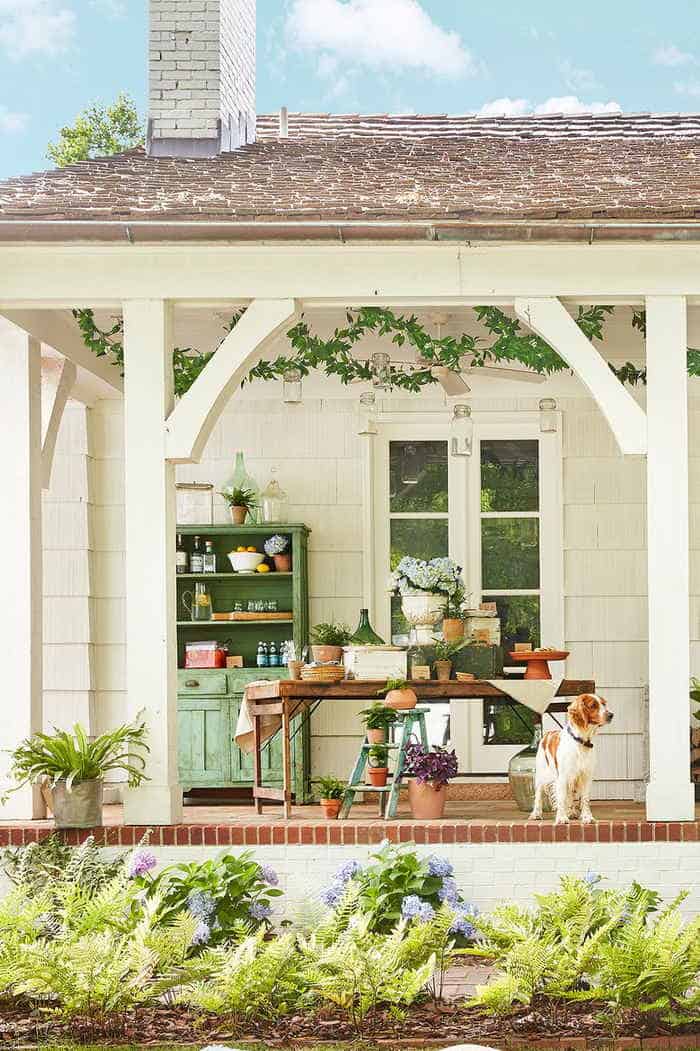 This porch displays plenty of personality with a shelving unit for storage of personal items and a table full of plants.
A porch like this is a perfect place to get some planting done and enjoy your hobby.
While this is not a personal favorite, I know plenty of friends that would opt for this practical front porch design!
Gazing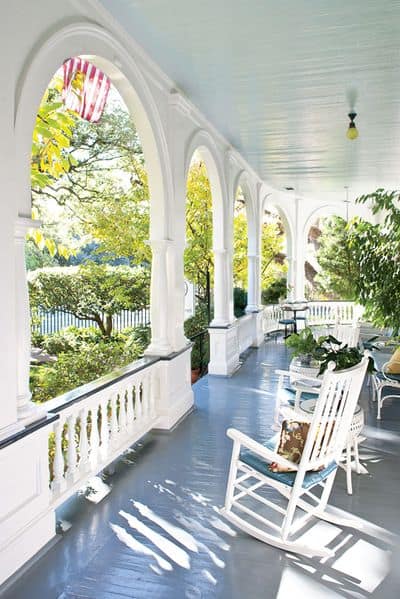 This clean porch also seems to have a stunning view out front.
With an almost Italian style round pillar railing perfectly framing the view, all that's needed is chairs that match like the stylish white rocking chairs here. Perfect for gazing and embracing the view afar.
No matter what king of porch you have, adding some personality with outdoor decor and seating can make a porch feel more welcoming and homey.
Whether you like intricate designs or a clean and simple layout, there is a porch design ready for any sized space.
Just by bringing creativity outdoors, you can transform any porch into a lovely place to spend most of your time outside.