Don Pedro Brooklyn is reader-supported. When you buy through links on our site, we may earn an affiliate commission. Learn More
15 Glam Bedroom Ideas On A Budget
Many homeowners dream of a "wow" factor in their bedrooms. It's a blissful and personal space where they can come back, relax, calm down, and embrace every single moment. And since many homeowners have a knack for the rich and luxurious touch, there are a number of smart and creative ways to create that dreamy look.
The glitz, glam, and luxury don't have to come with a big-ticket, every time. Homeowners are usually under the impression that styling for a "Glam" interior design style requires you to spend a ton of dollars on that majestic chandelier, bed frames, accessories, and that dreamy area rug. Well, the fact is – you can assuredly have a glam bedroom on a budget. So, let's have a look at these 15 glam bedroom decor ideas on a budget to achieve a statement of splendor and magnificence.
Hollyce Side Table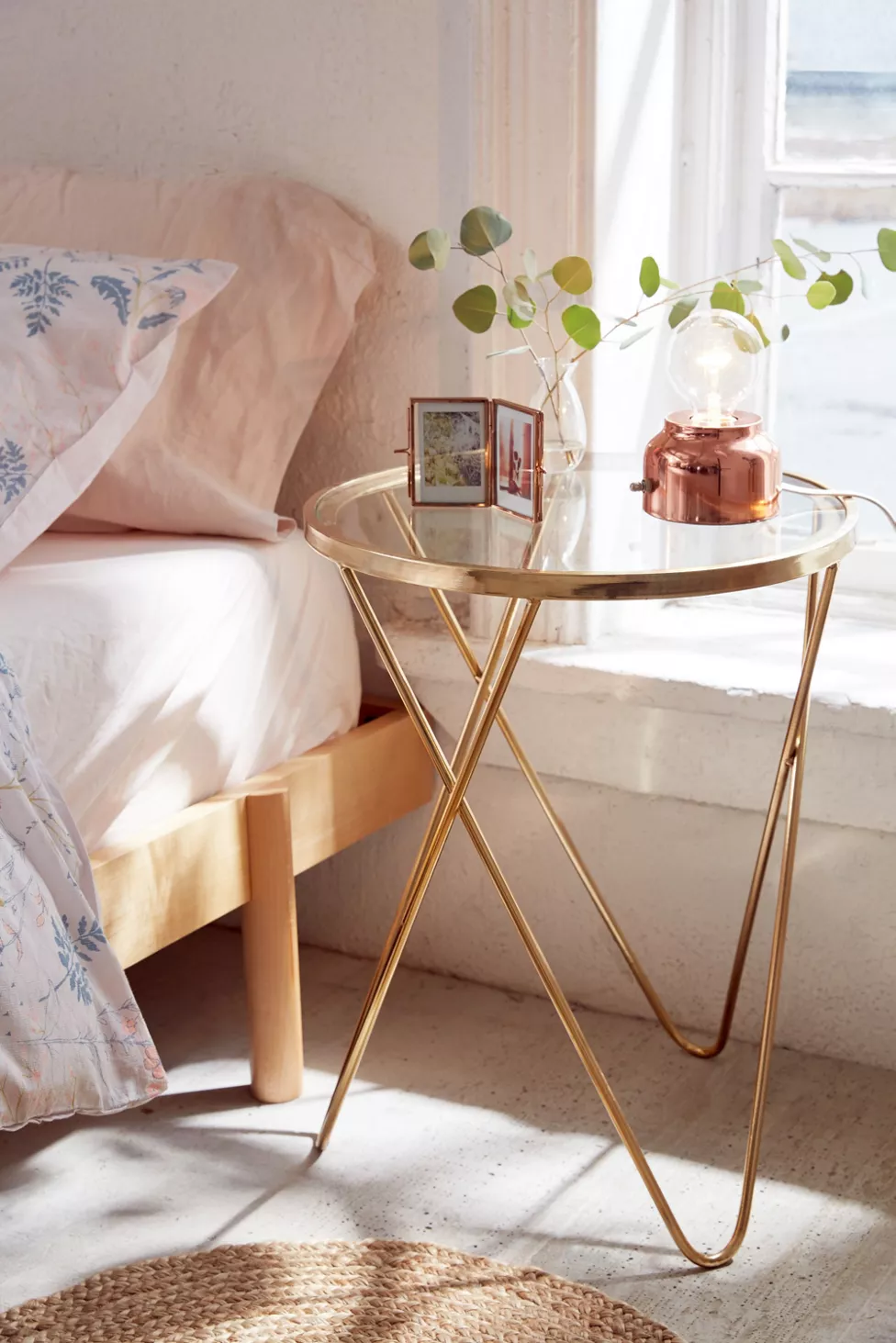 The nightstand is a necessity in your bedroom! It's an essential and functional decor element where you can style and store your everyday belongings and necessities. And when decorating for glam style, you simply can't ignore the chic look of this modern-minimal nightstand piece.
With a glass tabletop and rounded metal legs finished in rich gold, this nightstand piece makes a great statement in any glam-style bedroom. And since the price is only $149, it definitely makes a great budgeted option.
Semi-Sheer Curtains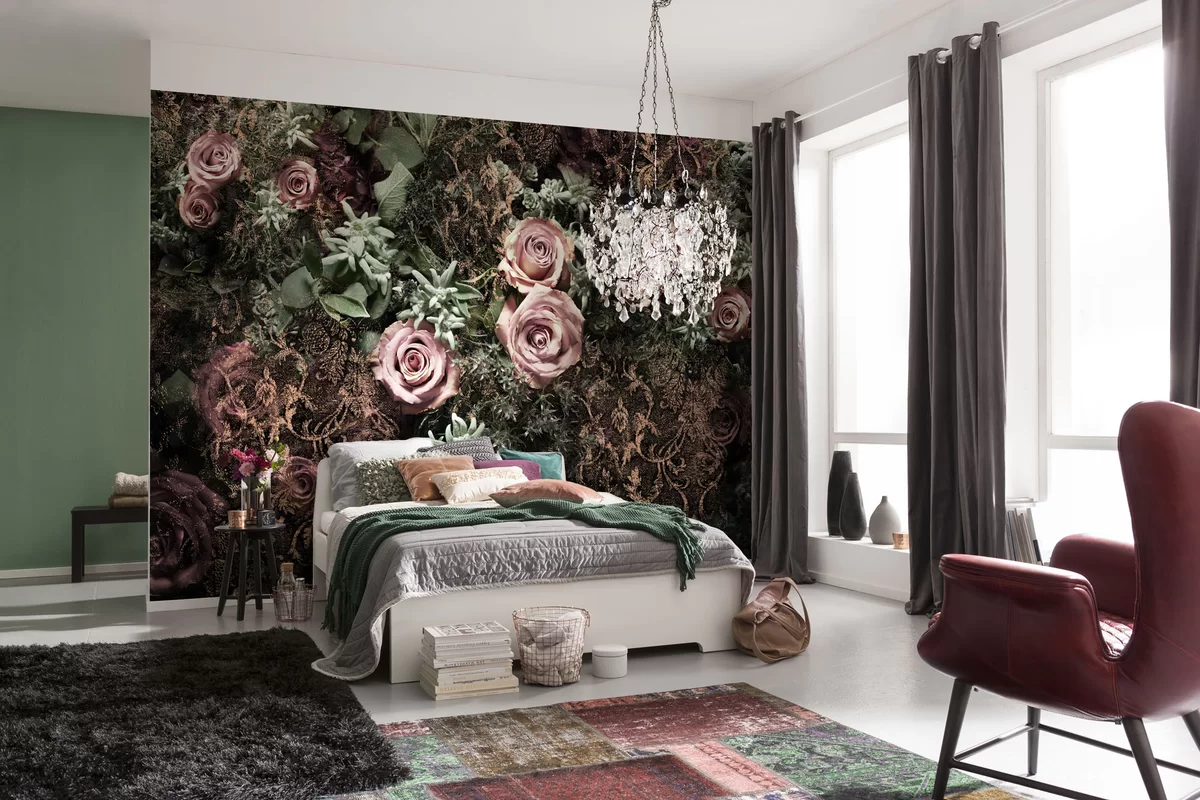 The dark and bold, moody and dramatic – these affordable polyester curtains are a great way to add a sense of vertical dimension to any space. They can add a touch of "glam" to your bedroom with a perfect touch of timelessness and the benefits of easy maintenance.
However, remember that you hang them higher near the ceiling and let the base touch the floors. A short curtain is something to avoid in your glam-style bedroom.
Antique Picture Frame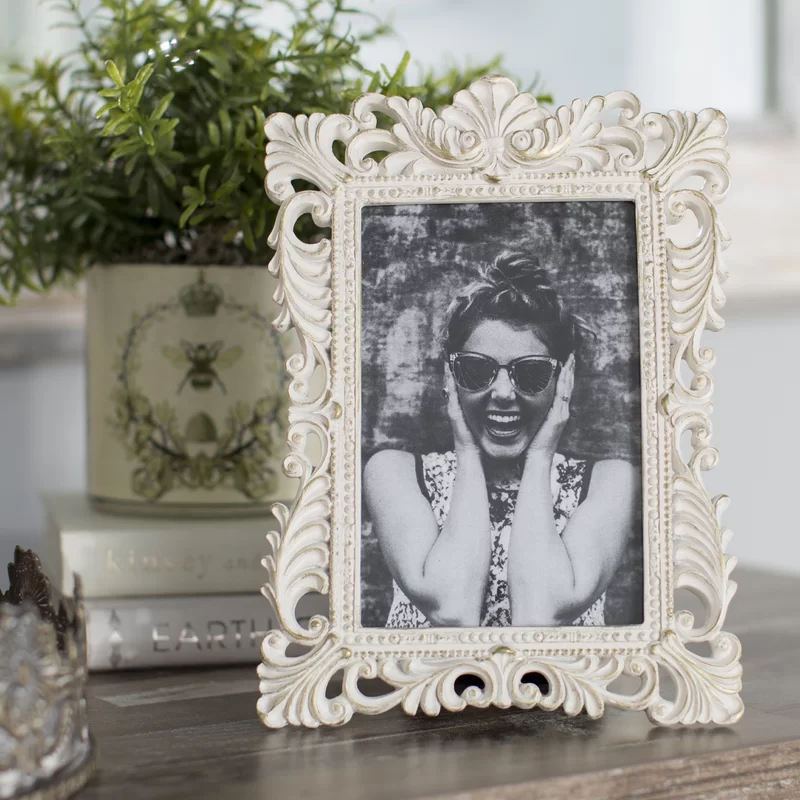 In your glam-style bedroom, even the tiniest of the details matter! Whether it's the centerpiece or an antique artwork – there are quite a couple of ways to make your bedroom go wonderfully flawless.
With the flamboyant details and an utmost vintage and chic look, this picture frame can be used to add detail to any dresser, floating shelf, and nightstand. And guess what's the total worth? Well, just $12.99!
Faux Throw Pillow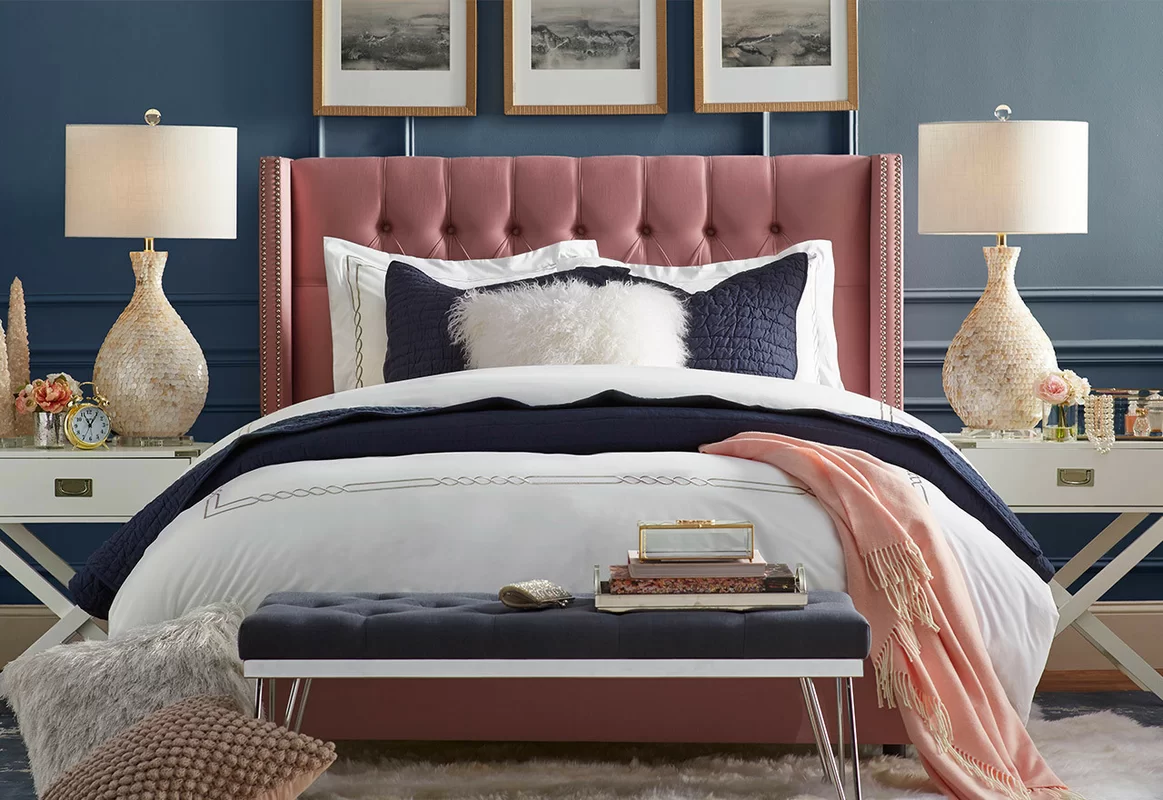 Throw pillows are the jewel of your bedroom. And especially when it's faux fur or velvet, you should simply let these details add a sense of texture and drama to your space. Well, there are a wide array of colors available and you could choose either depending upon the color palette of your room.
Believe it or not, you don't have to pay a big amount for these chic and lovely details on your bed. This faux fur throw only costs around $29.99!
Adams Table Lamp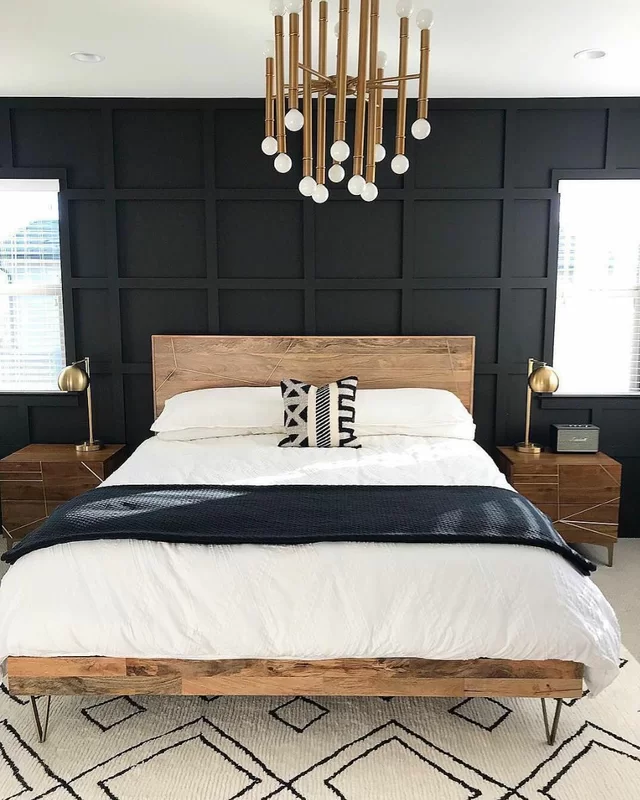 Are you in a habit of reading books late at night before you go to sleep? Well, if yes – you might need this perfect lamp perched next to your bed on the nightstand. It has a perfectly rich gold finish that can look outstanding when placed in front of the bold and daring color of the wall. (Have a look at the inspiration above)
And since it's quite affordable and durable, you can definitely consider a pair on either of the nightstands.
Peel and Stick Floral Wallpaper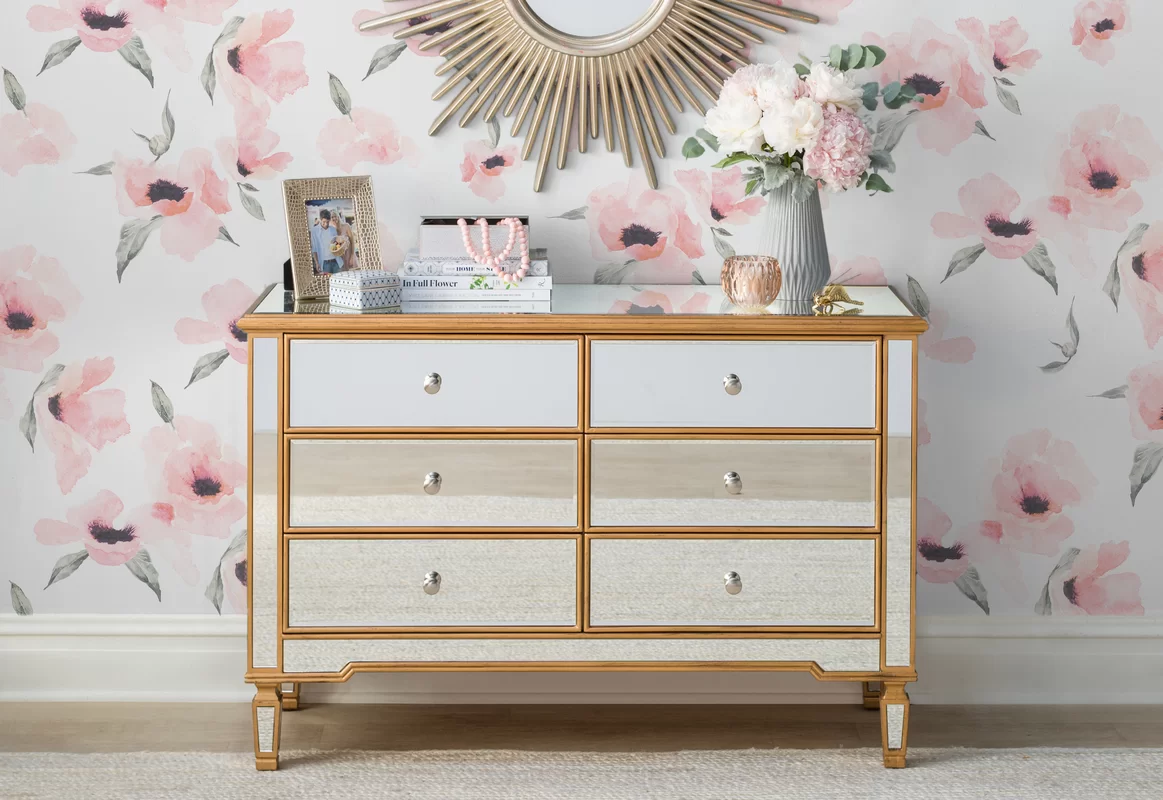 Floral Wallpapers go hand in hand with the Hollywood Glam style. And believe it or not, this is one of the most inexpensive and affordable ways to transform the appearance and vibe of any space. And not just florals but you can choose any geometric prints and patterns to imbibe a sense of drama and texture to the room.
This way, you can also hide holes, stains, and any scratches on the walls.
Faux Ivory Area Rug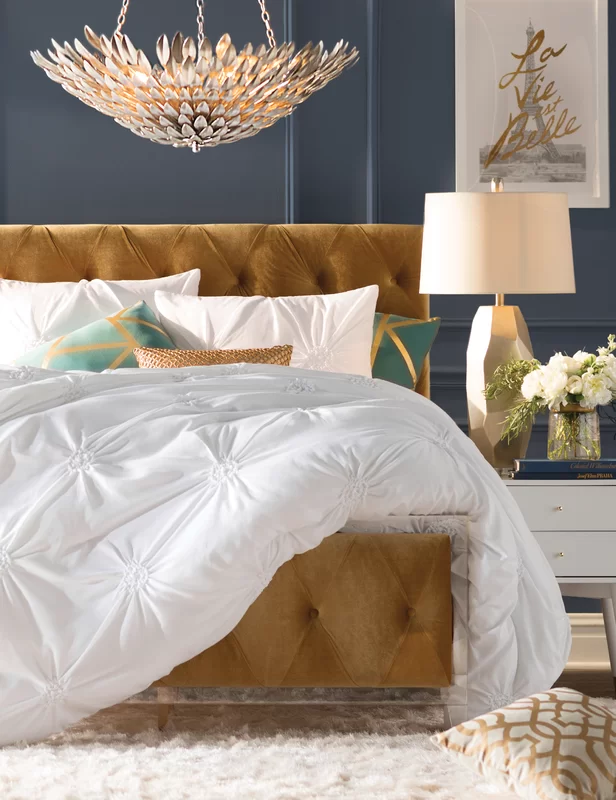 An area rug can bind the whole space together and create a seamless and cohesive look. Generally, they're quite high-budgeted and expensive, but if you're on a budget – you can follow various tips and tricks to create the desired look.
You can layer several smaller rugs or choose this faux fur area rug to add a statement of "glam" and luxury. Furthermore, it's going to work with any color palette you desire!
Metal Retro Headboard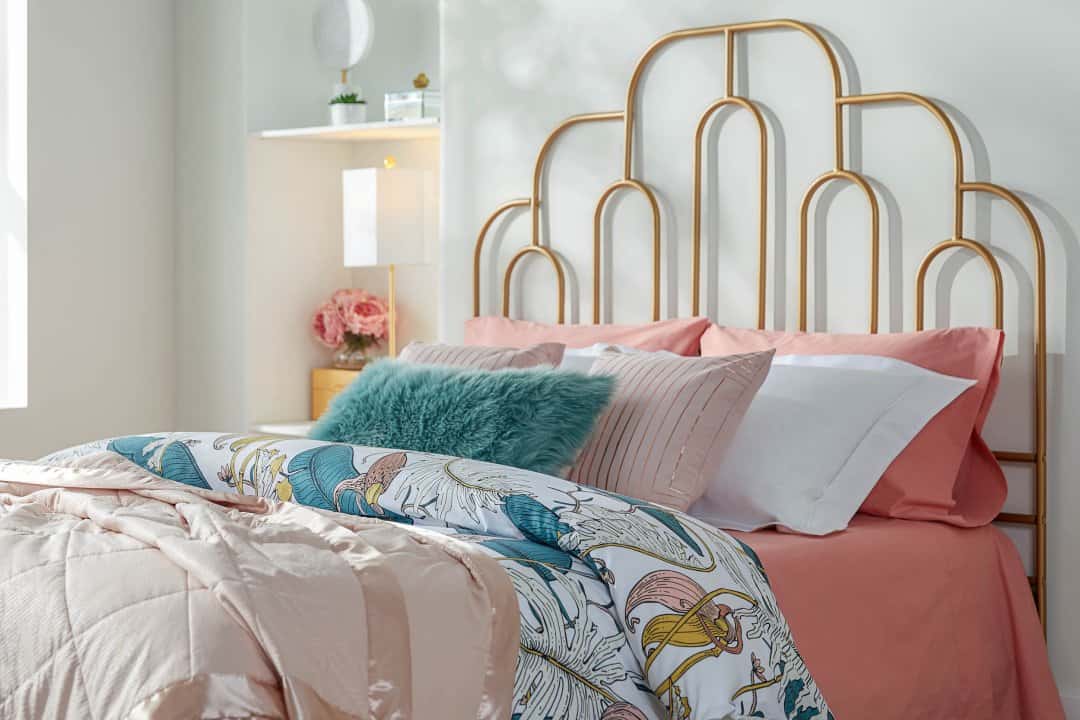 Your glam bedroom deserves a dreamy, glam headboard. However, it doesn't require you to pay a big-ticket when you have the opportunity to style this curved and flamboyant retro headboard on the featured wall.
And since it's coated in rich gold, it further grabs attention and oozes a touch of luxe and sophistication. Remember to style this retro headboard against a darker-colored wall for an ultimate transformation and drama in your space.
3-Set Painting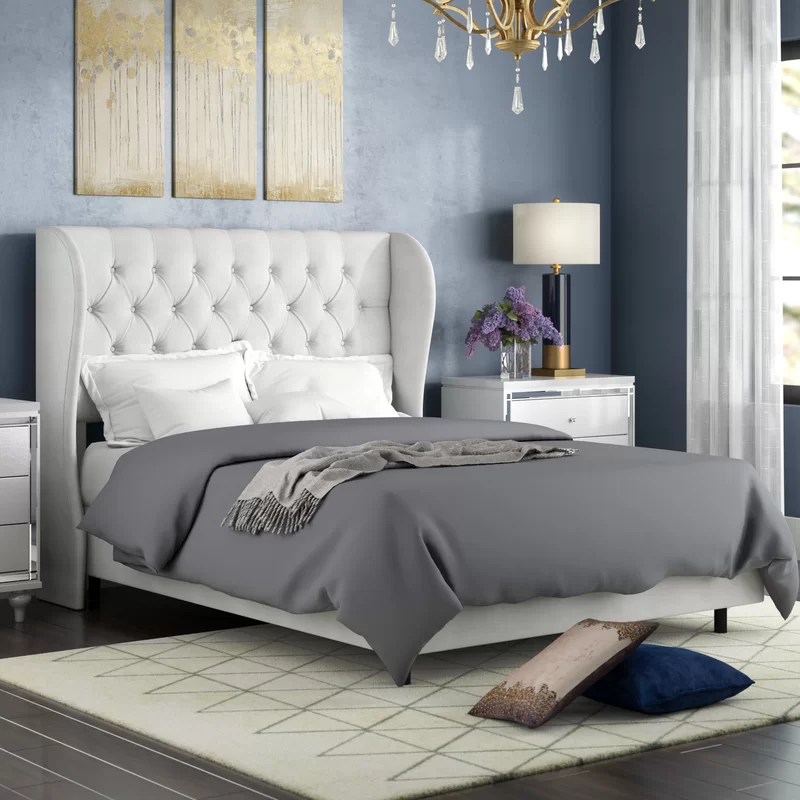 Coated on canvas, this painting features the tones of blue and deep teal with a splash of gold foil for a perfect touch of glam. Showcasing an abstract tree design, this artwork is a great, budgeted option for the focal walls of your bedroom. And it's better if you hang it on the headboard wall.
Moreover, styling this artwork on a darker-hued wall can further enhance and bring that instant drama and glamor to your room.
Sequin Throw Pillow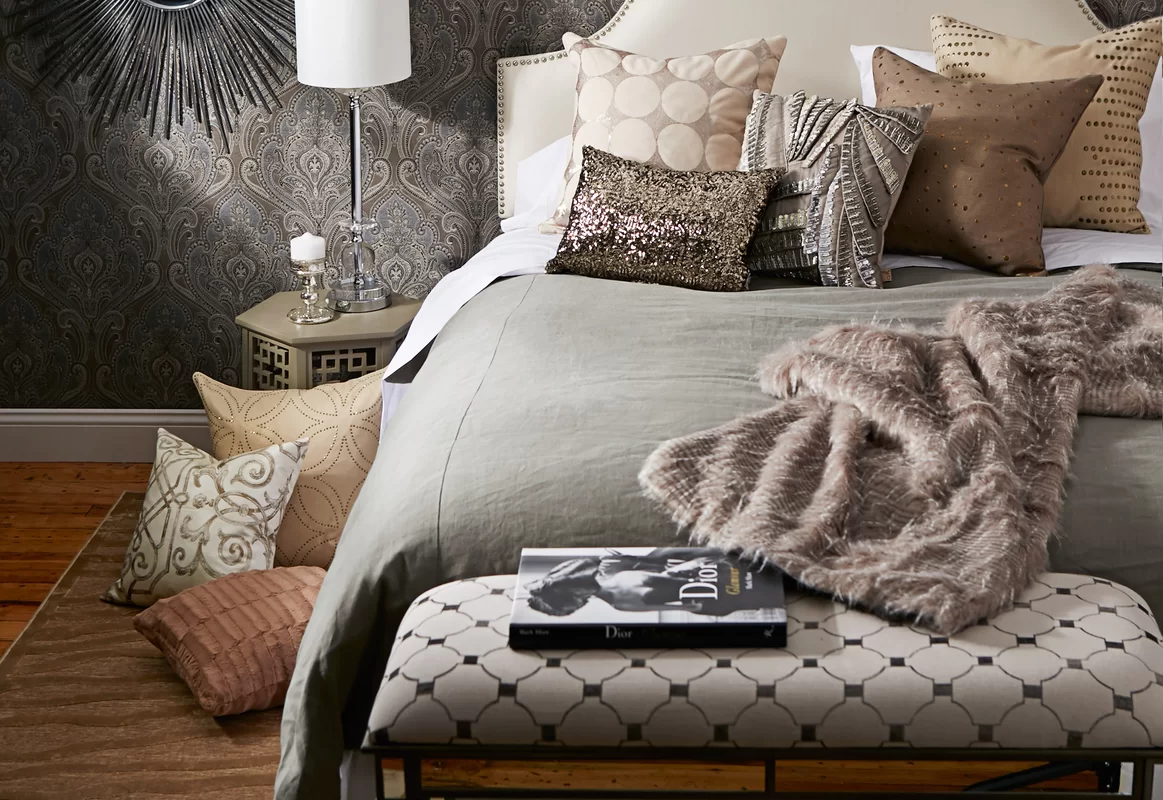 Do you know what's the best way to make your bedroom ooze luxury and splendor? Well, it's the throw pillows. And the best part is that they're quite inexpensive and easy to take care of! Hence, one such affordable option is this sequin throw pillow that can play the focal and fundamental element in your space.
It's available in two tones – gold and bronze, and believe it – either of these two will play fabulous! For the throw pillows in your glam bedroom, just think velvet, suede, tasseled, and sequined.
Traditional Wall Mirror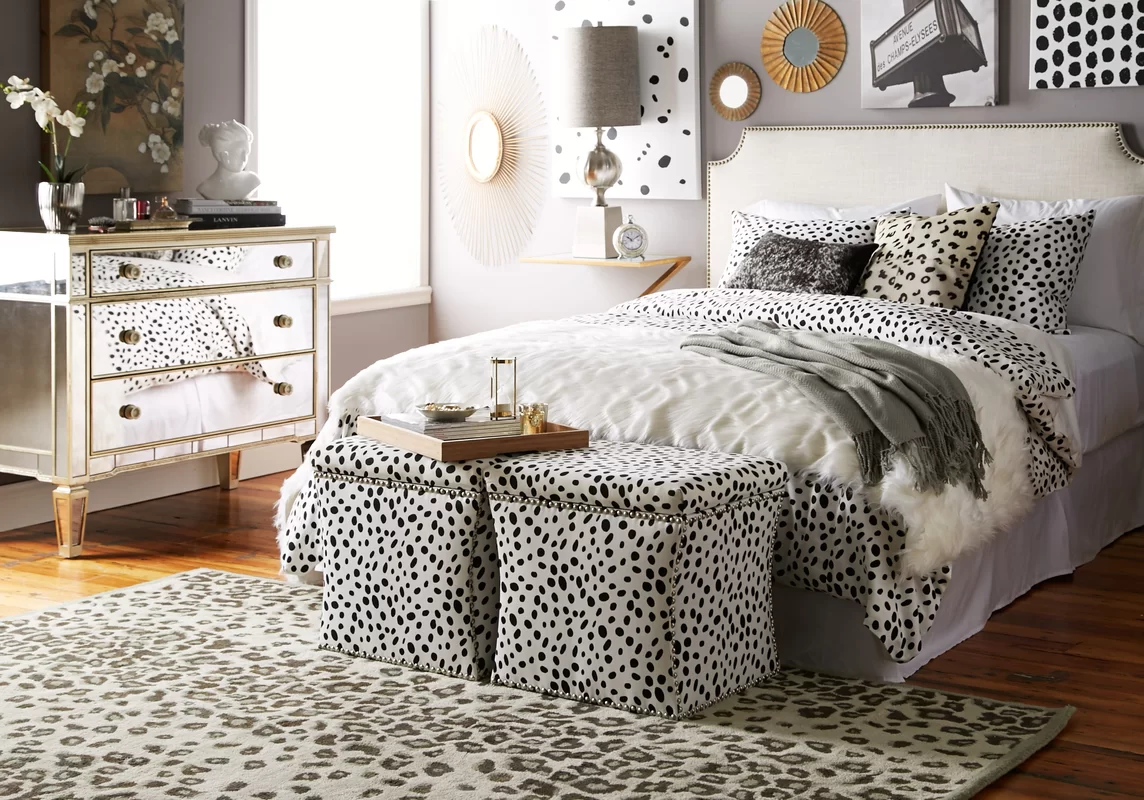 This sunburst-shaped wall mirror can ultimately add a chic and classy statement to your glam-style bedroom. Styling the walls with a combination of mirrors and artwork gives your glam-style bedroom a great sense of focus, opulence, and that "wow" factor.
And since mirrors can tend to create an illusion of a larger and airier space – this mirror is definitely something to have in case you have darker walls. Don't worry – it's priced at just $189.99!
Reversible Comforter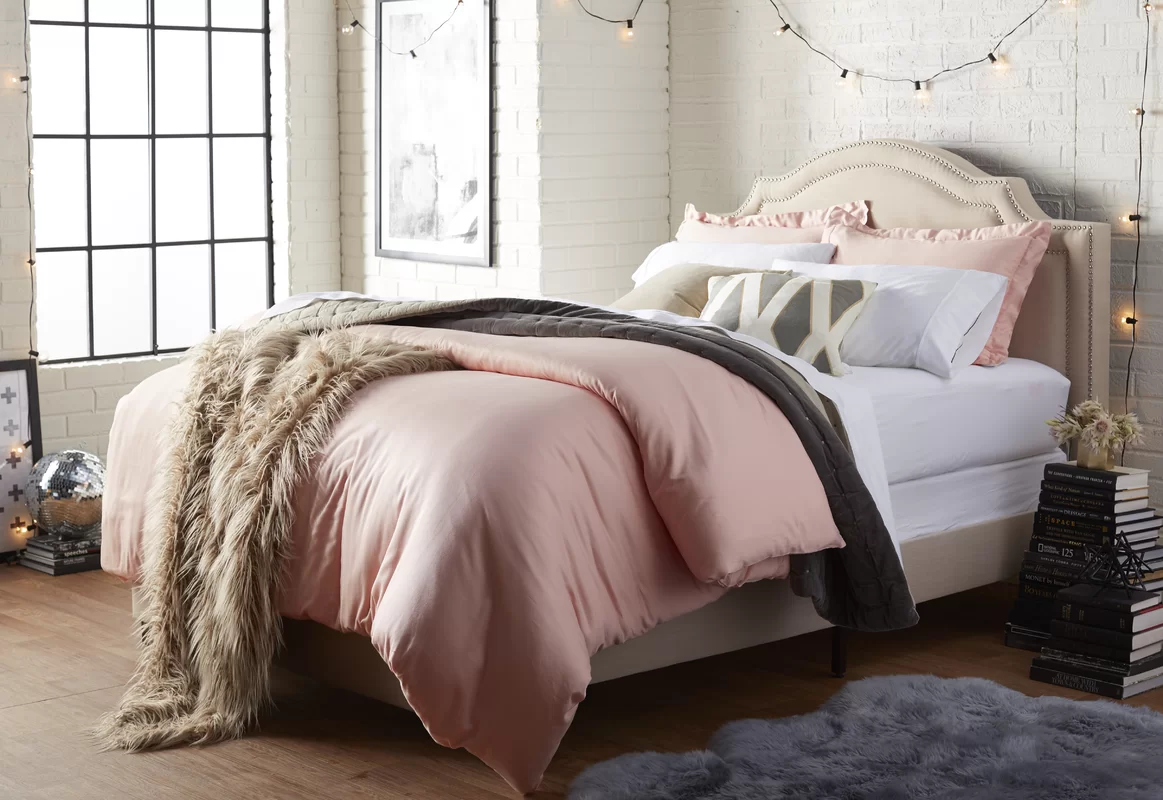 A cohesive and well-blended bedding is a must for your glam bedrooms. So, if the walls are loud and darker-toned, you can best infuse subtleness into your room with the help of bedding. Yes, duvets, comforters, bed covers, and throw pillows.
This comforter is 100% cotton and can feature beautiful motifs and patterns that can undeniably bring detail and charm to your space. Soft and cozy, isn't this the ultimate luxury you need while you sleep?
Wide Square Ottoman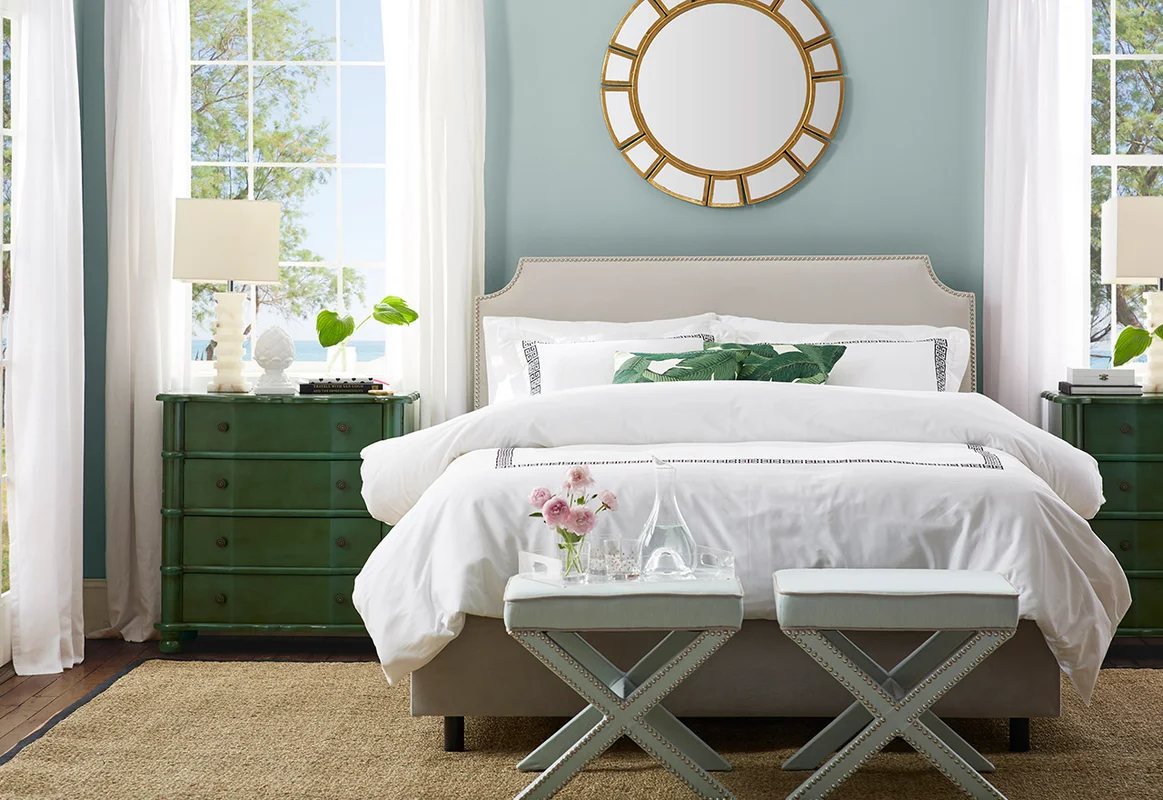 If you have a slightly higher budget to afford this chic Morrison ottoman, don't hold back from it! With the cross-legged figure and an elegantly aligned nailhead trim, this ottoman is all you need to bring luxury and splendor to your bedroom.
You can choose from either of the tones and shades to suit your bedroom's palette and design style. The glamorous aesthetic of this ottoman will definitely make you swoon over it again and again.
Crystal Chandelier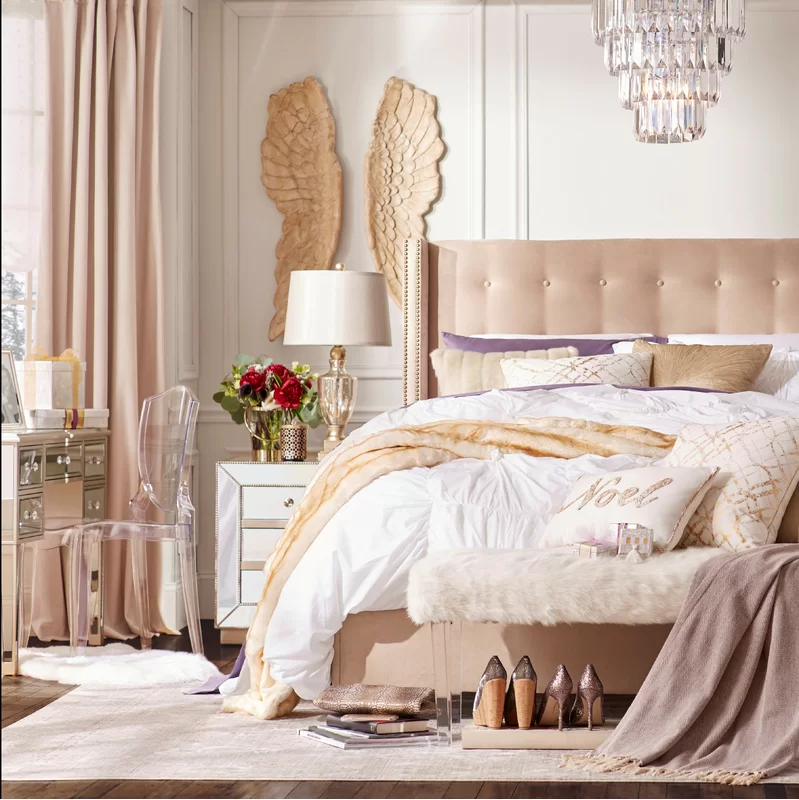 Does it seem like you have to pay a hefty price for that chandelier? Well, no! Priced at just $199.99, this crystal chandelier is a great addition to your glam-style bedroom that already exhibits a rich and splendor look.
The chandelier will add the missing glam factor and make your bedroom feel ultra-luxurious, bright, and stunning. Regardless of the color scheme and design style, this crystal chandelier is going to work everywhere!
Tulip Glass Candlestick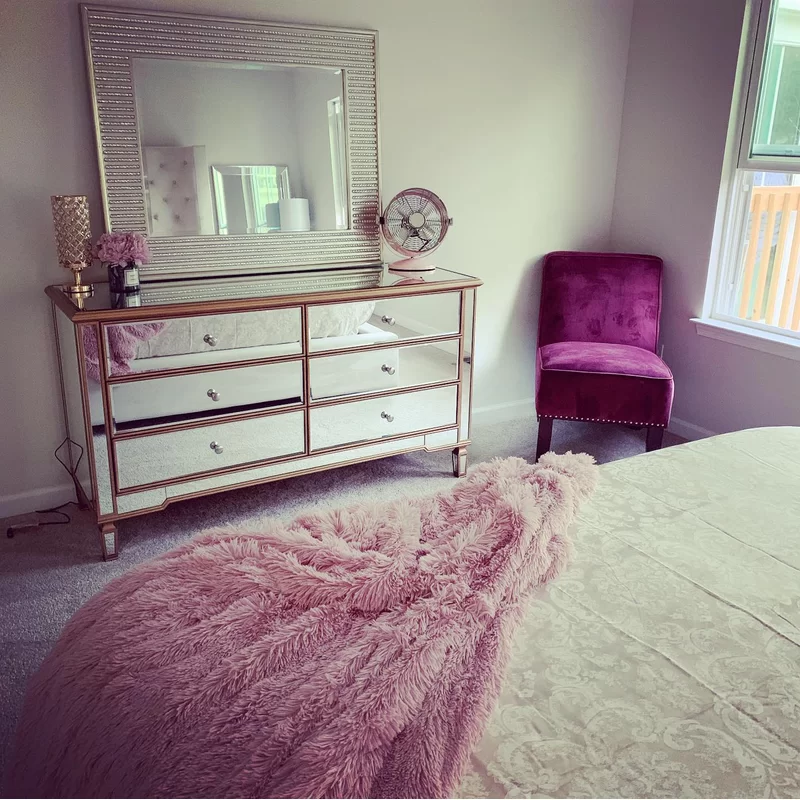 It's time to style this glam and rich-looking, glass candlestick on the shelves, nightstands, or the dresser. With a high-gloss finish and engraved clear crystals, you can easily display the flowers and candles and make them further look appealing and unique.
Yes, glam style embraces the feel of maximalism and you can add many decorative items in a cohesive and organized manner. This is one such glamorous product that's priced at only $39.99 and can magically make that bedroom feel more "glam".
Summing It Up
The Glam interior design style is all about layered textures, patterns, and chic styling of various materials. And all of that doesn't have to cost a fortune! Yes, you can style a glam bedroom decor under budget that also looks unique and eccentric.
So, did any of the above-mentioned glam bedroom decor entice you? Or are you going to incorporate all of them? Well, do let me know your thoughts in the comments below!