Don Pedro Brooklyn is reader-supported. When you buy through links on our site, we may earn an affiliate commission. Learn More
How to Decorate Around a Beige Couch – 17 Ideas
Beige is a little misrepresented. If you've invested in a stunning beige couch, you probably realize already that beige is just an open invitation – a welcoming color for your living room and an excuse to create something exciting around it.
But that openness can be a little intimidating when you're building a living room around it. To help get you started, we've gathered some ideas to help you decorate your space around a beige couch. With any of the ideas on this list, you should be able to furnish a magazine-worthy room in no time.
Add Some Color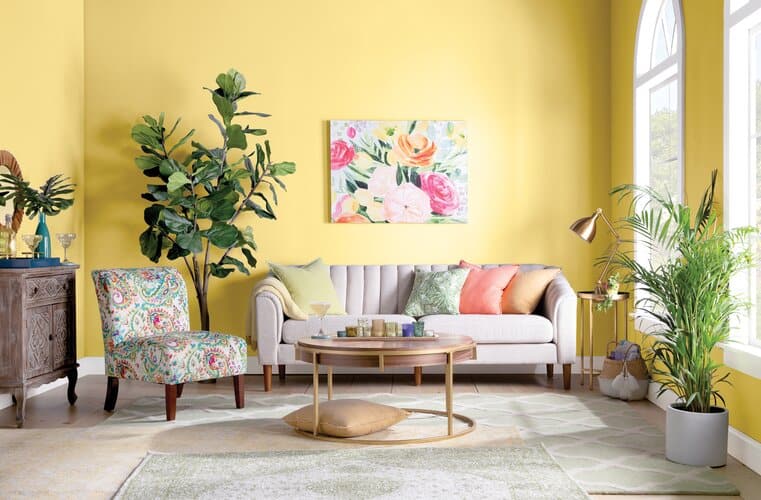 You can think of beige as a blank canvas. Not only does it go with just about everything, it's also an invitation to get creative and have fun with your space because of its versatility.
Fans of and colorful spaces can take advantage of their neutral couch and jazz up the place. Go for cheery yellow walls, light and bright patterns, and anything else that says "joy" to you. Add just a few more beige or light grey neutrals here and there to match the couch, and you will have a fun, but not overwhelming, happy place in your living room.
Keep it Neutral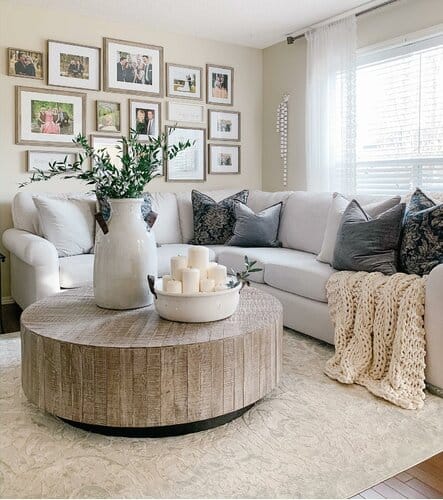 On the other hand, letting neutrals dominate your space can create a cozy and calm environment, perfect for the room that's all about a little 'R & R'.
Pair your beige sofa with other light neutrals such as tan, cream, and washed-out grey to make your space seem larger, brighter, and more welcoming. Or, cool things down with medium to dark greys or grey-blues to foster a more private "den" that's begging to be the site of movie night.
Build a Modern Look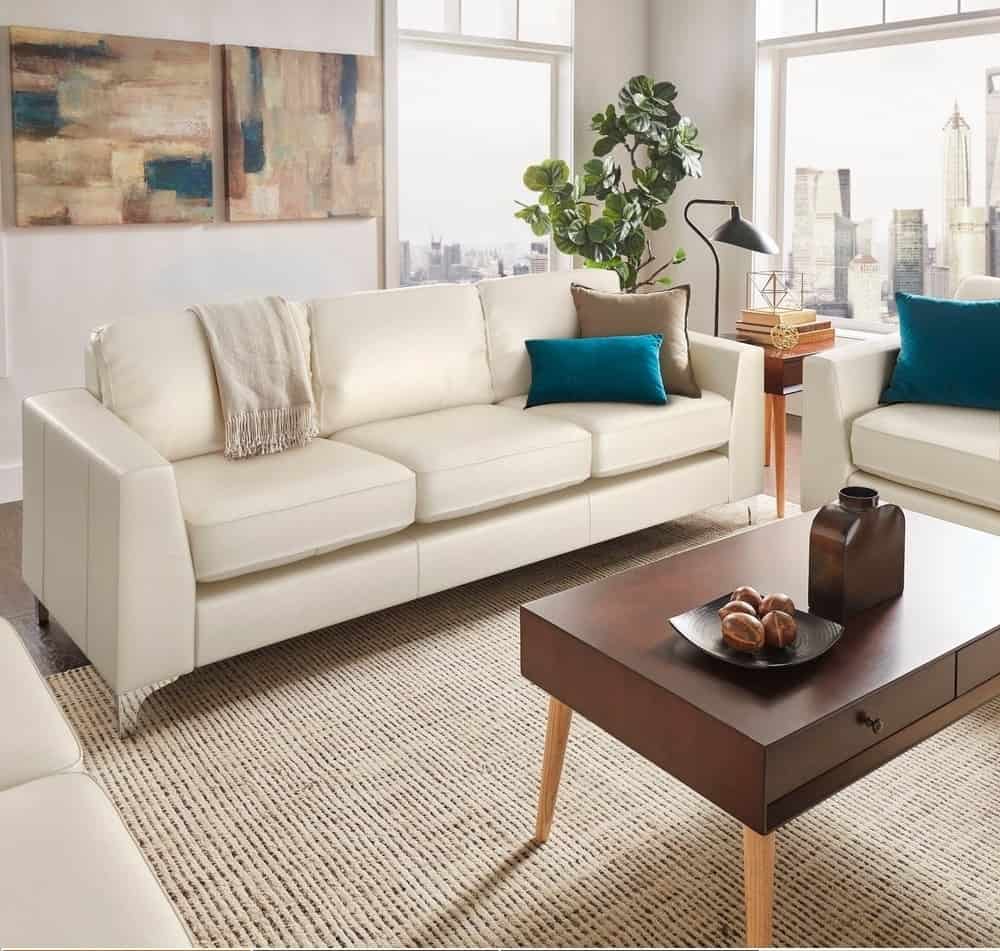 When trying to match a beige couch, your living room ideas don't need to be complicated. Beige is great for creating a crisp, clean look that's perfect for a contemporary look. Stick to simple colors and shapes to easily decorate a modern-looking room around your beige couch. Add just a couple of colors through accents only to add interest without overshadowing your airy beige furniture.
Use the Sofa's Best Feature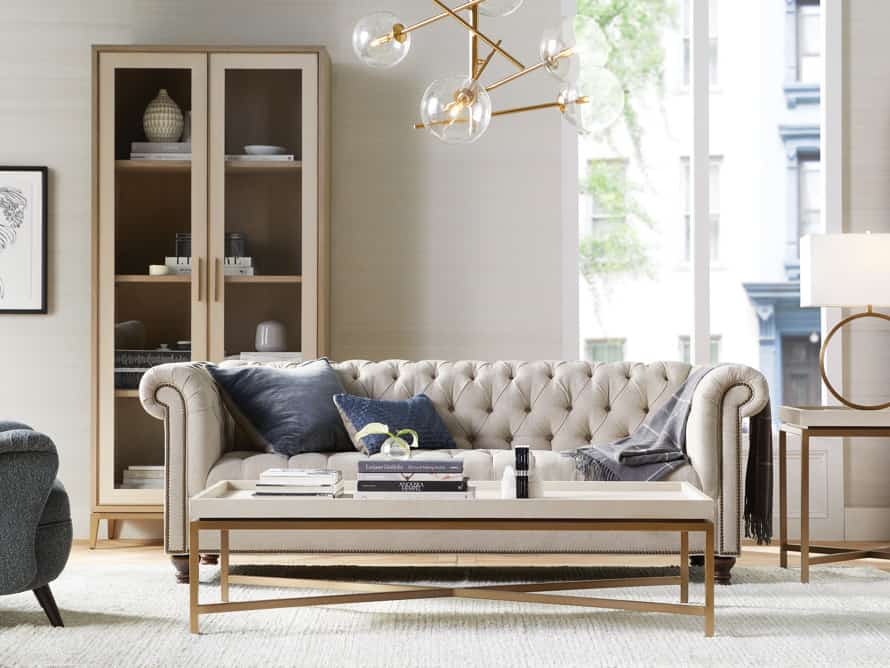 When deciding how to decorate around a beige couch, don't overlook the details of the seat. Beyond color, your furniture will likely have one noteworthy feature – gold accents, dark wood feet, a distinctive shape – something which can become the defining characteristic of your living room.
Select other furniture with the same brassy gold accents, match a matte look with other matte pieces, or use any exposed wood elements as the basis for any other wooden furniture in the room. Let your sofa guide you to the best style and pieces to fill the space.
Soften a Black and White Theme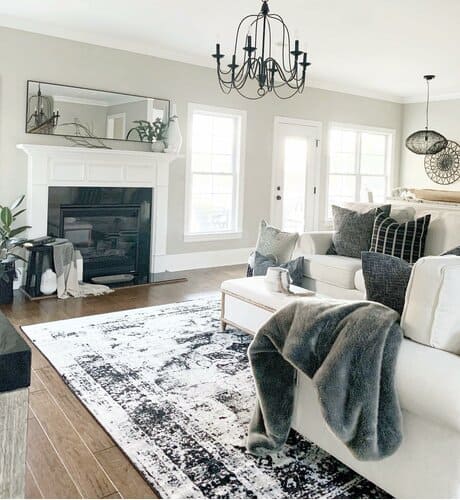 Black and white is a classic scheme that never goes out of style, but the drama can be a bit much when you're attempting to create a cozy space. Luckily, your beige furniture is the perfect solution to design a living room with the same style and class, only tempered down a little.
Beige is softer and more welcoming than stark white, and by pairing it with a softer black like charcoal or even with very dark grey, your living room will be both stunning and comfortable. You don't always have to choose between fashion and function.
Make a Loveseat Nook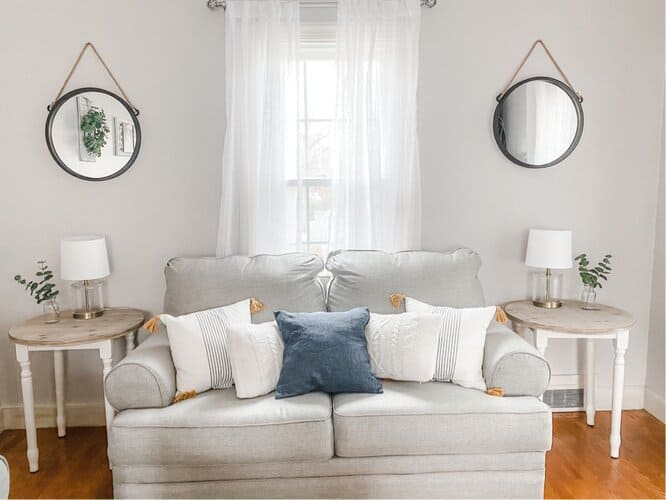 If your beige 'sofa' is more of a loveseat, you can fill the space around it by transforming your seating into a cozy little nook. Sandwich the loveseat between twin reading tables and add some height on either side with matching décor or tall bookshelves.
With just a few paired items your loveseat will command all the attention of a full-sized couch with the charm of a much cozier setting. It's perfect for a farmhouse style or any other warm and cozy look.
Make the Carpet a Focal Point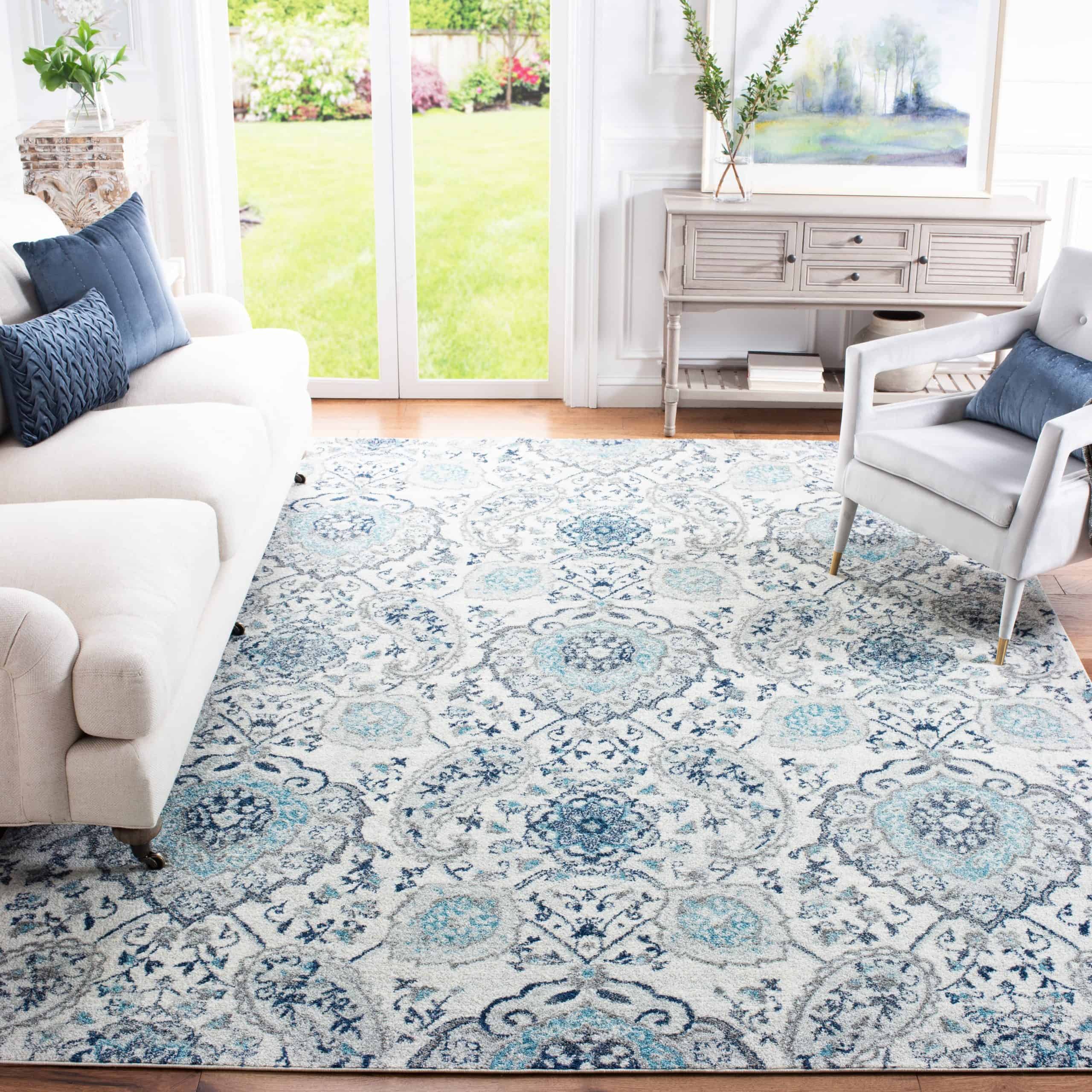 One of the easiest ways to spruce up any room is to switch up the flooring. You don't need to spring for deluxe hardwood floors, either. Save the big bill and invest in a single, large area rug instead.
Contrast your simple beige couch with a richly hued, patterned rug. Your carpet can draw the attention in the room and, since it's on the floor, your living room will retain a subtle, yet chic, feel. This is ideal for modern décor, but can also work beautifully with rustic, industrial, and even cottagecore styles.
Contrast With Dark Furniture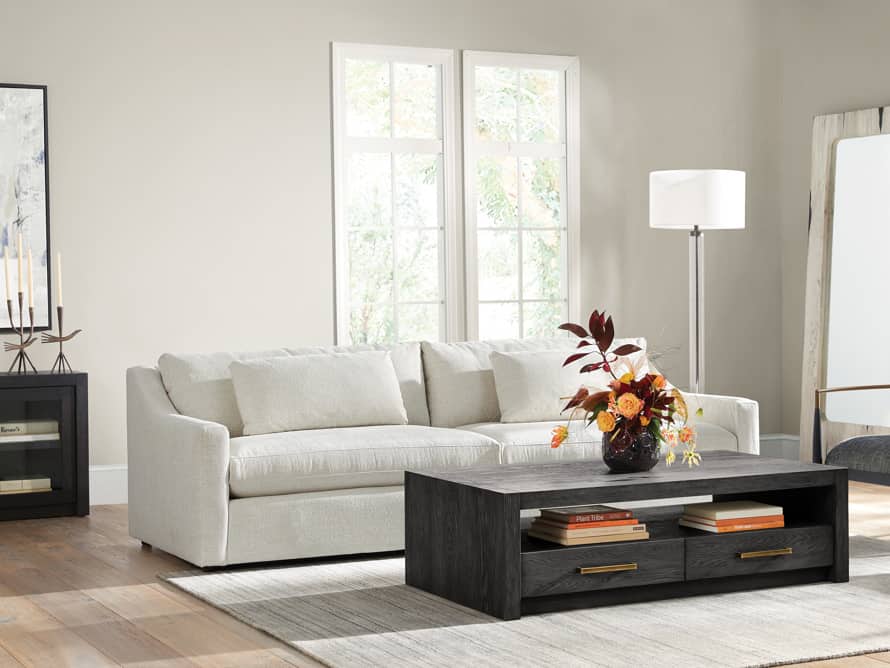 When working around a beige sofa, your living room ideas don't have to be big. Sometimes, all you need is just a hint of contrast. Go ahead and pair your beige sofa with walnut or mahogany accent furniture. You can even "cool down" a beige sofa-centered living room with a sprinkle of charcoal.
A couple of matching bookshelves, tables, or dark lamps spread around the room will add rich contrast around your beige seating. This is great for creating a softer industrial look or for matching the clean contemporary look.
Use an Accent Wall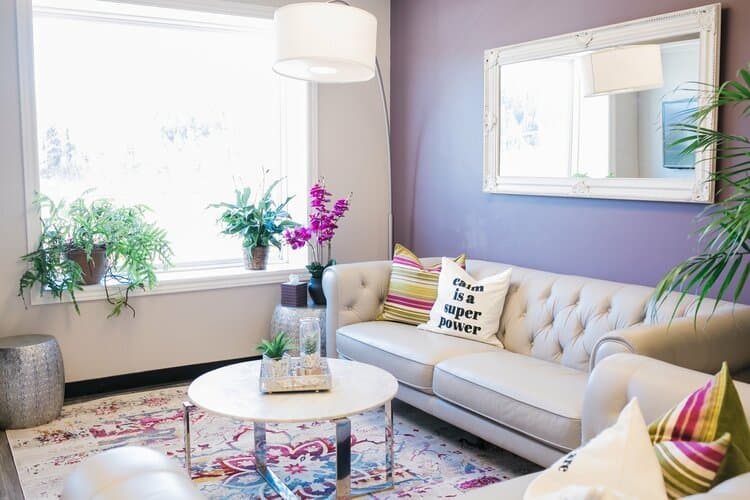 Never underestimate the power of a fresh coat of paint. Make the wall behind your sofa an accent wall. You can take advantage of your light-colored seat and opt for a color that's a little more richly hued. Your blank walls and light sofa will balance out the pop of color and create a dynamic space. This is also a great way to add a little boho while keeping the space more mature.
Go Blonde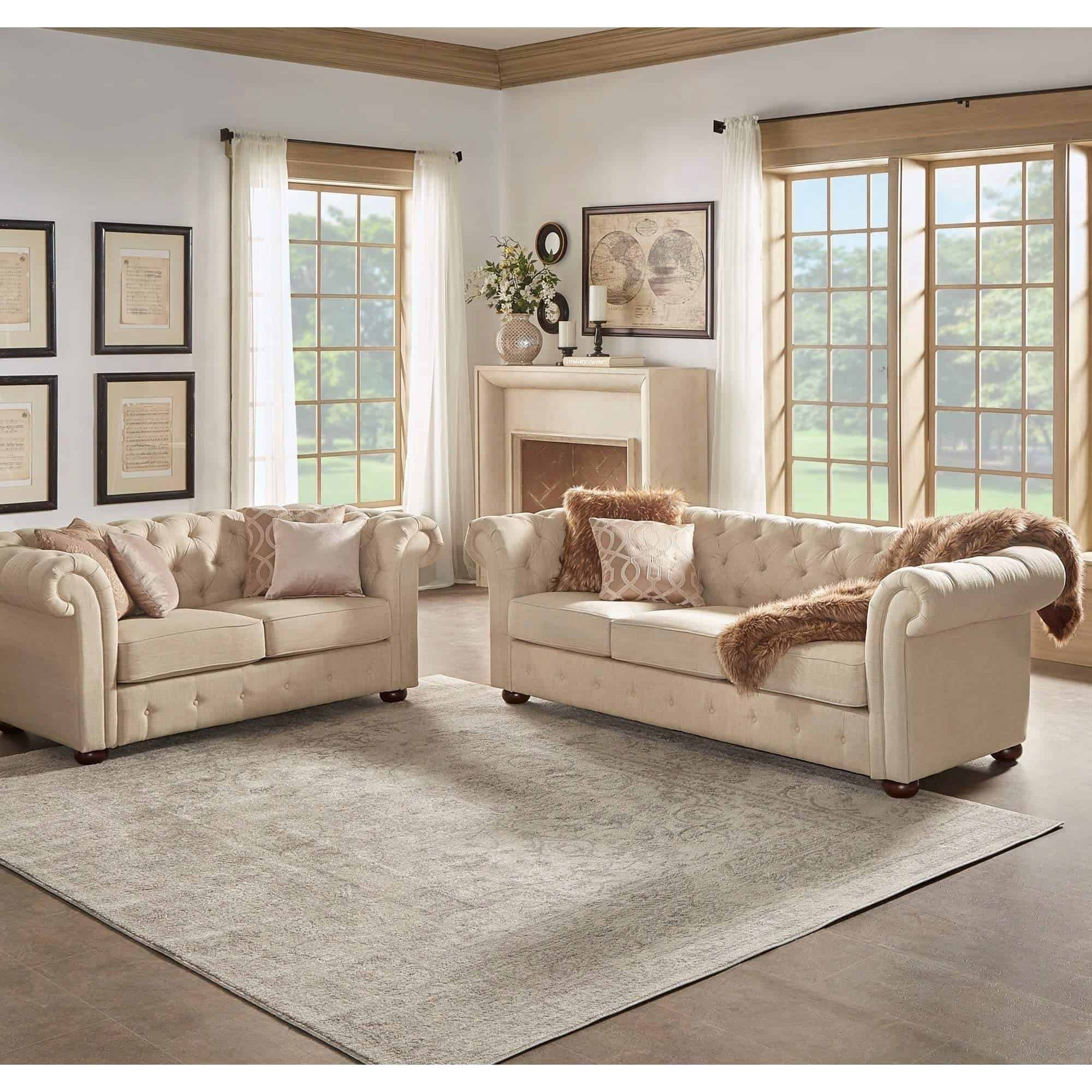 If the finishing in your house is full of beechy light wood, lean into the "blonde" look with a light colored sofa.
With a tan couch, a living room that's already full of light colors will seem open, airy, and welcoming. And by combining slightly earthy tan and light wood, your space will also feel warmer and cozier than a grey or cool-toned beige.
Add a Coffee Table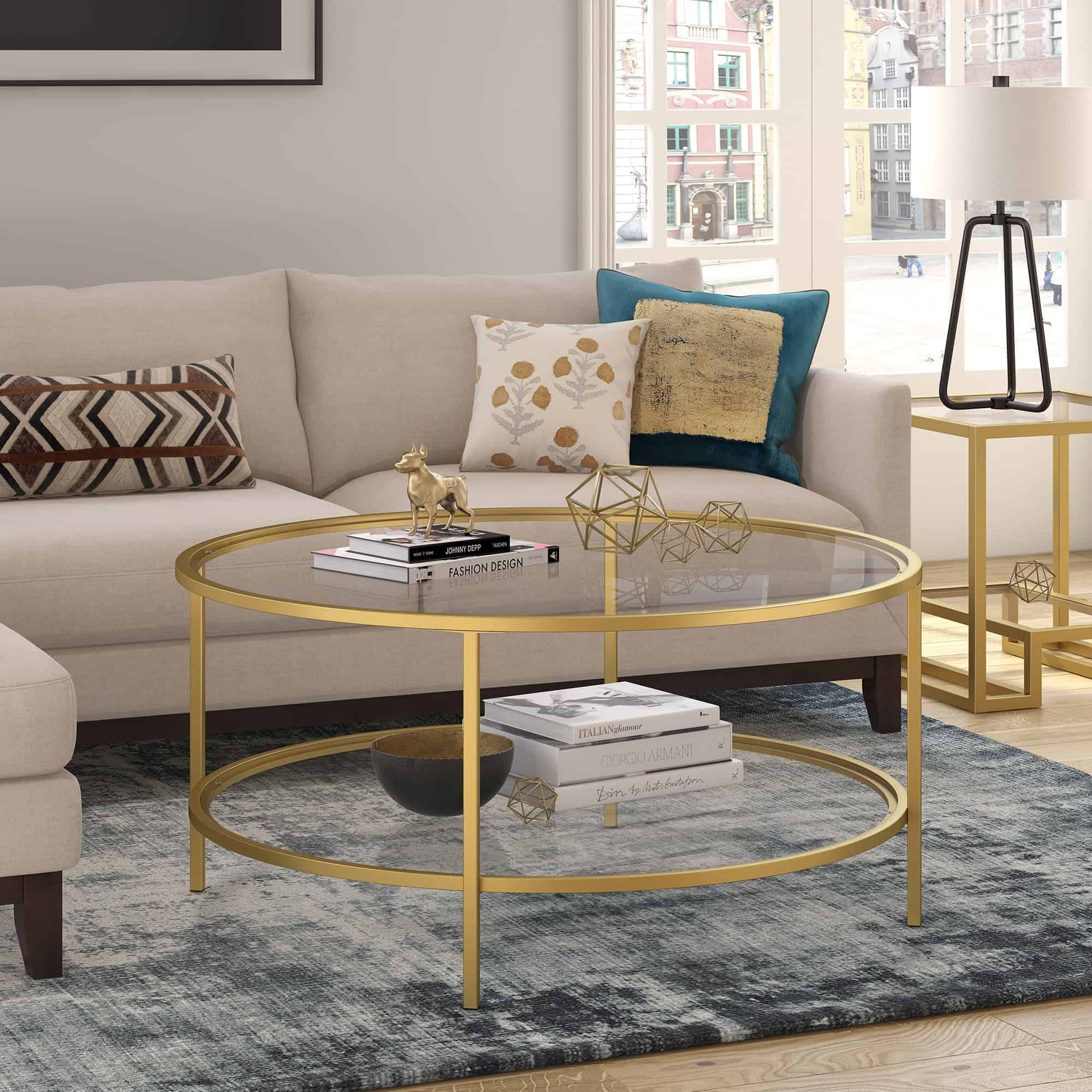 Although we often think of the sofa as the star of the living room, it doesn't have to be. If your beige or tan couch falls a little too flat and matte, let the spotlight fall on the pieces you place around it, like an artful-looking coffee table.
Sometimes it's best to leave your beige piece as a background complement.
Use Bold Patterns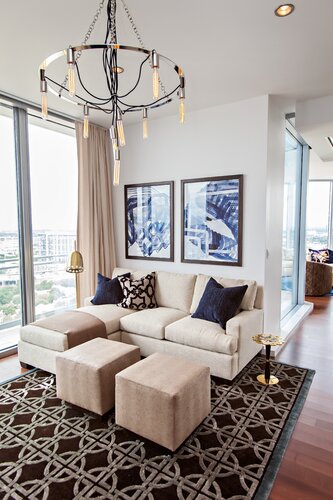 If you're someone who has a hard time keeping large swaths of "empty" white, a beige sofa just may be the piece you didn't know you needed. Your beige couch is like a wide empty field. So why not mix things up with some bold, geometric prints?
Beige furniture will provide a visual break between your rich colors and bold patterns. Rather than drawing attention away from all that vibrancy, the contrast will also bring more focus to it. The contrast here will add sophistication to your love of bold and is great for a more audacious modern look.
Take it Out to Sea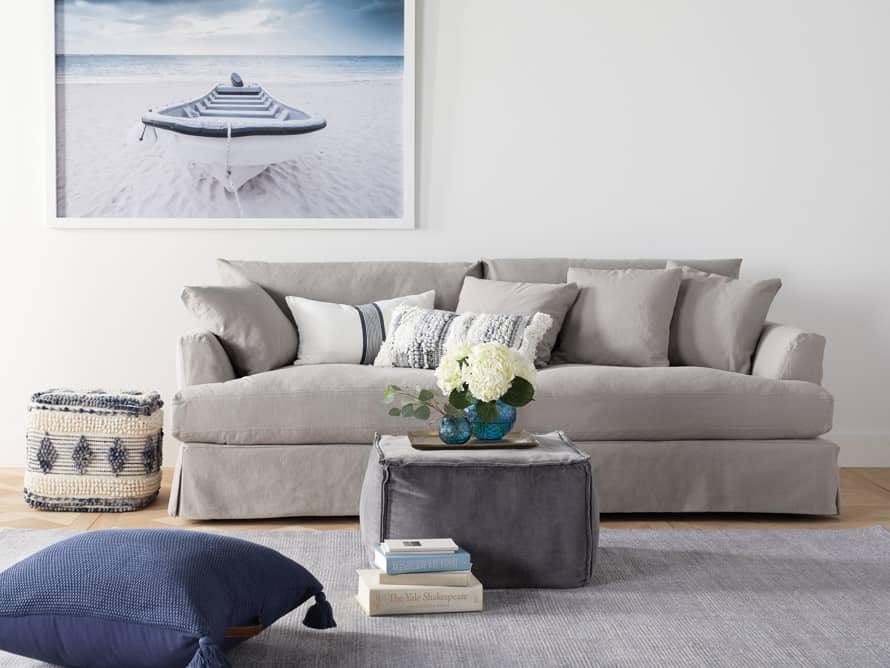 Sometimes your beige is more on the darker, or even greyer, side. Any time we're talking about dark beige sofas and living room ideas, we can't ignore a décor classic: the nautical theme.
Beige, dark beige, tan, or even light grey – it all looks fantastic with navy. So if your goal is décor inspiration that looks showroom ready and which is actually easy to recreate, add a little lighthouse aesthetic. All it takes are some navy accents and a tasteful beach-y photo or two. Instant, effortless style!
Consider a Sofa Table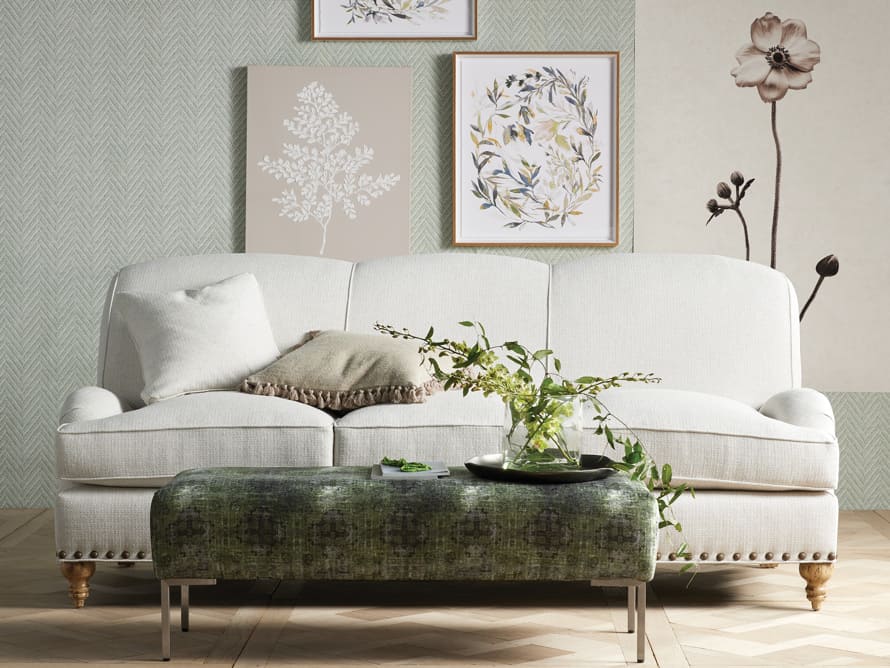 When decorating around a beige or tan couch in the living room, don't forget the space behind it. Particularly if wall space is limited, make use of the area behind the couch with a sofa table.
Highlight keepsakes, photos, books or artful sculptures by arranging them on your sofa table. Play up the light and airy theme with equally light furniture, or create a study worthy of Sherlock Holmes with dark wood and earthy greys.
Pair a Stuffed Couch With an Ottoman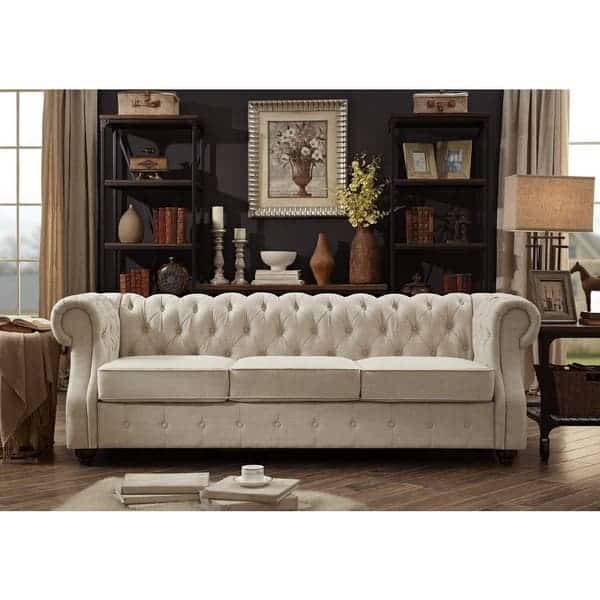 Although beige sofas are generally easy to decorate around, an overstuffed couch may present a challenge if you're used to crisp, contemporary lines and styles. Although you can always pair a cushy couch with contrasting slim and sleek furniture, you may consider matching stuffed with stuffed instead.
Swap the coffee table for an equally squishy-looking ottoman. Go bold and colorful for a boho feel, use royal shades for an over-the-top regal style, or keep things subtle and cool-toned for a more modern style. No matter what, your stuffed-on-stuffed pair will look fresh and original.
Stay Light, But Add Texture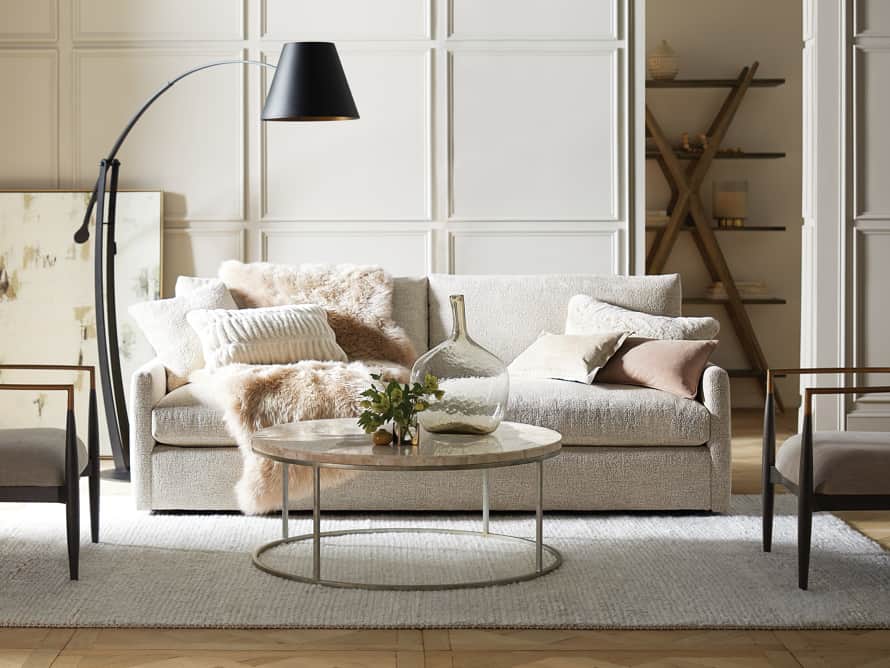 It's easy to focus on color when decorating around your beige couch, but don't forget about another important detail: texture. And when it comes to decorating a living room, your best friend is probably going to go by the name "fuzzy," "snuggly," or "soft." So add a luscious throw blanket, corduroy pillows, and a furry rug to keep your couch cozy.
As a bonus, you can keep everything light or neutral-colored to give your varied textures more consistency. This is also a great way to add a little sophistication to your snuggly side.
Less is More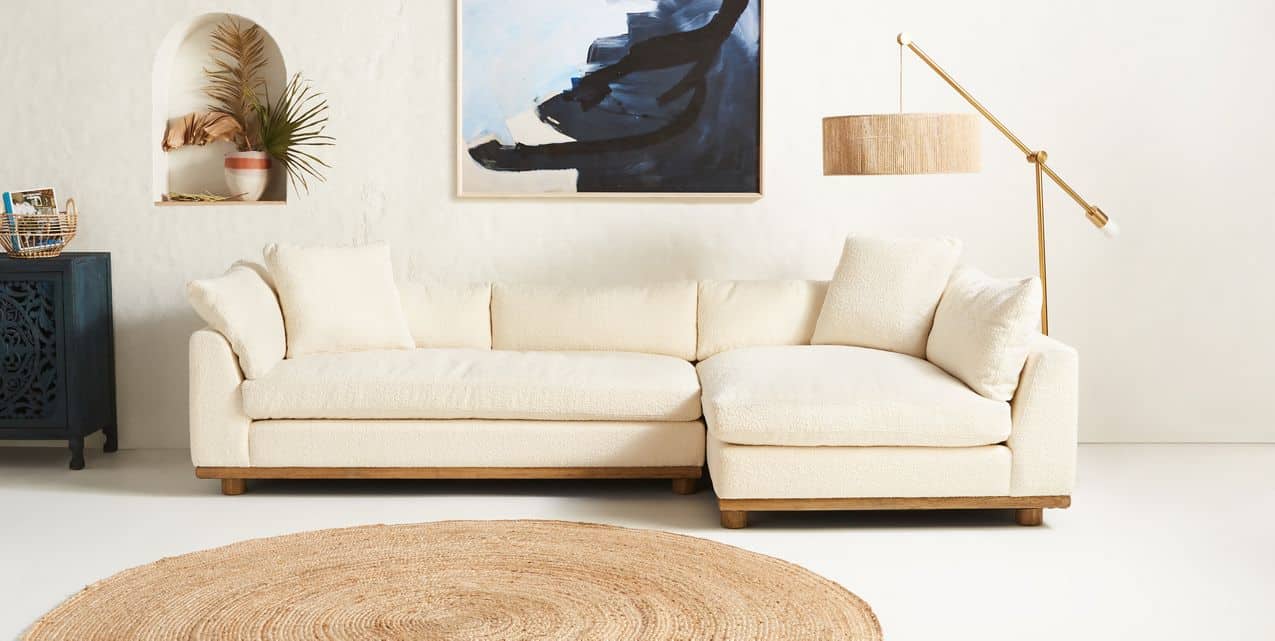 When decorating around a beige couch, don't overlook the idea that your living room may not need much to be complete.
Beige is already an underrated color that opens up a room and invites people in. Keep the look simple with a few other light details, sparse furniture and just a single accent. It only takes a few well-chosen pieces to transform "empty" space into an intentional one that's easy on the eyes.
Final Thoughts
When it comes to decorating around a beige couch, the living room ideas are endless. With such a neutral canvas to work with, you can match a variety of styles, colors, textures, and ideas.
As with any piece of furniture your go-to starting points are usually to either lean into the look or add some contrast. For your light-colored sofa, that means creating an equally open and inviting room with other light colors and neutrals, or adding some drama and depth with dark contrasts and bold patterns. Whichever way you go, you're sure to build a beautiful room around your cozy centerpiece.