Don Pedro Brooklyn is reader-supported. When you buy through links on our site, we may earn an affiliate commission. Learn More
How to Paint Baseboards for Beginner (in 10 Easy Steps)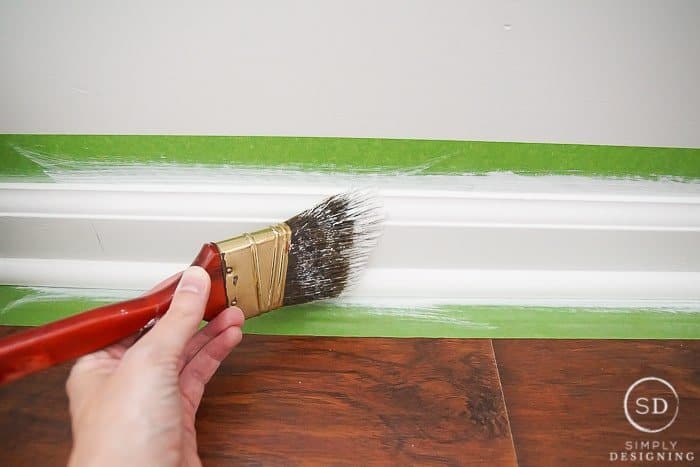 When we give a new coat of paint to our home, we need to take care of our windows, and also other places such as baseboards, door casing, crown molding.
It is a fact that the regular painting of your rooms does make a big difference. They make your home look neater, fresher, and brighter.
The same thing also applies to baseboards. It is quite obvious that repainting the baseboard is one of the most intelligent remodeling projects that you can undertake for a room.
The good thing is that it does not take too much time.
If everything is planned properly, the entire job can be completed in a day, or maximum, in two days. Once the job is finished professionally and efficiently, you will be surprised at your work.
This is because the painted baseboards will certainly add more sparkle to the entire space and there will quite a bit of newness to the entire room.
We are happy to share some of the important tips that may go a long way in answering the question of how to paint baseboards.
Things You Will Need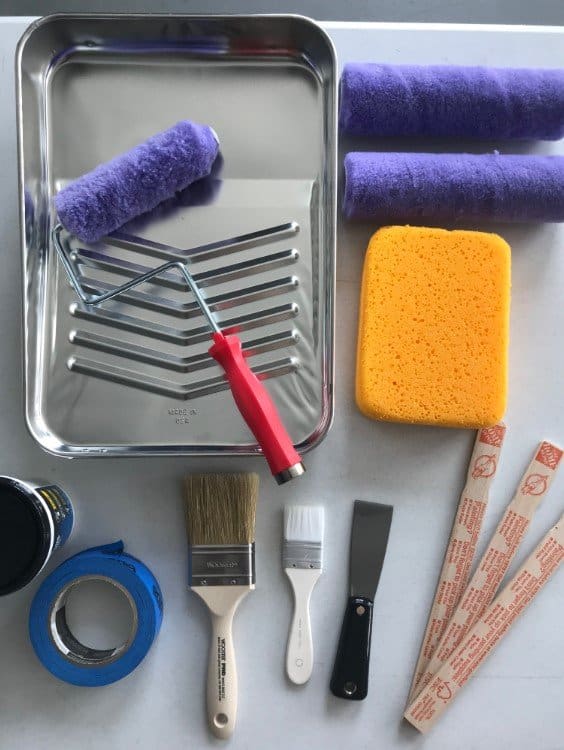 Here is a list of important things that you will need for painting a baseboard thoroughly:
Primer
Paint (Latex or oil-based)
Quality Paintbrushes (Ensure that you choose angled brush having a width of 1 to 2 inches).
Painter's Tape for measuring.
TSP or Trisodium Phosphate
Drop Cloth
Water Bucket (with water)
If possible have a utility knife.
Though many prefer using oil-based paints, latex is also a good option. These water-based paints are easier to clean up. You have many gloss levels to choose from.
The same is the case with oil-based paints and at the end of the day. Your specific needs and requirements and preferences must be taken into account when it comes to choosing the right type of paint.
But most experts recommend going in for a glossy finish for baseboards. This is because it could be more resistant to handling scuffing.
Further, it is washable when compared to a paint finish that is flat. It would be a good idea to go either for a high-gloss paint or semi-gloss paint for painting baseboards.
Some Basic Instructions
You will have to decide whether you will paint the baseboards when they are fixed or would like to remove them.
Both have their unique benefits and challenges.
Painting the baseboards fixed to the walls does come with some complications and challenges.
You will have to spend time measuring, taping, masking and you also may need to apply drop cloths to prevent the floor and other surfaces from getting damaged.
The paint may also get onto the wall.
However, even today, most people prefer painting baseboards when they are fixed in the walls.
In some cases, the baseboards can be removed easily and in such cases, it may be a good idea to have them painted in a different location.
It may be possible to remove baseboards from fixtures in case of new homes or homes that have not been remodeled over the past few years.
It can be done using bare hands and fingers or at best using a thin pry. You have to make a decision as to which is the best option for you.
In case you are planning to paint baseboards that are new and uninstalled, you must make it a point to have them painted first before installing them.
Though some minor damages to painting may occur during installation, they can be handled easily.
Clean Your Baseboard from Dirt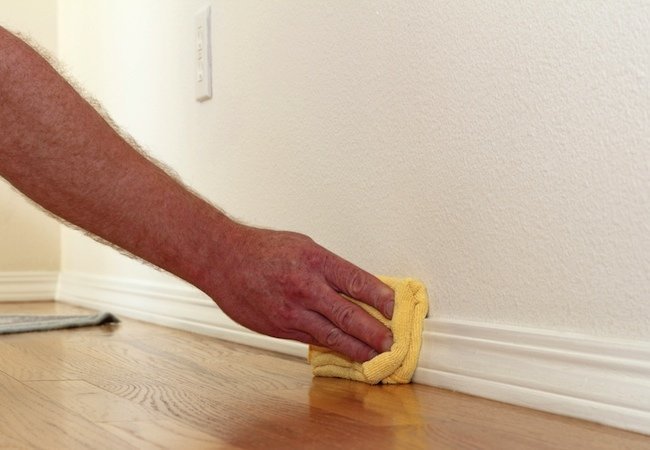 If you are planning to paint old baseboards, make sure that you clean the baseboard thoroughly.
It is quite obvious that grime and dirt collect. It happens mostly at the bottom of your door or window walls.
You should not show any lethargy in this because you will regret the decision of not cleaning the baseboards before painting.
If your baseboards are made of open-pore wood, do not clean them with water.
Learn How to Use TSP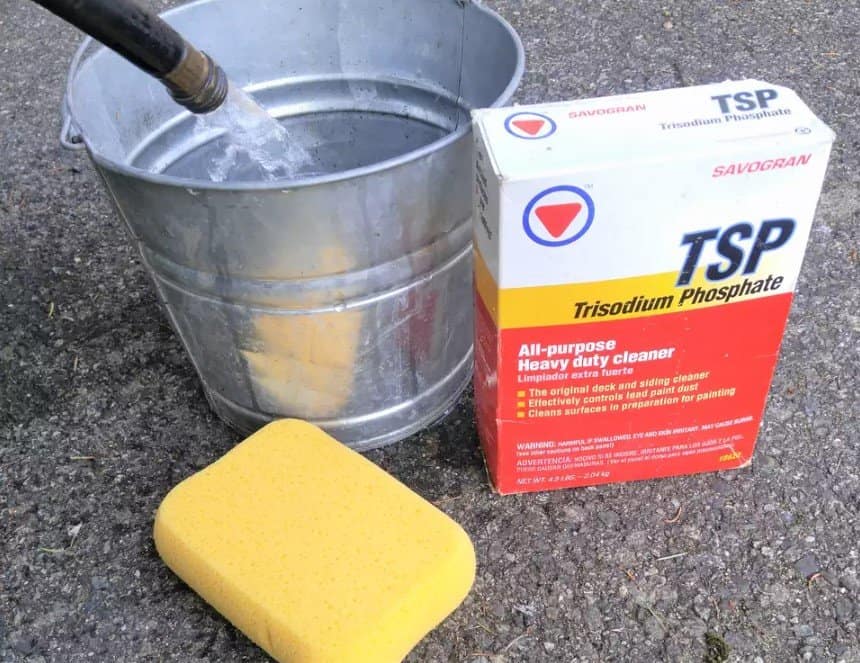 You must learn to use the TSP (Trisodium Phosphate) as per the product instructions. Once you are done with it, ensure that the baseboards are thoroughly wiped using a sponge.
TSP is recommended because it offers a mild but extremely effective cleaning solution.
Further, TSP is a toxic powdery substance but it can easily be mixed with water and used. Always wear safety glasses and waterproof gloves.
The top of the baseboards should be cleaned thoroughly because dust has a tendency to easily settle on horizontal surfaces.
Mask The Walls & Floor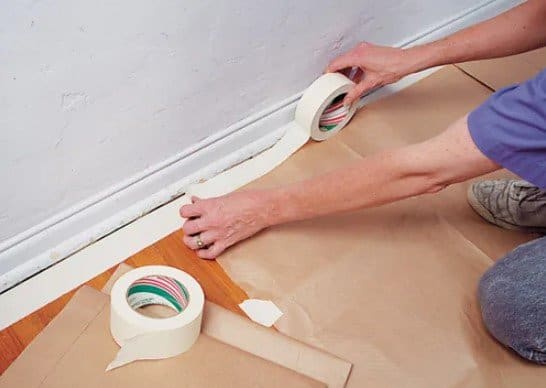 Do not forget to use quality tape (painter's tape). This should help cover and mask the walls, especially the lower edges.
These are generally located above the baseboards and also in the junction between the baseboards and the floor.
Yes, masking does take time, but it comes with a number of benefits. It will lead to a more efficient, faster, and cleaner painting of the baseboard.
However, masking cannot be considered as a guarantee that will offer the best results. But you must be as careful as you can be.
It would be better to get on with the painting job slowly and carefully.
Try to reduce excessive dripping on the floor side. Dripping will make it tough for you when it comes to removing the tape once the paint dries.
You may also try and use some masking films on the walls. This will prevent the splattering of paint on the wall. Some people prefer painting baseboards without using masking.
This is possible but for most, it may be difficult for baseboards because of their difficult location.
The best option would be to use masks.
Take Care of Nail Depressions & Patch Gouges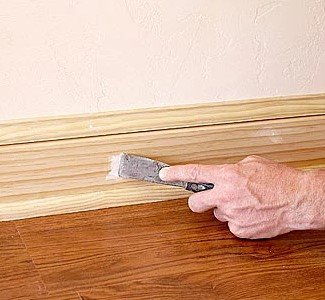 Before you get on with the painting job, make sure that you have filled the big holes and dings that may have developed over time. Wood fillers are considered to be the best solution.
Also, ensure that large nail depressions are also filled. Small and tiny depressions can be left as they are.
Importance of Priming The Baseboards
Most baseboards do not come with factory-applied primer. They mostly come with a raw wooden surface. Hence these surfaces should be primed.
Even baseboards with paints can be primed though many believe that it is not exactly necessary.
However, for this to happen, the surface needs to be in good condition. Ensure that the primer is mixed properly and there are no lumps. Load your brush with a primer followed by paint.
The baseboards must be painted with horizontal strokes. Do not overload the brush because it could lead to runs and dips.
Holding the brush between the forefinger and the thumb is the best way forward. The strokes should be slow and long.
Painting The Baseboard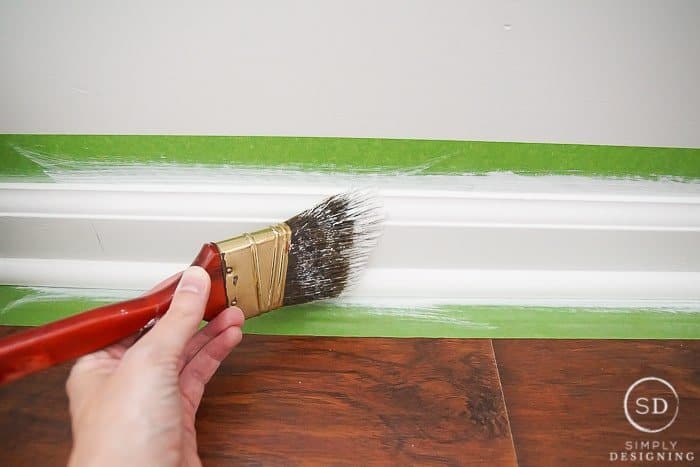 Let us now get into some finer points of painting the baseboard. As you do it for priming, ensure that you do not overload the brush with paint.
Make sure that only 33% of the bristle length of the brush is dipped into the paint.
Always use less paint when painting the first coat. You may have a tendency to use more paint during the first coat of paint.
You should stay away from this. Use long and slow strokes and slowly cover the entire length of the baseboards.
Overlapping of strokes may not always be avoidable. In such cases, ensure that there is a wet edge. This is important to avoid lap marks when the entire painting is completed.
Once the first coat has been completed, allow the baseboards at least 24 hours for drying.
If the weather is too cold or rainy, give a couple of hours more for the paint to dry completely.
Once the paint has been completely cured, go for the second coat.
When you use high gloss paints, you may prefer to scuff the painted surface lightly. If you want to go through scuffing, ensure that you do it carefully.
Make use of fine sandpaper and then go in for the second coat. This helps the glossy surface to get some tooth and it may help the second coating to sit even better on the baseboard surface.
When To Remove The Painter's Tape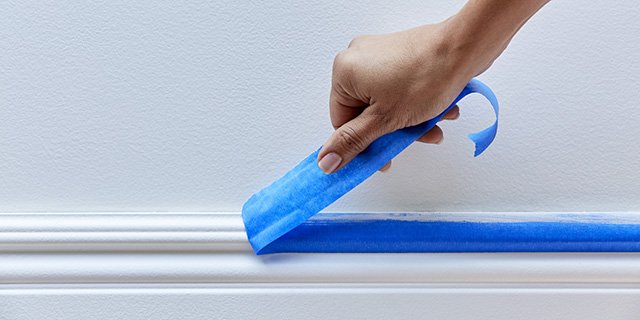 Once the painting is completed (two coats), you must ensure that the paint has completely dried.
Though normally the entire painting should be complete in two days, please do not be in a hurry to remove the painter's tape.
Be more than sure that the paint has fully dried and then slowly remove the painter's tape.
Also, make use of clean up tools such as water and soap. The brush should be cleaned thoroughly and it can be used for the next paint coating in a few years or few months.
Quality brushes can be with you for years if you are able to care for them properly.
Conclusion
We are sure that the above would have given our readers and other interested persons a reasonably good insight into the various aspect of baseboard paint.
We hope that it may also have given the readers a reasonably good reply to the question of how to paint the baseboard thoroughly, properly, efficiently, and within a short period of time.