Don Pedro Brooklyn is reader-supported. When you buy through links on our site, we may earn an affiliate commission. Learn More
9 Kitchen Floor Ideas With White Cabinets
So you decided on white cabinets for your kitchen. White cabinets are a great design decision since they have that clean, crisp look no matter what. And not to mention white is a great base for the rest of the decor.
But even though white is practically a clean slate when it comes to decorating, it isn't always easy. Especially when it comes to pairing your counters with an adequate floor. You want them to be a perfect match. But worry not, we're here to help with these 9 kitchen floor ideas that go with white cabinets!
Dark Hardwood Floors Always Look Elegant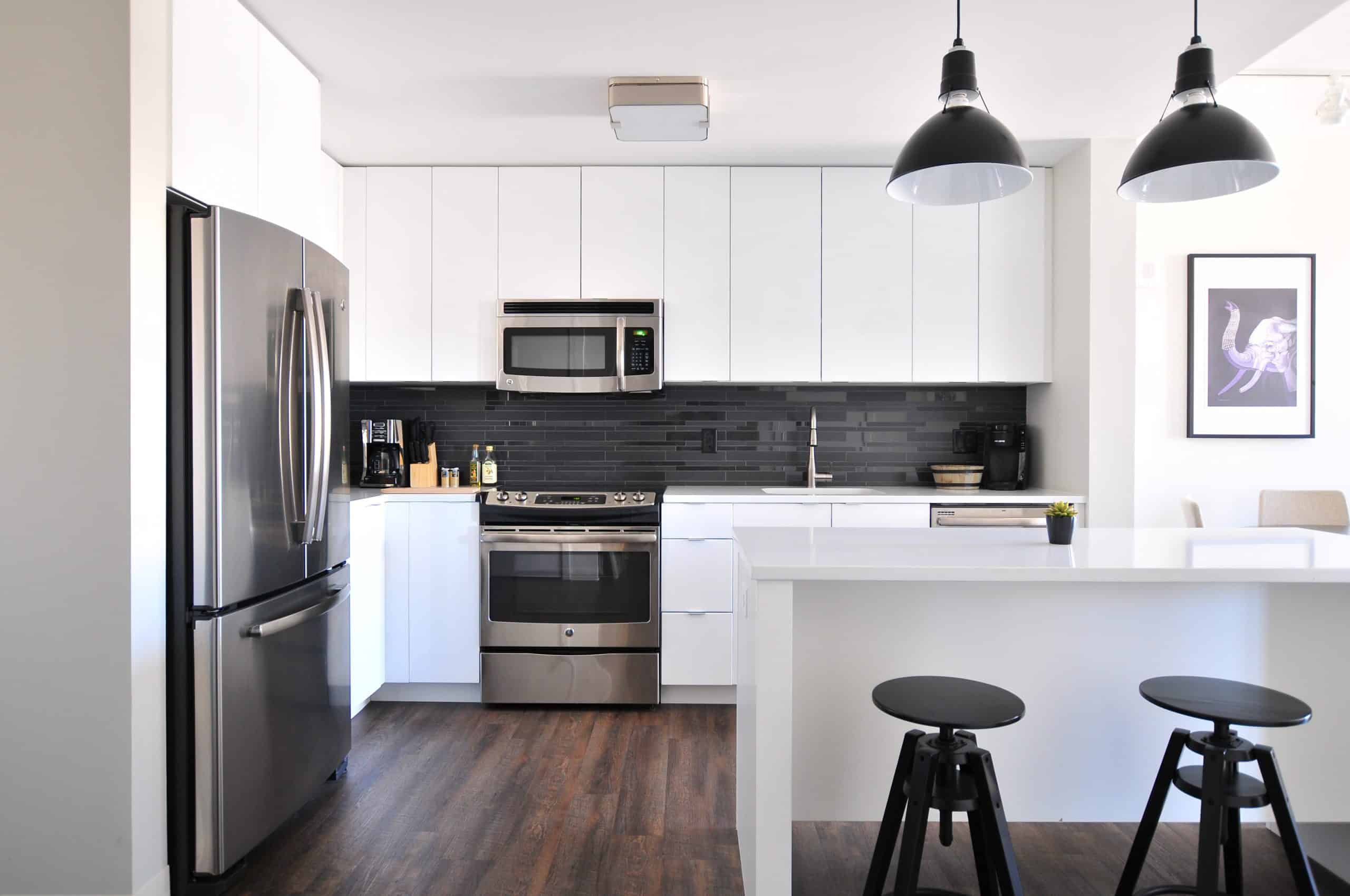 There is something innately elegant about dark wood. The way it brings a touch of elegance, but also mystery everywhere is incredible. So we always advise opting in for dark wood when it comes to your furniture.
But that same sentiment goes with flooring as well! Dark hardwood flooring is a stunning yet sustainable option that will transform your kitchen in no time. If you want your kitchen to look polished and refined, you can't go wrong with dark hardwood.
White on White Is a Stylish Combo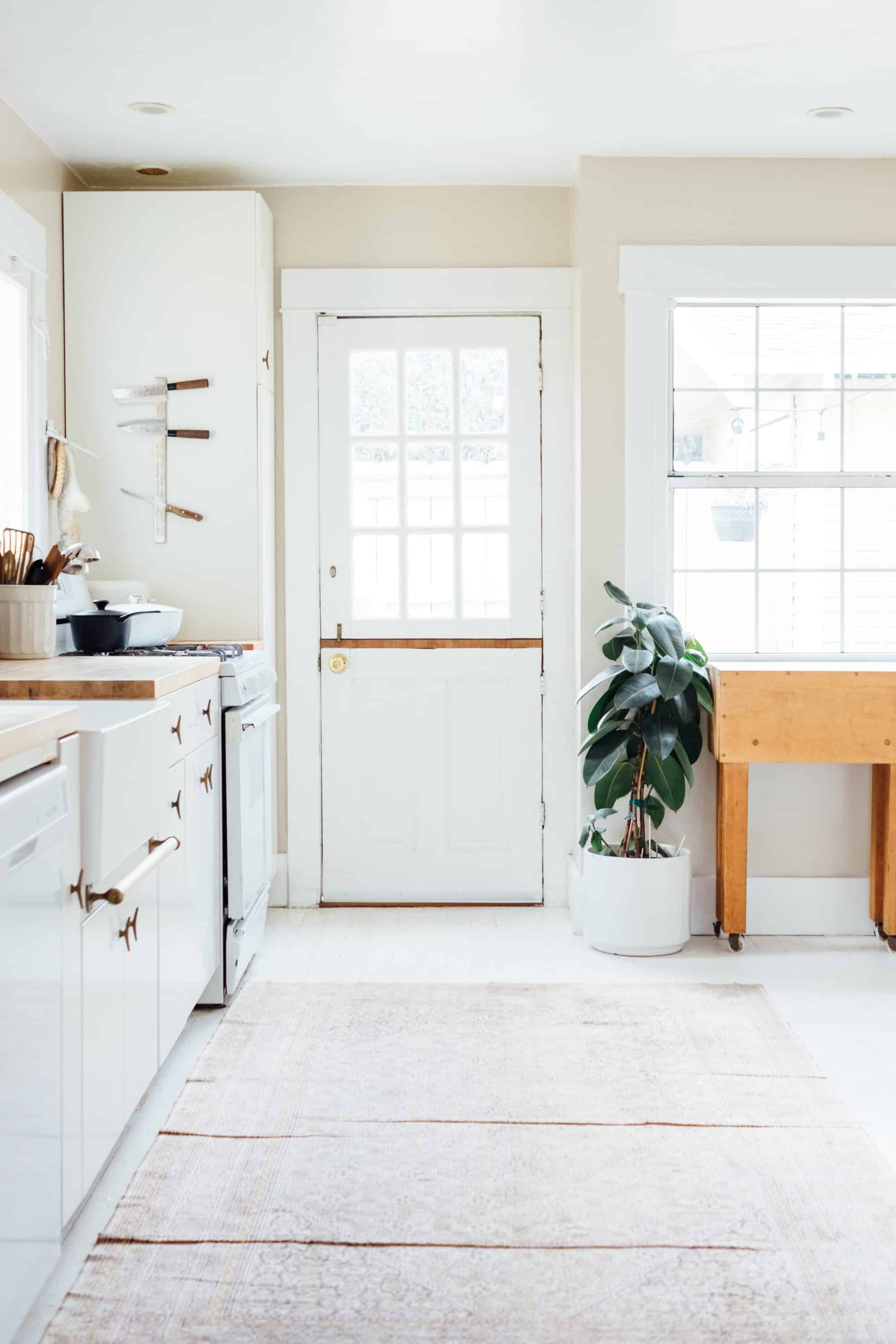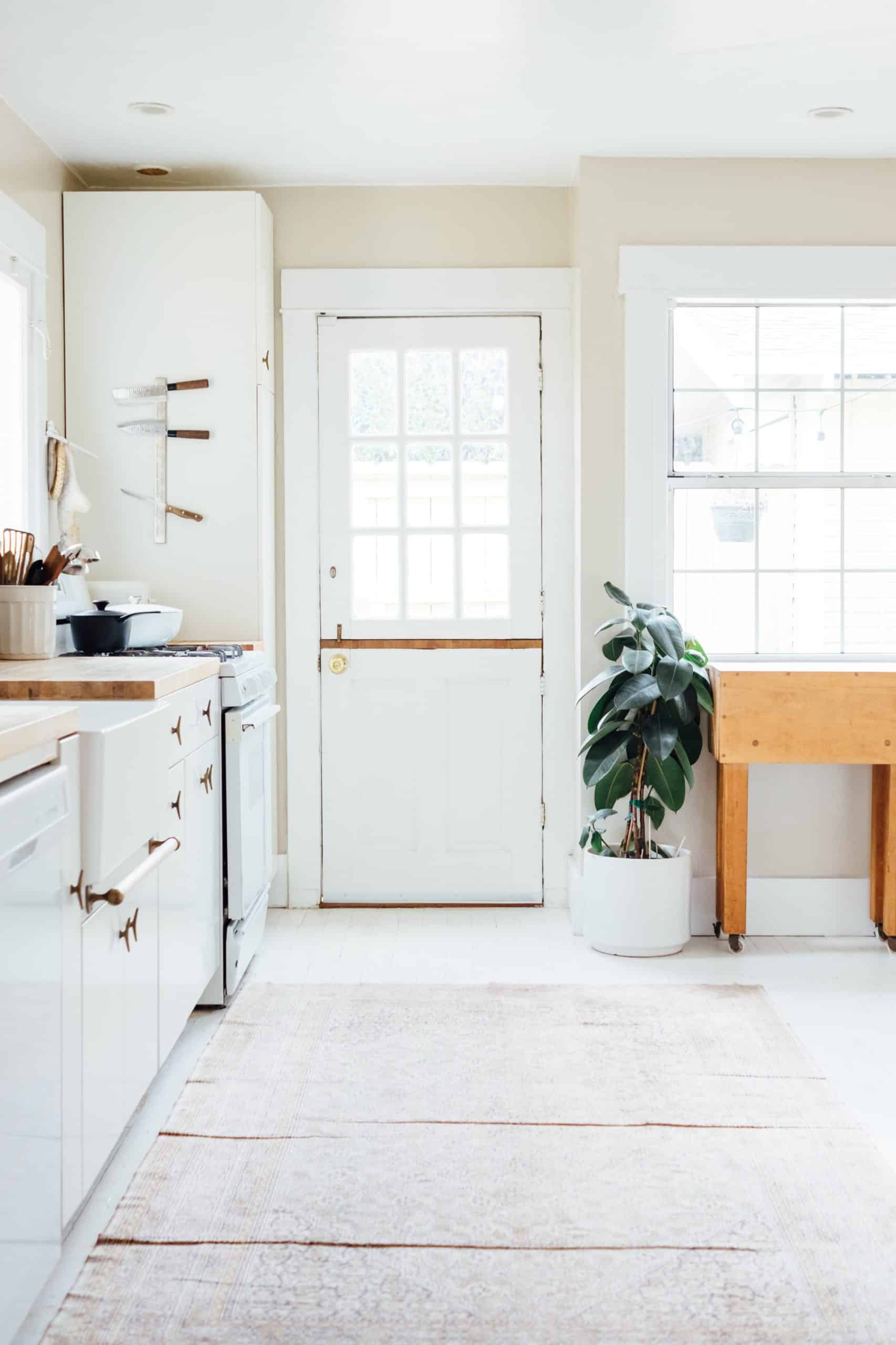 If you were wondering what's the best floor color for white cabinets, we're here to help you choose. One thing's for sure, no matter the style of your house, you can never go wrong with monochrome. And that's why white on white always looks stylish.
Having white flooring in your kitchen will make quite an impression. Pairing white floors with white cabinets will create a simple yet sublime look in no time. And creating this monochrome look is the easiest way to make your kitchen look marvelous.
Light Wood Flooring Opens Up Your Space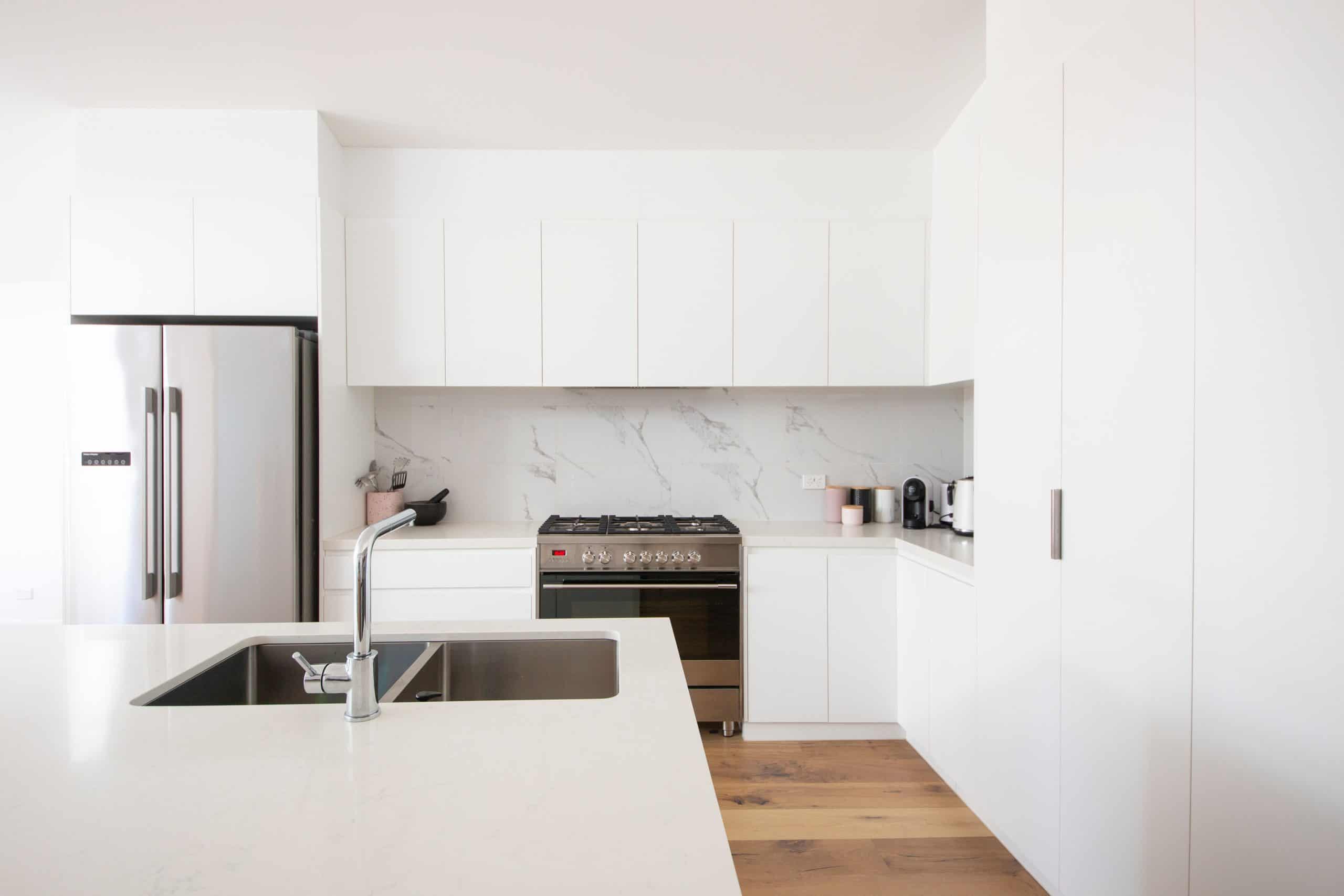 Having a kitchen that doesn't naturally have a lot of light is annoying at best. In these situations you want to avoid darker floors or anything that will clog up your space, making it feel smaller than it is.
So if you want wood floors with white cabinets in your kitchen, go for light wood. It will make your space feel brighter and more open. Light wood flooring is pleasing to the eye as it creates a harmonious look with the white of your cabinets. Combine it with your preferred light source, and you will create a kitchen like no other.
Gray Floors Add a Sophisticated Touch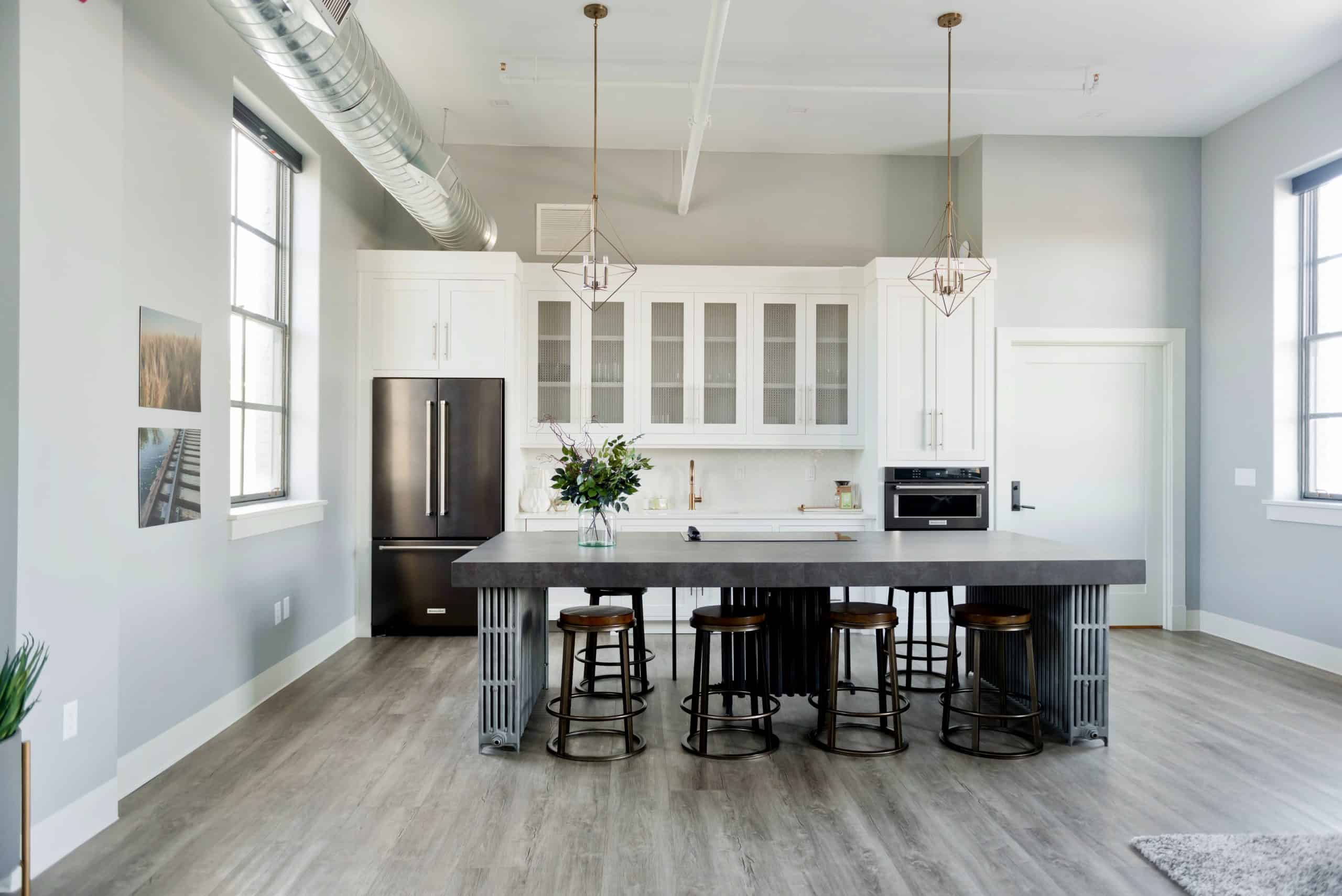 Gray is the perfect neutral. It has many shades that can fit easily with different colors. But when you combine white and gray, you create a sublime minimal space. These two colors are a match made in heaven.
If you want your kitchen to embody that calming, minimalistic look gray flooring is the option for you. This color combination looks chic, especially in a kitchen. By choosing gray floors you can create a sophisticated look without too much effort.
Choose a Black Floor for Contrast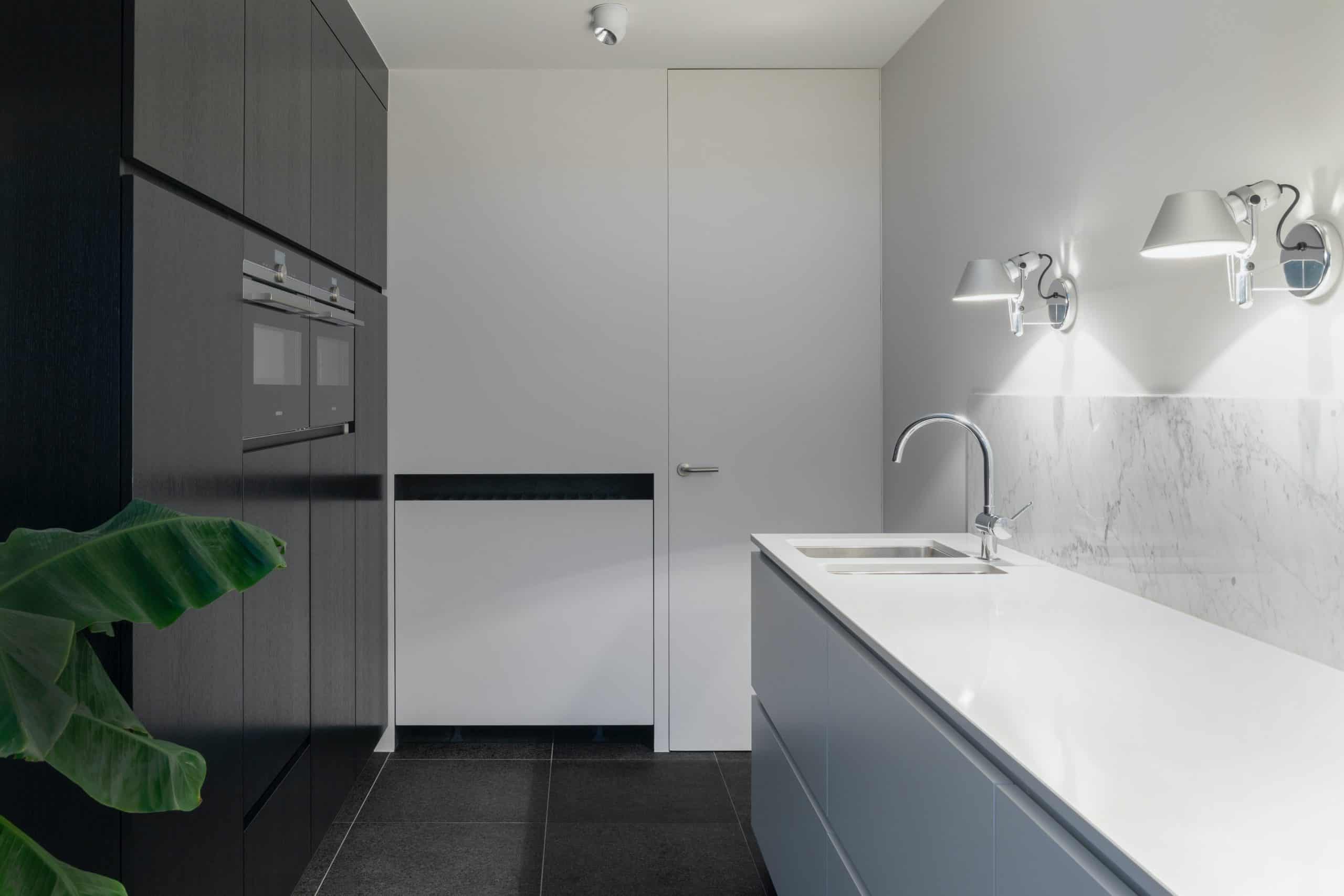 Looking for the ideal kitchen floors with white cabinets can take a while. Especially when you want to add a visually interesting element to your kitchen. But that's where adding a touch of black works wonders.
Black is a powerful color on its own. When you combine it with white and create that timeless combination, it can shine in its full potential. No matter if you choose simple black flooring, or opt-in for a patterned look, this contrast will make your kitchen look polished.
Opt-In for a Wooden Floor With a Red Finish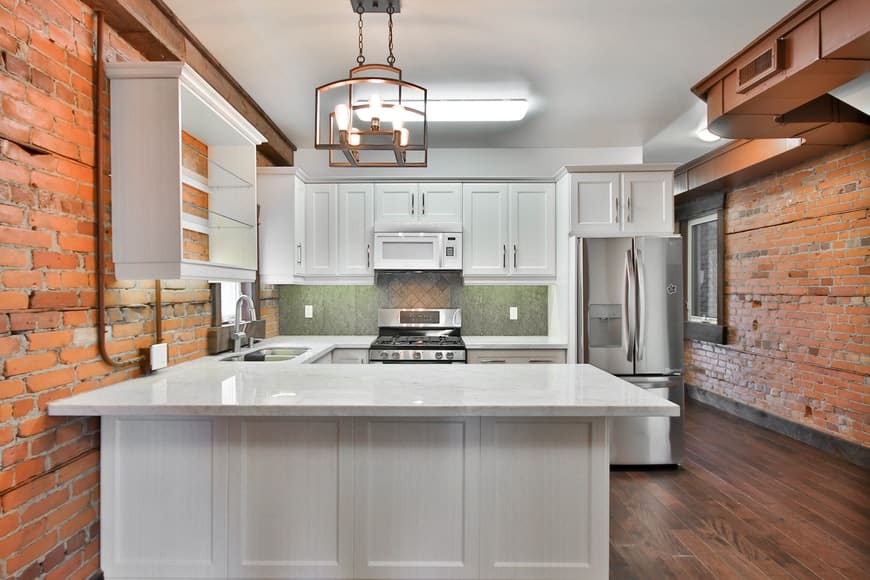 There's something that feels regal about wood with a red finish. It has that expensive look to it that can't help but make the space it occupies look luxe as well. And if you're a fan of that regal look, why not transfer it to your kitchen, as well?
The crisp white look of the counters will add an edge to the warmth of this floor. That's why this combination while looking luxurious, creates a daring look that's hard to forget. It's a stunning flooring option that you won't forget anytime soon.
Tiles Are Ideal for the Kitchen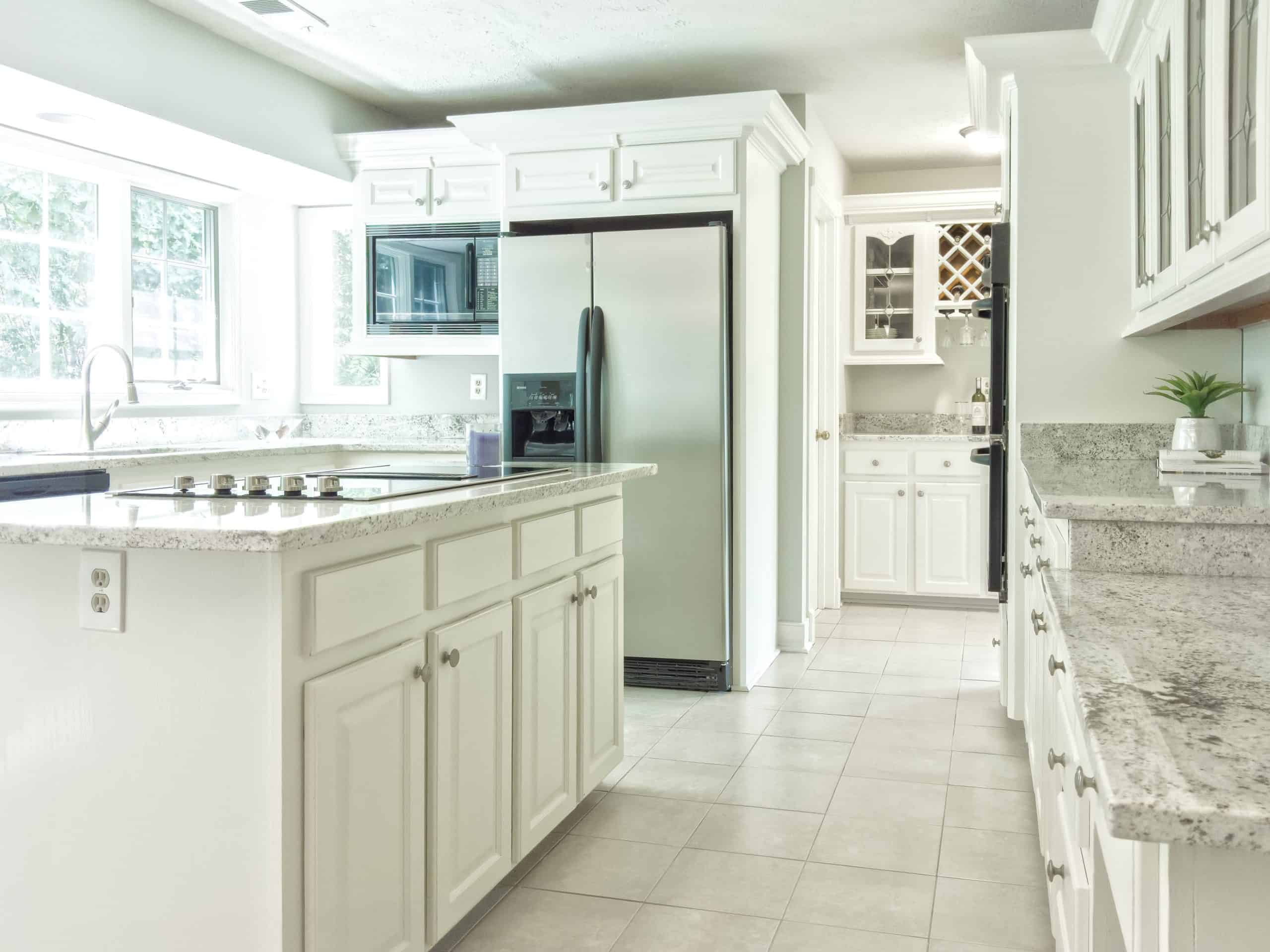 If you're searching for a flooring option that's beautiful but practical, tiles might be right for you. Tiles are easy to clean and maintain while allowing for that clean fresh look, that's always welcome in the kitchen.
When it comes to white cabinets, any type of tile can work. But if you want to kick it up a notch style-wise, go for a marble look. The marble looks fantastic in a kitchen, making it look and feel refined. So if you want to elevate the look of your kitchen marble tiling is the way to go.
Hickory is Great for That Coastal Look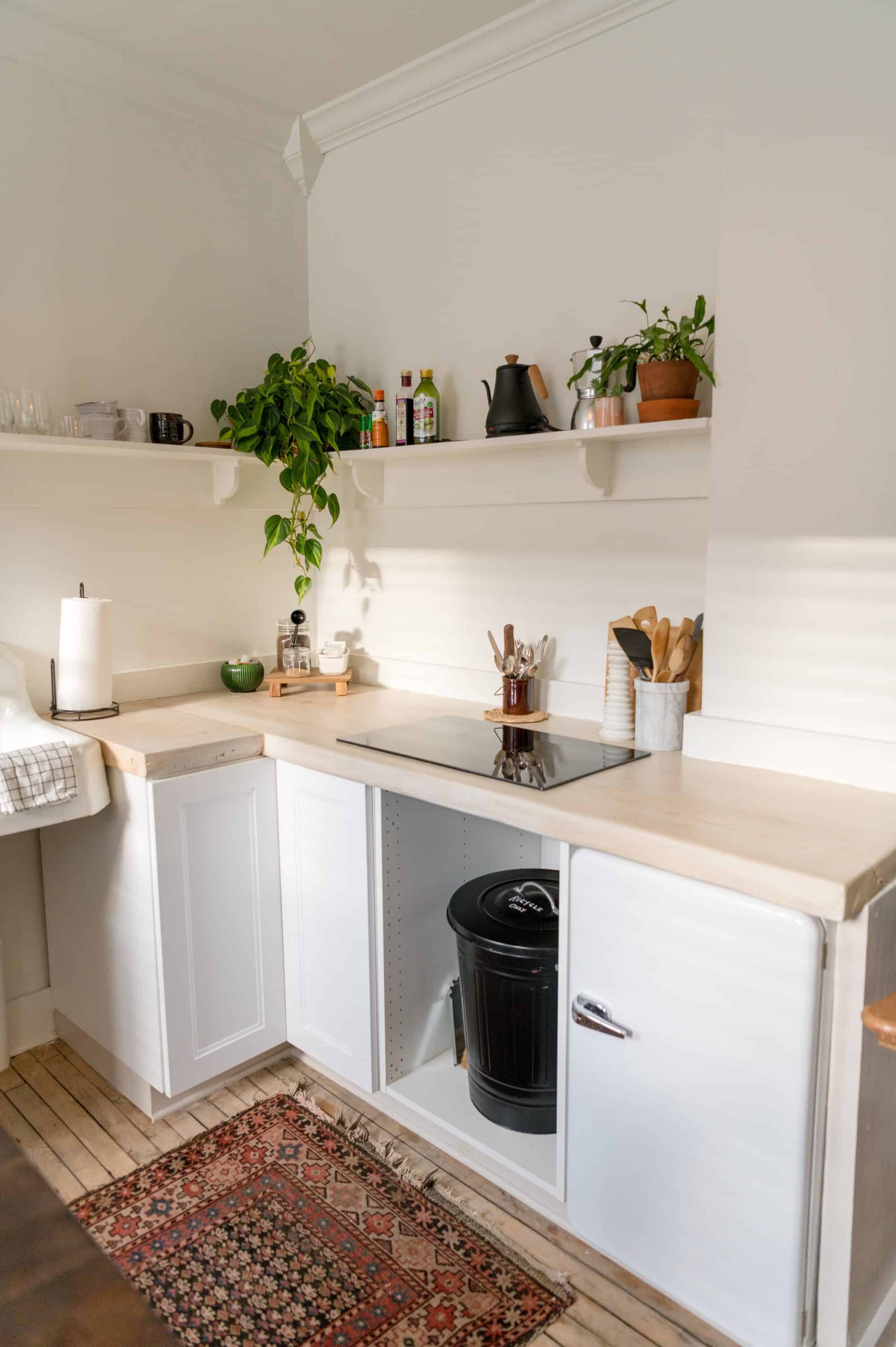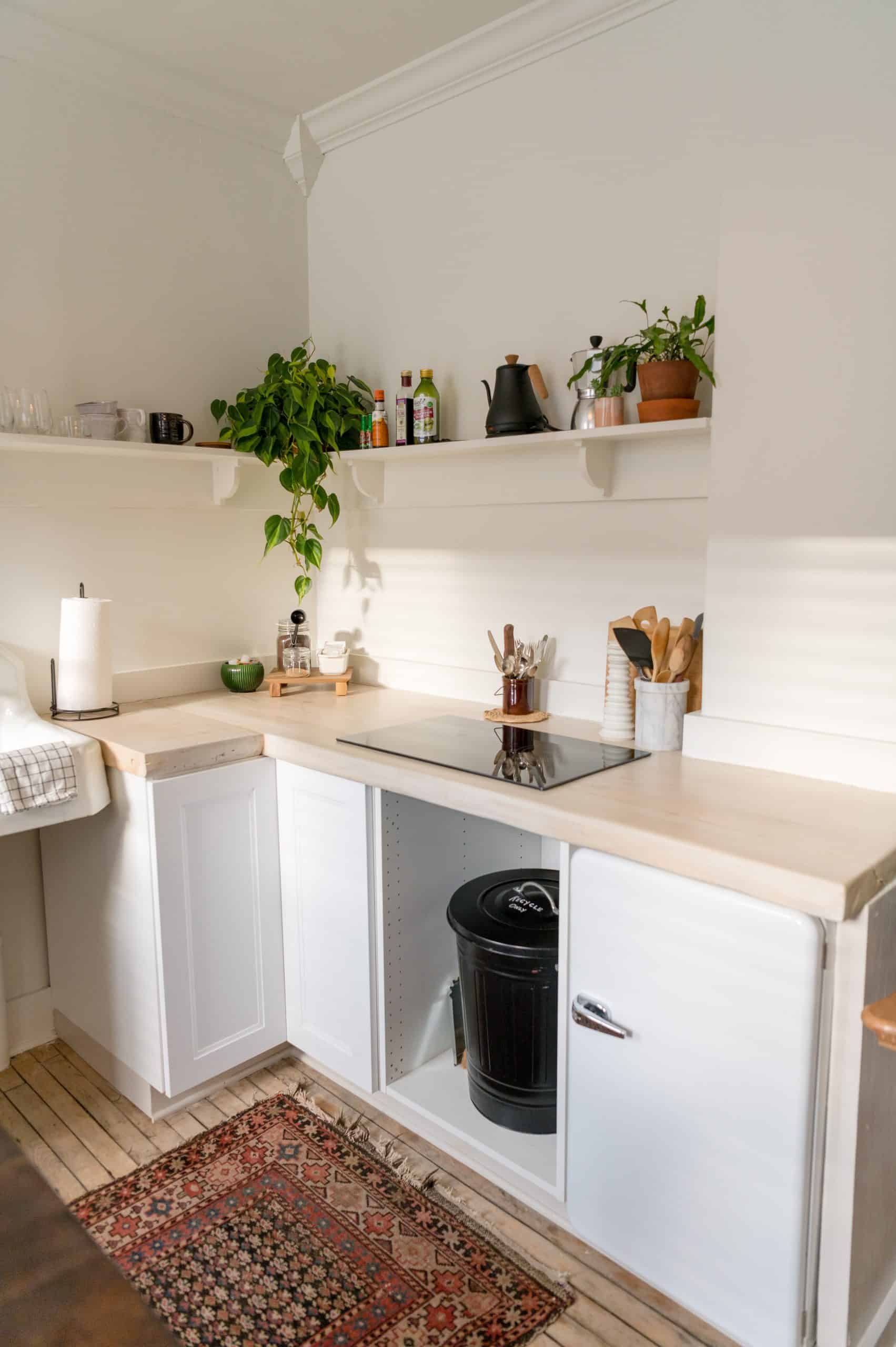 Coastal kitchens have that airiness to them. They look light and bright, and they create a flowing atmosphere like no other. One of the best ways to ensure your kitchen encapsulates that coastal look is to choose the right flooring.
Hickory is great for that wooden coastal look. Coastal kitchens have that light flooring that's almost reminiscent of a ship deck. And you can achieve that look with some hickory hardwood flooring, while also making it easy to maintain.
Don't Skip Out on the Marbled Look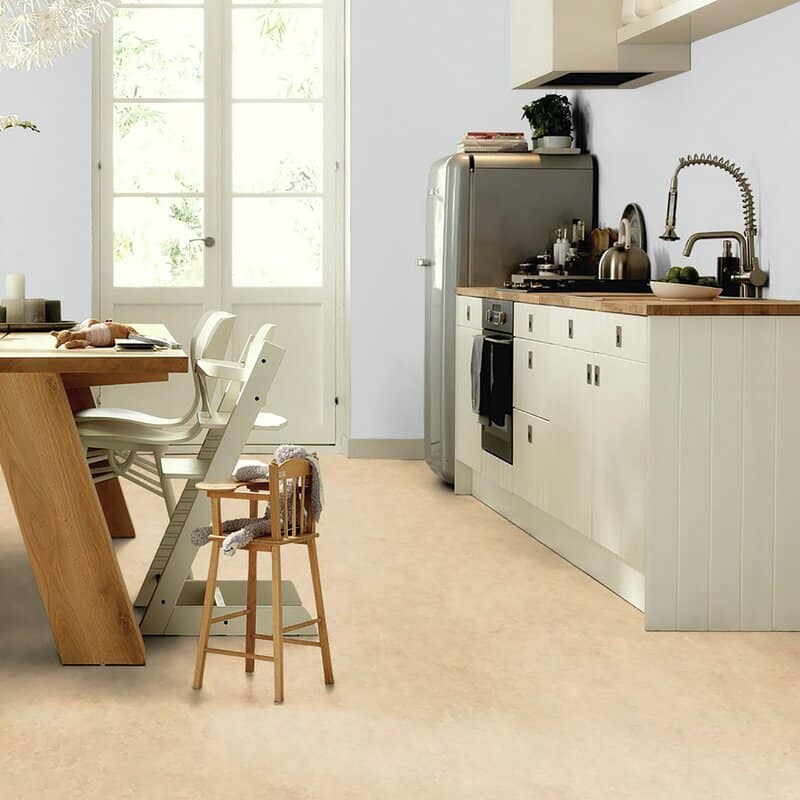 As we said above the combination of white kitchen cabinets and marble is ethereal. Marble makes the white look refined. But the marbled look doesn't need to be basic. You can add a pop of color to it while maintaining the gorgeous marbled look.
Choosing laminate flooring will make cleaning a lot easier for you, so it's the perfect surface for a kitchen. Marble laminate flooring in a sandy color such as this one, adds an effect that's almost reminiscent of the sea. It's a dashing choice that will work wonders in many different kitchens, but especially those that have white cabinets.
Summary
Remodeling your house isn't an easy job! But it doesn't need to be a struggle either. When you know the color scheme you want to work with or at least the dominant color you want your furniture to be, everything becomes easier.
Choosing white cabinets for your kitchen brings a plethora of other color choices. So that's why we gave you some of our favorite flooring ideas that will make your white cabinets shine. And we hope we helped you find your dream kitchen floor!