Don Pedro Brooklyn is reader-supported. When you buy through links on our site, we may earn an affiliate commission. Learn More
18 Kitchen Island Lighting Ideas
A kitchen island is one of the most prominent parts of your kitchen, not just functionally, but also stylistically. And there's no better way to make it stand out even more than with a beautiful island light fixture.
If you're stuck on what to choose, though, you'll be happy to know that there are virtually endless possibilities out there. No matter your style– whether it's glam, industrial, farmhouse, or modern– you're sure to find the perfect light (or lights) to suit it. With that being said, here are 18 kitchen island lighting ideas to help you get started.
Keep It Simple With a Minimalist Design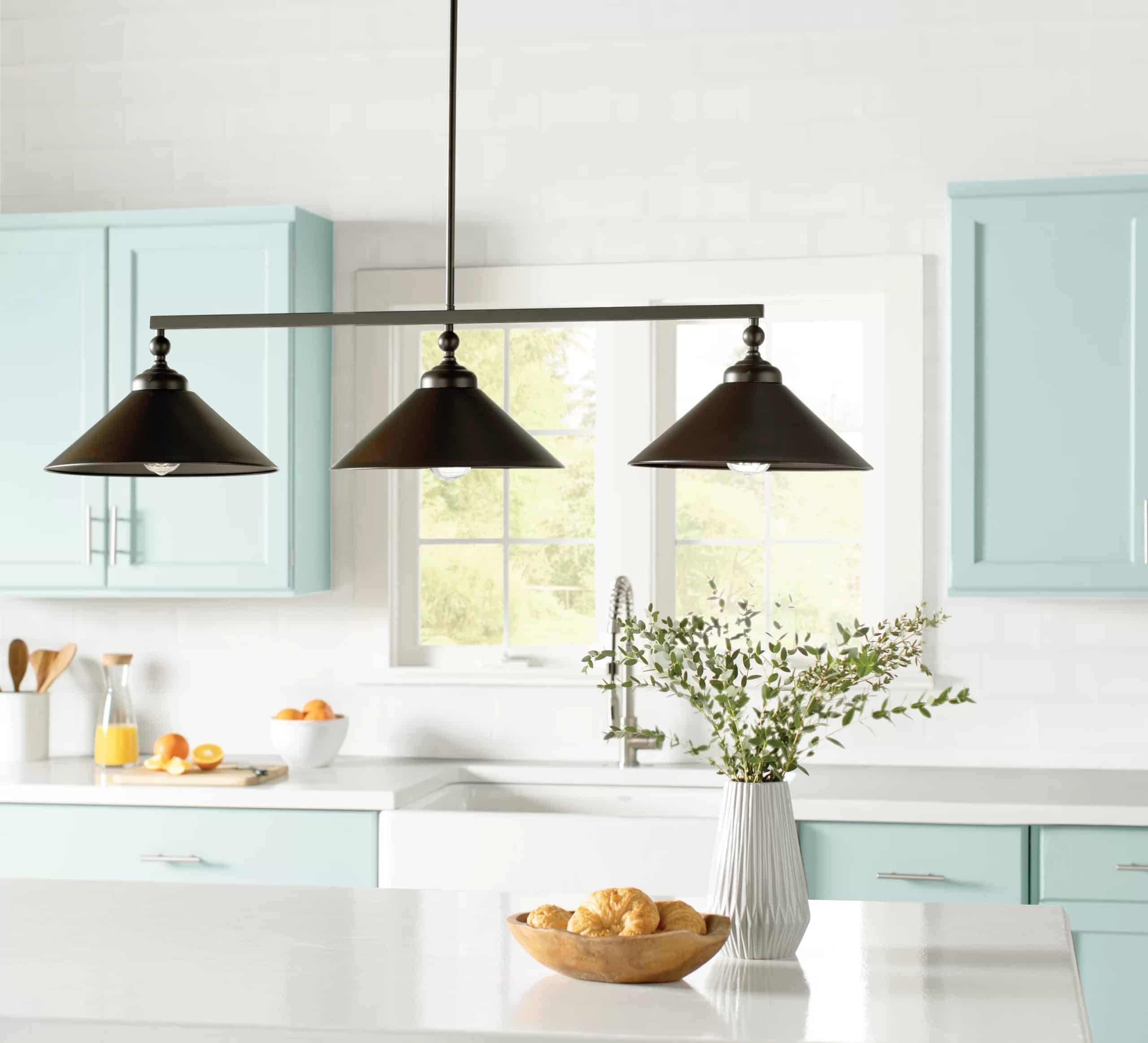 We will explore a lot of unique options on this list, but if you prefer simplicity, there are plenty of options for you as well. The best ways to keep it simple is to opt for simplicity in design and in color palette.
This lighting fixture exemplifies that concept. Its design is relatively minimal, with lights that slope outwards and few small accents above it. Its color palette is all-black as well, meaning that it will match with your other decor pieces. It's especially great for a kitchen where you don't want to make the lights a focal point.
Go For Rustic Style With Distressed Wood Island Lighting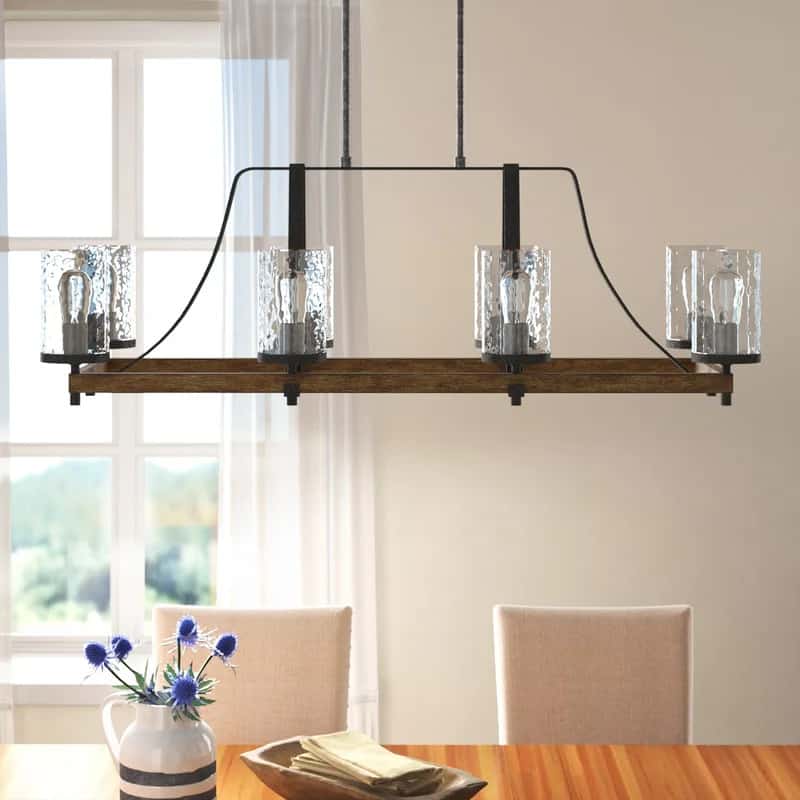 While candles aren't really used in light fixtures anymore, some of the best rustic kitchen island lighting fixtures mimic the look of candles for an old-timey feel. This light fixture, for example, has lightbulbs encased in glass, resembling candle holders.
Along with that, the distressed wood and metal make it look even more rustic. If you have a rustic-themed kitchen, this piece would fit in perfectly.
Add a Quatrefoil Lighting Fixture in an Industrial Kitchen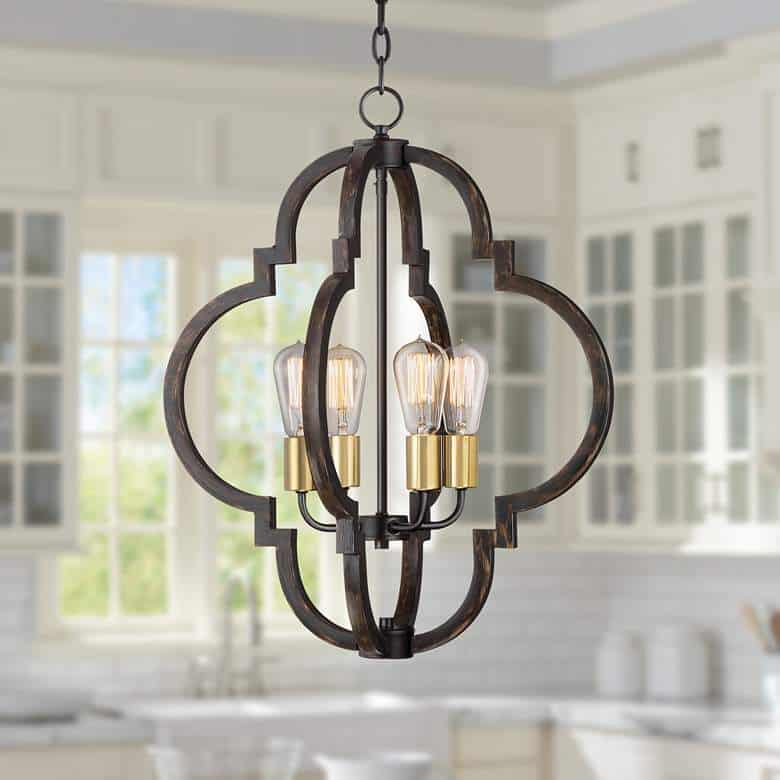 Quatrefoils are virtually everywhere now. You can find them on everything from upholstery fabrics to mirrors and more. Included among these things are kitchen island lighting fixtures.
This one in particular features overlapping quatrefoils and black metallic tones. Due to the material and the chain it hangs from, it would work especially well in an industrial context. Alternatively, you could easily fit it in a modern or rustic room, since quatrefoils tend to fit with many different styles.
Go For Elegance With Chalice-like Lighting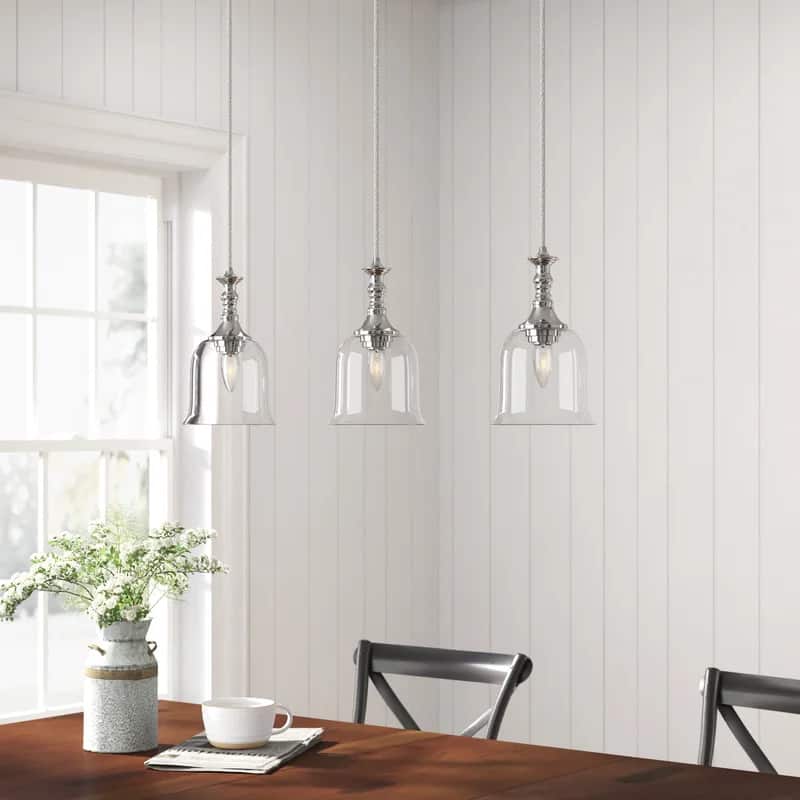 It's the simple touches that make all the difference when it comes to elegance. While this one is just glass and metal, the way each material is utilized throughout the design make it look far more fanciful than any standard design.
The shape of the glass pendant lights make them resemble chalices, and the rods they come on are spiralled, adding yet another touch of elegance. These lights show that even if the materials you use aren't super unique, the design will allow it to fit into your preferred style.
Go For Farmhouse Style With a Barn Door-like Lighting Fixture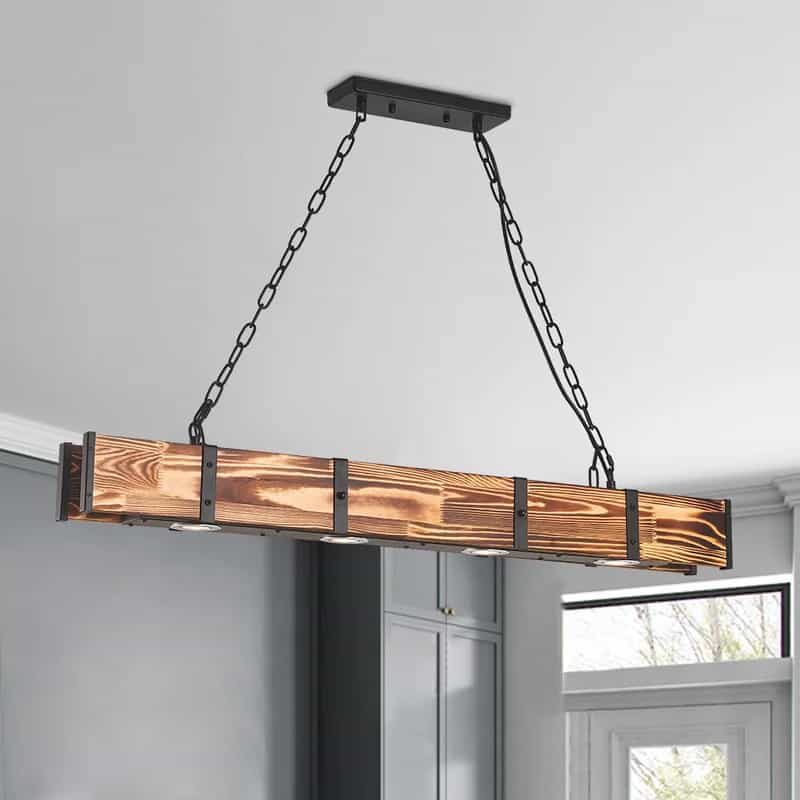 If you're looking for farmhouse kitchen island lighting, one of the best ways to achieve this is by finding something that resembles the most farmhouse-esque thing there is. What is this thing, you ask? Well, for many people, it's a barn door. It's a statement piece that's iconic to the farmhouse look.
This lighting fixture resembles a barn door in a lot of ways. The unfinished-looking wood paired with the black metallic accents is the same style that many barn doors have. Whether you already have a barn door or you don't, it's sure to look cohesive with your other farmhouse furniture pieces.
Incorporate Metallic Elements for an Industrial Look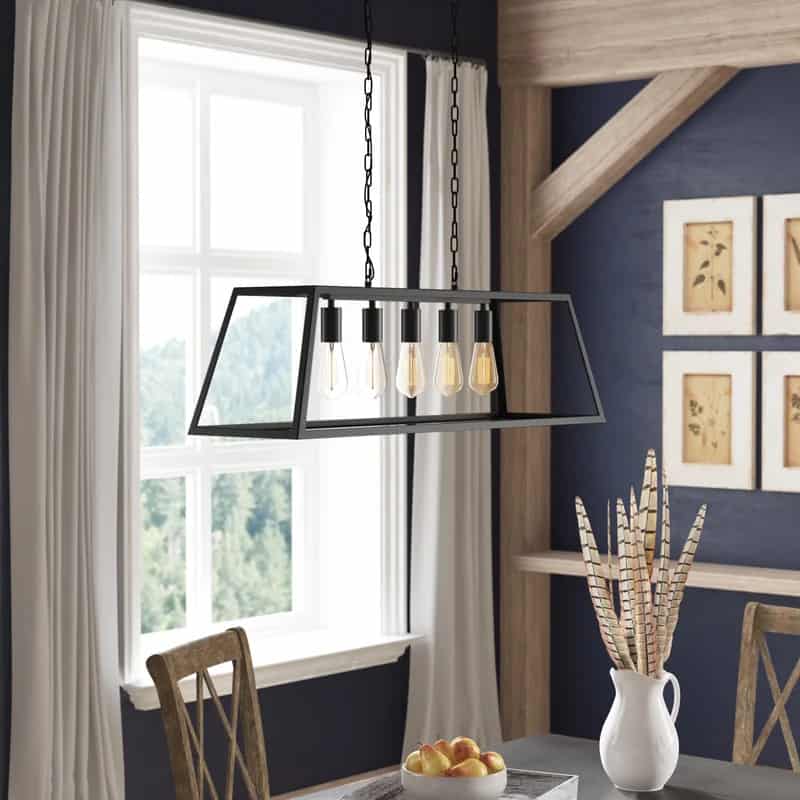 Industrial style is known for its effective mix of old and mechanical, fitting its namesake. Of course, these days industrial style also has another element– modern. Even though it's named for a time period in the past, industrial homes these days tend to incorporate at least a touch of modern.
This one fits perfectly with that. Its metallic frame makes it look distinctively modern, and the chains give it an extra mechanical feel. Pairing it with some antique-looking lightbulbs, as seen here, creates the perfect blend of styles that industrial rooms are known for.
Mix Materials To Fit In a Variety of Styles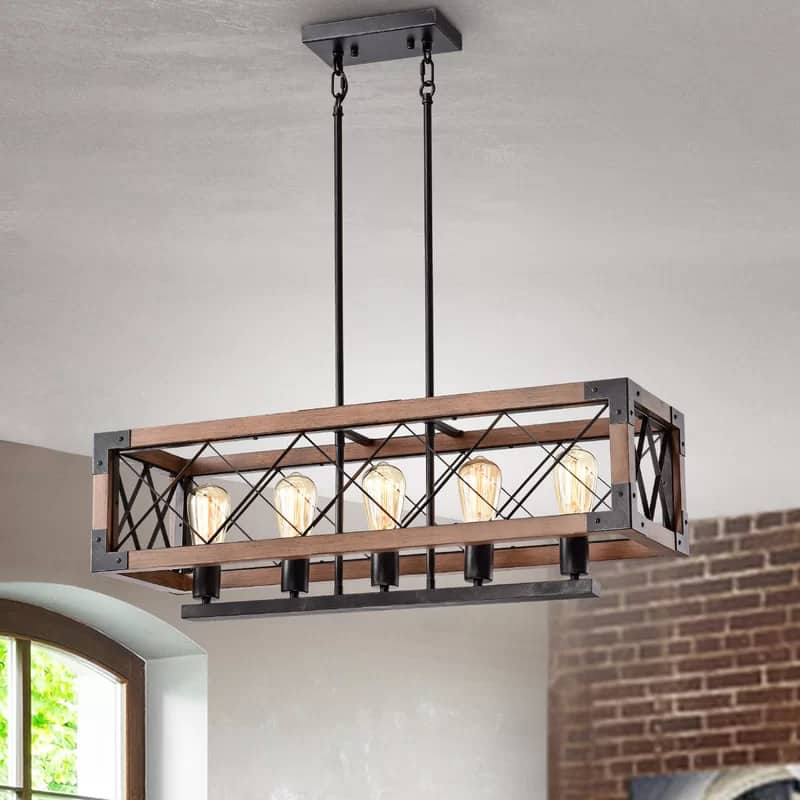 Wood and metal is an interesting combination. The same two materials can be used in a variety of contexts. One piece might look more modern with it, one may look more industrial, one may look more rustic.
Or, sometimes, you'll find one that can fit with all three. The metal makes it look more modern, while the wood makes it look more antiquated. Put together, you could use it as rustic kitchen island lighting or fit it with nearly any other style.
Add in a Geometrical Lighting Fixture for Modern Style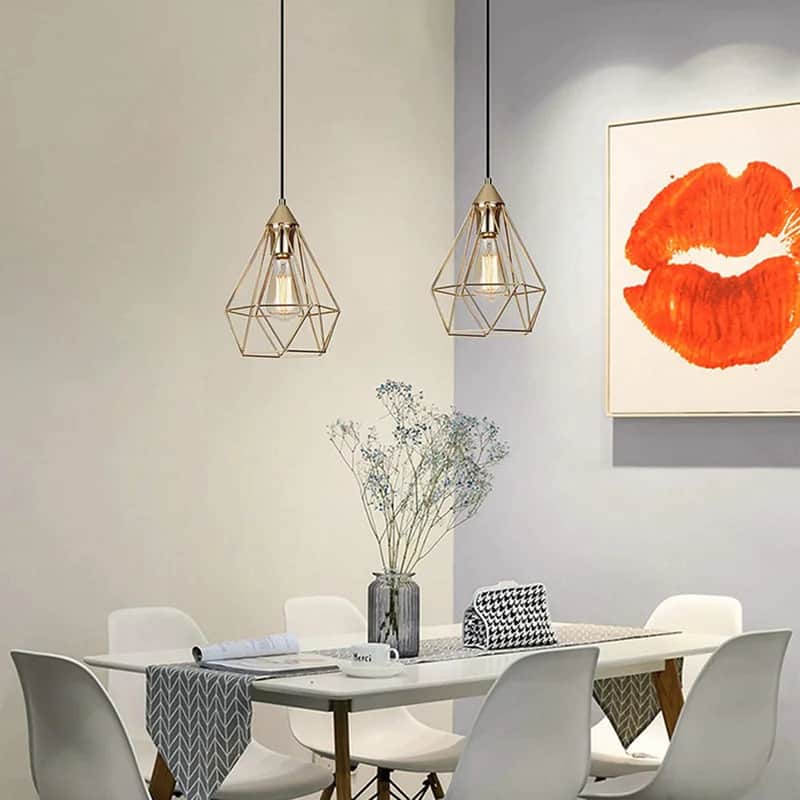 Geometry with clean lines is one of the main indications of modern style these days. There are plenty of ways to incorporate it, from tiled backsplashes to art, but a less common choice is geometric light fixtures.
An especially modern kitchen island lighting idea is to have a lighting fixture with metallic construction, which this design achieves as well.
Add a Cluster Lighting Arrangement for a Statement Piece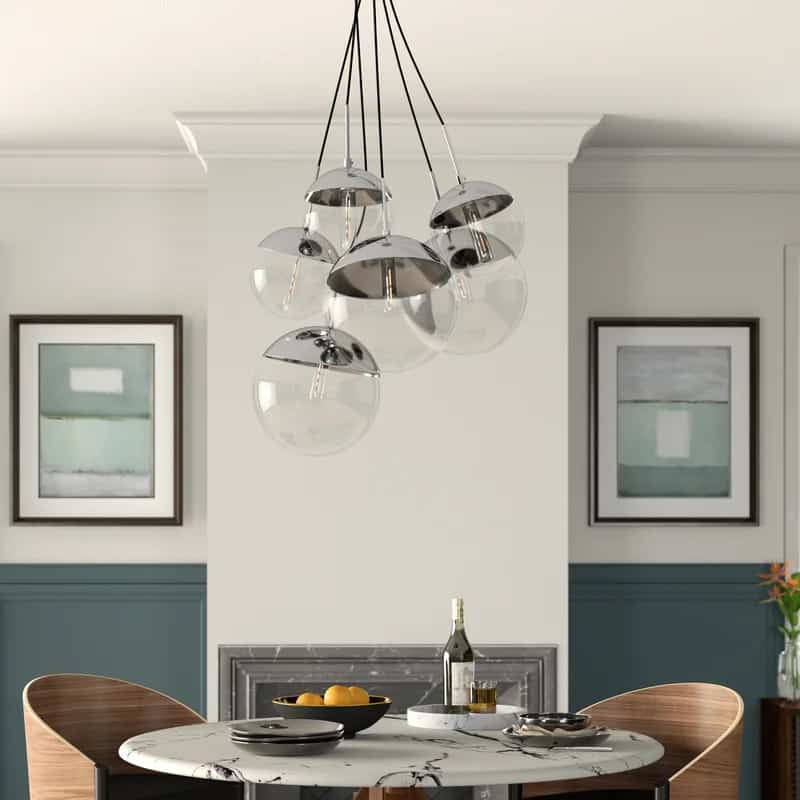 While cluster lighting isn't all that common, it's still a choice for many interior designers for one main reason. Along with having all the functionality lights can bring, it also functions as a standout art piece.
This is especially the case with large lights like this, which are pretty much impossible to miss. If you need a statement piece in your kitchen, then you may want to consider putting it right above your island.
Add a Subtle Touch With a Wavy Lighting Fixture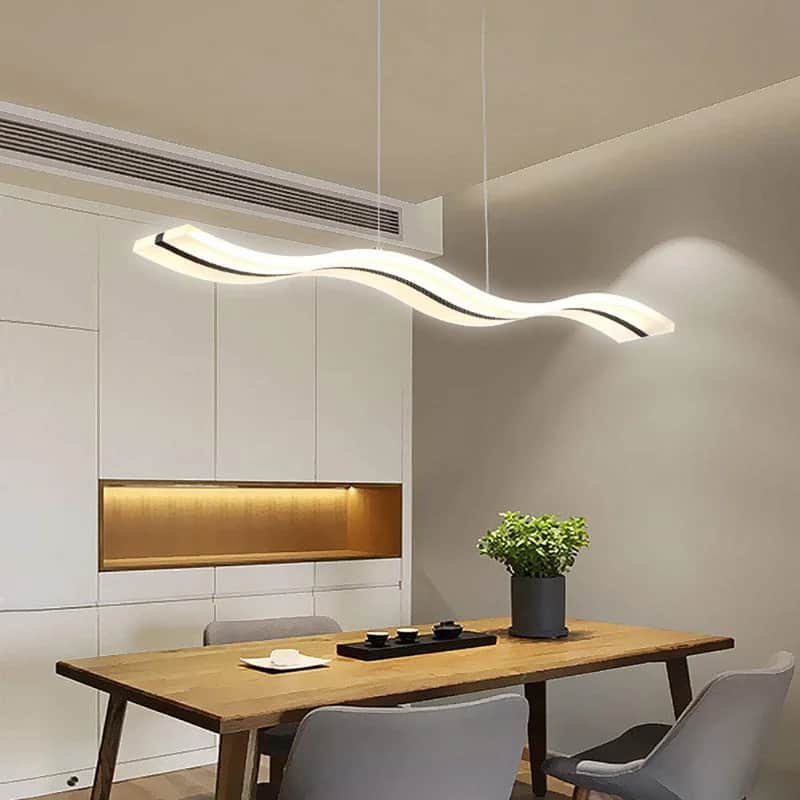 There are many ways to add a unique flair to your home when it comes to lighting fixtures. One way is the colors, and another is the shape. This design capitalizes on the second one.
While its color palette looks relatively minimalistic with frosted acrylic and metallic accents, the shape instantly takes it one step above a regular lighting fixture.
Use Swirl Pendant Lights for a Unique Accent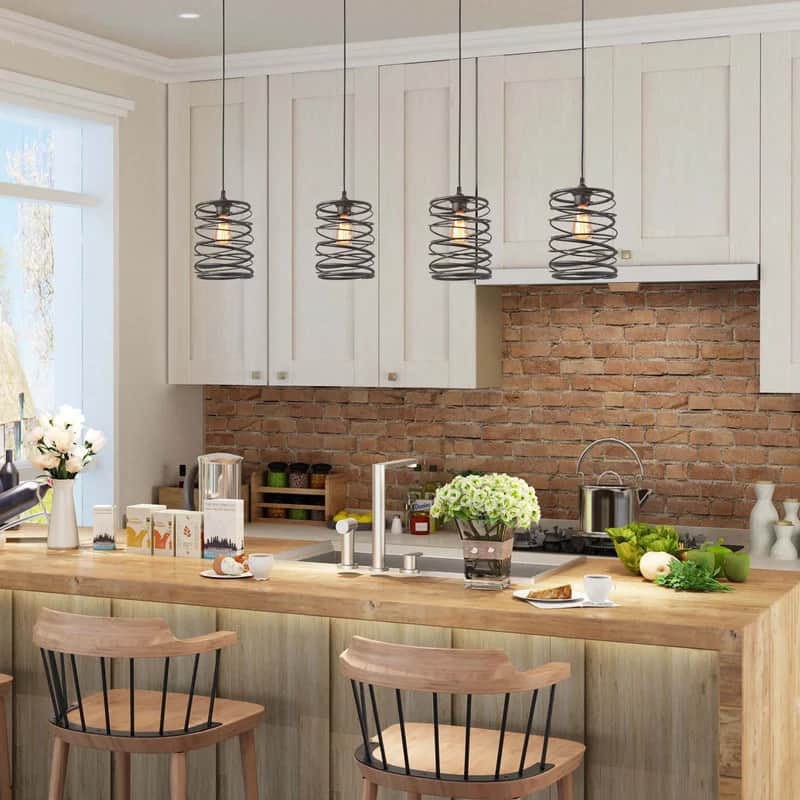 The best thing about pendant lights beside their design is their versatility. They're great if you need small kitchen island lighting because you can just use one or two together, or you can put many together if you have a large kitchen island.
Of course, with a pendant light designed like this one, it's impossible to ignore the design. Even if you have a small island, your lighting will still stand out as a chandelier would.. At the same time, the neutral color palette allows it to feel cohesive with your existing decor.
Use an Elaborate Crystal Chandelier for Glam Style Kitchens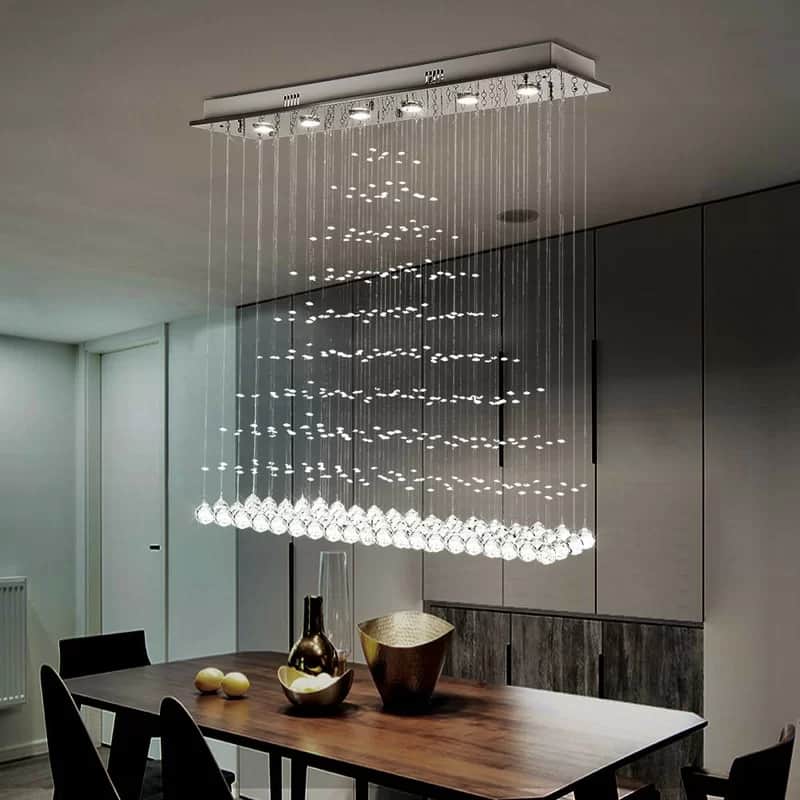 If you'd like to go glam with your kitchen island lighting, there are few better ways than with some crystal accents.
This one dials that up to 10 with its elaborate hanging crystals. The lights on top will reflect off the crystal arrangement, spreading light to your whole space. In addition, the fact that it hangs low will make it impossible to miss, making it perfect for a statement piece in your kitchen.
Incorporate Asymmetry With a Cluster Light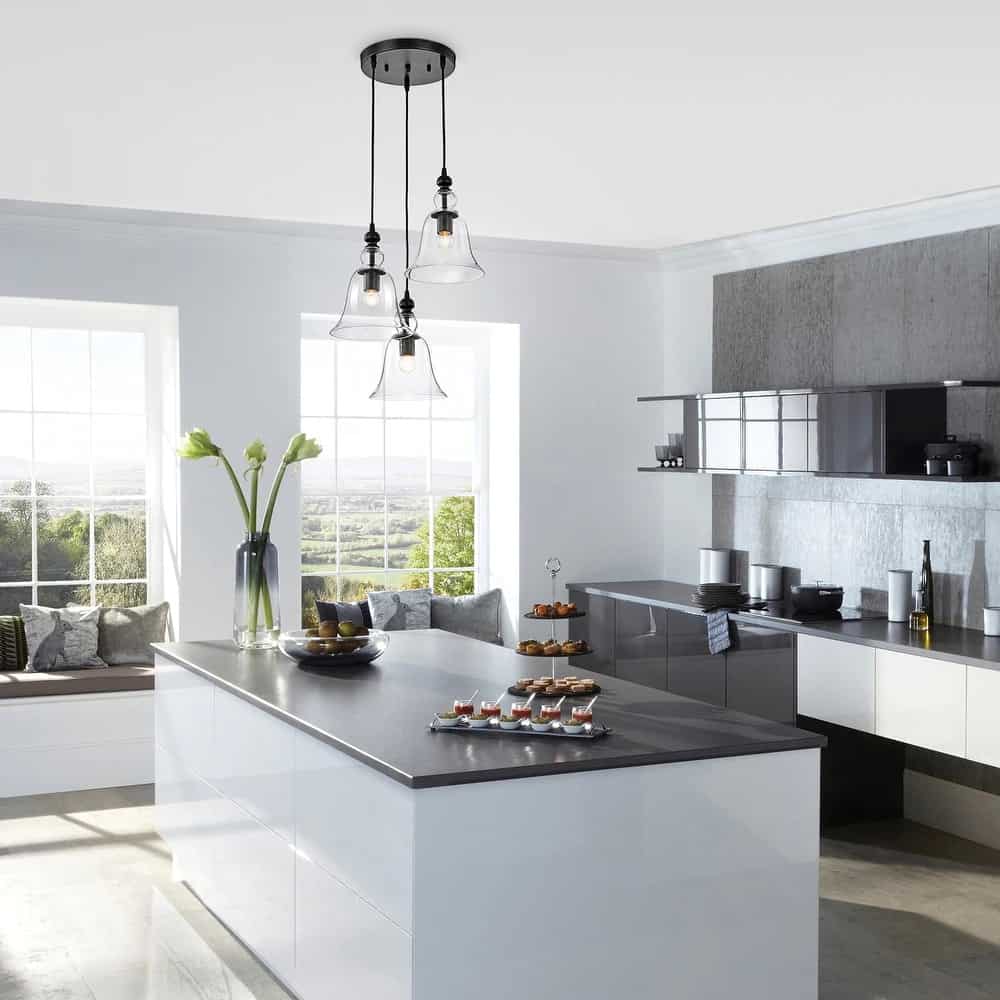 Symmetry is great for having a design that feels cohesive, but too much symmetry may make your home feel more like it's in a magazine rather than being an actual home. There's an easy way to fix that– asymmetry. Adding an asymmetrical piece or two as a focal point can help your home feel more inviting.
There are many ways to add asymmetry, but one way is through kitchen island pendant lighting like this. Since each light comes up to a different height, it feels more artistic and visually interesting. Of course, if you're not used to asymmetry, it doesn't go overboard. Each pendant light still has the same design, making it feel cohesive despite the asymmetrical element.
Add in a Unique-shaped Pendant Light for a Subtle Touch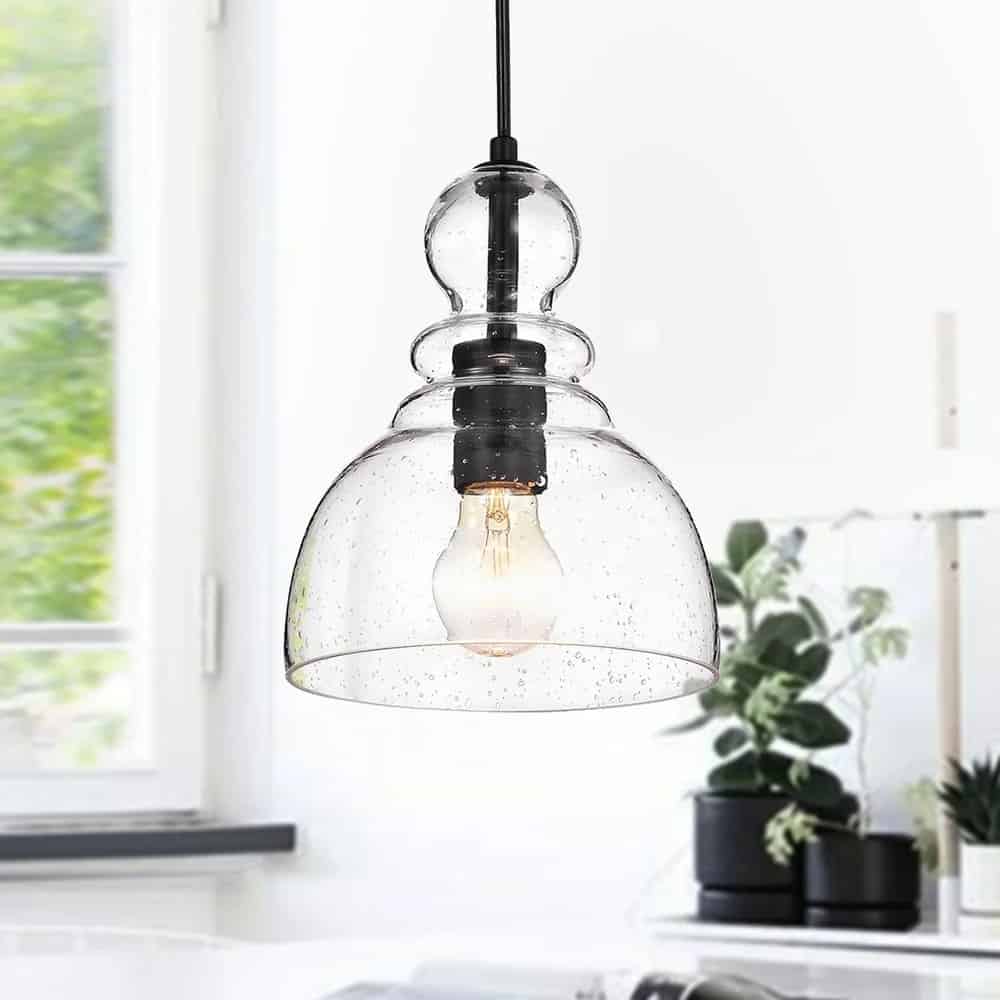 If you'd like to add a slight flair to your lighting without going overboard, going for a unique shape is great for this.
While this design is relatively simple with its glass and black metallic accents, where it really shines is the unique shape on the outside. The blown glass is made into a unique-shaped dome that makes it stand out more than it would otherwise.
Use a Colorful Pendant Light for an Artsy Look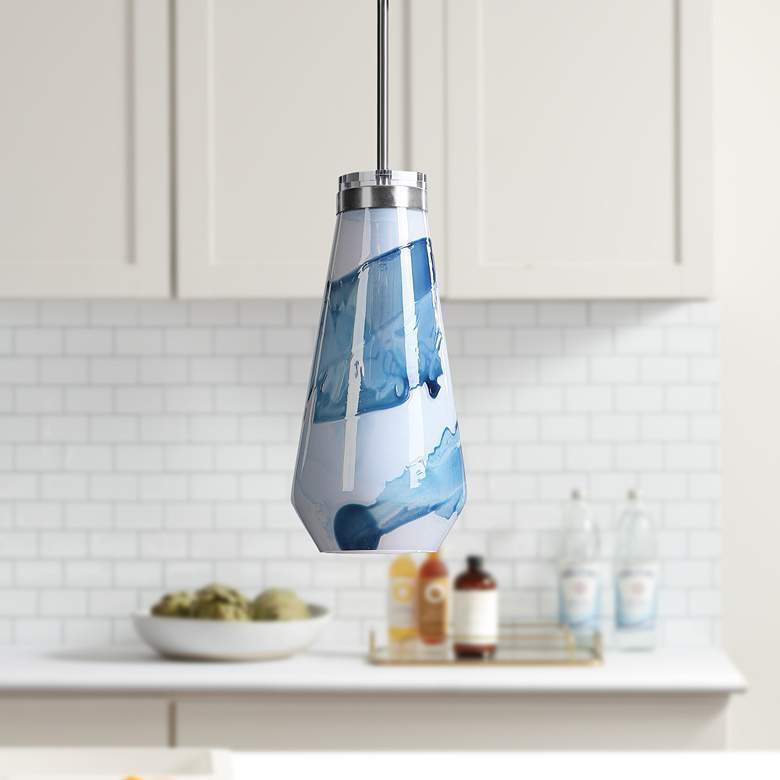 Some kitchen island lighting ideas are pretty standard, which is perfect for the minimalists and those who just want a simple touch. Others are practically works of art in and of themselves, which is where this pendant light comes in.
This handmade and hand-finished glass features gorgeous blue swirls that make it look like a decorative vase. Since each one will have slight differences, it will allow you to add some slight asymmetry for yet another artistic touch if you add a few of them.
Use a Pot Rack Chandelier for Practicality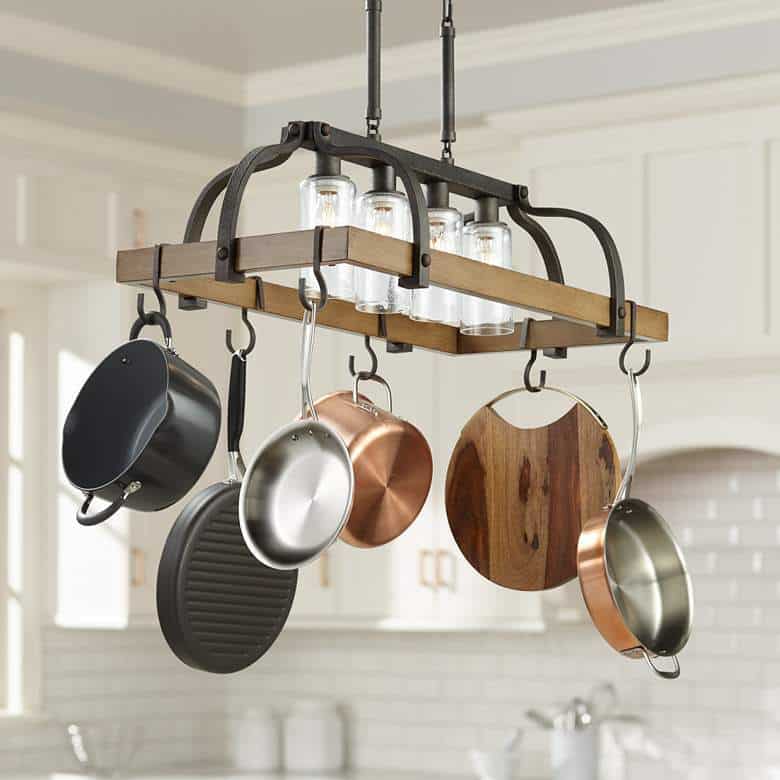 Island lighting fixtures are already practical in the sense that they light up your kitchen. If you want one that goes the extra mile, though, you'll like this pot rack chandelier.
Along with being a beautiful lighting fixture for your space, it also has hooks where you can hang up your pots and pans for easy access. As another plus, having a pot rack on display like this will make you feel like a professional chef.
Mix Modern Materials and a Natural Shape for a Unique Aesthetic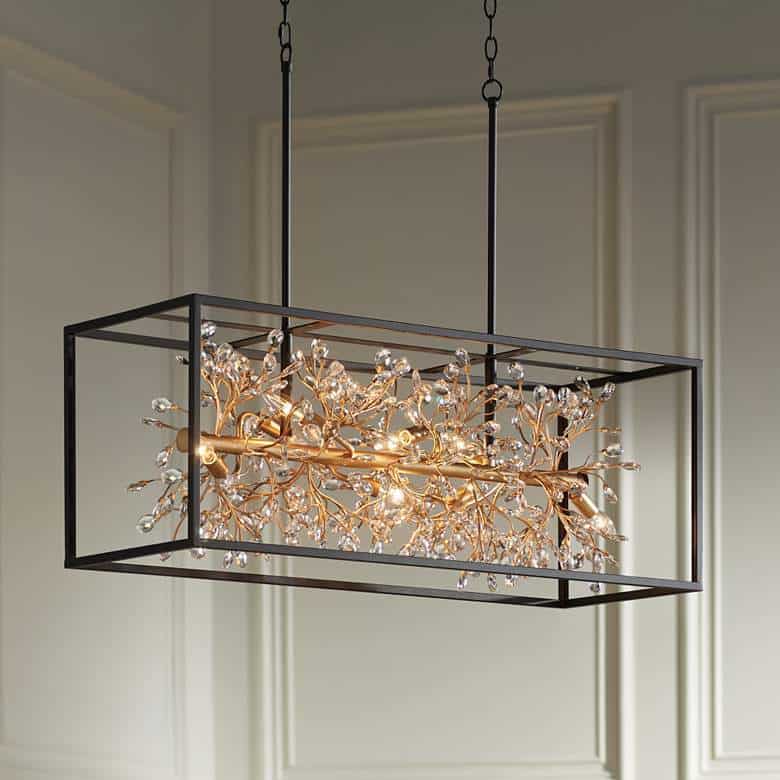 These days many are looking to add a natural flair to their homes. Unfortunately for some, though, many of the natural options don't fit well with a modern room. Wicker furniture, for example, tends to look a little more antiquated.
Some pieces, though, perfectly bridge the gap between nature and modern style. This kitchen island light, for example, has beautiful branches with crystal bulbs on the end, resembling tree branches. At the same time, the black and gold metallic tones make it look exceptionally modern.
Go For a Standout Natural Touch With a Magnolia Chandelier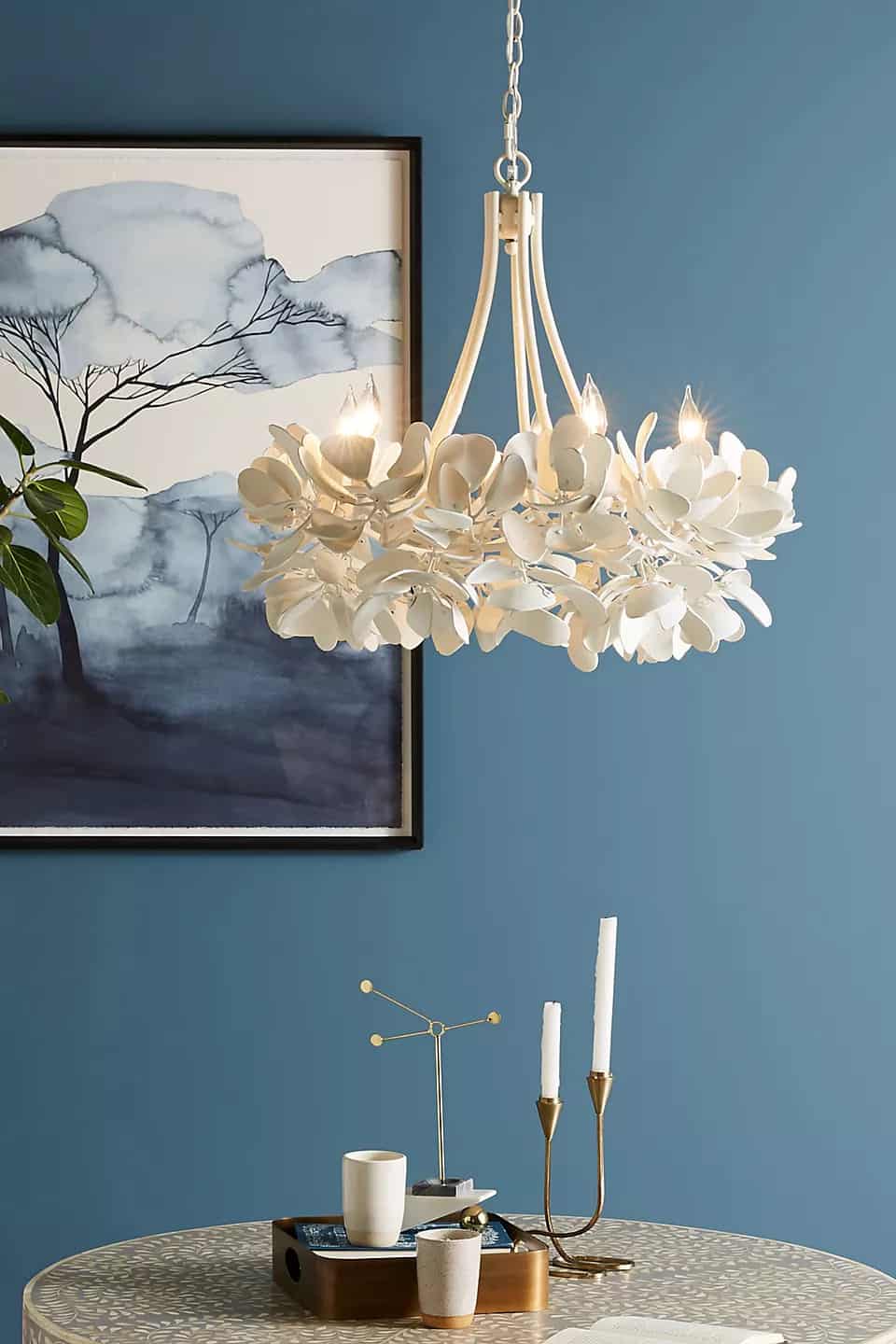 There's an age-old question when it comes to kitchen island lighting– pendants or chandeliers? Both are great options, but a kitchen island chandelier is especially great if you're looking to make a bold and elegant statement in your home.
This is especially the case with this gorgeous chandelier. This handmade chandelier looks like a cluster of magnolia blooms and adds an eye-catching natural touch when placed above a kitchen island.
Final Thoughts…
As we mentioned at the beginning, there are basically endless possibilities for your kitchen island lighting. From standout chandeliers to simple pendant lights, you can make a statement that's uniquely your style.
These many lighting options also exist regardless of your kitchen's size as well. If you have a small kitchen you can go with a couple of pendant lights, or if you have a large kitchen, you can fill the space with a large chandelier. And that's not even mentioning the many different styles these lighting fixtures come in, from modern to rustic. We hope this list gave you a place to start in finding the perfect option for you.