Don Pedro Brooklyn is reader-supported. When you buy through links on our site, we may earn an affiliate commission. Learn More
Linoleum vs Vinyl Flooring Comparison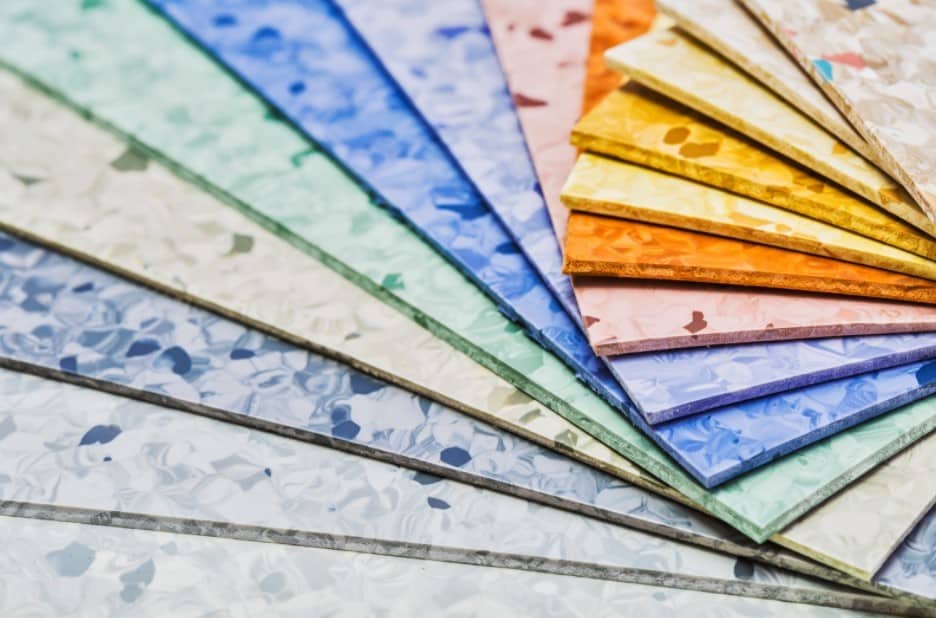 One of the oldest flooring options out there is the linoleum flooring. It is the first resilient flooring ever invented.

Meanwhile, today we are introduced to many kinds of flooring that suit different commercial or industrial demand types.

Vinyl, for example, is one of the most popular flooring types that is sold these days.

The similarity in its appearance makes it sometimes misunderstood as linoleum, laminate, or other resilient types of flooring.

But which one is better for your flooring option? Let's find out!

We have discussed on the tight comparison between vinyl vs. laminate flooring previously. Well, I guess this is the time to do another match between vinyl and linoleum flooring.

[powerkit_toc title="Linoleum VS Vinyl Flooring Comparison" depth="1″ min_count="4″ min_characters="1000″]
Key Differences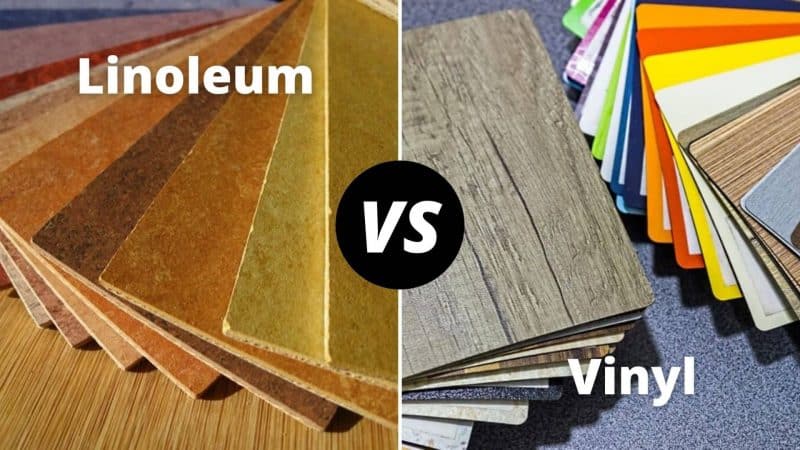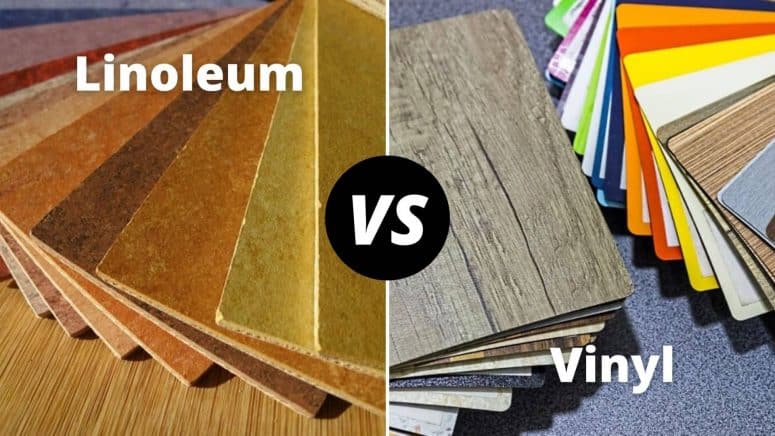 Both vinyl and linoleum are indeed very similar in terms of their looks. They nearly look the same.
But what are they made of?
That might be one point that sets them apart as the key difference between vinyl and linoleum flooring.
Linoleum Flooring Materials
Linoleum flooring was invented a very long time ago when the people realize how linseed oil could be a nice final coating for compressed natural materials into one good flooring sheet.
As you can read, linoleum flooring is constructed with natural materials. It is made of the compressed natural resources such as linseed oil, which could naturally occur from flaxseeds extraction.
Also, it has cork dust, wood flour from certain trees, rosin, and others. All are pressed into one sheet with linseed-oil-based paint coating the surface of linoleum flooring.
This is what becomes the key difference between linoleum flooring and vinyl flooring. Linoleum flooring is wholly natural in its materials. Meanwhile, vinyl is very much synthetic.
Vinyl Flooring Materials
Vinyl, on the other hand, is constructed with synthetic elements as its materials. Polyvinyl Chloride (PVC) is the main element that made vinyl flooring. Vinyl was the replacement of linoleum flooring back then.
Besides, all of the resilient floorings are the alternatives for hardwood flooring as well. That's because the resilient type of flooring is mostly has a printed photograph on the top of the surface to look like any elements such as wood or stone.
Vinyl is made of three different layers. On the back, it has fiberglass elements. For the core, vinyl has PVC, and it has a gleaming wear layer covering the printed photograph as the look or design for vinyl's surface.
Nowadays, vinyl is trendy and preferable for many people. Moreover, it has this luxury vinyl plank (LVP) and luxury vinyl tiles (LVT), which are versatile in many house styles.
Pros and Cons
Here are the pros and cons of linoleum and vinyl floors:
Floor Type

Pros

Cons

Linoleum Floor

Linoleum flooring is made of natural material that is renewable and doesn't harm the environment.
It is very durable. If you give proper maintenance and take excellent care of it, it could last up to 40 years.
Linoleum is hypoallergenic, which means it resists any allergens bacterial.
It is very comfy to step on because its natural material gives it a cushioning effect.
The color is very long-lasting. It presents real natural material, and it would rarely fade.

A high amount of water could highly damage linoleum flooring. It is waterproof, but it cannot withstand flooding or a certain amount of water, like in a bathroom or laundry room.
It requires sealing for once or twice a year. Also, for the coatless linoleum, you need to wax it once every two or three years.
Due to its stiff sheets material, it's challenging to install linoleum flooring. Not do DIY-friendy.

Vinyl Floor

Vinyl is pretty modern and very gorgeous. It has many variations in its design.
You are going to be rich in options when choosing vinyl. It has a lot of variations, which could be preferable for a different kind of house style.
Some unique designs of vinyl flooring could make your house very one of a kind.
Due to its synthetical materials, vinyl is so durable.
Vinyl is also constructed water-resistant and able to handle the pretty high temperatures.

In terms of the cost, vinyl is quite expensive nowadays.
For the installation of LVT, it is so time-consuming, and it needs to be done by a professional. That would add extra cost for sure.
Since vinyl comes in many variations like LVT and LVP, the measurements once you buy it and install it could be inaccurate.
Appearance
Below are the detailed appearance comparison of both linoleum and vinyl flooring:
Linoleum Flooring Appearance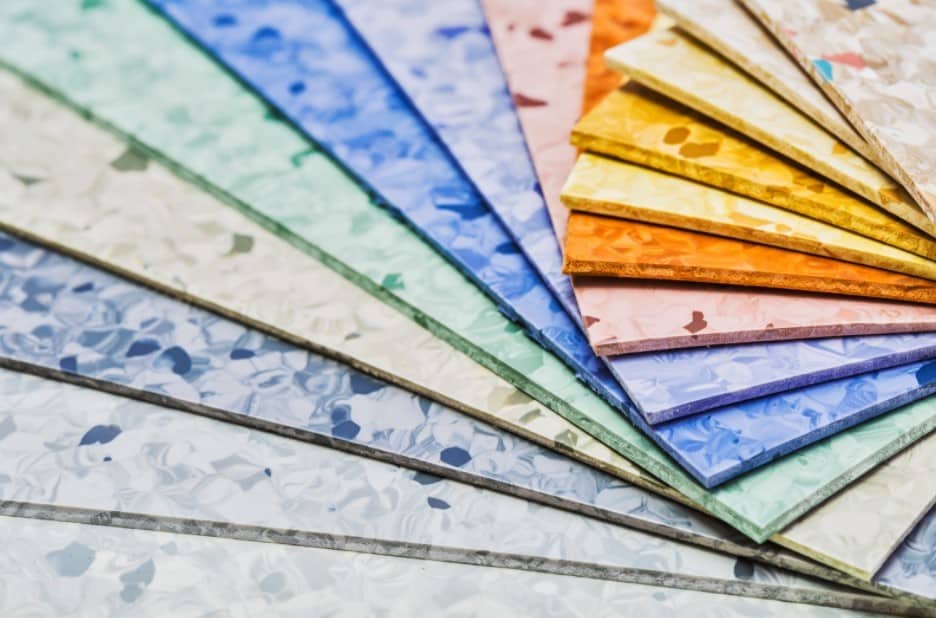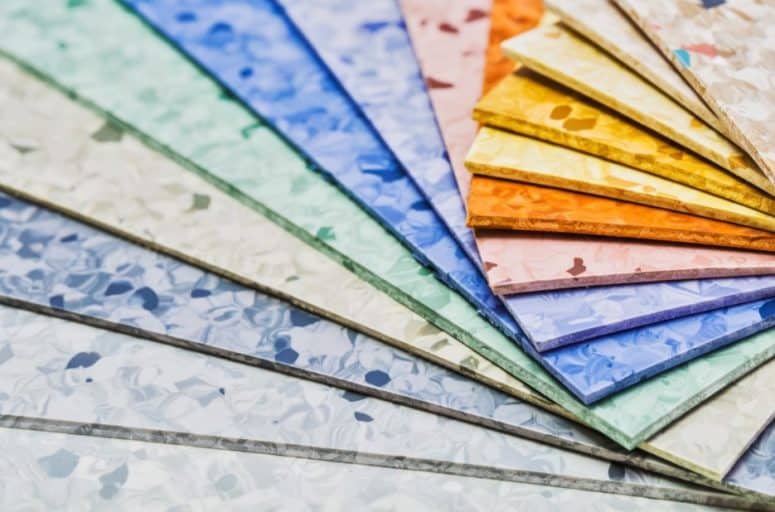 In terms of looks, linoleum flooring shows you a very wood-alike appearance.
That is because all of the materials in linoleum flooring is presented on its surface as the result of the compressing process and the coating of linseed-oil-based paint.
Therefore, the thickness of linoleum flooring has presented the entire natural look of it.
Pros
If you want to have a long-lasting look as if it doesn't change or fade ever since you bought it, linoleum flooring has it. Because the surface is printed and dimensionally presenting its material, it would not be likely to fade or stain.
Cons
The natural material and the surface coating method from linoleum flooring limit its design.
Vinyl Flooring Appearance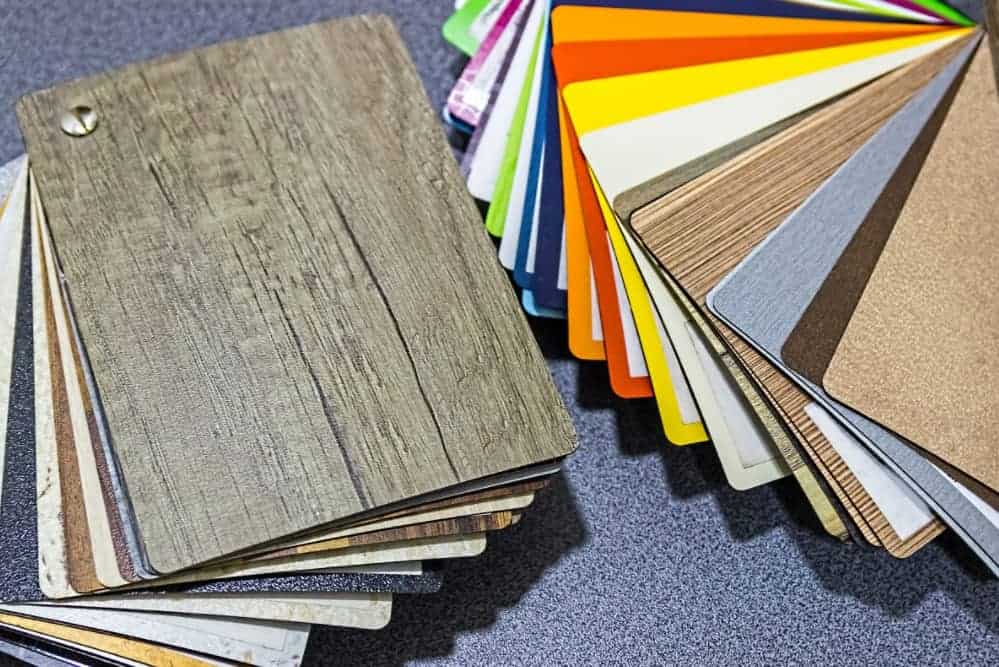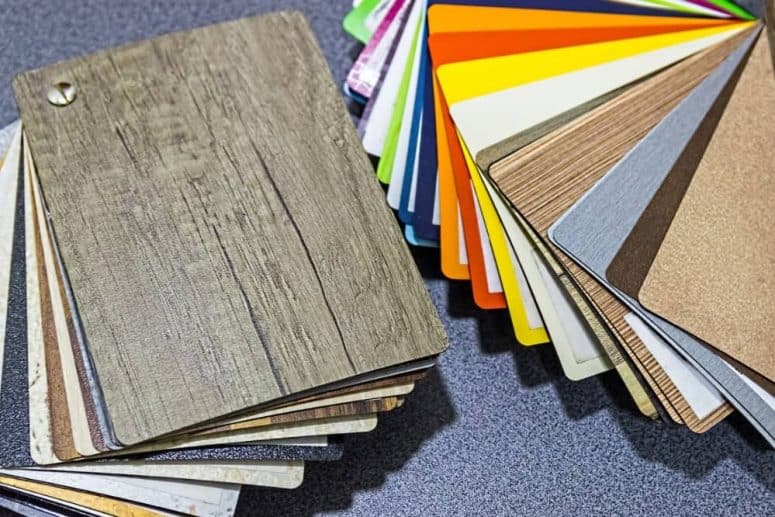 Vinyl floors have a lot of various designs and patterns for different preferences and styles of different rooms.
Furthermore, there are many developments from the manufactures like we can see in LVT and LVP.
Those have nearly the same textures as hardwood, not to mention its printed photograph on the top of the wear layer that looks exactly like hardwood.
Pros
Vinyl flooring is coated by the transparent layer on the top of the surface. But below that is a high-quality photographic layer, and it can look like basically every possible material.
Luxury vinyl is the modern construction that happens to make your floor look so shiny with minimum maintenance. What's best is that the look could last for years!
Vinyl comes in many kinds of design, pattern, and color. This could fit any preference or style.
Cons
Due to its synthetic materials, vinyl can look like plastic sometimes. Although it has this realistic photograph, the manufacturers' development at some level could make it look like shiny plastic.
The Best in Appearance: Vinyl Floors
When we talk about look or appearance, we talk about our first impression of its visual. We consider whether or not the look catches our eye and mind.
Vinyl has what it takes to impress us by giving its visual attraction through its different designs compared to linoleum flooring's limited looks.
Water Resistance
The floor is one crucial element in our house that must be ready to handle traffic, and of course, water spill.
Sometimes we cannot control our pets, children, and even ourselves to not spilling water. Either on purpose or not on purpose, this could happen.
So, what about the water-resistance feature from both vinyl and linoleum?
Linoleum Flooring
Linoleum flooring can withstand water spill, but as long as you wipe it right away. It is waterproof, but it is not very moisture-resistant.
You definitely cannot install it in your bathroom or basement due to the basement's flooding water and high moisture level.
The water could warp into the surface due to its material. Once it got to the layers, it could get the linoleum sheet curled and worn off.
Vinyl Flooring
Vinyl is 100% waterproof. You can install vinyl in every room you want.
Since it is waterproof and it has many design options, you can install it in your kitchen, bathroom, or even a humid basement of yours.
Also, as we all know, vinyl comes in planks, sheets, and tiles. For the sheets, that is the most waterproof one, among others. The installation of it might be quite tricky, but it is so worth it.
The result of sheet vinyl would be very much seamless, and it is nearly impossible for the water to warp in. This is like the best option for watery areas.
The Best in Water Resistance: Vinyl Floors
Vinyl is more upper hand because this has a nearly seamless surface on the sheet forms, and it is very 100% waterproof on the plank and tiles form.
In comparison to linoleum that could not withstand water flooding, I believe vinyl won this.
Ease of Installation
The difficulty of installing one flooring type is also one of the most important considerations for many people.
Besides, this could be a lot of work to do; this would be dealing with your budget planning.
Linoleum Flooring Installation
I must tell you that linoleum flooring installation is mostly done by a professional. It's even more challenging than installing a sheet vinyl, which is difficult already.
The texture of linoleum flooring is harder to cut than vinyl. It would help if you used a linoleum knife to cut it.
It is also flexible where the possibility of curl and wrinkle is there if you do it incorrectly.
Well, one thing you need to know as well, you're gonna need a very balanced and thin underlayment to install linoleum flooring.
Besides, the installation must be finished by resealing the surface of linoleum flooring. That is because some of the linoleum floorings do not go with the sealed top.
Therefore, you're going to ask the professional to seal the surface for you, so the water spill is not going to harm your floor.
Vinyl Flooring Installation
What about vinyl installation? It is quite DIY-friendly for planks and tiles. But it is harder for the sheets one.
For instance, LVT and LVP have their click-and-lock feature at the edge, making it easier to put it all together.
However, it is a different story for sheet vinyl. Beginners may fail and make some wrinkles on the surface of the floor.
Moreover, the material that is rolled into somehow a package that you will buy is quite heavy.
Also, you need to measure it again to get the room size precise. One mistake, and you could make it not that seamless afterward. Calling a professional is preferred for this one.
The good news is, LVT and LVP, which are very popular right now, have their easier installation for DIY projects and beginners' work. Those are:
Peel-and-stick tiles: Luxury vinyl tile can be stick directly by peeling the back part and sticking it right on to a clean surface.
Floating floors: Without glue or nails, you can still install vinyl on your floor. An underlayment can keep the floor warm and, of course, reduce the noise of the step sound. Plus, the click-and-lock feature on it makes the seam look very neat and tough.
Glue-able: You can also add a subfloor beforehand and install LVT or LVP right on that subfloor surface by gluing it.
The Easiest to Install: Vinyl Floors
Vinyl comes in many varieties of the form where you could do your DIY project. Beginners are also safe to try installing tiles or planks vinyl due to its click-and-lock feature.
Even if sheet vinyl is hard to install, linoleum flooring comes with an even more complicated way to install.
Cleaning
Cleaning is the aspect of treating your flooring when it's still in good condition. So basically, this is the way how you can keep it long-lasting and good just like the first time you bought it.
Linoleum Floor Cleaning
Linoleum flooring is easy to clean. It has a surface that you can wipe, vacuum, or lightly mopping it regularly. That is why many people use linoleum flooring in their rooms with high traffic.
Stains can be removed by hands using a rag and mild detergent because a usual detergent might have a high pH, which could damage linoleum flooring.
That is why it is also recommended to use an almost-dry mop when cleaning linoleum flooring.
Pros
Linoleum flooring does not stain easily, so it reduces your work and worry about the stain issue.
There is no need to refinish or what-so-ever since the color of linoleum flooring stays up to 40 years.
Cons
To keep it resistant to water and serious stains, linoleum needs periodic sealing.
Linoleum flooring is easily scratched at some point.
Vinyl Floor Cleaning
Notice that vinyl can withstand water flooding and moisture; it is effortless to clean. Either dry mopping, damp, or wet mopping, you can do both.
A simple daily sweeping or vacuum is also fine to remove dust and dirt on the floor.
Even better, you can do scrubbing on the surface of vinyl with a safe and recommended cleaning sponge and products.
Pros
Water spills are easy to wipe on vinyl's surface, and it doesn't get dusty quickly.
It only requires a mild and regular vacuuming with a little bit of TLC and specific cleaners.
Typically, cleaning product for vinyl costs around $20 per gallon, or $8 for a 32-oz. spray bottle.
Cons
People who install the textured vinyl one will be a bit effortful in removing food particles or hard dust from the grooves beneath.
Repairing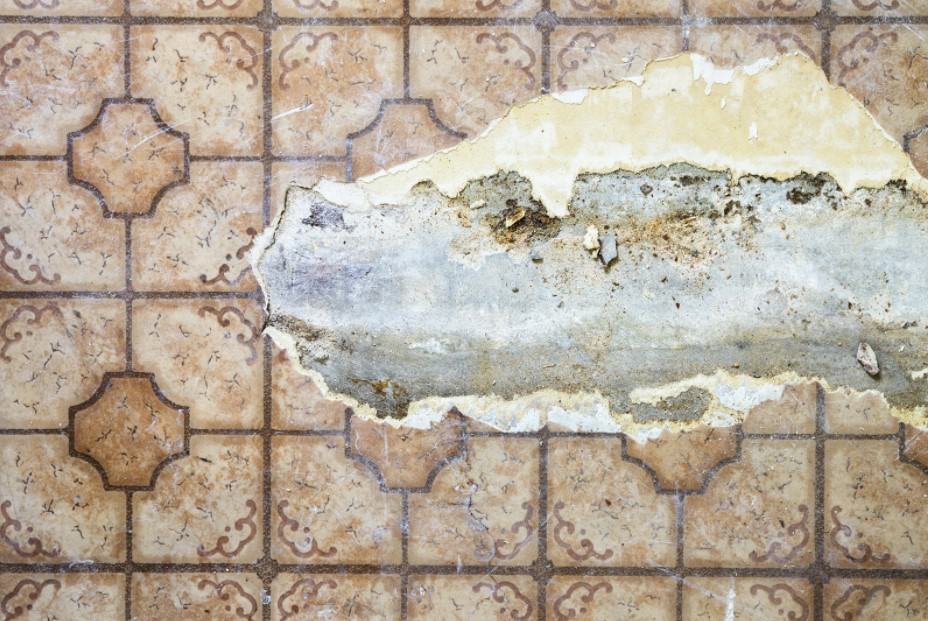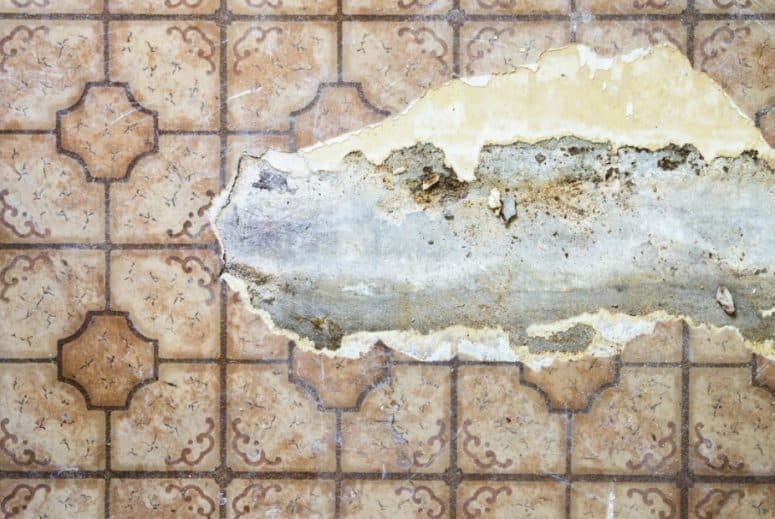 The repairing aspect of maintenance is the way or steps that we do to fix damaged flooring.
Linoleum Floor Repairing
The good thing about repairing linoleum flooring is that you have to replace or repair one plank or one tile. Besides its side, which is easy to get scratched, it's also easy to get repaired.
Pros
No need to worry about the possibility of changing the entire flooring. One damaged plank or tile means one plank or tile that you need to get as a replacement.
Cons
Linoleum flooring requires more attention from you, like in its coating and waxing process, for example. Therefore, once you repair one tile or plank, you need to pay that attention to the new one.
Vinyl Floor Repairing
Although vinyl sounds very durable due to its synthetical material, it's inevitable to damage the floor someday. We never know.
When that happens, the entire planks or tiles might be loosened and it's not gonna feel good on your feet.
Pros
The pro is that vinyl is very much durable that you need to think more about cleaning than repairing.
Cons
You have to sand it down if you get pretty bad scratches. Not just that, you're gonna have to refinish that after.
The bad news is, the entire planks installed must possibly be replaced.
The Best in Maintenance: Tied
In terms of cleaning and maintaining, the vinyl floor is easier to do because it requires fewer cleaning conditions.
However, when it comes to repairing, there is a possibility to change the entire flooring when it happens to vinyl. I think both got a strong point, which makes it resulting tied.
Durability
Longlast is the word that describes your hope for stuff you buy, and flooring is no exception.
I believe you want to have the most durable flooring in your house, so you don't have to do a lot of work later if it gets damaged. That is why durability is something matters to consider.
Linoleum Floor Durability
What's the biggest deal that could damage your floor?
I think the answers would be water, moisture, scratch, and crush (which is not likely to happen unless you do it on purpose with a hammer or something).
The linoleum in here is not very waterproof; moreover, it is not wiped in a certain amount of time when it comes to flooding water or water spill.
The water could warp in, which could damage the flooring layer, which could make the flooring curled and doesn't look very good anymore.
Therefore, there is a waxing and resealing process which are done periodically by the users. That would protect the flooring and increase its lifespan.
Vinyl Floor Durability
Vinyl can stand high traffic, and it would still be durable for 15 years or more. Yes, this could be delaminated someday after those years, but you sure have the consideration of that.
A 15+ year warranty is what's usually guaranteed once you buy it.
You can also extend your beloved vinyl's lifespan by giving the surface urethane application so the wear layer upon the installation can be reinforced.
The Best in Durability: Vinyl Floors
When we talk about durability, we don't take about the possibility of the repair. Instead, we talk about how strong this flooring could stand and how long this flooring could be.
Looking at its synthetical material and total waterproof even in a bathroom, I think vinyl is more durable than linoleum.
Cost
Money is one aspect you will never miss to talk about when it comes to home decor. Flooring requires you to plan your budget as well.
That is because different types have different prices, which could make you pay for more if you don't pay attention to the specification.
Linoleum Floor Cost
In a general overview, linoleum flooring costs $23 until $50 per square yard, or $2 until $2.50 per square foot for the sheets.
Meanwhile, for the tiles it usually costs around $3.50 to $5 per square foot. There are different ranges about this, though. A little bit different from vinyl, but we'll see about that. The cost of linoleum flooring is also sometimes determined by its thickness.
Vinyl Floor Cost
$1.00 per square is what is usually offered for glue-down vinyl flooring.
This cost may rise, like up to $5.00 per square foot for the luxury vinyl planks (LVP) and some famous vinyl brands in the country. The cost range is as follows:
Low: $2 per square foot
Mid: $5 per square foot
High: $7 per square foot
Add an extra $3-$10/sf for installation
The Best in Price: Tied
The difference in the cost is not that significant. The range is still in the same circle, and the quality is also different.
That would be based on your preference and whether or not your preference worth that price.
Environmental Effect
Manufactures are constructing their products based on the demand from society.
However, there are many environmentalist that concern about which material damages the nature the most. Here is the explanation of vinyl and linoleum flooring.
Linoleum Floor
As we all know, linoleum flooring is made of natural materials. Its coating nd painting is linseed-oil based, and its core layer is made of cork dust, wood flour, and other materials which could occur without harming the trees or the plants in that regard.
Although it is possible and most likely to happen, the manufacturer uses chemicals to compress them into one perfect flooring sheet and not to mention the machine and stuff.
The linoleum flooring will still produce gas when burnt, although it is not as toxic as how vinyl would.
Vinyl Floor
Yes, you must expect how not-so-eco-friendly vinyl flooring is. It is synthetical and made of PVC as its core. This makes many consumers who are concern with the environment do not prefer vinyl as their flooring options.
However, today's manufacture has so many developments by embracing the eco-friendly value in their vinyl products.
Now we can see the vinyl flooring with a LEED credit EQ4.3 for Low-Emitting Material.
That is one innovation manufacture has tried to enhance its eco-friendly value.
After all, vinyl flooring still produces toxic chemicals residue when it's burned. It is not degradable in landfills, and it is impossible to recycle it once it is damaged.
The Most Eco-Friendly: Linoleum Floors
Although both must be using chemicals either in the primary material of its core or in production inside the manufacture, linoleum is still more upper hand. And if we measure the harm and benefits of each, linoleum products less toxic as the residue.
The Verdict: Which Floor Is Best For You?
Wrapping up the discussion, I believe you have got your choice for this. It is up to you whether you prefer designs or durability of the color in terms of look.
This works the same as other aspects like water resistance, for example. Each room might have different needs as its flooring and water-resistance are needed, especially in watery areas like a laundry room, bathroom, or basement.
However, suppose you want to install it in your kitchen, classroom, or living room. In that case, it is okay to use the one with a waterproof feature without necessarily using the total 100% water-resistance flooring.
After all, maintenance is something that must be your concern once you have installed your flooring. This requires diligence and attentive behavior from the owner to keep the floor durable and clean.
Dirt can potentially result in allergens; the scratch could make your floor looks terrible. That is why you need to pay attention to every detail and condition where you have to reseal, refinish, wax, or sweep and mop.