Don Pedro Brooklyn is reader-supported. When you buy through links on our site, we may earn an affiliate commission. Learn More
10 Modern Grey and White Bedroom Ideas
Many agree that a bedroom is the most important place in your home. It acts as a sanctuary and an oasis, allowing you to rest and gather your strength. Designing your bedroom should be done carefully because the right choice of decor can make all the difference.
A great way to set the atmosphere of the room is by choosing a well-thought-out color palette. Bedrooms should be cozy and soft, so one of the great choices of color combinations is grey and white. If this looks appealing to you, check out these ten grey and white bedroom ideas.
Create Adequate Lighting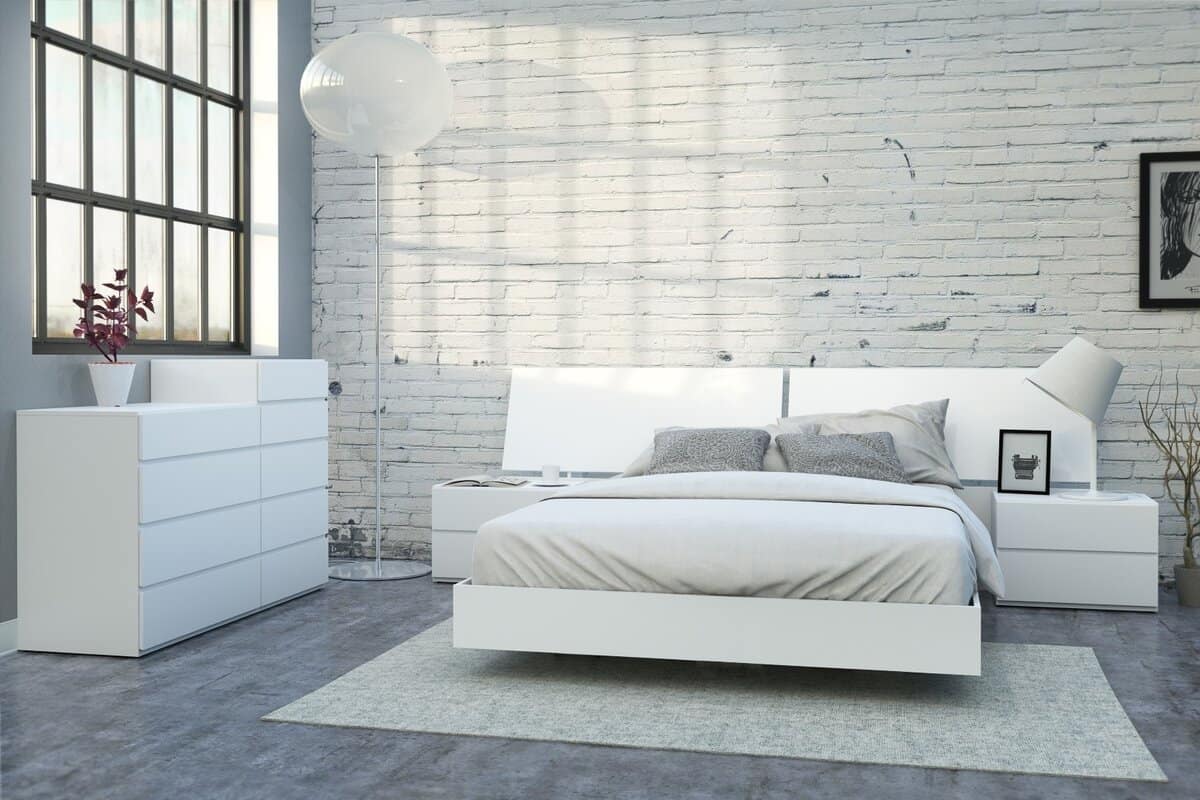 Grey and white do wonders in illuminated spaces, especially white walls that reflect light even from dim sources. However, not everyone can count on having a large window in their bedroom, so try looking for an adequate lighting source.
Depending on your ceiling height, you can go for pendant lamps. However, if you think you will clutter up the space, you can always go for wall-mounted sconces, or many's favorites, floor lamps. Ample lighting will create a pleasant contrast in your modern grey and white bedroom.
Slick Up the Bedroom With Vibrant Accents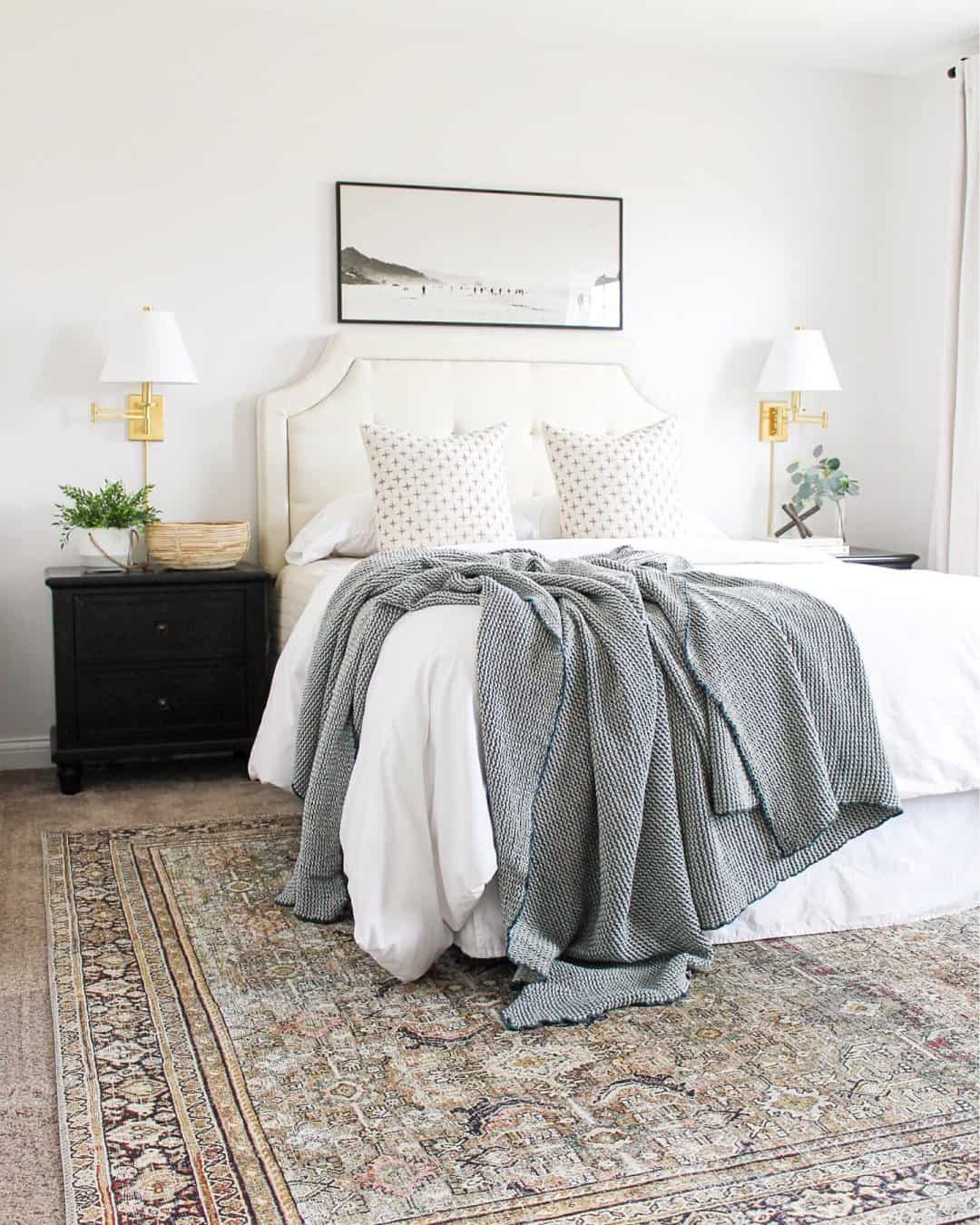 As we've said before, the grey and white color combination will create a perfect blend of soothing and soft colors. However, if you think that you can do more with your room's aesthetics, why not try adding a pop of color or a vibrant accent.
If you think a contrasting color is needed for your bedroom's ensemble, try adding a vibrant pillow or a throw blanket. On the other hand, many fear that an ill-fitting color might disrupt the overall style of the bedroom, so you can go for a safe choice and choose one of the darker shades of grey.
Usher In Cozy Vibes With Wood Furniture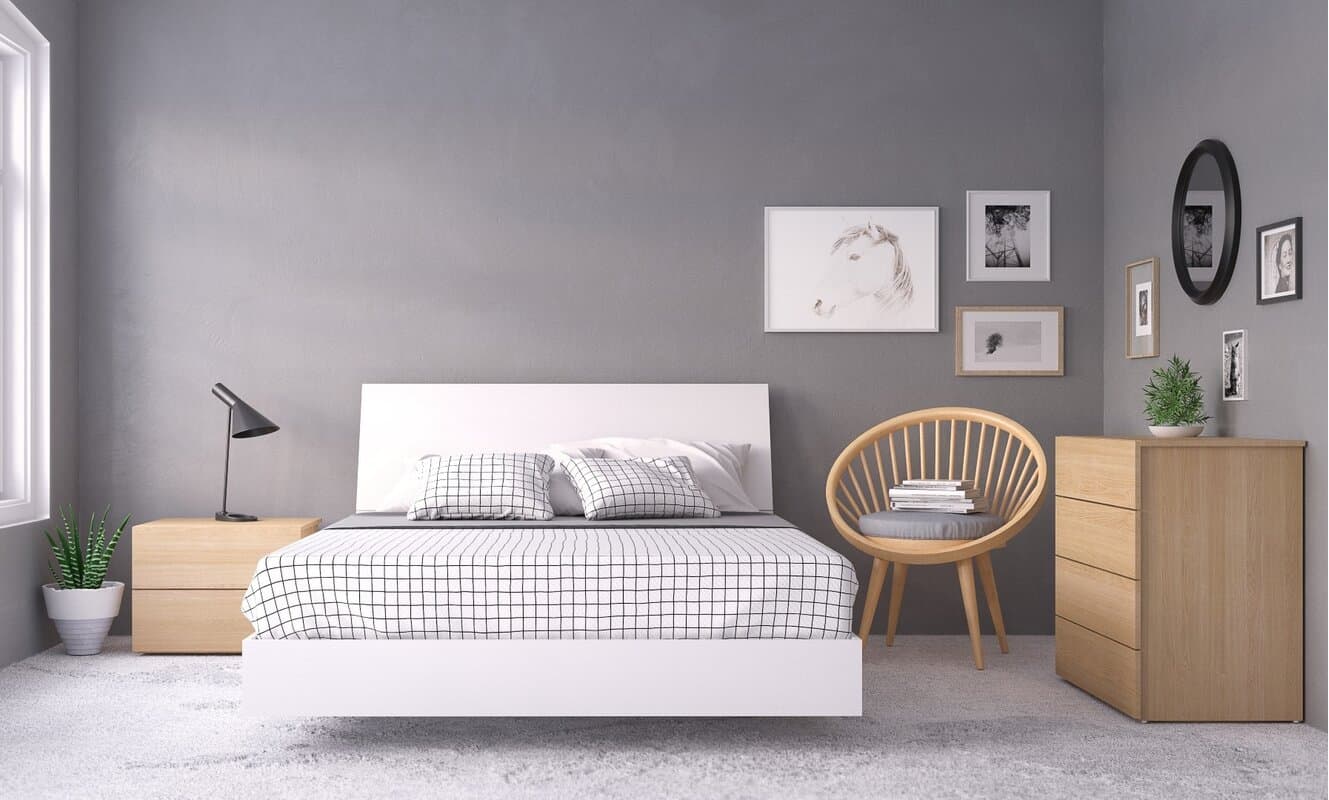 Wood furniture is welcome in nearly every modern bedroom. Its slick surface and neat color will complement the grey and white background, introducing a cozy and homey feel to the space's ensemble, making the bedroom even more relaxing.
You can achieve this with many types of furniture, like chairs, nightstands, or drawer dressers, to name a few. We recommend going for pale and bright wood colors that will add a dash of modern minimalism to your bedroom.
Make a Statement With Wall Art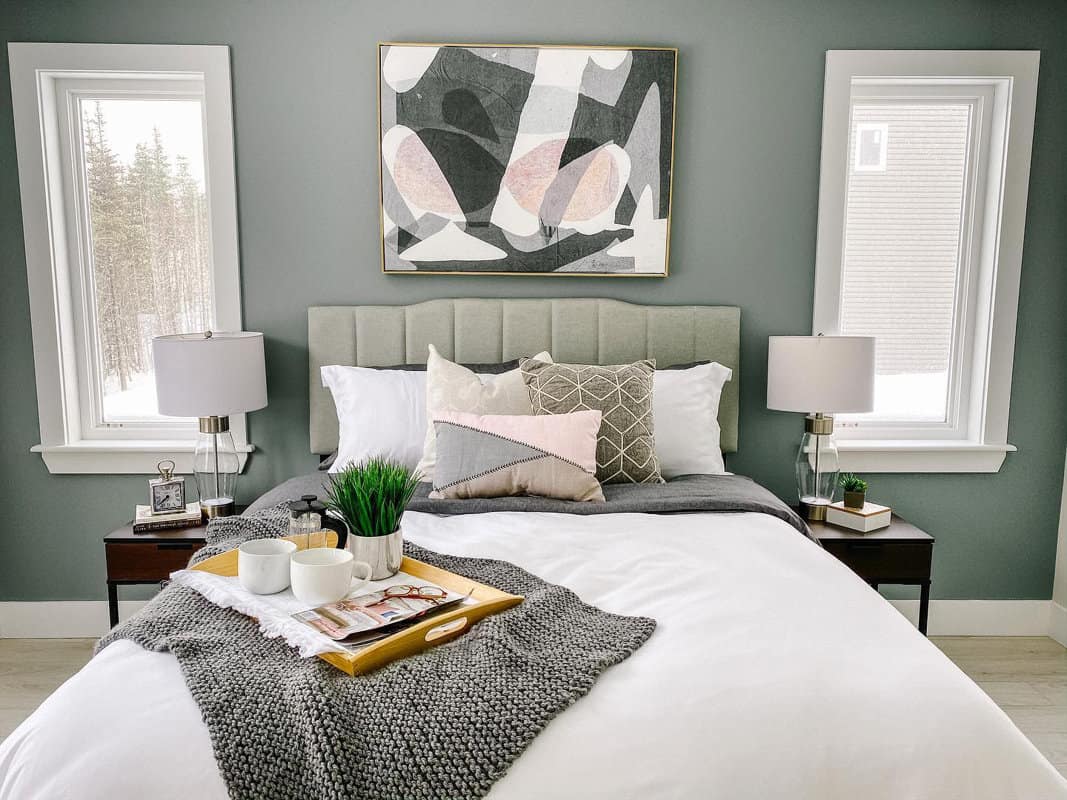 A great and easy way to add a pop of color and excellent detail to your bedroom is with wall art. Apart from filling the space on your wall, a canvas or a framed photograph will create a focal point in your room, drawing the eyes of anyone around.
A common choice is to hang a large piece of art above the bed, but you can choose to set up many smaller ones. Both are good choices that will create an artistic presence in the room. Having these wall arts in white and grey colors will create a connection in your room, creating a harmonized space.
Make Your Bedroom Eclectic With Patterns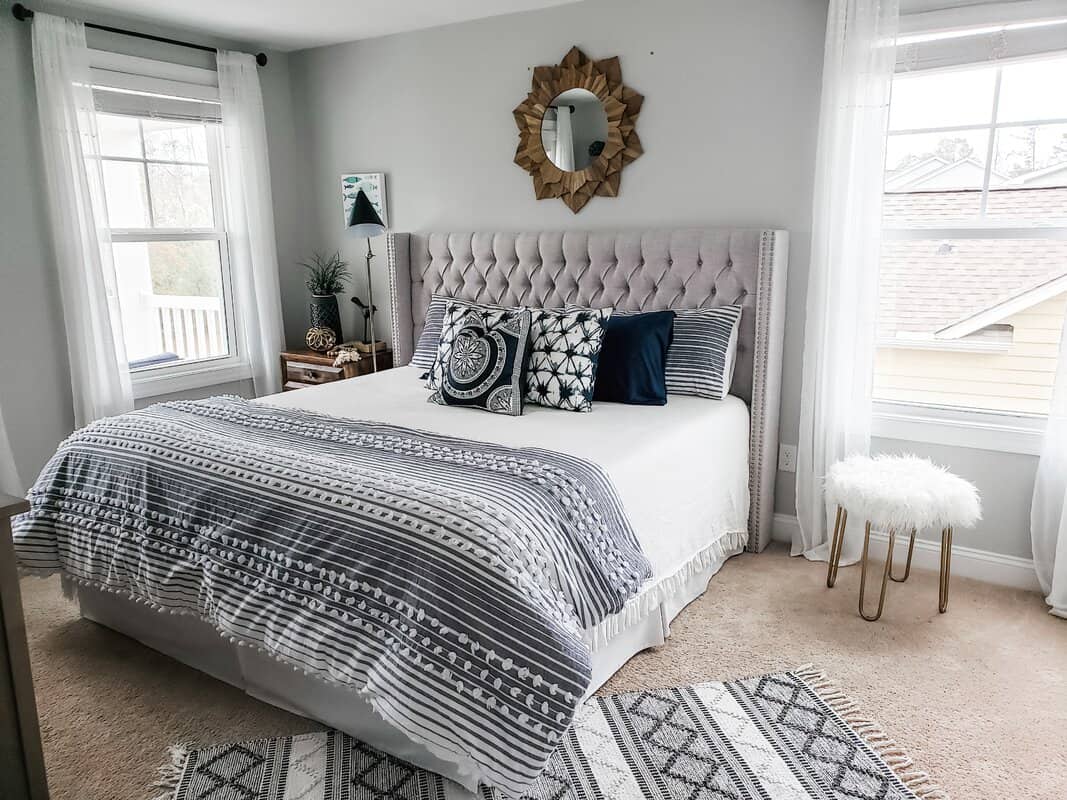 You should have a very specific reason not to include patterns in your bedroom. They make the whole bedroom much more eye-catching, visually complex, and interesting. Apart from that, patterns will introduce traditional and homey vibes, essential for every bedroom.
There are millions of different patterns available, so you won't have any problems finding the perfect ones that will allow you to express yourself. You can have patterned sheets, beddings or cushions, or, a personal favorite, a patterned rug.
Refresh Your Bedroom With Floral Motifs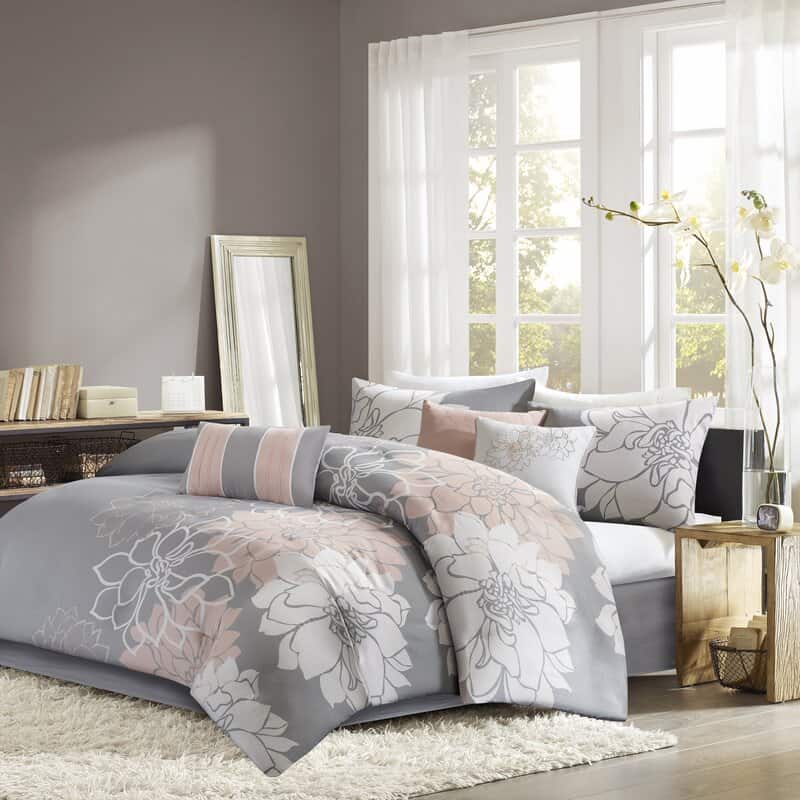 If the white and grey color combination seems a little bit cold, maybe you should try adding a floral motif to your space. The sight of flowers, whether on beddings, comforters, or decorative pillows, will surely freshen up the bedroom, making it warm and pleasant.
Embellishing your bed with floral motifs and elements will make it a highlight in your room, all the while making the overall style of the room gentle and soft. Bonus points if you include flowering plants, like orchids or roses.
A Fitting Choice of Curtains Will Add a New Dimension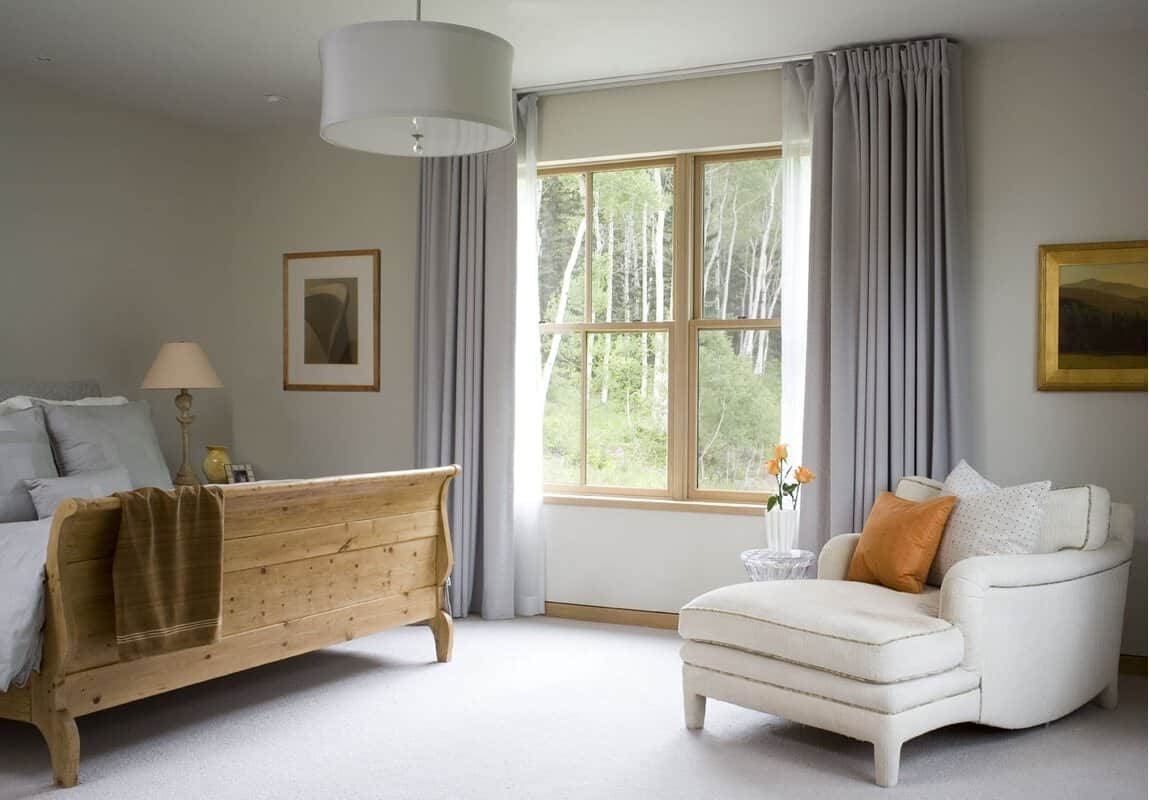 Pairing a curtain with other furniture in your bedroom might seem challenging at first, but if you stay true to the grey and white palette, it shouldn't pose a problem. Having the curtains in a darker hue than your grey or white walls will fit neatly into your modern grey and white bedroom.
Not only will the curtains improve the grey and white aesthetics of the space, but their fluid movements will also create dynamics in your bedroom, making it seem lively and vigorous. To make the space balanced and harmonized, try having the furniture of the same shade as the curtains.
Spruce Up the Bedroom With Rustic Elements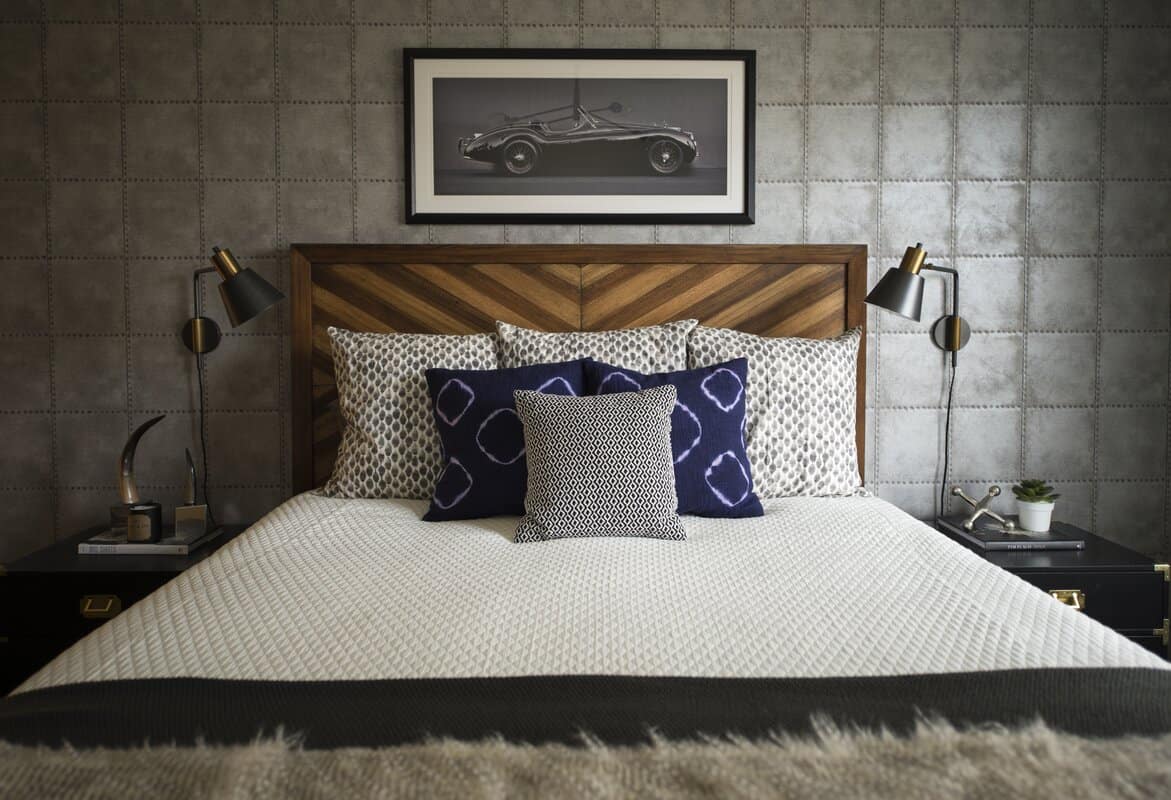 A good way to revitalize the ensemble of your modern grey and white bedroom is to add a dash of rustic vibes. Even though combining rustic and modern styles might sound odd at first you, you'd be surprised how well they go together, helping you achieve a personal and unique bedroom.
By incorporating a rustic element into your modern bedroom, you will usher in a rough, natural, and aged feel into your slick grey and white room. This will create a pleasant contrast that will make your room eye-catching. You achieve this with a wooden headboard or with furniture with metallic and black hues.
Add a Few Boho Elements for a Personal Touch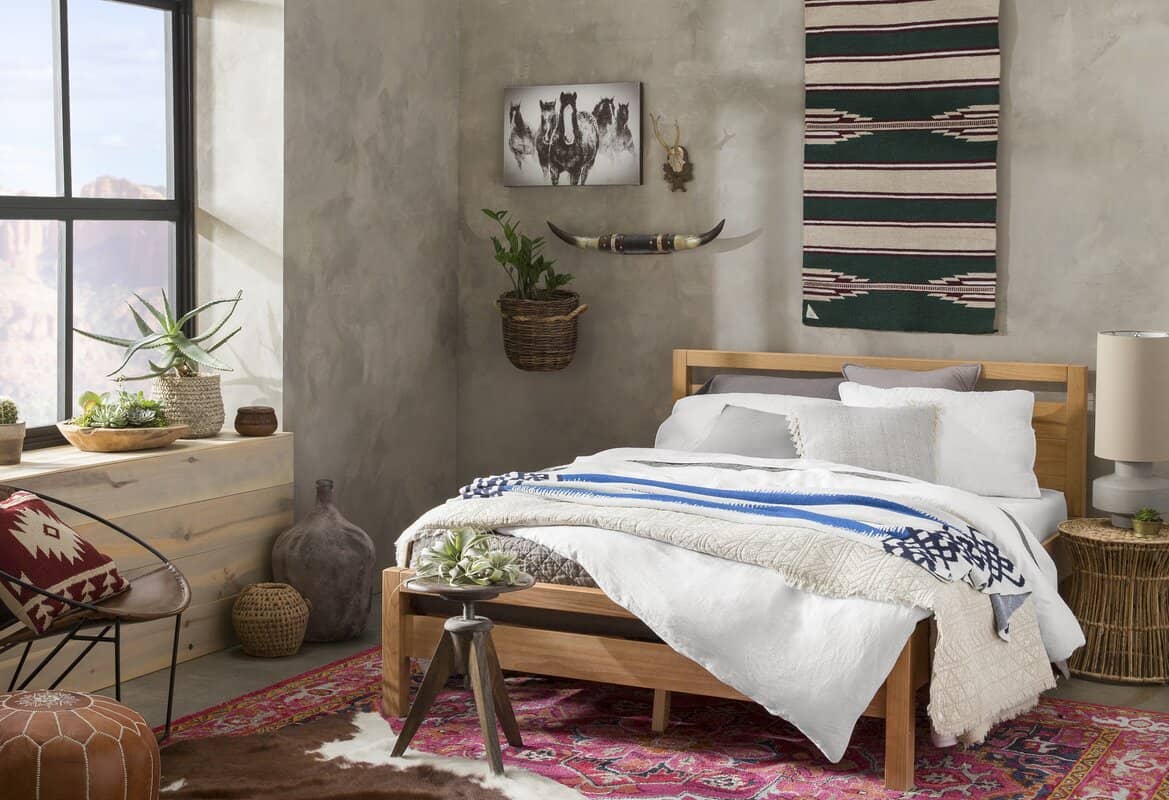 Another style you can freely incorporate into your modern bedroom is the bohemian style. The white and grey background is perfect for contrasting and highlighting any boho decoration and ornaments.
The grey walls will gratefully accept any woven decor or any kind of embroidery, while the white color will ease the tone down so that the flares of boho won't seem distracting to your sleep.
A Brick Wall Is a Brave Industrial Choice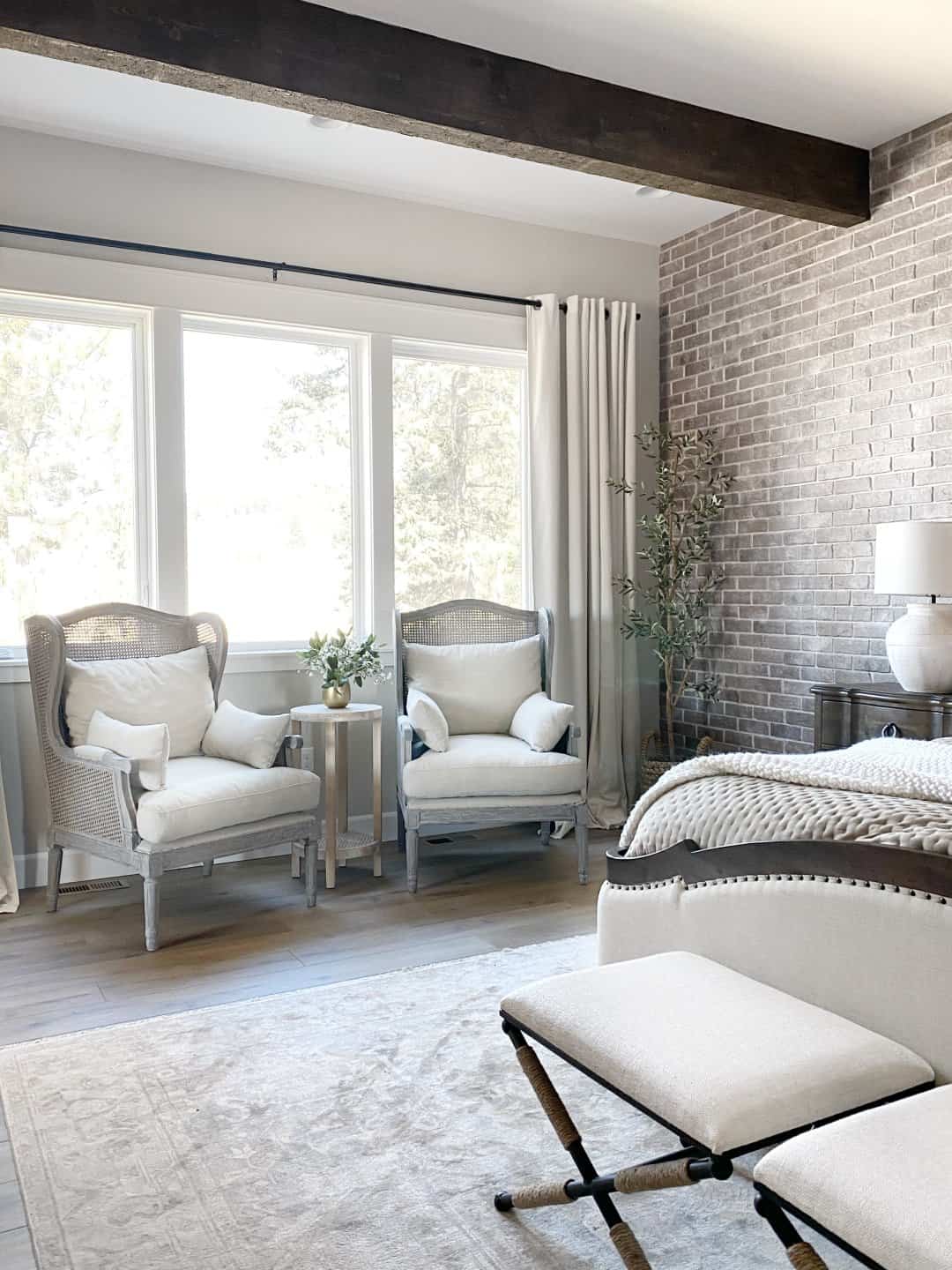 Another way to spruce up your modern and comfortable grey and white bedroom is to have one of the walls covered in bricks. Whether you go for the real deal or choose a brick wallpaper, it will add an industrial vibe to your space.
A brick wall is also a good background to hang up any kind of art installation. It will add personality and an artistic flair to your bedroom, and the brick wall will complement your other grey walls.
Summary
A bedroom is a place where you can rest and gather the strength to face everyday challenges. Naturally, it is important that you make this space as comfortable and relaxing as you can and a dominant color combination plays a big part in that.
Choosing soft and soothing colors, like grey and white, will make your space snug and homey. Apart from that, this color palette will act as a perfect background to a pop of color or an artistic addition. We hope we've inspired you with our list of modern grey and white bedrooms. Happy shopping!