Don Pedro Brooklyn is reader-supported. When you buy through links on our site, we may earn an affiliate commission. Learn More
Painted Staircase Ideas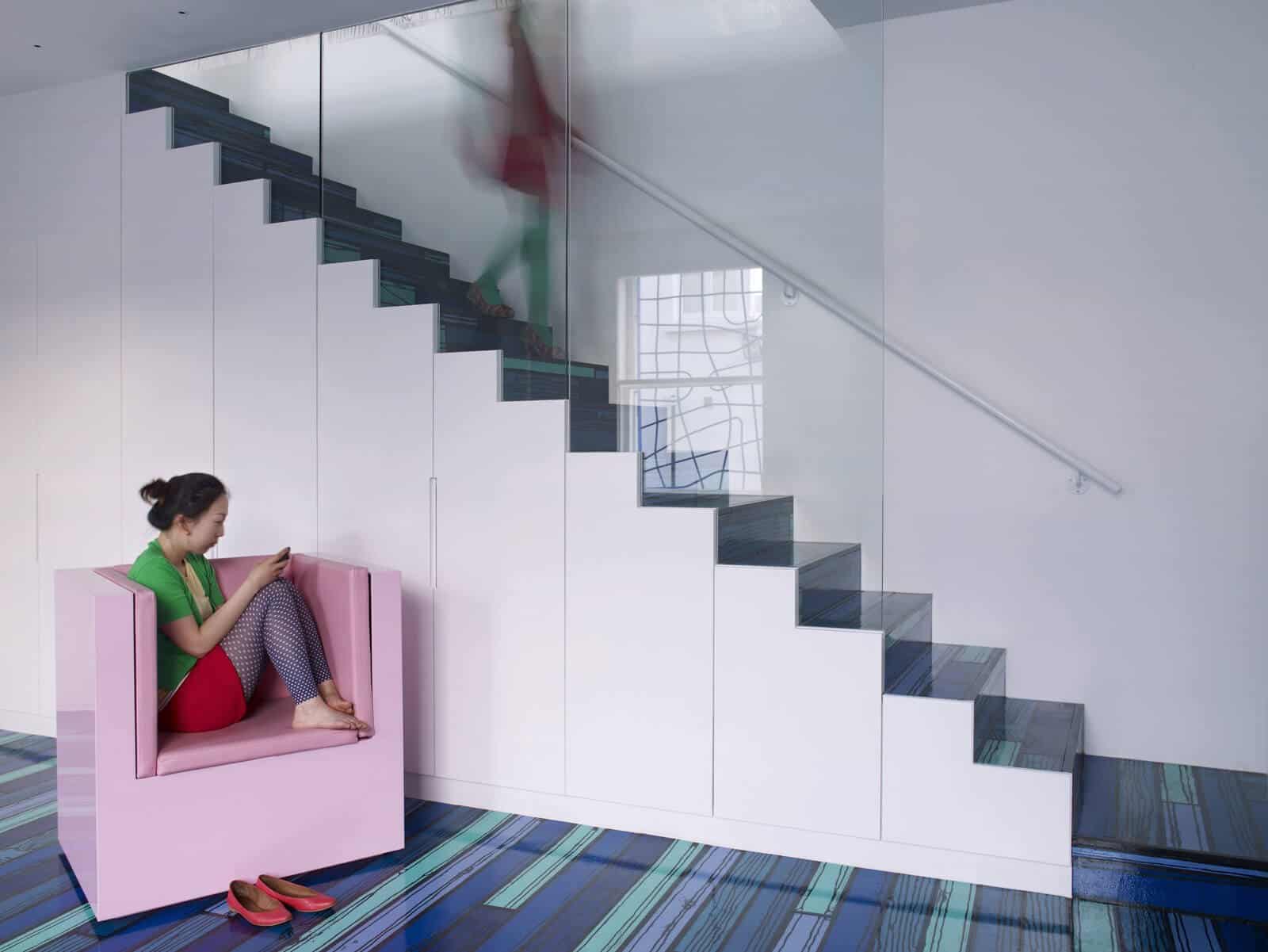 A cosmetic change inside the house may take a lot of your saving. As long as you make it enjoyable and creative, in the end, the price doesn't really matter. One of the house's elements which you should be making likeable is the staircase.
In a lot of houses, a staircase is that small and narrow corner that nobody likes. Converting the boring staircase into a creatively painted staircase will change the entire atmosphere around the house.
Here, you will find ideas that will change your staircase into an interesting ornament. Let's take a look to these extraordinary home décor inspirations!
Colored Staircase Pattern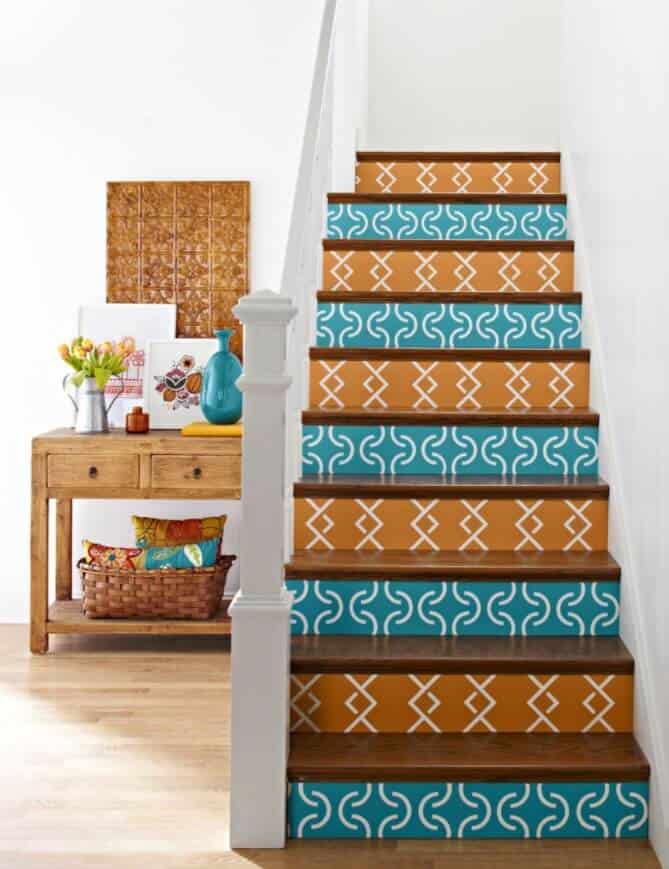 White background can work with almost any color scheme. This idea offers you with a unique perspective of distinct colors, which are brown and blue.
The contrast from this mixture is a strong statement against the white background.
To make the idea even more interesting, you can add unique patterns, such as this one which uses vertical line patterns.
The patterns don't overpower the wood decorations at the back; they steal the center of attention instead.
Colored Staircase Cover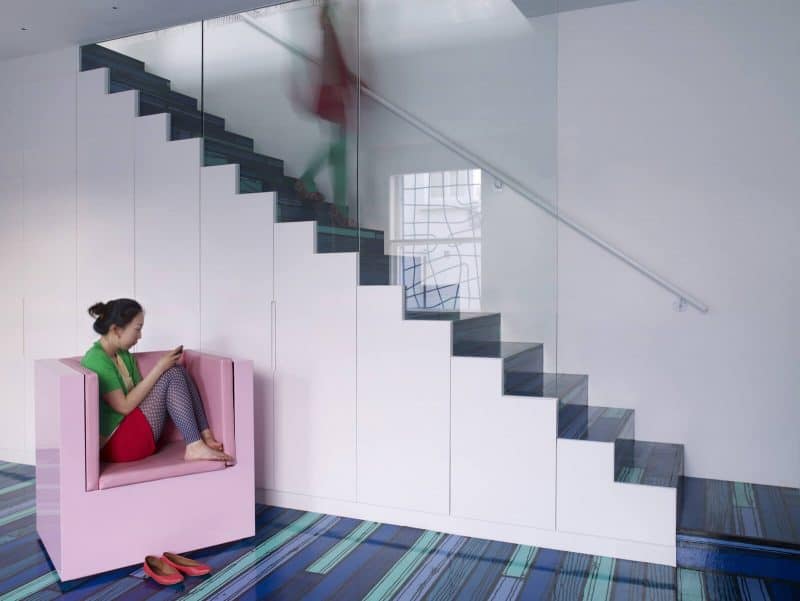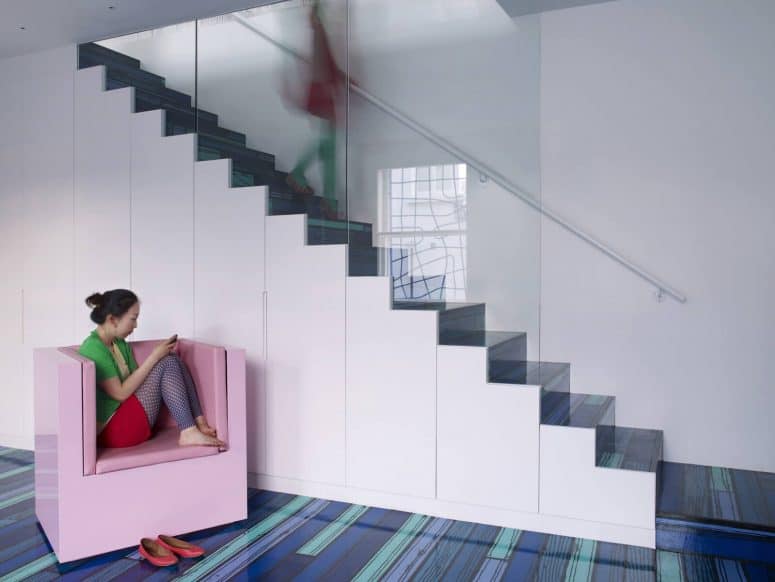 A modern design maintains simplicity and uniformity. However, a design that is too simple seems too boring and stiff. This idea establishes a modern style of white background and glass-like hand grip.
To make it more unique, you can play with the flooring and the staircase's surface, such as with patterned marble.
The glass looking appearance of the marble does change the atmosphere of the room. It's more fun, yet it's still elegant and different.
Wood Painted Staircase Ideas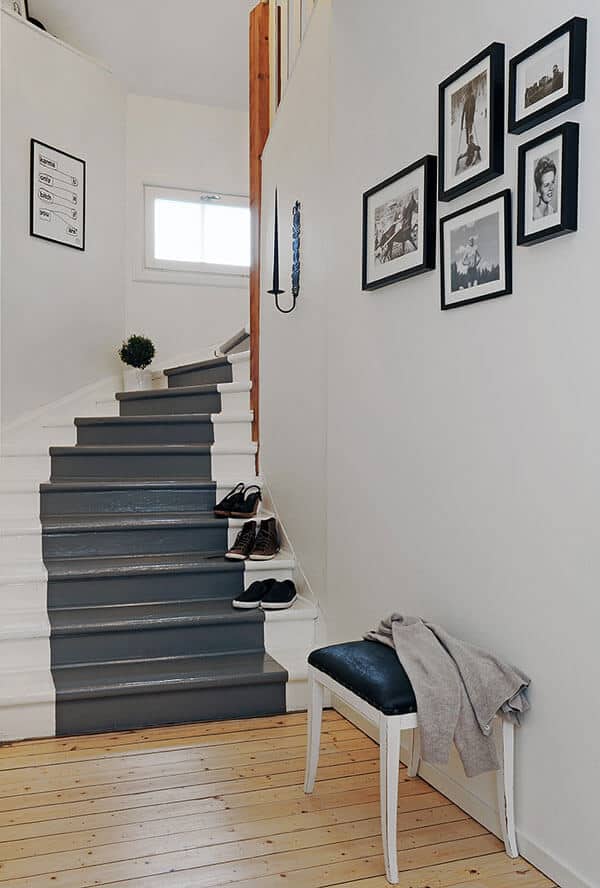 White has always been referred to as the neutral color. A lot of home owners choose to use white on walls, ceilings and even staircases.
It is, though, impossible to let a room exist with only a color. There should be at least another color to give a nice contrast.
In this idea, you can use gray to paint the middle part of staircase. Gray color is seen as neutral as white, but it has a little bit of black shade in it, so it complements the white just perfect.
White and Black Staircase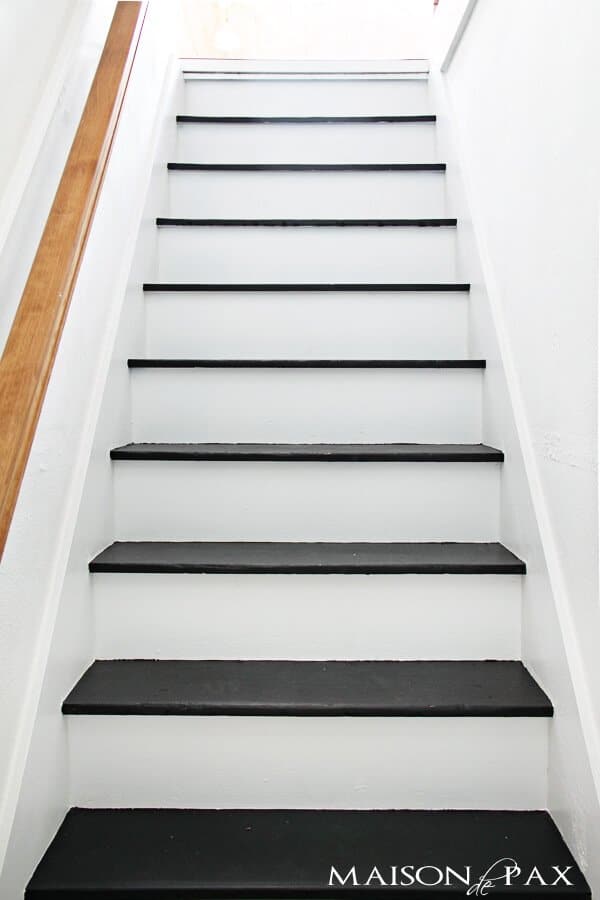 You will see a lot of white background in here, but it is accompanied nicely with other colors. This one offers you the option of monochrome.
The combination of black and white shades is always a nice go-to when you don't know what colors to choose.
Black carpet in this idea seems to ease the white on the background. Moreover, Wood hand grip is a nice touch as well. It gives the staircase a little bit of natural vibe.
Vibrant Staircase Paint Color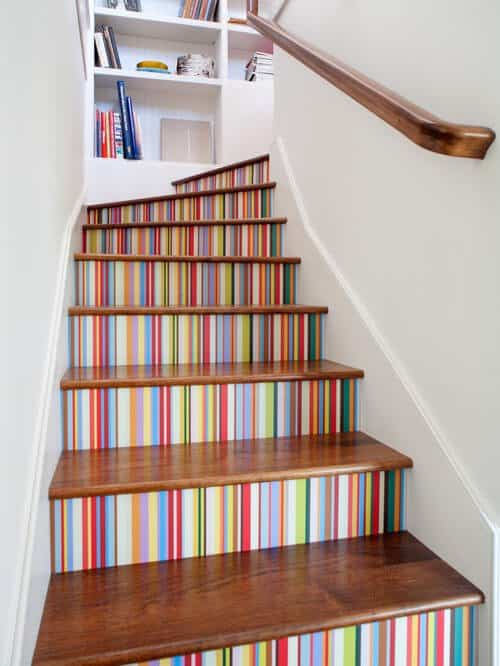 An all-white interior makes the room bigger, but it also creates an empty feeling if it is not accompanied with vibrant colors. Choosing one color may be confusing, you should use them all!
This staircase has the ordinary white background and wood surface and hand grip, but there is a rainbow pattern in each step.
The colorful pattern turns the staircase from ordinary to extraordinary. It gives life to it. Now, the staircase looks livelier and more joyful!
Creative Staircase Painting Ideas
Life is tough. Some days are bright and some others are too dark. This creative staircase idea will help you to get through each day.
Painting against the common white background, you can use red paint to emphasize the messages.
This idea is very unique, because it gives the space a bold character. Other than sweet messages shown above, you can paint motivational or religious phrases.
Moreover, red color may come too strong for you. Then, use calmer colors, such as brown or gray.
Optical Illusion Painted Staircase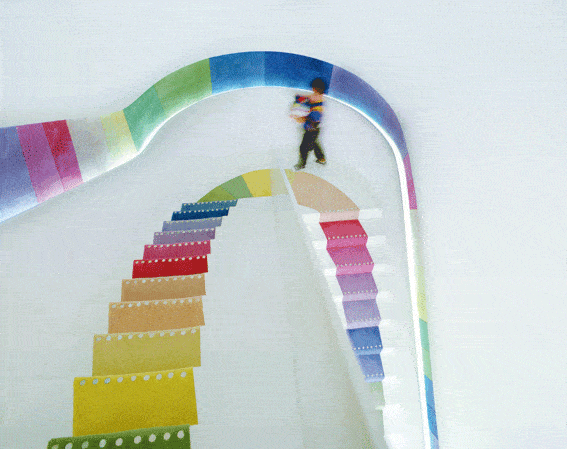 Not only that a staircase serves its functional purpose, but it also serves as a beautiful piece of art. You only have to find the right idea to make the dream comes true.
This idea offers you a colorful scheme. Each step is a different color which is bright and cheerful. Your kids are going to love it!
Then, instead of using common wood handgrip, you can apply the color-wheel concept to the grip as well.
Dark Painted Staircase Ideas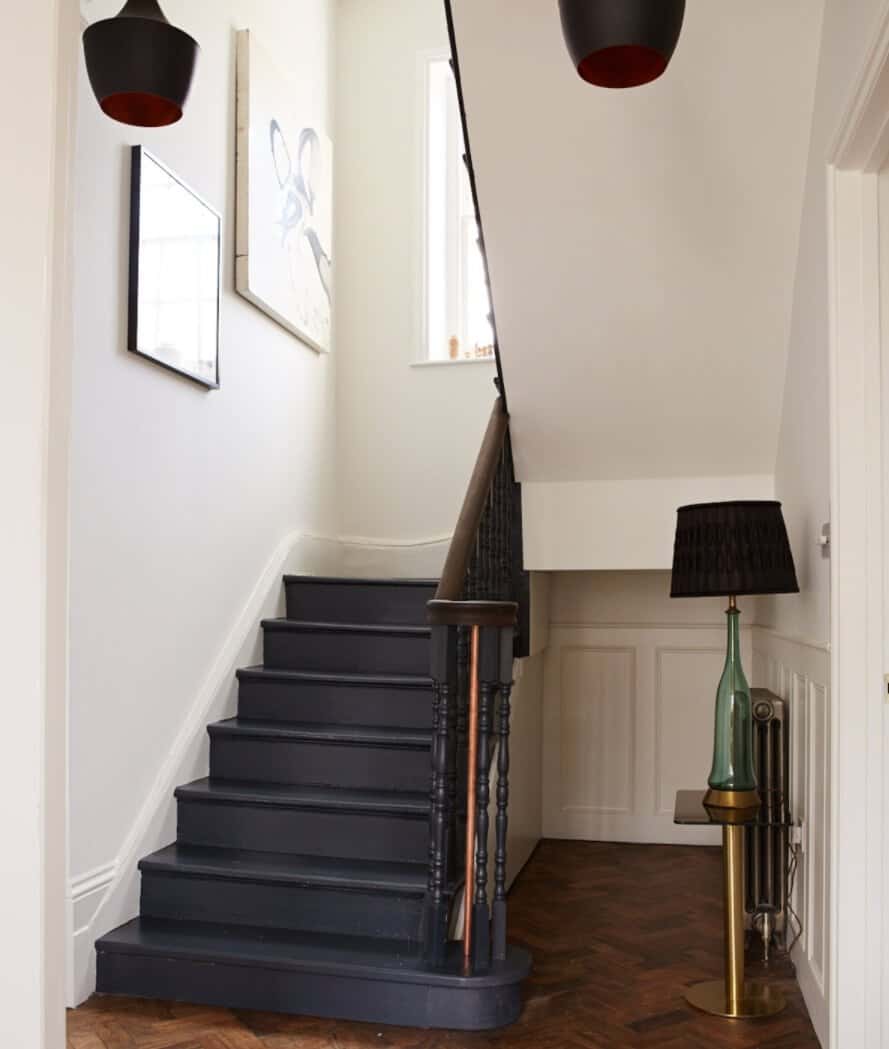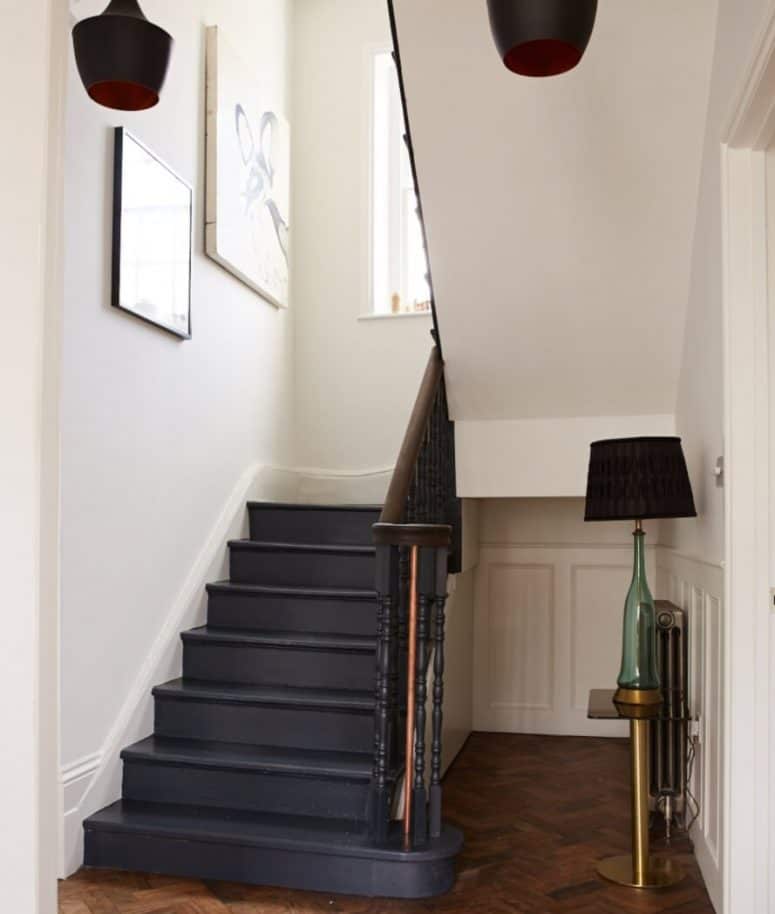 A white background is like a blank canvas in which you can paint whatever color you want. In this one, you can play with black and white color palates. The flooring is made of beautiful oak or pine wood.
Then, the walls are painted in white. To complete the look, black is used on the stairs and some other elements, such as the lamp.
As you see, black stairs against white background is a bold statement. Both black and white are colors related to elegance, yet they are maintained to stay simple too.
Creative Staircase Decoration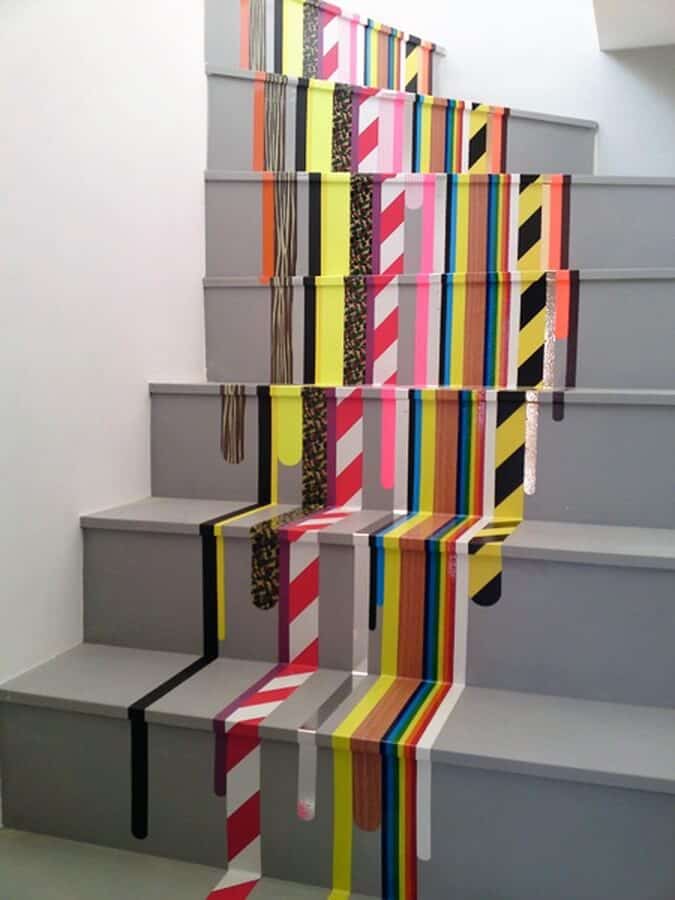 Gray is the second most popular color after white. It is a neutral color as well. It makes the room feels calmer.
However, it feels quiet if it is only gray. You can choose this innovative idea to add more colors, so the stairs become more vibrant.
You can make as if the paints are dripping from the top of the stairs. The result looks amazing! The modern feeling from gray is well-complemented by the colorful paints.
Multicolored Hues Staircase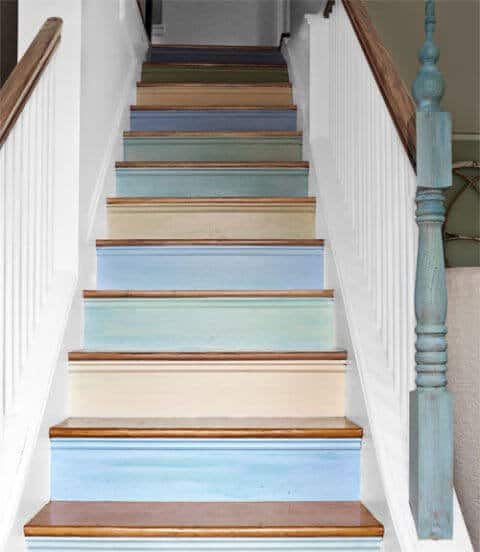 Undoubtedly, white catches your attention right away. Upon it, you see a natural wood hand grip, polished stair's surfaces and an antique gray holder. What's missing is a vibrant decoration.
To make the stair less boring, you can paint each step with a different pastel color. After painted, the stair now looks playful and lively! Don't you want this look decorating your space?
Fancy Painted Staircase Ideas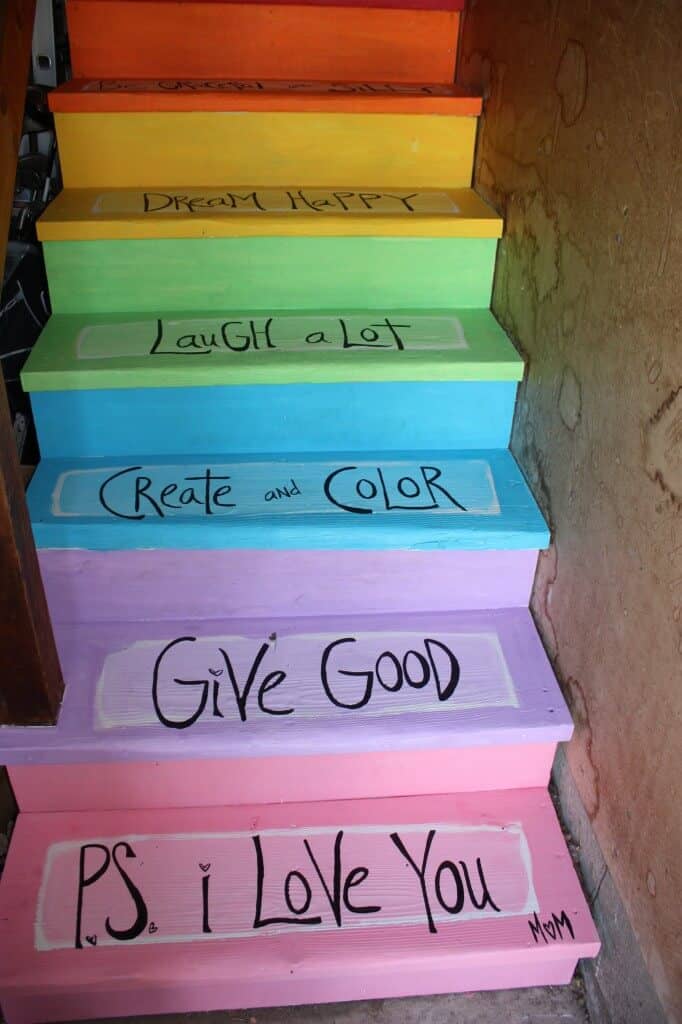 Who doesn't want to be motivated? Motivation is like a boost that will make you feel alive for the rest of the day. Who would've thought that you can turn your staircase into pages of quotes!
This idea lets you paint on each step with different color as long as it is vibrant and cheerful. Then, top the color with a little bit of white on where you would write the quotes. Now, every time you climb the stairs, you will see that you are loved.
Painted Circular Staircase Ideas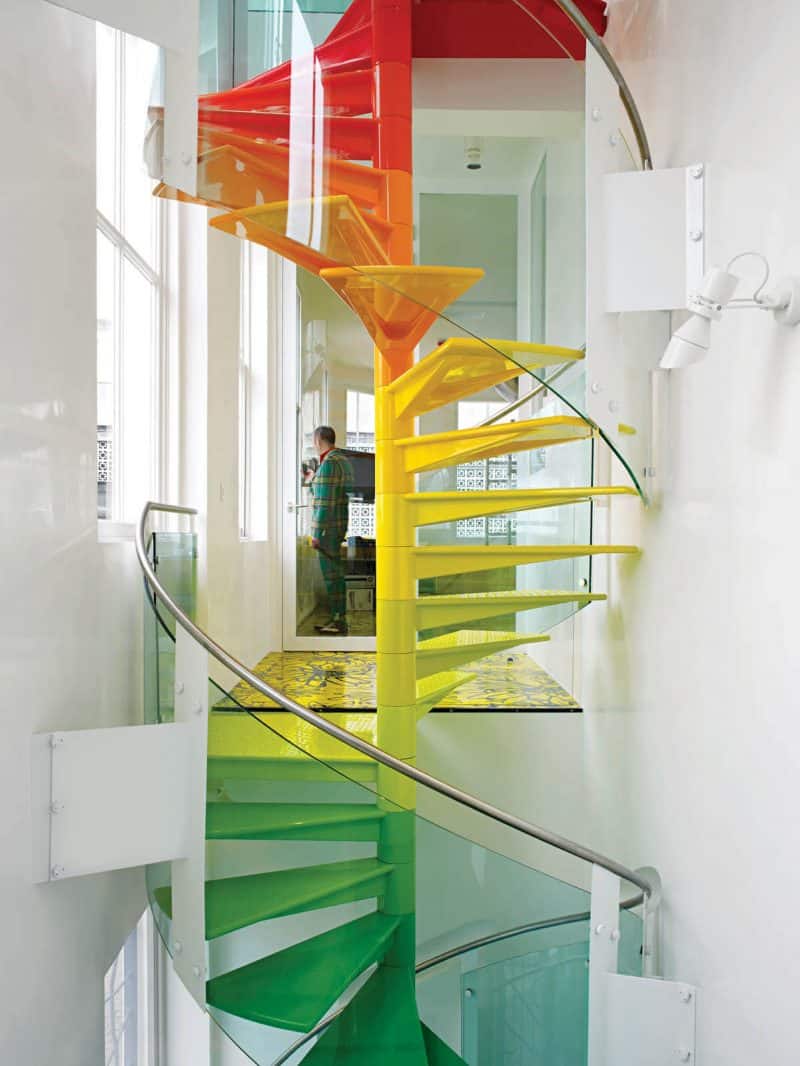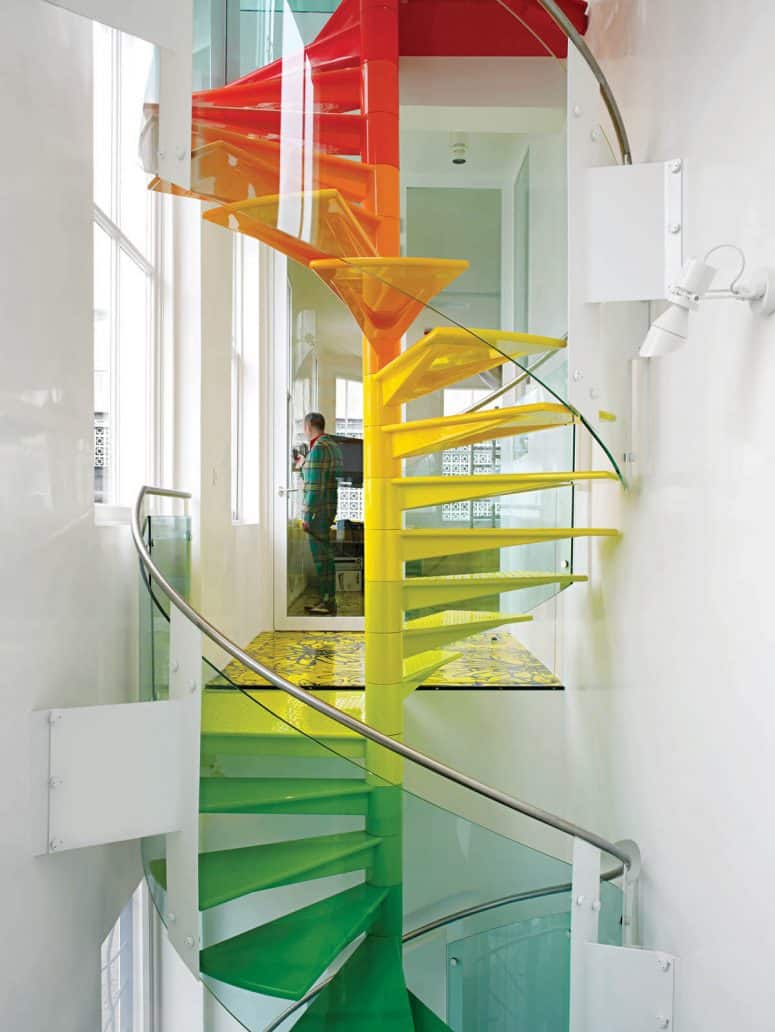 We love to be different than most people, and this spiral staircase is one of many ways of being different. A spiral staircase is actually an intriguing option for you who hate narrow and corner stairs.
Instead, this kind of stair offers a modern look. Moreover, it saves up some space on the floor, because its foundation goes vertical.
The pop of colors on this idea is interesting as well. Orange, yellow and green colors blend in really well. They make the stair looks remarkable!
Related: Spiral Staircase Ideas
Grayscale Staircase Ideas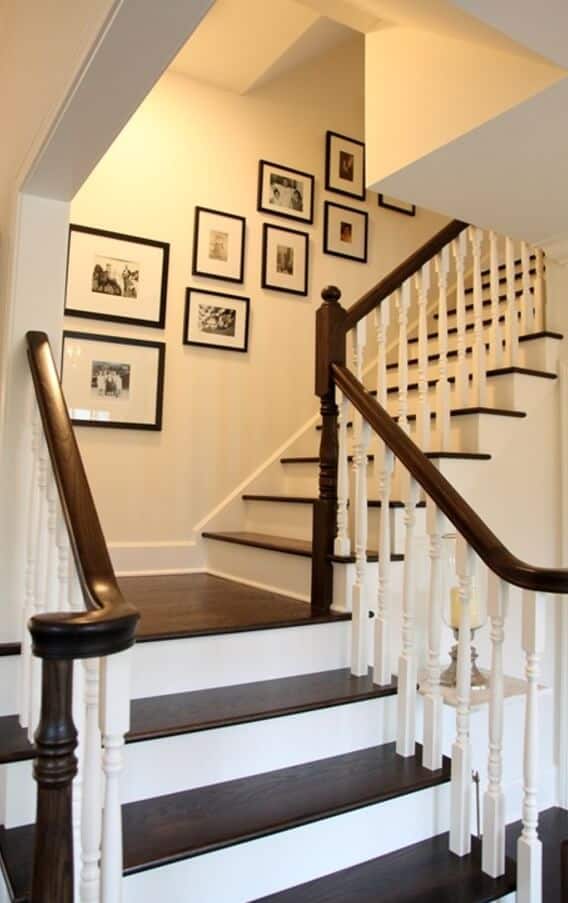 If the spiral staircase is too steep for your taste, then you should take a look at this idea. As you see, the steps are neither narrow nor steep. They are plenty of space to step and climb the stairs.
Moreover, the antique style of this idea sends out a warm feeling. Somehow, this staircase feels very 'home'.
The dark color gives a nice contrast to the white background too. In addition, the photographs on the wall also add more value to the space.
Therefore, if you want something that is more traditional in order to feel more like a home, then you should definitely try this one!
Coastal Vibe Staircase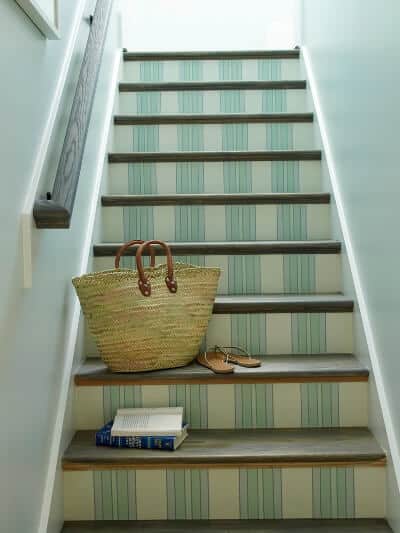 Do you live near the beach? Or do you love to have the vibe inside the house? This coastal vibe staircase must be suitable for you!
The vibe is commonly filled with fun, calm and relaxing feelings and those are seen within this pattern.
These vertical lines work well against the hardwood floors, especially the pastel blue-ish color which creates a summery feeling to the staircase.
Monochrome Patterned Staircase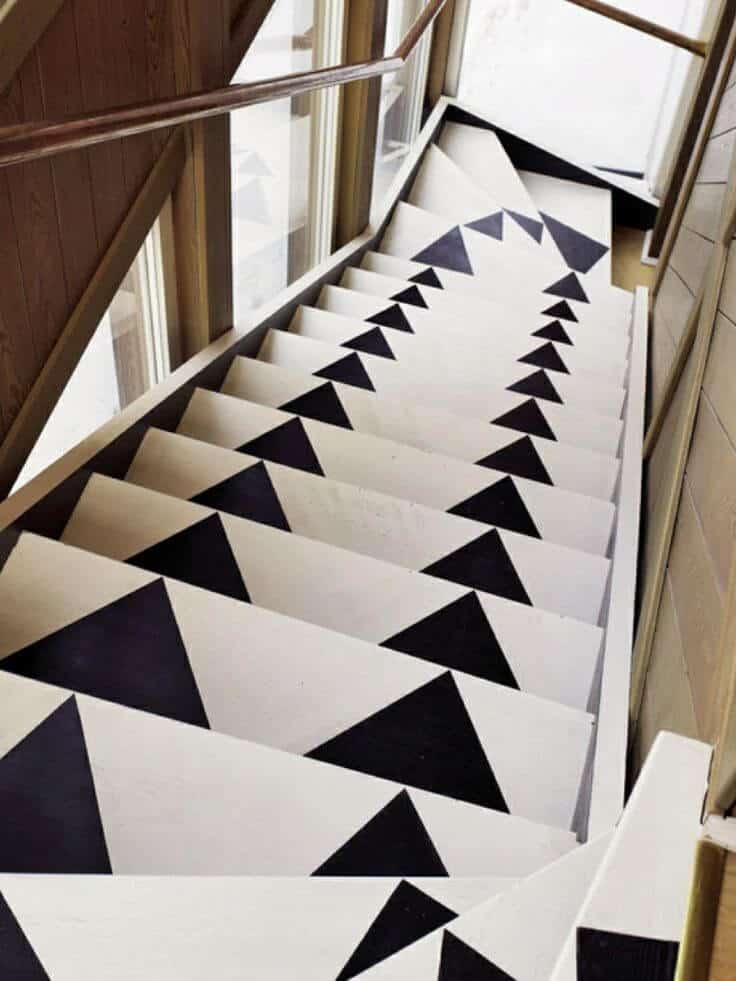 Monochrome is used by many people and this idea will set you apart from them. Still in the scheme of black and white, this staircase uses a simple pattern of black triangle on white stairs.
The triangles are well-coordinated one after another which creates ease on eyes.
Moreover, they make the staircase feels more modern and updated.
Don't you want to have a staircase which looks simple, but elegant? Here's one!
Unique Lettering Painted on Staircase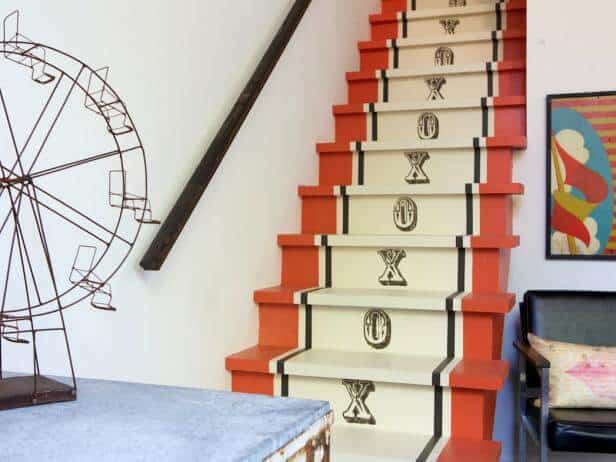 Other than used to climb on to the next floor, a staircase is the perfect spot for kids to learn about letters. As you see, this idea offers you a unique design.
The hardwoods are painted with a depth orange color, and then to make the letters clear, cream color paint is placed upon the orange, while the letters themselves are written in capital.
This distinctive idea is an interesting choice of a home decoration, right?
Unfinished White Paint Staircase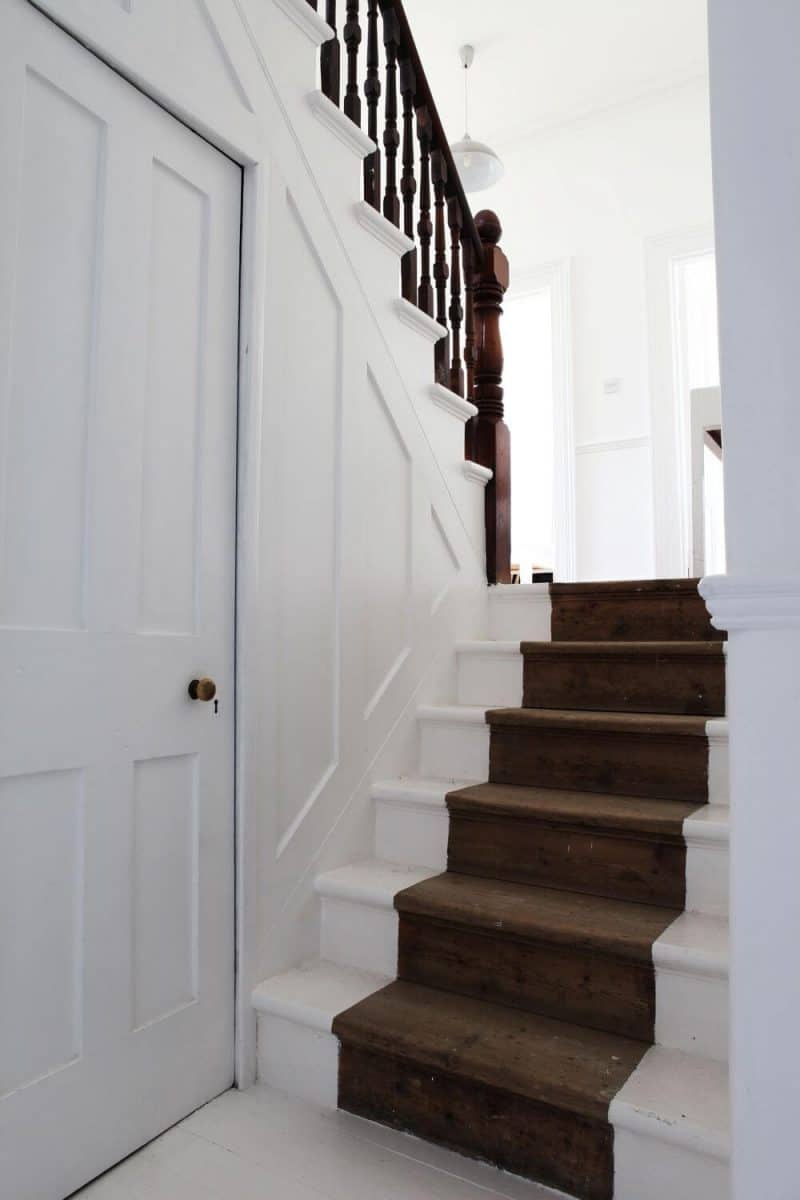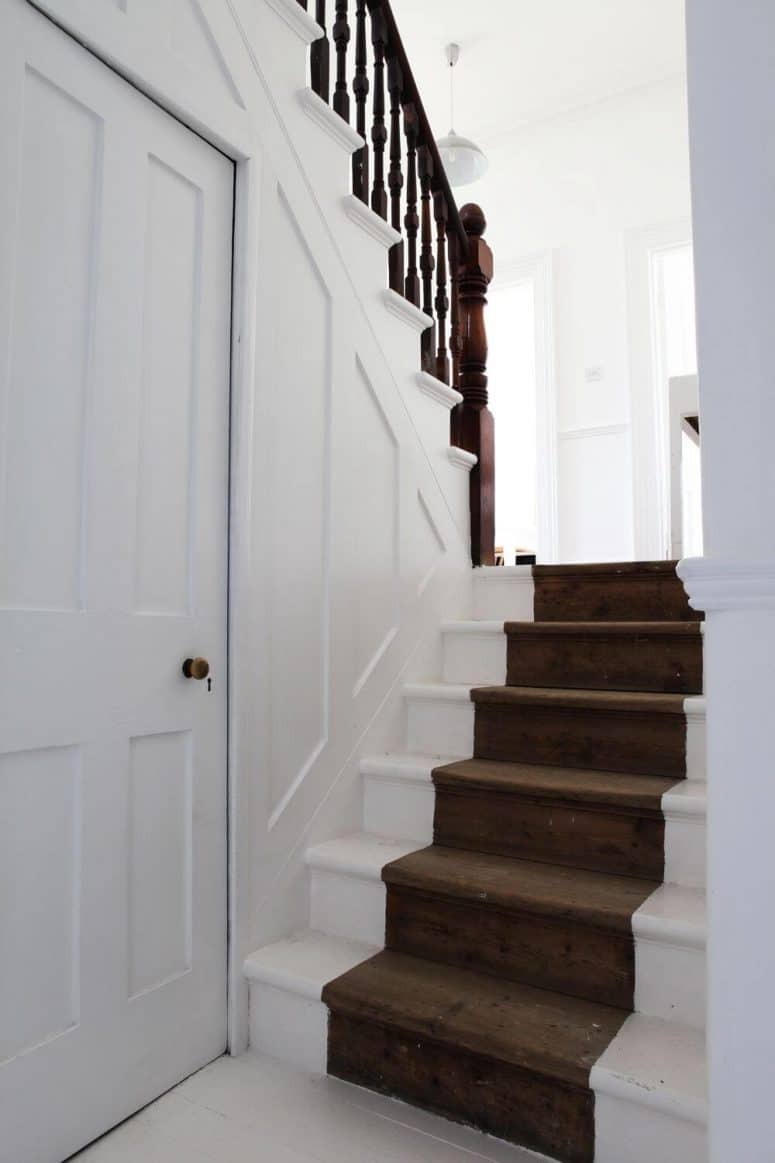 White as a neutral color is commonly used in modern houses. Its bright shade is admired by a lot of home owners; because the shade helps the room appears bigger.
Other than that, white background is often chosen because it gives a simple look, yet it feels elegant at the same time.
Even so, the elegance should be accompanied with a perfect contrast such as this one.
The hardwood floors are just too beautiful to be covered in white, so, creatively, you can leave the middle parts unpainted. From afar, it looks like you put a brown carpet.
Feminine Pink Polkadot Staircase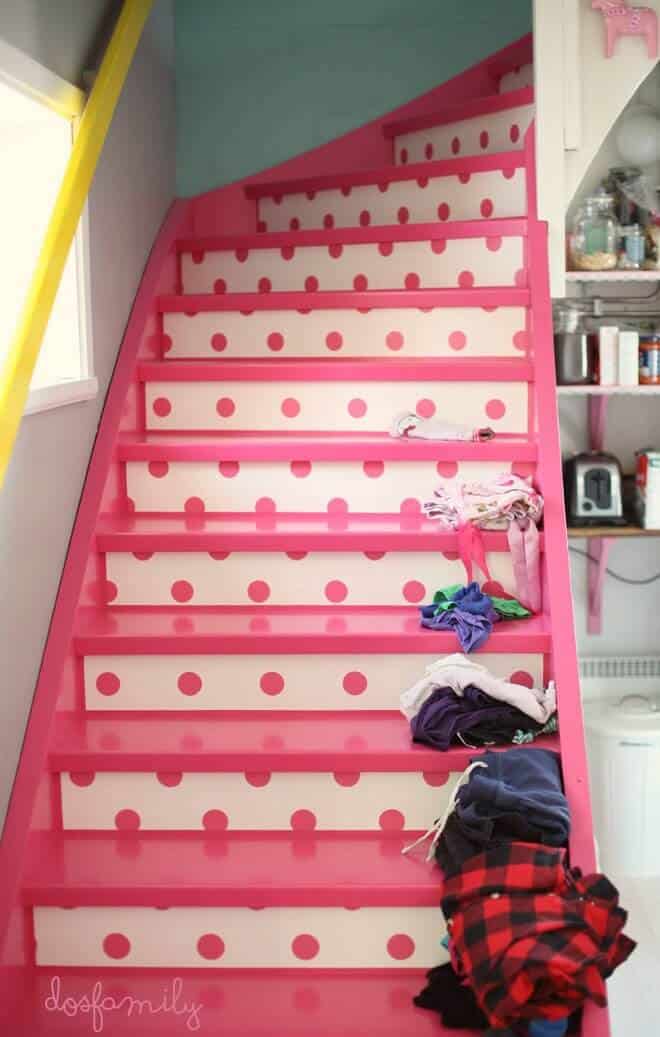 If white background is too common and boring for you, you should try vibrant colors, such as pink.
Pink is always correlated with femininity; that is why this staircase looks cute and girly. To complete the look, pink polkadots are added on to each step.
Therefore, this should be suitable for a staircase that leads to your daughter's room. She must be very happy to run up and down the stairs!