Don Pedro Brooklyn is reader-supported. When you buy through links on our site, we may earn an affiliate commission. Learn More
12 Small Bathroom Lighting Ideas
Setting up lighting in your bathroom can be tricky, especially if your bathroom doesn't have enough windows, or if it's small. Furthermore, putting up the wrong types of lights will only make your bathroom seem smaller and more compact.
But don't worry, we're here to help. With these small bathroom lighting ideas, you can make your small bathroom more illuminated, which will make it seem larger, but also bring in some stylistic eye candy that will make the room cozier.
Choose Sconces Over Recessed Light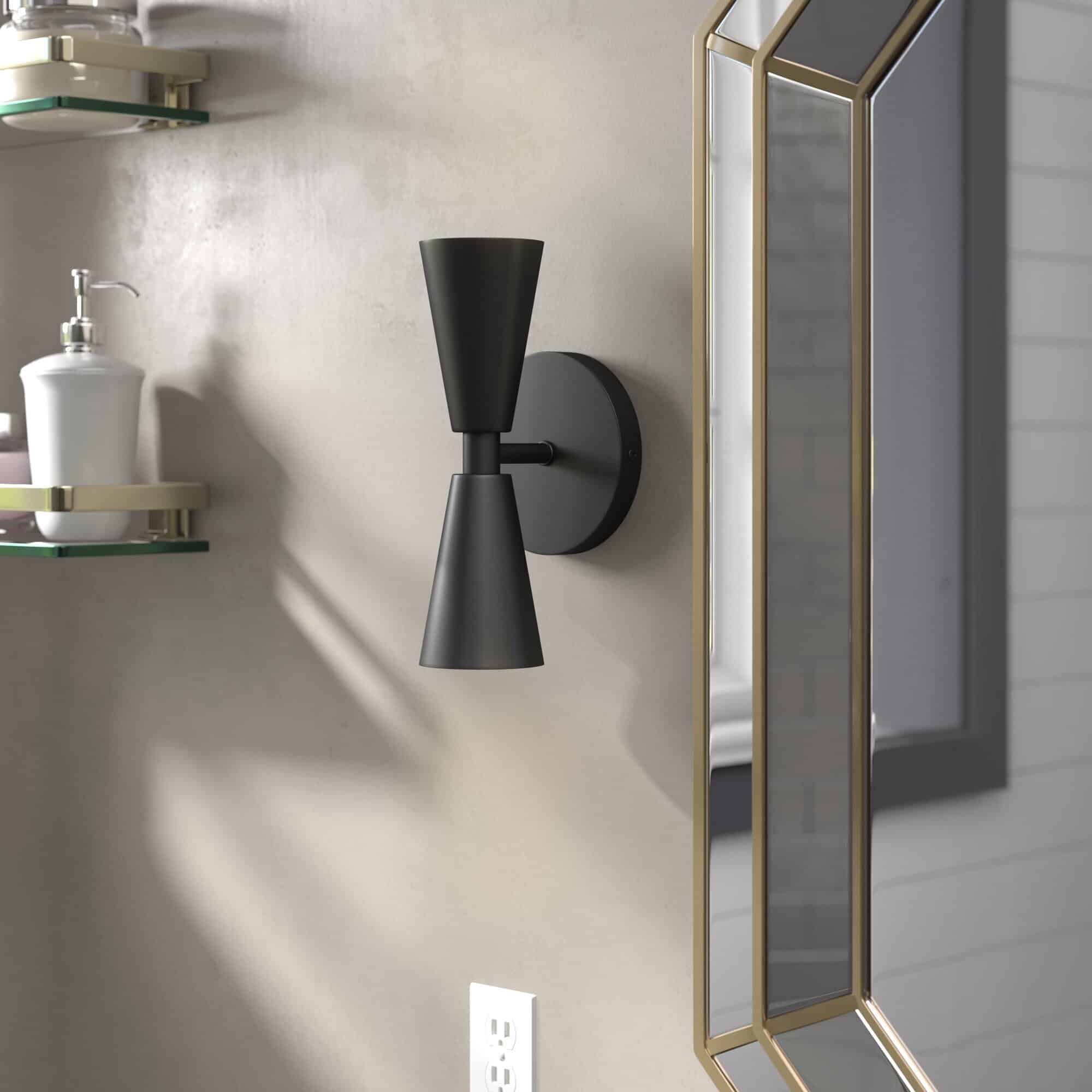 More often than not, recessed lights are set up in bathrooms, which will fill the room with bland 'hospital' light. Furthermore, due to its place high on the ceiling, cabinets, sinks, and other types of bathroom installations will obscure the light, and fill your room with shadows.
That is why it is a very good idea to use light fixtures for small bathrooms, preferably sconces. They can be set on any wall and at any height, which will fill your bathroom with ample light, illuminating every nook and cranny.
Make A Statement With Light Fixtures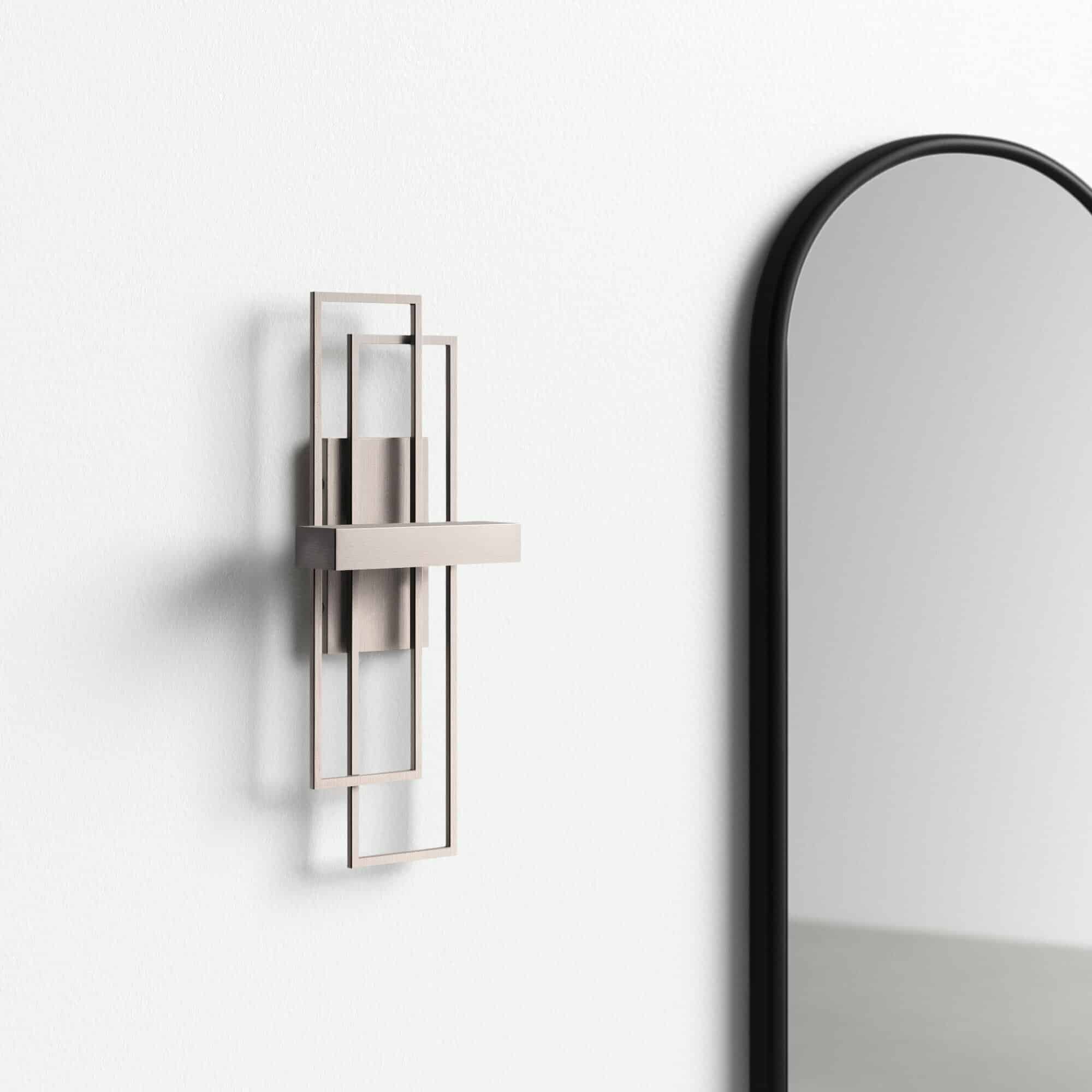 Apart from illuminating your small bathroom, light fixtures can also be a type of decor. No matter if it is a hanging pendant light or sconces, you can boldly use these light sources to make a statement and bring some freshness to your bathroom.
We've found this mounted sconce which will, with its geometric design, usher minimalistic and industrial vibes to your bathroom. However, if you prefer other styles, you can go for shaded sconces with different patterns or choose the stained glass ones.
Bring Focus To Bathroom Vanity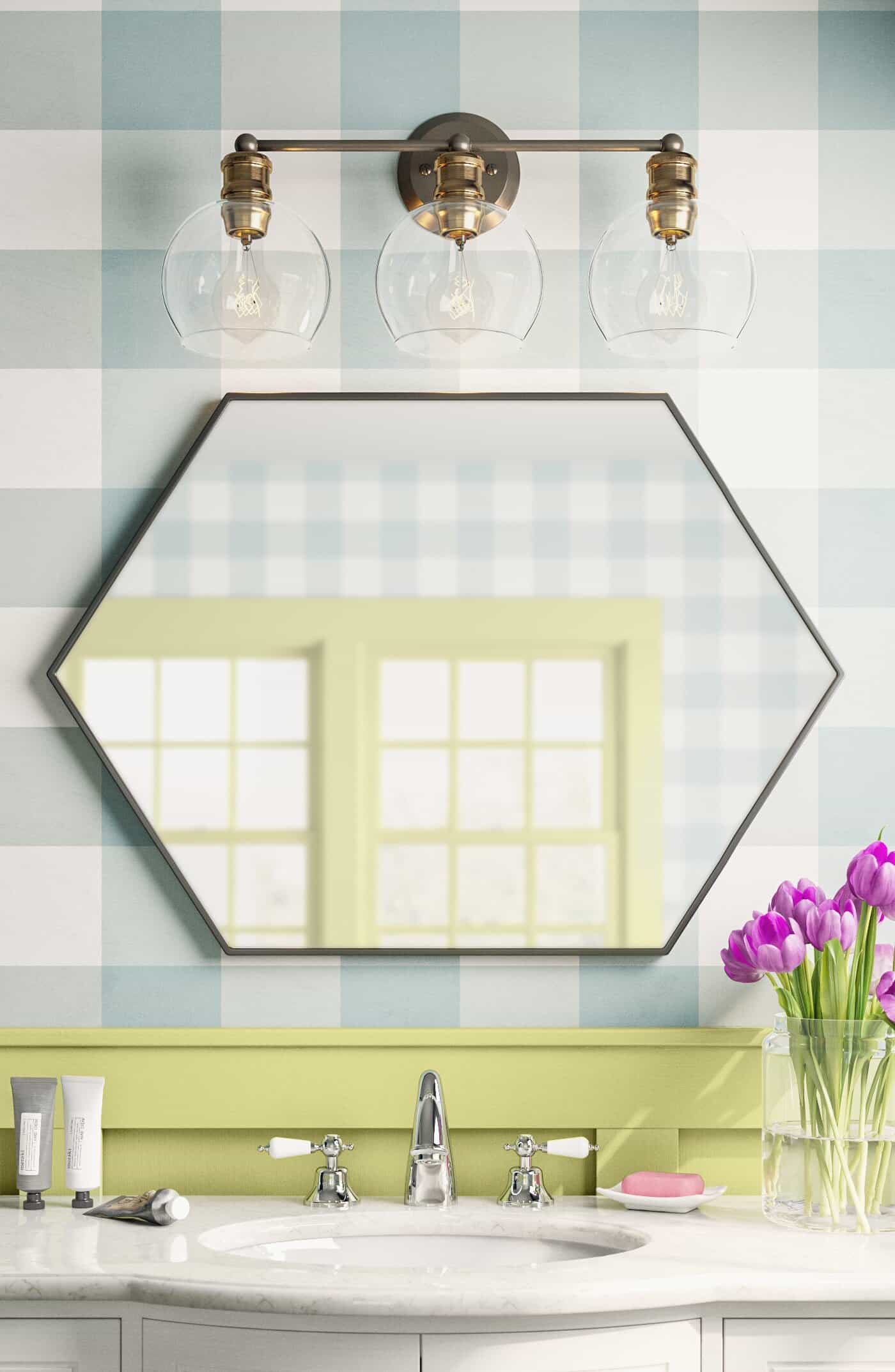 Let's face it, the vanity is the most important part of your bathroom. Whether you're checking your hairstyle, applying make-up, or just brushing your teeth, it is important to have it properly light up.
The most common type of vanity light for small bathrooms is setting up light fixtures above it, to properly illuminate the person. A great choice is to use more than one light source, like this set of three lights, because you want to reduce shadows to the minimum.
Set The Mood With Bar Lights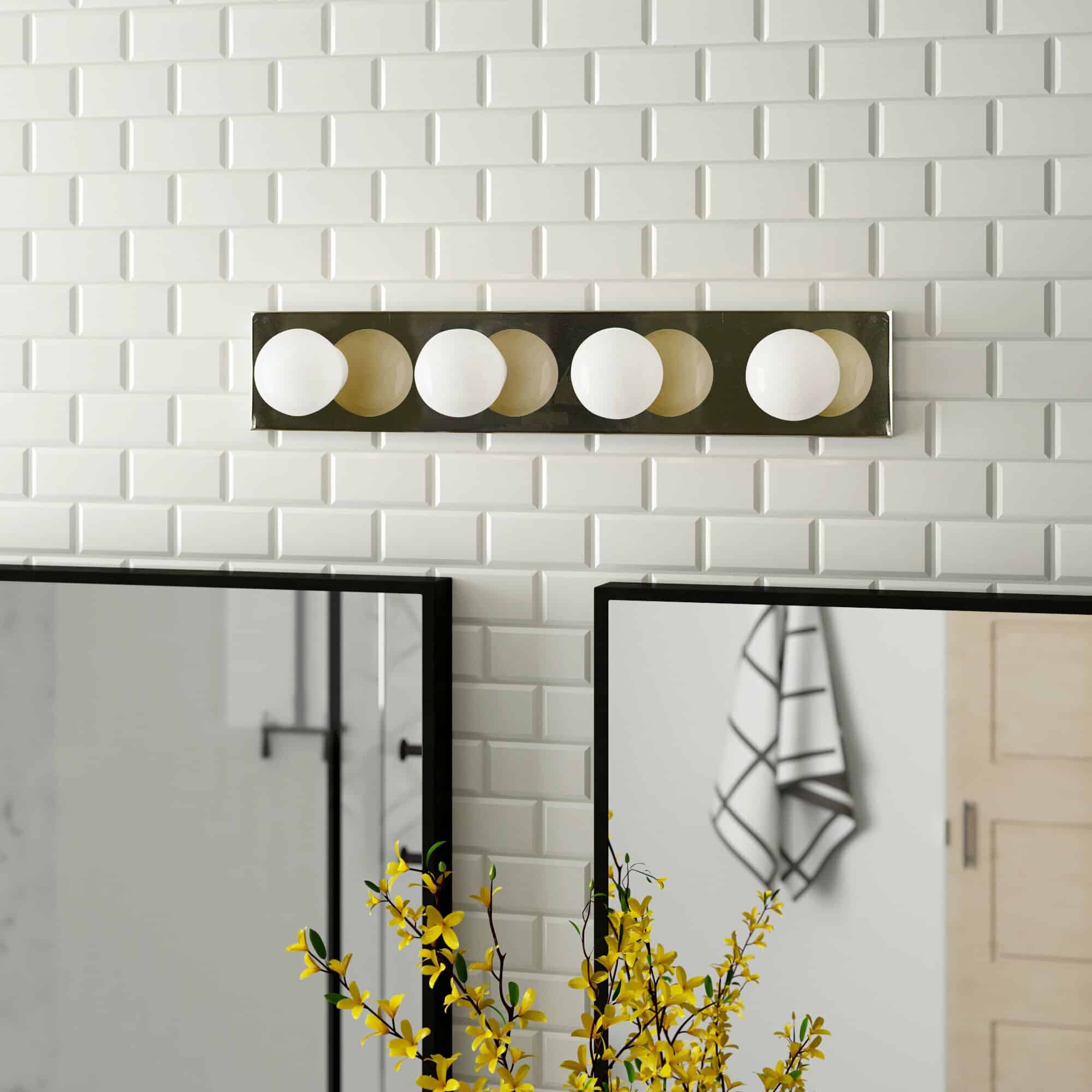 Another ingenious way to set up small bathroom lighting is by using sets of bar lights. Not only will it get rid of blandness and inefficient lighting recessed light offers, but it will also give your small bathroom a soul and will enrich it with some laid-back emotions.
Depending on your bathroom size, you can set up two to three light bars, or go for even more, if there is ample space. These can be placed above the mirror vertically, next to the mirror horizontally or they can even be used as small bathroom ceiling lights.
Linear Sconces Are a Trendy Addition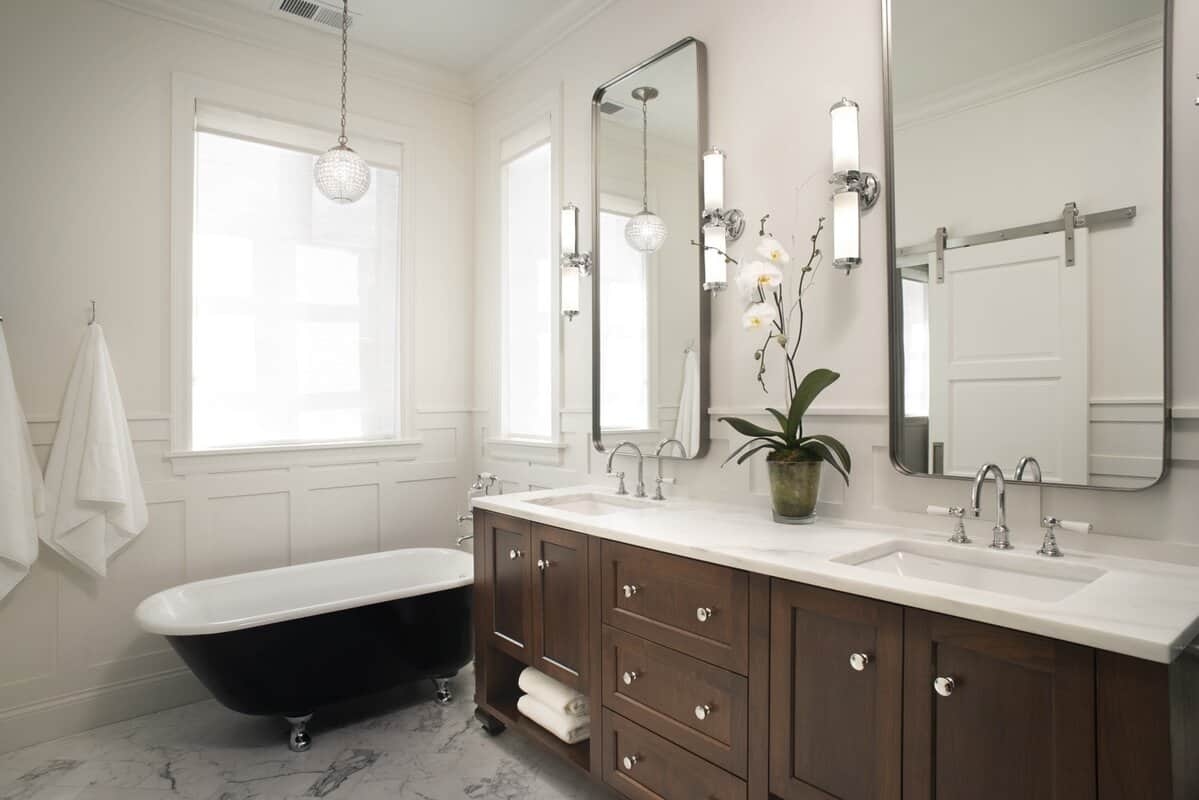 Linear sconces are gaining popularity, and it's no wonder why. Apart from enhancing your bathroom with futuristic and contemporary vibes, they are a great choice for light fixtures, because the large area of the sconce will offer a bright and ample, but warm glow.
These types of sconces, thanks to their stylish design and popularity, have also found their way to living rooms and bedrooms. Nevertheless, these linear sconces will make your task of lighting a small bathroom much easier.
A Single Pendant Goes a Long Way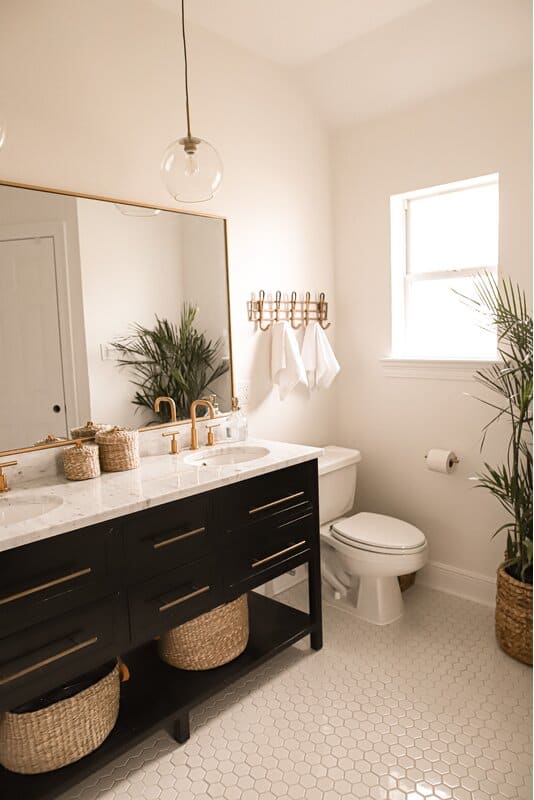 Sometimes, placing many sconces or bar lights can make the room cramped and can offset the balance, especially if you have a small bathroom. Enter pendant lights. They will replace the stale ceiling lights but will offer adequate lighting while still being stylish.
Pendant lights come in all types and designs. Another advantage of these types of bathroom lighting is the variable height. You can set them as low, or as high as you'd like. A great place to set a pendant light is above the bath, but it can also be hung near the vanity.
Highlight The Mirror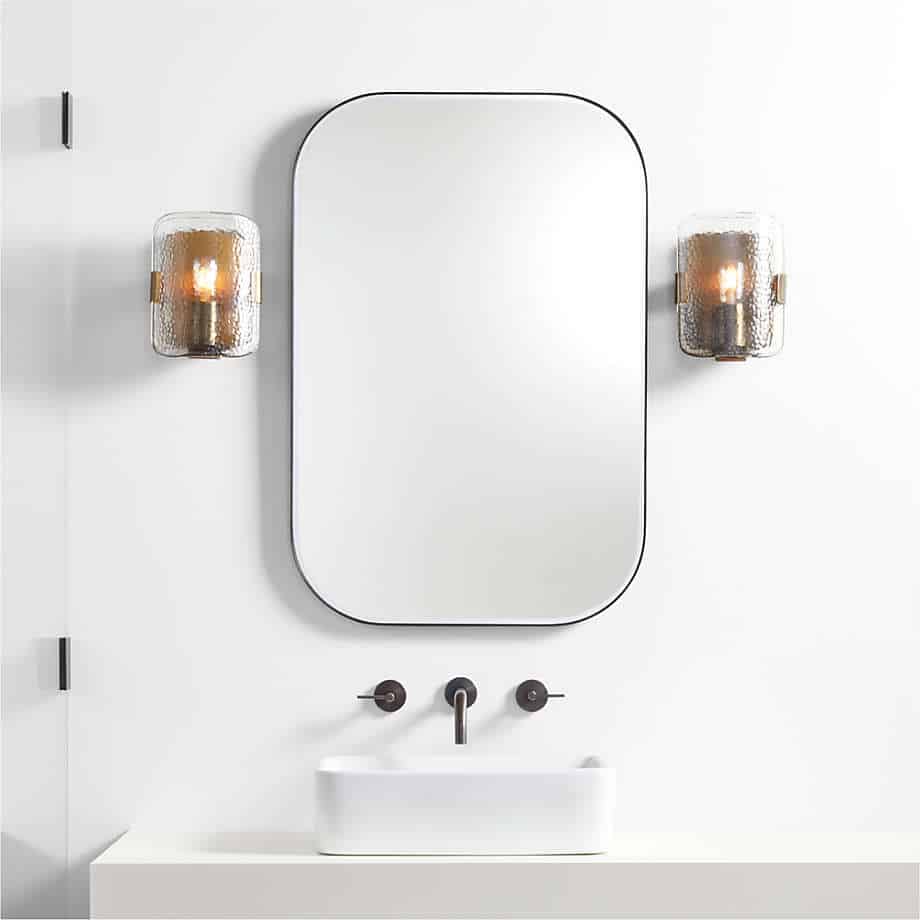 Sure, your bathroom requires to be lit up entirely, but, similarly to the vanity, your mirror deserves more attention than some other installations in your bathroom. By casting adequate light on the mirror, you are also properly showcasing yourself as the main point of interest.
A perfect way to accentuate your mirror, apart from placing a light directly above, is to mount light fixtures, such as sconces, to the mirror's left and right sides. You should set them at your height level for an adequate level of light. Besides being ornamental, these sconces will draw attention to the mirror, casting the central piece of your bathroom in a proper light.
Lighted Mirrors Are a Solution to Limited Space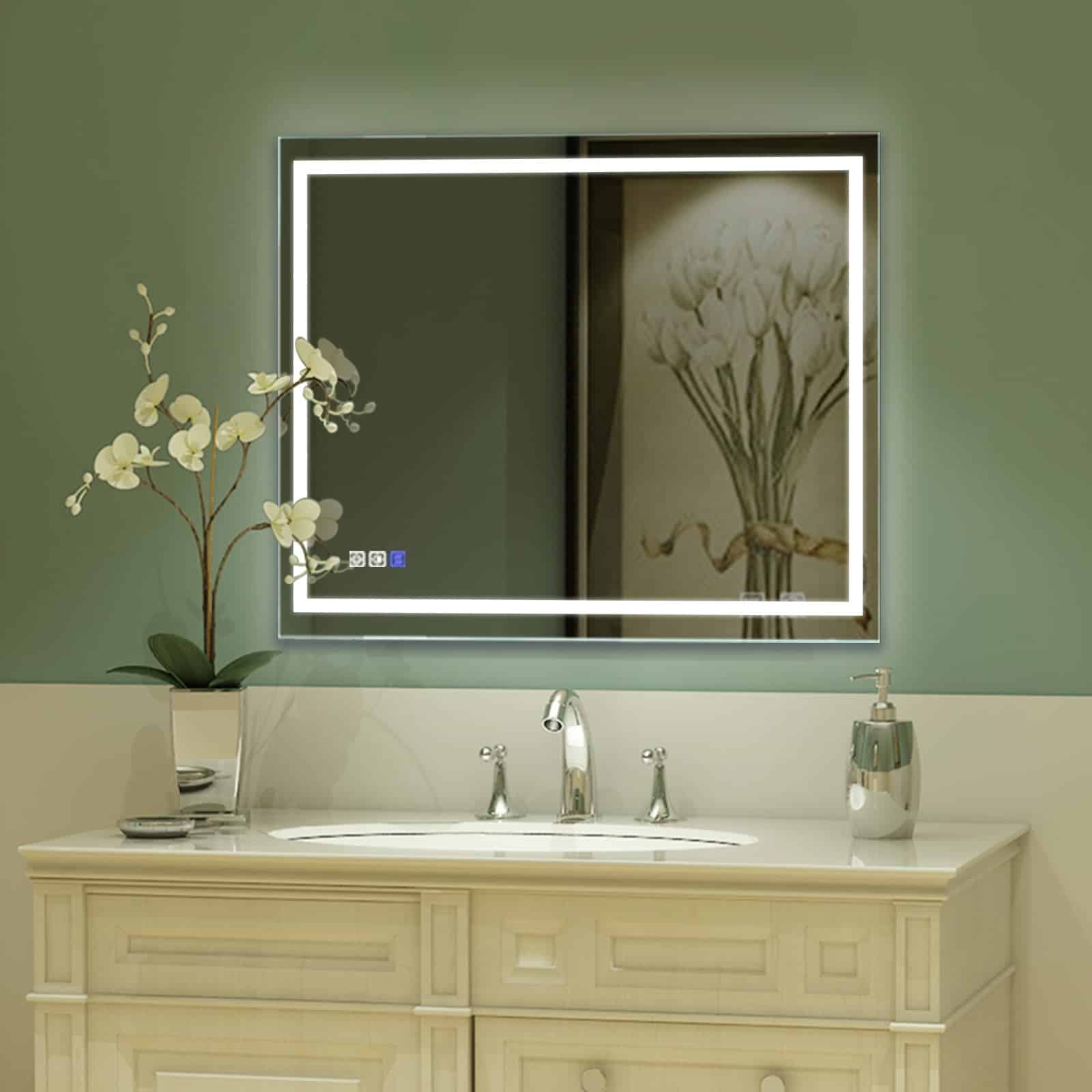 Add a dash of futuristic style with these contemporary light sources. Perfect for small bathrooms, lighted mirrors will neatly fill the room with a lush glow. They can do wonders on their own or with one more light source, which is perfect if there is no room to mount sconces or to place a pendant light.
Depending on the type and shape of the mirror, LED lights can be set on the rim of the mirror (exceptionally good with round mirrors), or you can choose the mirror with light installed on the top, or at the sides. Whatever type you opt-out for, lighted mirrors will adequately light up your vanity as well as your entire bathroom.
Crystals Give a Dash of Glamour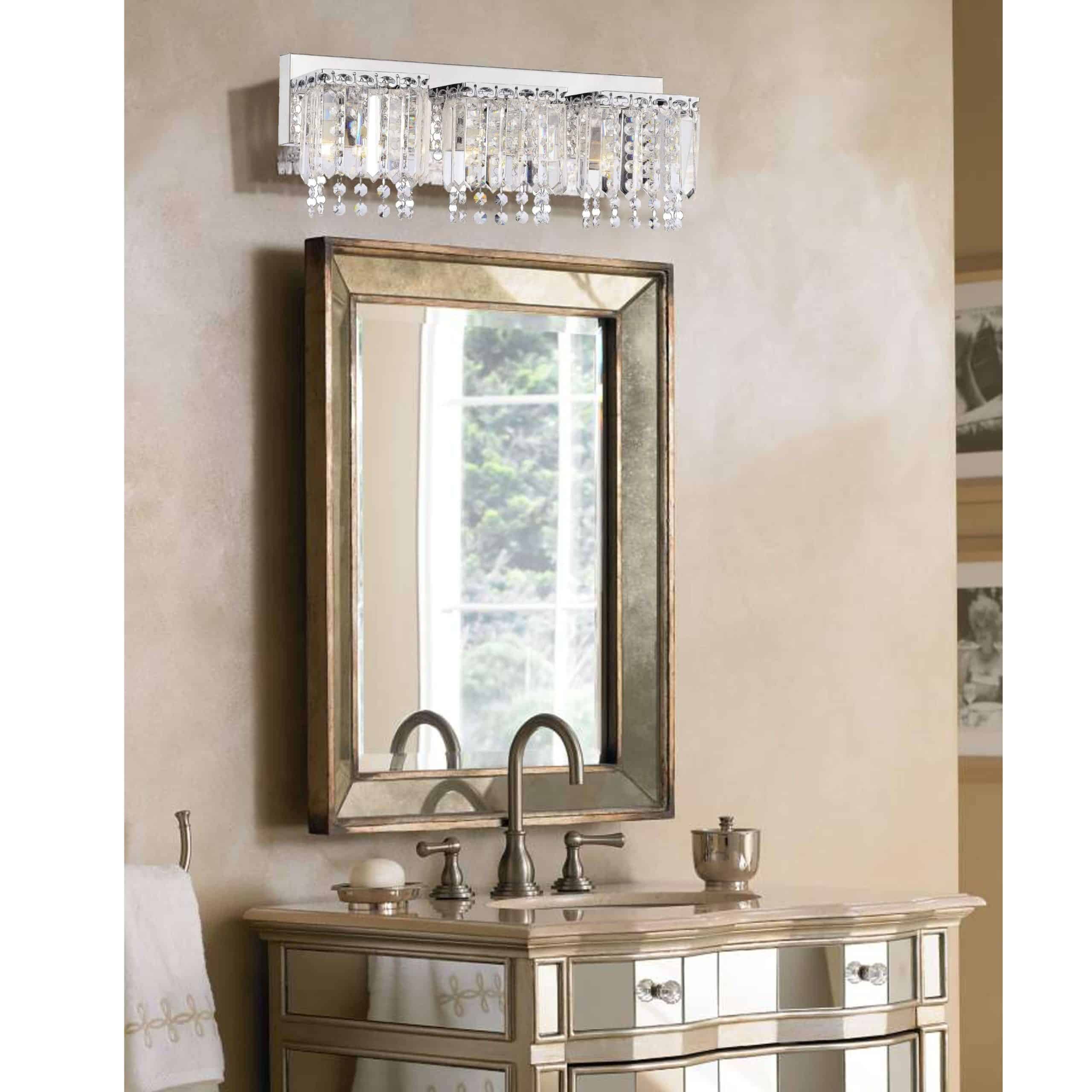 Nothing will turn your small bathroom into a place full of glamour and beauty like these chic crystal glass sconces. Furthermore, not only will they neatly radiate ample light, the crystals will make your bathroom stand out with its glittering and charming atmosphere.
If you decide on using these to revitalize your small bathroom, always choose dimmable ones, as nothing will set the mood for a relaxing bath as faint, but stunning light. Also, if you're looking for something that will dazzle your guests, these sconces just might be the best lighting for your small bathroom.
Add an Industrial Vibe With Metal Sconces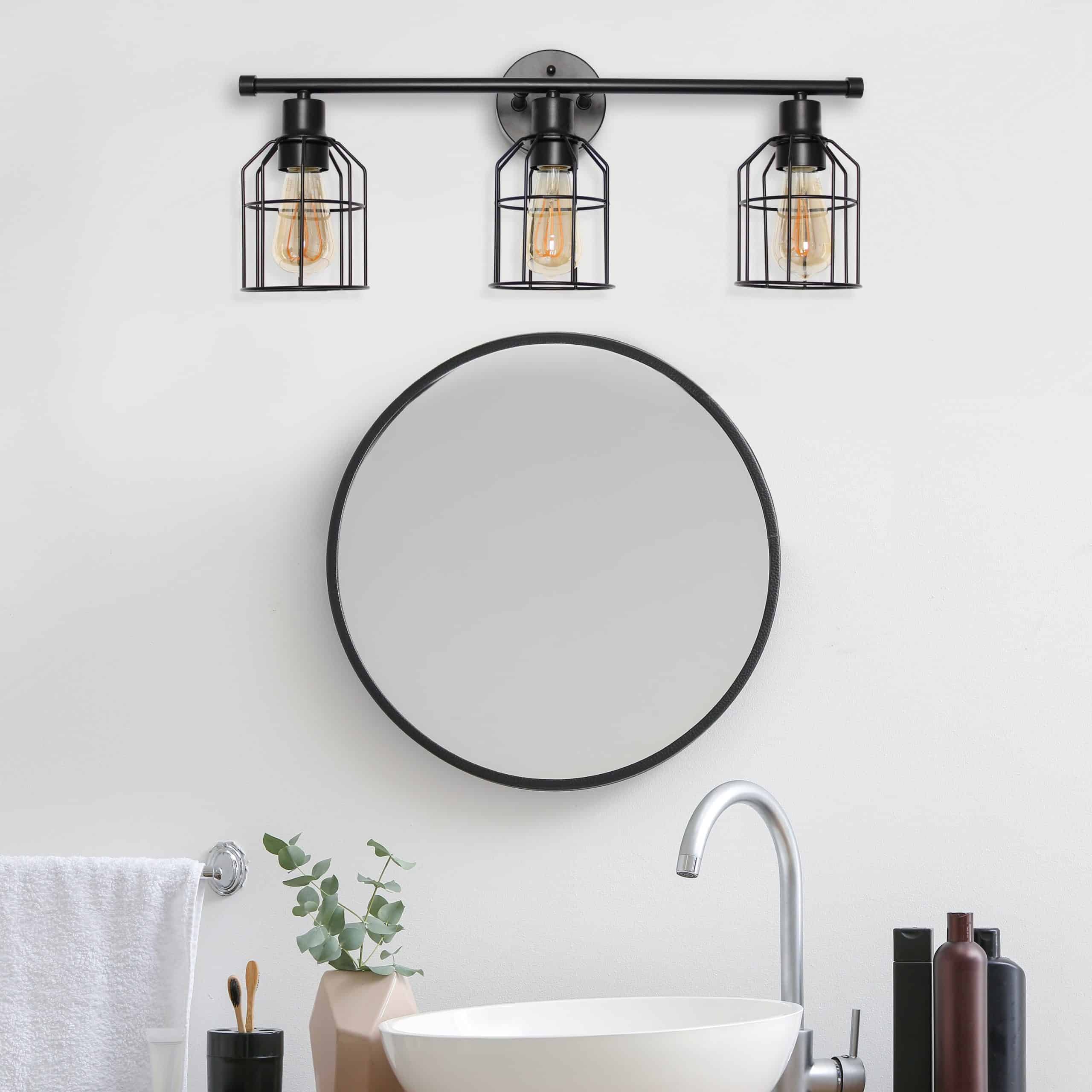 You can't go wrong with decorating your bathroom with metal industrial elements. Not only do these types of decor fit perfectly in a bathroom ambiance, but they are also suitable to endure high levels of humidity. And what better way to solve the problem of limited room and ornament your small bathroom than to choose these types of sconces.
The bulbs are exposed just enough to shower your bathroom with sufficient light, but yet covered enough not to disturb the mood of the room. You can choose to hang these metal sconces above your mirror, or they can be set up near the roof where they will present a perfect small bathroom ceiling light.
Flush Mount – An Alternative to Pendant Lighting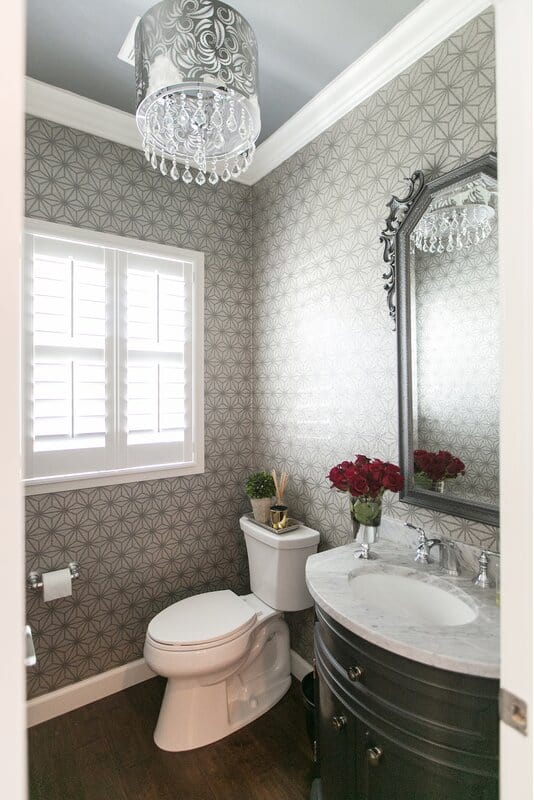 Another way of illuminating your small bathroom is with flush mount ceiling light. Just on their own, these light sources will make your bathroom seem familiar but still modern and distinguished. Similar to recessed lights, flush mounts will cast abundant light, but to reach every spot of your bathroom, it's best to pair a flush mount with a sconce.
Another benefit of these lights is that they come in hundreds of varieties. No matter what style you choose to ornament your bathroom in, you will find a matching flush mount. After all, if you're having problems deciding, flush mounts are a good and safe idea for small bathroom lighting.
Don't Be Afraid to Mix 'N' Match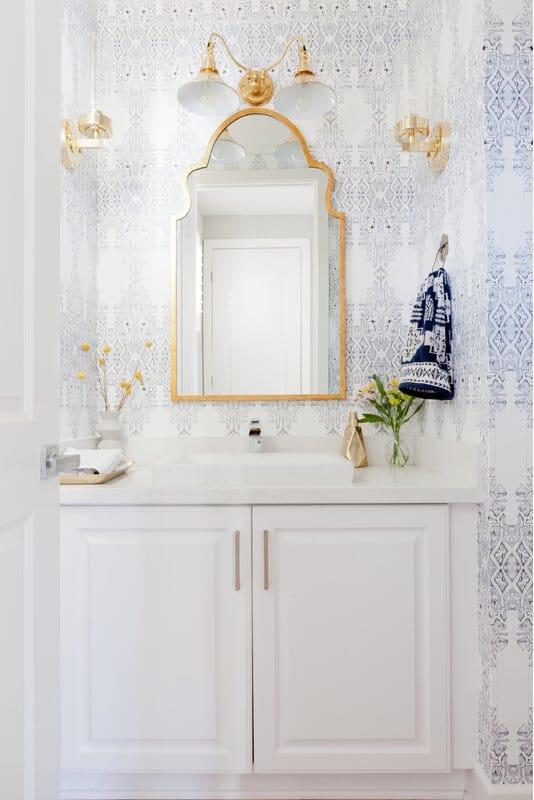 There's no point in having second thoughts about your desired light fixture, especially if you think that it will be 'too much or 'too diverse'. You can go for one style and choose a light source according to it, true, but then again, you can go bold and decorate your little piece of heaven any way you like.
Light sources, whether they be sconces, pendant lights, or bar lights, are all good at showering your bathroom with ample light, but they can also be an irreplaceable piece of decor. Set a contrast with your metal sconces and a mirror frame, or choose complimenting and soothing colors, the choice is yours.
Summary
All in all, choosing proper lighting for a small bathroom can give people headaches, especially when sharp edges of sinks and cabinets are creating lots of shadows, making your small bathroom seem even tinier.
But it doesn't have to be that way. With this set of ideas, we hope we have managed to help you in choosing the perfect lighting for your small bathroom, and maybe make the whole process fun. Happy shopping!