Don Pedro Brooklyn is reader-supported. When you buy through links on our site, we may earn an affiliate commission. Learn More
20 Sofa Table Ideas That Will Look Great in Your Living Room
Sofa tables are an underrated piece of living room furniture. These versatile tables are the perfect solution for anyone who hates to enter a room – only to face the backside of your couch! By placing a table there, your guests are welcomed in with a well-curated display, rather than closed off from the center of the action.
It's important to decorate your sofa table thoughtfully. Otherwise it will look like you just stuck one piece of furniture behind another. You can use the following sofa table ideas to help you put together a stunning display that highlights your personality.
Put Your Memories on View
Your couch is already in the living room, so what better to celebrate life than memories of all the great experiences you and your loved ones have lived so far? Holiday snapshots, photos of loved ones, or even postcards are a colorful and meaningful way to decorate your sofa table.
When framing pictures, you'll want to choose frames that match, but they needn't be identical. Create a cohesive look by choosing the same color, style, or type of wood. As long as the frames match in overall "feel" you can vary between portrait and landscape orientation for variety.
Fashion a Souvenir Showcase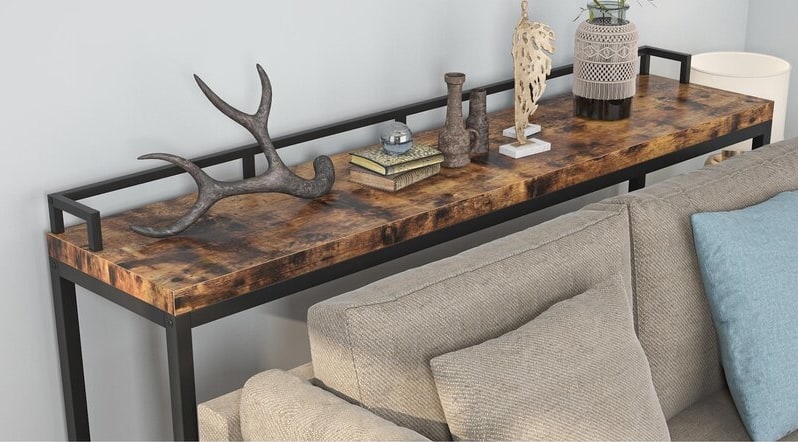 Speaking of memories, souvenirs are another great way to decorate your sofa table. To keep your home looking chic, choose mementos that are more sophisticated in design with darker colors and sleek lines. Pair them with a nice sculpture or antique items that match in tone and you'll have a tabletop that is both striking and happily reminiscent of the good times.
When displaying keepsakes with bright colors or amusing shapes, it's a good idea to only choose the pieces that are higher quality. Otherwise your well-cultivated sofa table may start to resemble the bargain shelf at a souvenir shop!
Mix Style With Storage Space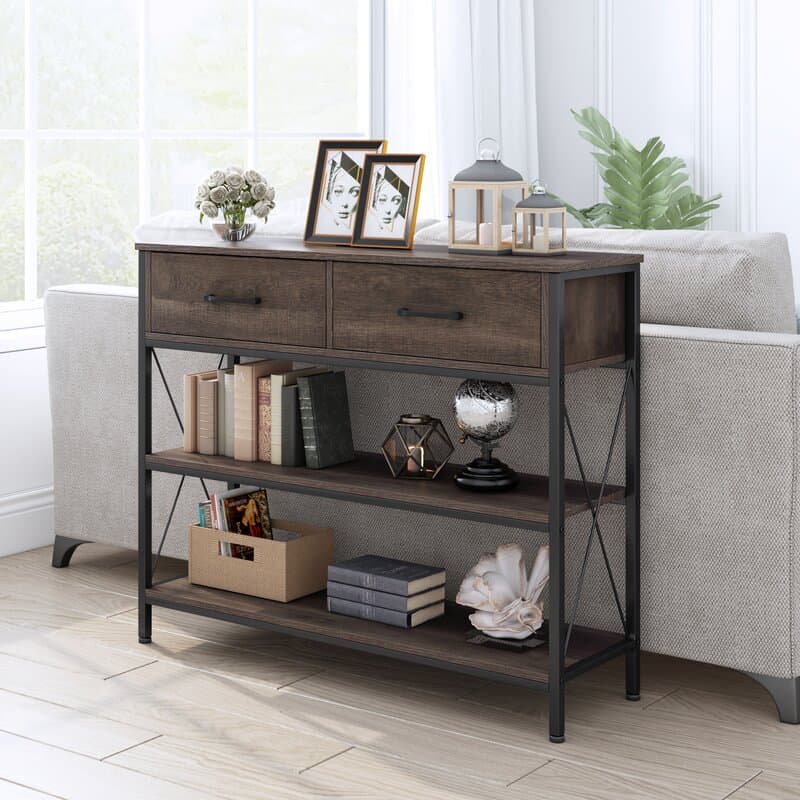 You will want to be careful not to let your sofa table become an eyesore – just some place to pile up junk that doesn't fit anywhere else – but that doesn't mean you can't use that table for some added storage.
Add a few well-selected, tasteful décor items to your tabletop and make use of the space below for keeping useful items, such as matches or reading glasses. If your sofa table doesn't have drawers built in, you can always invest in nice baskets that will keep the space looking neat.
Get Nautical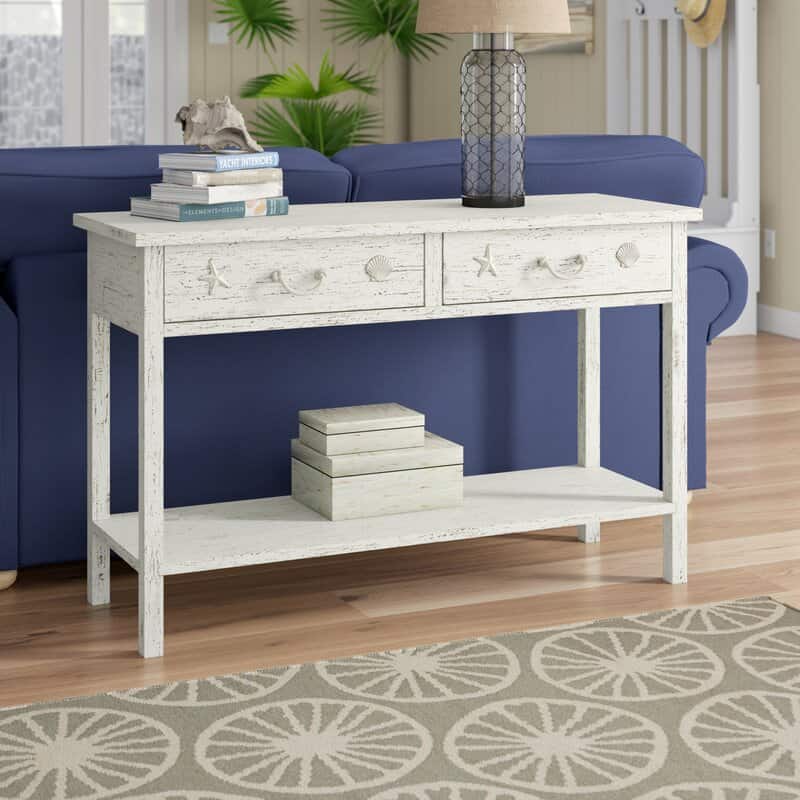 All those seashells you've picked up on trips to the seaside deserve to be seen. So put them on display in an artistic array, a decorative bowl, or artful arrangement in a bottle of sand. Your seafaring pieces, from shells, to driftwood or sand, evoke a sense of nature without the need to keep anything alive.
You can round off the theme with a globe, compass, or miniature ship for a timeless look that's playful, yet sophisticated.
Make it a Holiday Showcase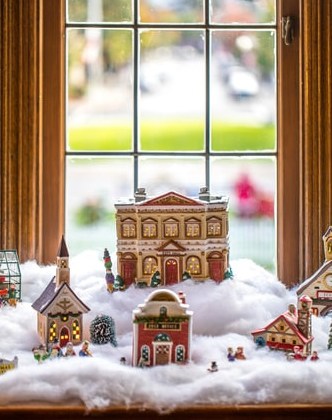 If you love to go all-out for the holidays, but don't want to clutter the whole house for each one, let your creativity run wild – in this one spot.
If your keepsakes and other items have homes already, dedicate the space behind your couch to celebration. Your home will look festive every season without a ton of effort or clean-up to do after. Of course, no one will judge if you do choose to unleash the decorating monster on the rest of the house.
Light Up the Room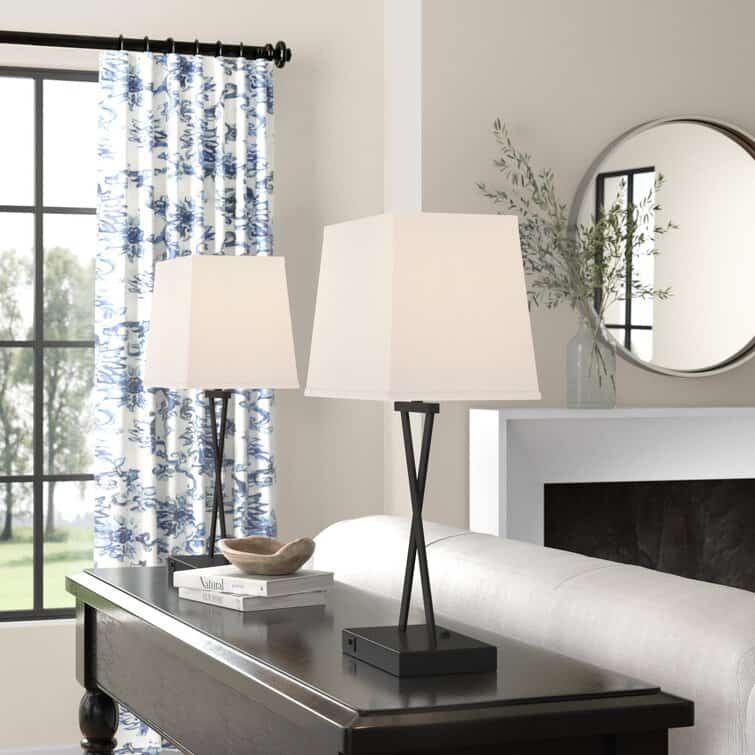 You can never have too much light. Add a statement lamp to instantly elevate your sofa table. Use matching or twin lamps to tie together any other decorations and instantly add a more polished look.
You'll always be able to see what you're doing and it's a great way to brighten up the place if your living room doesn't get great lighting during certain times of the day. Lamps also tend to be long and tall which can provide a nice contrast to a short, wide couch or table.
Get Cozy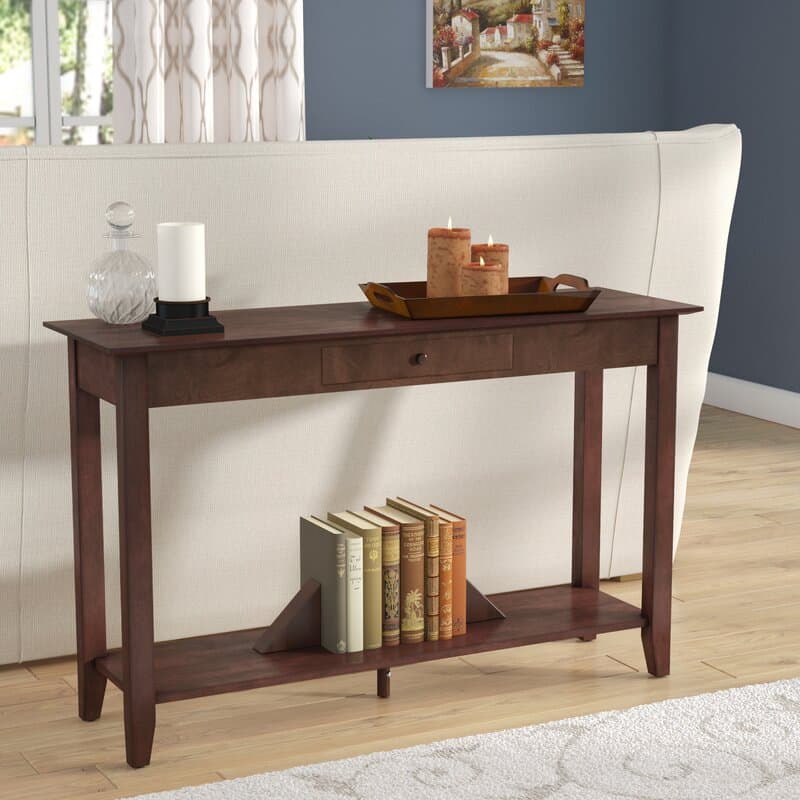 Speaking of light, why not make your living area extra inviting by adding a few candles? If the back of your couch faces the rest of the room or dining area, a small set of candles or a candelabra can transform that dull space into a stunning view. Plus, you'll always have somewhere to put your seasonal scents.
Vary the shapes and sizes to keep visual interest or cover the table with a full collection of flames to bathe the room in a warm glow. Candles add soft lighting to your happy place as well as a bit of movement from the flame and flickering shadows.
Just be sure to watch the flames for fire risk! Use candle trays, dishes, or glass jars to catch the hot wax from spilling and ruining your table or couch.
Get Bookish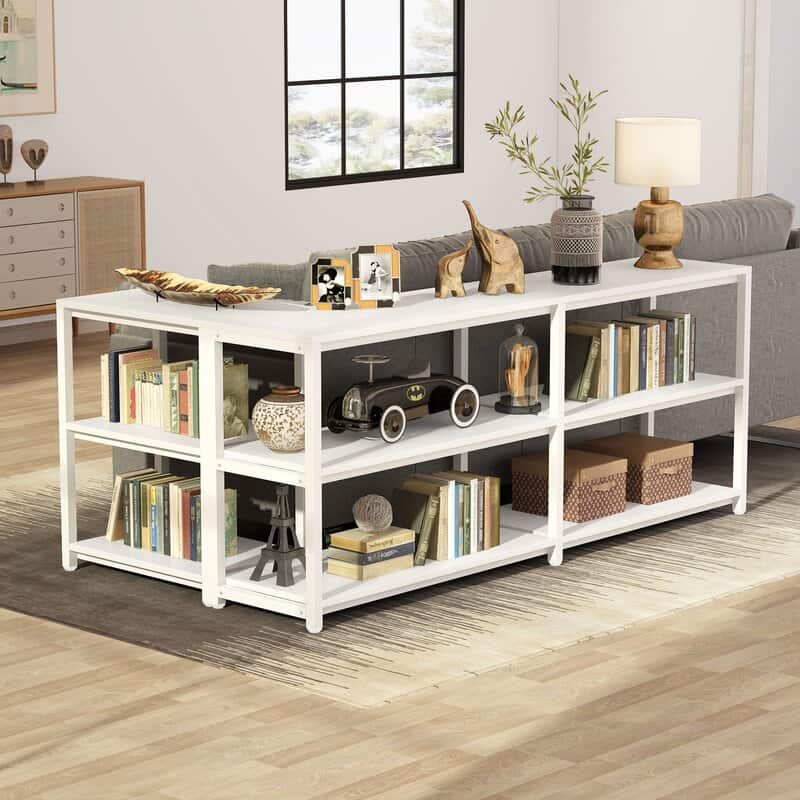 Sofa tables are a great way to highlight your passions and experiences, so why not put some of your favorite books on display? Books of poetry, lovingly worn novels, and photography coffee table books are all great choices to grace the top of your table.
Set the whole thing off with unique bookends and a matching sculpture to really make a statement. Whether you use the whole thing as a bookshelf or display other memories below, this is a great way to add a bookish spin to any living room.
Add Some Greenery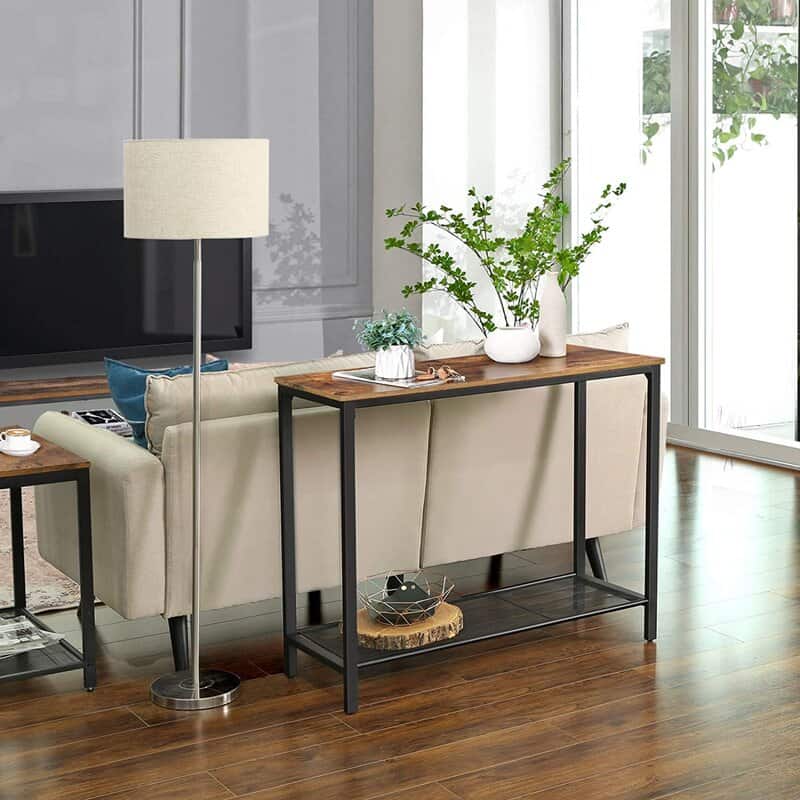 When it comes to decorating a sofa table, you don't have to limit yourself to storing or displaying items. If your primary goal is to simply hide the back of the couch, you can skip the art exhibit and make a little indoor garden right in the living room.
As long as some natural light reaches behind the couch, that table is the perfect spot for your succulents, ferns, or any fresh cut flowers you have on hand.
Make a Statement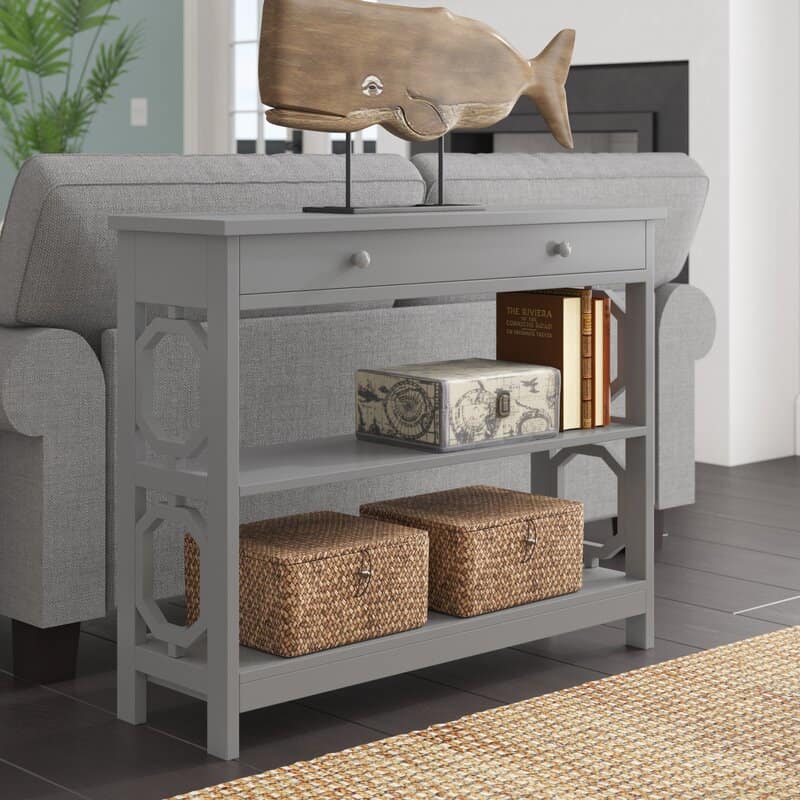 Do you remember that special something you picked up at an antique store? You didn't know where you would put it, but knew you had to have it. Well here's your opportunity to finally show it off.
Go ahead and place that eye-catching sculpture or vintage vase where all eyes can see it. Be sure to prop it up if it isn't tall enough to command attention on its own. Leave a large piece to shine on its own. Or match a smaller statement piece with matching, simpler décor, such as a couple of wide, short candles.
Bring the Bar Closer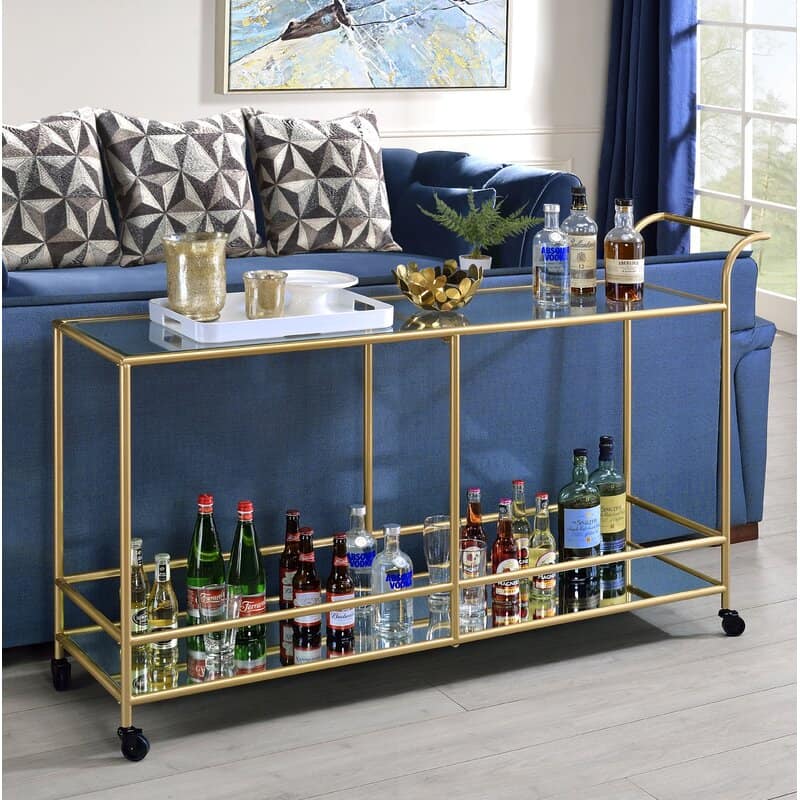 Sofa tables are a great way to maximize space in your living room – and that space is good for more than showing off your collection of scented candles. For those who are partial to a nightcap, a sofa table turned bar is both convenient and stylish. Just be sure to put out the good glasses.
A low and wide bar cart is perfect for the job. These drink caddies tend to look chic and add a cosmopolitan sense of fun to a room. Plus, they wheel around for better access when company is over. However, you can always turn a regular, stationary sofa table into a bar, too.
Add Stools to Make it a Counter
If space isn't something you have in abundance, make that sofa table multifunctional and turn it into a bar top right in the living room.
By adding a couple of stools to a taller sofa table, you increase the amount of usable space, which is perfect for smaller homes or for those TV dinner-style nights. A sofa table – bar adds energy and practicality to your living space, but doesn't require a sacrifice of style.
Match the Room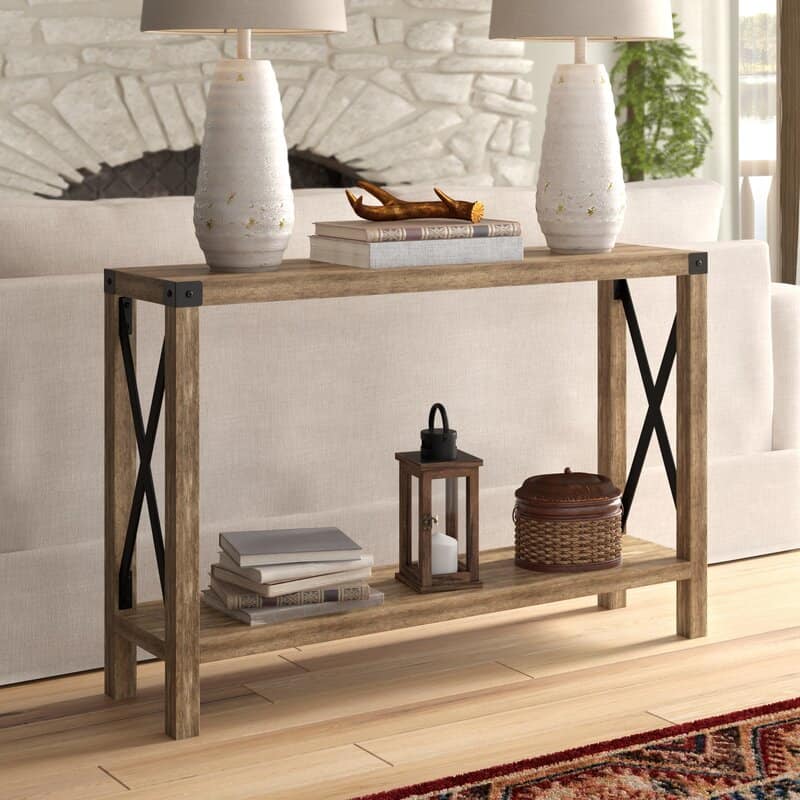 While it may sound obvious, one key thing to keep in mind while looking for sofa table ideas is to pick out décor items that match the rest of the room. If the table itself contrasts with other furniture in the room, balance that out with decorations that echo themes in the room.
You might match lamps to curtains or the sofa itself, pick up a secondary color theme that is woven into the room, or even add a table runner that matches the rug. The specifics aren't always important as long as the décor complements the rest of the room.
Use Repetition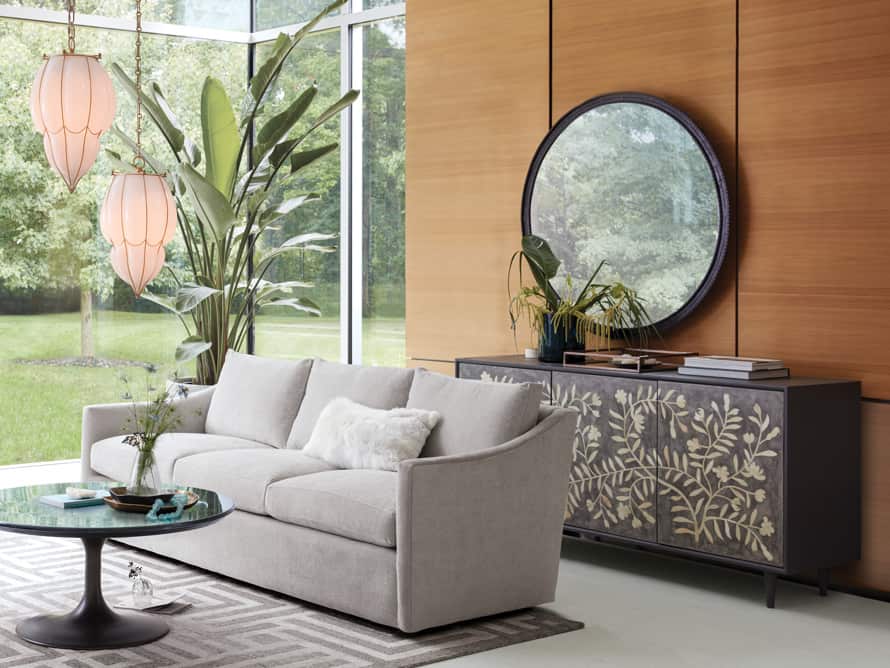 Repetition is a key part of interior design. While you don't need to go completely monochromatic or use the same shape over and over, you do want to pick a few elements and use them each a few times in any space.
For a sofa table, that could mean repeating elements seen elsewhere in your living room – like using light wooden frames that match the color of the entertainment center – or repeating similar shapes and colors within the table itself. Matching picture frames that tie into at least one other piece of décor is an easy start.
Use Geometric Shapes for a Modern Look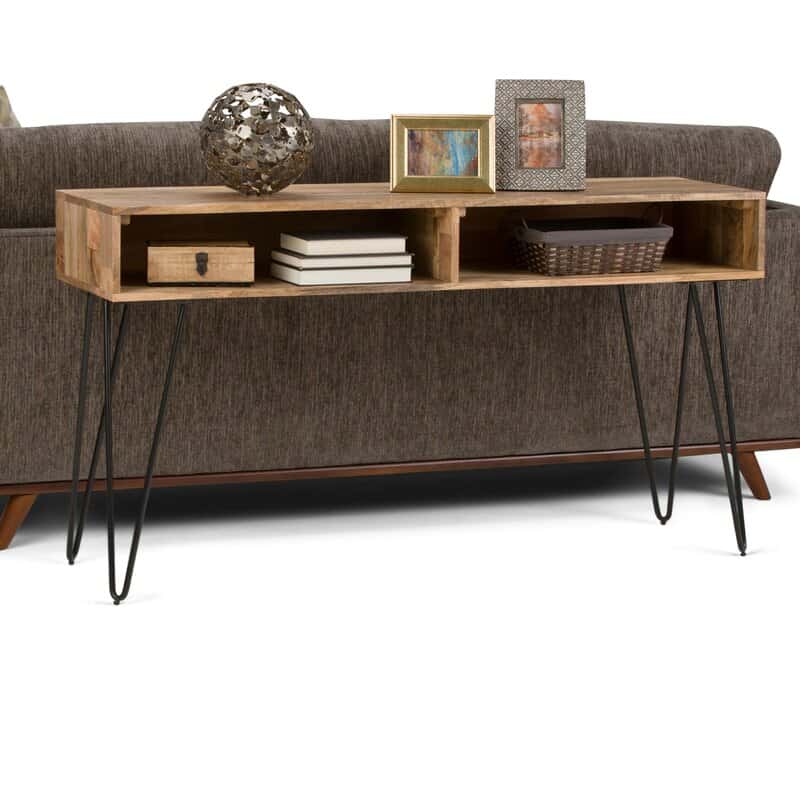 Firm shapes and solid lines are always a safe bet when you want to go for an effortlessly good-looking, modern design. Whether you're purchasing a sofa table or considering how to decorate it, simple geometric shapes are a winning choice.
The one thing you'll want to keep in mind, however, is the need for a little variety. Add just a hint of the organic to keep the geometry from becoming overwhelming.
Add Some Color First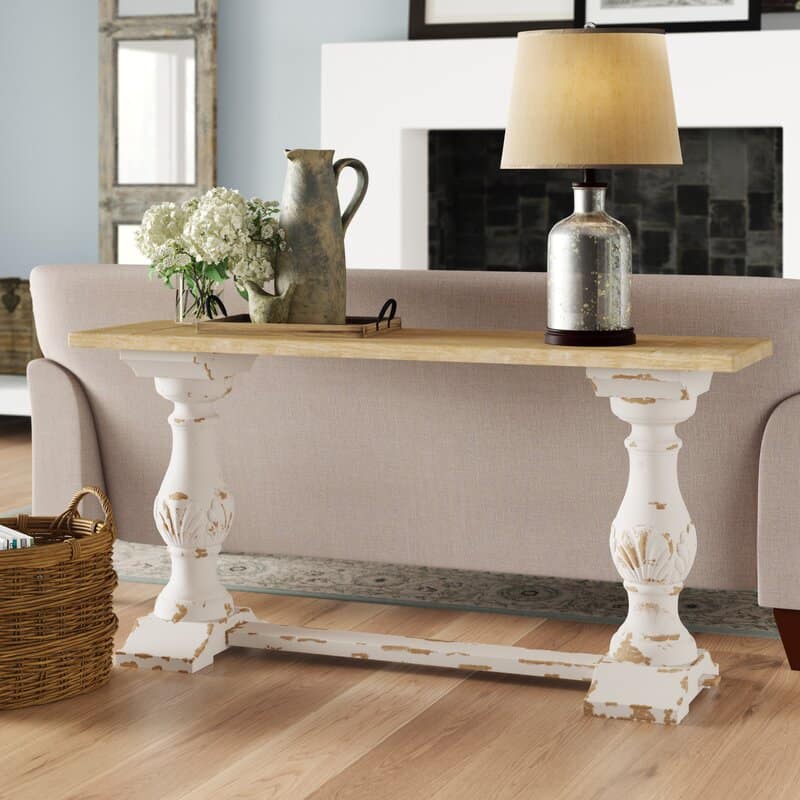 Before you struggle with what to put on a sofa table, consider sprucing up that furniture first. Changes to your existing furniture are often overlooked when it comes to redecorating. While you might want to leave a metal table alone, a wooden table can easily be transformed with a little color.
Paint or stain your wooden sofa table for a fresh look. Add a touch of elegance with a darker stain or brighten up the room with a light coat of paint. With stencils, you can easily add artistic flourishes to elevate your work and ensure you get crisp, clean lines.
Keep it Small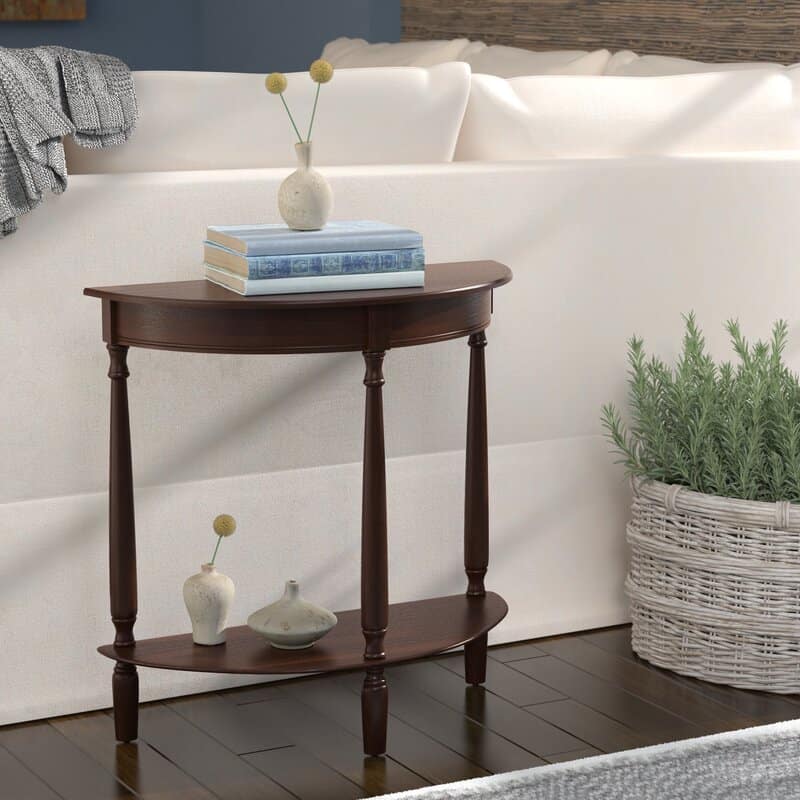 There is no rule that says your sofa table must be large. Although long and narrow console tables are quite popular choices as sofa tables, smaller options do exist and can look equally nice when paired with your sofa. Besides, you may already have a side table that can be put to good use here instead.
Smaller tables are also much easier to decorate. A single lamp or vase full of flowers will be plenty to grace the back of your couch and make the table feel properly ornamented. The naturally clutter-free look will also instantly elevate the tone of the room as well.
Let the Table Design Decide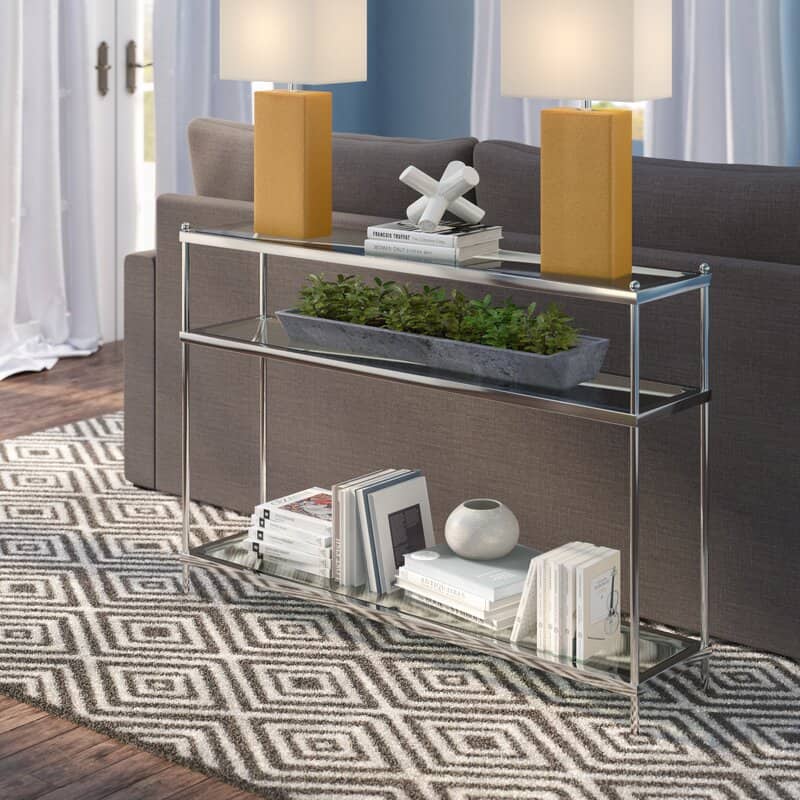 It's one thing to dream of dark colors, sophisticated lines, and dramatic flourishes, but if your table is made of light beech wood with rustic fixtures, your striking décor ideas will fall a little flat on that surface.
Once you have your sofa table, you will be more successful choosing decorations that fit the style of the table itself, rather than forcing a conflicting tone. You can certainly dress your furniture "up" or "down," but at the end of the day, you have the table you have. So let its true nature speak to you.
Do (Almost) Nothing!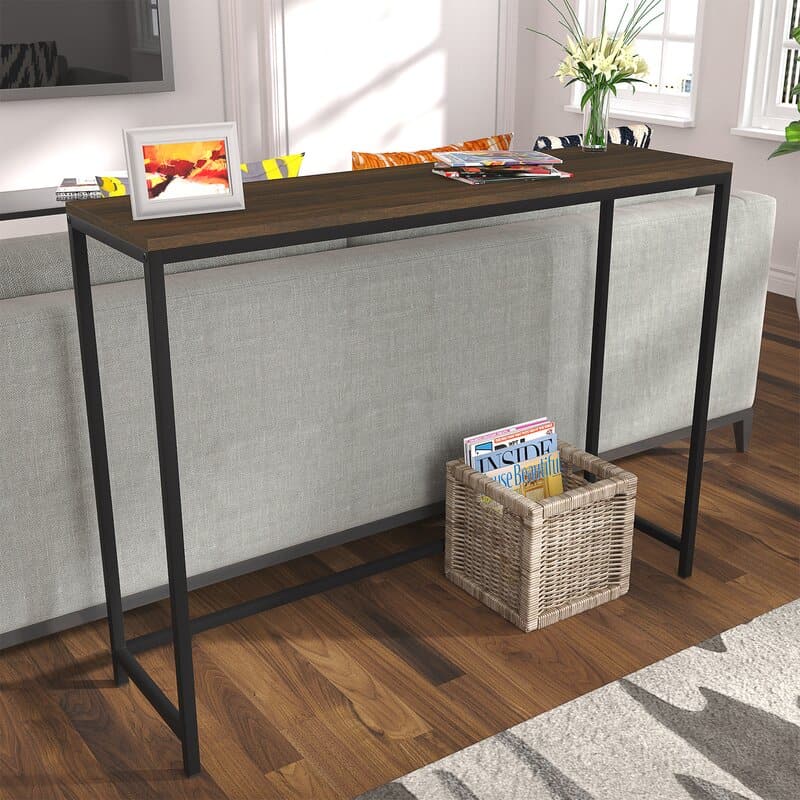 It may seem counterintuitive, but depending on the setup of your living space, you may consider not decorating your sofa table at all. By keeping the tabletop free, all that space remains open for beverages, snacks, or anything you may need to set down while lounging on the couch.
Make it feel intentional with something simple, like a set of bright and vibrant coasters. A splash of color or a small centerpiece will help the table feel decorated, while keeping that space open and ready for ultimate convenience.
Keep it Flexible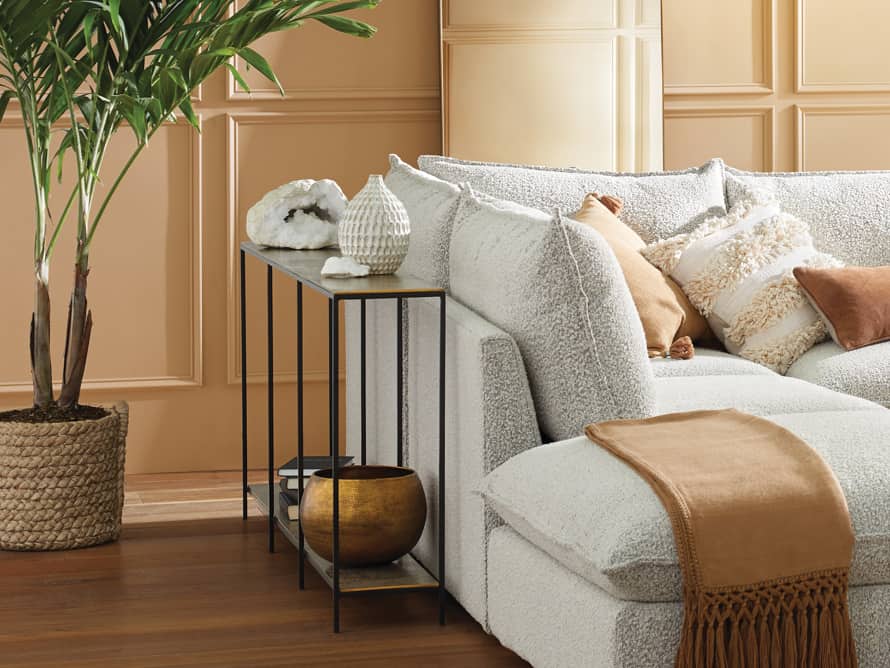 You don't need to have the perfect solution today. If you know what you want, but need to find a few more pieces to make it happen, work with a simpler or more flexible version today and keep an eye out for that perfect piece for later.
Opting for a more open, or less narrowly defined, concept right now frees you up for better ideas and better pieces that may come your way down the road. While you wait for perfection and inspiration to strike, you can keep your creative juices flowing by playing around with a few flexible pieces.
Final Thoughts
When it comes to sofa tables, decoration ideas usually follow a few successful themes. Since the table is often what greets guests as they come into the living room, it's always a great idea to highlight you or your family's personalities, experiences, and prized possessions.
Otherwise, it's just as valuable to keep traditional design standards in mind, whether you're selecting a sofa table or the décor that will grace the top of it. Think about style, color, repetition and just a hint of variety and you'll create a masterpiece in no time.