Don Pedro Brooklyn is reader-supported. When you buy through links on our site, we may earn an affiliate commission. Learn More
Space Themed Bedroom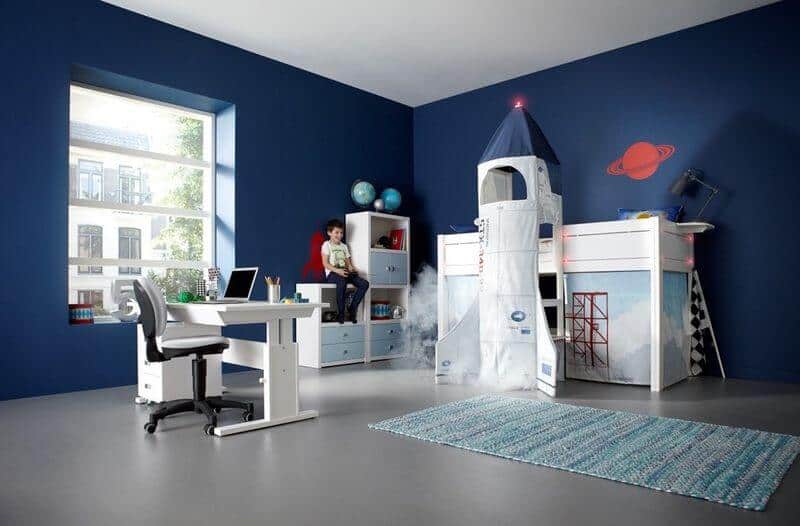 Space and Astronomy often leave people in awe and astonishment for the strange, yet amazing nature of everything in it. Having a space themed bedroom for your kid is a well-thought idea, because it will give the child a picture of how marvelous the outer space is.
If the child is mesmerized by the beauty of the outer space since he was young, as parents, you should be proud.
It is common for children, at a very young age, to wish that one day he will become an astronaut. A few of those kids would perhaps become actual astronauts when they grow up. Well, who knows? Your child may actually be a real astronaut!
How to Decorate A Space Themed Bedroom?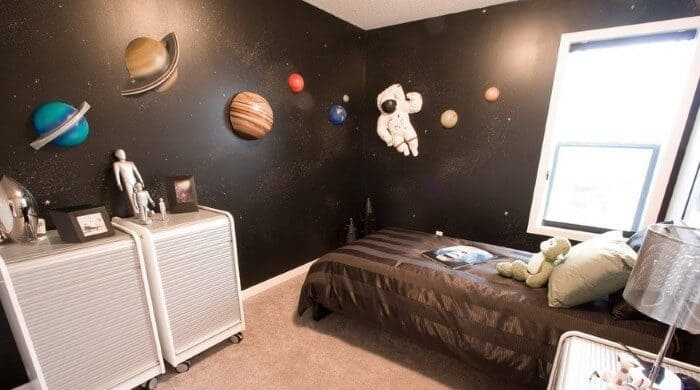 As your kids grow up and learn about the outer space in school, it is possible that they will be fascinated by it.
Commonly, that fascination occurs around 5 year-old, but one kid to another is different and the amazement of space and stars lasts longer in some kids.
During this period, the amazed kids will be passionate in convincing you to grant the wish of having a cool, space themed bedroom.
"Space is a canvas full of stars and planets!"
At first, the idea may scare you. When you walk through the entire concept, you will realize that it is not that complicated.
The first thing when we decide to decorate the kids' bedroom in space themed style, we should begin the project by purchasing some essential things to keep up with this style, such as:
Spaceship shaped things (cupboard, lamp, or statue);
Rocket (can be a headboard or toys);
Artificial planets (including the moon);
Something shaped star;
Constellation painting or wallpaper;
Telescope, and;
Astronaut suits
You will be amazed to learn that there are some great deal of things for kids that fit this style.
Artificial Solar System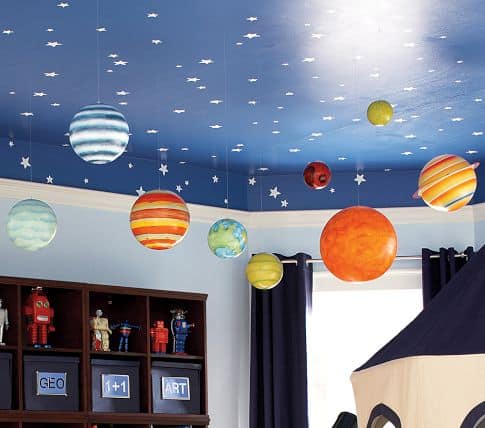 Firstly, when you decide to fulfill your kid' space themed bedroom, you need to buy the space loads such as planets, stars, spaceships, robots and anything related to the outer space.
You will be amazed when you find out that there are many places that sell space themed decoration.
You can buy hanging light bulbs and cover the bulb with a planetary body like the photo above. Using the artificial planets, you can create a wonderful piece of art hanging on the ceiling of the room to make it look more like the real outer space.
Or perhaps you can set up the television set or the bookcase inside a good looking rocket-shaped rack made of cardboard or plywood.
By making this, kids also will learn the name of each planet in very fun way!
Add Some Wall Mural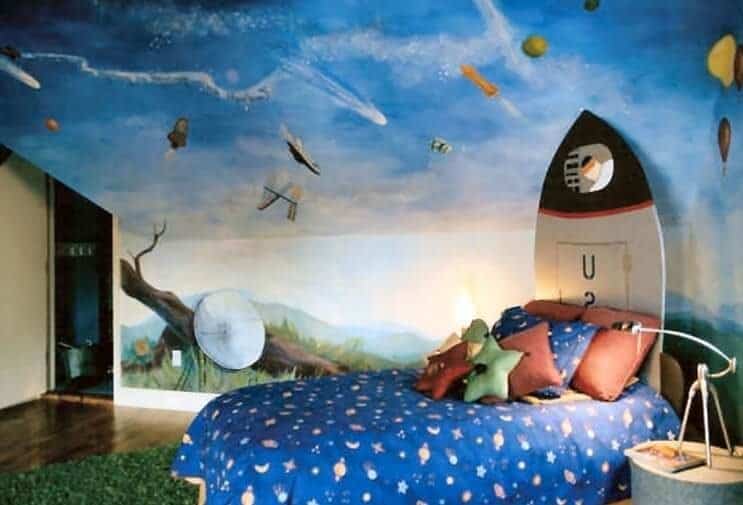 If you have prepared all the equipment for painting with outer space related images like comets or planets, you should aim to the walls in the bedroom. To strengthen the bond between you and your kid, ask him to join the activity. It must be fun!
However, if you're not all set with the equipment and skill, it will be much easier to get some space-themed related wallpaper for the ceiling and the wall. For additional decoration, buy stars and moon ceiling ornaments that glow in the dark.
Make the best out of the room by getting space-themed bed sheets and carpets with planets, stars and comets printed on it.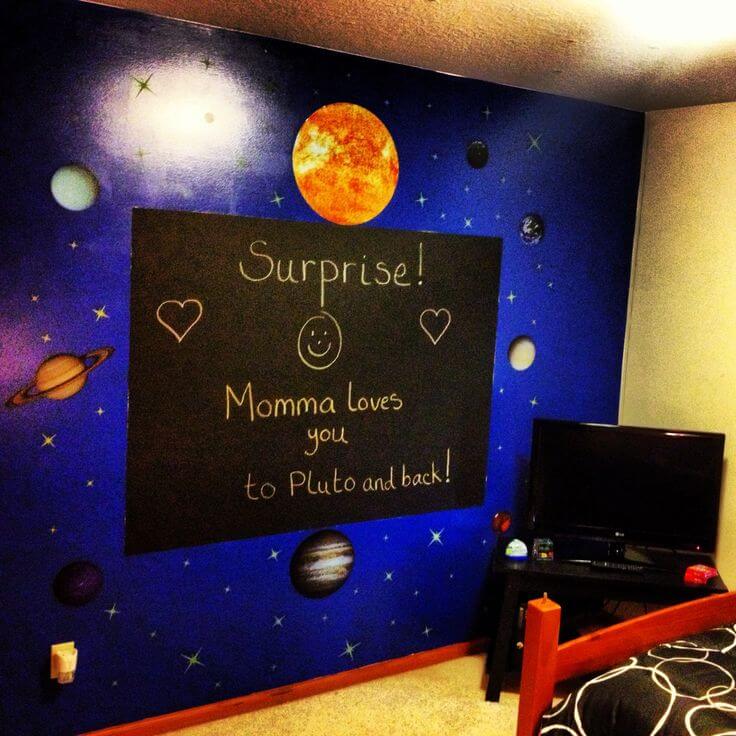 You simply need to have creativity to put everything together, including the fun you will have with your kids when putting all the space-themed furniture below:
Have a good time together!
Space Themed Bedroom Furniture
When designing a space-themed room, you'll want to add some furniture with space-related accent like rocket, solar system, spaceship, planets, or even constellation. So, this list may help you finding space-themed furniture ideas.
Let's begin the list.
Space Shuttle Shaped Bunk Bed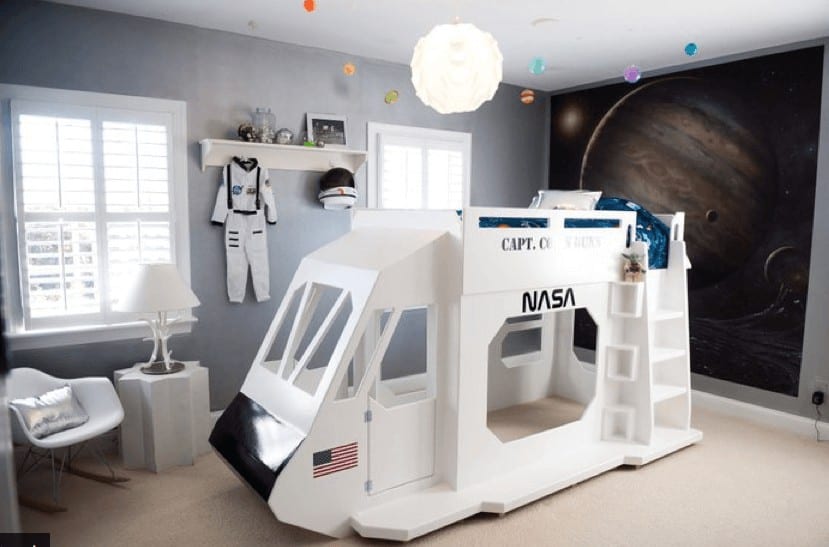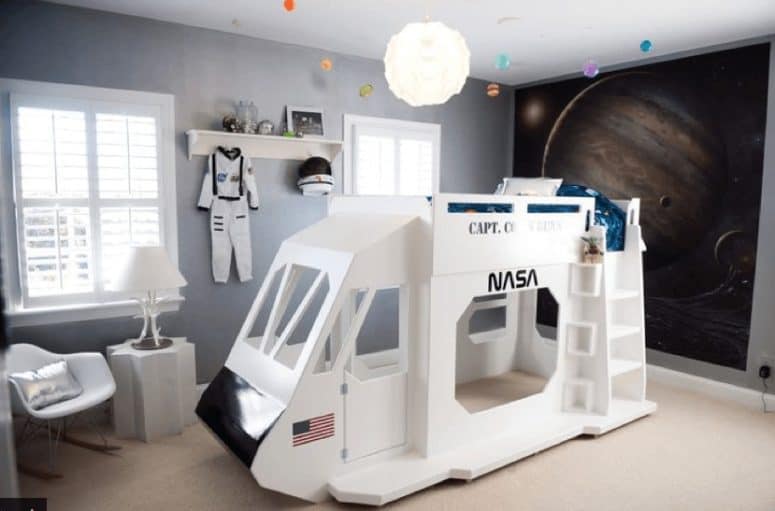 This astonishing Space Shuttle Bunk Bed will make your little boy's mind brave and creative, as he explores the deep space with his imagination. That is why; this bed is a great idea for a kid who loves imagining a courageous exploration to the outer space.
Think about your kid's excitement as he enters the side door and sits in the cockpit, or reaches up to the cargo from the connected ladder.
This customized hand-crafted bed consists of a connected ladder, a bench for two people in the cockpit, and an optional device bookcase.
Space Shuttle Shaped Cupboard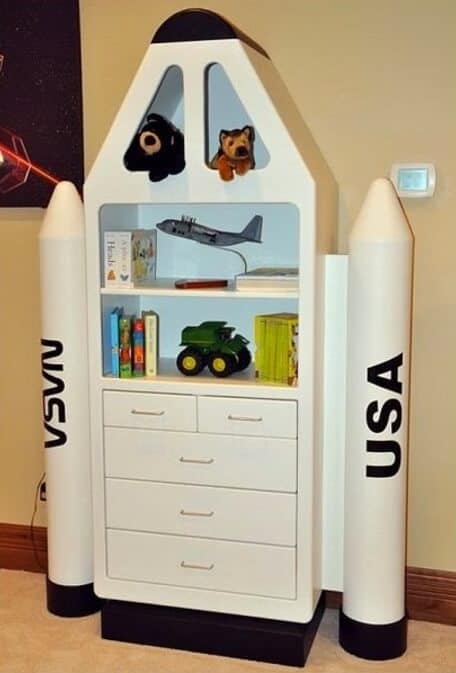 Kids would love to climb up the bed with Space Shuttle Cockpit Play Center and escape to their own fictional world of experience.
As parents, it is your duty to provide the kid with a rocket-themed dresser which looks like a payload as an additional space furniture in his room.
The space-themed dresser should be 59 inches in height and 18 inches in wide. This measurement would give you 5 drawers, an open storage which is located above the drawers and the nose cone storage at the top.
Provided with two rocket blasters on both sides with "NASA" and "USA" letter printed, this spaceship shaped cupboard absolutely a perfect furniture for our kids' space themed bedroom.
In fact, this will make kids feel like they are really in a space center and will pursue their dream becoming an astronaut.
And maybe, with a cupboard shaped like this, they will be happy to store their things after messing them up all over the room.
Inflatable Solar System Balloon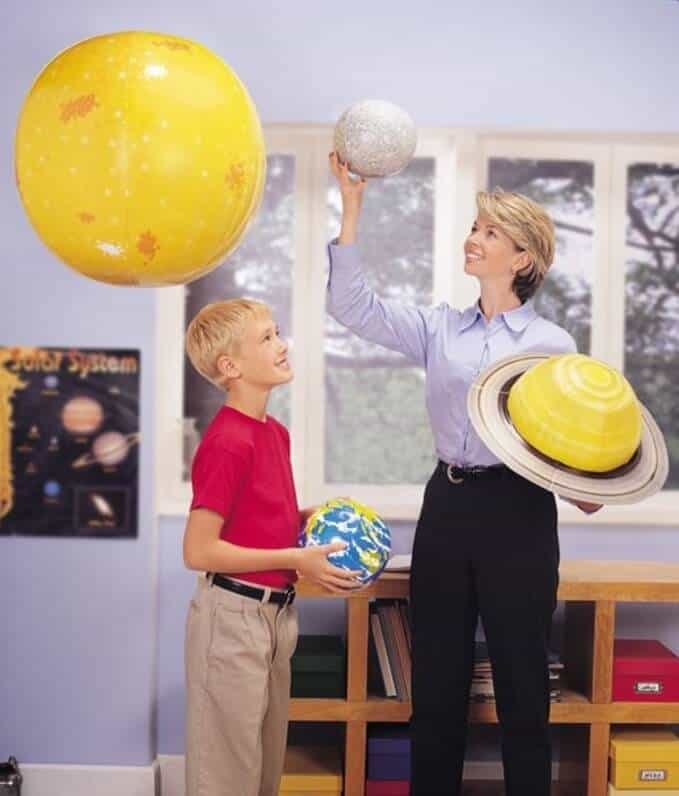 Build a marvelous playroom or bedroom with a set of planetary system. Each of the planetary body inflates quickly. Placing the entire planetary system will turn the room into a full experience of space exploration.
One set consists of 23 inch Sun, 8 proportionally sized planets with hanging hooks, Pluto, Earth's moon, an easy to use foot pump and a complete guide.
Astronaut Bed Cover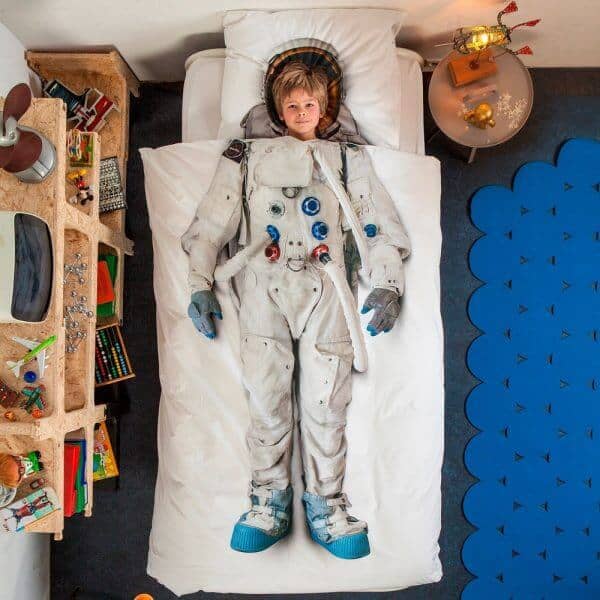 Do you have a son or a daughter who's so passionate about becoming an astronaut? As parents, you need to help them making their dream comes true by getting them this astronaut bed cover with matching duvet and pillow, all astronaut related pattern.
Having a space themed bedroom is every little astronaut dream. Therefore, why not make their dreams come true by giving them this bed cover with astronaut print on it?
This cotton duvet set includes the bed cover with a print of astronaut suit and a pillow with the astronaut helmet print. Totally a perfect match for a space themed bedroom!
Space-Themed Constellation Bed Set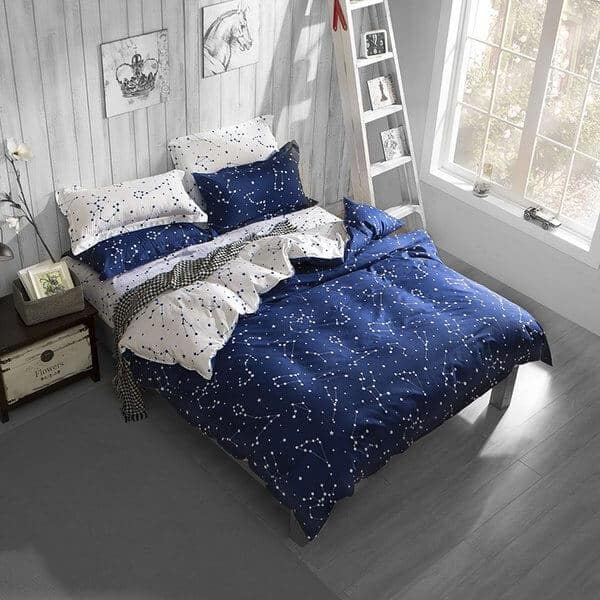 Another duvet set idea of space themed bedroom is this constellation bed set. If your little kid is into astronomy, sure they will love this constellation bed cover and pillow.
This bed cover is reversible, one side has blue color and white constellation print, while the other side has white color and blue constellation print.
This bed set lets your kid feels like he sleeps among the stars with this reversible bed linen set made of high quality polyester.
Moon-Shaped Rug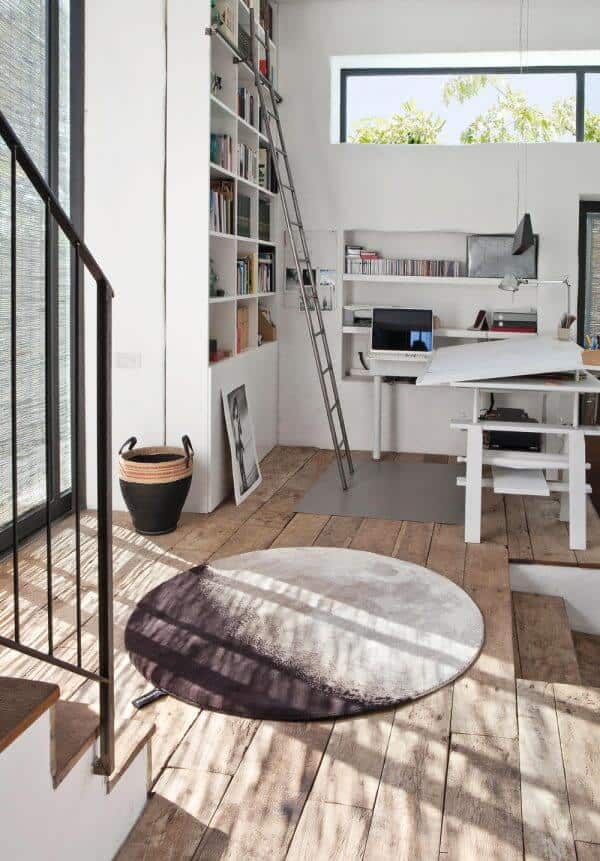 Who thinks that a rug can give a huge impact to the room? Well, now you know.
Perhaps the overall space-themed bedroom is a bit too much or does not look good. Then, you should try this moon-shaped carpet made of high quality New Zealand wool. The combination of colors and the simplicity of the design make it looks sophisticated.
Solar System Magnetic Wall Clock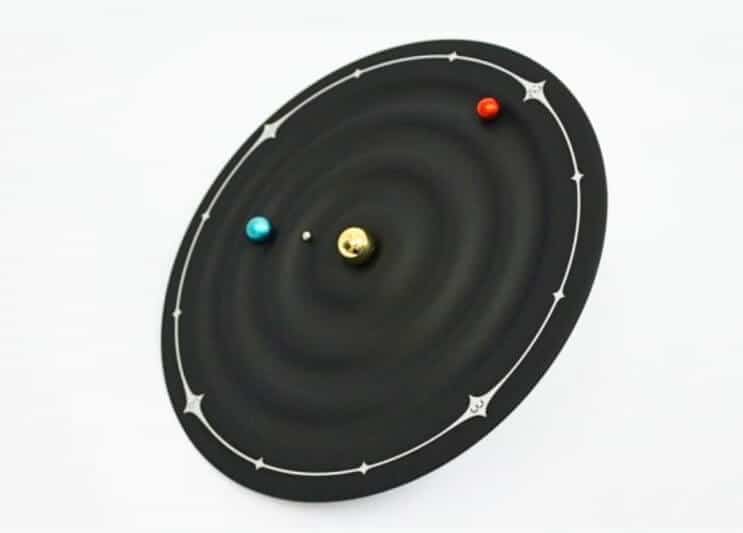 Sometimes, we don't look at clocks just because they are boring, and it makes us disoriented.
Say no more to boring clocks.
Teach our kids to be punctual with this solar system magnetic wall clock.
If the entire bedroom is too exaggerating, this unique wall clock depicts both the time and the planetary orbits without being extra. The clock is made of aluminum discs ride around a rubber-coated surface area, so, you can place it on your desk or mount it on the wall.
Vintage-Looking Telescope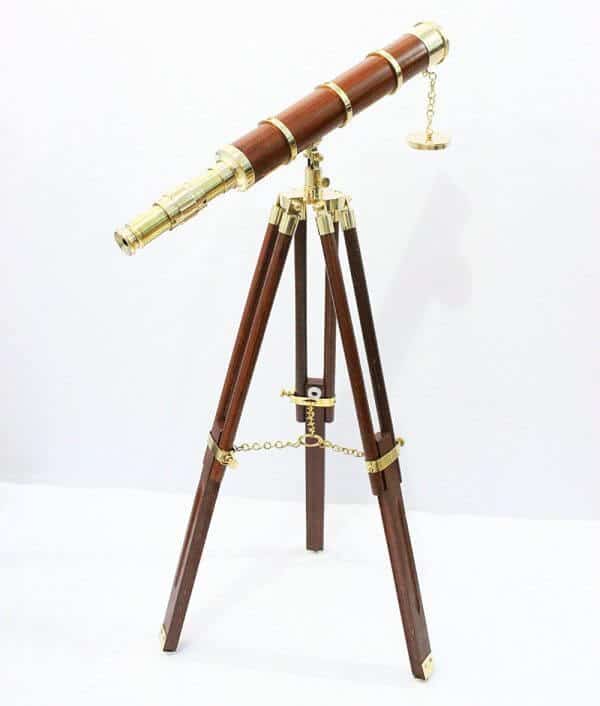 In decorating a space themed bedroom, having a telescope is really essential. Especially for those who are really passionate in astronomy.
There are so many types of telescope in the market, from a decorative only purpose, to the most advanced ones.
As a decoration, a classic telescope would give your room a marine atmosphere. Moreover, if you have a seaside house, this would make the room more decorative.
Besides its functionality of seeing something really far away in the sky, a telescope will add a magnificent effect to the whole room, make it look more "space themed".
Real Meteorite Piece with Display Case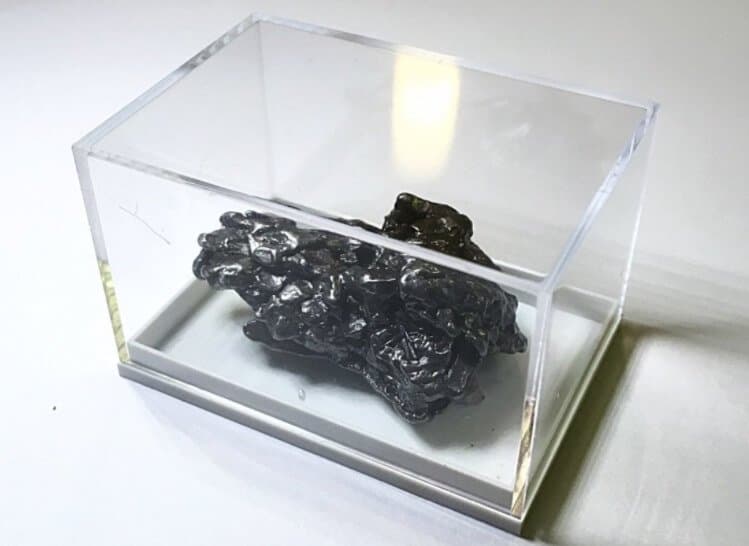 Do you want to go beyond the ordinary?
Collect these 70 grams meteorites which were landed in Campo del Cielo, Argentina. If you buy it, the meteorites and the glass box will come with certificate of credibility. Then, place these fallen stars on your cabinet.
Space Shuttle Scale Model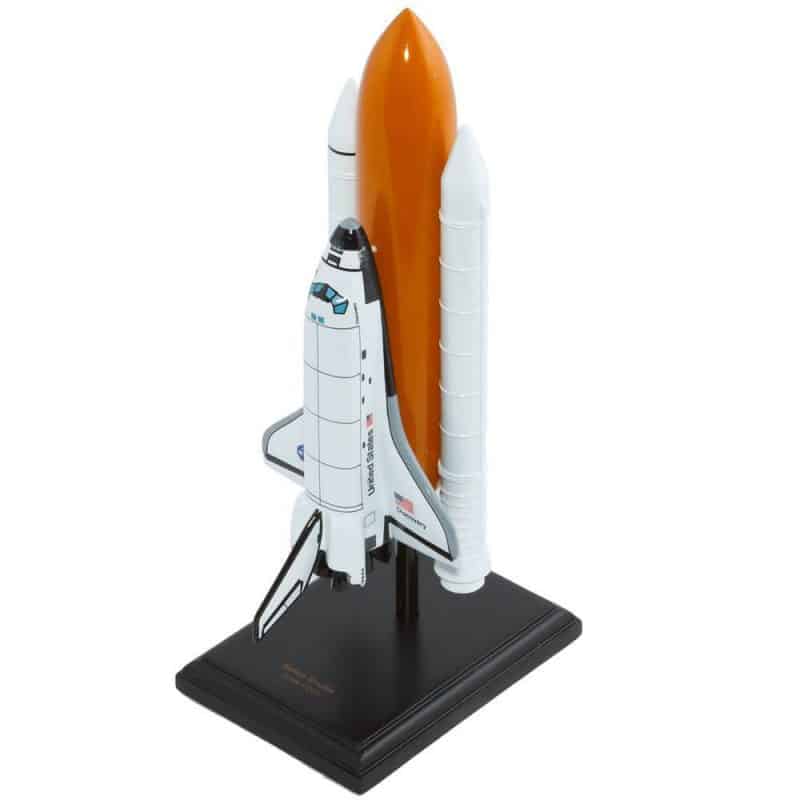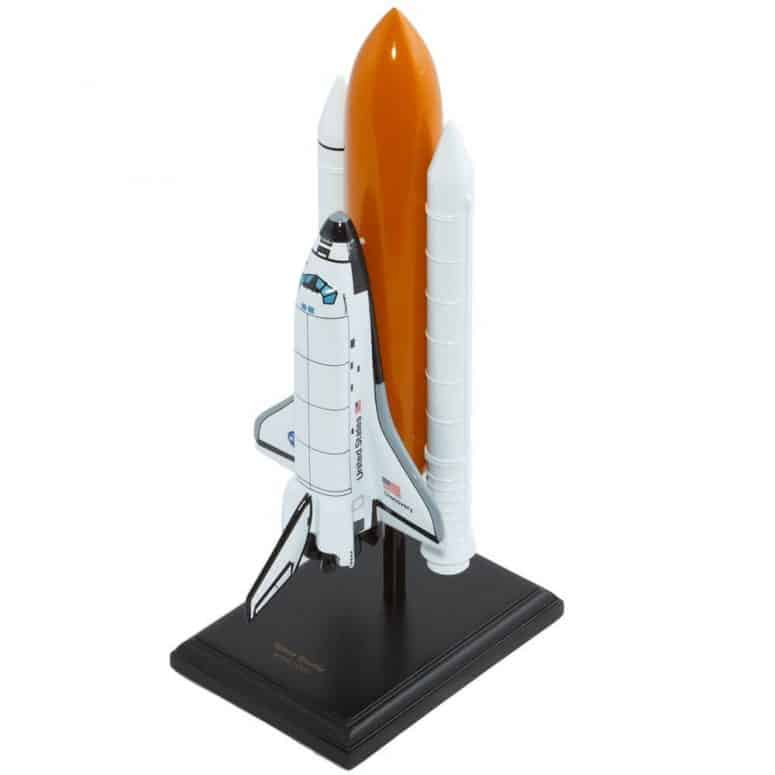 Is your room painted in black-and-white, and you desperately need something to pop a color? Take a look! This replica of NASA rocket is crafted from wood with a great precision and detail. More importantly, it is painted with a bright orange that will illuminate the room.
This NASA scale model spaceship is the perfect decoration for the studying desk of space themed bedroom.
Moon-Shaped Light With Moon Phases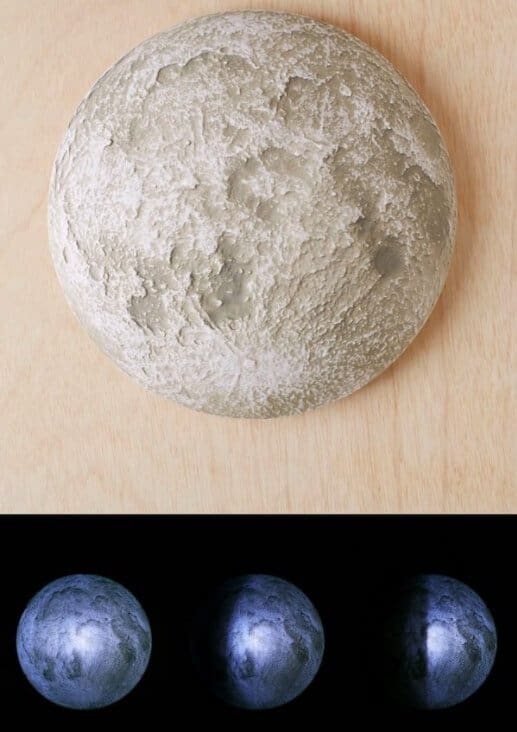 Imagine you are laying outside or camping underneath the moon.
Now, you don't have to do that to see the beauty of the moon. With this ceiling light, you can enjoy the beauty of the moon every day in your room.
The best part? This moon shaped ceiling light provides the moon's 12 phases that will gradually changes according to the real moon. Incredible, isn't it?
Rocket Shaped Sleeping Lamp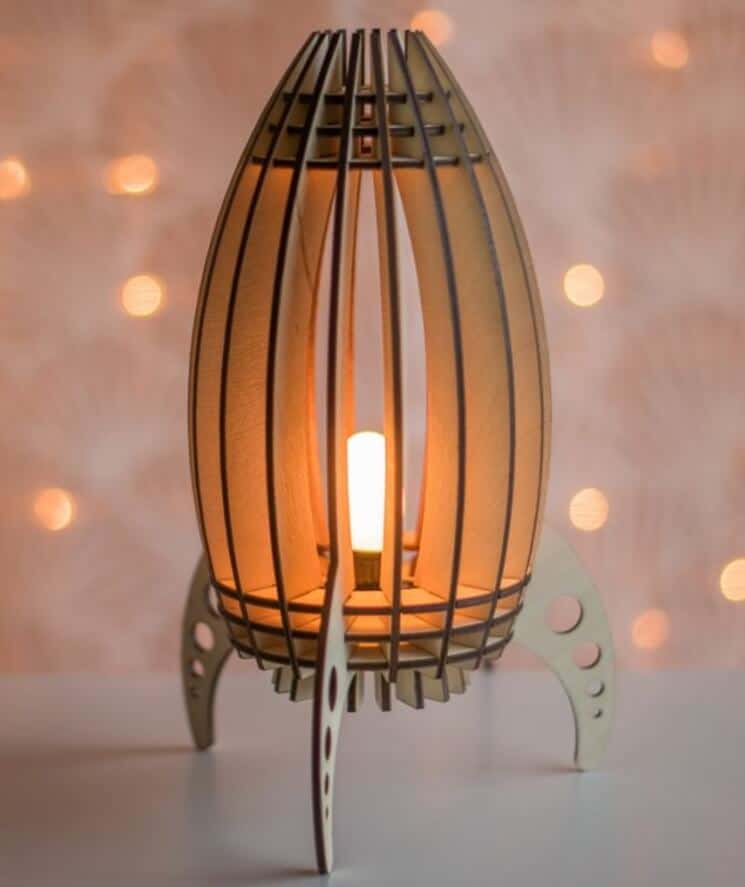 This natural wood rocket-shaped sleeping lamp will launch and take your kid up to his dreamland.
It is carefully handcrafted and can be puzzled down when it is not in use. This is a perfect choice for your kid present, and it needs a little bit of creativity to build before they can use.
But still, since it is an electrical thing, parental advisory is needed in building this puzzle lamp.
Constellation Themed Doormat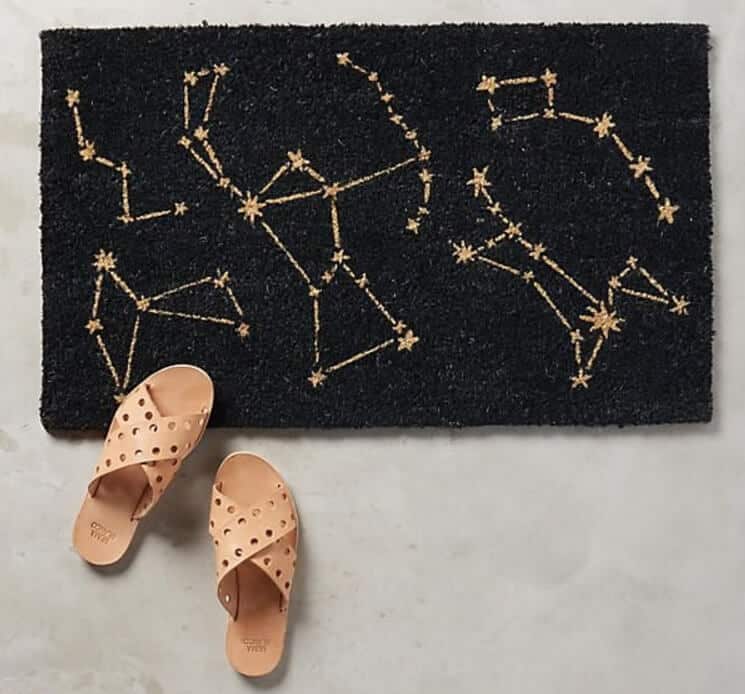 This constellation doormat is the best way to tell everyone before they come in to your kids space themed bedroom.
The main material is an environment-friendly coarse fiber, with five illustrations of constellations. Put one under your kids' room as a friendly reminder to clean their shoes before they come in.
Space Themed Bedroom Ideas
As parents, it is your duty to encourage your children to reach for their dreams. If your child wants to be a space-man, motivate his dream by setting up a space-themed bedroom.
The bedroom will be decorated with space inspired designs such as space-themed wall murals and pattern in a deep, blue color.
Here are 15 fun space-themed bedroom ideas for boys that you can choose!
1. Super Cool Space Themed Bedroom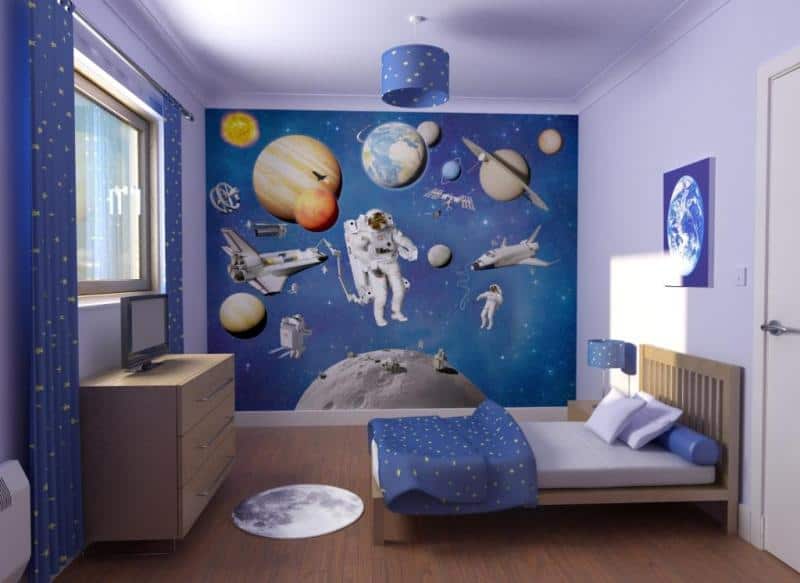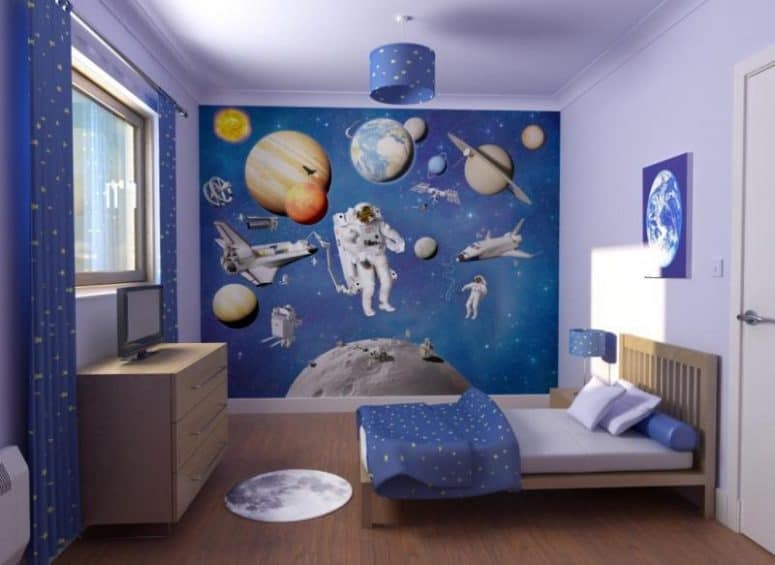 The design provides a new concept of space-themed bedroom. The wall is decorated with a space wall mural and the pop up astronaut and planets ornaments.
In addition, the space-themed rug becomes a stand out décor on the walnut flooring. This combination creates an illusion of a wider space for enjoyment.
2. Gorgeous Space Themed Bedroom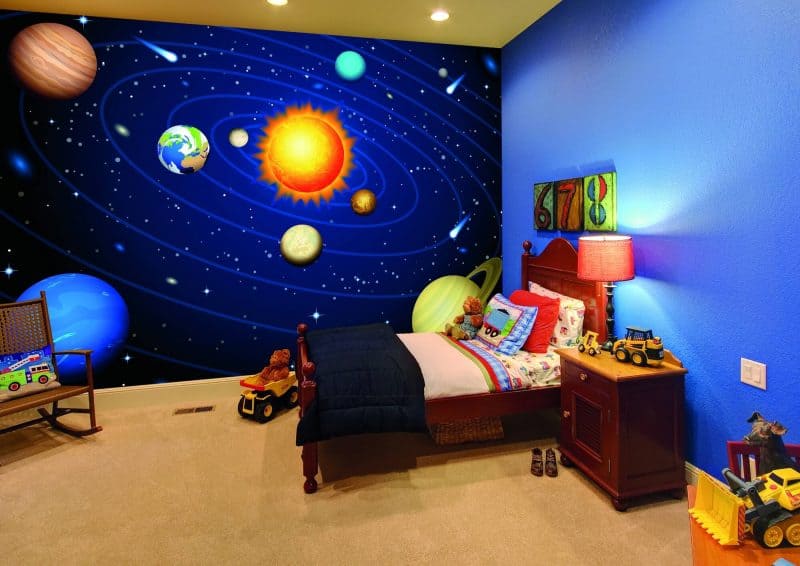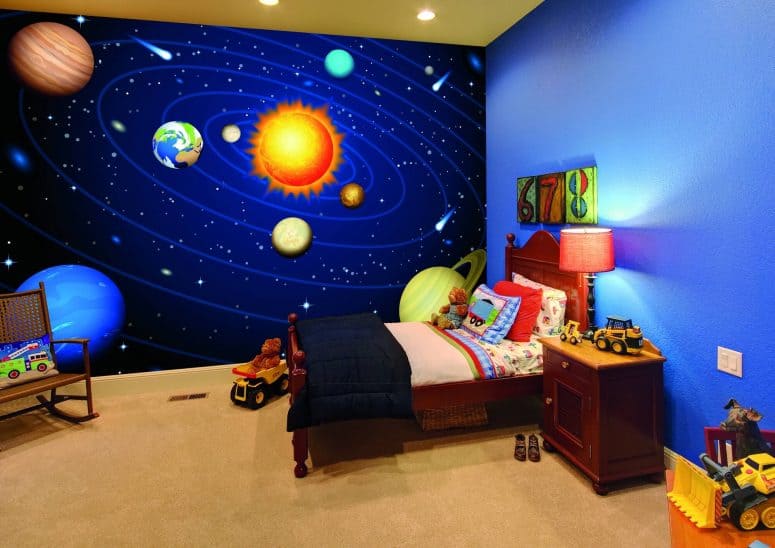 The intensity on each of the vibrant character on this space-themed decoration makes the bedroom dynamic and gorgeous.
The space art on the wall accentuates the outer-space atmosphere, making the bedroom cool and creative. Moreover, the outer space-inspired bed linen uses a vibrant and cool pattern of space objects.
3. Space Themed Bedroom for Girls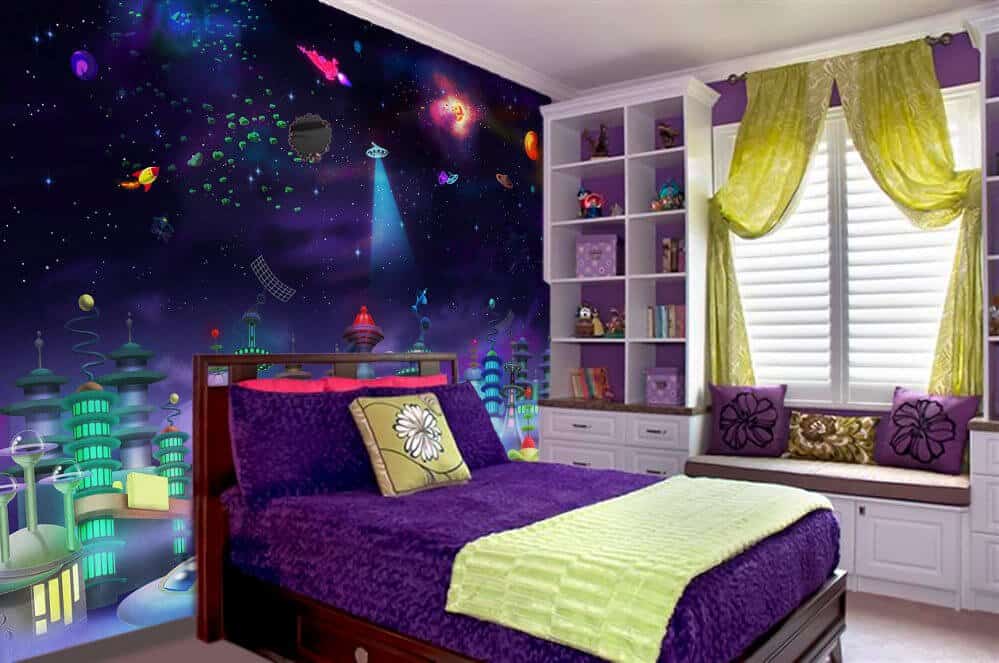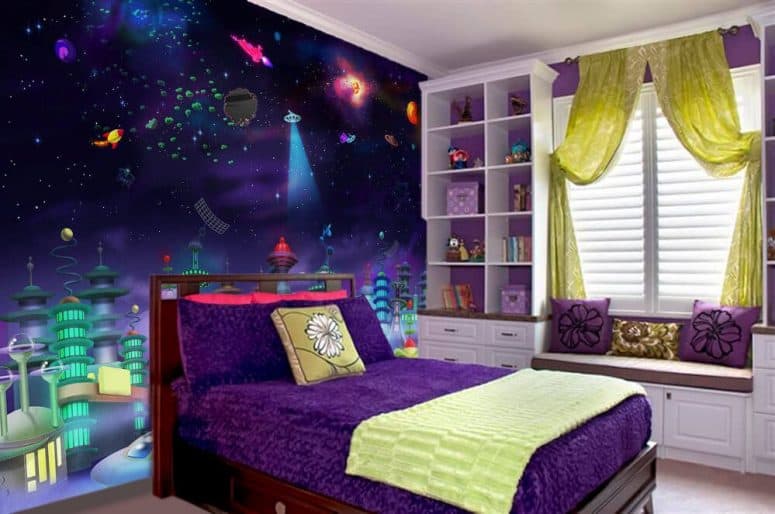 This impressive style of the bedroom comes from the vibrant space-themed wallpaper, and the stars-patterned bed linen.
The atmosphere becomes more enjoyable and interesting. To create a spacious vibe in the bedroom, try to have a few wood furnishing.
4. Brilliant Space Themed Bedroom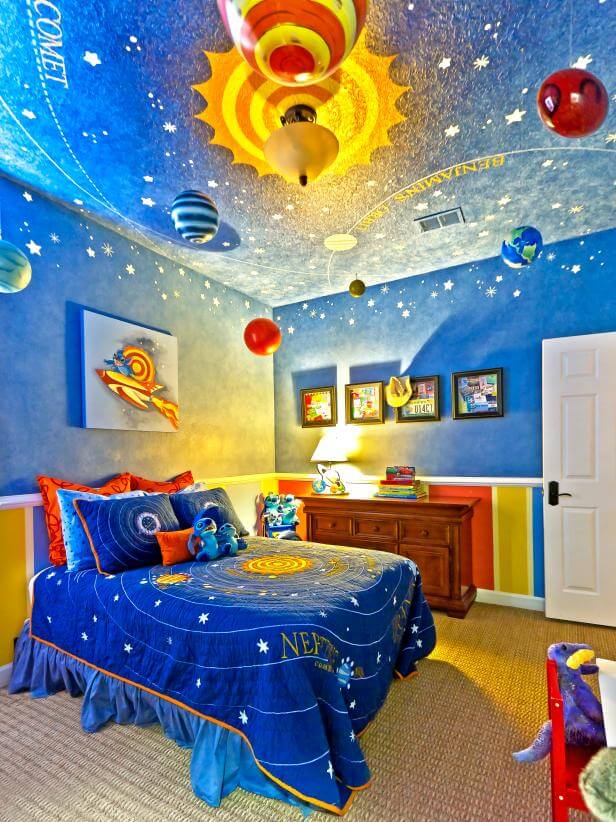 This outer space-themed bedroom is painted with pastel colors and the colors create delightful and cheerful atmosphere.
In fact, the wonderful space art and displays on the wall balance the deep blue colored, solar system-patterned bed linen.
5. Cool Space Themed Bedroom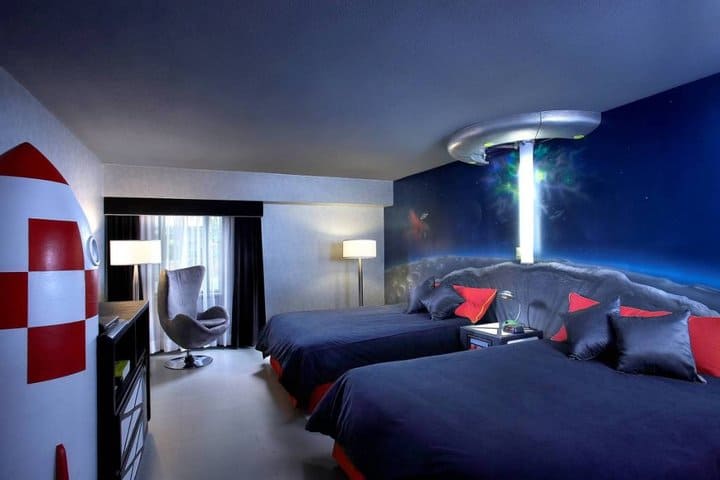 The outer space is often pictured with a deep blue color, so this bedroom idea uses similar color pattern to project the entire outer space energy.
Like that, this space-colored bedroom creates a stunning and a fascinating impression.
Specifically, the deep blue-colored bed linen becomes the centerpiece of the room, and it also gives the impression of enjoyment and relaxation.
6. Imaginative Space Themed Bedroom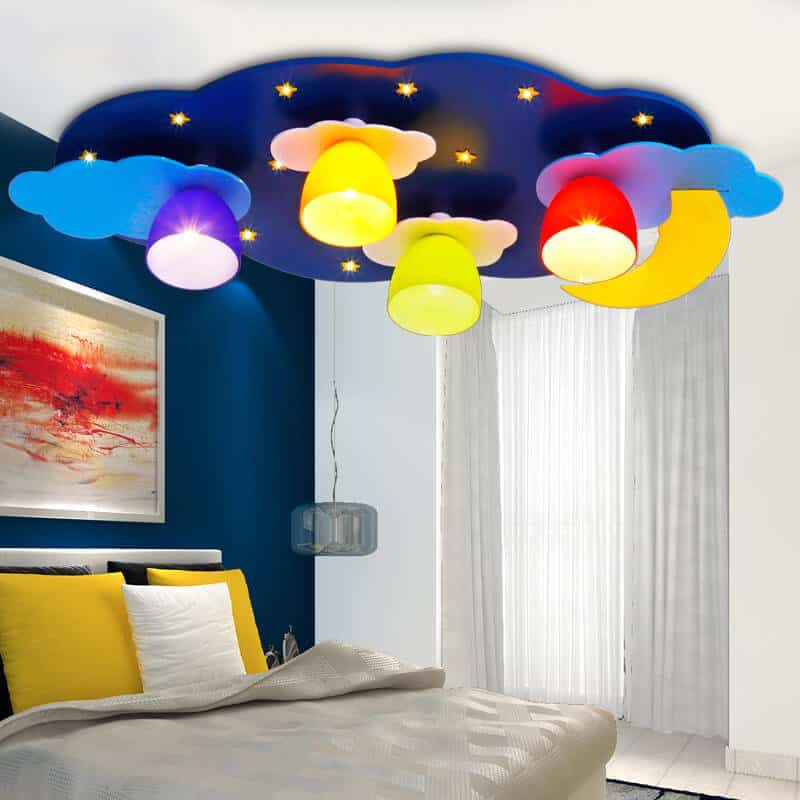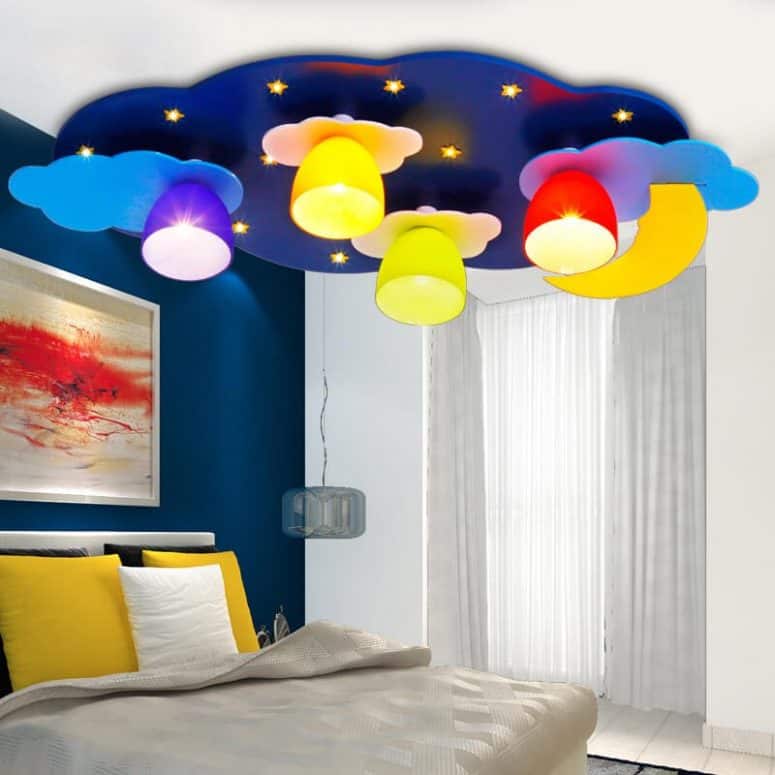 A smaller room has to be decorated with light colors, instead of deep colors. However, an impressive setting and modern furnishing can still offer an unbelievable view.
As you can see, the stars and the lamps are mounted to a deep blue-colored board which is mounted on the ceiling.
Moreover, a black board can also be placed behind the bed for additional planetary system decoration. To add more fun, place a model rocket to lift up the atmosphere.
7. Enjoyable Space Themed Bedroom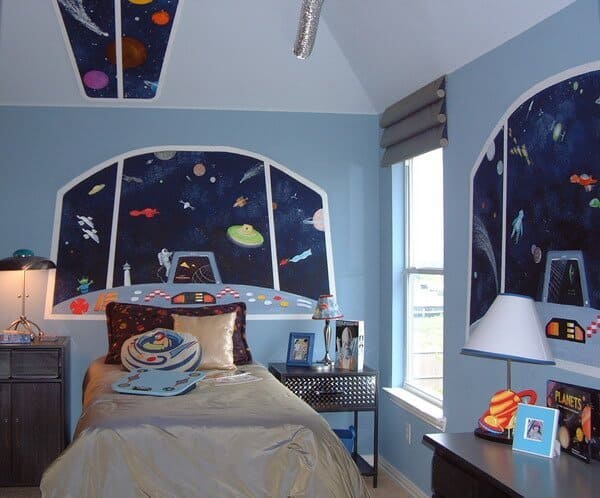 Do you remember how the outer-space is often portrayed through a spacecraft window? Create a space exploration-themed mural on the walls of your boy's bedroom.
The mural will become the centerpiece of the room, because it offers a terrific and intriguing visual representation of space exploration.
When you have drew the outer-space exploration on the wall, you don't have to put any extreme furnishing or ornamental components to make the mural art stand out.
8. Intriguing Space Themed Bedroom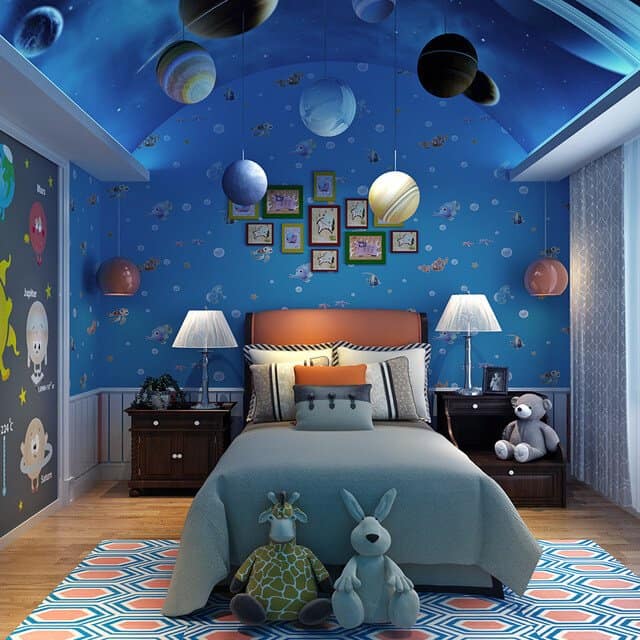 If the deep blue color is too intense for the room, try applying a lighter blue color. Then, add some space-objects mural on the light blue-colored wall. It will create an intriguing space style in the bedroom. The wood furnishing will also give a casual but enjoyable atmosphere.
The hexagonal-patterned rug works as a charming and fascinating ornamental component sticking out on the wood flooring.
9. Vibrant Space Themed Bedroom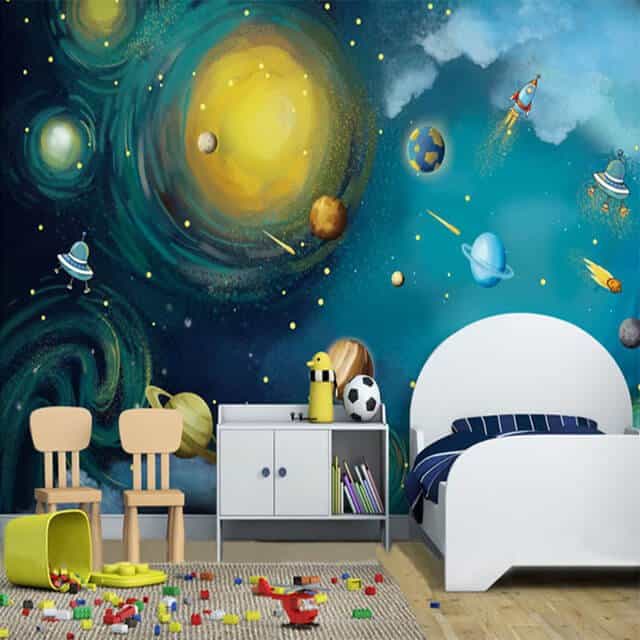 The mural of space objects on the wall creates an imaginative sense. The vibrant and enjoyable space-themed design is embellished with impressive portrayal of the process of forming new planets after a supernova.
That way, the bedroom becomes very unique because of the distinctive idea of the outer-space view.
10. Charming Space Themed Bedroom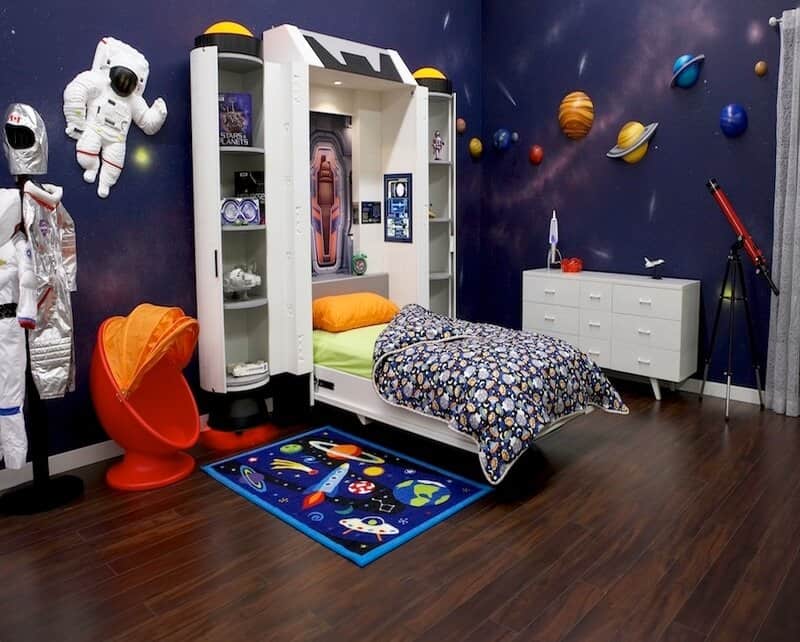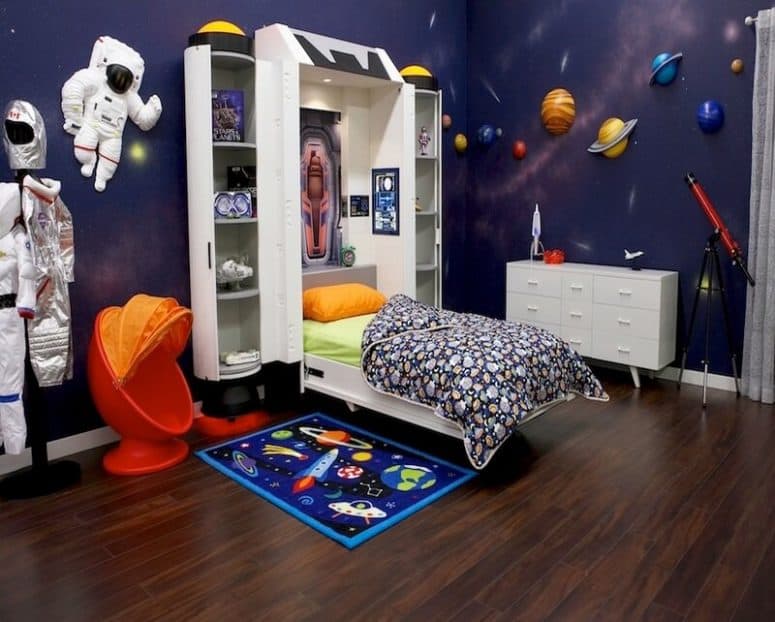 Don't go easy on this style!
Create a sharp view using a strong space colors paints. It is a deep blue color with some galaxy and comets drawing throughout the walls.
Make the planets and the astronaut suits pop out of the walls to give a realistic touch to the entire theme. Complete the design with planets-patterned bed lined.
11. Modern Space Themed Bedroom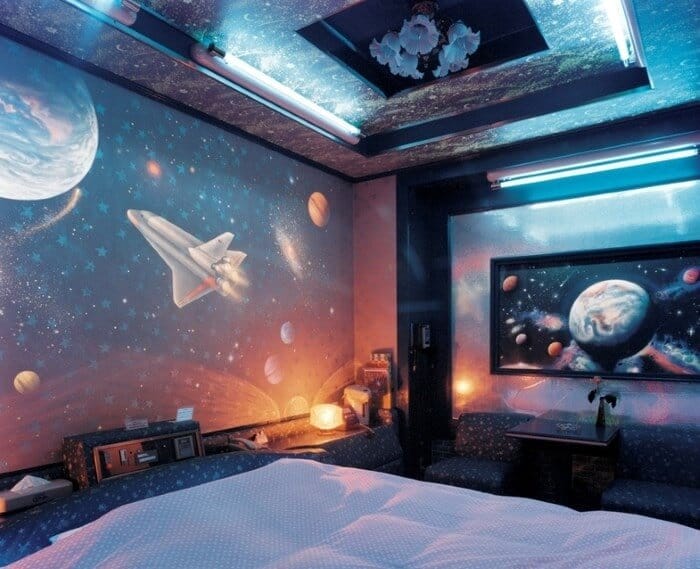 Let's go all out on this space-themed design! This is a very vibrant and impressive bedroom which shows space views from every side.
A planet which is forming into its early form is showing on the sidewalls, while at the head of the bed is a stunning space rocket mural. The room becomes even more vibrant and terrific with the lighting effect. As you see, this bedroom is out of this world!
12. Perky Space Themed Bedroom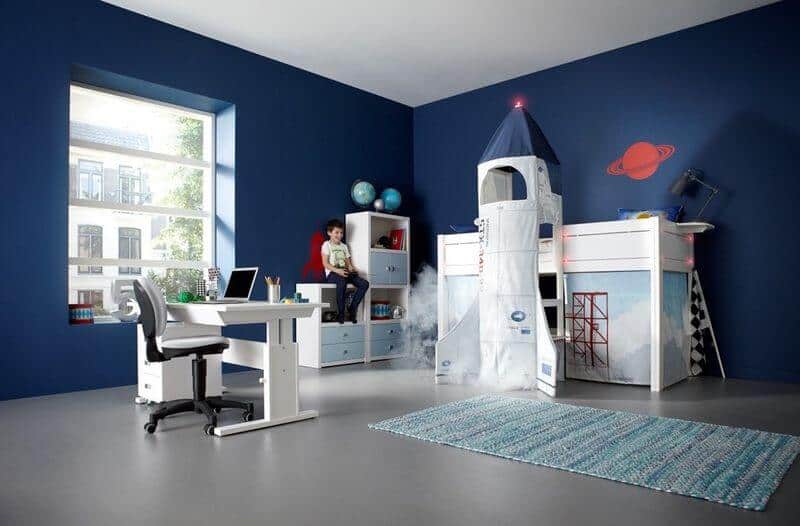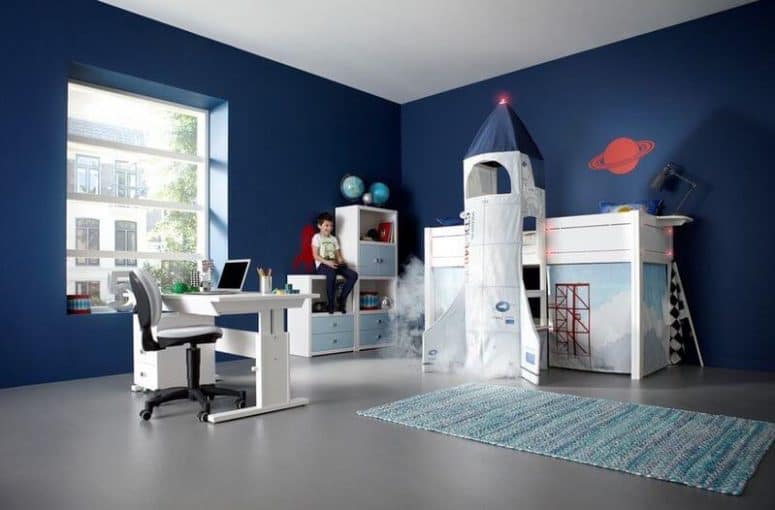 This bedroom is suitable for a five or six year-old boy, because the deep blue color offers intensity, and the space rocket decoration on the bunk bed makes the room very lively.
13. Shared Space Themed Bedroom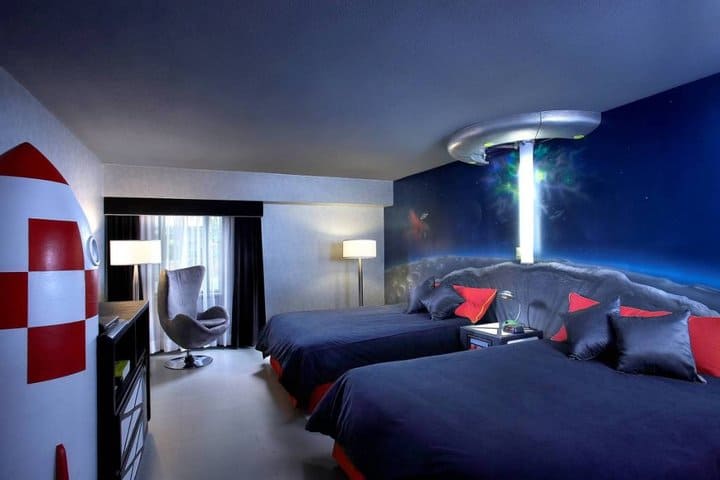 This shared space with a space style is incredibly cool and enjoyable. The bed has a name tag on its side for each of your boys, just like the astronauts' beds up there!
The mural of the outer-space is completed with a touch of an impressive lighting effect. It makes the bedroom thrilling and inspiring.
14. Space Themed Bedroom in the Attic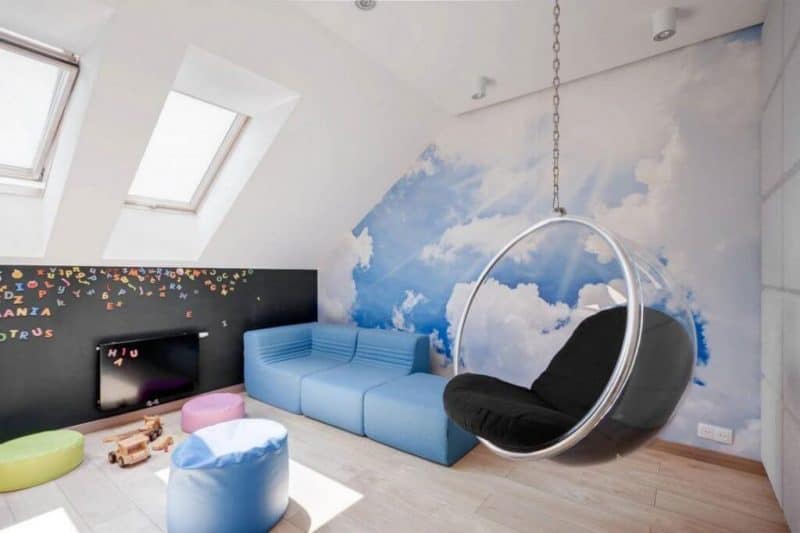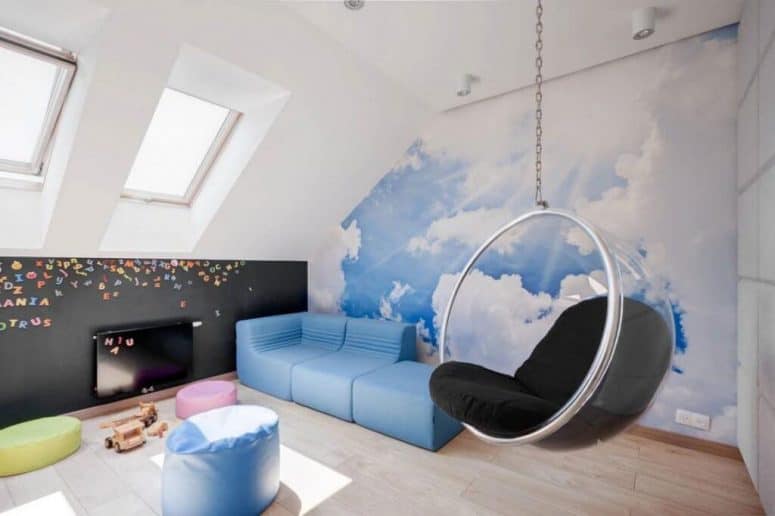 Attic is a spacious place for a kid's bedroom. With the addition of a unique architecture of the ceiling, attic would make a perfect and unique space-themed bedroom.
15. Space Themed Bedroom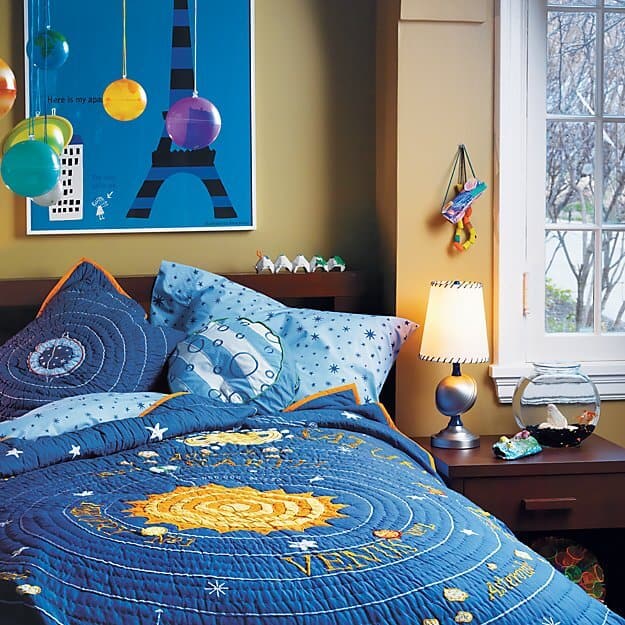 This modern-day space-themed bedroom has an interesting design with the solar system-patterned bed linen and the planets ornament hanging from the ceiling.
As additional decorations, you can add a space art work behind the bed for more impressive vibes.
More Space Themed Bedroom Design Ideas