Throughout history, children have been intrigued by their imagination of what is it like to be in outer space. Therefore, being an astronaut is one of the biggest children dream ever. As a good parent, we can start motivate our children's dream by decorating a space themed bedroom for them.
Making a space themed bedroom for some parents might be a serious obstacle. In fact, it is actually as easy as decorating a nursery. The trick is that we should use more of our imagination to make our kid's bedroom look amazing and enjoyable.
We will start this article by a step-by-step guide on decorating our kid's bedroom with space theme, like adding some constellation painting on the wall, putting some artificial planets over the room, and some space themed furniture.
In the end, we also have curated some of the best space themed bedroom ideas that you can take as your inspiration.
Enjoy!
How to Decorate A Space Themed Bedroom?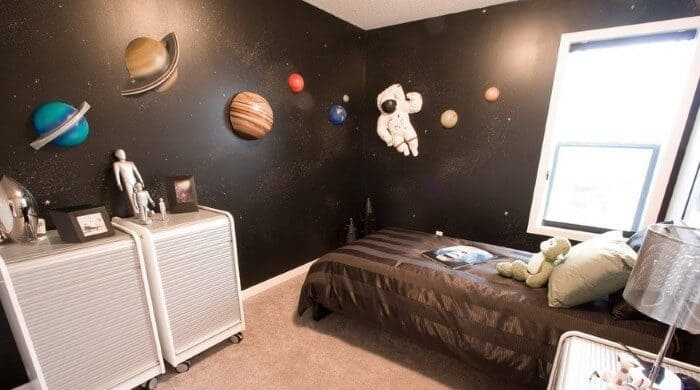 The first thing when we decide to decorate the kids' bedroom in space themed style, we should begin the project by purchasing some essential things to keep up with this style, such as:
Spaceship shaped things (cupboard, lamp, or statue);
Rocket (can be a headboard or toys);
Artificial planets (including the moon);
Something shaped star;
Constellation painting or wallpaper;
Telescope, and;
Astronaut suits
You will be amazed to learn that there are some great deal of things for kids that fit this style.
Artificial Solar System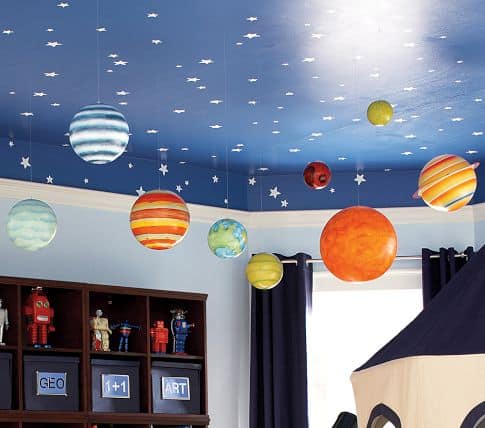 For example, using artificial planets, you can create a wonderful piece of art hanging on the ceiling of the room to make it look more like the real outer space. By making this, kids also will learn the name of each planet in very fun way!
Add Some Wall Mural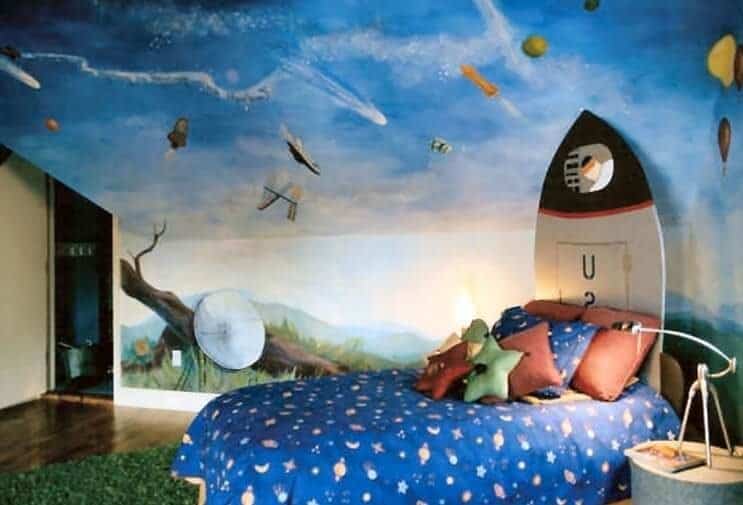 If you and your kids love to paint, here is one great idea: draw some shapes of planets, spaceships, comets, stars, or alien on the wall and paint them together. This can be the best way to spend weekend or holiday with your family.
If drawing or painting is none of your thing, then it would be so much easier to get some wall stickers of space stuffs and put them on the wall. But before that, you may want to paint the wall in dark blue with some white dots and put a wall lamp to light the night sky.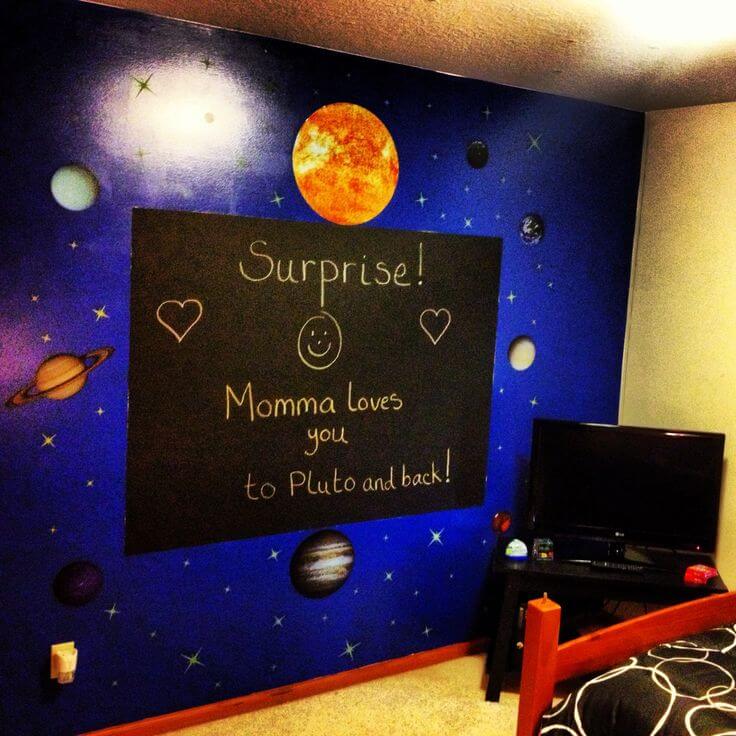 You simply just need some creativity to combine all of them and the excitement of doing this for (or with) your kids.
Space Themed Bedroom Furniture
When decorating a space themed bedroom, there is something you should never left: a space themed furniture. A space themed furniture like beds, cupboards, rugs, etc., will make the room look even more realistic.
Let's begin the list.
Space Shuttle Shaped Bunk Bed
It might not the real space shuttle (or not yet), but your kids' genuine creativity and wonderful imagination could really take them up into the outer space as they sleep on this space shuttle bunk bed.
Don't worry, this bunk bed is absolutely strong and safe for your little astronaut. Just simply attempt and consider your kids' pleasure as they go into the cockpit through the sliding door or go up to the bay with the connected ladder.
Starting the day from their own space shuttle will truly be amazing experience for them.
Space Shuttle Shaped Cupboard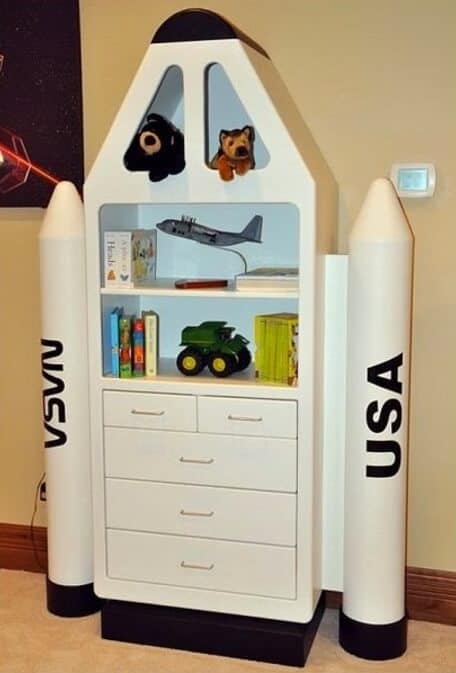 Another example of spaceship shaped furniture is this space shuttle cupboard. With four layers of racks and five sections of drawer, this cupboard can restore our kids' clothes and toys, or even books.
Provided with two rocket blasters on both sides with "NASA" and "USA" letter printed, this spaceship shaped cupboard absolutely a perfect furniture for our kids' space themed bedroom.
In fact, this will make kids feel like they are really in a space center and will pursue their dream becoming an astronaut.
And maybe, with a cupboard shaped like this, they will be happy to store their things after messing them up all over the room.
Inflatable Solar System Balloon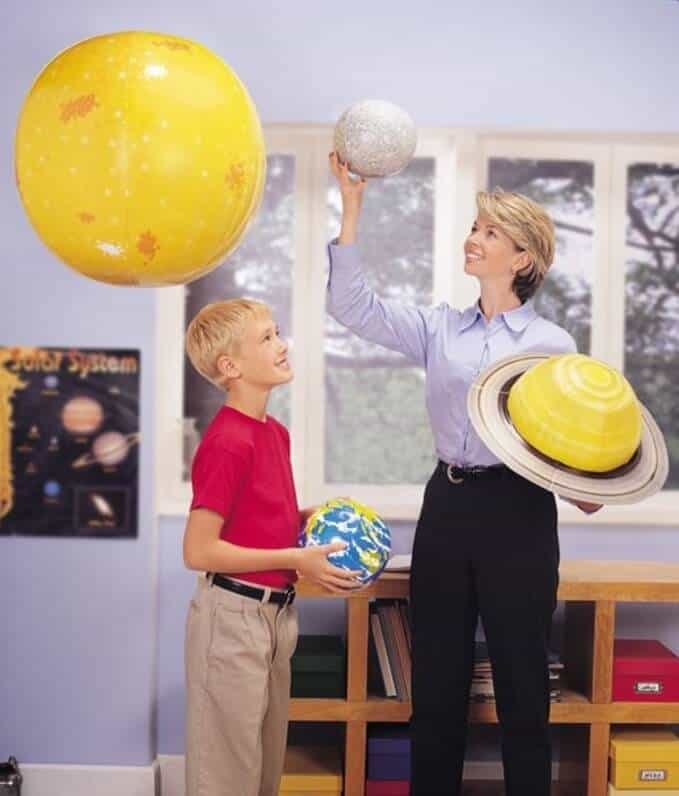 As a substitute to solar system artificial planets, this inflatable solar system balloon can give the same experience to the room as those artificial planets.
However, the difference is, unlike those artificial planets that functioned as display, this solar system balloon is safely playable, of course because it is a balloon.
The fun thing is that they size ratios are the same size as the original ones. Sun is the biggest, and then Jupiter, and so on.
The set consist of 23 planets, including the sun, the moon, eight proportionally sized planets, foot pump, and activity guide.
Astronaut Bed Cover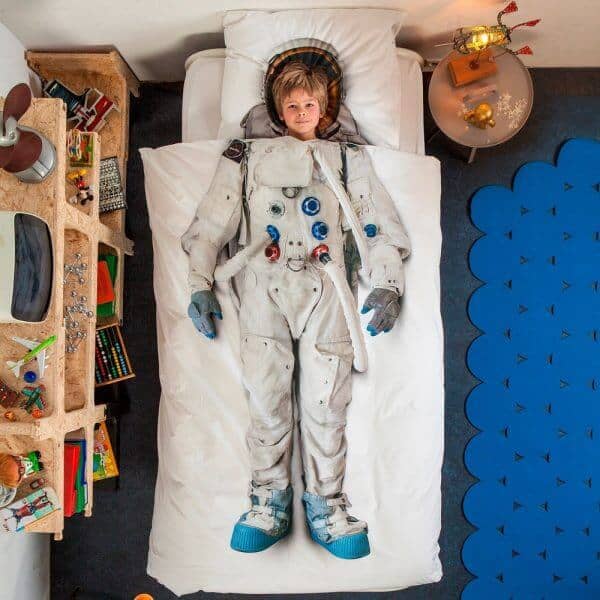 Having a space themed bedroom is every little astronaut dream. Therefore, why not make their dreams come true by giving them this bed cover with astronaut print on it?
This cotton duvet set includes the bed cover with a print of astronaut suit and a pillow with the astronaut helmet print. Totally a perfect match for a space themed bedroom!
Space-Themed Constellation Bed Set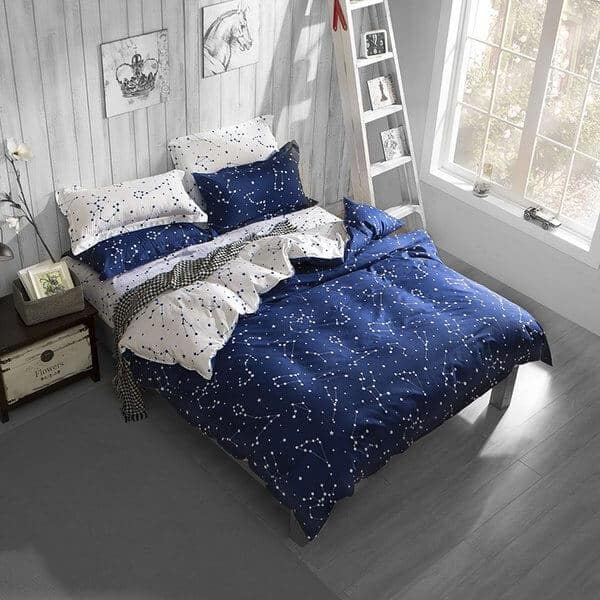 Another duvet set idea of space themed bedroom is this constellation bed set. If your little kid is into astronomy, sure they will love this constellation bed cover and pillow.
This bed cover is reversible, one side has blue color and white constellation print, while the other side has white color and blue constellation print.
This bed set is made out of high quality polyester that covers the sheets, pillows, and also bed linens.
Moon-Shaped Rug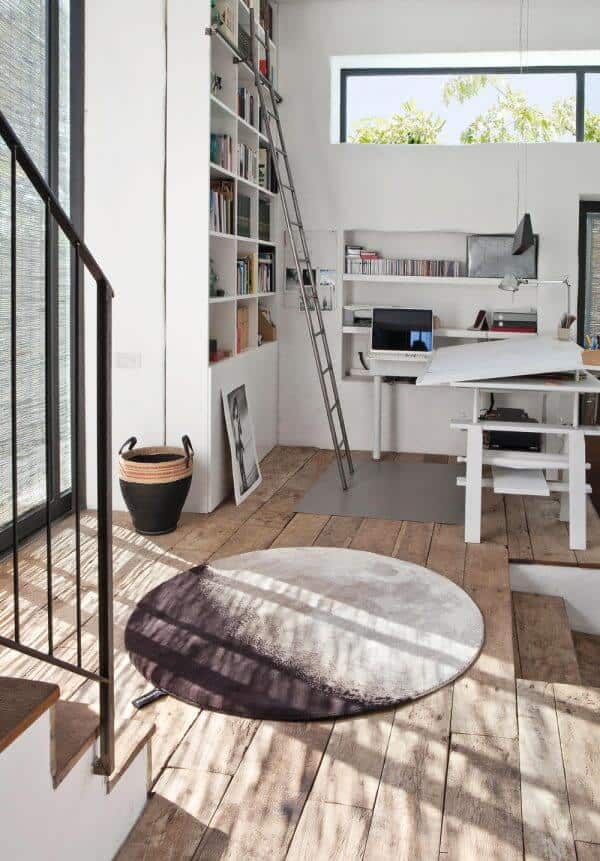 Who thinks that a rug can give a huge impact to the room? Well, now you know.
This moon shaped rug has the perfect shape and color of the real moon, made out of the best quality of New Zealand wool, giving an unforgettable feeling of landing on the moon.
Solar System Magnetic Wall Clock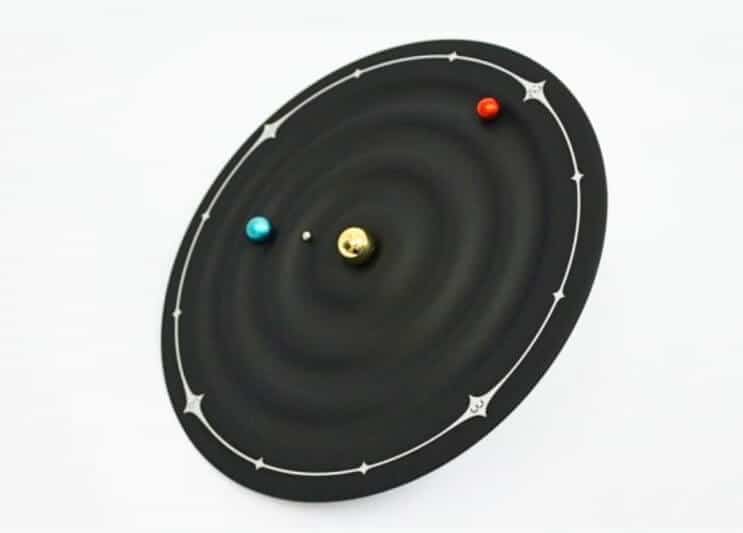 Sometimes, we don't look at clocks just because they are boring, and it makes us disoriented.
Say no more to boring clocks.
Teach our kids to be punctual with this solar system magnetic wall clock. This unique clock is made out of aluminum disc covered with black rubber and four planet shaped spheres as the time pointer. Very authentic.
Vintage-Looking Telescope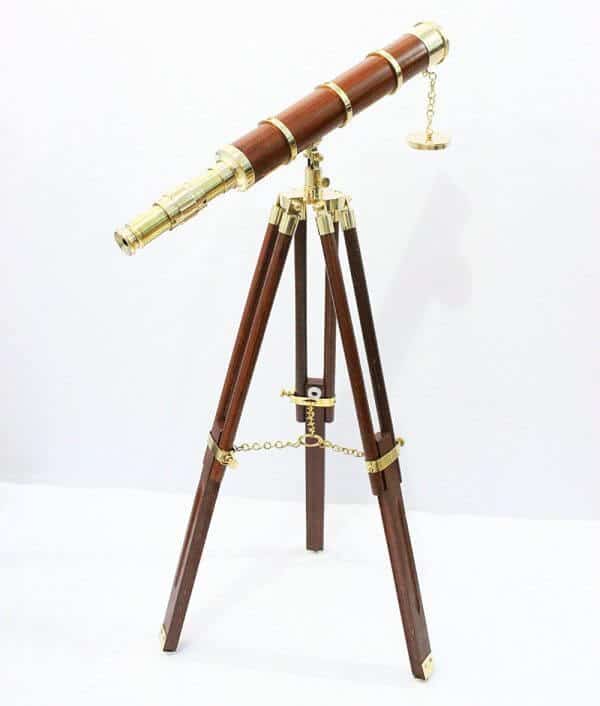 In decorating a space themed bedroom, having a telescope is really essential. Especially for those who are really passionate in astronomy.
There are so many types of telescope in the market, from a decorative only purpose, to the most advanced ones.
Besides its functionality of seeing something really far away in the sky, a telescope will add a magnificent effect to the whole room, make it look more "space themed".
Real Meteorite Piece with Display Case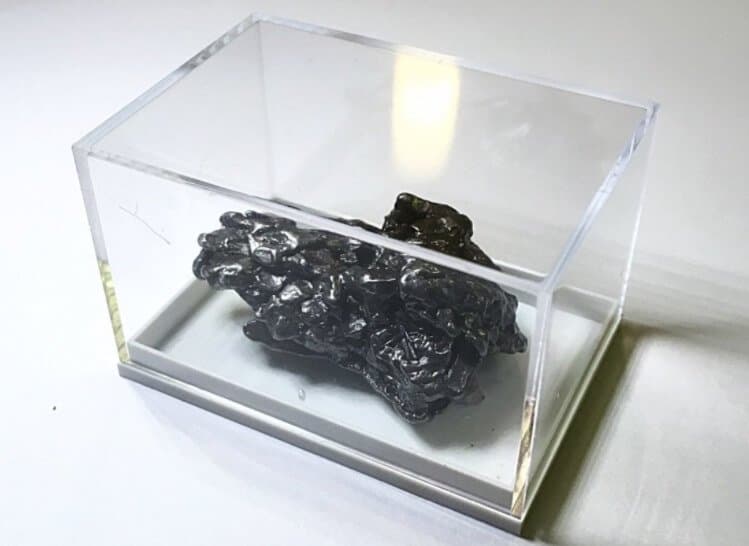 In case you didn't know, there is a real piece of meteorite being sold on marketplace like eBay or Amazon. Those meteorite pieces weigh approximately 70 grams, including a glass screen case for display.
These meteorites come from Argentina's Campo del Cielo, and come with the certificate of credibility as the proof of their authenticity.
Space Shuttle Scale Model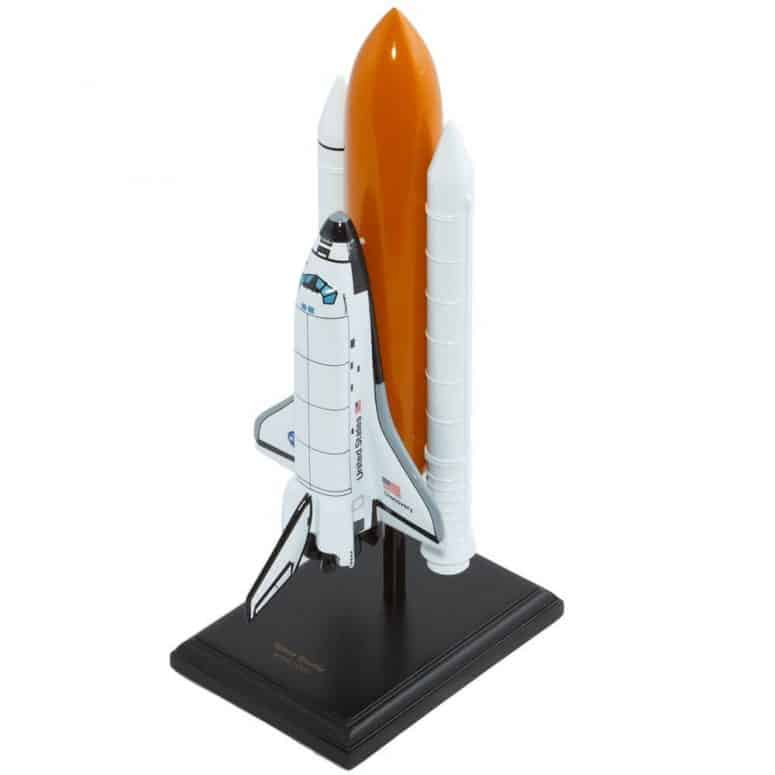 This NASA scale model spaceship is the perfect decoration for the studying desk of space themed bedroom. The ship scale model has the proportional size as the real ship with a touch of beautiful orange color burst down its side.
The orange color that pops out will absolutely kill the level of boredom while studying.
Moon-Shaped Light With Moon Phases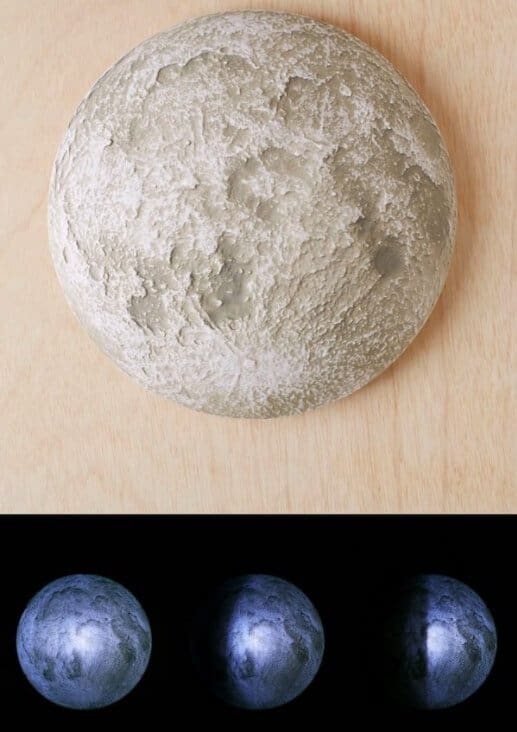 Imagine you are laying outside or camping underneath the moon.
Now, you don't have to do that to see the beauty of the moon. With this ceiling light, you can enjoy the beauty of the moon every day in your room.
The best part? This moon shaped ceiling light provides the moon's 12 phases that will gradually changes according to the real moon. Incredible, isn't it?
Rocket Shaped Sleeping Lamp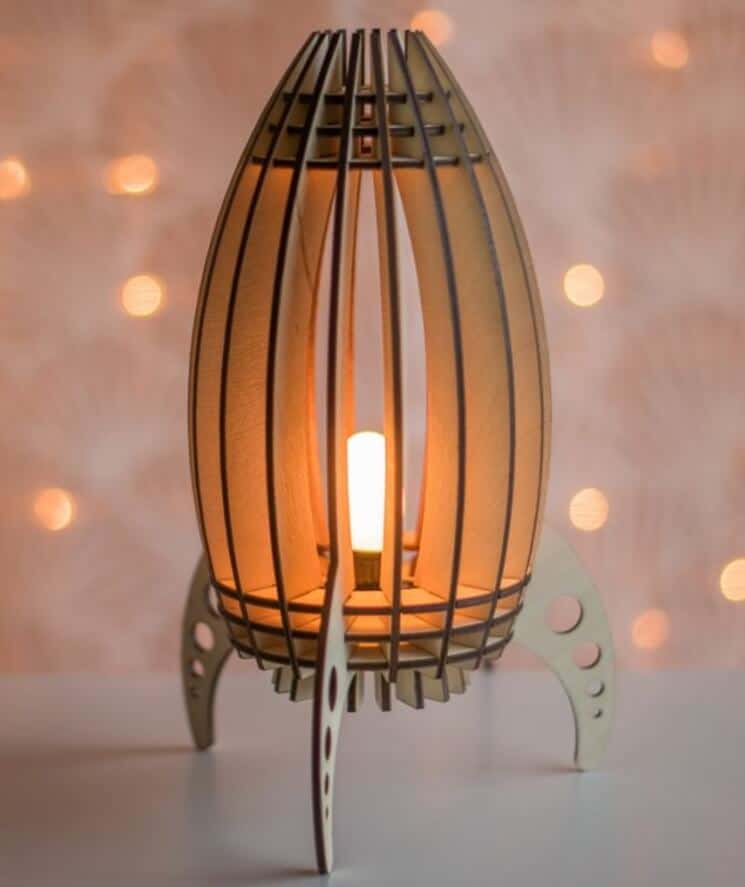 This natural wood rocket-shaped sleeping lamp will launch and take your kid up to his dreamland.
It is carefully handcrafted and can be puzzled down when it is not in use. This is a perfect choice for your kid present, and it needs a little bit of creativity to build before they can use.
But still, since it is an electrical thing, parental advisory is needed in building this puzzle lamp.
Constellation Themed Doormat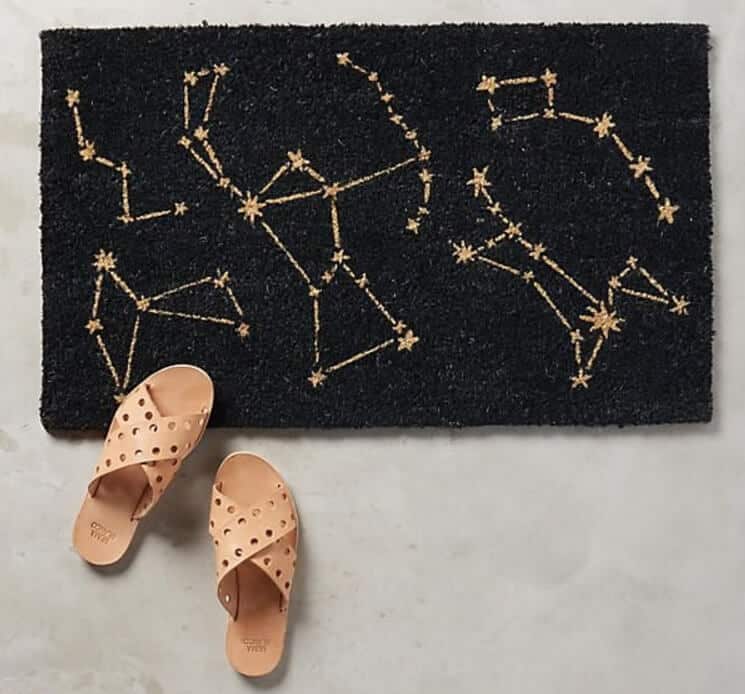 This constellation doormat is the best way to tell everyone before they come in to your kids space themed bedroom.
The main material is an environment-friendly coarse fiber, with five illustrations of constellations. Put one under your kids' room as a friendly reminder to clean their shoes before they come in.
Space Themed Bedroom Ideas
Anyhow, we as parents should encourage our children and motivate their dreams by applying a decoration in their bedrooms that will motivate them.
After we listed some of space themed room essentials, now let's take a look at the example of applied space themed bedroom ideas for inspiration.
Super Cool Space Themed Bedroom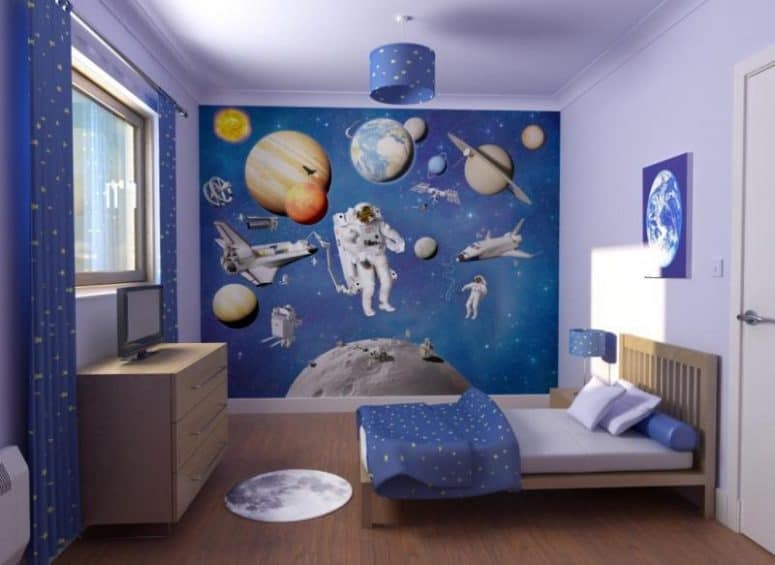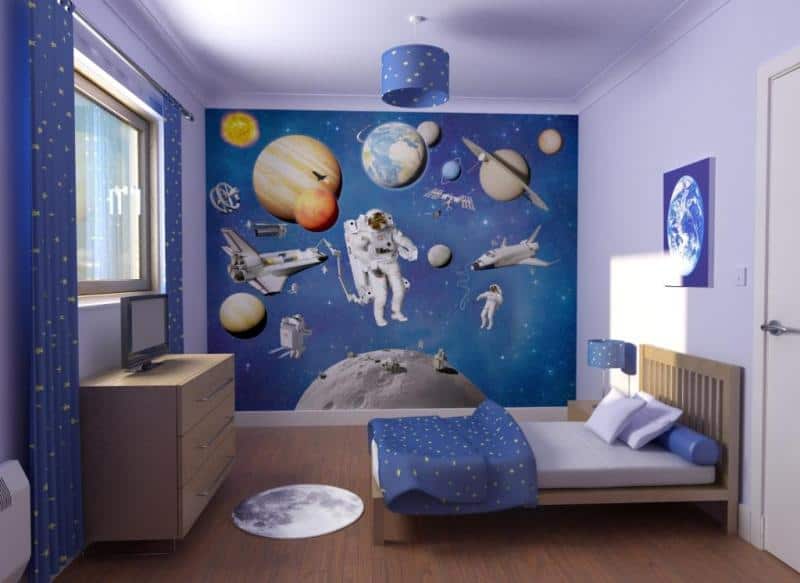 This design turns an ordinary small room into a lovely space themed room by adding a space mural on the wall.
Besides, those space themed ornaments also play an important role in the room. Let's say the lamp shades, the curtain, the blanket, the painting, even the moon shaped rug.
Gorgeous Space Themed Bedroom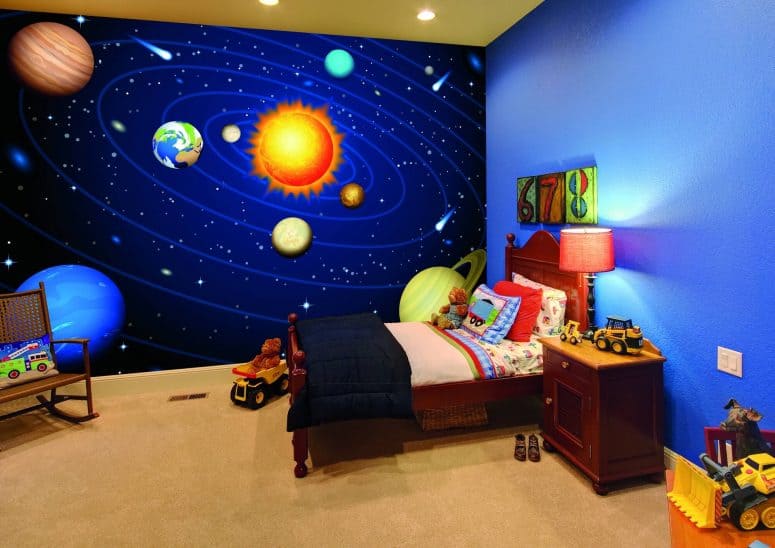 The intense and vibrant color of this space themed bedroom has a big contribution towards the outer space atmosphere in the room.
A full wall mural of our solar system on one side of the wall brings an imaginative feeling of being on the space.
The other wall that painted in blue also give a smooth transition, even though it is not coated with a space-themed wallpaper, it "leads" our eyes to stay focus on the other side of the wall.
Space Themed Bedroom for Girls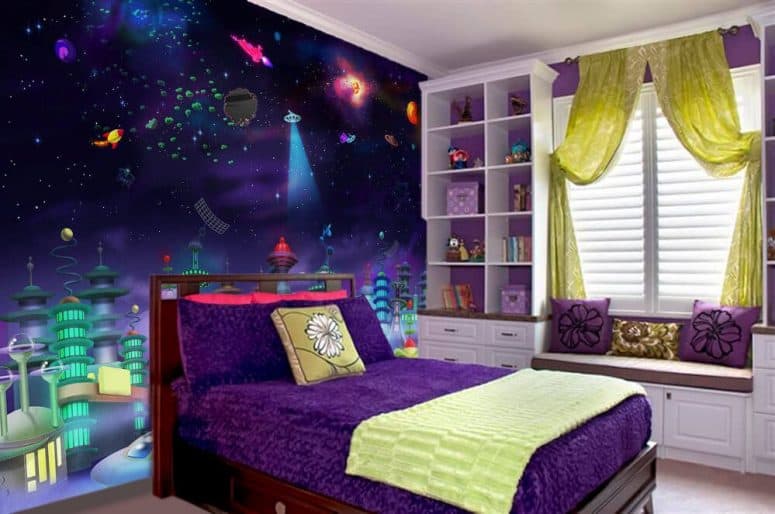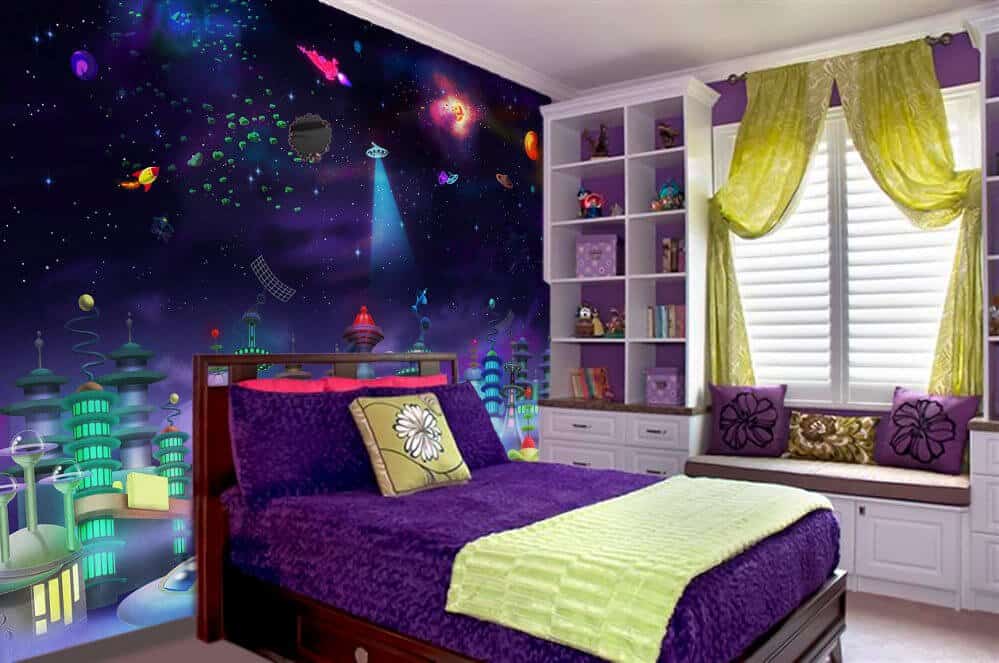 The dynamic space wallpaper in mix with the stars print bed linen develop an enjoyable and cool look of this bedroom. The light wood furnishing offer the location with light and perky atmosphere.
Brilliant Space Themed Bedroom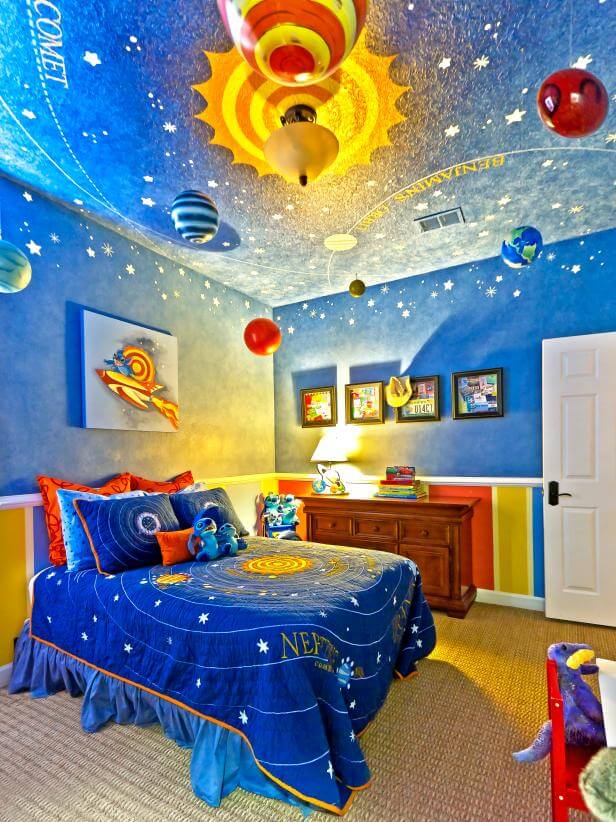 The pastel colors of this space motivated bedroom are wonderful and produce a delighted and cheerful atmosphere in the location.
The gorgeous space art on the wall in mix with the green bed linen develops a fantastic contrast and fill this bedroom with dynamic and dynamic feel.
Cool Space Themed Bedroom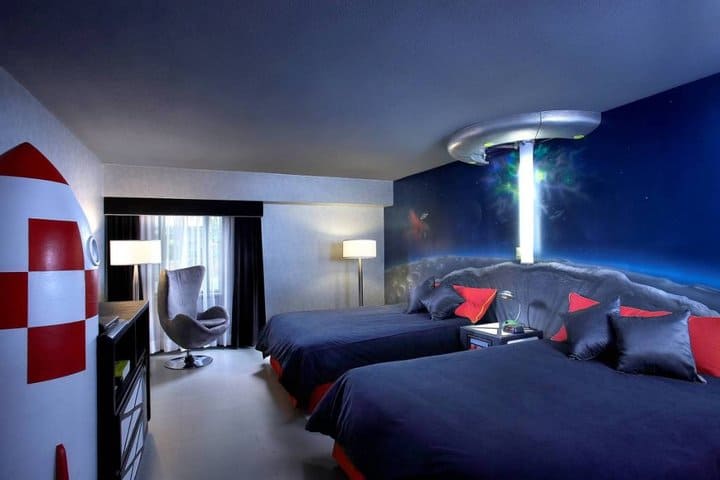 The deep blue color pattern of this bedroom completely adapts with the entire space style in the bedroom and offers this location with genuine and fascinating note.
The space bed linen is specifically cool and fascinating which functions as a centerpiece and offer this charming bedroom with enjoyable note.
Imaginative Space Themed Bedroom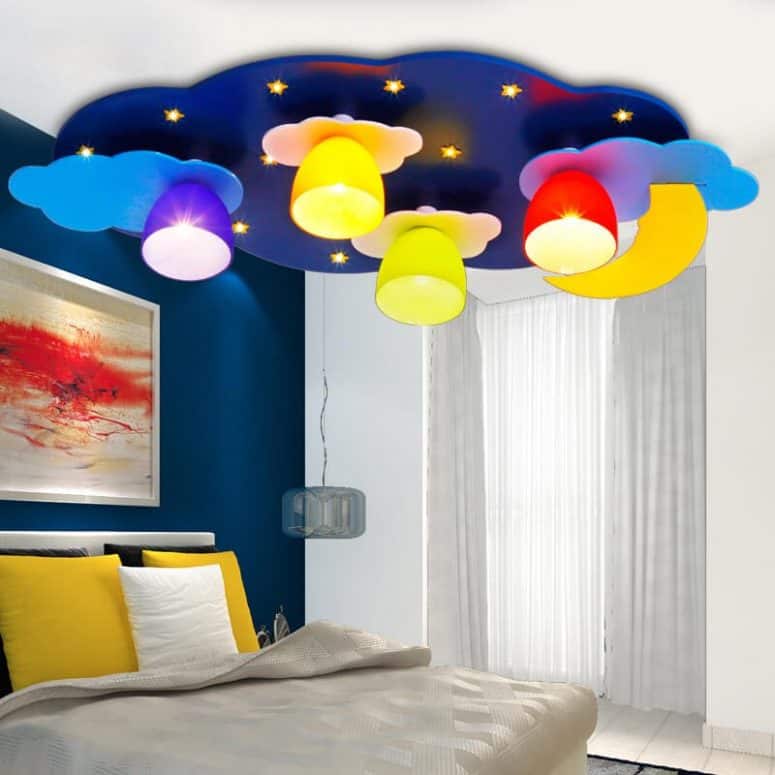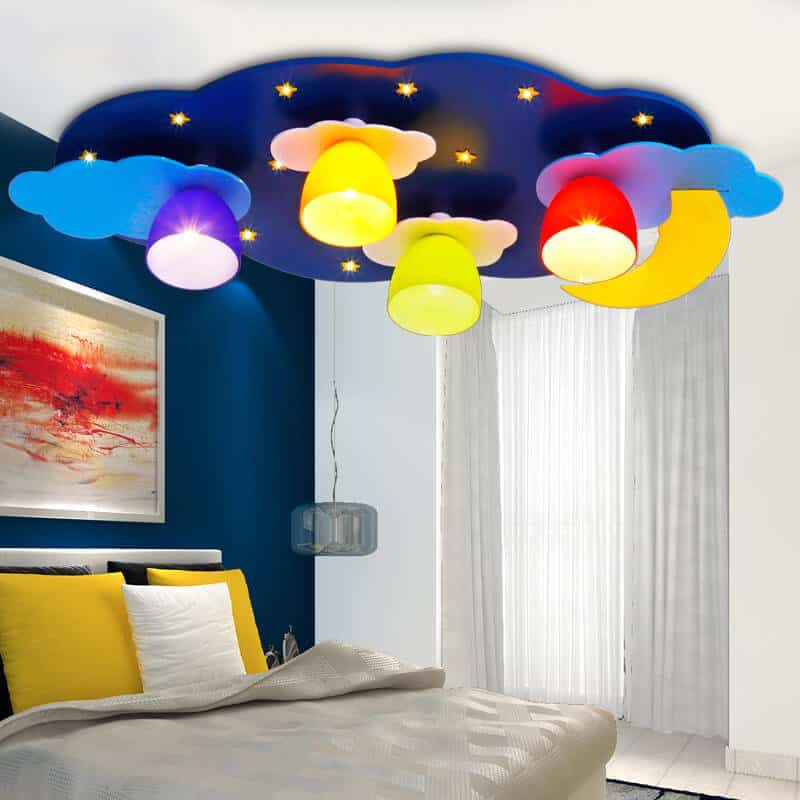 This bedroom has a truly cool and motivating look with cool setting and modern furnishing.
The blackboard behind the bed with planetary system art work works as an excellent backdrop and centerpiece in the location. The little ornamental spaceship includes additional cool and enjoyable atmosphere.
Enjoyable Space Themed Bedroom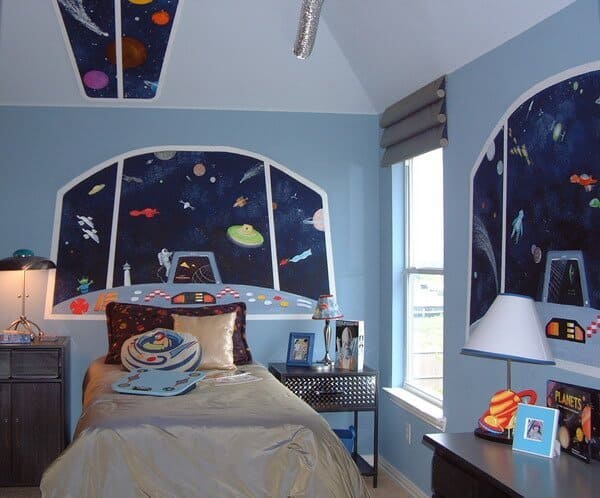 The dark deep space style of this bedroom is entirely cool and enjoyable. The exposed worlds are functioning as a terrific centerpiece and produce cool visual results in the space.
There is not extreme furnishing or ornamental components which is terrific since it draws the focus on the exposed worlds on the wall.
Intriguing Space Themed Bedroom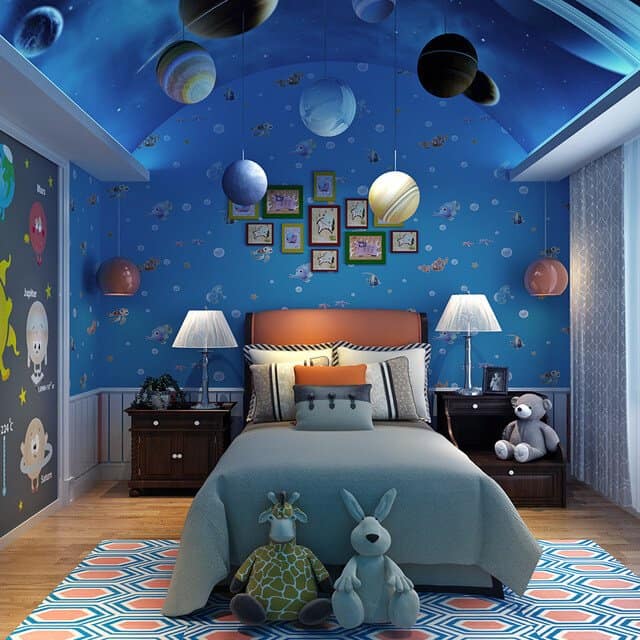 The light blue color design and intriguing space style in this bedroom in mix with the wood furnishing develops a casual but enjoyable atmosphere in this bedroom.
The hexagonal-patterned rug works as a charming and fascinating ornamental component sticking out on the wood flooring.
Vibrant Space Themed Bedroom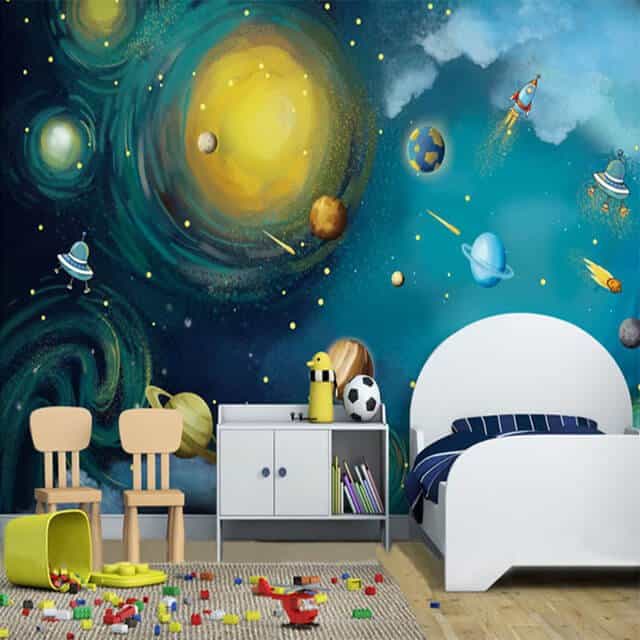 This vibrant and enjoyable bedroom with space style is truly well embellished with intriguing pendant world reproductions and imaginative wall art with space style concept.
The space style is changed on an actually cool and distinct method supplying this bedroom with distinct and intriguing look.
Charming Space Themed Bedroom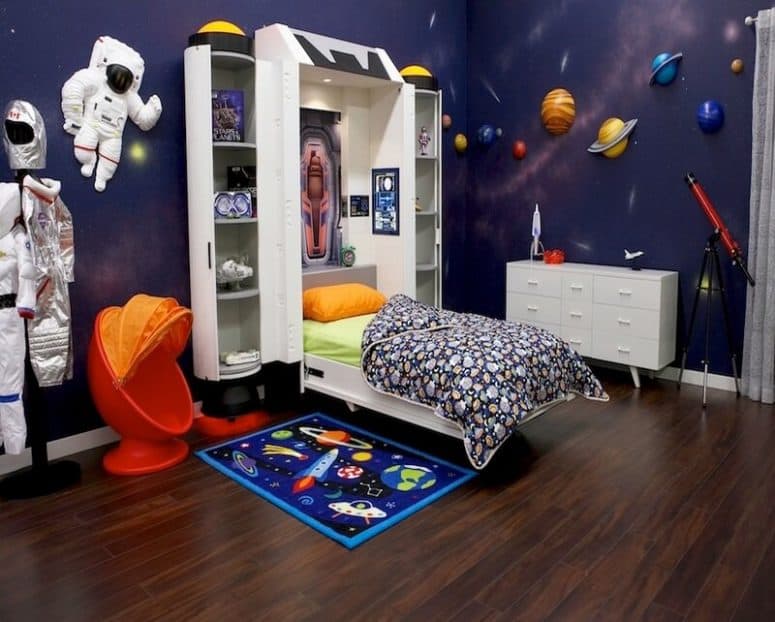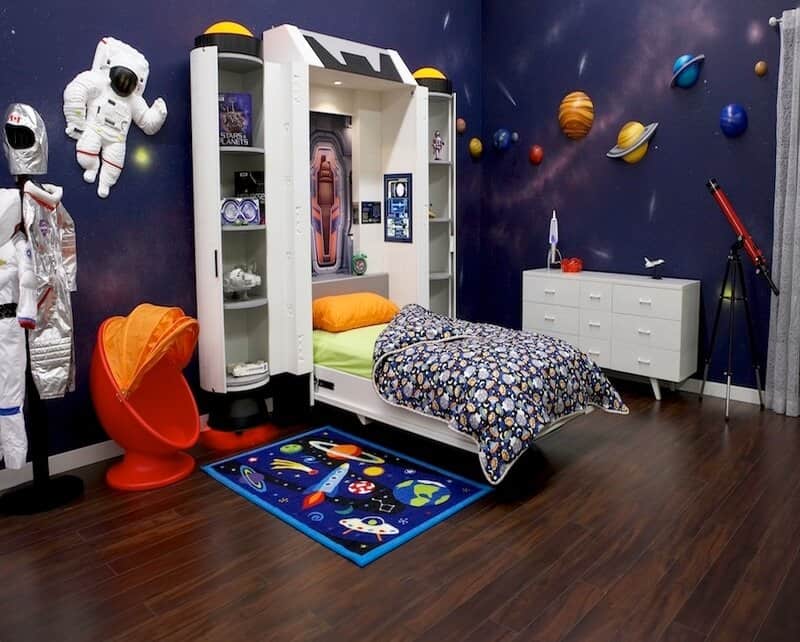 The sharp and tidy colors are exposed in a truly cool and distinct method adjusting the space style completely. The cool outer space carpet stand apart in the space together with the space influenced bed linen and cool star art on the pale blue wall.
Modern Space Themed Bedroom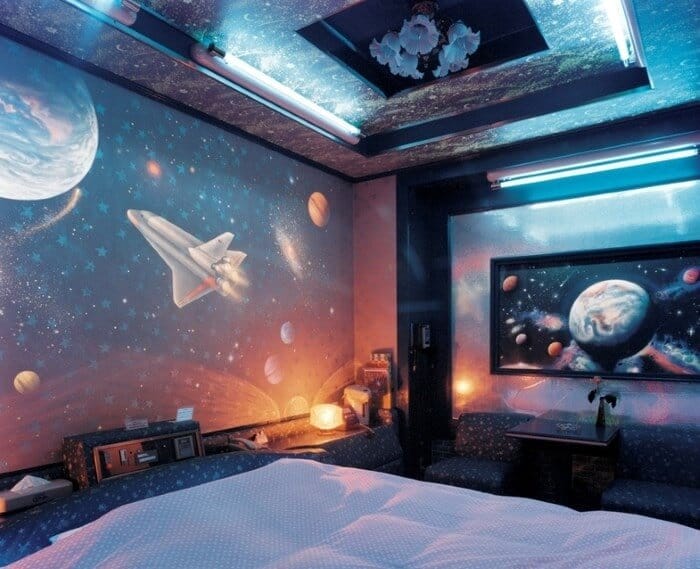 Here is another example of an actually vibrant and cool bedroom which has actually used the Space style in an actually cool and legitimate method.
The half exposed world reproductions and astronaut striking on the black deep space wall are offering the bedroom with cool and enjoyable visual impact.
Perky Space Themed Bedroom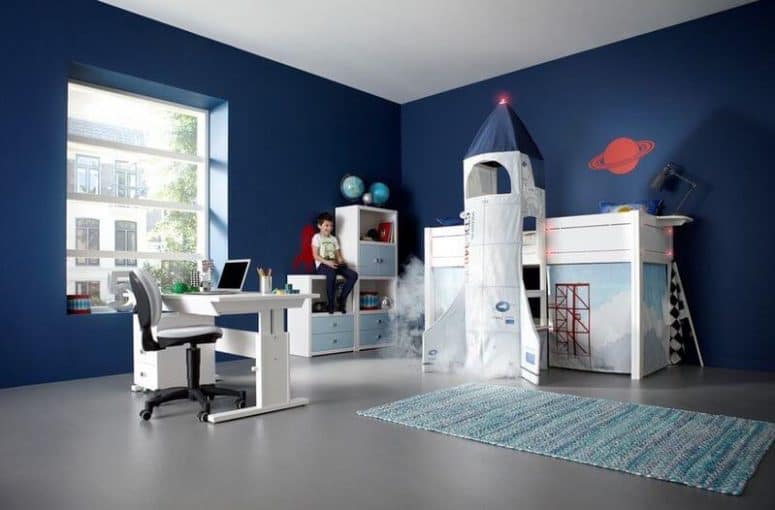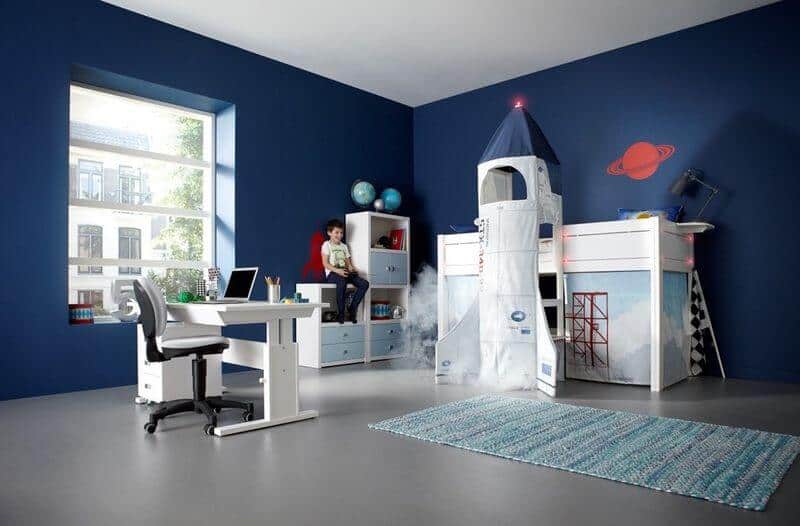 This bedroom is embellished for five until six years old boy, for that reason are the intense and vibrant colors in mix with an innovative and enjoyable ornamental components such as the spaceship art on the wall.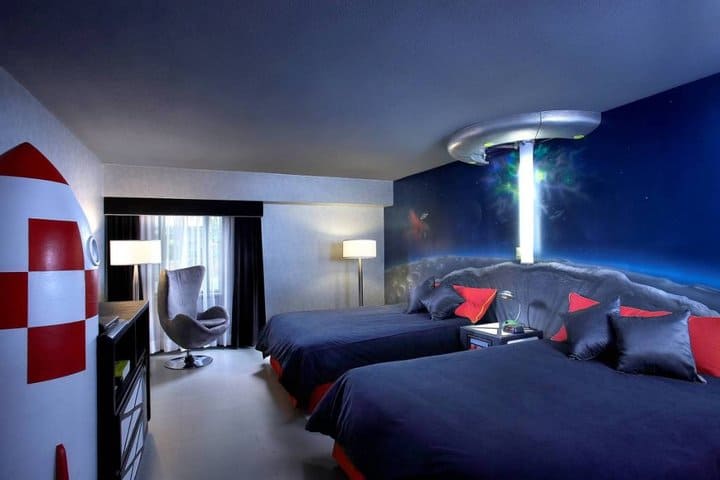 This shared space with a space style is incredibly cool and enjoyable. The name tags on the each side of the bed include an individual and enjoyable touch in the space and go completely with the thrilled and space inspired style in the location.
Space Themed Bedroom in the Attic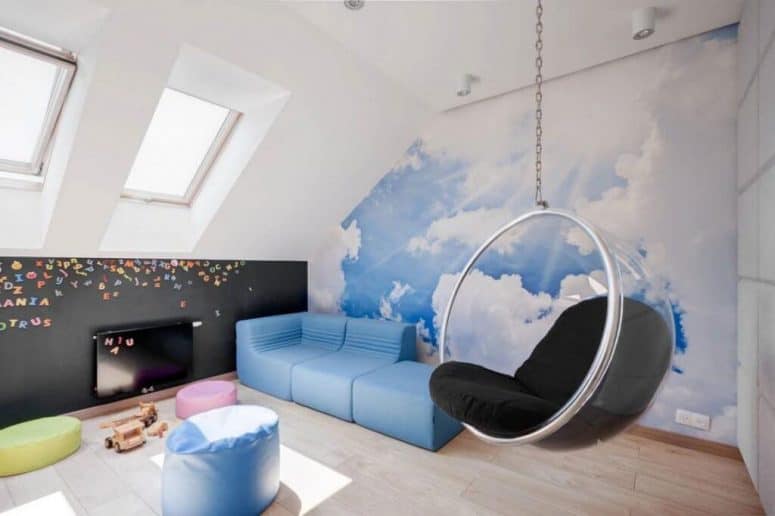 The attic is best location for producing a space style bedroom for your kid, due to the fact that of the particular architecture of the ceiling. THis space influenced bedroom is embellished in an actually cool and distinct method.
Space Themed Bedroom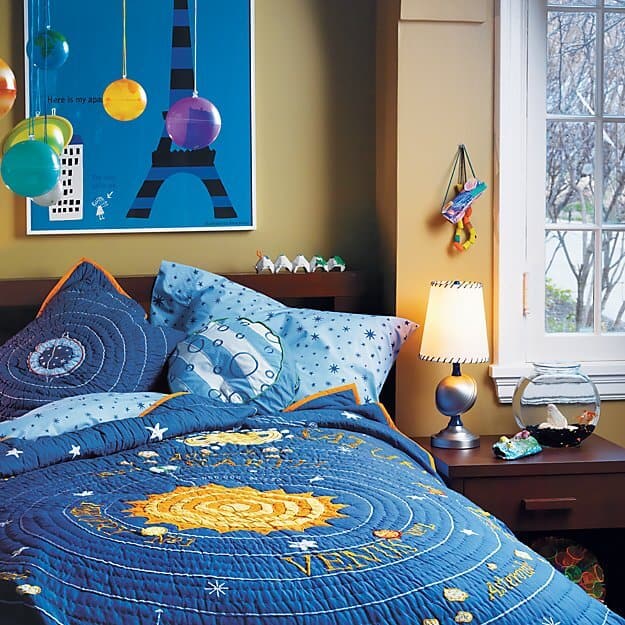 This modern-day space motivated bedroom has an actually cool and vibrant setting with an intriguing solar themed art work behind the wall as a centerpiece and modern-day furnishing.
More Ideas on Space Themed Bedroom Design..