Don Pedro Brooklyn is reader-supported. When you buy through links on our site, we may earn an affiliate commission. Learn More
Types of Flooring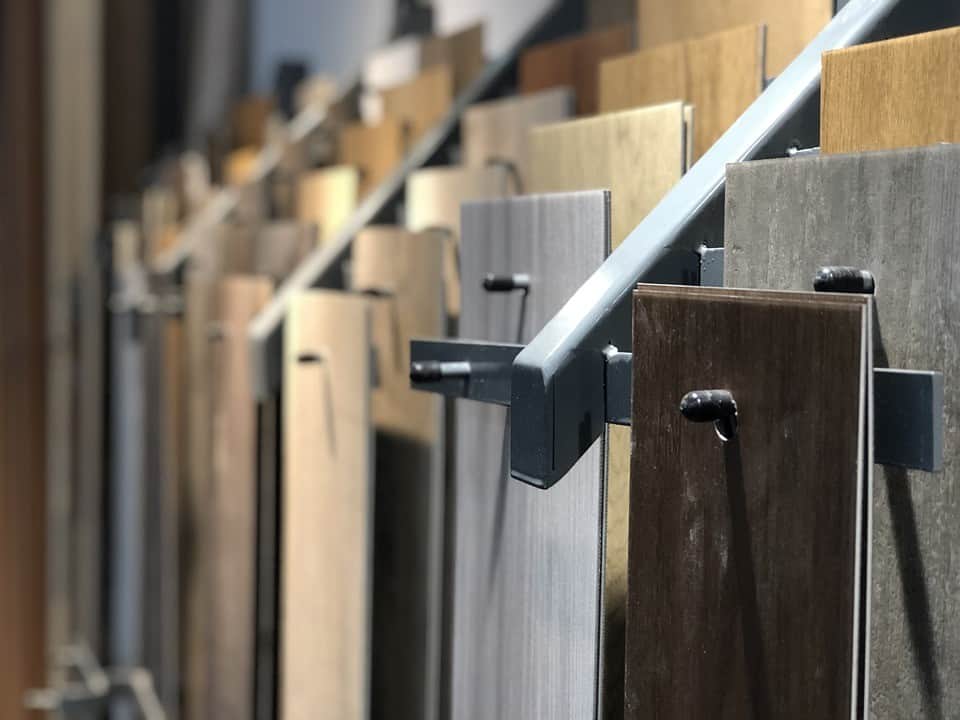 Do you get your floor surface old and torn-off? Or you just moved into a new house and confused in choosing the right types of flooring?

Changing your entire floor surface or arranging it, is indeed a busy challenge to do.

But no worries! Nowadays, you can easily find so many options for flooring.

So, you don't have to be confused about choosing them, and you don't have to keep using your worn-out floors anymore.

Nevertheless, it doesn't mean that you can just take any options randomly. Perfect types of flooring might be ideal for one house, but weird for another.

There are things you need to consider, including materials, environment, needs, who lives in the house, and not to mention the budget you need to calculate.

Now, this guide is going to help you in doing a little research on choosing the flooring option. I also include the pros and cons of the ten most common types of flooring.

[powerkit_toc title="Types of Flooring" depth="2″ min_count="4″ min_characters="1000″]
Hardwood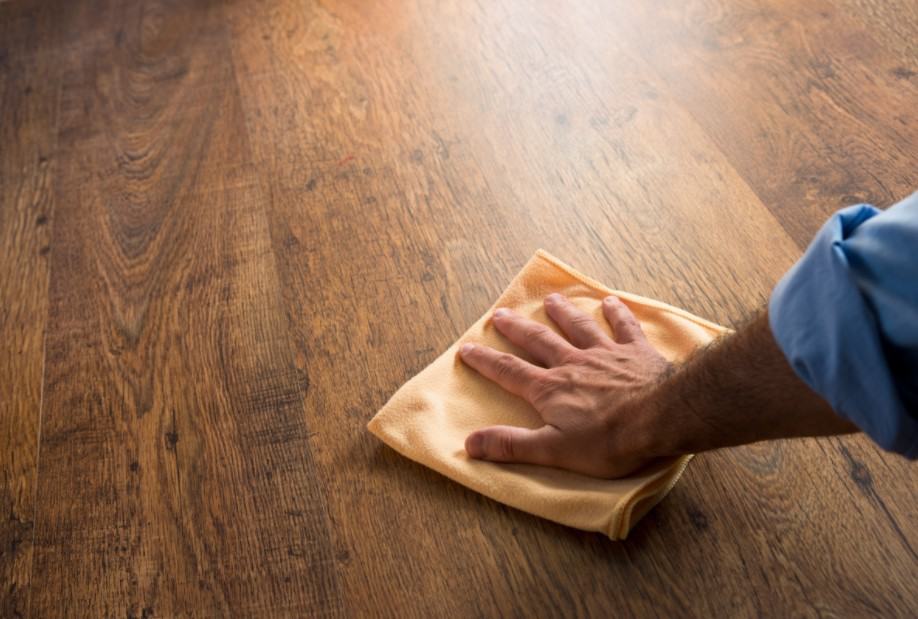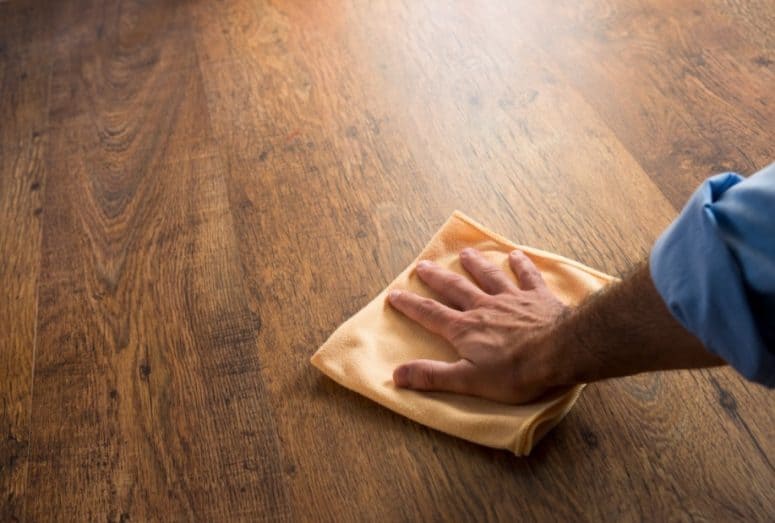 Hardwood is one of the most popular types of flooring, especially in the US. This one is the real solid wood that you must install by nailing all of it to your floor.
Usually, it comes either in up to 2.5 inches strips or up to 4 inches planks. Hardwood flooring is made out of solid wood, such as walnut, oak, cherry, maple, and others.
I recommend you to buy from companies with FSC (Forest Stewardship Council) or SFI (Sustainable Forestry Initiative) certification to make sure they come from legal cutting.
You can order hardwood flooring either finished or unfinished. If you choose the unfinished one, you need to sand it and do the finishing yourself.
Therefore, that usually costs less than the finished one, which is more durable since it is finished by the company.
Pros
Visually, people like to use hardwood due to its versatility. Hardwood suits many rooms in the house, and it has warm natural looks their visual strength.
Also, hardwood is very easy to clean and mop. It makes it often look very polished, and that is sure pleasant in the eyes.
Cons
Hardwood flooring cannot handle the change of temperature, because it could shrink.
Once it is, it would not have that appealing look of a durable wood anymore.
Also, hardwood is easily getting scratched, and it leaves a real mark.
Finally, hardwood is not recommended to be installed in the room where it easily gets wet. Therefore it is not recommended for a bathroom or kitchen.
Bamboo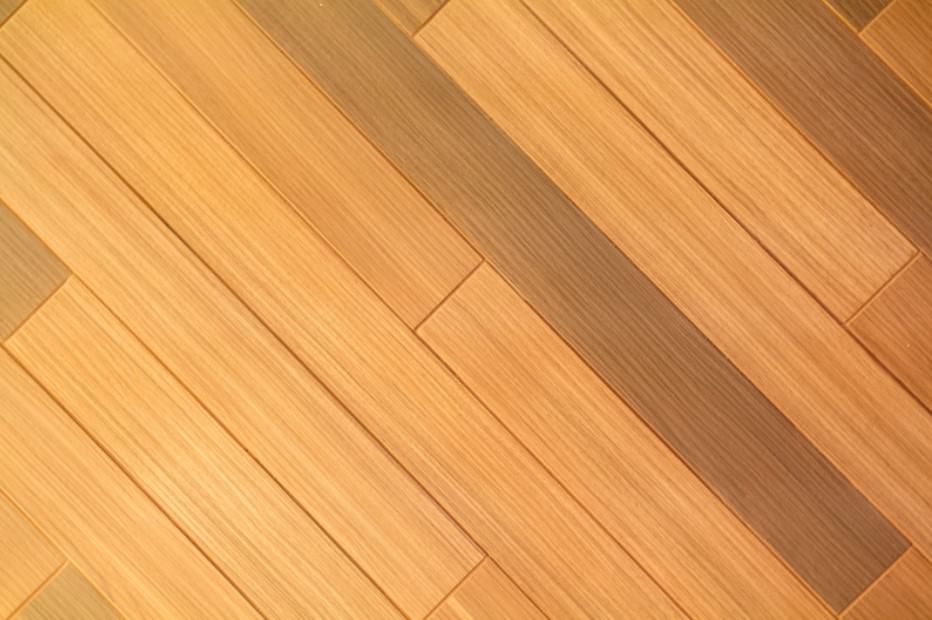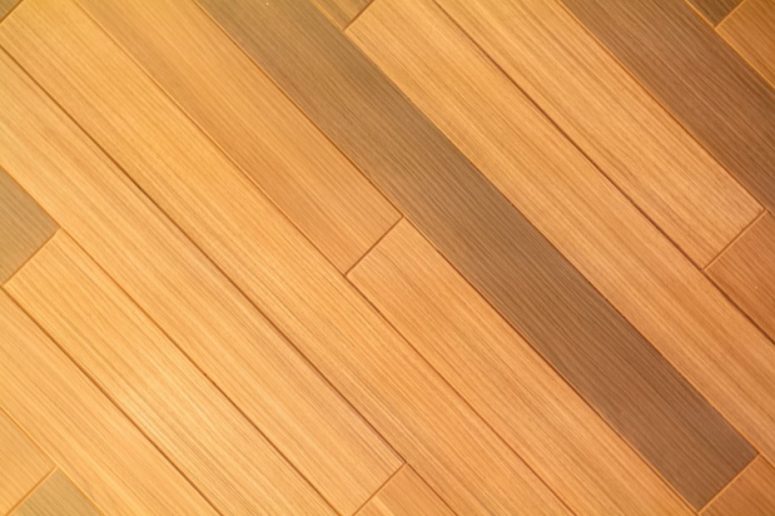 Bamboo is also one of the common materials used in wood flooring. The look and the feel are not so different from hardwood, that's why.
The difference is on the grainy look from the bamboo grass.
Flat-grain bamboo shows darker stripes on the board, vertical-grain bamboo has its narrow stripes like soft strings tight together, and end-grain is identical with its short and little strips.
Pros
Bamboos grow faster than oak, maple, cherry, or other fine-looking trees to be used as hardwood flooring.
Therefore, bamboos are considered more eco-friendly since the growing and the harvesting of bamboos are not imbalance.
Cons
The board of bamboo flooring, the stripes, the plank, are made by pressing the bamboo and mix it together with the glue using a sophisticated machine.
However, some producers are using the glues in such a harmful amount of formaldehyde.
Also, not to mention the massive production of bamboo flooring makes the farmers fertilize the plants in a high amount of pesticide.
Considering that's possible, that is undoubtedly harming the environment.
Engineered Wood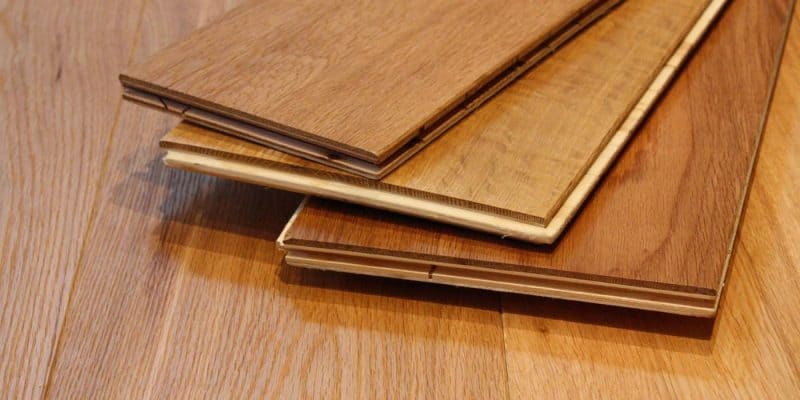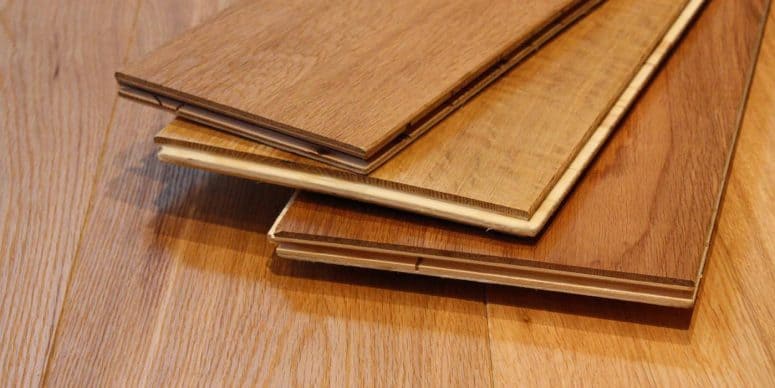 Engineered wood flooring looks indeed nearly the same as hardwood flooring.
But what makes this one different from hardwood flooring?
Engineered wood is made in different processes. This one has a real wood as the veneer on top, but it is plywood underneath it, which is thinner than the hardwood.
That is why engineered wood flooring comes cheaper.
Engineered wood also has this tongue and listed groove to make it able to be clicked together and ready to be installed in some more functions.
The veneer on top looks exactly as warm and as appealing as hardwood. Therefore it is very suitable to be installed in a room with less traffic like a living room or bedroom, for instance.
Pros
Unlike solid wood, engineered wood is not sensitive to temperature changes.
Therefore, this makes it even more versatile, even to be installed in a basement.
Also, with the same impression, look, and warmth, engineered wood comes at a lower price than solid hardwood.
Finally, the veneer on the top, tongue, and the groove, make engineered wood able to be installed like floating by just clicking one board's tongue to another, and they would stick together in the shape that we want.
Plus, this one can be installed by gluing instead of just nailing. Very flexible!
Cons
Below all of its versatilities, engineered wood also has the same trait as the solid wood, which is easily scratched and marked.
Also, you can only refinish the floor one to three times. Otherwise, you are going to worn-out the wood veneer on the top, and using the thin plywood in the second layer.
That would be not a very durable flooring type, to begin with, what do you say?
Ceramic or Porcelain Tile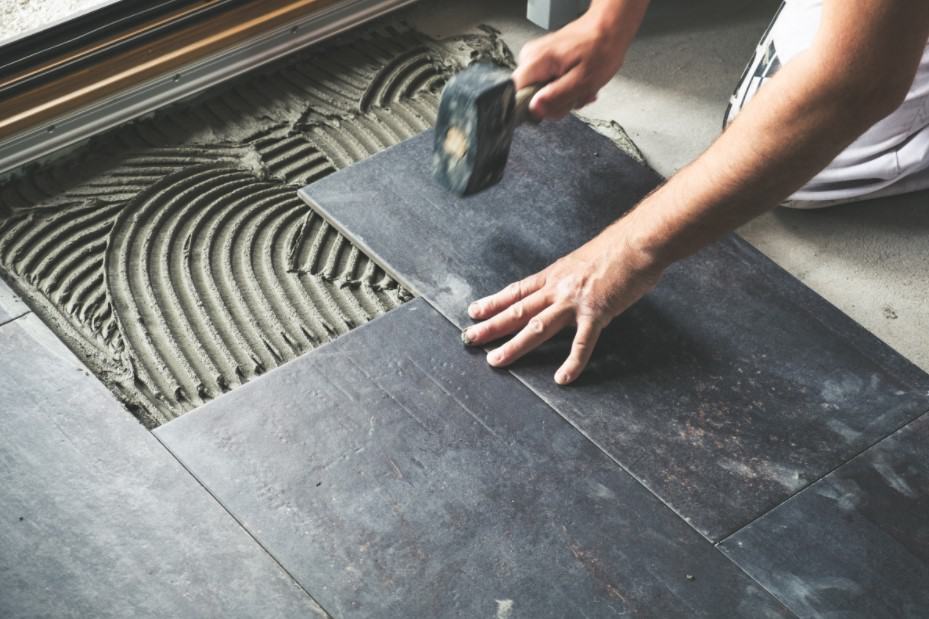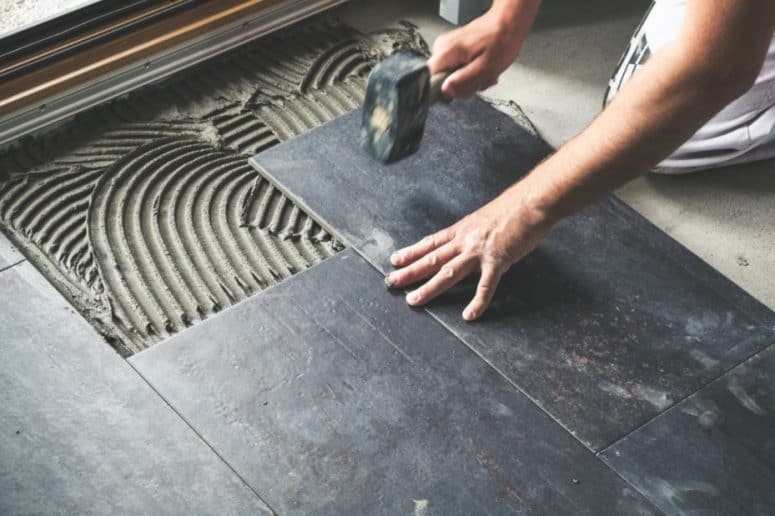 Ceramic or porcelain types of flooring are also a popular flooring option. It is my favorite if you ask me. Ceramic is made of clay and shale, and it is very hard.
Ceramic also comes in many kinds of different materials, sizes, and patterns. There is a glazed one. Its surface is glass-like, so it looks very glossy, and it comes in many patterns and colors.
There is also the porcelain one, and it is probably the most durable ceramic for you. This one is solid, and it works very well outdoor.
Also, there are quarry tile and terracotta tile; both are unglazed and less slippery.
Pros
In comparison to all wood and laminate flooring, ceramic tile needs the least maintenance.
It is easy to mop, comes in different colors and patterns, and it could even have a picture on it.
It comes in different sizes as well, therefore it is very versatile and fits in basically every house style.
Cons
The color from the ceramic can stain if you don't seal it regularly, especially for terracotta and quarry tile.
Meanwhile, the glazed one is gonna be slippery to be installed in a bathroom or kitchen. It is also going to give a cold feeling once you step or sit on it.
Finally, this most durable one is gonna be hard to fix once it got cracks or broken.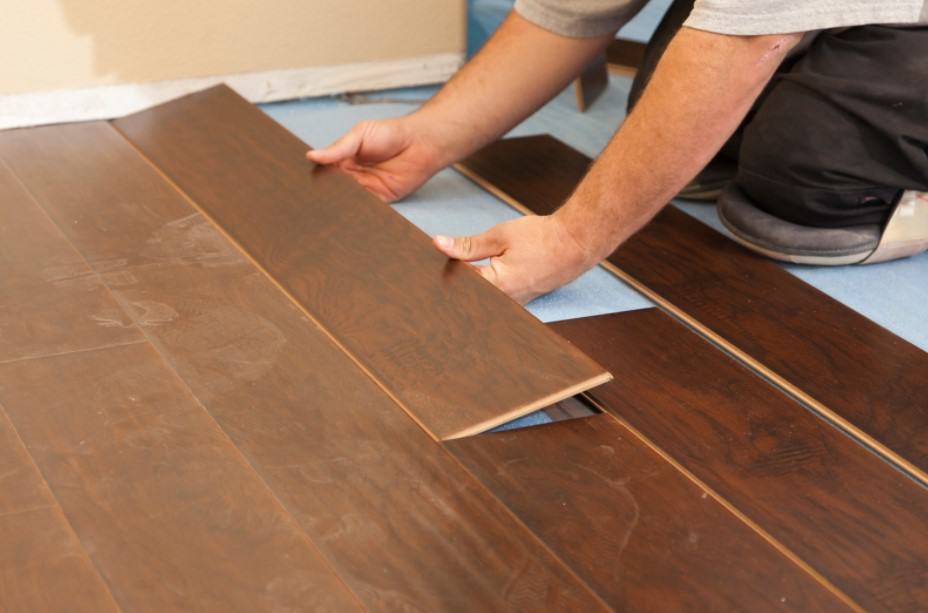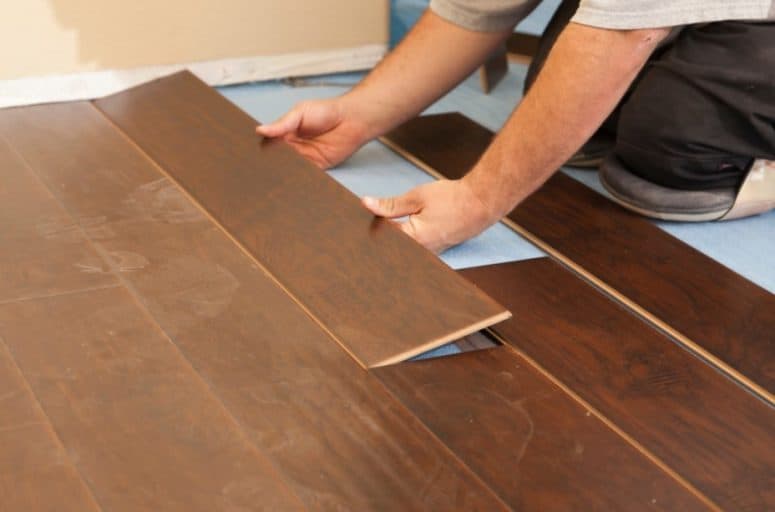 It looks like wood again, isn't it? But no, it isn't wood. On the top of laminate flooring is a thin veneer made of plastic with printed patterns for the cover.
However, it stands on the layers of plywood, just like engineered wood.
Laminate flooring comes very modernly that you don't have to glue or nail it to your floor. You can just install it right on your floor.
Pros
Laminate flooring can look exactly as warm and impressive as wood flooring, but it is not solid wood.
Even better, laminate flooring has easy maintenance, and it is a hard material which is hard to scratch. It doesn't easily leave a mark like a hardwood.
It comes at a lower price than hardwood, and it got even better specifications.
Also, laminate flooring is often made of recycled stone dust without cutting rare trees. So it is more eco-friendly to begin with.
Besides, laminate flooring also saves your budget for the installation since it doesn't feed glue or nail.
Cons
If we talk about long-term, laminate flooring could not be repaired or refinished. Once it is worn-out, it must be replaced.
For instance, when water stands on laminate flooring for a long time, the water could be absorbed and there in between the plywood layers.
That would cause warps. Therefore once it is broken, you need to prepare more budget for the new installation.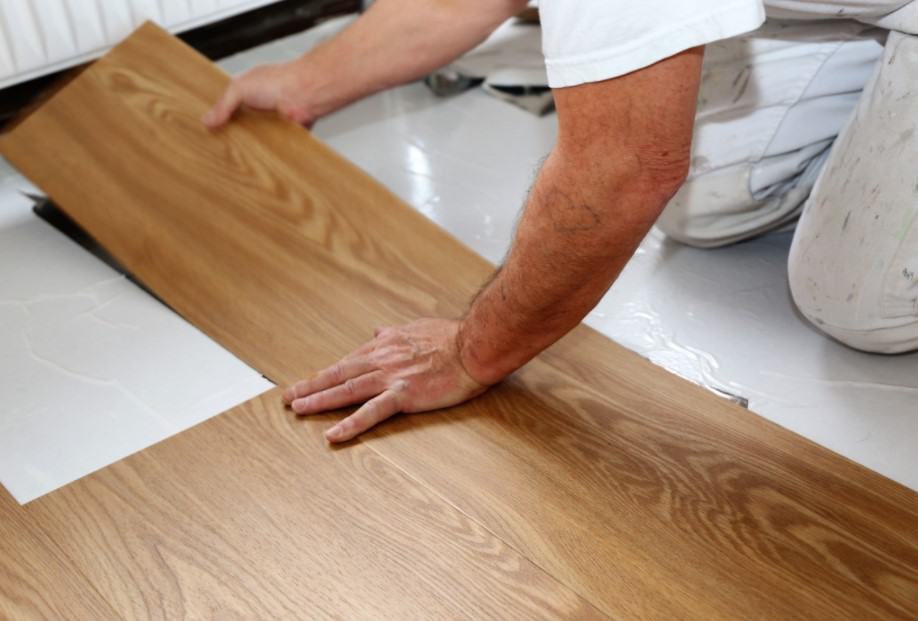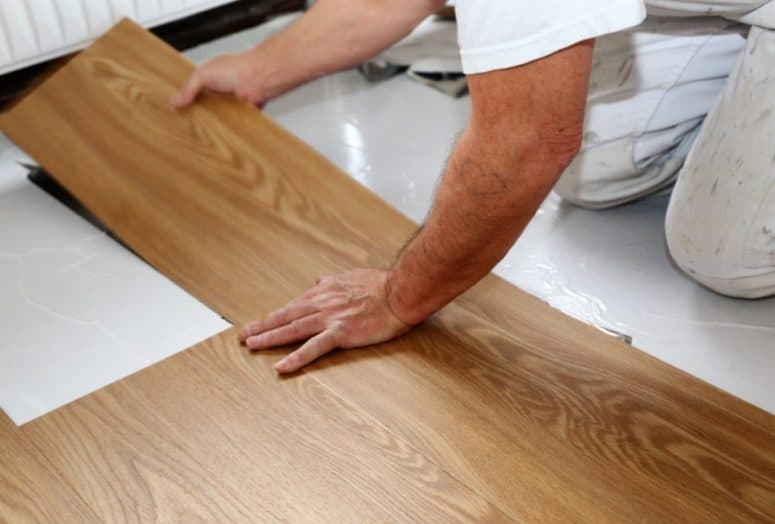 Vinyl is a resilient type of flooring that is also very popular. It is made of Polyvinyl Chloride (PVC).
Some of the vinyl floorings, like the cushioned one, are layered by foam on the top as well.
That makes you even more comfortable in stepping on your floor. It comes in sheets or planks. You're gonna have to glue the sheets one for your entire floor.
Meanwhile, for the planks, it could be coming in a click form and sticker in the back of it. You have got options for that, of course.
Pros
Vinyl material is water-resistant and very durable. It could stand of moisture and scratch, plus it could stand for up to 20 years! Very long-term, right?
Besides, the top of the vinyl could be customized to look like wood or stone. Therefore it would have the impression of hardwood and a better warmth once you step on it.
I am not done yet. Vinyl is easy to install. Once you got one broken, you can just replace that one plank without overly spending your cash.
The sheets one may be tricky, but as long as you have the right measurement, that would be just fine.
Cons
When vinyl comes water-resistant, it is also made of the controversial material, like PVC.
In the US, that has been tested harmful and banned in children's toys already. Therefore you need to consider this point as well.
Not only the harmful material, but vinyl can also fake its look. You would hardly differ in which quality of vinyl flooring is better since it has many similar designs of wooden or stone look.
Linoleum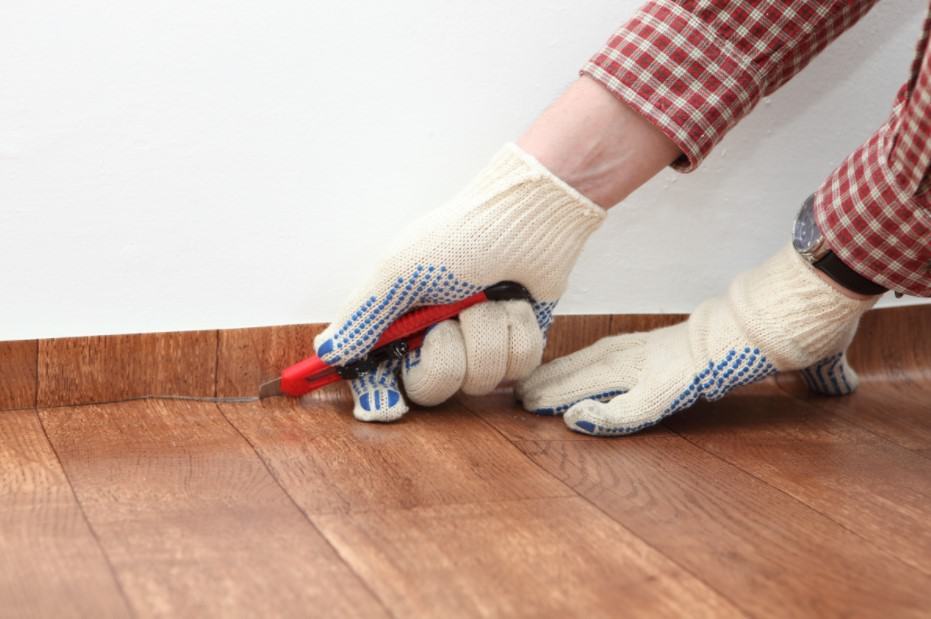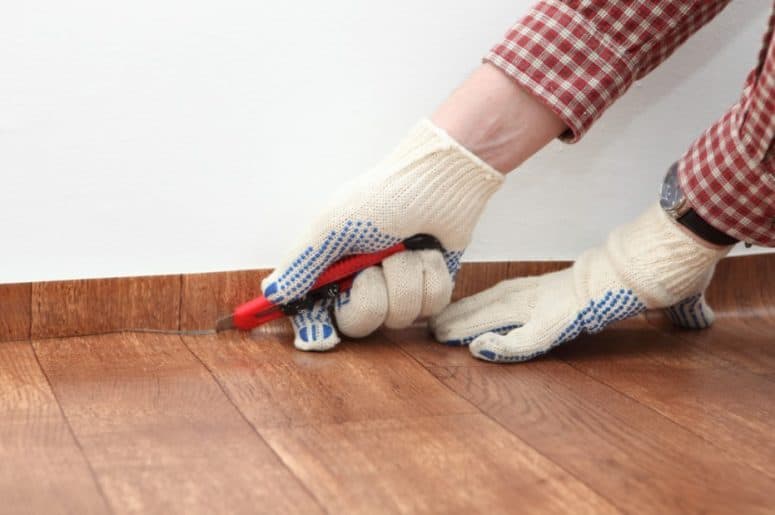 Linoleum types of flooring are one of the oldest styles in flooring. Unlike vinyl, this resilient type of flooring is made of natural resources, like linseed oil, wood flour, or pigments.
Linoleum flooring comes in sheets and planks, just like vinyl. However, some of the linoleum floorings come with some kind of coating to protect the floor from stain.
Pros
Linoleum material is very tough. It can handle moisture, and heavyweight as well. Therefore it is suitable to be installed in the room with high traffic, even our kitchen.
Another good point of linoleum flooring is that this is very eco-friendly.
Notice that linoleum flooring is made of natural resources, this is biodegradable, recyclable, and it does not harm nature.
Linoleum flooring is also very durable. This could stand for up to 40 years! You just have to do proper maintenance for the floor.
But guess what? The linoleum floor is easy to treat! You could easily broom and mop it.
Cons
There are things you should consider about linoleum flooring. The first one is that this is not very strong for sharp materials like high heels, for instance.
Sharp things could make its water-resistant ability faded, and there is a possibility that the water warp into the layers of the floor.
That could make the floor worn-out even faster. That is why you can install it in your bedroom, but not the laundry room or bathroom.
The second one is that linoleum should not get many UV or sunlight exposure. Otherwise, the floor would stain, and the color would fade.
That is why you can install it in your bedroom, but not a laundry room or bathroom.
Cork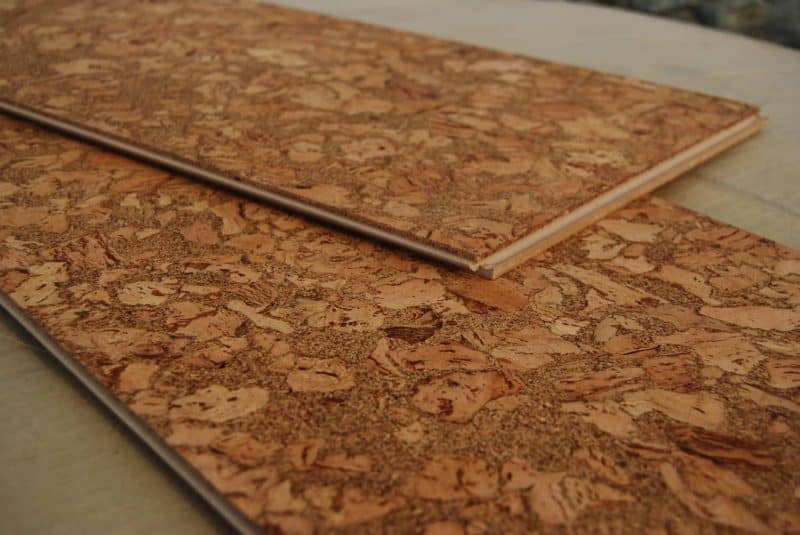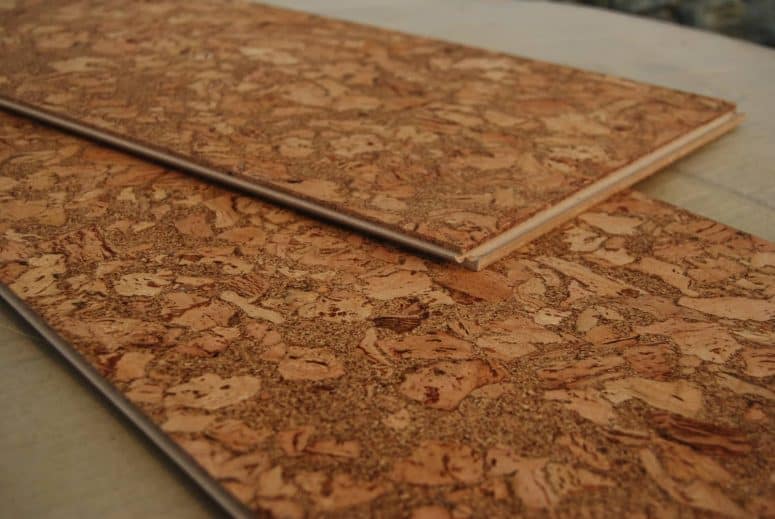 Another popular resilient flooring is cork flooring.
The fiberboard of cork flooring is made by compressing the bark of the tree, which can be harvested every 8 to 10 years without necessarily have to cut the trees.
The corkboard also comes with veneer on top and makes it looks very natural with natural bark on the top veneer.
Pros
Cork flooring is agreed by many as one of the most sustainable materials for flooring.
It does not harm the environment because the harvested bark is not gotten by cutting a real wood of the tree. It is just an eco-friendly at its finest.
Also, this natural and glossy look does not make cork flooring slippery. This one is slip-resistant. I'd love it installed in my kitchen!
Cons
Notice that cork flooring is a natural material, so it is sensitive to moisture.
Therefore you need to seal it regularly every year with wax or polyurethane to prevent stains and damage.
Carpet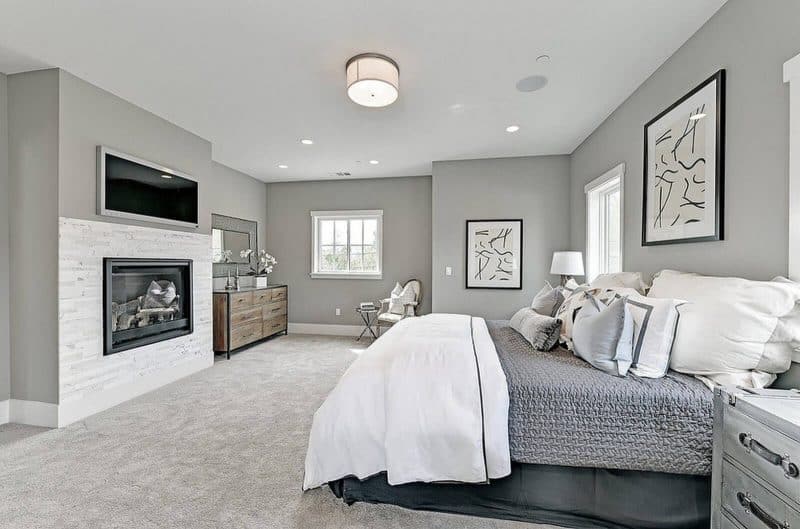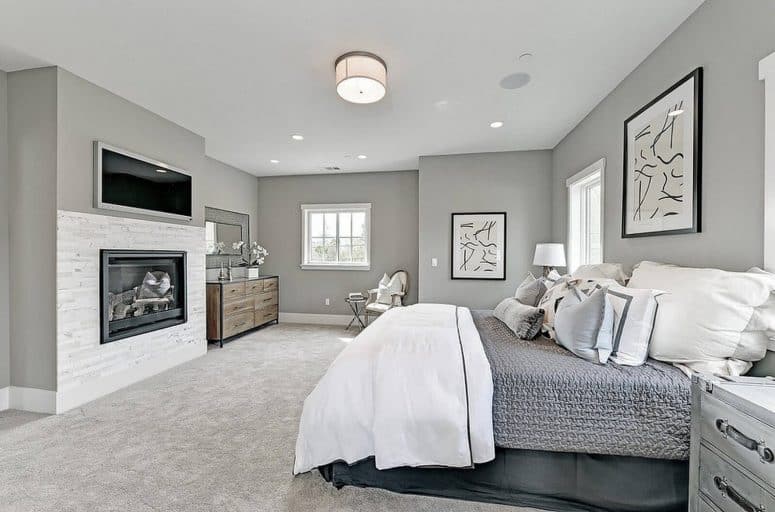 Going a little soft, shall we? Carpet is one of the most common types of flooring.
This one is made of many kinds of delicate fibers. Very suitable for comfort room like a bedroom or living room.
There are some kinds of different carpet materials used for floorings, such as wool, nylon, acrylic, polyester, and polypropylene.
All have different characterizations and feels; it all depends on your preference.
Pros
You are going to love the soft sensation of walking or sitting on the carpet flooring, very comfy!
Even better, it is slip-resistant and also very durable in terms of installation.
Cons
Carpet flooring is hard to clean. Even with vacuum, it is not enough to clean the dirt or clean the dirty color of the carpet, which only steam cleaning can do.
Besides, the carpet materials are very potential in keeping specks of dirt, or micro-animals, which could trigger allergies for some people.
Finally, if you rarely clean your carpet, it's gonna stinks due to the sweat or moisture temperature.
Natural Stone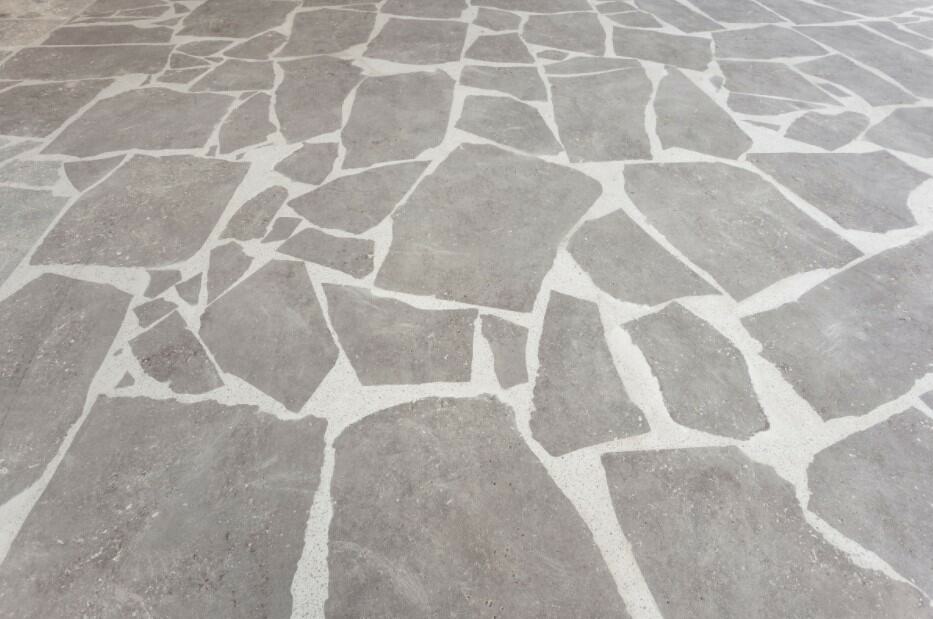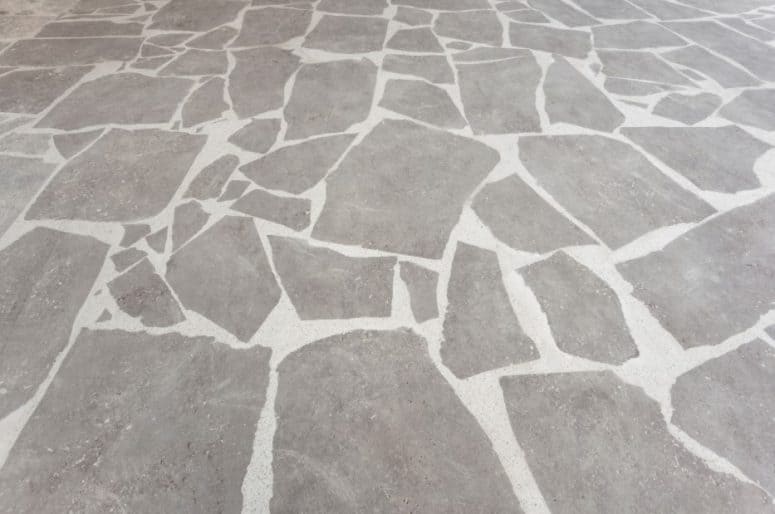 Natural stone flooring is one of the best choices to go rustic.
Its abstract pattern and natural colors are just perfect for outdoor decoration or even indoor decoration with proper maintenance.
Usually, people choose natural stone as their flooring due to its beauty and the natural impression which brings freshness into a room.
Natural stone flooring comes in tiles and different sizes as well, you have the options for that, no worries!
Pros
Durability is the strong point of natural stone flooring. It is literally solid rock. It can hold moisture, scratch, and sharp materials.
Its natural look and polished surface feel very nice when you're stepping your foot on it.
The good thing about natural stone flooring is that natural stone does not keep allergens or dust that much. Moreover, it is very easy to clean.
If we talk about long-term benefits, natural stone flooring can add value or price to your house. So, if you sell your house in the future, you are going to have a good deal on the price.
Finally, the different shapes and patterns of each stone tiles could make your house look very exquisite and unique.
That would decrease your boredom to your house decoration. Even better, it could release your stress with its abstract and freshness!
Cons
One of the reasons why people prefer other options other than natural stone is due to its difficult installation.
Most people need a professional contractor to install all tiles of the stone beautifully on their floor. You're gonna need a concrete mix to stick the tiles and put them together neatly.
No wonder the cost for stone tiles is also one of the highest among all flooring options.
Things to Consider When Choosing Flooring
In choosing flooring options, there are some paramount factors you must consider. They are:
Room: There are flooring types like carpet or hardwood, which aren't ideal for every space. Therefore you need to know which type suits your room best.
Style: The style of your house also determines which flooring type suits best. Certain types work better than others to create the right aesthetic.
Budget: The price of the floor varies widely, and it usually represents quality. You need to consider which type of floor you can afford, and which would last as long as possible.
Family Situation: Young children or pets are gonna make some spills and scratch. You definitely want that spill-proof and scratch-resistant flooring, won't you?
Installation Requirements: Some types need glue, some don't. You need to know which type cost extra, just for the consideration of your budget.
Return on Investment (ROI): Your type of flooring could be one of the most affecting factors to increase the value of your house. Higher cost or quality often means a better long-term investment.
Best Flooring Options Room-by-Room
Not all rooms are created equal, some need water-resistant floors, some others need quiet and comfortable ones.
That's why we need to adjust the types of flooring material with the requirement of the different rooms.
Below are our flooring type recommendations on a room-by-room basis.
Bedroom
The most popular choice is carpet flooring because this material is very smooth and comfortable to be installed in a room for ending the day and starting a new one.
However, wood, laminate, or vinyl are also suitable and preferable for some people.
Kitchen
Vinyl is a perfect choice for the kitchen because it is waterproof and very easy to clean.
In that regard, tiles and laminate flooring are also preferable.
Living Room
This is the room where the guest would usually have their first impression.
This one does not really have that high traffic, so all floor types are suitable.
Landings/stairs
Stairs have high traffic since this is the access of people in the house going upstairs.
Therefore you want the floor to be silent. Carpet is one of the preferable choices for this.
Bathrooms
For the rooms where you're going to have so much wet, untreated hardwood or carpet is definitely not a choice.
Vinyl, natural stones, and porcelain tiles are the choices for this one because they are water-resistant and require minimum maintenance.
Even better, a good quality vinyl with an R10 rating is slip-resistant. Therefore, it's ideal for wet rooms.
The Room Where You Allow Pets
Pets make scratches, they could spill water, and they could do many possible things we never expected.
Hence, you want vinyl or laminate, which can handle scratch or sharp materials for the room where pets can access.
You don't want a carpet or hardwood because a scratch, water spill, and fur are not gonna suit their traits.