Don Pedro Brooklyn is reader-supported. When you buy through links on our site, we may earn an affiliate commission. Learn More
Vinyl vs Laminate Flooring: A Comparison Guide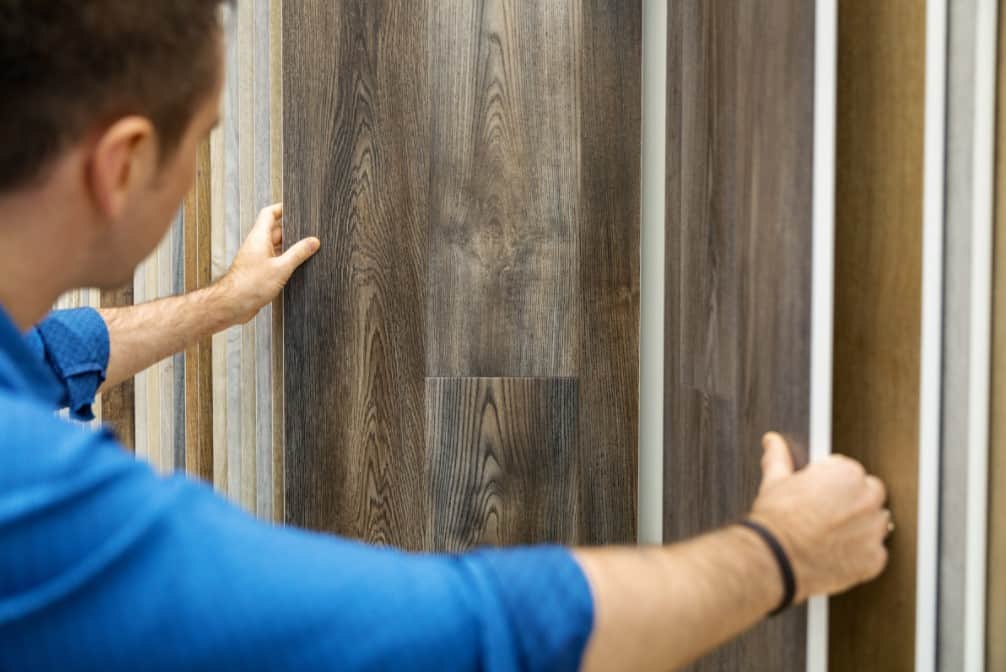 When you are looking for wooden floorings alternatives, vinyl and laminate flooring are the top two of the most popular flooring options.
Speaking of which, luxury vinyl and laminate flooring are sometimes misunderstood as the same type.
It is indeed quite tricky to distinguish both vinyl and laminate in terms of presentation and specification.
However, they have some clear distinctions, which makes them very much different.
You need to know those differences to make the right flooring decision under careful consideration.
Now keep reading, because we're going to discuss on vinyl versus laminate flooring!
Key Differences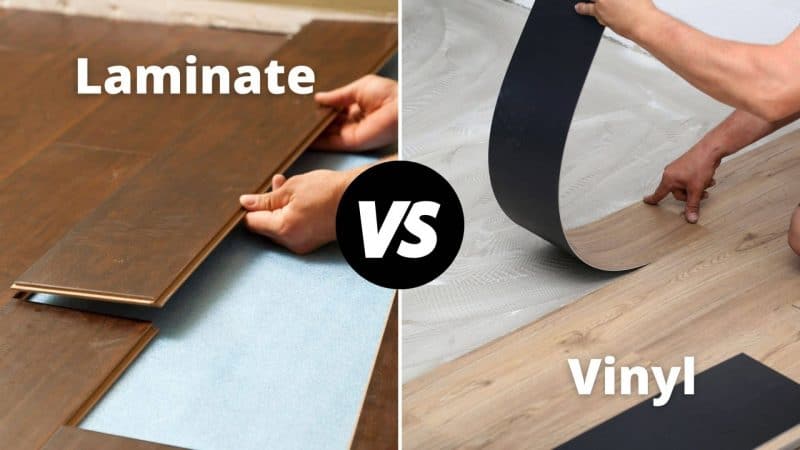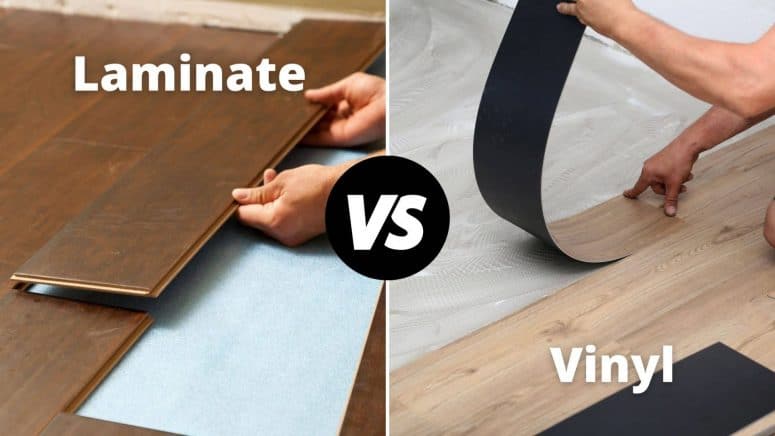 First of all, some key differences make a crystal explanation that both vinyl and laminate flooring are different from one another.
Let's begin with their material. What are they made of?
Vinyl Flooring Materials
Well, in general, vinyl is constructed with synthetical materials, and laminate is mostly natural in its material.
Vinyl, you see, is made of various kinds of synthetic materials with PVC (Polyvinyl Chloride) as its primary material. Vinyl flooring also contains multiple materials in its layers under the wood-like look on the top of the floor.
Factories usually use fiberglass as the material for the base layer, which is then coated in PVC for the final.
All of the layers in vinyl are no-wax polyurethane materials. Those layers could make a sheet of luxury vinyl tiles or planks.
Either way, vinyl type of flooring can look exactly like real hardwood, while it actually isn't.
Laminate Flooring Materials
Laminate flooring, on the other hand, is pretty much similar to vinyl on their specs. What makes laminate flooring different from vinyl is the core material of this particular flooring type.
People often call laminate flooring as floating wood tile.
Laminate flooring is constructed very naturally by compressing a high-density of natural products like wood byproducts and laminate them together into one beautiful plank for your flooring.
Laminate flooring is nearly a total wood product, only if the presentation is real.
The wood-like or stone-like or other-like look is the printed photograph under the wear layer on the top of the floor. Therefore it tastes like real hardwood sometimes, but it is certainly not.
Both vinyl and laminate flooring have different core of materials. Although the difference is not that big, those are the key to different specs that vinyl and laminate flooring have.
Those can determine which one is more water-resistant, which one can handle scratch and others.
Pros and Cons
Below is the table of truth, where you can directly compare vinyl flooring and laminate flooring type under some essential points:
Floor Type

Pros

Cons

Laminate Floor

Laminate looks quite classic, but customizable these days.
It is cheaper at the cost since it is more natural in materials.
The installation is easy. People at home might be able to do it.
A laminate floor is great for direct chopping, in case your floor is damaged in the future.
Since it uses natural material, it is more eco-friendly in its construction process and future impact once there is laminate flooring waste.

Laminate flooring is a wood byproduct; therefore, it needs more treatment to do regular refinishing.
It cannot fully handle water, high moisture, nor high temperature.
Laminate flooring is quite limited in the design and wood species in nits presentation.

Vinyl Floor

Vinyl is pretty modern and very gorgeous. Vinyl follows the trend with many variations in its design.
You are going to be rich in options when choosing vinyl. It has a lot of variations, which could be preferable for a different kind of house style.
Some unique designs of vinyl flooring could make your house very one of a kind.
Due to its synthetical materials, vinyl is so durable.
Vinyl is also constructed water-resistant and able to handle the pretty high temperatures.

In terms of the cost, vinyl is quite expensive nowadays.
For the installation of LVT, especially, it is so time-consuming, and it needs to be done by a professional. That would add extra cost for sure.
Since vinyl comes in many variations like LVT and LVP, for instance, the measurements once you buy it and once you install it could be inaccurate.
It has to be regularly sealed.
Looks
Visual is one thing that would catch your eye and trigger your interest in buying things; the flooring notion is no exception.
In terms of looks, which one of vinyl and laminate flooring is best for you?
Vinyl Flooring Appearance
Vinyl is quite leading in this part of the comparison. With its synthetical materials, vinyl, especially LVT and LVP, are so varied in patterns, colors, even design.
Furthermore, luxury vinyl plank (LVP) has its solid texture just like real hardwood, and not to mention the realistic photograph coated on the top of the vinyl surface could make it even more natural as if it is real hardwood.
However, there are pros and cons of vinyl's looks as well.
Pros
Vinyl flooring is coated by the transparent layer on the top of the surface. But below that is a high-quality photographic layer, and it can look like basically every possible material.
Luxury vinyl is the modern construction that happens to make your floor look so shiny with minimum maintenance. What's best is that the look could last for years!
Cons
It still looks a little synthetic, like a coated plastic on the floor sometimes, in comparison to those real wood materials.
Laminate Flooring Appearance
Laminate flooring is preferable in looks for those who value naturality more than anything.
Although it is not that real as hardwood, this one is the best alternative that you can choose to replace hardwood under some consideration.
The texture of the embossed multi-dimensional elements on its surface also makes this option looks very realistic. Just like vinyl, we also got some pros and cons for this one.
Pros
In terms of being the alternative for hardwood flooring, laminate flooring has nearly no difference with it. That also works for any other materials as well, which could entirely counter your hardwood, or any other, preference.
Laminate flooring has long existed, and its manufacturing technique enhances the texture of the floor to look like certain materials but feels very smooth on the laminated surface.
Cons
Visually speaking, this is the closest one to hardwood look. But, it makes it somewhat tricky to differentiate whether or not it is artificial, which could make people lose their interest.
The Winner: Laminate
Well, looking at the variations of both vinyl and laminate, most of them are trying to depict hardwood or natural materials like a stone, for instance.
Laminate flooring has better texture and closer look in terms of presentation compared to vinyl. Vinyl is varied in designs, but it looks very synthetic in some cases.
Water Resistance
Water spill and moisture are the most frequently asked issues when people consider to buy one flooring.
When it comes to this issue, which one do you think better? Vinyl or laminate flooring?
Vinyl
The good news for vinyl is that the whole production of vinyl flooring is very much tested waterproof, either those in sheets, tiles, or planks.
Even most of the users are installing the vinyl types of flooring in their bathrooms, laundry room, or a humid place like a basement.
Besides, vinyl flooring also comes in various sizes. Sheet ones, for instance, comes in 12-foot rolls, which could be installed seamlessly.
You can arrange the size of the sheet vinyl and submerge it as well, which is a possible thing! This is one of the best options for wet areas.
Laminate
Laminate flooring is not my favorite flooring type for the wet room if you ask me. Well, it is okay and possible to do.
But, you are going to need regular checking on whether there are still water or moisture side in the flooring surface to prevent the water from warping into the fiberboard core. Why is that so?
That is because laminate flooring needs to be directly cleaned or wiped once there is a water spill. Laminate flooring could not handle water at some level of time.
However, the development of the construction is now enhancing the specs of laminate flooring to resist water.
While it's still on the process, many of them can handle moisture with proper installation as a note.
Finally, its natural fiberboard below the layer can absorb water once there is any spill for some time. That is why laminate flooring is quite a water-resistant at the top, but not beneath.
The Winner: Vinyl
Vinyl can withstand water at all cause. It doesn't matter which type of vinyl flooring you chose, they are 100% waterproof, and you can trust vinyl in your bathroom, your most watery place in the house.
The various sizes of vinyl flooring and the seamless sheet vinyl installation is also those supportive reasons to win vinyl for this point of comparison.
Ease of Installation
How to install the floor is undoubtedly one thing to determine whether you will take the floor option.
Now which one is preferable for the beginners and contractors?
Vinyl Flooring Installation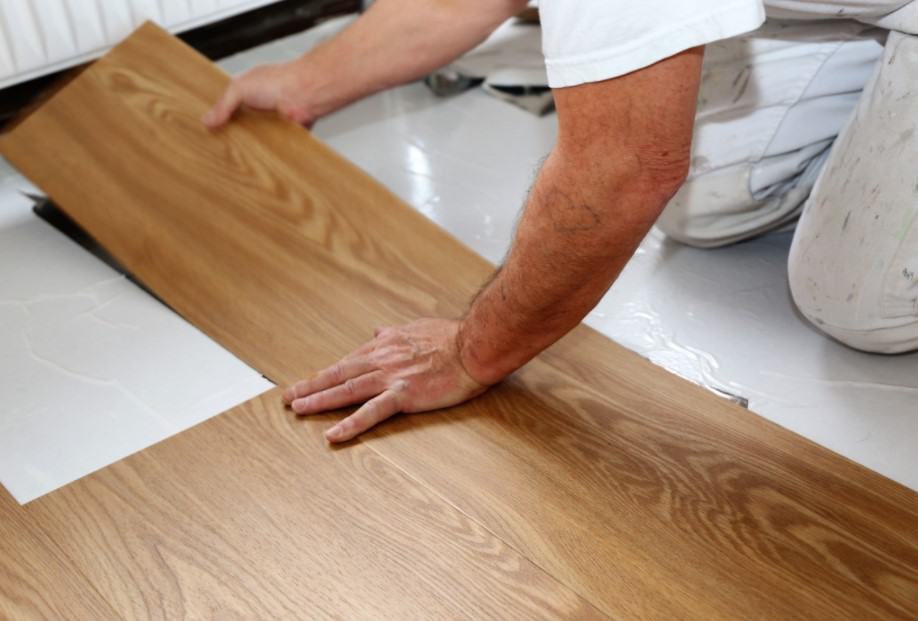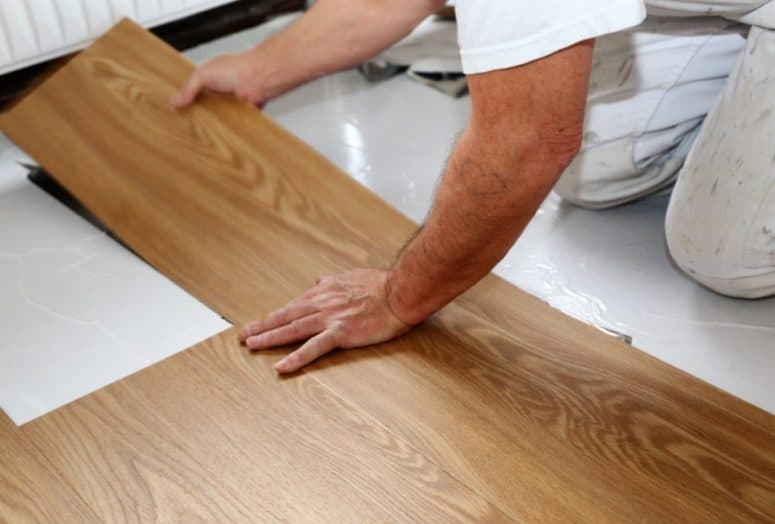 Let's see how vinyl floors installation goes. Vinyl in the form of planks and sheets are installed differently, of course.
For the plank one, like LVP, for example, use the click-and-lock method in its installation. The planks also can be cut using a utility knife, very simple.
Meanwhile, for sheet vinyl, it might be quite tricky for beginners. The material that you buy is heavy, it is rolled in certain sizes, and you need to install it very neatly in all corners of the room surface.
Also, many people feel difficult in cutting the sheet vinyl correctly, so it ended up become messy and wrinkled in the edges or even in the middle of the flooring surface.
Calling a professional to install the sheet one is recommended for beginners.
Though, many DIY installation projects use LVT or LVP due to its varieties in the installation. Those are:
Peel-and-stick tiles: Luxury vinyl tile can be stick directly by peeling the back part and sticking it right on to a clean surface.
Floating floors: Without glue or nails, you can still install vinyl on your floor. An underlayment can keep the floor warm and, of course, reduce the noise of the step sound. Plus, the click-and-lock feature on it makes the seam look very neat and tough.
Glue-able: You can also add a subfloor beforehand, and install LVT or LVP right on that subfloor surface by gluing it.
Laminate Flooring Installation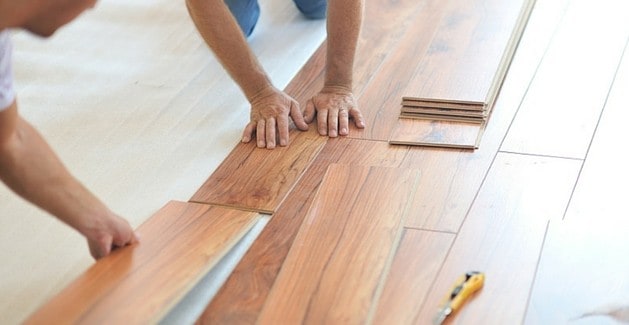 A little bit the same as vinyl, laminate flooring also uses a click-and-lock method in its installation. Laminate flooring has a tongue where that is fitted into the groove of an adjoined plank at an angle.
After that, the first plank is closed down. Well, doing those steps correctly and you can prevent seams. You can use a fine-tooth blade or even a handsaw top cut laminate flooring.
You see, the installation point of comparison is pretty much similar to vinyl, but read it through now, and you will notice slight differences.
Laminate flooring can be installed with peel-and-stick and Glue-able as well.
However, for the Floating floors, it is a little bit different. Laminate flooring can be installed by clicking and snapping them without nail or glue. Well, for better convenience, you can order the foam underlayment, which can be requested to be coming together with the product.
The Winner: Tied
Either laminate flooring or vinyl flooring in the same form, which is plank and tile, is very comparable. Unless you choose one of them, I think the comparison is tied.
Maintenance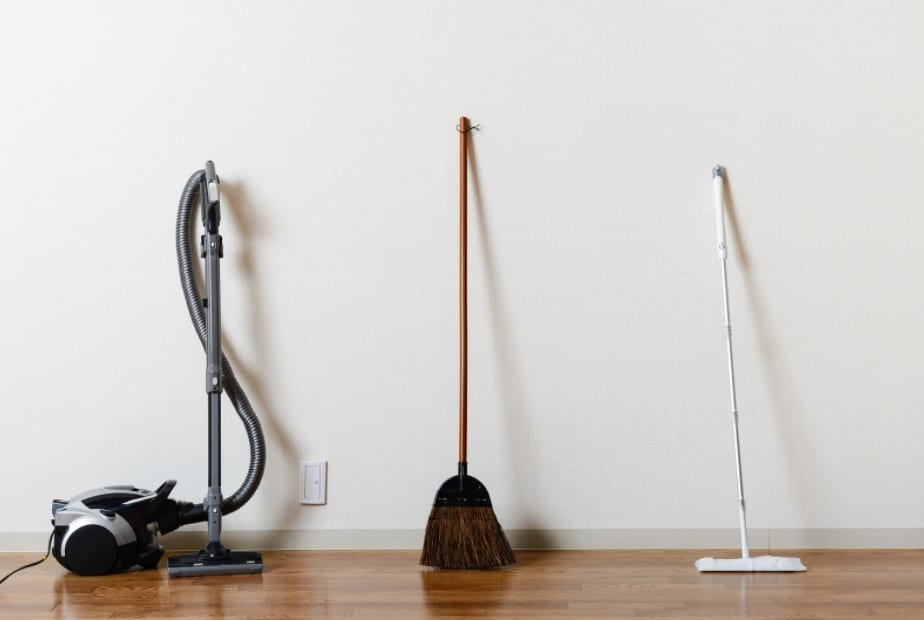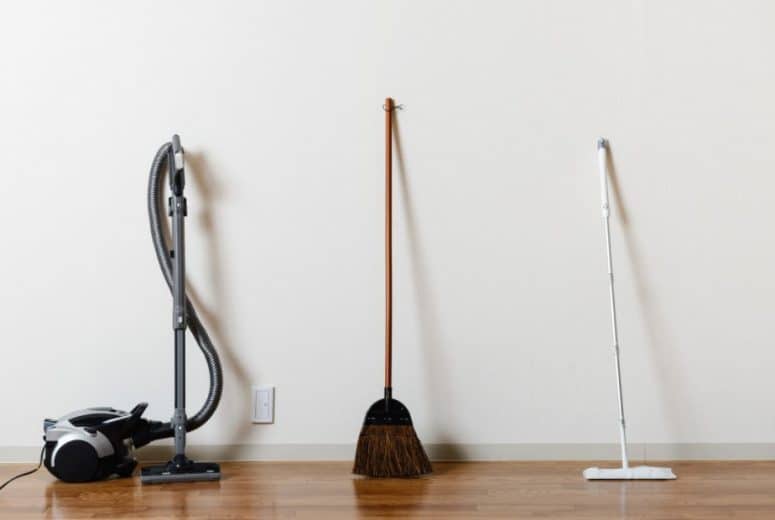 To have a good quality of the floor, you need to take good care of it by giving maximum treatment and maintenance.
The maintenance that we would like to compare is including cleaning and repairing.
Yes, some of the flooring types are difficult to treat or to repair, but what about these two?
Cleaning
Vinyl and laminate are made of different materials. Which one is easier to clean?
Vinyl
Since vinyl flooring is one of the strongest waterproof floorings, you can easily clean vinyl by giving it a simple sweeping or mopping, either dry or wet.
Even you can scrub your vinyl floor with a recommended and safe cleaning sponge or any other products.
Pros
Synthetically made, vinyl has a very smooth surface where water spills are easy to wipe. For the same reason, vinyl flooring doesn't get dusty quickly.
Cleaning up the floor is easy. It requires light, regular vacuuming, and also a bit of TLC with specific cleaners.
Typically, cleaning product for vinyl costs around $20 per gallon, or $8 for a 32-oz. spray bottle.
Cons
People who install the textured vinyl one are going to be a bit effortful in removing food particles or hard dust from the grooves beneath.
Laminate
When vinyl flooring could be easily cleaned with either dry or wet cleaning, laminate flooring is best to be cleaned with dry methods. If you wish to make it cleaned better using wet methods, remember to only use an almost-dry mop for it.
Pros
Laminate flooring is very smooth on the surface, Making water spills and dust are easy to clean.
This one needs to be cleaned with a light vacuum and regularly deep clean with cleaners that can cost around $20 per gallon. It could be done occasionally, though.
Cons
Textured laminate flooring makes the people who experienced it feel effortful in getting the dust or food particles from the floor.
RepairingAnticipating anything before it happens is also something that should be included in your consideration in choosing between vinyl and laminate flooring.
In terms of repairing, which one has a lot more to do than another?
Repairing
Vinyl
Considering all the durability factors of vinyl flooring, it is still possible to have delamination in your vinyl. When that happens, the planks or tiles could be loosened.
Pros
Vinyl is relatively durable; in fact, it is very durable. You just need to do regular cleaning like sweeping, mopping and recommended vinyl treatments.
Cons
You might have to sand it down once it got many bad scratches. Plus, you need to refinish that afterward.
The bad news is, the entire planks installed must be replaced.
Laminate
One significant cause for laminate flooring to be worn-out is its natural layers, which could absorb water to warp into it.
Therefore once the top of the surface is deeply scratched, it requires you to change it.
Pros
It thrives with regular sweeping and other manufacturer's cleaning products.
Cons
The top of the laminate flooring cannot handle sunlight exposure too much, and also water. That would cut its lifespan.
The coating or the wear layer also needs to be entirely replaced since it is impossible to refinish.
The Winner: Vinyl
I agree that both are easy to clean with each other's smooth surface.
Nevertheless, it is vinyl flooring that is more flexible to be cleaned in wet or dry methods without damaging the floor at all.
Durability
When you purchase something with your money, you must want it to last as long as possible. Nobody wants to have their belonging last shorter than expected.
In this case, is it vinyl or laminate flooring that is more durable to last longer than another?
Vinyl
All vinyl may delaminate someday in years. That would loosen the sticky base beneath. But the good thing is that this could be used in your high traffic room.
A 15+ year warranty is what's usually guaranteed once you buy it.
You can also extend the lifespan of your beloved vinyl by giving the surface urethane application so the wear layer upon the installation can be reinforced.
Laminate
Laminate flooring is also durable. Unfortunately, its durability is shortened by its layers, which are possible to get water warp into it.
The longer the water warp in there, the quicker your laminate floors to be worn-out.
The 20 years durability offer is typically experienced only a half of it.
Laminate flooring doesn't have any extra coatings or finishing varnishes. That makes this flooring type has only one wear layer for the defense in your house.
The Winner: Vinyl
Both vinyl and laminate are all durable. But both have weaknesses and still possible to get broken.
However, vinyl flooring is very durable due to its resilient type of flooring and strength in handling high traffic rooms.
Cost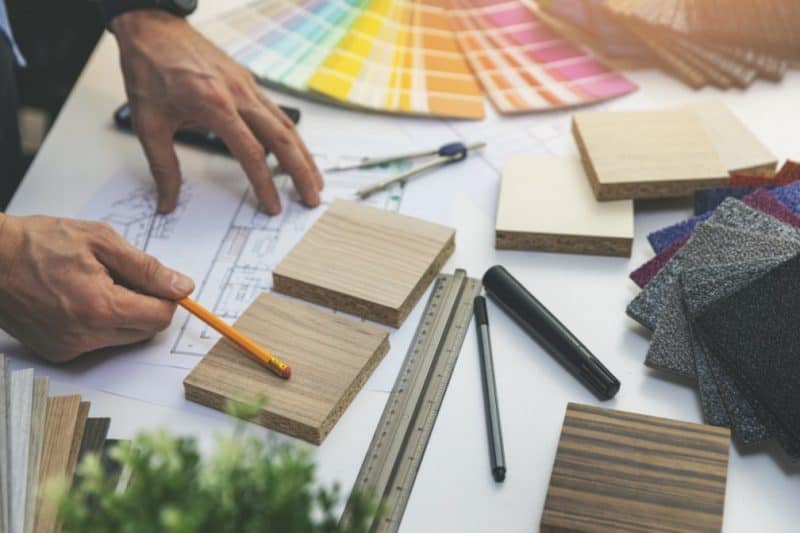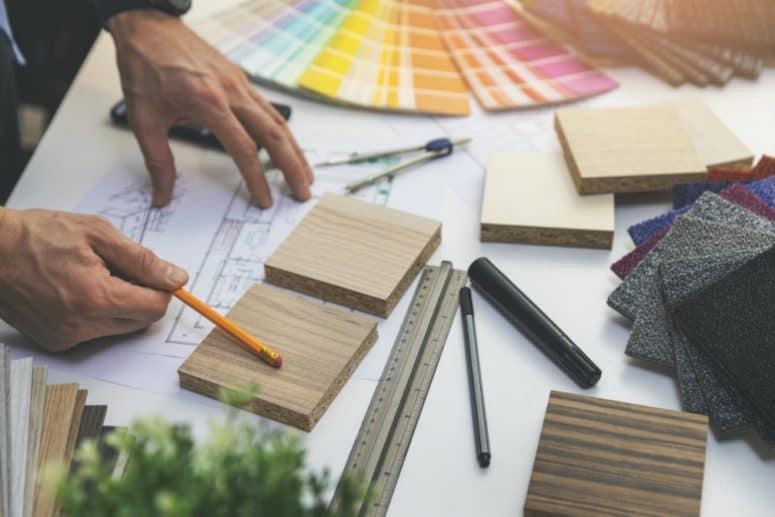 Now we are talking about something real that you need to prepare before starting to choose which one you would prefer between vinyl and laminate. Let's talk about the budget.
Vinyl Flooring Cost
$1.00 per square is what is usually offered for glue-down vinyl flooring. This cost may rise, like up to $5.00 per square foot for the luxury vinyl planks (LVP) and some famous brands of vinyl in the country. The cost range is as follows:
Low: $2 per square foot
Mid: $5 per square foot
High: $7 per square foot
Add an extra $3-$10/sf for installation
Laminate Flooring Cost
Meanwhile, the laminate flooring costs around $1.00 per square foot for 7mm-thick planks. Of course, it's working for the next multiplications. Here is the range for laminate flooring's cost:
Low: $1 per square foot
Mid: $2.50-$4 per square foot
High: $5 per square foot
Add an extra $3-$10/sf for installation
The Winner: Tied
From the perspective of the price, both laminate and vinyl have a tight comparison. They are the perfect choices for the alternative to the real hardwood. They are, in fact, more affordable than real hardwood.
Environmental Effect
We all know how eco-friendly laminate floorings are. But, that doesn't make vinyl flooring a villain in this versus.
There is a type of vinyl floor that is equally eco-friendly, just like the idea of laminate flooring in the first place. Keep reading!
Vinyl Flooring
Following the development of the world, many factories or manufacturers of vinyl flooring materials are enhancing their product's quality.
Vinyl has embraced the value of eco-friendly by offering a LEED credit EQ4.3 for Low-Emitting Material.
In addition, still, vinyl is constructed with synthetic materials, and it produces toxic chemicals residue when it's burned.
Finally, vinyl is not degradable in landfills, while recycling vinyl is not a very famous option.
Laminate Flooring
No doubt that there are so many manufactures of laminate flooring offer products that qualify for LEED MR4 (Recycled Content) status.
However, laminate flooring is not that innocent. It still uses plastic on its surface, and the melamine resins used in the creation may off-gas chemicals.
The Winner: Laminate
In measuring harms and benefits, the fiberboard in the core of laminate flooring wins the dead of eco-friendly in comparison to vinyl flooring, which is a total synthetic.
The waste, once both are burnt or thrown off, is also more heavy for vinyl flooring due to its minimum chance of being recycled.
Which Floor Is Best for You?
Now, which one is the winner for the match of the vinyl vs. laminate?
The answer is really up to you. Each person has a different preference in choosing their materials for their home decor or their life from a bigger perspective.
If you prefer the one more eco-friendly, then go with laminate or other recommendations you could read.
When you're expecting something more comfortable for the beginner, consider which one is more DIY-friendly for you to install it yourself.
In the condition where you want to look for a strongly water-resistant flooring option, try to shoot choosing vinyl or other recommendations that you can still explore.
For the matter of consideration, try to make pros and cons for the options you come up with. Measuring harm and benefit in buying things for your house is one good thing to do.
For this comparison right here, you can order free samples of both vinyl and laminate for your real comparison, if you don't know.
Eventually, you're going to be coming up with your final wise decision after all those considerations.