Don Pedro Brooklyn is reader-supported. When you buy through links on our site, we may earn an affiliate commission. Learn More
20 Walk In Pantry Organization Ideas
Having a walk-in pantry can be a true blessing! Here is the perfect place to store all of your kitchen essentials, including both foodstuffs and handy tools like cling film and cooking pots. But before you can begin to stock up your pantry, you'll have to invest in some walk-in pantry shelving and storage systems!
Below is a collection of some of the best walk-in pantry organization ideas to help you perfect your storage mechanism.
So, are you ready to learn more? Let's dive in!
Install Multiple Wooden Shelves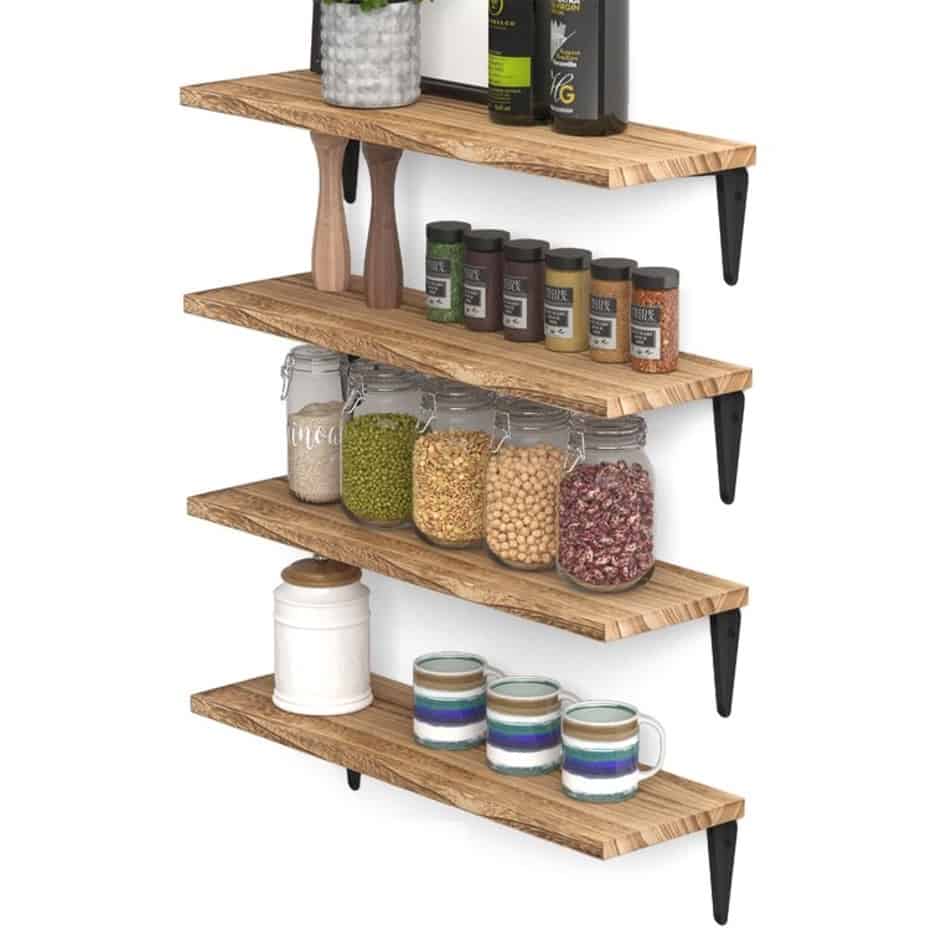 Shelves made from organic wood would make an eye-catching addition to any farmhouse or rustic-themed pantry. Plus, their commendable surface area makes them ideal for storing large items.
Wooden shelves are an excellent alternative to wire shelves, too. Many pantries come pre-equipped with mesh-like wire shelving systems that allow smaller items to fall through.
Luckily, because the surface of wooden shelves is not ridden with gaps, you can comfortably store anything upon them.
Place Multiple Storage Containers for Quick Access to Kitchen Essentials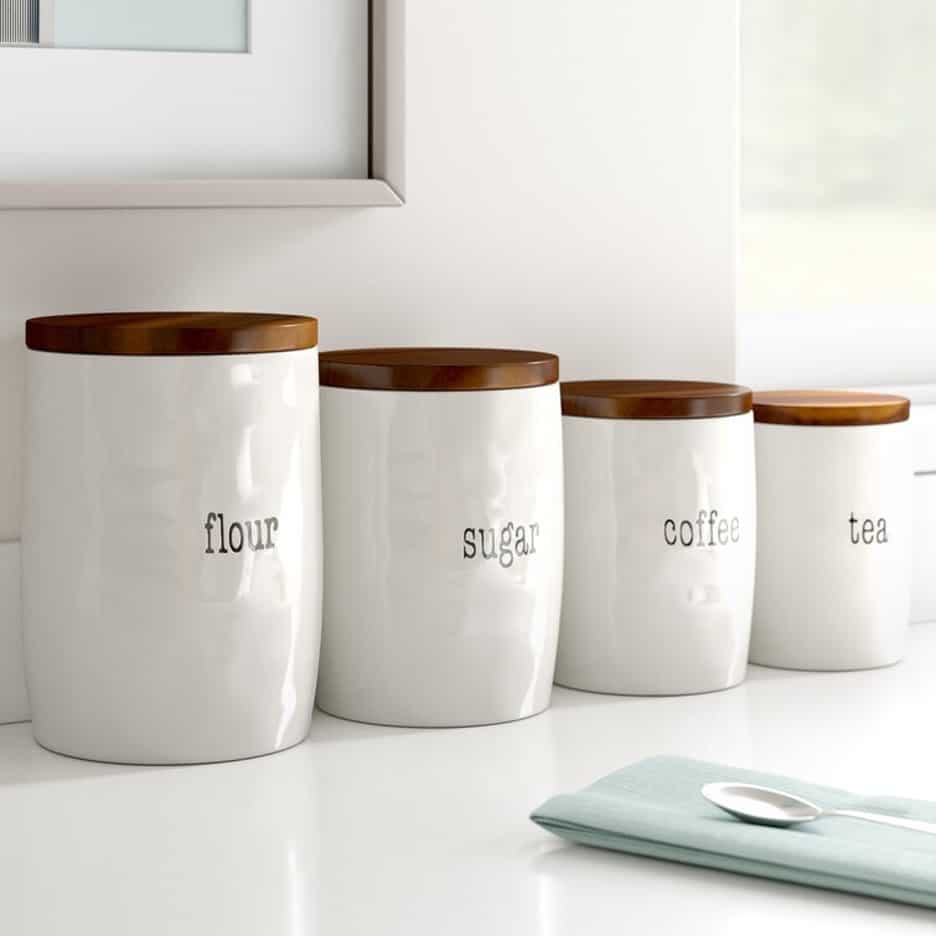 Jar-shaped storage containers are much easier to work with than large bags of sugar, flour, rice, and other grainy ingredients. Plus, you can place them upon your pantry's new wooden shelves for immediate, uninterrupted access.
The storage containers pictured here have handy labels, allowing you to know exactly what's inside. This makes it easier to figure out which container to open depending on the ingredient you're looking for.
Install a Wall-Hanging Spice Rack…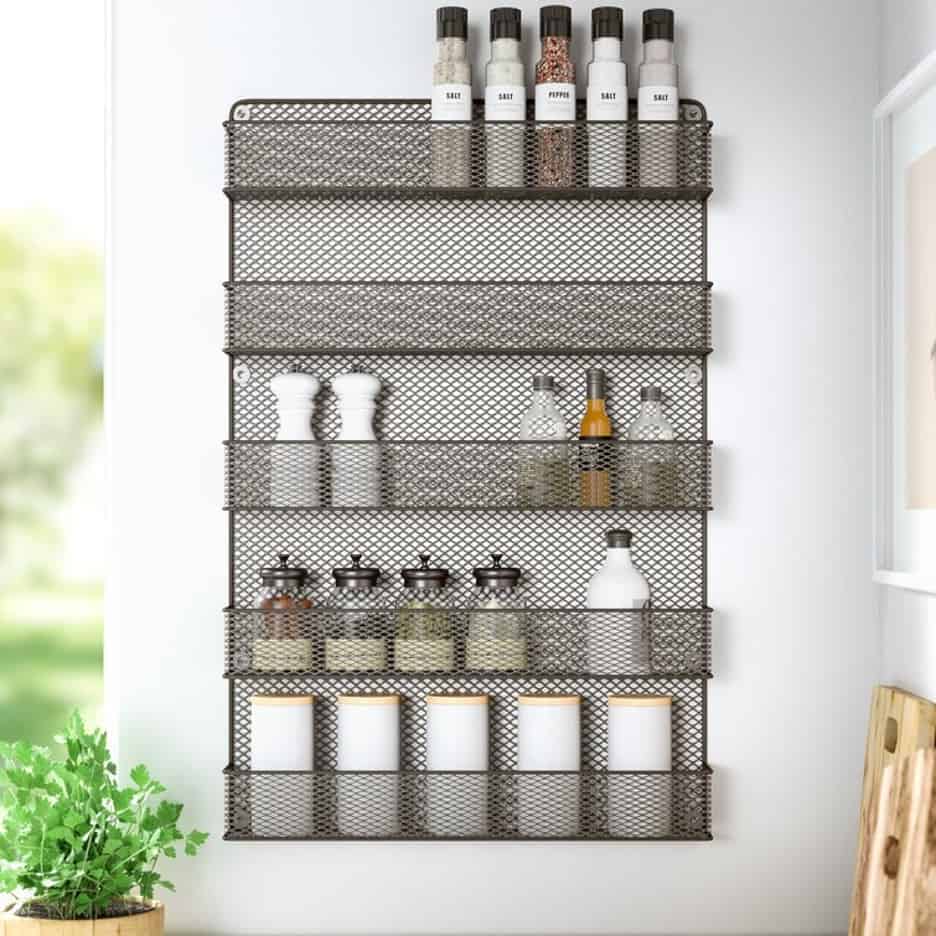 If your pantry has a bare wall that needs filling, consider mounting a spice rack upon it.
If you're an avid spice user, try looking for larger racks that offer ample storage space.
You should have enough room for essentials like salt and pepper, plus additional pockets for sauce bottles and exotic spice blends.
Don't worry if your pantry doesn't have room for a wall-mounted rack, though. You can always opt for a countertop alternative, which brings us to the next point…
Or Opt for a Revolving Spice Rack, Instead!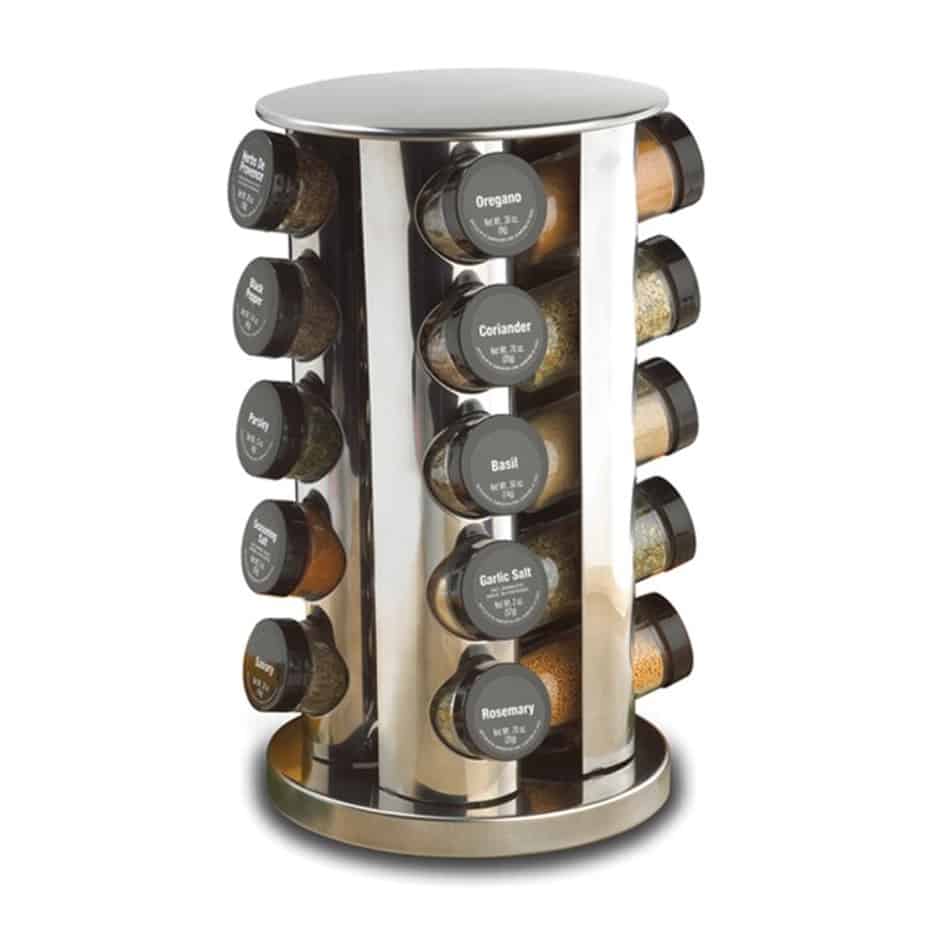 A countertop rotating spice rack is perfect for when you're short on both wall and counter space.
The spice rack pictured here can accommodate up to 20 spice bottles despite its small base. Its rotating feature allows you to store multiple spices within a smaller space.
Rotational devices allow you to store items at their front end, towards the back, and at the sides. Hence, they are the ideal solution for smaller pantries that need to maximize their storage space.
Invest in a Can Organizer
Modern cooking demands plenty of canned ingredients, so it's best you find a suitable storage option for them without delay! So, be sure to pop your cans into a storage rack ASAP, or else you might find them rolling around on the pantry floor.
Pro tip: Look for options that are equipped to handle containers of all sizes. Avoid investing in a can organizer that can only accommodate single-sized cans!
Consider Buying a Shelving Rack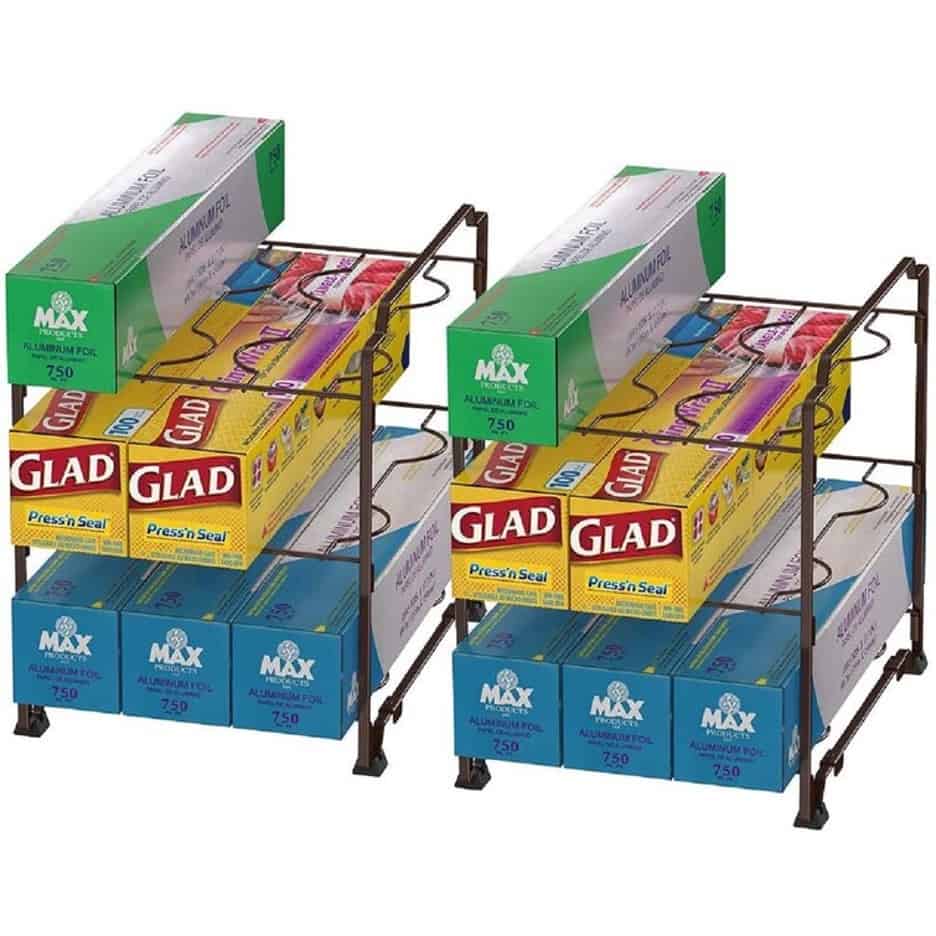 A wire shelving rack is perfect for storing large, wrapped kitchen essentials like cling film and aluminum foil. You probably won't be using these items too often, which is why it's better to invest in an affordable storage rack for them.
Luckily, these wire racks are on the cheaper side of things. You can easily store them at the back of your pantry and access them only when required.
Buy a Pantry Cabinet Set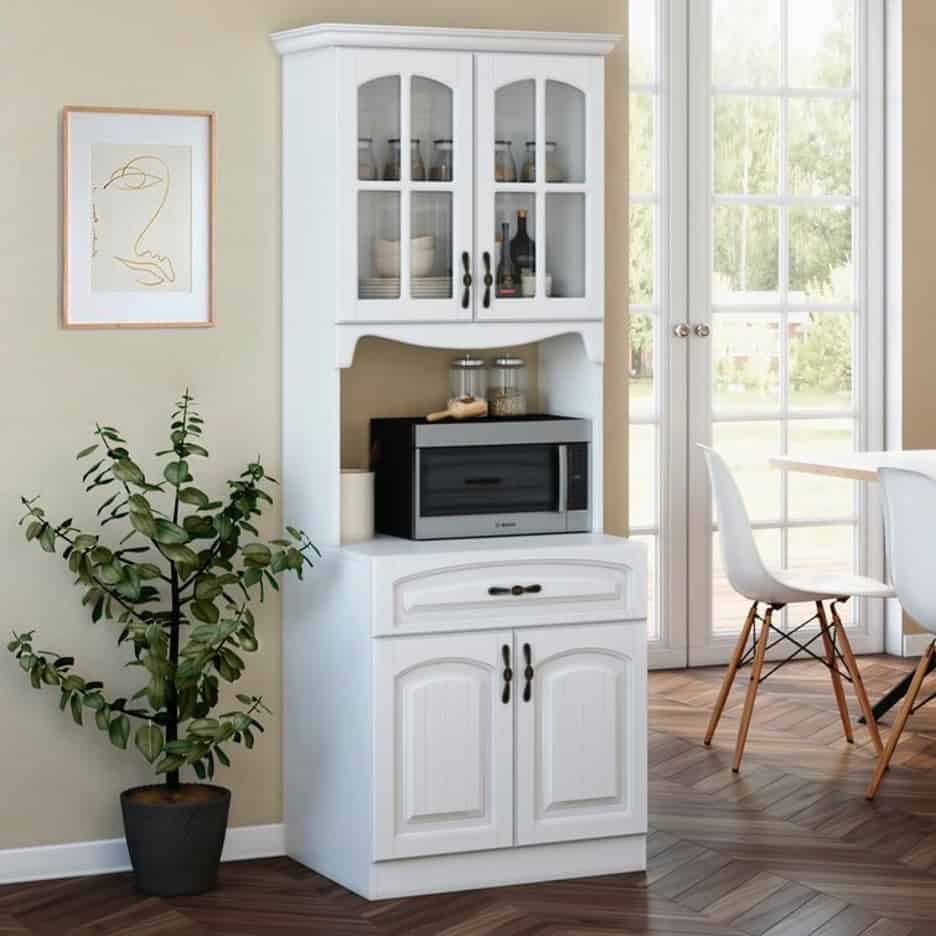 If you're looking for a large, solid piece of pantry furniture, a pantry cabinet set could be perfect for you!
The pantry pictured above is complete with two sets of stylish cabinets and a wide, spacious drawer. There's also a handy countertop in the center that's ideal for storing bulky kitchen appliances.
Whether it's your microwave or coffee machine, feel free to store any appliance here for quick, everyday access.
Create Compartments within the Drawers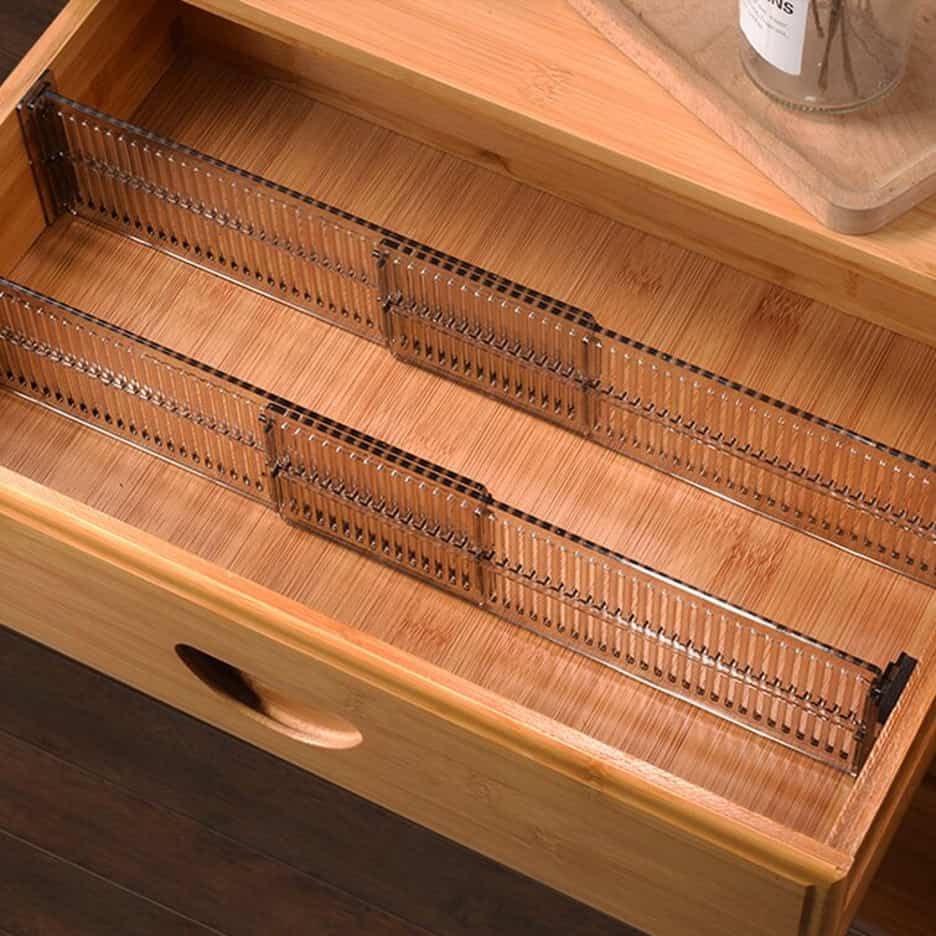 These dividers are excellent for creating strict compartments within your pantry's cabinet drawers.
Having a dedicated compartment for each type of item can help you take your organization skills to the next level!
For example, you could use one section to store wooden spoons, another one for regular cutlery, and the third section for miscellaneous tableware. This will make it significantly easier for you to find and access whatever item you need at any given time.
Buy a Shelving Rack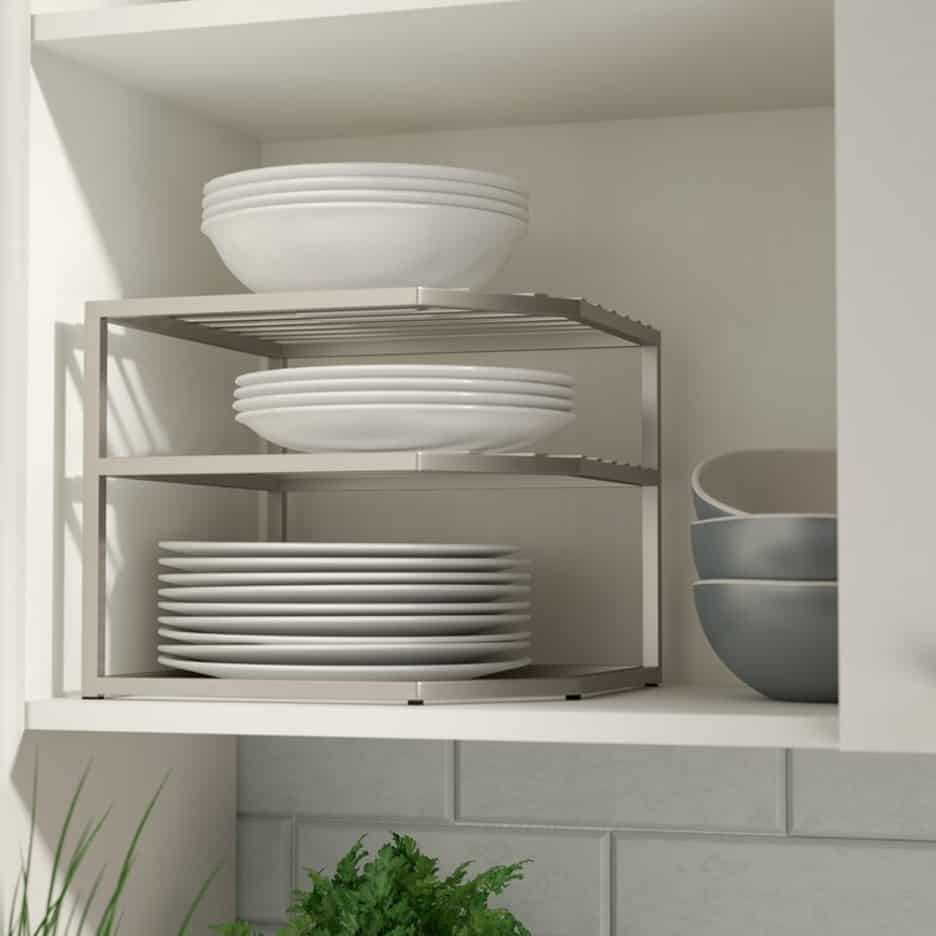 Shelving racks are a great way to maximize your storage space. Having more shelves means you can conveniently stack multiple items upon each other without worrying about damaging any of them.
Look for compact shelving racks that can easily fit into your pantry's existing cabinet (if present). You can also place these racks directly atop your counter space. This will allow you faster access to the kitchen essentials stored within the rack.
Store Fruits and Veggies in Metal Storage Bins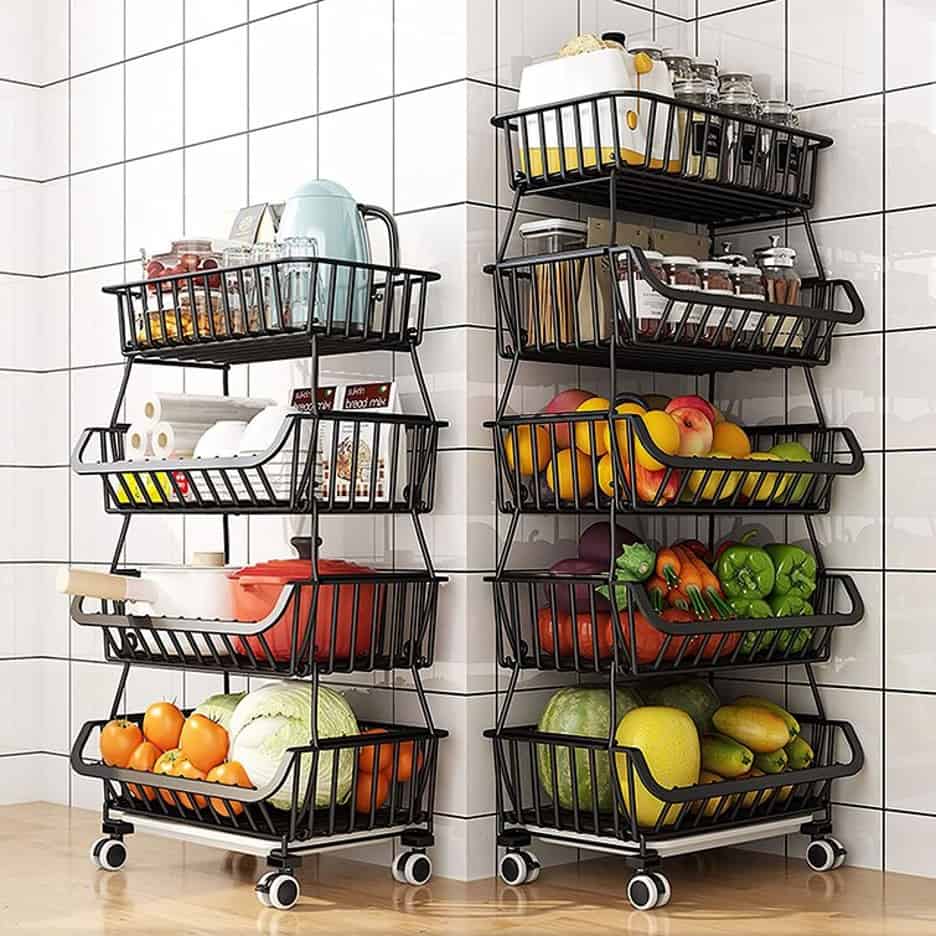 These large metal storage bins are perfect for stocking fresh fruits and vegetables within. You can also place your pots and pans, cleaning items, and miscellaneous kitchen tools within them if needed.
Thanks to their robust construction and use of non-rusting metal, these bins are perfect for kitchen use. Just don't store small or perishable items within them, though – we have a much better option for those…
Use Rattan Baskets for Perishable Fruits and Vegetables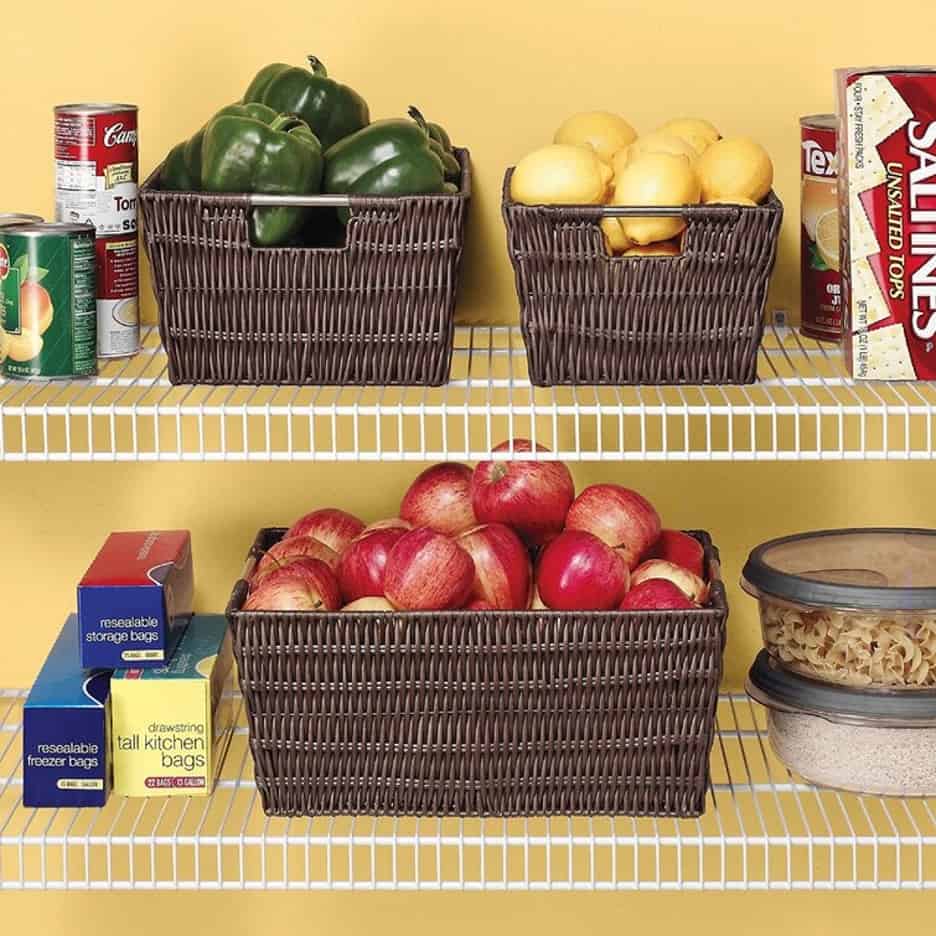 These compact, fully sealed rattan baskets are great for storing small, perishable foodstuffs like lemons and soft capsicum.
Rattan baskets are breathable, making them an excellent organic storage option for fruits and vegetables. They're also an excellent option for farmhouse-themed kitchens, thanks to their classic basketweave texture and use of organic materials.
Install a Large Walk-In Pantry Organizer for Your Door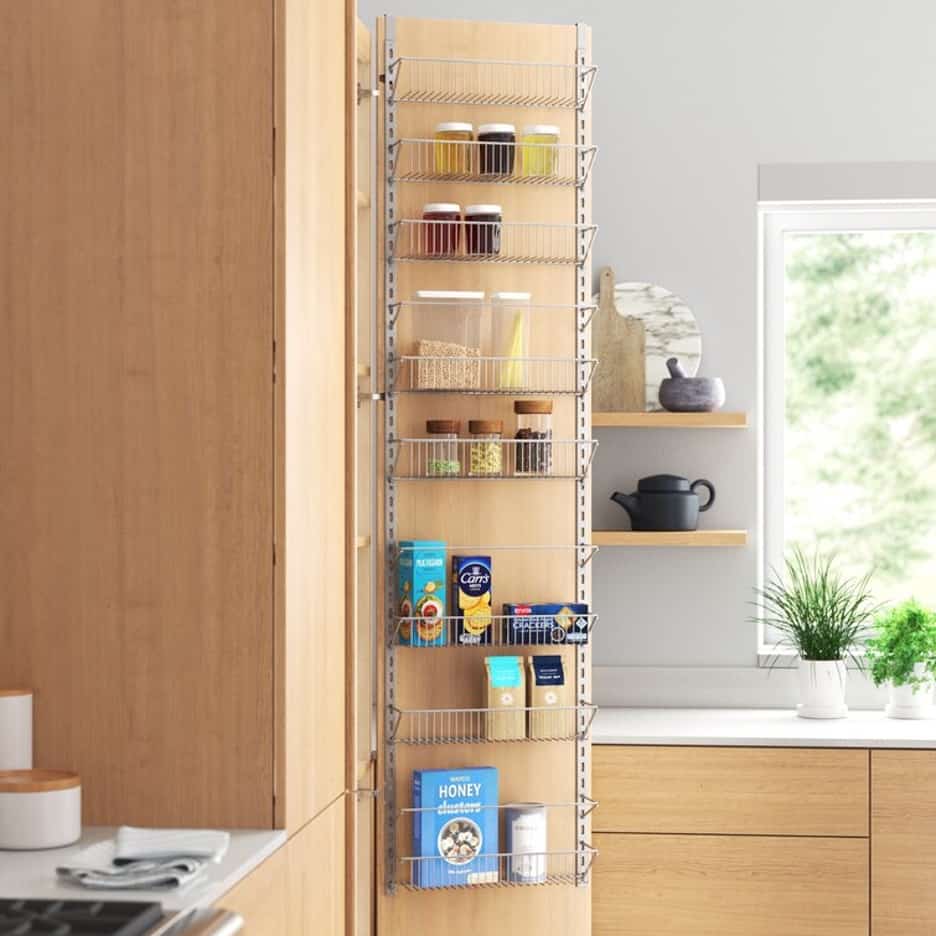 If your kitchen's dedicated pantry has its own door, consider installing a special door organizer upon it.
Door organizers, including the one pictured above, are perfect for small pantries with finite storage options. Thanks to its compact, multi-shelf design, you can use a door organizer to expand your pantry's limited storage space.
To successfully install a door organizer, simply hook it over your pantry's door. You can also use this organizer on tall cabinet doors instead.
Get a Mini Cabinet Door Organizer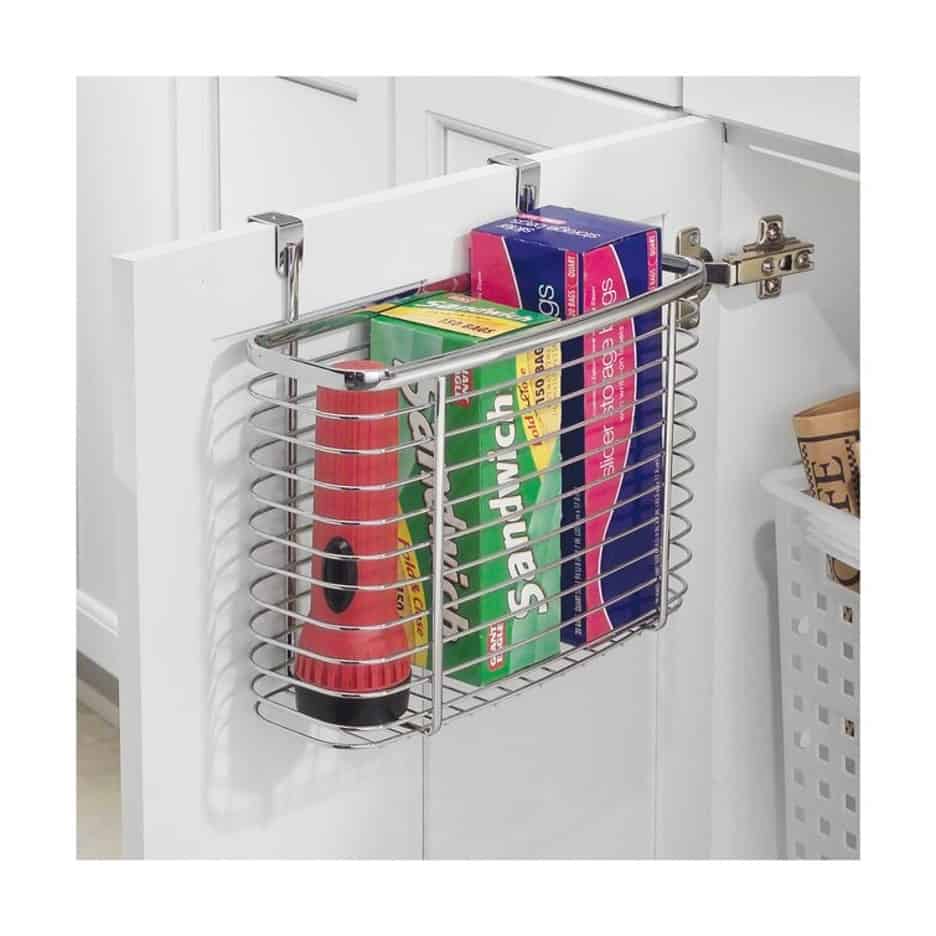 Smaller kitchens may not come equipped with a dedicated pantry door, and that's okay. If you can't afford to install a large door organizer, consider opting for this miniature version instead.
This mini door organizer can easily fit onto any cabinet door present inside your pantry. It comes equipped with a single, sturdy basket that's ideal for storing quick-access cleaning items and emergency tools, like flashlights.
Buy a Cereal Dispenser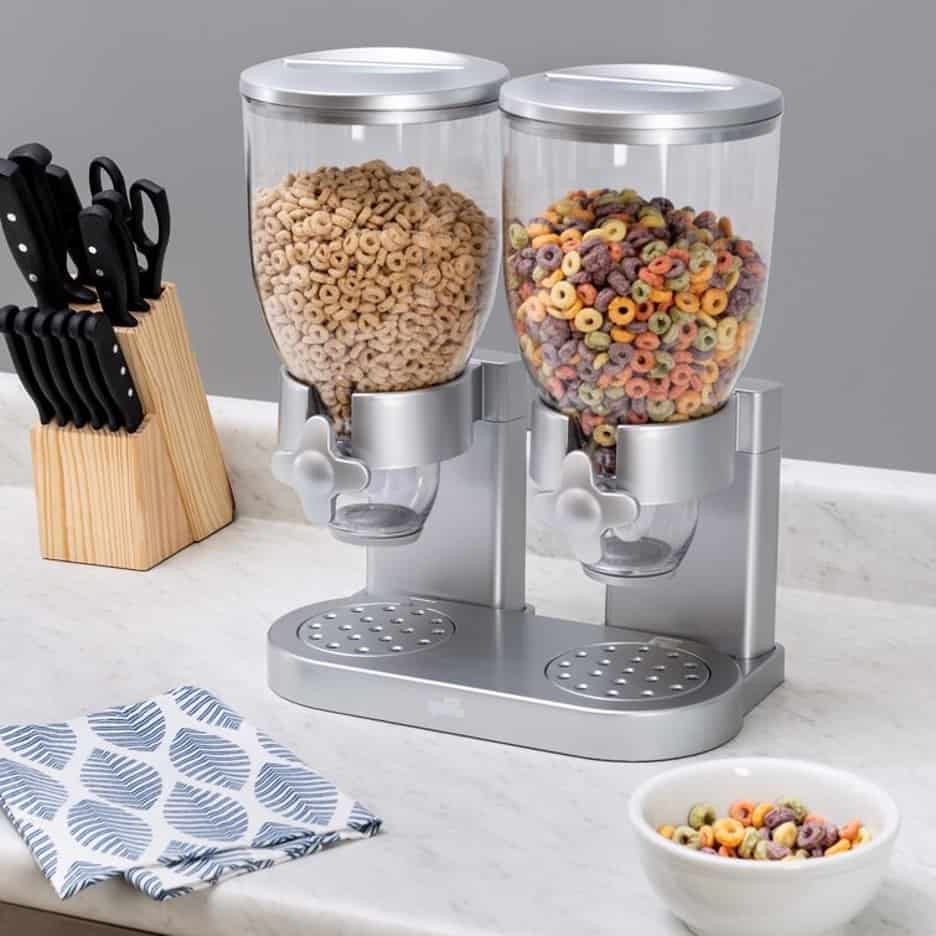 Is your household full of cereal-lovers? If yes, consider getting yourself a cereal dispenser set to make your morning meal prep significantly easier.
The great thing about cereal dispensers is their ability to keep cereal fresh no matter how long it's stored. It is also remarkably easy to add new cereal to the machine. All you need to do is lift its lid and pour a fresh batch of cornflakes in and, voila, you're ready to go!
Install a Wine Rack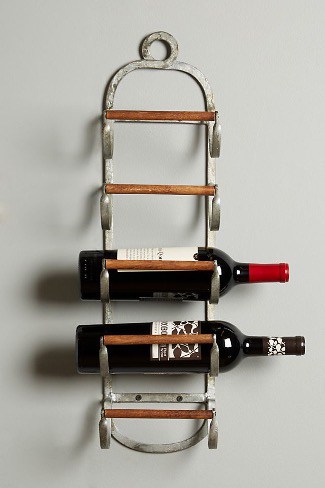 Calling all wine lovers!
If you're wondering where to store your wine bottles, look no further – a new wine rack is all you'll need!
The rustic-looking wine rack pictured above can easily accommodate up to 5 bottles in one go. You won't need to sacrifice any countertop space to it, either. Simply drill this rack into your wall and start piling your favorite bottles onto it as soon as it's been mounted.
Mount a Wall Cabinet to Store Fragile Items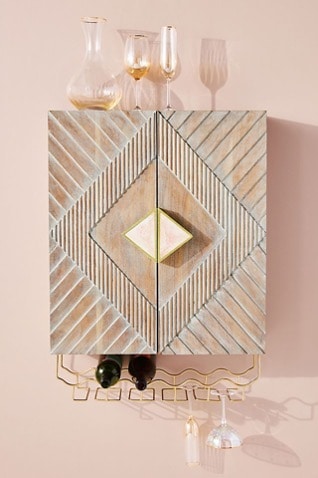 If you're planning on storing breakable items within your pantry, consider investing in a separate storage unit for them.
A wall-mounted cabinet would be perfect for storing fine china and wine glasses. In fact, the unit pictured here has a special space dedicated to wine bottles, too. Talk about hitting two birds with one stone!
Wall cabinets are great for smaller pantries with limited countertop storage space. Plus, they're a great way to dress up a plain-looking wall, too!
Invest in a Pull-Out Wall Cabinet Storage System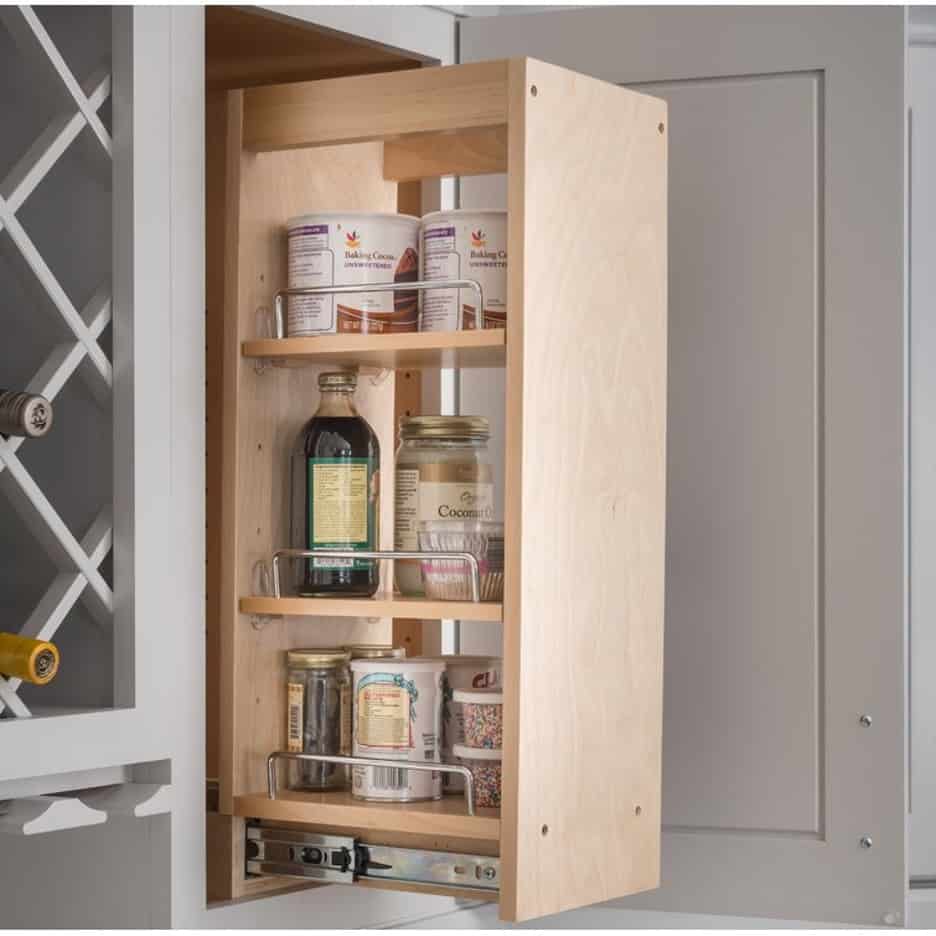 Pull-out wall cabinet systems are a great way to maximize your pantry's storage space.
These storage shelves allow you to make the most of your pantry's limited room by placing multiple shelves within a small space. The pull-out mechanism makes it significantly easier to access the items you've stocked here, too, without having to reach in too deep.
Make Stored Items Easily Accessible with a Lazy Susan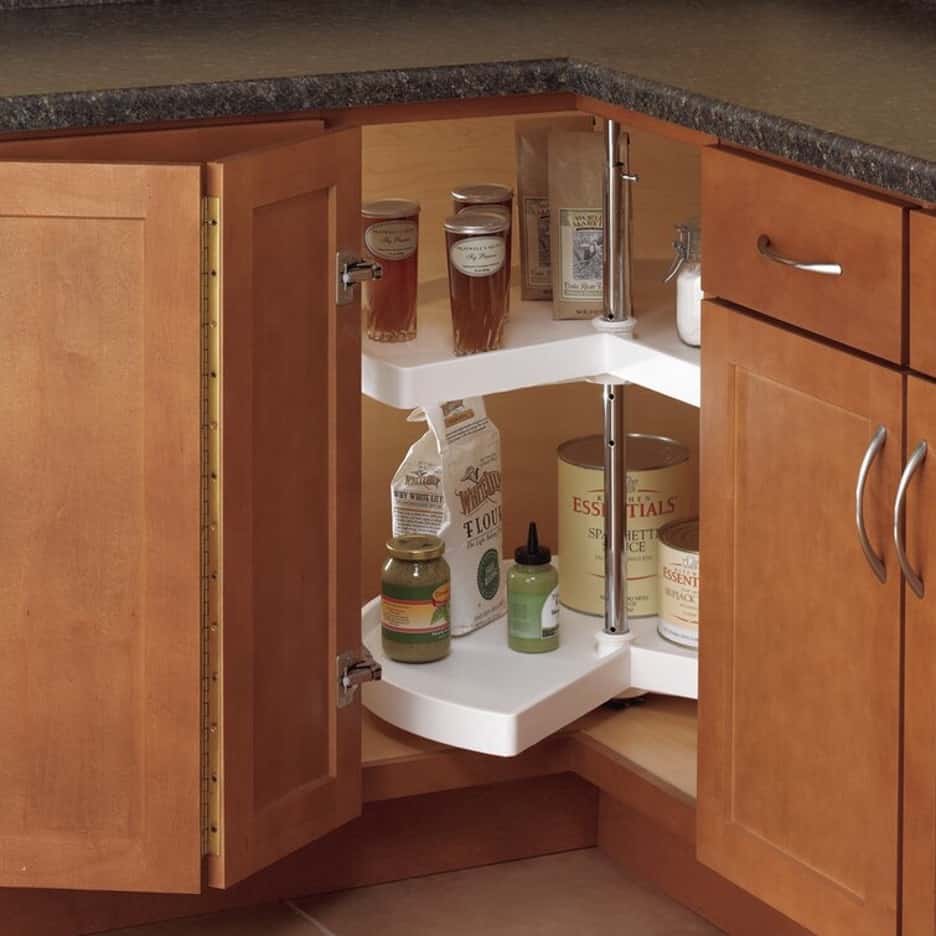 Lazy Susans can help you steer clear of cabinet clutter. All too often, we end up overstocking our cabinets with kitchen items that we end up forgetting about. As a result, many of these items go to waste because they got lost in the clutter.
Installing a Lazy Susan can help you comfortably browse your cabinet's inventory by rotating the device's stand. That way, you'll know exactly what's hiding at the back of your pantry's closet and can put the ingredients to some good use!
Buy a New Beverage Fridge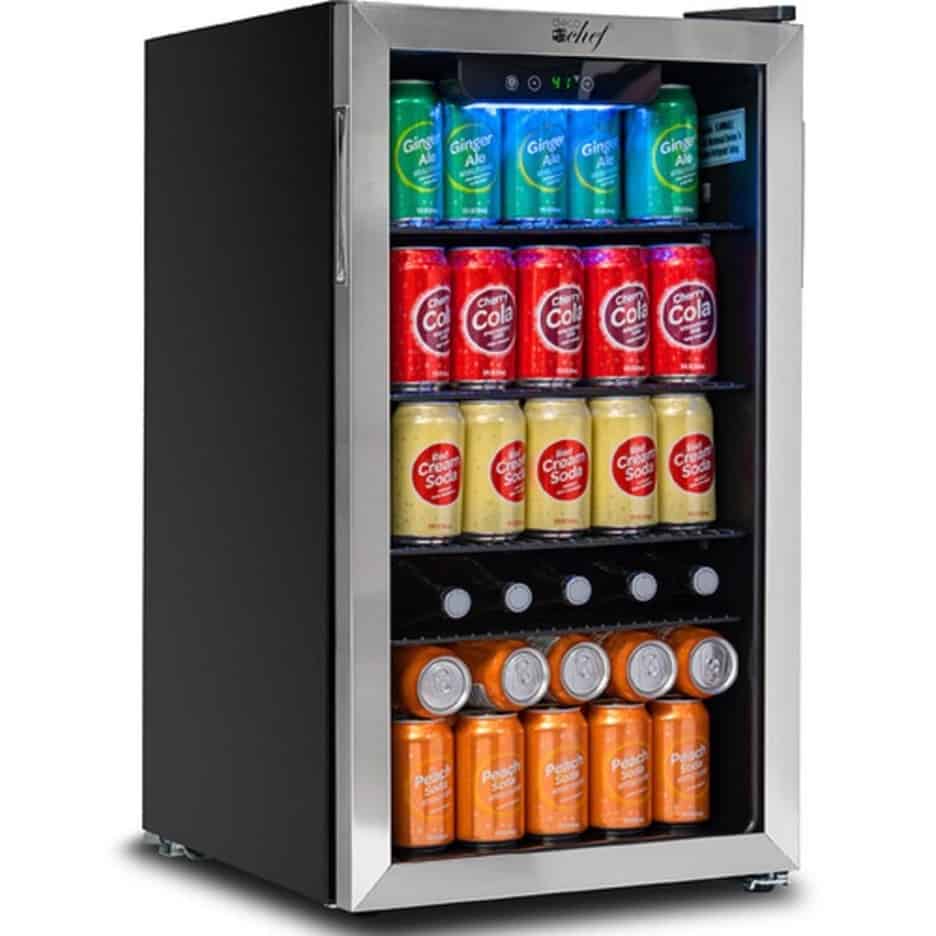 If you're a fan of chilled drinks, don't forget to buy a beverage fridge for your pantry!
Many people like to store their drinks within their main refrigerator. However, storing too many drinks in there can create clutter. It'll also result in there being less space for other fridge essentials, like meat and sauces.
So, if you regularly enjoy cold drinks, it's better to dedicate a separate fridge to them within your pantry.
Allott Dedicated Storage Space for Smaller Items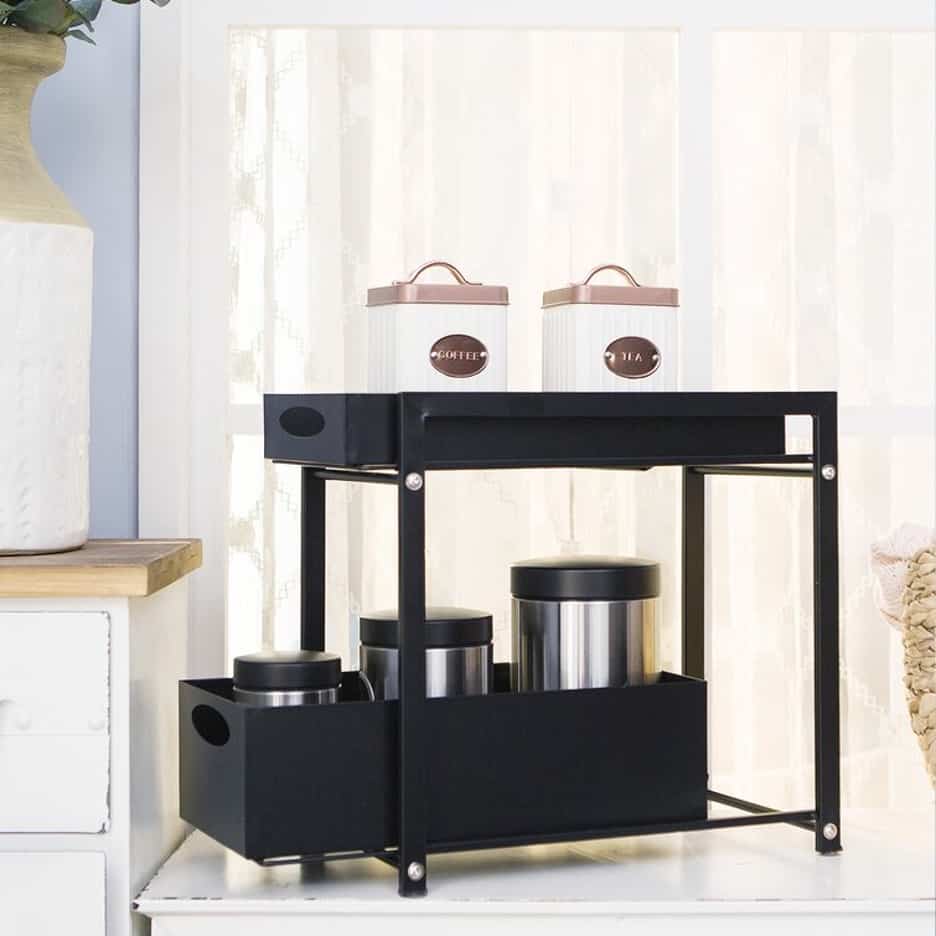 Small items, like jam jars and sugar pots, can get lost amongst a sea of larger pantry items. Hence, it's wise to dedicate a separate storage system to them.
The storage unit pictured above contains two sections, each with slidable drawers. You can comfortably fit multiple small jars within this stand and easily access them as required. Plus, this product's all-black aesthetic makes it a perfect fit for stylish modern kitchens!
Final Thoughts
As you can see, there's plenty of excellent walk-in pantry ideas out there. But, before buying any storage products, be sure to assess your pantry's requirements and size.
Smaller pantries should look for wall-mounted storage options, while larger ones can opt for grand metal bins and spacious pantry cabinets.
Avoid using organizational tools that don't match your requirements. They won't serve you well and will only cause unwanted clutter, instead!