Don Pedro Brooklyn is reader-supported. When you buy through links on our site, we may earn an affiliate commission. Learn More
What Color Furniture Goes With Yellow Walls?
Painting your walls yellow brings a certain excitement to a room. Your room isn't just brighter color-wise, but it also has that childlike joy to it that many of us need in our lives. But yellow is a very bold color choice, and it might seem hard to match the walls with your furniture.
Worry not though, that's why we're here! There are many furniture options for yellow walls. And yellow matches with more colors than you might think at first. So here are 15 of our favorite ideas.
Black Works Wonders Against a Yellow Wall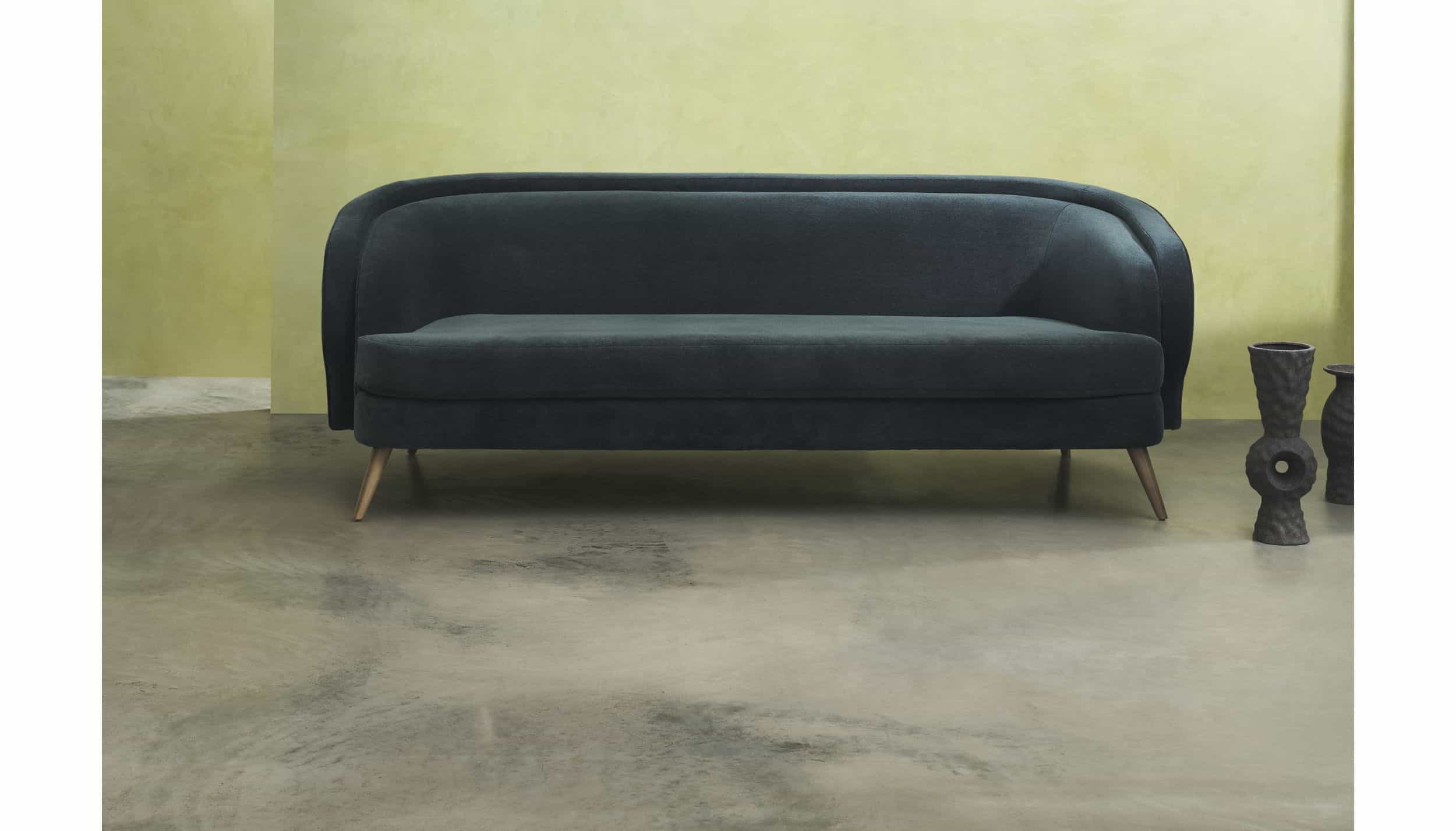 Yellow is super bright in itself, so if you decided on a bolder yellow paint, you might want to tone it down. You can do so by going for furniture in more of a neutral color, such as black.
Black truly does work wonders with yellow walls. It's both a neutral color, as it matches with practically anything, but it's also a bold choice as it has a daring yet elegant feel to it. It pairs so well with yellow, that you'll simply fall in love with your room all over again.
Teal and Yellow Look Amazing Together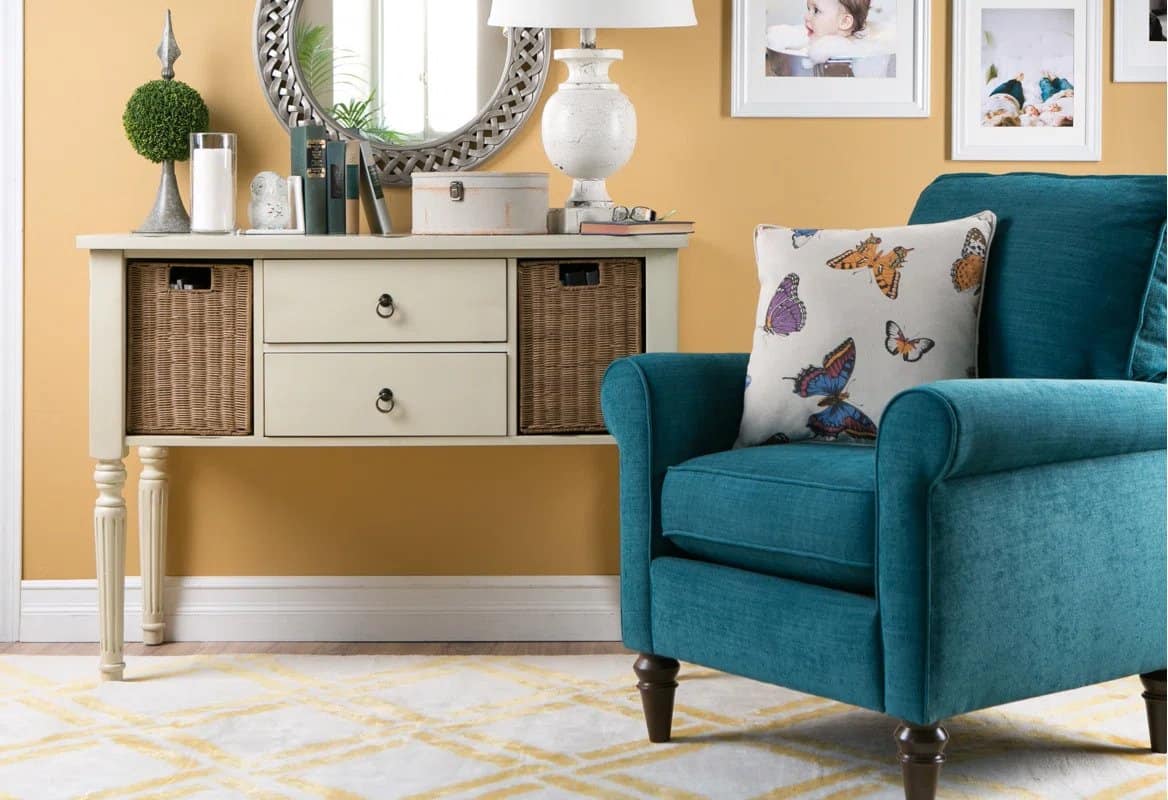 When you're thinking about what color furniture goes with yellow walls, don't be afraid to consider those bolder color choices as well. Teal is a phenomenal pick, as teal furniture brightens up the room immediately.
A teal piece of furniture simply pops on its own. But combined with the brightness of your yellow room it creates an eye-catching spectacle. Even though it's a bold combination, it won't hurt your eyes. On the contrary, these two colors accentuate each other gorgeously, as if they were a perfect match.
Brown Furniture Looks Warm Near a Yellow Wall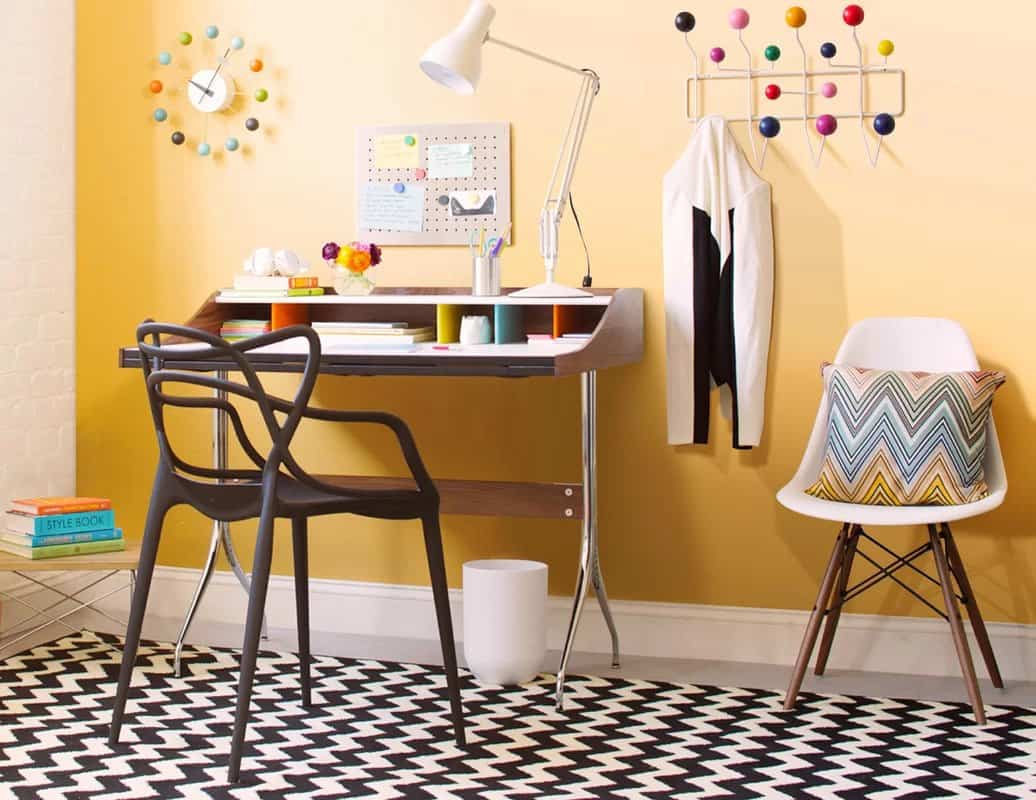 Brown and yellow might not be the first thing that comes to mind when you're thinking about furniture that matches yellow walls. But even though it might be an unlikely match, this combination can look heavenly.
Combining a warmer shade of brown with an already warm and bright yellow will create, you guessed it, a warm cozy combination. This combo also looks phenomenal with different shades of brown. Perfect for creating a gorgeous mid-century modern look.
Blue and Yellow Are a Classic Match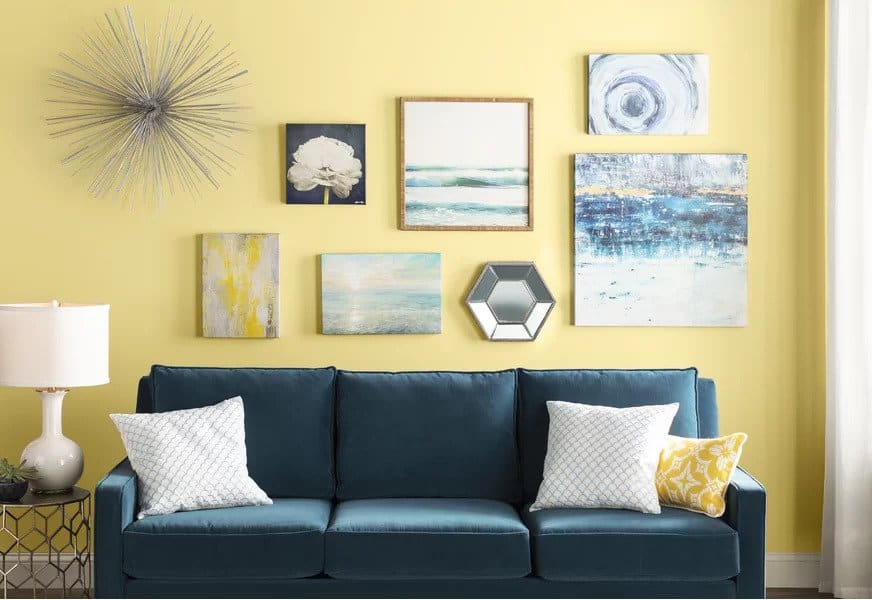 There's something about blue and yellow that feels just right. It's a classic combo. And that's why you can never really go wrong with some blue furniture when you're decorating your yellow-painted room.
Since blue and yellow are complementary colors, they create something called simultaneous contrast, which is a striking, and very visually pleasing color combination. No matter the saturation of yellow on your walls, or the blue of your furniture, these colors are a guaranteed match that will make your room look well put together!
Pink Furniture Looks Exquisite With Yellow Walls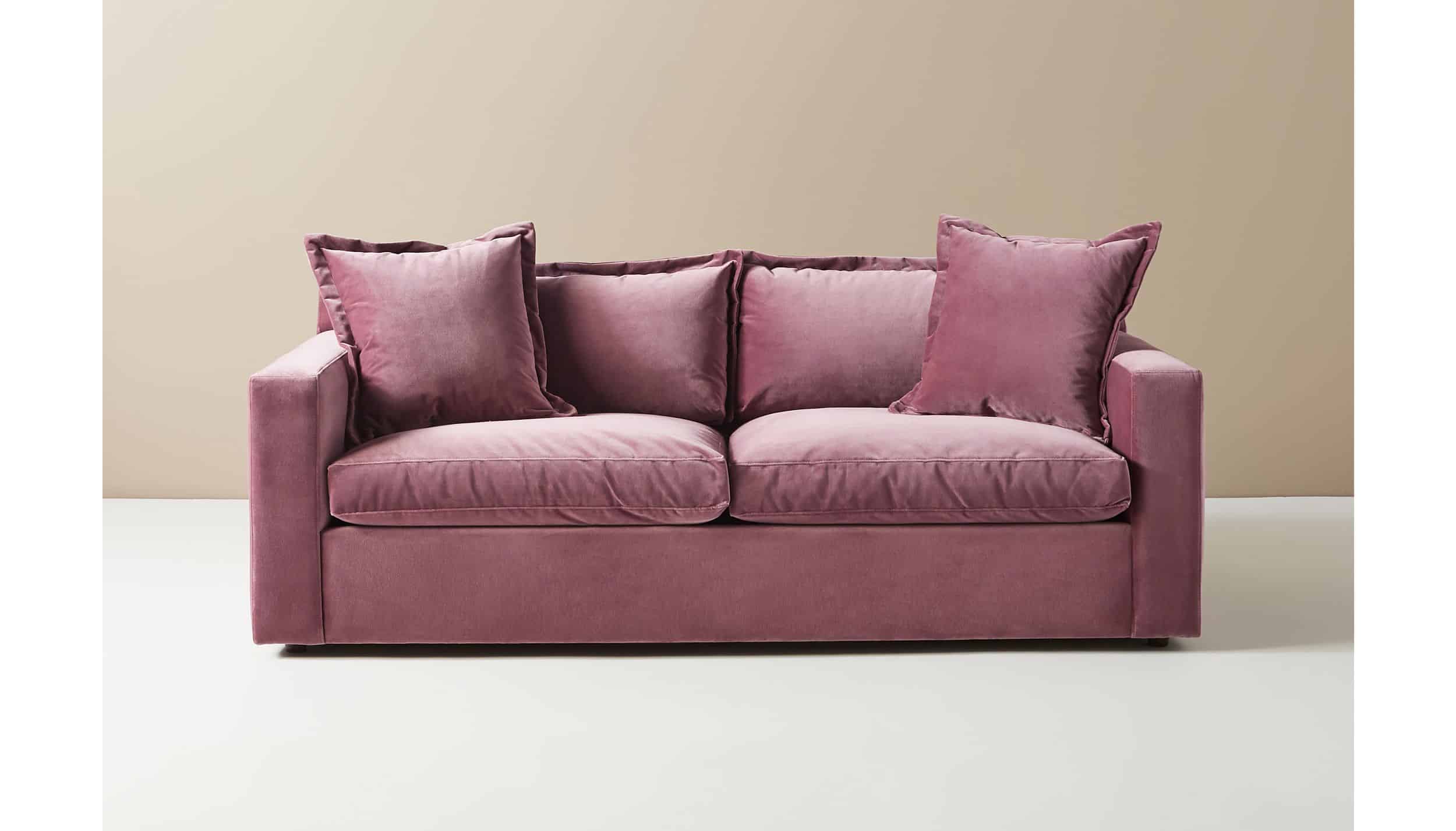 Pink is yet another bold choice. No matter the shade you choose, pink furniture always turns people's heads when placed outside of a bedroom. It's unusual and exciting, and it pairs gorgeously with yellow walls.
If you decide on pale yellow walls, a muted pink will accentuate them beautifully. It's a chic pairing that feels exquisite and often quite expensive. So if you want an unconventional yet glorious aesthetic, consider pairing pink and yellow.
Patterned Furniture Fits So Well in Yellow Rooms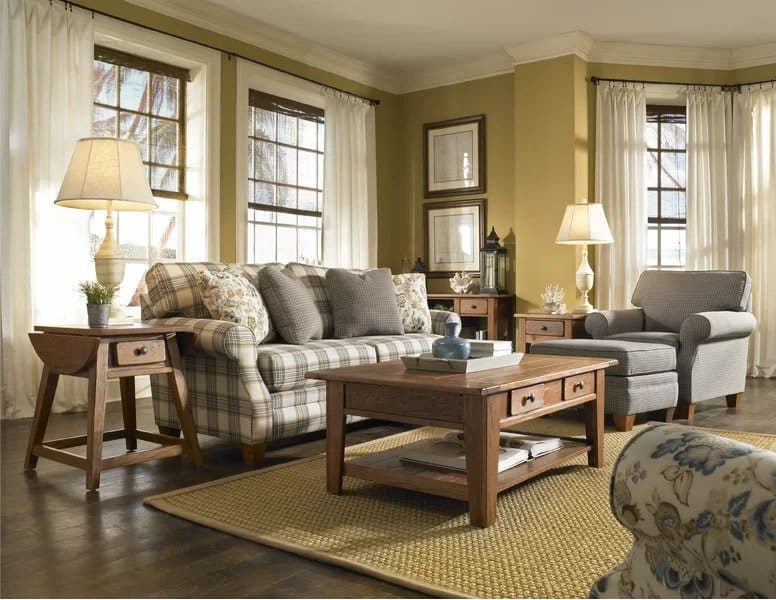 The fun part about interior design is that you don't have to limit yourself to solid-colored furniture. This goes for yellow walls as well. If you're a fan of fun patterns, or even those more traditional ones, you can make them work in a yellow room. And they can look amazing!
Here a tartan pattern is used in neutral colors, as it adds to the farmhouse of the living room. It adds dimension to the living room, pairing beautifully with these dark yellow walls. This just shows how versatile yellow walls can be, as they can fit with many types of interior design.
Choose Mustard Colored Furniture for a Rich Look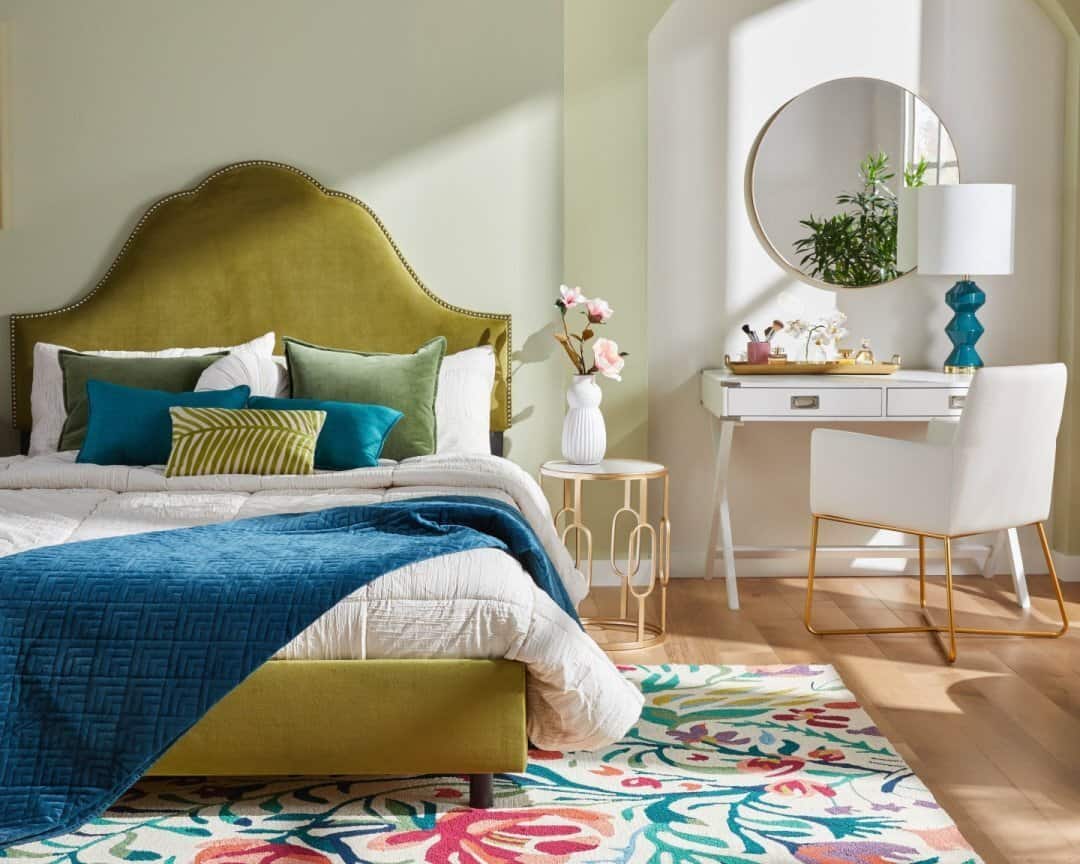 Mustard is a glorious rich color. As it's a dull-gold like yellow, it has that opulent yet serious tone to it. Mustard furniture looks expensive. But choosing a color to pair it with can be tricky.
Many people say it's the same with yellow walls, that pairing them can be pretty hard. And this is where these two meet. Perfect for creating an expensive-looking home, mustard tones of yellow combined with duller pale yellow shades create an exquisite look many people dreams of!
You Can't Go Wrong With White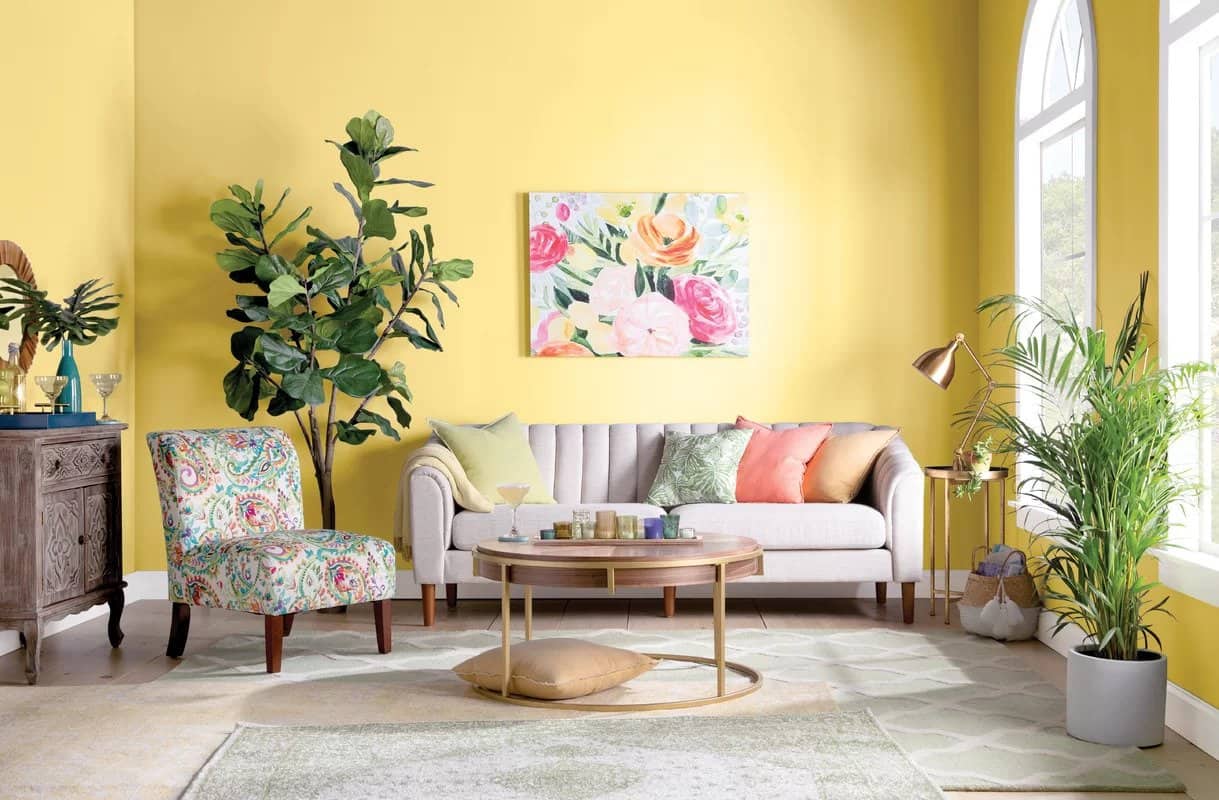 White is a color that goes well with anything. White's that perfect neutral that fits everywhere, making your space look bright and clear. Of course, that includes yellow too. So when you're in doubt regarding what color furniture goes with yellow walls, white is always the safe option.
White furniture looks phenomenal with a bold yellow wall. It opens up a room, making it feel spacious. This color combo is very versatile, as it works with many different styles of interior design. A great option at all times!
Pick Yellow for a Monochrome Look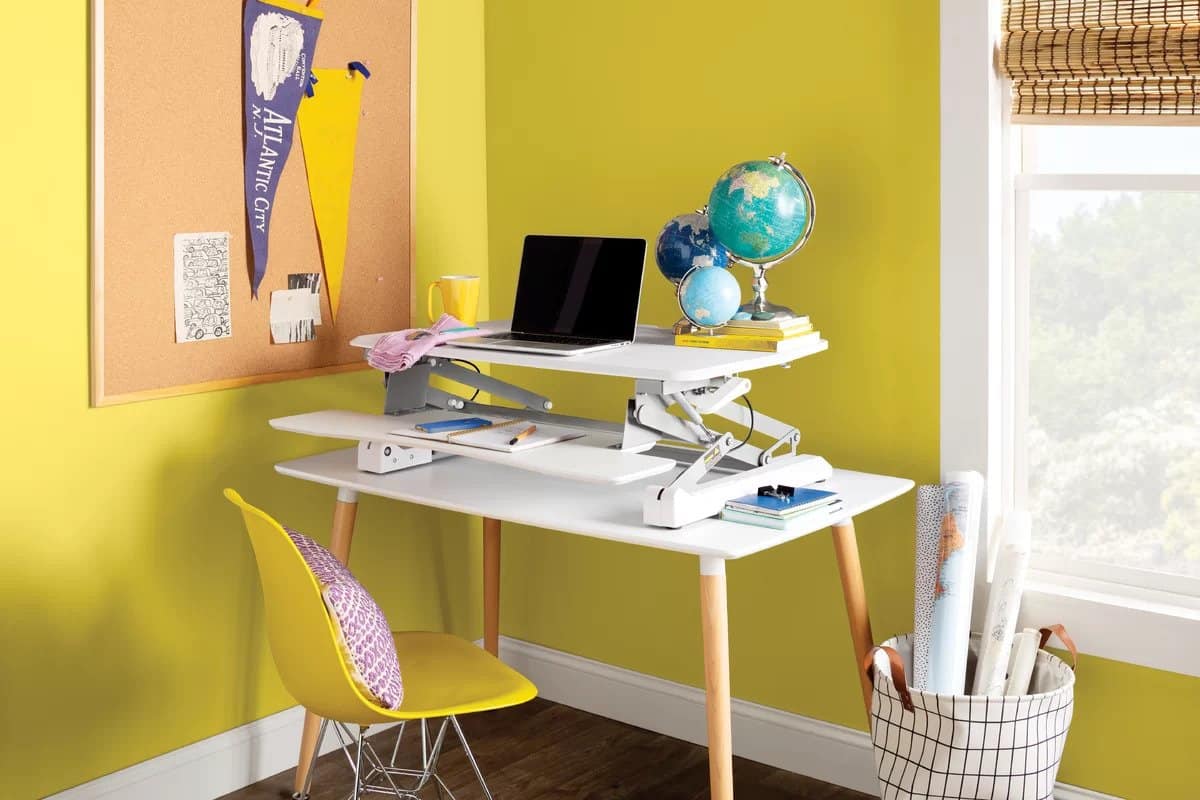 There's something oh so thrilling about monochrome rooms. They look artistic and very well put together. Of course, it's a daring route that not many people take. Especially not with yellow. But those who do can rest assured their room will be remembered.
If you decide to be bold and go for a monochromatic option, don't be scared to go all in! Don't shy away from vivid tones of yellow, and bright yellow furniture. This will create a visually striking experience for everyone who enters.
Pastel Pink Has That Romantic Feel Against Yellow Walls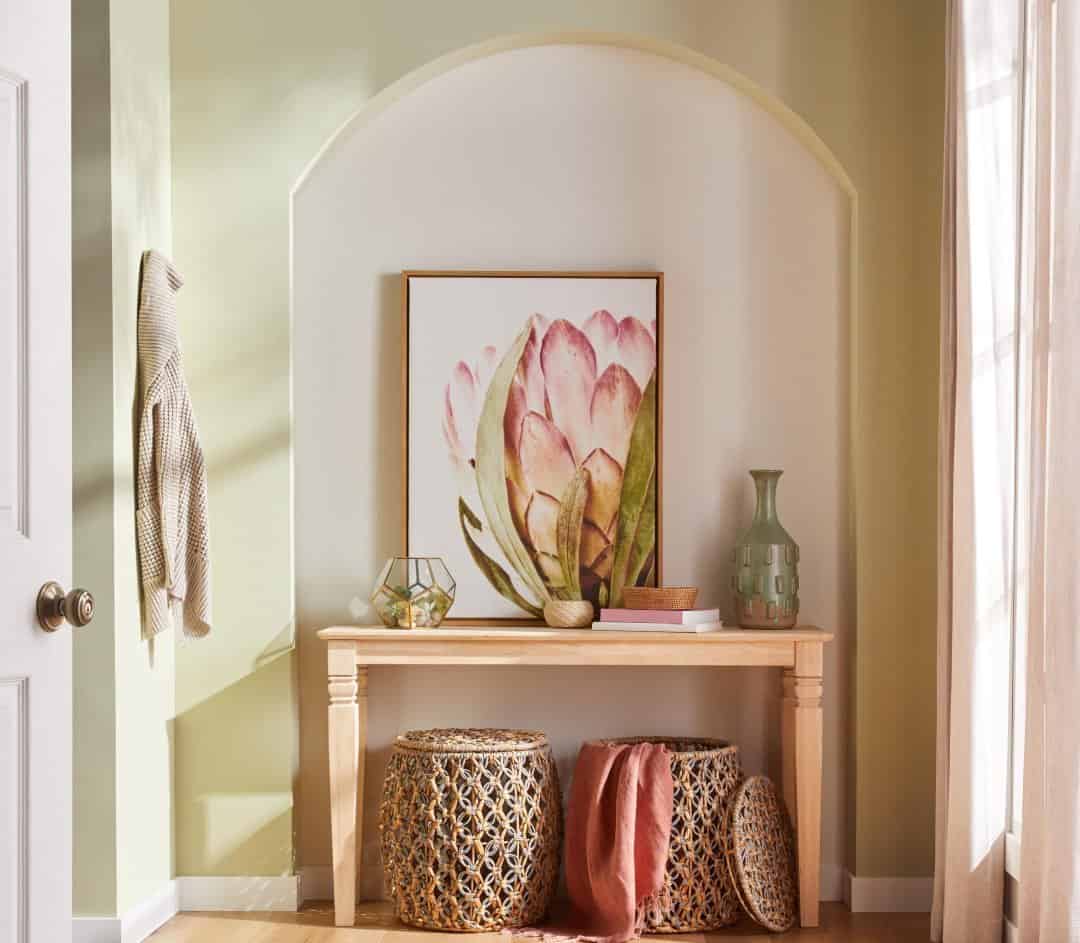 Pastels always go well together. It's a rule. So when you paint your walls a lighter shade of yellow, consider getting furniture in a color of a similar hue. One of the dreamiest choices you can make is going for pastel pink.
Pastel pink furniture feels light. It's very dreamy. And depending on the materials and shapes it can create such a soft romantic vibe. Combined with some pastel yellow walls, it creates an atmosphere like no other!
Choose Bright Green for a Funky Look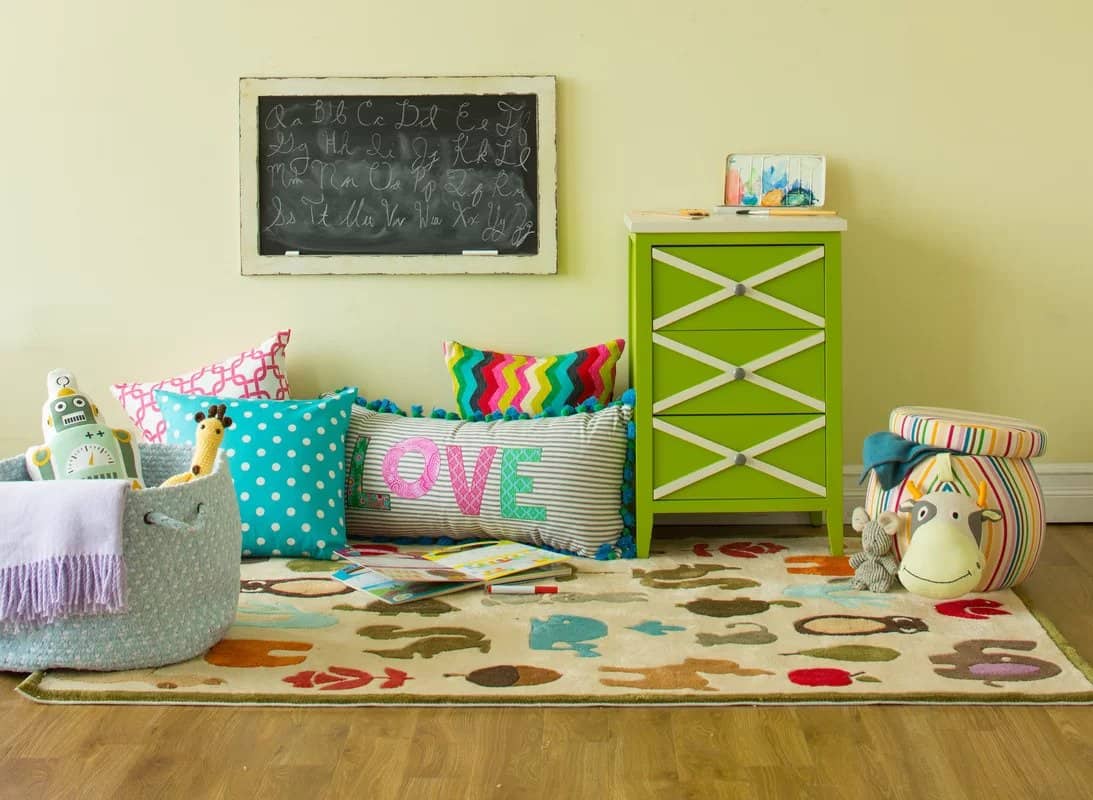 Yellow walls are often popular in nurseries and children's rooms. They fit here fantastically as this vibrant color brings feelings of joy that are so natural in children. It's also a great neutral option for parents who don't wish to color-code their kids' rooms with pink or blue.
So when you want to create a fun kids' room, don't skip out on all the bright colors. Bright green is a great contender as it immediately adds more dimension to a room, adding a fun natural note. It's ideal for creating a funky look!
Olive Green Looks Serious and Refined With Yellow Walls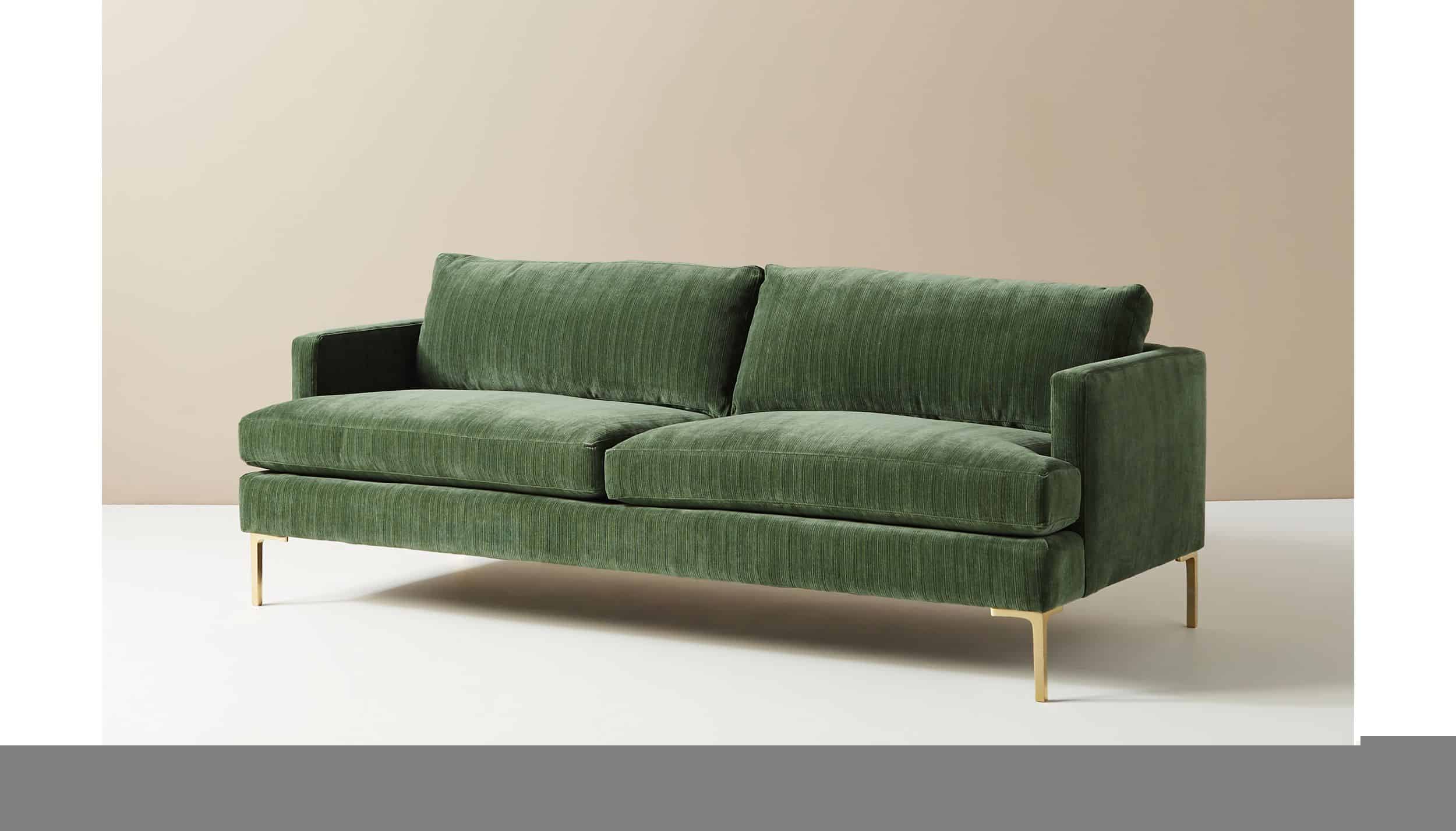 Green and yellow feel natural together, no matter the shades involved. Color theory is the reason since green is partly made out of yellow. making these two a fantastic match. But where bright green feels bold and exciting, a more toned-down olive tone looks chic and way more serious.
An olive green couch can make all the difference in a living room. It adds a refined tone to the room, creating a simple yet impactful look that won't be forgotten anytime soon.
Medium Wood Furniture Adds a Traditional Vibe to a Yellow Room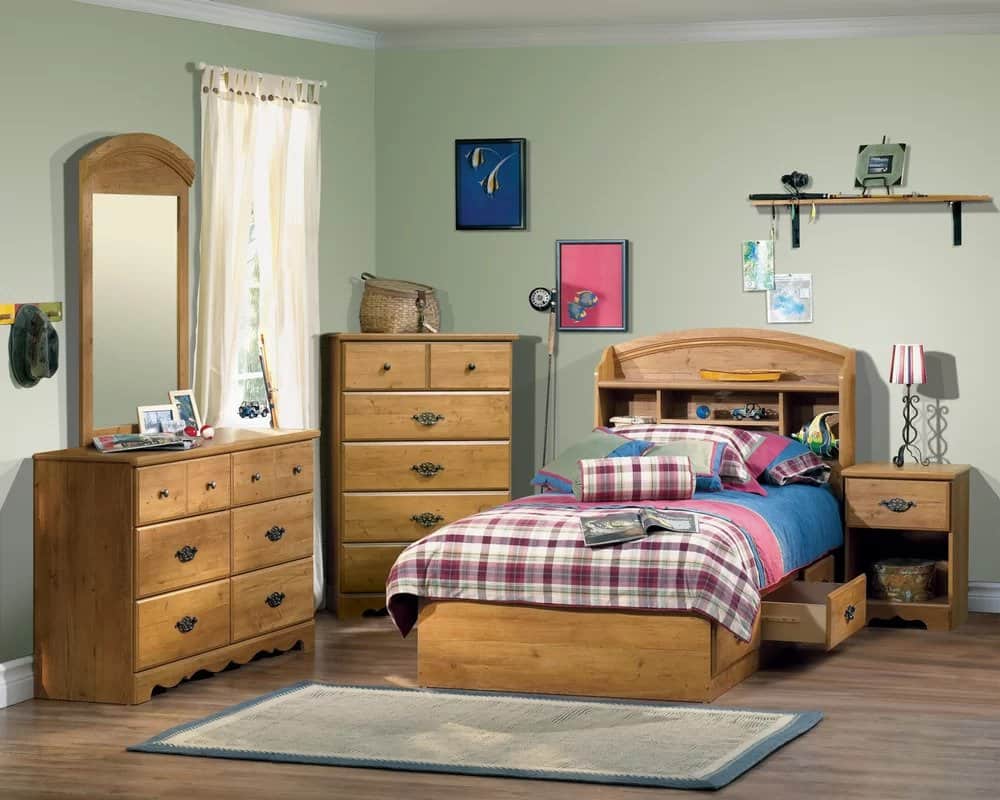 Wooden furniture has that specific look to it. It makes a room feel natural, warm, and super cozy. And not to mention it has a little bit of that rustic look too! Overall it's a great look, but can it work in a yellow-painted room?

Of course, it can! Choosing the right type of wood makes all the difference. Here, medium-colored wood looks glorious. It pairs beautifully with the dull yellow of the walls, creating a stunning traditional children's room!
Baby Blue Feels Joyful Against Pastel Yellow Walls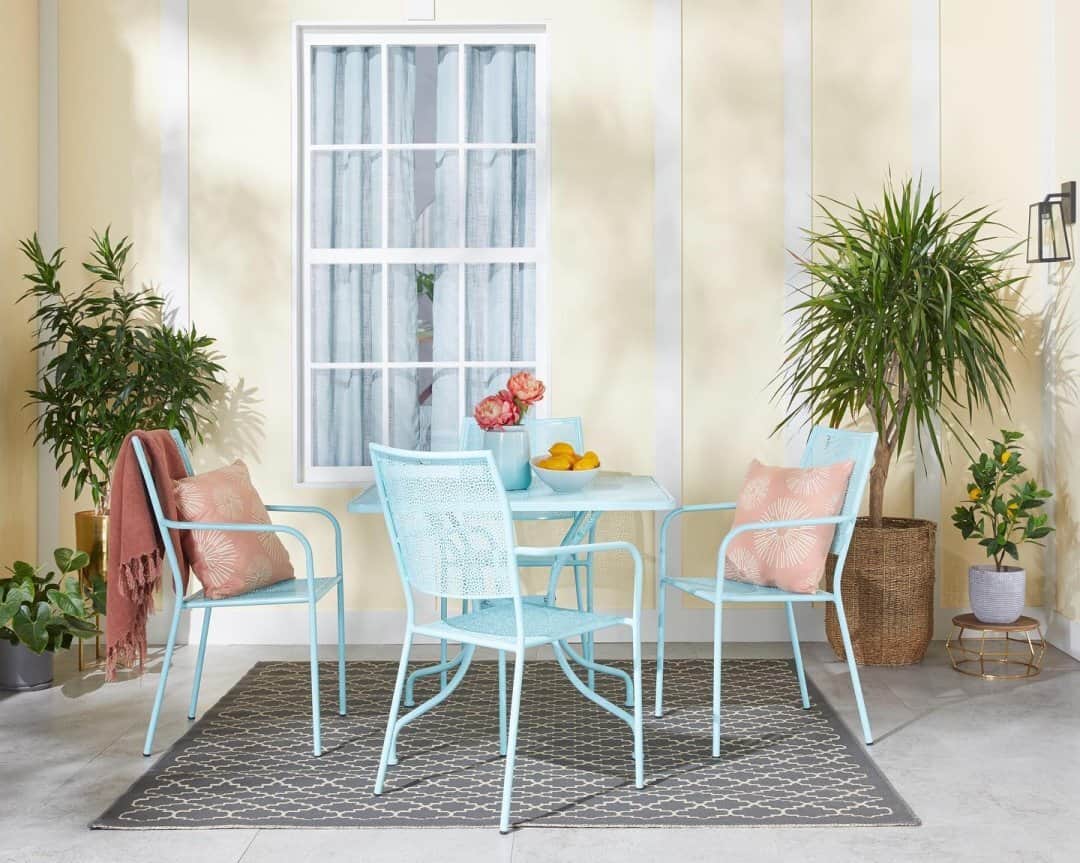 As we've seen before, blue and yellow are a match made in heaven in all of their shades. Especially those lighter ones. Pastel yellow walls have a softness and warmth to them, and it's perfectly complemented by baby blue, creating a gorgeous, movielike combo.
You can see how fantastic this patio looks. Baby blue chairs pop against the pastel yellow walls. They're a super-effective pick that won't be easily forgotten!
Gray and Yellow Make a Fantastic Match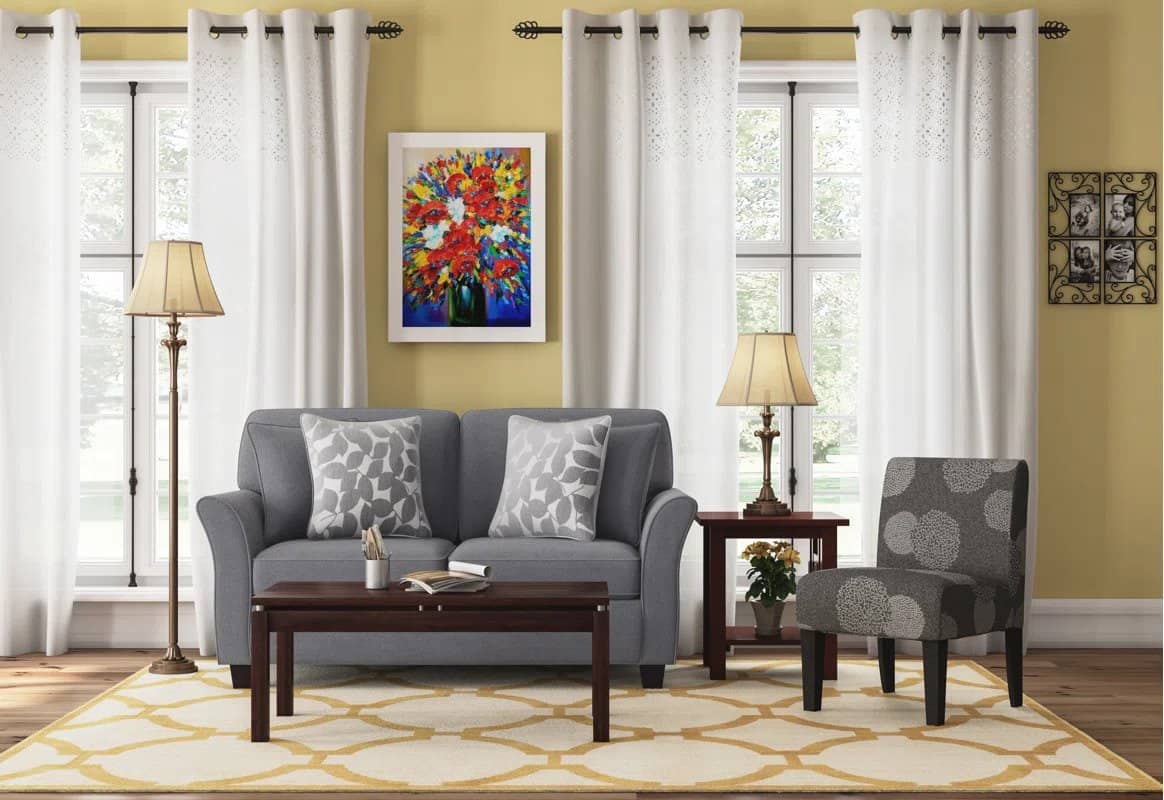 Gray might be the most popular neutral color of all. It's chic, cool, and has many wildly different shades that you can match with practically anything. So of course there's an ideal gray for your yellow walls.
Choosing gray furniture for your room will slightly tone down the flashiness of the yellow, adding its edge to the mix. And the result is super stylish, working well in almost any home!
Summary
Dealing with yellow walls isn't as hard as it seems at first. You just have to know what look you want to go for. Do you like dramatic pops of color? Or are you more into toned down, smart, and stylish looks?
All of this is possible with yellow walls. But it's important to play around with different shades and mix and match until you find just the right combination. And when you do, you'll be able to see just how magical yellow walls can be.