Don Pedro Brooklyn is reader-supported. When you buy through links on our site, we may earn an affiliate commission. Learn More
What Color to Paint Walls When You Have a Gray Couch?
Thanks to the advent of modern minimalism, gray sofas are all the rage. You'll find interior designers flaunting these cement-colored seats anywhere they can, particularly within living rooms and bedrooms.
But despite their undeniable charm, gray couches aren't the easiest furniture pieces to work with in terms of color pairings. Deciding what color to paint your walls with a gray couch beside them can prove a challenging task.
To help you land the perfect color, we've compiled a list of top shades from reputed paint brands. So, are you ready to unlock the secret to flawless gray couch color pairings?
Let's dive in!
White by Benjamin Moore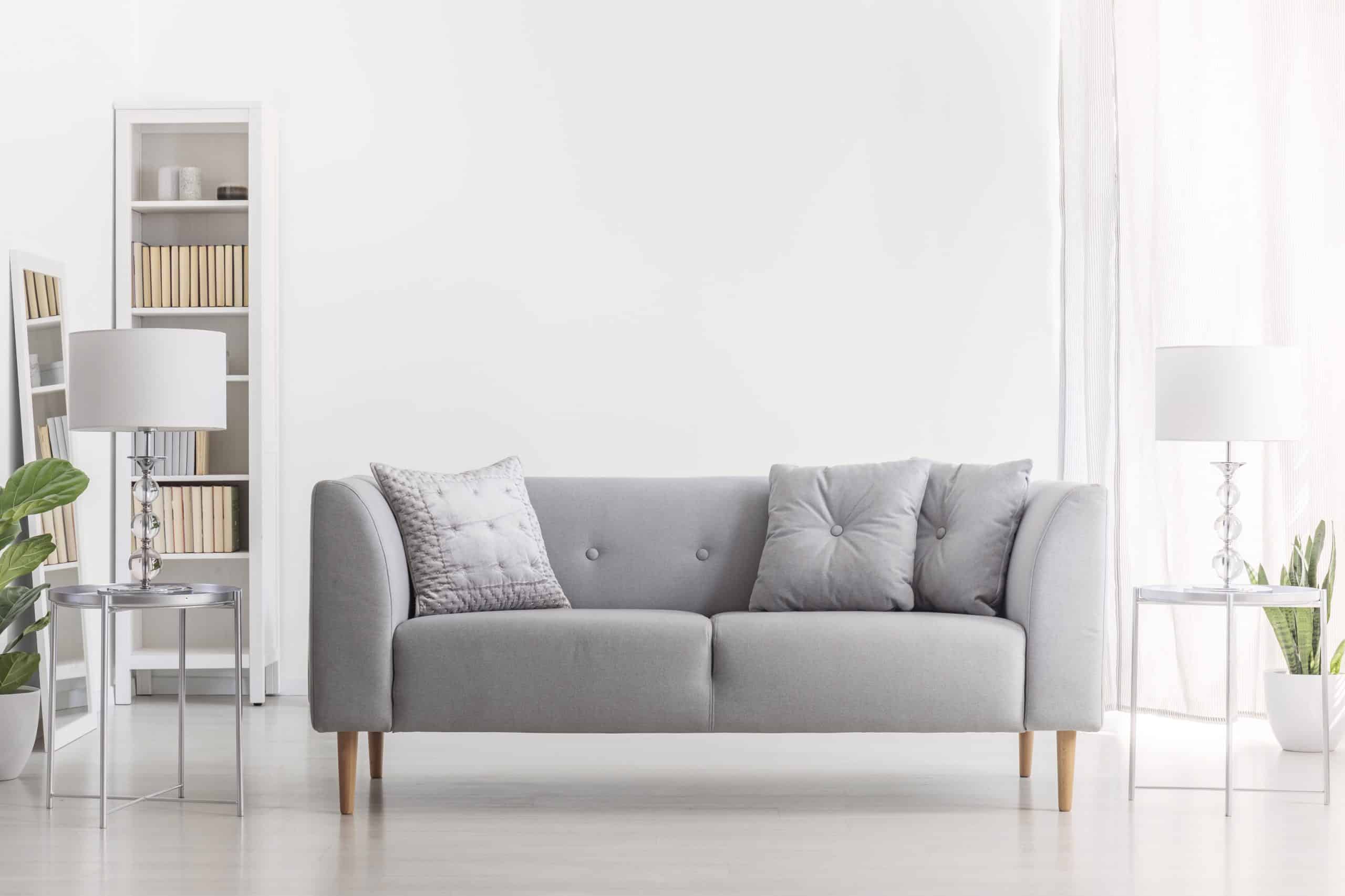 According to modern color theory, white qualifies as a neutral shade. This feature allows white to comfortably blend in with every other color out there, including gray.
It's hard to go wrong with a set of all-over white walls. Thanks to its neutrality, white walls won't take attention away from your beautiful gray sofa set. Instead, it'll help your gray couch stand out and be the star of your living room.
White walls are also perfect for those who adore minimalism. Unlike brighter colors, like red or green, white encourages a sense of calm within the room. So, if you're aiming for a simple, peaceful, and functional aesthetic, consider washing your walls with this classic color.
Genesis White by Benjamin Moore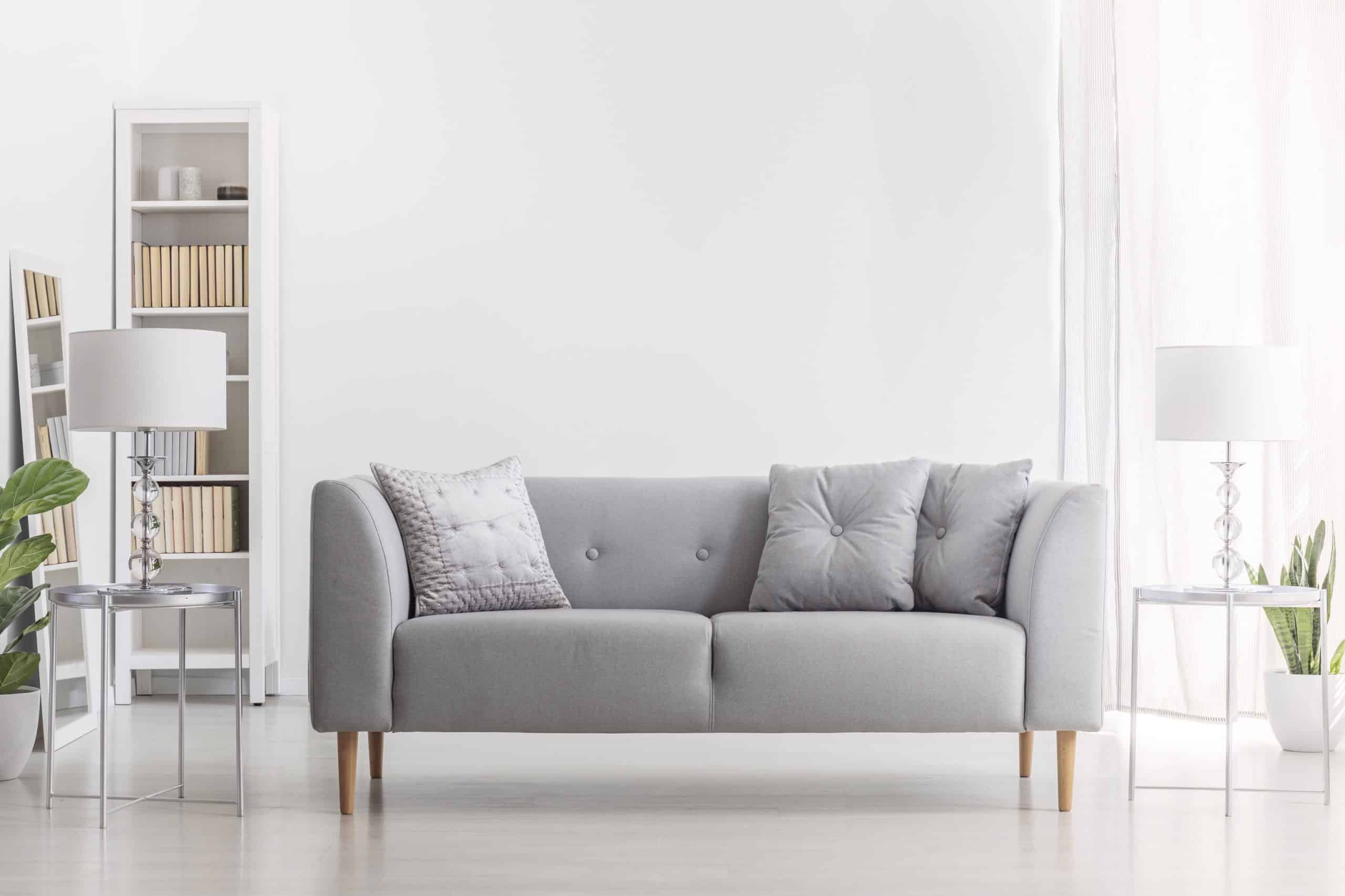 Genesis White is a unique take on Benjamin Moore's regular White. It features a cool, eggshell gray undertone that brings the shade to life. Genesis White's ashy color makes it an excellent match for light and medium gray furniture.
Although possible, it's better to keep Genesis White away from dark gray sofas. This particular shade of white radiates a calm, floaty aura that would clash with dark gray's dominating presence. However, if your room contains other accents with cool undertones, expect them to blend right in with Genesis White. But if your space is laden with dark or warm colors, you may want to look for a more suitable shade.
Touch of Sand by Sherwin Williams
Touch of Sand is a light, beige-like brown with a calm, collected energy. It also maintains relative neutrality despite not belonging to the grayscale spectrum. This makes it an excellent match for both light and dark gray sofas.
Sherwin William's Touch of Sand is an excellent alternative to white and light gray paint. It is a warmer option that can help your room appear soft and welcoming. Grayscale tones, like Genesis White, are better suited to minimalist homes that prefer simple color schemes. But if you'd like to introduce a pop of sober color to your home, Touch of Sand is an excellent option worth considering!
Green Smoke by Farrow&Ball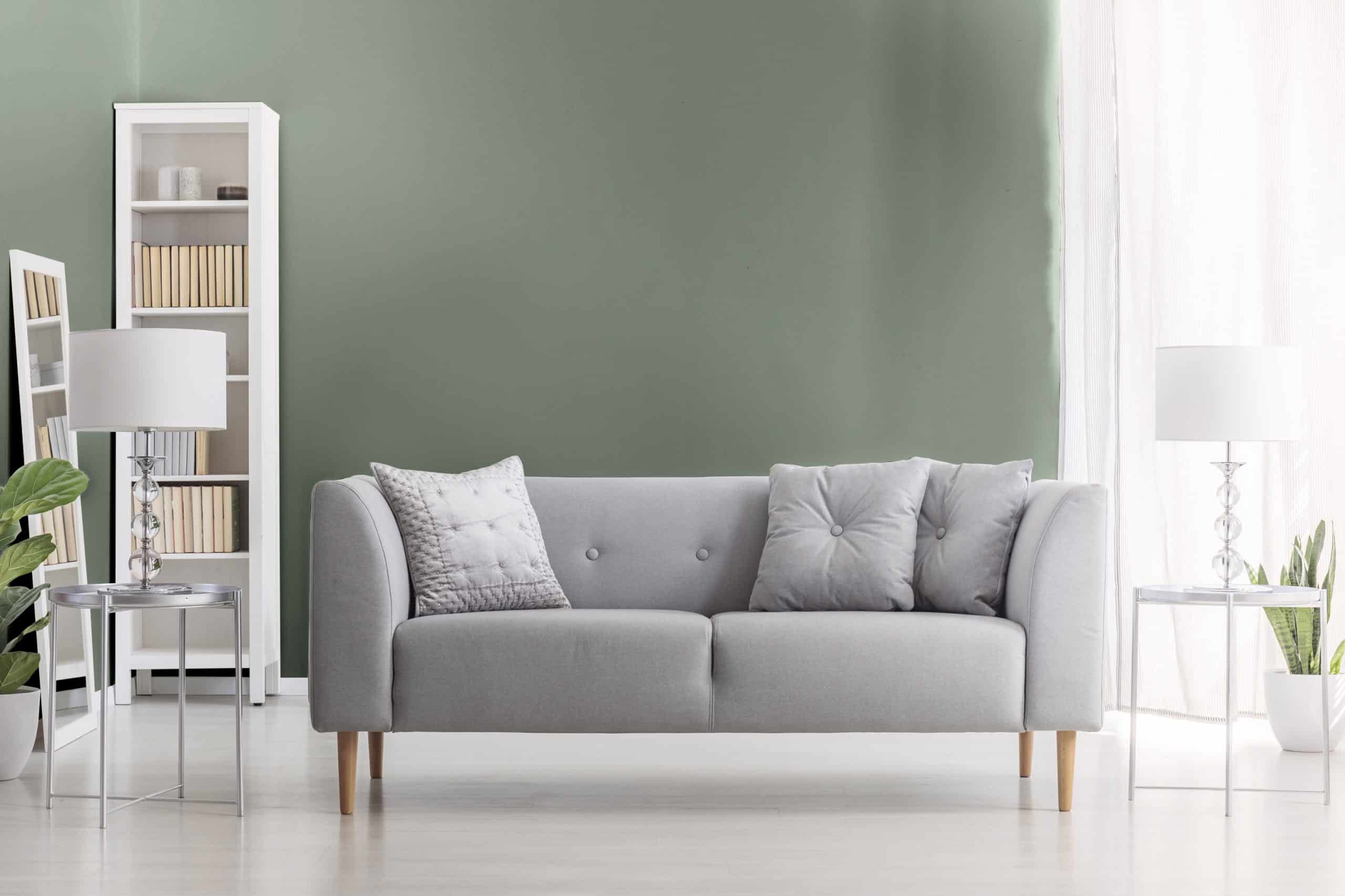 Farrow&Ball's Green Smoke flaunts a subtle blue undertone that helps bring the color to life without making it too bright. This shade is ideal for those who prefer colors that are both gentle yet alive. Green Smoke is not a passive color. Instead, it can help bring your gray sofa set to life.
However, what sets this shade apart from colors like firefighter red or bright blue is its relative softness. It's easy to see that Green Smoke is not a glaringly obvious shade. Yet, it manages to leave a lasting impact upon the viewer while simultaneously accentuating all the gray elements around it.
Tradewind by Sherwin Williams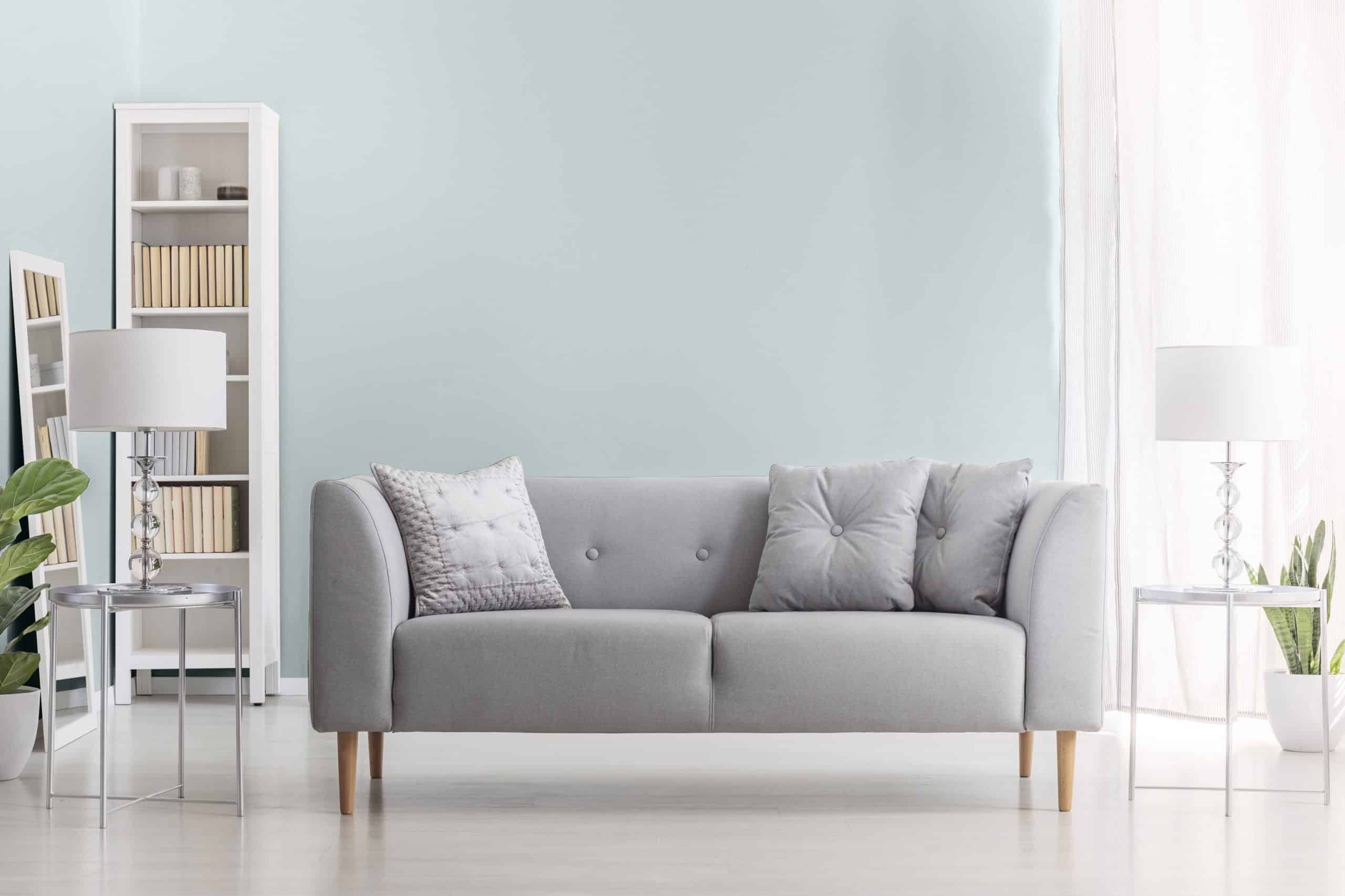 If Green Smoke isn't your thing, why not take a look at its blue cousin, Tradewind?
Tradewind is a Sherwin William's signature shade and radiates a soft, calm aura. Belonging to the blue-tone color family, which is known for its cool demeanor, Tradewind can introduce serenity wherever applied. This makes it an excellent option for bedrooms and living rooms.
Tradewind can help you wind down on your gray sofa after a long, tiring day. Thanks to its soft, light blue appeal, this color will work remarkably well with warm, cool, light, and darker shades of gray. In conclusion, Tradewind is one of your safest bets when looking for wall paint to compliment your gray couch perfectly.
Unique Gray by Sherwin Williams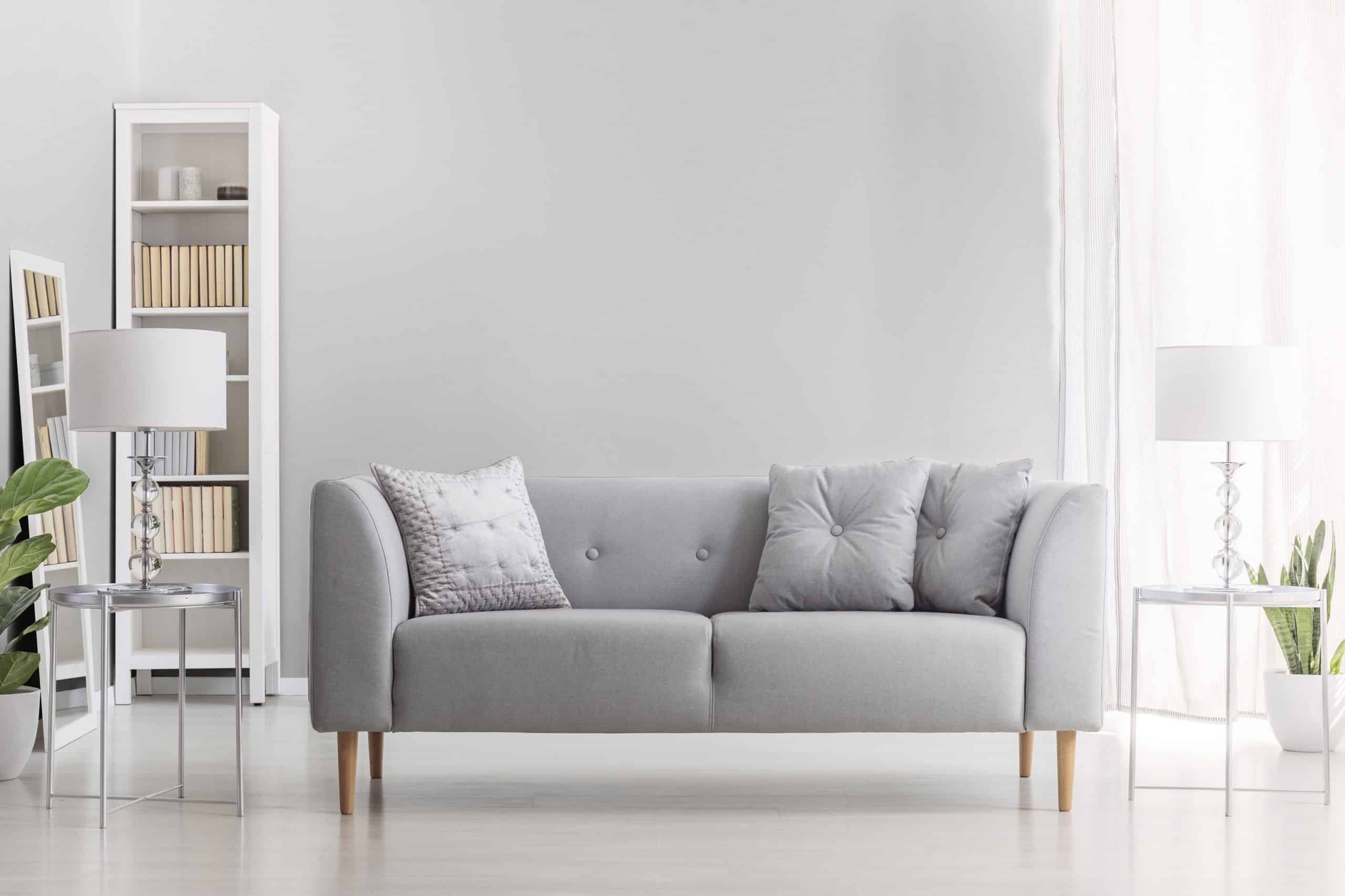 Unique Gray is another safe option worth considering. This tranquil color is closer to light gray than any other shade. It will hence perfectly complement any gray furniture placed around it.
It is also a good option for homeowners who value minimalism and modern furniture. Minimalist décor is all about employing down-to-earth, practical colors that maintain a contemporary charm. It's hard to say that Unique Gray doesn't perfectly align with this definition. Hence, this color is perfect for modern homes, especially those decked with gray couches.
Antler Velvet by Sherwin Williams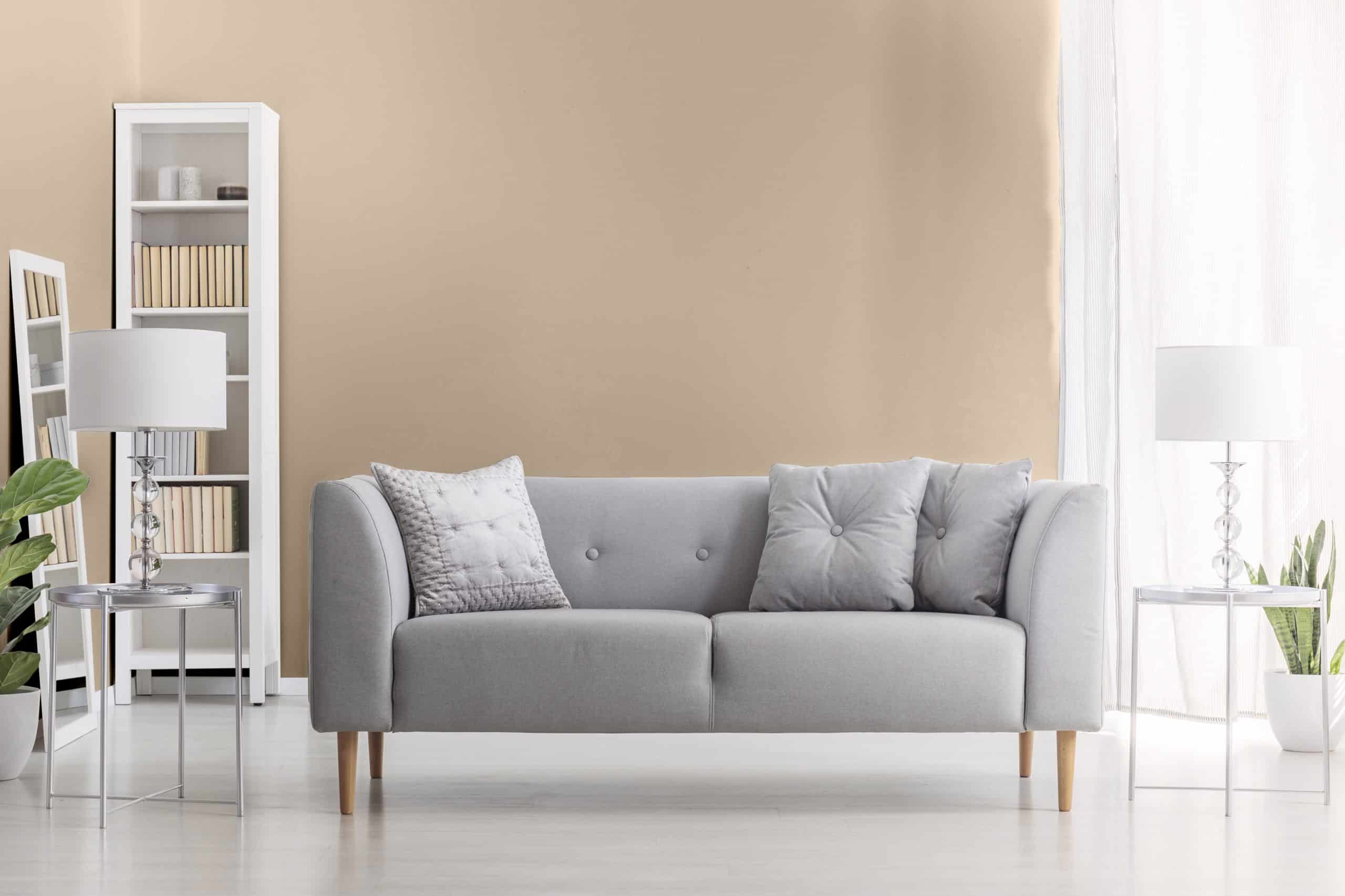 Think of Antler Velvet as a richer alternative to Touch of Sand. This isn't your average, muted shade; Antler Velvet radiates a fire of its own.
Sitting somewhere between dark beige and light brown, Antler Velvet will make an excellent backdrop for your gray couches. That being said, you should try and pair this color with warmer tones of gray. This is because Antler Velvet has a warm undertone itself, which it borrows from light brown ancestry. Therefore, it'll work better with toasty grays instead of cooler grays with blue undertones.
Blowing Kisses by Behr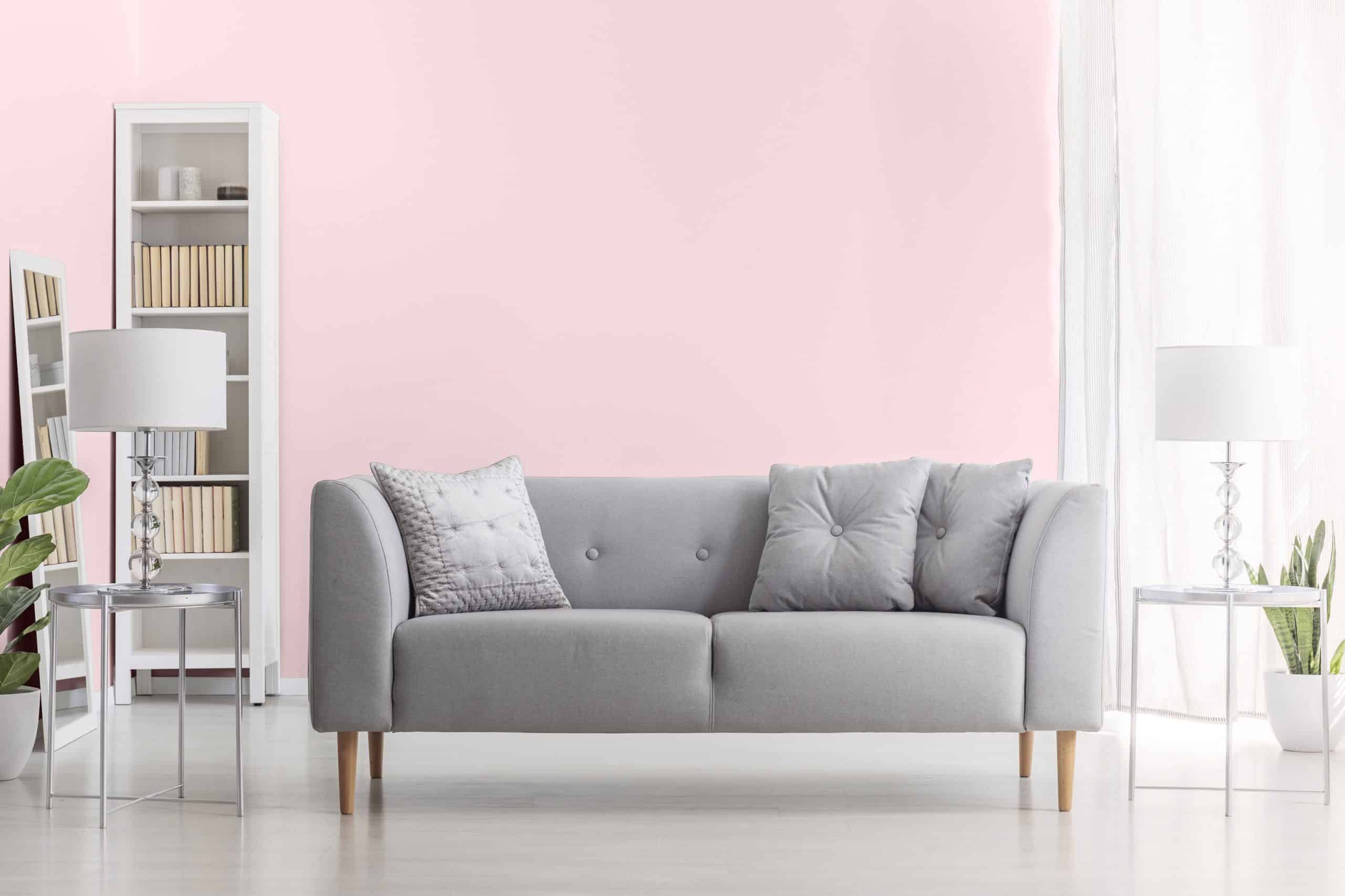 Few colors can compare to Behr's Blowing Kisses' timeless, feminine charm. This color isn't your average pink; it radiates a fresh sweetness that can bring your gray couch to life. It's true! Gray and pink are an excellent match; the lively nature of Blowing Kisses will complement gray's somber appeal.
Blowing Kisses can easily blend in with any hue of gray. But if you're trying to make your room look exceptionally pretty, try pairing it with either soft, light gray, or a medium-dark option.
Grandeur Plum by Sherwin Willaims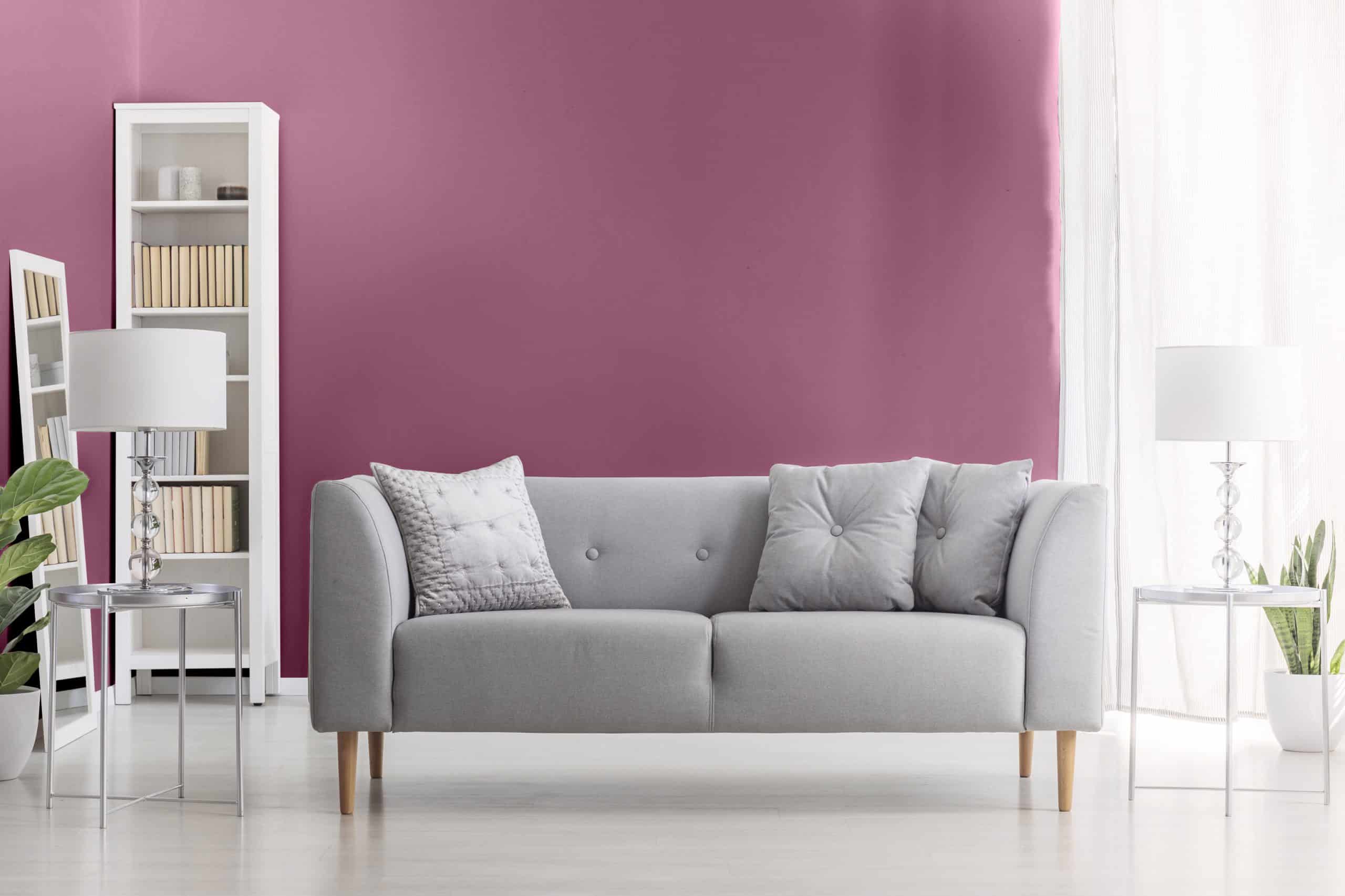 Sherwin Williams' Grandeur Plum is a fabulous, contemporary purple that's perfect for contrasting your gray couch against. According to color theory, energetic colors, like Plum, work best with neutral tones like gray. A similar approach was noted within the pink-gray dynamic.
If your couch contains a red undertone, it'll work flawlessly well with Grandeur Plum walls. This is because Plum, too, includes a warm undertone. When two colors belong to the same undertone family, they're more likely to complement one another.
Stroke by Farrow&Ball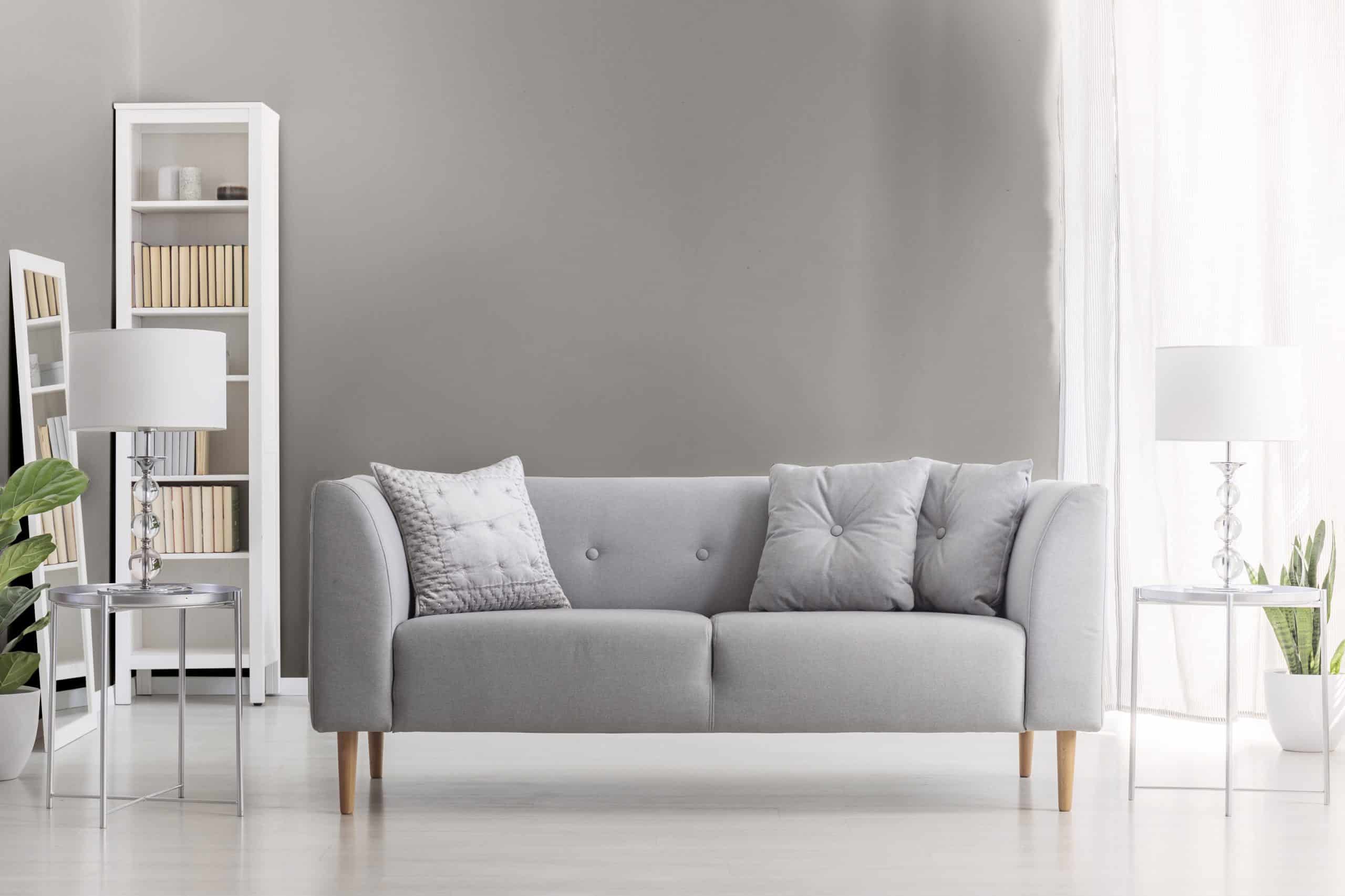 Farrow&Ball, the company behind Stroke, define the color as "a strong, true gray." There's honestly no better way to put it; Stroke is a resilient, no-nonsense color with ample personality. It can add strength and clarity to your home's interior through its formal, unrelenting appearance.
Stroke works best when paired with medium to dark gray couches. Light gray sofas may contradict Stroke's serious appearance with their lighthearted vibe.
Style tip: Liven up your living space with some large, potted plants to match your new walls and sofa set. Leafy greens will look lovely when paired with Stroke's cement-like color, permitting a charming union between organic and non-organic elements.
Final Words
Hopefully, this list will have granted you insight into what color to paint your walls with a light gray couch.
When reviewing potential wall paint shades, keep your sofa's color in mind. There are many different types of gray, ranging from light to medium to dark. Plus, some grays are more relaxed than others, and each of them bears a different undertone.
For example, consider prominent paint shades if you're wondering what color to paint the walls with a dark gray couch. Stroke and Tradewind are both excellent options. Be sure to avoid colors that don't complement your sofa's unique gray shade, though!