Don Pedro Brooklyn is reader-supported. When you buy through links on our site, we may earn an affiliate commission. Learn More
What Color to Paint Walls with a Red Couch?
Red; fiery, warm, passionate, restless, alive. It's difficult to pin down this bold color with just one adjective. It's even more challenging to find the right color to complement it. This is particularly true when you're searching for wall color options to match your new red sofa.
Luckily, we've compiled a list of brilliant wall color with a red couch ideas. From lively blue-green to sandy beige, you'll find an exciting range of shades to choose from.
So, are you ready to find the best wall color for a red sofa? Let's dive in!
Blue Nile by Sherwin Williams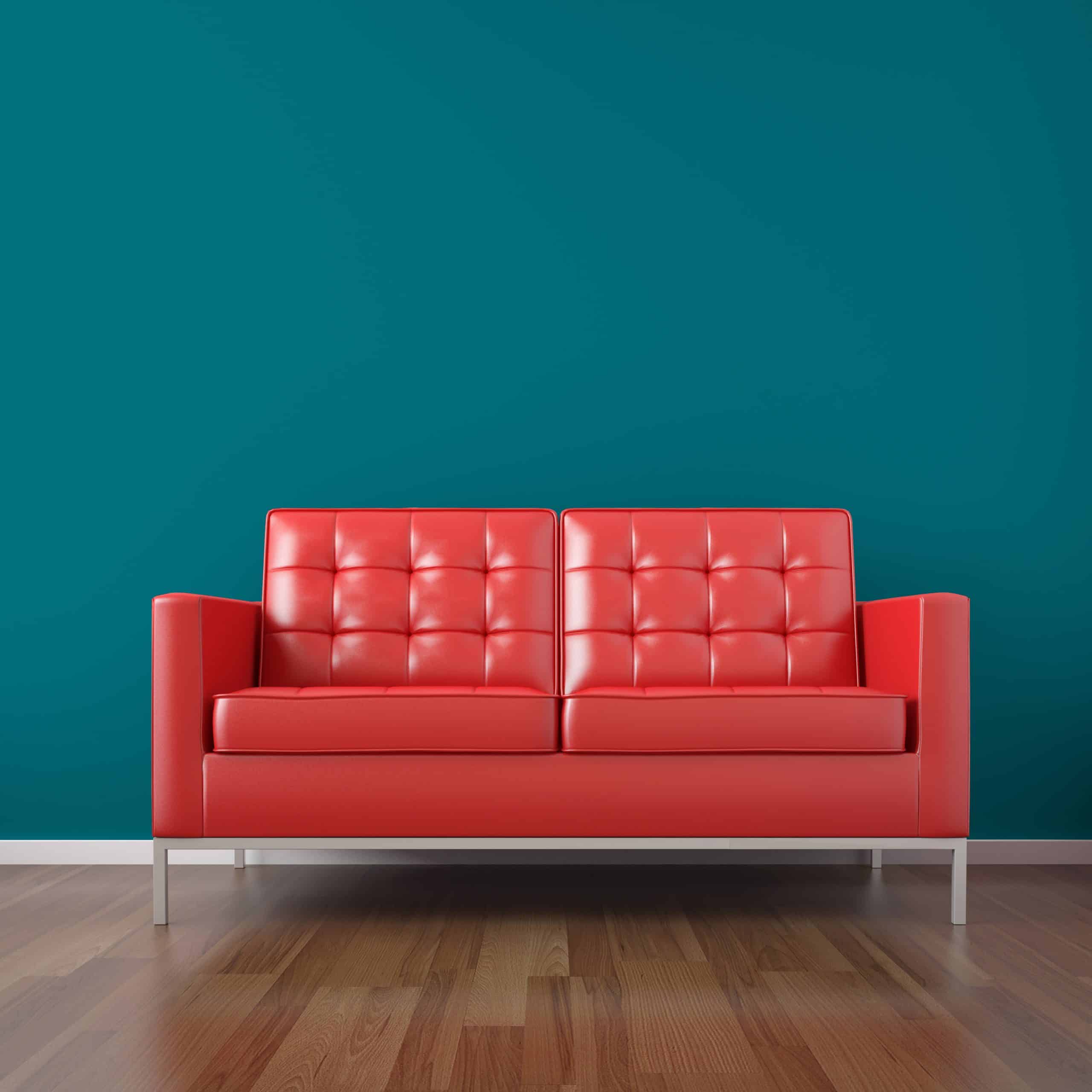 As per modern color theory, red and blue are on opposite sides of the color wheel.
According to the idea that "opposites attract," this qualifies them as complementary colors.
Blue Nile is a rich, intriguing blue featuring a subtle hint of green. It is closer to dark turquoise than classic blue yet would make an excellent match for red sofas.
Being a bold color itself, Blue Nile has the potential to successfully cater to red's straightforward, unwavering charm. It would look best when paired with medium to dark reds, as opposed to bright red.
Little Boy Blu by Sherwin Williams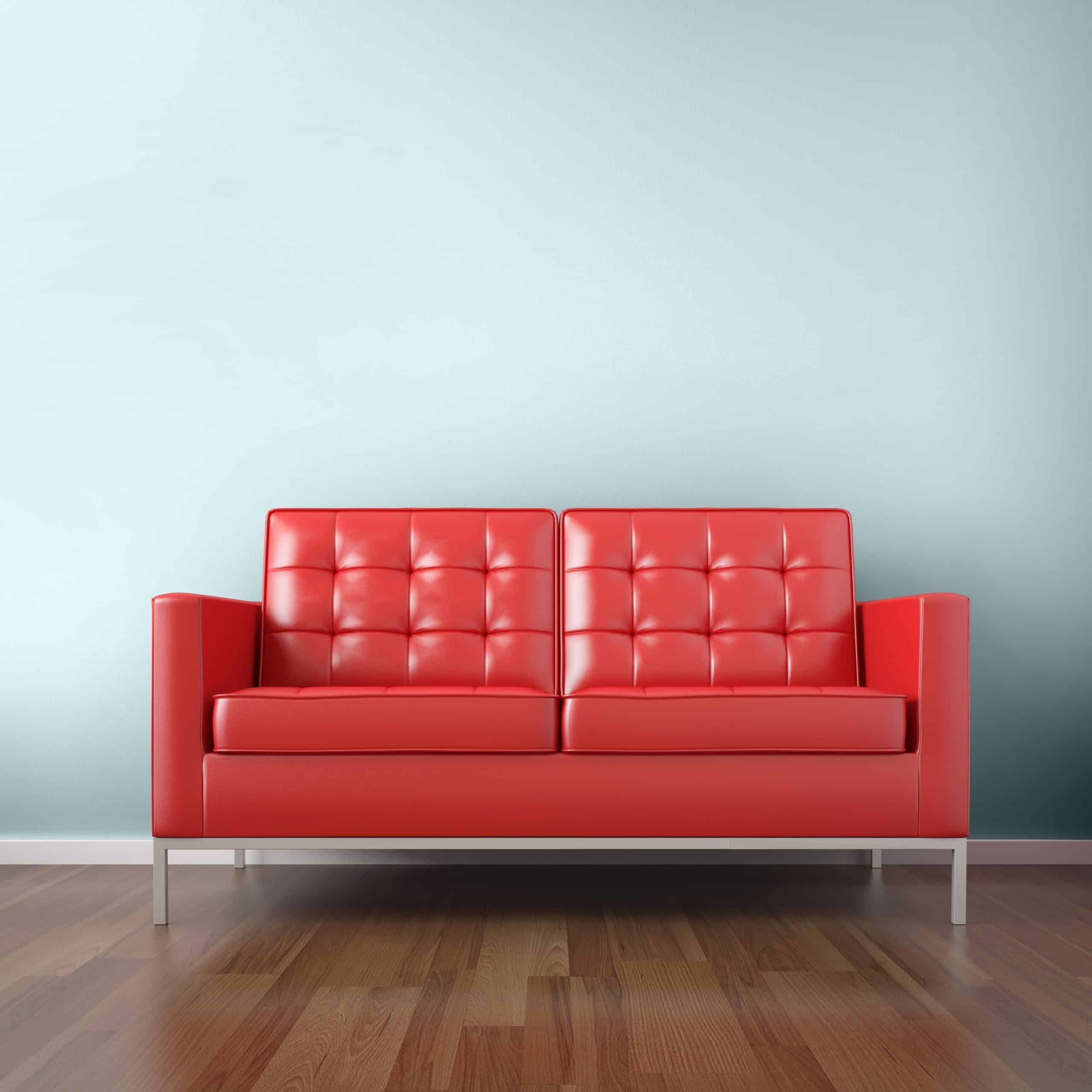 Little boy blu offers a fresh take on traditional baby blue. It has a subtle, soft grey undertone that gives it a somewhat serious appearance. This makes it an excellent match for red sofas, especially those flaunting a medium to bright red appearance.
Dark red sofas may not work as well with this shade. Unfortunately, little boy blu, though stronger than regular baby blue, isn't bold enough to balance out dark red's powerful presence.
Genesis White is a unique take on Benjamin Moore's regular White. It features a cool, eggshell gray undertone that brings the shade to life. Genesis White's ashy color makes it an excellent match for light and medium gray furniture.
Goldfield by Benjamin Moore
Benjamin Moore's Goldfield is a light, sandy yellow with radiant energy. It belongs to the paint brand's much sought-after Classic Color Collection.
Unlike regular yellow, Goldfield has a comparatively calm vibe that'll help it hold its own place without brutally clashing against bright reds. In fact, Goldfield would work remarkably well with a daring, firefighter red sofa. It'll also help add a layer of sophistication to your room with its tranquil, classic appearance.
Ash Grey by Farrow&Ball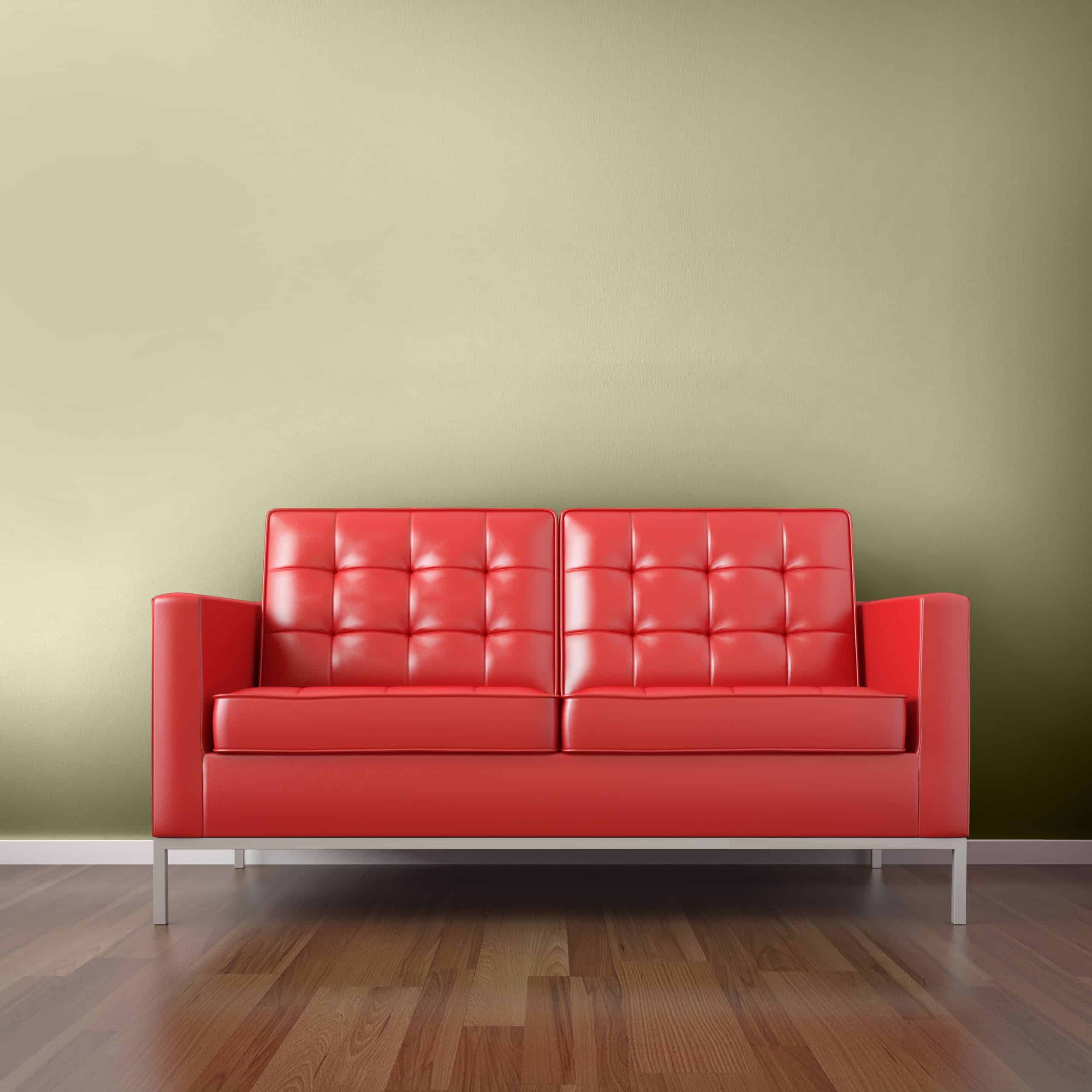 Farrow&Ball's Ash Grey is a contemporary take on regular grey. This unique color features an instantly recognizable green undertone that gives it a lively appearance.
We can employ simple color theory to understand why Ash Grey would make an excellent backdrop for red couches. Firstly, unlike red, Ash Grey maintains a collected and calm vibe. Hence, it won't compete with your red sofas and will instead allow them to take center stage.
Secondly, Ash Grey's green undertone is roughly opposite to red on the color wheel. Like blue shades, hues of green hence work well with red-colored objects.
Simply White by Benjamin Moore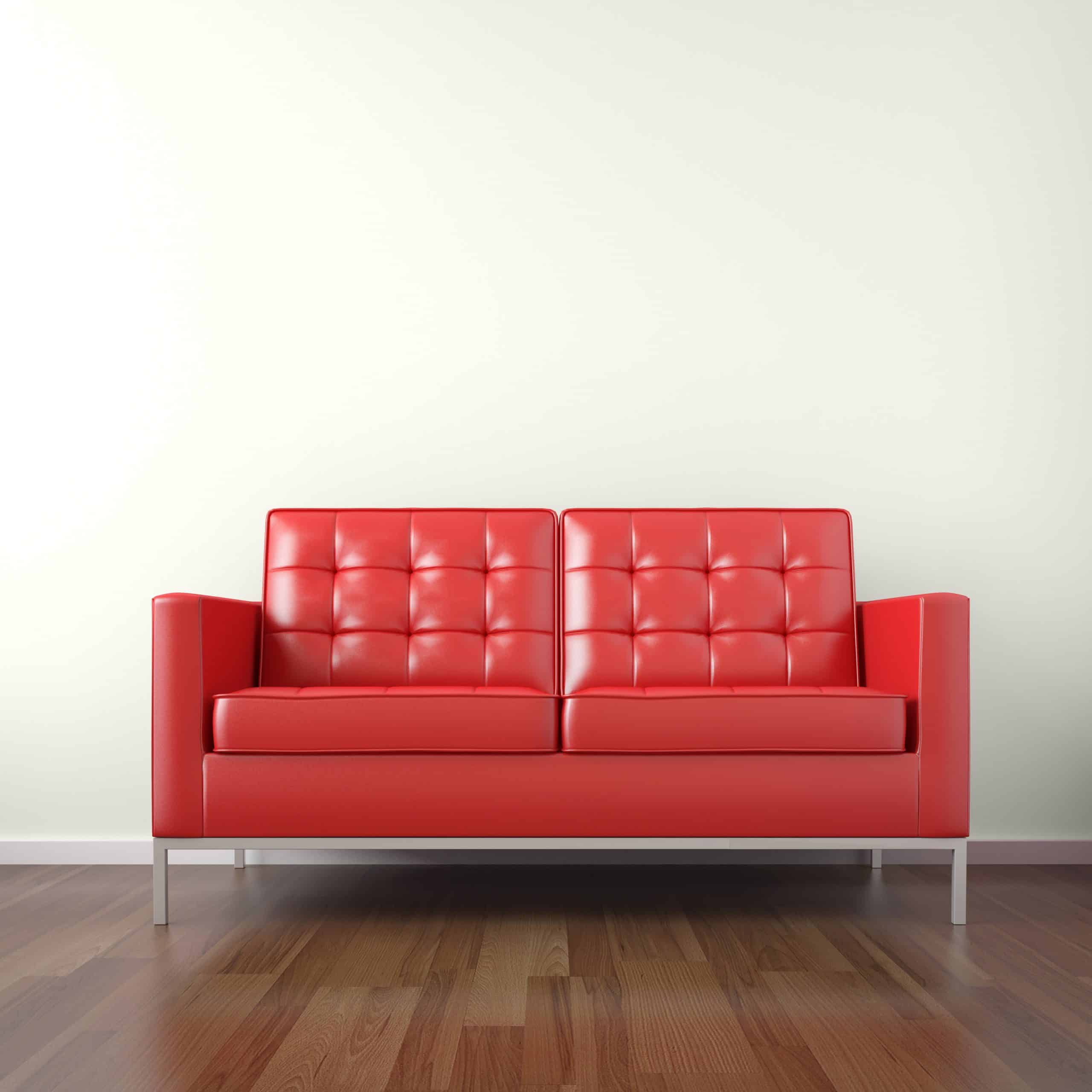 If you're looking for a clean, calm color, look no farther: Benjamin Moore's Simply White may be exactly what you need. This shade of white has a straightforward, no-nonsense attitude that's perfect for homeowners who appreciate such characteristics.
Having white walls gives designers a unique edge that other colors simply can't afford. White walls can accommodate flashy shades like fire hydrant red, thanks to their bare simplicity. They can also comfortably serve as the ideal backdrop for all kinds of wall decoration pieces.
In essence, despite its relative simplicity, Simple White is one of the most versatile and accommodating colors out there. This makes it an excellent backdrop option for bold red sofas.
Autonomous by Sherwin Williams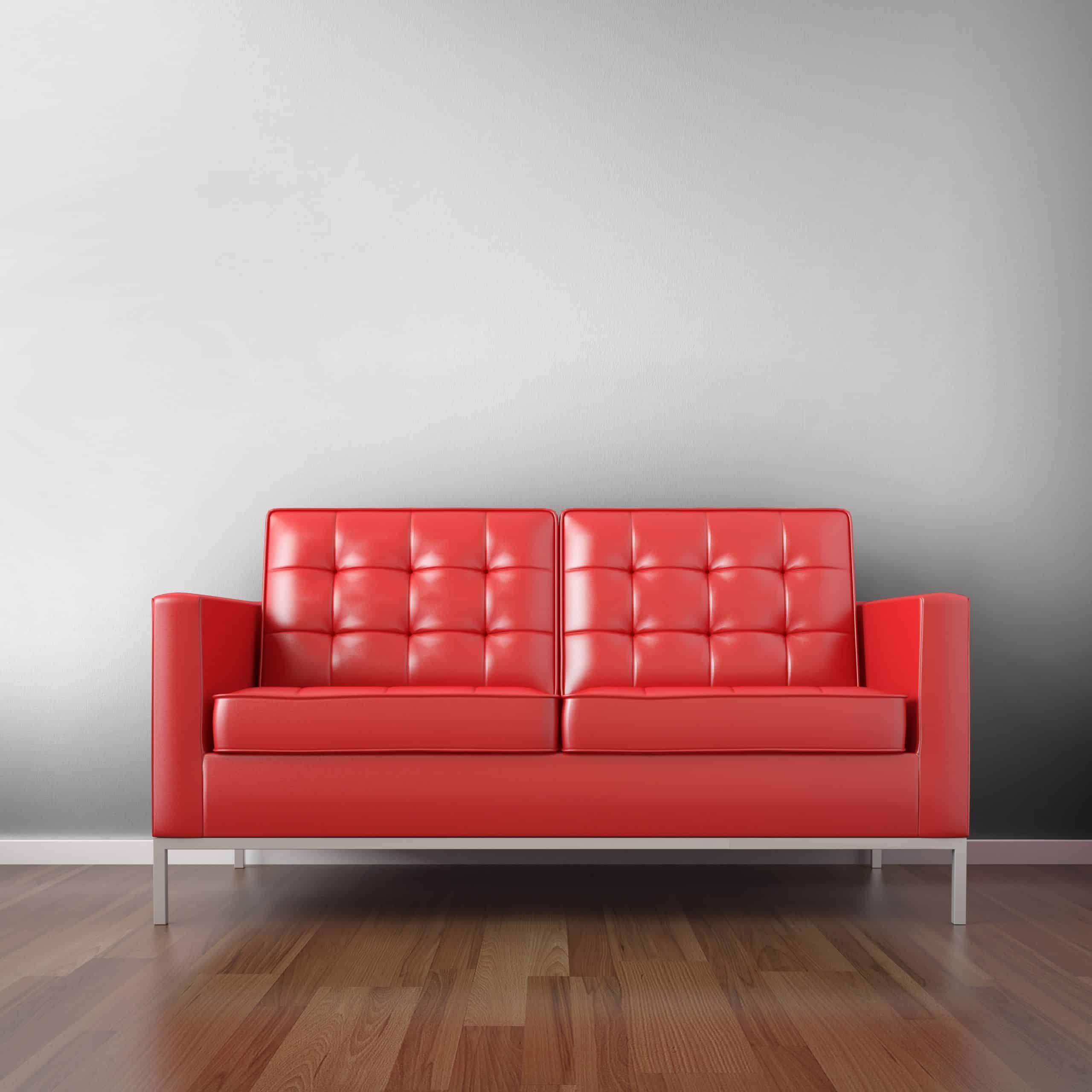 If Simple White isn't your thing, but you'd still prefer a neutral color for your walls, consider Autonomous. Sherwin William's Autonomous is a balanced, light grey. It doesn't contain an obvious undertone and won't create a challenging contrast against most colors. If anything, it'll help uplift them instead! This makes Autonomous an excellent backdrop option for red sofas.
Style tip: Consider letting your bold red sofa take center stage, with Autonomous as the passive supporter. Do this by employing few or no other eye-catching decoration pieces within the area. Avoid introducing a new accent color as this will take attention away from your red sofa's striking appearance.
Antique Copper by Benjamin Moore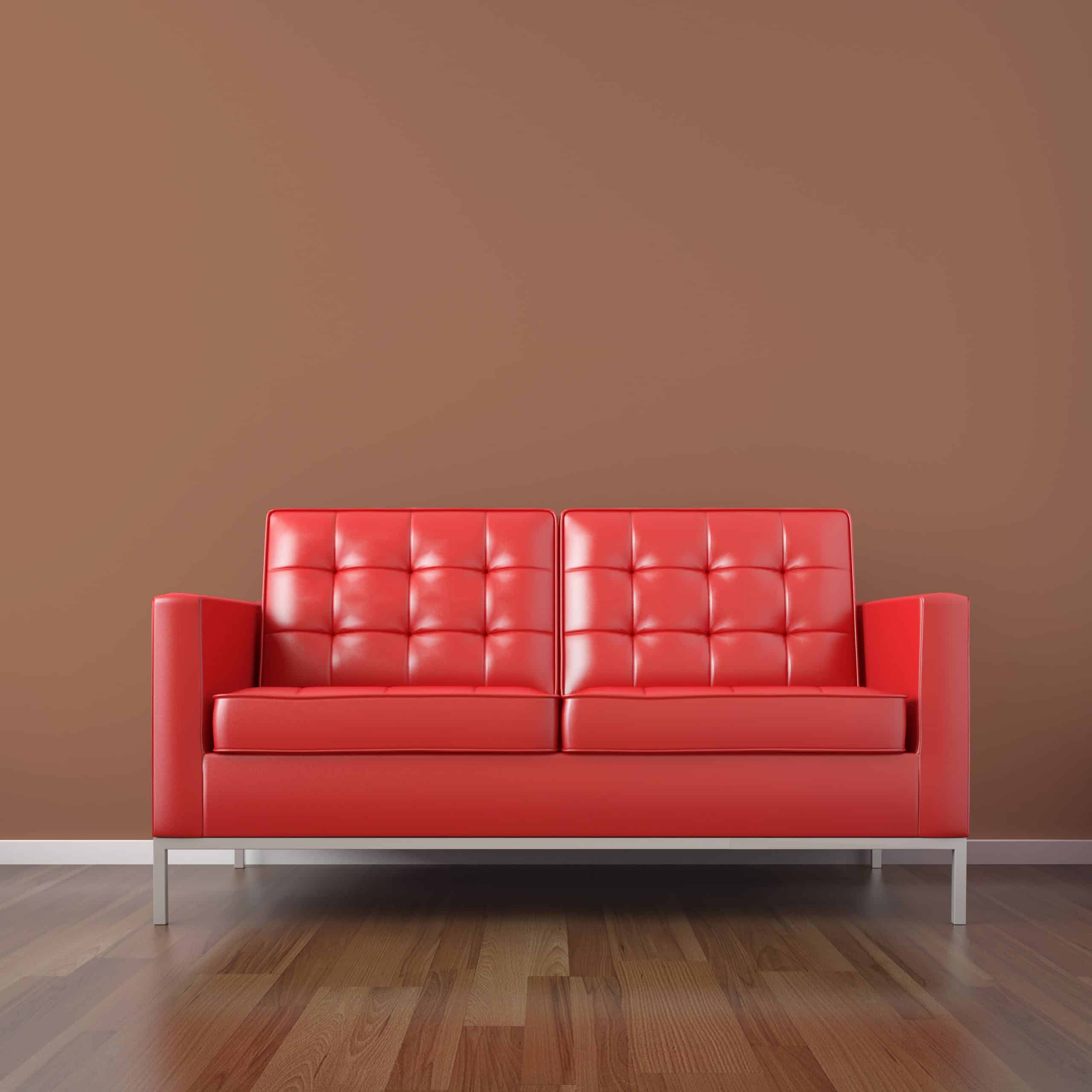 Antique copper is an excellent option for homeowners who appreciate lively, earthen shades. Thanks to its orange tint, Antique copper can take on most shades of red. This is because red and orange neighbor one another on the color wheel.
Benjamin Moore's Antique Copper contains a more-than-generous helping of brown, too. Brown is a brilliant option for when you'd like to create a cozy, grounded interior space. So, if that's the vibe you're going for, don't hesitate to pair your red sofa with Antique Copper!
Beloved Pink by Behr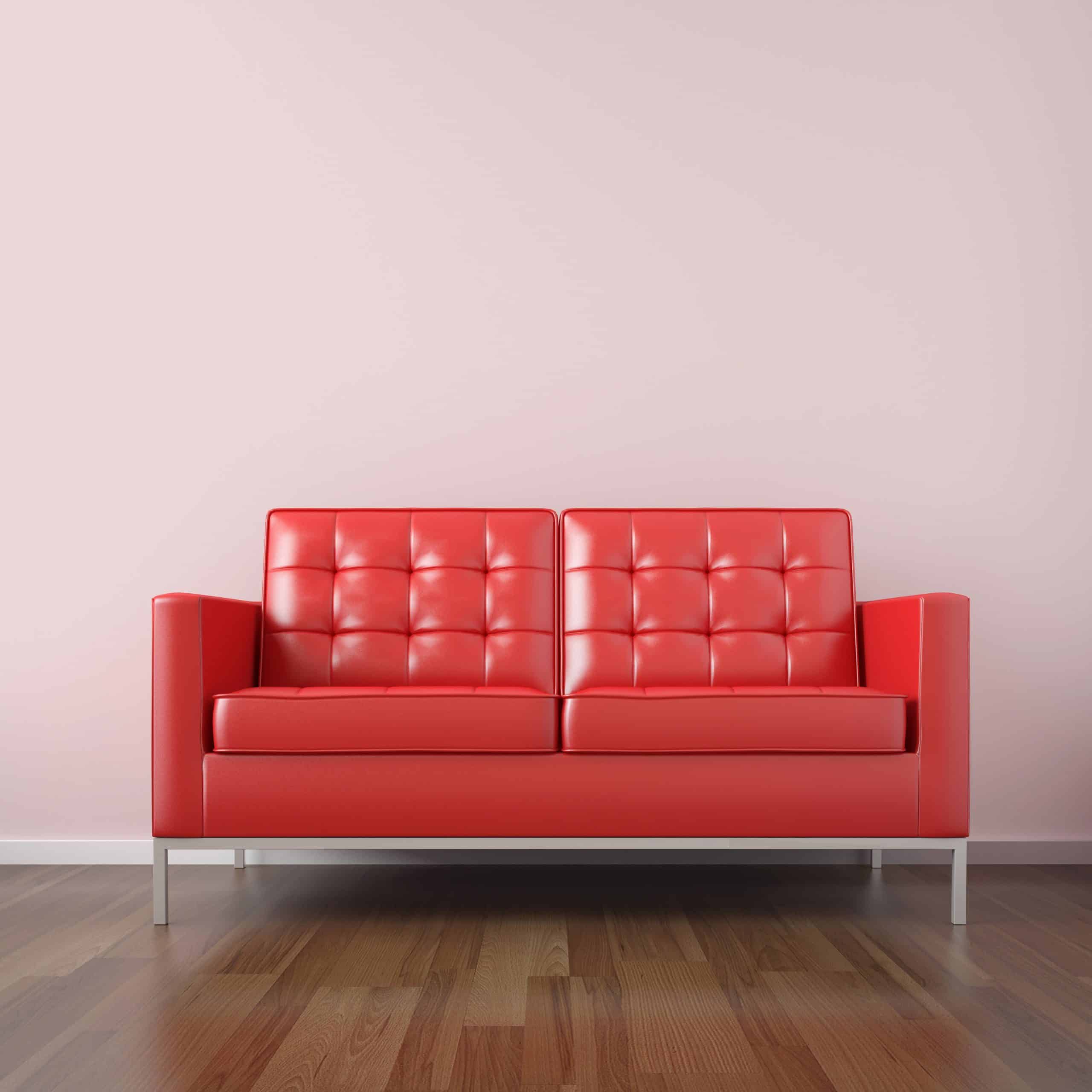 Innocent, blameless, and breathtaking. Behr's Beloved Pink may appear soft and collected, but there is a persistent and powerful force underneath its apparent appearance. This power is what helps Beloved Pink work so well with red-colored furniture.
Thanks to its timeless, undeniable charm, Behr's Beloved Pink will make an excellent addition to your room. Thanks to its floaty, dust-pink appearance, it'll also help liven things up. Consider pairing it with lipstick red sofas for best results.
Twilight Zone by Benjamin Moore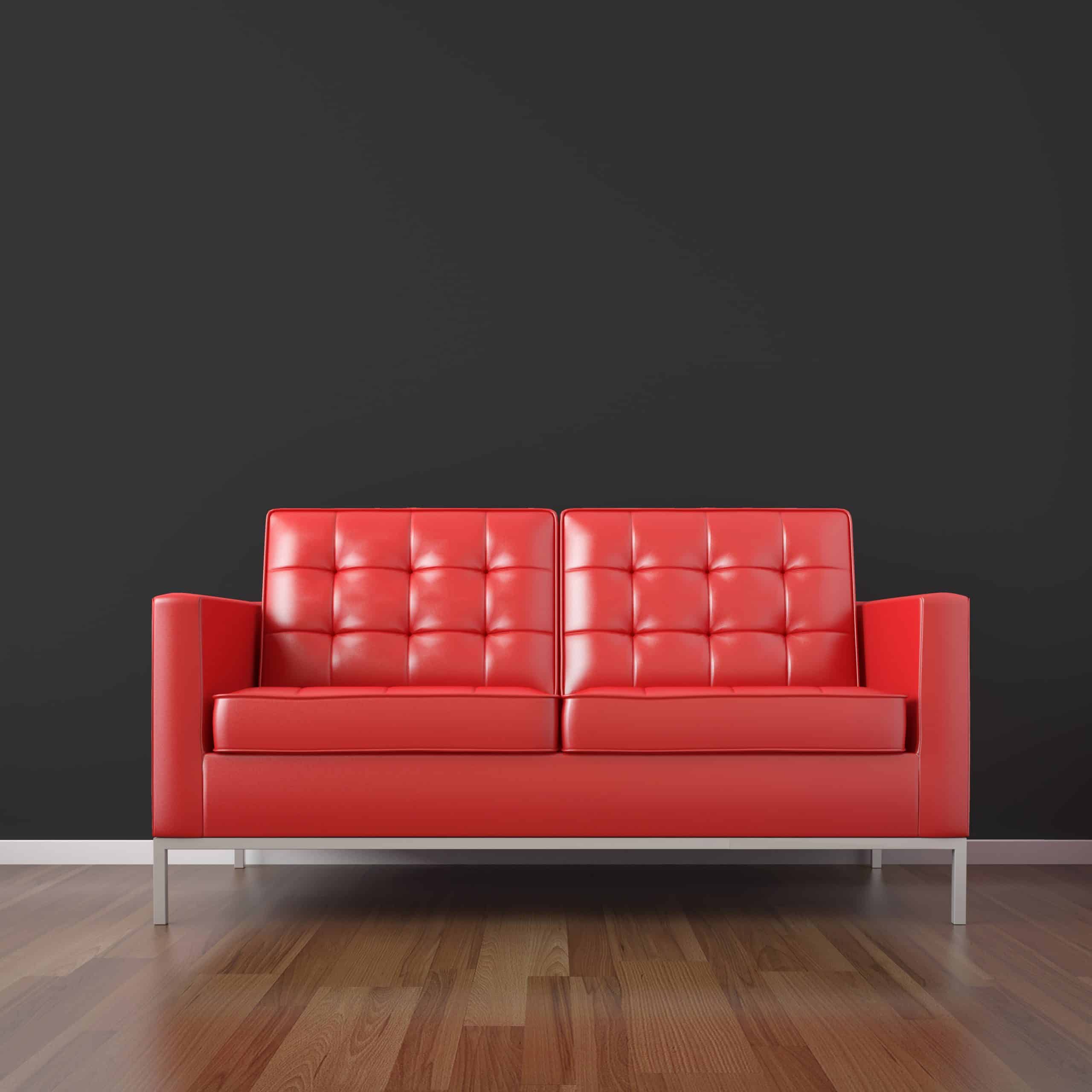 Twilight Zone is a smoky take on classic black. Its smoke-like appearance will help it accommodate red sofas much better than a harsh black would.
Instead of competing for domination against red, which is also a bold and brilliant color, Twilight Zone will help intensify your red sofas' appearance. Classic dark black, on the other hand, would be permanently locked in a tussle against red, fighting for center stage.
Be careful not to add in other accents to the equation, though. This will only take away from your red and smoky black setup.
Twilight by Benjamin Moore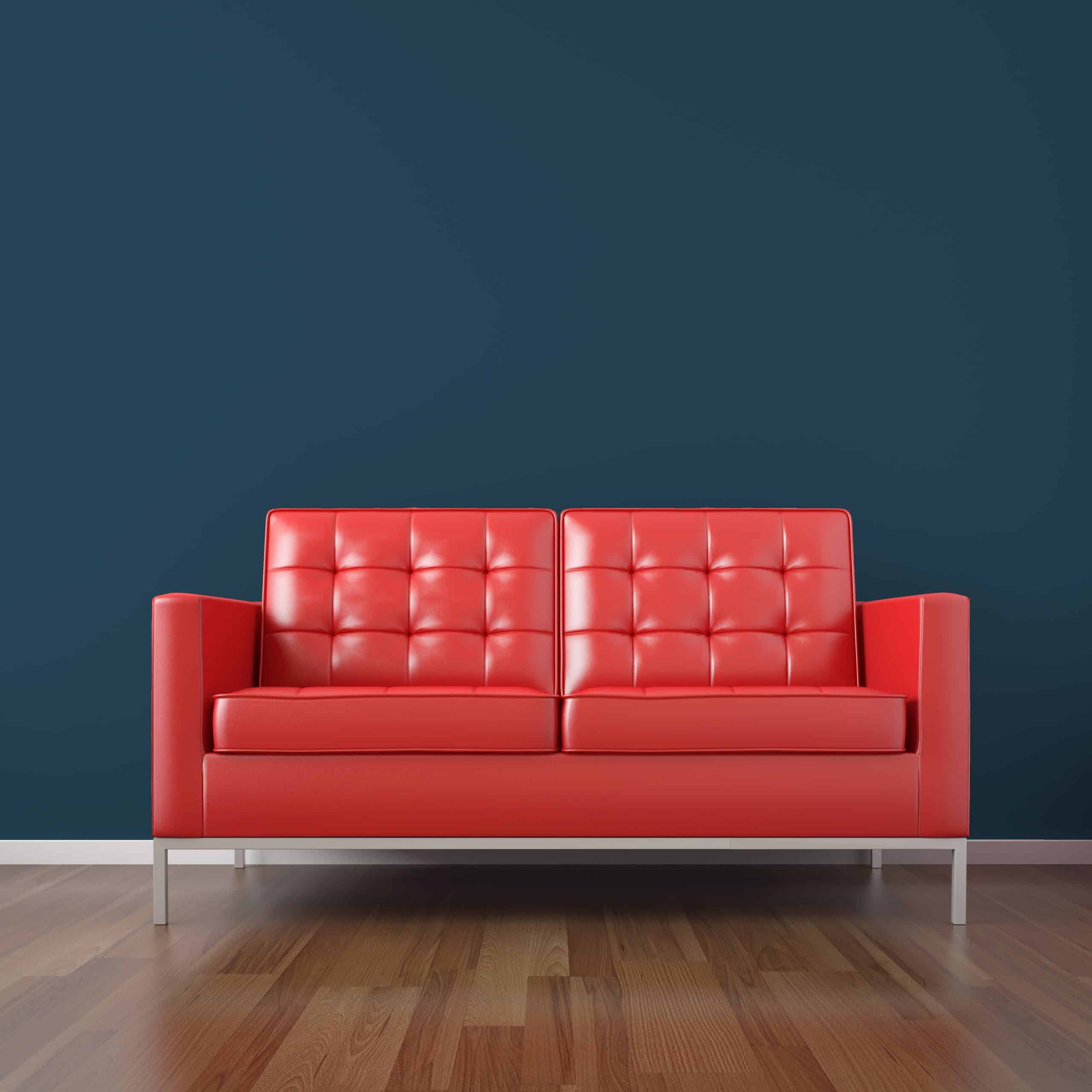 Unlike the other blues noted here, Twilight has a dark, daring charm that's hard to compete with. It bears the same depth and sophistication as the most eye-catching shades of red.
Twilight is an undeniable, intense blue.
It does not contain any confusing undertones, choosing instead to stand proud in its singularity. This makes it an interesting match for red because red, too, is a strong and unwavering color.
Twilight walls will look excellent when paired with a stunning red sofa. Consider medium reds; shades that are either too dark or too light may not have the same effect against a Twilight backdrop.
Final Words
Now that you have a complete compilation of the best wall paint options at your fingertips go ahead and select one!
When choosing a color, don't forget to consider its mood. For example, blues tend to be either intense or remarkably calm. You can select an exact shade of blue depending on which vibe you prefer for your sofa's surroundings.