Don Pedro Brooklyn is reader-supported. When you buy through links on our site, we may earn an affiliate commission. Learn More
31 DIY Mousepad Ideas to Spruce Up Your Computer Desk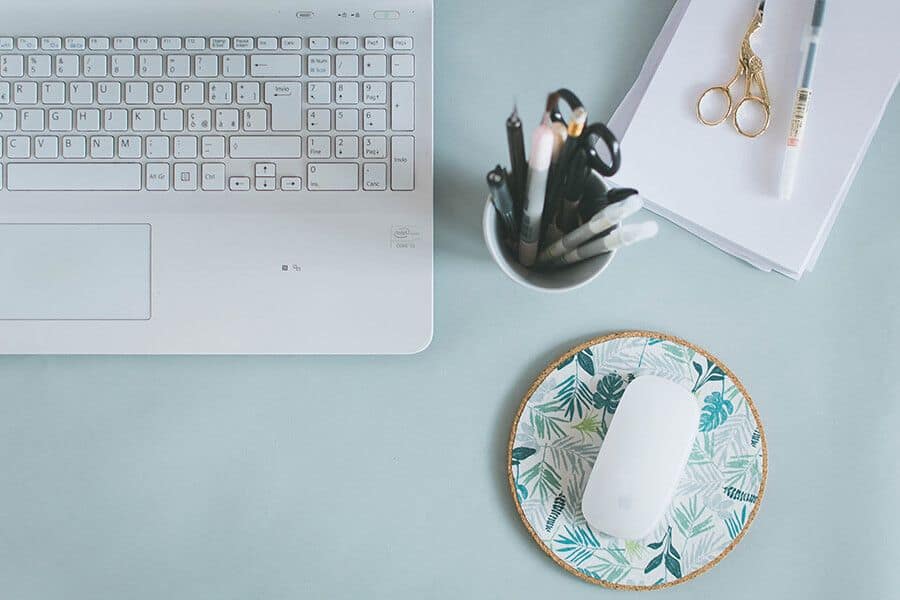 Injecting art and music in our everyday bustling can uplift the spirit and give an oomph to our sedentary life.
And, as advancements in the tech world compel us to be strapped behind a desk, having a quirky or inspiring art piece on the most trivial item might make a difference even if how little, just like the humble mousepad.
Back to School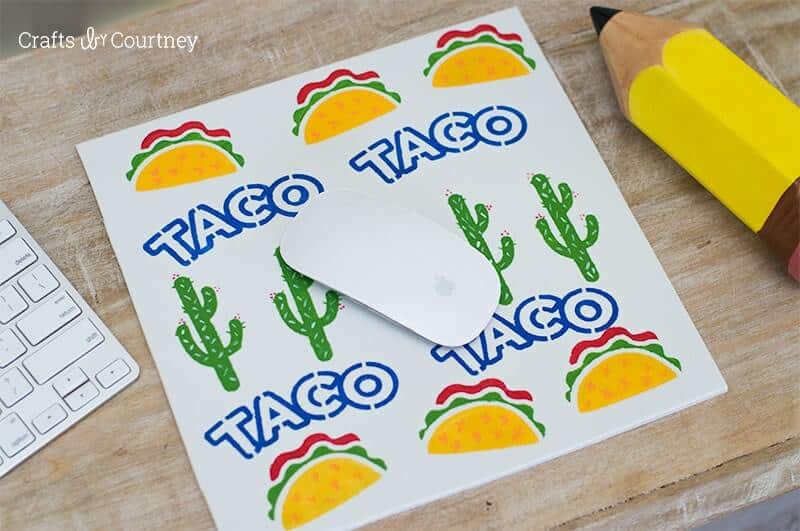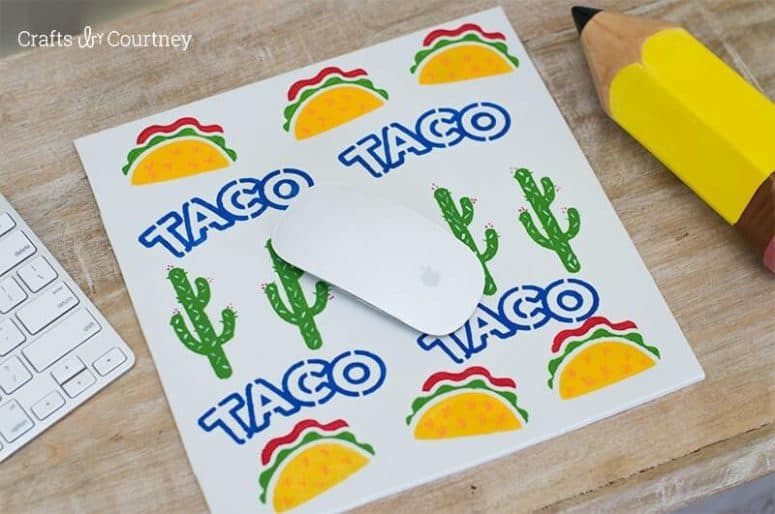 Nothing gets the attention of the class but a unique looking mousepad. Well, I could show it off to my friends via the webcam. No guarantees they'll get the clear picture, though.
Regardless, Taco Taco. I hope this won't remind me of food every time I look at it. It looks like a plate mat. But hey, if it's lunchtime. I wouldn't mind using it as such.
Teacher's Gift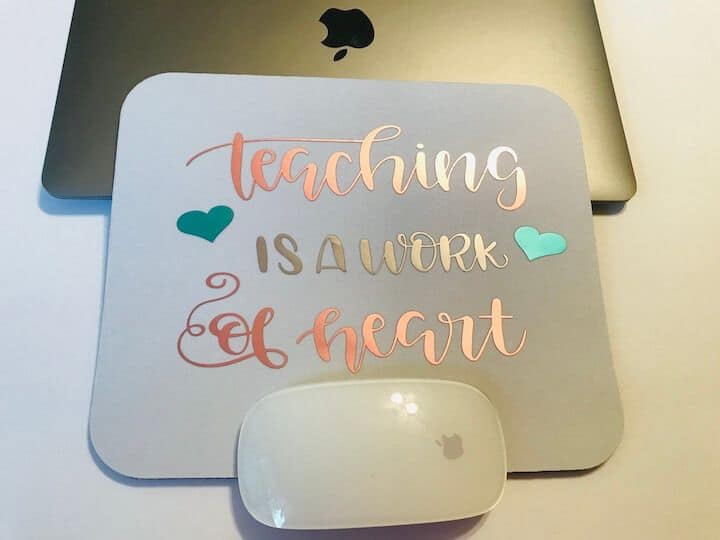 "Teaching is a work of heart." Lovely. I think this would suit well to be a gift for a teacher-student admire. As long as the whole class doesn't get the idea to send the teacher. That's a lot of mouse pads for one teacher.
I like the use of semi-glossy material; it really highlights the message.
Leather Mousepad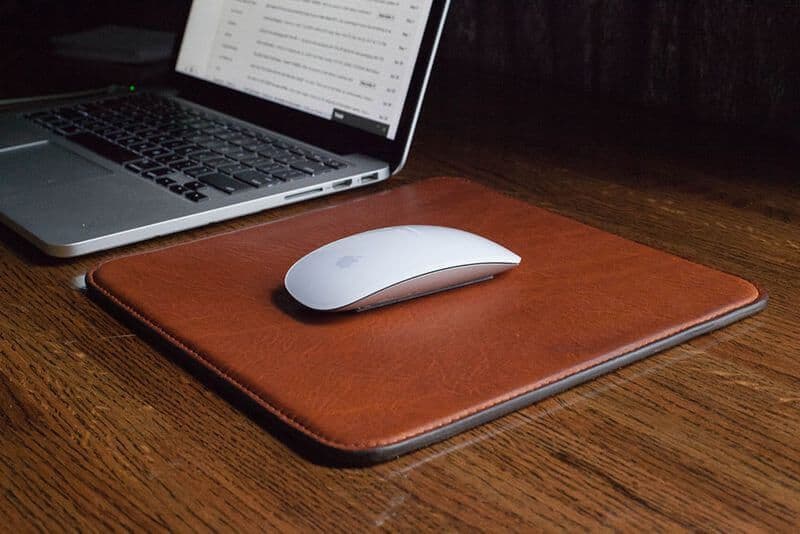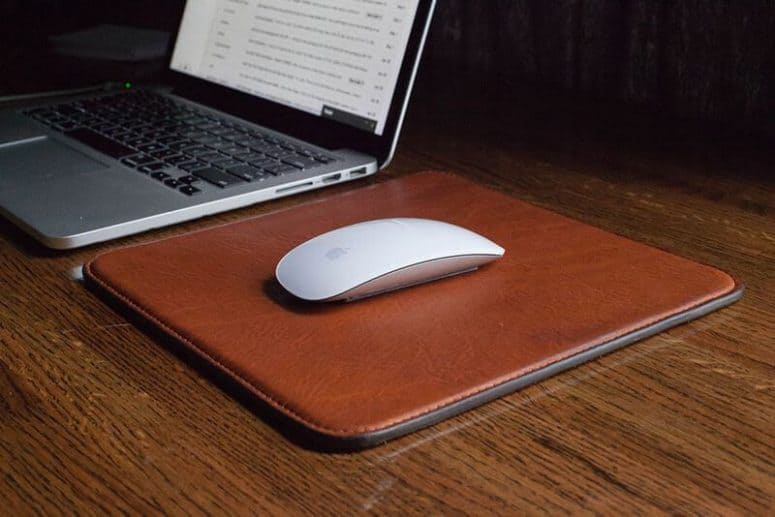 Oh, this one's good though it does seem like an item that is out of place. I would personally mistake this for a seat cover of some sort. It does look comfortable to place one's palm on, though.
And I bet it's water-resistant since it is leather, so I shouldn't worry about spilling some coffee, not that I would try out of curiosity.
Leaf Pattern Mousepad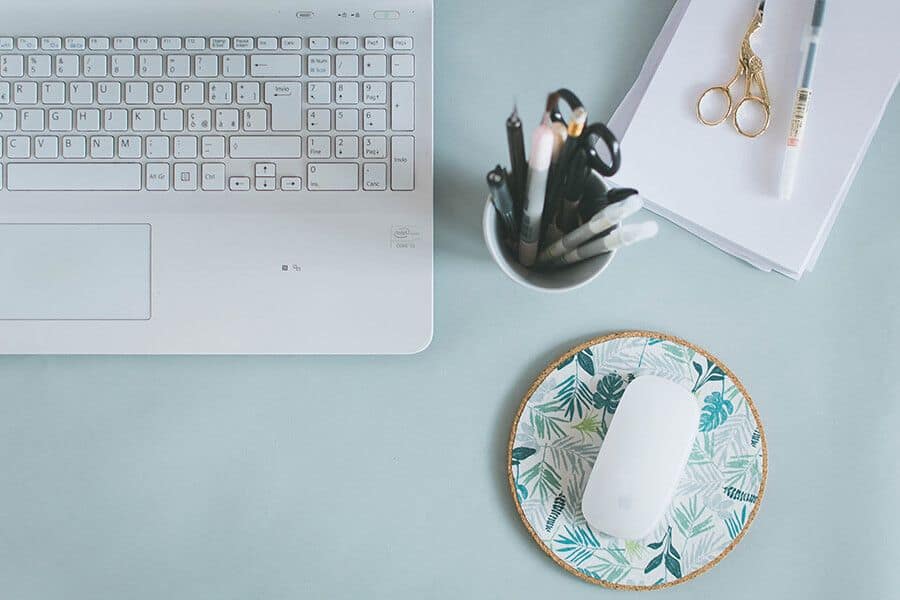 Square or rectangular shapes are the common mousepad shapes, but how about a circle for a change?
I guess it's just me, but it looks like a potholder that got repurposed to be a mousepad. Hey, but it's interesting. I wish it were just wider. The diameter, the shape of a monitor is rectangular, after all.
Simple Cork Board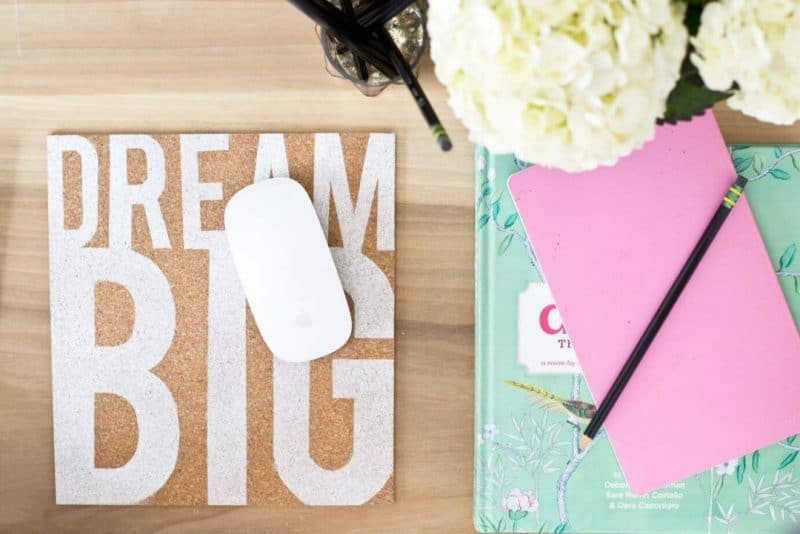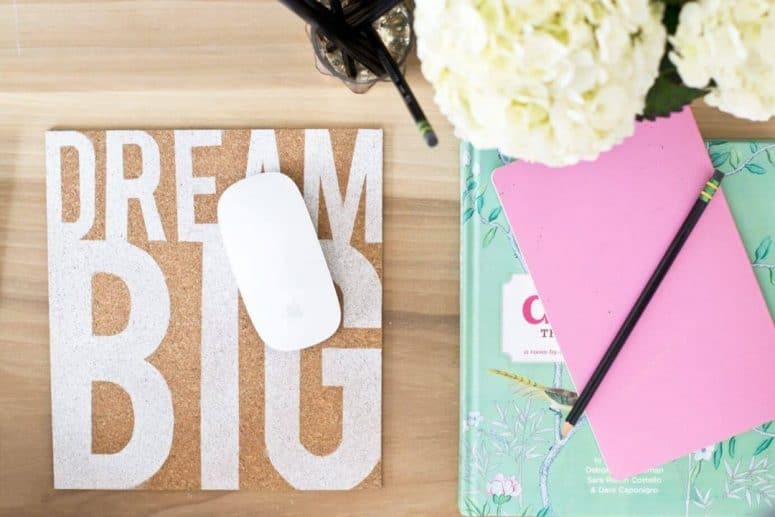 What an interesting use of a corkboard. Why not? It's durable, and no matter what mouse type I use, optical or laser, it should still be detected.
For an office setting, I can see old cork boards can be recycled for this purpose. Dream Big, eh?
Circle Craft Foam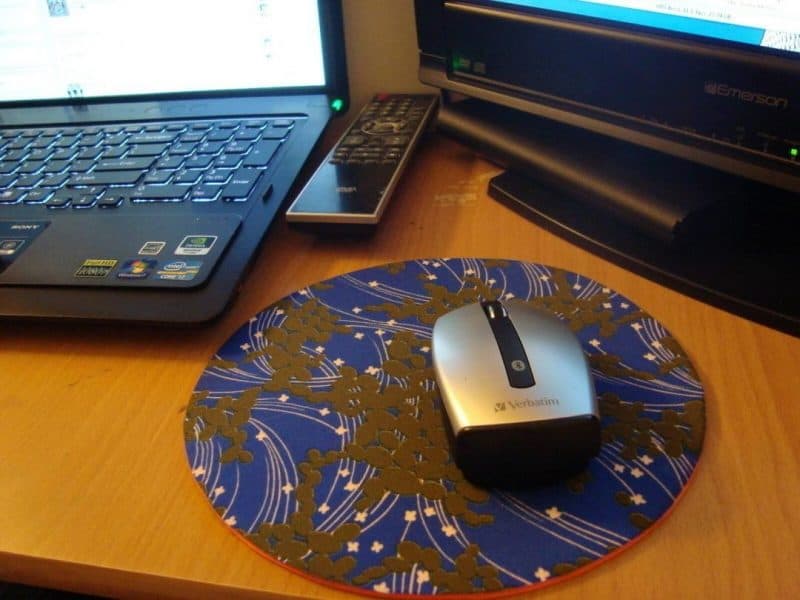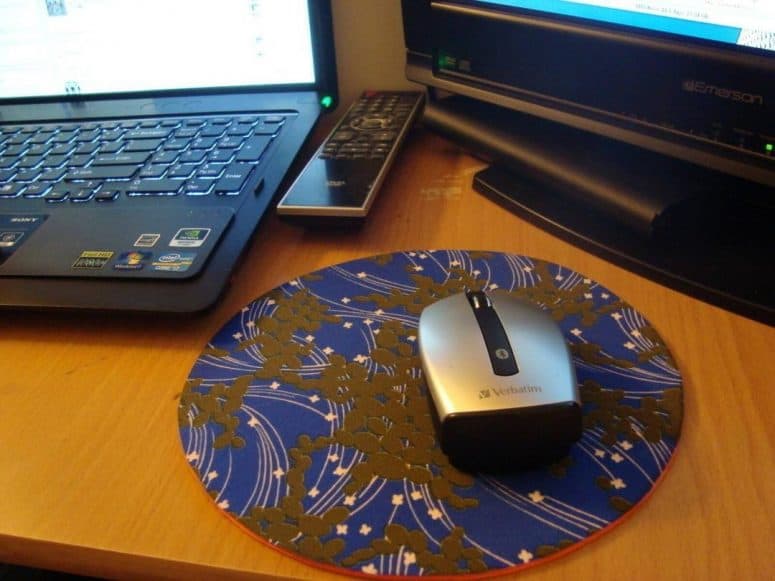 This one looks more convincing as a mousepad than the Leaf Pattern. At least this doesn't look like a potholder, thanks to the wider diameter.
Gold Gild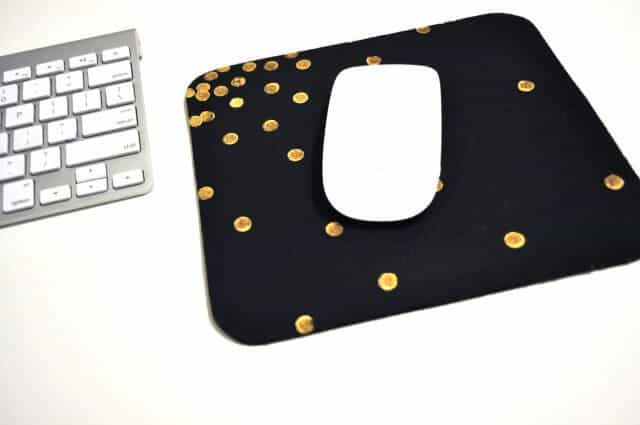 This one is a super simple project by Whitney Blake. All you need is just a plain black mousepad, a pencil, and liquid gilding. In this case, the creator uses Martha Stewart Liquid Gilding Gold.
Then, with the flat end of a pencil, stamp the mouse pad with the liquid gilding. Let it dry, and you're good to go.
Snake Skin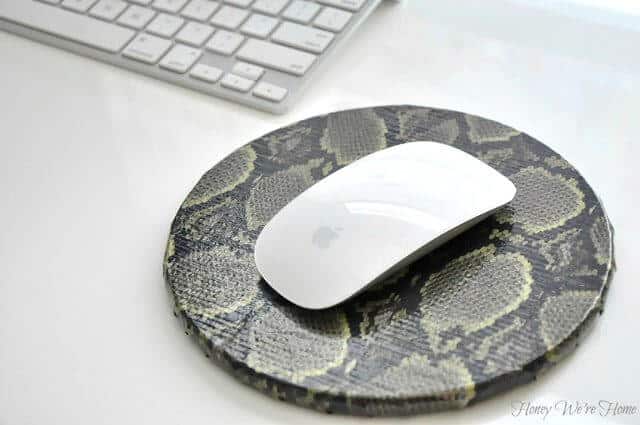 Now we're talking. This snakeskin design is something unique. The pattern looks natural, and it would definitely stand out when placed on a near clean desk. Whoever owns it must be into reptiles.
I do wonder, though, how long the colors will stay? Mousepads aren't exactly known for the longevity when it comes to keeping their colors with all the constant friction.
DIY Rainbow Mousepad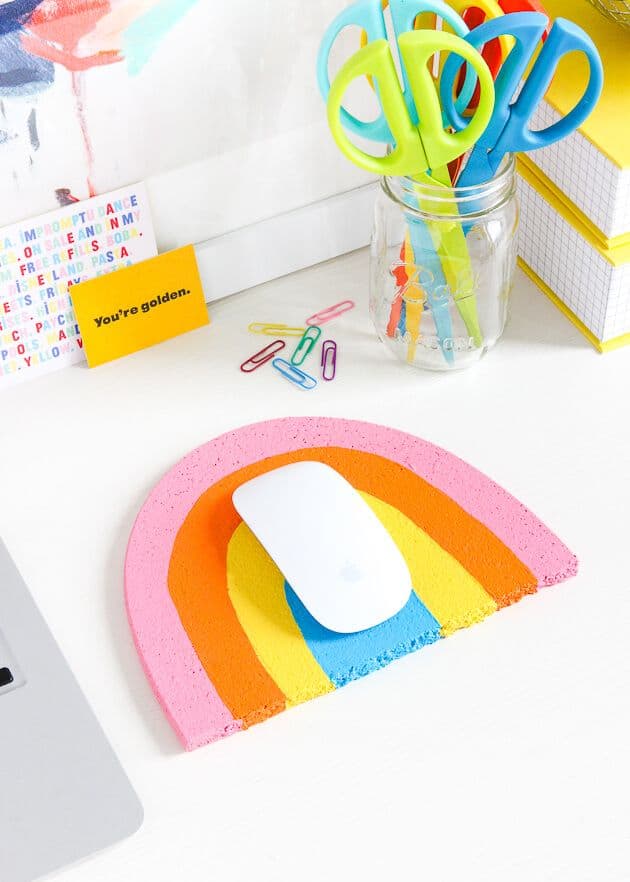 A rainbow shape sits well with this semi-oval shaped mousepad. I figured it could also do well to be a bit wider at the bottom to keep stay close to the general arc of a rainbow.
But if space is going to be an issue, this particular shape will do well. But more colors. I think this one needs more colors so I can really see it as a rainbow.
Reversible Mousepad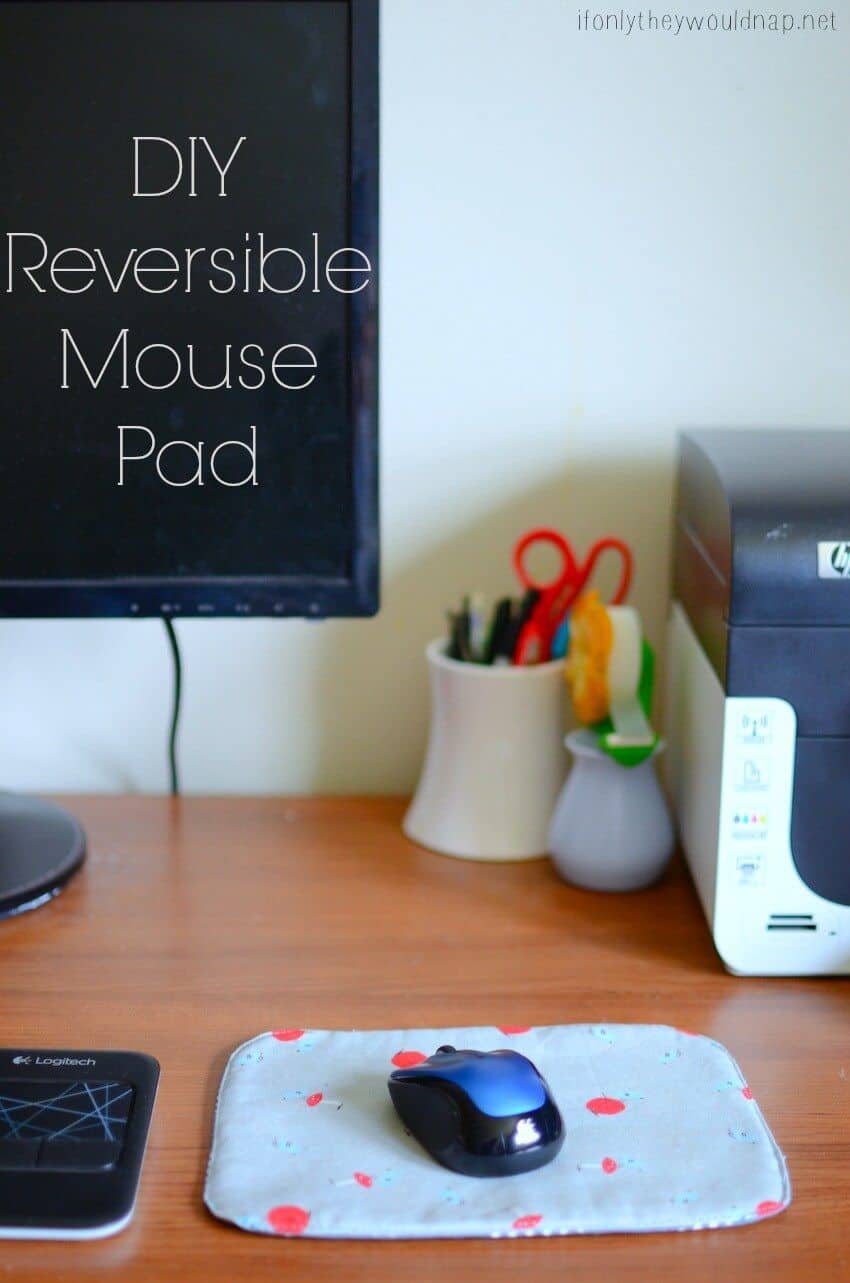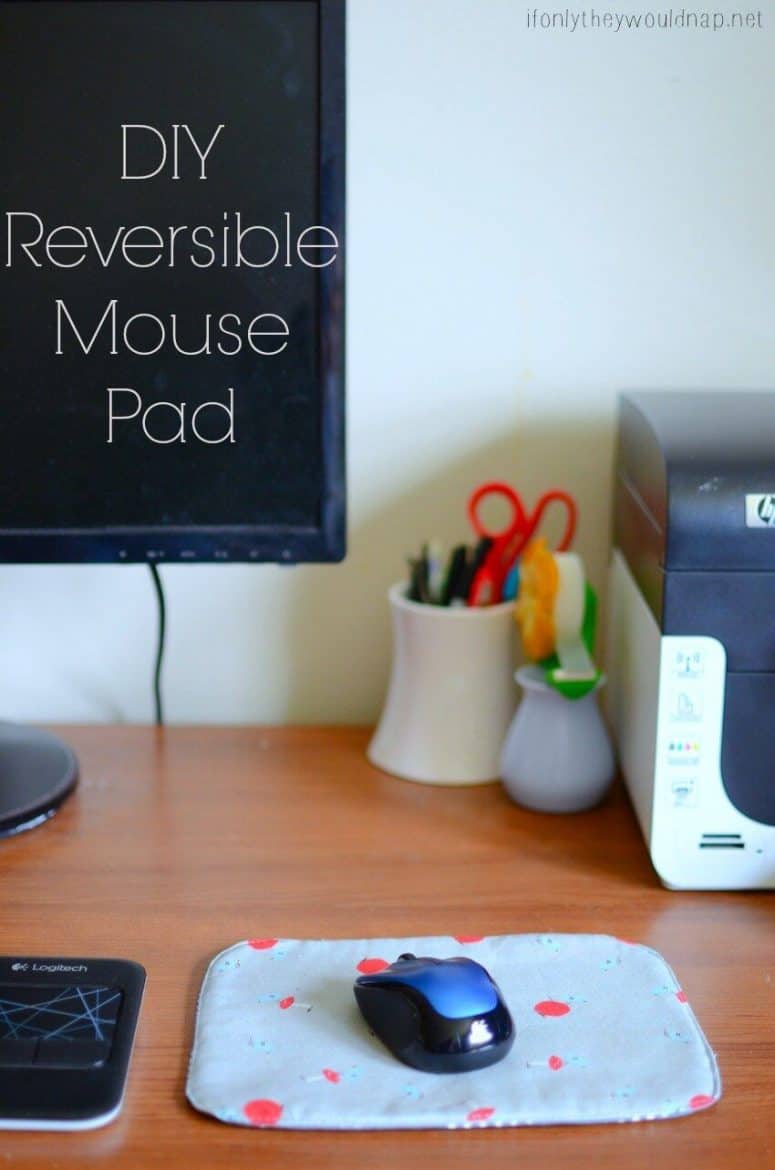 If I still have any of my favorite clothes since I was a kid, now I know what I could have used them for. This simplistic approach to making mousepads is interesting.
Maybe if I were a bit more creative, I could mix and match different fabrics to come up with something unique. If I'm tired of looking at one side and flip it over to look at the other.
DIY Deskpad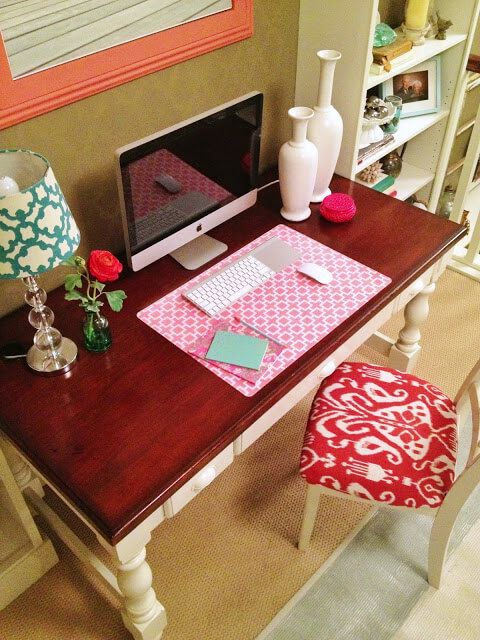 If I have to choose between a mousepad and a desk pad, the latter is what I would go for. Covering most of the work area with something comfortable is an interesting project.
I type quite noisily, and the vibration from the rapid key presses makes a lot of noise, so opting for a material that would cushion the noise.
Gold Pattern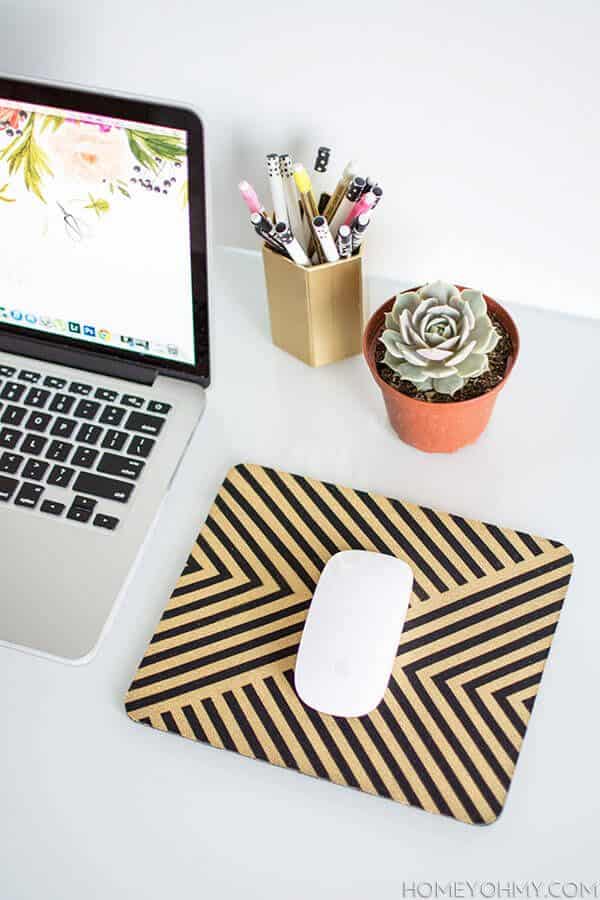 Creating a pattern can be quite easily one of the most interesting things one can do for recreational activity. I have to pick the right color and pattern.
Use some tape to recreate the pattern, and use spray paint to form the pattern, sort of like a silkscreen process.
Reversible Cork Mousepad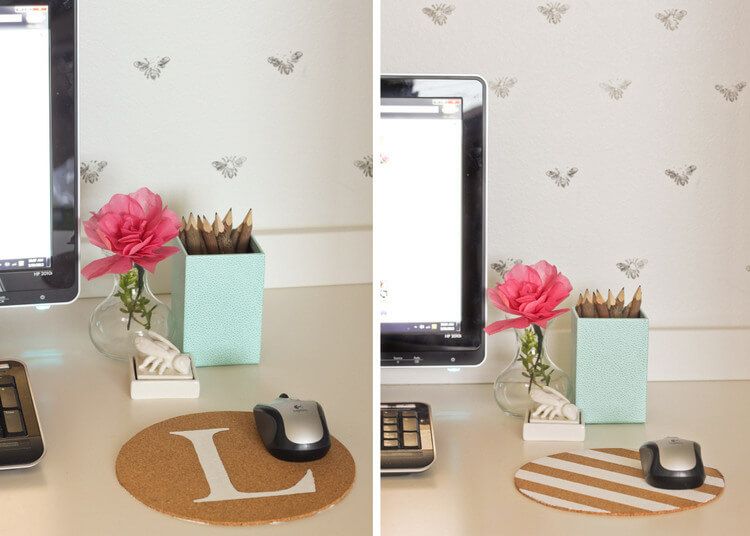 Corkboards are back. The office has tons of them; finding a spare will make this project easy to make.
I need to cut the board into a circular shape and use the technique from the previous entry to create patterns or words on either side. I can flip the mousepad if I want to look at something new.
Grapefruit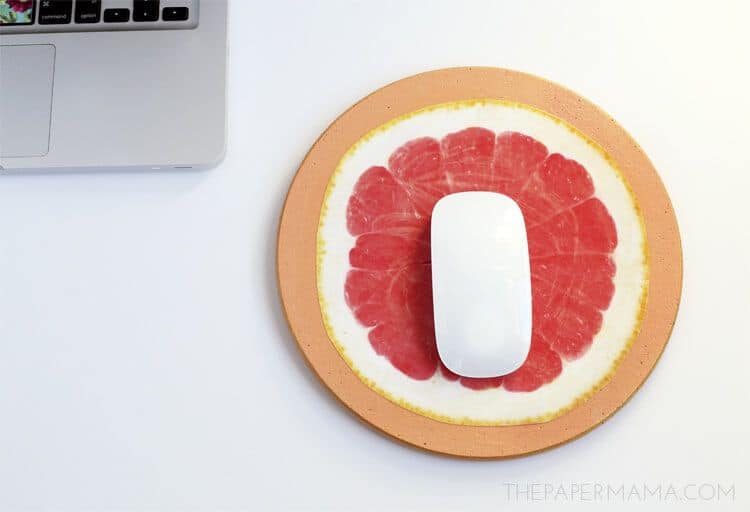 I rarely eat grapefruit, and I can settle at looking at one. Nothing fits the shape of a circular mousepad other than a grapefruit's interior, where my mouse will sit nicely in the middle.
Diamond Shape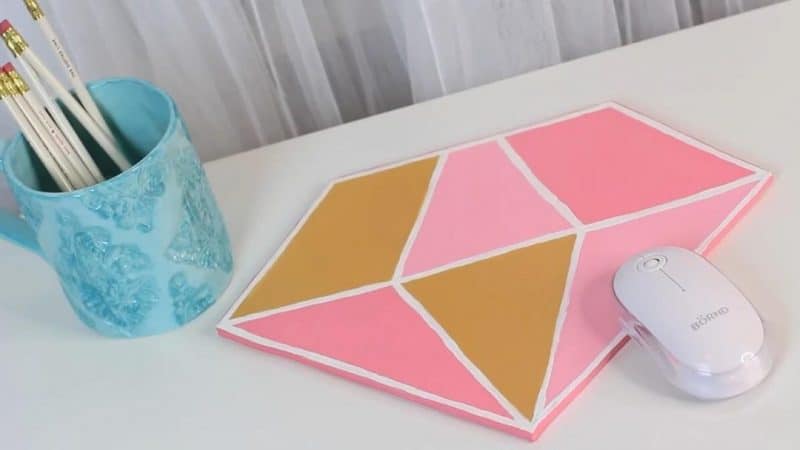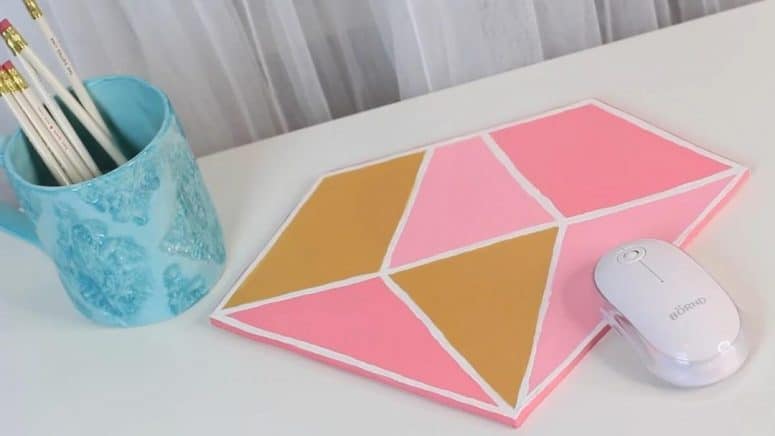 Square, rectangle, circle, and now a diamond. A five-sided mousepad. Now, that's something different.
Dividing it into sections and color, each with a different hue of pink or gold like this one. If I have more time, I can add some shading to give it a more 3D look.
Rustic Style Mousepad
A plain table can use a bit of variety. Aside from a lit keyboard, a mouse pad with a unique texture can bring out some interest on the desk. I need to pick the right pattern that will do that.
However, my choices would come from a range of contact paper. There are many patterns to choose from. A wooden texture looks natural, and I'd stick it to an old mouse pad to give it a new look.
Pom-pom
Corkboards are really handy for these kinds of projects. I need some paint to give it a base color and the rest of the materials like mini pom-poms.
To make it even more personal, I can use some letter stencils to print out a word or letter. I can go wild with the colors and make it as eye-catching as possible. The best part if friends at work will know it's my desk if they see this.
Vintage Mousepad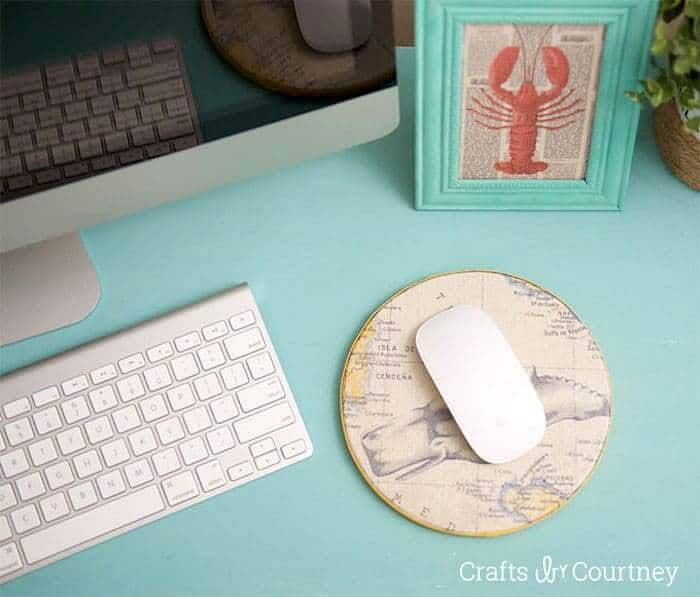 Like a vignette, a mouse pad shaped in a circle can be the fitting canvas for old-school looking images. Of course, it would be less oval, but it's still interesting to look at.
After some time, I feel that wearing out of the image from the friction will make it even more authentic.
Fabric Scrap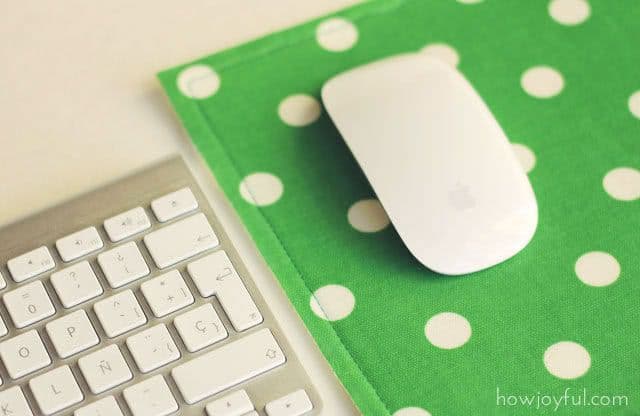 Old clothes have some fascinating patterns for mousepads. Anything from stripes to simple white dots on a green background can make all the difference between a boring PC set up to something really unique.
If I can no longer fit in some clothes, I could reuse them and sew them into mouse pads. At least I don't have to buy a generic mouse pad ever again. I should have thought of this earlier.
Donut Mousepad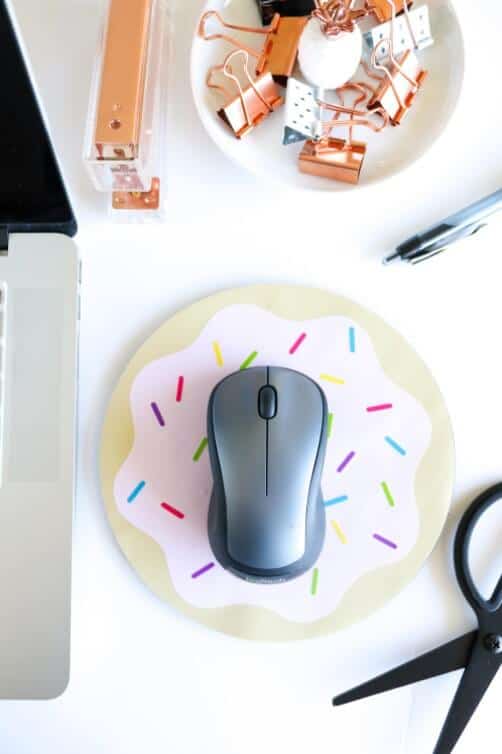 Mousepads are a great source of entertainment sometimes, particularly if they are creatively designed. Sure we have some gaming mouse pads out there with video game characters printed on them, but they're not unique.
Something a bit more personal is what I want. A doughnut pattern complete with sprinkles. I need to remember not to put a literal hole in the middle, or I'll have a terrible time controlling the mouse pointer.
Glowing Mouse Pad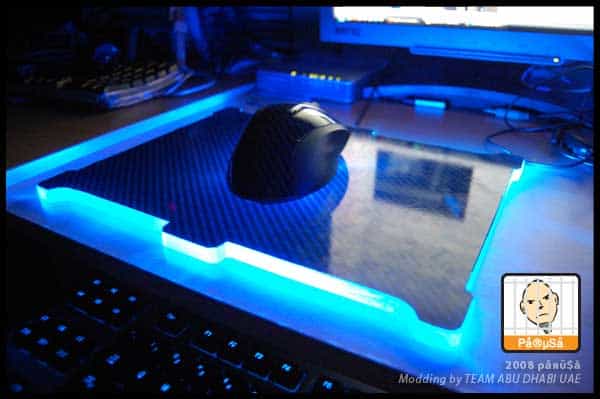 If keyboards have their LED lights, then why can't mouse pads? Well, actually, they can. Mousepads are usually ignored. Sometimes, even PC setups don't have them.
But a mouse pad can be handy when playing video games. It can make every move of the mouse feel and look smooth.
Geometric Paint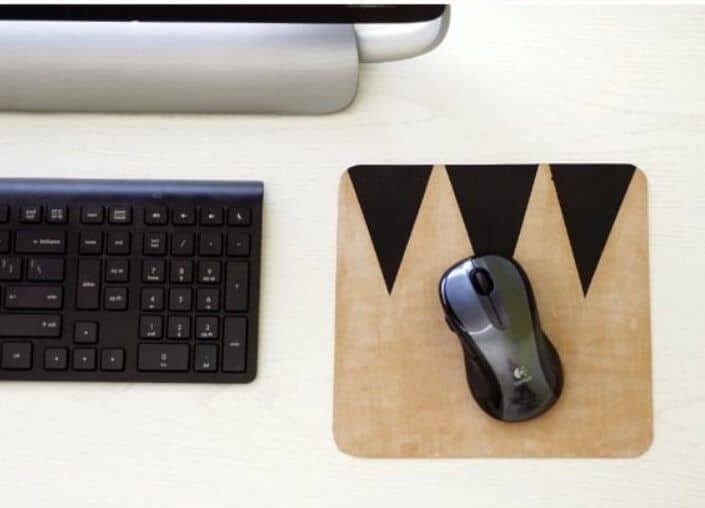 So, I need something that will stand out with my PC set up, a little something that will highlight my wonderful mouse. A mouse pad with simple geometric patterns is just the right thing.
Heart Shape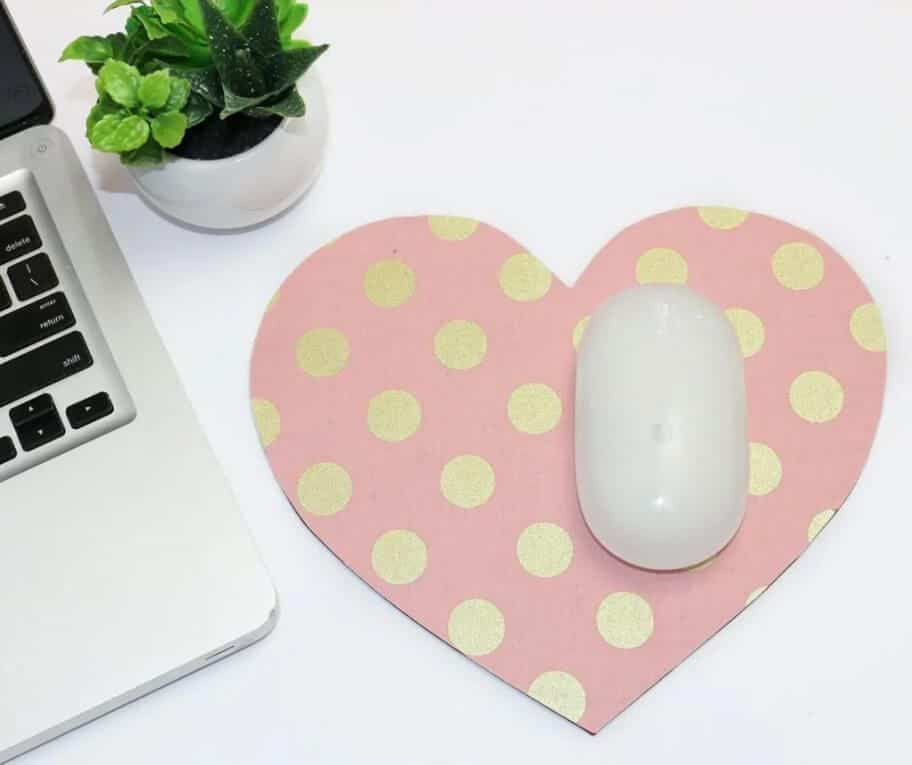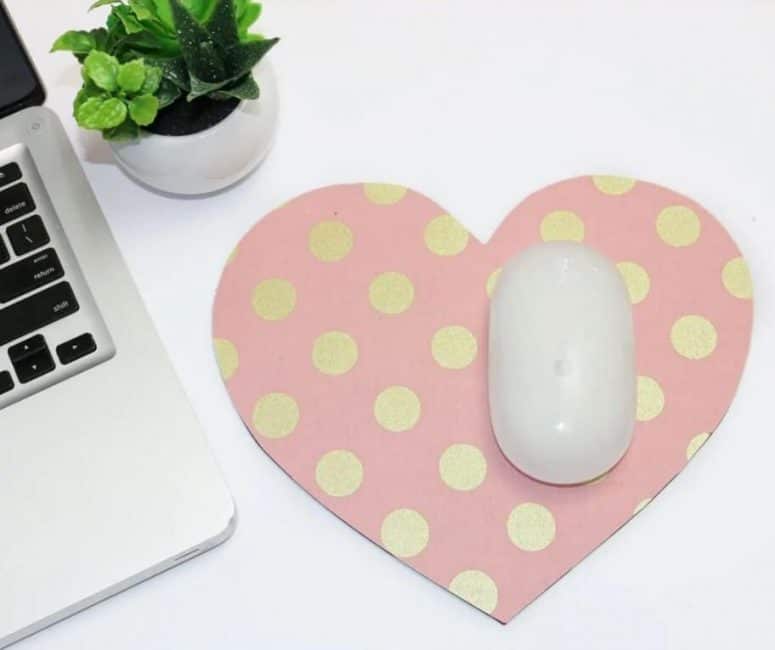 Nothing brings some personality to a PC set up but a big heart. Apart from the electronics and LED lights, a simple mouse pad in the shape of a heart will remind me that at least I'm still human.
Leopard Pattern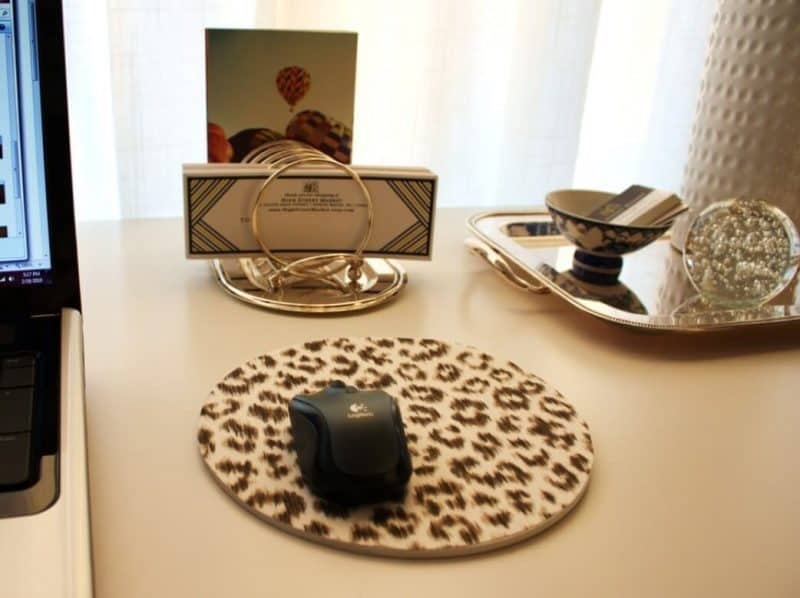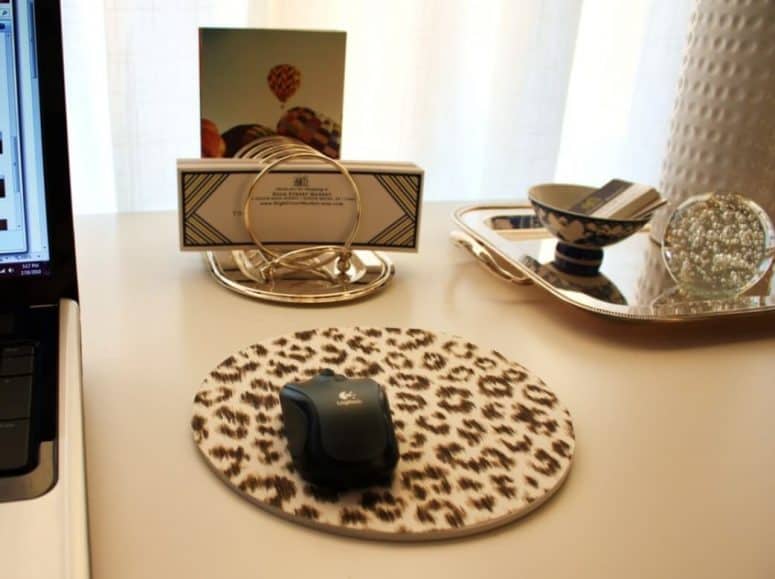 I can hear the sound of a leopard as it pounces on its prey. Just like the heart, bringing something to the desk that isn't a machine can add some variety and some personality.
I just need to make sure my floor rug doesn't share the same pattern. Otherwise, it will be a hassle to find the bloody thing if it ever fell down.
Chevron Pattern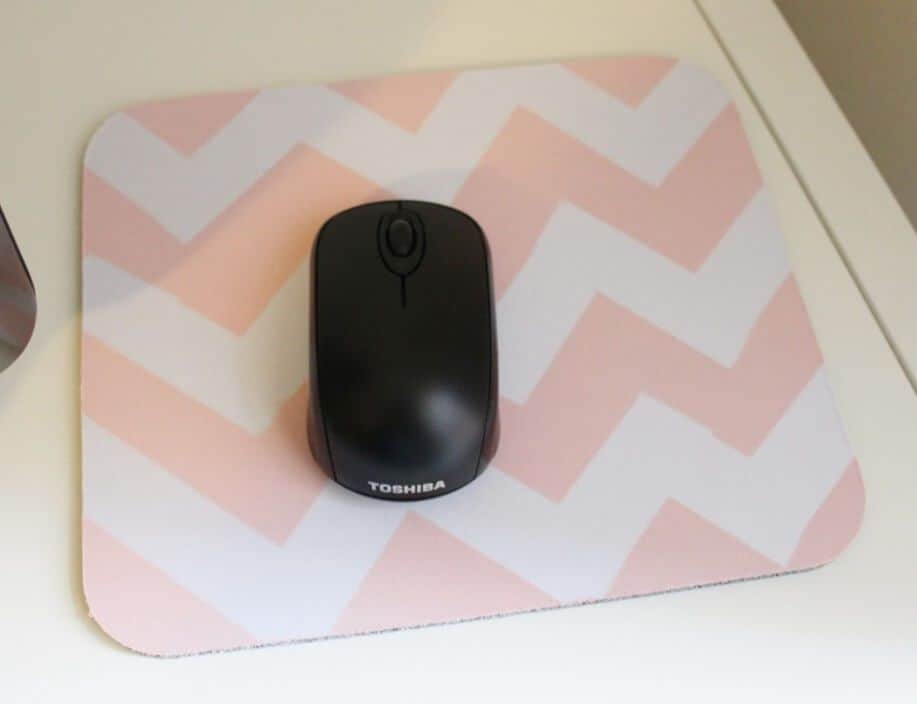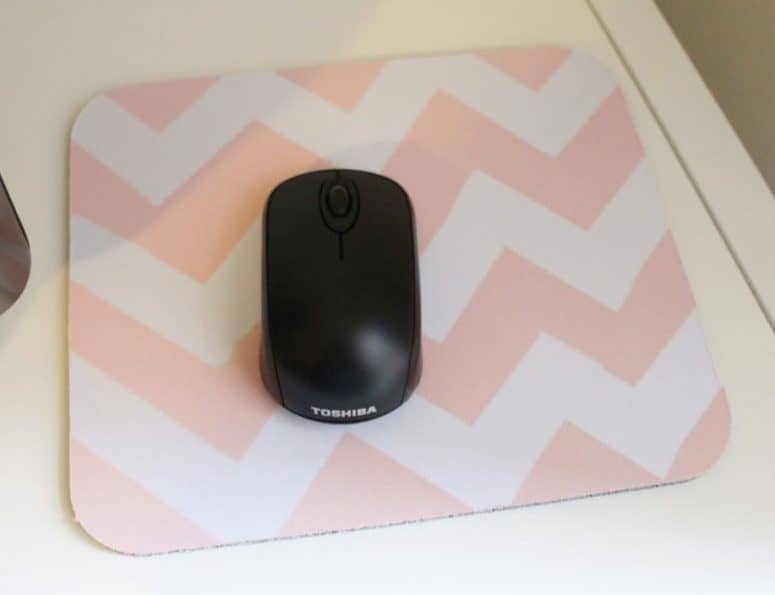 I need something to break the monotony of a plain white table. Of course, the best way to do it is to introduce a different pattern. In this case, a Chevron pattern.
Comic Book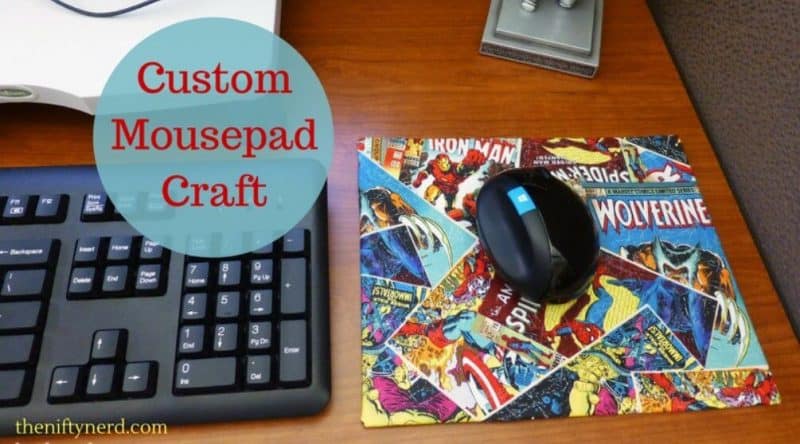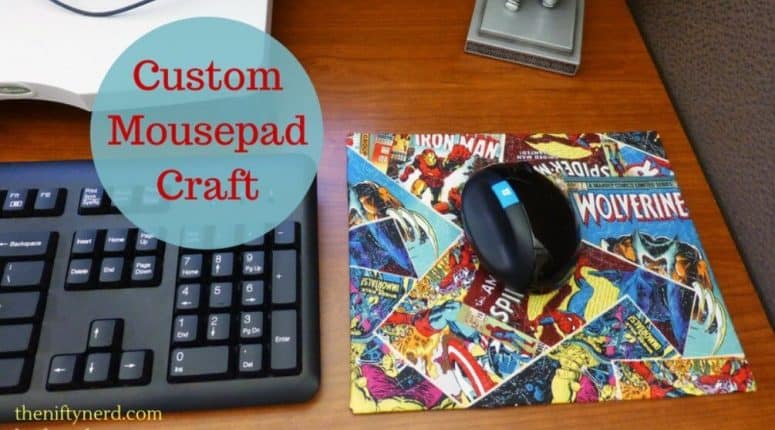 Old comic books are becoming harder to find, especially the old ones, but if there's a special page I want to keep preserved, this might be one of the best ways to do it.
If I'm bored and need to look away from the monitor for a second, I can spend that short moment to read or admire what's on the page.
Crystal Shape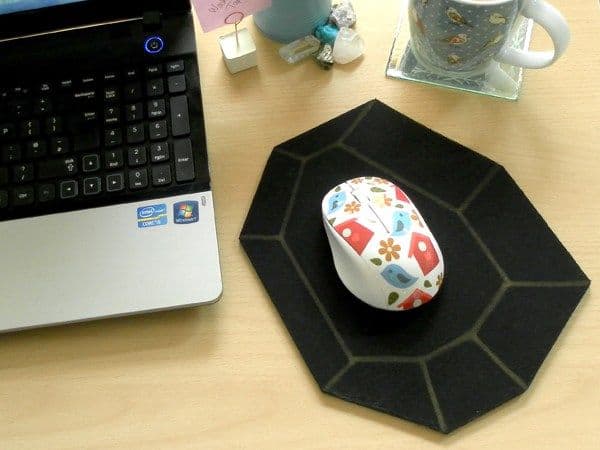 After the diamond, now we have an irregularly shaped mouse pad. If I don't look at it too much, it can appear to be a very flat turtle shell. But of course, it isn't.
But just like the rest, it brings some variety to the table. If there are too many straight lines and perfect angles, having something irregular on the table can help break that monotony.
Upcycled Mouse Pad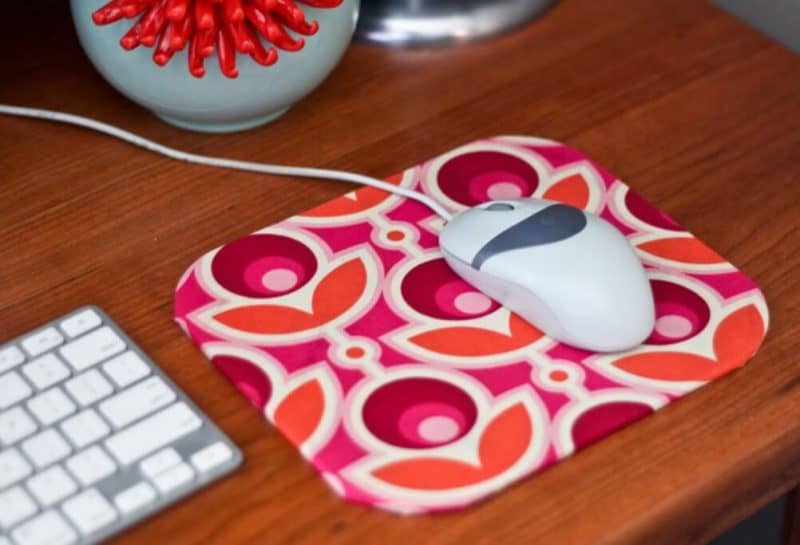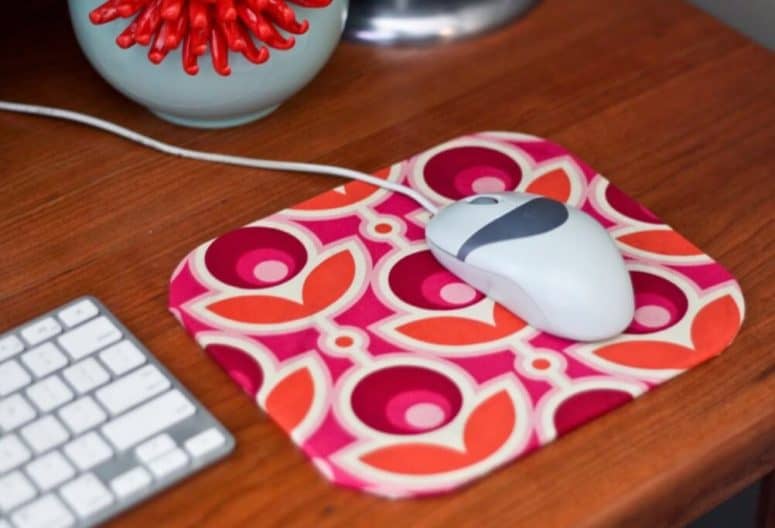 What will you do if your old mouse pad that you bought years ago starts to look dull?
Jacqueline from Food-ology did a great job upcycling her mousepad by covering it with cool fabric.
She used mod podge to paint the mouse pad's surface, lay the fabric on top, and let it sit for some time until it dries. The result is pretty adorable!
DIY Oilcloth Mousepad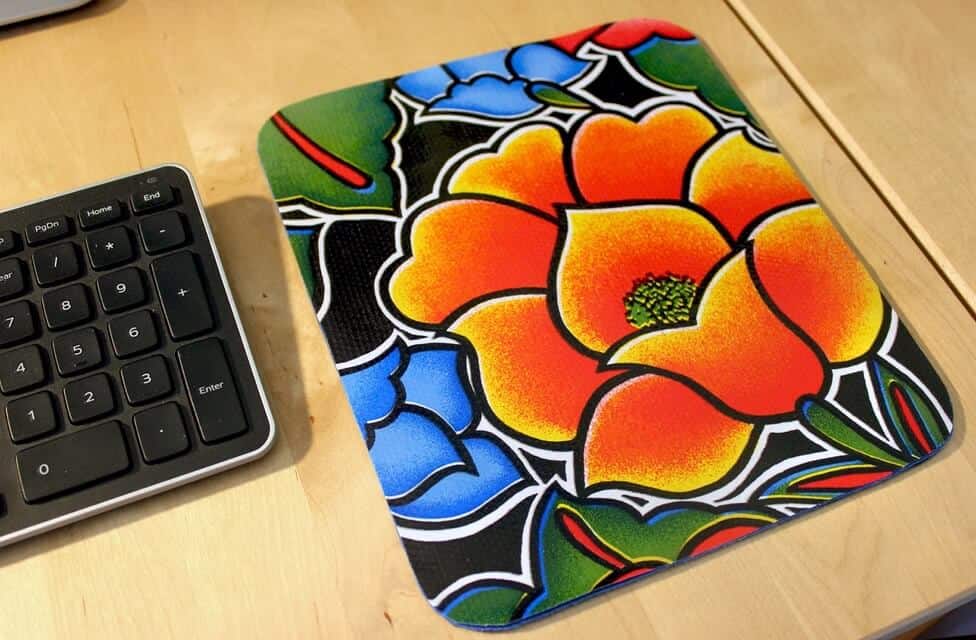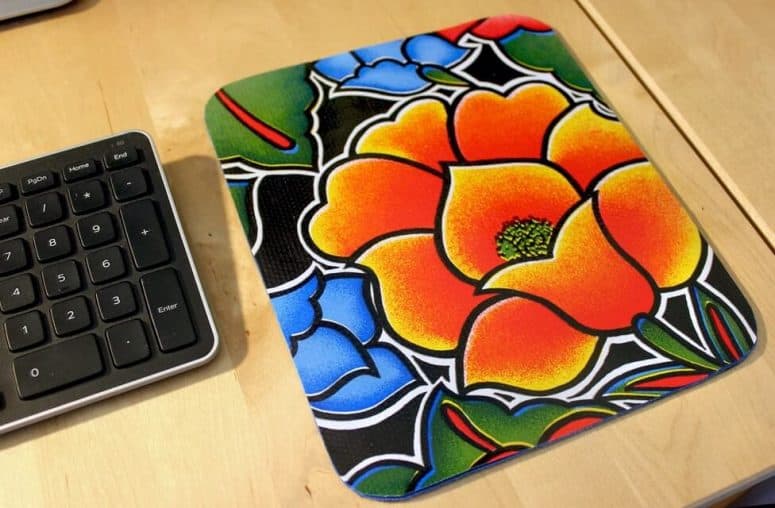 Now, this looks like something professional. Being creative with oilcloth can bring in colorful and amazing results.
Cube Mousepad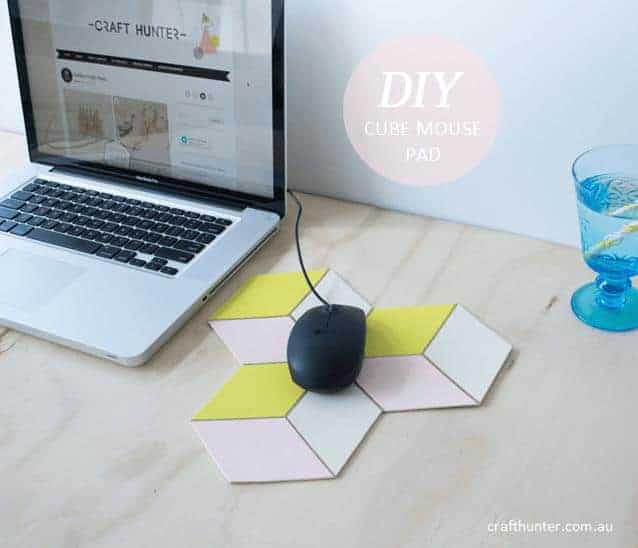 Cubes forming a shape is interesting. It does offer not just a pad for the mouse but also the wrist. Of course, it comes at the cost of a smaller real estate for movement.
DIY Mountain Mouse Pad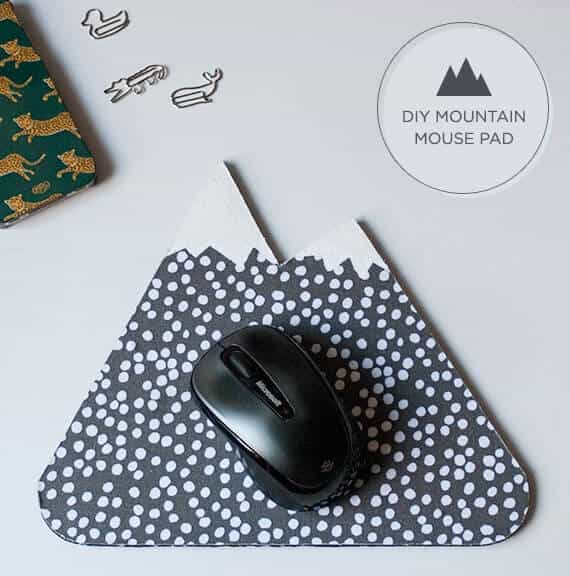 Of all the irregular shaped mouse pads, this one seems to get the best for the shape choice.
A mountain is wider at the base, and if you are like me who doesn't rest wrist on the pad, all the movement happens at the bottom of the mouse pad. For this particular shape, it covers that.