Are you struggling in finding ideas to build your own DIY computer desk?
Well, if you find this article, you're in luck! Because we have compiled a list of 21 DIY computer desk ideas from around the web for you.
Even better, some of them also come with the plan. So you can actually start to build them this weekend.
Without further ado, let's get started!
Wooden Pallet DIY Computer Desk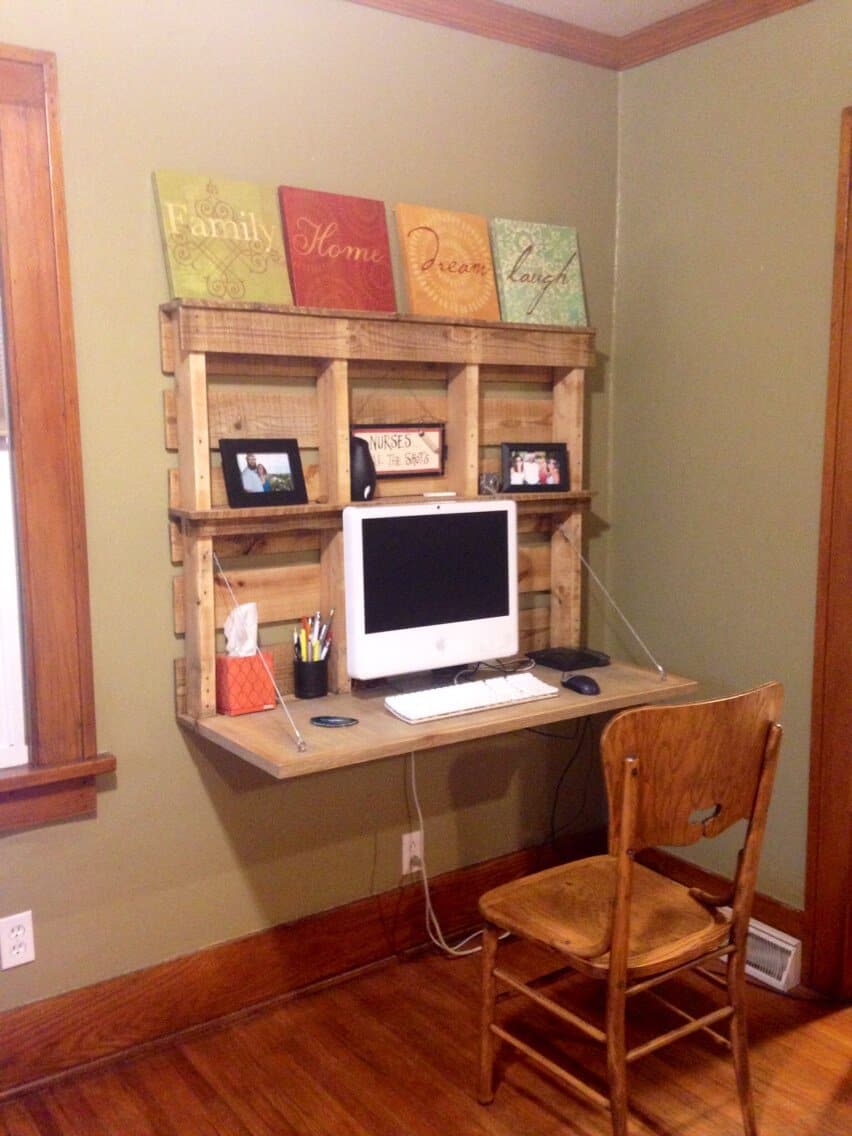 Wooden pallet always is the number one material when it comes to a DIY project due to its flexibility.
Besides, you can easily find a wooden pallet over the stores in your area. You can make a rack, bookshelf, coffee table, bed frames, and computer desk out of it.
To make this computer desk, you'll need a single layer of wooden pallet for the shelf, one wooden board for the surface, and a pair of string for the holder.
The usage of the wooden pallet as the shelf is also useful for the attachment to the wall, making this table into a floating desk.
DIY Standing Computer Desk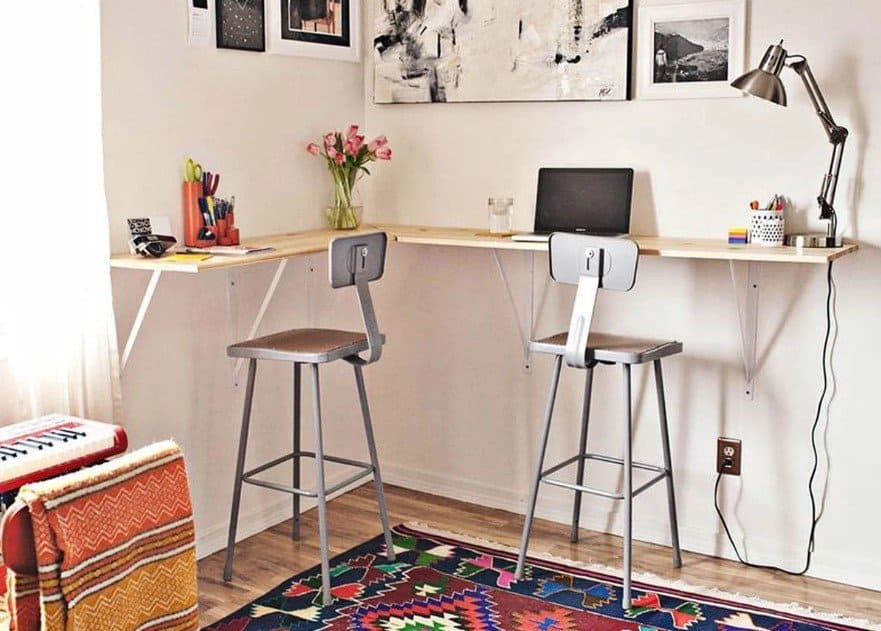 If you have a small home office in your house, building a wrap-around desk is a perfect idea. This design will give you simplicity and flexibility in doing your work on your home.
The top surface is actually quite spacy, it can hold up your laptops, lamp, and also your office utensils.
With two additional bar stools, this perfectly designed computer desk is great for both sitting and standing.
Parson Tower Computer Desk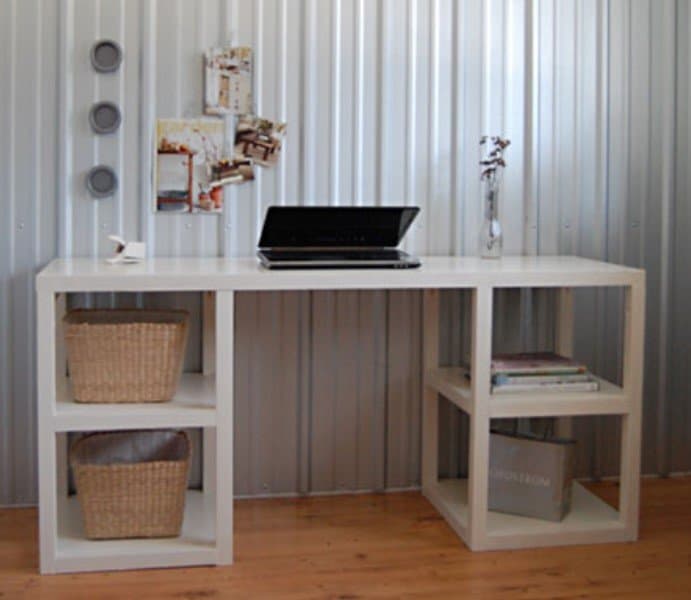 If you prefer a more versatile computer desk, you can follow this DIY computer desk plan from Ana White.
The great thing about this desk is that you can easily build this project from scraps!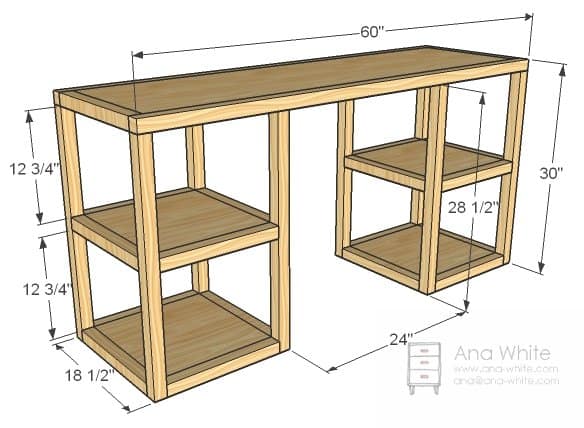 That two leveled rack also comes in handy, just in case you want to put your things such as books, baskets, or your storage box.
Besides, you can also put your gaming console and turn this desk into a gaming desk.
DIY Wall Mounted Computer Desk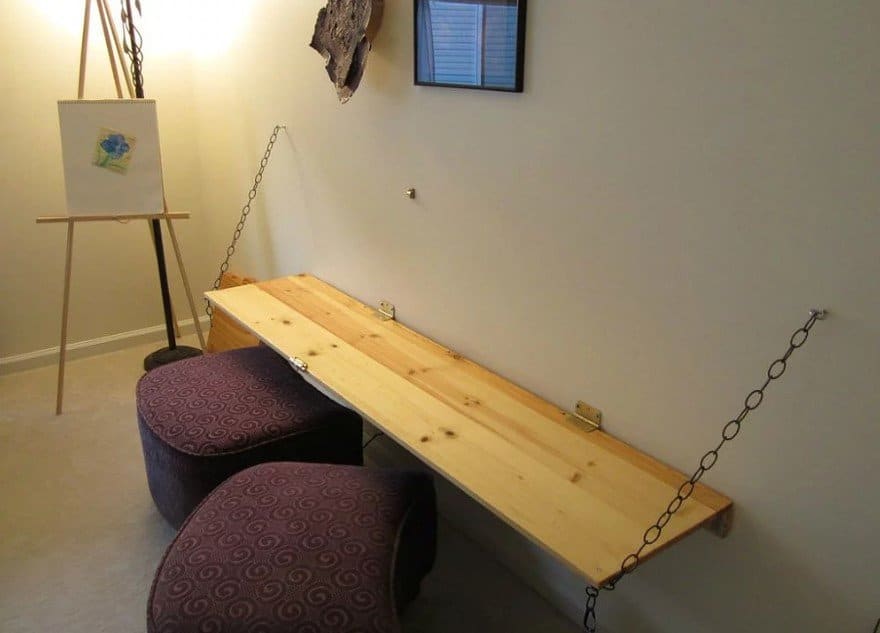 For small space rooms, building a wall-mounted desk or a floating desk is the best solution. But what's even better? A folding computer desk it is!
CrazyClever, the creator of this project, actually meant it to be a crafting desk for kids. If you fold this desk up, there is a chalkboard on the other side of the table for doodling.
But let's skip the chalkboard and focus on the folding table. This could be a very comfortable place to work at home, right?
DIY Computer Desk with Concrete Countertop
If you are into industrial style, you can never go wrong with this DIY computer desk, because it uses concrete as the countertop.
However, the creator still keeps its natural and minimalist look by not adding any color to the wood.
Some of you may be wondering how to build this desk, especially for the concrete countertop since it's not the material most people get used to. Click the button below for the plan.
View Plan

Custom DIY Gaming Computer Desk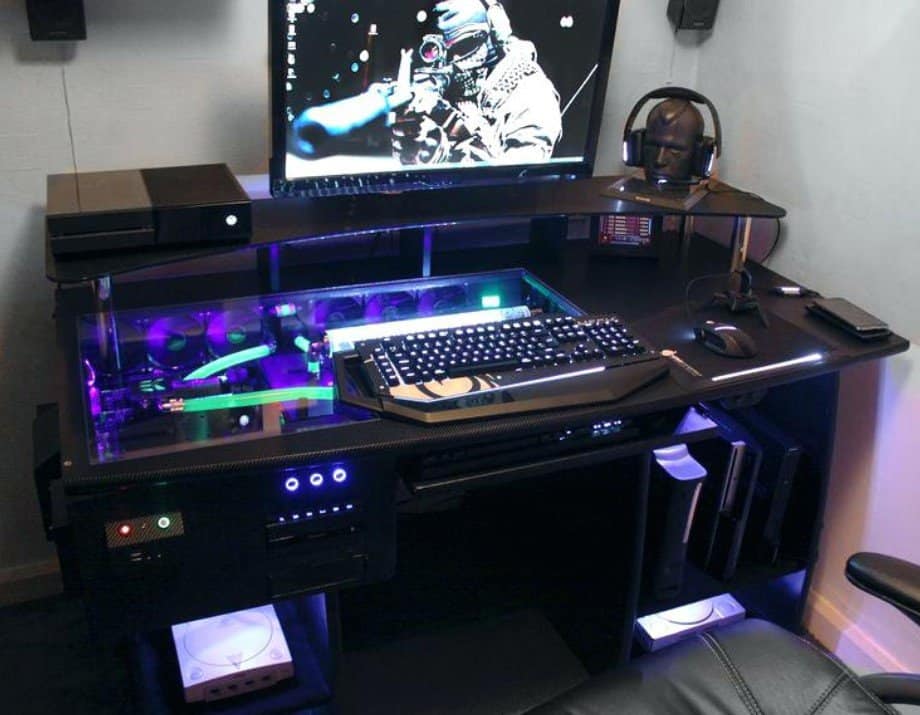 Making a DIY gaming desk is quite different from an ordinary computer desk, especially if you want to make an advanced gaming setup like this one.
We really recommend you to hack or remodel your current desk if you already have any, and it is so much easier to do so than building it from scratch.
One thing that you should remember is that before you start building this project, at first, you need to make a sketch for the plan. Then, make a list of items that will be needed to build your project.
For example, in the picture above, the creator uses acrylic glass to make a transparent surface to the open-air CPU case, another wood board for racks, and metal pipe for the tier. The result is pretty awesome!
DIY Murphy Computer Desk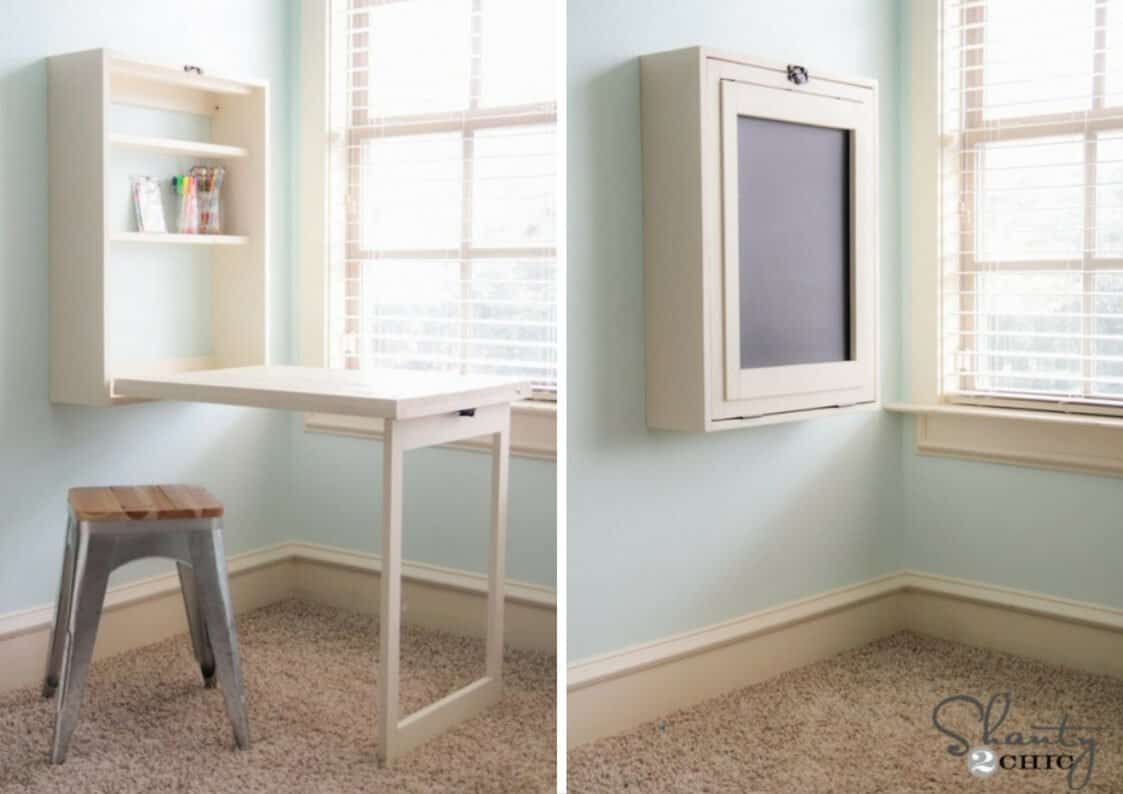 Now you see it… now you don't.
Murphy style is another way to manage and optimize your space. Look at this DIY computer desk!
It is so functional and it will not only give you the unique look to your space but also the efficiency to restore your tools.
The picture below is the perfect example of a murphy desk when being used as a computer desk.
What do you think?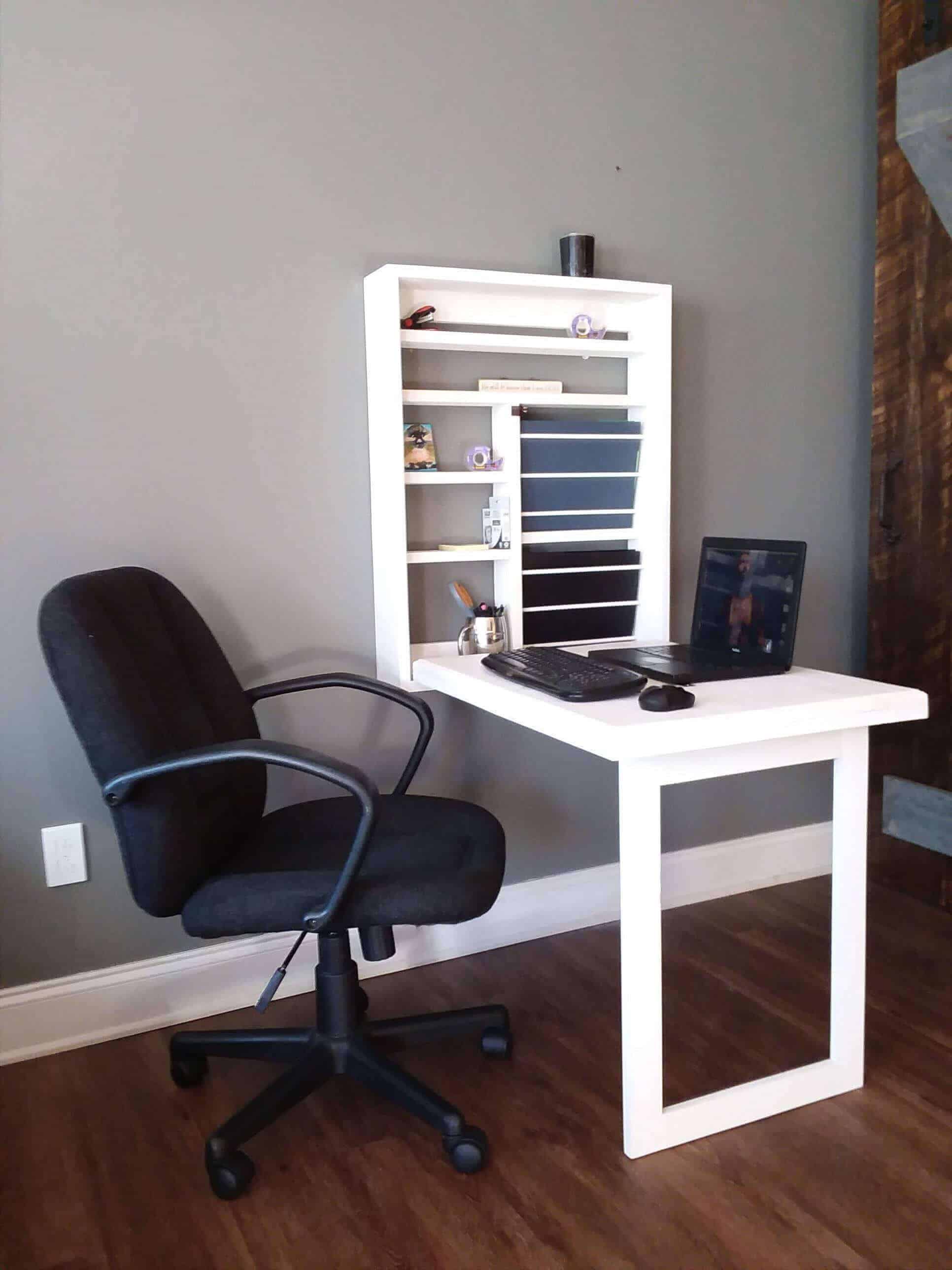 DIY Computer Desk from Wood Pallet
This simple pallet computer desk will look awesome in the corner of your room, and it is easy to build.
All you need to prepare is just one unused wooden pallet, one layer of plywood, and two pairs of Vika Curry legs from IKEA.
Then, you can take a look at this DIY computer desk plan from IKEAhackers: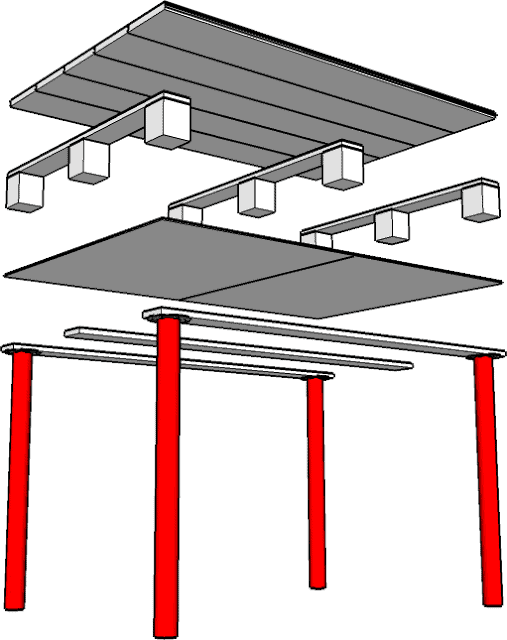 One good thing about this cheap yet functional computer desk is that you get extra rack from the pallet. It's like a double surface desk and it looks like this: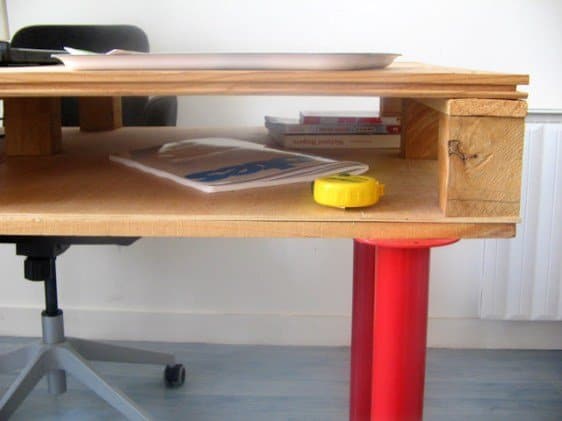 Awesome, right?
There, you can put all your necessary stuff such as books, paper, office utensils, and basically anything that fits into it.
So, you can always keep your desktop clean and neat.
Double-Sided Computer Desk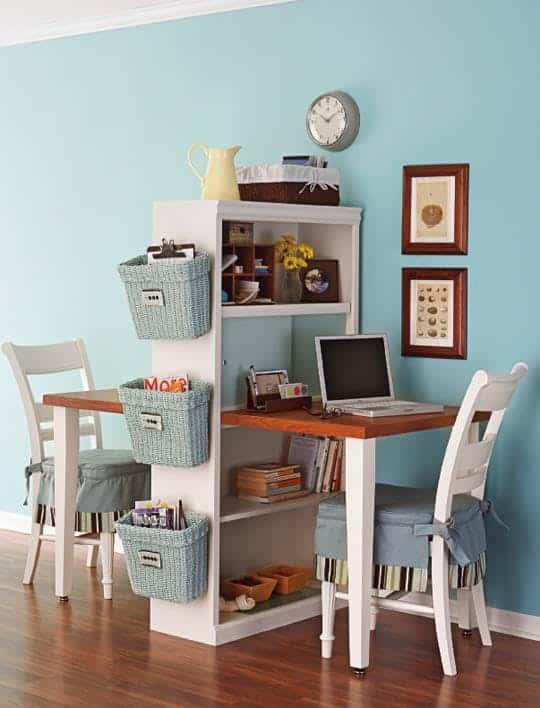 If you work in a team, it's better to have a double-sided desk so you can easily collaborate with your partner.
As you already know, there are two types of the two-person desk: side-to-side desk and back-to-back desk.
Each of them has its own advantages and disadvantages. But if you want to have a desk that brings more privacy, you can go with this type of desk.
This back-to-back desk is one of the best examples of the double-sided computer desk. The usage of a bookshelf as a substitution for table legs is a brilliant idea.
That way, you can store your books, storage box, small framed photos, and flower vases.
Even more, the bookshelf also functions as a separator between the two desks and adds some privacy to each person.
DIY X-Legged Computer Desk with Plan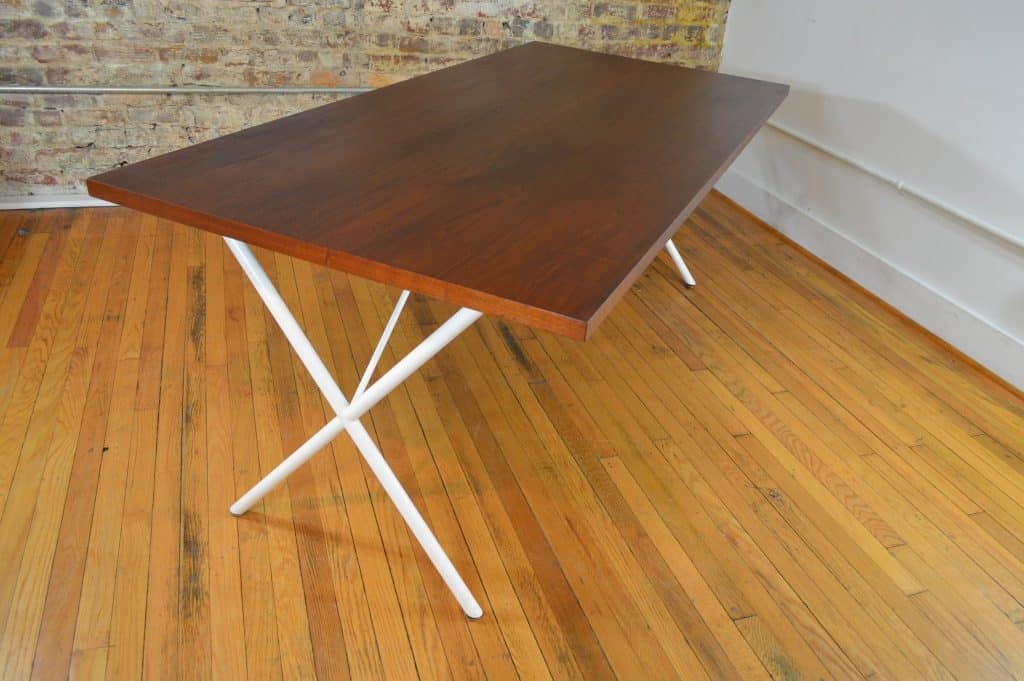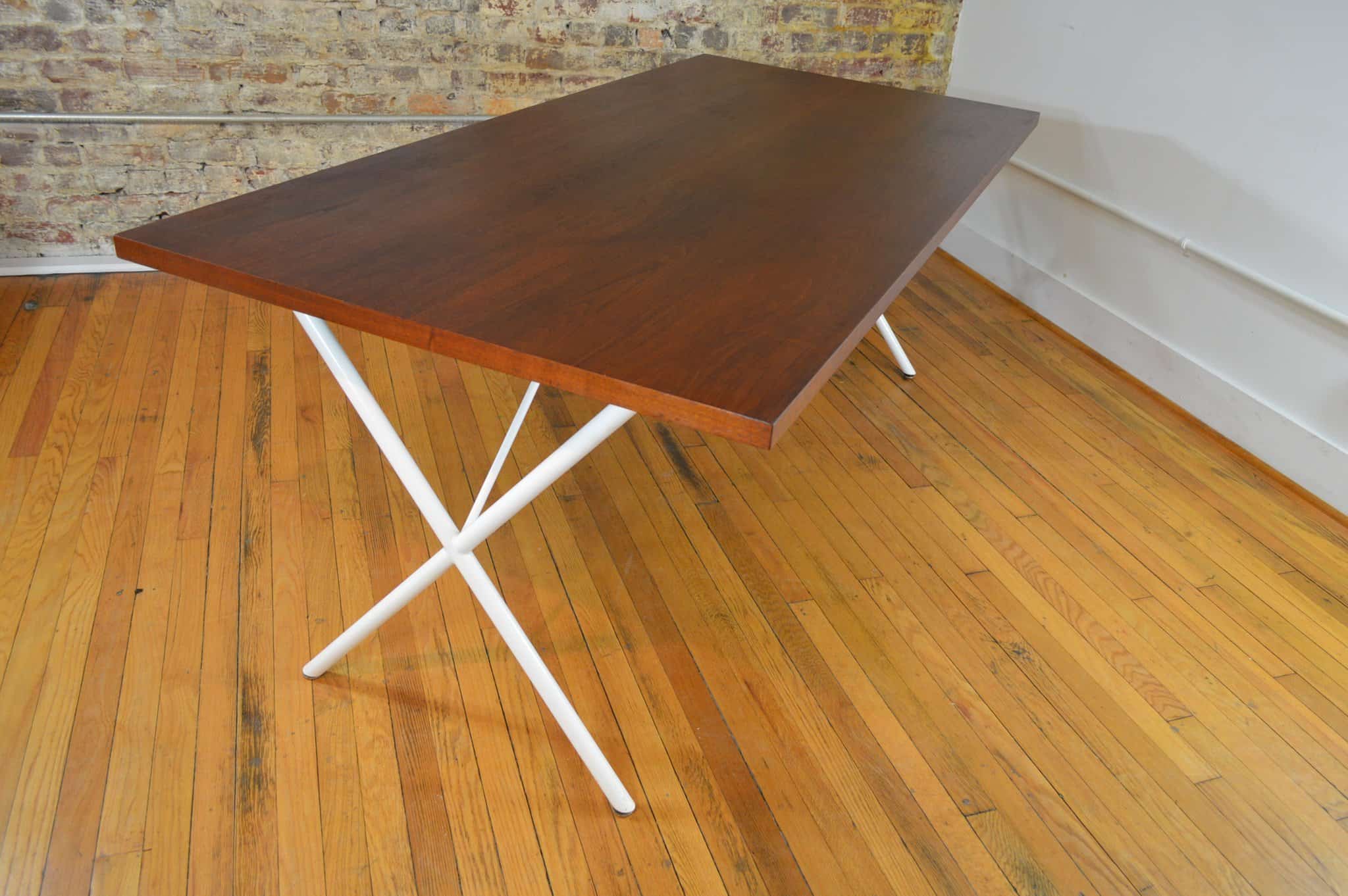 For you who prefer a modular workspace, this foldable X-legged computer desk definitely will suit you.
To make this computer desk, you just need to follow some simple steps.
First, you need to prepare two pairs of pipes for the leg and a pair more for the surface base.
The first pipe base should be a little bit shorter than the other because the shorter one will be put inside the other like so: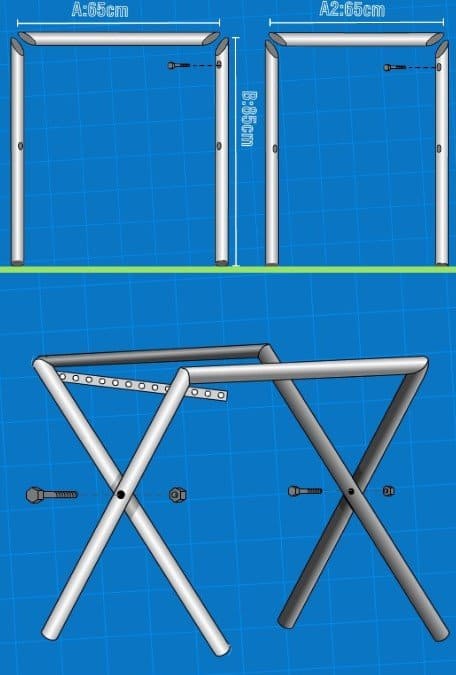 Then, weld the two legs and the surface base, or you can just connect them using a 90-degree pipe joint, and after all-set, make a hole in the middle of each pipe and screw them so it can be functioned as the hinge.
And for the top, you can use the wood countertop for the desk surface. You can also use a customized glass tabletop here.
DIY Cardboard Computer Stand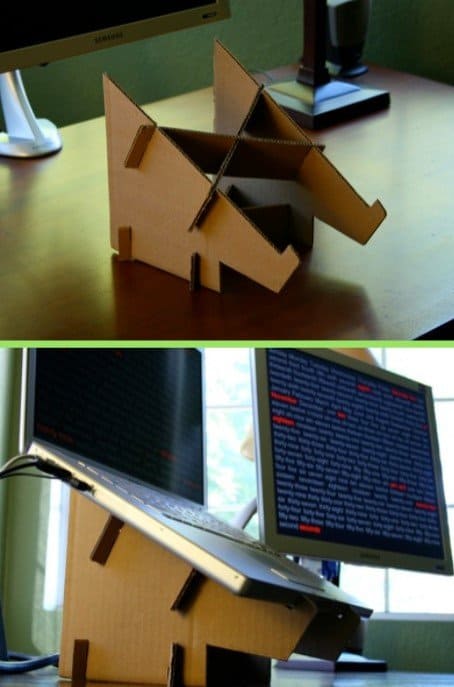 This is probably the cheapest (and easiest) DIY computer desk in this list.
Well, it is technically not a desk, but it is so functional and very useful, especially if you want to make your laptop more eye-friendly.
You can use any kind of cardboard available at your house. Just make sure that they are in good condition and strong enough to hold your laptop.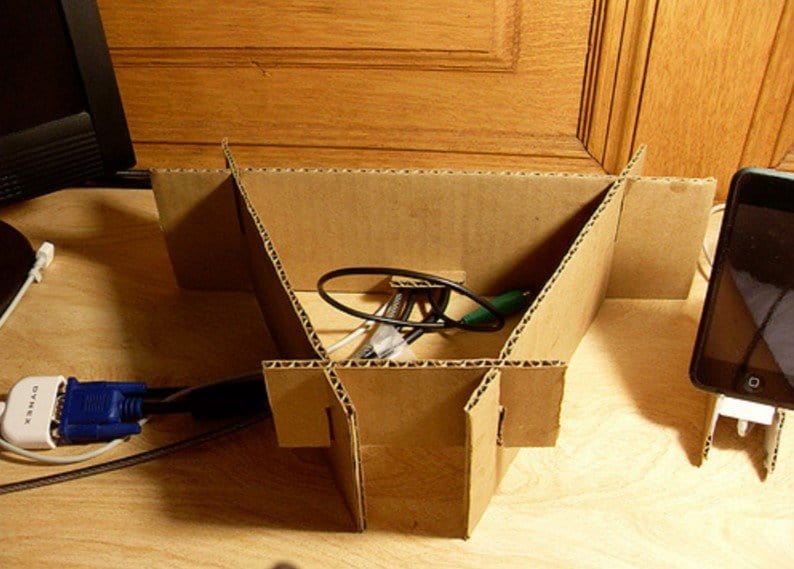 Cut the cardboard into four pieces, you can adjust the size and make sure it fits your laptop dimension.
Also, you'll want to make a small hole on the backside for more advanced cable management.
Small DIY Computer Desk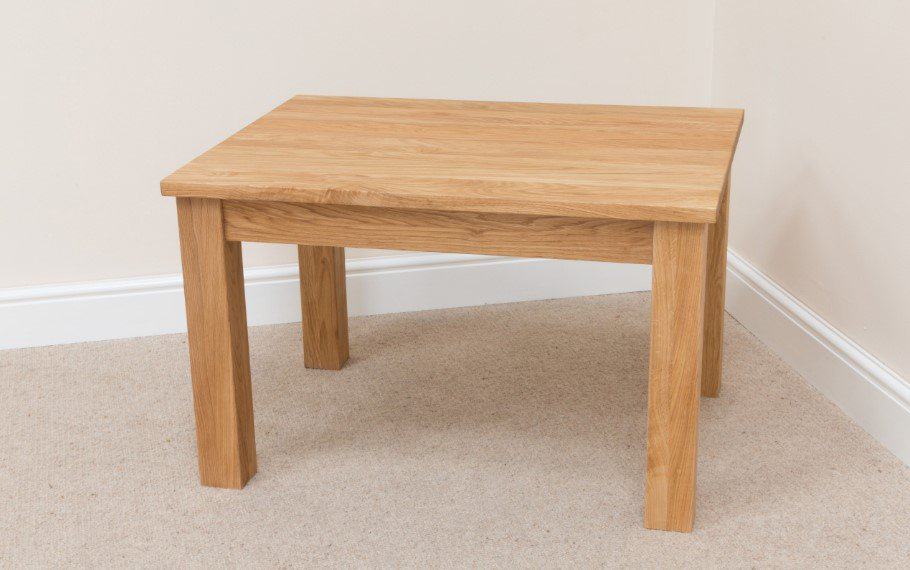 If you have advanced skills in woodworking, making this small desk is not a difficult thing to do.
In fact, it's easy.
Just purchase your wood, or if you already have any, you can start to make your rough plan on the paper.
In this step, you can adjust the size according to your desired design and the available material.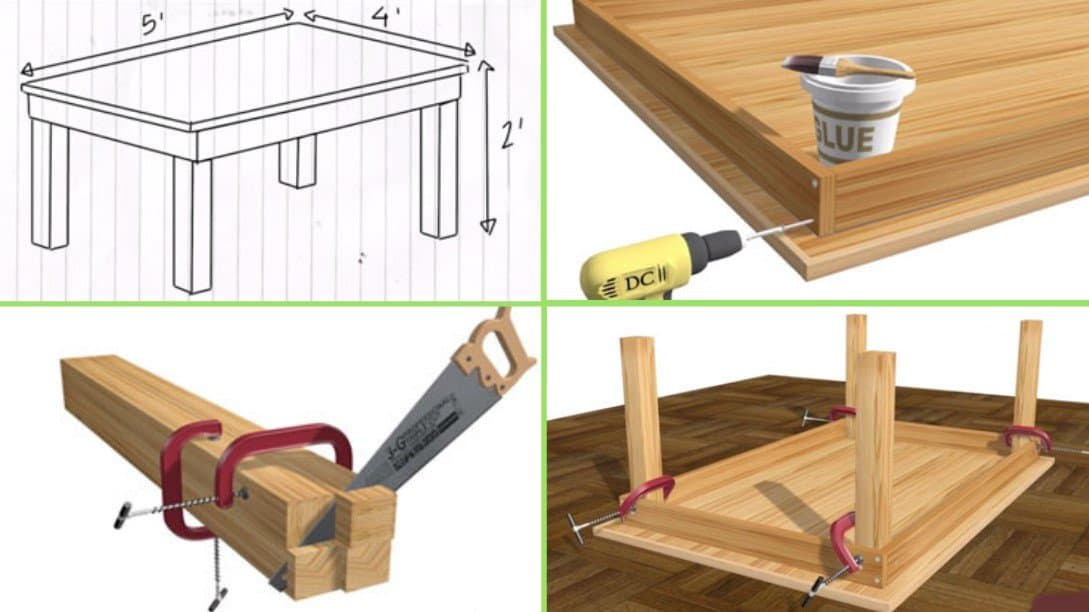 You'll just need some basic woodworking tools such as saw, clamps, wood glue, sandpaper, and screws to make this project. The complete step-by-step guide is available on WikiHow.
View Plan

DIY Copper Pipe Computer Desk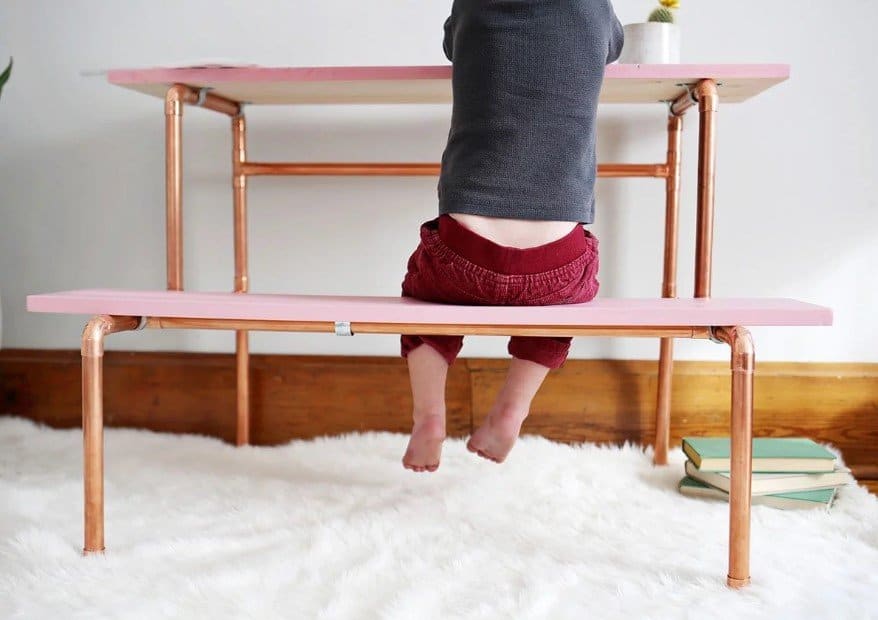 This beautiful DIY copper pipe desk is first created for children and not for a computer desk, but if you can put your computer on it, why not?
The combo design is pretty useful, though.
With the chair attached to the desk, you don't need to buy an additional chair for your computer desk set.
You can always adjust the size and the material as your preference.
For example, you can replace the copper pipe with a metal pipe if you prefer that.
---
Other DIY ideas to try:
---
Custom Made Corner PC Desk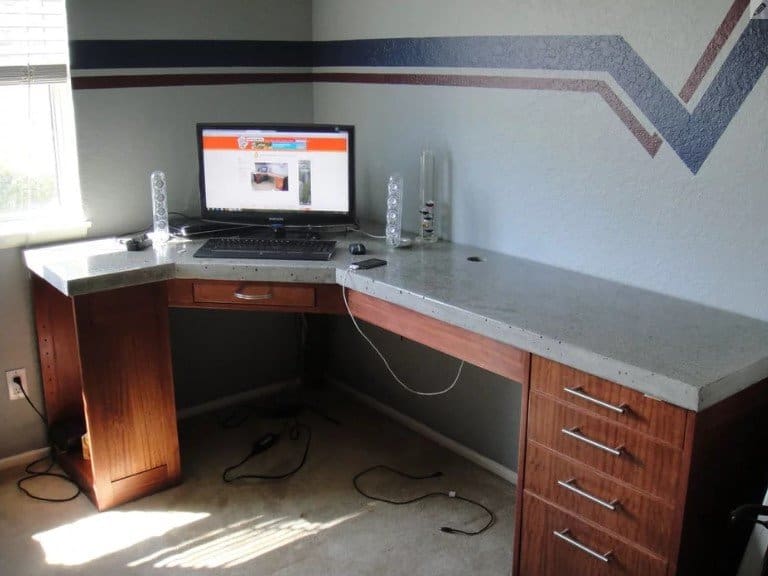 An Instructables user with username hivoltage shared his DIY computer desk, and it is awesome!
Unlike the concrete countertop desk that we have already mentioned in number 5, this desk comes with polished concrete and made for the corner.
He uses a lyptus wood and plywood for making the frame, and he also adds crushed glass to give accent to the countertop.
The process is sure complicated and needs a lot of time, but you'll be amazed by the result. Read the full step tutorial below:
View Plan

DIY Floating Gaming Desk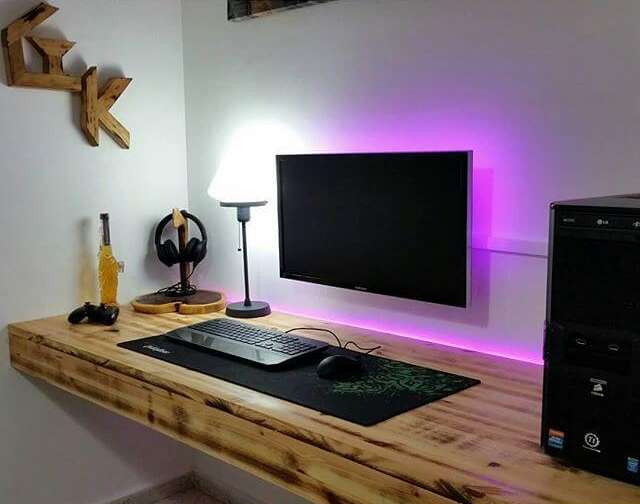 If you love wood accents as much as we do, you sure will love this idea.
Particularly, if you have a small room, or if there is a U shaped corner in your house with a small gap between two walls.
To build this desk, first, you need to measure the distance from one wall to another and buy some piece of wood with that specified length.
You can use an L shaped brackets for the supporting around the table.
For the finishing, you can give a small gap between the table and the front wall so you can put an LED strip lights on it.
This desk setup is minimalist and elegant at the same time, there is no cable mess around.
As you can see, the monitor is attached to the wall and use cable wall plates for cable management.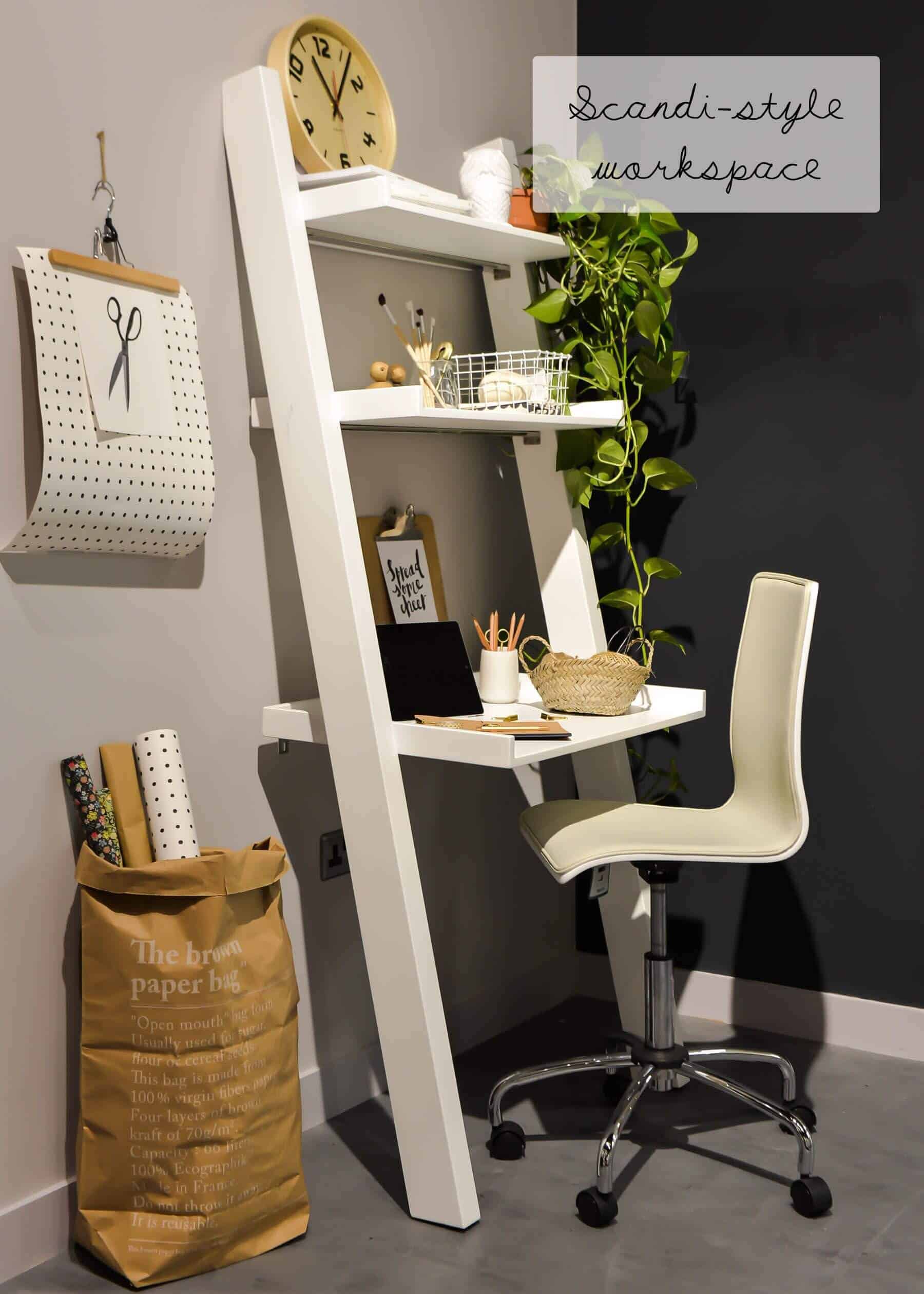 The idea of this working desk is to make a functional working space but still use effective space management.
For instance, this design uses a three-leveled table to optimize the existing space.
With a combination of white colors, wooden clock, and minimalist chair, this leaning desk also gives a Scandinavian touch to the room.
Another benefit of this desk is that it also can be used as a plant stand to give some greenery to the room. Look at that beautiful vines!
Custom Ergonomic Computer Desk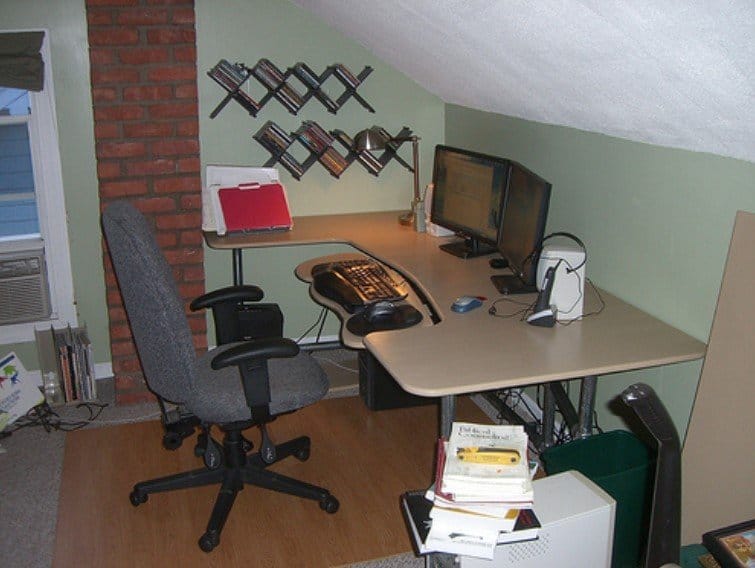 As a person who spends a lot of time in front of the computer, having an ergonomic desk is a must.
It really helps us to be comfortable while doing our works, and at the same time, it reduces the tiredness of our eyes.
If you are interested to try to make this project, you can follow the instruction below.
View Plan

Minimalistic DIY Computer Desk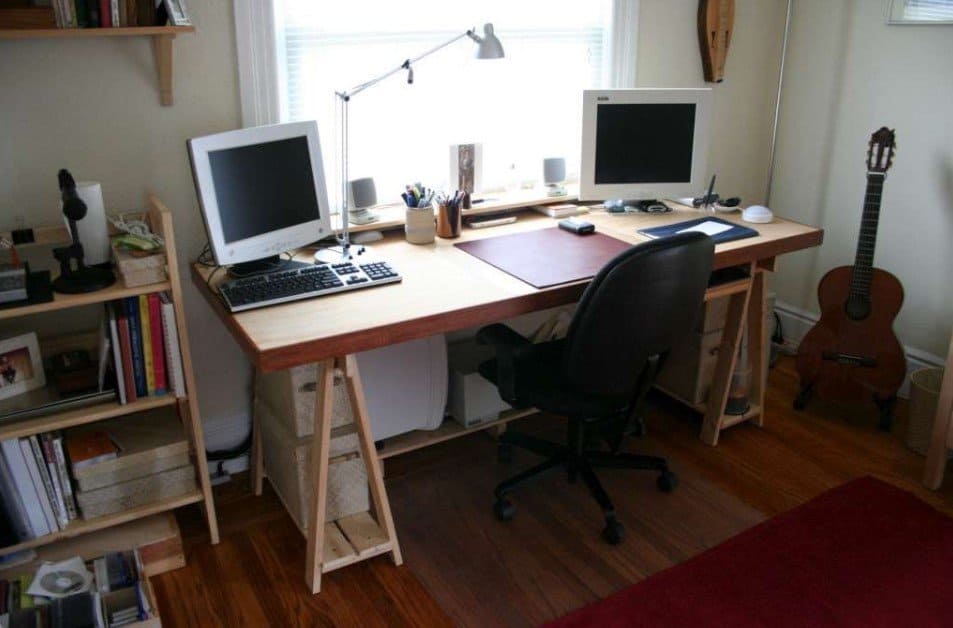 Can you believe that this desk is made out of a door panel?
According to the creator, this minimalist computer desk is made at a low cost by using an unused door panel and 7 pallets of wood for making the two sawhorses.
Interested to build this project?
View Plan

DIY Adjustable Standing Desk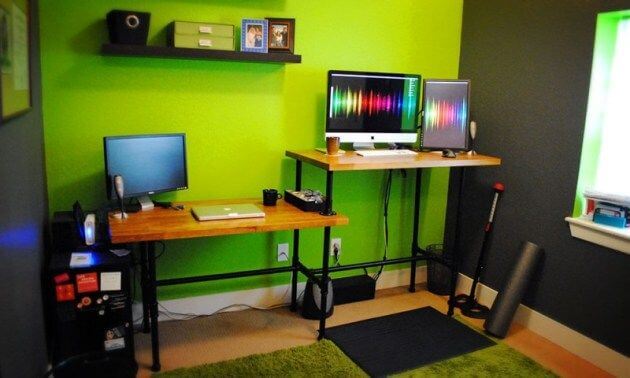 Nowadays, many people have found the health benefits of standing up while working, and many of them have decided to use a standing desk instead of the regular desk with chairs.
But yes, as they said, "sitting is the new smoking", it is hard for many of us to completely use a standing desk for a long time.
It's true that sitting a lot can cause some effects on our body, as stated in Mayo Clinic. However, it always needs some time for us to get used to something new.
So, in this case, a multi-level adjustable standing desk is the solution; you can move from sitting to standing and vice versa. Interested? Check out the plan below!
View Plan

Small DIY Corner Desk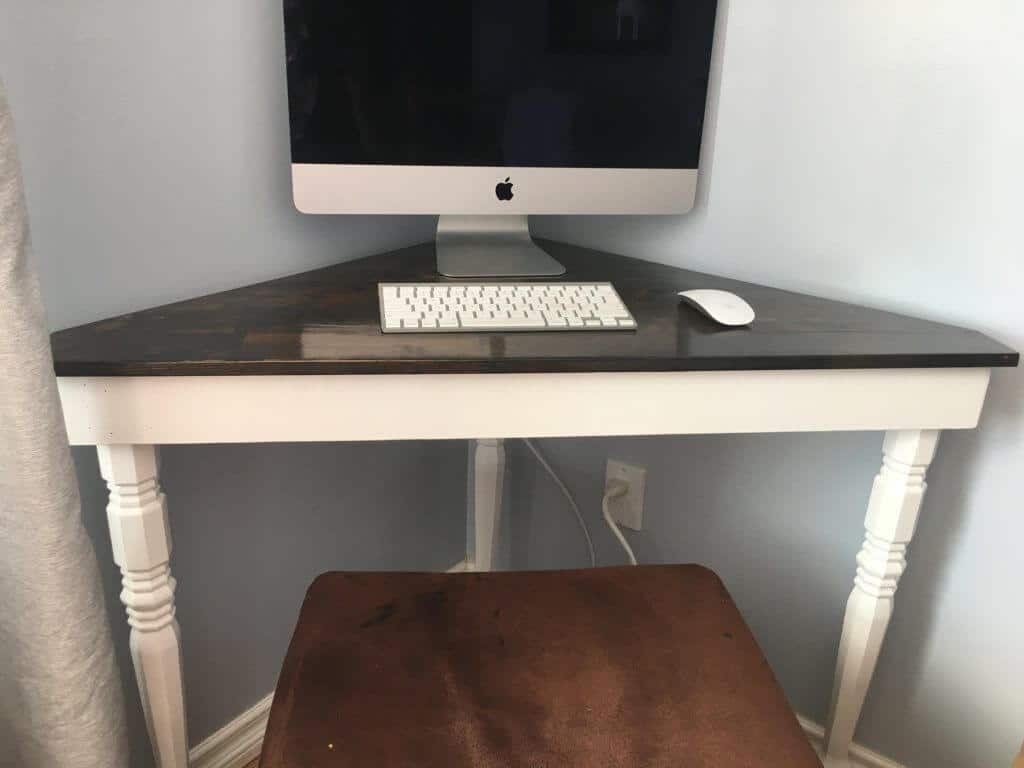 If you already have a corner table or corner TV stand, you can turn that into a computer desk like this one.
You don't need a lot of work to make this desk. You just need to prepare a chair and think about cable management and that's it.
This style of desk works best with All-in-One PC like iMac or laptop, but if you use a computer with CPU case and require more space for it, you can make another shelf on the wall or just put it under the table.
DIY Computer Desk Shelf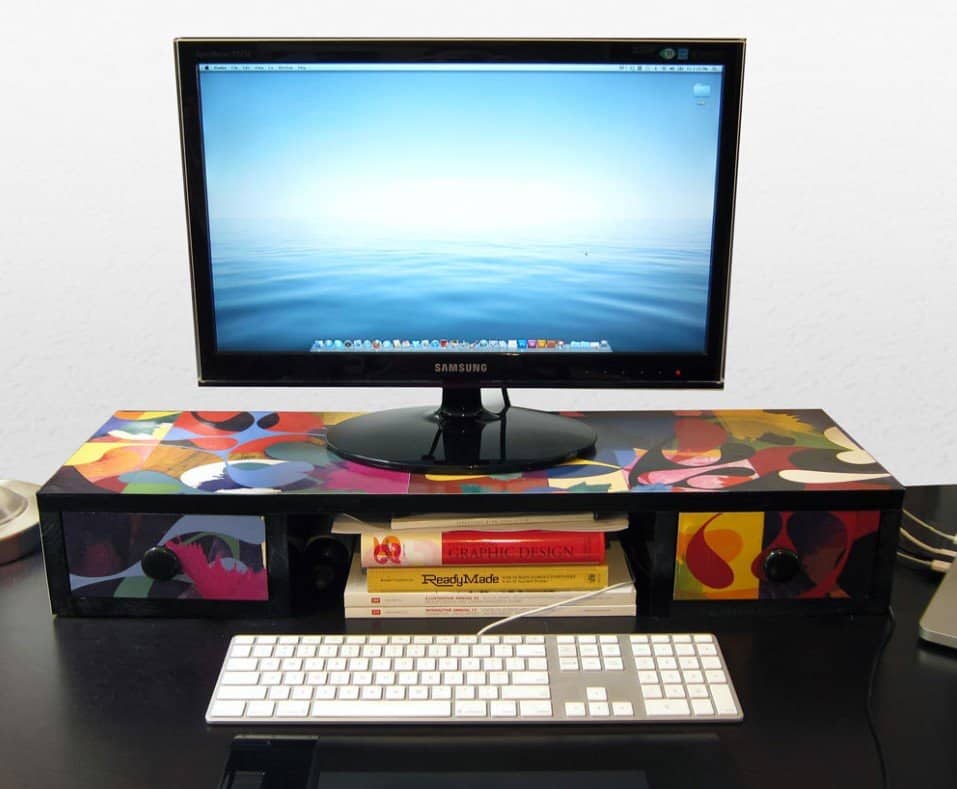 Okay, this maybe is not a DIY computer desk or a tutorial on how to build it, but it may solve your problem.
If you have ever felt that your monitor is too low, we sometimes hack it by propping it with books, wood boards, or cardboards.
Well, say goodbye to those old things.
Natalie Walsh, a designer on Instructables shared her DIY project; a desk shelf for a PC monitor.
The idea is to elevate the height of the monitor so it can be more eye-friendly. You can follow her steps below:
View Plan