Don Pedro Brooklyn is reader-supported. When you buy through links on our site, we may earn an affiliate commission. Learn More
26 Creative DIY Speaker Stand Ideas (Easy to Make)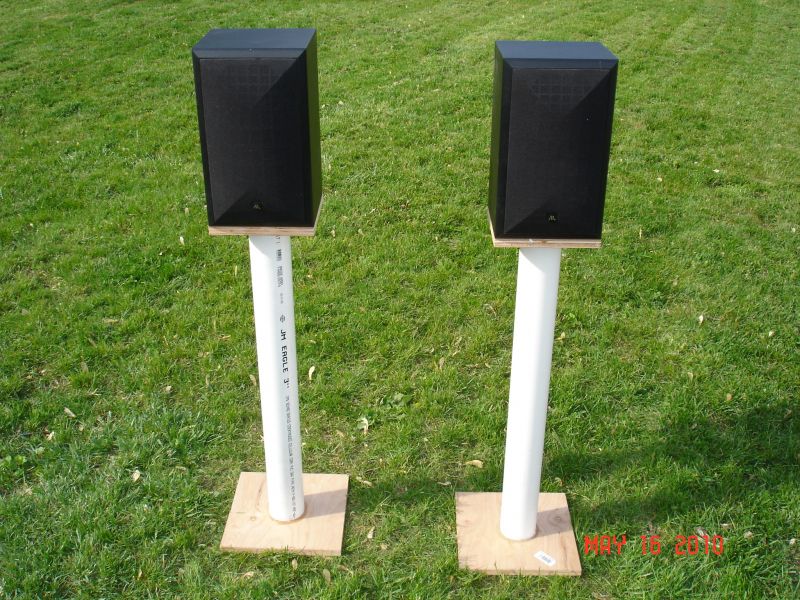 It has been known that lifting speakers off the ground will increase the sound's quality, especially when they're mounted on something that prevents vibration.
Another scientific research shows that speakers must be on the same level as the listeners' ears to improve the sound quality.
That's why having a speaker stand is beneficial here.
Instead of buying a speaker stand from a store, you can build one by yourself. We've listed over 20 creative DIY speaker stand ideas that will inspire you.
Other than that, these ideas will help you save some money, too! You're curious, aren't you? Here are they!
Wooden Twin Speaker Stand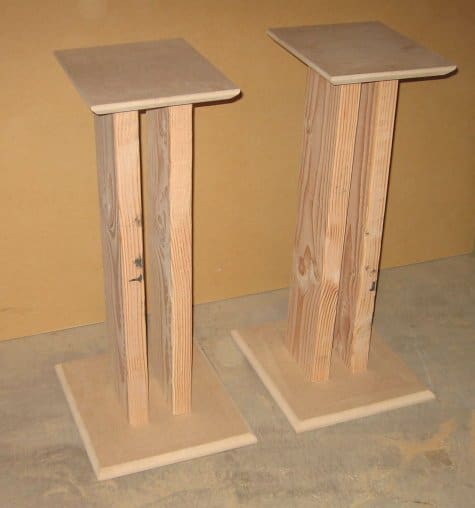 If you have a stereo speaker, you might want to make a separate stand for each of them. If so, this DIY wooden speaker stand could be the answer.
This is a simple idea of a twin speaker. This is best used for a stereo speaker that requires a pair of stands. This DIY speaker stand is completely made of wood.
If you're interested, here are the steps:
Two straight woods with the same height and width,
Two wooden boards for the base of each straight wood,
Two wooden boards for the stakes,
Join and glue them to make a form like what's shown in the picture below.
After that, join the base and the stakes using small nails.
This is the sketch,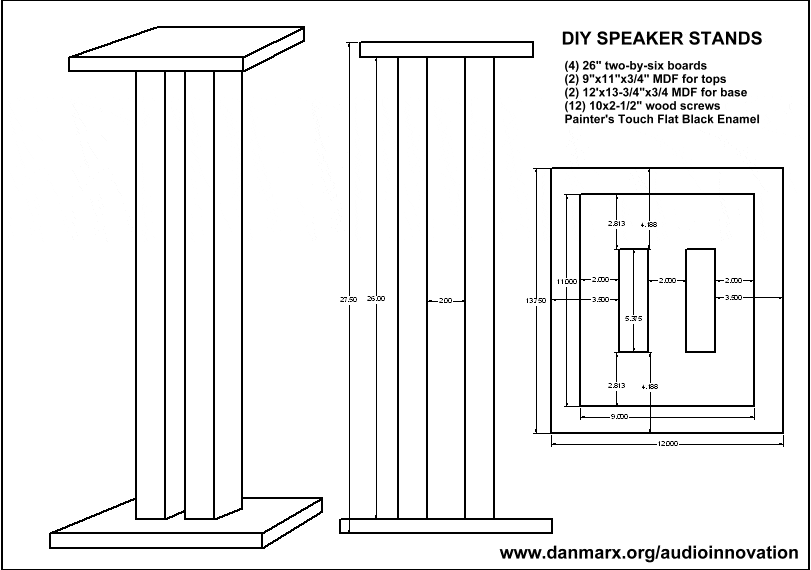 Multifunctional Speaker Stand for Desktop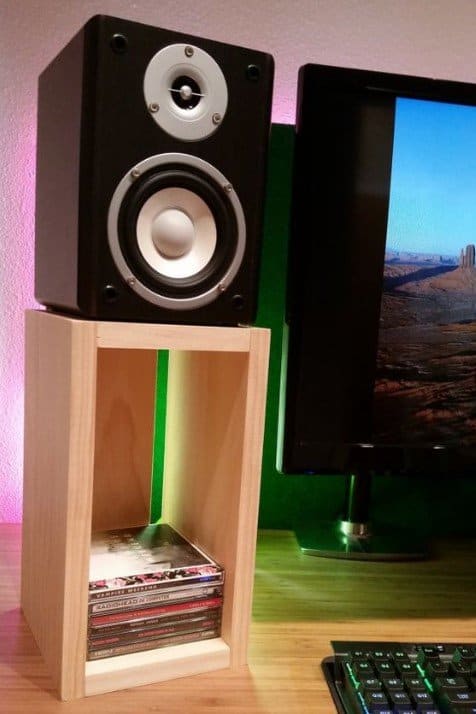 If you don't believe it, you have to try it, too. The height difference will affect the sound quality. How do you know the perfect height for listening, though?
Well, you can try holding it to a level you feel comfortable listening to (you can ask for someone's help). Then, make this modern multifunctional DIY speaker stand.
It's made of three wooden slabs with two wooden boards to cover the top and bottom parts. One side is left open on purpose.
Easy-peasy-lemon-squeezy, you only need specific glue made for woods to join them together like the picture shows above.
Besides, you can either cover it with new paint or let it be.
DIY Small PVC Speaker Stand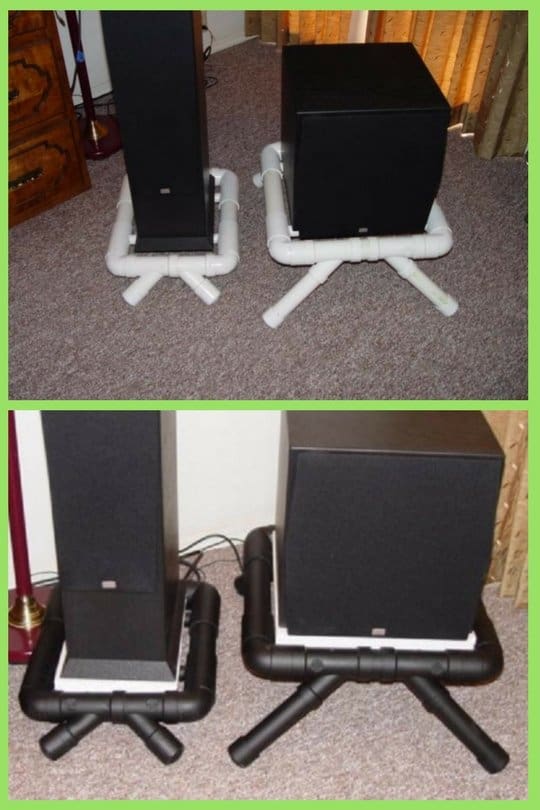 Looking for a cheaper alternative to a homemade speaker stand?
PVC may be the best answer. This example of a creative PVC speaker stand will inspire you.
You can buy either ABS pipes or PVC pipes, which basically serve the same function.
Later, the pipes have to be trimmed according to adjusted size.
The smaller the dimension, the more it becomes unstable while holding the speakers, so you have to be careful with the measurement.
Small Cinderblocks Speaker Stand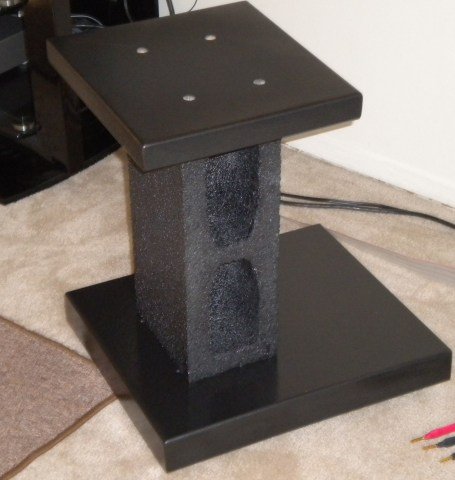 There are a thousand ways to be creative and different. This example uses a cinder block and two wooden boards for each end that have been painted in black.
How to join the board with the block?
Wood glue won't work, so you need to use nails, which can be seen are hammered into the board to the block.
Actually, the number of cinder blocks used depends on how tall you want this DIY speaker to stand.
Metal Pipe Stand for Heavy Speaker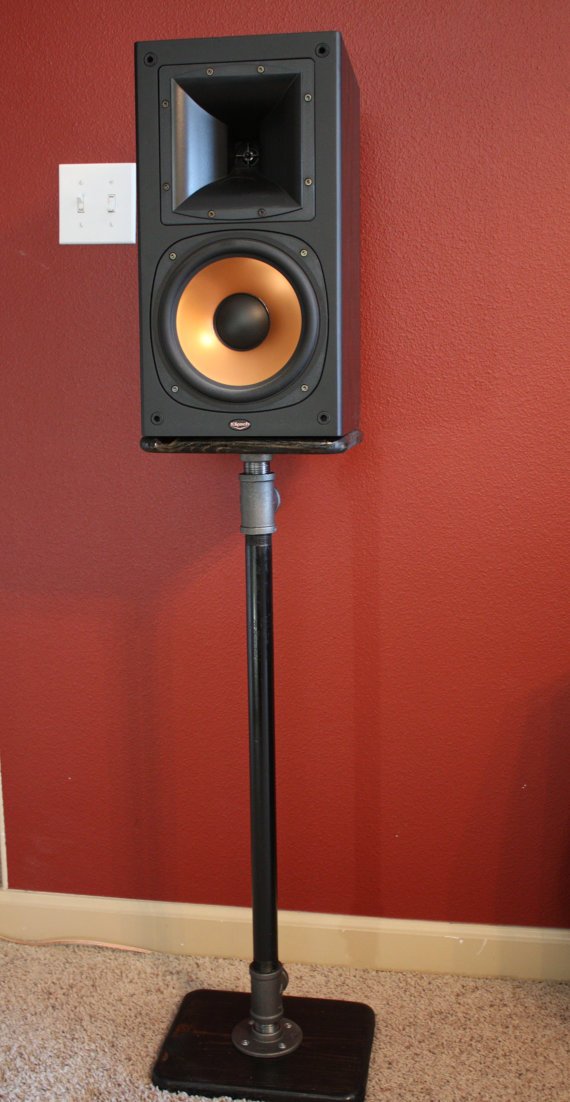 PVC or ABS pipes are a great alternative for DIY speaker stands. However, it can't hold a heavy speaker.
For holding a heavier speaker, you need a more solid material.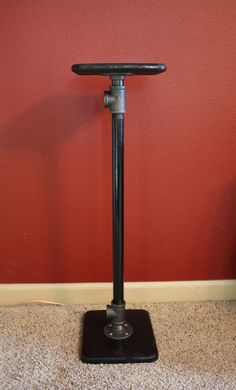 What's that? Well, as you see, a metal pipe is a great answer. People use metal pipes as a stand also intend to make way for electrical wires.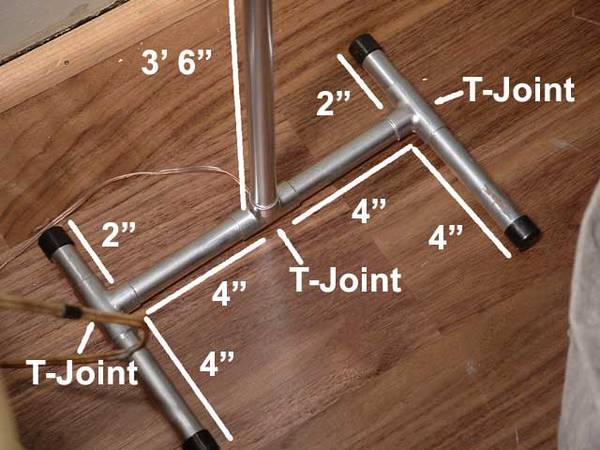 A heavy speaker needs a sturdy stand. The framework for this metal pipe speaker stand is called T-joint because the shape resembles the letter T. Moreover, you can see the length and width of the joint.
Industrial Pipes Speaker Stand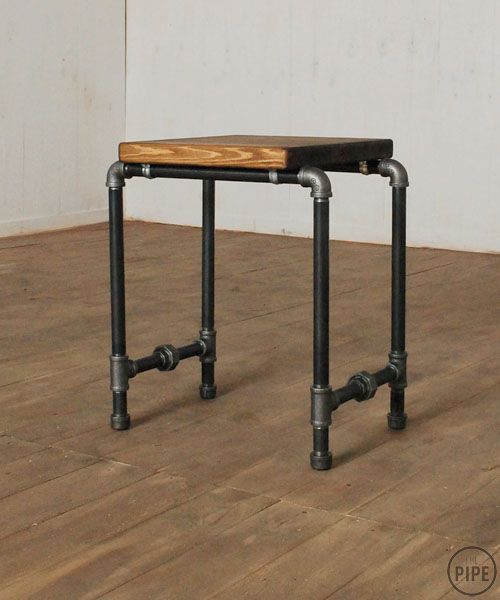 The good thing about a DIY project is the opportunity to match the speaker stand with the space.
This room seems to apply a simple, industrial theme. That's why the speaker stand also applies a similar style.
The stand is made of black metal pipes with silver rings, while the seat is designed from wood with a dark color. The height of this DIY speaker stand can be adjusted based on your need.
DIY Speaker Stand from Wooden Crates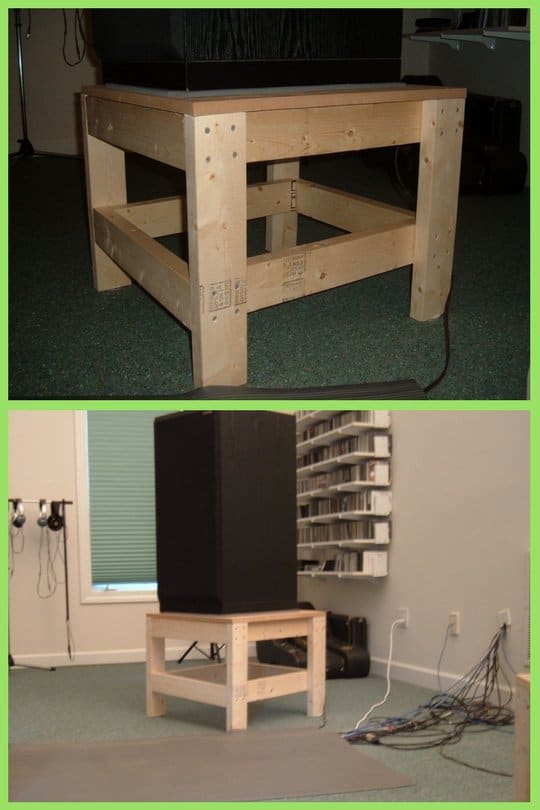 None of us ask for a complicated DIY process, right?
This one is an example of a speaker stand that's made of wooden crates. For a bigger speaker, you may need a short stand.
If that's so, a crate will do!
This example shows a natural wooden crate used as a speaker stand. If you're looking for something more unique, you can repaint it as you like.
For example, matching with dominant color used inside the room. Make sure the stand is placed near circuits.
DIY Speaker Stand for Surround Sound Speakers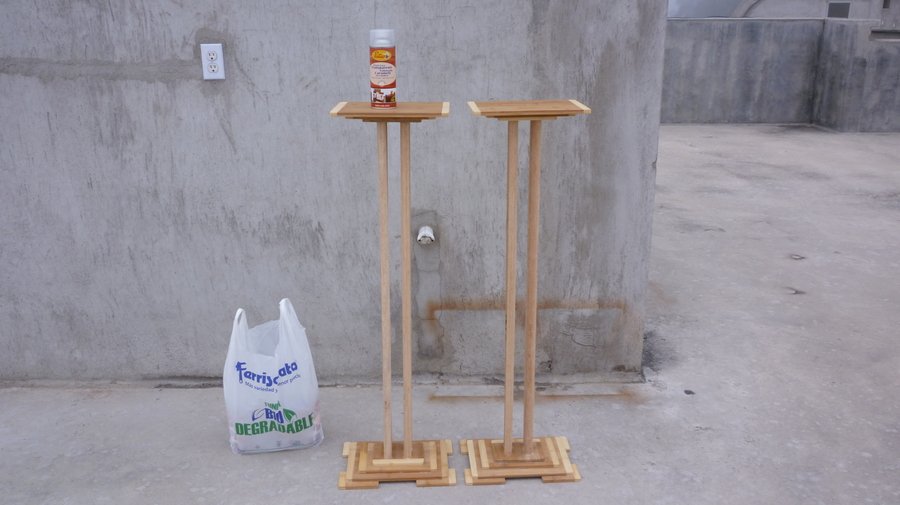 To create a stand for surround sound speakers, you need some straightened woods and some wooden boards.
Those are the basic materials. The complementary stuff includes wood glue, nails, and other necessary tools. Basically, the boards go on the top and the bottom parts.
Don't forget that you need to know the speakers' measurements to determine these stands' width and length.
DIY Hanging Speaker Racks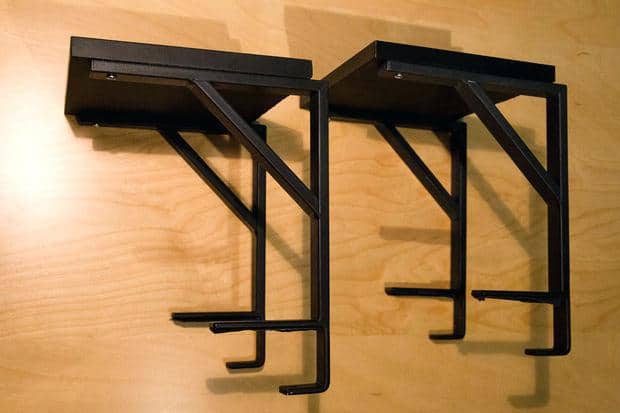 Placing speaker stands on the floor will, undoubtedly, take some space. If it's a small room, it'll become a problem. To solve the issue, you can choose to hang the speakers instead.
How to do it? Well, it's easy. This example shows you a DIY speaker rack.
If you're handy with welding metal pieces, this surely is an easy project. The frame and the stand are united by joining them together using screws.
Metal Pipes Desktop Speaker Stand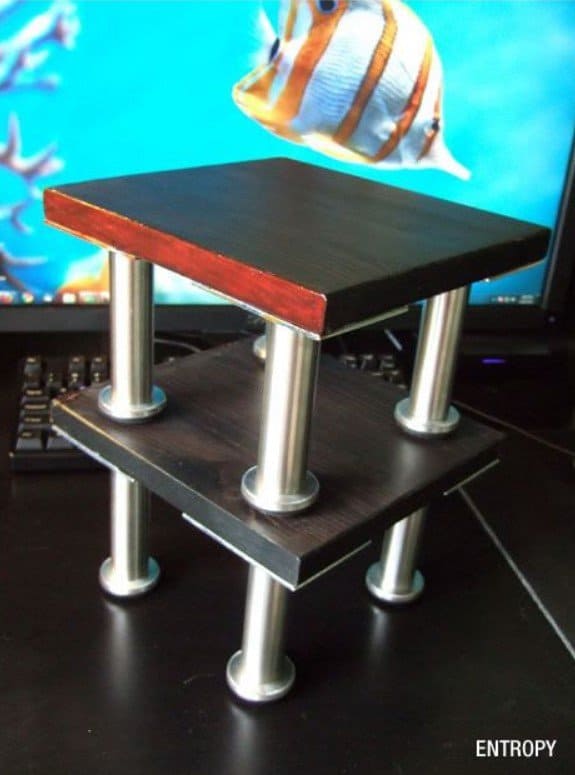 Speakers must accompany a computer to enhance sound quality.
Sometimes, the speakers have to be put on a certain level to make the sound quality better. This idea shows you how to build a DIY speaker stand made from metal pipes.
Clearly, you need at least four metal pipes and one wooden board to create one desktop speaker stand. The metal pipes go under the board like so.
They are connected tightly with screws. To reduce the slipperiness, you can add coatings under the pipes.
Small PVC Dual Speaker Stand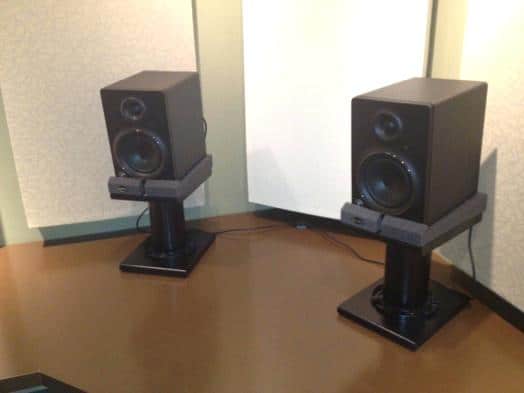 PVC is a great alternative to those who want simple and affordable material, yet long-lasting.
Before making the PVC stand, scale the design by correctly measuring the speakers' width and length, so the PVC will absolutely meet your needs.
A speaker stand's design, which is made from PVC pipes, is simple. You can either go with a PVC tube between two wooden boards or a PVC tube between two pieces of metal boards.
Custom DIY PVC Tube Speaker Stand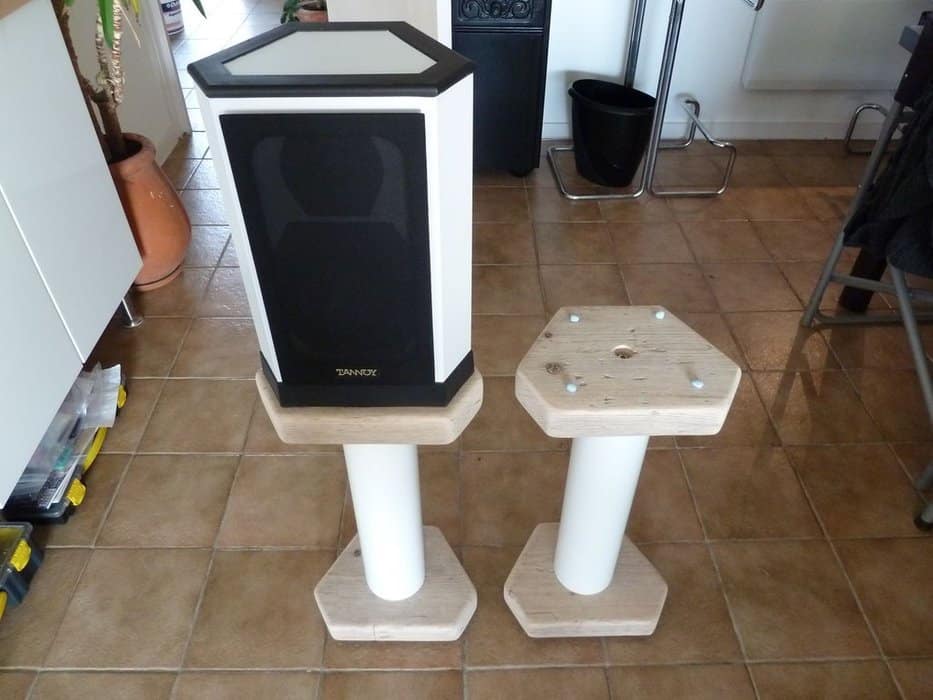 Do you have a home studio?
Well, if you don't want to pay retail for some speaker stands you need, you can surf the internet and find some steps to build DIY speaker stands.
One of the most popular material is the PVC tube. The diameter of the tube can be adjusted to your needs.
Firstly, the tube is filled with sand to make it stronger.
Then, it's positioned between the two pieces of wood that have been scaled and designed. Remember that the stands must be sturdy to hold the weight of the speakers.
Small PVC Stand for Heavy Speakers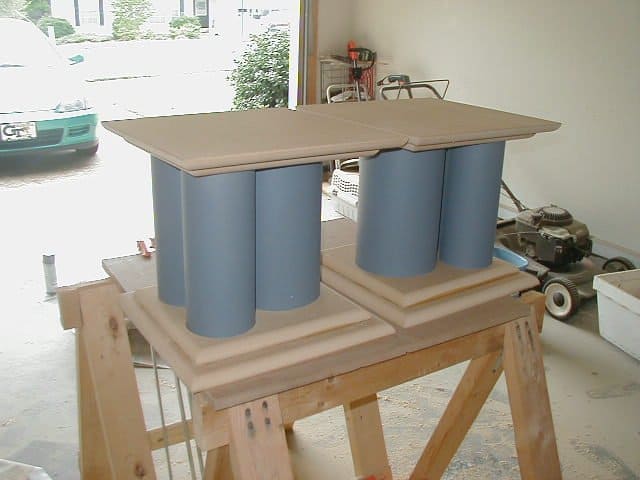 Heavy speakers require sturdy stands. Even though PVC is quite an affordable piece of material, it provides the strength you need.
Only perhaps you need three pieces of PVC tubes for each stand.
As you see, you'll need; 6 PVC tubes and 8 Wooden boards because you want to create layers on each end of the stand.
Slender PVC Speaker Stand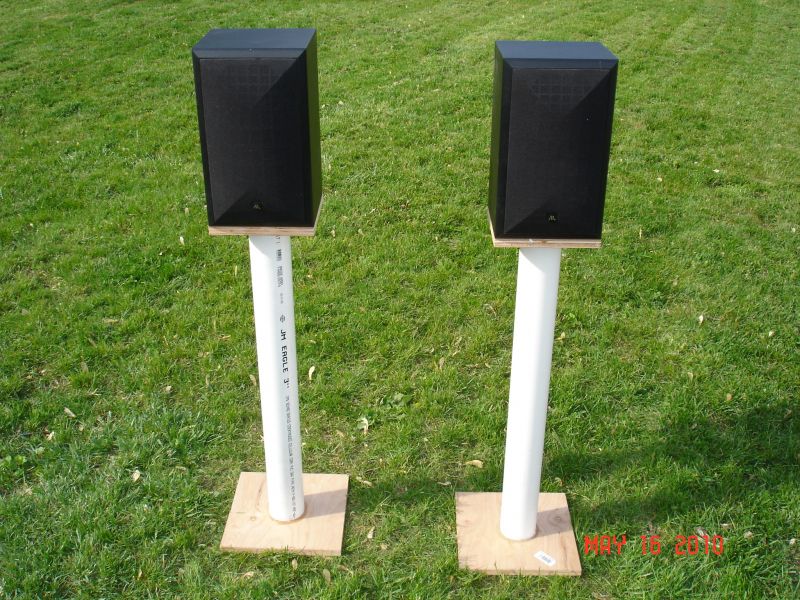 This one is rather slimmer than previous PVC speaker designs. The tube is tall and slender, appropriate for the medium speakers. In this DIY model, you only need 4 wooden boards and 2 PVC tubes.
Combined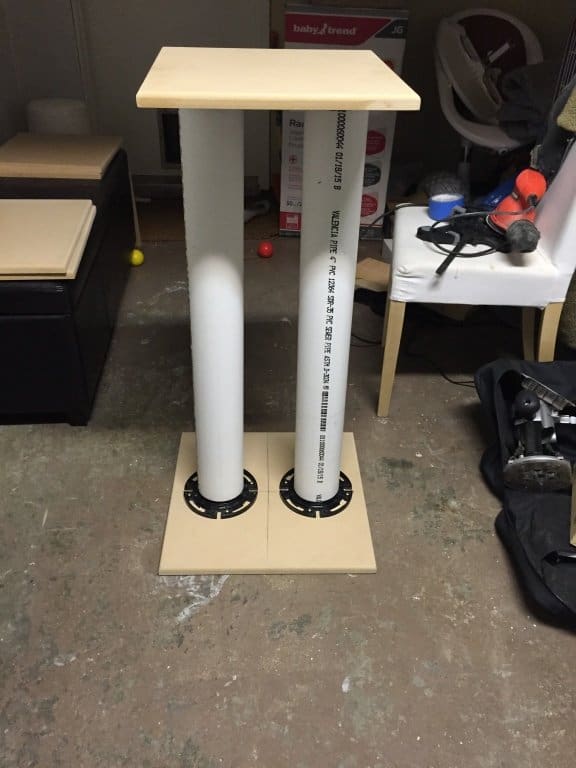 If the speaker is too heavy or if you want to save some space, you can combine one stand with the other like so.
Basically, you join the boards together, but the PVC tubes aren't touching one another, leaving a considerable gap in between.
Colored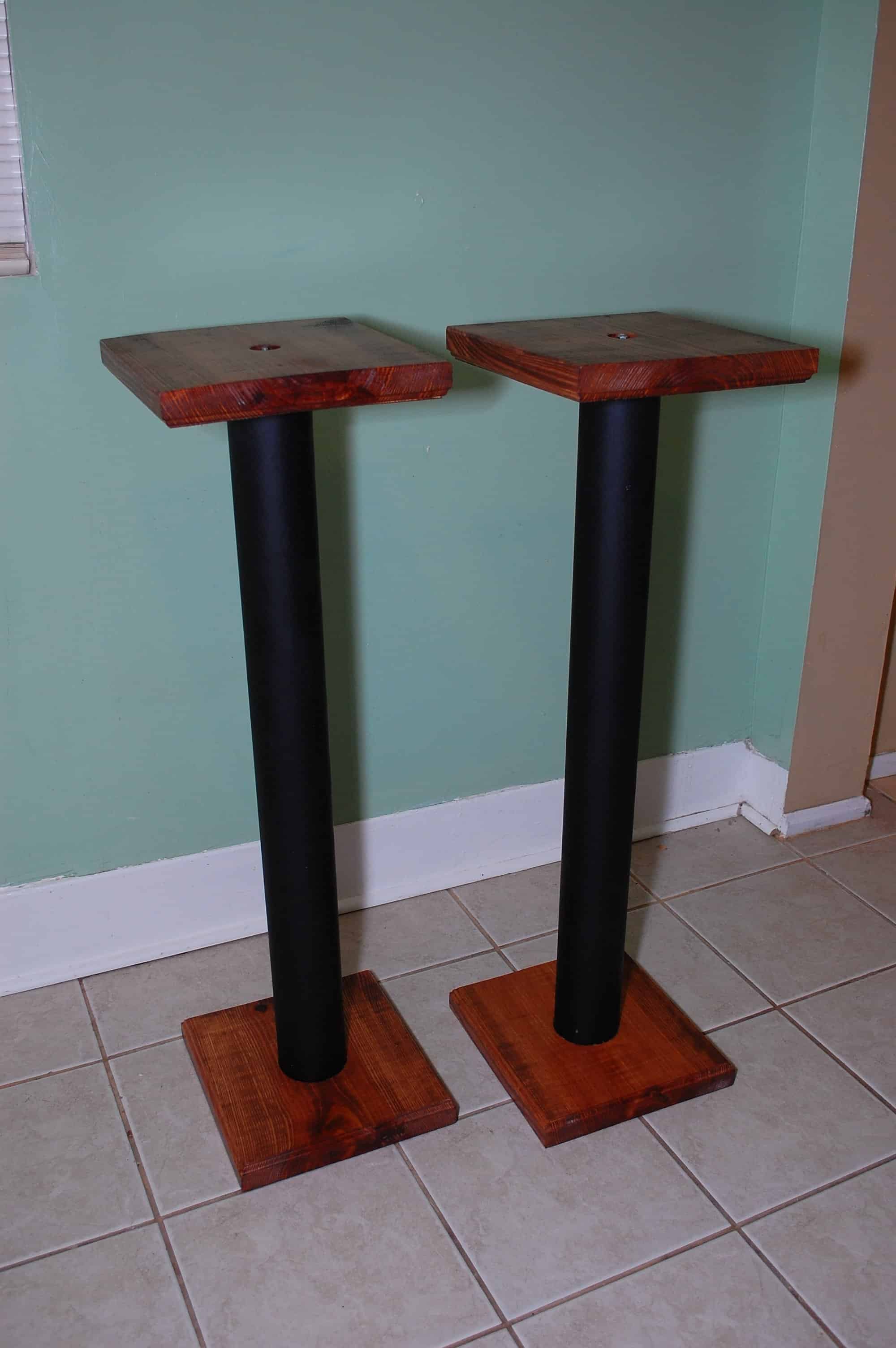 To make the stands look more appealing, paint them with your preferred colors. In this model, the boards are made darker and slicker, while the tubes are painted black.
IKEA Concrete Speaker Stands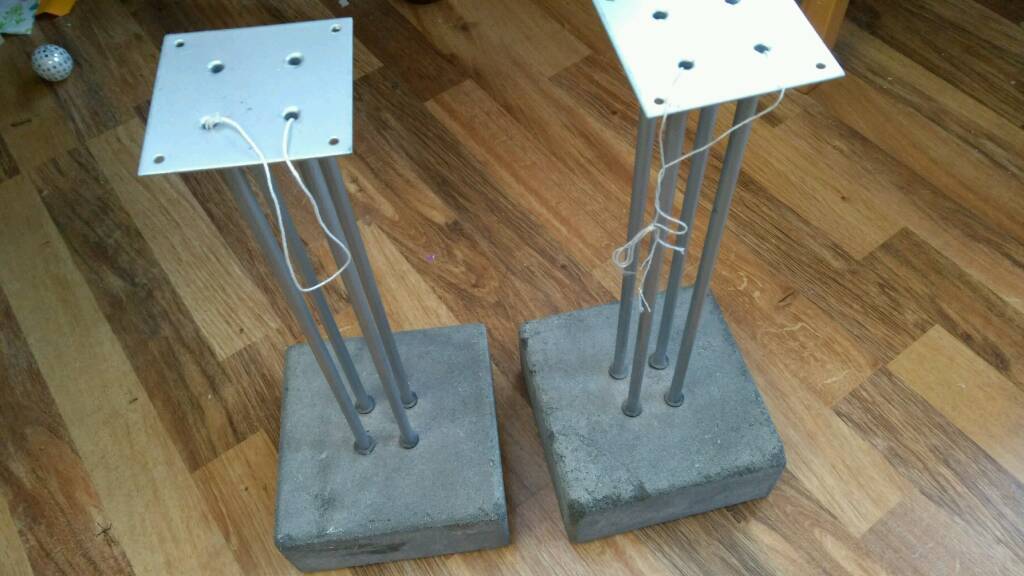 Another alternative to wooden boards is concrete. It offers a sturdier base, too.
First, determine the scale of the bases.
Then, make a wood frame to mold the concrete.
After that, stab the required metal pipes into the mold.
Once it's dried, take off the wood frame and establish the wires in the pipes.
Tiny Wire Speaker Stand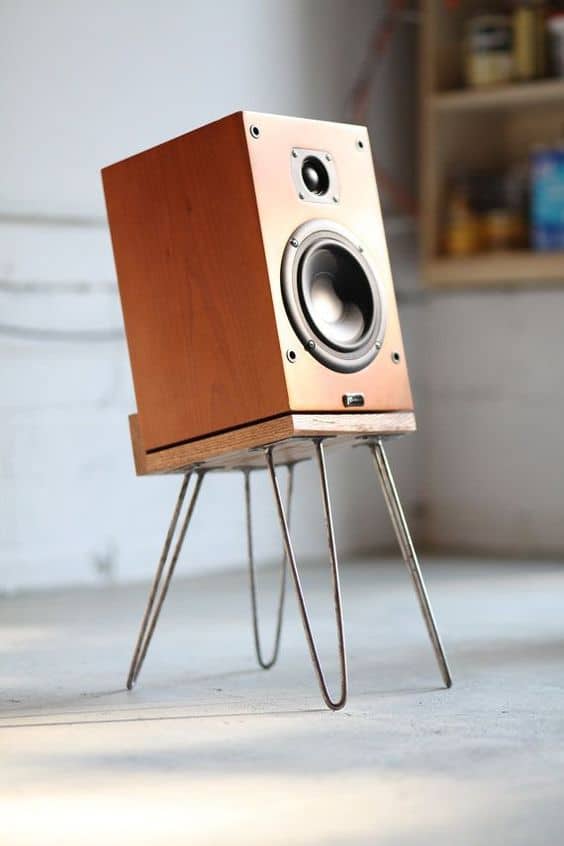 When buying a speaker stand, you need to consider the speaker's size and the room, too.
If it's small and the room is also limited, this adorable tiny speaker stand may be the answer.
It's made of bent wire, which is attached to a piece of thick board. This simple speaker stand makes a valuable desk decoration.
DIY Pipe Speaker Stand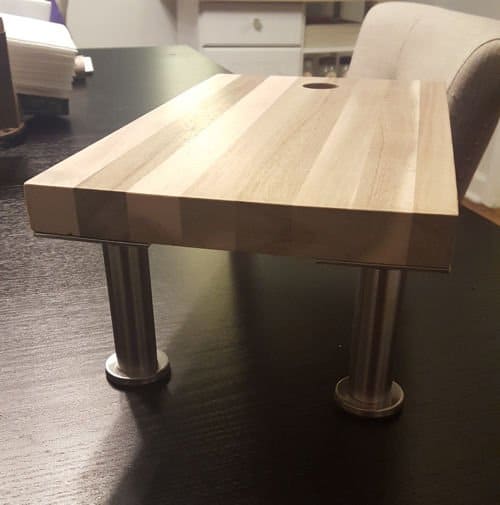 You must notify the sleek square wood piece. It's connected to metal pipes, one at each angle. The bottom part of each pipe is installed with a trim cap.
To prevent slipperiness, a rubber foot should also be installed under the cap. A hole has been drilled on the left side, or any side you need, for the speaker wire, so the wire can run through the pipe.
Creative Speaker Stand from PVC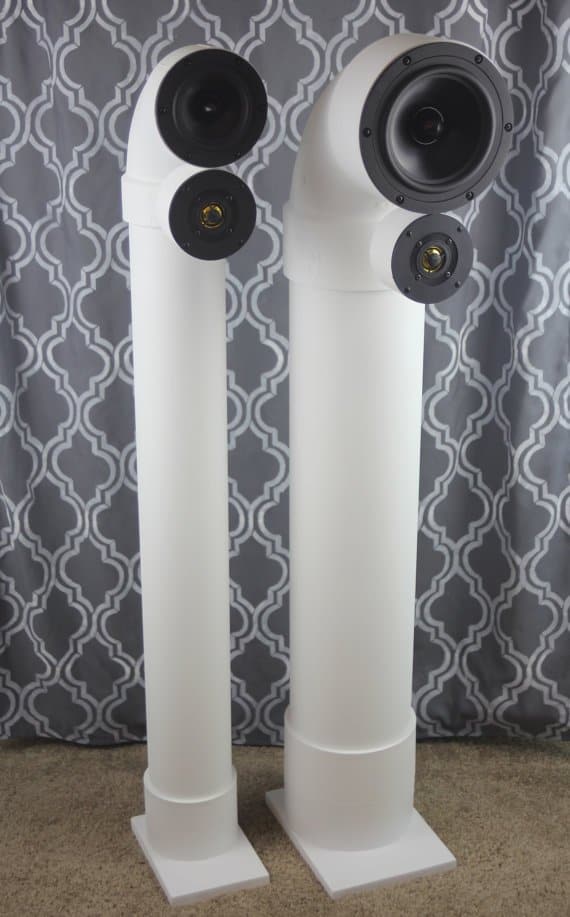 This periscope speaker stand is genuinely out of the ordinary. This is also neat because the speaker wire can be organized inside the PVC pipe.
As you may notice, the PVC pipes are in different sizes, too. Then, you'll also need to take out the inner part of the speakers and place them on the periscope's openings.
DIY Copper Pipe Single Speaker Stand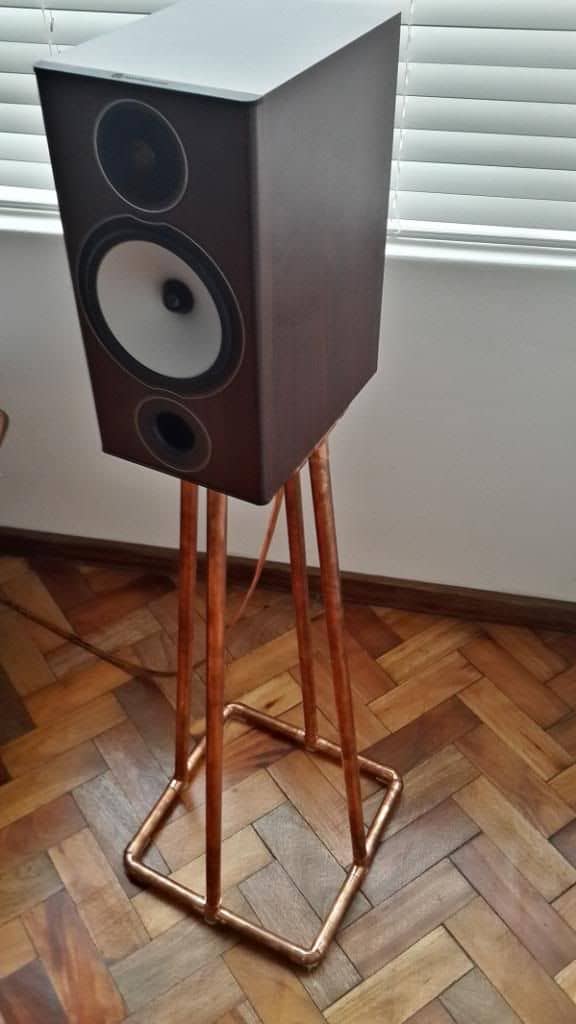 Copper pipe is commonly used in the tap water system. It's the tube that delivers the water. The reason why this one is a great DIY project is that it recycles old copper pipes.
However, this project requires welding the pipes together until it creates the frame shown in the picture.
Moreover, the speaker wire can't go through the pipe because the inside is too narrow.
Another DIY Concrete Speaker Stand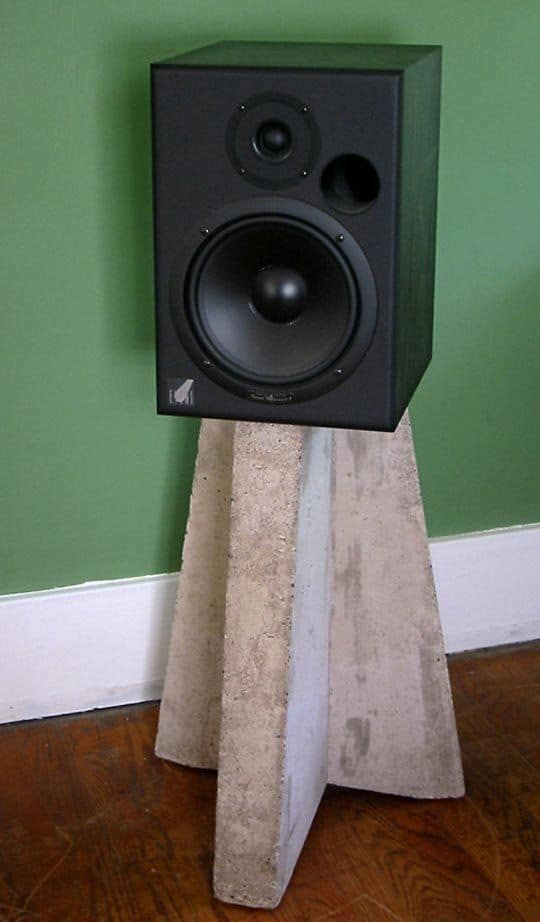 This is another example of a concrete speaker stand. Because the shape is similar to an arrowhead, you may need to mold the concrete piece by piece and join them together at the end. Make sure the speaker can stand straight on the surface.
Tall Cinder Block Speaker Stand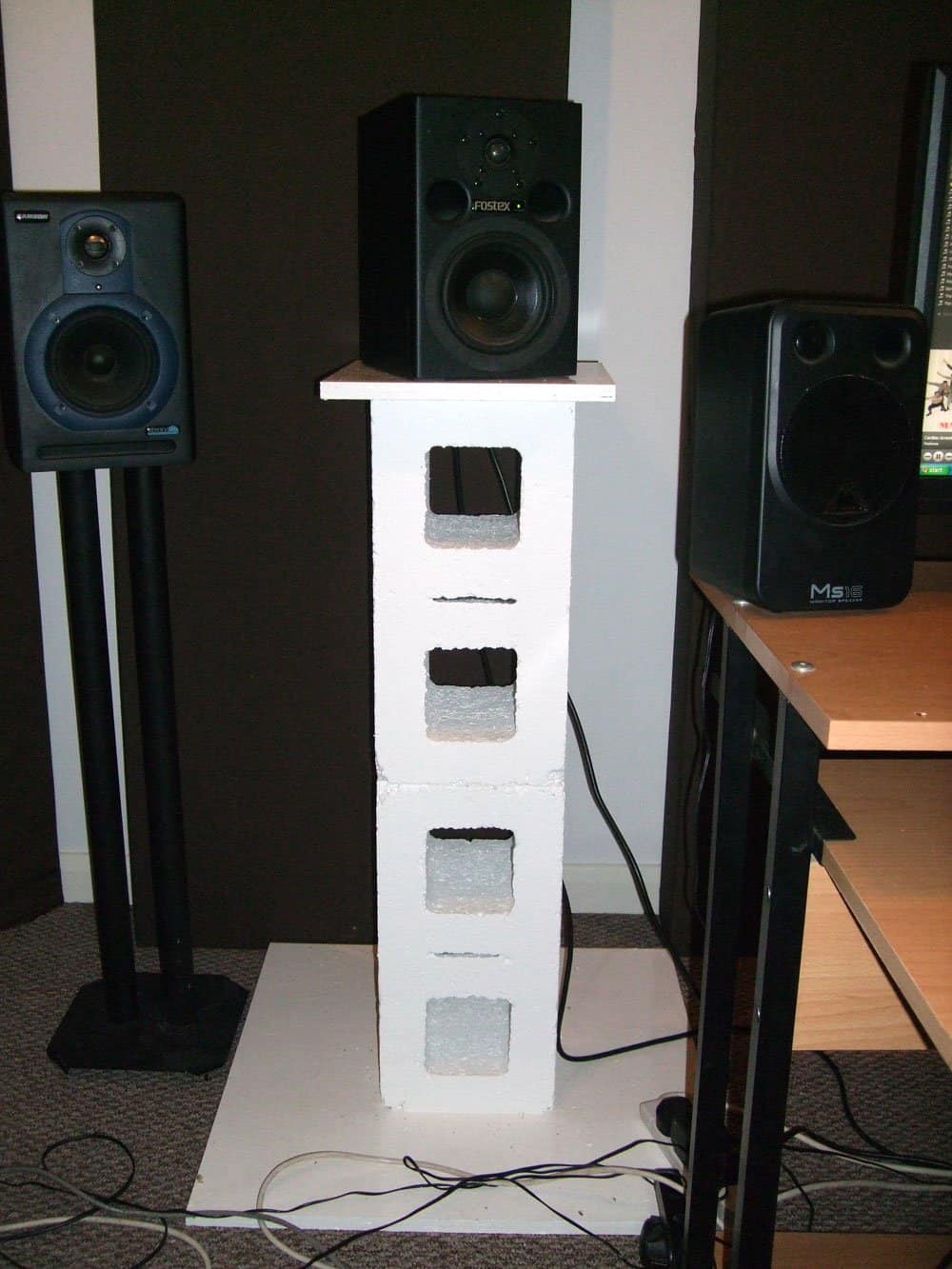 A concrete speaker stand may seem like a lot of work when the design is too complicated.
If you need a stand that's sturdy, strong, but easy, this simple cinder block DIY speaker stand is the answer.
The easy way is to stack the cinder blocks one by one. However, to make sure that they won't fall, you can apply cement mortar to both sides of the blocks.
Z-Shaped Speaker Stand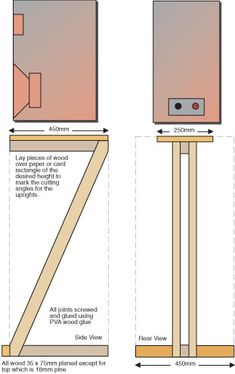 A straight speaker stand may seem too common for some people. If it's a problem, try making this unique Z-shape DIY speaker stand. The above picture shows you the correct measurement of the frame, including the top and bottom boards' width and length.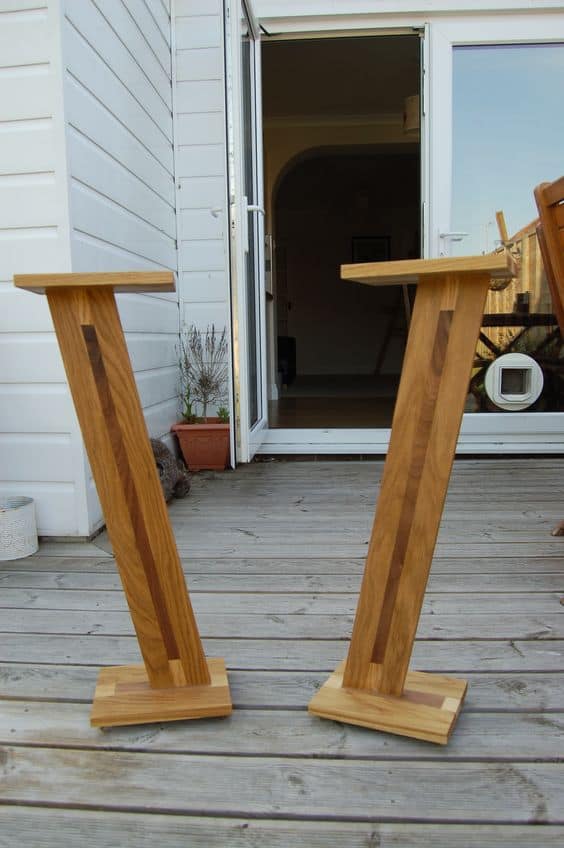 This is the result; the Z-shaped speaker stand looks modern and distinguished. You can paint the stand based on your preference. This one chooses to varnish the wood.
---
More DIY ideas you may also like:
---
Speaker Stand with Rustic Style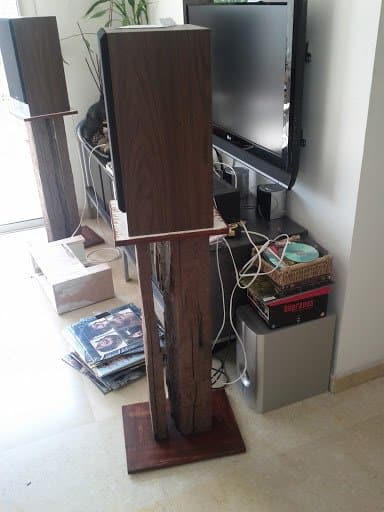 Another thing to consider while making a DIY speaker stand is whether you'd want to match it with the existing theme in your space.
For example, you're applying a rustic theme within the living room.
Then, the stands must be in the same style, right?
As you may notice, the wood is a natural trunk with an unstructured shape. Moreover, the varnish also darker, resembling the natural color of a tree.
Polished Wooden Speaker Stand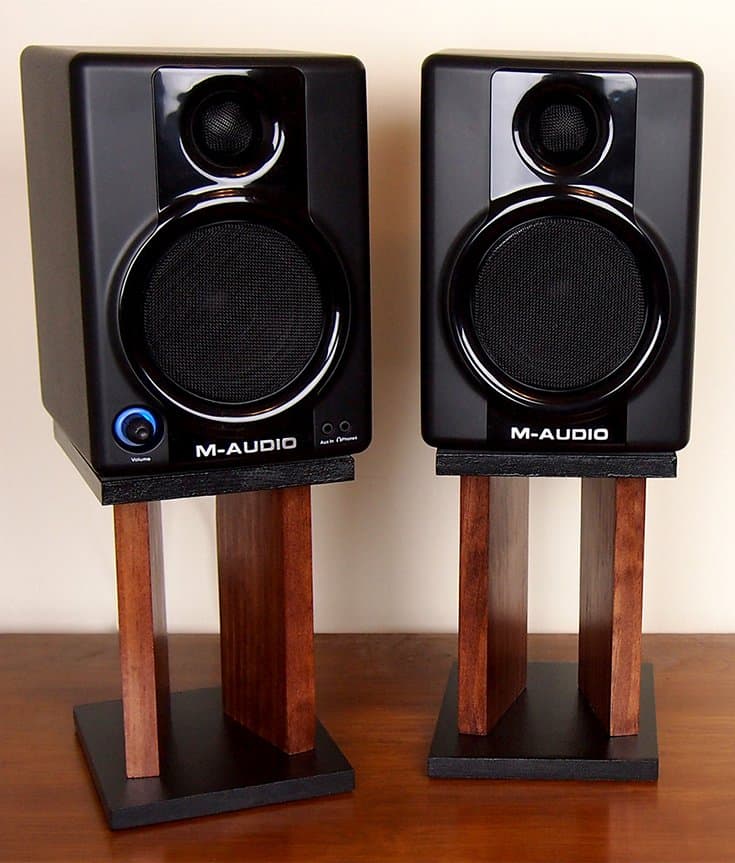 As you may notice the position of the woods, this design offers a modern touch. On each stand, two straight woods are making a V shape.
This distinguishing feature makes it different than the old style, stiff design.
Moreover, the woods are all varnished nicely. Also, the contrast between the natural, dark straight woods and blackboards is brilliant.
DIY Speaker Stand with Rack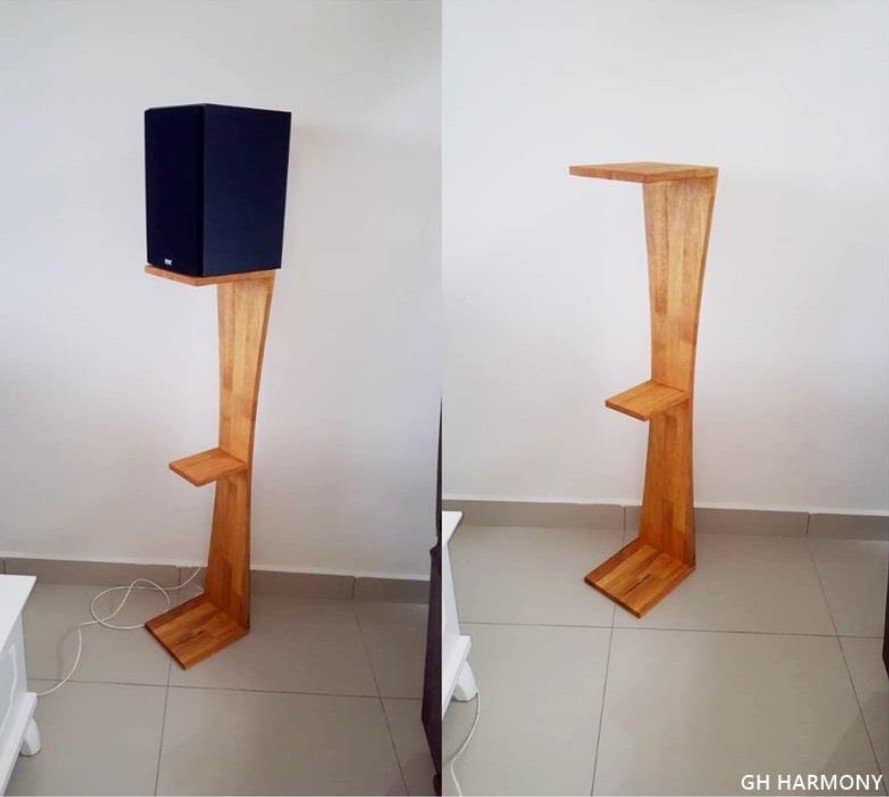 These days, people are looking for multifunctional furniture. It saves money and space.
This is one of the examples. This speaker stand serves two functions, a speaker stand and a rack.
You can place two or three speakers on this stand. If not, the rack can be used for something else.
To make it nicer, varnish the wood like the example above. Ensure that it stands near the wall or any stable furniture to give it the strength to stand up properly.
DIY Square Box Speaker Stand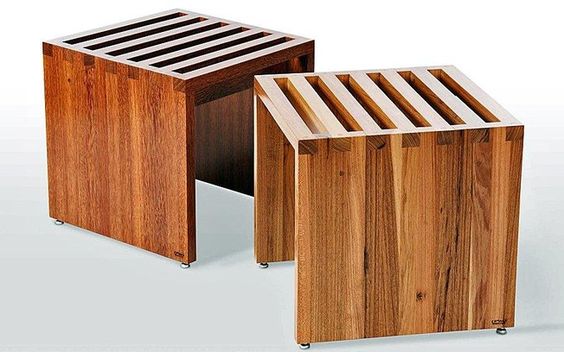 This DIY speaker stand requires you to cut several pieces of wood board and stab.
Since each stand needs two boards, you'll have to cut the upper part, creating seven holes for the stabs to chime in.
At the bottom, each corner is installed with a metal trip cap. As the end process, don't forget to varnish them to look slicker.