Don Pedro Brooklyn is reader-supported. When you buy through links on our site, we may earn an affiliate commission. Learn More
DIY Corner Shelf Ideas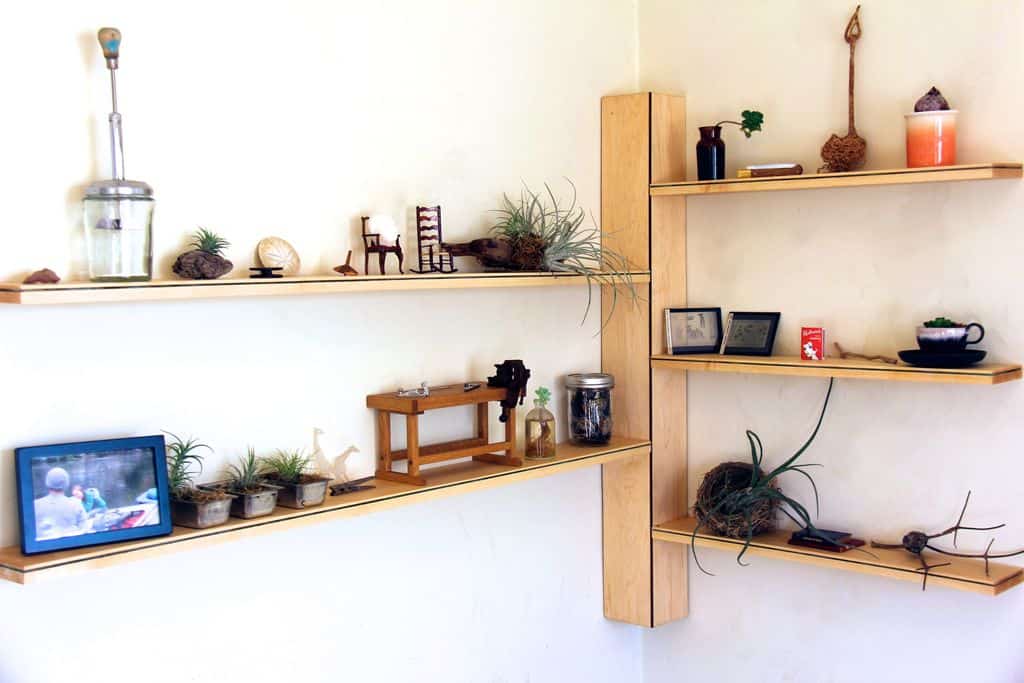 Do you have extra stuff lying around that you just do not know where to put it?
Good news! In this article, you will find nineteen ideas, some with detailed instructions, for how to optimize the corners of your house to store all those items.
None of them take to much work, so with a simple run to your nearest hardware store, you can get started building these corner shelves today!
DIY Rope Corner Shelf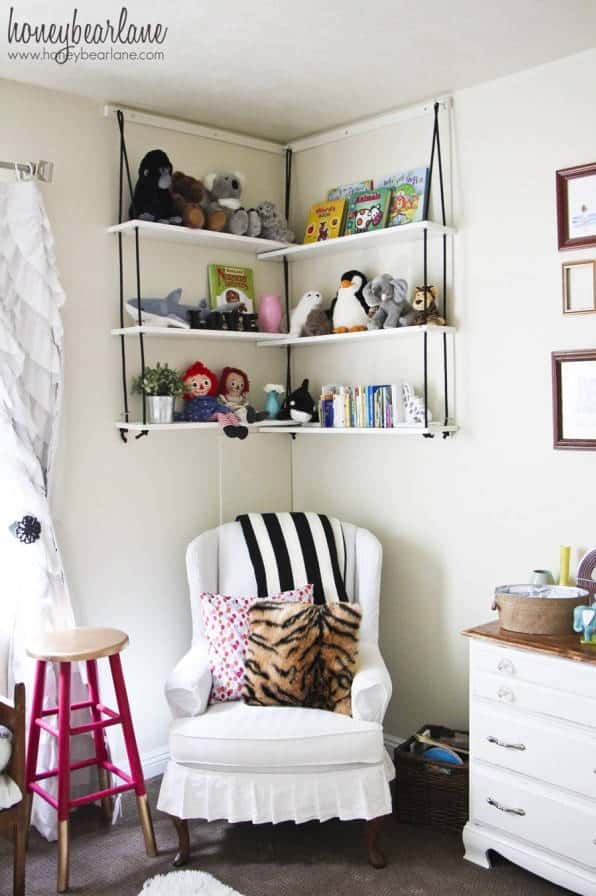 These hanging shelves add a dimension of fun to any room you put them in, making them perfect for any child's bedroom or playroom, but they can also work great if you want to add a spark of your inner child anywhere in your house.
These neat shelves are perfect for holding any miscellaneous items and nick-nacks that are currently taking up space in the back of your closet.
To get started, all you needed to do is head over to the hardware store, buy the supplies you need (list in the plan linked below), and then you can get started.
It is a simple process of prepping the boards, drilling holes, and threading rope through before attaching it to your ceiling. An easy process for a great shelf!
See detailed instructions with the link below.
DIY Zig-zag Corner Shelf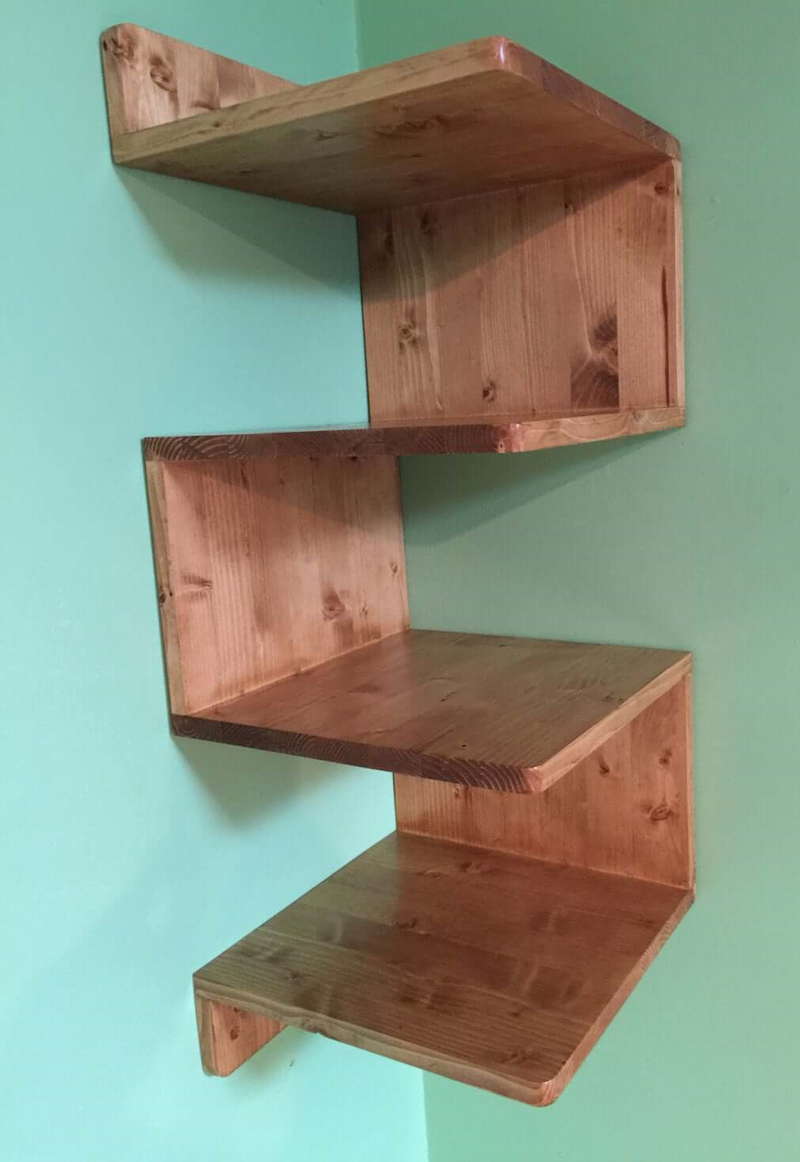 This zig-zag shelf will add a great architectural feature to any modern house.
The seamless design is unique and eye-catching, great for storing books, displaying pictures, or presenting your beautiful collection of memorabilia from whatever era.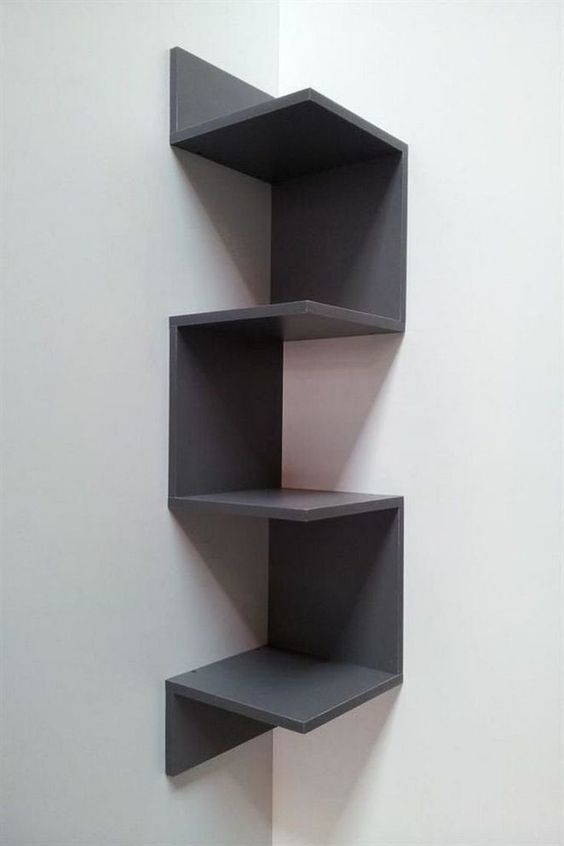 This shelf takes some skill to do the cuts, you need access to a miter saw, but once you have cut all the boards, it is a simple task of gluing them together with strong wood glue, painting or staining it how you want and then drilling it into the wall.
DIY Minimalist Corner Shelves
These floating shelves are an elegant way to display all your favorite art pieces, plants, and books.
They can work well in an office to store your papers, office supplies, and devices. They can work well in your bedroom to display all your personal nicknacks in an organized and visually attractive way.
Whatever your need is, I am sure you can adapt these shelves to fit it.
For a detailed step by step instructions and a list of the tools and materials you need, click the link below and get started today!
Stacked Corner Shelves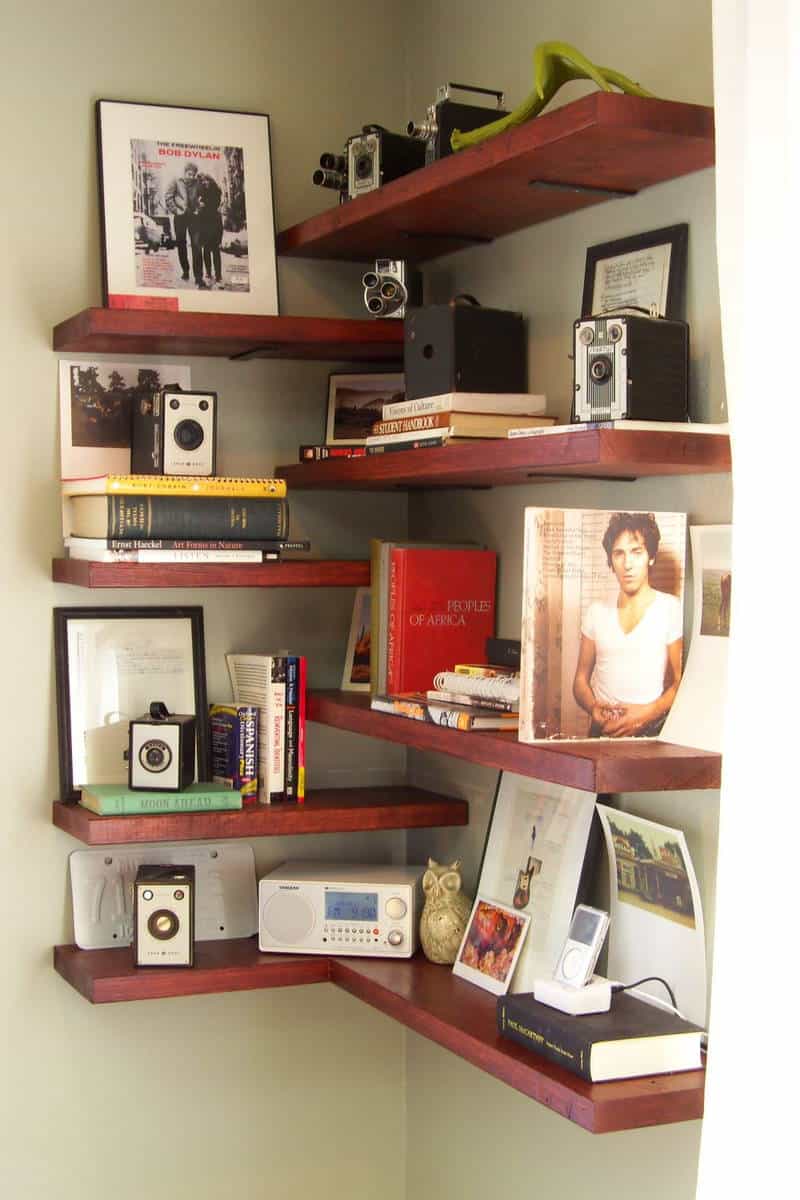 These shelves are a lot like the floating shelves in the previous option, except this one has an alternating, stacked effect that adds interest and artistic elegance that the other does not have.
These stacked, floating shelves are perfect for displaying your books, antiques, art, and more. If you have the right tools and supplies, you can put them together this weekend.
For a detailed step-by-step guide, click the link below.
L-Shaped DIY Corner Shelf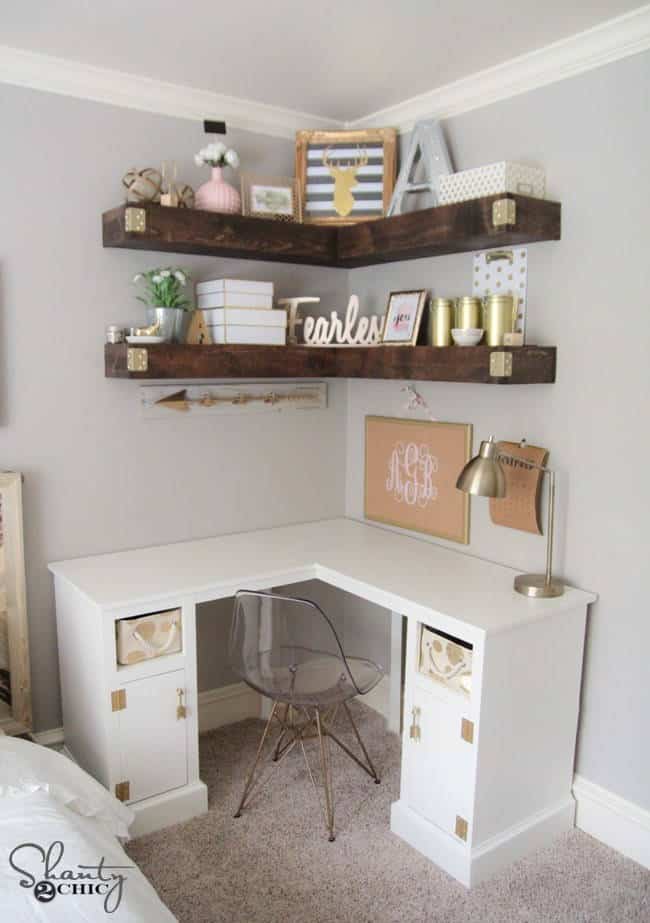 These beautiful shelves are hefty then some of the other options and therefore can hold more and heavier items than some other others.
Though they work great for decoration, these shelves are a great storage option for all sorts of things: keepsakes, books, bins of off-season clothing, accessories, and art pieces.
For great and detailed instructions, click the link below, and you will have yourself some beautiful L-shaped corner shelves in no time!
DIY Metal Pipe Corner Shelf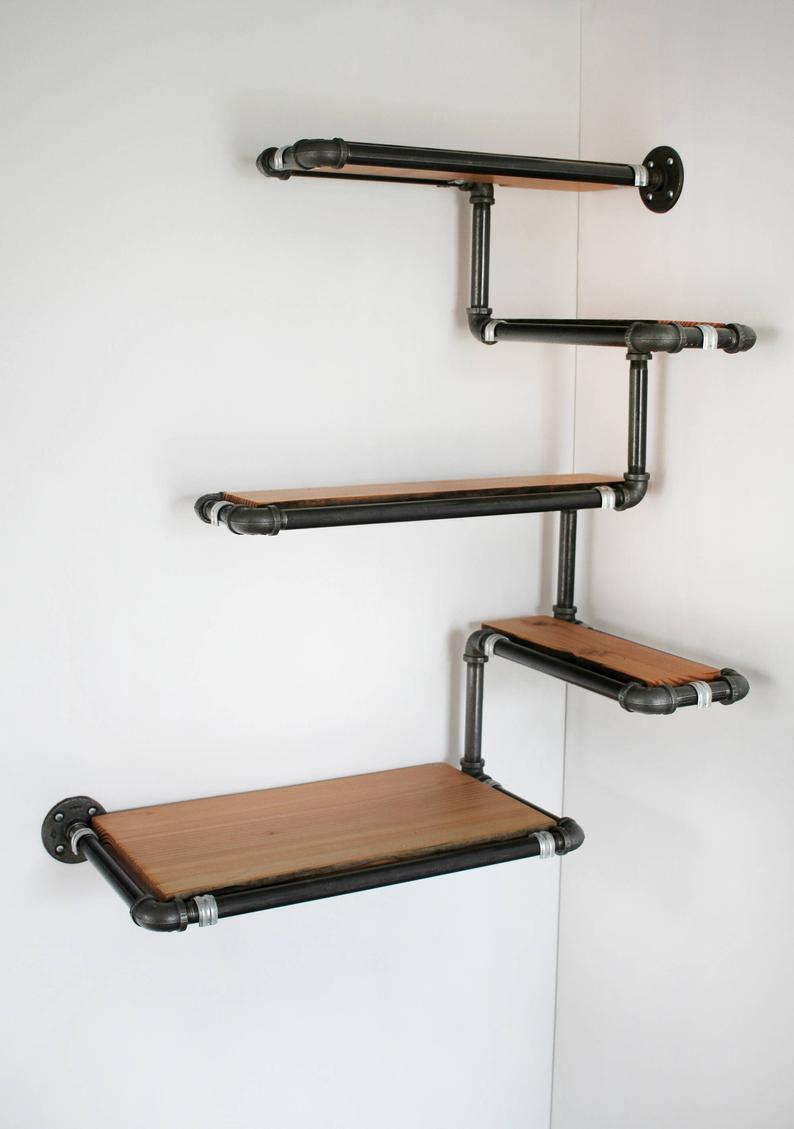 If you are looking for a more industrial looking shelf, these metal pipe, corner shelves are a great option for you.
Simple to piece together and a great display shelf. With the pipes, woods, some attachment hooks, and a drill to attach it to the wall, you will have this great shelf in no time.
DIY Corner Shelf on A Budget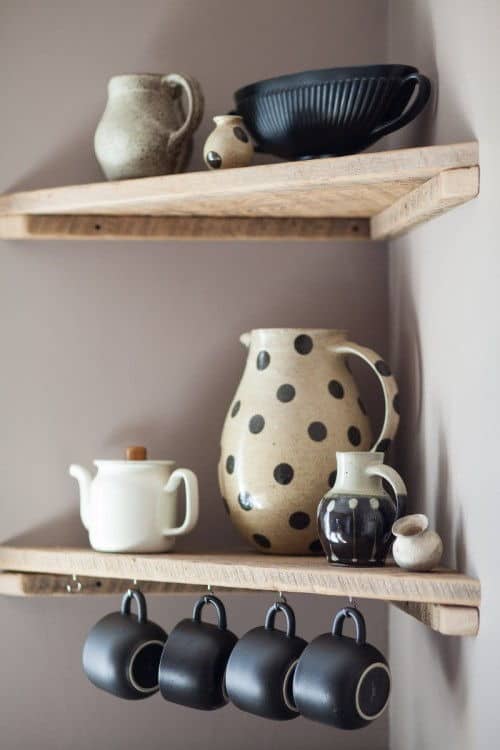 Some of the other shelves in this list can get rather pricey, despite being do-it-yourself, but not this one.
These shelves work great in a kitchen to display dishes, an office to display supplies and books, or a living room to display antiques and nicknacks.
Below is a great step-by-step instruction for how to build these beautiful yet affordable shelves.
Fill The Space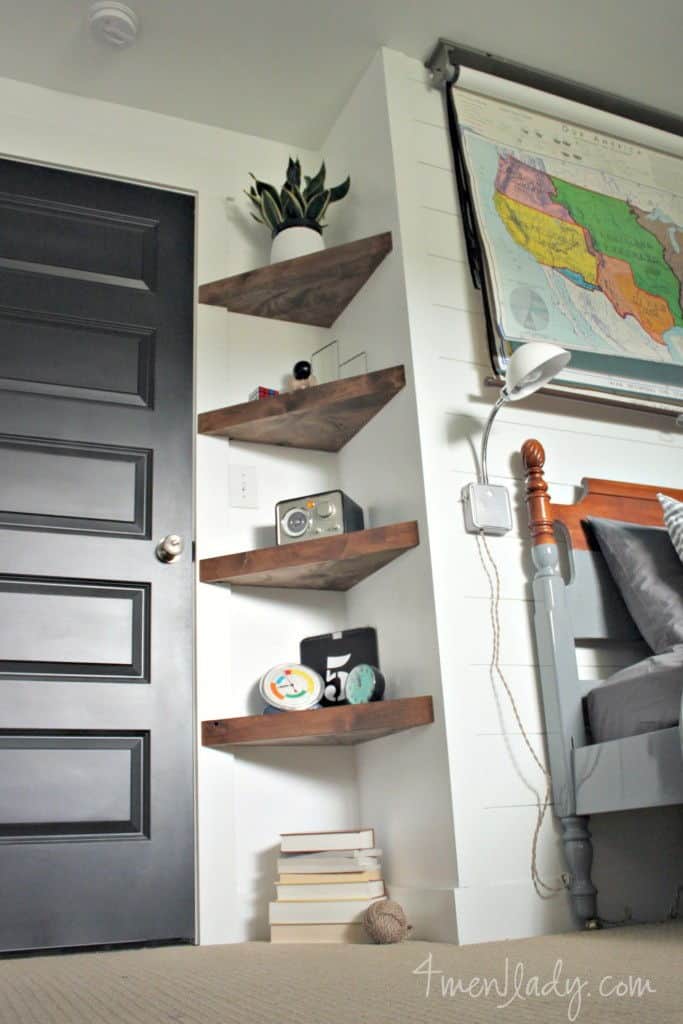 Do you have a weird corner in your house that you have no clue what to do with?
Perhaps a place where the door is sunk in creating an extra wall and an extra corner that you just do not know why the builder put there in the first place.
Well, these shelves are a great way to utilize that space for storage. The link below will guide you to a step-by-step instruction and you will have a use for that weird, no good space before you know it!
DIY Shabby Chic Corner Shelves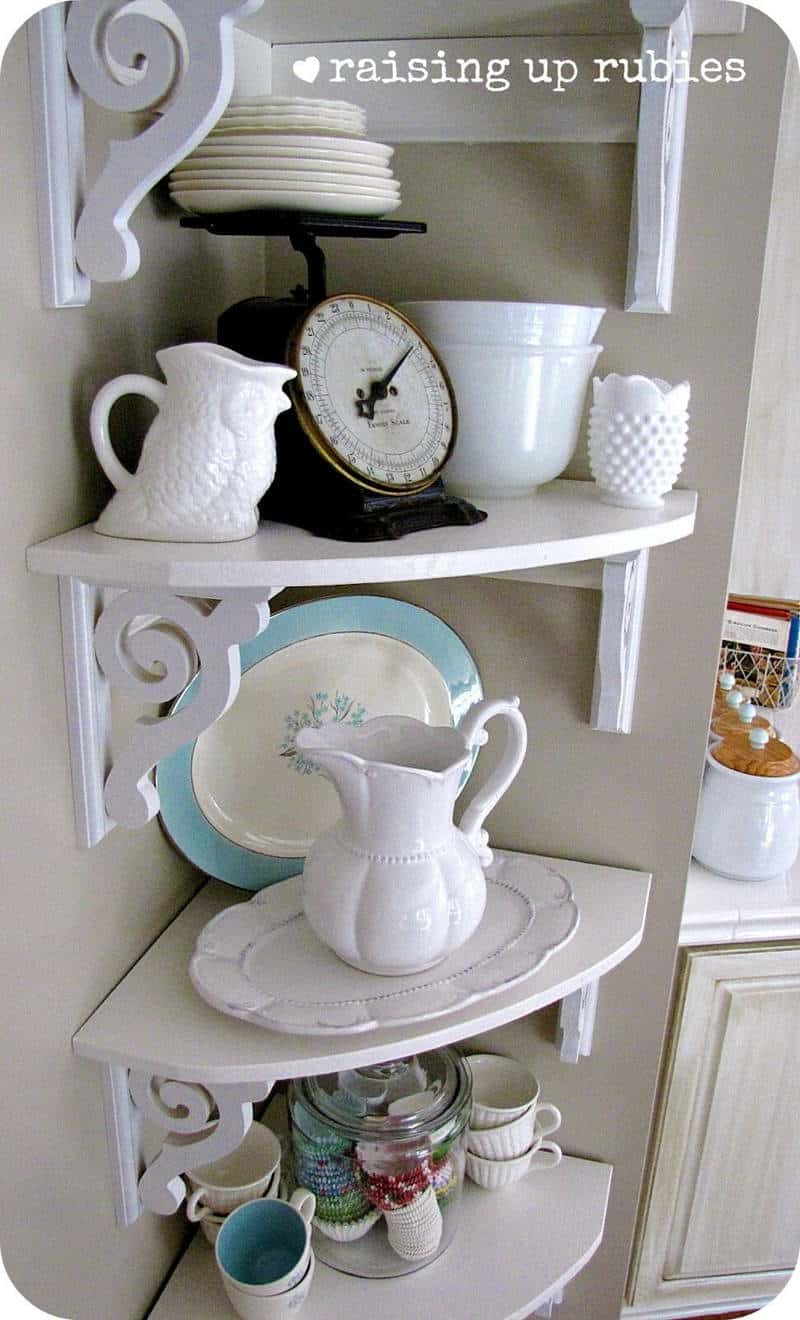 These gorgeous shelves are the perfect addition to any kitchen or living room.
You can find most of the wood already cared out at a craft supply store, and then all you have to do is take some wood glue, put it together, and nail or drill it into the wall.
You can paint it any color you want and have the perfect storage for your favorite dishes or other decorations.
DIY Industrial Corner Shelf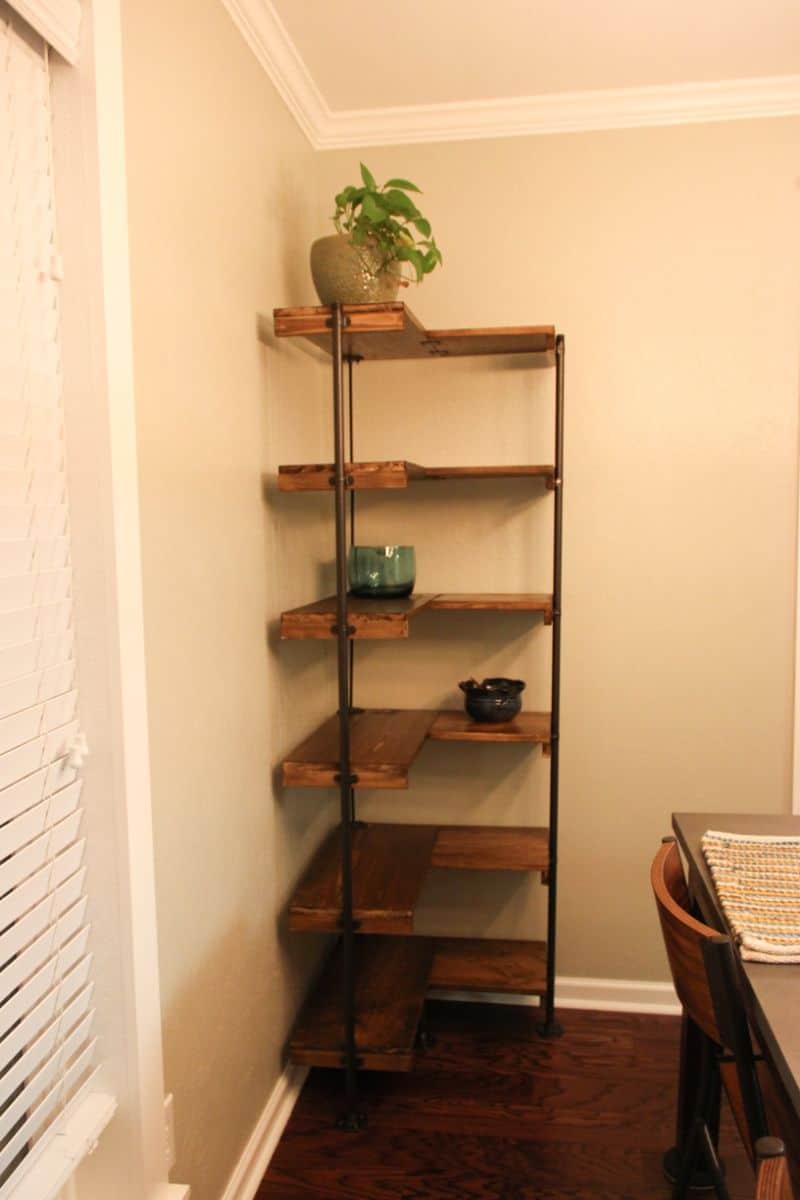 This corner shelf, unlike some of the others, is freestanding, so you do not have to drill holes into your wall to utilize it. This shelf is perfect for anyone living in an apartment, dorm, or other rental space.
It works great in a dining room, living room, bedroom, office, or basically any place that you have embellishments that can either fit in bins or are freestanding.
Keep in mind there is no back to the shelf, so it will not work as well for things that need extra support.
DIY Floating Corner Shelves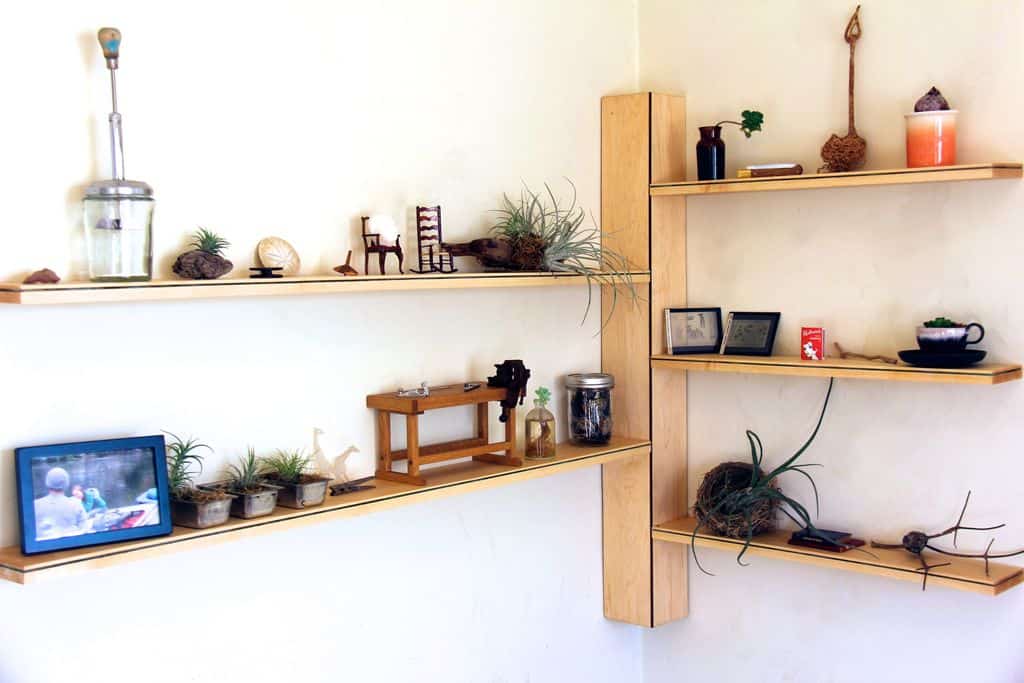 These selves are thin without much depth, making them the perfect display shelf for antiques, pictures, and plants.
It will not work for heavier storage such as books or bins, but if you are looking for a way to display keepsakes and memorabilia without taking up precious floor shelves, this might be the perfect option for you.
Click the link below to find great, detailed instructions on how to build them.
DIY Wooden Corner Shelf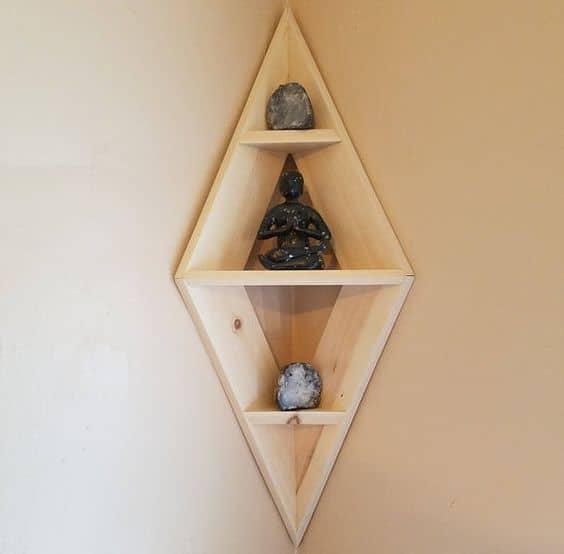 This shelf is a beautiful decorative shelf to display two or three of your favorite things.
Once again, this shelf is not the best for long-term storage, but perfect to add a bit of pizazz to your otherwise dull room.
Or perhaps be that finishing touch for your perfectly decorated room. No matter which one it is, this shelf could be the perfect finishing touch to your room.
Just grab some wood, cut it to the shapes you need, clue or nail it together, attach it to the wall, and then add the decorations you want.
DIY Corner Shelves from Used Box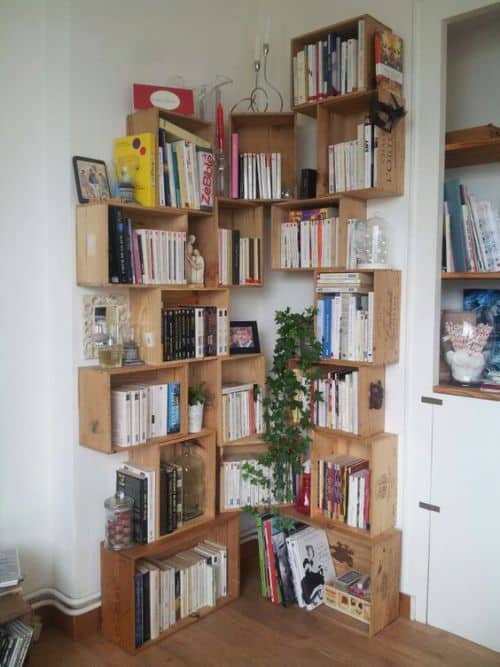 These shelves are extremely easy to put together. Buy wood of varying sizes, create cubes, and attach the wood cubes together and to the wall.
Once you have it built, it is the perfect way to utilize a larger corner to store books, records, pictures, and more.
These shelves are a great storage solution if you have tons of stuff you need to organize!
DIY Corner Shelves from Crates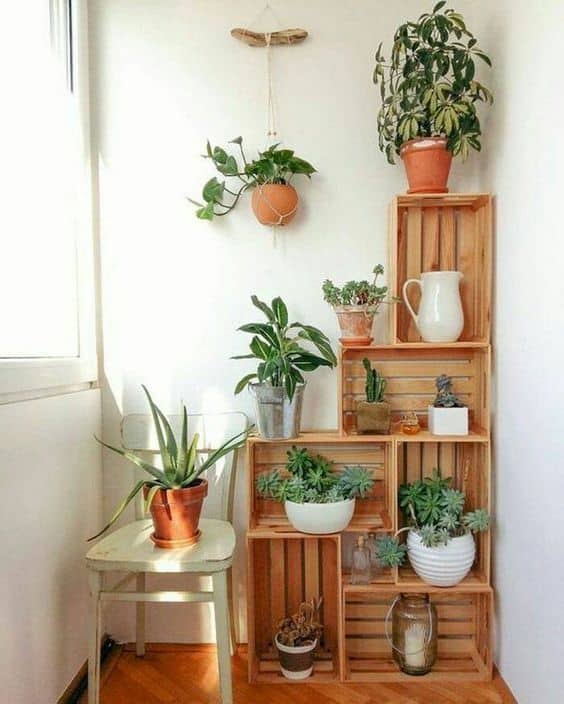 If you do not have wood crafting skills, these shelves are a great option for you. Go to your local container or craft store and buy some crates.
All you need to do is attach them with some wood glue. If you want some extra stability, attach it to the wall, but you do not necessarily have to.
These crates are perfect for holding plants, books, decorations, and more.
Small Corner Shelves Ideas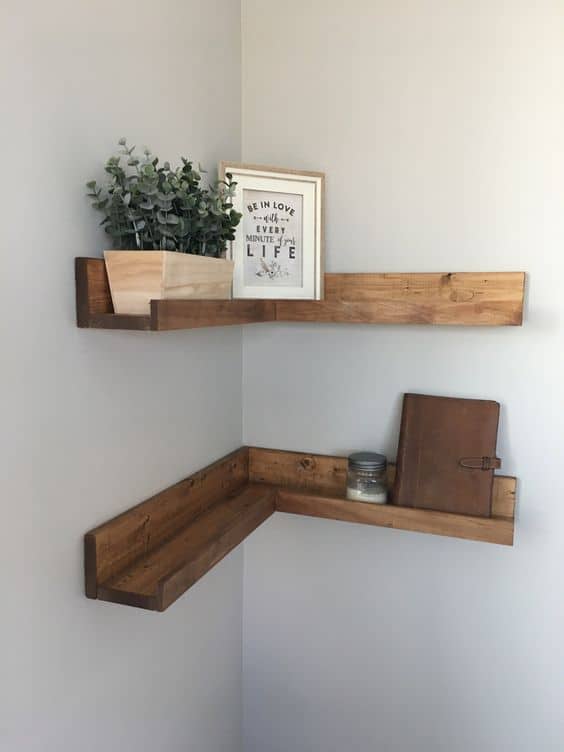 These simple, yet elegant shelves are perfect for your rustic home storage solutions.
The lip on the end of each shelf is perfect to hold up all sorts, so books, pictures, and other display items without worrying about them crashing them to the ground.
Inverted Corner Shelves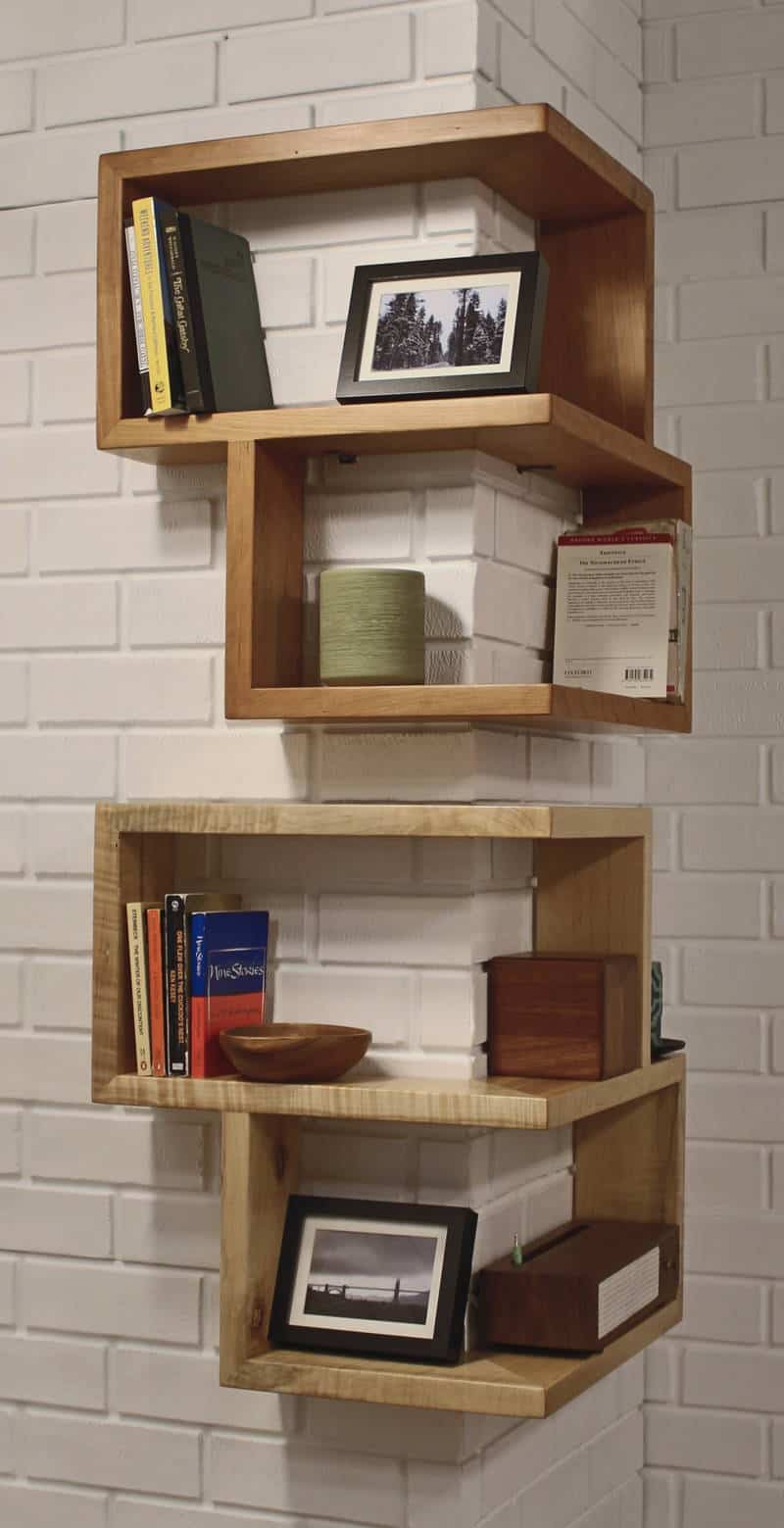 Perhaps the corner you want to use for storage is not a regular corner, but an inverted one; if so, this shelf is perfect for you.
It is made of gorgeous wood and works perfectly for displaying decoration, nicknacks, and small books.
Buy the wood, cut it, attach them to each other, stian it, and then end the project by drilling it into the wall.
Floating Book Shelf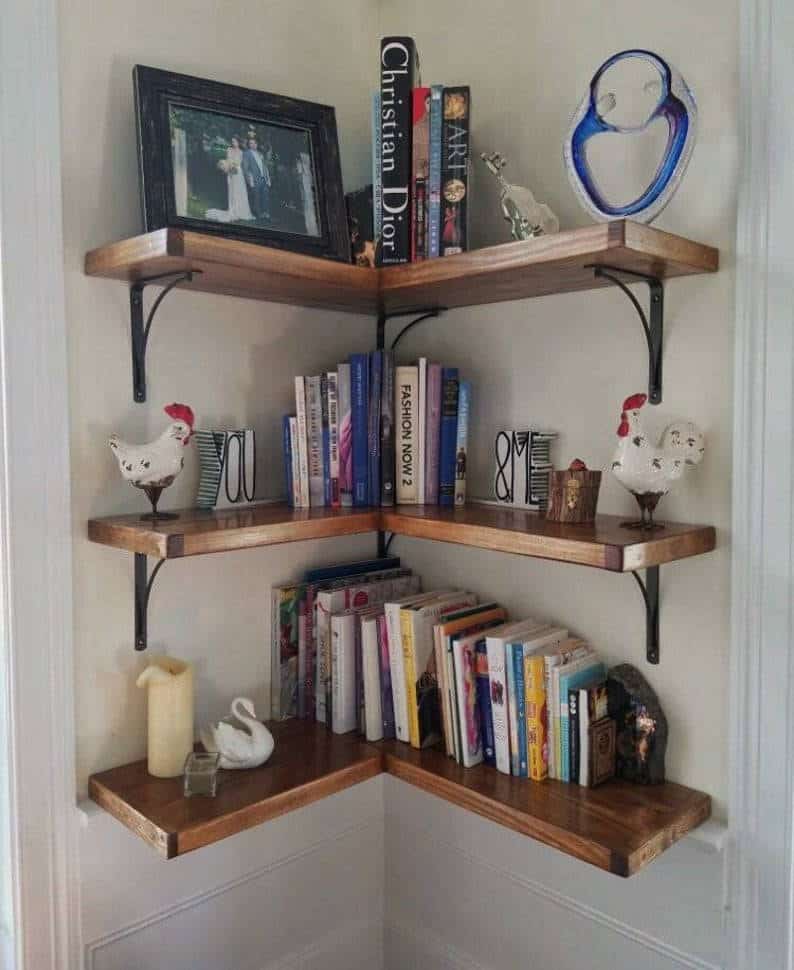 These floating bookshelves are perfect for storing that collection of books that are currently sitting on the floor of your room.
You can organize them by size, color, or just throw them on randomly. It may benefit you to also buy some bookends to help support your books without them falling to the ground.
---
More DIY Ideas to Try:
---
Varying Zig-Zag Shelf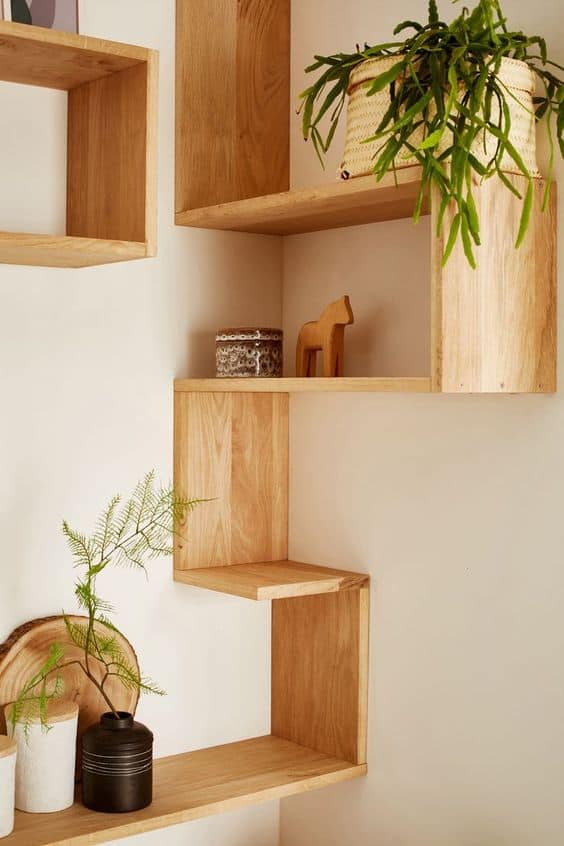 For these shelves, you can follow the instructions of the previous zig-zag shelf, but cut wood out at various lengths, and nail them together.
This is a great shelf for more artistic detail than the previous zig-zag shelves. This is a great option for the beautiful display of all your prized possessions.
Simplistic Cube Shelf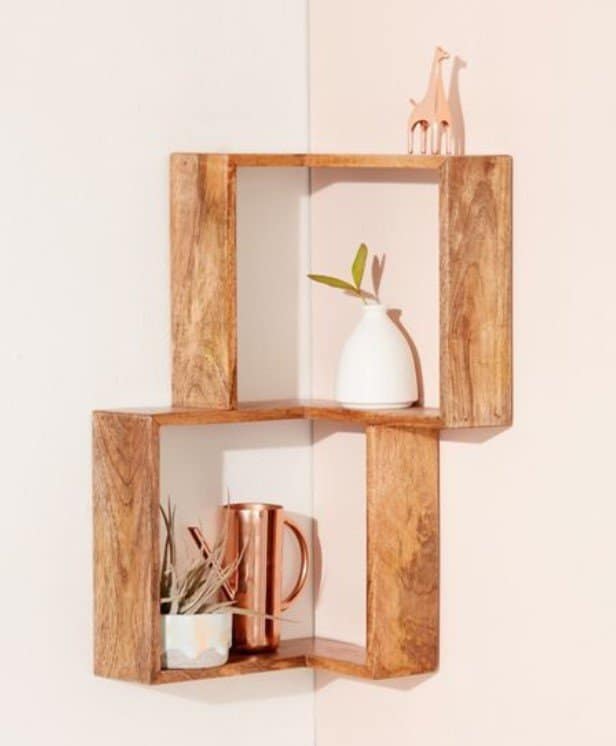 These simple shelves will be more for decoration then major storage solutions, but they are genuinely a minimalist design, which is perfect as minimalism is taken the country by storm.
All you have to do is buy a few pieces of wood, cut it, and attach them to each other, and you will have a gorgeous shelf to add decorative detailing to your room.