DIY TV Stand Ideas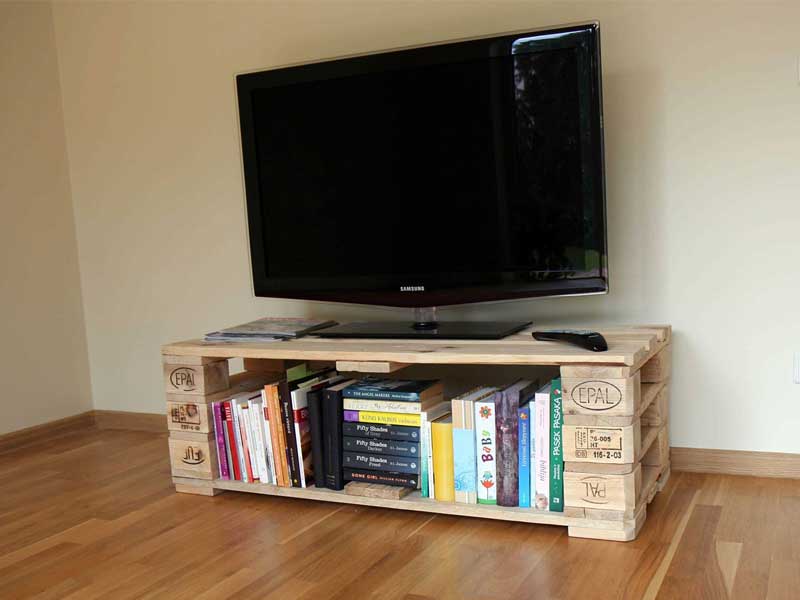 TV stand used to be one of the most important home decorations. It was filled with smaller furniture to complete the look of the room.
Commonly, the old-antique design of TV stand involved furnished wood. On the contrary, TV stand on these recent times is more flexible.
Basically, as long as you are creative, anything can be magically turned into a cool, anti-mainstream TV stand.
These days, you are provided with an endless list of smart DIY TV stand ideas. Any of these ideas will help you upgrade the look of the entire room with a modern concept.
First of all, to choose the best idea may be stressful, but don't take this as a burden.
The material needed for these DIY ideas (mostly) can be found around the house, or if it is something you need to buy, it won't be expensive. Cheer up and let's begin the quest!
Now, it is time to begin the hunt. A simple TV stand fulfills the idea of holding the TV, but we understand that you want something more than that!
So, everyone, prepare to be intrigued!
DIY TV Stand from Old Crates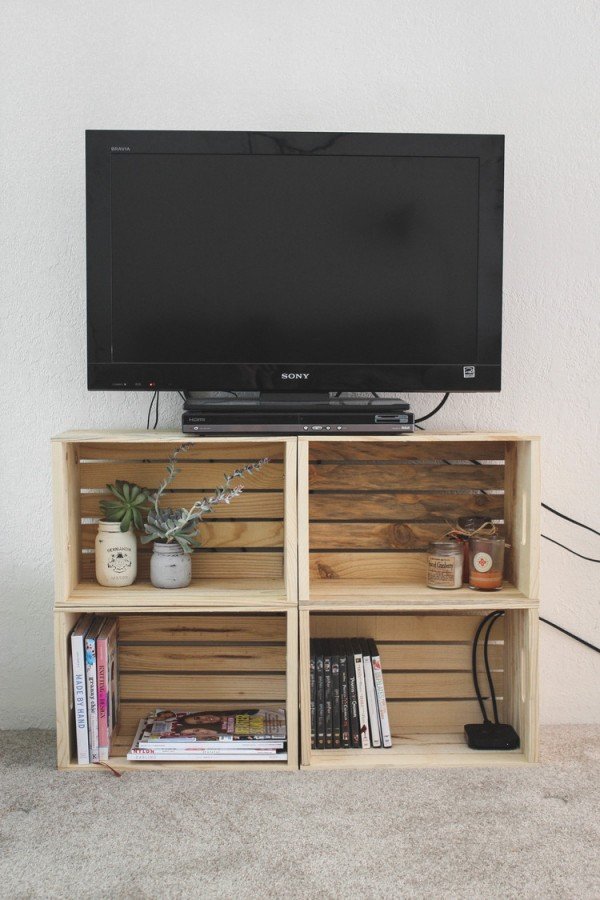 We bet you have ever bought fruits in crates before, or perhaps you went to a farmer market and bought crates of fruits.
Rather than letting the crates unused, stack them properly until it forms a perfect rectangular object which strong enough to hold the TV.
Oops, there is one more thing!
Don't forget to turn the open parts in the front. This will be useful for a stereo set, DVD collection and other decorations.
Before installing the TV on top, make sure that the crates are thick and strong.
DIY TV Stand from Cable Drum

Do you know this big chunk of cable television drum?
If you happen to have one lying in the backyard, you might as well take advantage of it.
All you need to do is cut the drum in half.
Then, utilize one half and some pallet woods as a board.
Glue them together using glue which is made for wood such as Epoxy or Polyurethane glue.
After that, place and install the flat-screen TV on the board. The rest of the half-circle can be used to store a stereo set and your DVD collection.
It is extremely easy and simple to make, isn't it?
DIY Corner TV Stand Ideas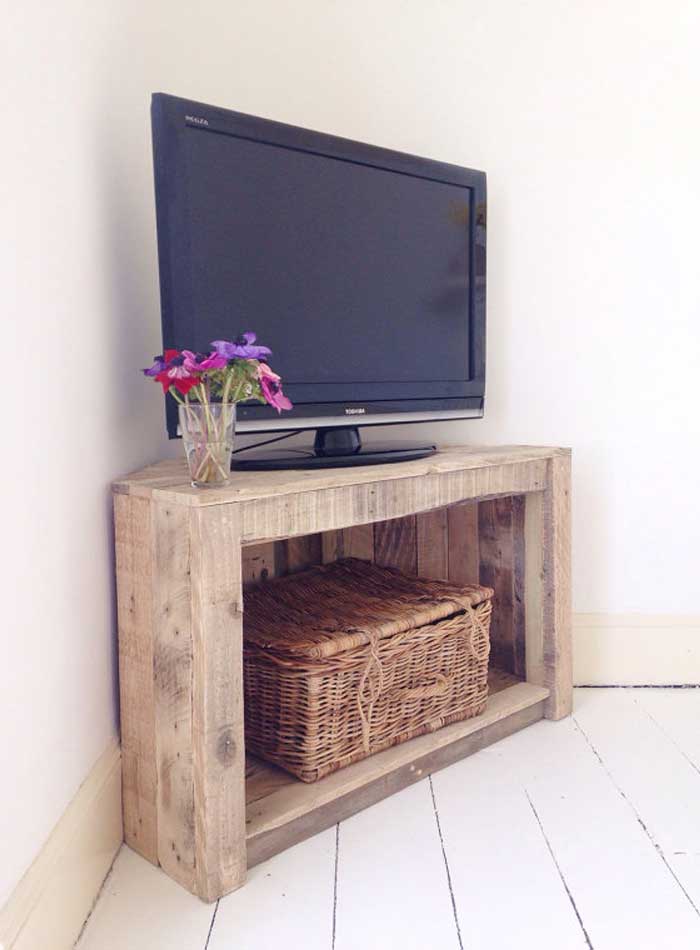 A DIY project can save you some money, plus, it makes you more creative. Grind your woodworking skill by creating this smart DIY of rustic wood.
The simple steps begin with collecting the wood pallets.
Then, cut them in desired shapes and sizes like a puzzle. Lastly, glue them together to create the finished look.
Don't you love this idea?
It will give the room a rustic, vintage look. For more decoration, you can place a rattan basket in the rack as a compliment.
Easy-to-Build DIY TV Stand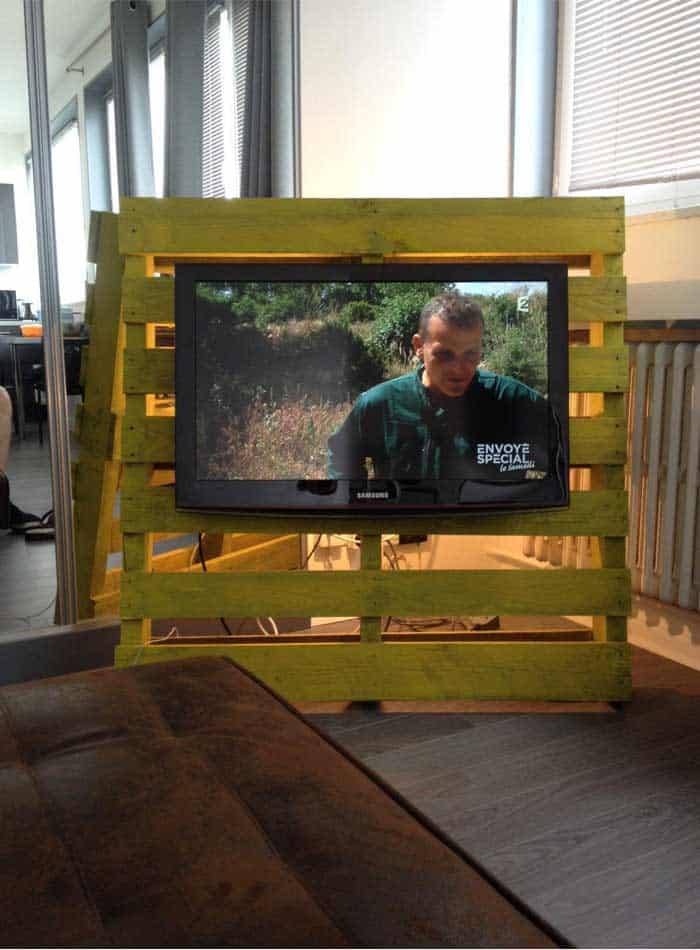 Are you in a rush, but your wife asks you to immediately build a TV stand because she wants the TV not to be put on the floor?
Well, this is your chance, fellas!
All you need to find is a piece of a pallet and rest it on one corner of the space. To hold the TV, use a metal platform in the back of it.
You can move the wires from in between the spaces on the pallet to be adjusted with the source of electricity.
DIY Rustic Wood Pallet TV Stand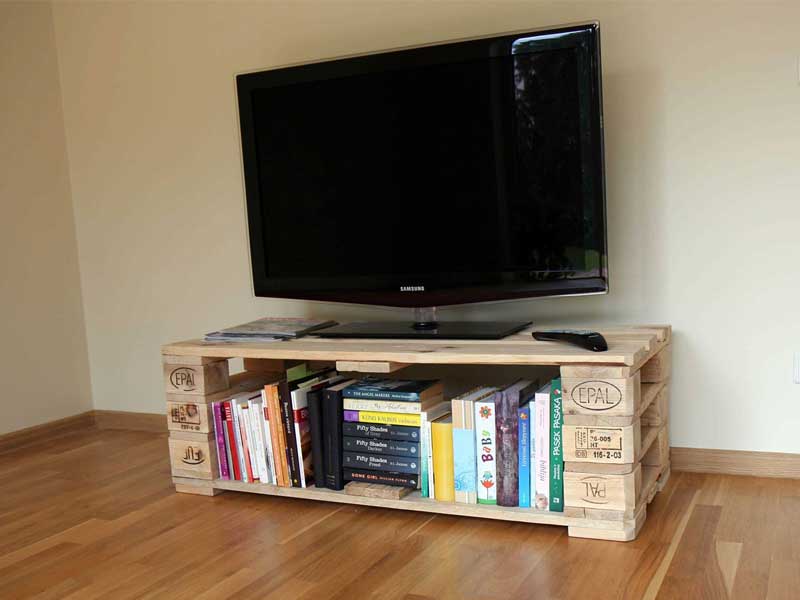 A simple look creates a relaxing design with a calming effect. Like the idea above, the style gives the room an enhancement.
First, collect some quality woods from around the house.
Then, cut the woods into several pieces needed to assemble.
Lastly, nail and screw the woods together until it creates the TV stand you desired.
For the innovation, paint the wood with a suitable color. The result is pretty amazing!
DIY Rustic Modern TV Console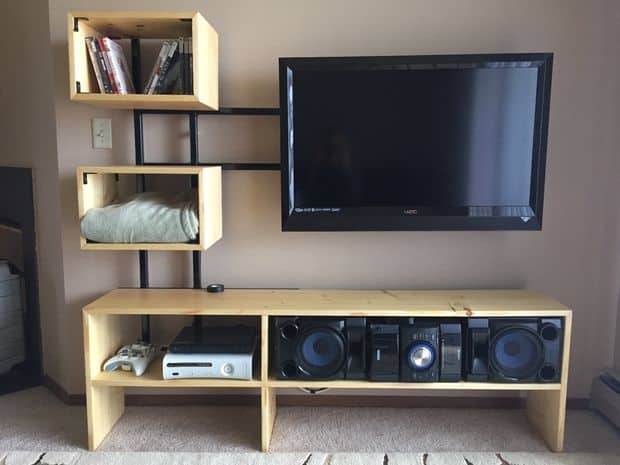 Do you have unused wood pallets? Use them to make this smart DIY TV stand.
This is called the "G-shaped" because the placement of the pallet resembles the word 'G'. This idea gives you plenty of space to store the furnishing such as stereo set and game console.
DIY Pipeline and Wood TV Stand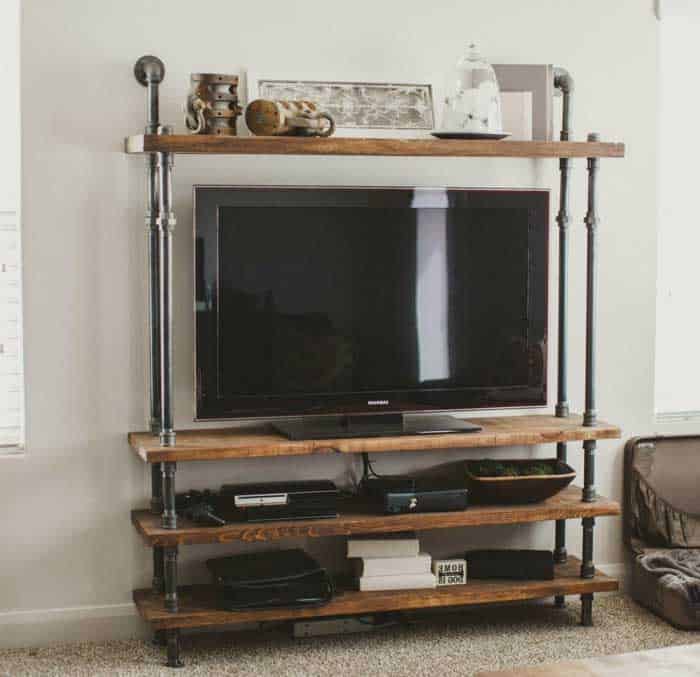 How about this DIY TV stand?
If you want to go beyond, this idea might be for you. Much like the previous one, you require a minimum of four pieces of wood pallet boards and two pairs of metal pipelines to keep the TV stand as durable as possible.
For the legs, you can likewise utilize galvanized pipelines or the ones from your old, taken apart queen-sized bed. This idea looks simple yet intriguing design.
Classic TV Stand Decor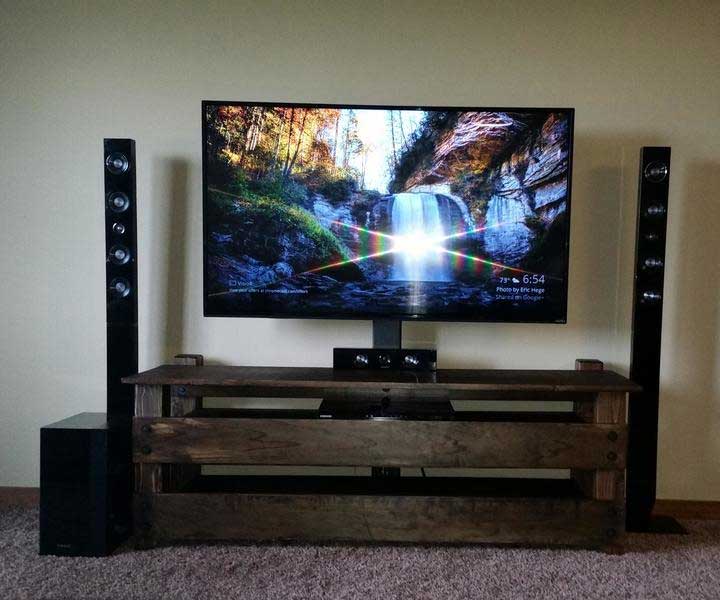 You can do this one easily by start gathering old wood pallets. If you have old wood pallets around the house, glue them together until it creates one whole piece of TV stand.
You do not have to be stressed if they are not in the precise length and shape, or have a little scruffy edge.
In fact, it's meant to be like that. 😉
…and don't forget to give enough space behind it for wires and electrical source for the TV.
DIY Moveable TV Stand with Wheels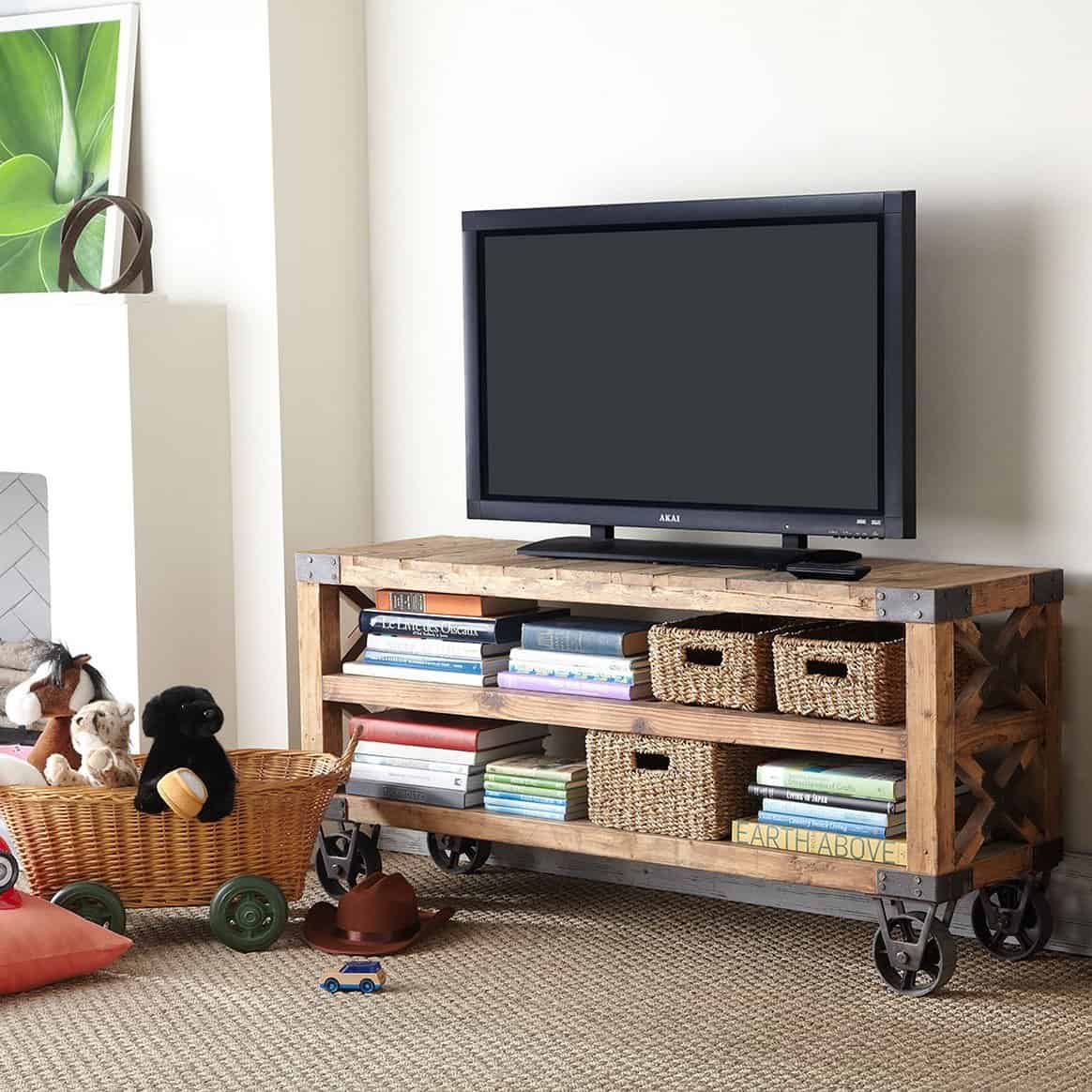 This idea provides you with something different. The wheels definitely stand out. They give the entire look a rustic, vintage value which is amazing!
Don't you think?
You can utilize the spaces on the supporting boards as racks to store the stereo set, DVD collection, photo albums, or books.
Secure the boards by screwing 4 casters to the easel legs to staining them.
As seen, brackets are added to support the TV. Remember to precisely measure the range in between holes so the TV can stand firmly.
DIY TV Display Easel on Wheels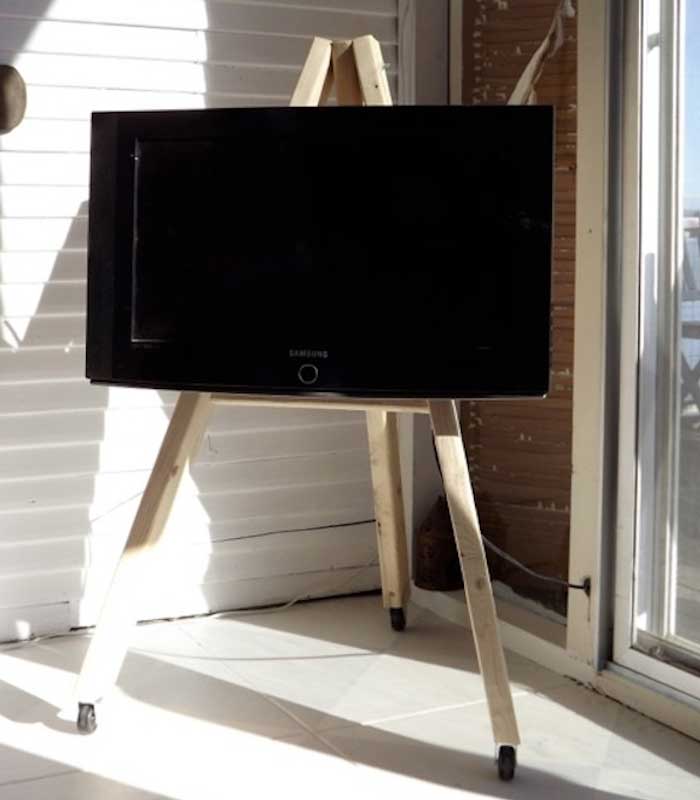 Creating this aesthetically unique DIY TV stand is not as hard as you might think.
Firstly, you can buy or find three larger wood pieces with similar lengths, some screws, and nails.
Then, connect them together forming a painting tripod configuration.
Lastly, connect the wheels on each tip of the leg using screws or nails. To hold the flat-screen TV, install a ledge and a strong bracket behind the TV.
There, you have it! A unique movable TV stand that looks like a painting tripod with a canvas.
DIY Pallet Fireplace with TV Stand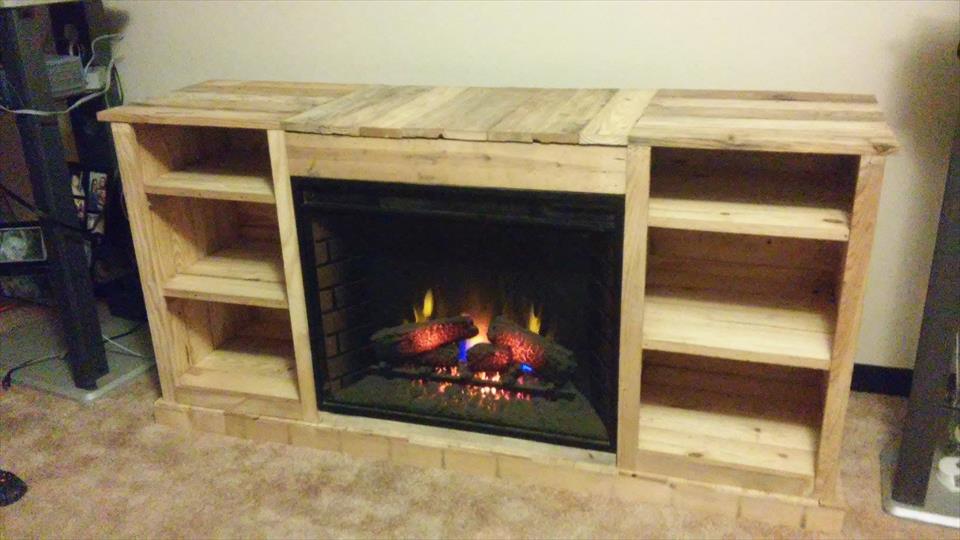 Do you want a TV stand that also functions as a fireplace?
This DIY idea lets you build a pallet Fireplace TV Stand—genuine or synthetic.
If you already have a fireplace installed, add some complements such as a few racks to store decorations, including the flat top for your flat-screen TV.
If wood pallets seem a lot of hands for you, you can use synthetic fireplace TV stand from the store which may cost you $299.
Corner TV Wall Mount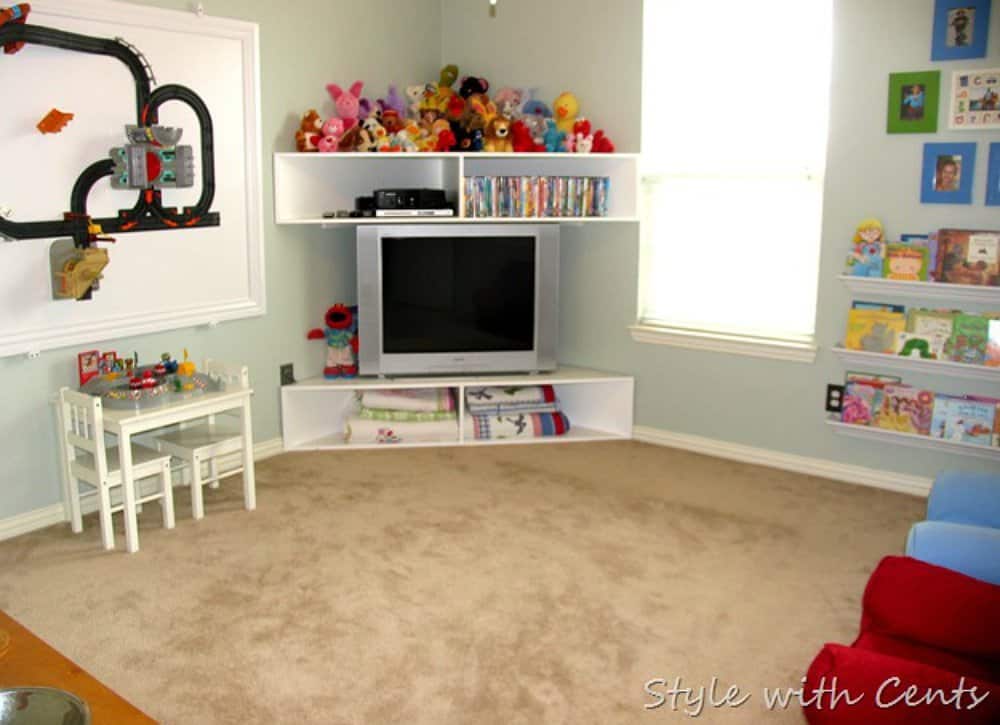 If you want to create more space for walking, it is better for you to mount the TV stand to the corner. As seen, this is suitable for the children room.
Firstly, use a pinewood for the racks to be adjusted to the corner.
Lately, the pine will be painted with a color similar to the wall.
Then, screw the woods together and secure them using bolts into the studs.
The flat-screen TV will be mounted as well in the corner; that is why you need to install a bracket on the back of the TV to secure it in its place.
Homemade Modern DIY Media Console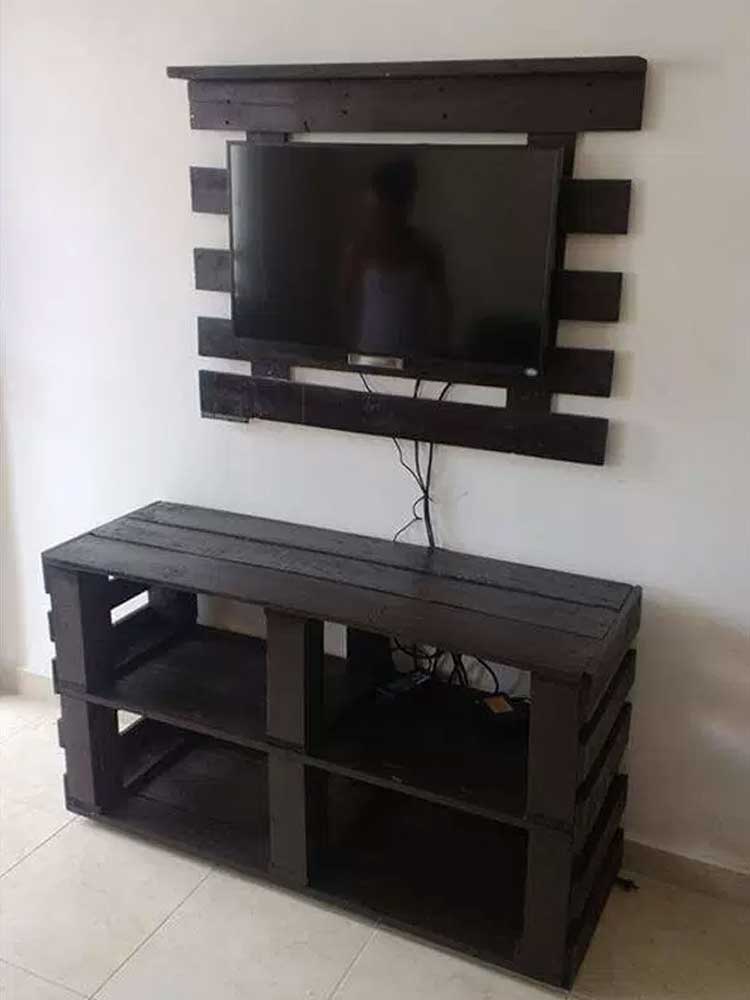 Do you want a modern look for the TV?
Well, this idea is your answer. Simplicity creates an elegant atmosphere to the entire room.
Plan the size carefully before you cut the woods. Once you are done cutting, connect the pieces together by screwing them one layer at a time.
Finally, when the process is finished, you need to continue making the legs. You can either utilize cinder blocks or steel pipelines for the legs. Don't forget to choose the strongest ones.
DIY Industrial TV Stand

We know that this simple design intrigues your contemporary soul, right?
If the answer is yes, then let's begin!
Firstly, create side frames and slabs using a miter saw for precise cuts.
Then, glue the woods together to create horizontal boards below the TV for racking. Avoid nailing at the surface because the nails may come out and ruin the frame.
You can dye the boards (panels) as you like. After they dry, drill holes on each panel suitable for screws.
Then, assemble the racks together. To add the door, use the slabs which have been drilled before.
Lastly, you need to give a fresh look to the TV stand with fresh paint. Let the paint dry before installing the TV.
This could be a fun activity while at home, right? 😉
DIY Pipe TV Stand (Also Industrial)

Other than woods, pipelines are also useful for DIY projects. What do you need? Well, you need to have the tools below:
5 pallet boards which later used as racks
Metal pipelines for the legs and the frames
Wood glue to stick the racks to the wall
Driller, nails, and screws.
Have you completed the tools?
Here are your clues:
The biggest rack used for holding the flat-screen TV
The rest is made for storing the stereo set, newspapers or books, as well as photo frames.
Farmhouse TV Stand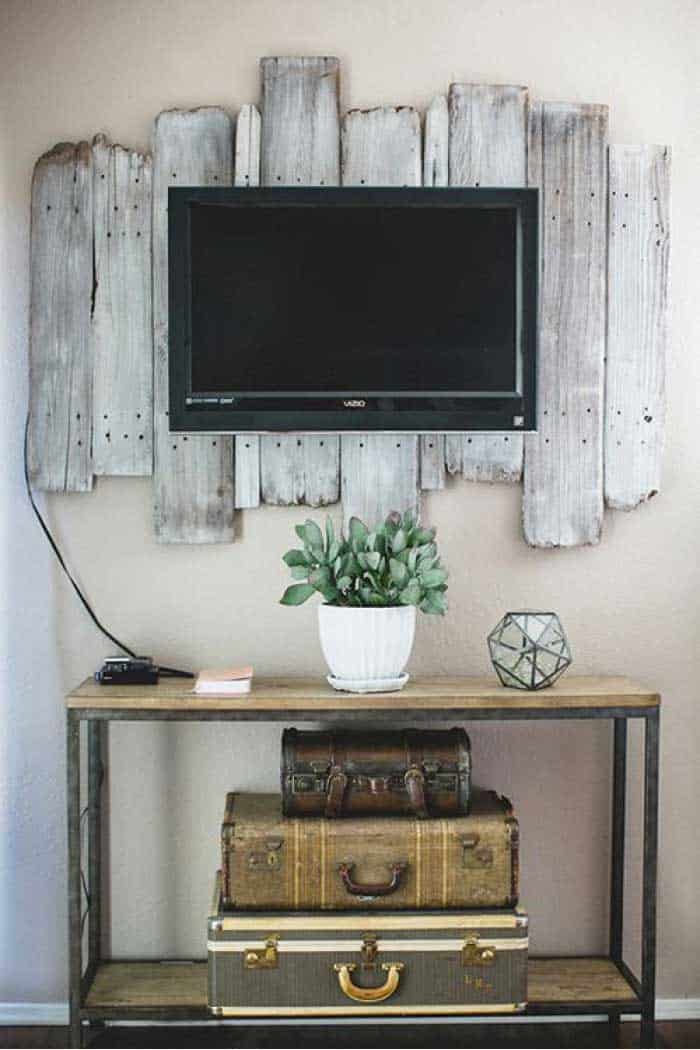 A unique TV stand gives a sense of exclusivity. Don't you agree?
This farmhouse TV stand asks you to find a few plant stands for decoration.
Before decorating, build the stand using walnut wood boards because they are stronger than the pallet boards.
Then, build the legs using the same wood or, if you want, metal or galvanized pipelines for better strength.
Don't forget to match the style with your personal taste!
DIY Pottery Barn Inspired Media Console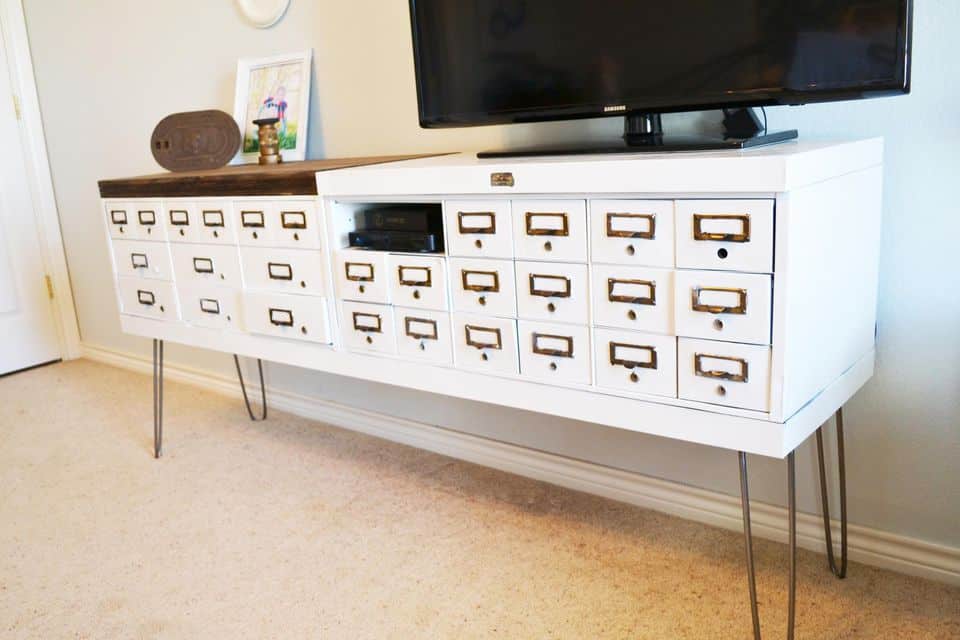 Be careful with this DIY TV stand idea!
We need you to make sure that the pottery barn design you are planning is matching with the design of the entire room to create that unique effect.
Have you found the right style?
If so, start putting the pieces together before painting them.
Then, after all the pieces are connected, you need to sand-block the edges.
After that, drill holes in the doors for knobs. Don't forget to secure the knobs using a screw.
This may seem hard, but once you get your hands on this project, everything's going to go really well!
---
More DIY ideas you may also like:
---
Patterned Pallet Television Frame
This DIY idea is pretty smart because it imitates photo frames. Perhaps the idea was inspired when looking at a photo frame! Well, this is what you need to do. Are you ready?
First, measure your flat-screen TV.
Second, find a pallet board larger than your TV.
Third, measure carefully the middle part of the board to create space for the TV.
Fourth, install a metal platform at the back to hold your TV.
Fifth, nail and screw the back of your TV thoroughly to hold it together. To enhance the frame, you can paint the pallet with black ink.
You can put a flower or a planter too to beautify its look and enhance the good vibe which comes out of it!
Do you want to try this idea?
DIY Mid Century TV Stand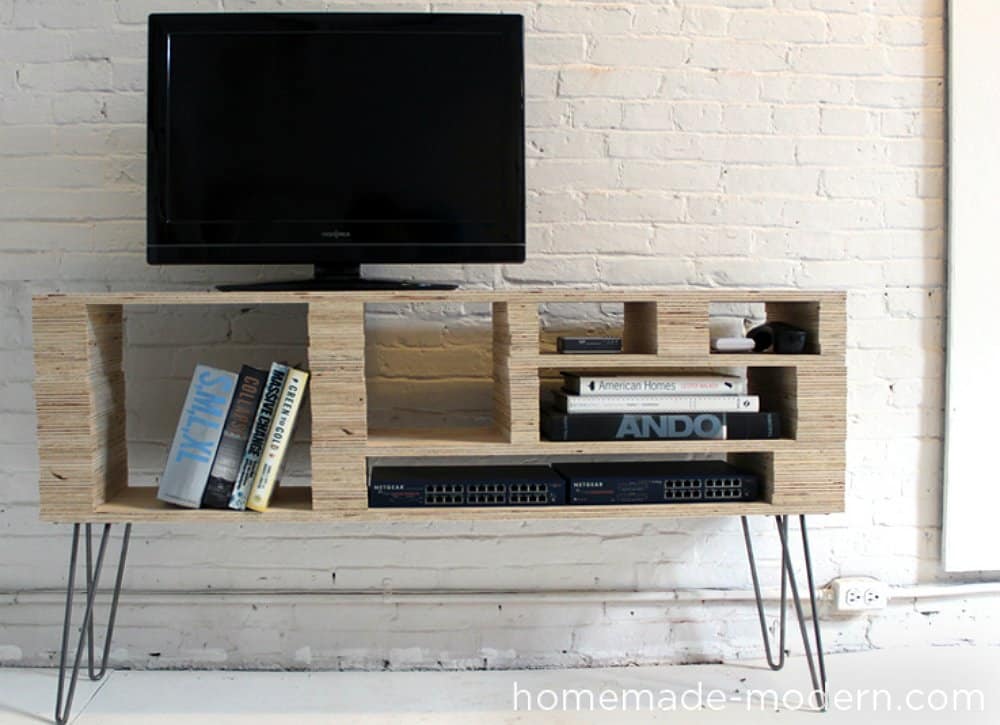 This idea is a bit of a challenge for you because each part needs to be built separately. If you are into mid-century modern style, then this TV stand will work for you.
Read also: Mid Century Modern TV Stand
First of all, the wall is made of large slabs. Due to the consistency of the slabs, the metal base is needed on top to strengthen them.
Then, connect them together using nails and screws.
From the bottom of the first slab, in the middle, you need to drill a hole for the TV wires. Additionally, to hold the TV firmly, you also need to set up a TV holder.
The racks should be adjusted with your own personal style, but it is suggested to begin the work from the bottom part of the racks and the sides to the top. Since it is your project, do as you like it!
When everything is in its place, make sure the stand does not wobble when the TV is placed on top.
DIY Wall Mounted Corner TV Stand

If you own a rather small apartment, this DIY TV stand might make your room more spacious. The design tends to mount the TV stand to the corner to minimize space.
As simple as it is shown in the picture, you need 2 wood pallets, screws, and nails.
Then, install the pallets to the back of the TV to hold it firmly.
As a complement, you can add more pieces of wood for a stereo set up below the TV.
If you have trouble setting up the wires, you are suggested to call for an electrician to handle the wiring issues.
Is this your chosen DIY idea? Let us know!
DIY Rustic TV Console Ideas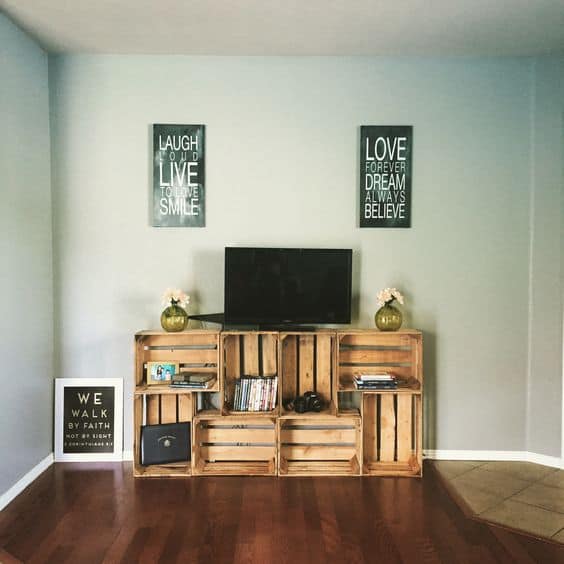 The idea of a DIY project is to recycle old and ignored woods into something new and usable.
However, imagination is endless, so it is okay if you want to use new products in your DIY project. Like this one! Although, we want to remind you that it may cost you extra dollars.
A little tip:
This design will still look awesome even without doors on the racks. This is beneficial because you can clean the inside easier and it costs you less money and energy.
DIY Pallet Media Console TV Stand

This DIY TV stand idea requires a huge size of wood like a bench or chair. The huge materials are needed to create convenient space for decorations and actually used compartment.
Notice that there are nine compartments under the TV. This shows that you need something large and strong enough to hold everything together without wobbling.
And…that's all, folks! We have reached the end of this DIY TV stand ideas, have you decided which one is your style? Let us know!