Don Pedro Brooklyn is reader-supported. When you buy through links on our site, we may earn an affiliate commission. Learn More
7 Amazing Wall Decal Ideas for the Living Room
Plain, pattern-less painted walls are a thing of the past. Now, interior designers and homeowners alike are moving towards decorating their walls with stylish new decals and wallpaper. These decals come in all shapes, sizes and textures. Watercolor prints and vinyl stickers make for popular choices, but there's plenty of other styles, too!
So, if you're ready to jump onto this fantastic trend bandwagon, you're in the right place! Below is a collection of the most interesting wall stickers for the living room:
Decorate with Life-Sized Watercolor Cactus Decals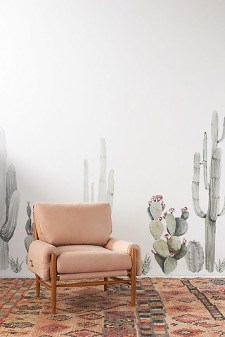 Have you ever wished you could bring the wild west home? Well, here's your chance! All you'll need is this realistic watercolor cactus wall decal set. Pair it with some reliable wall adhesive, and your living room will look brand new in no time.
This wall decal set is perfect for minimalist homes that appreciate muted colors and simple (but eye-catching) design. Thanks to their understated appearance, these cacti decals don't need to be paired with additional wall art pieces. So, you can opt to leave the rest of the wall blank if you like.
Celebrate Family with these Heartwarming Vinyl Wall Decals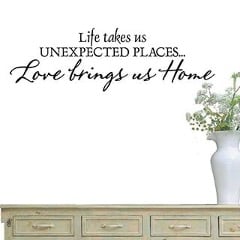 Home is where the heart is. Show your loved ones how you feel about them with this heartwarming wall decal!
Fashioned from waterproof vinyl, you don't need to worry about this decal staining over time. It'll likely last you a couple of years, if not more.
Plus, its all-black appearance makes this decal perfect for most living rooms, regardless of their color scheme. It'll fit in well with virtually any living room theme, including minimalist, contemporary, farmhouse, and coastal.
Try Some Watercolor Floral Wall Decals for the Living Room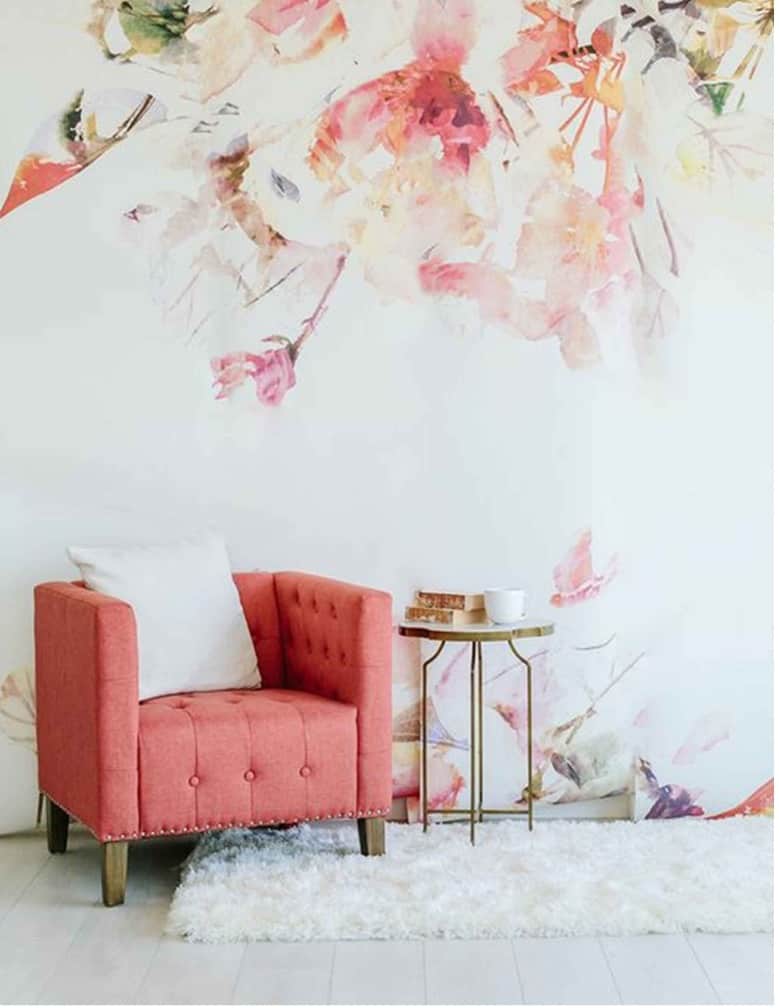 These watercolor peonies are simply bursting with life, making them the perfect decals to help uplift a dull living room.
So, if you're looking for a way to revive your interior space's vibe, why not do so with these pretty peonies? Their pink and white color scheme makes them ideal for contemporary spaces that align with this color scheme.
However, you can also easily pair this wall decal with other botanical colors. For example, a brown sofa or green couch might work well, too.
Try Out Some Acrylic Mirrored Circle Stickers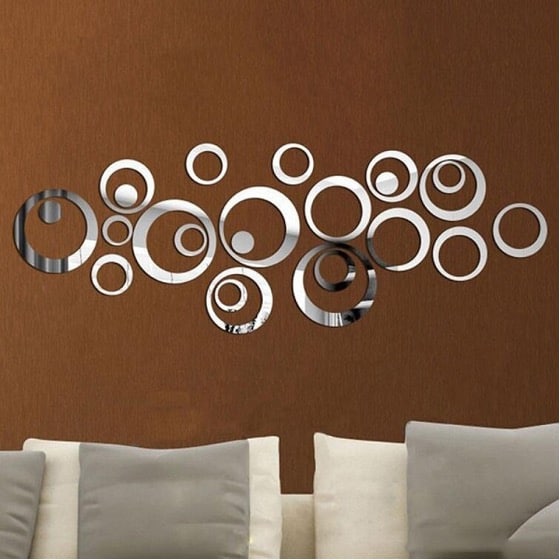 These 3D mirrored acrylic decals would look perfect when paired with gentle, rounded furniture. This includes living rooms that feature plenty of soft cushions or sofas with curved edges.
You can also accentuate this decal's natural appearance by pairing it with a bold, contrasting colored wall. Dark solid colors like navy, brown, and red would work best. Of course, you can also try matching it with plain white walls. This is an extremely versatile decal, after all.
Bring the Jungle Home with a Birch Forest Mural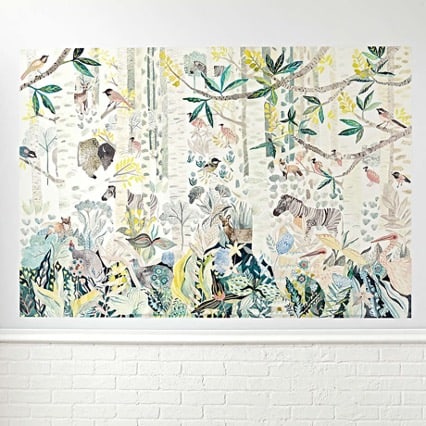 If you love watercolor and gouache paintings, this forest-themed mural might just be exactly what you're looking for!
Featuring a pretty collection of delicately-painted flora and fauna, this wall decal is best-suited to modern homes that appreciate understated art. It will work well when placed against both plain and textured walls.
The decal itself sports a soft pastel color pallet with a shy white background. This will help it easily blend in with other pastel-colored walls, or even white brick ones like in the picture!
Celebrate Abstract Art with this Paint Drip Wallpaper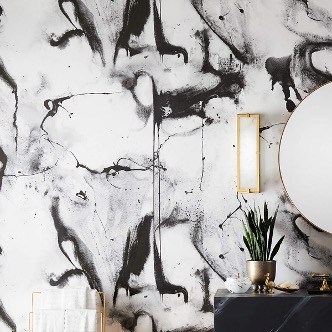 This gorgeous wallpaper features an eye-catching marbled effect in neutral colors. Its white and black aesthetic allows this wall decal to easily blend in with contemporary-themed living room furniture.
It'll look particularly stunning when paired with gold-accented decoration pieces, as seen in the picture above.
So, if your living room features other modern elements, why not complete the look with this brilliant abstract wallpaper? You can also dress it up by adding some interesting photo frames over it.
Celebrate Color with this Sewzinski Banksia Floral Wallpaper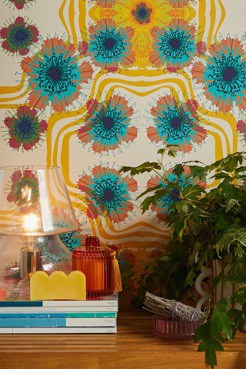 If you're looking for a wall decal that bold, bright, and unique, look no further. This psychedelic, 70s-inspired wall decal is perfect for lively, warm living rooms. You can even pair it with mid-century modern furniture that features similar patterns or plenty of color.
Style tip: Avoid adding posters or decorative frames to this wall decal. Instead, allow it to bask under the spotlight alone. This will help it look its best and accentuate your furniture's natural appearance, too.
Final Thoughts
Hopefully, this excellent collection of awe-inspiring products will have helped you find the perfect new decal for your living room.
When selecting a wall decal, be sure to take your room's theme into account. For example, if your living room currently boasts bright, floral furniture, look for a decal that compliments that.
Mismatched décor is never a good look, so be sure to think before you commit to a new product!