Don Pedro Brooklyn is reader-supported. When you buy through links on our site, we may earn an affiliate commission. Learn More
Entryway Mirror Ideas and Designs
Entryways are an underrated part of our homes. Until recent years, these essential "rooms" were regarded as nothing more than a passerby's hallway. As a result, they weren't given much attention and were often left empty or sparsely decorated.
Luckily, many 21st century designers realized and unearthed the traditional entryway's hidden potential. Now, thanks to persistent efforts of dedicated interior designers, entryway décor is given just as much importance as any other area.
If you're looking for ways to decorate your entryway, you're in the right place! Below is a collection of the greatest entryway mirror ideas out there:
Make the Most of Your Floor Space with a Bone Inlay Floor Mirror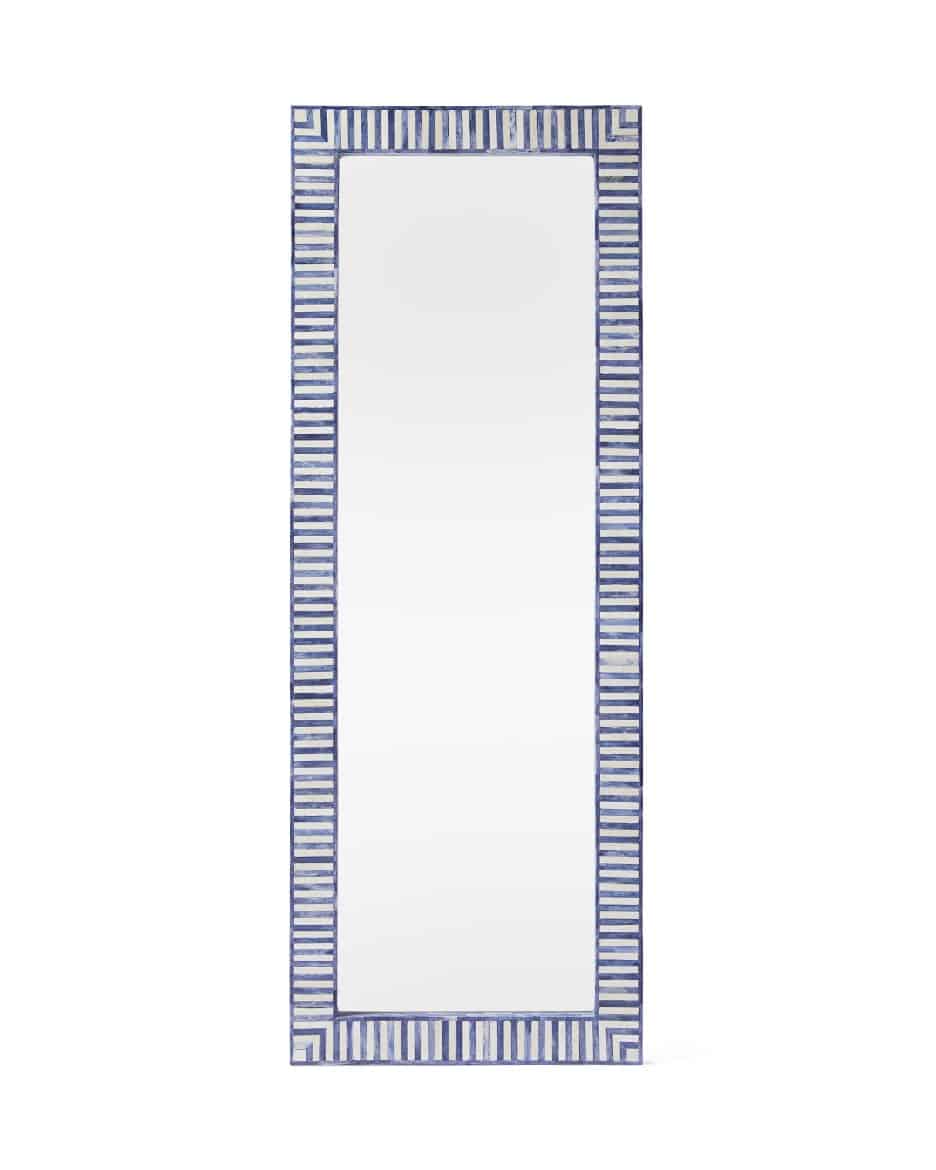 This beautiful, unorthodox floor mirror features a blue and white mosaic inlay made from authentic camel bone. Thanks to its unique origin, this mirror bears its own fascinating backstory. This makes it perfect for casual entryway conversation when you have guests over. All you'll need to do is tell them how your stylish new mirror is made from real camel bone, and they'll be instantly impressed!
This ornament will look best in contemporary homes that appreciate either coastal or rustic décor – or a blend of both!
Opt for Organic with a Geometric Cane Mirror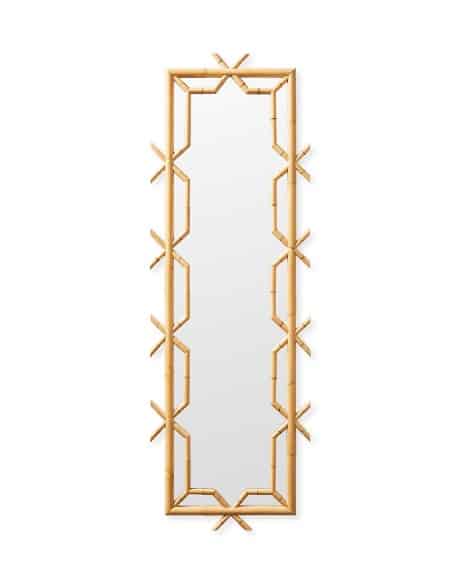 If camel bone isn't your thing but you'd still appreciate some organic decorative elements, look no farther! This stunning cane wall mirror features a dazzling geometric pattern that few mirrors can pull off.
You can style this mirror by installing it vertically. Or, if you'd like to mix things up a little, go ahead and pair it with a complimentary cane sideboard, instead. In that case, you'll have to install the mirror horizontally so that it fits above the sideboard table.
Pay Ode to the Ocean with a Mother of Pearl Mirror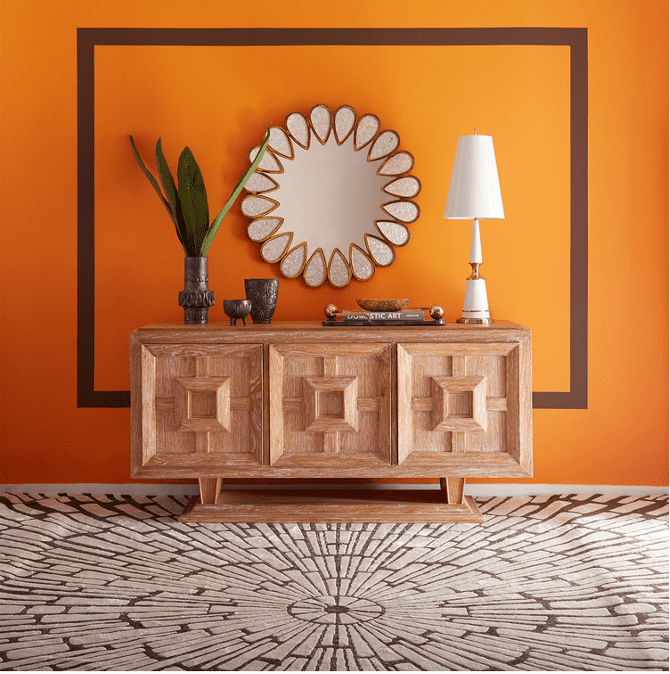 Mother of…Pearl! Isn't this glamorous white mirror just so gorgeous?
This decorative mirror features a series of teardrop-shaped elements positioned as a ring. Each "teardrop" contains a series of tiny mother of pearl tiles, which gives the mirror a striking, lustrous look.
Owing to its small size, this wall mirror will look best when fashioned with a matching buffet side table. To amp up your entryway's style game, be sure to position this mirror against your wall's geometric center.
Install a Pair of Hexagonal Mirrors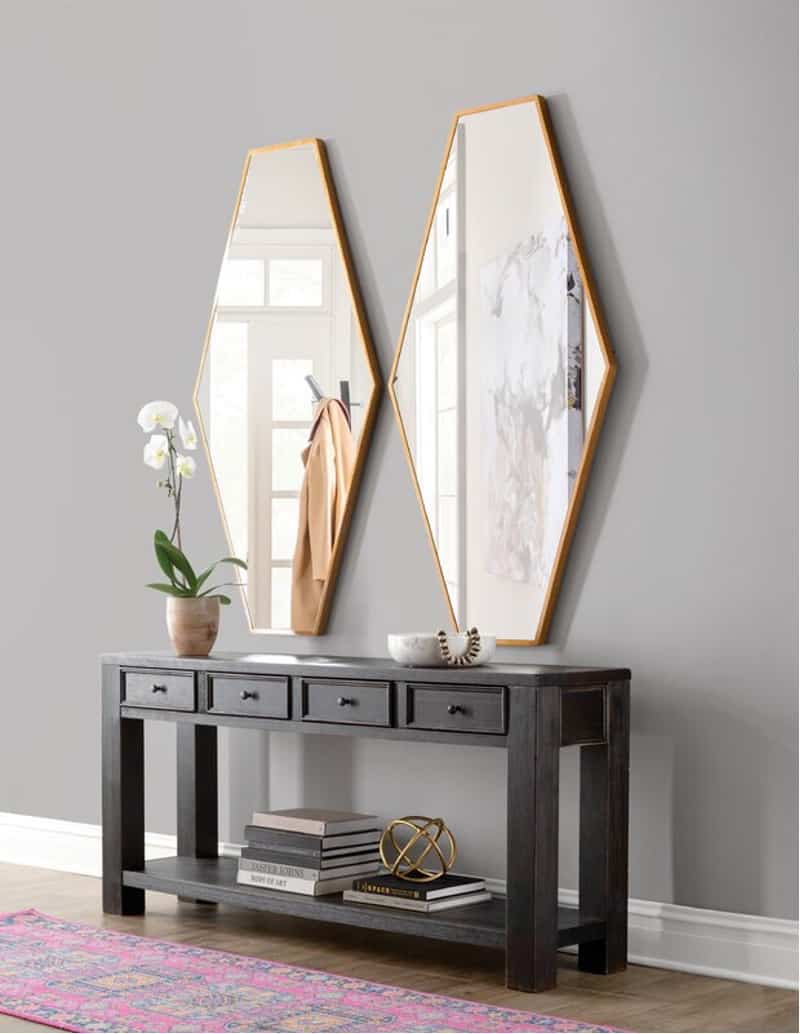 If circular shapes just don't cut it for you, why not experiment with some complex geometrical styles, instead? This eye-catching twin-set is perfect for homes that prefer angular ornaments over radial ones.
But that's not all! Thanks to their massive size and two-in-one packaging, these mirrors can help instantly brighten up your entryway. Remember, mirrors are known for their ability to retain light within a dark room. So, don't hesitate to leave the window open after installing this stylish set of wall mirrors.
Make Life Easy with a Knobbed Mirror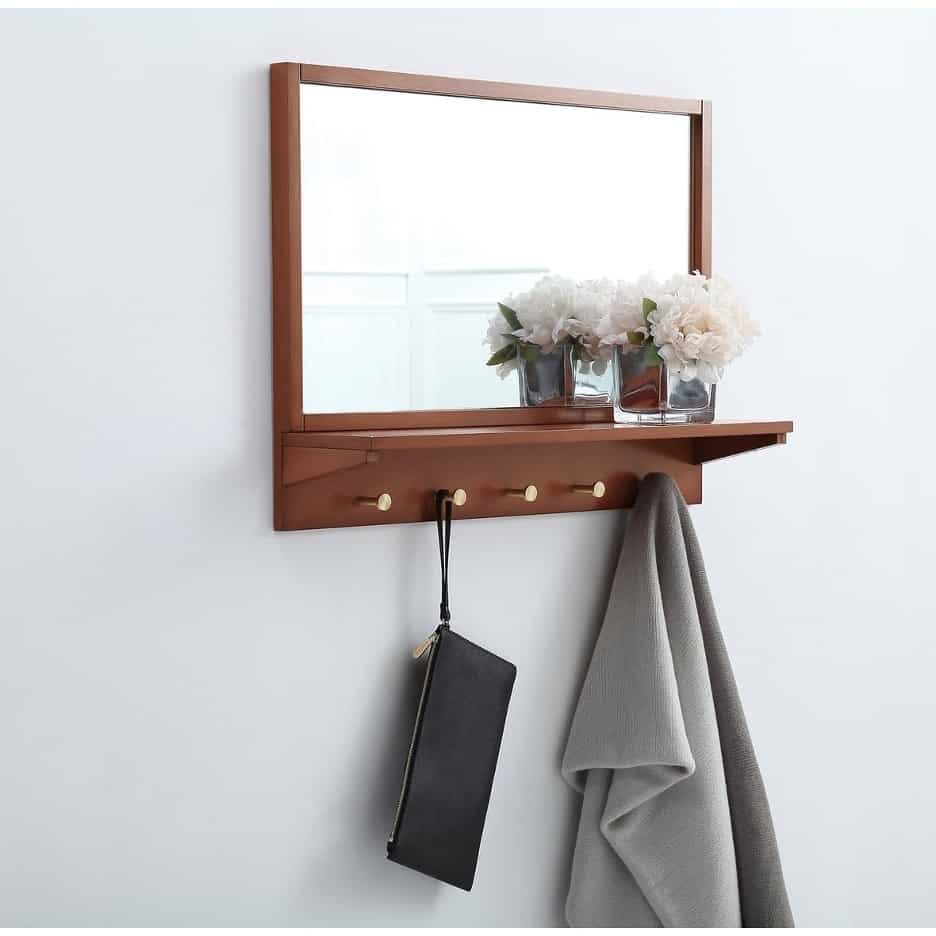 Not many people know this, but knobbed mirrors are actually a popular entryway accessory. Though they might not qualify as the primary attraction, these mirrors do a wonderful job of holding your wearable accessories.
This mirror is perfect for homes that are designed with practicality in mind. Thanks to its sleek, ergonomic design, you'll find this mirror to be a clear winner for those cold winter nights. Thanks to its strategic entryway location and multiple knobs, you can easily store your wintertime coats here when not in use.
Add Plants to This Shelved Mirror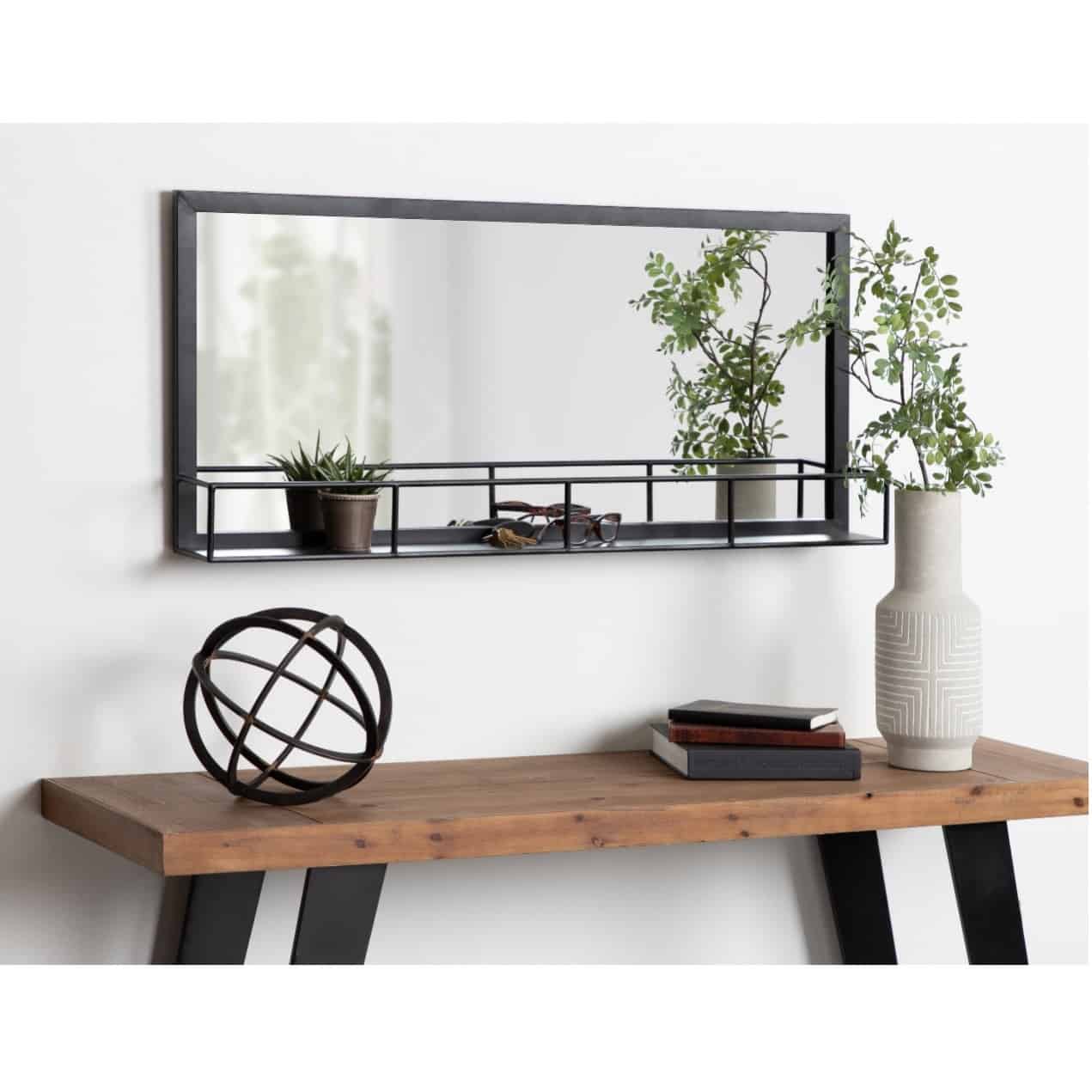 This mirror features an innovative shelf design that matches its sleek, all-over black border. So, if you're looking for a two-in-one mirror that doubles up as an accessory holder, look no farther!
This shelf is perfect for storing your car keys, sunglasses, and other miscellaneous items. You can easily grab your keys from this shelf whenever you're heading out, and return them when you're back. That way, you'll never lose your keys again!
Plus, this mirror can do wonders for your entryway's aesthetic. It bears a bold contemporary look, making it perfect for modern homes.
Try a Small, Modern Mirror for Compact Spaces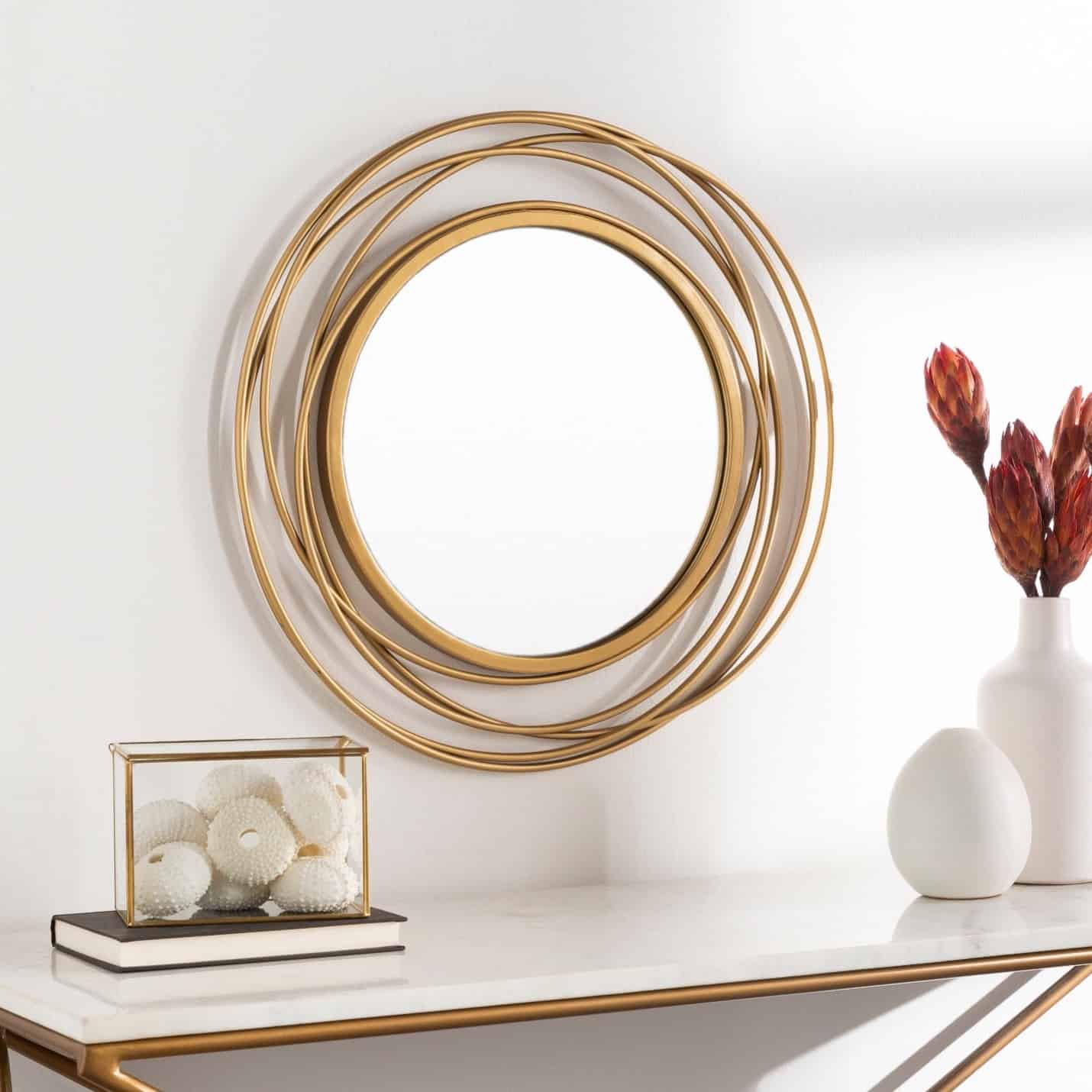 Short on wall space? Don't worry! You can always opt for a small, circular mirror instead of a towering floor-length option.
This golden mirror features an elegant contemporary design that's complete with a stunning set of circular halos. Its lustrous metallic finish will look even better when paired with a matching metal-inclusive sideboard.
Due to its single-toned style, you can easily marry this mirror to a wall of any color. Many people prefer white due to its lush simplicity, but don't hesitate to experiment with other shades, too!
Keep It Simple with a Minimalist Mirror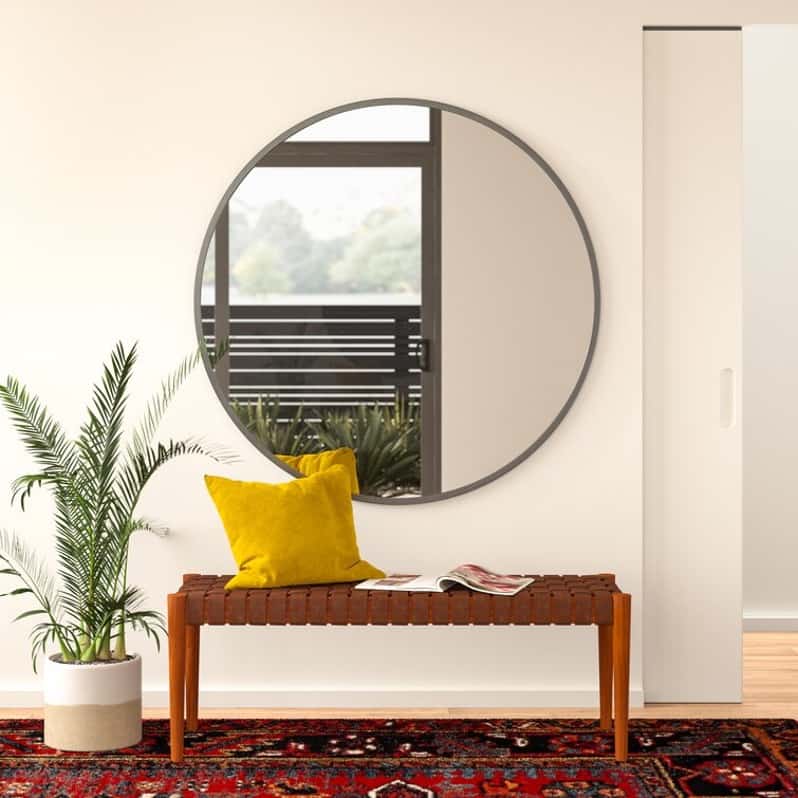 This large, circular mirror is a perfect match for minimalist homes. It bears a soft grey frame with a sleek, down-to-earth style. Thanks to its neutral border color scheme, you can easily pair this mirror with virtually any furniture!
It would look lovely when accompanied by brown bohemian furniture (as pictured above). However, you can also try styling it with some neutral black and white elements for a change of aesthetic.
Decorate with a Beveled Full-Length Mirror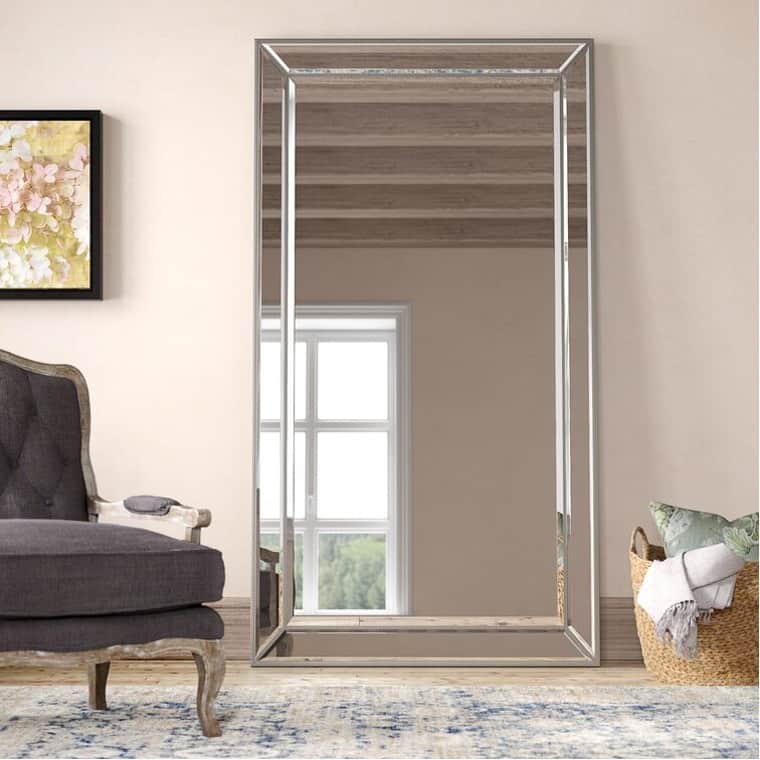 This mirror features an eye-catching bevel design that makes it a perfect match for modern homes.
Unlike most mirrors, this one does not contain any explicit borders. Instead, it employs advanced angular geometry to create an enhanced bevel effect that works just as well as any mirror frame would! By doing so, it borrows from the minimalist notion that says "less is more."
However, this isn't a minimalist mirror. It's far too glam to be styled down, so be sure to dress it up with some accompanying wall décor!
Decorate with a Sunburst Mirror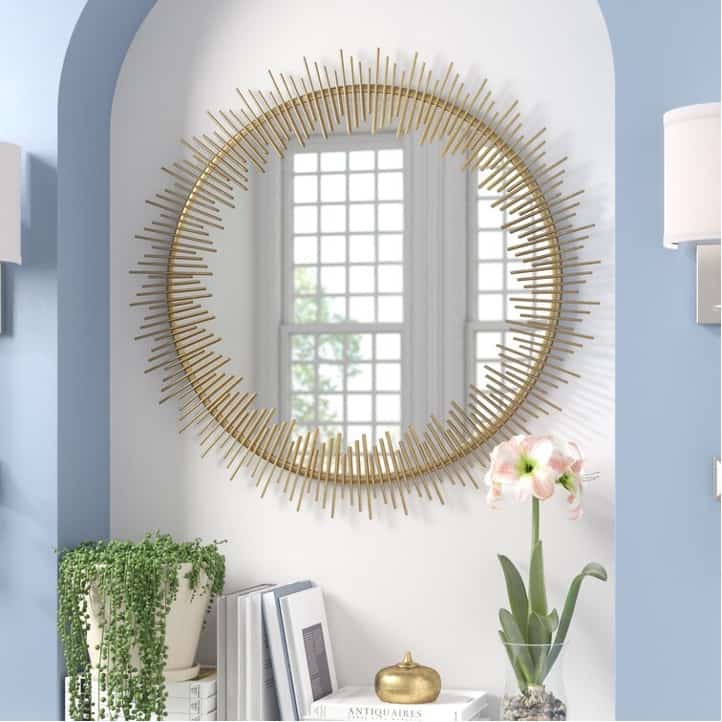 This modern mirror features an eye-catching sunburst design. Thanks to its golden accents, this product will work well within contemporary-themed entryways that prefer a glam look. However, this also means that you can't match this mirror within a farmhouse-themed entryway.
Its bold, geometric design and metallic finish won't feel at home unless they're paired with other elements of contemporary design. So, be sure to decorate the area around this entryway mirror with modern furniture and complementary accents.
Reimagine Your Entryway with a Luxury Cutout Mirror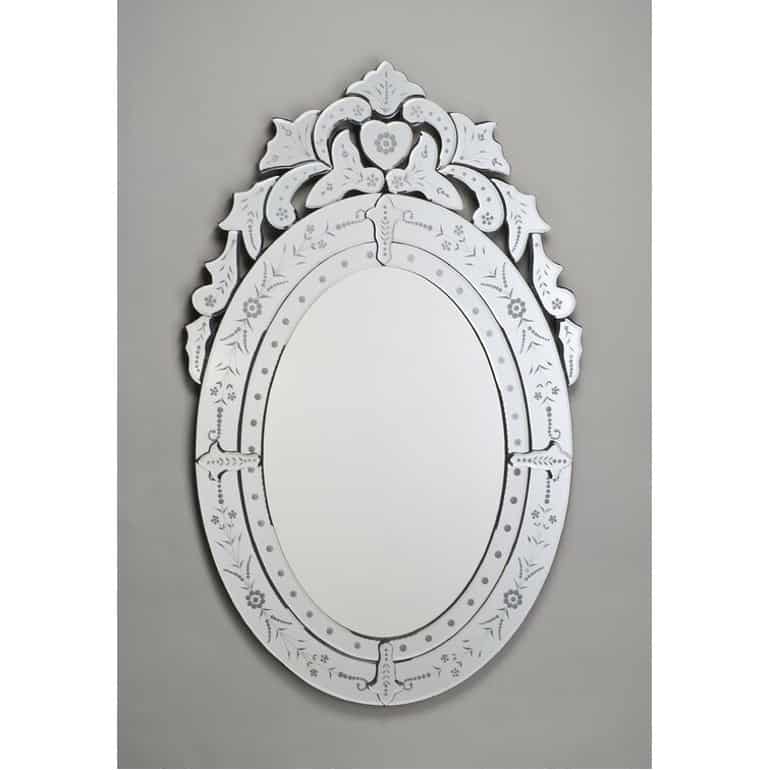 This mirror features a unique cutout pattern that adds a dramatic flair to its overall look. It also has an intriguing border that's decked with muted grey embellishments.
Thanks to its fashionable, grand design, this mirror will look best inside contemporary homes that appreciate glam-looking ornaments. However, you can also install it within a rustic or vintage-themed entryway, too. This is because the mirror's cutout design pays ode to both vintage and antique design culture
Try a Distressed Wood Entryway Mirror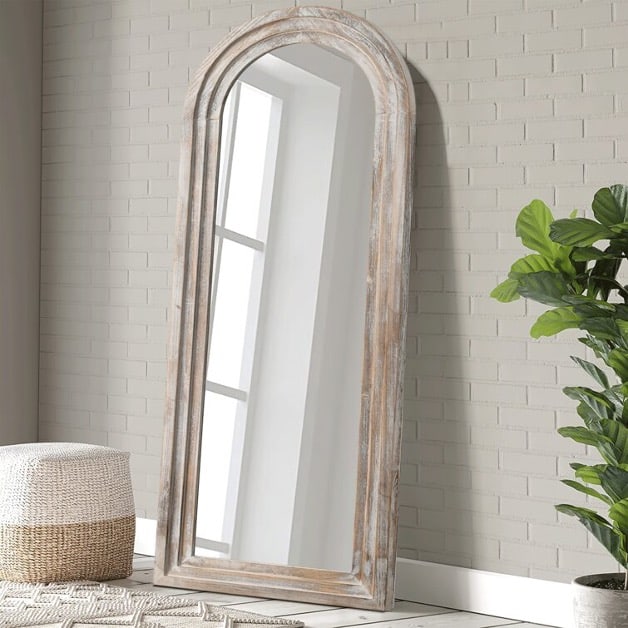 Calling all rustic mirror lovers! If you're a fan of wooden elements with a hint of rustic coastal design, this mirror is for you!
This product's authentic light-colored wooden frame would match well with other coastal decorative elements. This is because coastal design champions wooden furniture, especially those pieces that feature a distressed pattern, too.
This piece will work well with farmhouse-themed homes, too, thanks to its use of real wood.
Adopt a Sophisticated Approach with this Sleek Full-Length Mirror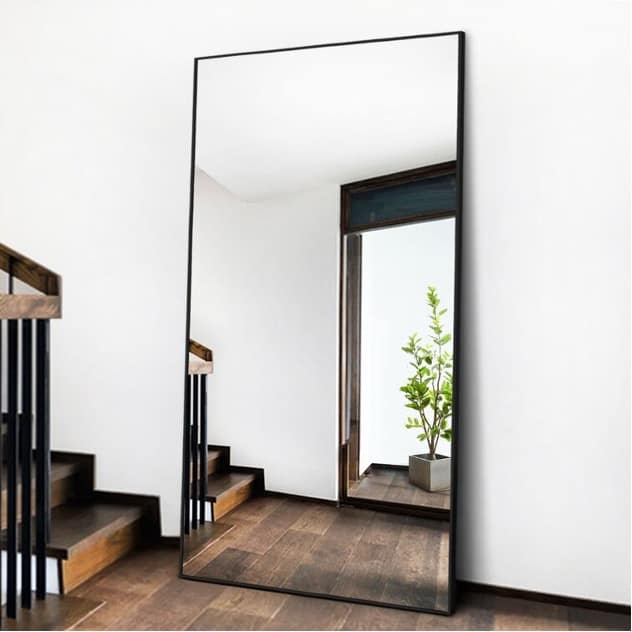 Modern, classic, and straightforward; there's nothing like a bold full-length mirror to enhance your entryway's natural aesthetic.
Be warned; this is not your average, petite mirror. Upon stepping into your entryway, you'll instantly be greeted by a life-sized reflection of your own body. If this idea appeals to you, then you should definitely consider installing this mirror within your home!
Give a Grand Look with a Gatsby-Style Foyer Mirror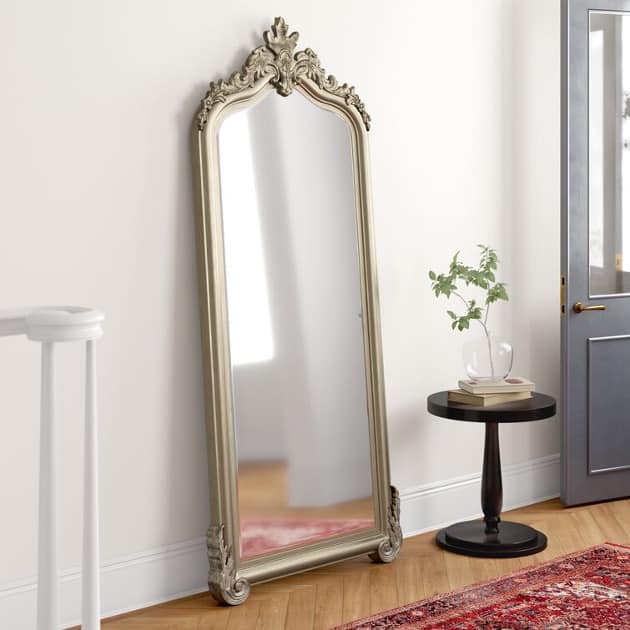 Jay Gatsby was a man of many talents, including styling his grand manor to perfection. You, too, can replicate his impressive approach to interior décor by installing this grand mirror within your home's entryway.
This stunning mirror features a golden border that's decked with smaller decorative ornaments. Thanks to its elegant yet bold design, this piece can easily uplift a dull-looking entryway. Plus, it can also help to create an illusion of depth (thanks to its large size).
Add an Industrial Flair with this Small Entryway Mirror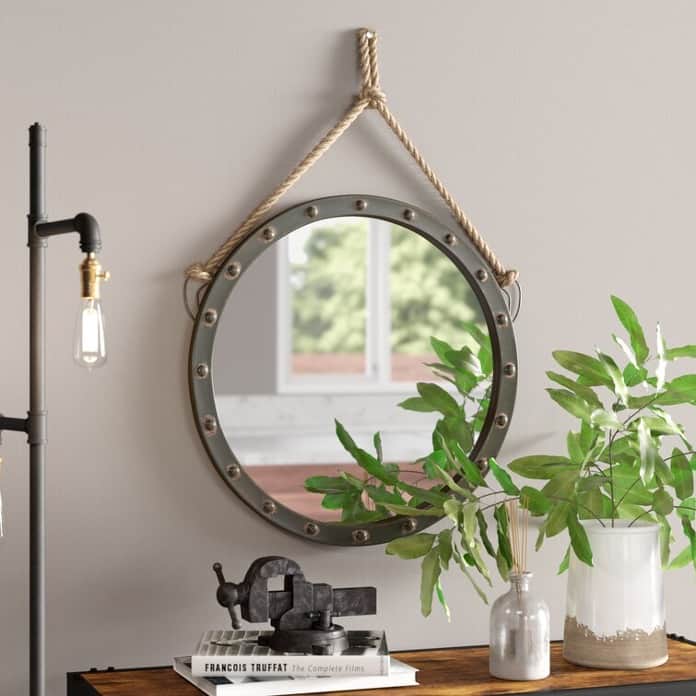 This mirror is perfect for smaller entryways thanks to its compact size. It bears influences from both coastal and industrial styles. The mirror's rope tie pays ode to traditional coastal decorative culture, while its rustic porthole reminds the onlooker of ancient submarines.
In addition to being a perfect match for bijou entryways, this mirror will look excellent when paired with a sideboard table. Its compact size will allow it to snugly fit above any contemporary or coastal buffet.
Final Thoughts
As you can see, there are many excellent entryway mirror ideas out there. However, you can only pick one, which is why it's important to select your final product with care.
Before purchasing a new mirror, think about how you'd like to style it. For example, if you'd like to match your existing entryway bench with a mirror above, look for smaller mirrors. Or, if you'd like to pair a new entryway table with a mirror, look for furniture that matches your mirror of choice.
Making the extra effort to plan in advance can help you style your entryway to perfection!