Don Pedro Brooklyn is reader-supported. When you buy through links on our site, we may earn an affiliate commission. Learn More
Closet Organization Ideas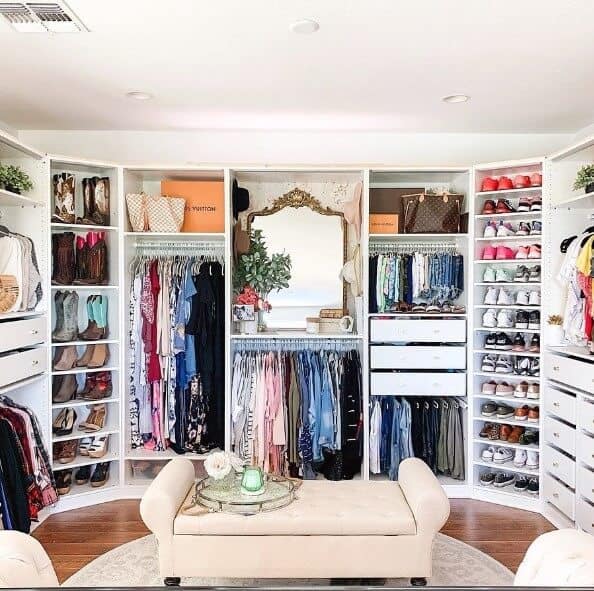 It looks difficult to organize one's closet if he/she has never bothered about it.
But if your shoes, clothes, garments, and shirts lie here and there in your home instead of their proper place, then the DIY closet organization tips provide in this article can be helpful for you.
These closet organization ideas can also be helpful for you if to be more organized is your resolution for this New Year.
They will also help in improving the looks of your entire home. Let's take a look.
Add Storage Under Clothes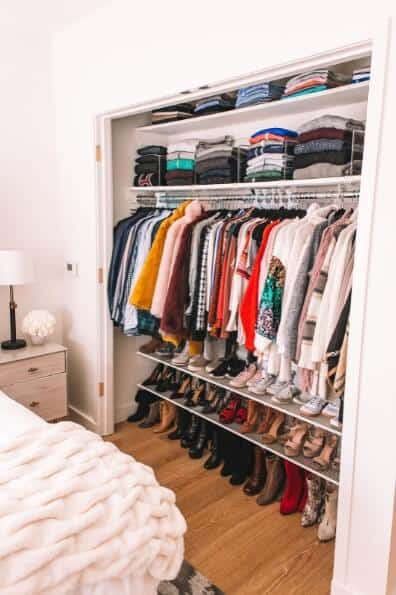 It is a good idea to use the space under your clothes for storing your shoes to keep them more organized and easier to find while choosing clothes for any outing event.
It will also help you in keeping your clothes in a well-organized manner.
Get Your Shoes off The Floor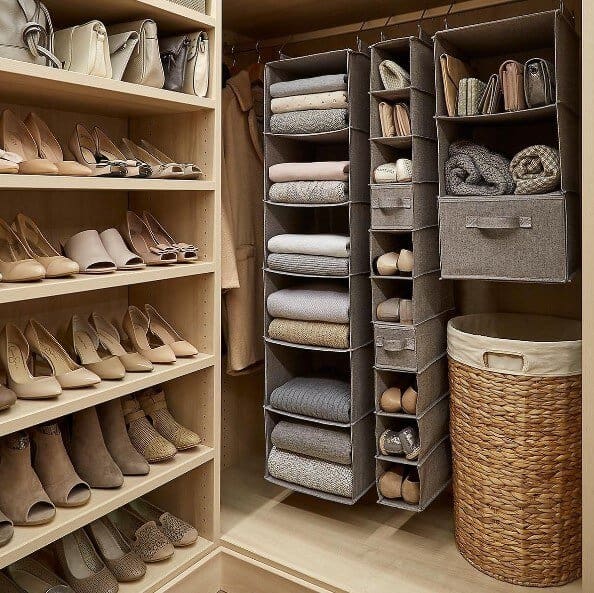 You can also organize your shoes in a separate closet to keep them off the floor.
It does not look good if your shoes are scattered on the floor.
You can also store sheets and towels in a nearby closet to make it easier to find them whenever needed.
Use Soda Tab for Multiple Hangers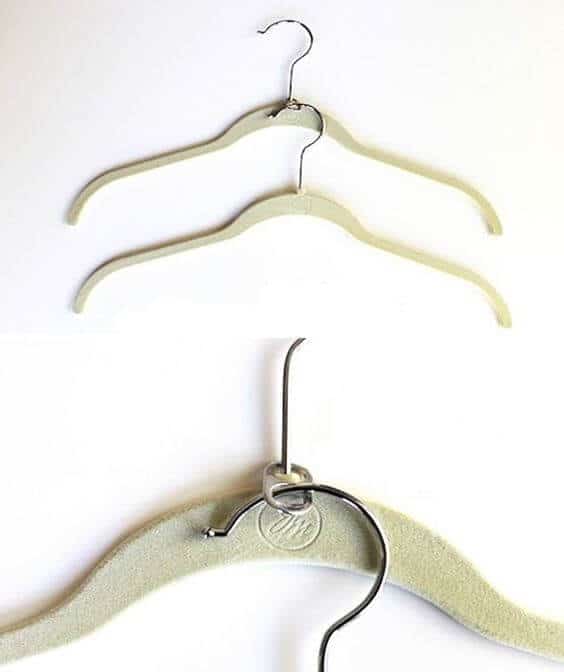 In order to hang multiple hangers on one hook, you can use a tab of the soda can. You can easily attach one hanger to the other by using these tabs on every hanger.
In this way, you can keep your clothes in a much-organized manner in the minimum space.
Storage For Your Special Stuff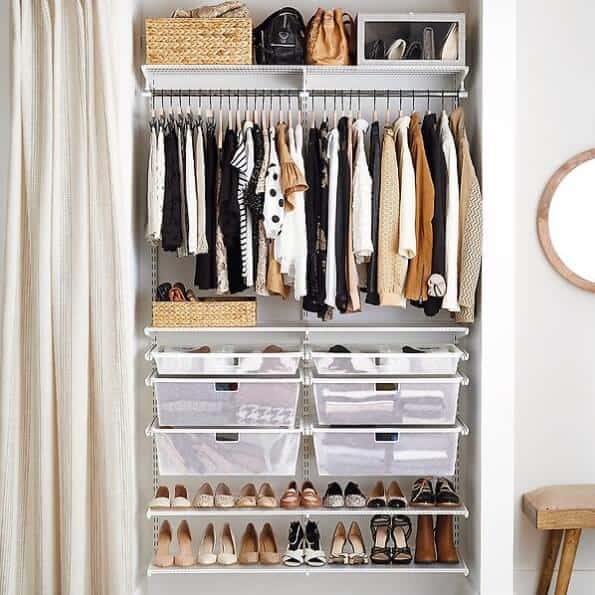 If you have something special to store in your closet then you can also use plastic containers under the shelf to store them separately.
It will keep those things well organized and easy to access as and when required.
Shelf Dividers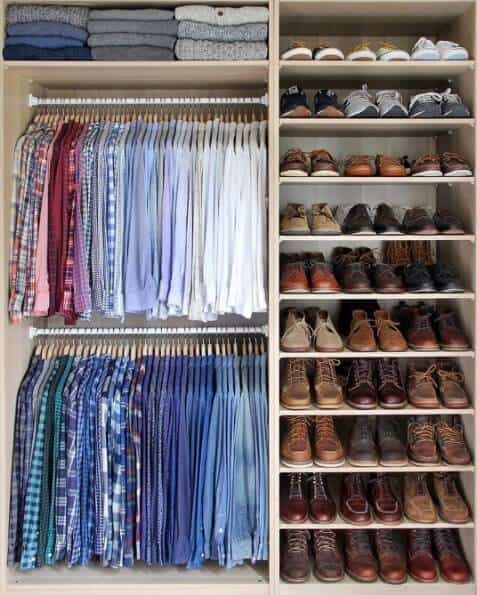 Another way to organize your shoes and clothes in a closet is to use dividers to make separate portions of different sizes for each item in the same closet.
It can make an open shelf more functional immediately as they stack your shoes in a limited space and keep purses standing up straight.
Label Your Storage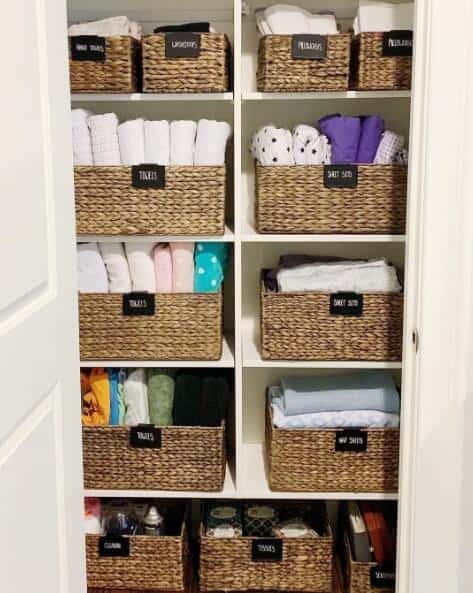 If you have to store different items in a closet then you can put them in separate baskets and label them so that you can find them easily whenever required.
It will help you to classify your clothes according to their usage.
DIY Sunglasses Organizer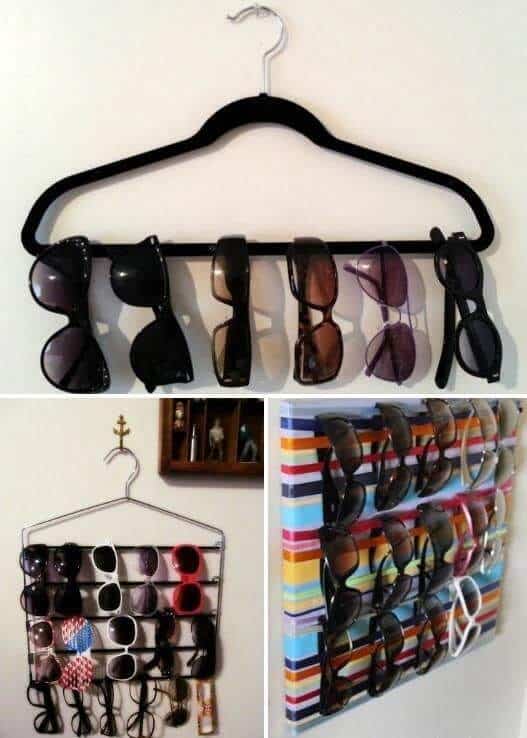 If you have many sunglasses to be worn on different occasions with matching dress then you can make an organizer yourself by using a hanger or fixing a few ribbons of different colors on a vertical board.
You can hang your sunglasses on these ribbons or hangers to find them easily when needed.
Hang Your Favorite Ties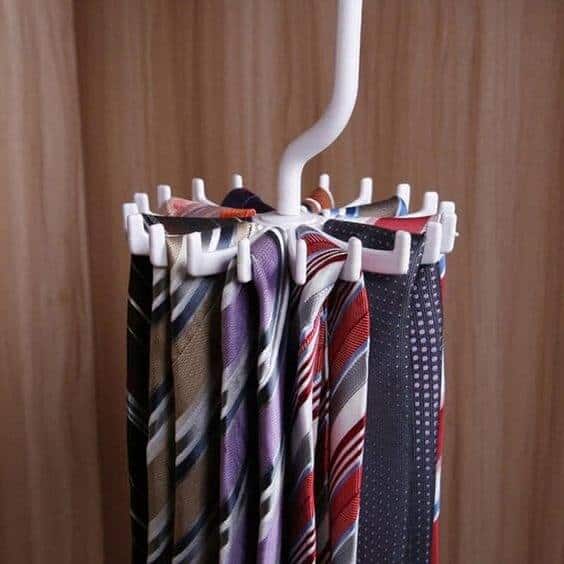 Organizing many ties can be an issue for you while organizing your closet. You can use a multi-tie hanger for this purpose. It will help you in organizing most of your favorite ties at one point.
Use The Real Hangers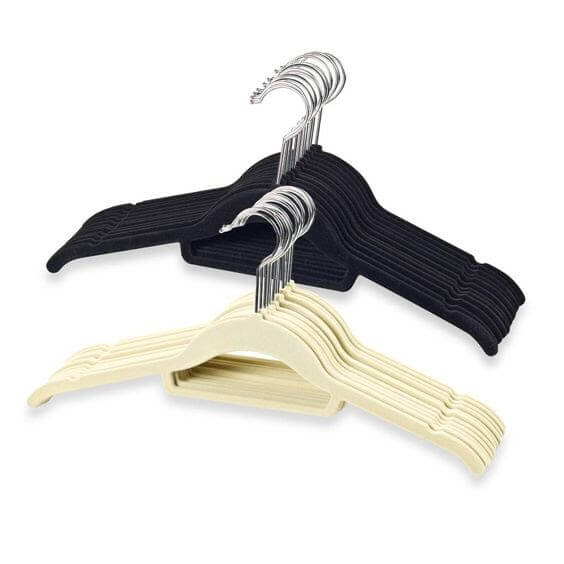 Instead of using pegs and hooks to hang your clothes in your closet you should use real hangers to hang them in a more organized form in it.
It will not only improve the looks of your closet but also maintain the looks of your clothes.
Use Valet Hooks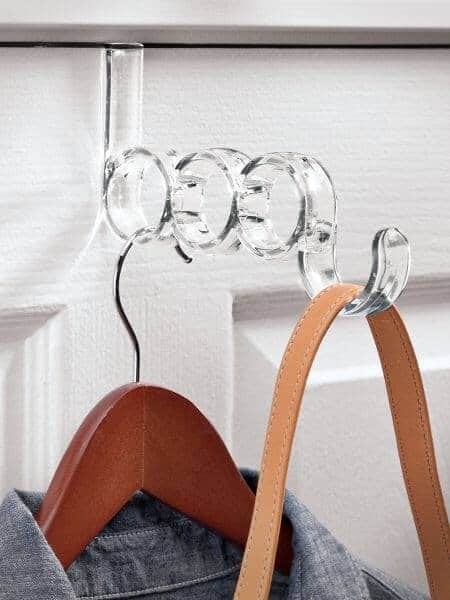 Valet hooks can basically provide you an extra rod space in the closet. You can put them away when not in use. But when needed you can hang several pieces of clothing on them.
Hang Your Accessories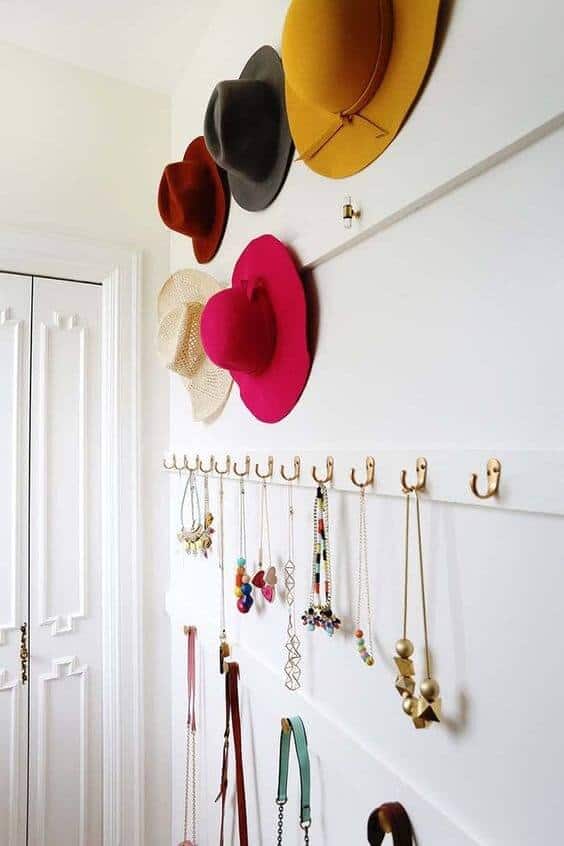 On a hardboard on a small stretch of wall, you can quickly and easily make an elegant organizer for hanging your accessories like earring necklaces and hats, etc. by fixing a few hooks in a line.
Back Door Shoe Storage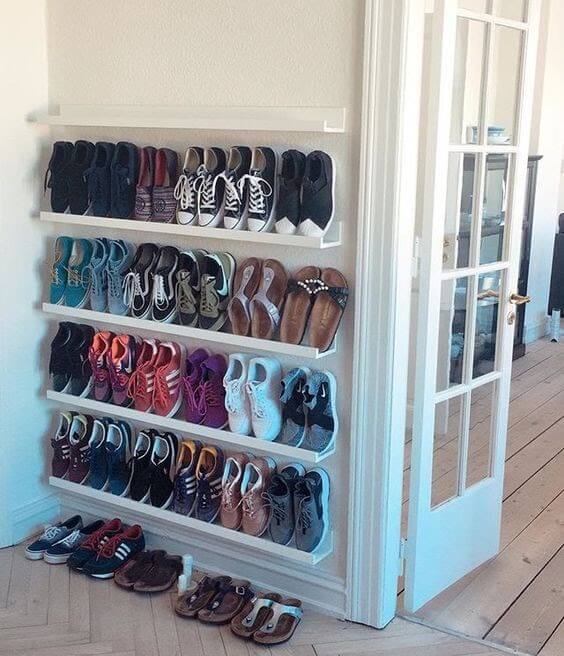 On the back of the door, you can use a few small shelves to store your shoes in a well-organized manner in a very limited space.
DIY Scarf Organizer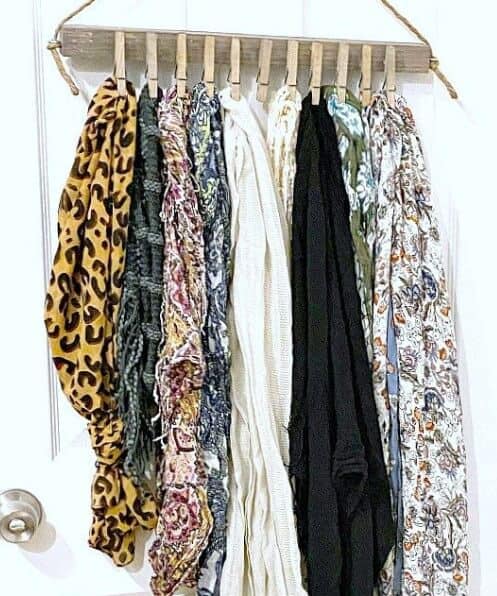 You can create a scarf organizer yourself by using a few clips and a hanger. You can hang individual scarves on each clip to make it easier to find them when needed.
Make Your Own Jewelry Storage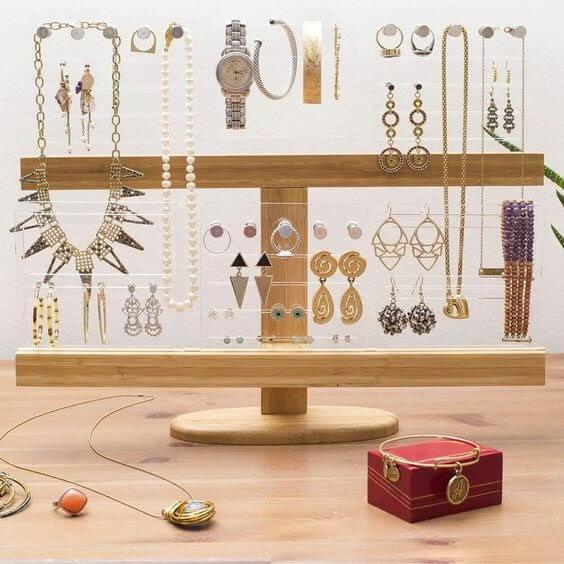 You can make a storage space for your jewelry by fixing a few thumb pins on a decoration board.
It will keep your jewelry well organized so that you can easily choose from them according to the event.
Organize Your Hat Collection
You can organize your collection of hats on the back of your door by fixing a few nails or small hooks vertically in a row on it.
Keep Your Towel Handy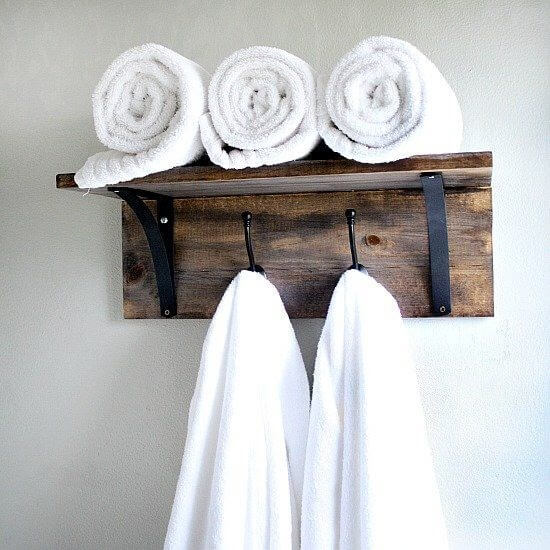 In order to keep your towels handy, you can hang some of them on the pegs in your bathroom and roll the rest of them and store them on the shelf above the pegs.
Use Every Nook and Cranny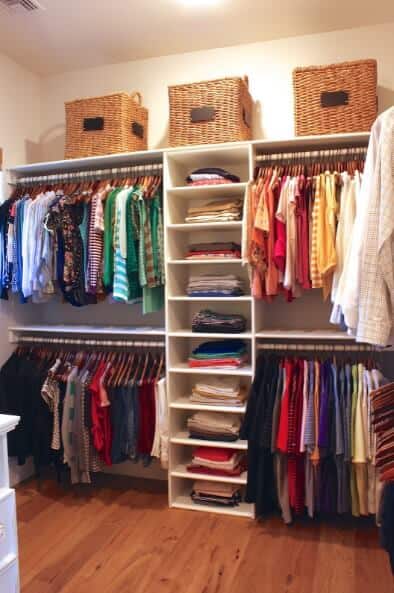 You can also organize your closet easily by using even its smallest spaces and corners.
You can organize most of your things in very limited space if you can divide the shelves into various sections.
Keep Your Bra and Underwear Tidy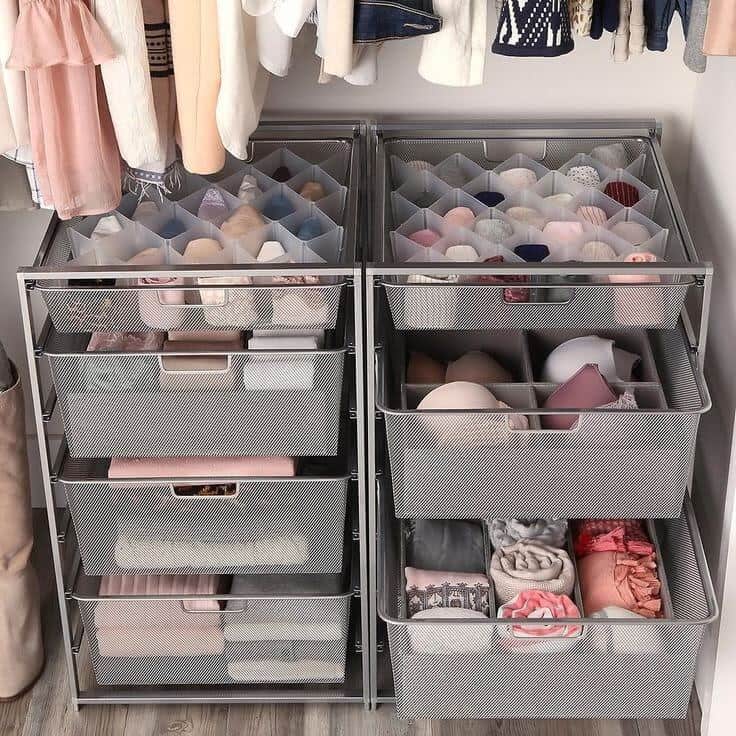 It looks impossible to organize small items like bra and underwear. But it can be made possible by using an inexpensive drawer divider.
You will be able to provide individual space for every undergarment by folding them properly and storing them in limited space.
Make Color Organization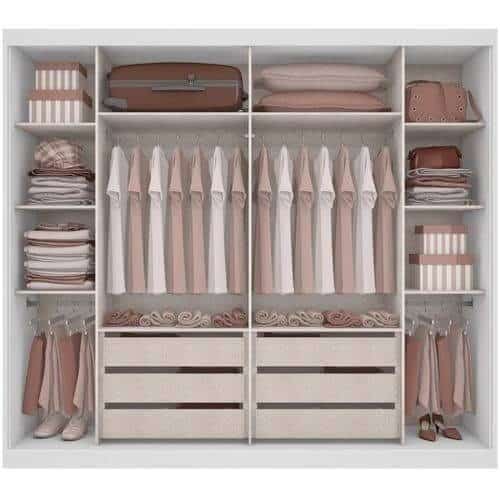 You can organize clothes of particular colors in your closet to give it a different look along with keeping the clothes in a much-organized way.
Though it will not be easy to organize a closet by color, once you have done it then everyone will admire your efforts.
Add Drawers in Your Closet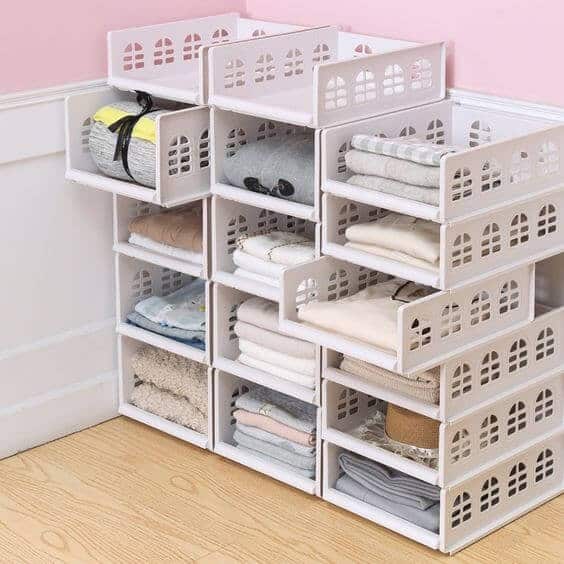 In order to organize smaller items in your closet, you can add drawers to it. You can keep your items separately in each drawer to make it easier to find them when required.
Keep It Clean and Tidy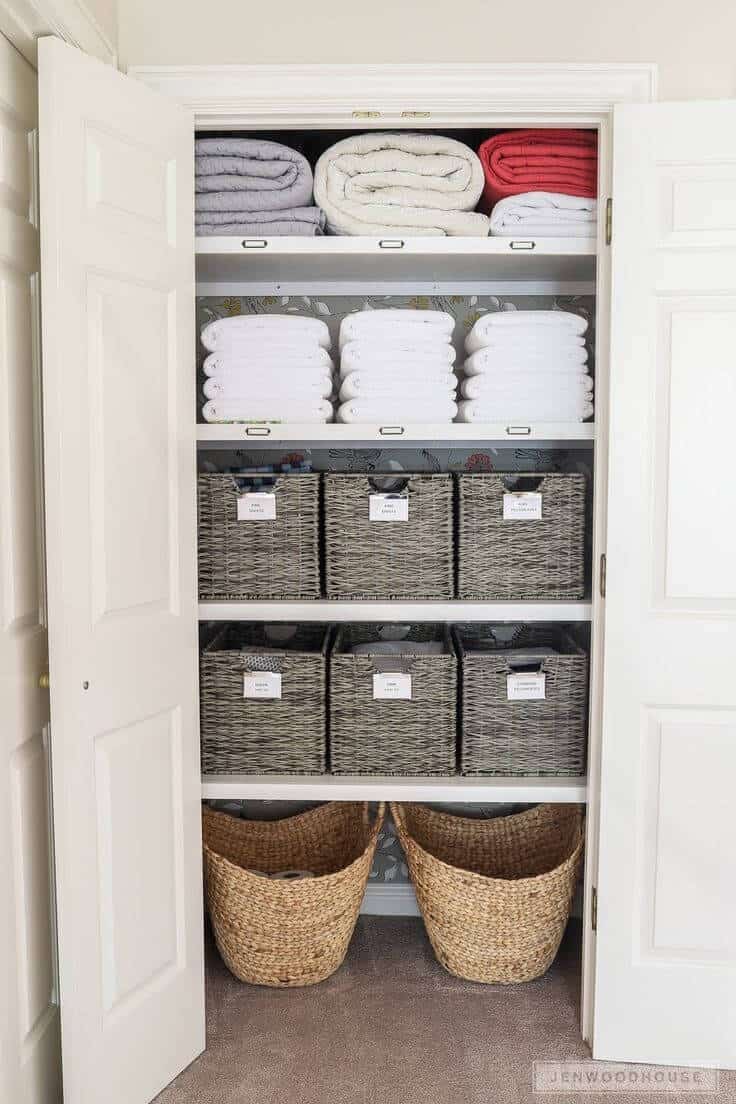 You can keep your closet clean and tidy by using baskets and containers in it. It will help in keeping the things separate instead of messing up the closet.
Share The Space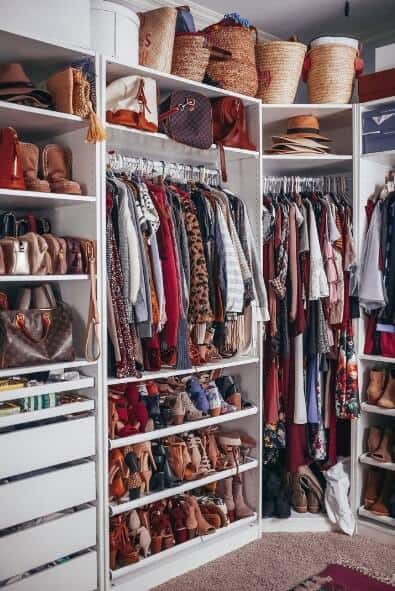 If you have too many small items to put into your closet, then you can share the space with the items of different types instead of storing them separately.
Use Double-duty Storage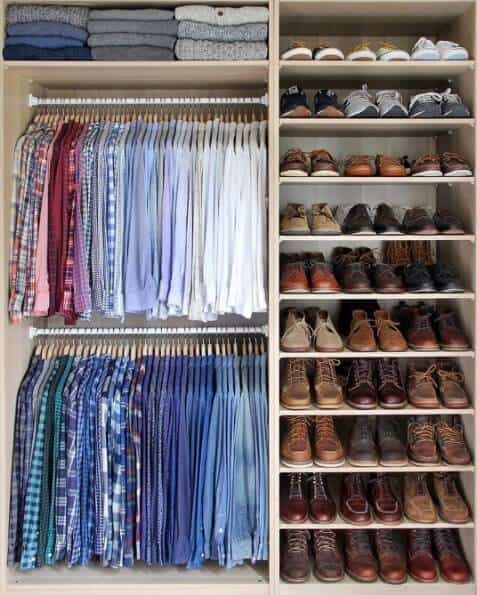 You can divide the closet into two parts to use it not only for storing clothes but also for storing other items including shoes and other accessories.
Store Your Toiletries and Others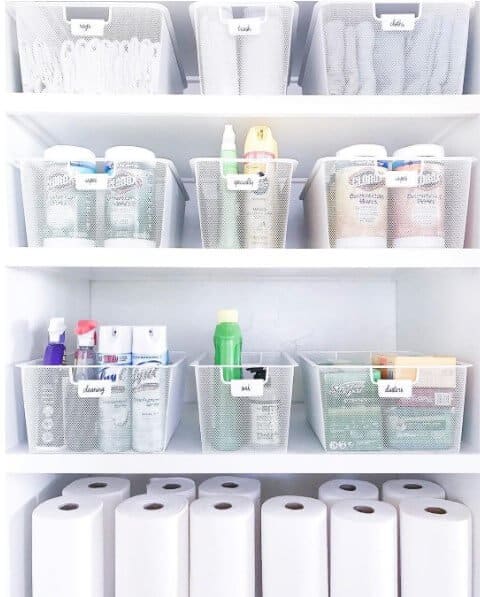 While storing toiletries and other items you can use plastic containers to store them separately so that you can get whatever you want easily. It will keep your bathroom well organized and hygienically clean
Add a Mirror in Your Closet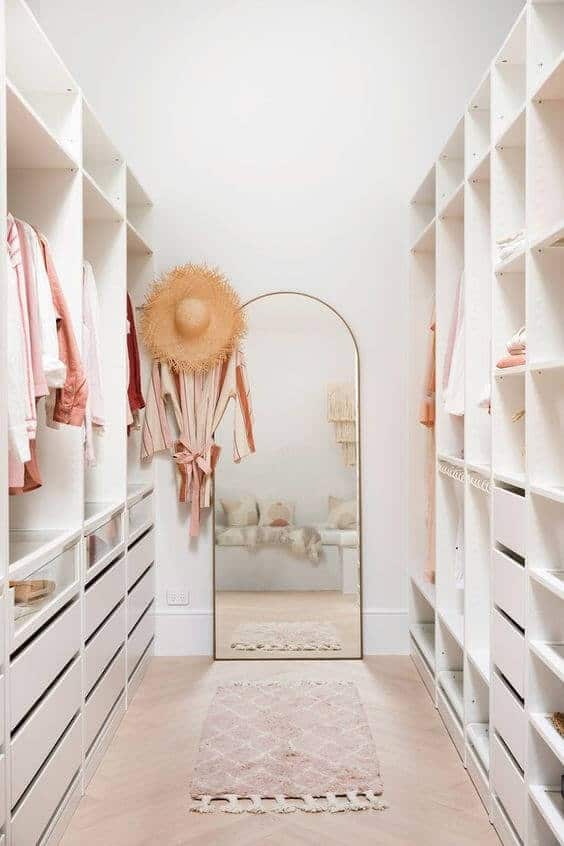 If you have enough space in your walk-in closet, then you can also add a mirror in it to make it easy for you to get ready for a special occasion.
It will help you in checking your looks after dressing up as well as putting on the makeup of your choice.
Manage Your Laundry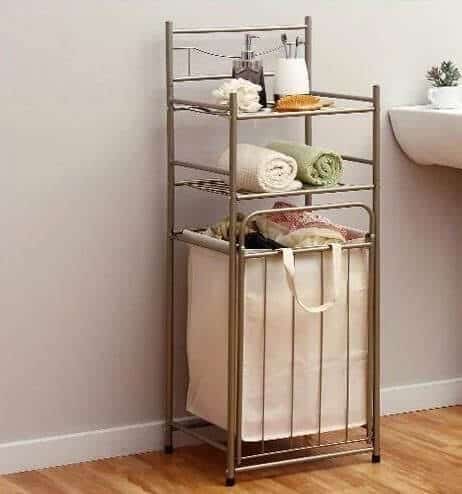 In order to manage your laundry, you can put a laundry bag in the accessory stand in your bathroom.
It will help you in putting your dirty clothes in a confined space instead of spreading here and there in your bathroom.
Optimizing The Top Space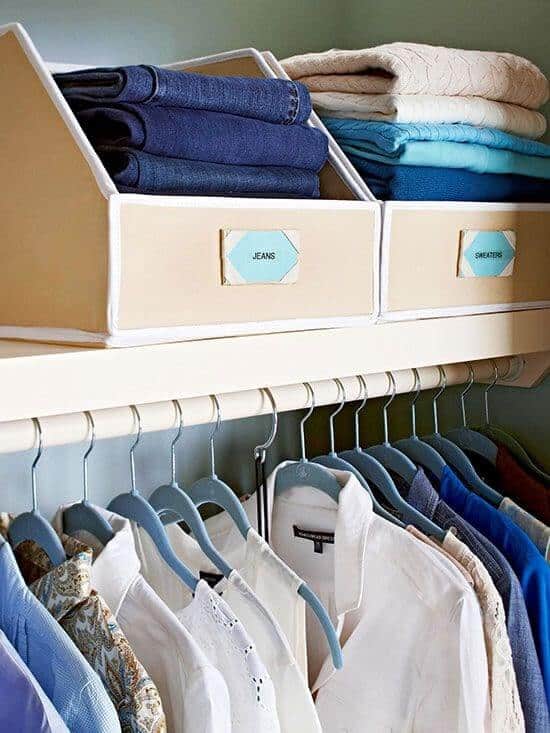 You can use the space on the top of your closet to stack your folded clothes on it.
You can put labeled storage boxes on it to put pieces of denim and sweaters separately and make it easy for you to find them easily whenever you want on any occasion.
Organize by Category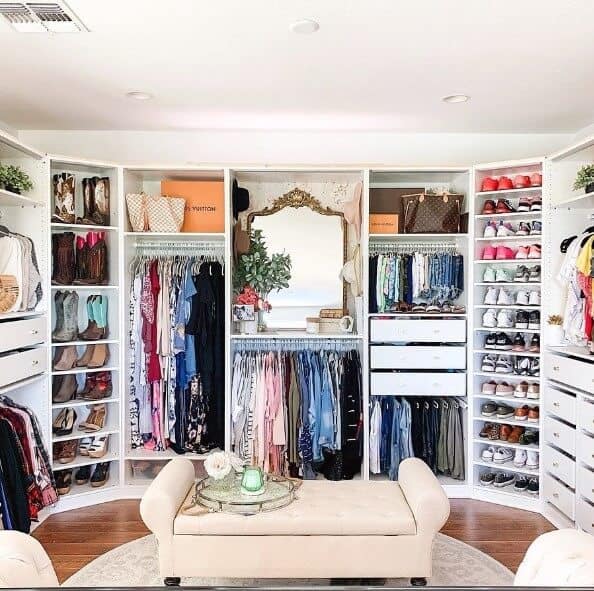 The easiest and fastest way to declutter your closet is to sort out your clothes according to their type.
To organize your closet you can divide it into various categories so that you can store your clothes and other items in the specific space of their category.
It will not only organize your closet but also make it easy for you to find them quickly whenever needed.
Use Coat Rack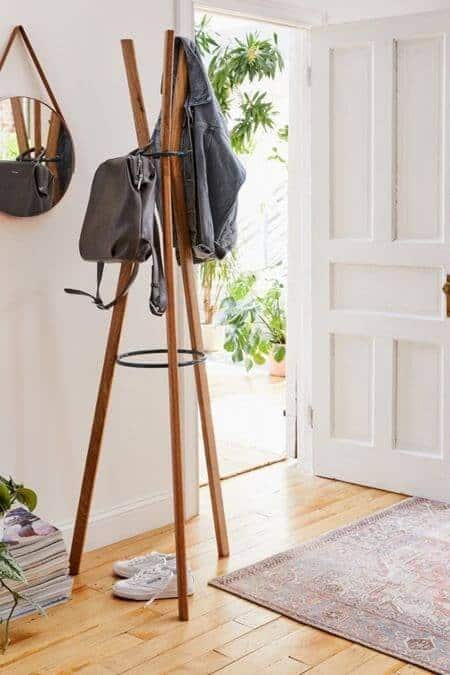 A coat rack in your home can provide you enough space to store various types of items like handbags, umbrellas, scarves, towels and other clothes on it which you use very frequently.
It will not only organize your things in one place but also spare a lot of space in your closet to store other items in your home.
Rearrange Your Bag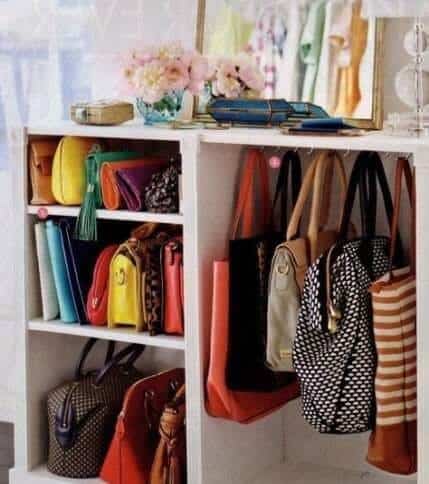 If you have various types of bags such as Gucci bags, Versace bags, or timeless Saint Laurent bags, then you can rearrange them in your closet to make it easier for you to find the most suitable one when required.
Be Creative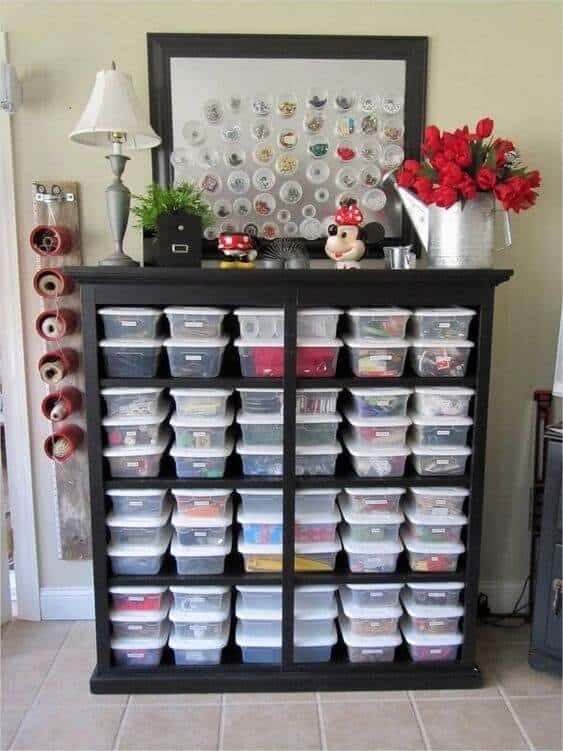 You can use your creative skills to organize your closet in different ways. You can use small boxes to arrange small items in them separately.
You can label the boxes to find the items stored in them without opening them again and again.