Don Pedro Brooklyn is reader-supported. When you buy through links on our site, we may earn an affiliate commission. Learn More
Walk In Closet Design Ideas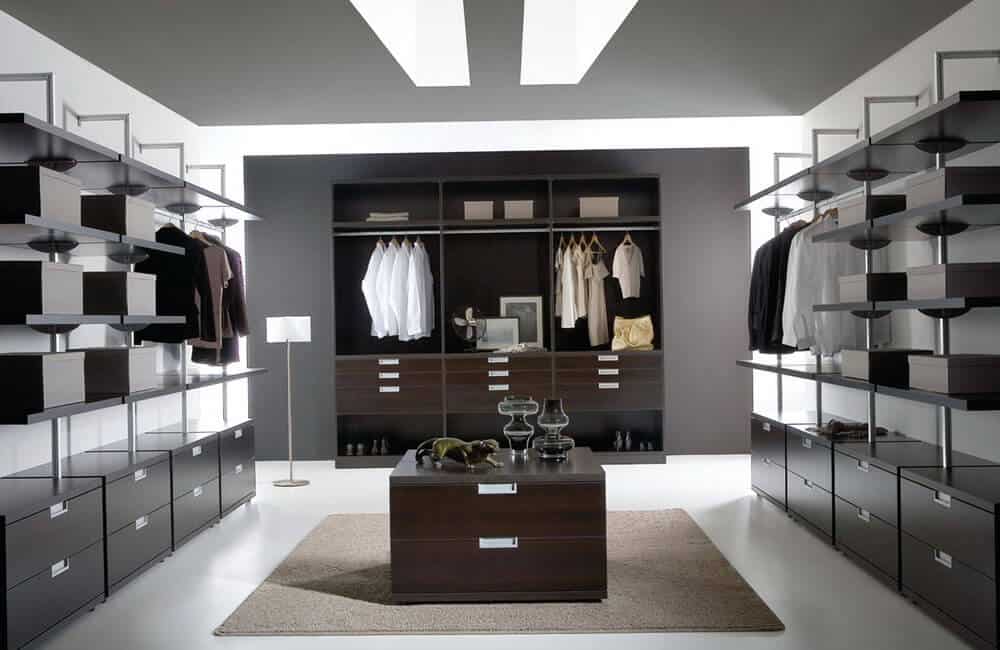 Walk-in closets have always been portrayed as the symbols of wealth. In movies, at times, walk-in closets are owned by higher class characters, full of branded clothing and an expensive belonging.
Today, walk-in closets are not exclusively owned by a lord. Anyone can organize and arranged an area to store their belonging properly in a walk-in closet.
Here are some great designs of the walk-in closet.
However, before learning about the information, firstly, we have to understand how to create the space!
Walk-In Closet Essentials
Below are some of the most crucial components to be considered with walk-in closet layouts:
1. Choose The Shape of Walk-In Closet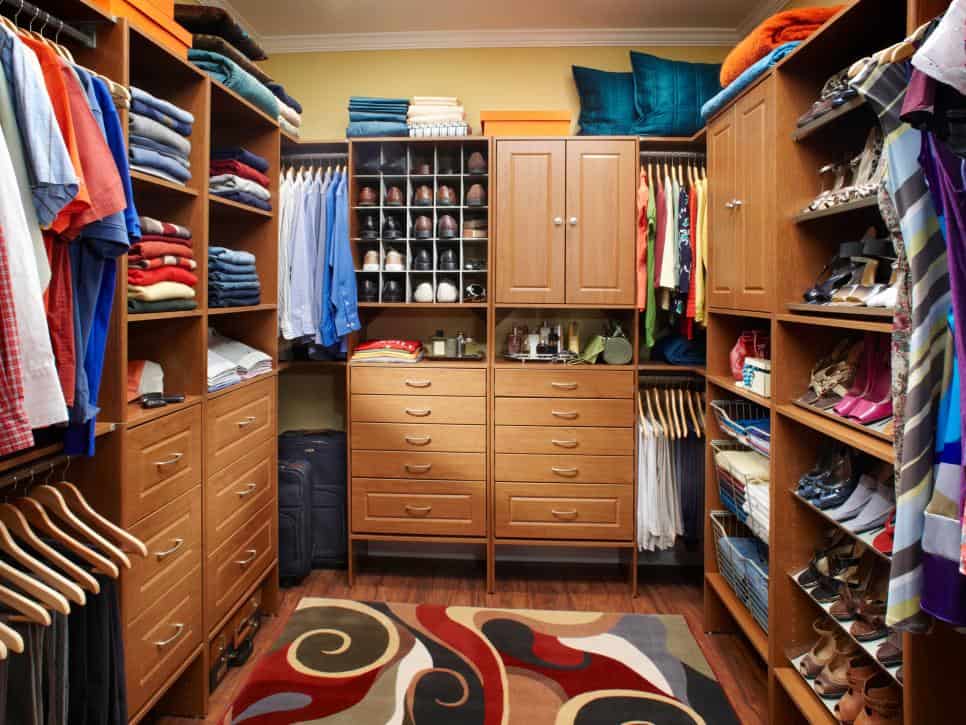 There are approximately three shapes of common closet design: the "L," "U" and the straight walk-in closet.
All of these shapes are suitable for clothes, shoes, dresses, and more depend on the stuff you want to store.
However, the "U" shaped closet does require three walls for maximum storage.
On the other hand, the "L" shaped closet requires two of the walls.
At last, the straight closet design or the "I" can be adjusted to the desired closet size. It can be modified to have "hers and his" on the walls of each side.
2. Add Extra Storage Appropriate to The Amount of Stuff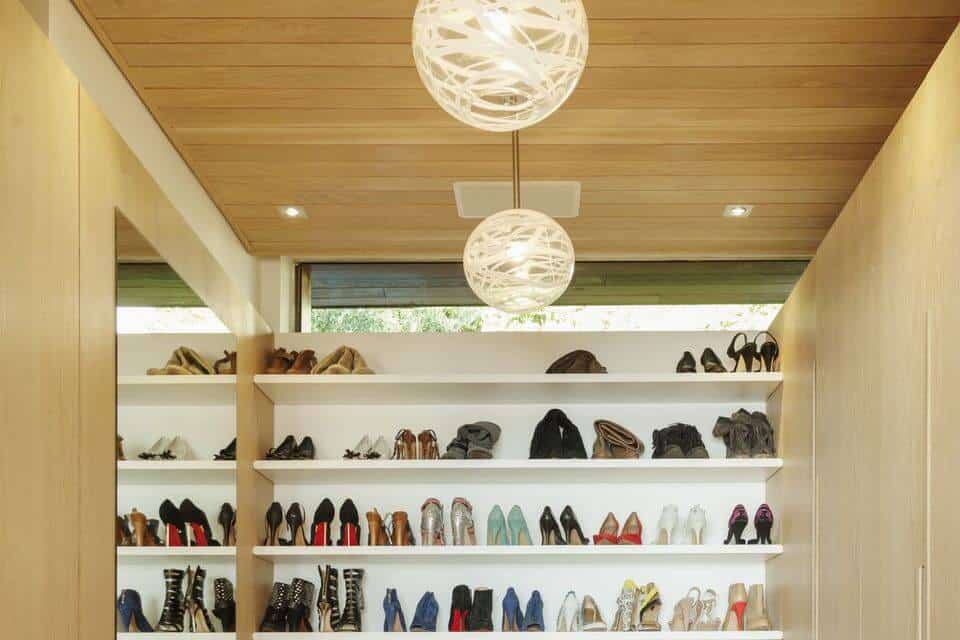 Before creating a space for walk-in, built-in, or reach-in closet, the first thing that you need to do is to plan the entire storage. For example, how much stuff are you planning to keep?
When you know the amount and the types of things to store, you can decide the organizational plan such as shelving, hanging space, drawers, and cabinets. The idea is to avoid excess stuff.
We are afraid that later if there is still much stuff that does not get a place, the closet will overload and messy.
3. Choose The Desired Closet Style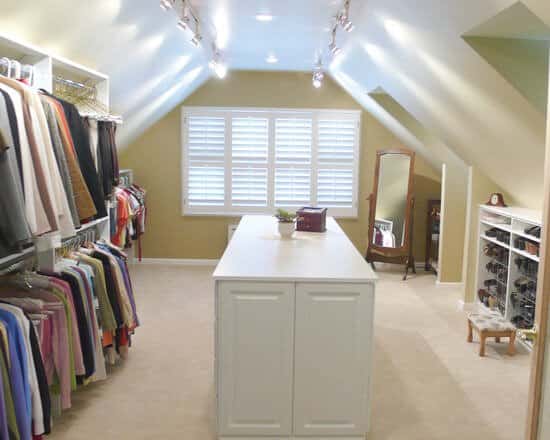 There are many styles of the walk-in closet; therefore, to find the perfect one, it is highly recommended to review walk-in closet ideas and designs.
After reviewing, there must be some ideas that come to mind. One of the most popular closet styles is contemporary styling.
This style is very suitable for those who love the clean design to have a clear space so the clothes can be seen beautifully.
4. Add Beautiful Mirrors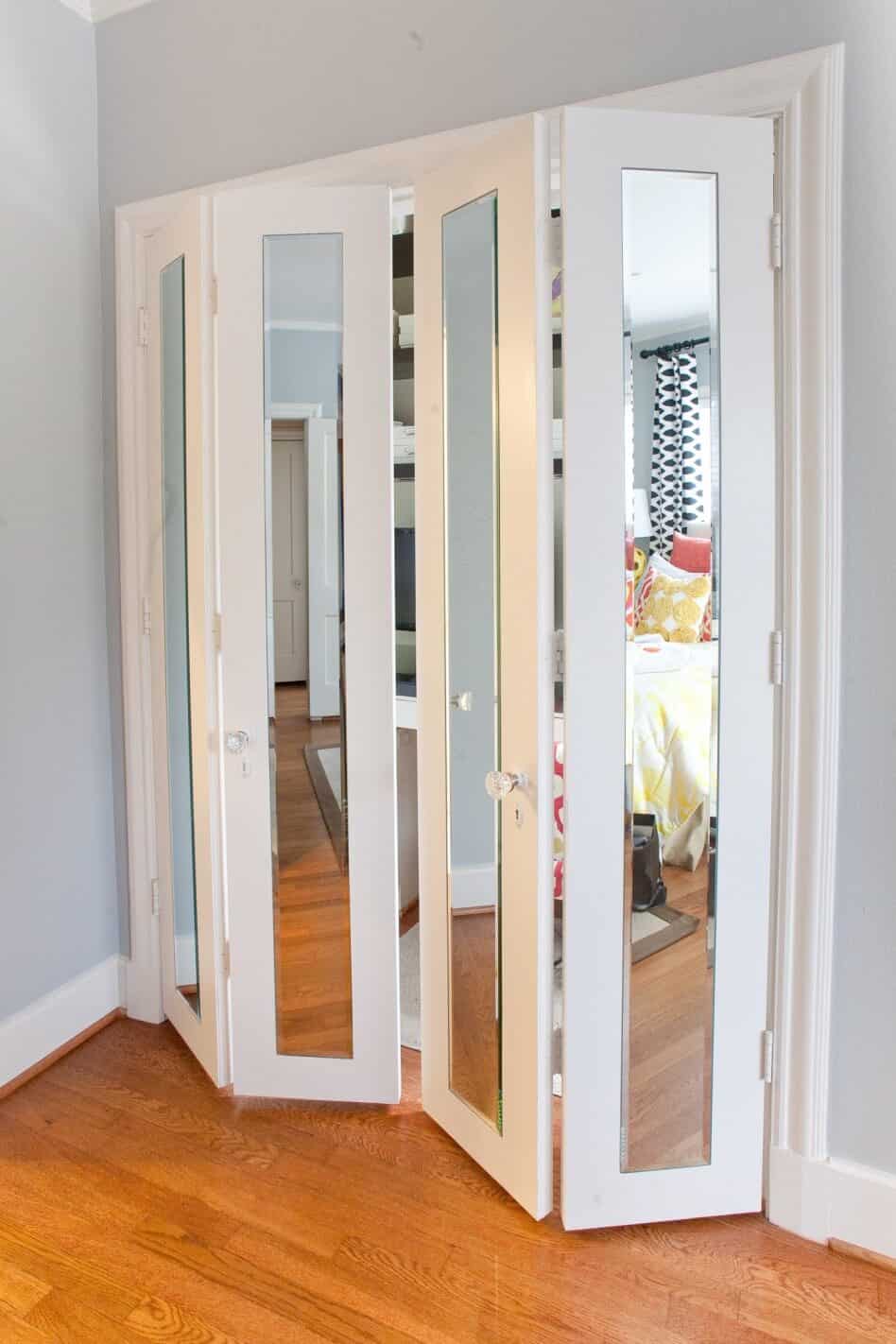 A variety of mirrors in your walk-in can be an actual time-saver.
5. Consider Peninsulas and Islands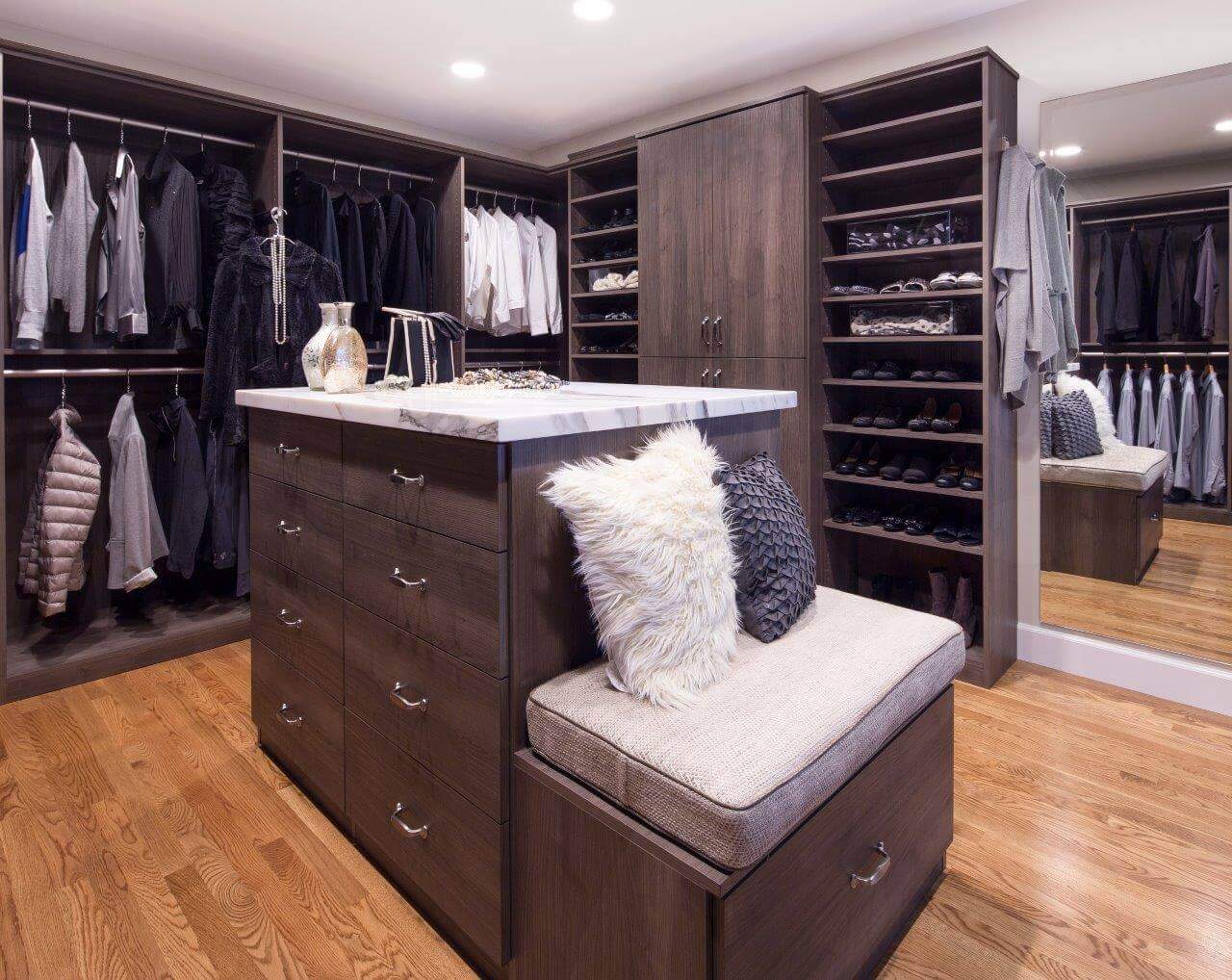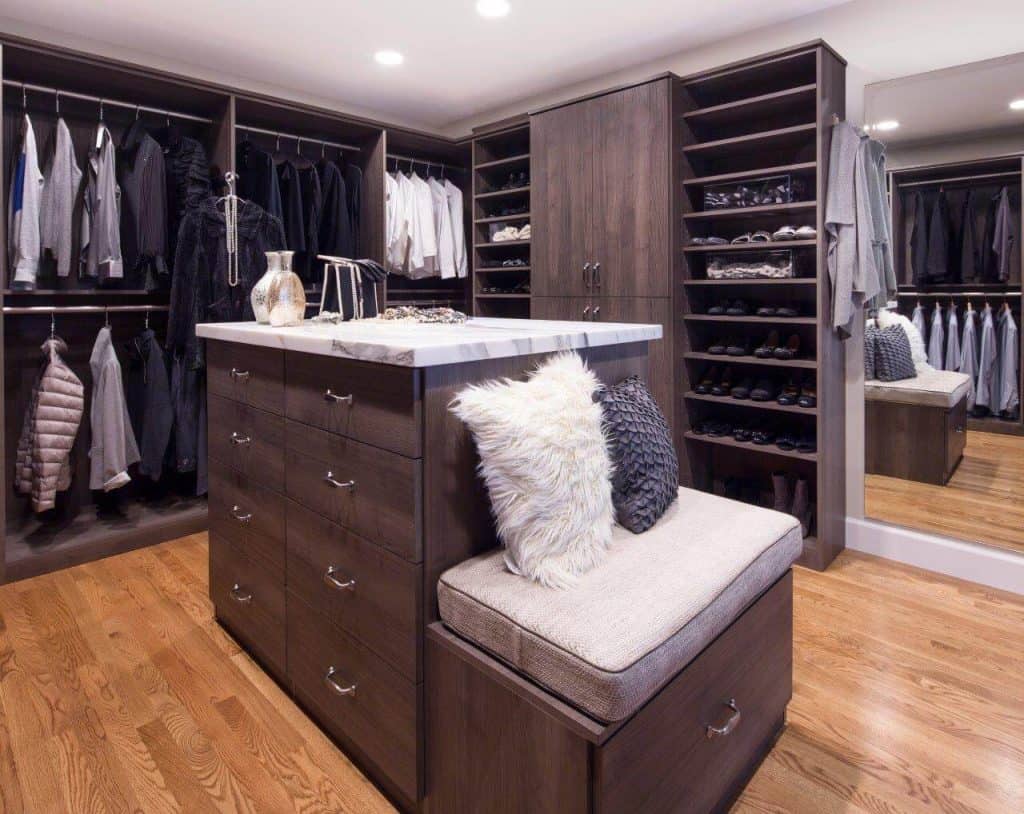 The room islands could be an excellent enhancement as they give you an area for additional storage space compartments.
When taking into consideration a wardrobe island see to it you have 36 inches around the island on all sides, so you have a lot of room to maneuver
6. Put a Dressing Bench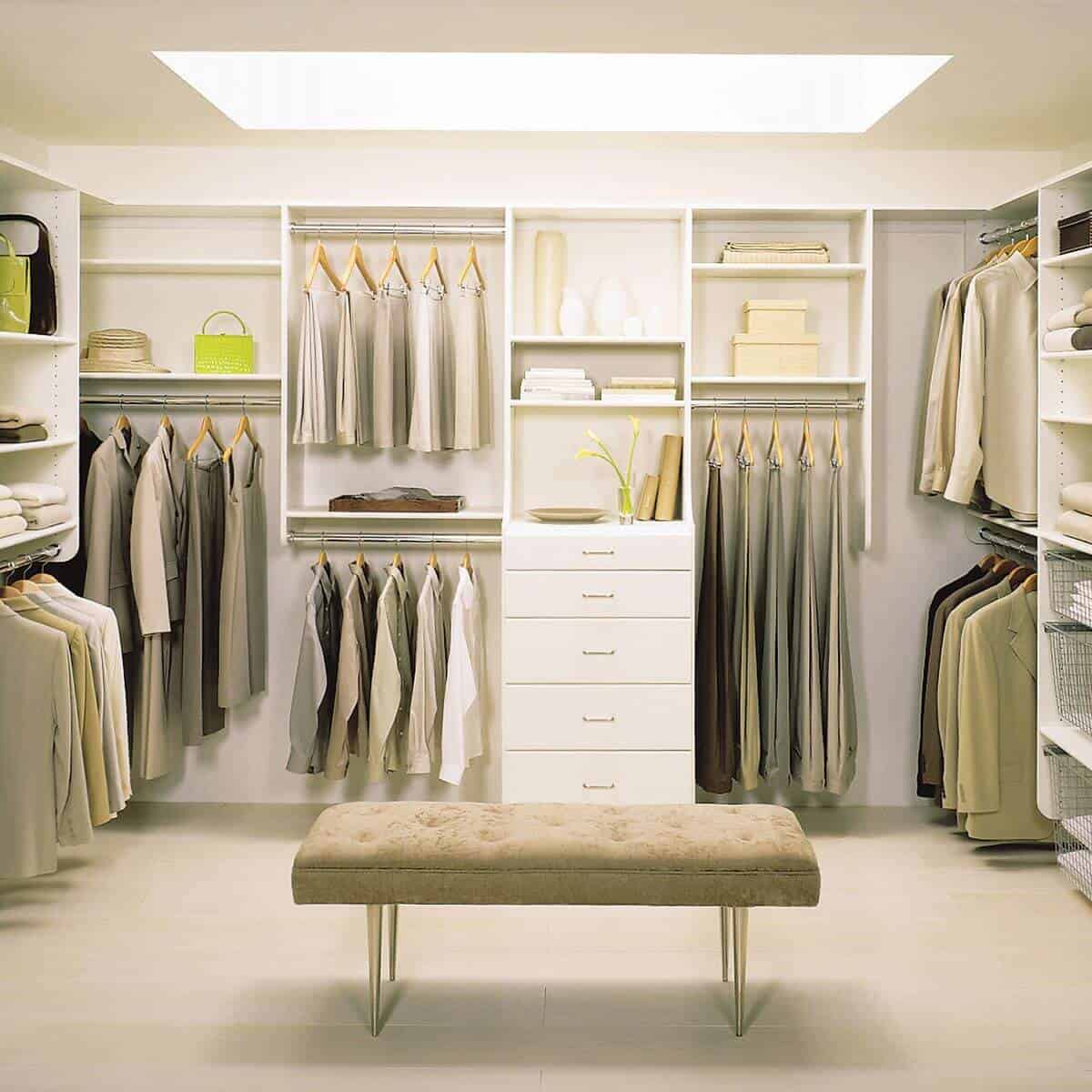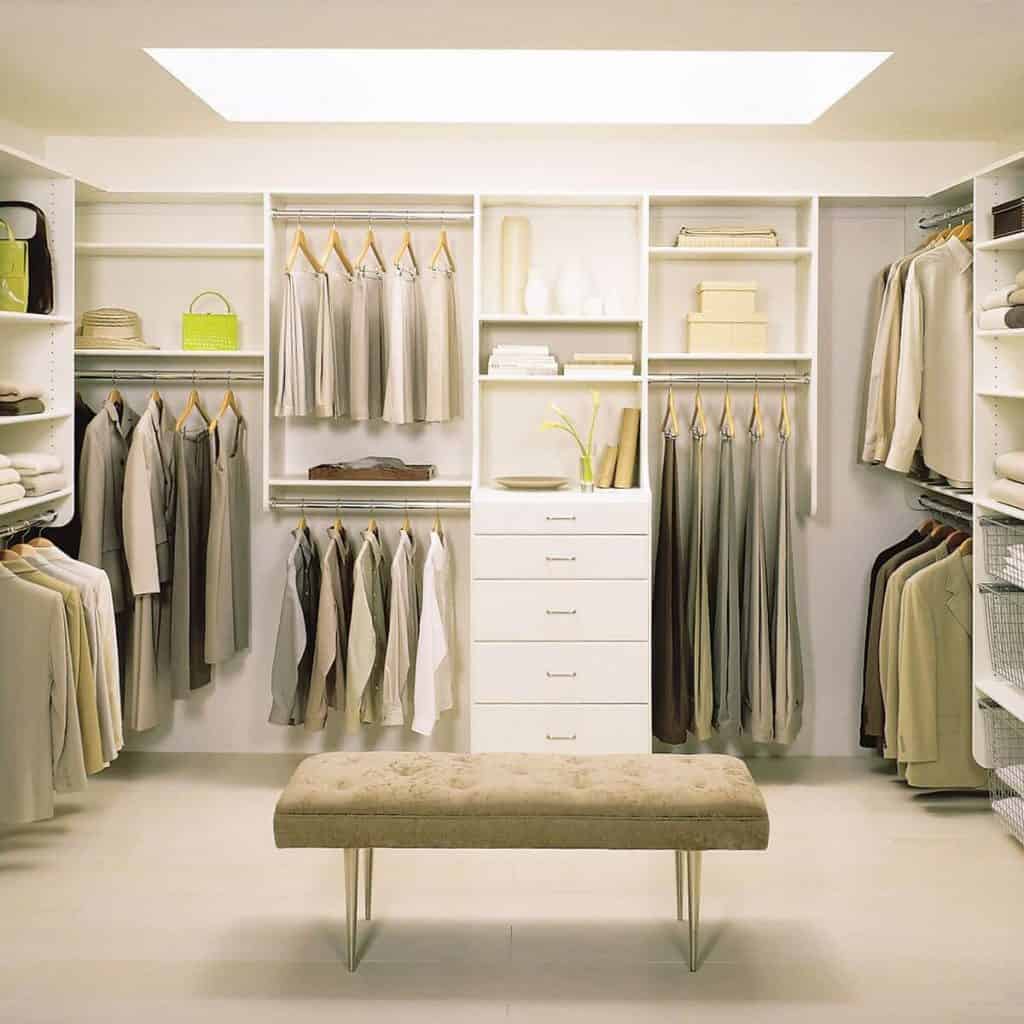 Benches could offer you a very easy location to rest and try on shoes. They are excellent for when you need a little extra help getting to those items means up on the top rack.
7. Hang a Chandelier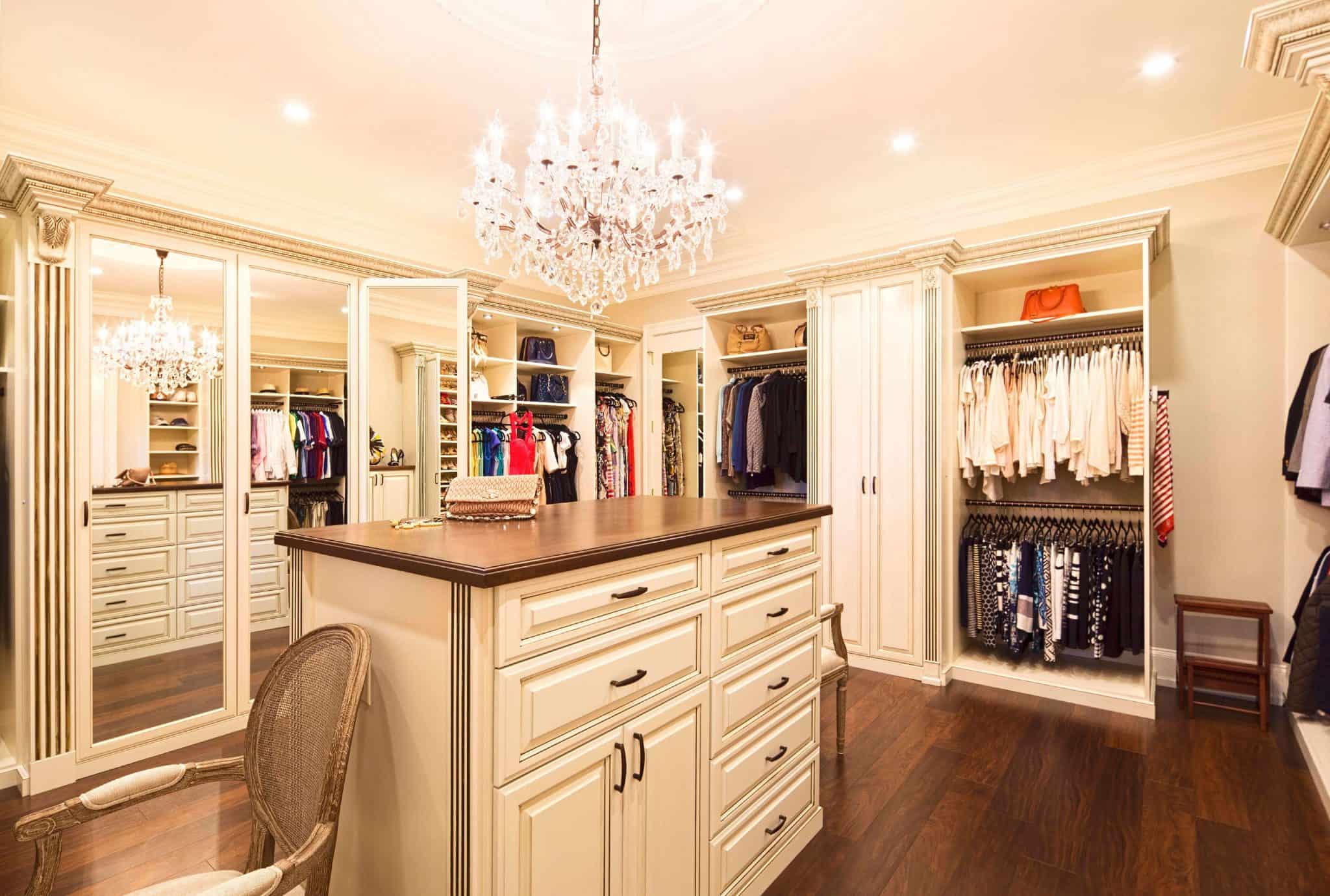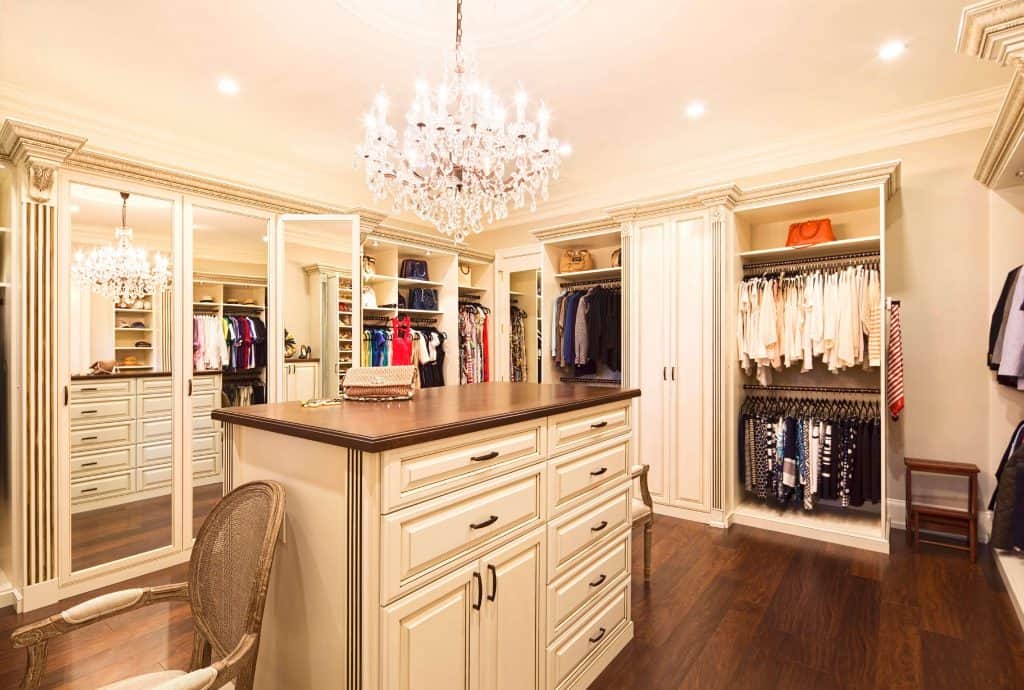 I left this for last because it's not only useful, but it's also enjoyable. Adding a chandelier is a great way to add your style and even the feeling of style to your closet area.
Walk-In Closet Designs
After understanding the essential steps to determine the closet style, these are some of the most beautiful walk-in closet ideas that you must know:
Wood Walk In Closet With Cool Lighting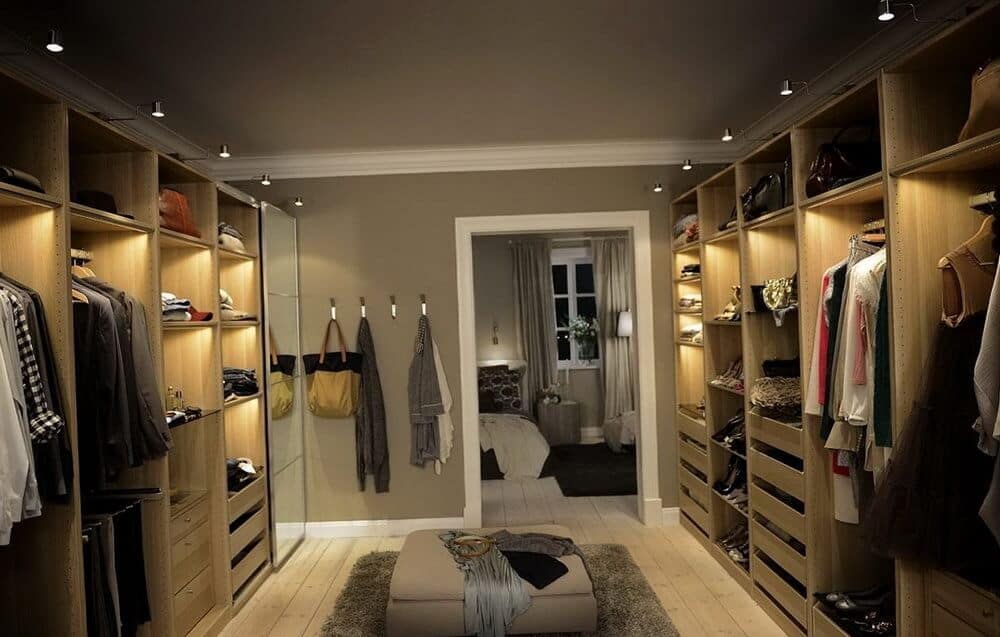 Another way to play with the atmosphere of the room is by setting the mood with lighting. The purposes of this idea are:
Creating a superb design with lighting techniques
Creating mood to the closet, making the individual feels better while trying on clothes or shoes
Adding brightness to the room
Giving accessories a spotlight with proper lighting
For example, to create a bright background to your shoe compartment using lighting, install a fluorescent light fixture on the wall behind it. Then, place white plexiglass in front of the installation.
White Luxury Walk In Closet Ideas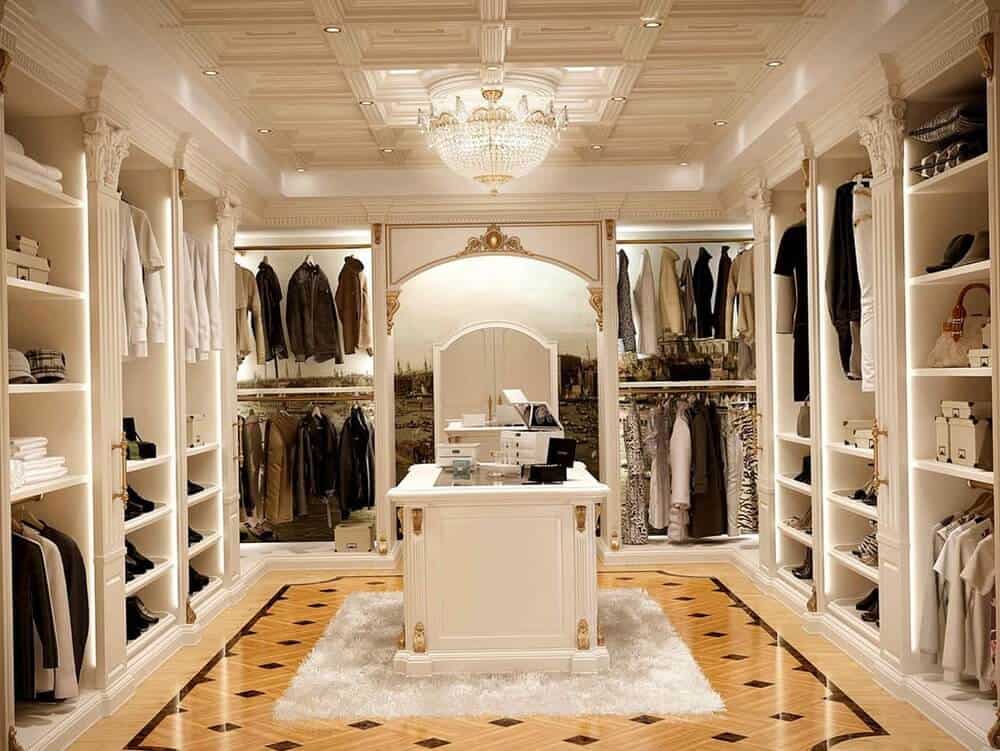 White is the color of clarity. It is a sign of purity. This bright color is an appropriate contrast for your clothes, especially clothes that are in contrast with white.
As a decent color, white provides an atmosphere of cleanliness, simplicity, and a bit of futuristic touch.
With a high-contrast white color has, a dark room will look brighter and refreshing with a white-colored walk-in closet.
Walk-in Closet with Accessories Display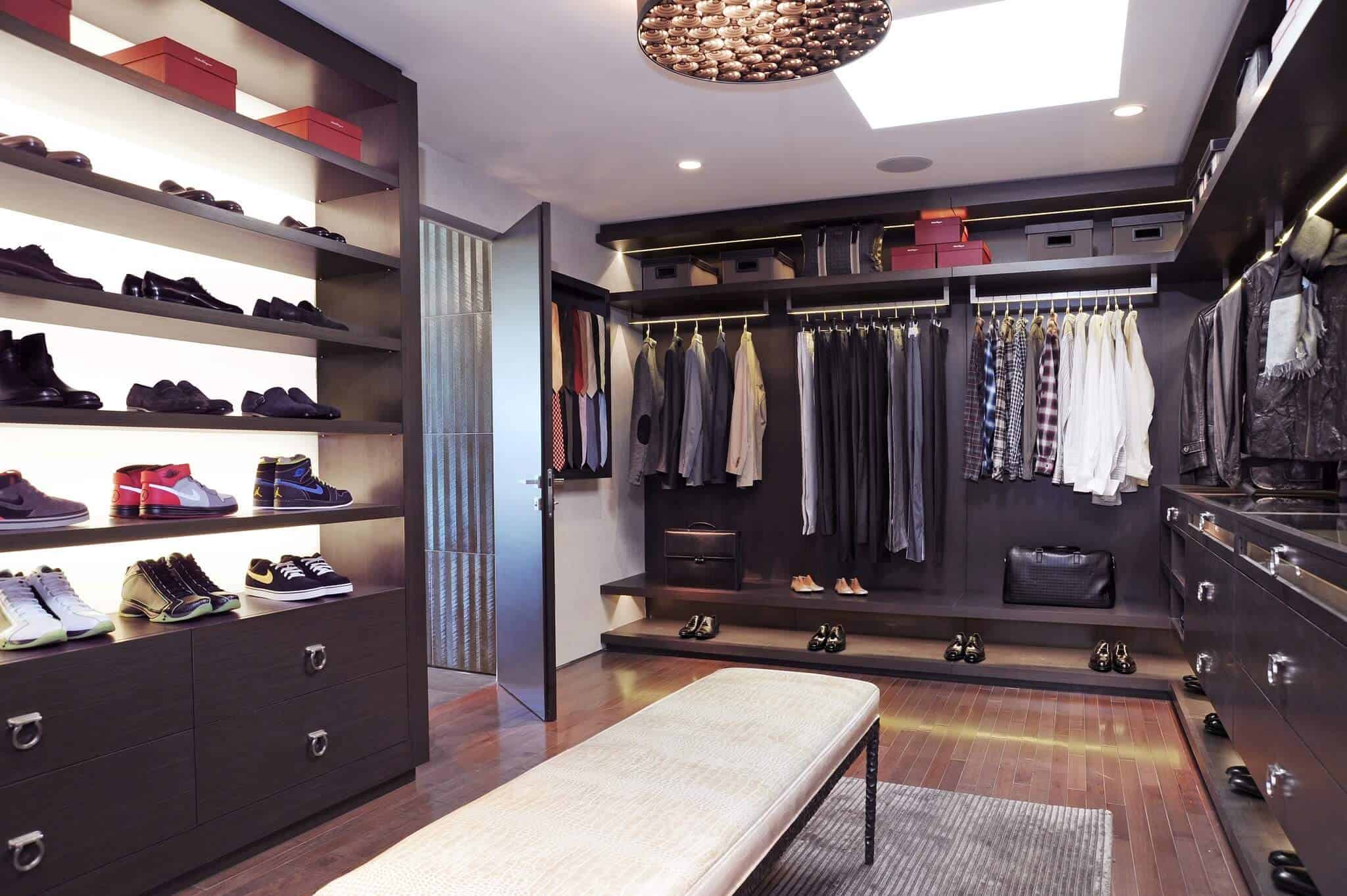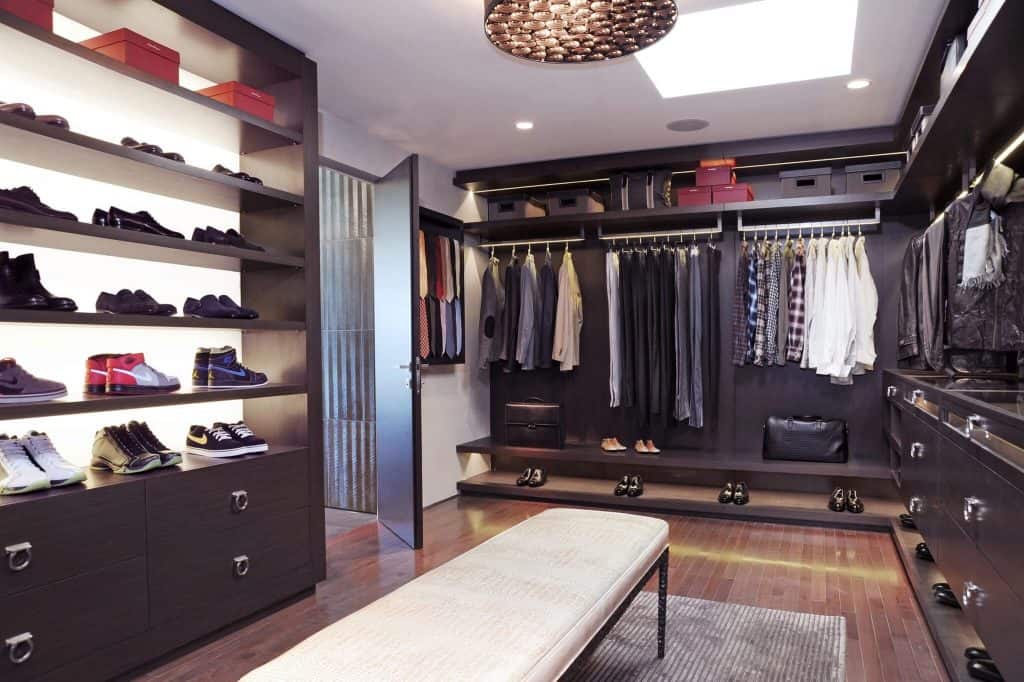 A closet is about the space used for storage services. Sometimes, building an innovative idea to create more space is very easy.
Other than clearing some extra place to keep things, innovative displays in the closet please the eyes as well.
If it is hard to find the ideas, review some designs or go to the mall to see how fashion boutiques display their objects.
These are the objects commonly used in a display: Mannequins for clothes, racks for folded clothing, jewelry displays like mannequins' hands, and more.
Luxury Walk In Closet with Shoe Rack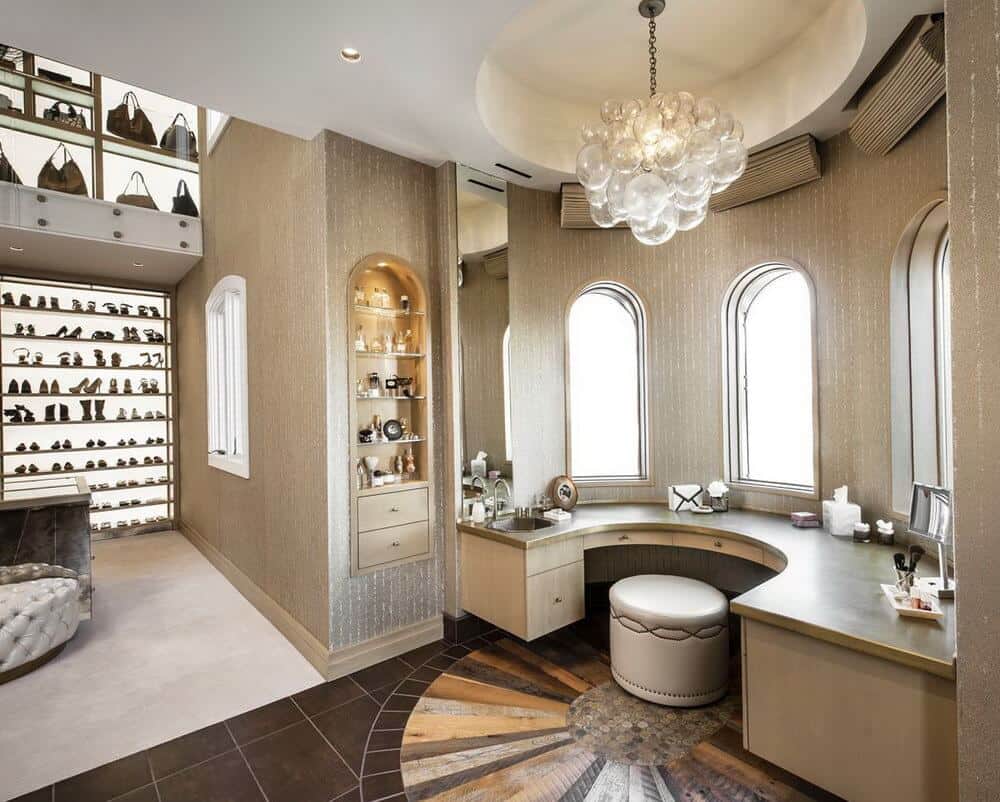 A contemporary walk-in storage room design with an excellent design and dimension. Due to its area, it can separate clothing into numerous areas, also consisting of a large shelf for shoes.
The wardrobe is likewise open-type with no doors, more intimate things could be stored in one of the numerous drawers.
Additionally, due to its all-white scheme, not just in the area intense, it also helps the shade and product of the clothing stand-out, making it much easier to watch your wardrobe,
Beautiful Walk In Closet Ideas with Glass Racks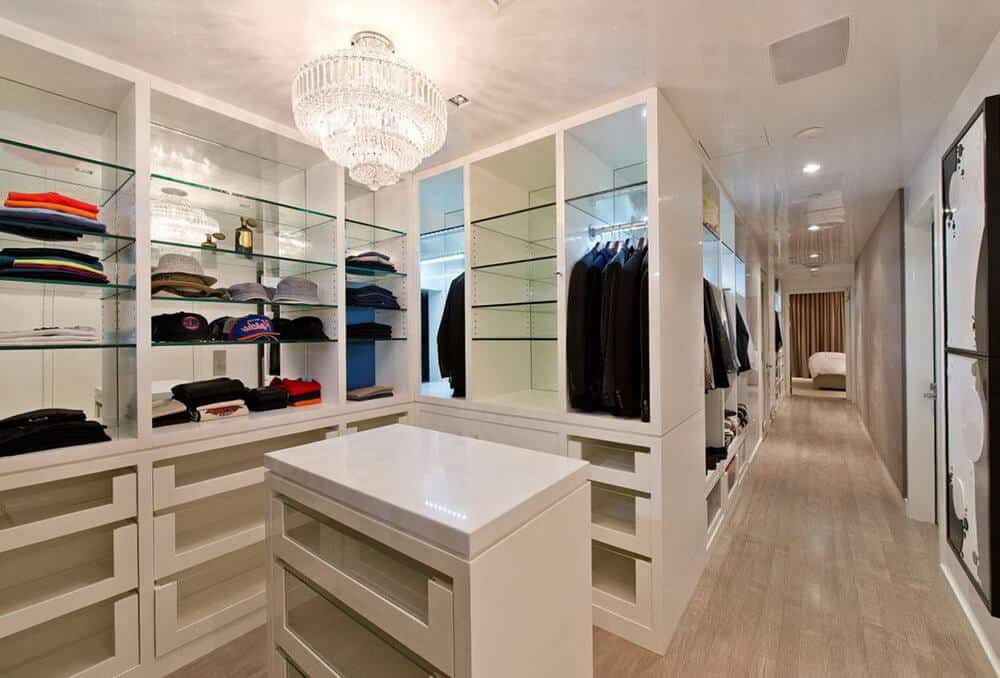 This is an instance of a small walk-in closet that incorporates modular wardrobe systems. The framing is all laminated flooring in wenge with a combination of timber and frosted glass flexible shelves. You can utilize the shelf as a clothes rack or even a hat rack.
The layout is likewise open-type without doors. And also, it even has cabinets with acrylic cabinet encounters, which enables you to see the products kept inside easily.
Big Walk In Closet with Flooring To Ceiling Wardrobe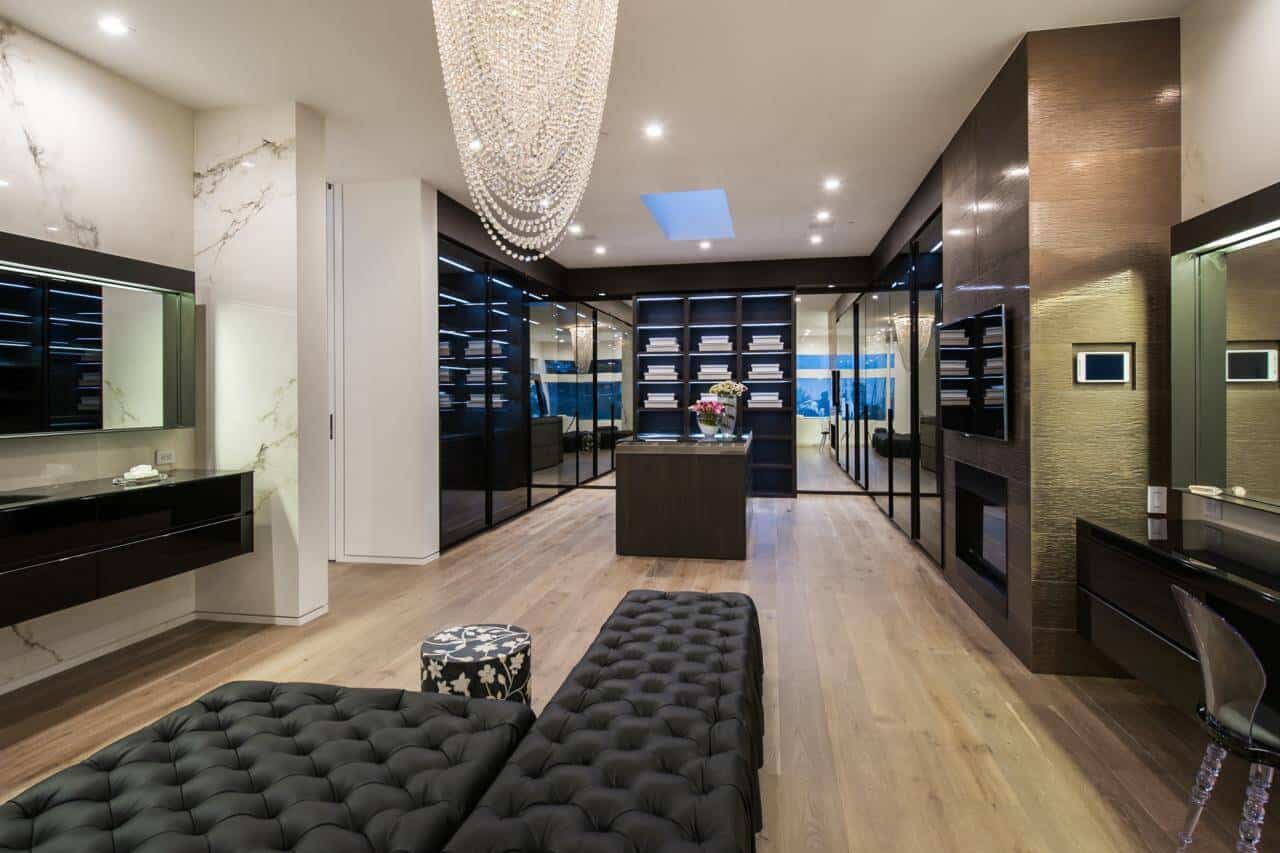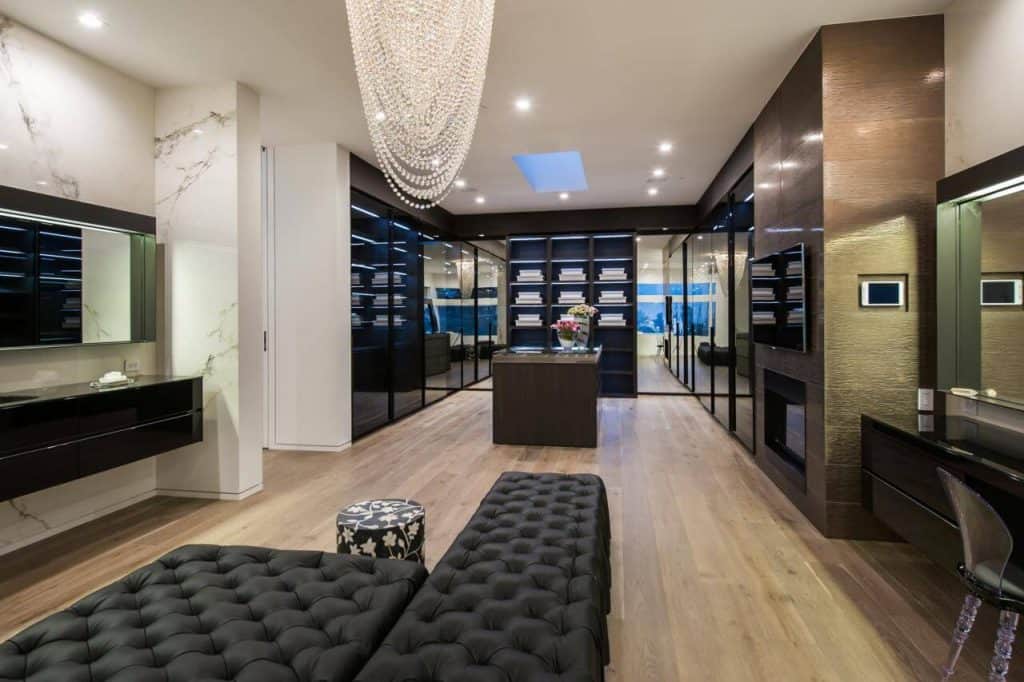 This substantial walk-in storage room has some beautiful features such as flooring to ceiling closet room, timber flooring, glass chandelier, and also a huge oblong carving mirror with drawers.
The ceiling has an intriguing grey and white candy-striped pattern that contrasts nicely with the level white cabinetry of the space.
High-end Walk-In Closet with Seating Area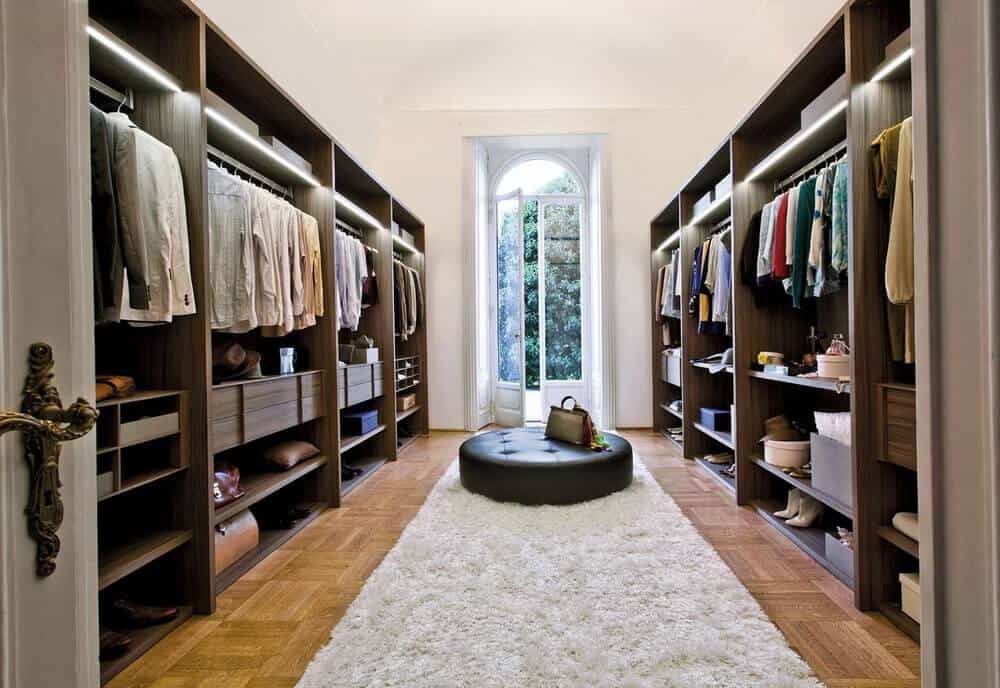 If you have a large walk-in closet, perhaps in the shape of a "U," a seating would make the closer better.
A seating which is usually placed at the center of the room is used for multiple purposes. One of them is for seating while putting on shoes, and another is for laying out outfits before wearing them.
Wood Luxurious Walk In Closet Ideas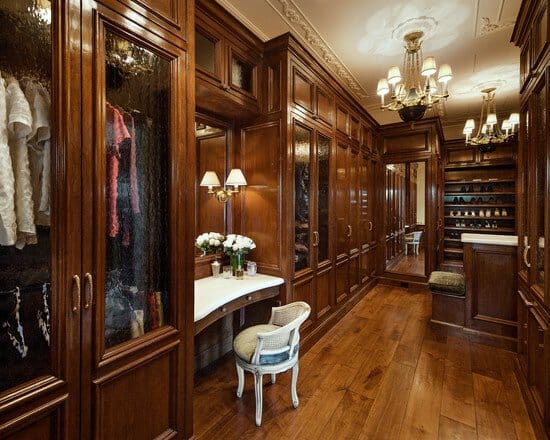 This is one more modular walk-in wardrobe which makes use of pine laminates and also a range of racks and drawers to address the storage room storage needs.
Some of the significant features of this simple wardrobe are the tie cabinet, which has separate departments for every tile.
Small Walk In Closet Ideas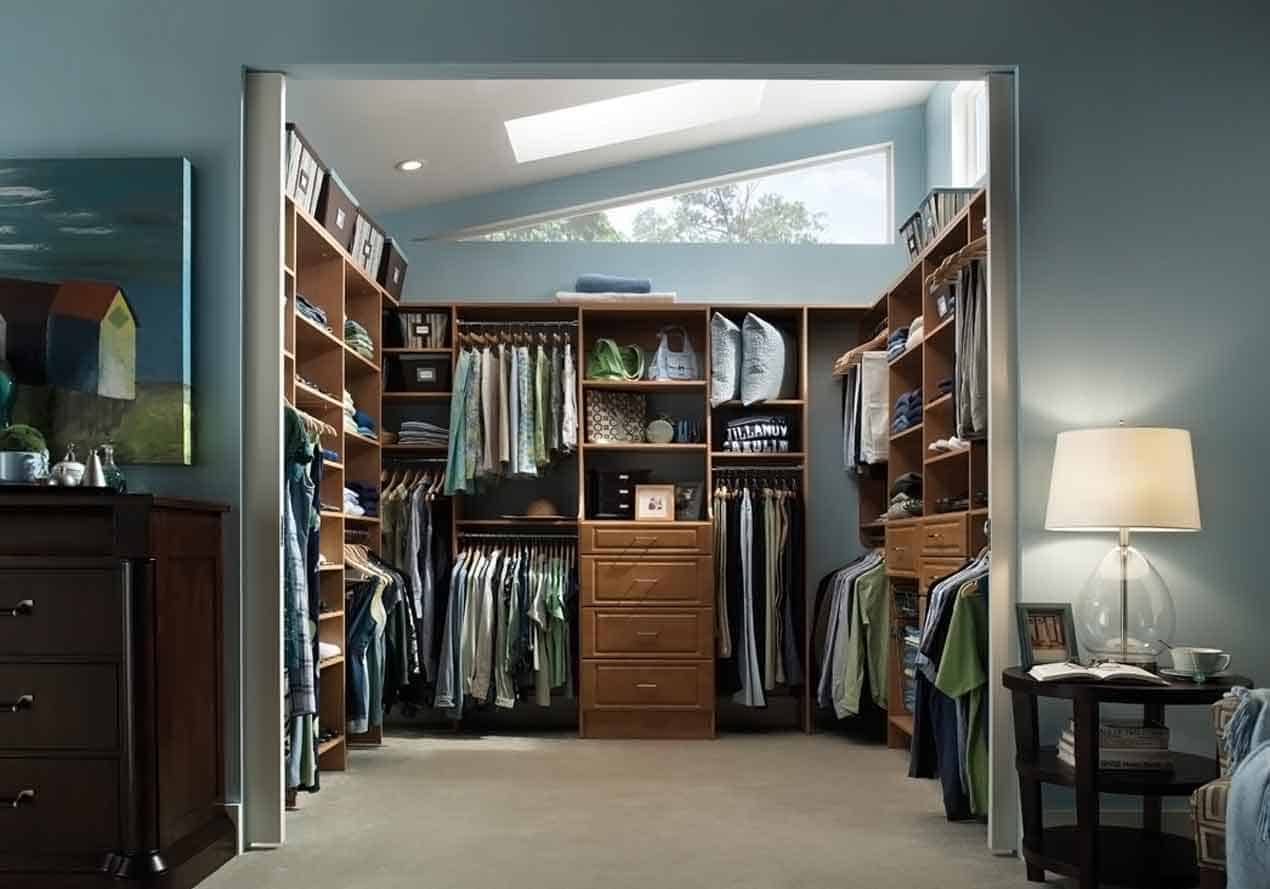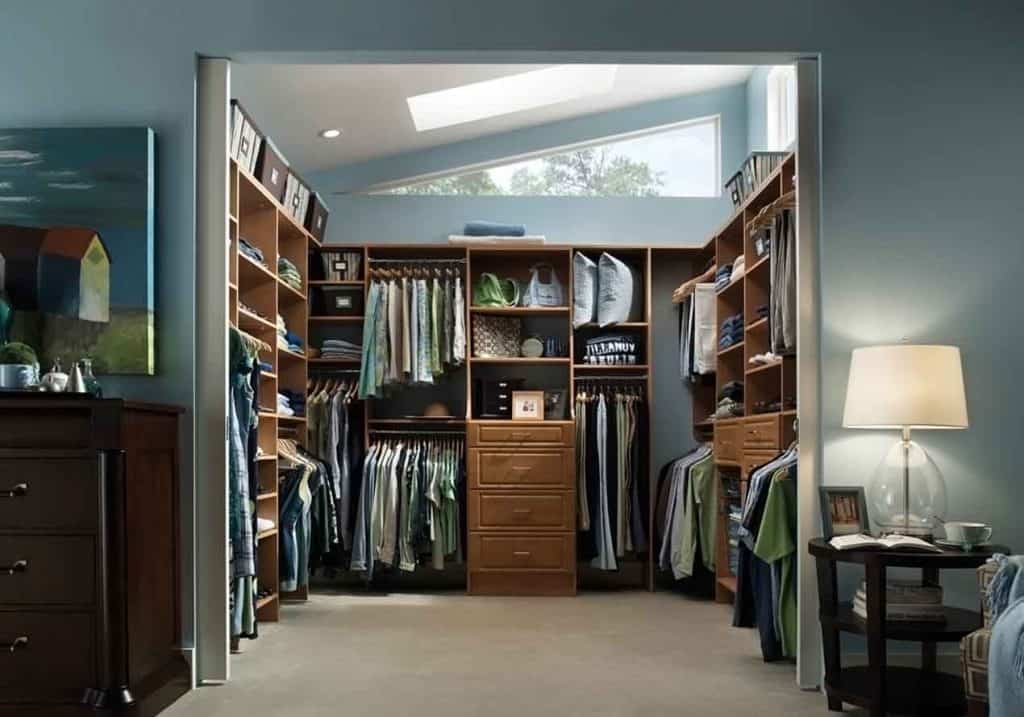 This small walk-in closet uses modular cabinets with extremely masculine perceptiveness. The usage of brown colored wood laminates incorporated with plain blue wall paint creates a beautiful contrast.
It has flexible racks and a great balance of stand and also hanging rods. Additionally, it has one column of wood drawers, particularly excellent for keeping pocketbooks, little bags, small accessories, and other things.
The translucent product makes it less complicated to discover specific products without having to examine every cabinet.
Large Deluxe Walk-In Closet Ideas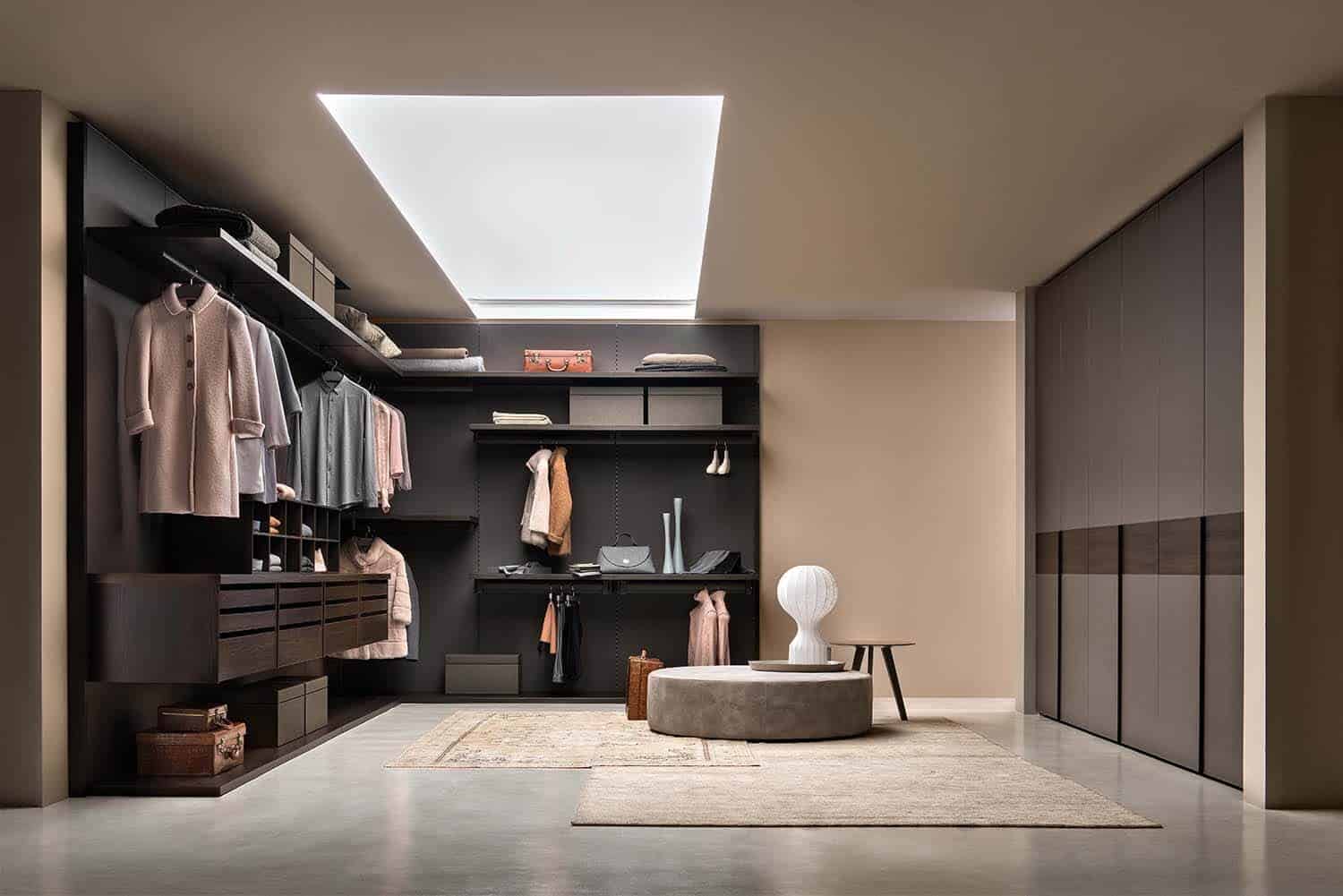 This beautiful large walk-in closet combines a modular piece of open cabinets and shelves with movable storage space pieces with ornately sculpted cabinets and also solid wood layered with a dark coating to create a luxury look.
The whole system has a two-level bottom shelf, which is made use of to save shoes, some storage boxes, and also small bags.
Luxury Walk In Closet with Customized Cabinetry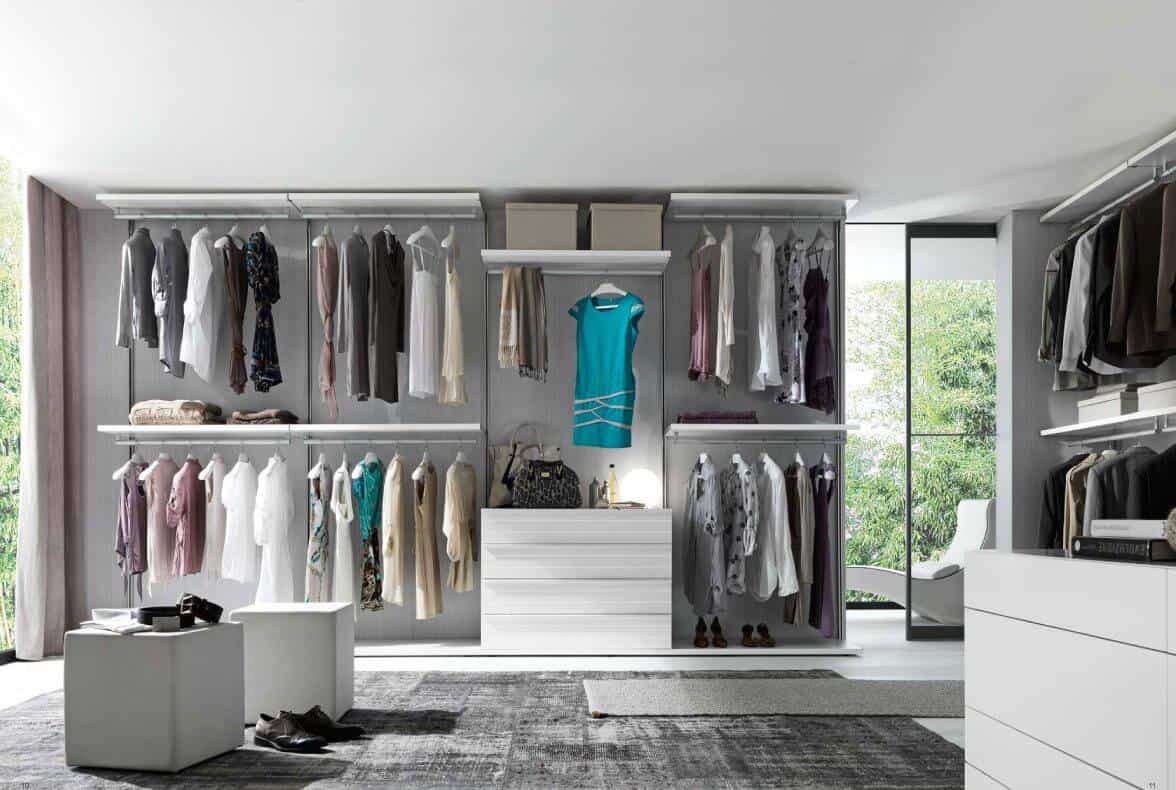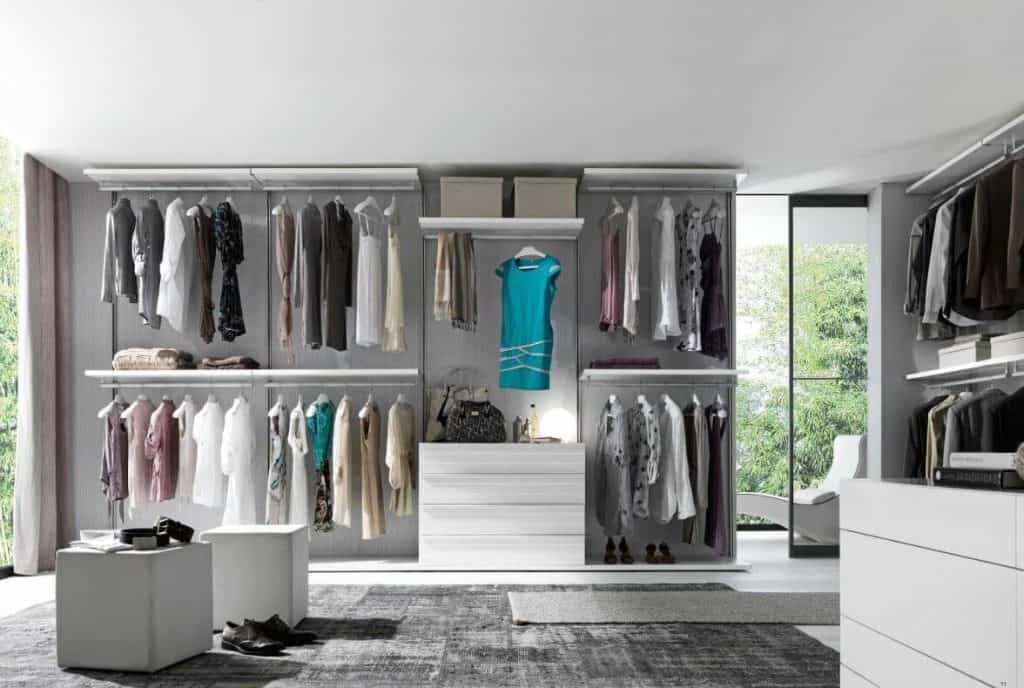 This walk-in wardrobe has a timeless, sophisticated appeal with its use of dark mahogany coating for its cabinets.
As opposed to laminated boards, it uses ribbon-grain plywood stained in the mahogany finish to give the appearance of durable wood.
It additionally has necessary molding details on the brink and cabinet faces.
Due to the dark wood coating, the wardrobe could look dull, so cupboard illumination is used to help brighten the garments.
Large Walk-In Closet with Clothing Bench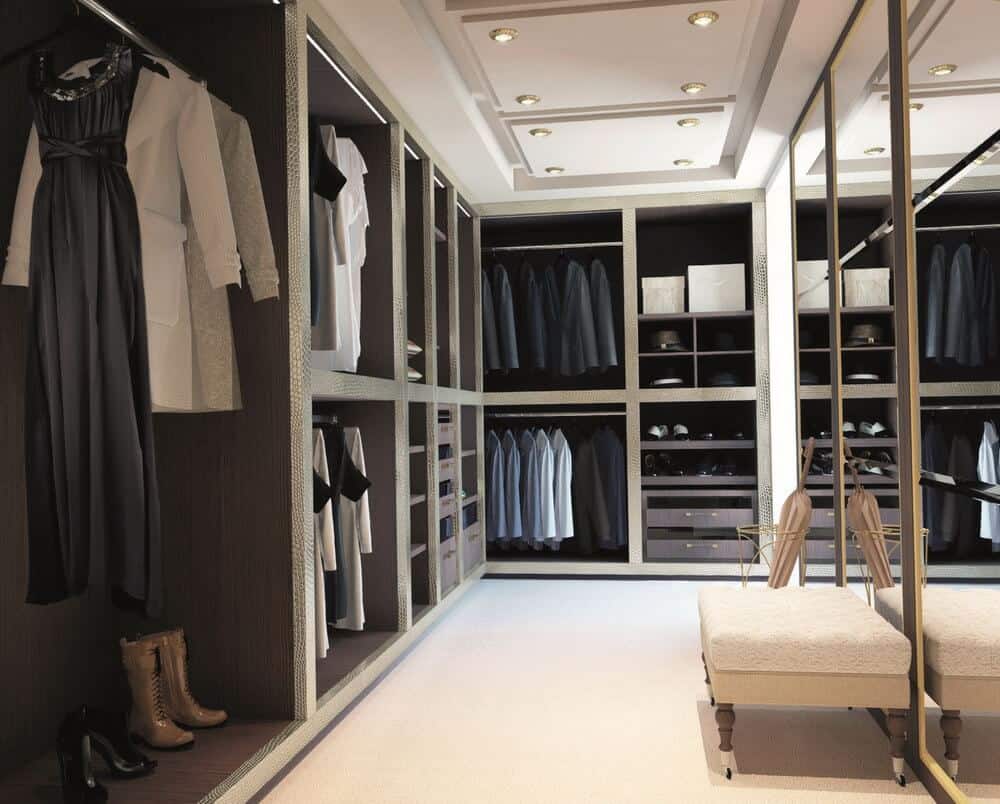 A bench for a closet such as an ottoman is available in many shapes. Usually, people love the typical round ottomans because it fits a large open closet.
However, it depends on the individual's preference. Additionally, an ottoman also available with extra storage, meaning that you will acquire more places to load!
Wooden Walk In Closet Ideas with Dressing Island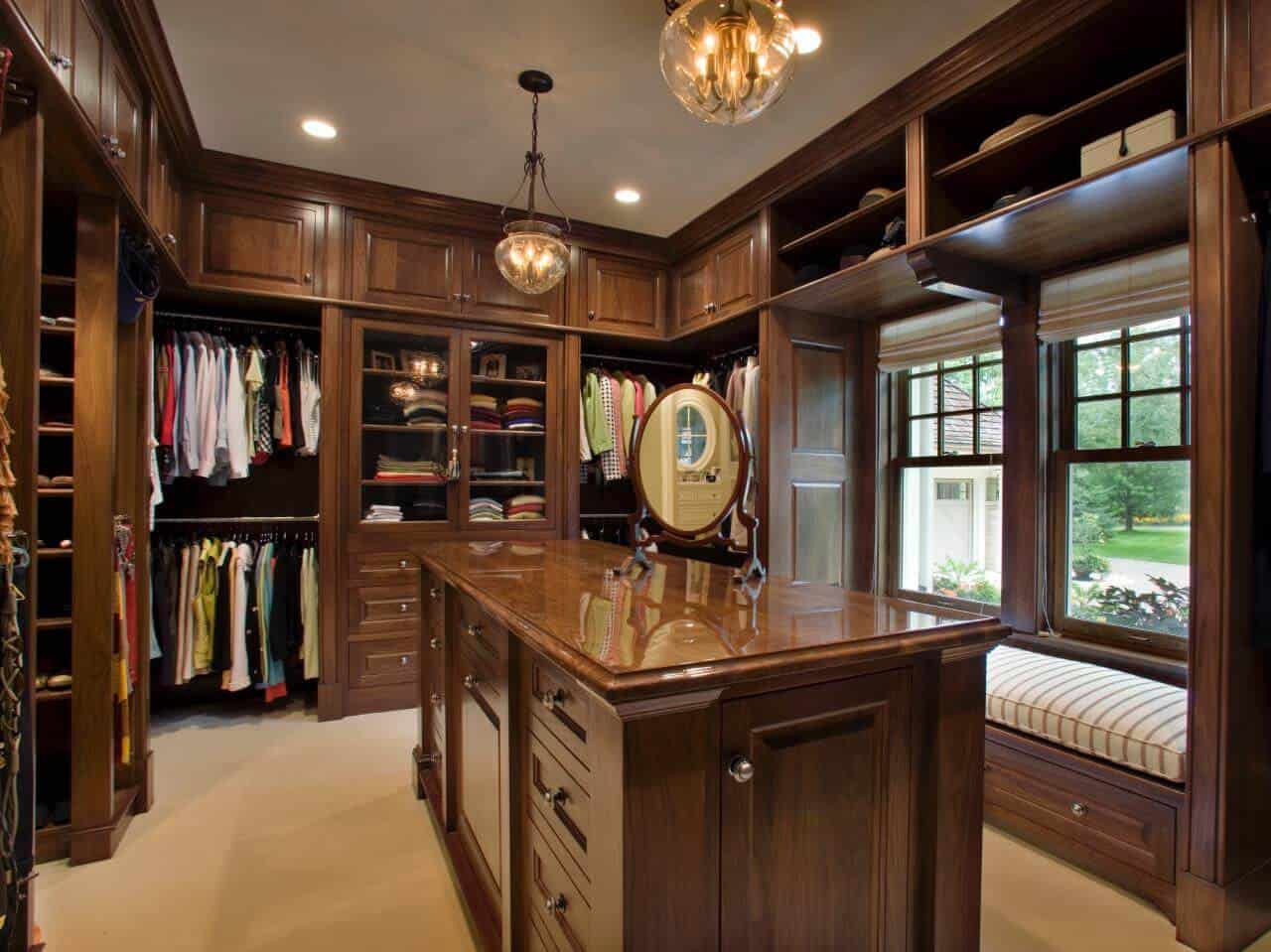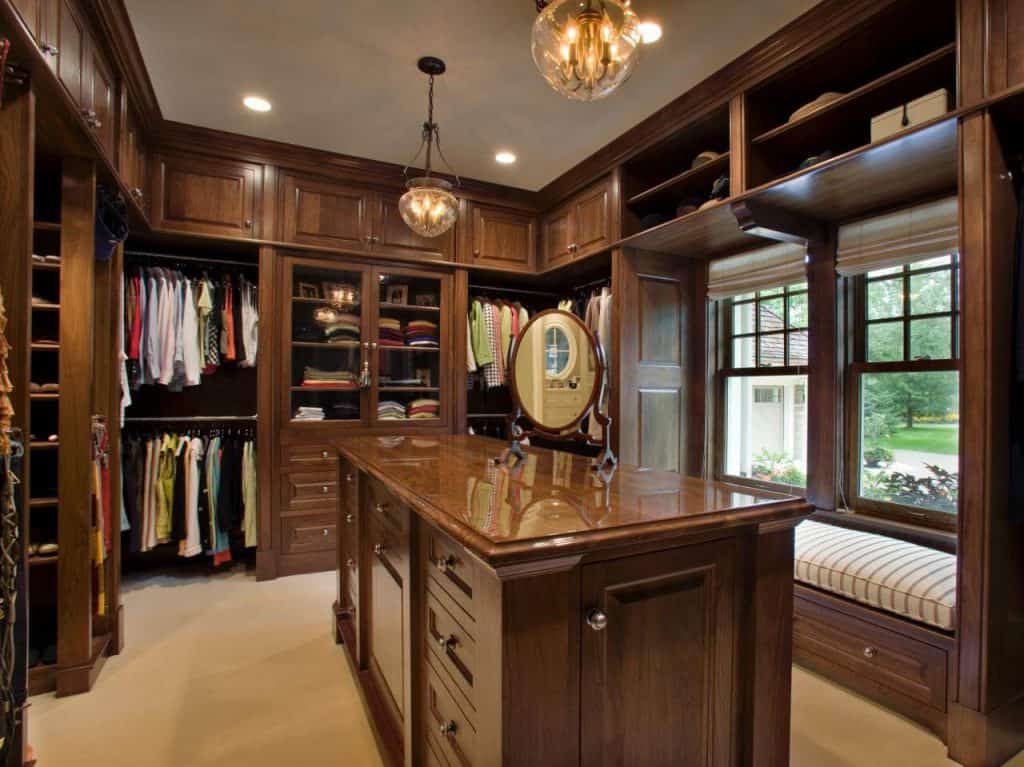 Island is located at the center of the room. It is used similarly as the other drawers and surfaces in the closet, but it is at the middle point of the walk-in closet.
At the surface of the island, you can use some trays or boxes to store smaller things like jewelry. However, the dressing island needs to have drawers and shelves to create extra space for storing.
Masculine Walk-in Closet Ideas with Men Suits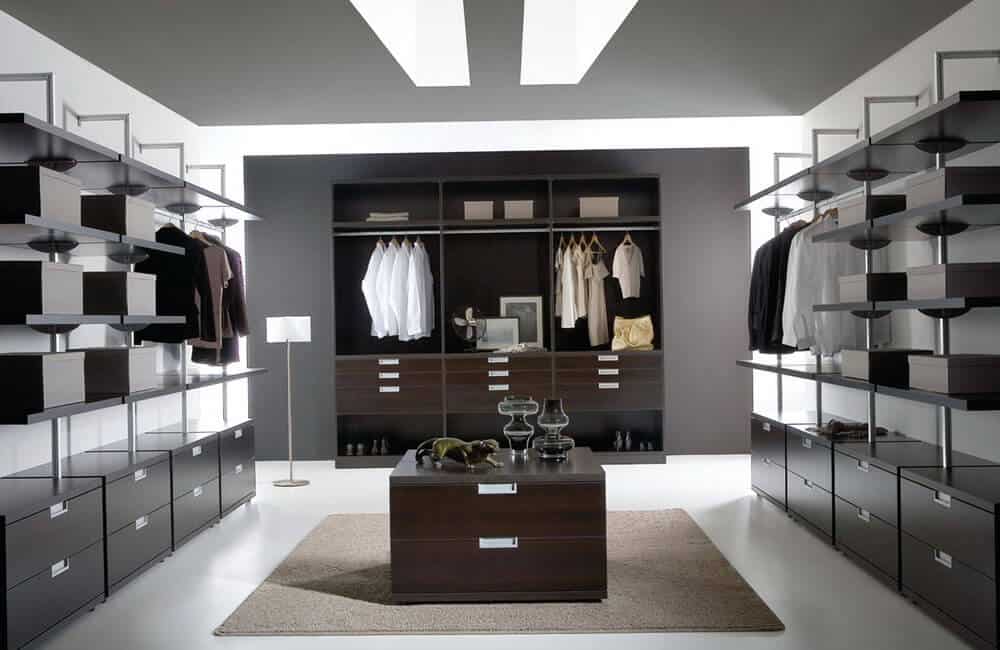 Walk-in closet concepts for small rooms need to load a lot into their designs. It uses a maple timber coating and also decided to use open-type of cabinets.
The usage of dark color contrasts with the primary color of the background creates a simple yet elegant look, which adds more masculinity to the whole design of the closet.
Walk-in Closet with Chest of Cabinets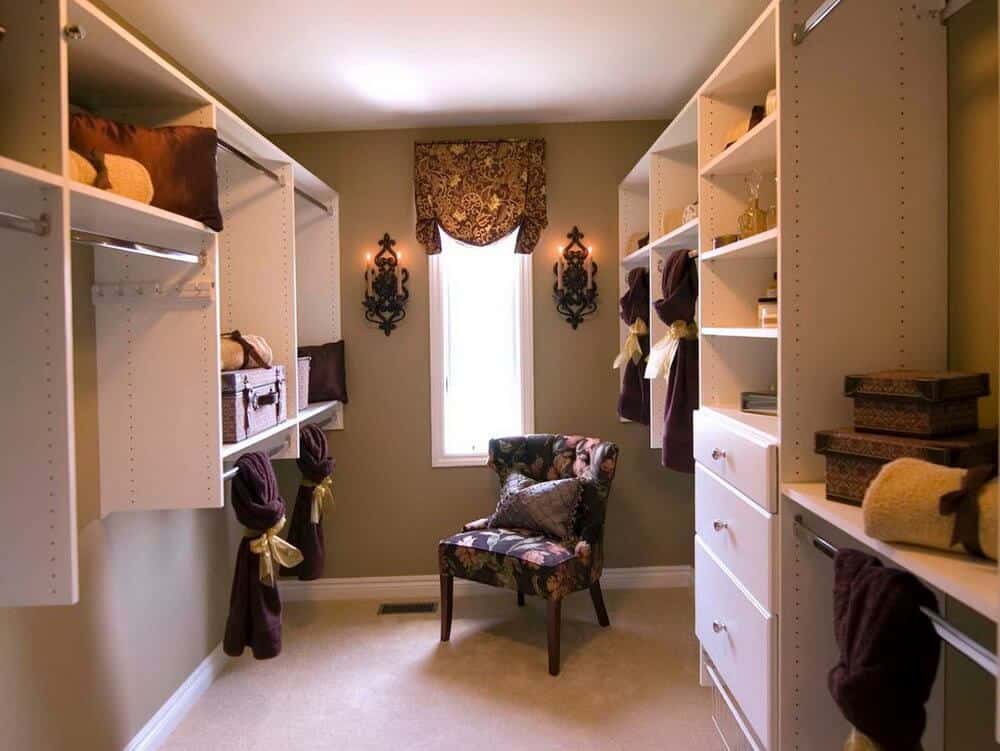 Aside from the visibility of a home window, this walk-in-closet looks light and brilliant. It has white laminate floorings and white cabinets with gold information.
The white and also gold combination of the cabinets makes for a very sophisticated and glamorous look, likewise using gold cabinet draws.
It has a proper equilibrium of hanging poles, drawers and also shelves, and even has a huge part committed for a body mirror.
Wood Luxurious Walk In Closet Ideas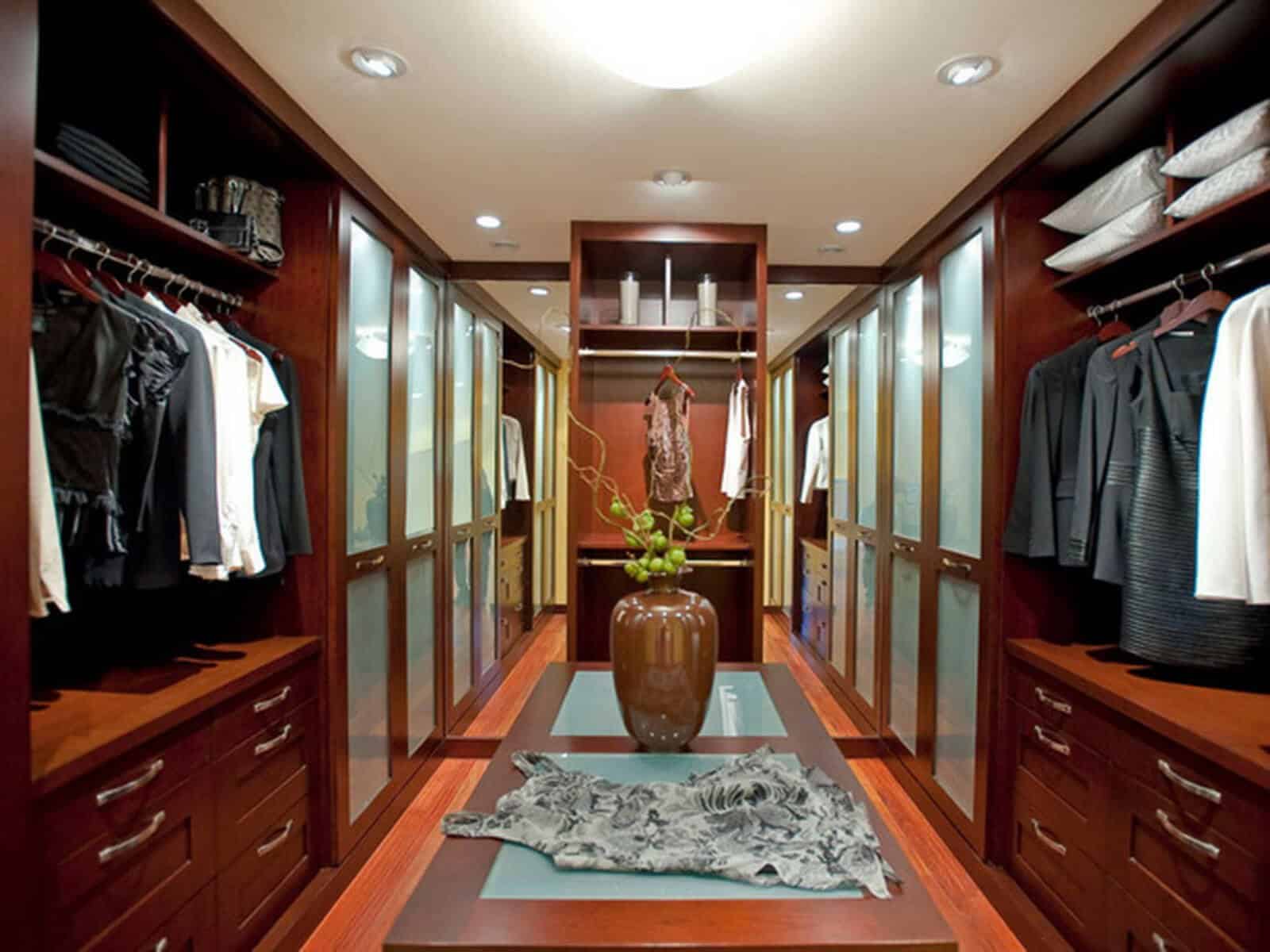 This is a walk-in-closet that has a very rustic charm with its use of walnut cabinets. The presence of two home windows in the storage room consumes a lot of wall space that can have been committed for complete closets.
However, it makes it up by including a rectangle-shaped island with cabinets and shelves for storage.
The room has a bench built-in with the closets just listed below the home window, which also has storage under it.
An antique vase is put on the center of the island to give a more luxurious look to the closet. Besides, another function of the vase is to be the main focus of the room.
One thing to remember, it is essential to synchronize the color of the object if you want to put a vase or a small statue to the color scheme of the whole room.
Fancy Walk In Closet in Monochrome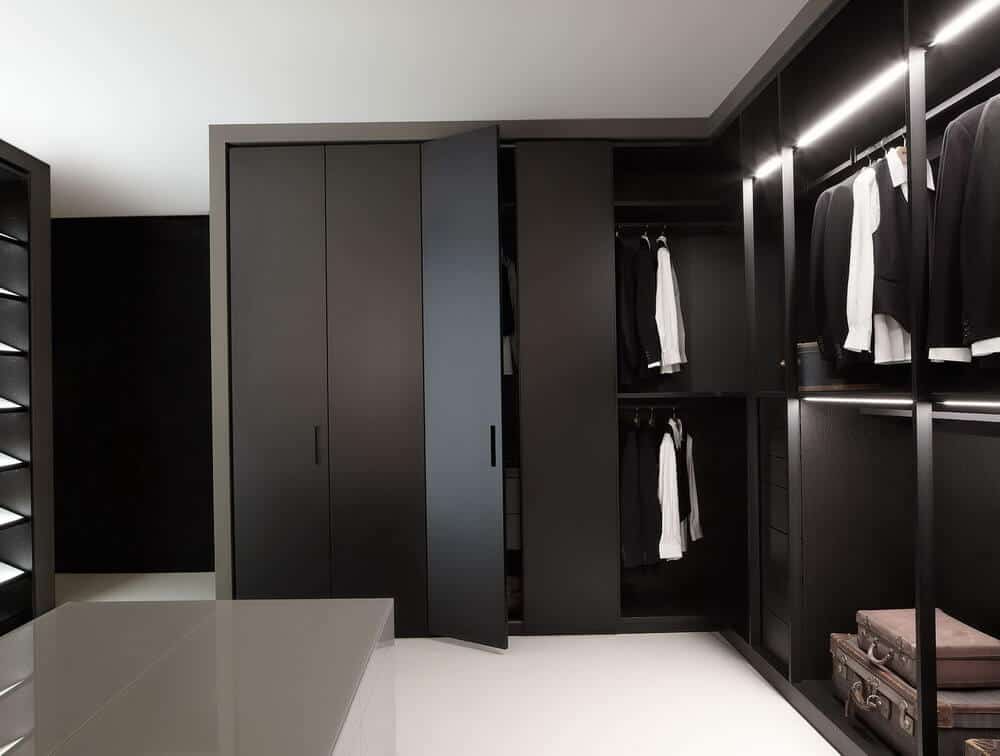 This walk-in-closet has a unique format, and it optimizes all the free walls of the rooms and uses them as storage/cabinets.
We could just see one side of the storage room because of the restricted room.
However, you will undoubtedly be able to see the teak-stained open closets with a selection of open racks, footwear shelves, cabinets, and even tie/belt organizers.
There is likewise a dresser/vanity table at the end of the closet built-in with the primary closets.
Large Walk-In Closet In Wood with Island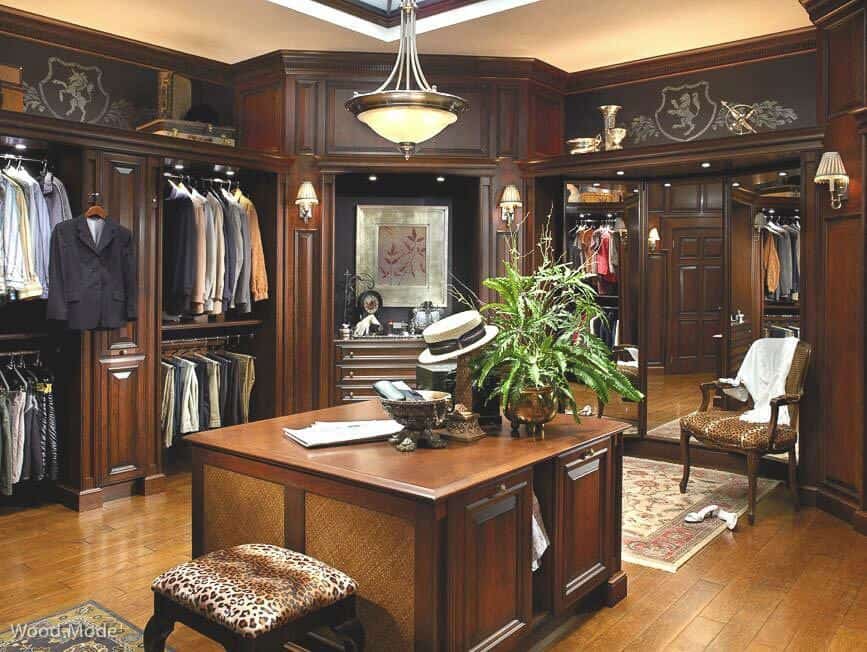 This is an easy closet layout that utilizes light-colored products to develop a bright and rejuvenating closet room.
It uses light Maple laminated MDF boards for its modular closets, which are fitted with hi-tech equipment like a pull-down dangling pole for very easy access.
Besides the open cabinets, it additionally has a long island "counter" with a solid wood top and also lots of drawer room for added storage.
Walk-In Closet with Vanity Section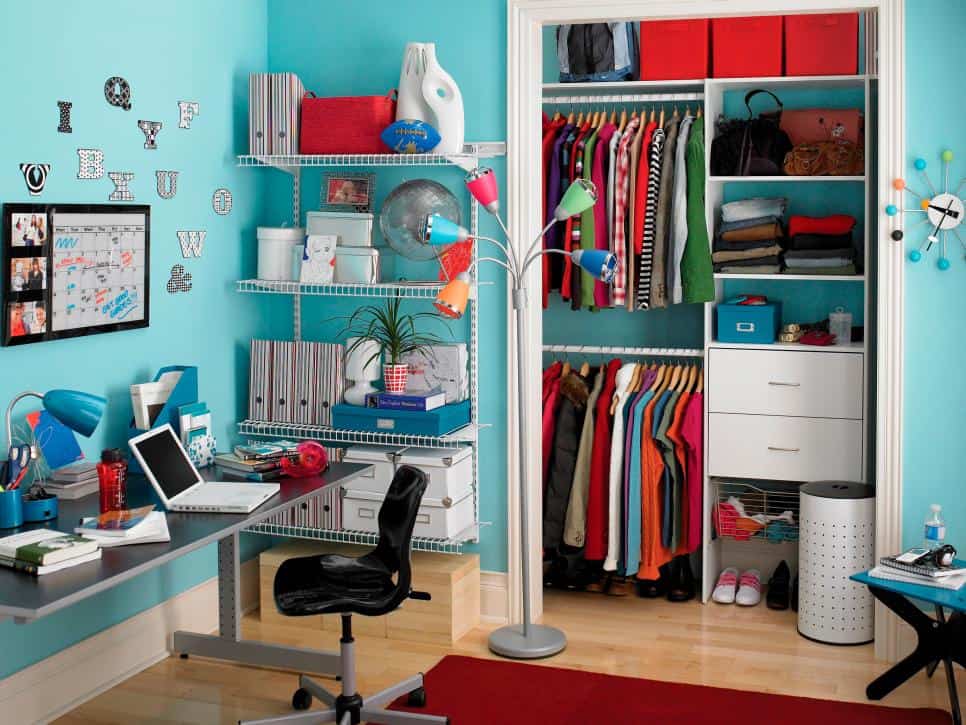 This is an improvement in a closet style. These days, the majority of people have turned their heads to this style. A built-in vanity has become the new trend of a walk-in closet.
To have a built-in vanity, these are more essential elements: a beautiful countertop that matches the whole design, a mirror, or a portable mirror depends on the space, lighting to illuminate the area on the vanity, drawers and a seat.
Large Walk-In Closet with Carpet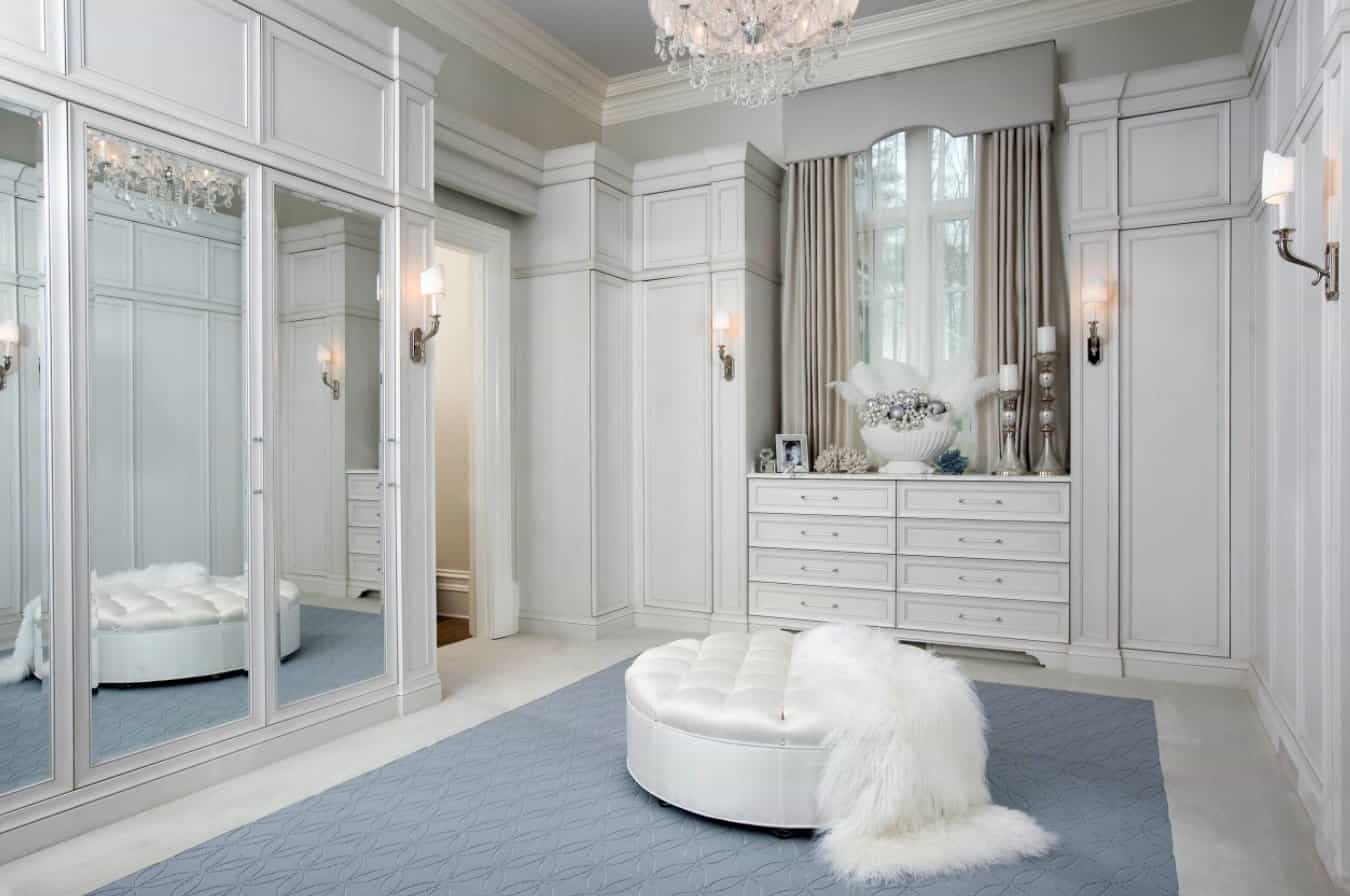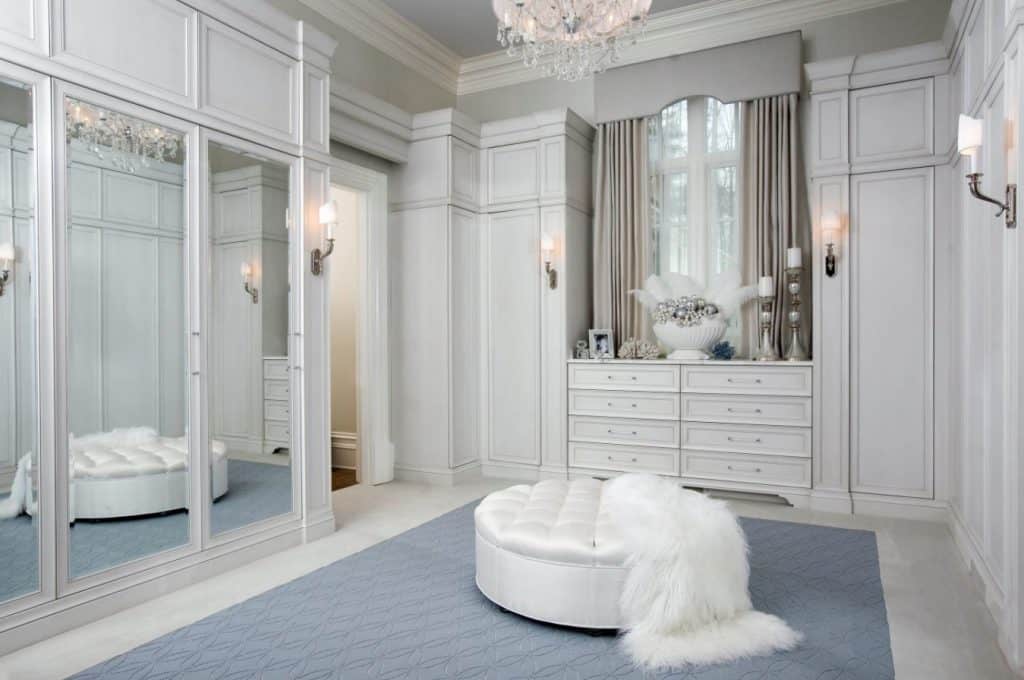 The oatmeal paint shade and also carpet flooring made use of in this space makes the walk-in-closet look larger and lighter.
It's a warm color which isn't also hefty and could quickly match whatever closet finish you mean to utilize.
In this instance, the open closets are white and do not have timber backing, revealing the oatmeal-colored wall surfaces. The cabinets are modular and also have flexible shelves and even hanging rods.
Walk-In Closet with Suede Island Bench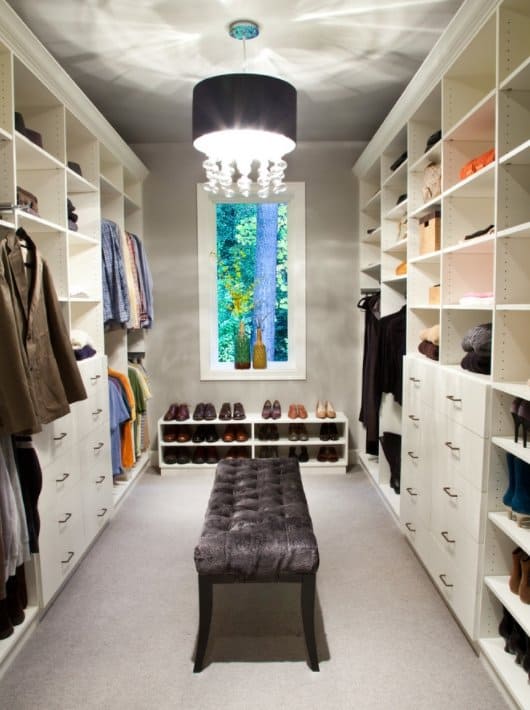 The cupboards are open kind with huge drawers and open racks. The racks are not adjustable, yet the cabinets are fitted with flexible equipment like the pull-down dangling pole.
Contrast with the white and bright room color, the dark island suede bench on the center of the closet adds more expensive and luxury look to the room.
Modern Minimalist Walk In Closet Style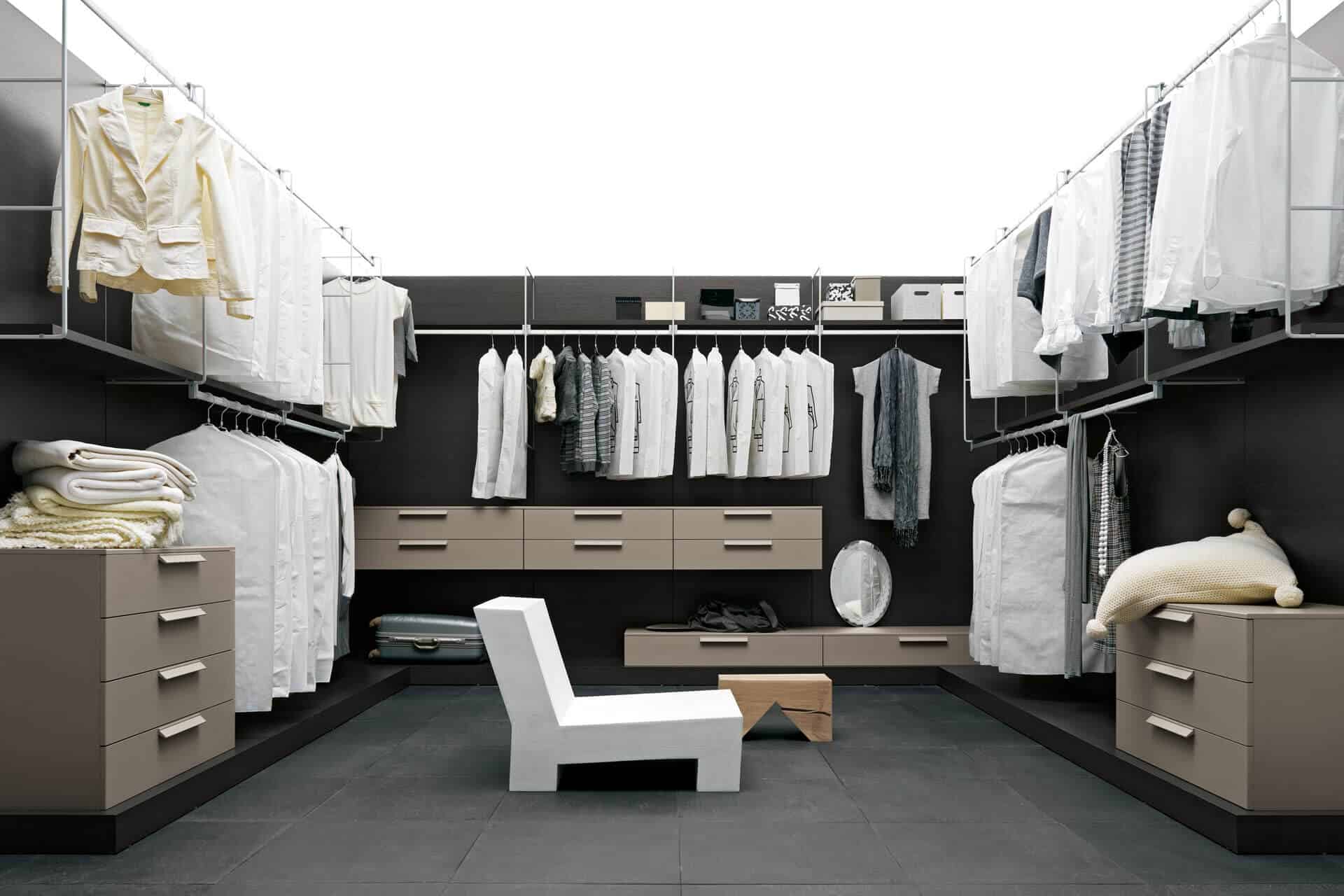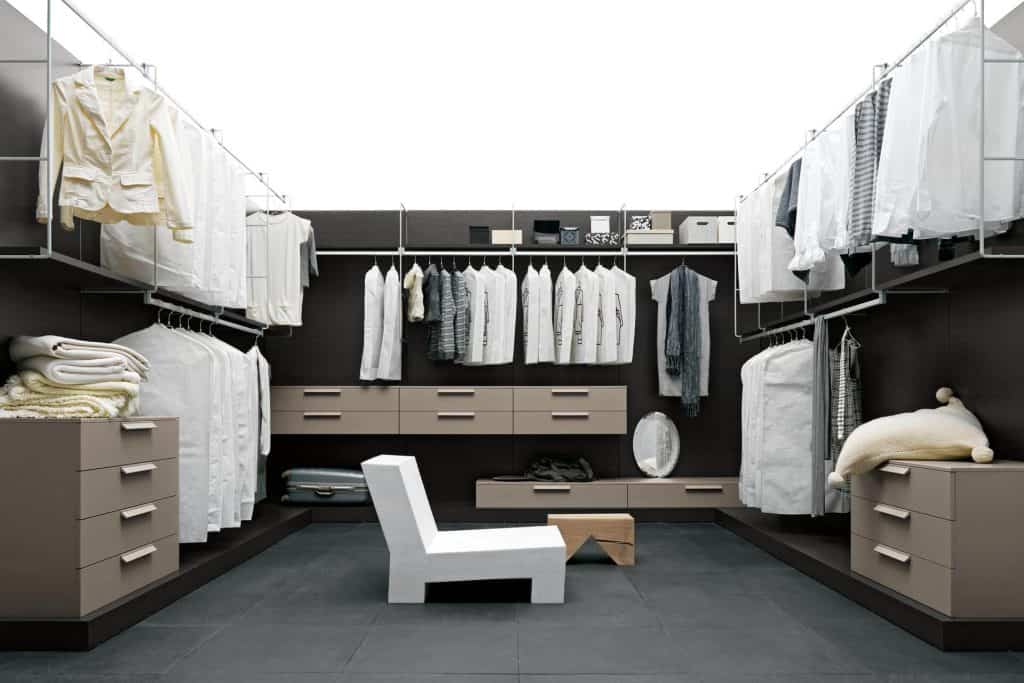 The previous examples have revealed cupboard components with not timber house sidings and backings, and are sustained by steel bracing anchored on the flooring and also ceiling.
For this instance, the closets have no sidings, providing you that open impact, yet makes use of laminated teak wood support for an extravagant look.
The open racks and drawers are connected on the wall supports hidden in between the laminated backing boards, and are all flexible.
Since it does not have timber exterior sidings, the hanging rods are affixed beneath the shelves instead.
Luxury Walk In Closet With Mirror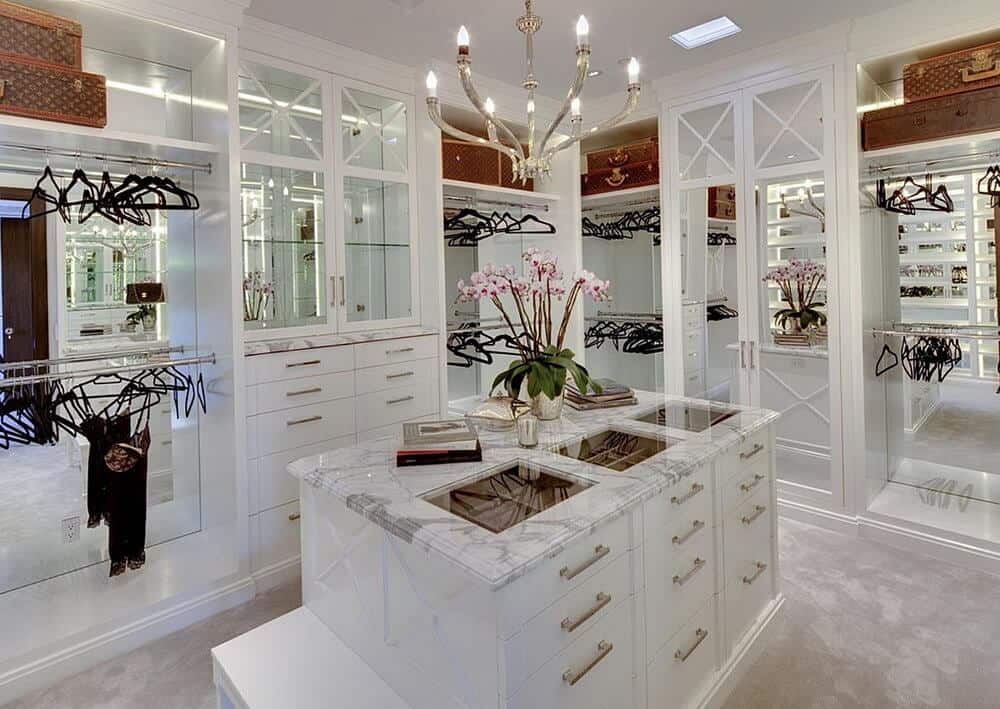 You can never have too many mirrors in your walk-in closet. If you are space and wall challenged, consider upgrading your closet doors to mirrored.
The multi-function doors will keep items organized while reflecting light and other parts of your closet, making your dressing area feel larger.
Extravagant Walk In Closet Ideas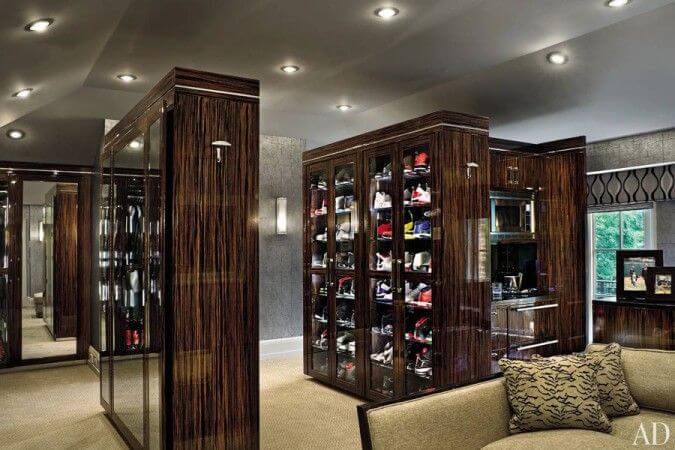 Similar to the previous examples, these modular closets have no support, aiding make the tiny area look larger. The cabinets additionally have no base, and they are all supported by the wall surfaces.
The racks are all flexible, and so is the hanging poles so you can quickly readjust your cupboard setup inning accordance with your changing demands.
Modern Walk In Closet Ideas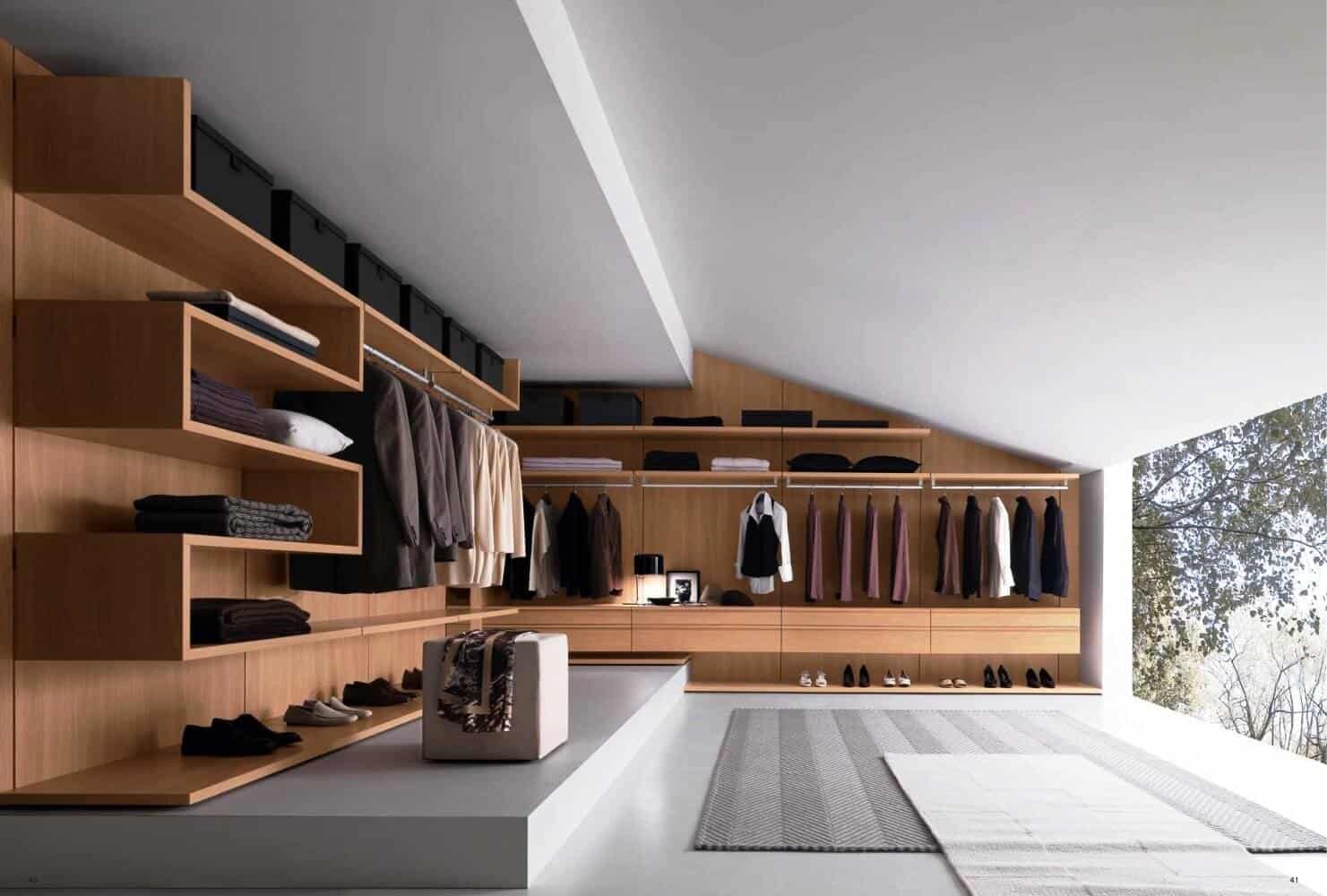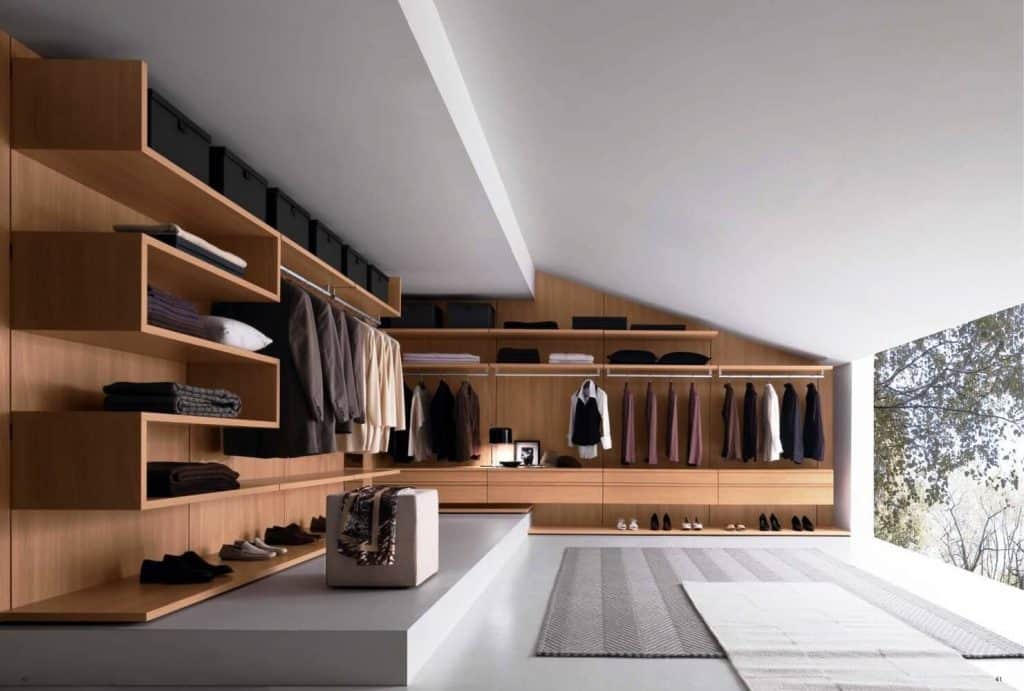 When it comes to a style, there is no actual limit. A ladder can improve the form of your closet, but it is also functional because you can hang some clothes or accessories there too.
Besides improving the style, the ladder is used to reach the top part of your closet.
If it is not possible to have a ladder on your walk-in closet, you can still reach the upper section of the cabinet with a two-level padding and a movable bench like what's shown on the image.
Beautiful, isn't it?
Walk-in Closet with Shoe Rack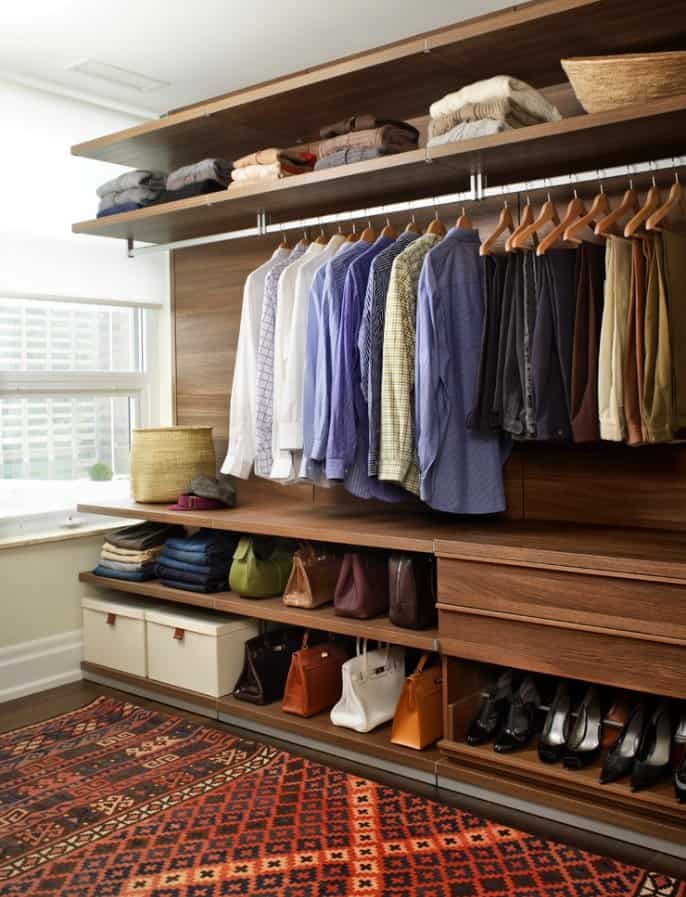 The unique floor strategy of the wardrobe area additionally results in instead of a particular cupboard setup.
The cupboards are all flooring to ceiling, with flexible racks and also hanging rods and even with no wood backing.
Walk-In Closet Ideas with Storage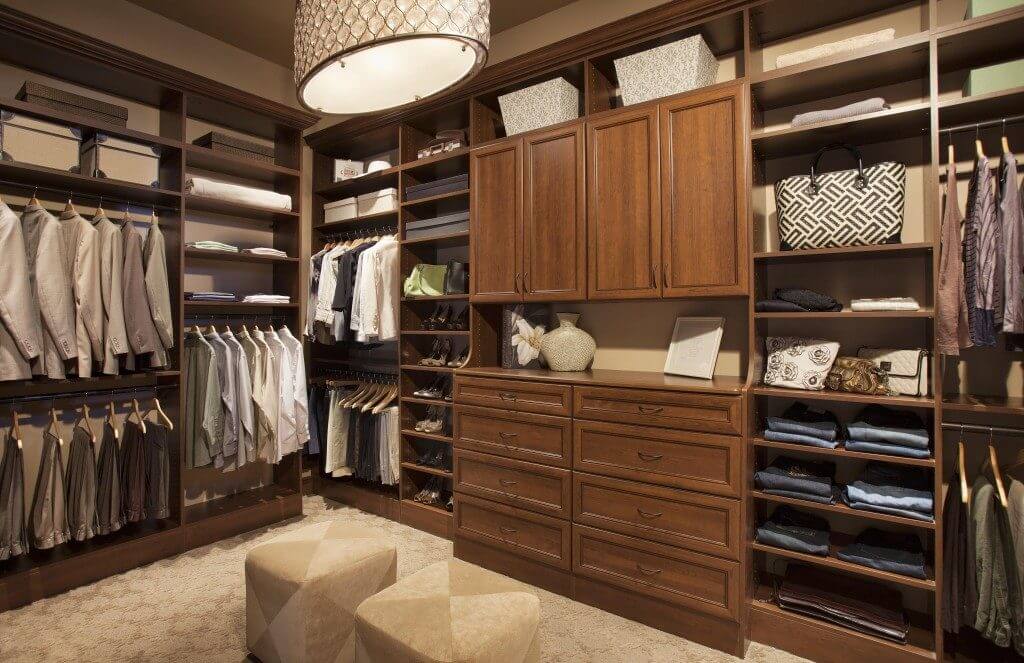 Racks and drawers are laminated with a pine laminate comparable to the floor covering utilized in the closet. In contrast, the primary framing, sides, and support are all laminated in a dark mahogany color.
It has an excellent range of drawers, tie/belt organizer drawers, and pin-mounted open racks.
Walk-In Closet with Artful Organization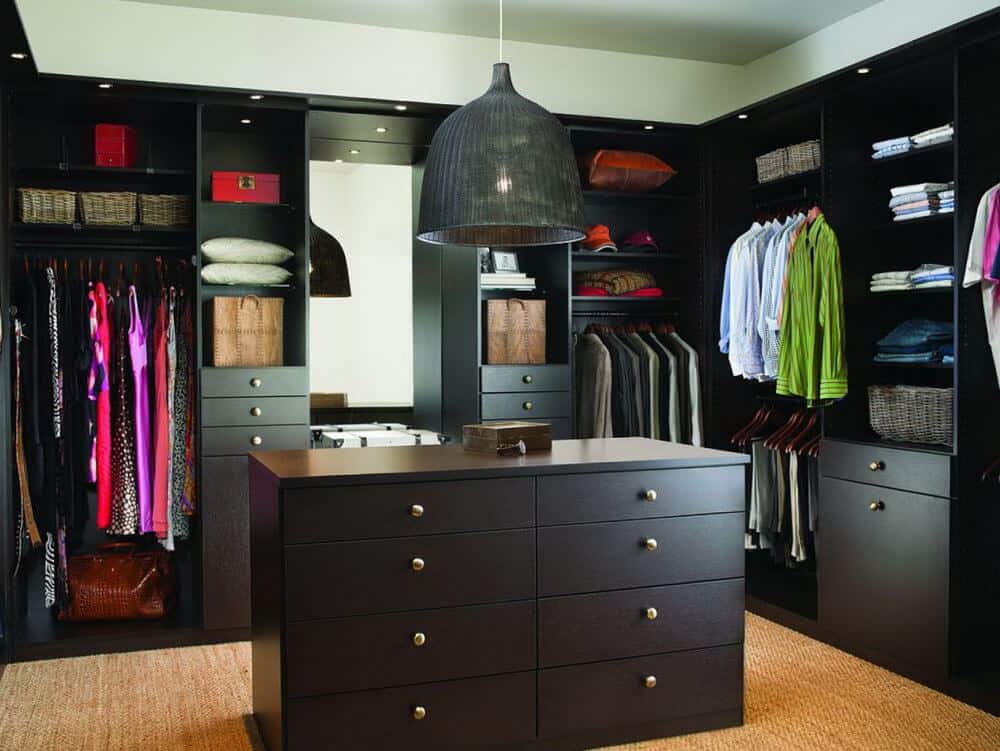 Modifying a walk-in closet requires a great deal of money. Once you have it, these are the ways to change it:
Categorizing the items on each shelf. For instance, compartment A is for shoes, and B is for clothes, etc.
Making the organization even more organized by color coordinating the items
Displaying art other than clothes and accessories to enhance the artfulness of the room
The walk-in closet ideas above (basically all of them) can be the source of your inspiration to start modifying your closet style.
Do not be afraid to explore more 'extreme' colors like red, maroon, or dark colors like this one.
There can never be a limit when it comes to expressing yourself into your home, right? Happy decorating!