Don Pedro Brooklyn is reader-supported. When you buy through links on our site, we may earn an affiliate commission. Learn More
Fireplace Tile Ideas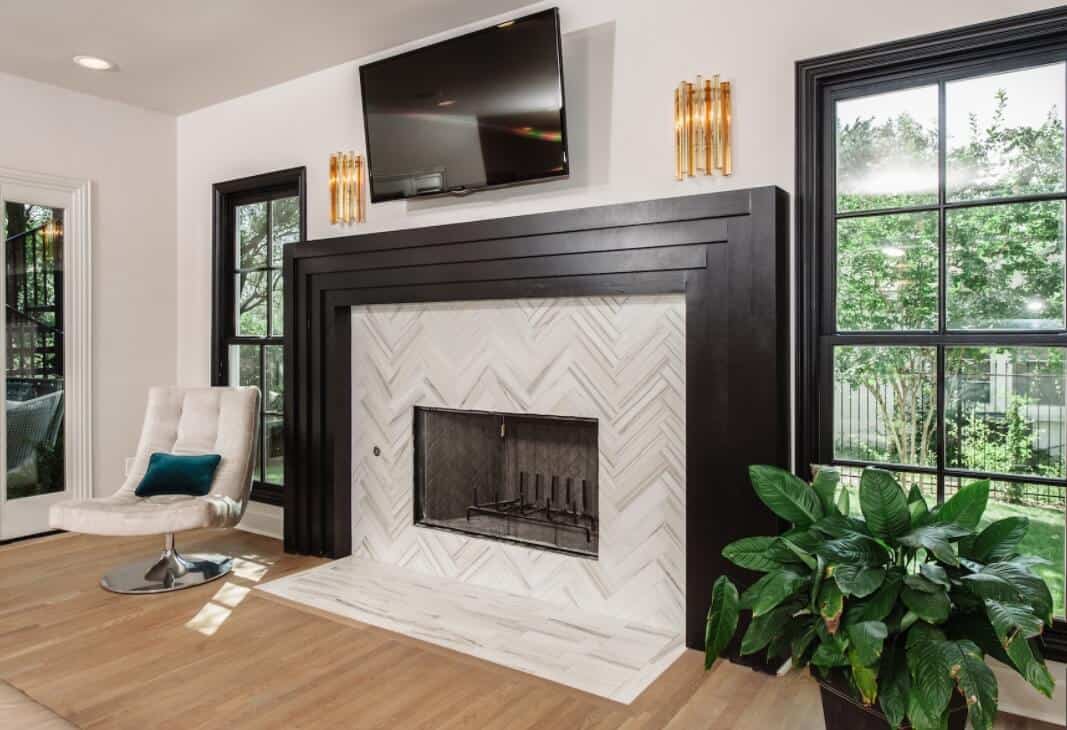 It is winter. Although the snow hasn't fallen yet, the cold started knocking on our front doors. The season for the usage of the fireplaces has officially started.
Here are our 15 fireplace tile ideas we picked for you.
The fireplace is a synonym for a comfortable home, but it is also a place where you can show your designing capabilities.
Modern fireplaces are welcomed in any home because of their easy operation and most importantly the warmth they create.
Good old fireplaces have received a new furnace and design making them the main focal point of the room, the "jewels" in the interior.
If you are creating a floor covering in the room where is the planned installation of the fireplace, you need to pay attention to the strength of the relevant supporting substrate fireplace.
It is necessary that the ground on which the fireplace is placed does not contain soft materials, such as heat isolation or floor heating elements.
Due to the weight of the fireplace, which is usually made of stone, there is a possibility that over time the Styrofoam under it will crack because of the weight, so it is necessary to carry out the load-bearing surface of the fireplace.
Luckily, there are many innovative materials that you can use to bring a dose of modernism to the traditional fireplaces made of stone, such as tiles.
If you don't have a fireplace or if you want to change your old one with an electric one, we advise you to check out ElectricFireplaceReviews.net.
It's a great source of inspiration if you don't know which kind of fireplace you want.
Also, keep in mind that electric fireplaces come in different shapes and sizes, so don't forget to get the right measurements before choosing one.
Reason to Use Fireplace Tile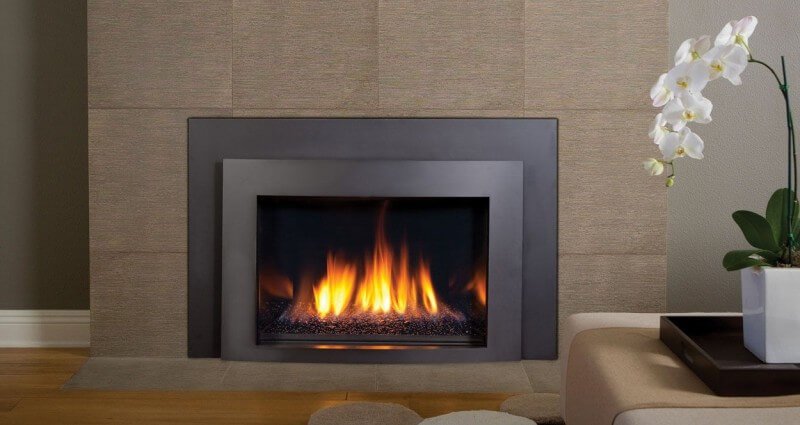 First of all, the tiles can be used in order to create a tiled fireplace décor that will match with the entire room's decorating style.
They provide a beautiful covering with numerous styles, colors, and materials to choose from.
Another, even more, an important reason is the fact that the tiles are inflammable material so you do not have to worry about the safety of fire, and are capable of enduring extremely hard temperatures.
Decorating the wall behind the fireplace, its frame, and its opening with tiles creates a safe barrier between the fireplace and the rest of your house.
Choosing The Best Fireplace Tile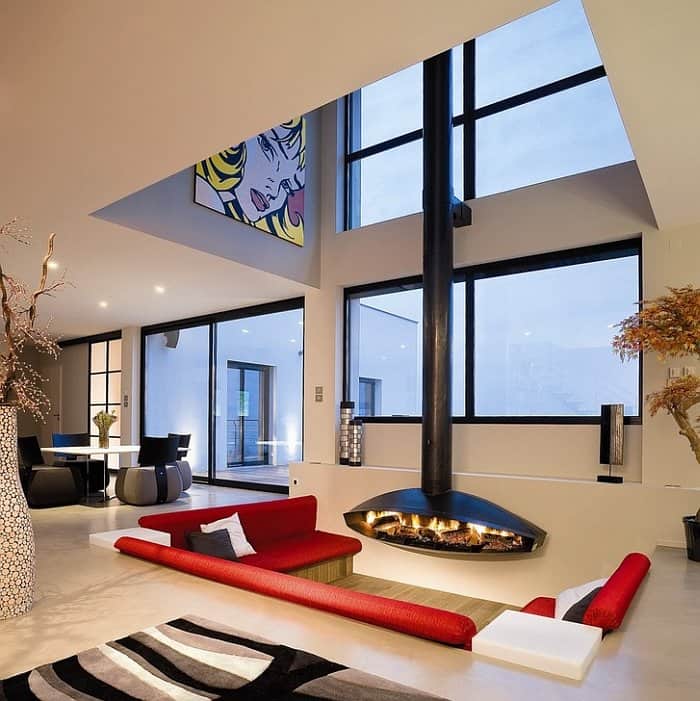 With a wide range of styles, price points, and applications available, the tile you choose for your fireplace surround can make or break its intended look.
There are endless options for tile materials, so selecting the right fit for the style of your home and your budget requires careful consideration.
Also, you should consider the place where you will put the tile. Whether that is going to be the fireplace surround or the hearth.
After selecting the correct material, shift your attention to the size, color, and print of the tile. Adding fireplace tiles along the wall will help transform it into a focal point of the room.
Its versatility will allow you to choose the perfect type of tile for the mood you want to create.
Natural stone tile fireplace can bring out an "old world" feel, marble will produce an elegant finish, and architectural tile around the fireplace will create a rustic atmosphere.
Fireplace Tile Ideas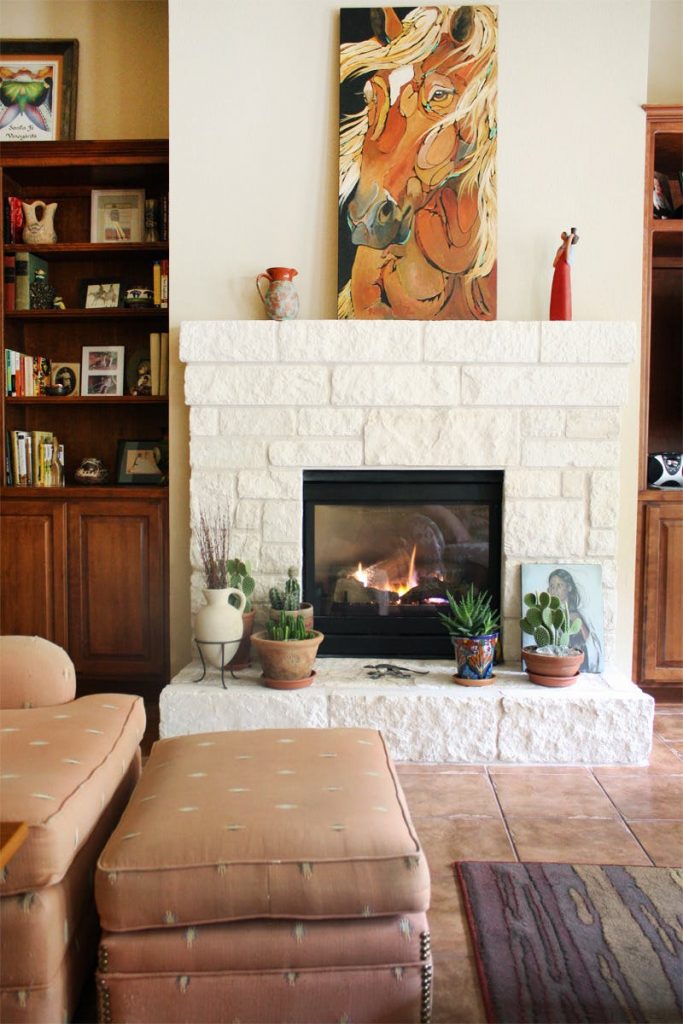 Look at some of these beautifully designed tile fireplaces and get inspiration for your next home makeover, creating an astonishing and eye-catching fireplace.
1. Simple Fireplace Tile Ideas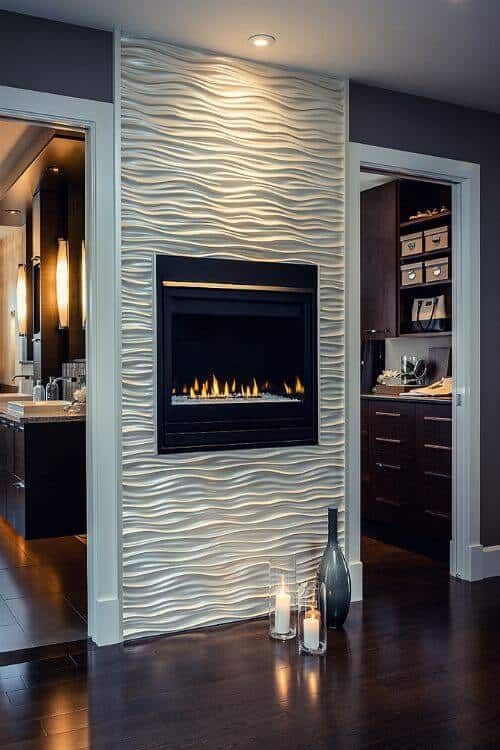 You don't need to exaggerate with the decoration of the fireplace in order to bring a modern and sophisticated look.
Use simple decorative tiles for the mantle and the entire fireplace décor, that will surely bring your fireplace in focus. Simple is always classy.
2. Glass Mosaic Fireplace Tiles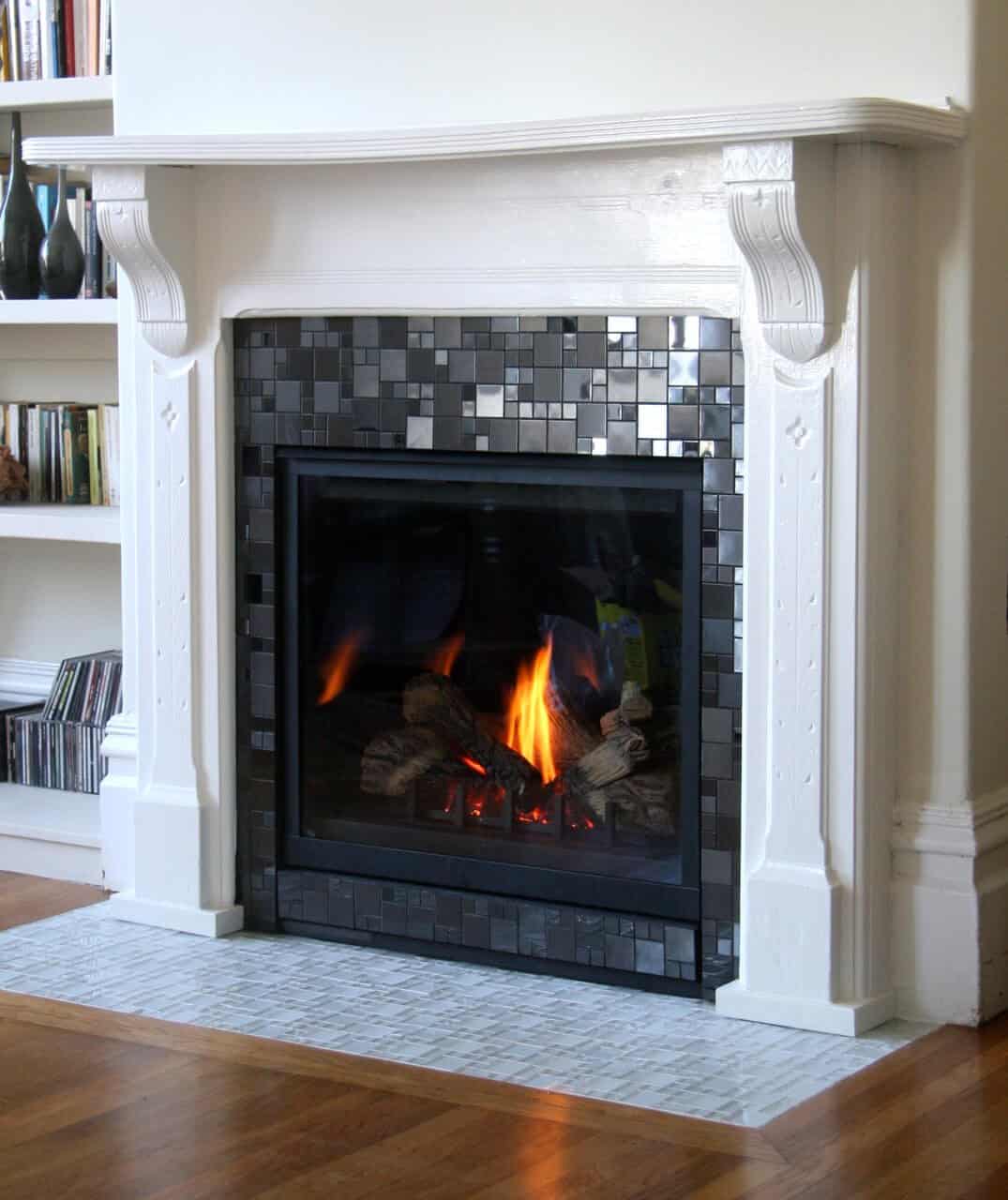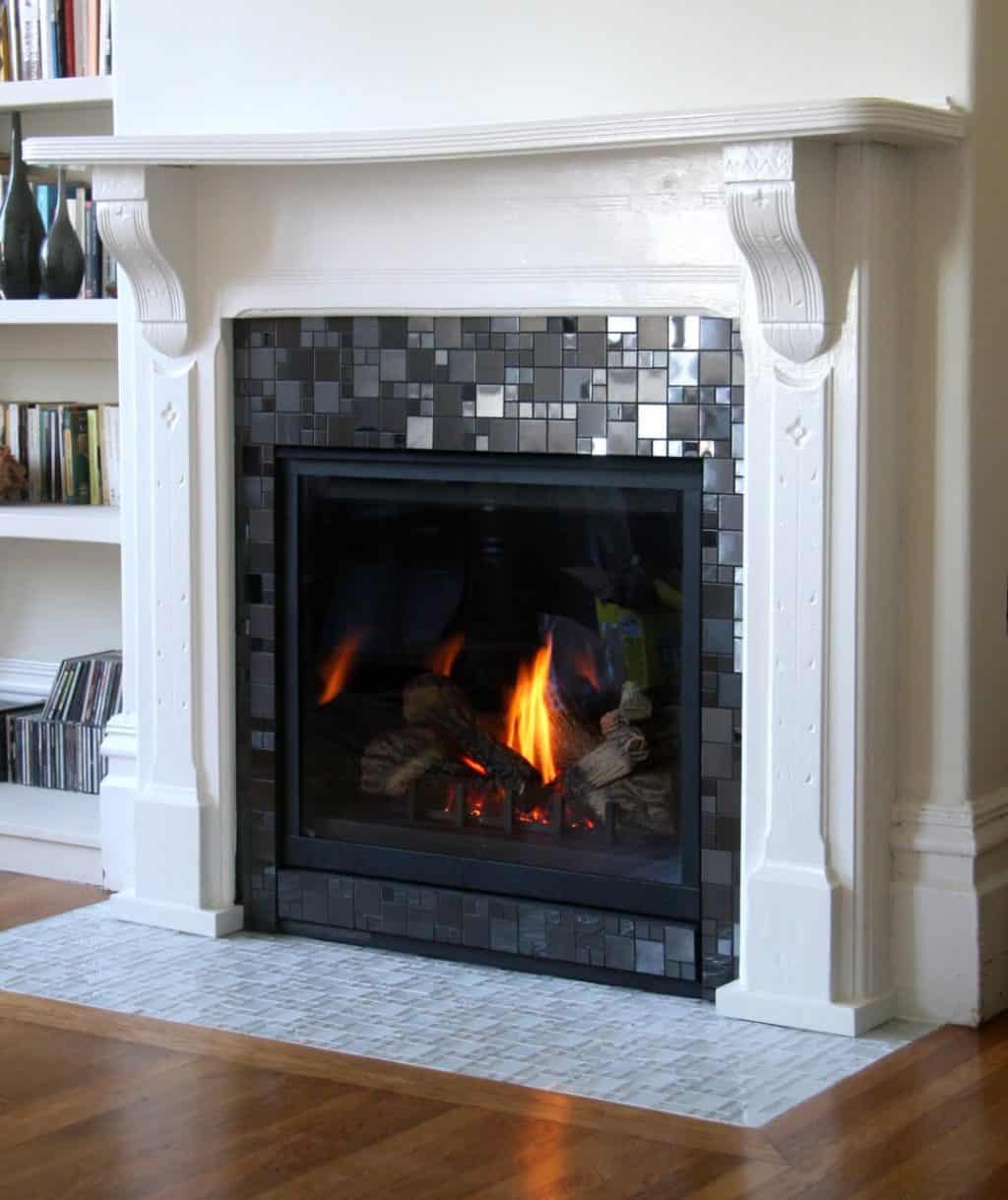 Glass tiles have different patterns and shapes, creating a calm look of the space.
Mainly used on the walls of the bathroom and kitchen, they are also welcomed for fireplace decorations.
Beautiful and available in a multitude of colors and styles, glass tiles for fireplace are an option for those with an extensive budget that want to create contemporary fireplace designs.
3. Tile Frame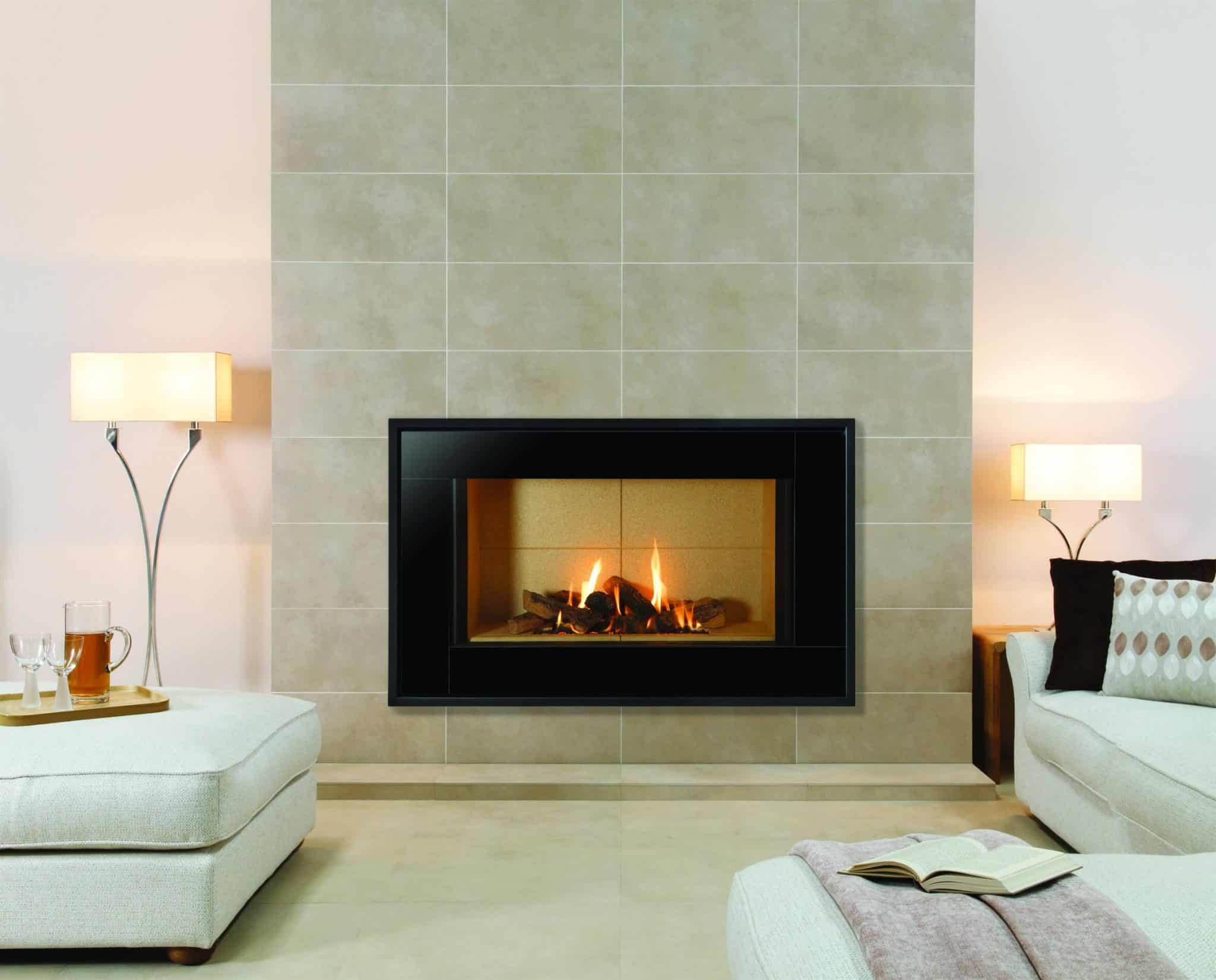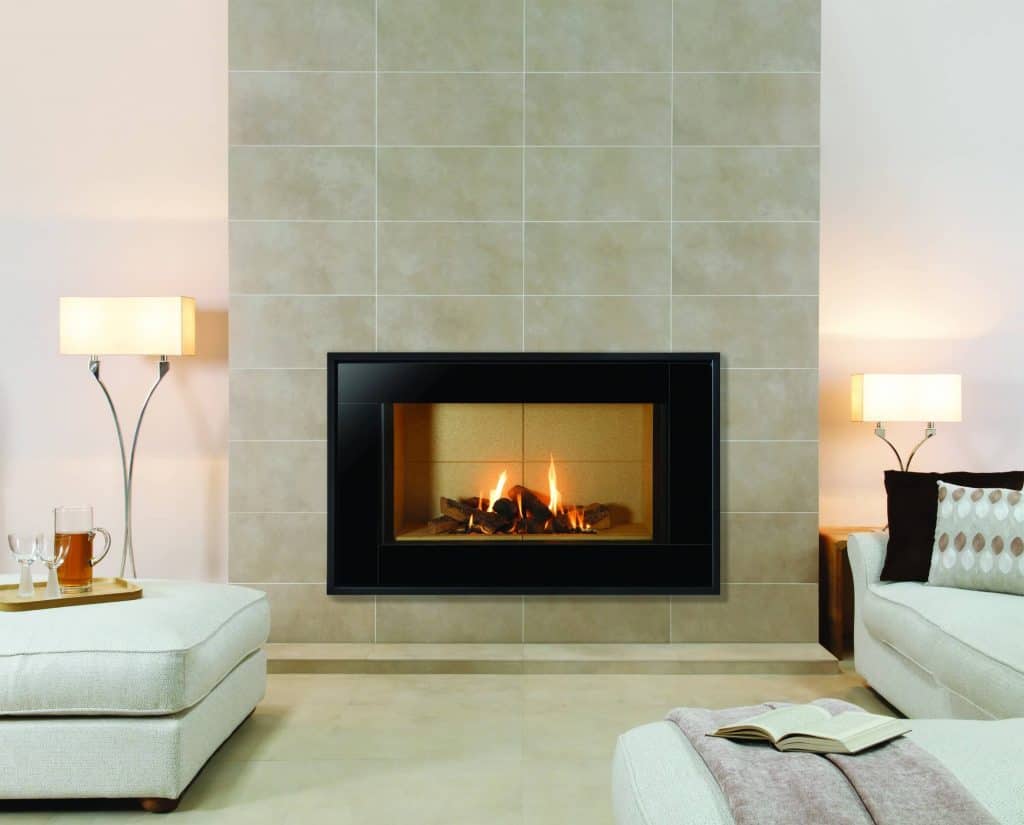 If you don't want to make a drastic change to your fireplace design, or you are low on budget but still want to change something around your fireplace then you can only change the frame surrounding it.
For the frame, you will need to use a heat-tolerant tiles, but you can choose some interesting design that will bring your fireplace in a focal point.
4. Fireplace Tile Pattern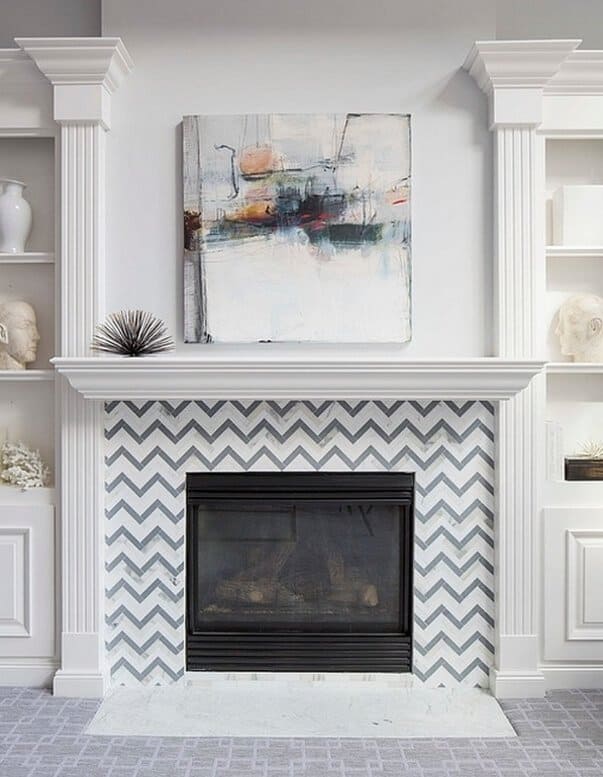 If you are fed up of your fireplace that has the same design years and years, then you might include tiles with some interesting pattern tiles.
A fireplace is a perfect spot to use a tile you love.
As a suggestion, we say that you can use glass mosaic tiles matching with some part of the furniture, that will create drama around the fireplace and inside the entire living room.
5. Ceramic Fireplace Tiles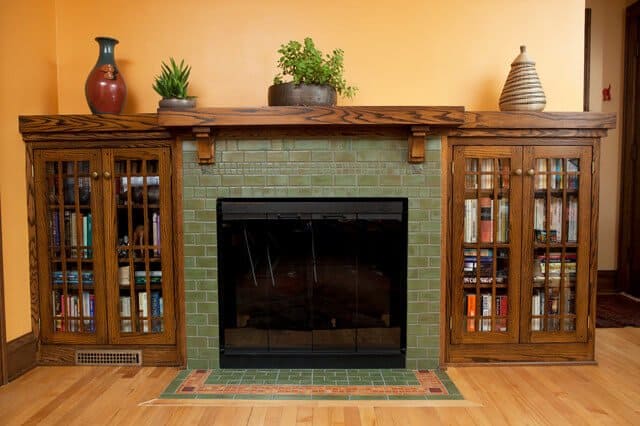 If you want to create a plain look of your fireplace, a great choice would be the ceramic tiles.
These tiles are heated, while maintaining brick warmth as well, they come in numerous colors and are affordable for everyone's budget.
6. Terra-cotta Fireplace Tiles
Terra-cotta tile adds a modern twist to a more traditional fireplace mantle. They are made of natural material with high beauty and warmth.
Essential for situations where you need to show rustic look and feel "of the old times." The countless tones, formats, thickness, make terra-cotta tiles very suitable for usage.
7. One Toned Fireplace Tile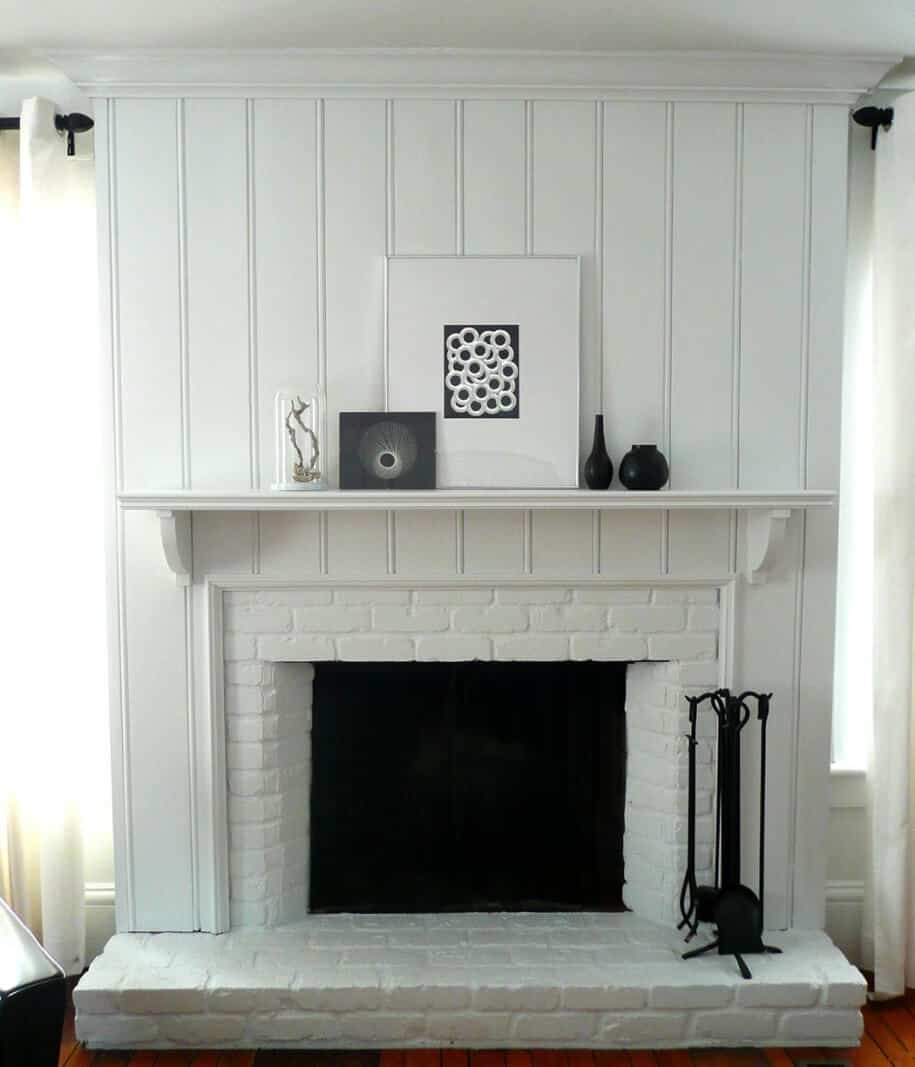 When the fireplace has an ornate mantel, the right idea is to use neutral color tiles.
The white tones of the tile will create a warm and cozy environment without throwing shade on the beautiful ornate mantel.
8. Marble Fireplace Tile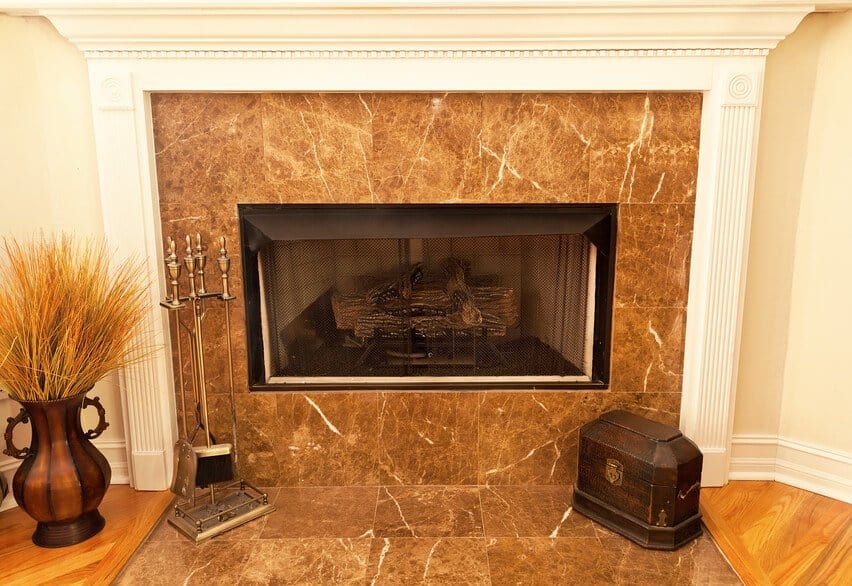 Artists and architects use marble to make a design that will last an eternity. Give your fireplace a timeless, elegant, and luxurious appeal by using marble.
With many styles to choose from, you'll appreciate the versatility and uniqueness of marble.
Luxurious and naturally detailed, Marble is a sought-after stone that adds glamour to any living space.
You can choose among numerous colors, starting from white and ending with black, suitable for any kind of living room.
9. Porcelain Fireplace Tile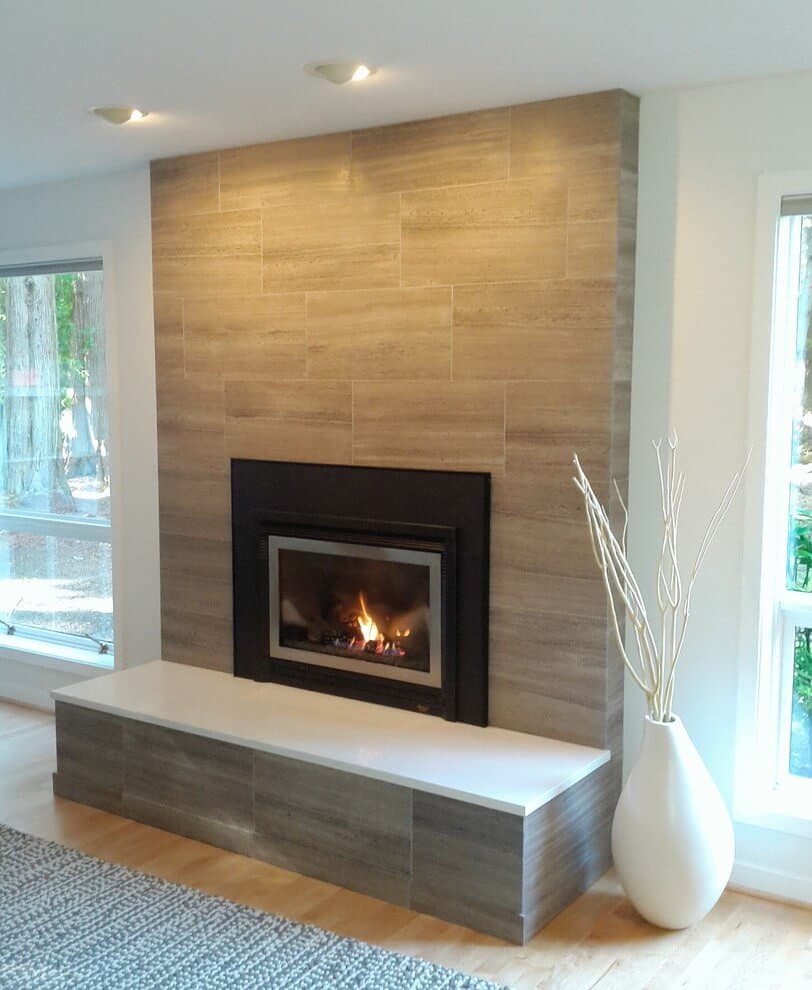 Porcelain tile is quickly becoming the go-to product for fireplaces.
The porcelain tile is available as polished marble, textured and varied in color, and in a wide variety of coatings to be incorporated such as metal, linen, leather, and others.
It is one of the most versatile materials around. The porcelain tiles can complement leather furniture, metal accents, and stainless steel kitchen nearby, they are suitable for any interior from modern to rustic.
If your home has a modern look, consider lining the entire wall behind your fireplace with porcelain tile large format, creating contemporary fireplace surrounds.
10. Herringbone Fireplace Tile Pattern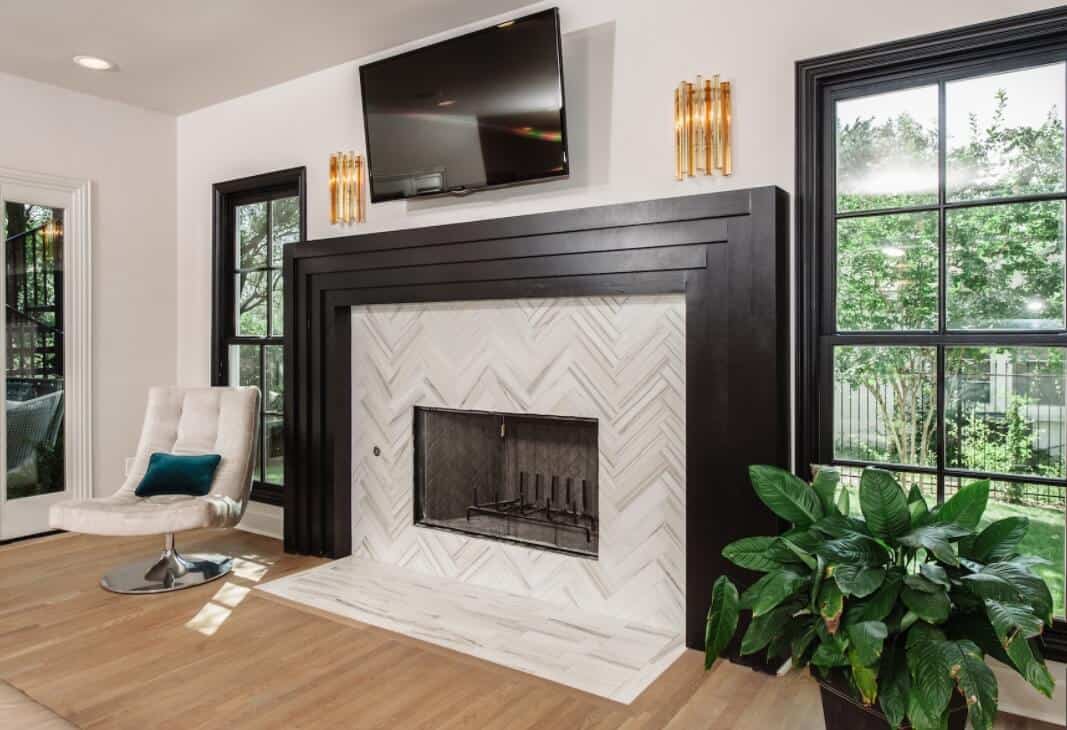 If you want to create a fireplace that is not standard and provides something different, then the herringbone pattern is the right thing to choose.
Using heat-tolerant tiles decorated with herringbone pattern your fireplace will surely stand out and draw attention.
11. Traditional Fireplace Tile Ideas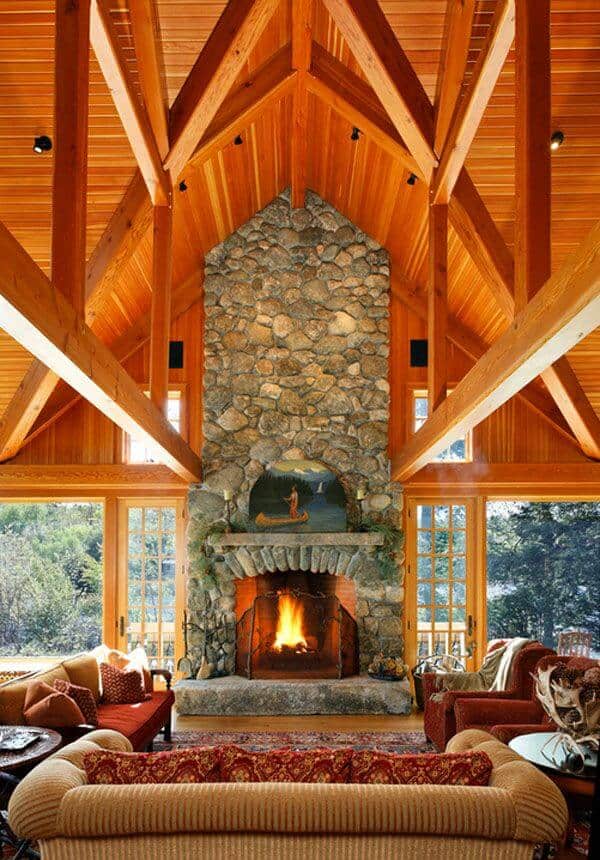 Make a big impact in the living room by surrounding the fireplace with brick-inspired fireplace tile ideas.
They will give an authentic character to the room, providing a dose of warmth and tradition.
12. Granite Fireplace Tile Ideas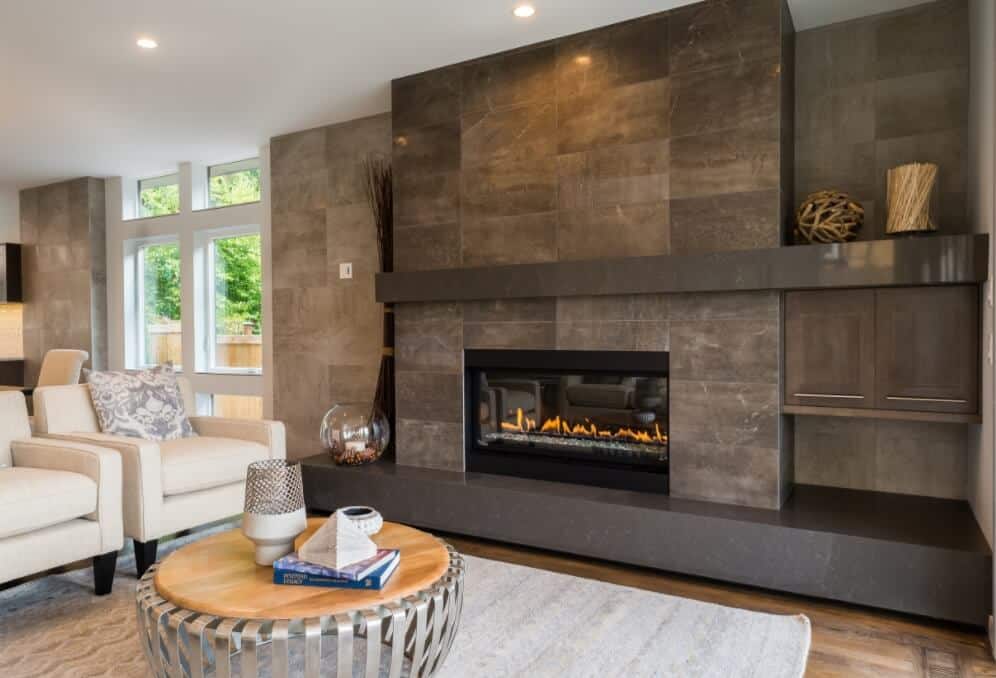 Granite tiles are a product of exceptional quality. They are created using white clay because it can produce the effect of natural materials such as stone.
Granite tiles have better specifications than other tiles which are: high abrasion resistance, resistance to acids and bases, resistance to stains, enormous heat resistance.
In the production of granite, various technologies and materials are used for the surface layer giving the possibility for imitation of stone, marble, natural granite, technical granite, wood, textiles, and others.
Granite ceramics is also suitable for places with a large frequency of people. Red granite will provide a rich and romantic look to your home.
Black granite is used for modern fireplace surrounds and creates a luxurious atmosphere when combined with brighter colors.
As such, black granite is becoming increasingly popular in the world.
13. Pebble Fireplace Tile Texture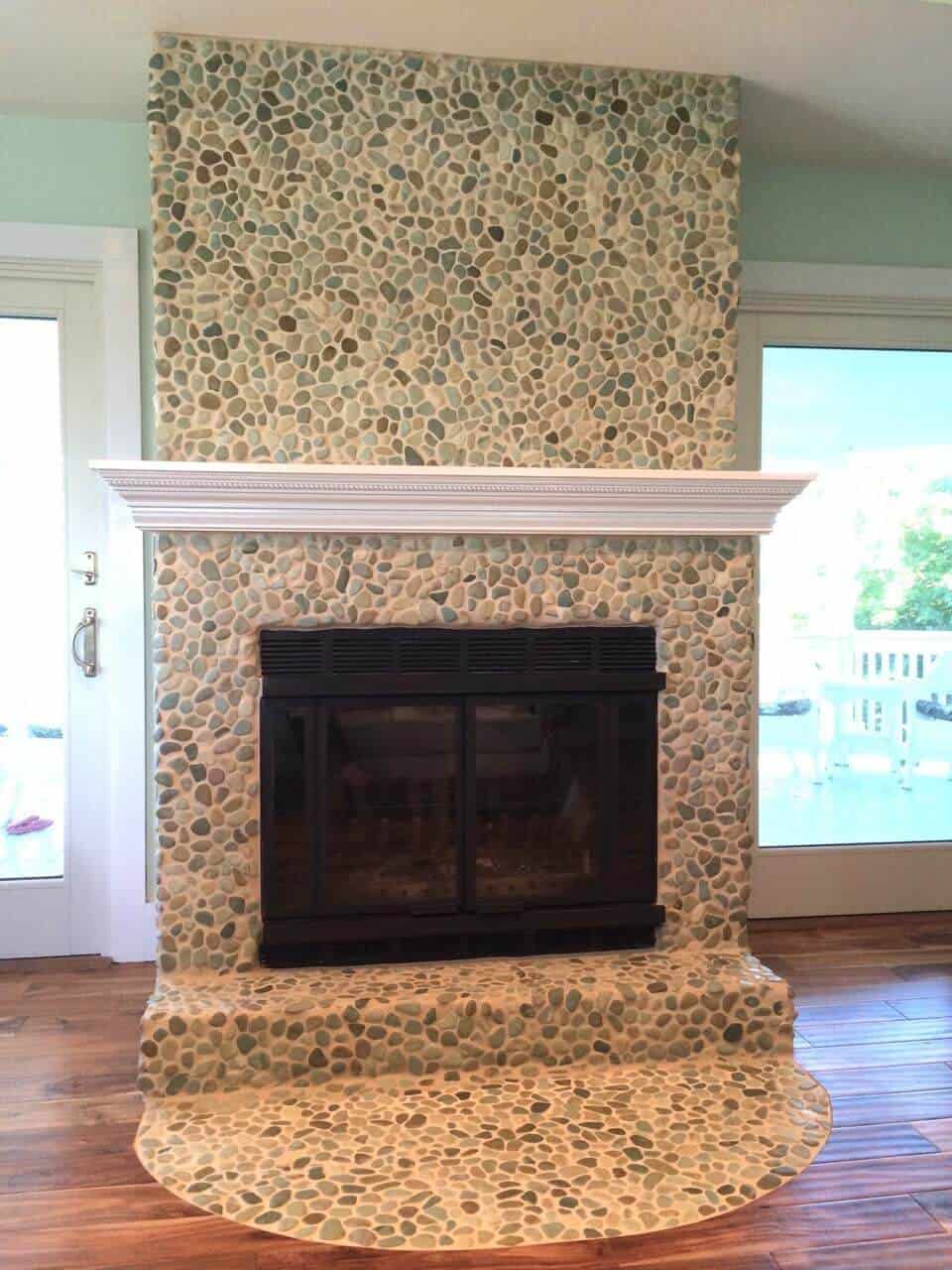 You can match pebble textures tiles with your existing décor, or use them as a contrast piece to add a bit of flair to your fireplace.
The durability and heat resistance of pebble tile make it a perfect material to use to cover your existing fireplace or mantle area.
The pebble tiles create an earthy-look without being too rustic and the colors are so pretty and shooting that you will still love it in a decade.
14. Mosaic Fireplace Tiles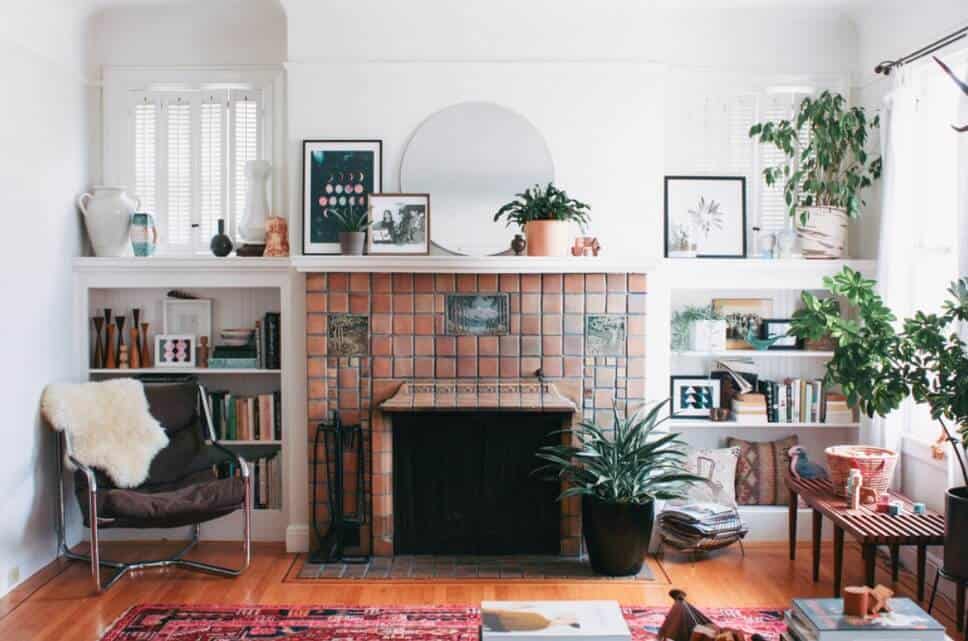 Mosaic tiles will bring your fireplace at the focal point. When using a tile on the surround, don't be afraid to mix in some different colors and create a vintage-inspired look.
15. Across the Border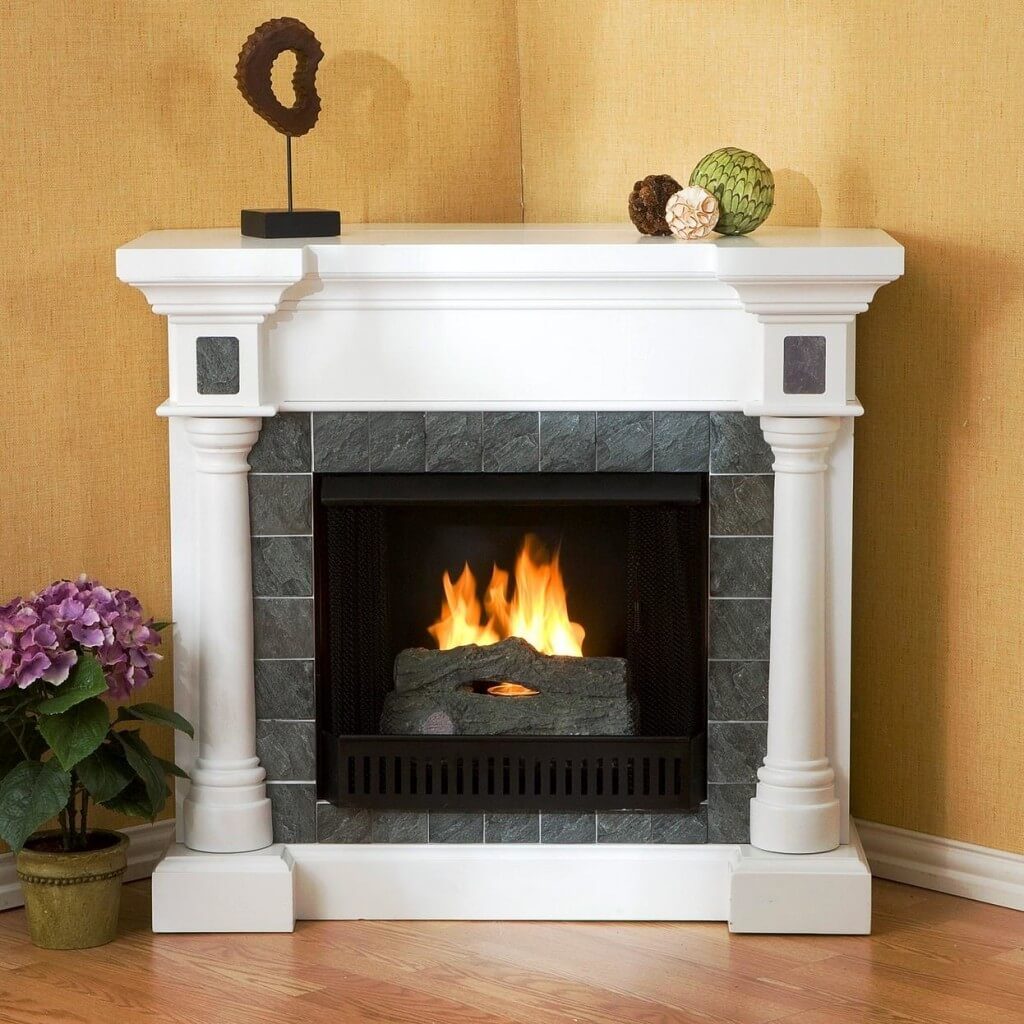 Also, there is a possibility to use a combination of larger and smaller tiles. A good idea is to use smaller tiles in order to create a border on the outside of a larger tile.
Like this, you will surely create a unique and outstanding fireplace design.
Conclusion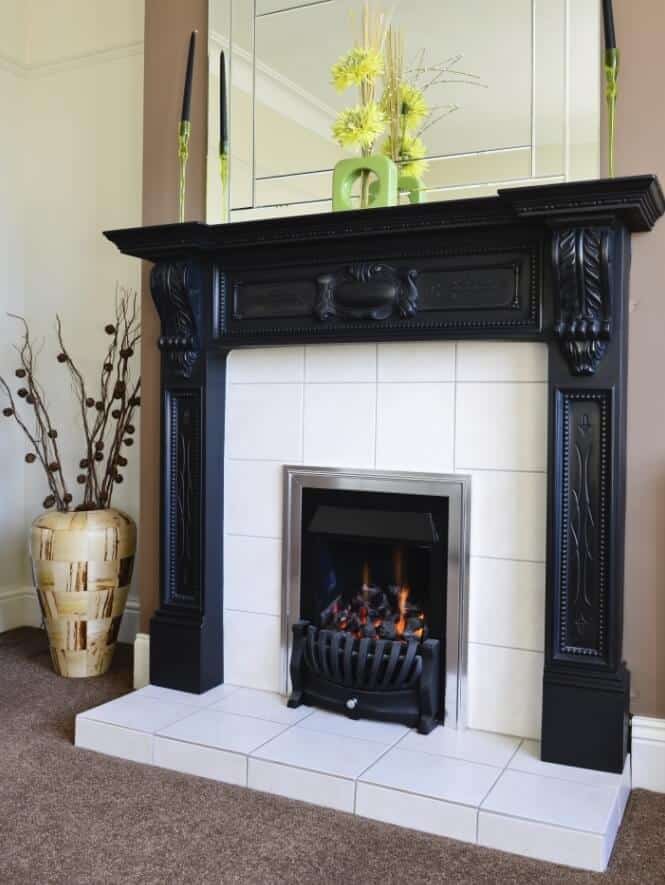 You want to make from your house a warm and comfortable home? Setting the fireplace is the best way to achieve this.
There is no single piece of furniture that can so efficiently make your home a pleasant and comfortable place to live.
Especially in the cold autumn and winter days when all we need is a cup of tea or coffee in front of a warm fireplace.
Besides being a great decorative element of the home, recently the fireplace is one of the most attractive options for heating.
Very pleasant feeling is given from the fireplaces operated by wood because of the natural way of heating.
It represents a central collection point, especially in the cold autumn and winter days when more time is spent in the house and in the family environment.
The romantic and warm radiation spread around the fireplace makes everyone enjoy its magic.
Admittedly, the fireplace gives character to the space in which it is located and creates a feeling to the person sitting in front of it.