Don Pedro Brooklyn is reader-supported. When you buy through links on our site, we may earn an affiliate commission. Learn More
22 Beautiful Glam Living Room Ideas
Almost every room could use a touch of glamor here and there, but some love going all-out and making their entire room glamor style. If you're one of those people, then perhaps one of the best places to start glamorizing your house is the living room. This is because there are nearly endless decor options to choose from.
Of course, with all those options comes the difficulty of analysis paralysis. Not to worry, though. This list of 22 glam living room ideas will help you get started making your living room golden, glimmering, and most importantly of all, glamorous.
Add in a Chandelier as a Luxurious Classic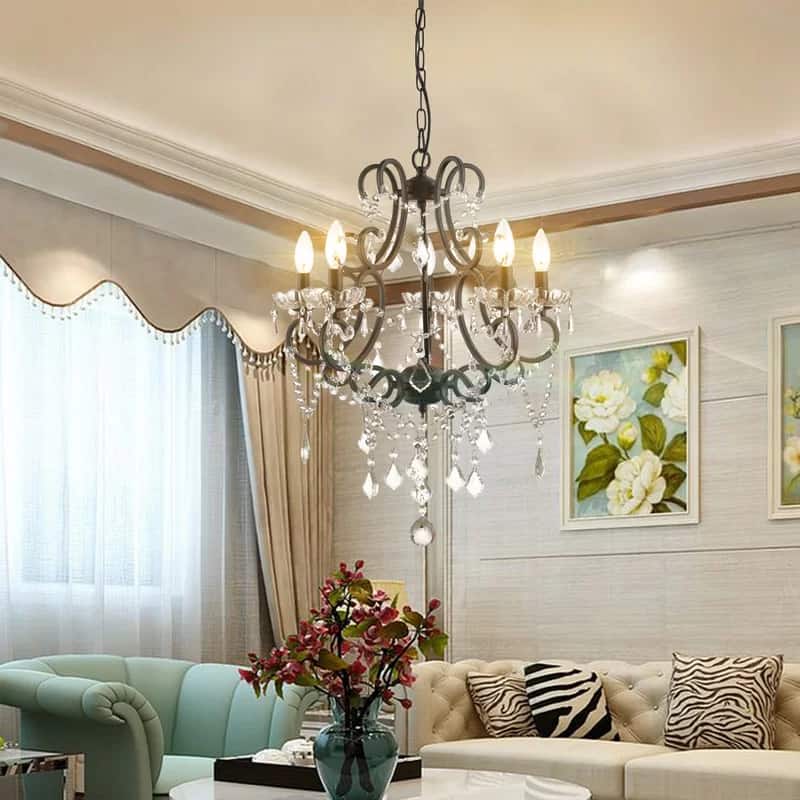 Think of the most luxurious room you can. Got an image in your head? Well, chances are that room contains a chandelier. These days, chandeliers are practically synonymous with luxury. The ultrarich will almost certainly have more than one in their home.
Of course, you don't have to be one of the 600+ billionaires in the US to make your home feel glamorous. There are plenty of affordable chandeliers out there, such as this one. It looks extra glam with its crystal accents and candle-style lighting. Even though it's just one fixture, it stands as one of the best ways to complete a glamour-style living room.
Add in a Glittery Throw Pillow for a Simple Glam Accent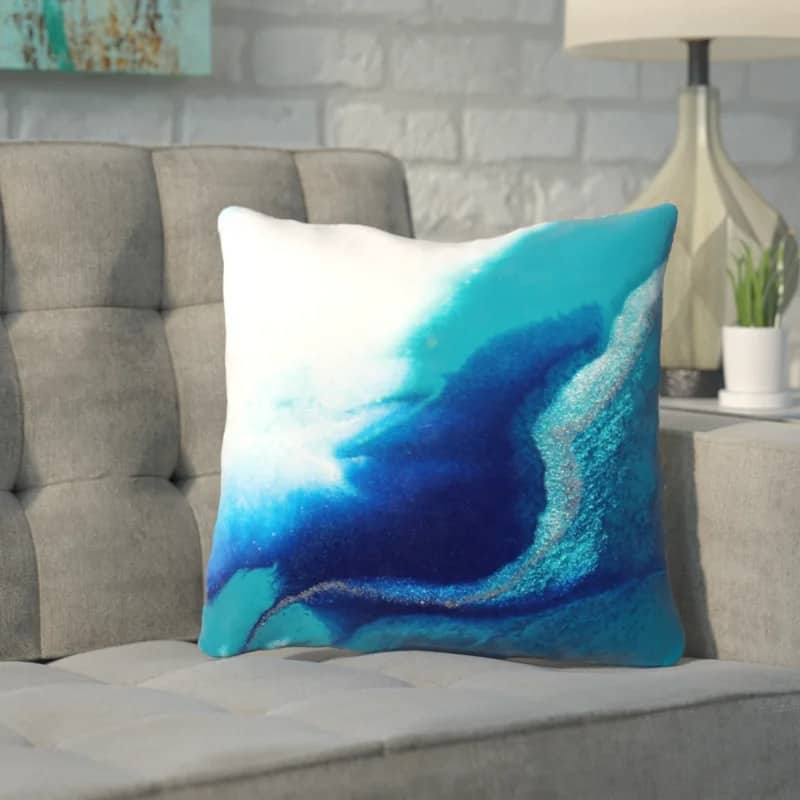 Whether it's crystals or rhinestones, no modern glam living room is complete without a bit of sparkle. If you're not sure where to incorporate it, by far one of the easiest ways is through a glittery throw pillow.
This one combines original abstract artwork with glittering accents to form a pillow you'll be glad to throw on your couch. At least if you're not tempted to put it in a display case first.
Make Your Room Feel Royal With a Velvet Armchair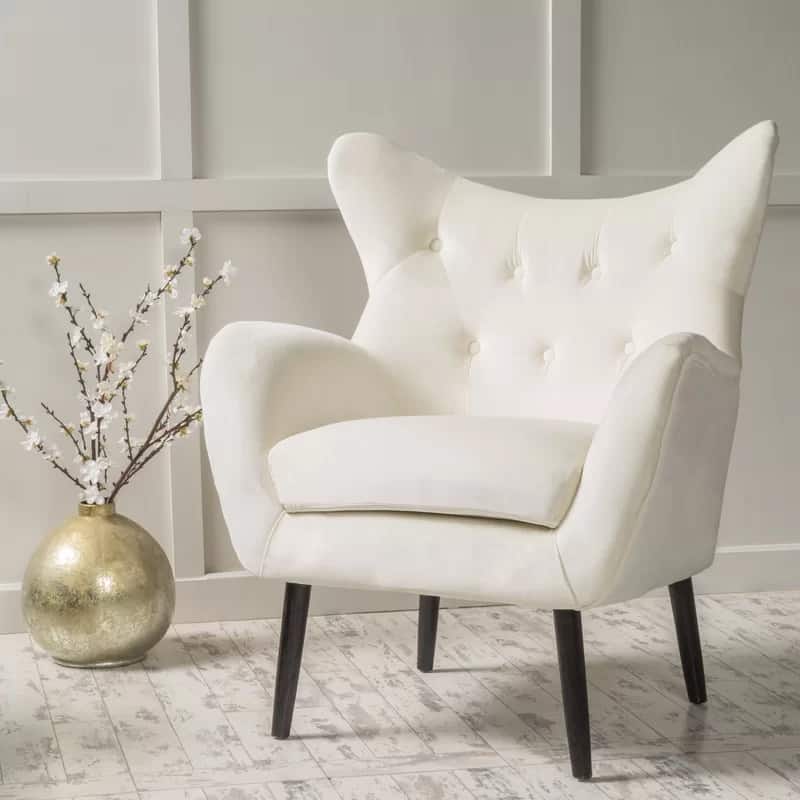 For centuries, velvet has been associated with the height of luxury. Maybe it's for the fact that it was once exclusively for noble classes, or maybe it's just the expensive price tag. Whatever the case, if you're going for a glam room, adding something velvet is an excellent idea.
Not only is it associated with luxury, but it also looks glam in and of itself with its shiny and smooth look.
That's where this velvet armchair comes into play. Along with its velvet fabric upholstery, it also comes in a beautiful ivory color often found in glam homes.
Add Some Subtle Elegance to Your Glam Room With a Ginkgo Painting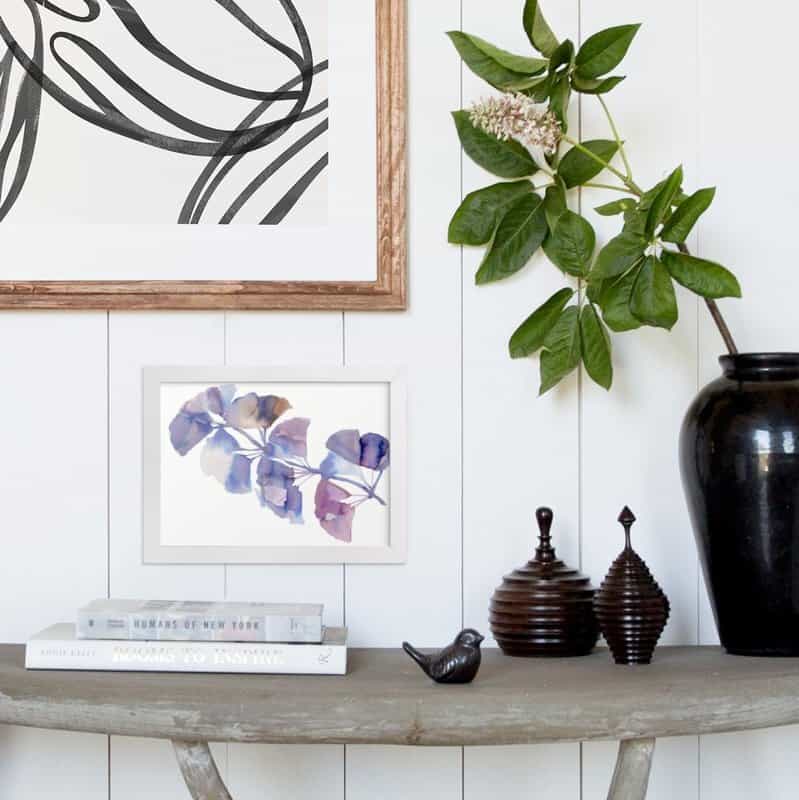 Ginkgo motifs are surprisingly common in interior design, and for good reason. With their elegant fan-shaped leaves, they're perfect for gracing everything from pillows to wallpaper.
Considering that elegance is a given in most glam rooms, a touch of ginkgo is perfect for rounding out the theme. One way to add a bit of ginkgo is to look for a piece of wall art like this one. Along with the ginkgo being elegant itself, it's especially complemented by the soft purple watercolor paints.
Add in a Pedestal Table for Design Versatility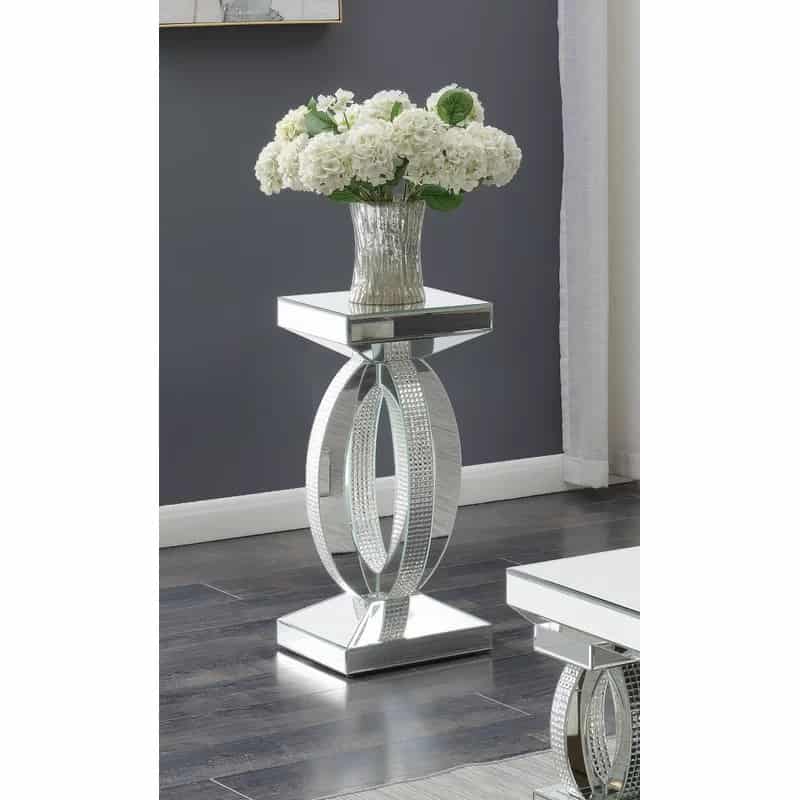 End tables are incredibly versatile. In the case of living rooms, they're great for adding to the sides of couches, in between armchairs, or as a standalone piece. They aren't exclusive in style, either. There are plenty of glam end tables to make your room feel like it came from a magazine.
Such is the case with this glittering pedestal table. Its silver color makes it perfect for modern living rooms, while the sparking accents make it look as glam as can be.
Use a Gold Mirror for Some Simple Luxury
Mirrors are a nice thing to have in any room. They allow natural light to disperse, and they make even the smallest living rooms feel larger. That's no different with glam rooms, either. The right mirror just depends on the frame you use.
There are many options, but if you want something to go with nearly everything, gold is one of the best choices. Put it in a white room, a black room, a golden room, you name it, and this mirror still fits in.
Feel Like You're at the Ball With This Painting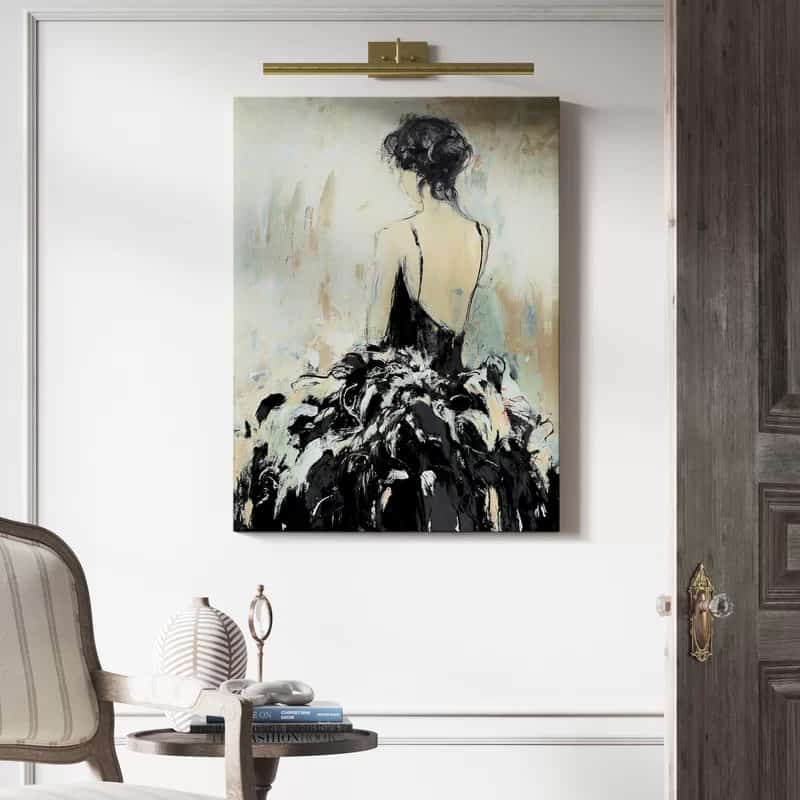 Luxury and ballrooms go hand-in-hand. For nearly every castle in existence, it was considered a must-have for throwing grand parties with all the wealthiest citizens in attendance. Of course, unless you have a large plot of land and a million dollars to burn, chances are your house isn't going to have a ballroom anytime soon.
That being said, you can still capture the essence of a ballroom with a glam painting like this one. It features a woman in a gorgeous ballgown. Ball or no ball, you'll still feel like dancing in your newly glamorized living room.
Use a Marble Coffee Table for Subdued Glamor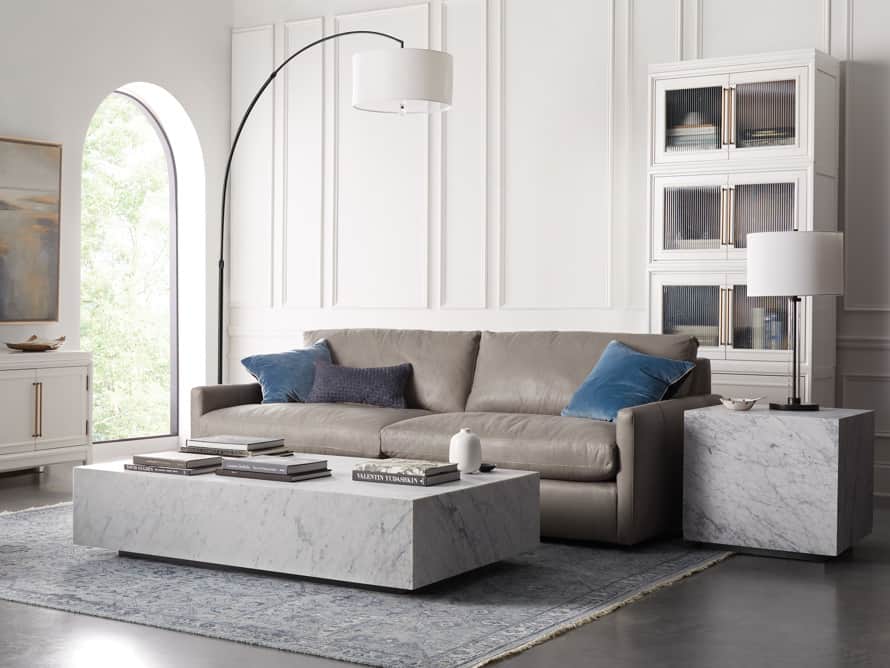 Chances are you probably know this, but it's worth saying again– marble is the epitome of luxury. Of course, you don't need to limit yourself to marble kitchen counters. There are plenty of living room-appropriate furniture pieces that are made of marble, such as this coffee table.
With its neutral tones, it's perfect for adding a touch of luxury without taking over the whole room. If you already have a very sparkly glam living room, adding in a marble piece is one perfect way to tone it down while keeping with the theme.
Use a Golden Coffee Table With a Shelf for More Design Possibilities
Coffee tables are a common element in living rooms, and for good reason. Along with being able to put coffee cups on it (as the name suggests), they're also a great base for decorations such as vases.
This is especially the case if the table has a small shelf underneath like this one. Not only can you add items on top of it, but you can also add items underneath, made visible by the glass top. It's perfect for design versatility, as you have room to experiment with both top and bottom items for a truly personalized glam living room.
Use an Etagere to Display Small Decor Items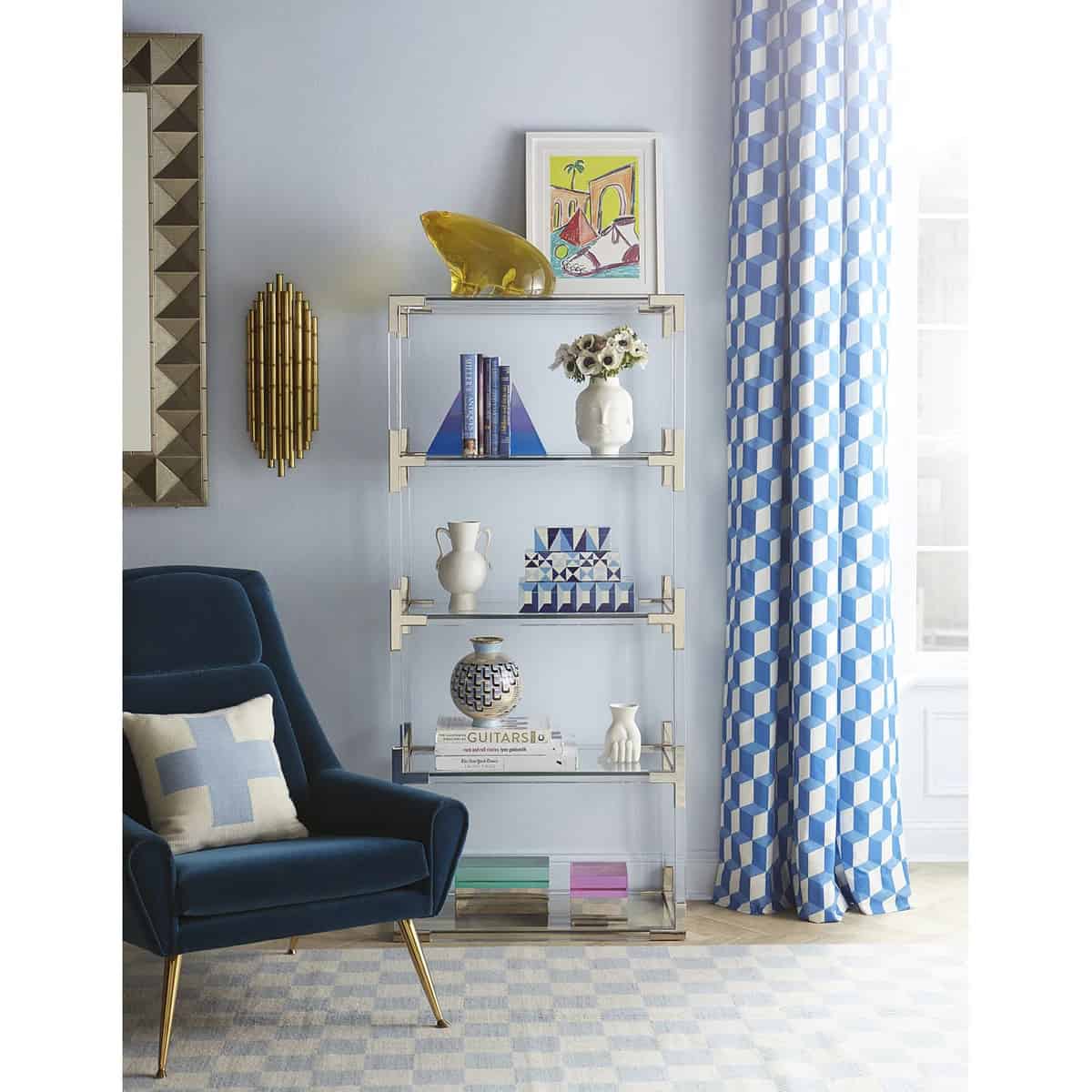 Looking at this, you might immediately think it's a bookshelf. While you can put books on it if you'd like, this is technically what's known as an etagere. "What's the difference?" you might ask.
Well, while a bookshelf has more of a closed design and is meant for storage, etageres have an open design and are specifically made for displaying items. With this etagere, not only do you now know a fancy French word, but you also have something glam to add to your living room. You can put nearly anything on it, from expensive-looking vases to small statues.
Go For a Glimmering Accent With a Golden Crystal Table Vase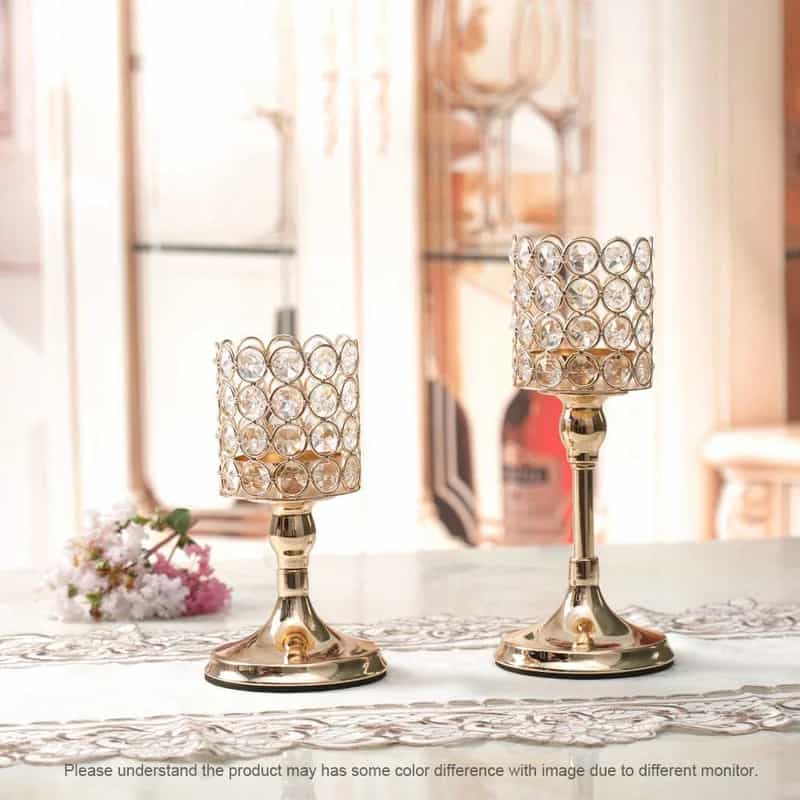 Glamorous living room decor is often big and bold, but it doesn't always need to be. Adding a small touch of glam here and there can go a long way to making your room feel complete.
Take these table vases, for example. While they're small in size, they're big in design potential. You could easily put them on a dedicated table with a lace doily or use it to glamorize your existing coffee table. Wherever you put them, they're sure to make it stand out with their golden color and crystal accents.
Add in Some Golden Bird Statues to Accent Your Room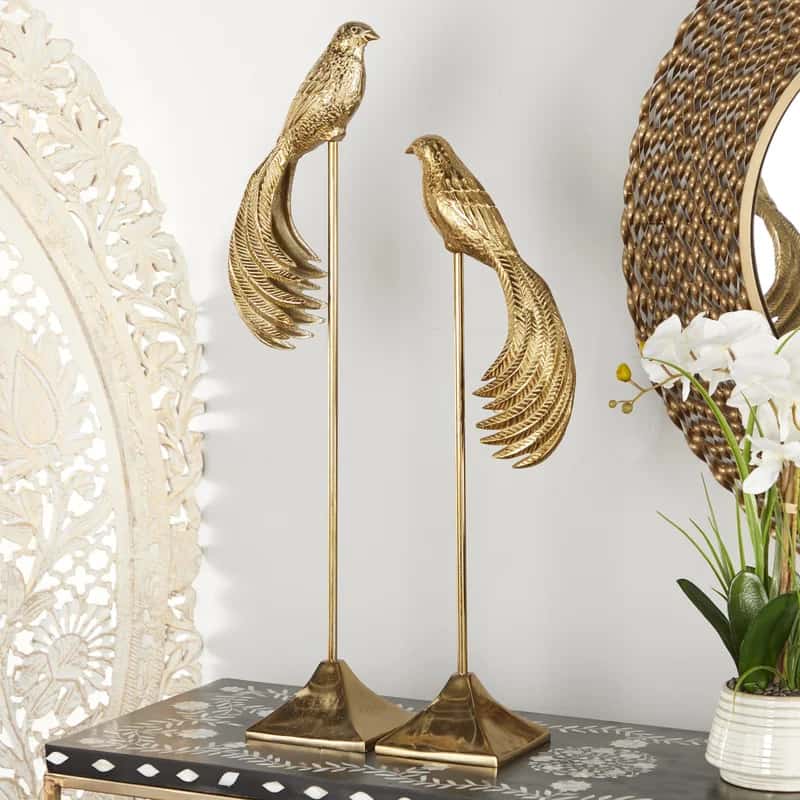 Some glam rooms could use a few neutral tones so they aren't overly gaudy. On the opposite end, some rooms need something extra to give them a distinctive glam character. For white glam living rooms in particular, one of the safest bets is adding some golden decor.
There are many ways to achieve this, but these golden bird statues are among the most standout options. Birds are elegant in and of themselves, but they look exceptionally glam when adding the golden color palette.
Use a Fireplace So Your Living Room Is Cozy and Glamorous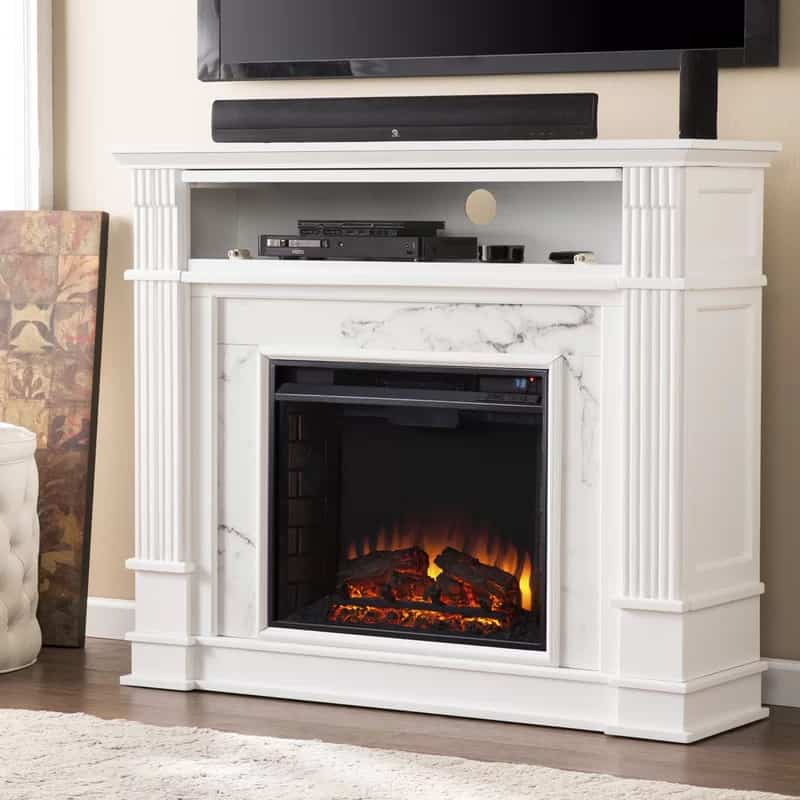 Those who want a cozy room with a luxury look might come across the phrase "beauty is pain" and believe that they have to choose. That's not at all the case, as there are plenty of ways to make your living room glamorous without compromising creature comforts.
One example is this beautiful electric fireplace. It not only looks great with its carved wooden details and marble veneer, but it's also a great way to stay warm in the dead of winter.
Sparkle by Day and by Night With a Crystal Table Lamp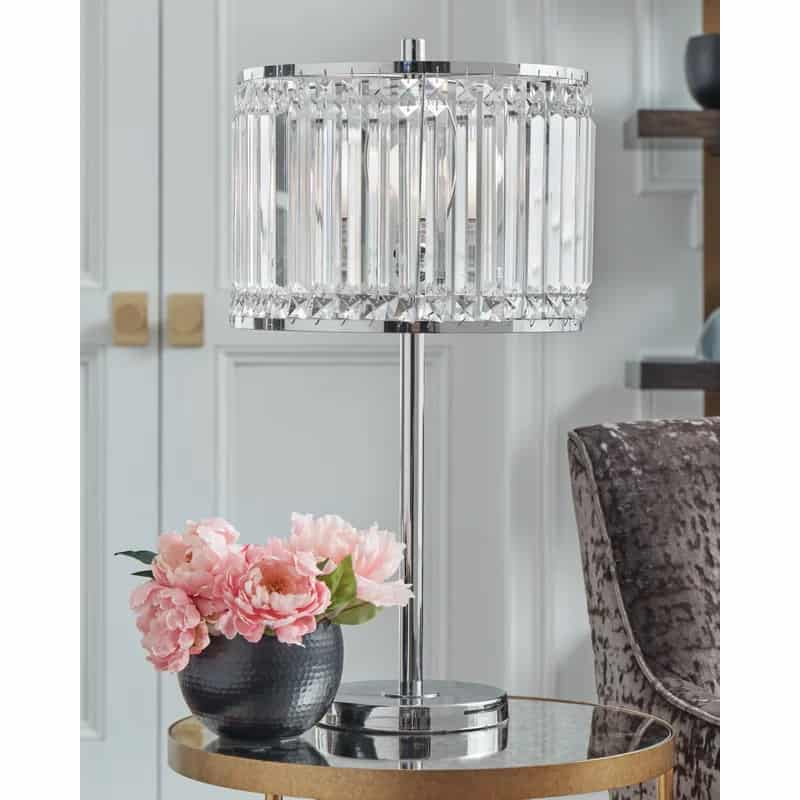 Whether you're not keen on chandeliers or you love bringing in all the light you can, you're sure to love this glamorous table lamp. If you glance at the lampstand first, you might think it's an ordinary one.
However, as you gaze up to the lampshade, you'll be met with shimmering strings of crystals. It'll sparkle in the natural light by day and the artificial light by night, leaving your living room with an endless stream of luxury.
Add in a Bedazzled TV Stand For a Flashy Flair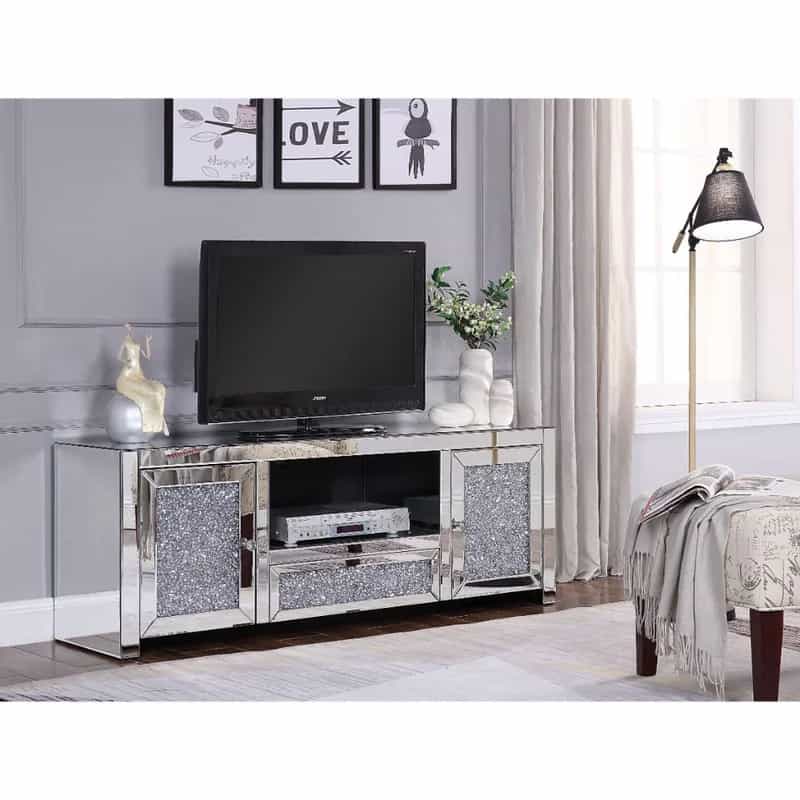 If you're looking to glam up every part of your living room, then along with sparkly light fixtures and end tables, you're going to want a glam TV stand. Options are surprisingly bountiful for this highly specific piece of furniture and can range from simple and elegant to flashy and bold.
In this case, it leans towards the latter. It not only has a mirrored front for elegance, but it even has a sparkly exterior that looks like it's made of crushed diamonds. Upon adding this to a glam living room design, guests won't know whether to look at what's on-screen or what's underneath it!
Add a Tufted Ottoman to Round Out Your Button Tufted Furniture Set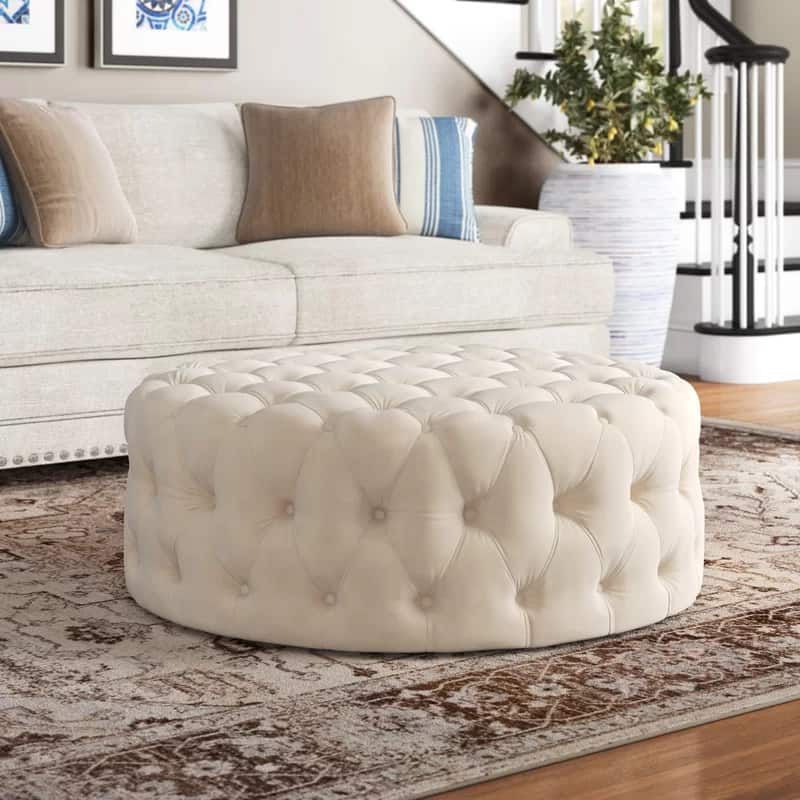 When it comes to glam furniture, there are very few things that escape the button tufting craze. Along with the typical options like couches and chairs, you also have things like button-tufted benches, bed frames, and yes, even button-tufted ottomans.
Of course, these are nothing new. Most ottomans are upholstered, making them both stylish and practical for comfort's sake. Adding button tufting is a reasonable modification to make any ordinary ottoman luxurious. It's also a perfect way to glamorize your room without glitter overkill, especially considering ottomans like this one come in muted neutrals such as beige.
Use a Damask Area Rug for Some Added Elegance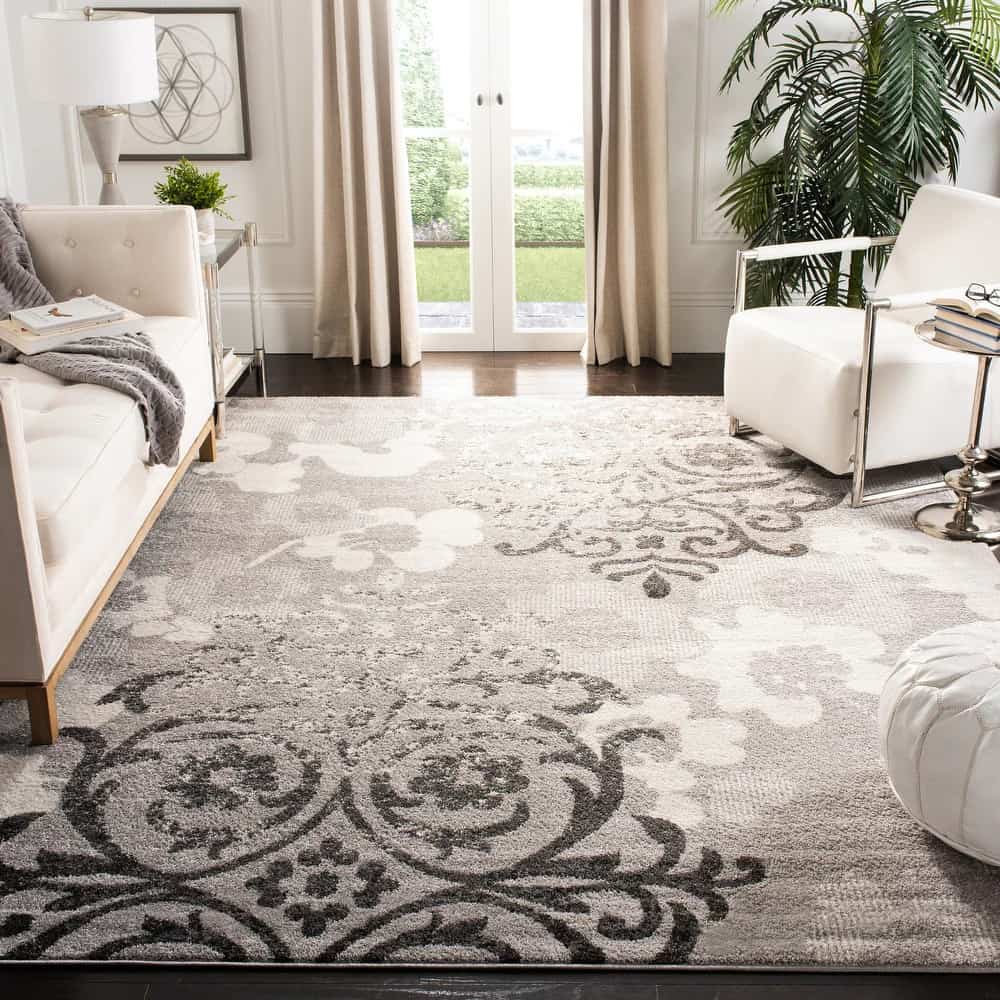 There are practically endless elegant patterns out there, from florals to chevron. Arguably most elegant among them, however, are damask patterns. Damask patterns are practically works of art in and of themselves, being incredibly intricate.
Such is the case with this area rug. Along with its elegant damask pattern, its silvery color makes it the perfect addition to nearly any glam living room.
Go For a Simple Touch With Some Glam Candle Holders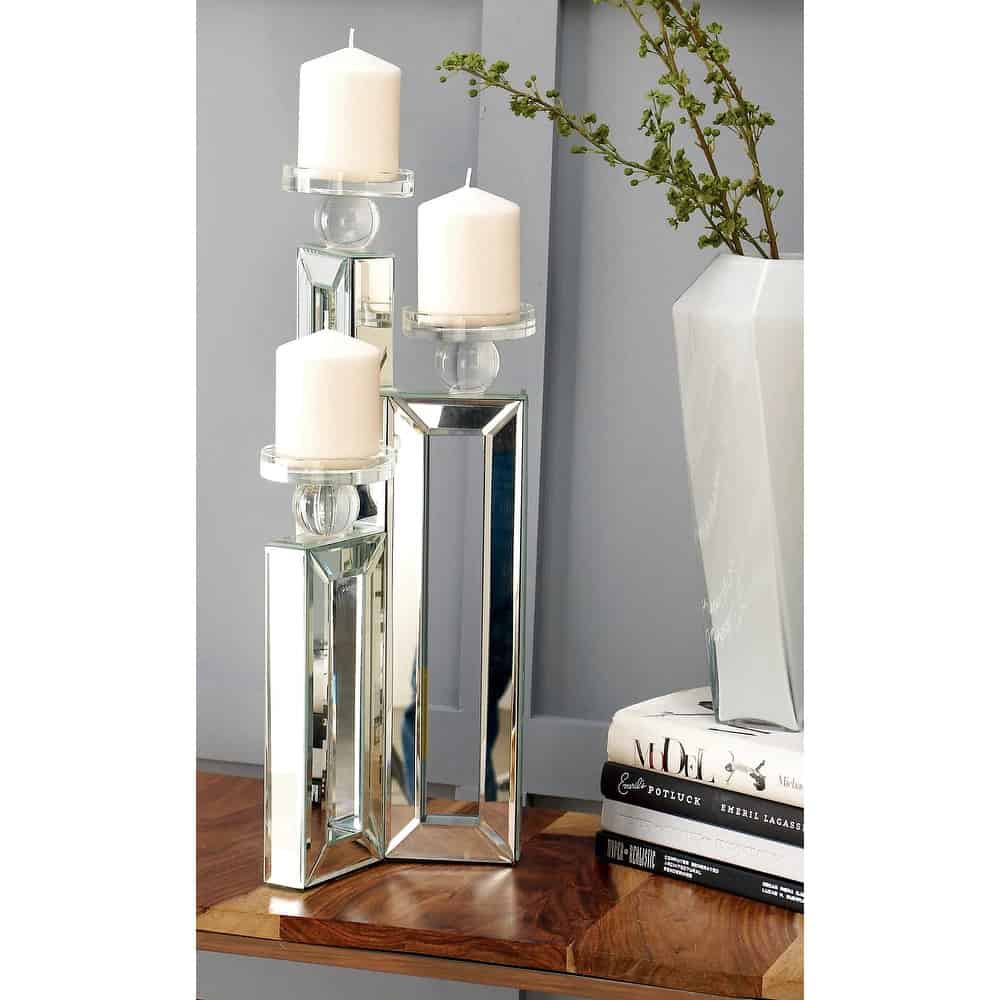 Lamps are great for lighting up your living room, but what if you're looking for something a little more ambient? That's where candles come in. Candles aren't just the lightbulbs of ancient times. They're also still widely used for their elegance and aforementioned ambient properties.
Of course, you don't just need a candle by itself. Bringing it back to the glam aesthetic, candle holders are one of the best ways to glamorize your mood lighting. Bedazzled or mirrored front candle holders like this one are perfect for adding an extra bit of sparkle.
Add in Unique Elegance With an Oversized Peony Wall Clock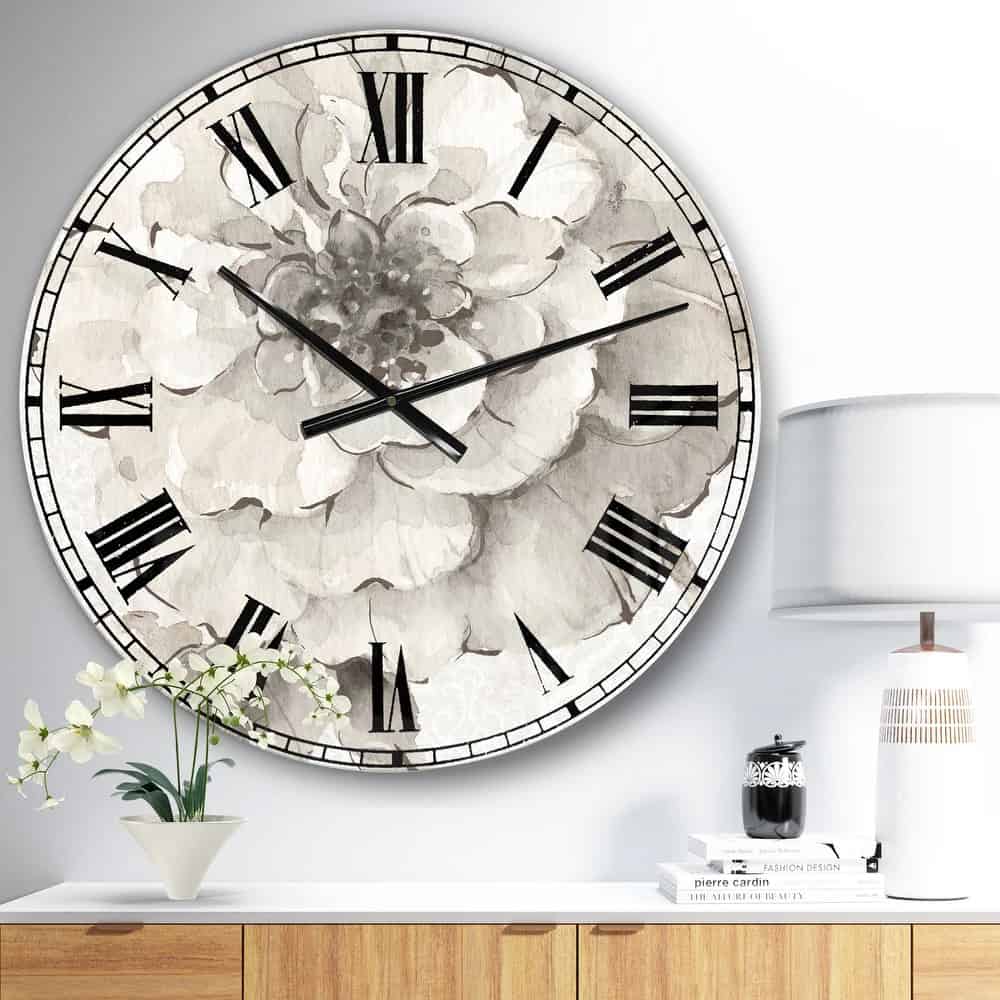 Flowers might not shimmer and sparkle like typical luxury items, but they're still associated with glam designs nonetheless. This is because flowers are incredibly elegant, especially ones with bold and beautiful blooms like roses.
Besides adding flower arrangements, you can add a touch of natural glam through floral patterned things such as this oversized wall clock. Featuring gorgeous peony art and a glossy coating on top, it's sure to stand out in any room even with its monochromatic color palette.
Use a Silver Cabinet for Sparkly Storage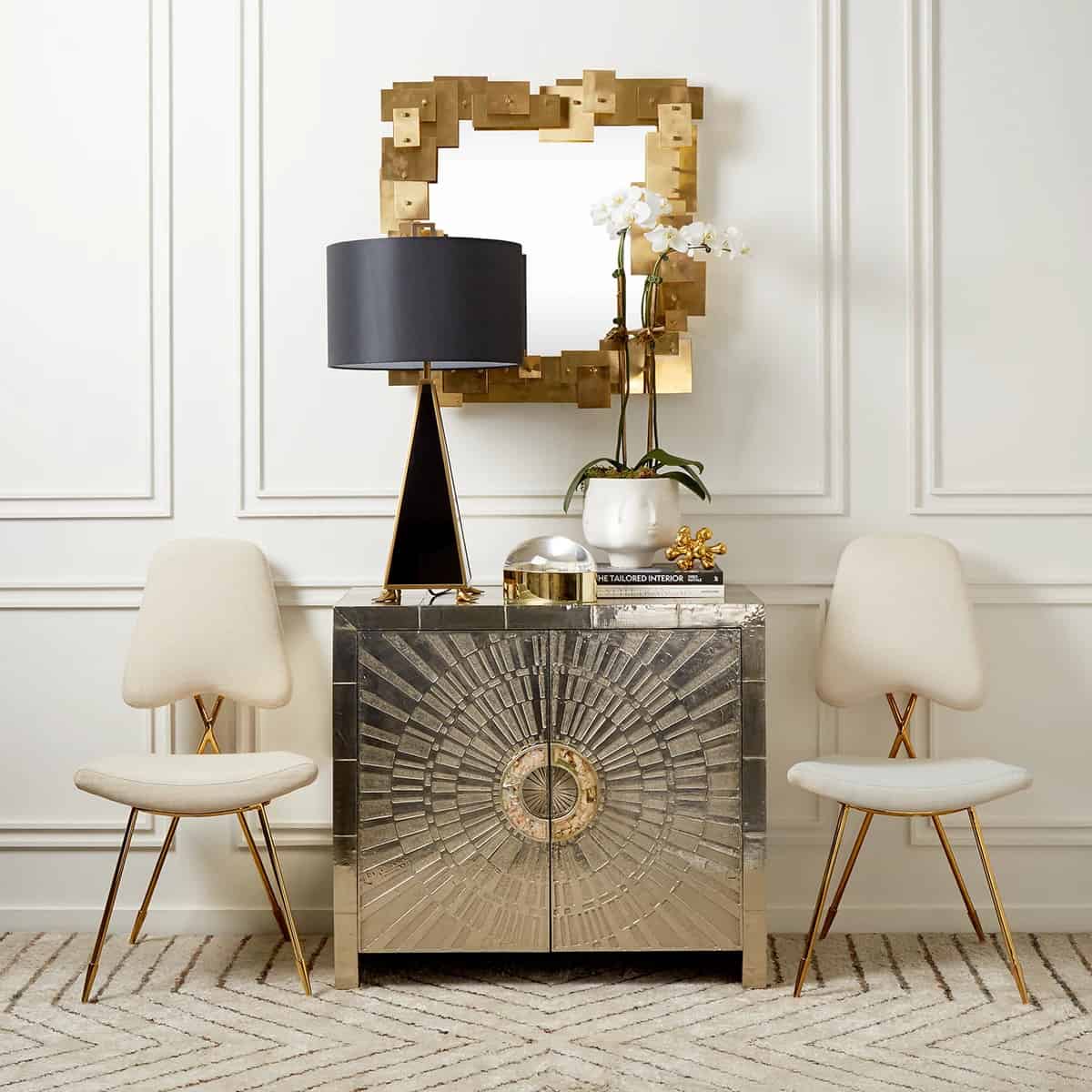 While we've already covered a lot of glam living room items by this point, we've only really scratched the surface. In truth, no item is exempt from glamorization. You can find glam items in everything from candle holders to couches.
And this is no different when it comes to cabinets. There are plenty of glam cabinet options out there, but this one definitely stands out with its silver-colored exterior, starburst design, and bejeweled drawer pulls. Not only will you have something practical for storage purposes, but you'll also have a cabinet that shines as much as the rest of your living room.
Add an Upholstered Magenta L-shaped Couch as a Statement Piece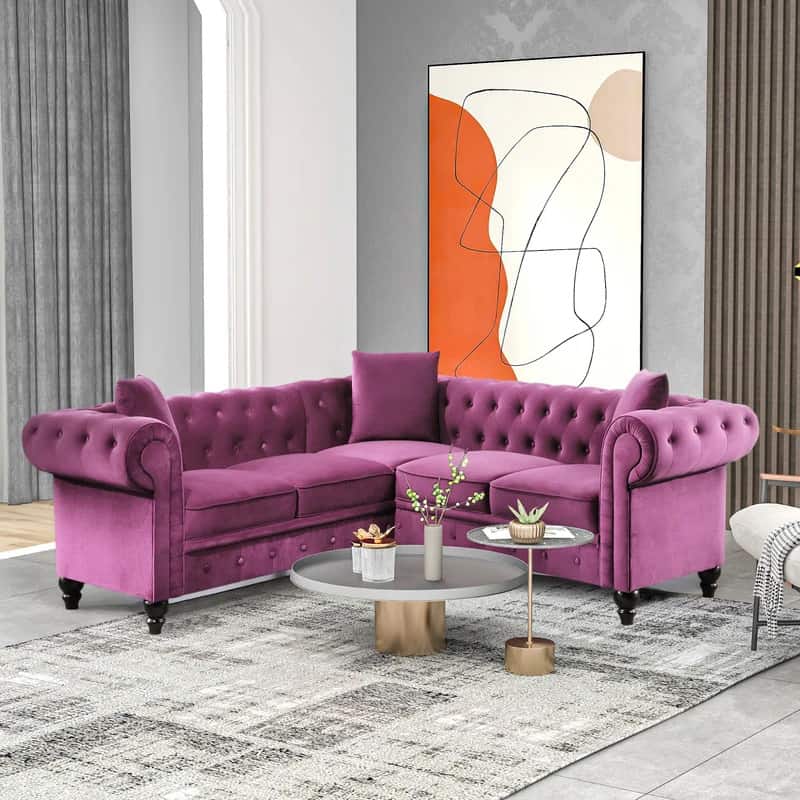 Ah yes, upholstery. Considering its long-standing place in the world of glam interior design, it's almost a requirement to have at least one upholstered piece in your living room.
Add that to a "go big or go home" mentality, and you arrive at this couch. It has nearly all the elements of glam design you could think of– button tufting, velvet fabric, and a standout purple color. It would make the perfect statement piece for any glam living room design.
When There's No More Room Below, Look Above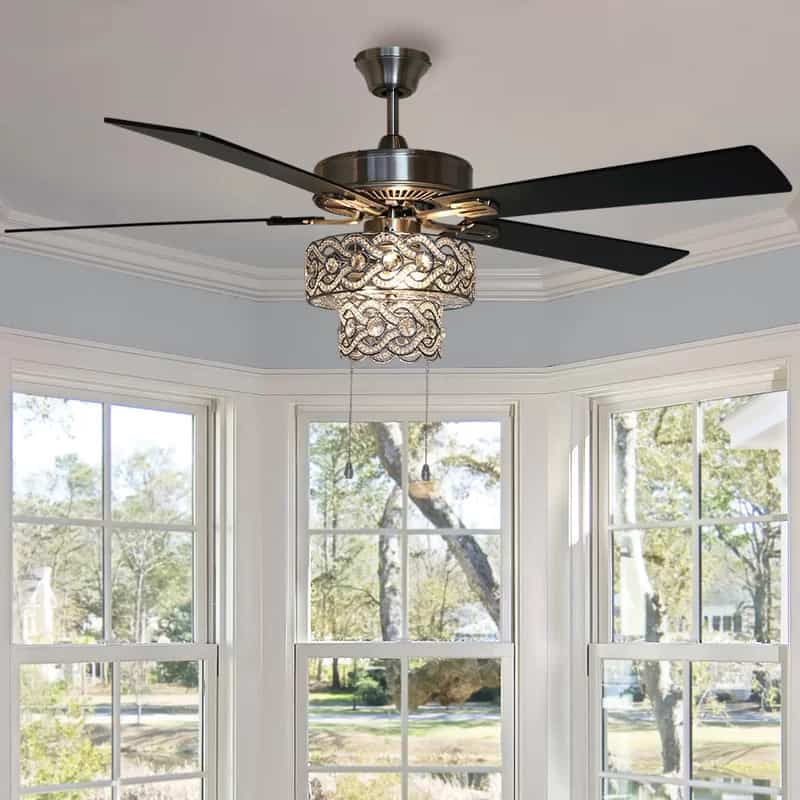 People often look down when they're looking for things to add to their room. You look down at the empty space that could use a coffee table and down at the place that could use an extra armchair. But what if one of the best areas to add some decor is right above you?
That's the idea with this crystal ceiling fan. Similar to a chandelier, it's an elegant light fixture with its shimmering crystals and metallic accents, but it has the added benefit of air circulation. Now your room can be stylish and comfortable at the same time– no trade-offs here.
Final Thoughts…
As we said from the start, there are plenty of ways to make your living room more glamorous. You can add everything from a small painting for a glam small living room to a show-stopping couch for a large one.
And of course, size isn't the only way glam pieces vary from one to the next. There are glam subcategories so that everything from an elegant watercolor painting to a bejeweled TV stand counts. We hope this list of living room ideas gave you a place to get started designing the most glamorous living room around.