Don Pedro Brooklyn is reader-supported. When you buy through links on our site, we may earn an affiliate commission. Learn More
How to Grow Thyme At Home (Indoors & Outdoors)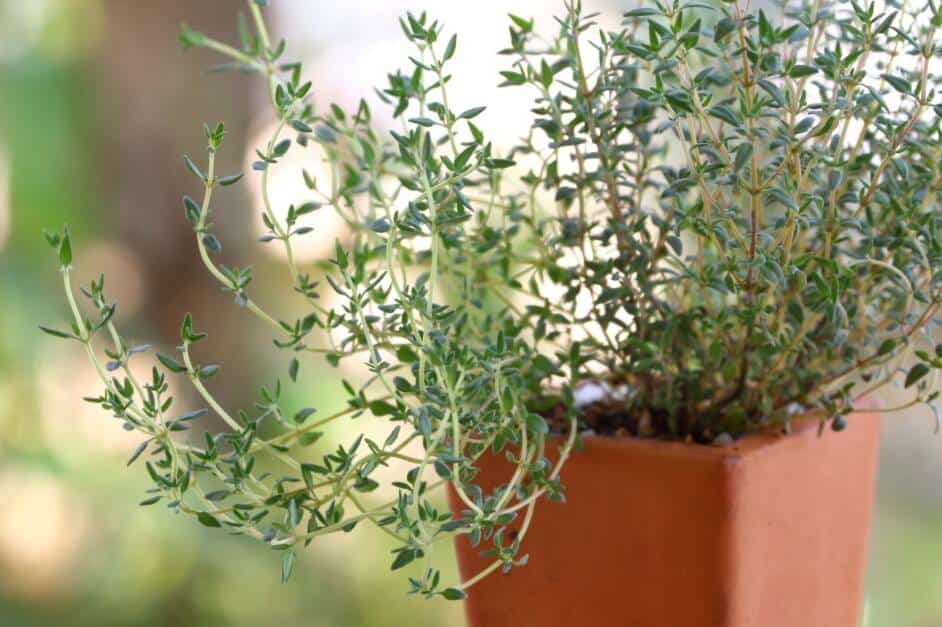 Thyme is one of the aromatic herbs that you can use for cooking. This Mediterranean herb matches so well with garlic, olive oil, and tomato. Besides, thyme is known as a 'summer herb' where your summer soup and grilled meat doesn't taste complete without it.
In terms of appearance, thyme has rounded leaves growing in soft wooded stems. Young thyme leaves have a bright green color. The leaves' color will fade into grey-green as time goes by.
Thyme belongs to the mint family, and it gives a more pungent flavor when dried. However, fresh thyme is still preferred for some dishes or people's preferences.
The use of thyme dose does not exist only for food or culinary purposes but also for health purposes. Thyme benefits our body, such as lowering blood pressure, stopping cough, and boosting immunity.
These days, people even develop the essential thyme oil to disinfect air pollutants in a house. Therefore, people start to be interested in growing their thyme at home.
What's good about planting thyme besides its benefits is because you can save a lot of money. Buying thyme in groceries, either the dried or fresh ones, could be very pricey.
So if you can receive so much benefit by planting your thyme, why not? Now, here is your ultimate guide on how to grow thyme at home.
How to Grow Thyme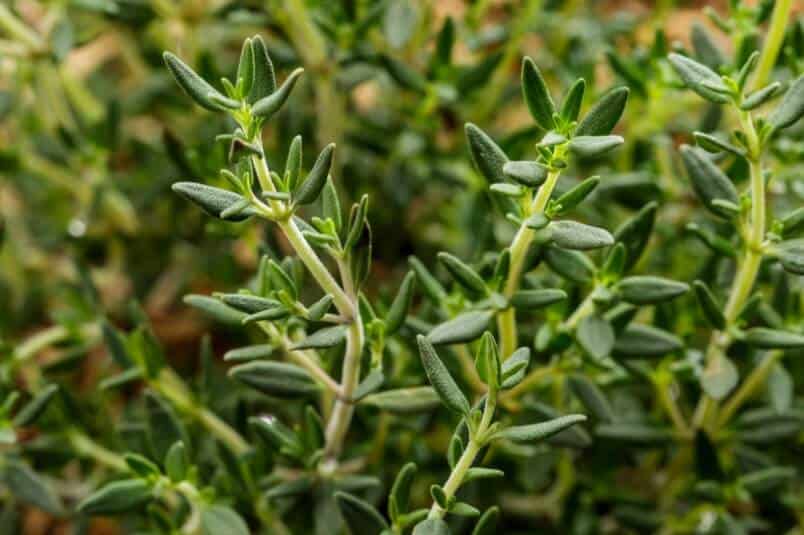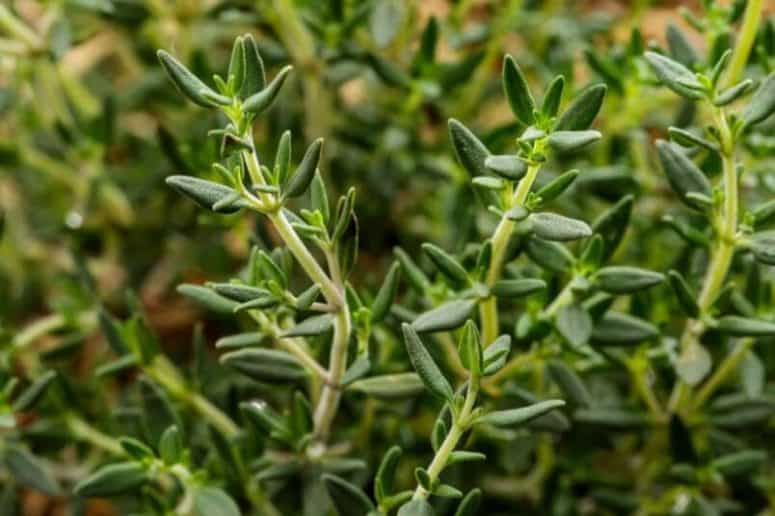 Thyme itself has tens of varieties, but there are just two most common ways to grow it. You can either plant thyme from seed or cuttings.
Growing it from seed means you plant the seed and treat the seeds until it grows to be a bush of thyme that you can harvest.
Meanwhile, growing it from cutting means you produce the stem from the previously grown thyme plants.
If you want to have a more comfortable and faster way, you'd better grow your thyme from cutting. It is possible to grow thyme from seed, but it might be hard to establish, especially for green thumb beginners.
Young thyme stems are available in groceries or garden centers. If you decide to grow thyme from cuttings, you can use those in the groceries instead and plant them. Besides, planting thyme from seed requires a longer time for it to grow.
Indoor or Outdoor
Now you have decided which way you want to plan your thyme. It is time to choose one more thing. Where do you want to plant it?
Growing thyme, indoor, and outdoor has the same rules. Thyme is a friendly herb that does not need so many requirements or nutrients.
Planting it indoors requires you a container, of course. That container needs to be placed in the brightest and driest place ever in your house. Thyme loves full sun, and it thrives in an almost-drought environment.
Therefore, it's best to put the container with the most significant sunlight exposure in the house.
Never overwater the soil. Just water it once and let it dry, very dry. The soil condition for thyme is also why you should plant thyme in a separate pot or container with other herbs.
As for the outdoors, it is apparent that you need to plant it on the ground under the sunniest spot in your garden. The full sun access outdoor is excellent for thyme to grow.
Finally, either indoor or outdoor thyme should never be overwatered.
Soil
Thyme proliferates in rocky gravel soil. Therefore, lucky you who have sandy, friable, and loamy soil because thyme loves this. This is why planting thyme outdoor is a good idea.
If that's the case, then you should plant your thyme at least one foot apart from other plants or herbs because thyme grows fast.
Nevertheless, thyme also grows well indoors, though, as long as the soil's characteristic matches the brief.
Try to choose a larger vessel so that the thyme could grow into it. A clay pot is also recommended for indoor planting since it can help wick away the soil's unwanted moisture.
That way, you will create a suitable soil environment for thyme.
Light
Like most herbs, thyme thrives in full sunlight. Moreover, thyme has its Mediterranean origin, where it's best to plant your thyme in the sunniest place at home, either indoor or outdoor in the garden.
If needed, plant the thyme in moveable planters so you can chase the sunlight at mid-day or a particular time of the day.
If you plant your thyme indoors, stash it on the sunniest window side in the house. A sunroom where you get a lot of rays throughout the day is always a good idea too!
Water
Since thyme loves an almost-drought kind of environment, it's best to water thyme occasionally, just once every week or even every month. It depends on the soil you have on the ground.
You have to drain the water very well that the soil goes very sandy and friable. You should worry much more when you overwater the soil than when you miss a week without giving it water.
The rule is not to overwater the soil and keep it well-drained.
Temperature
In terms of temperature or humidity, thyme has no special requirements or conditions. Thyme is a perennial herb that could live up to some years.
Speaking of life span, yes, thyme could live up to some years, but just until there is a frost where thyme could go dormant for the winter.
Thyme's most extensive period to grow is throughout summer, no doubt. During that period, you can also notice many bees and other insects start to the bush.
Fertilizer
As you know that thyme is a pretty friendly herb to plan; it does not need a special fertilizer to grow.
Nevertheless, treating thyme with a diluted all-purpose fertilizer will keep it produce proportional leaves and elements.
The fertilizer can also prevent thyme from having too much foliage that could dilute its delicate essential oil.
Harvest and Propagation
Once thyme has grown into some bushy plants, you can harvest it anytime. Guess where the best time to reap thyme?
The answer is in the morning when the dew has evaporated, and the flower was about to bloom.
How to harvest thyme? You can cut off the top of the stems, about five or six inches, and leave the challenging part of the branch.
After you get the wanted parts, never wash them with too much water because it might remove the essential oil contained inside.
One good thing about harvesting thyme is that one trim or one cut from the stems could thrive and trigger the thyme plant to grow even more leaves and higher stems.
Therefore, be mindful to leave some 5 inches of the stems, so the plant will continue to thrive.
Troubleshooting the Pest
In terms of the pest that might harm your thyme plant, you don't have much to worry about.
Thyme's number one problem is when you plant it is too dense or too moist soil. That way, your thyme can develop root rot.
As for insects, spider mites could be an issue in a dry season. Meanwhile, for the humid season, the existence of fungus disease is also possible to happen.
You need to troubleshoot those problems by making good drainage, good air circulation, and a proper planting environment for the thyme.
Conclusion
Thyme is one of the most straightforward, friendly, and homely herbs to grow. Either indoor or outdoor, you have to pay attention to three significant aspects. Those are the soil, the water, and the light.
The soil must be loamy, friable, and so well-drained until you get that almost-drought environment.
As for the water, never overwater the plant. You should leave it without water for some weeks, rather than giving it too much water every week.
Finally, the light is best given full exposure and direct sunlight.
If you plant thyme indoors, the light can be acclimated to the plant by putting it in the sunniest place in the house, like the sunroom.