Don Pedro Brooklyn is reader-supported. When you buy through links on our site, we may earn an affiliate commission. Learn More
Four Seasons Sunroom Design Ideas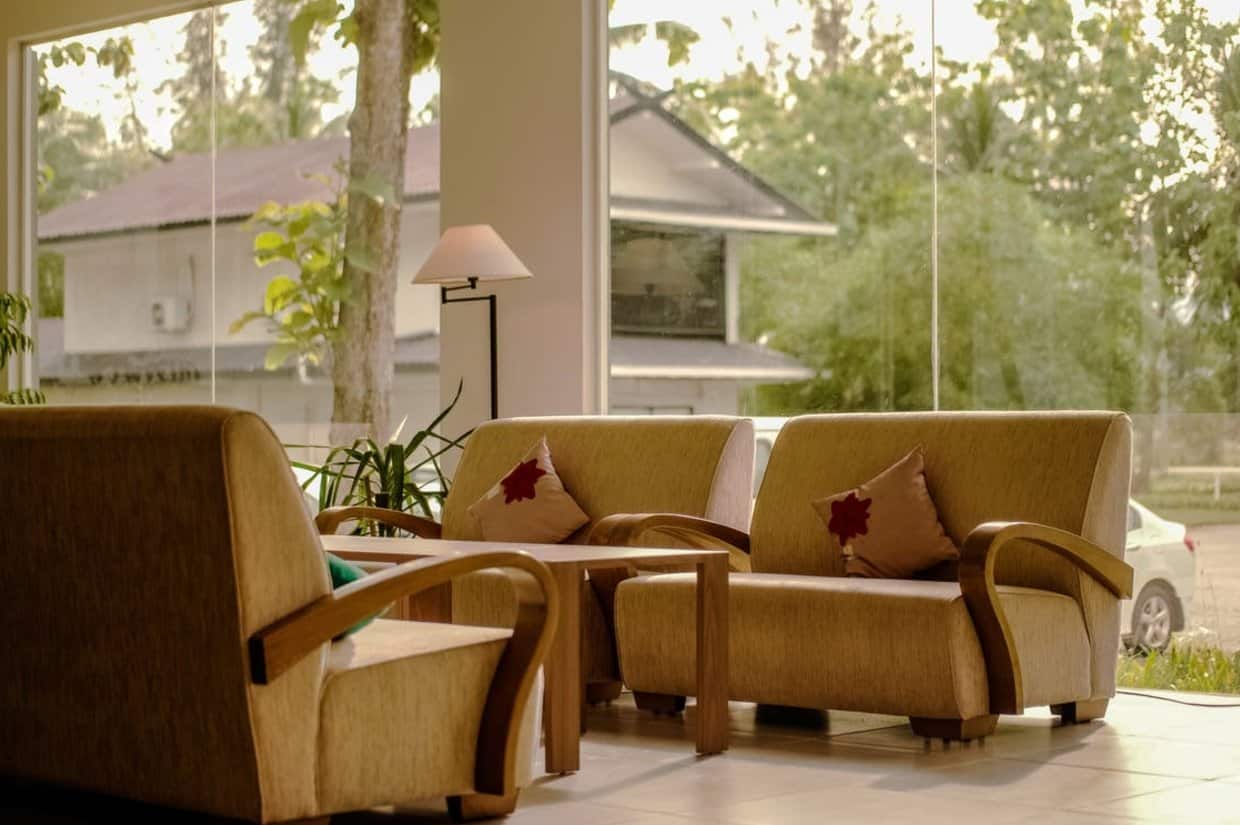 If you're fortunate enough to have a sunroom, there's a big chance for it to be your most favorite room in your home. Sunrooms offer not only natural light in the daytime hours and views of the landscape, but also a comfortable space to relax and unwind in the evening.
The first sunrooms showed up in the 17th century. They gained popularity by the 19th century, when materials such as steel and large panes of glass were more affordable and readily available.
Sunrooms evolved from screened-in porches; these allowed views of the outdoors from within, but dirt and debris were a nuisance.
Today, sunrooms are a high priority in both new builds and historic dwellings in many regions. They embrace several styles and may include French doors that open to a deck or patio, and vinyl, wood, brick or aluminum around windows that, in many designs, span floor to ceiling.
Some sunrooms, formally called solariums or conservatories, also have glass ceilings. Many are used year-round; these four-season sunrooms are truly an extension of the home, some boasting central heating and air.
Their interior design can be as lavish or minimal as you desire. Elements such as curtains or sheers and fireplaces can be used. Chandeliers, ceiling fans and artful wall sconces also add personality, function and charm.
What is Sunroom?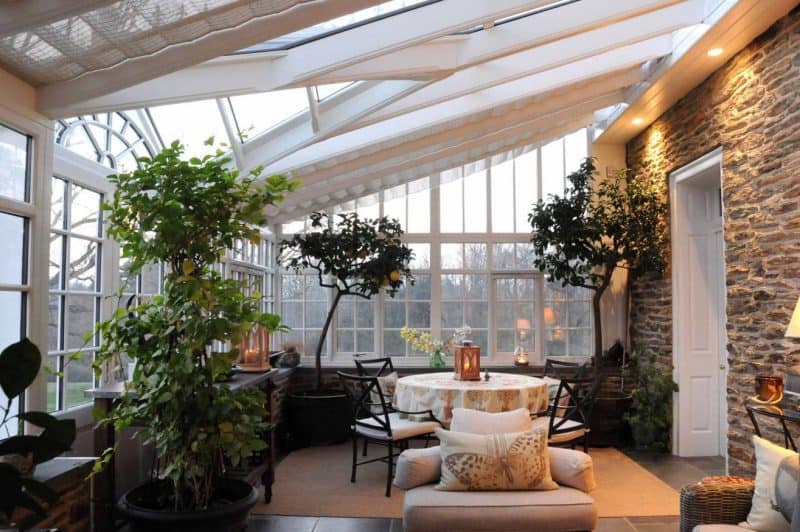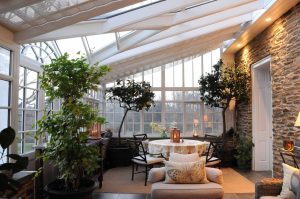 A sunroom is often called a sun parlor, sun patio or sun lounge. It is a part of the home which normally developed onto the side of a home. It permits you to appreciate and to take pleasure in the surroundings and the views.
At the same time, sunroom protects you from rain and wind. The name is extremely suggestive actually.
This kind of room commonly has large windows in order to permit breathtaking views of the outdoors. From that windows, the sun gets through and the room is full of light and warmth.
There are numerous types of sunroom design ideas. For instance, you can have a brick sunroom if you choose a more rustic décor. You can also have wooden sunroom if you think vintage room would give warmer feeling.
You can develop it out of glass if you want to stress the views. Using the roofing system from glass can make you appreciate the sky and enjoy the weather condition to its fullest.
Less-than-ideal weather condition conditions cannot stop you from enjoying your surrounding landscape when you have a sunroom.
A step up from an exposed deck or patio area, sun parlors supply shelter from rain, wind and bugs, extending the outside season, for this reason the term 4 season spaces.
With a lot of sunroom ideas to draw motivation from, it's practical to understand a few of the fundamentals about these structures prior to you begin your addition or remodel.
What Can I Utilize My Sunroom For?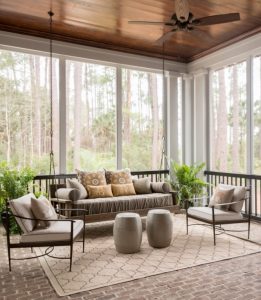 When it comes to usages for a sunroom addition, there are no limitations. Typically, individuals make the most of the abundant sunshine and utilize them as casual conservatories or a garden space.
If you do not have a green thumb, that's okay. You may utilize it as an extra indoor home to check out and unwind. Or, you may also develop an indoor-outdoor sensation, like a confined outdoor patio or deck.
You might likewise wish to utilize the additional area as a playroom for youngsters or a hangout for teenagers. If you desire to mimick al fresco dining year round, change it into a different dining location.
What Products Are Sun Parlors Constructed With?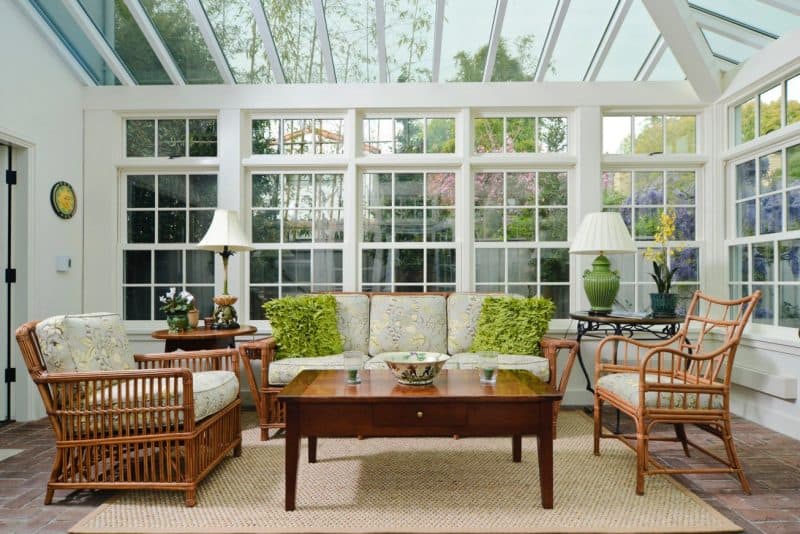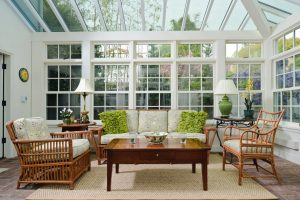 A mix of brick, wood and cement frequently comprise the base, or "knee wall", which supports the big windows. Clear insulated glass or storm windows are utilized for most of the walls– they enable the optimum quantity of sunshine into the area while likewise trapping heat.
With the close relative, screened-in decks, the glass might be changed with window screens to permit air flow in warmer environments. Take a look at a lot of images of sun parlors and pay attention to how they are built to draw motivation for your very own.
Roof on sunroom styles can differ. Depending upon the choice of the house owner, the roofing might follow their standard roof, or might likewise be glass/plastic panels that allow great deals of light.
These panels are readily available with finishing created to show ultraviolet rays if you're prepared to pay a bit more.
Floor covering in sun parlors was generally tiled to handle possible leakages, however enhanced structure techniques permit all kinds of floor covering to be set up.
Search various design sunroom ideas and see exactly what captures your eye for each element of the area, given that the product alternatives are quite wide open.
What Kind of Sunroom Design do I Require?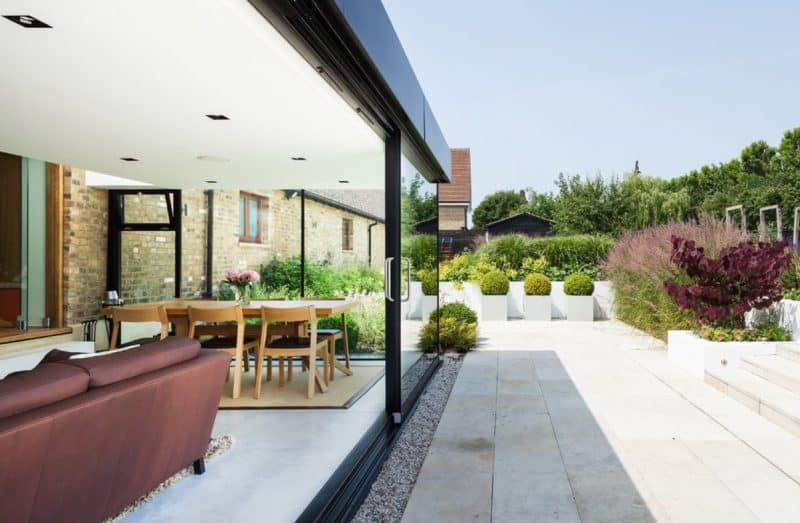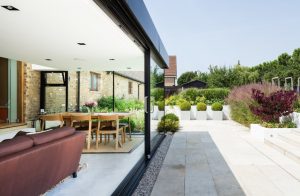 Opportunities are the decoration and furnishings in your sunroom design will see a high quantity of direct sunshine. Keep this in mind when picking pieces, given that some products and materials can rapidly fade or end up being annoyingly hot.
Outside furnishings will typically stand well to the heat and light direct exposure of all-season spaces and outdoor patio enclosures, however do not hesitate to match and blend with indoor pieces also.
Anything made from wicker or seagrass ready sunroom embellishing ideas, while you may wish to guide far from plastic or metal pieces. When the area is not in usage, setting up blinds or tones is a clever method to lengthen the life of your sunroom furnishings and devices.
Sunroom Design Ideas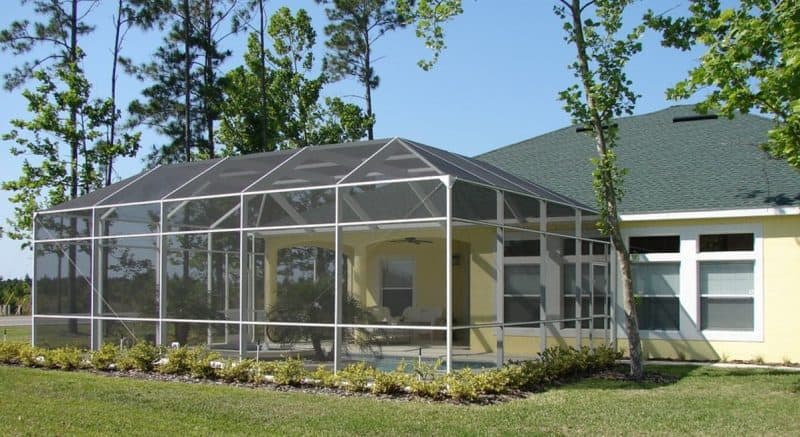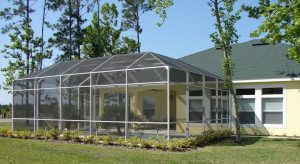 All of us understand that sunrooms are structures that are either attached or incorporated into the house to enable you delight in the surrounding landscape.
They protect from the extreme weather condition outside so they are perfect for any climate zone. It's an ideal place to relax while taking pleasure in a view, checking out a book, conference with pals, or perhaps to sleeping.
If you're creating a house from scratch, it's a fantastic concept to consist of at least a little sunroom into the strategy. If you already have a home, don't be worry.
You can always build a sunroom extension that would even much better since it has a glass roofing system and a fantastic view of your fully grown garden.
Sunroom Decorating Ideas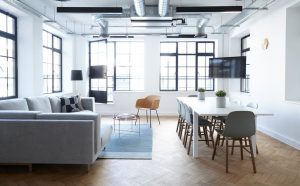 There are lots of methods to embellish such room depending upon its function. The most popular way is to turn into a space you 'd have the ability to gather with family and friends. In that case, you have 2 choices.
You can turn it into a "living room" or into a "dining room". Decorating it would be the same as decorating these 2 rooms.
Although you can add far more greenery here because it'd thrive in the quantity of sunlight it'd get. You'll see on images below that you can turn a sunroom into anything. Such as a gym, an indoor swimming pool, a restroom, even a bedroom.
With thoughtful design, quite materials, comfortable furnishings, and beautiful decoration accents, it would end up being the most-used area in your home.
Sunroom Indoor Furniture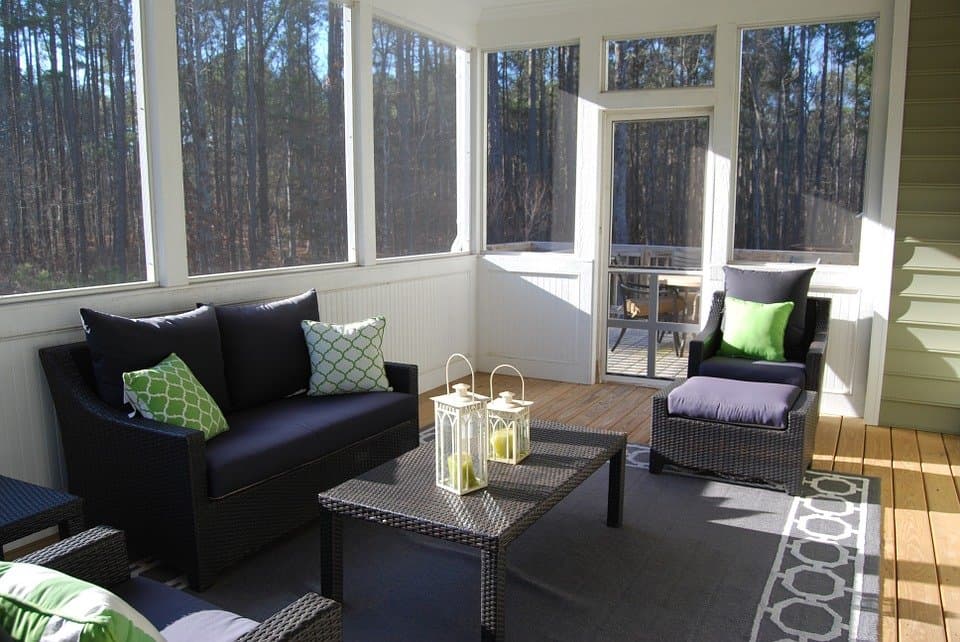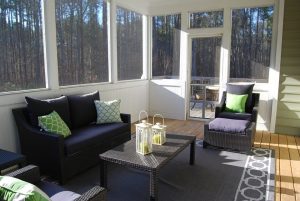 The most crucial thing you must think about when choosing the furniture is its ability to endure extreme conditions. It'll receive far more sunlight than in any other room.
So, it's important to keep it in a good condition. For example, wood furniture need to be stained the same method as outdoor furnishings, fabrics need to be as resilient as fabrics utilized outdoors, and so on.
With these things in mind, check our gallery of beautiful examples showing sunroom design ideas for your inspiration. You'll absolutely find a great deal of ideas to plan and decorate your own space to unwind.
Can Sunroom Additions Function as Conservatories?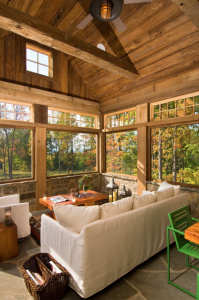 Yes, definitely. A conservatory or garden space is an exceptional usage for the area if your solarium roofing system lets in light.
You will wish to fill it with plants that like great deals of sunshine and are resistant to temperature level modification (conservatories can be hot throughout the day and cold in the evening).
Succulents and more unique plants have the tendency to succeed, however if you are prepared to pay very close attention to your plants, you can grow most ranges in a sun space, consisting of veggies and fruits.
An action up from an exposed deck or outdoor patio, sun parlors supply shelter from rain, wind and bugs, extending the outside season– thus the term 4 season spaces.
With plenty of sunroom ideas to draw motivation from, it's practical to understand some of the essentials about these structures prior to you begin your addition or remodel.
There are no limitations when it comes to usages for a sunroom addition. Search various design sunroom ideas and see exactly what captures your eye for each element of the area, considering that the product alternatives are quite broad open.
Setting up blinds or tones is a wise method to extend the life of your sunroom furnishings and devices when the area is not in usage.
How to Decorate a Sunroom Properly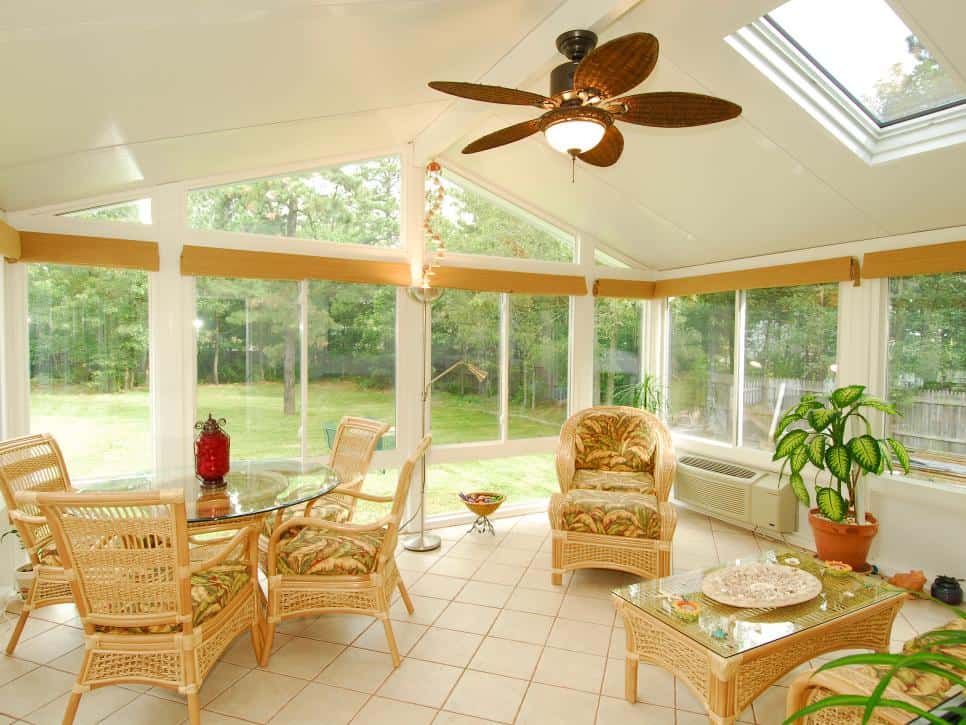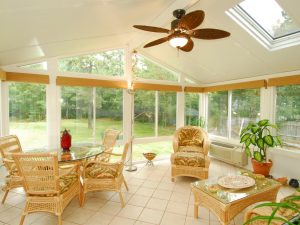 Decorating sunrooms might be simplified by hiring an expert to do all the work for you. Nevertheless, it would be pricey and it will take your money more.
Therefore, if you have a low spending plan, you need to learn how to do it on your own. Since, it will be cheaper and it will be more convenience if you have the decoration according to you wants, require, as well as taste.
Make Your Own Theme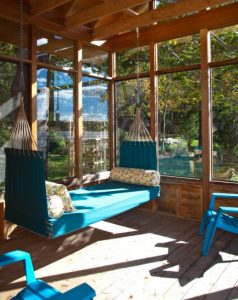 The first thing you have to know from how to embellish a sunroom is to have the best style and design for the space. You can do that by having the most ideal style that will match your requirement, as well as taste.
For example, you can have a modern-day style for the simpleness and the minimalism. So for the high-end and beauty, you can utilize the class and vintage theme for your sun room.
Sunroom Ideas on A Budget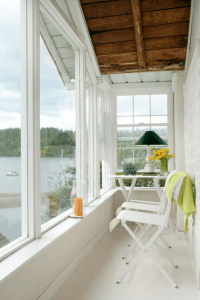 After you discover the perfect style for the sun space design, you ought to make sure that you know to embellish sunroom design ideas on a budget. The first way to do that is by having the furniture that is budget friendly for you.
You can just have them from the warehouse store or you can likewise have it from the second handed stores. So then, you need to make certain that you have the appropriate decor and decoration for the theme.
Sunroom Best Wall Painting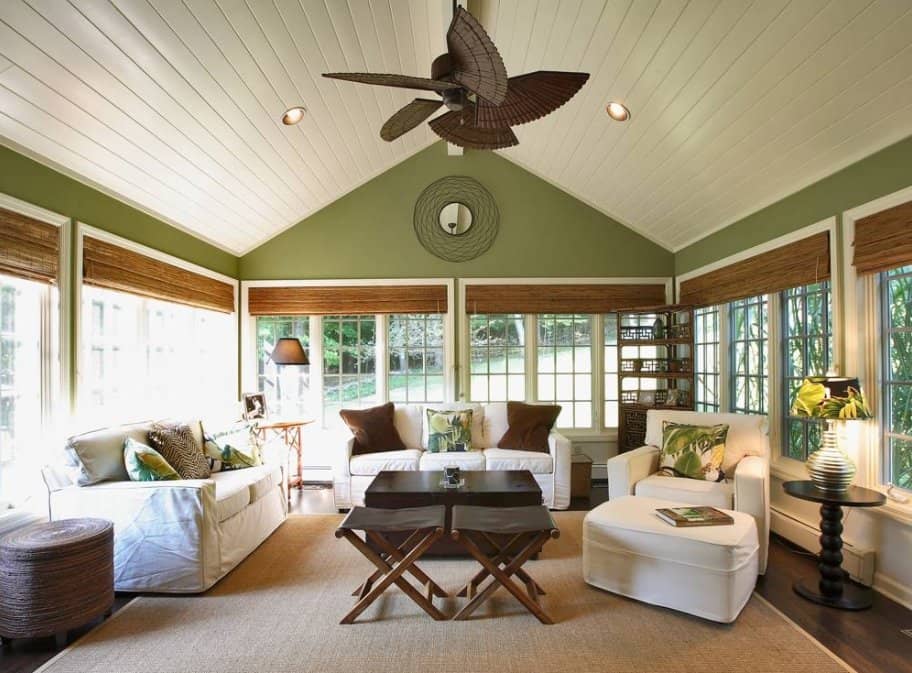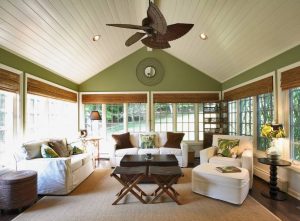 The sun room idea is undoubtedly an excellent area to be in your home. It will be a best place for relaxing and also getting guest. Nevertheless, the space must be well developed and well decorated.
So, if you would like to know ways to decorate a small sunroom design ideas, you can have it with low spending plan cost. It is because embellishing a sunroom is really simple and easy. All you have to do is to make sure the space still get correct light from the sun direct exposure.
Acquire an ideas with sensible design, rather textiles, accents as well as furnishings to be your sunroom design ideas in many people of spaces in your house. In this brief post we will provide you some suggestions to use sunroom embellishing tips within your house.
Some Tips to Apply Sunroom Design Ideas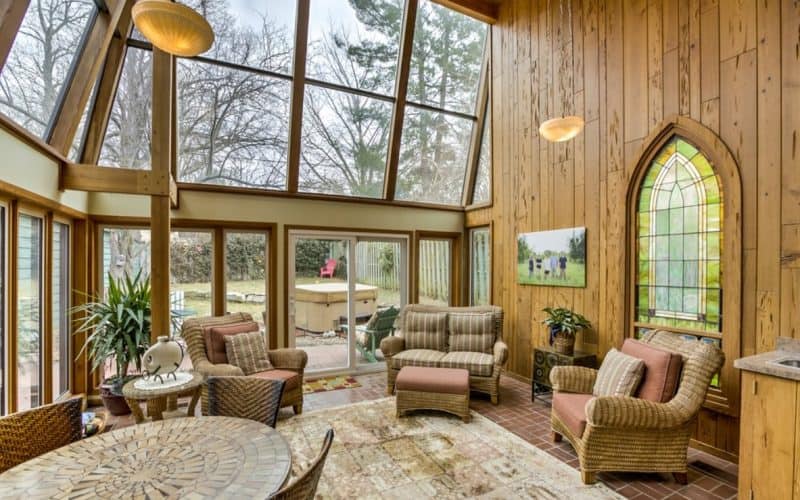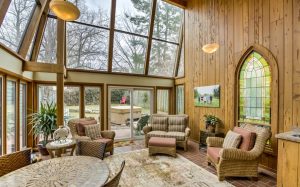 Sunroom ideas allow you to obtain an appealing method organizing your house. The very first concept you could attempt is by producing an amusement zone.
You can conveniently involve your indoor-only attributes such as TVs, stereos and lights if your very own sunroom has actually been totally protected from such elements.
In reality, to establish the latter two will be valuable for drawing liked ones to much more areas focused at outdoors at nighttime. In this way will allow you to optimize out hours of sunroom.
Furthermore, a diverse mix of black and white patters will include specific aesthetic strike to your window treatments as well as gray walls.
Broadening The Area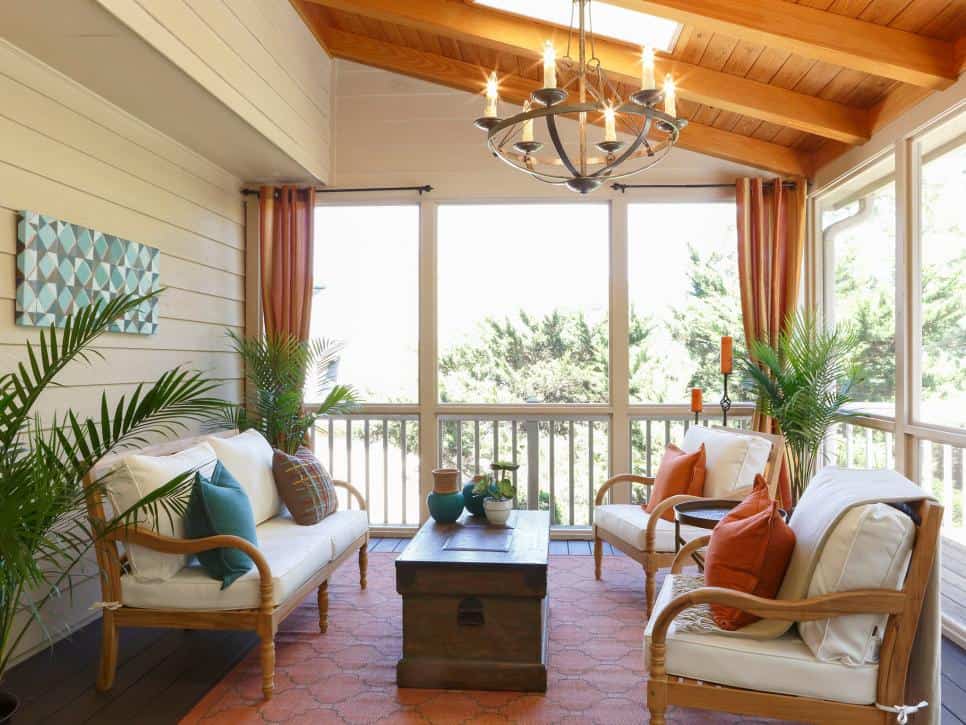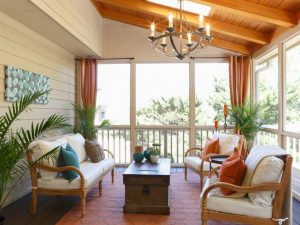 There are still some sunroom design ideas that you can attempt in your residence. The following concept for sunroom ideas is by broadening the area.
Overloaded with plentiful natural light coming from big transom home windows and also moving doors, this will truly breaks down those obstacles in between within and outdoors locations.
Besides, the design ambiance will definitely keep the residence rest with a comfy leather coffee, chair along with sofa table appearing in materials and tones utilized elsewhere.
Sunroom Windows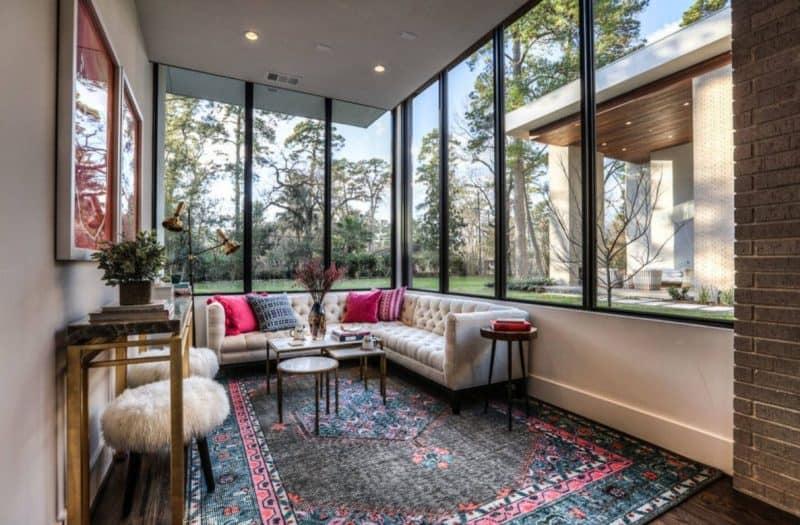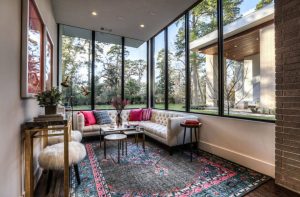 A lot more sunroom design ideas can be utilized by changing your windows as appealing wall surface space. This kind of sun parlor has two entranceways where one of them is rarely used. Thing that does not exist there is either for sofa positioning or art work positioning.
The residents could co-opted just one among the doors to hang in addition to orient the terrific furnishings artwork. The pillow placed on a storage space bench will definitely select up the distinctive pattern in the toss of graphic.
Establish Areas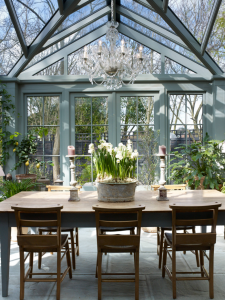 The last suggestion for is by establishing areas. Relatively slim in addition to long, this spectacular sunroom might rapidly be an item and furnishings combination.
Rather, you might divide it to develop dining as well as living locations in such exotic area. Wicker along with dark taint use are valuable for sunroom ideas to integrate the textural paper and furnishings like patterned pillows for including quite different colors pops.
Get an inspiration with creative design, rather materials, accents and furniture to be your sunroom ideas in a lot of locations in your house. In this article we will definitely provide you some suggestions to use sunroom embellishing ideas within your house.
More sunroom ideas can be used by adjusting your home windows as appealing wall space. Wicker and dark stain use are practical for sunroom design ideas to integrate the textural paper as well as home furnishings like formed cushions for consisting of pretty color pops.
Sunroom Design Tips From The Expert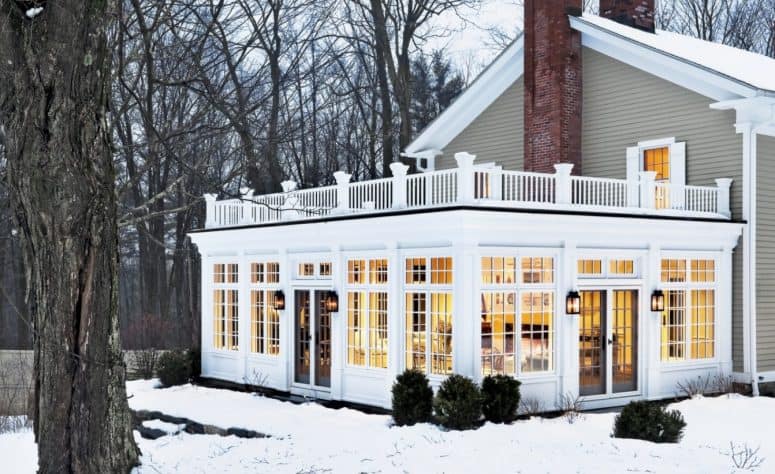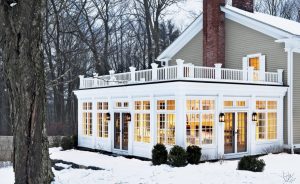 Now, we move to another topic which is sunroom designing tips from Abbe Fenimore. For your information, she is the owner and also primary designer at studio ten 25, she uses these ideas for developing the ideal sunroom for her client's house. Check these out!
Choose Your Perfect Color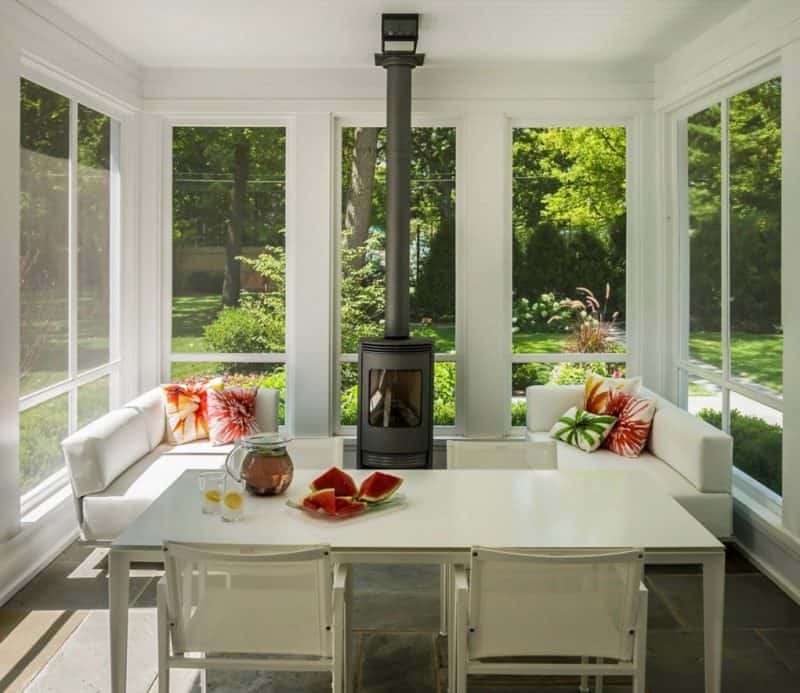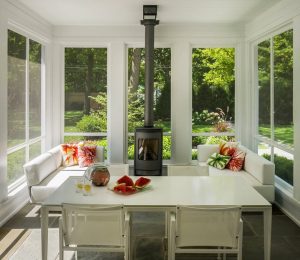 "Making a sunroom an extension of your house is a crucial piece of picking color for the space," Fenimore states. "Try including pillows and devices that connect the colors you currently have in your house."
Utilize a neutral base in the space, she encourages. "Gray and navy are a terrific location to begin; you can layer with gorgeous, vibrant colors in the spring and summer season, and warmer tones for the fall and winter season."
Home Furnishings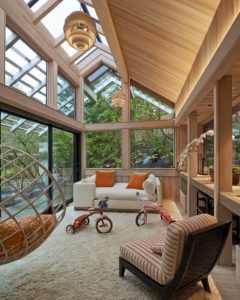 When it concerns sun parlors, Fenimore states designers are seeing an approach furnishings and devices that look more like interior pieces, and she motivates conserving the wicker and wovens for outside areas.
"Sunrooms are terrific locations to have comfy seating upholstered in materials consisting of outside velours, leathers and chenilles," she states.
Use The Environment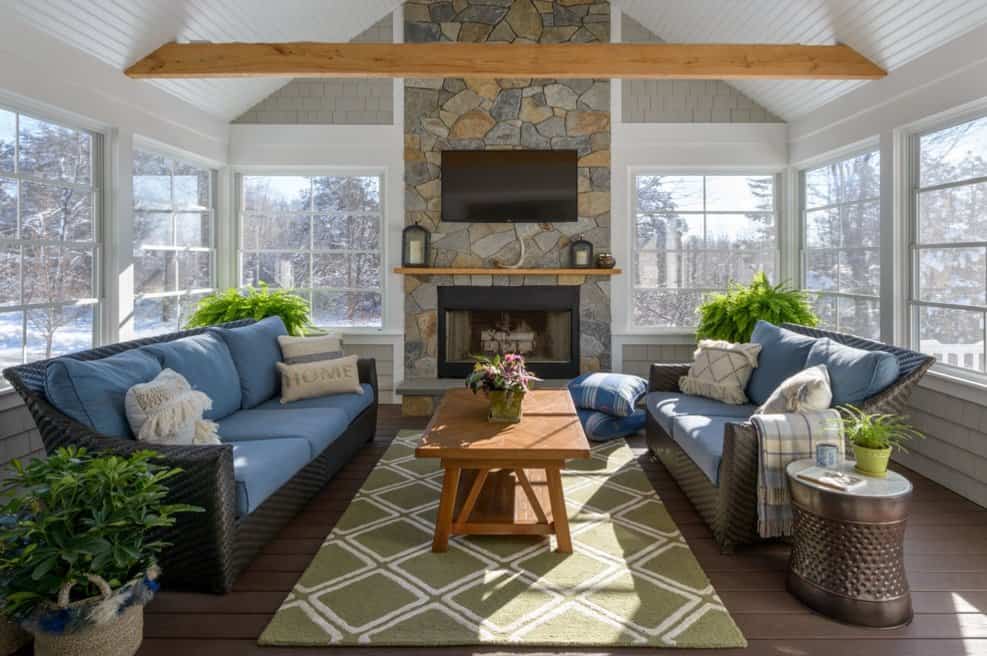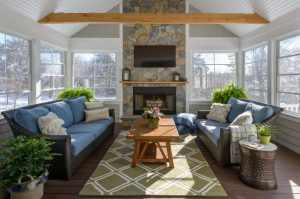 When spring and summer season are over, a lot of individuals do not desire to offer up the usage of their sunroom. "Sunrooms make fantastic locations for TV spaces and checking out nooks in the cooler months," Fenimore states.
"You can constantly generate a portable electrical fireplace or a heating unit and some relaxing ornamental tosses for included heat."
Decide The Floor Covering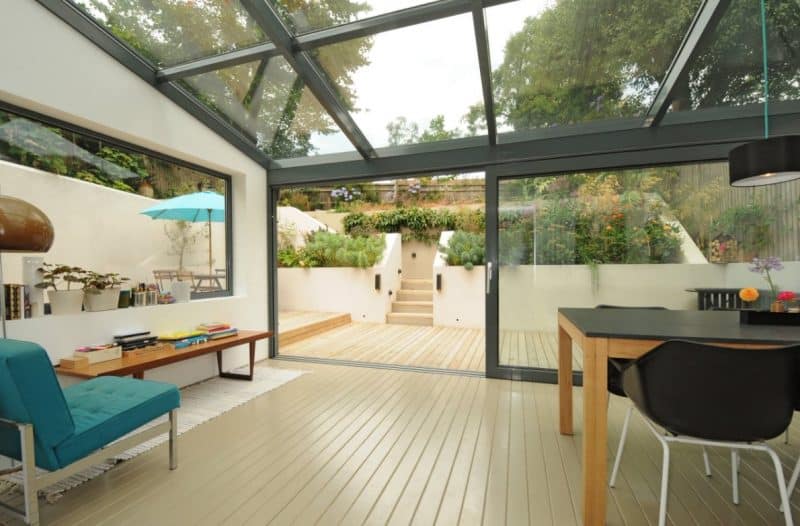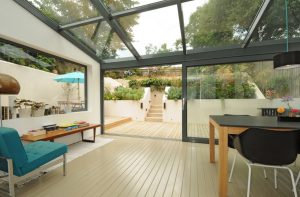 Floor covering in sun parlors usually includes concrete, wood, tile or brick. Rug include texture and assistance designate areas within a big sunroom. Complex flooring styles, such as mosaic tile or brick patterns, are best left exposed.
Put Some Indoor Plants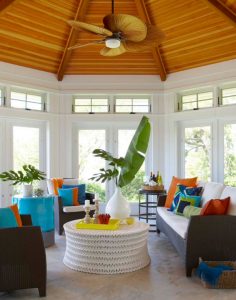 Lots of plants prosper in sun parlors. They naturally filter the air and really bring the outdoors in. Popular plant chooses for sun parlors consist of begonias and African violets, which are relatively low upkeep and produce vibrant blossoms every year.
Peace lilies are another terrific option for including plant to your sunroom. They grow high, fill area in corners and balance bigger furnishings pieces.
Conclusion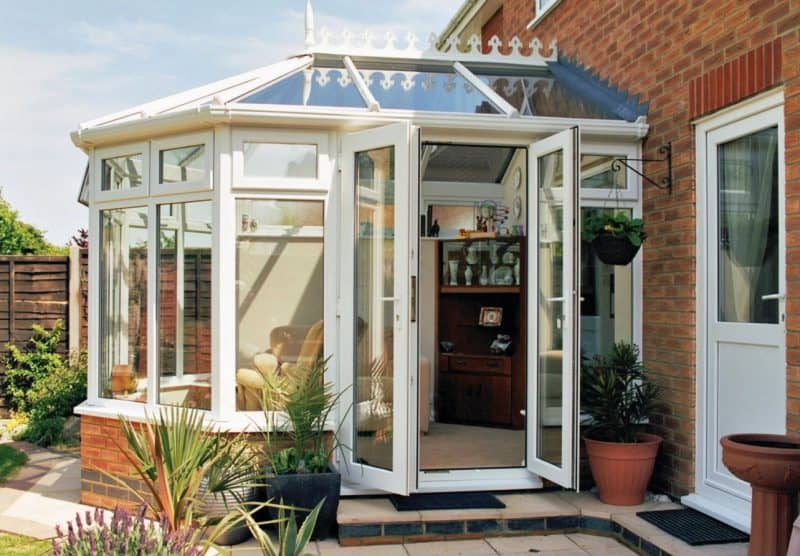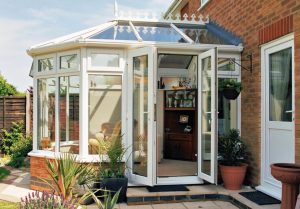 Many individuals do not desire to provide up the usage of their sunroom when spring and summer season are over. "Sunrooms make excellent locations for TV spaces and checking out nooks in the chillier months," Fenimore states.
Floor covering in sun parlors normally consists of concrete, wood, tile or brick. Location carpets include texture and aid designate areas within a big sunroom.
Popular plant chooses for sun parlors consist of begonias and African violets, which are relatively low upkeep and produce vibrant flowers year after year.
Now, go out there and make your sunroom ideas come true!