Don Pedro Brooklyn is reader-supported. When you buy through links on our site, we may earn an affiliate commission. Learn More
Industrial Bedroom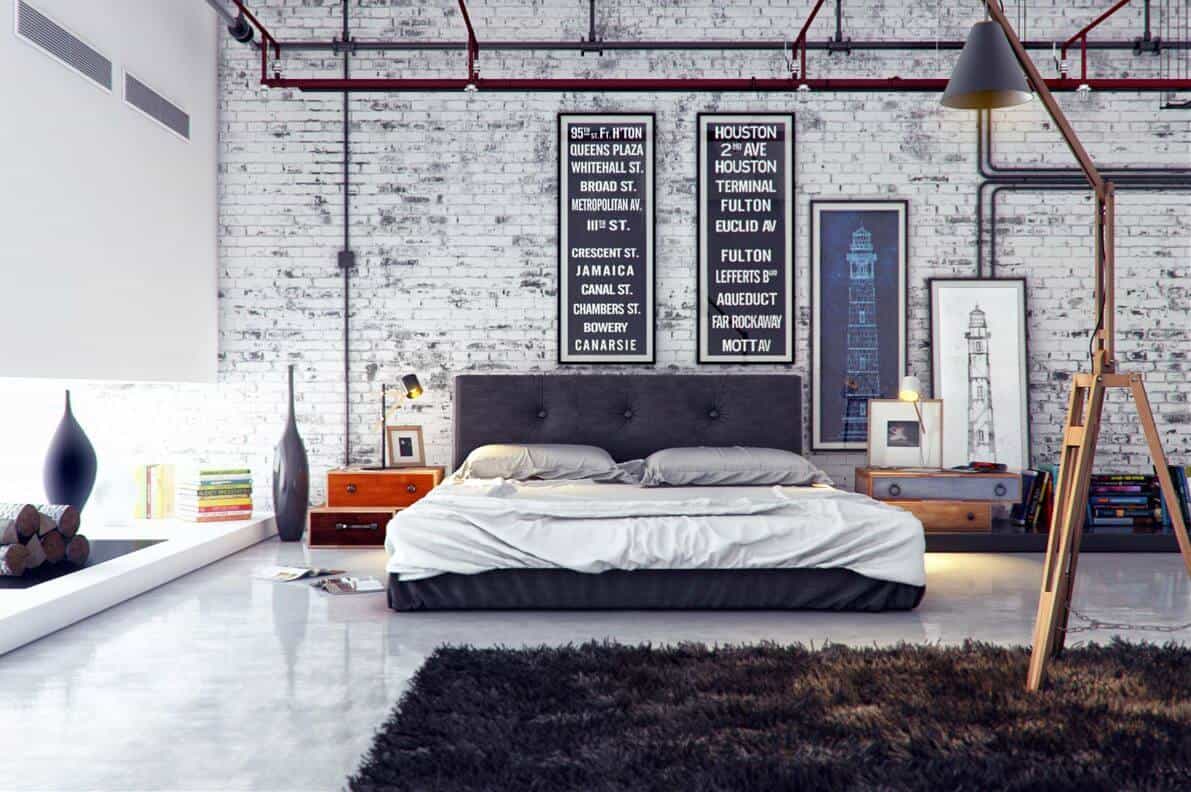 Do you want to decorate your bedroom with something classic? If so, choosing industrial decoration would be the best choice to get the best modern and stylish look for your bedroom.
To get the best realization of your idea, you should look for some inspirational designs at first.
Here we go, the list of some stunning designs of industrial bedrooms for you!
White Industrial Bedroom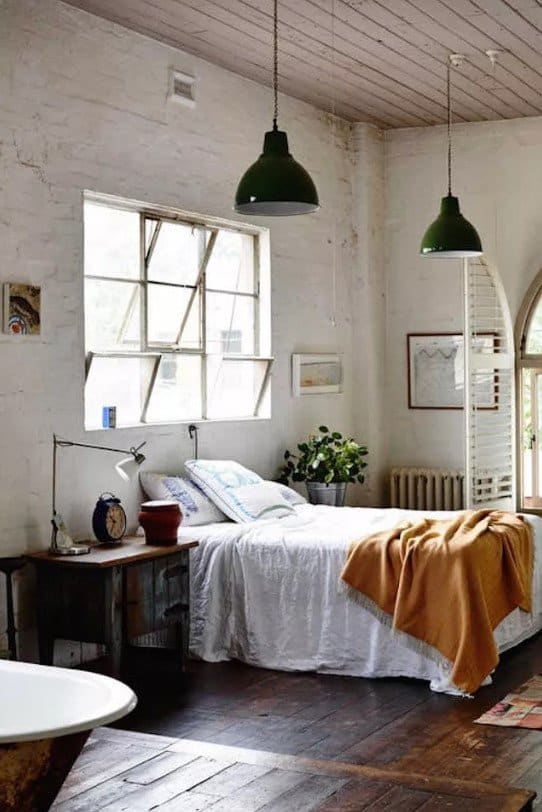 A bedroom is a place where you should feel most comfortable, choosing color could be one aspect that will affect this.
Since you are going to bring an industrial concept for your bedroom, choosing some colors combination into your design will be the right solution.
You don't have to be worried about choosing any single combination, as the industrial concept is close to something simple yet classy.
For example, you can have the idea of decorating your bedroom as a white-dominant bedroom with this concept.
As you can figure out from the picture, the dominant white color can be applied to your exposed brick wall.
Then, the combination of the white paint and the exposed brick wall is the one that will ultimately build the concept. Doesn't it sound interesting?
Grey Industrial Bedroom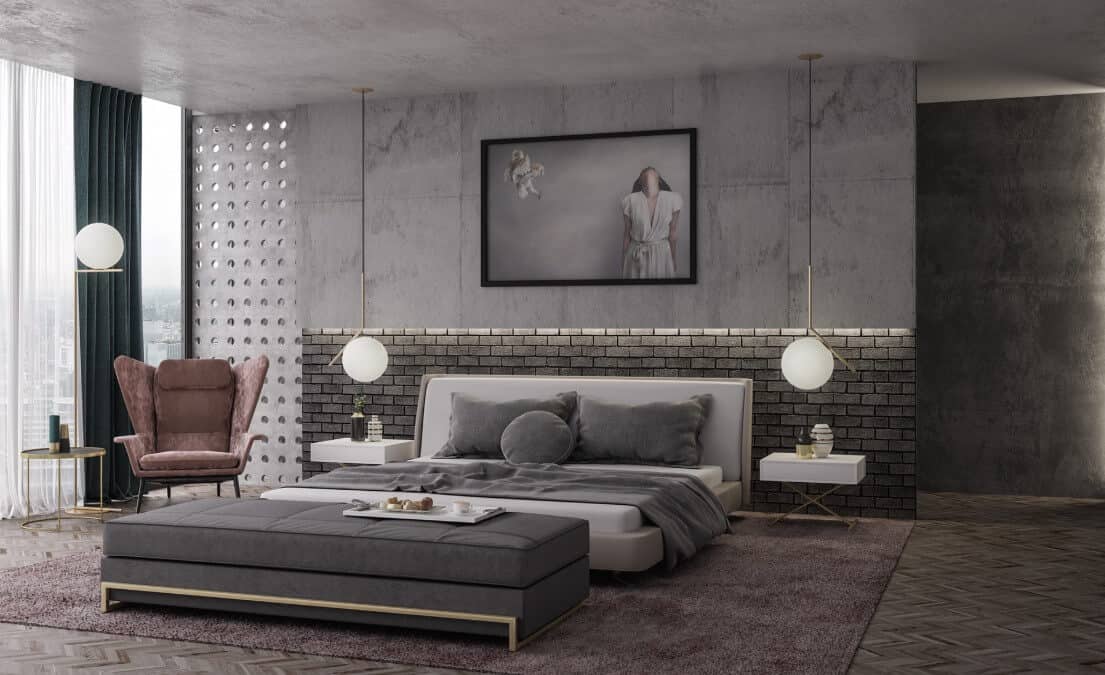 Another choice of paint color that will be suitable for this concept is grey. Applying a mysterious grey color for your industrial bedroom is already an essential thing that is relatable to the theme.
The grey color will bring its calm and chic atmosphere to the room.
If you are more into dark-colored rooms, grey is indeed the right choice. You can give a more warm effect by choosing the right lamp or perhaps choosing to put a smooth fury rug in your bedroom.
Of course, all the stuff that you choose should be related to the theme.
Industrial Bedroom with Floor to Ceiling Windows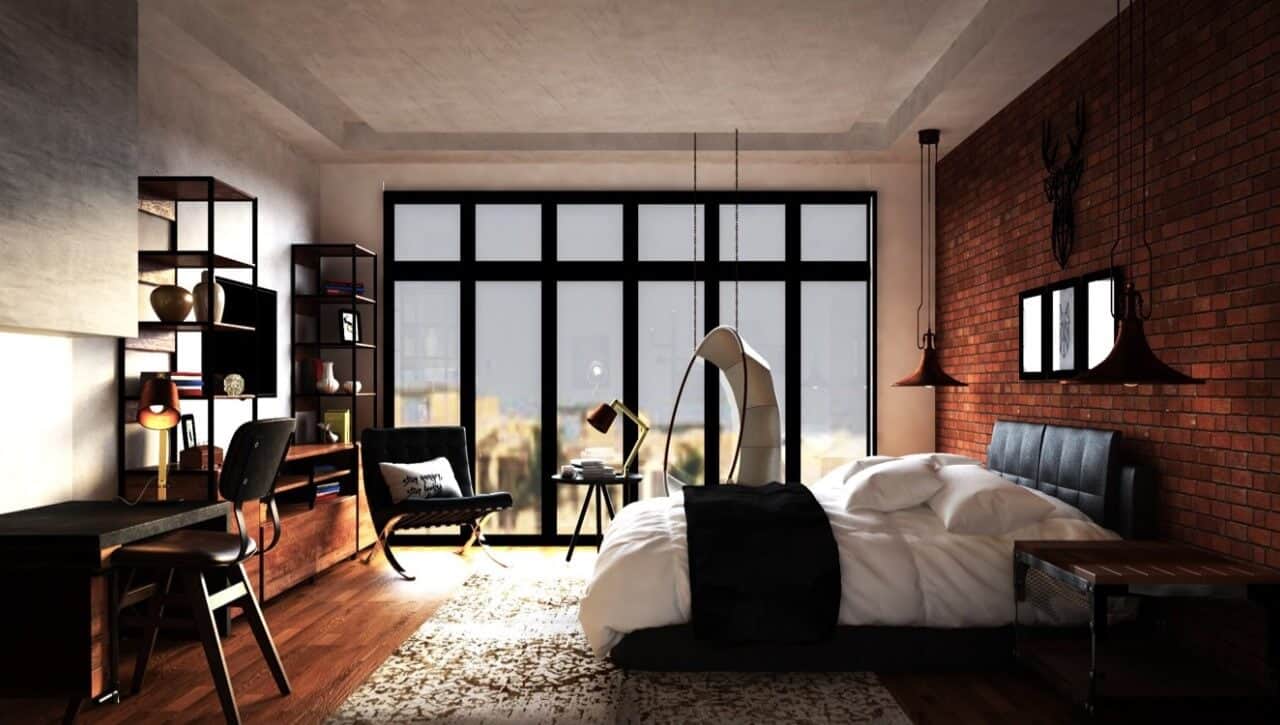 Another option that you can choose when you are drawing design for your industrial bedroom is by choosing the floor to ceiling windows.
Of course, this kind of window not only has an aesthetic purpose, but it also has a more functional purpose.
The full windows will help you to see the scenery outside, especially if your surrounding has a beautiful view.
For you who have a hobby of sightseeing or looking outside the windows and enjoying moments, this kind of window will suit more.
You also can put a bench, chair, or some other stuff that could be the place where you can rest and enjoy there by reading or something else.
Fresh Bright Color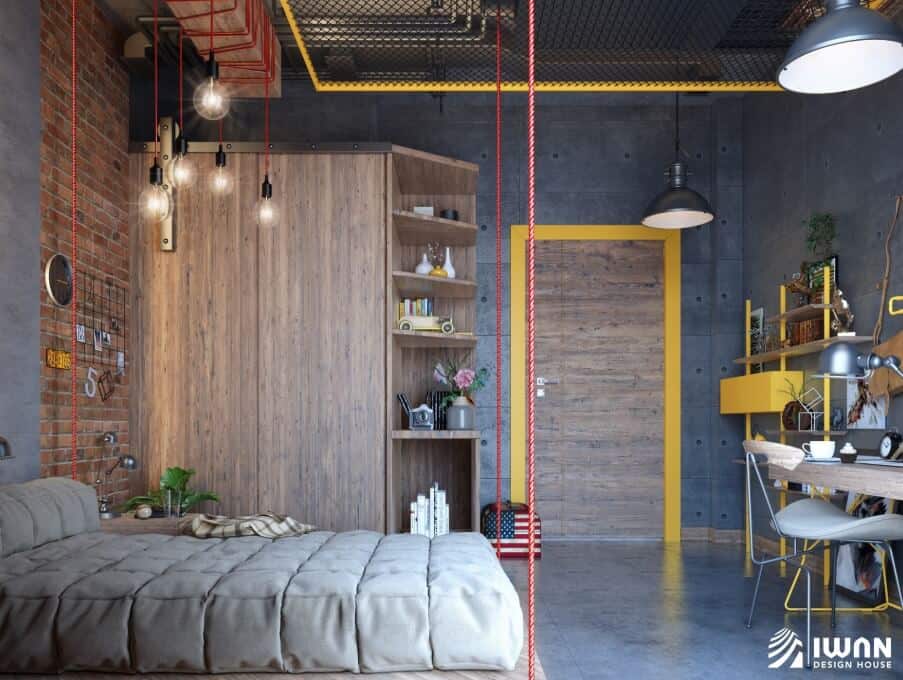 The industrial concept might be more popular with black, white, or probably grey. It makes this concept is kind of popular with less colorful.
However, it does not mean you cannot choose any bright color to be brought in this decoration concept. Of course, you can still choose a bright color for it.
From the picture, even though the domination of the color is still grey, you can find other bright colors that make the room looks brighter.
Do not forget to put any other component that still relatable with the concept. For example, you can decide to choose a wooden wardrobe or anything else for other stuff.
Modern Industrial Bedroom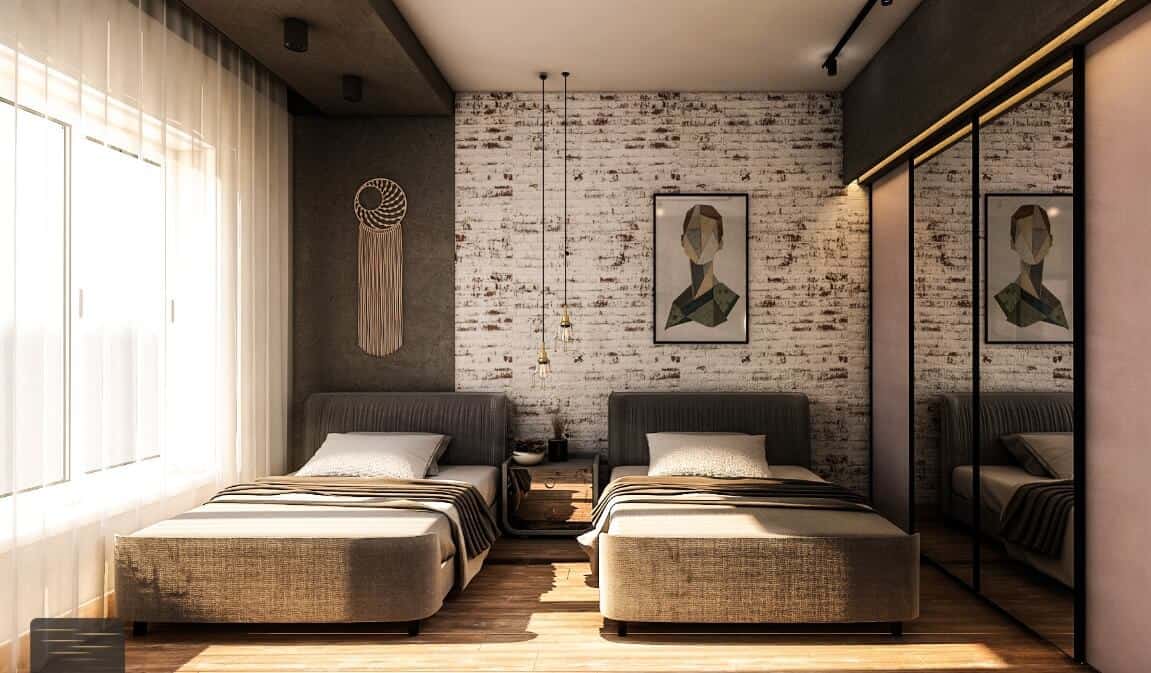 Some people might think that the industrial concept will look more classic rather than modern.
However, it is not that true, since you still can put "modern" word along with "industrial concept."
Yes, you can have your modern industrial bedroom concept.
Of course, you should pay attention to the choice of paint color and other stuff like accessories. For the choice color, choose the calm for a more elegant combination of colors.
For example, you can use a combination of brown and white for your bedroom. Not only giving a modern vibe, but it will also give you a warm vibe.
Space Saver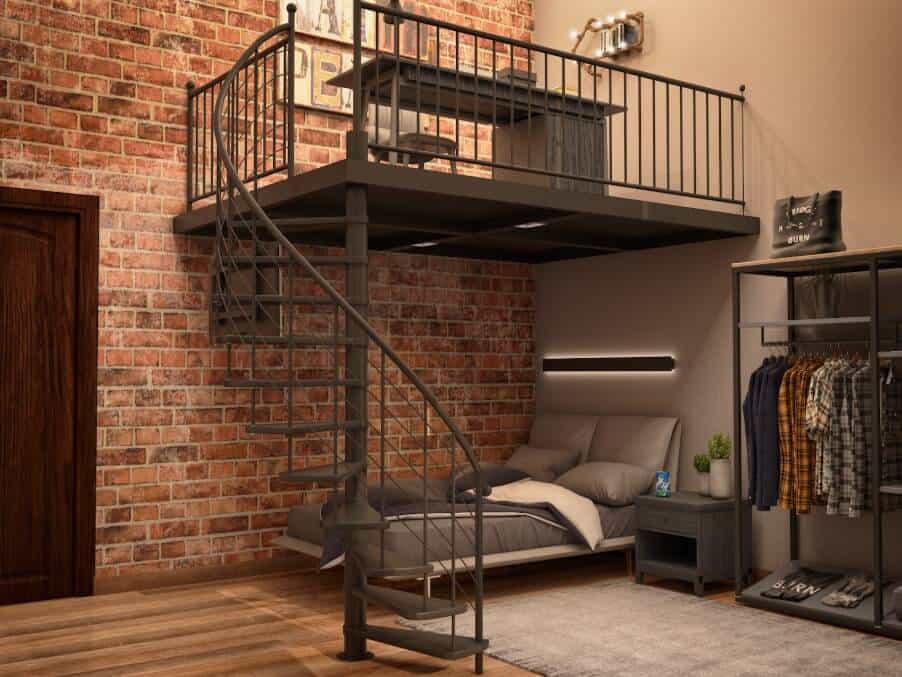 Talking about room decoration, it is not always how to make it more beautiful. Room decoration is also about tips and tricks to make your room more comfortable. In this case, our choice of decoration should be more useful for any aspect.
For example, you can choose the idea of space savers in decorating your room. The space savers concept will help you to get a more useful room and space.
You can do many things with this idea, for example, by adding space for storage or perhaps an additional table for work above your bedroom, as you can see in the picture.
Simple and Artsy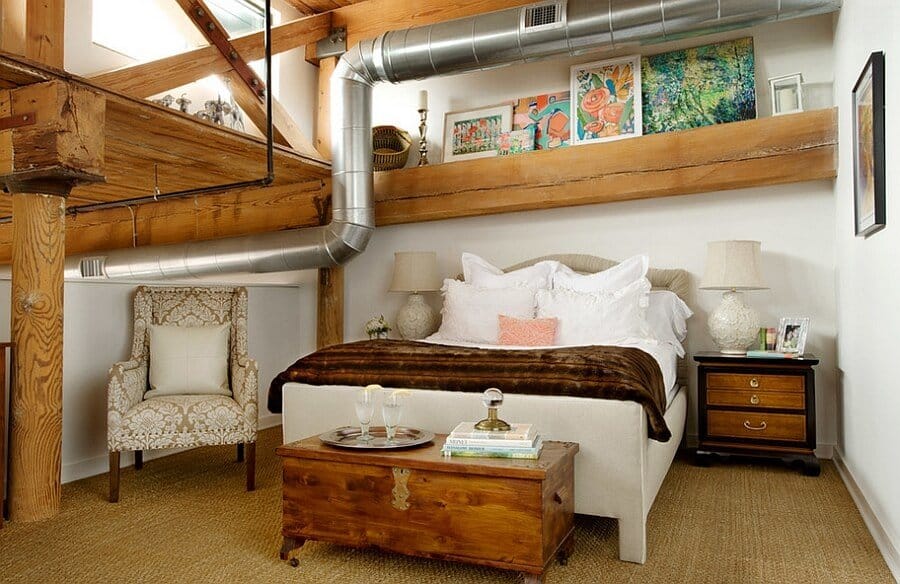 Another concept to go with your basic idea of the industrial concept is by putting the simple yet impressive touch of decoration.
Using more woods as materials and applying a combination of simple colors might be the right decision.
Industrial Style with Big Windows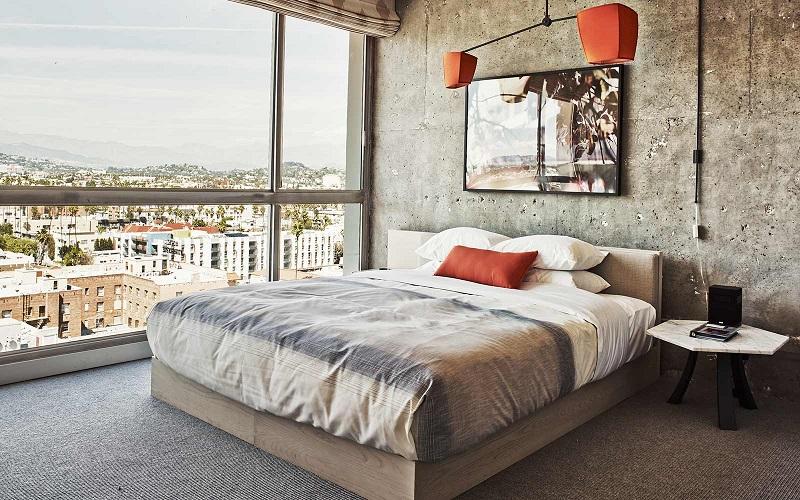 If your bedroom is on the upper floor, considering this idea is really a good choice.
Of course, having big and wide windows which are likely floor to ceiling windows will be a great option.
You can have the best scenery from your room, and it will give you the best light supply of the day.
Monochrome Industrial Bedroom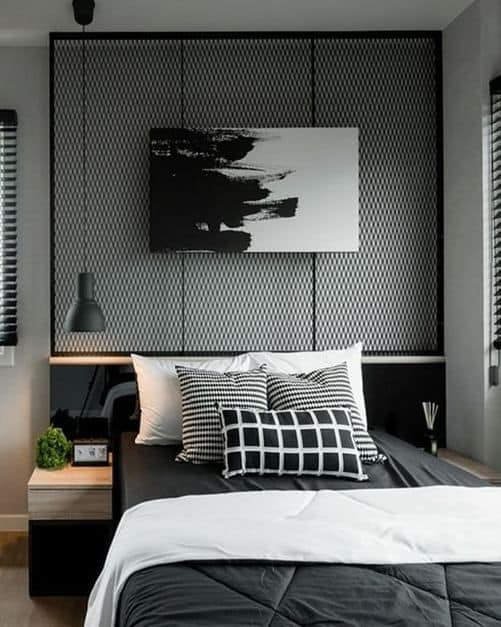 The monochrome bedroom still becomes one of the best options for your bedroom concept.
If you are choosing a monochrome concept for your bedroom, then you will get a calm, simple but classy look at your bedroom.
You can arrange the black, white, and gray colors in every aspect of your furniture and stuff in your room.
As it is dominated by both black and white or perhaps gray, you need to think more to make it less monotone.
For example, you can think about the pattern combination. You also can consider some accessories that will give you more color to the room.
Not to ruin the monochrome concept, the accessories will be more like the additional stuff to make your room looks better.
Open Brick Style in Industrial Bedroom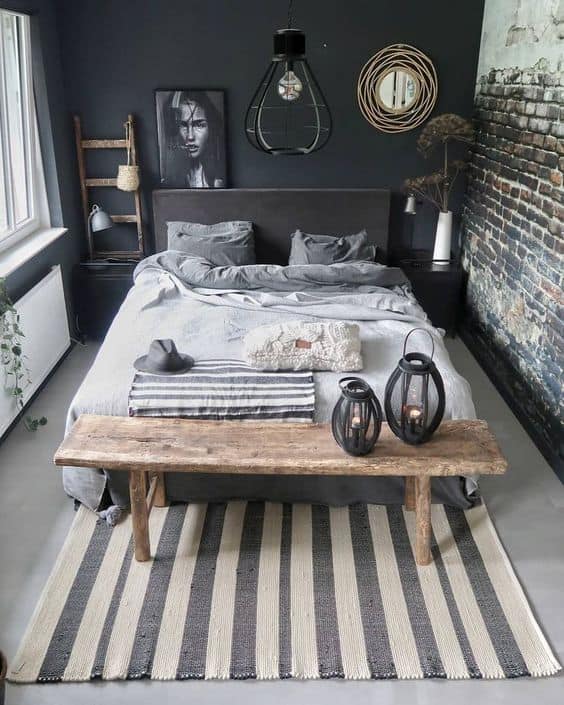 Combining two concepts for your bedroom is not a bad idea. If you like the industrial style and want to add an open brick concept, you can get it for your bedroom.
These styles have the same basic concept, which will be perfect to combine. Grey, black, and white are the key colors for this concept.
You can use black color on one side and two sides with white or grey color. Then, you can get a special corner with open brick. It will be more natural if it is genuinely a brick wall.
However, you can also get a brick pattern wallpaper. The tone of the brick should be matched with the combination of black, white, and grey. That is why wallpaper will be more comfortable.
Bunk Bed for Space Saver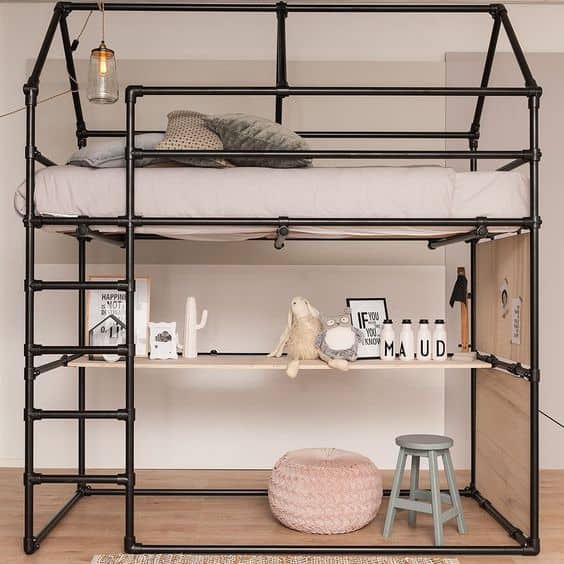 Having a bunk bed is not a new thing, but we can make it more creative and innovative. It is not merely about having two beds, but it also can help you more in saving the space.
For example, you can put the bed in the upper bed, but for the lower space, you can use it for other useful space.
In this case, you can make the design of your custom bunk bed, and it usually has more height than a usual bunk bed.
For the lower space, you can use it for work or many more. You also can decorate it into something more creative and artistic.
Bedroom with Exposed Bricks Wall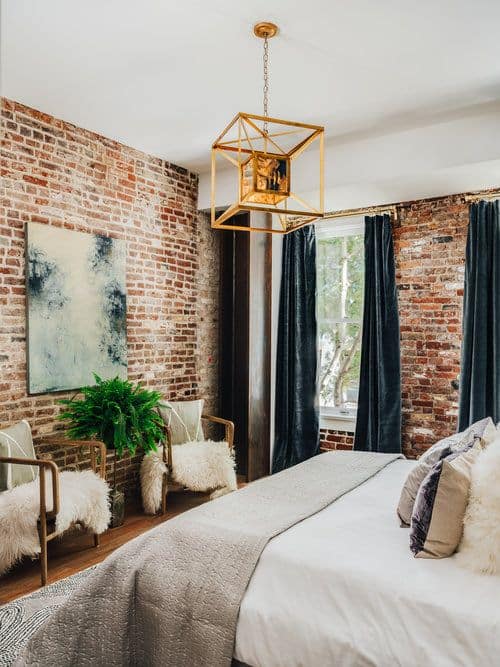 An exposed brick wall is one of the most common executions of any industrial bedroom concept.
However, it does not make this thing becomes something boring. You can choose this concept to decorate yourself if you think this is one of the best things you can go with the industrial concept.
To improve the decoration, you can add more accessories that will make your room looks more 'lively.' Something like small plants will be very helpful.
Besides that, do not forget to choose suitable stuff that gets along well with the exposed bricks wall concept.
Custom Shelves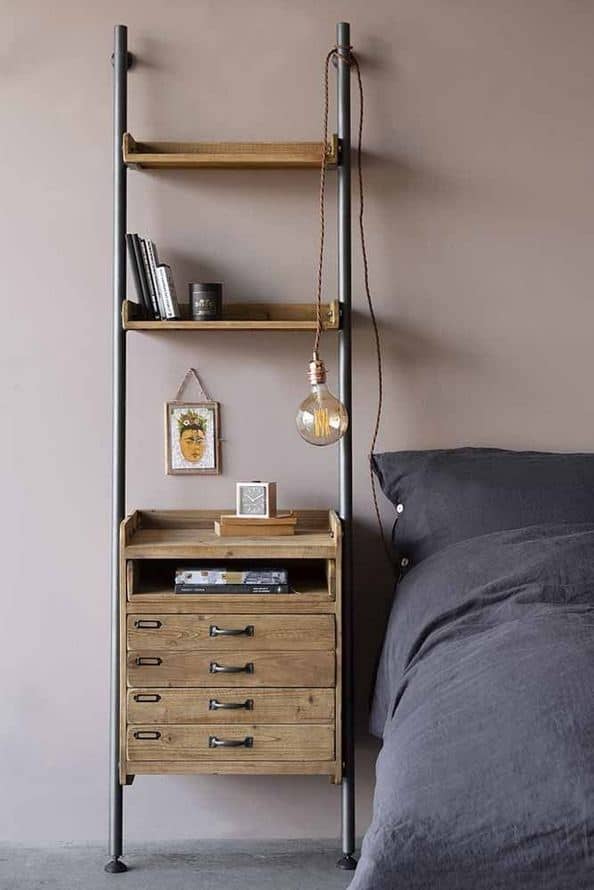 Utilize the right stuff can be another simple thing that builds the right decoration concept in your bedroom. This one example will help you on how choosing the right stuff.
Actually, by simply choosing custom shelves will make you easier in managing the style of the shelf that you want to use. You can design it by yourself and make it matches better with your concept.
If you think designing by yourself is a little bit hard, you can seek for more catalogs of furniture. From those catalogs, you might find which one is better for your needs and your concept.
Built-in Shelves from Woods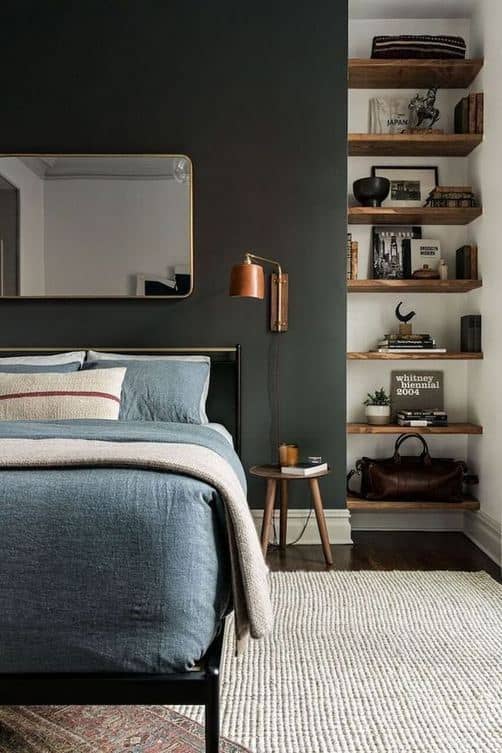 Another way to make your industrial bedroom becomes more interesting is by thinking about the right furniture.
If you think it is kind of bored to use standard shelves, for example, you can decide to choose the built-in one.
Actually, a built-in shelf is not a new thing, but it can be one of the best innovations for your decoration.
To make it matches in a better way with your concept, do not forget to choose the right material.
For example, using wood for the material of your built-in shelves will be nice. It will support your idea of the industrial concept bedroom as well.
Pallet Bed in Industrial Style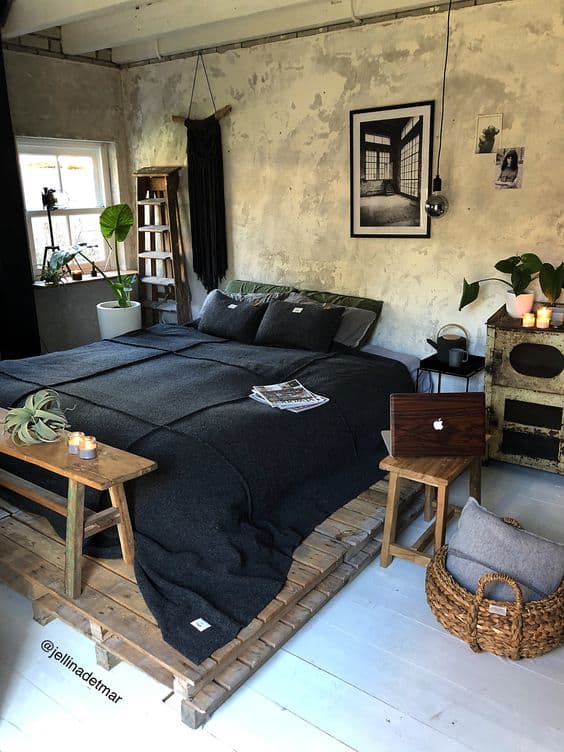 A key point of industrial design interior is the open ceiling and the unfinished wall. If you already got these two points, then now you can start to choose the furniture.
For the floor, you can try to use wooden floors in white. It will be a neutral point to your bedroom.
Basically, you do not need to take much effort into decor this style. You can decide two elements of material as decoration in your bedroom.
A pallet bed frame can be a perfect choice. The texture of the wood looks natural, and it will give more vibe to your bedroom. You can stack two rows of the pallet bed to make it a little bit higher.
Then, use a black combination for your bed. Rattan, raw wood furniture, green plants are the best additional details for this style.
Industrial Concept for Small Bedroom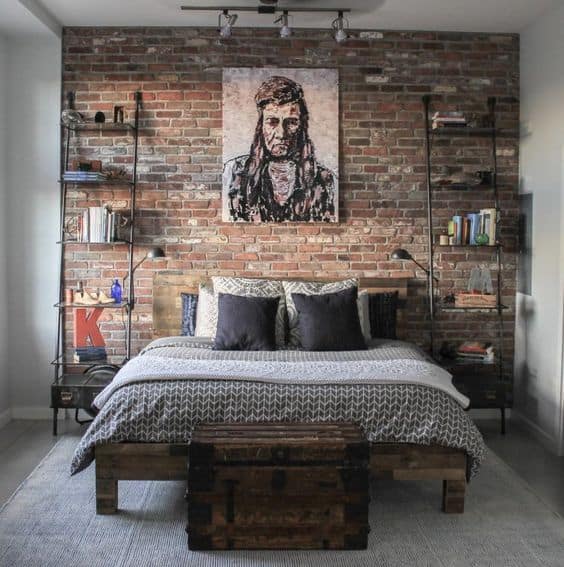 If your bedroom has limited space, you can use less furniture. The style and interior design will be followed.
The industrial concept is still acceptable for a small bedroom as long as you can manage the things inside.
In an easy way, you just need some essential furniture for your bedrooms like a bed, shelves, and storage. Then, you can decide on the layout and interior.
An exposed brick wall can be the best interior for industrial style besides the open ceiling. You can have the exposed brick on one side only, and the rest will be in a neutral color like white or light grey.
If you think it will be empty, you can hang a picture in the middle side with lights hanging on.
The shelves and storage can be placed on the right and left side of your bed. Neat but still has an industrial vibe.
Warm and Natural Industrial Bedroom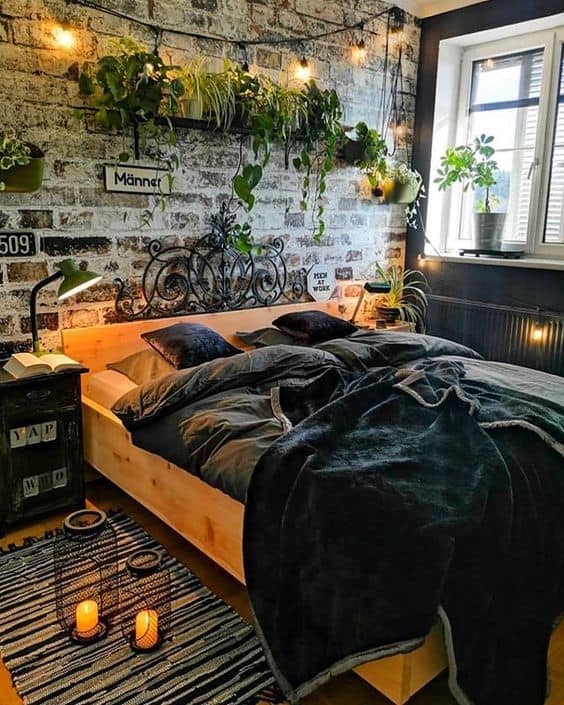 An industrial concept also can have a warm touch. You can get the warmer color that combined with black color.
For the first, it will be epic if you can drag your wooden bed to the window. It will let you get more sunlight exposure.
For the bed, you can combine it with a black velvet bed cover. It will give an elegant and warm touch in the industrial style.
For the second, the upside of your bed can be an exposed brick in white color with some plants hanging on there. It will liven up the room as well.
Industrial Bedroom with Mini Bunk Bed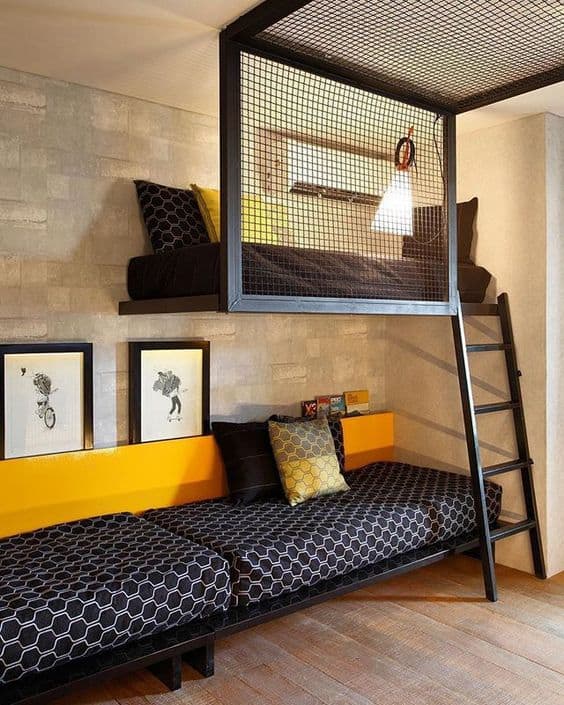 This kind of concept is the best one for you, who frequently invites your friends to your room.
Having two beds in one bedroom might be stuffy, but now you can get a bunk bed. It will minimize the space, but you can still get a double function.
Basically, the bunk bed should be in the corner. However, for industrial style, you can make it as it has two floors. Build it as long as the bed with metal materials.
Don't forget to give some lights to avoid backlight.
For the bottom side, you can use two rows of a single bed in lengthwise, so it will not take too much space.
Industrial Bedroom in Moss Green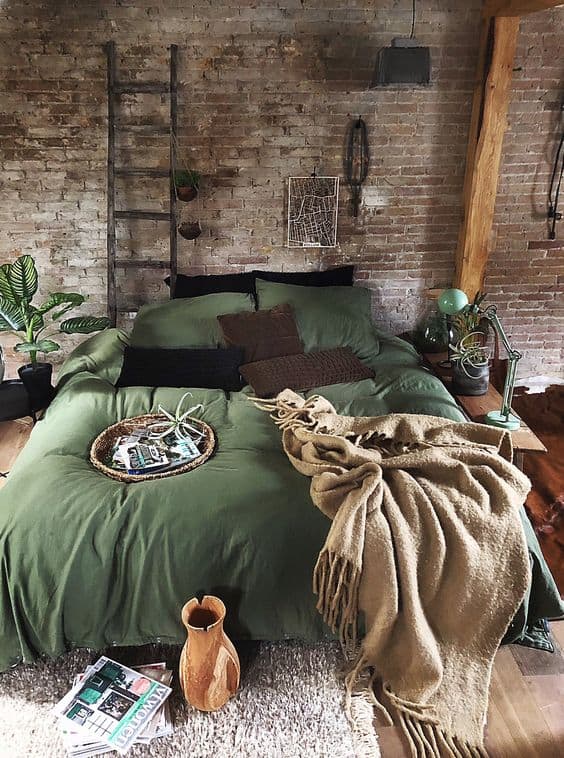 If black is too dark, you can choose moss green as the combination color for the industrial bedroom style. You can still apply an open ceiling, exposed brick wall, and wooden floors.
Then, you can adjust the accessories. The moss green color is for your bed sheet and other small details like table lamp, rug, or shelf.
Moreover, you can also place an old wooden staircase as an additional detail. It also can be used to hang your shawl or blanket.
Industrial Bedroom with Big Window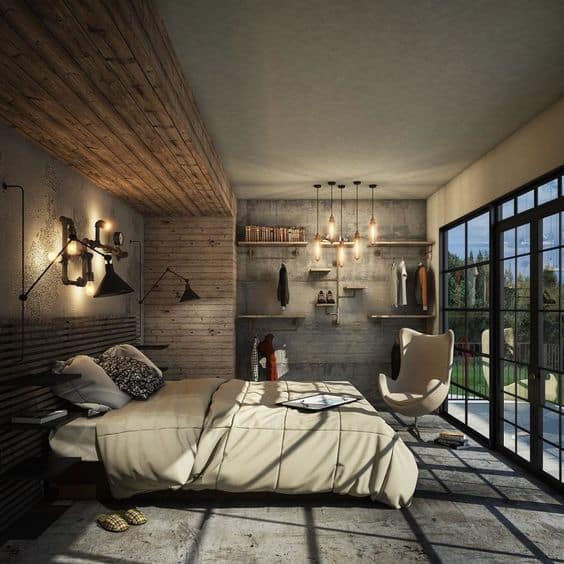 Since the industrial style has dark and neutral colors as dominant, it will make the room darker and lightless.
If you like the industrial style but tend to have more lights, you can try to get a big window.
Make your bedroom as open as possible to get natural exposure. A big window will make your room get more light without adding too many lamps.
For the ceiling, you can replace the open ceiling with a plain ceiling. In addition, build additional ceilings from bricks connected to the wall.
Industrial Bedpost with Lights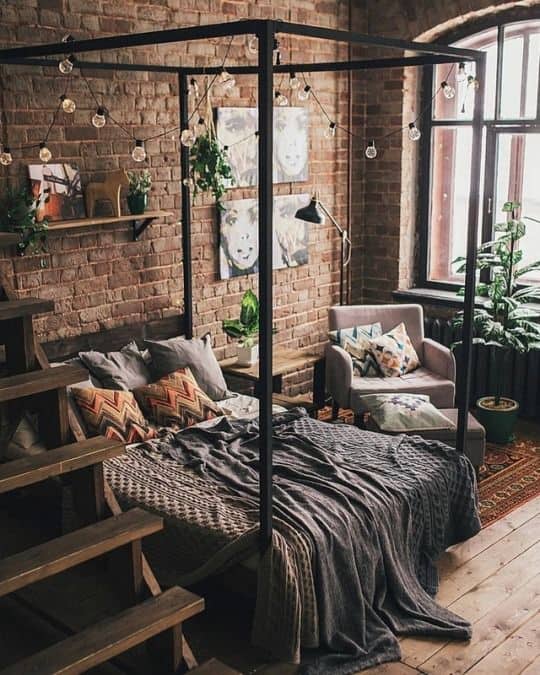 All the walls are exposed bricks, and the floor is made from wooden planks. It's a good start point to go with an industrial style.
You just need some additional interior to make it look more fabulous.
A bedpost is not a bad idea for this concept. You can use the bedpost made from metal. Just let it open and add Tumblr lights. You will get a warm touch in the industrial style.
Moreover, you can also get the pattern bed sheet, sofa, and rug. It will not destroy the concept but make it lighter.
Vibrant Monochrome in Industrial Style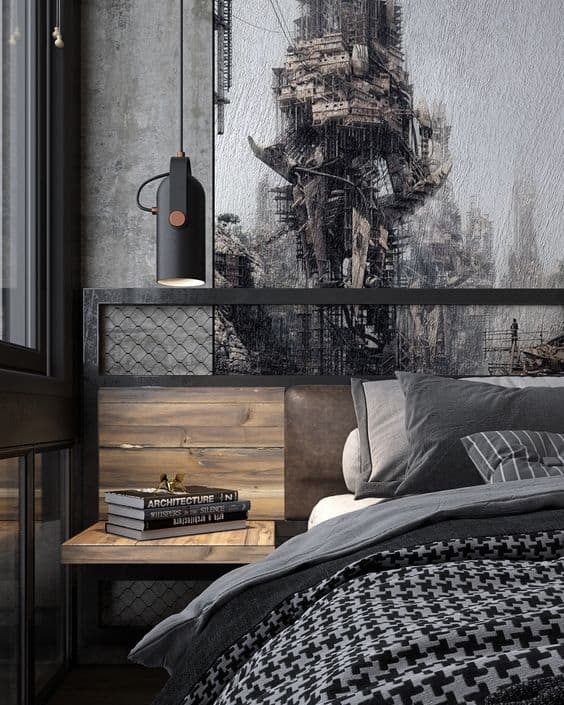 There are so many color combinations that are usually used in industrial concepts from the neutral to the colorful ones.
However, most people use a neutral color. If you want a neutral but strong one, you can play on the vibrant monochrome colors.
The colors might be neutral but still, give a strong vibe. How to make it look vibrant is the color combination. You have to choose a deep black color as the dominant color.
Then, the rest will be white and grey with wooden touch. A painting relevant to the concept is also a key for this bedroom style.
Black Exposed Brick Interior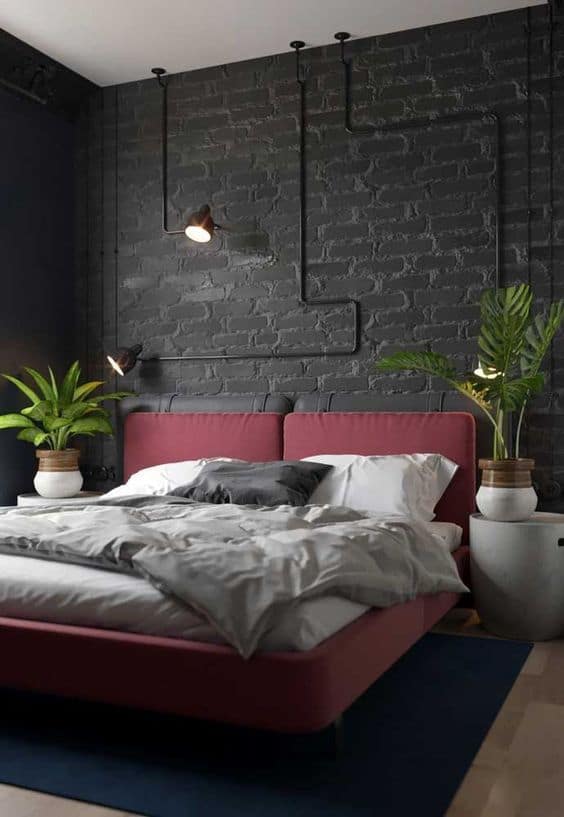 Mostly, an exposed brick wall for the industrial concept has a real color like orange or white. Some people even like to use a moss green and orange on this wall.
If you do not like this kind of color but like the exposed brick style, you can paint it over. You can let the brick wall exposed, but you need to paint it in color.
For the best concept, black is a great choice for the exposed bricks. The pattern and texture will be shown, but the color will be more vibrant and neat.
Then, you can use a bed that has a red, white, and grey color combination. Since the dark wall will make it dim, you can get indoor wall lamps as additional light.
Industrial Farmhouse Style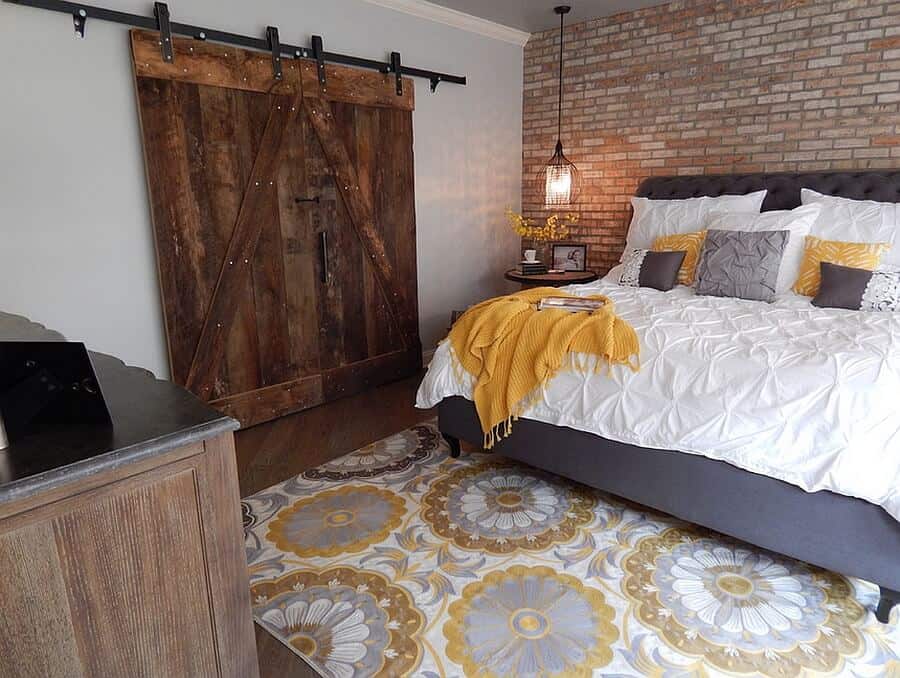 Industrial farmhouse style becomes the next option that you can consider in preparing a bedroom with an industrial concept.
This option will suit you well with you who love the industrial concept but do not really like the dark one.
Besides, buy choosing an industrial farmhouse style, it will bring you some materials that will give you a natural touch in your room.
Light Industrial Bedroom Style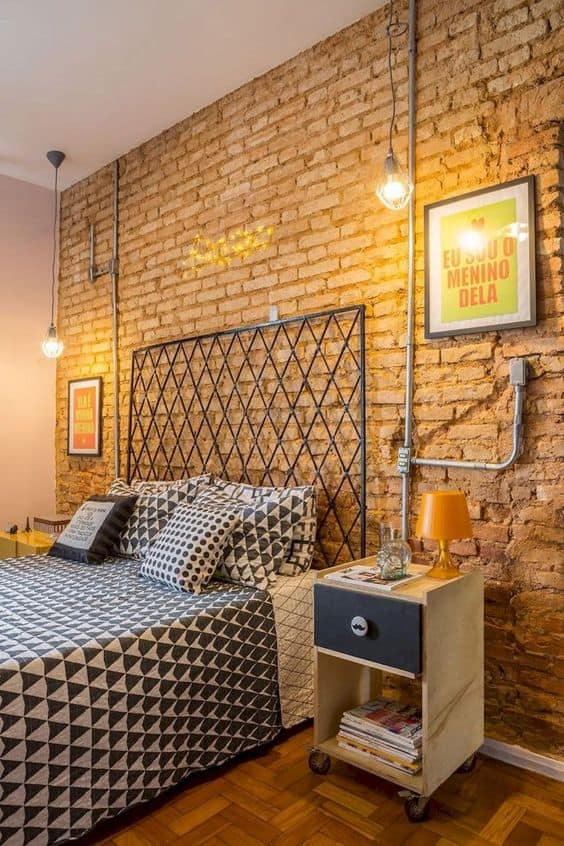 If your wall is already exposed on one side, you can go on with industrial concepts. You can paint the rest wall in a neutral color. The recommended one is white in color.
Then, You do not need to make your ceiling into an open ceiling. You can decorate in industrial style in many ways. You can also use pipes to cover the cable around the wall.
If you want to make it look brighter, you can also get some lamps around the bed. A pattern bed sheet in monochrome color is enough for this concept.
Industrial Pipe Lighting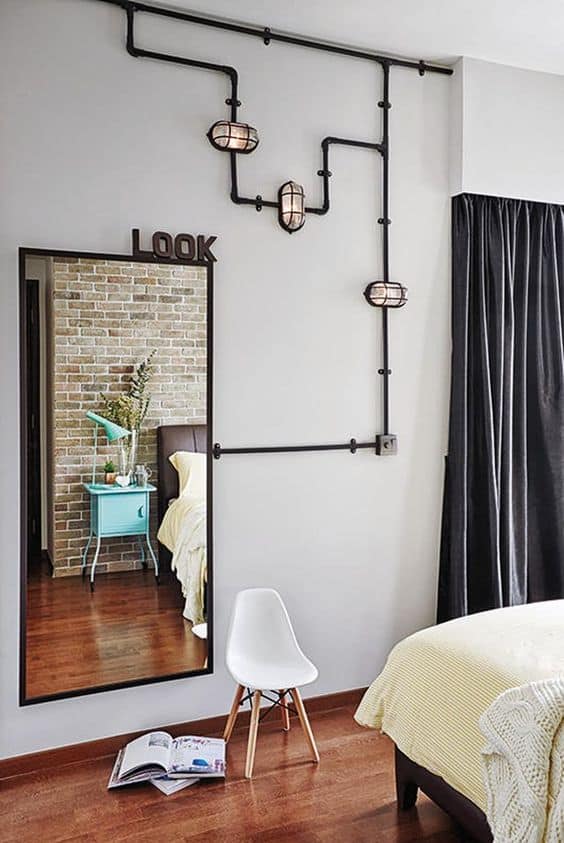 For industrial concepts, you can choose whether you will get the concept for the whole room or just take some of the details.
It will take time and ideas to renovate your bedroom that previously has a classic style.
In this case, you can just give additional details of industrial accessories. Pipe lighting is the best recommended. You can get this lighting along with your recent bedroom concept.
You can find it through an online store or do it by yourself. If you want to make it by yourself, you can get some pipes and lamps. You can choose a bulb or an LED.
Then, change the color of the pipe into black and connect it with the lamps. The cable can be inside of the pipe, so it will make your room look neater. Then, arrange it against the wall.
Metal Floor and Wall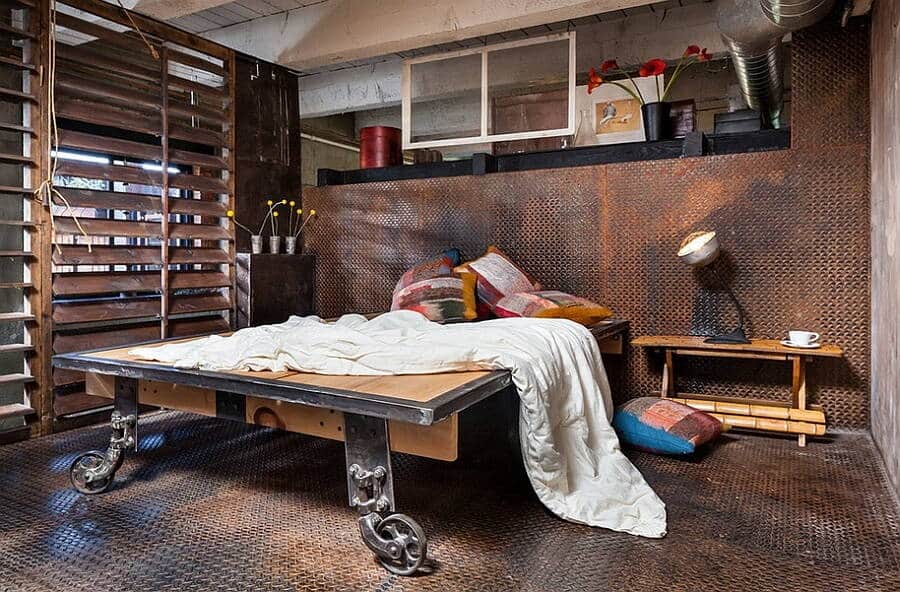 If you are already common with the idea of having a wooden wall or something else, choosing a metal floor and wall can be another way of innovation.
Even though it is not still that familiar with people, many people already choose this option.
It is even more suitable for the industrial concept that you want to try. So, rather than choosing any other option in making your industrial concept comes true, why not trying out this option?
That would be a really good choice.
Adventure Touch in Industrial Style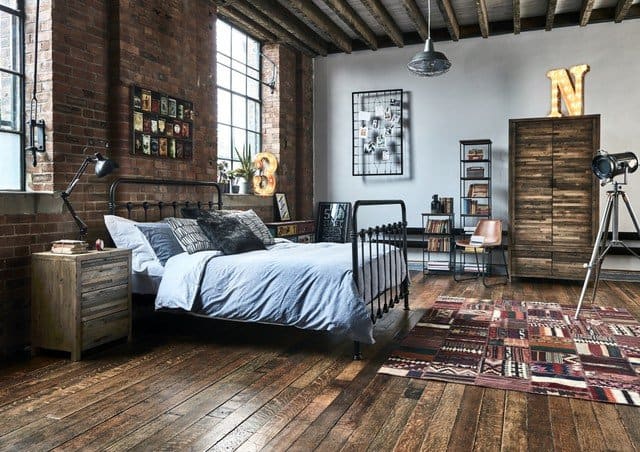 All wood is a concept on another level. Nowadays, people tend to combine one style to another style to get the best look.
However, you can also get an all-in concept. The floor can be from wooden tiles, hardwood, or even vinyl in the wooden patterns.
It will be more connected when you have a deep orange to the brown brick wall.
It will be connected to each other and give a good vibe. If your bedroom has a bigger space, it does not mean you can store anything that you want.
Make sure to store the necessary things with related concepts.
Royal White Industrial Bedroom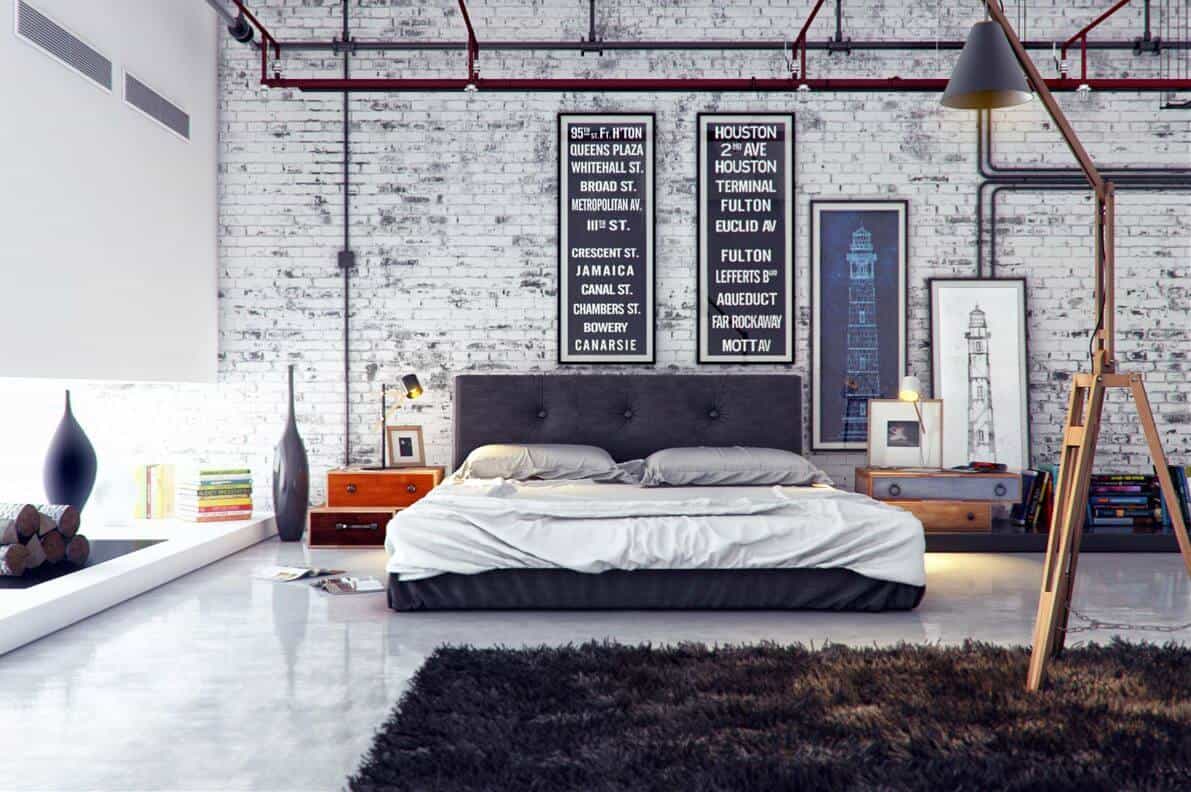 Who says that the industrial design interior will make a room look shabby and dirty? You can decide which part of the industrial concept will be applied.
Moreover, combining different styles is becoming a new trend nowadays. You can get the industrial vibe in royal style.
The thing is you can make everything white in your bedroom. The floor is marble, but the wall can be exposed brick in a neat structure with white color.
If you do not want an open ceiling, you can replace it with pipes. The key point of industrial style besides the open ceiling is pipes.
Pipes is actually the main point. You can install the pipes around the ceiling to the one sidewall.
It will make it look like an open ceiling in a neat way. You can also get a fur carpet in black color to make it look glamour. This combination will be an amazing one.
Merged Living Room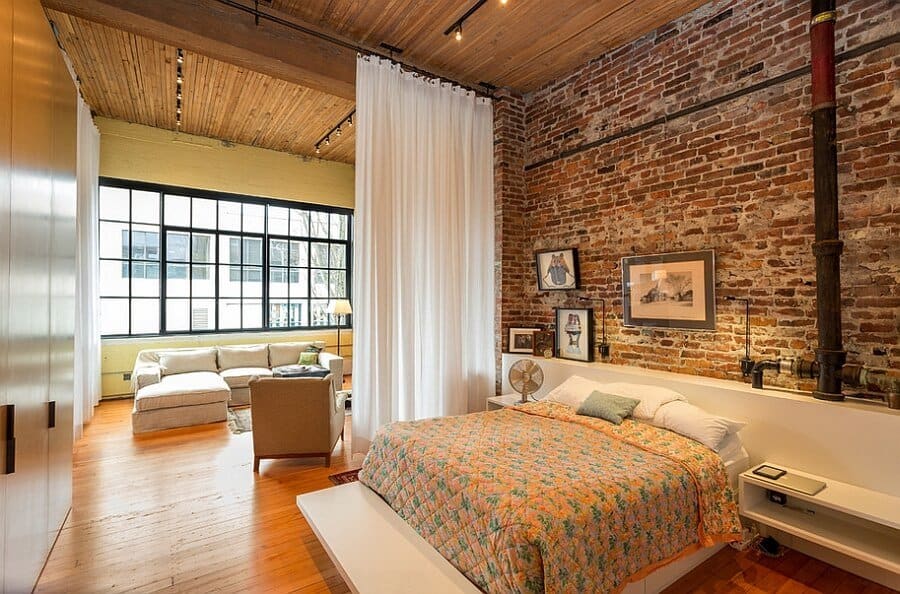 Another space problem solving is by merging the bedroom and the living room.
Of course, it does not seem as problem-solving for those who have small space, since this decoration will still need wide space.
However, it can bring a fresh solution and innovation in interior design.
By choosing to merge the bedroom and living room, you don't need to put a permanent wall to separate both the room.
It can be solved just by you use the curtain from the ceiling to the floor. It will help your room looks more comfortable. It also helps you to avoid the room for being stuffy.
Wooden Wall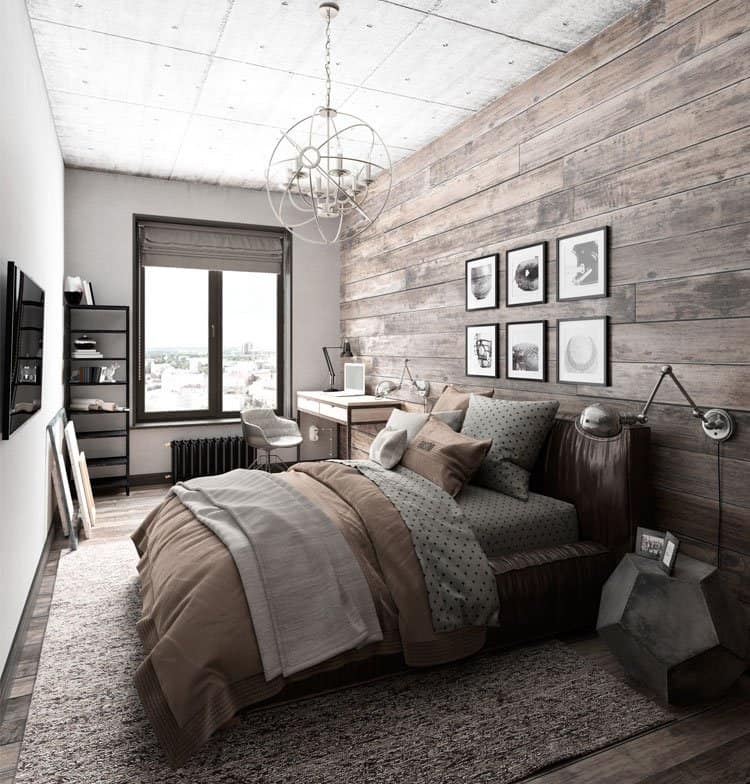 Wooden wall for your interior can be a good choice.
Of course, choosing woods as the wall material is not merely about the material itself, but it gives more support to the interior design and concept.
If you want to put some natural accent in your bedroom, choosing this wooden wall option could be one of the best solutions. So, just try it!