Don Pedro Brooklyn is reader-supported. When you buy through links on our site, we may earn an affiliate commission. Learn More
Man Cave Ideas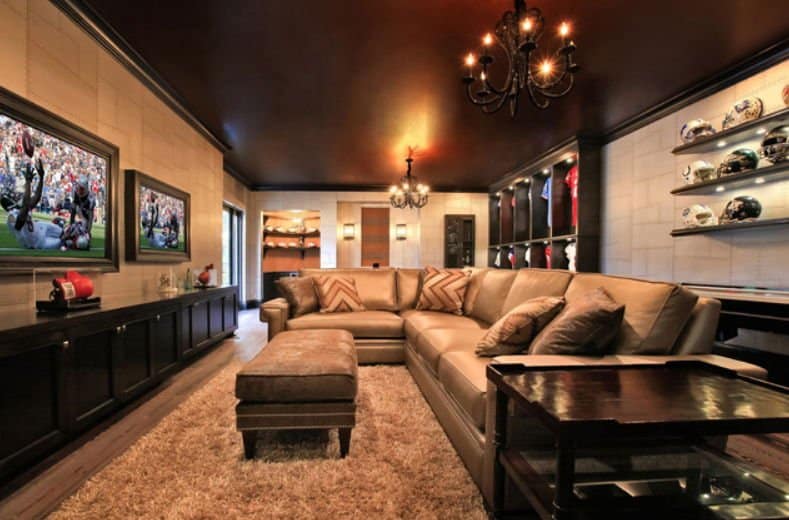 Cave gives the impression of a specific, confined area used for a group of people for gathering.
The term Man Cave refers to a room or a space used by male members of the family to do what they want without the females bothering them freely.
In short, as crazy as they might be, they're entitled to do so because it's a man cave!
A man cave has to be built based on the man's personality. Either he is a sports fanatic or an automotive junkie, here are the 13 best man cave ideas to get you inspired!
Baseball Cave with Yankees and Mets Displays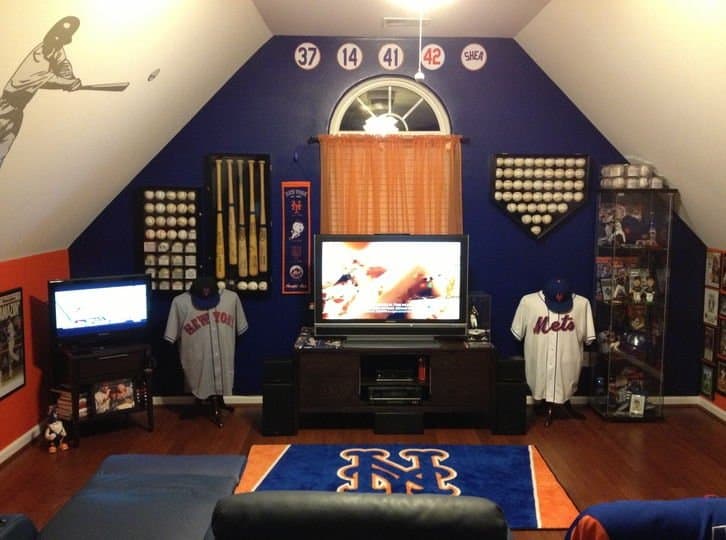 If you are a New Yorker and a baseball fanatic, this could be the blueprint you're looking for. The cave is designed to display your collection of baseball bats, balls, and favorite teams' uniforms.
The displays are placed excellently beside the TV in the center of the room, so whenever you watch TV, you'll always be reminded of how deep your admiration towards baseball is, specifically, the Yankees and Mets.
To make the space even cozier, without losing the baseball cave touch, adding a carpet with Mets' logo is a perfect idea.
Another idea is to never let white walls to go to waste. Call an artist near you to draw a magnificent portrait of your favorite player.
Also, play with colors. Let your man cave represents the teams that you support. Let anyone who enters the cave feels the euphoria.
Man Cave with Custom Billiard Table and A Bike Display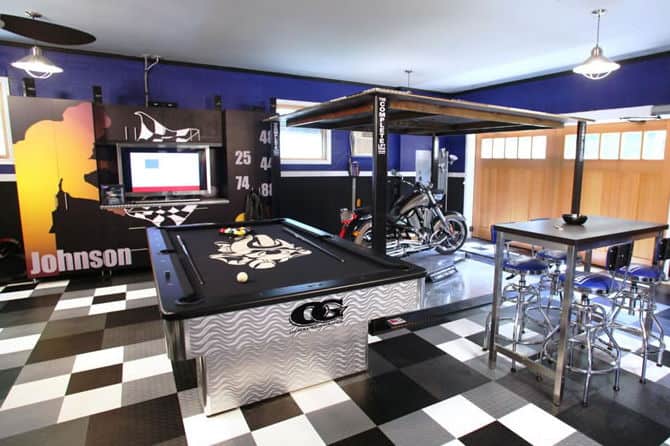 What is a man cave without a pool table, right? Let the boys having fun on the pool all night with a custom, sleek billiard table.
To give variation, you can also provide an LED TV for the rest of the boys who prefer playing something else on the screen.
Moreover, a small coffee table with four seatings stretches the social interaction.
To give a personal touch, displaying your most precious item is a must.
If you are a fanatic of automotive, especially motorbike, it will be a great display to place a sick bike as the center of the room.
Let your guest comes in with awe!
Cozy Concrete Wall Man Cave with Wine Bottles Display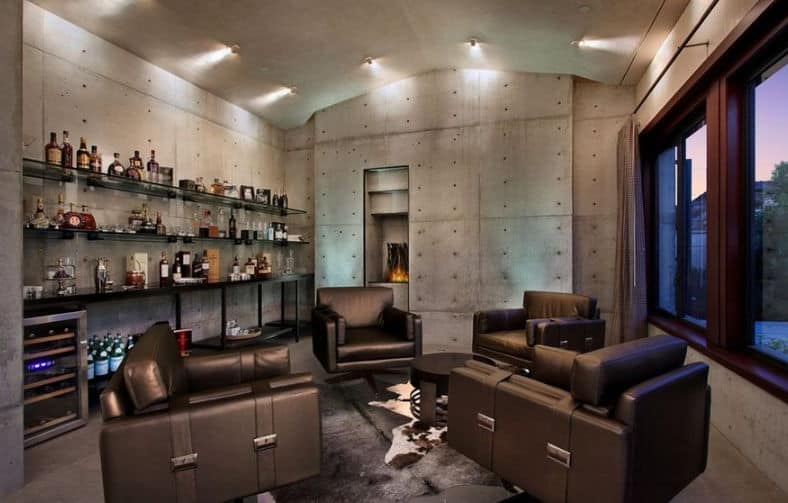 The cow leather carpet radiates a cozy barn shed atmosphere; however, it is surrounded by concrete walls.
The concrete wall has unique accents, which make it looks like a bunker. The ambiance is deepened by the mounted ceiling lamps too.
If you happen to find joy in sipping wine and still keeping all the bottles, it is actually a good idea to display the bottles on shelves.
The color of the shelves should make a contrast with the wall if you want it to snatch the attention.
Cabin Bar Man Cave with Ping Pong Table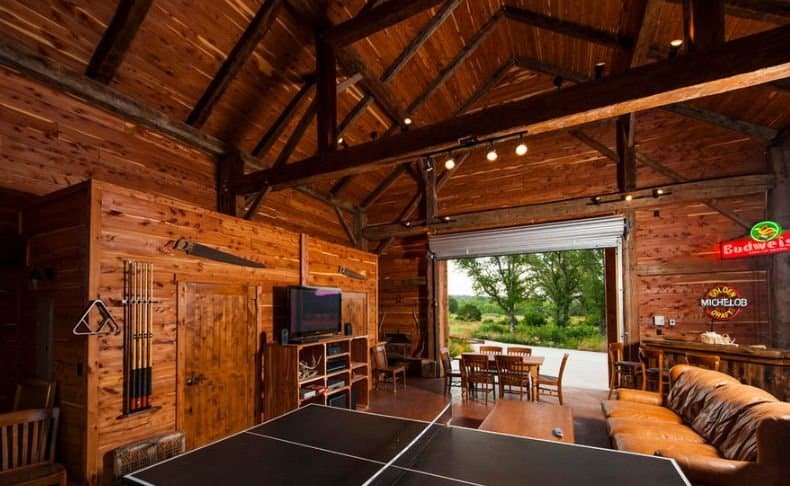 If you are a lumberjack or a fan of the warm ambiance of wooden space, this idea might be the one you've been looking for.
All of the building materials are woods, including the ceiling, walls, and floors.
The man cave is centered on the ping pong table. Then, the table is accompanied by a pleasant leather sofa for watching TV.
Moreover, you can't let the minibar slide. It shows your genuine intention to provide an enjoyable boys' time inside the man cave.
Customize the door with something that complements the theme, such as this pull garage door, which makes the entire interior design looks even more refreshing!
Exclusive Football "Man Cave" Lounge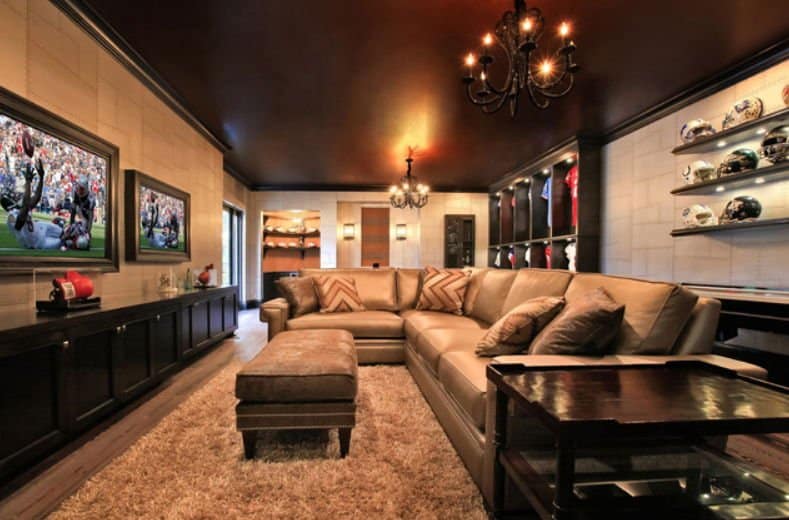 Having a spacious room for a man cave transformation? Then, you may as well turn it into an exclusive man cave lounge. If you are a big fan of American football, this idea will inspire you!
The spacious cave is specifically designed to satisfy football fanatics. The walls are adorned with football memorabilia such as football gears and framed epic football moments.
The framed pictures can actually be replaced with TV to improve the functionality of the room as a social gathering place to watch the game together.
As for illumination, enhance the elegance with elegant chandeliers. The warm yellow light will deepen the natural color of the wooden ceiling and some wooden furniture below as well.
Enjoy the game with the boys with style.
Urban Attic Man Cave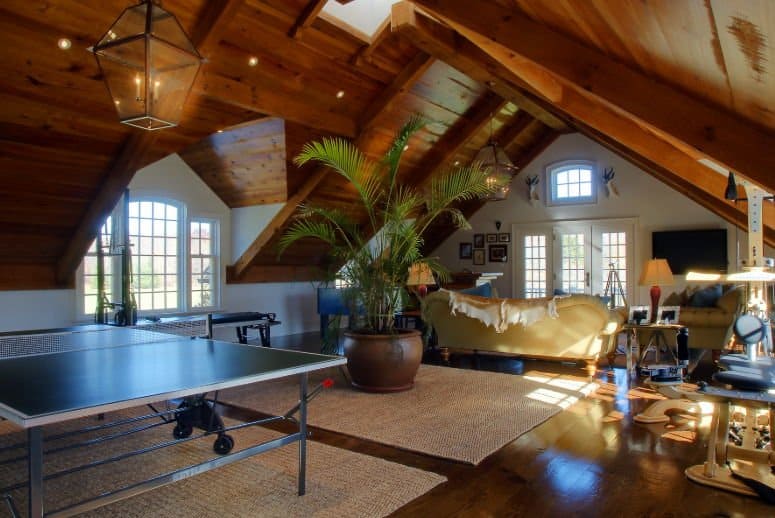 Upgrade your attic into this comfortable man cave. Don't let the spiders claim it first!
The attic often radiates claustrophobia due to its tight space.
However, by painting the walls with bright, neutral colors like white, it helps open up the space.
Moreover, you can always redesign the windows to be larger, so natural light can come in easily, making the room feel spacier.
Mount some ceiling lamps to improve the ambiance too.
For decoration, don't make it looks too packed; otherwise, your guests will feel cramped the whole time!
Add some plant decorations for that green view, pleasing the eyes!
Give some space between the TV space and the ping pong area, so people can still move undistractedly.
Green Bay Packers Man Cave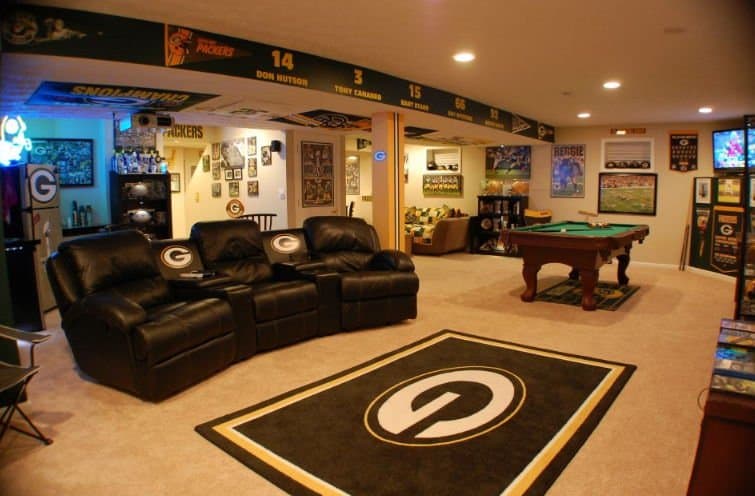 Take control over the basement and transform it into this cool Green bay Packers man cave.
To all Green Bay Packers fans, this design is highly recommended!
The signature G man cave carpet is obviously a must. Then, the wall should be decorated with the team's memorable moments in frames to build up the connection between the team and you.
If you think the carpet and the framed pictures are not enough, then expand the representation to the sofa, freezer, and more.
Let yourself be as creative as possible, so the result will be exactly like how you want it to be.
Remember, a pool table can never go wrong for the boys to have fun!
Talking about the basement, we have a blog post on Basement Rec Room Ideas. Check it out!
Sleek Garage Man Cave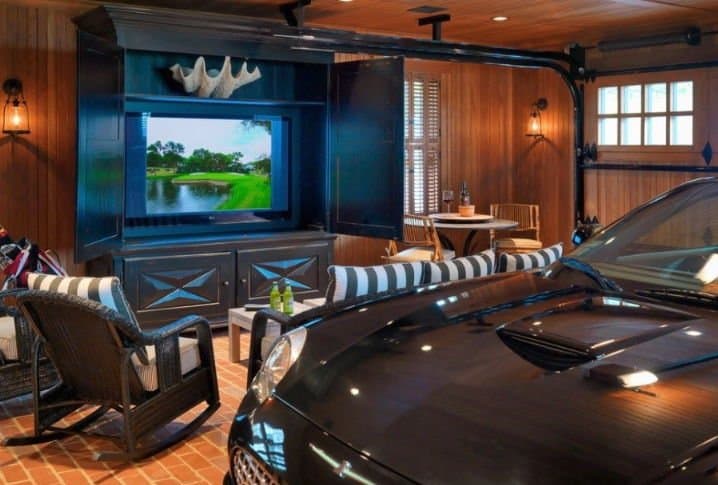 Are you a huge fan of a sleek design? This idea will inspire you to have a sleek, car man cave.
The cave's walls are built using wooden planks, while the floor is made of cut out ceramic in a brick style.
To complement the natural brown color, you can come up with black, however, not too dark.
In this idea, there is a TV mounted inside a wardrobe. The armchairs in front of the TV have a similar color to the transformed wardrobe.
Now, whenever you park your car inside this sleek garage man cave, you can directly toss your body to the armchair and relax.
One important note, you have to make the air circulation works well.
Superb Bowling Alley Man Cave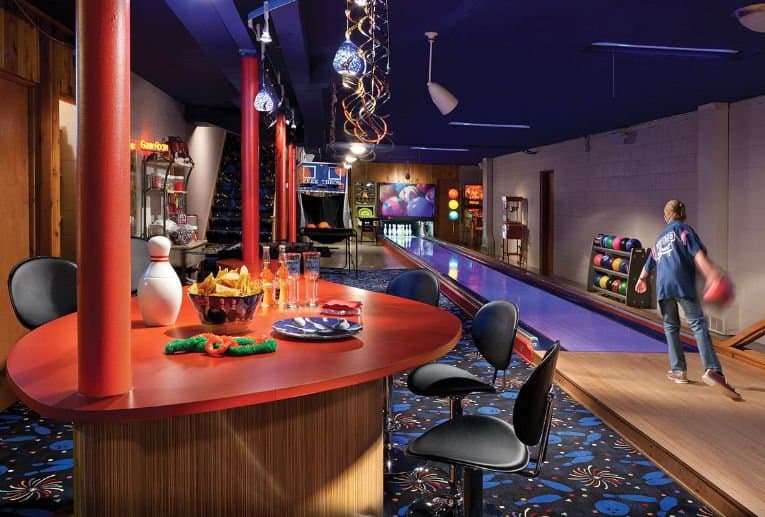 Tired of going to the bowling alley, which may be too far or crowded for you?
Well, just bring it home! Meaning, build one inside your house.
Make your man cave perfect by having this splendid bowling alley, including the mini bar on the side.
Allow your friends to enjoy a private enjoyable bowling experience.
Make sure you genuinely portray an actual bowling alley. Create a similar ambiance so the experience will be so real.
Virtual Golf Man Cave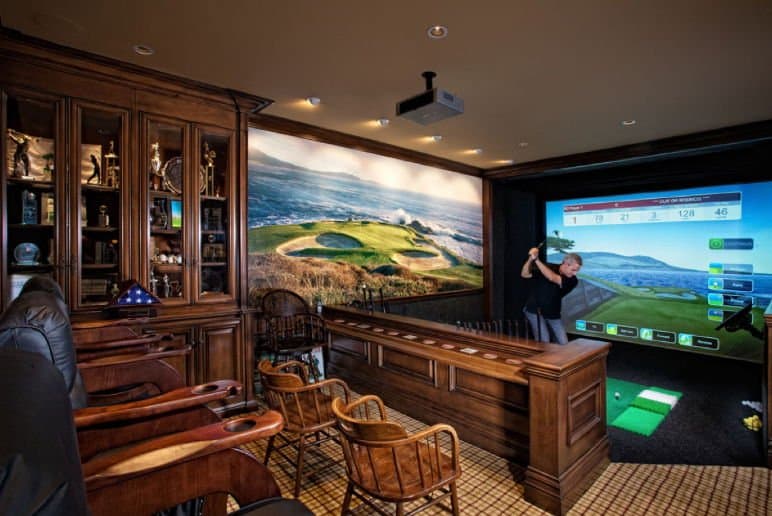 Even though the space you have at home is not as spacious as others may have, you can still make it as enjoyable.
By installing a virtual golf game like this, you and all of your guests can still have fun in a small space. However, don't let your man cave looks boring.
Give it a class by owning wooden furniture and some leather armchairs for extra relaxation.
Make sure to have a divider between the audience space and the mini-golf course, so that golf stick won't smack you in the face, so keep a safe distance.
Elegant Barn Style Man Cave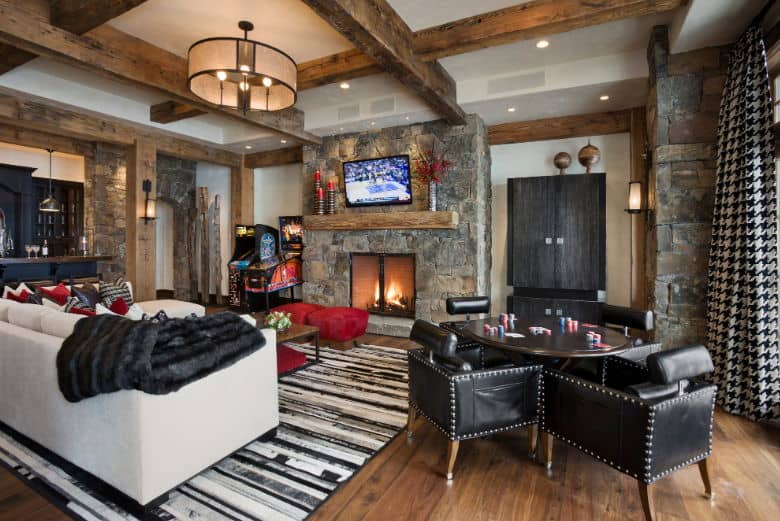 Want to have that barn feeling, but you live in a city? Well, you can incorporate rustic beams to the ceiling and jambs.
The rustic beams honestly give out that barn feeling. Moreover, they are brought together with a stone cut wall accent.
To enhance the warmth, include a fireplace and wall-mounted lamps.
Don't forget to place a bright color carpet and sofa above that varnished wooden floor.
If it is too dull, you can elevate the ambiance in your man cave by adding popping colors such as red cushions and patterned drapes.
Guitar Junkie Man Cave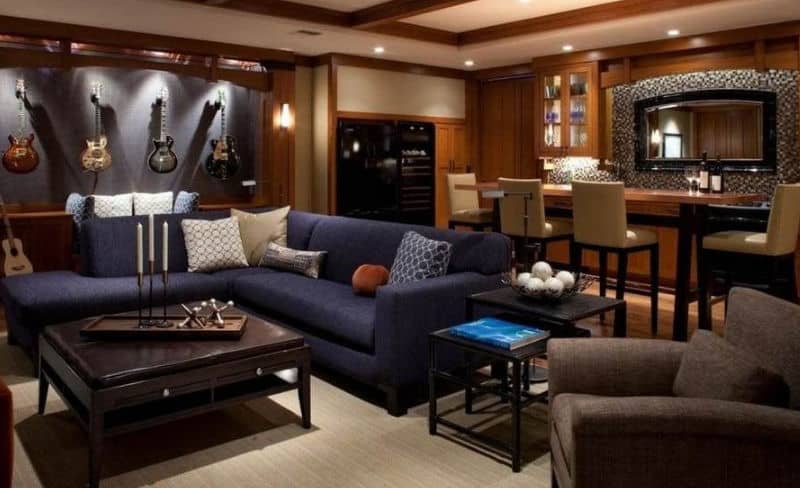 If you happen to be a guitar junkie and want to show off your collection, this idea helps you to figure it out.
The guitar display is precisely located in the center of the wall, so everyone who's in the room can admire the beauty of these bad boys.
Let the attention be given entirely to the guitars. Try not to flood the room with different musical instruments because it is a man cave, not a museum.
If you wish to have a close atmosphere with your friends, you can play with the light. Let it be dim instead of too bright and blinding the eyes.
Make sure you provide the guests with a cozy sofa and a minibar for serving the drinks.
Soccer Fan Man Cave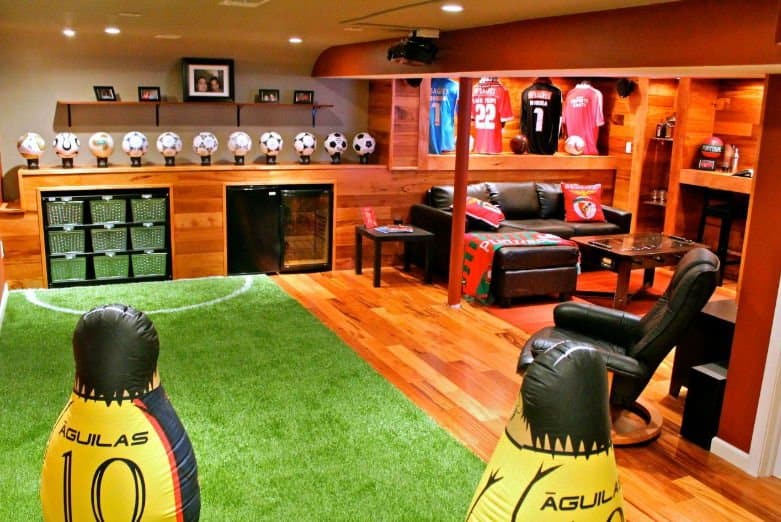 Want to make your dream as the biggest soccer fan in the world come true? Own this fantastic man cave.
First of all, you can start decorating by adding synthetic soccer grass. If done, you can continue to add some displays such as your favorite team's jersey, decorative soccer balls, and more.
The wooden furniture and flooring are optional. However, if you want to incorporate them into your man cave design, you will for sure not regret it.
Make the cave as enjoyable as possible. Invite your boys to play a mini soccer game on your synthetic grass.
If you wish for an upgrade, you can have a mounted TV to watch a match or to play some games.