Don Pedro Brooklyn is reader-supported. When you buy through links on our site, we may earn an affiliate commission. Learn More
Recreational Room Ideas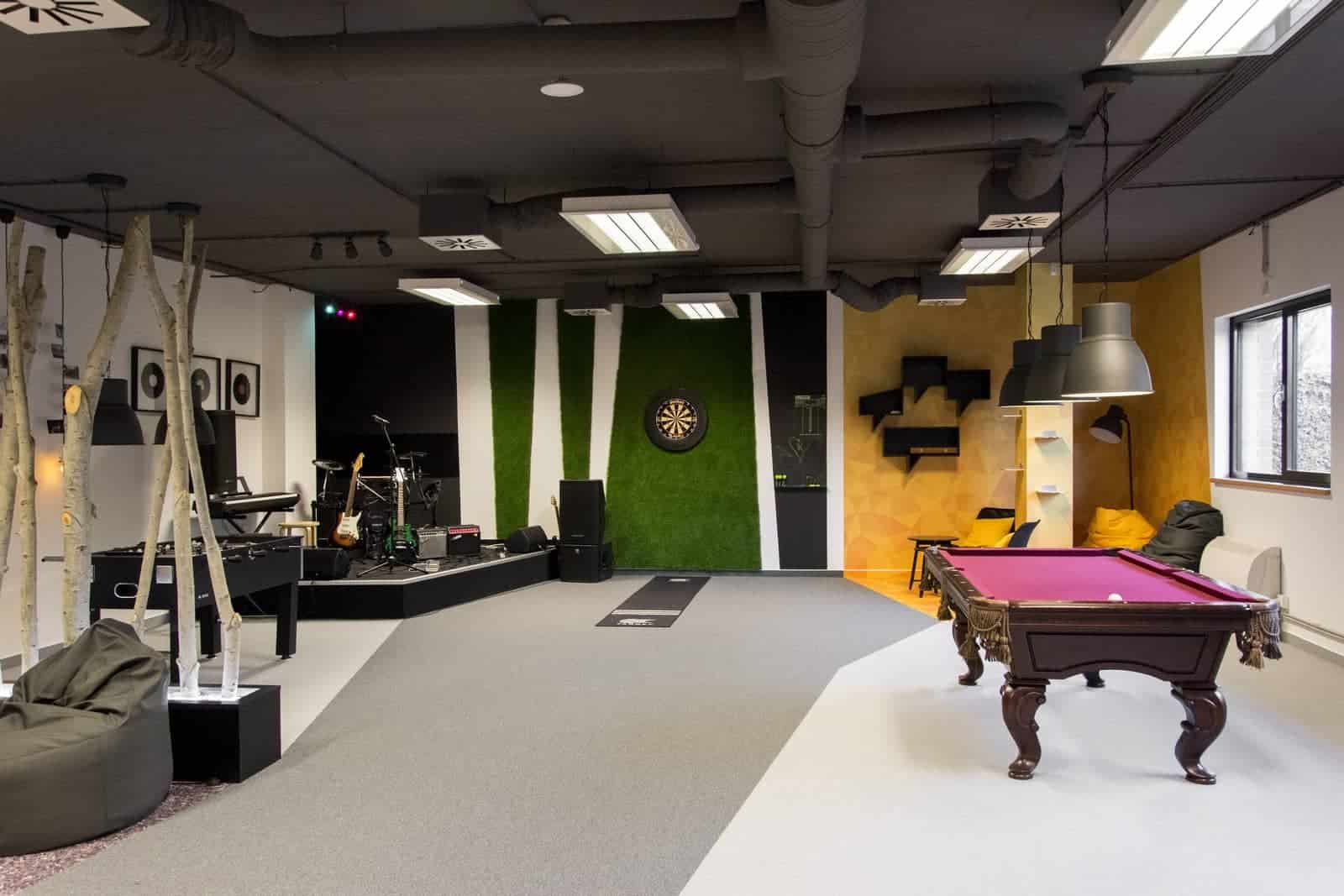 There are so many people who have already made up space in their house for a recreation room.
Even not only at the house, but we can also see many offices have their own recreation room for their workers now.
The idea of having a recreation room is to make a special space in your house for break time, for hobbies, and basically, for leisure fun!
The style of a recreation room in each house might be different. It could be designed based on people's preferences.
If you are about to design your very own recreation room, here are 20 inspirational recreation room ideas to enlighten your preference in making that fun space.
Office Recreation Room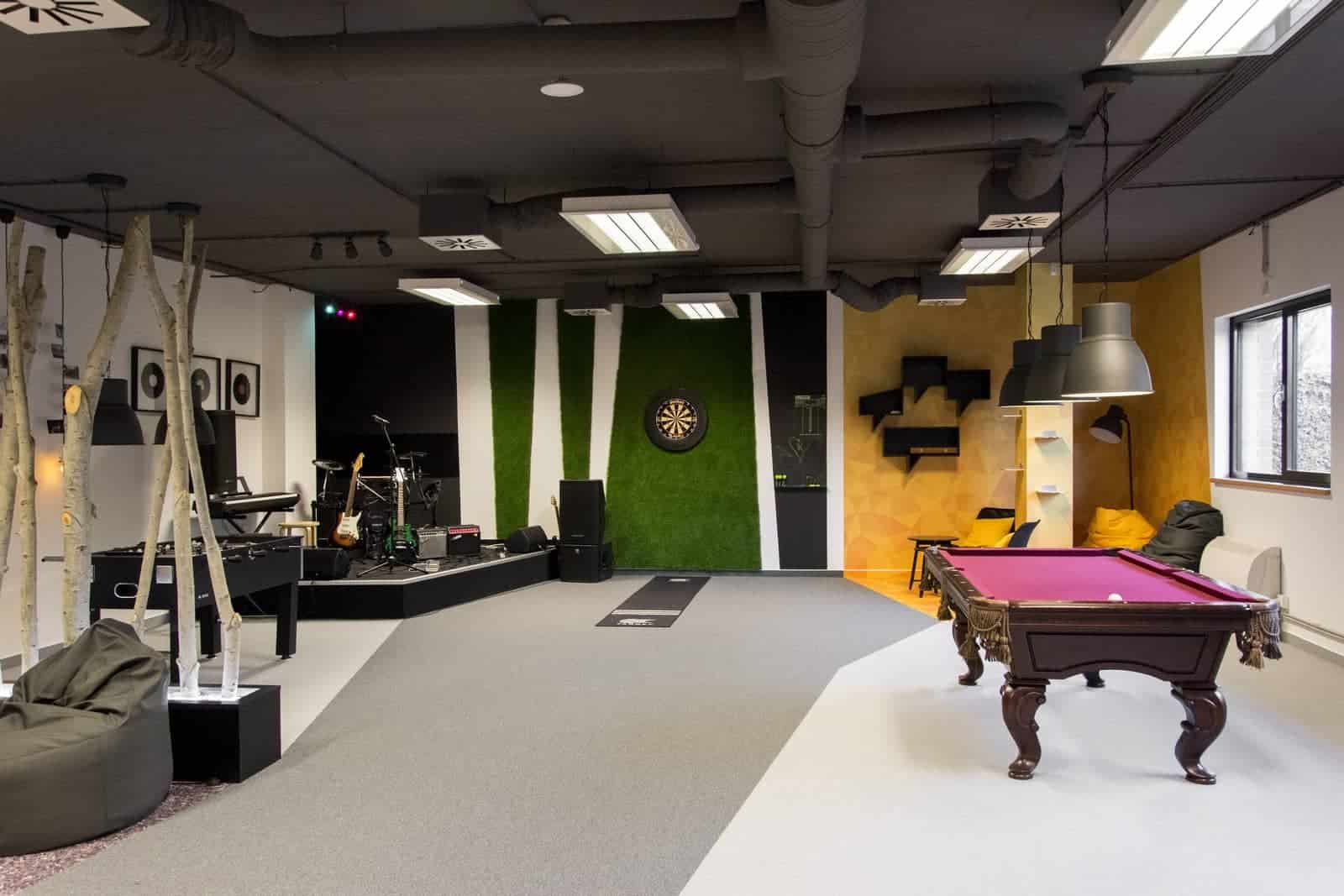 I believe we all agree to have our recreation room in our office, just like this picture of Digic Pictures office with their design and construction of the recreation area.
Having a recreation room in an office would create an inspiring space where workers can recharge and gain new energy for creative processes. This is just what all workers need.
As you can see, the color choice for the wall, very dynamic shape and design elements are well designed to provide the right environment for active relaxation.
That includes various individual and social games and recreational opportunities in this room.
Bright colors and close-to-nature elements play an important role in helping the workers to relieve tension and restore physical and mental performance and ability, which is an essential element of a healthy workspace.
It was also important to put that comfortable seating furniture included in the space, contributing to comfortable relaxation.
Wall Climbing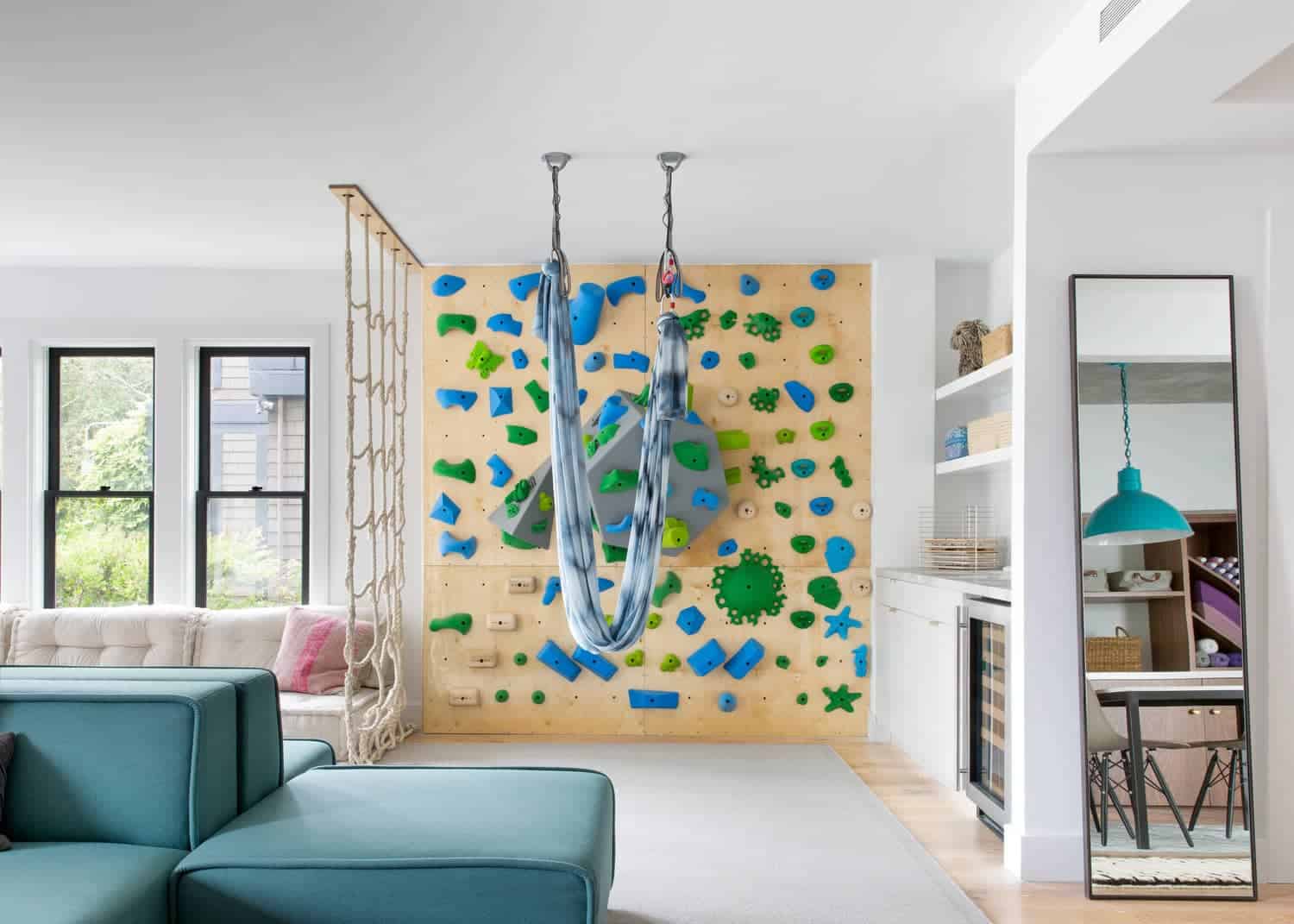 Indoor wall climbing, what a unique idea for a recreation room ideas designed by Regan Baker! He designed a basement room in the house in San Fransisco.
The touch of extreme outdoor sport in such a minimalist application in the house is so worth it. Wall climbing is so fun for the kids and challenging for adults.
Having that in your recreation room would make your leisure break so much fun. Moreover, the color from the wall climbing could make your wall look cheerful and aesthetic.
Pingpong Table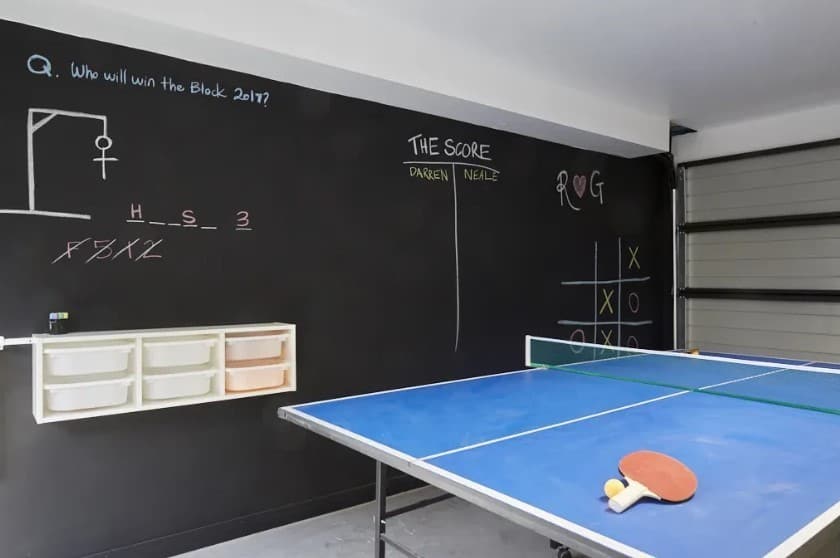 What else could bring the joy of the whole family together in the leisure time except a sports match, right?
Pingpong table is one of the perfect choices in your recreation room. Just like this office space in a studio house by Ronnie and Georgia from theblockshop.com.au.
However, the 9'x5′ table size of the Pingpong table should be in your consideration.
This could be okay in some houses, but if you don't have quite a spacious room, you should probably think of other alternatives.
Don't worry, there are still many of them.
Board Game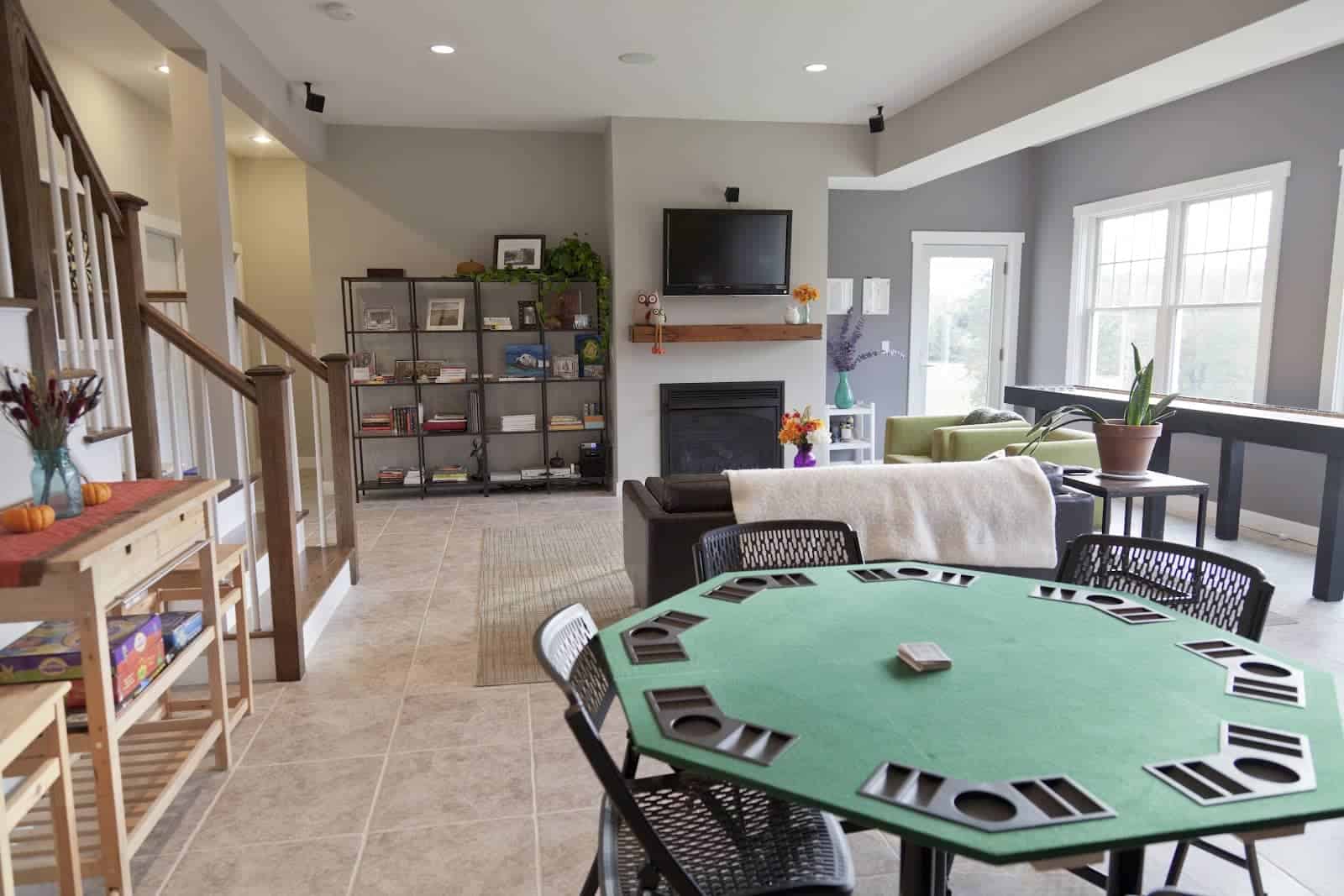 A recreation room is also known as a game room, and so is James' family in their blog, Yellowdog Greenlife, who owned the house in the image.
That is because the board game in a table is designed for groups so the whole family could play it together.
Usually, they have board games just like in the picture, or the ones you could keep it tidy on the shelves in the room like cards, chess, or monopoly.
Arcade Games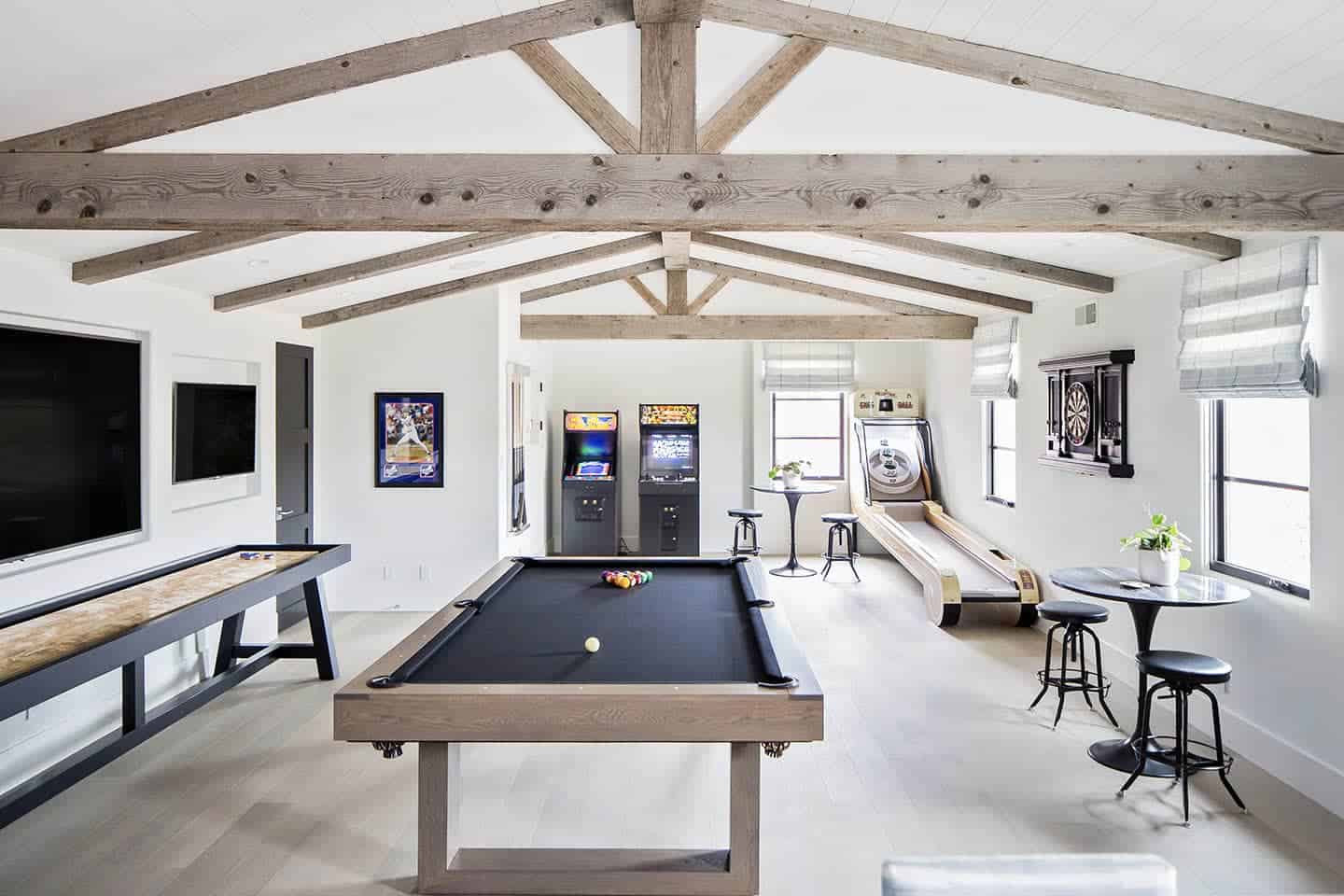 Who doesn't love arcade games? Kids in the house must be triggered when they see those in your recreation room.
Having just one of those is a wonderful idea to give a touch of classic computer games to give your kids, and probably adults too, some fun.
I love how the designers in the project from Tracy Lynn Studio maximize the quantity of the sunlight and put the arcade games there to lighten up the mood even better.
Those machines are also very space-friendly, so you don't have to worry about having your room narrowed because of it.
Jungle Paradise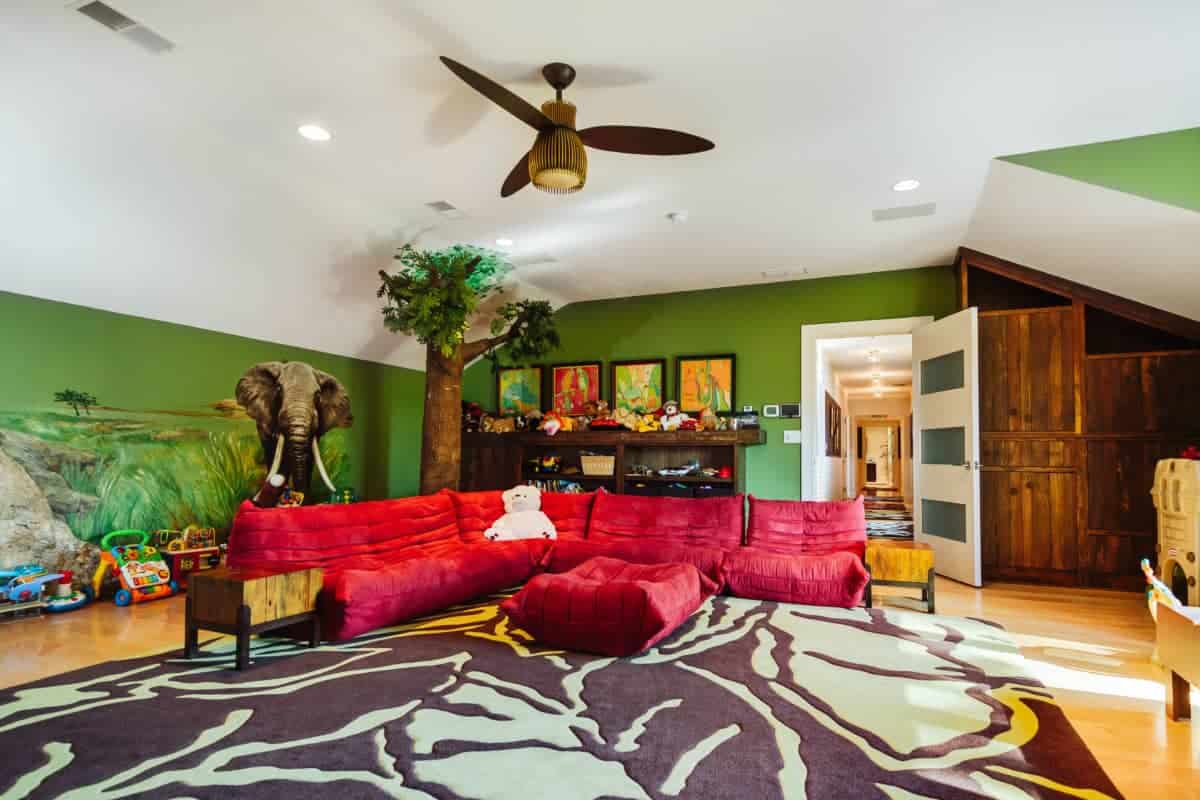 Giving an outdoor touch like trees, animals, and all greens in the house are also one of the most preferable and beautiful ways for recreation room ideas.
The natural green tone from the wall and the wooden furniture in the room would make the room very jungle-themed. Don't forget that epic wall painting with a huge elephant on it.
Not only that, nature-inspired elements such as leaves patterned rug, artificial tree bark, and the proper lighting to the room would also make the room even better for you to relax on.
Patriotism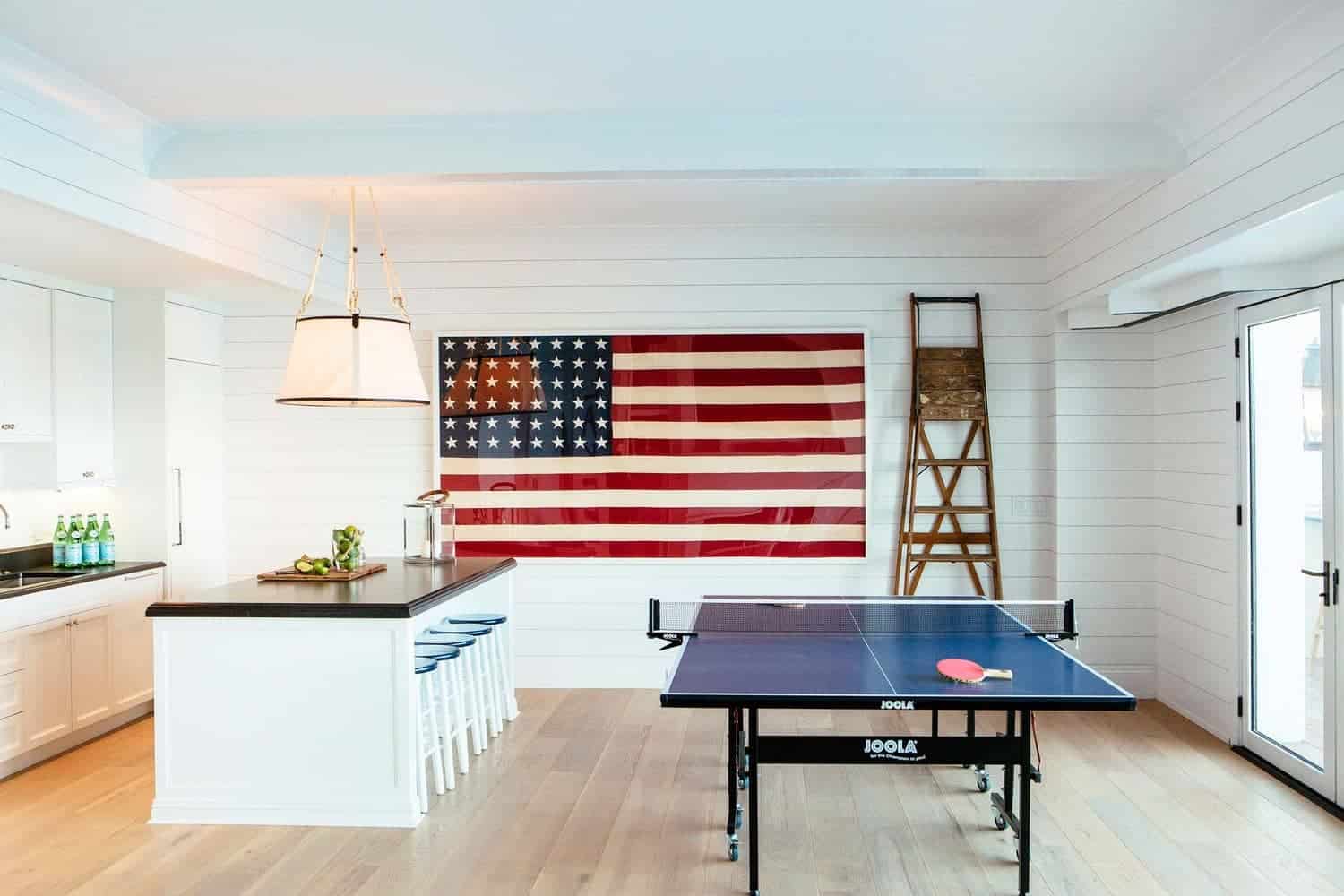 The idea of patriotism in a recreation room design is pursued by Leo Designs Chicago. The national flag of each country actually has its beauty, either in the elements, colors, or shapes.
Pursuing nationality as your recreation room ideas is not a bad idea at all!
Designing your recreation room with a simple tone of color like white, black, cream, or marble, together with the national accessories like a flag, or flag's color, is a very neat and relaxing view to see.
Small Luxury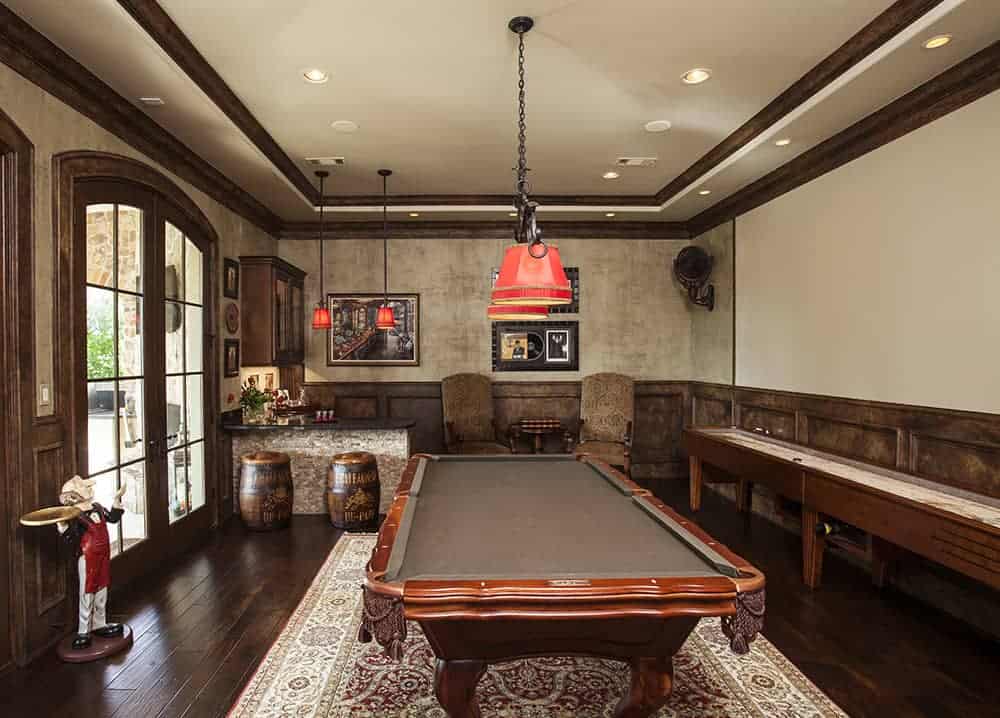 If you have a quite small space in the house, yet a very exquisite idea of recreation room ideas, go for it!
A small luxurious recreation room is still able to relax you and your family in your leisure time.
The combination of good quality wooden furniture and some wooden chairs, vases, and classic paintings, are just lux!
I just love how Jeff Paul Homes nailed it all together. It doesn't matter whether your space is pretty small, the luxurious kind of design, will make it looks the business.
Rustic Industrial Style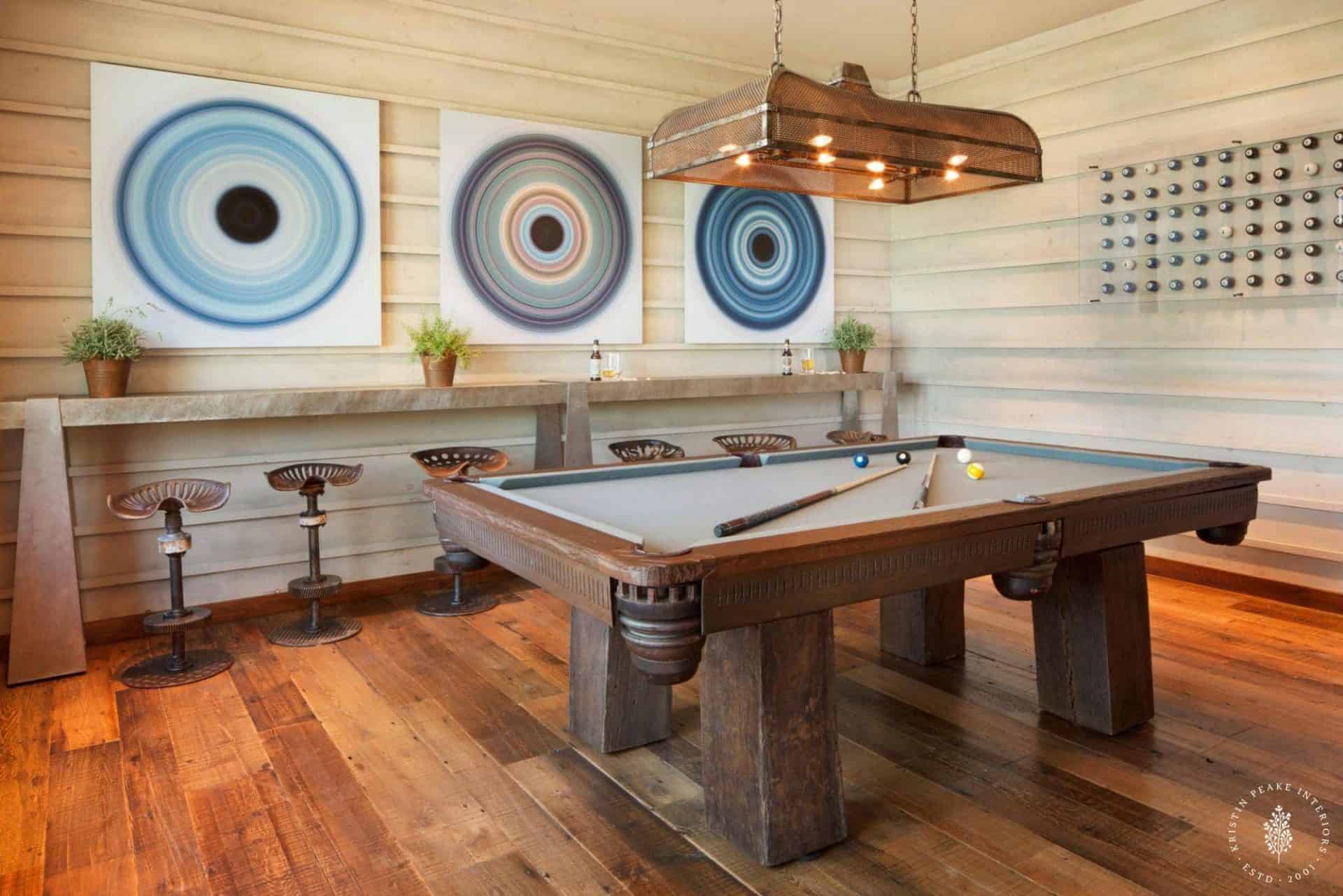 Going rustic becomes a trend nowadays. The idea of having a rustic design in your recreation room just like Kristin Peake Interiors did, could be also the best choice in your house.
The choice of materials inside the room like vinyl, plywood, or kinds of timber flooring, is very suitable for this style.
The idea of rustic could also be supported by the wooden wall and some plants inside to make your break time in the room well-spent in such a fresh design.
Game Room Media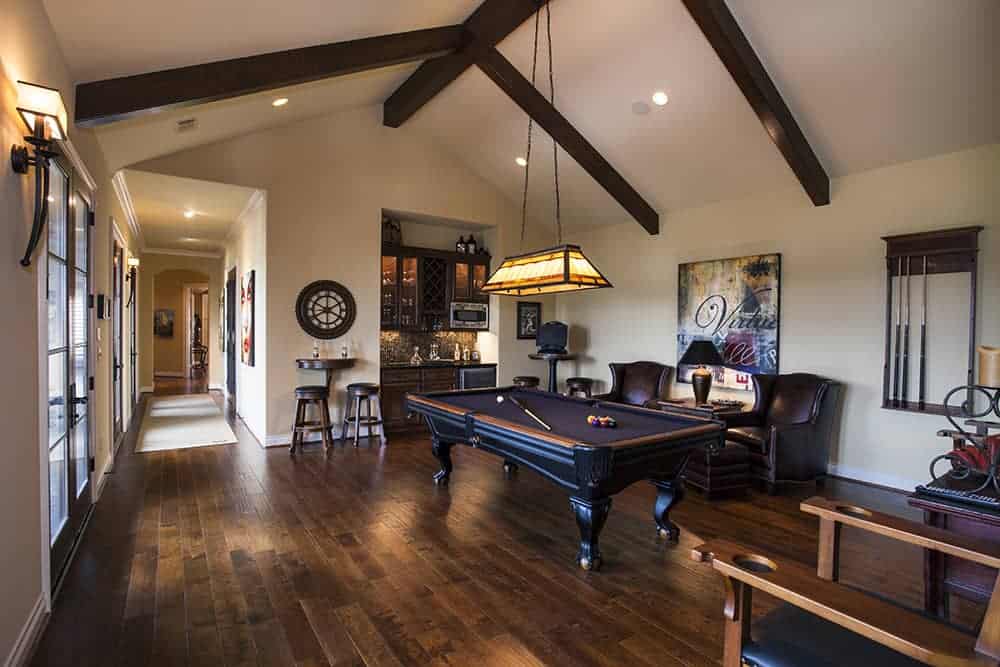 Another exquisite recreation room idea from Jeff Paul Homes. This one looks minimalist but very elegant.
The ambiance of the pool matches the wood flooring and wooden chairs inside the room.
Moreover, the minibar at the corner of the room could not be any better. This style of recreation room can be used as the name implies.
You can sit there and enjoy the drink. You can also relax and play pool or simply just sit in such a relaxing room with those vintage paintings.
Living Room Fusion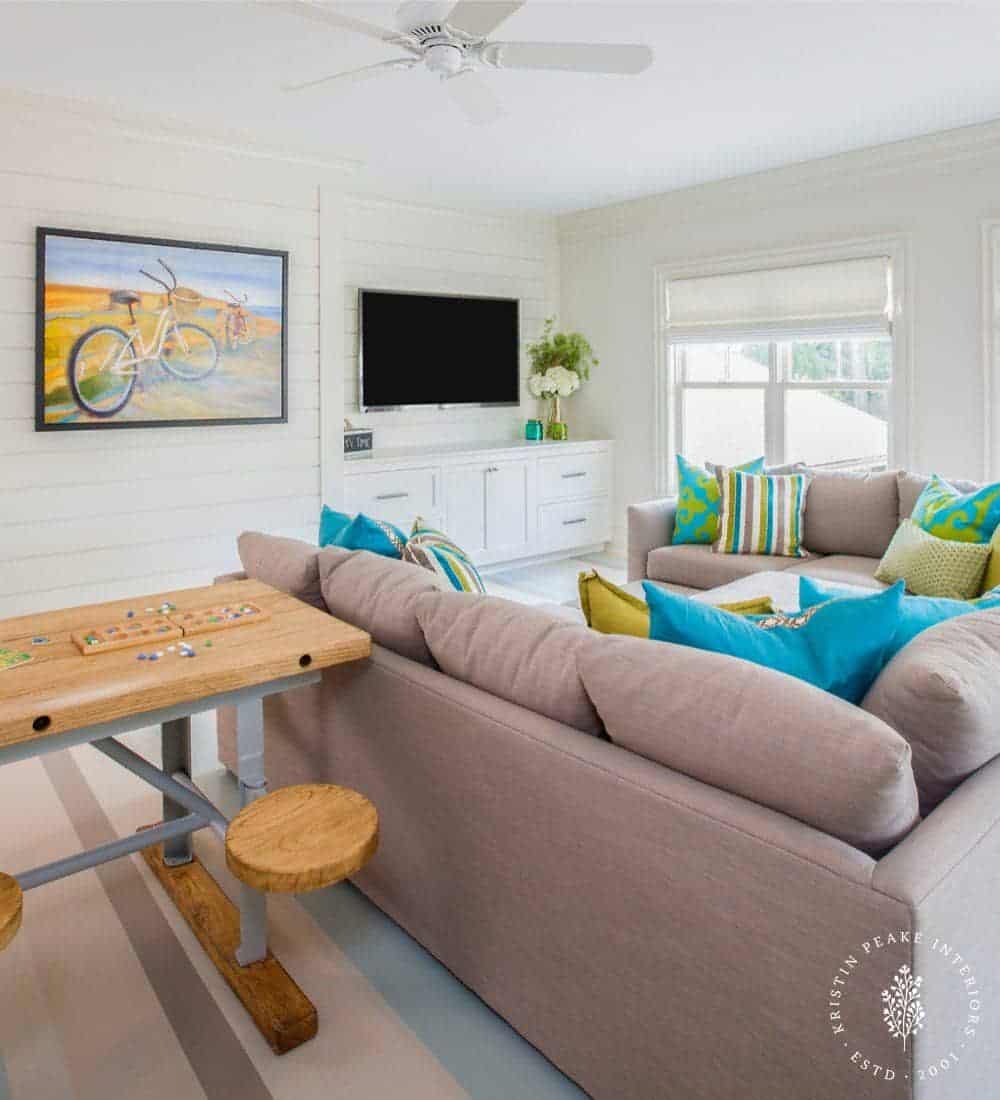 Living room fusion is also very simple and comfortable to be a recreation room.
When you have no other space in your house, or when you are not into making a new one, it's okay to make your living room, your recreation room.
If we look at this design from Kristin Peake Interiors, the comfortability of sofa, television, and a table is such a complete fusion to be the elements in the recreation room.
Being there with family or relatives who come to visit, would be just comfortable.
Man Cave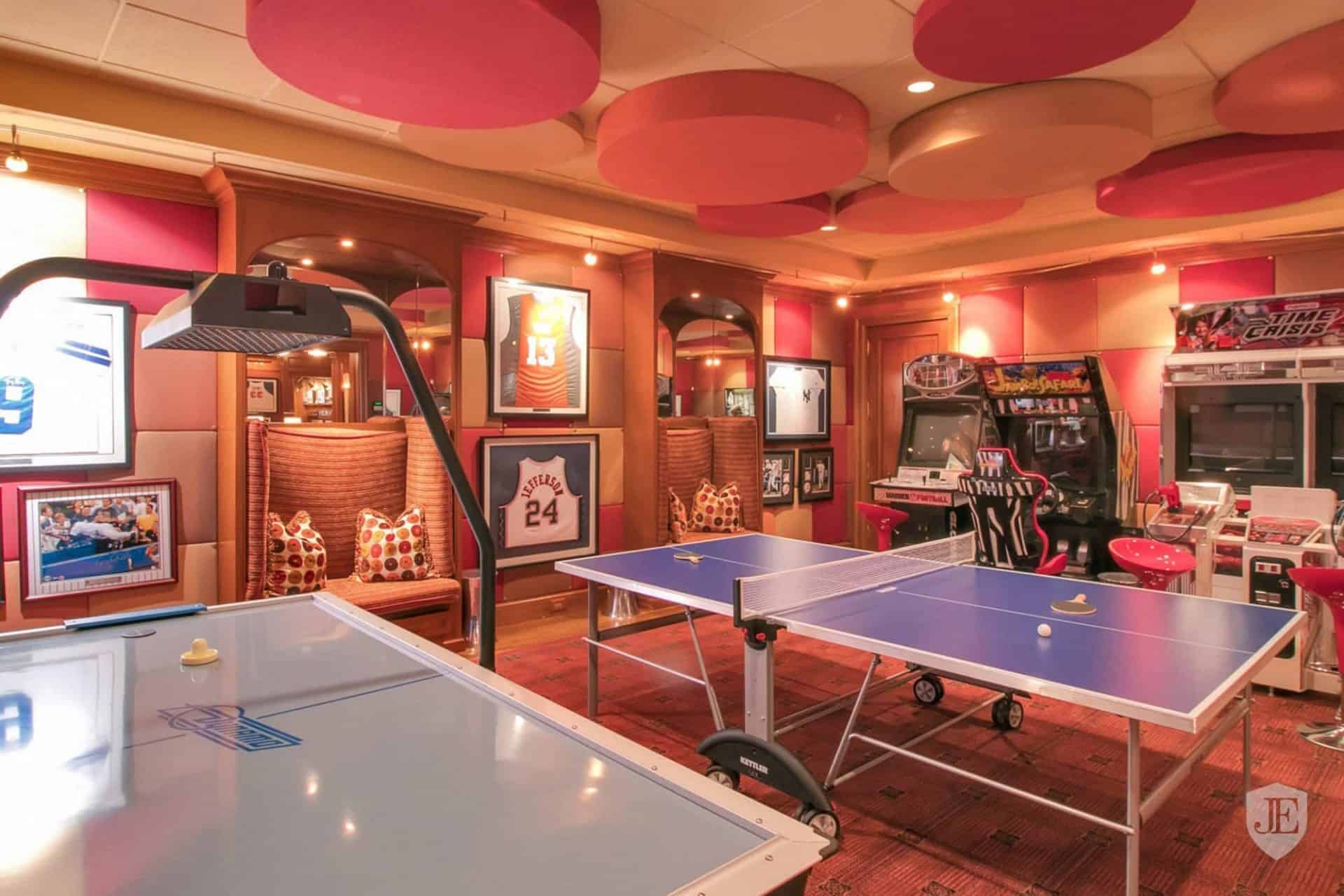 This one is a look in a room of the house in 887 Closter Dock Road, Alpine NJ United States. Look at those jerseys, and arcade games!
This style is called "man cave" for a reason. All things that men enjoy are in this type of recreation room.
Pingpong board, minimum yet enough lighting, and the choice of brave red color, is very manly to be seen.
This is quite sporty and fun, even girls could come there and enjoy their leisure time together in this recreation room.
Mini Golf
As I said previously, you still have plenty of recreation room ideas.
Not just wall climbing and jungle-themed, but you can put a game of indoor golf into your recreation room like this design from Urban Outfitters!
The green color of the mini-field can be combined with the natural plant, to begin with, and neutral color for the wall to make the color of the recreation room spot on. This one is one of a kind unique.
Scrabble Board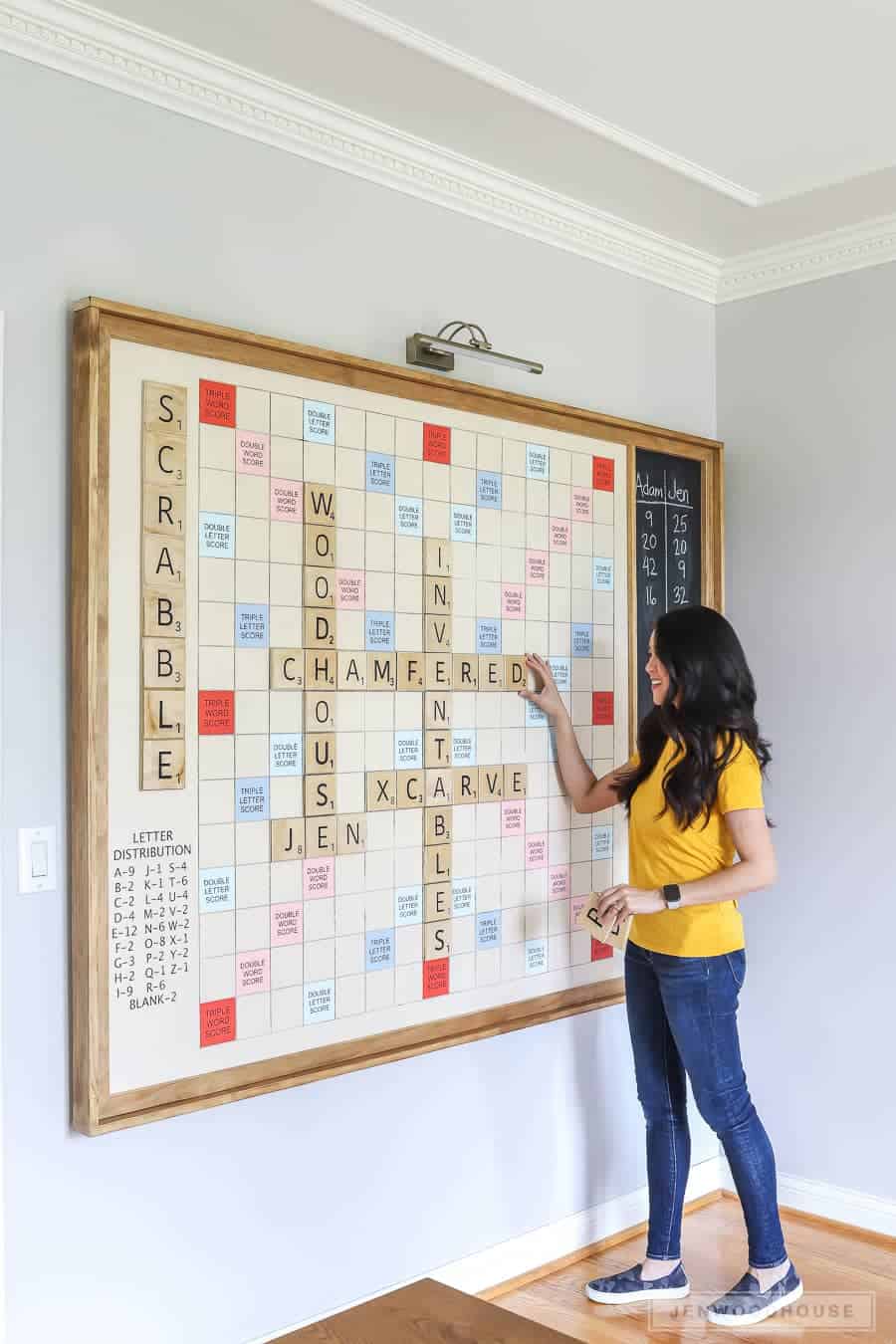 Recreation room ideas are often identical to board games. However, a brilliant idea came from Jen from Jenwood House, saying what if we turn the board games, into a wall game?
Just like the scrabble board. We can use the idea of magnet to the scrabble tiles so they can stick on the wall.
The color of the scrabble board on the wall also gives intelligence touch into your recreation room. This is simple but very customized.
Open Style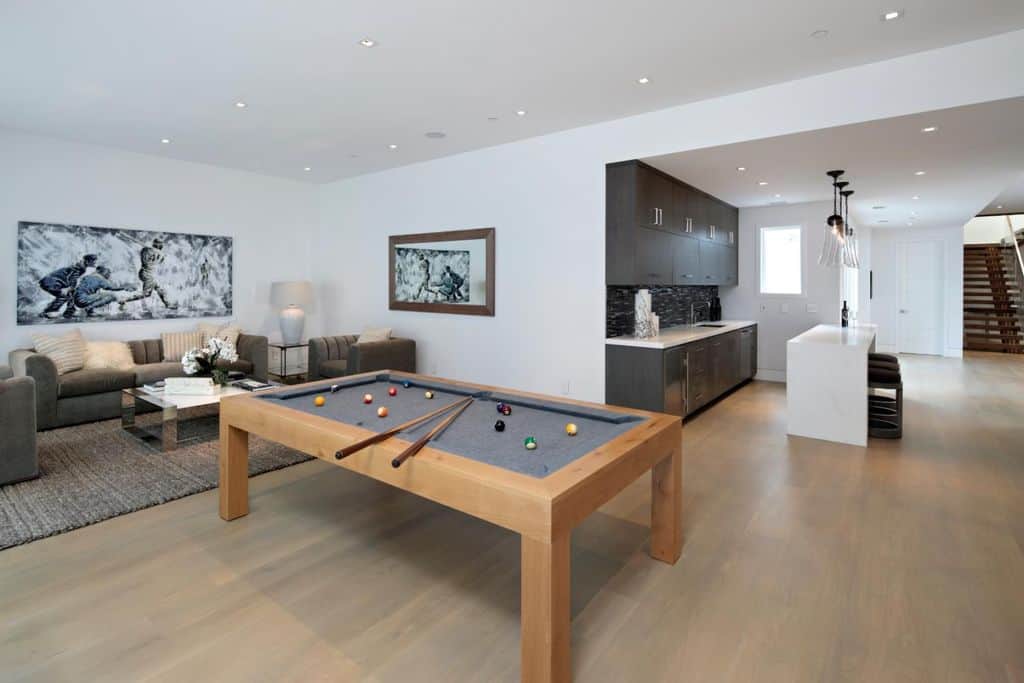 Most of the people use the basement for their recreation room. However, if you can use your open family room, why not?
Just like the name, the idea of open style designed openly without any room divider. Your family room is there and it is open to the kitchen and the whole access to the house.
You can put any board games, a proper couch, and lamps to light up the room.
In an open style, it is better for you to use a bright color, especially white, for your wall to make the room looks bigger and spacious.
Game Loft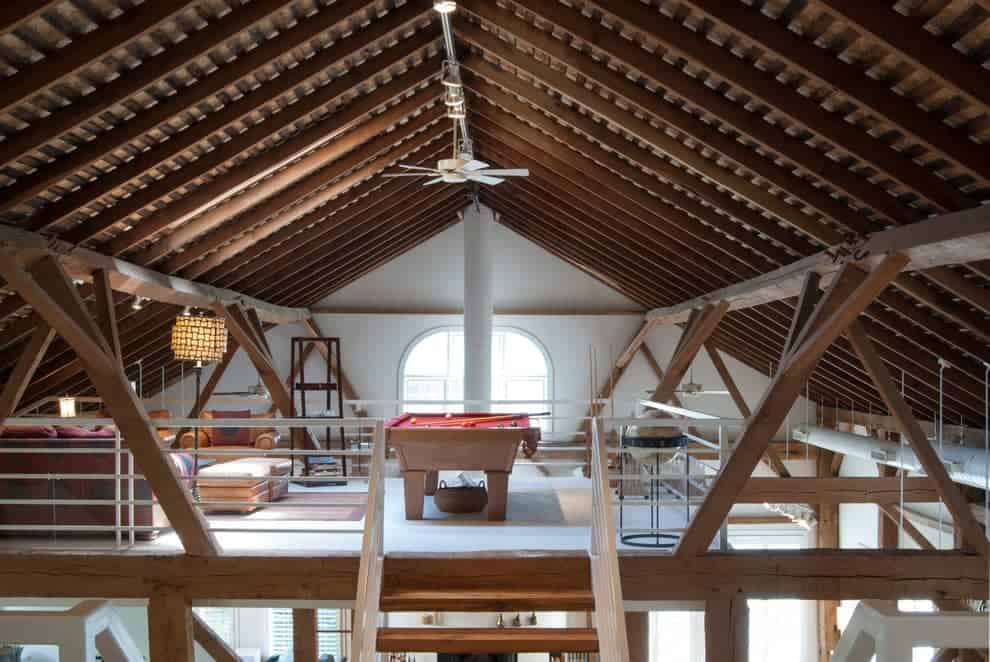 This one right here is the upgrade of the existing hay track in Ohio Barn by Franklin. You can definitely turn any space in your house, into a recreation room, just like this.
The space in the peak of the ceiling is just turned into such a warm place for the family to gather and play.
There is the Plexiglas installed on all railings to prevent any danger happen to the children since this one is built in the ceiling.
The proper sunlight, cozy couches, and board games, what a comfortable combination.
Library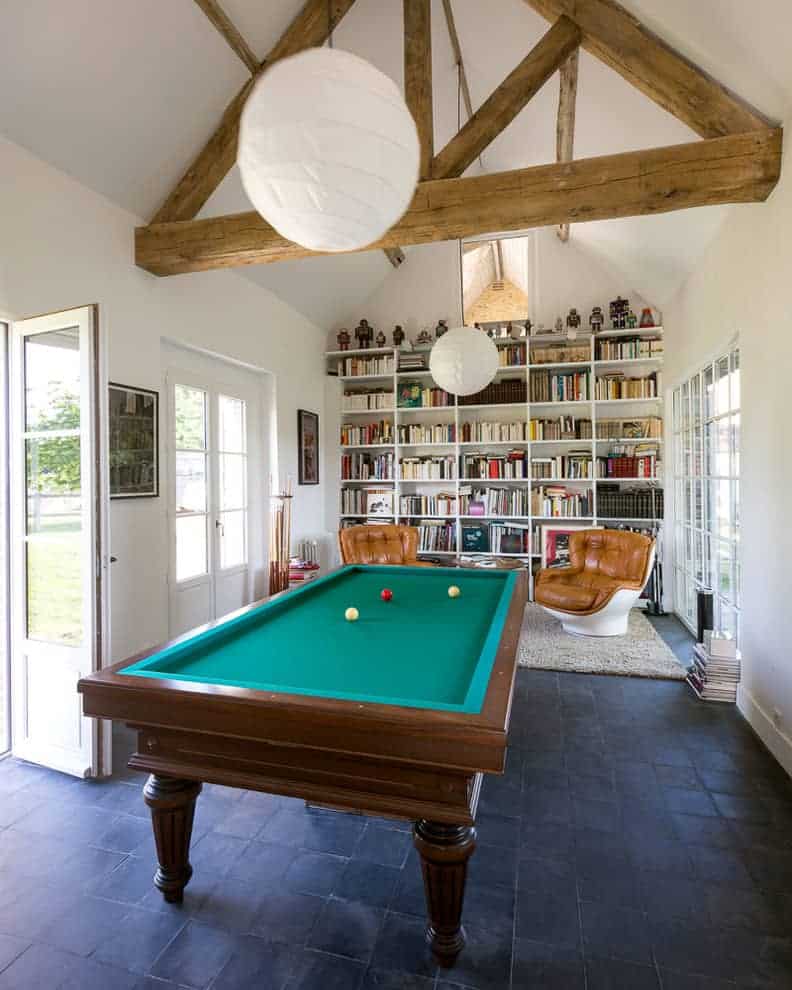 What do you do in your leisure time? I bet most of you would answer reading. Books are like friends of many.
The charm of the sentences and the contents just hypnotized the reader to stick their eyes on books.
Having those, stuck up neatly on shelves just like a library is a very inspirational recreation room idea.
You can sit there on a couch, or mini sofa, and reading your favorite books to relax.
Family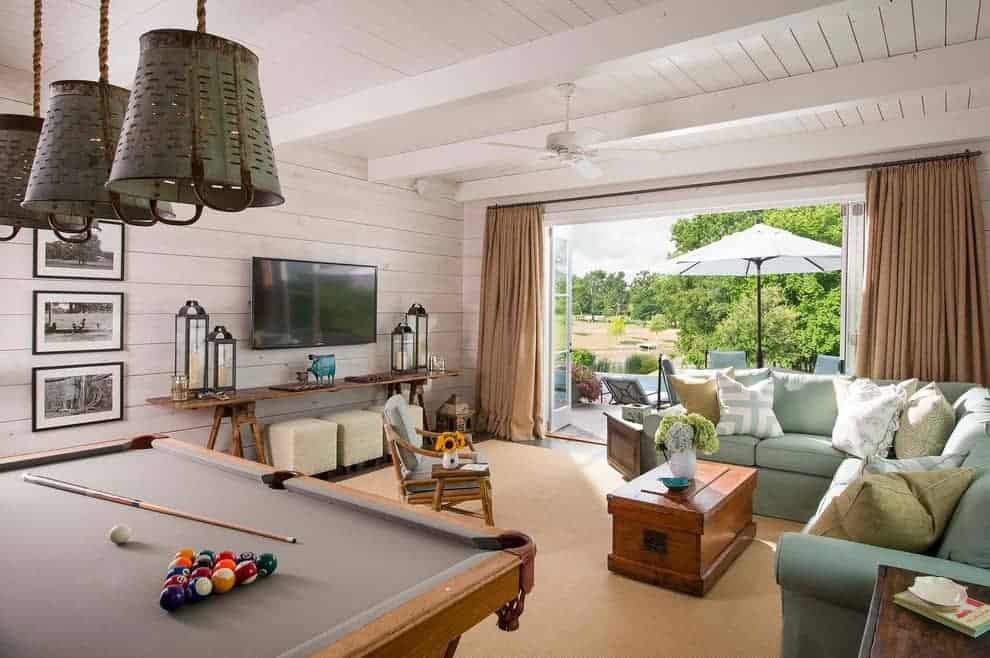 A recreation room is a family room. The idea is to gather with the whole family and have fun, right?
The idea from Barnes & Co on applying a big couch and pillows, with some direct access to the balcony is just such a warm and comfortable vibe in the recreation room.
You can put the television and PlayStation,  you can put a pool board next to the couch.
The whole family is going to enjoy the view through the balcony, and enjoy the house by just sitting on the couch watching all having fun in their own way, surrounded by classic paintings, and bright wall color to make the room even bigger.
Workout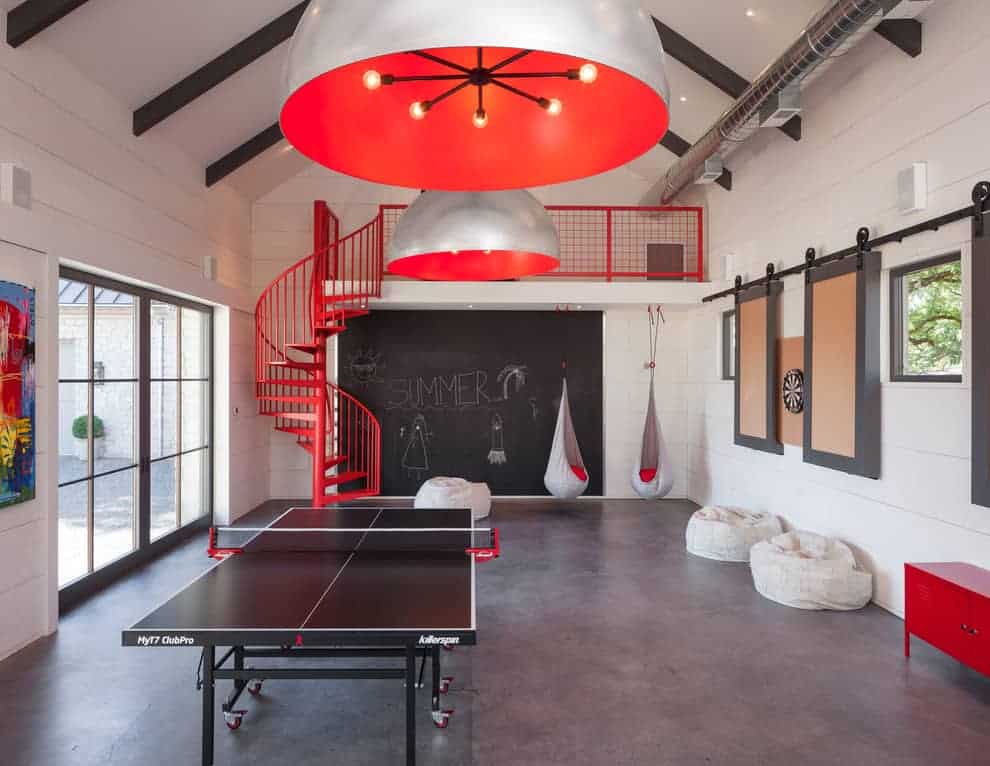 You don't have to fill your recreation room with many elements. However, you need to achieve the goal of why the room is made, which is for leisure fun!
The idea from BK Interior Design in arranging only some couches, or chairs, and pong board in a large room, is still a spacious room to relax.
The choice of pop-out color like red, combined with white or warm white wall color as its base, would make the room looks contrast and pleasant to the eyes.
Barn-Inspired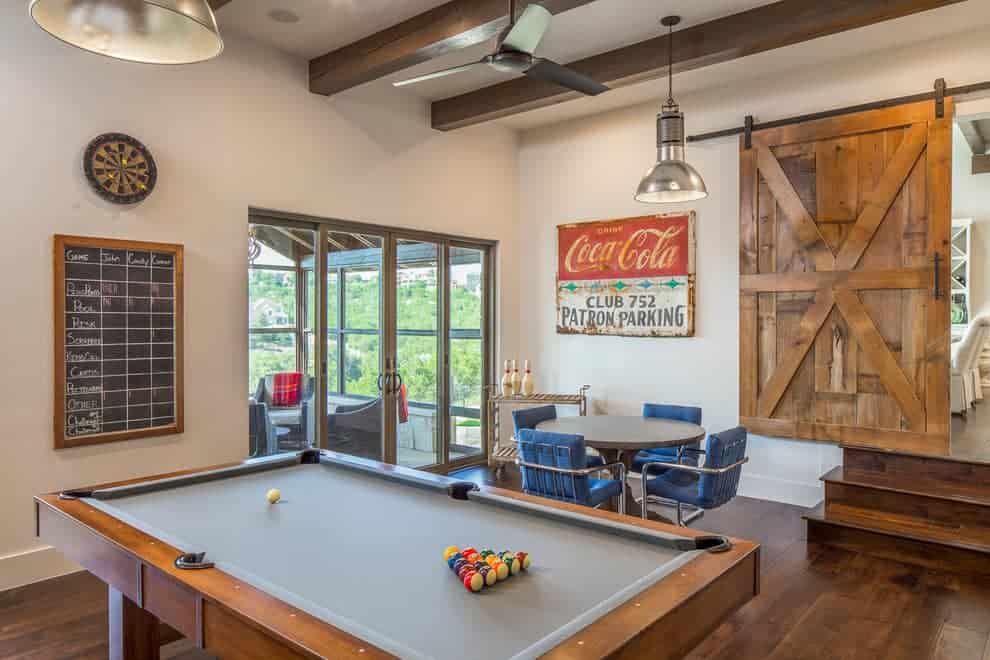 Recreation room ideas are just limited by your own creativity. Sendero Homes, you see, was the builder of that upgraded farmhouse in Austin, Texas.
The idea of the wooden barn, and vintage accessories in Texas, is implemented into a homely and cozy place for a recreation room.
Moreover, it also has access to the other room with a direct view of nature.
Getting yourself and your family relaxed in such a comfortable and homely room, would be the best feeling you want to feel in your recreation room.
Home Theater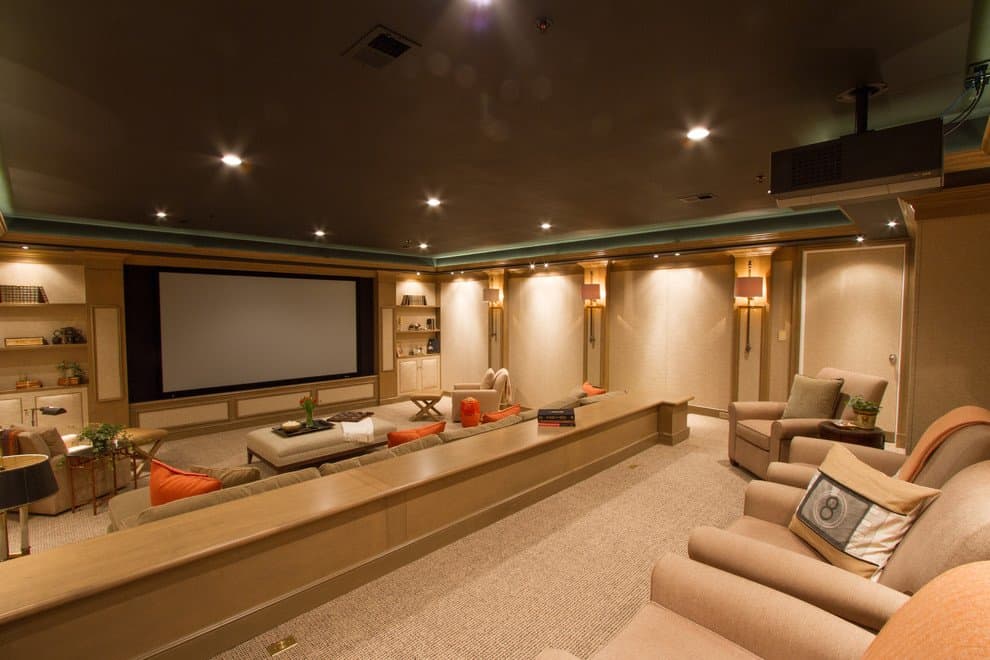 After a long day of work, watching a movie can be a great escape. If you have a huge space in the basement, you can transform it into a home theater.
Other than making this rec room as a mini-theater, you can also use it to hold a private party. Here, you will have a lot of space to hang out with friends or families.
To make the gathering even more relaxing, choose a tone of color that can actually calm you down, such as this soft brown.
Bowling Lane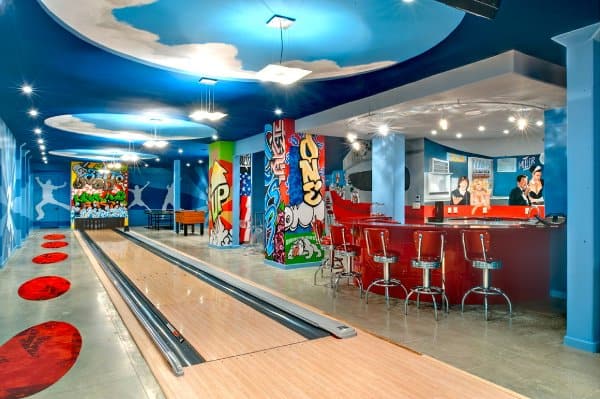 Your basement rec room can be transformed into any kind of room based on your preference.
In this case, the room is transformed into a mini-bowling area with a youthful spirit inspired design.
As you see, there are spiral clouds on the ceiling. The ceiling is also decorated with a lot of hanging lamps and some accents.
Then, some areas on the walls are also painted with mural arts. The room is also dominated by blue color and accompanied by pops of red in some spots.
Gym in The Basement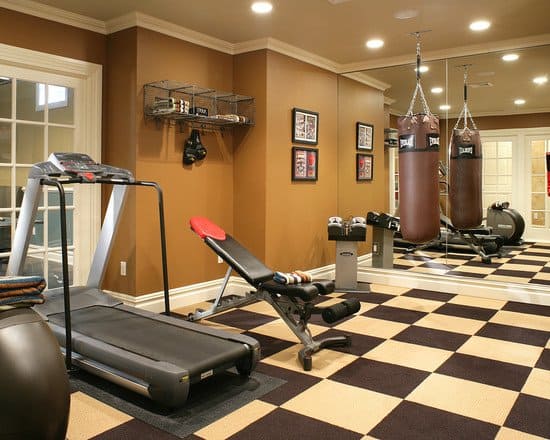 One of the purposes of creating a recreational room is to provide an entertaining space where you can get rid of the stress.
For some people, going to the gym is a way to escape from stressful thoughts and feelings.
However, if the gym is too far, it can be a problem.
If you are one of those people who hate to walk or drive to the gym, you can easily bring the gym home by remodeling your basement rec room to gym space.
You can equip your home gym with a treadmill, boxing bag, and more.
Gym-Inspired Man Cave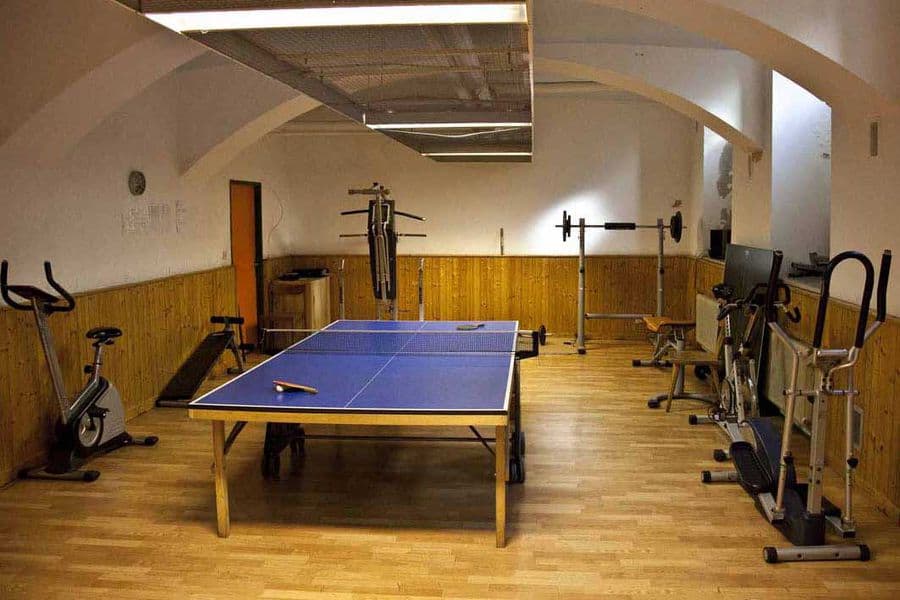 A man cave is an extra room where the man has all the rights in the world to equip it with manly stuff, such as video games, ping pong table, gymnastic equipment, and more.
This idea allows you to fit all of the things mentioned previously in just one room.
The key to building a man cave is to keep it simple because real men do not like to exaggerate things.
Then, pick a color that represents simplicity, such as this natural wood color.
Pool Table and Mini Bar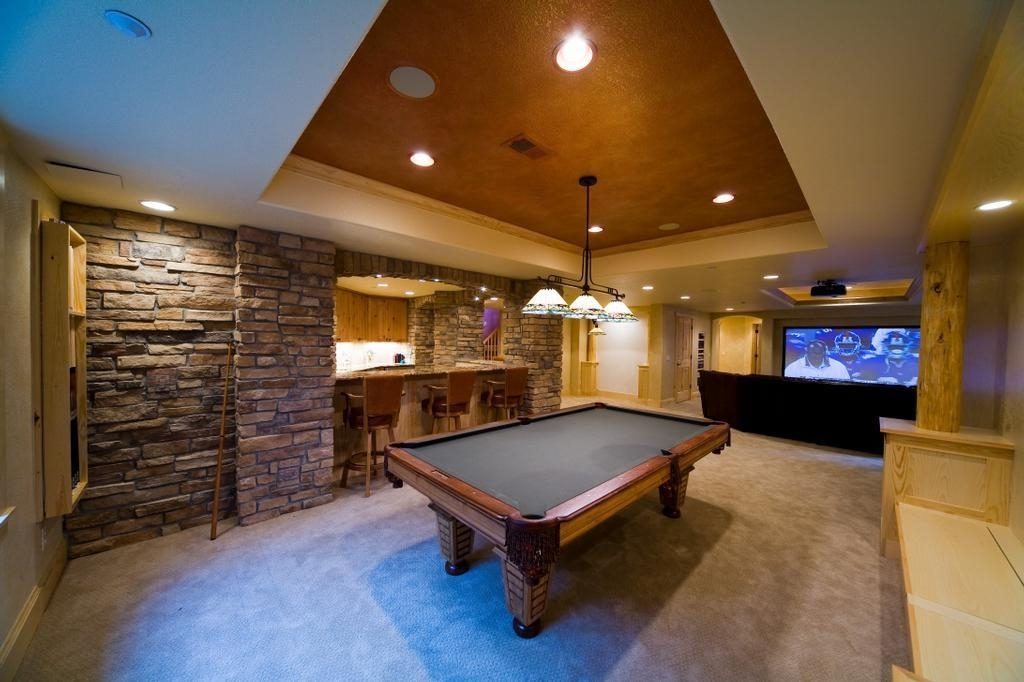 In many cases, some men prefer to have a luxurious man cave. This is the example of the statement.
As you see, the wall that's stretched to the kitchen is composed of stacks of stones.
Then, the room has simple yet spectacular lighting.
Moreover, as luxurious as this room looks, the furnishing is actually pretty simple because you may want to emphasize the pool table in the middle.
Sloped Ceiling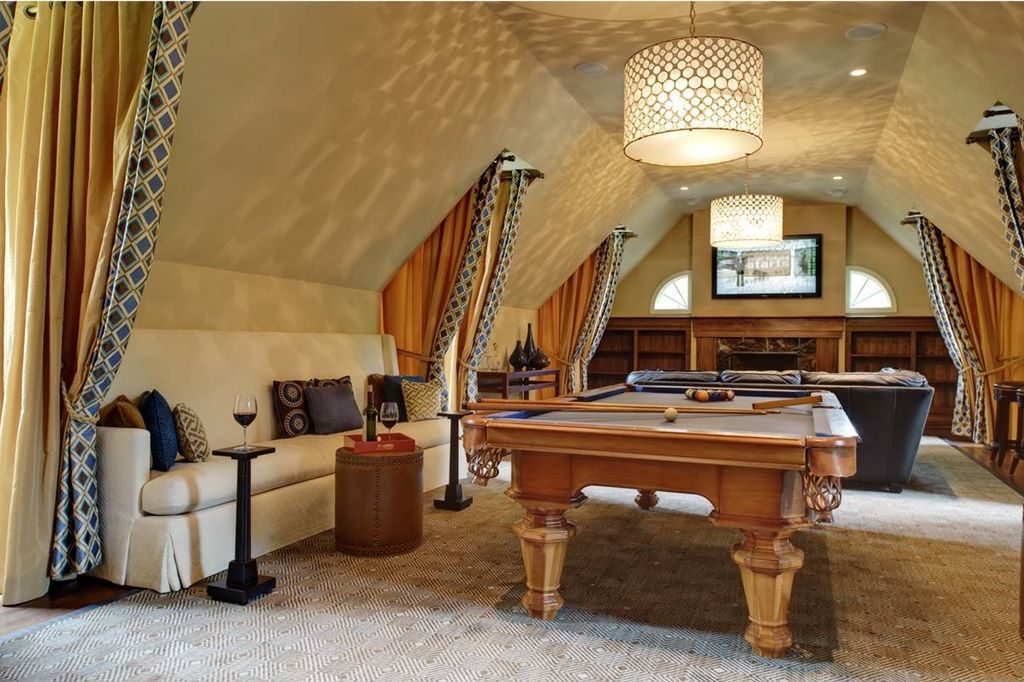 Since the rec room is an escape room, you have to make it as dreamy as possible.
The color of this room alone is fascinating. It is soft, simple, and elegant. The layout of the room is attractive.
The sofa is separated from the bar table by these luxurious curtains that have a unique pattern.
In front of the sofa, there's a pool table. On top of the table, there's the luxurious chandelier that will amaze all of your friends.
Mini Pool Table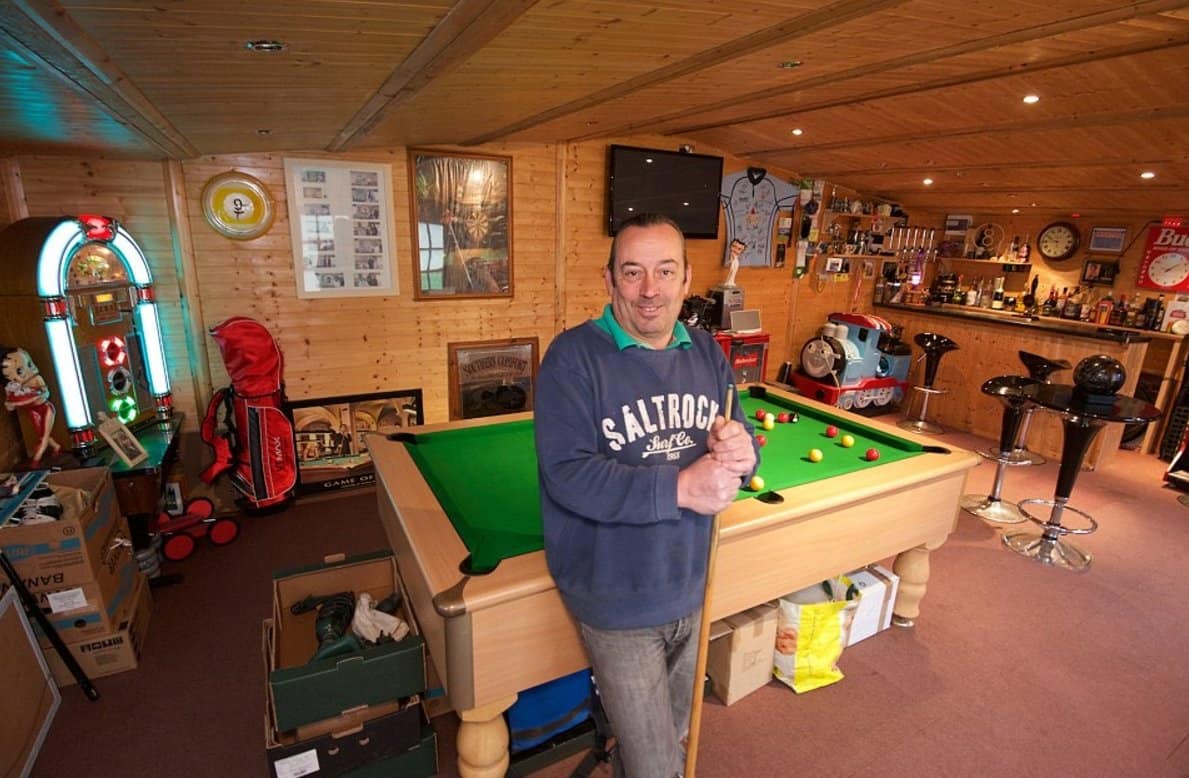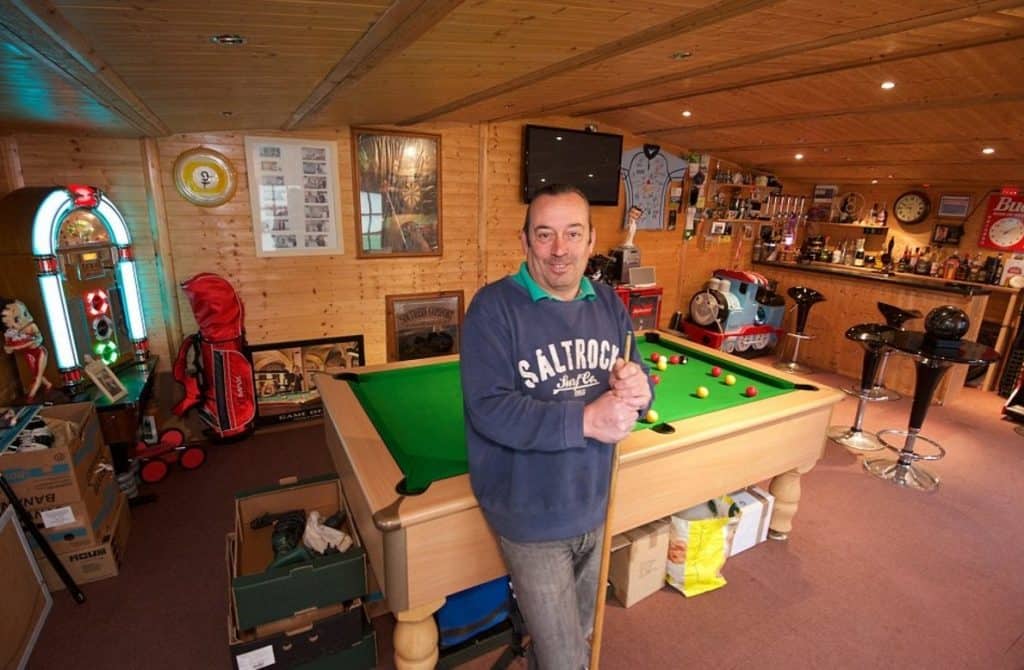 Oh, man, I'm on a budget! Can I still have an enjoyable rec room?
Of course! Here's one of the ideas for you who're on a budget. The parameter for "enjoyable" is flexible, so you may decorate your basement rec room with all of the things that you like the most.
This homeowner of this idea has an arcade game, posters, and other unique decorations.
In the middle of the room, there is a tiny pool table. A pool table is the most important element of a rec room because it can be played by a lot of people.
Later, when all of your friends or family come over, the pool table must become crowded.
Rec Room for All!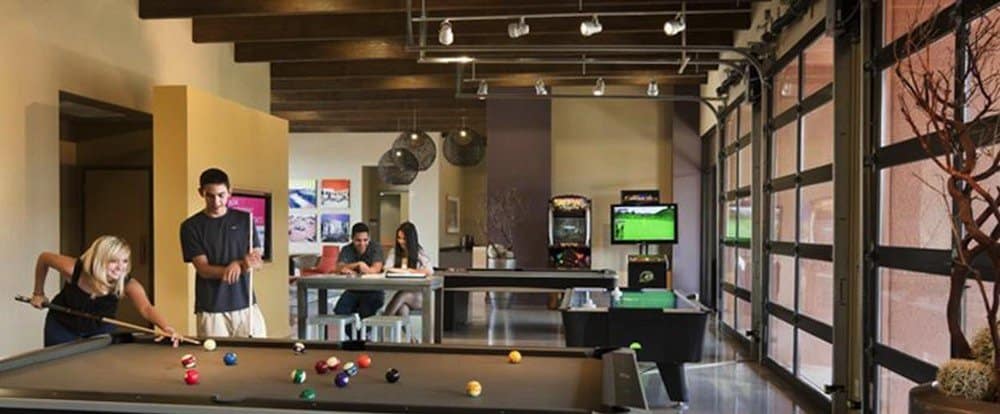 This one is not located in the basement. As you can see, it has huge windows that allow natural light to come inside.
The room is massive that you can actually fit a pool table, a bar, a game-watching area, and more.
Looking at the design and style, this model is suitable for a recreational room in an office.
Sports Station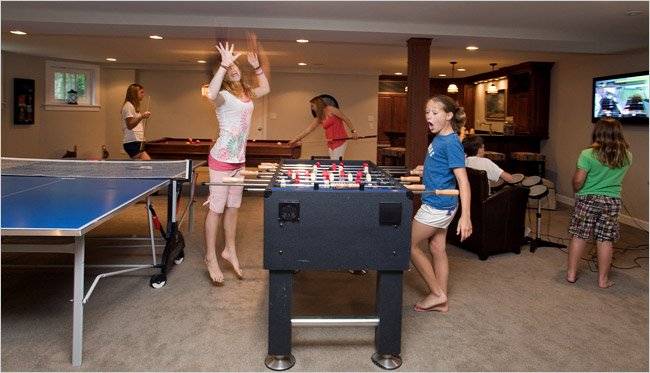 Do you have a teenage daughter who loves hanging out at her friend's a lot?
We know, one way or another, there will be a time where you want your daughter to spend her time with her friends here at your house.
If you're planning on giving her a special space in the house, this might be the answer to your prayer.
The rec room is equipped with fun and social games, such as the pool table, ping pong table, watching the TV area and the hand-football table. There's even an L-shape kitchen at the back.
Movie Theater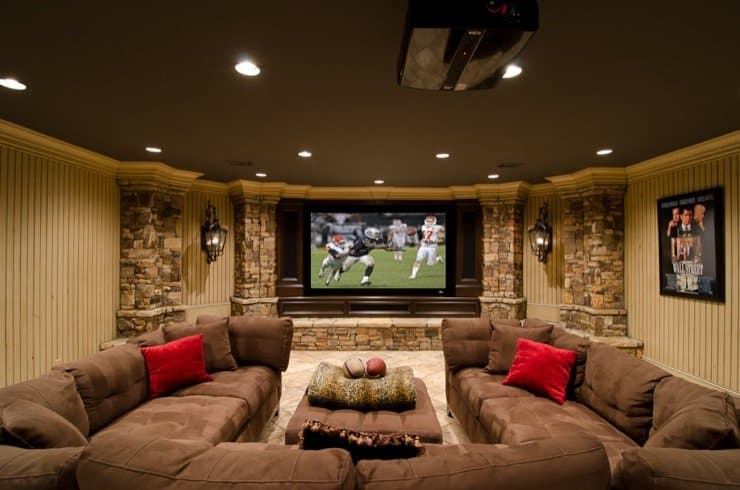 One of the best ideas to make use of the large space in the basement is to transform it into a theater because it provides a special place for everyone during the holidays or the weekends.
To create a high-quality theater, you need to make sure that the space is compatible with cinema equipment or tools.
To build the desired atmosphere, for example, natural and relaxing, you can choose brown.
Keep It Warm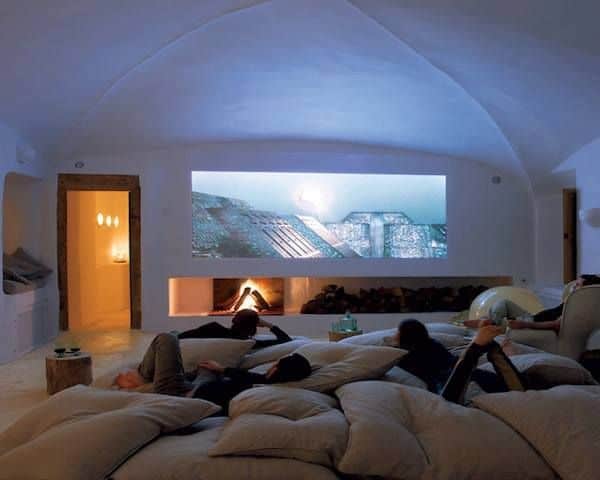 You may say, "Sofa is so outdated!" and we have prepared this design to satisfy your need for the newest trend.
These days, people are more and more interested in using bean bags in the seating area. That way, the room feels bigger and wider than it actually is.
Moreover, the one element that becomes the center of attention is the fire pit below the projection. The fire provides warmth for the whole family and friends when the movie is playing.
Game On!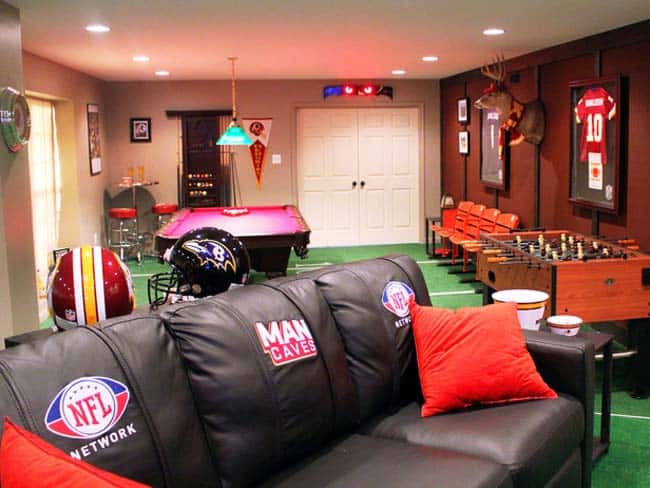 This idea is very suitable for boys who love sport very much. The room is fully decorated with sport displays.
At the far end, there's a pool table. Next to the pool table is a wall decoration that is a deer's head. This ornament, somehow, makes the room feels like a pub.
Not only the room is filled with American football merchandise, but this room also has a secret, a built-in wine cupboard.
Log Homes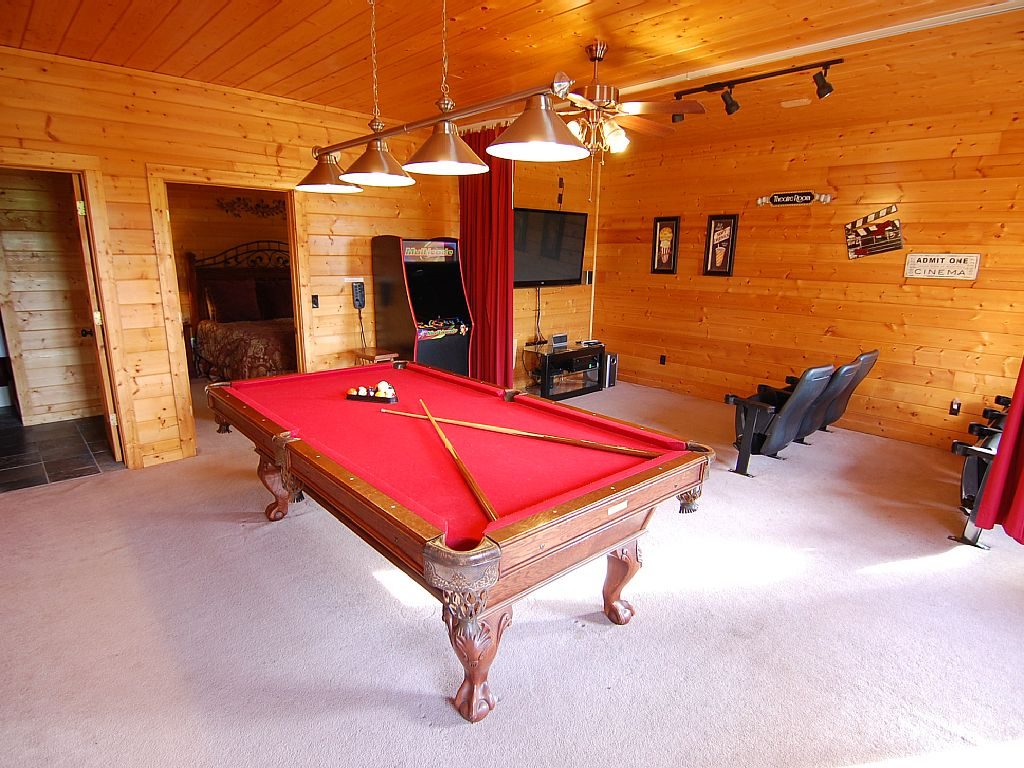 A recreational room doesn't always have to be in the basement. If the basement is too small, then you can use another room.
Let's take a look at the room!
The ceiling and the walls are composed of woods, while the floor is covered with gray carpet.
Meanwhile, in the middle of the room, there is a pop of red color from the antique pool table that you can easily find in a thrift shop.
Don't forget to mind the placement of the lighting fixture, because it influences how the mood controls the area.
Cinema and Bar Rec Room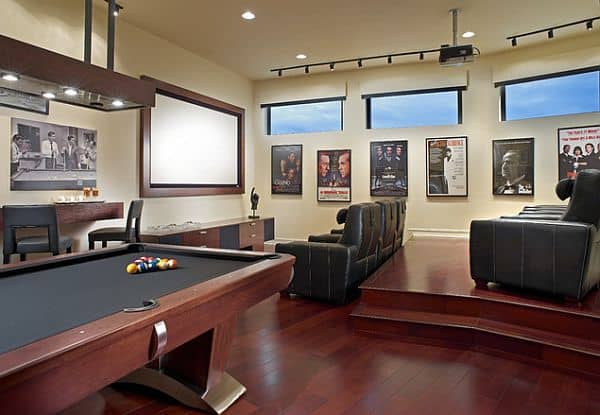 Since a rec room is supposed to be this room where you enjoy the rest of the day, it has to provide you entertainment.
Here, you see that the room has a mini cinema in the far right, while there are a bar stool and the pool table on the left.
If your friends or family already feel bored of watching cinema, they can go to the pool table or just casually sitting on the bar.
Small yet Sentimental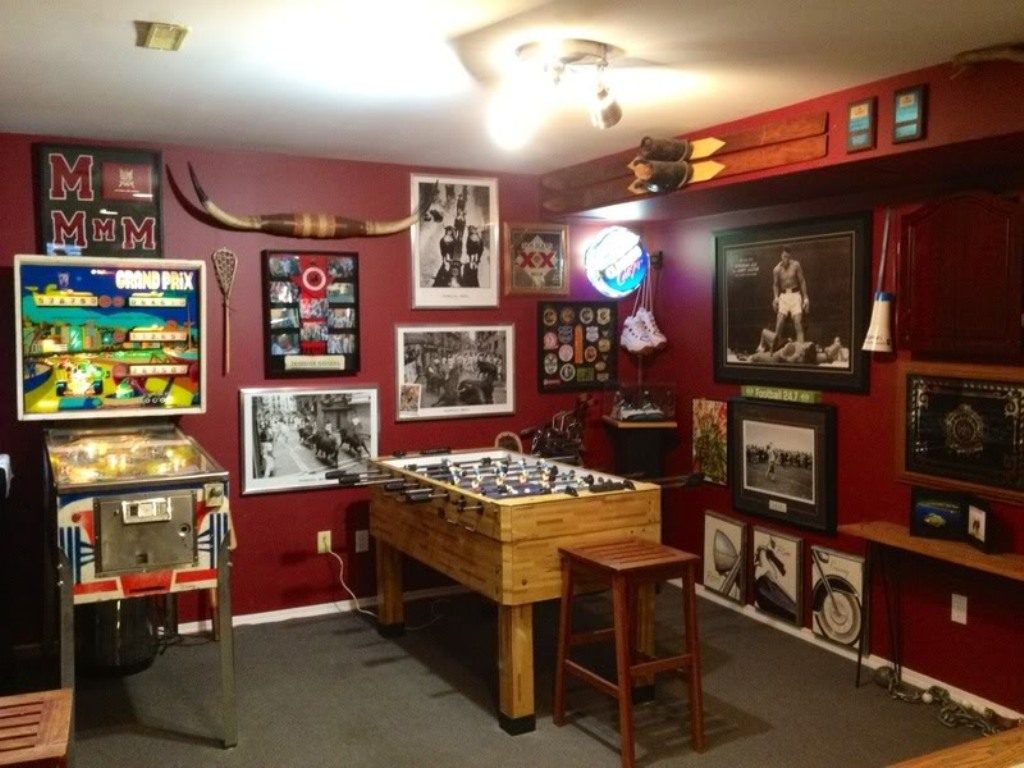 This rec room may be small, but the size doesn't even matter in this case. The walls are decorated with a lot of framed pictures, which adds a strong character to the room.
It also has an arcade game and a foosball where you can play with friends or family.
To ease the red on the walls, you should choose a brighter color for the floor. This idea shows that gray works perfectly with red.
Swimming in the Rec Room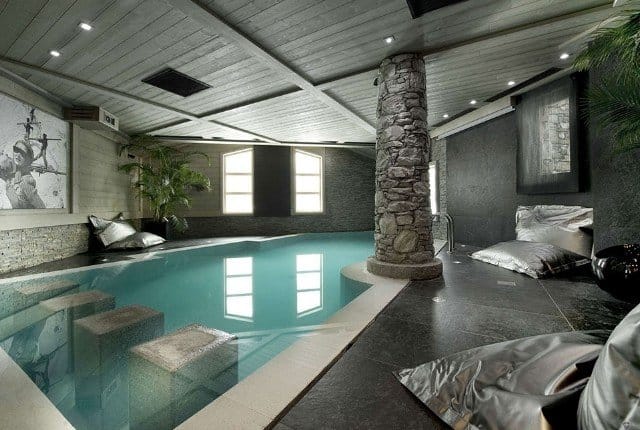 Is it possible to have a swimming pool in the rec room? Yes!
The possibility is endless. As long as you're thinking creatively, anything becomes possible.
However, a swimming pool requires a large space. Other than that, you may need a lot of money to dig down too.
In the end, is it worth it?
Yes! Swimming reduces stress and exhaustion, so, having a swimming pool in a rec room is a great idea to refresh our body.
Install A Big TV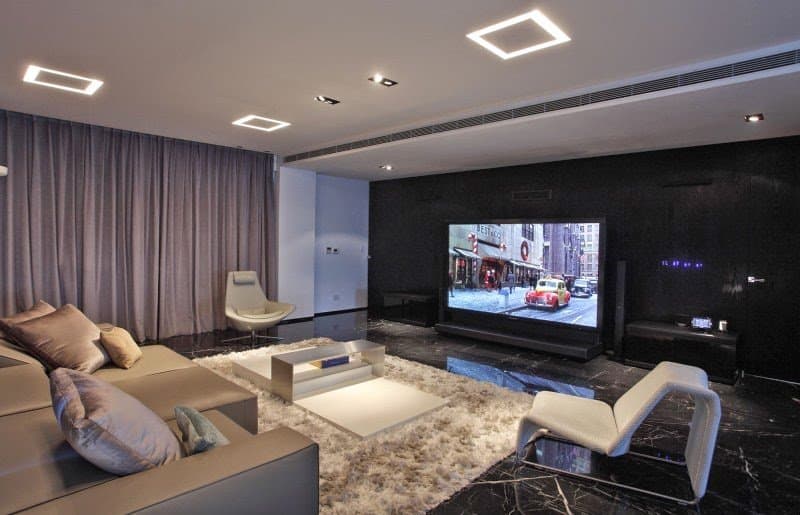 One of the most popular activities to do in a rec room is watching a movie or anything from a film screen. That's why you need to make it as cozy as possible.
To complete the plan, you need to have some tools: a huge film screen and the audio.
Since it is a watching movie area, use black as the background of the screen to help your eyes see easier.
On the contrary, use a brighter color for the rest of the area. This room's ceiling is also decorated with square ceiling lamps.
Homey Hideaway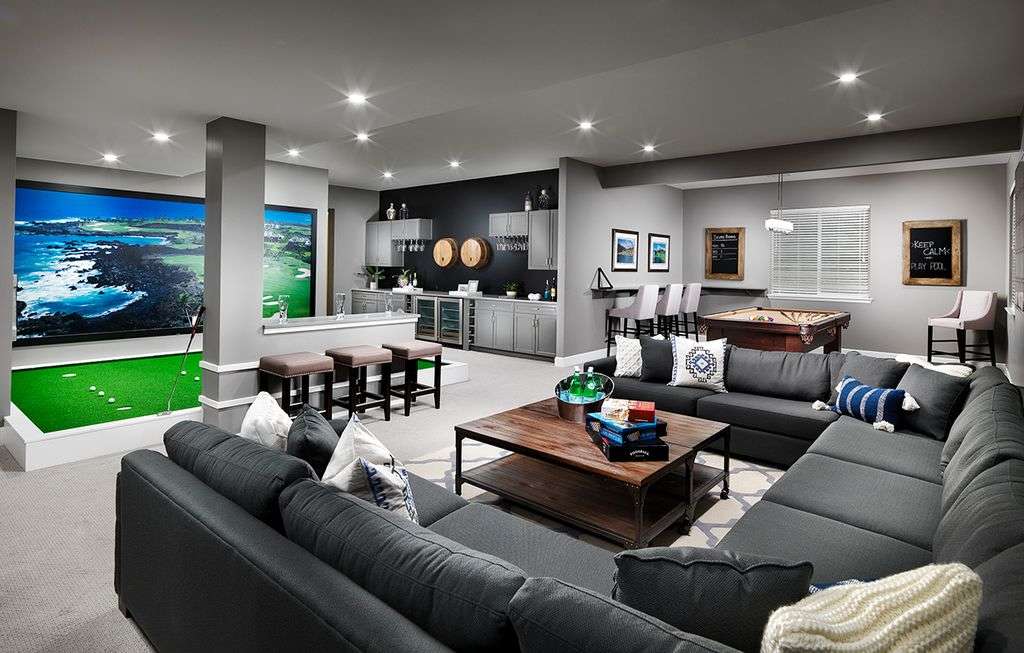 One of the most important elements of a rec room is the sofa. It has to be very comfortable because everyone who comes here is looking for relaxation.
Other than the extravagant sofa, you also have to provide the room with enough entertainment.
This room provides a small golfing area, a foosball area, a bar, and a lot of space for socializing.
Aquarium of Joy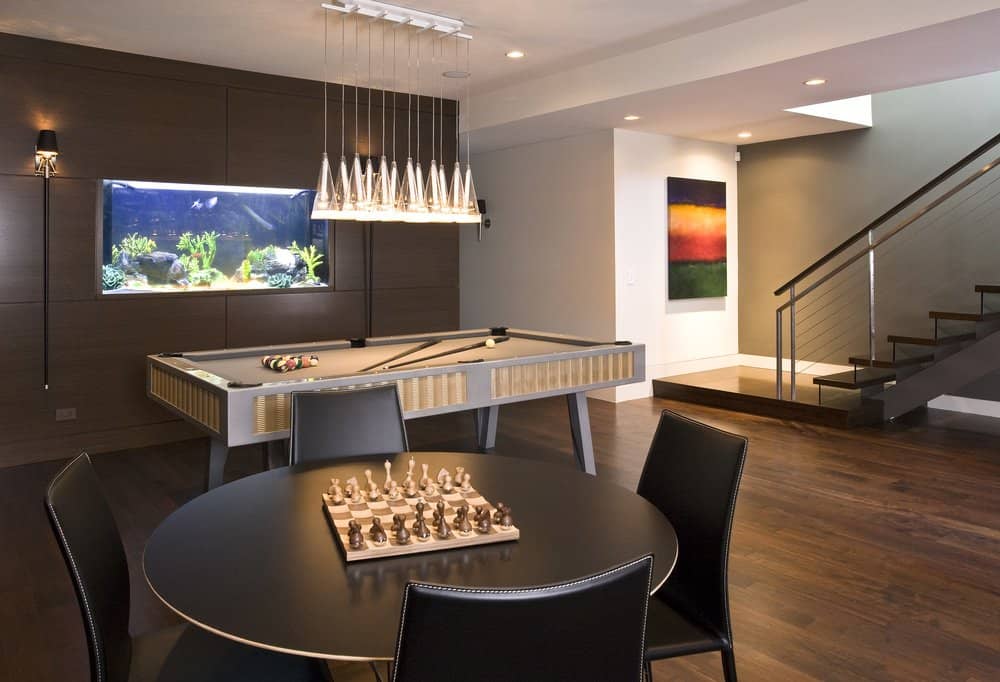 The recreational room is all about happiness and joy. As soon as you step into the room, you must do something for fun, such as playing some games.
That's why you need to be certain that the room is equipped with a lot of wonderful games.
As you see, the picture shows you that there is a chess game on the table and a pool table behind the chess.
To help you more relaxed, you can install an aquarium too. If it takes a lot of space, then you can have it built-in.
This way, your friends and family won't run out of ideas to obtain fun!
Bonfire Lover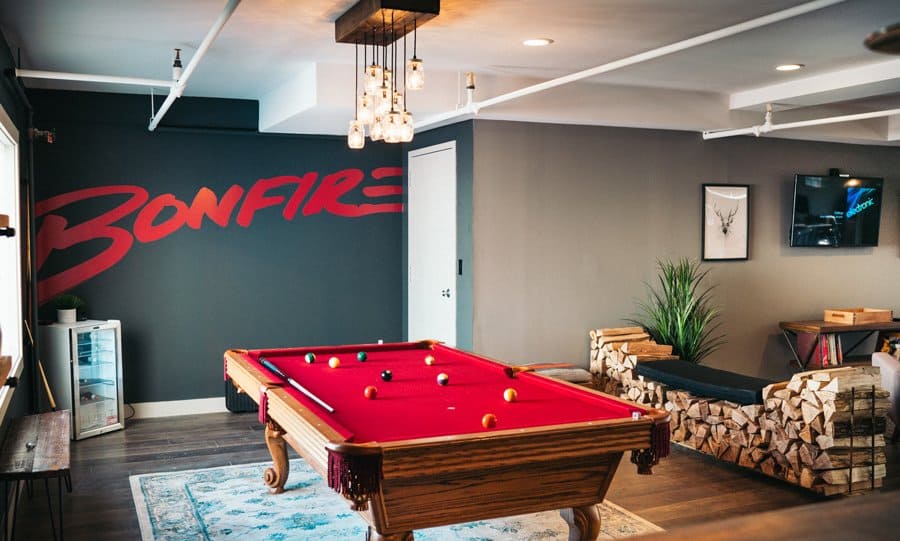 During winter, you have to prevent the coldness from entering the rec room. Having a mini fire pit or place in the rec room will be the nicest thing.
The placement of the pit depends on your preference and the layout of the room.
However, this design is unique, because the pit or the bonfire is located in between the TV area and the pool table.